Looking for the best birthday photoshoot ideas? Check this post for expert tips to have amazing shots and creative photoshoot ideas for your birthday this year!
Creative birthday photoshoots can be a great way to make your special day memorable.
With the right tips and tricks, you can have a stunning photoshoot that captures your personality and style.
Here are proven tips to help you create the perfect birthday photoshoot.
From location scouting to props, costumes and poses, these ideas will ensure your photos come out looking amazing!
Read on for creative birthday photoshoot ideas that will make your birthday pictures stand out from the rest.
Scroll down to check these tips and ideas, and take your great social media-worthy birthday photos. Happy birthday and have a fantastic time!
This post may contain affiliate links, which means I'll receive a commission if you purchase through my link, at no extra cost to you. Please read the full disclosure here.
This post is all about birthday photoshoot ideas.
Birthday Photoshoot Ideas And Tips:
Choosing A Theme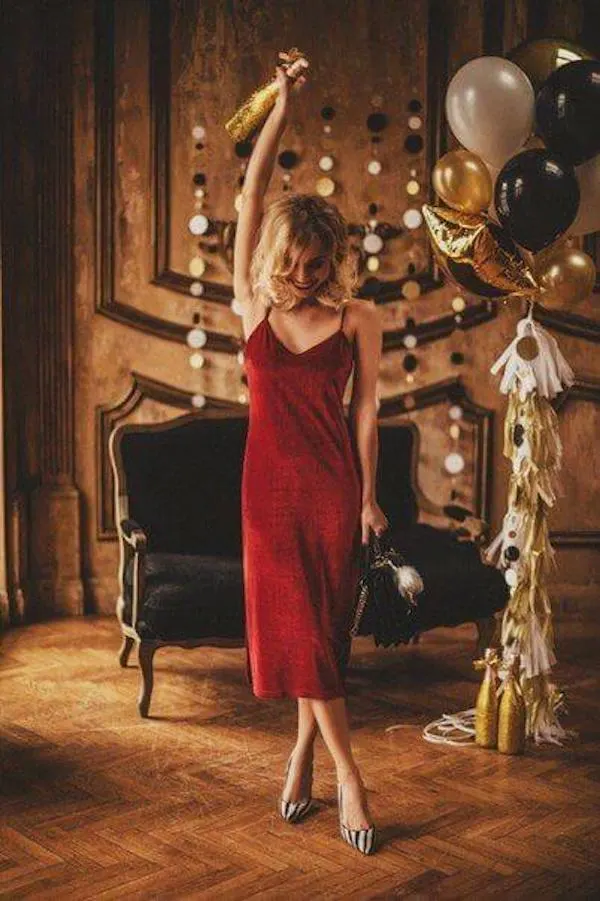 Choosing a theme for your birthday photoshoot can be both exciting and overwhelming.
It's important to choose a theme that reflects your personality and interests while also being practical and achievable.
Think about what colors, styles, or themes you are drawn to and use that as inspiration.
For example, if you love nature, consider an outdoor photoshoot with a botanical or floral theme.
Another important factor to consider when choosing a theme is the location of the shoot.
If you plan on having it in a studio, make sure the theme will work well within that space.
On the other hand, if you want an outdoor shoot, choose a theme that complements the natural surroundings.
Ultimately, remember that your birthday photoshoot should be fun and enjoyable for you!
Don't feel pressured to conform to any particular trend or style – choose what feels authentic to you and enjoy the process of creating beautiful memories.
Favorite Locations For Birthday Photo Sessions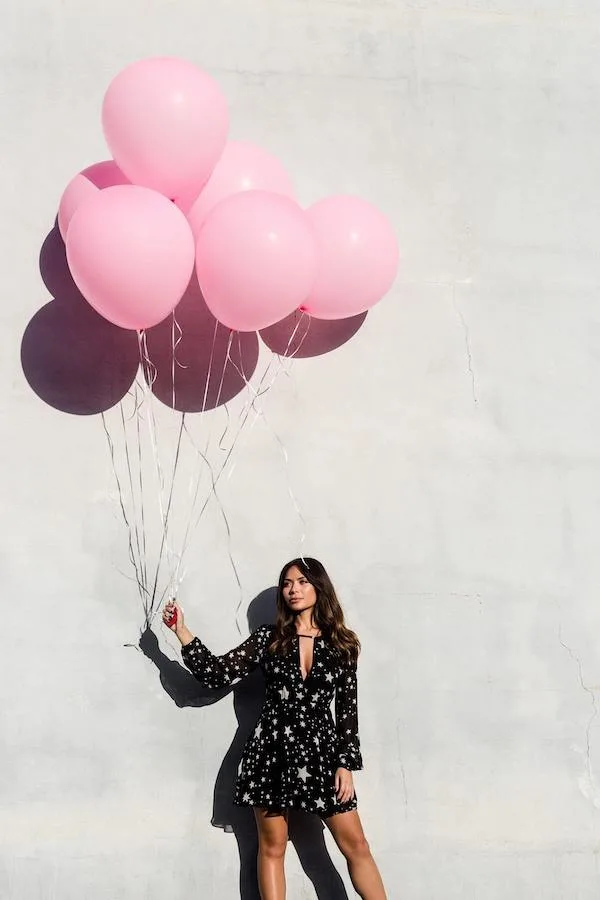 One of the best ways to celebrate your birthday is by capturing beautiful memories with a photo session.
But where should you have your photos taken?
Here are some of our favorite locations for birthday photo sessions:
Beach:
If you love the sun, sand, and sea breeze, then the beach is an ideal location for your birthday shoot.
You can play around in the water or relax on the sand while capturing stunning photos.
Park:
Parks are perfect for nature lovers who want a peaceful environment for their shoot.
With lush greenery and colorful flowers as your backdrop, you can take picturesque shots that will make your special day even more memorable.
Cityscape:
For those who love urban life, cityscapes provide a vibrant background that will make your photos pop.
From towering skyscrapers to busy streets filled with people and neon lights at night, there's no shortage of possibilities when it comes to photographing in cities.
No matter which location you choose, remember that it's all about having fun and creating lasting memories on your special day!
Props and Accessories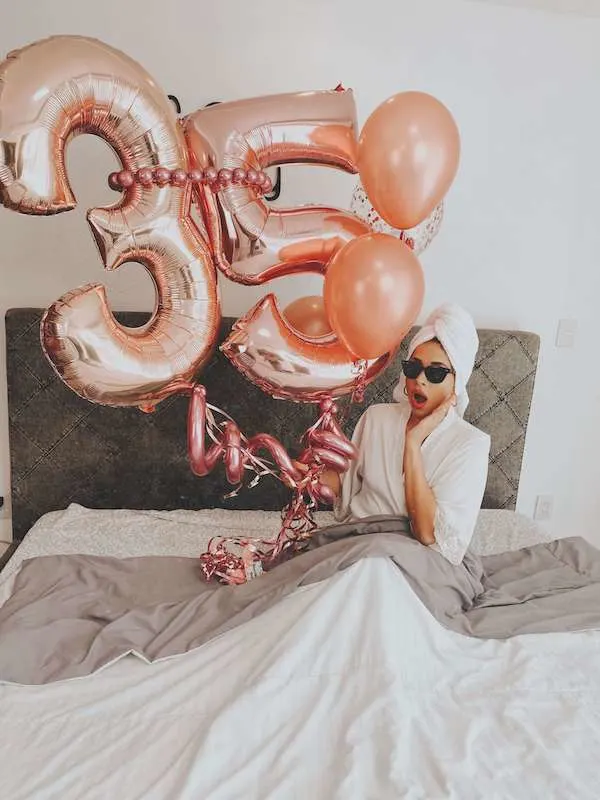 Props and accessories can make a huge difference in the overall look and feel of your birthday photoshoot.
From balloons to confetti, these elements can add a touch of fun and excitement to your pictures.
For instance, if you want a vintage-inspired shoot, consider adding props like a retro bicycle or an old camera to the mix.
If you're going for something more playful, try incorporating colorful hats or masks into the scene.
When it comes to accessories, jewelry is always a great option.
A statement necklace or pair of earrings can add some sparkle and glamour to your photos while also elevating your outfit.
You can also experiment with different types of headwear such as flower crowns, tiaras, or even funky hats.
Lastly, don't forget about using items that are personal to you as props.
This could be anything from your favorite book or musical instrument to your pet!
Including these special items will not only make for unique photos but will also create meaningful memories that you'll cherish for years to come.
Outfits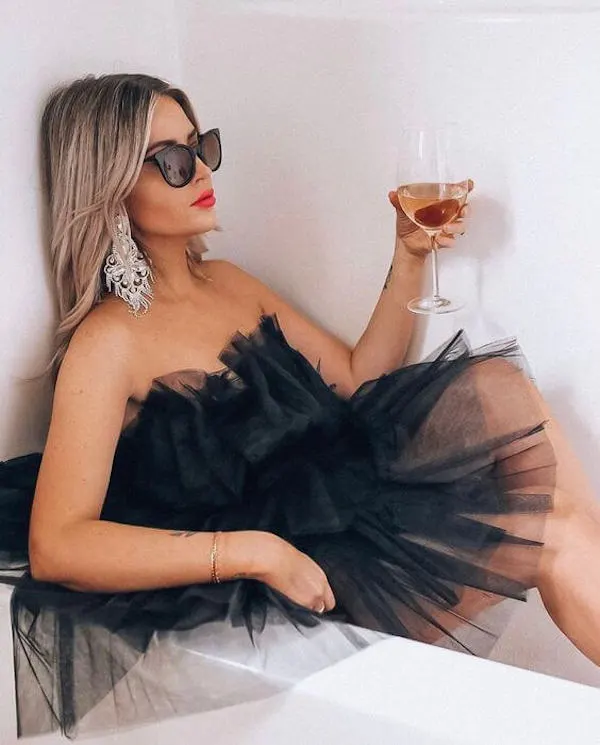 Outfits play a significant role in creating an unforgettable birthday photoshoot.
Whether it's a themed or casual shoot, choosing the right outfit can make all the difference.
For example, if you're going for a bohemian vibe, flowy dresses, and floral patterns will work best.
On the other hand, if you want to showcase your edgy side, leather jackets, and ripped jeans are perfect.
Another important factor to consider when choosing outfits is comfort.
You don't want to feel uncomfortable in your clothing during your photo shoot as it could affect your confidence and overall mood.
Therefore, opt for clothes that fit well and allow you to move freely.
When planning a group photoshoot with friends or family members, coordinating outfits can add an extra level of fun and creativity.
Consider matching colors or patterns while still allowing each person's individual style to shine through.
Overall, putting effort into styling yourself for your birthday photoshoot is worth it as it ensures that you look and feel your best on this special day!
Poses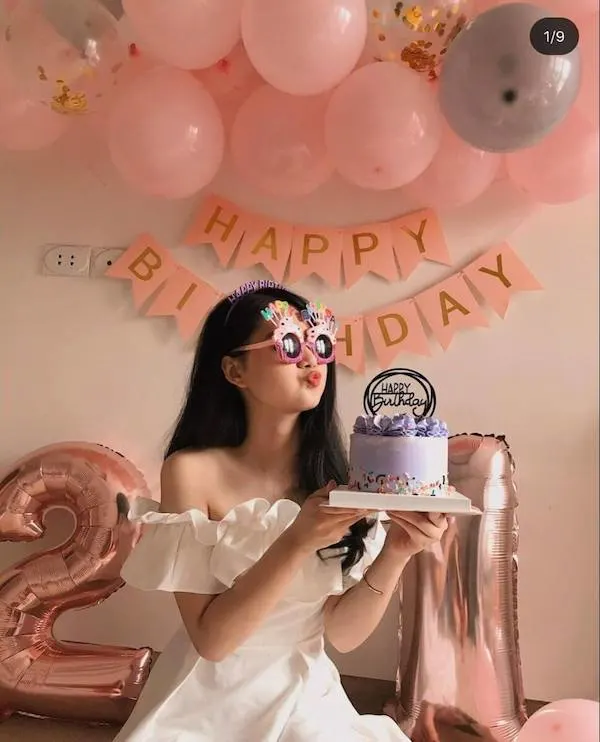 Poses can make or break any photoshoot, especially when it comes to birthday shoots.
Make sure that you have a good idea of the poses you want to use before the shoot so that you don't waste time figuring it out on the day.
It's also essential to communicate with your professional photographer and let them know what kind of poses you're comfortable with.
Don't be afraid to try something new!
You might be surprised at how well certain poses work for your body type, personality, or style.
Experimenting with different angles, facial expressions, and props can help add some variety and creativity to your photos.
Finally, keep in mind that posing is all about confidence!
If you feel confident and comfortable in front of the camera, it will show in your pictures.
So take a deep breath, relax, and enjoy yourself – after all, it's your birthday!
Fun Birthday Photoshoot Ideas
Location: Take the birthday photoshoot to a unique location that matches the personality of the person being celebrated.
For example, if they are a nature lover, take them to a scenic park or garden for their photoshoot.
Alternatively, if they love vintage items, take them to an antique shop or old-fashioned diner for a retro-themed shoot.
Props: Incorporate fun and colorful props into the photo shoot to add some excitement and personality.
Balloons, confetti poppers, oversized sunglasses, or hats can all make great additions to create visually appealing pictures.
Theme-based Photoshoots: If you want your birthday photoshoot to have a consistent theme and mood throughout then consider going with themed-based options like mermaid party themes, beachy vibes or princess themes, etc.
Go silly: Sometimes having silly poses and wacky facial expressions can lead to priceless photographs that capture true emotions of joyfulness on one's special day.
Bring in family & friends: Birthday celebrations are incomplete without loved ones around us so why not bring those people into your photo session?
Candid shots of laughter and group hugs will always be cherished memories for years down the line!
Take gorgeous cake photography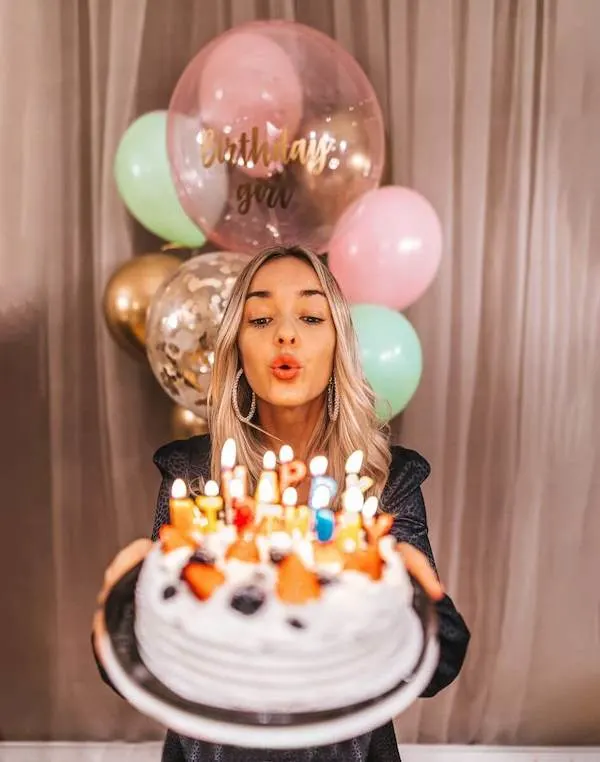 Perfect Birthday Photoshoot With Your Friends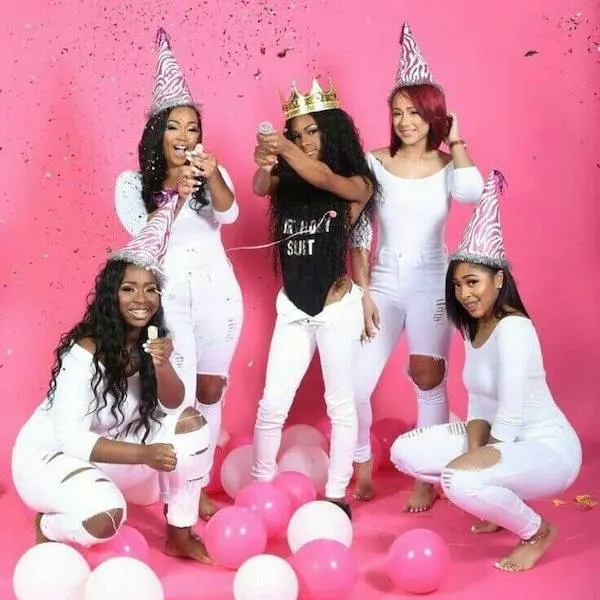 Elegant Silver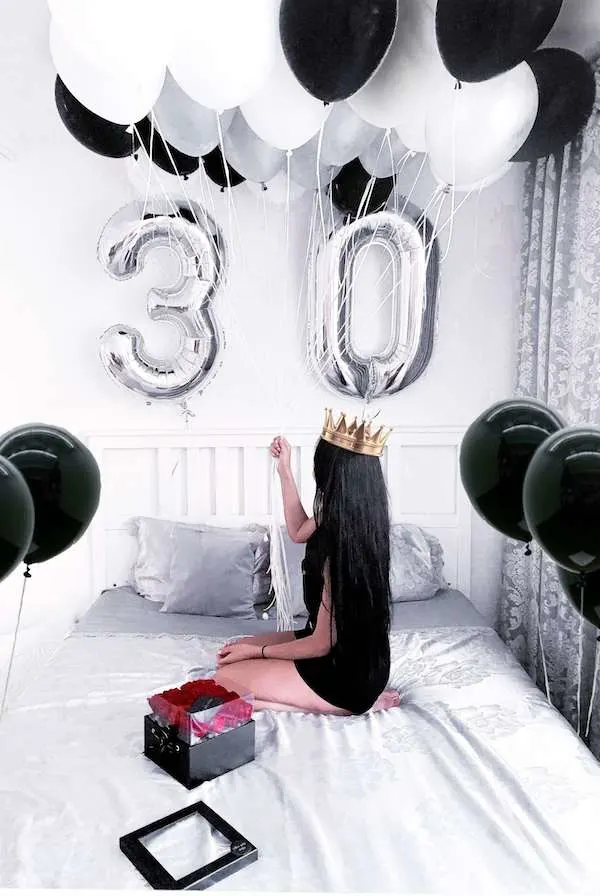 Best Birthday Photoshoot Ideas
One of the best ways to make a birthday special is by capturing memories through photographs.
Whether it's for yourself or someone else, there are countless creative ideas that can be used to make a birthday photoshoot memorable.
One fun idea is to create a themed photoshoot based on the person's favorite hobby or interest.
For example, if they love music, taking pictures with instruments and music notes can add a unique touch to the shoot.
Another great option is a milestone photoshoot.
This type of shoot focuses on celebrating an important age like 18, 21, or 50 years old.
Adding props like balloons or banners can help highlight the milestone and create an exciting atmosphere for the photo session.
Additionally, incorporating family members and close friends into the shoot can make for some beautiful group shots that will be cherished forever.
Cute Birthday Wishes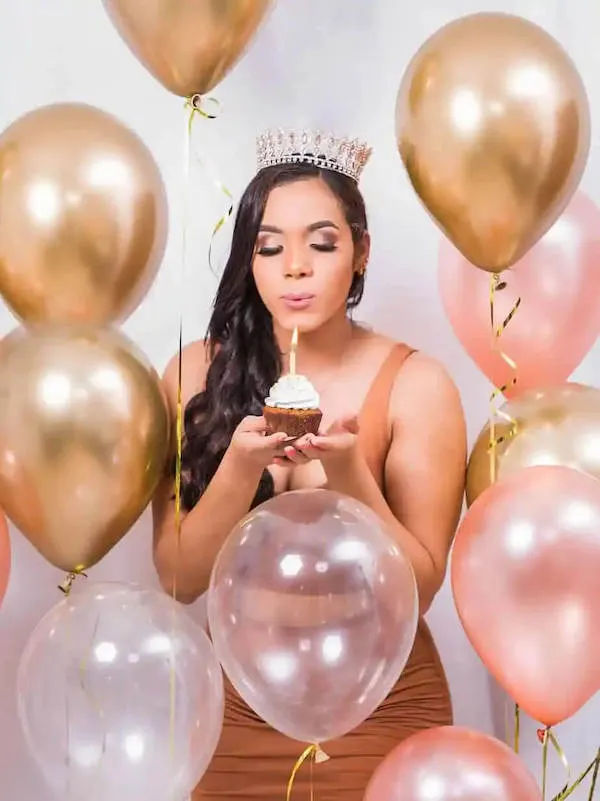 Birthday Bathroom Photo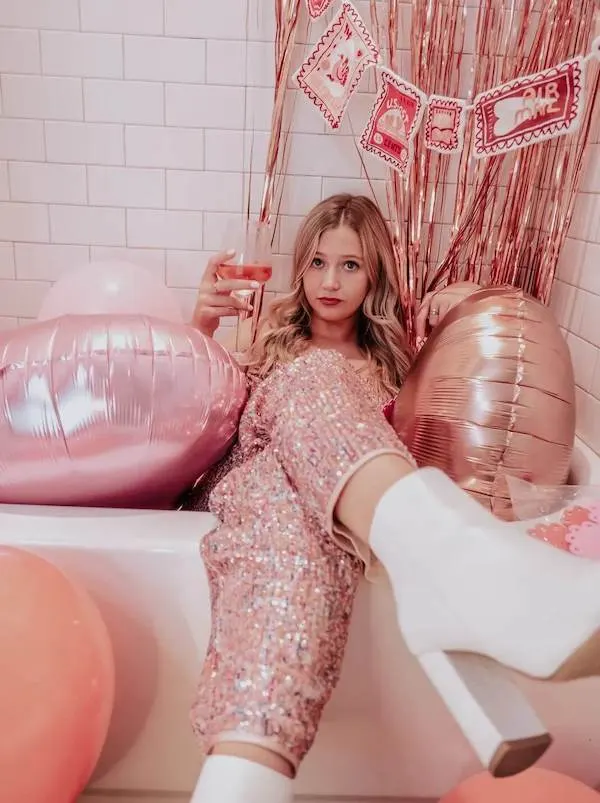 Silver Birthday Photo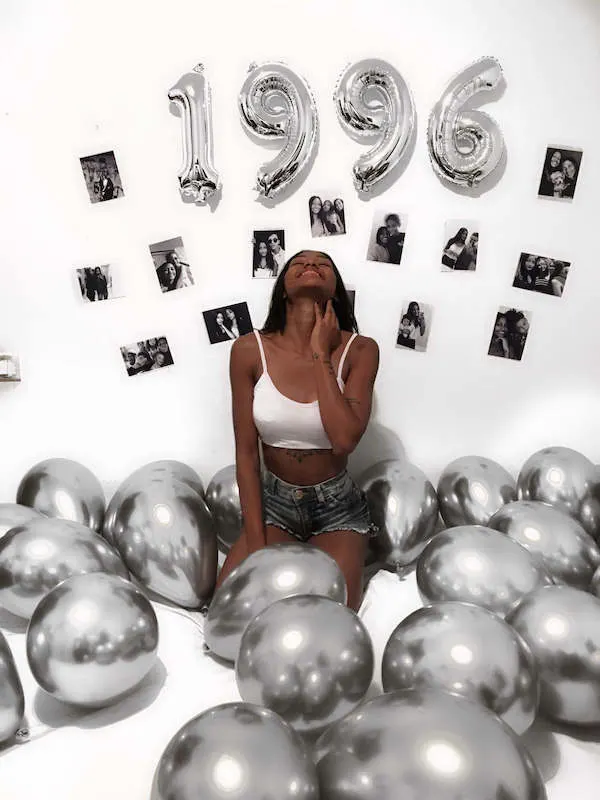 In The Middle Of Birthday Balloons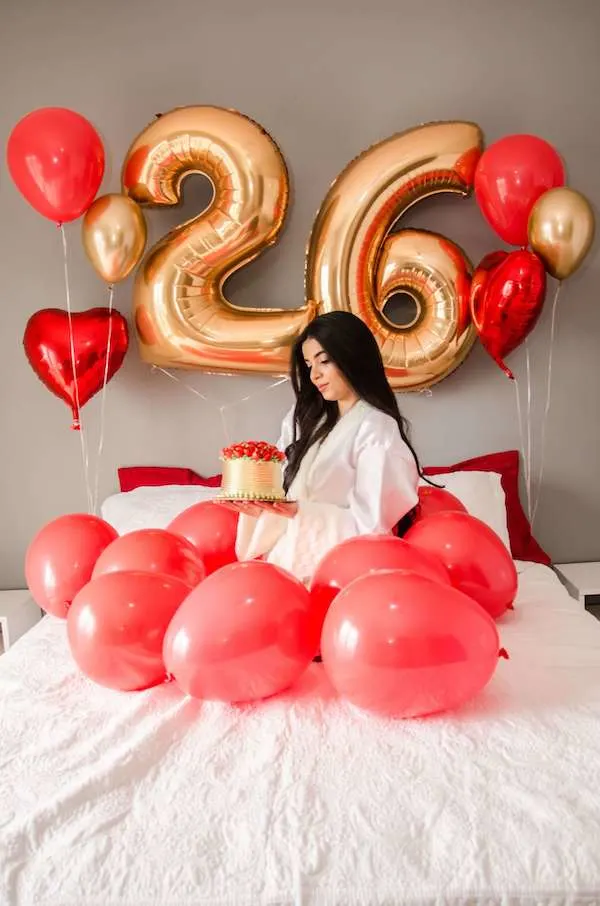 Cute Special Cake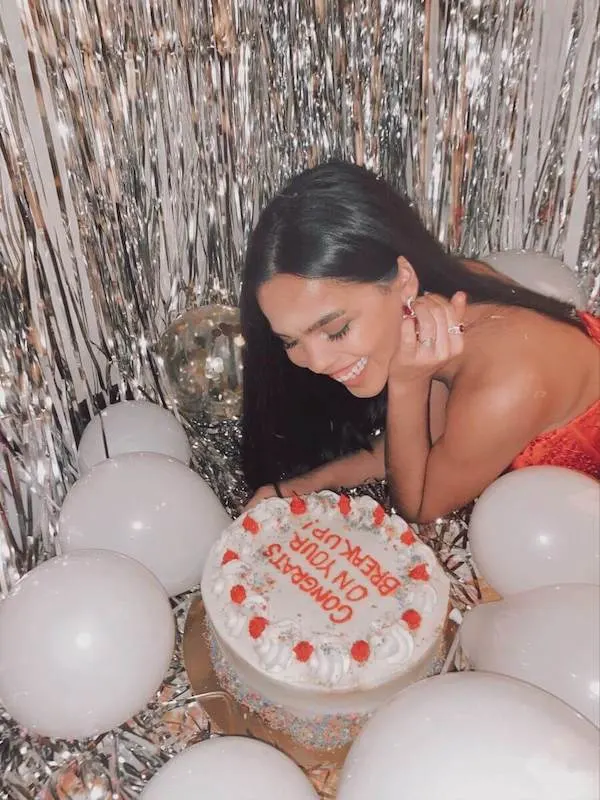 Birthday Breakfast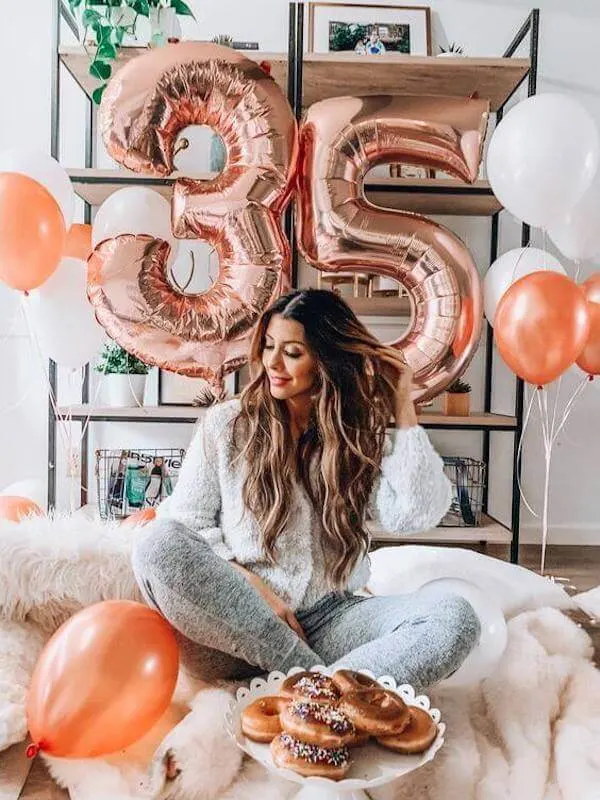 I'm the cute birthday girl!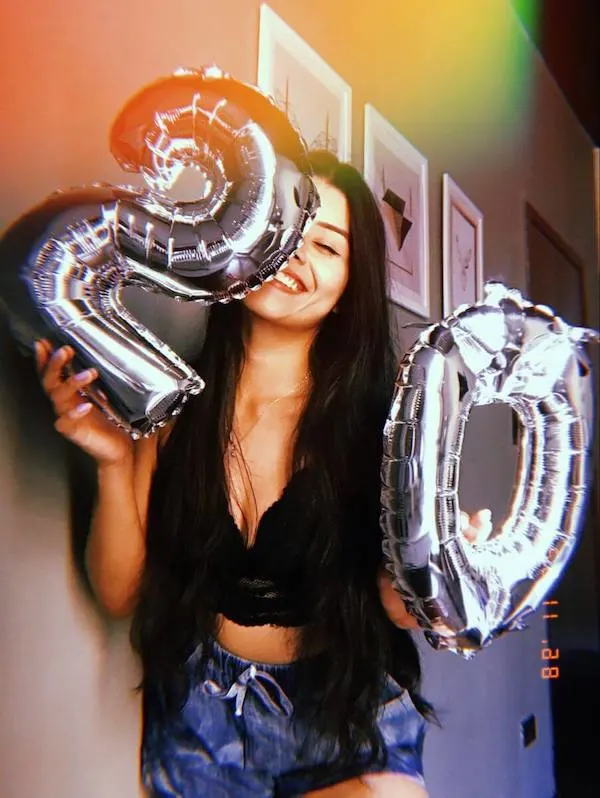 30th Birthday Photo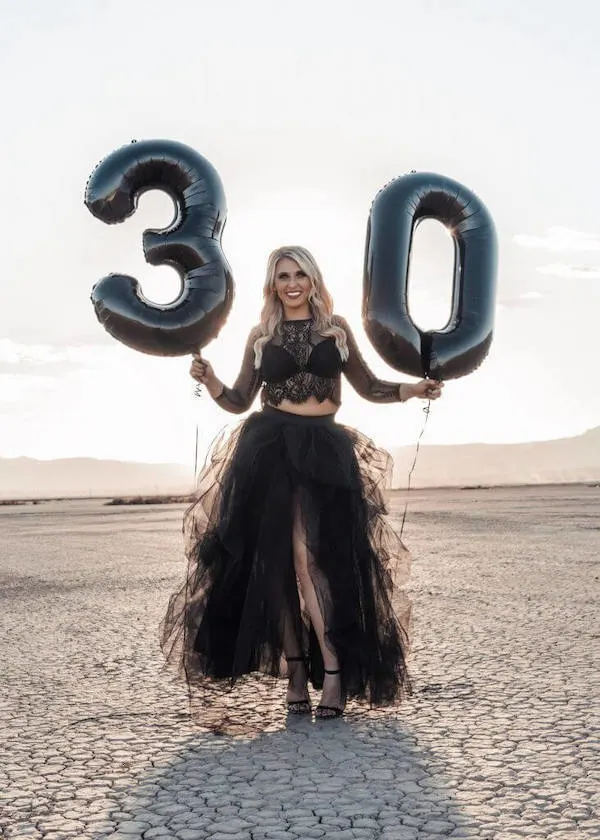 Enjoy Your 30!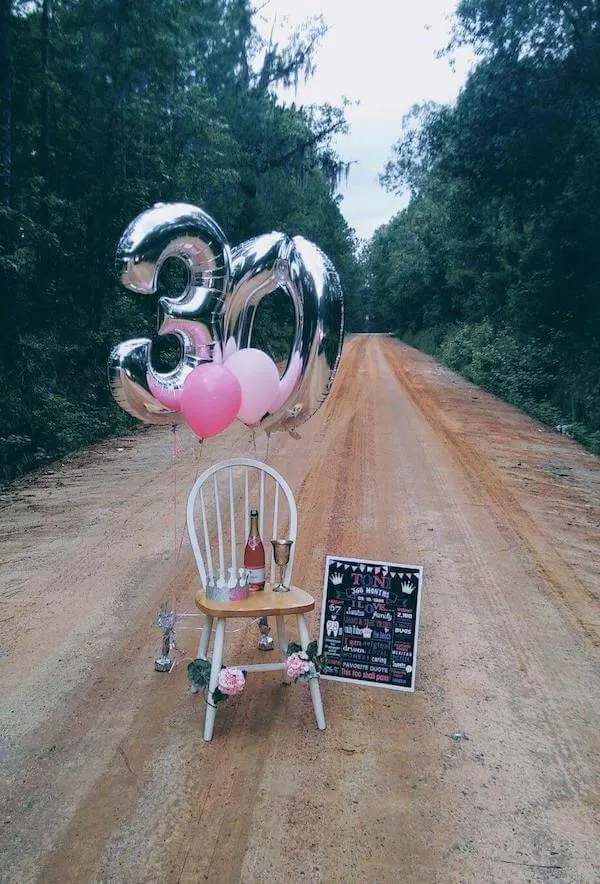 Colorful Balloons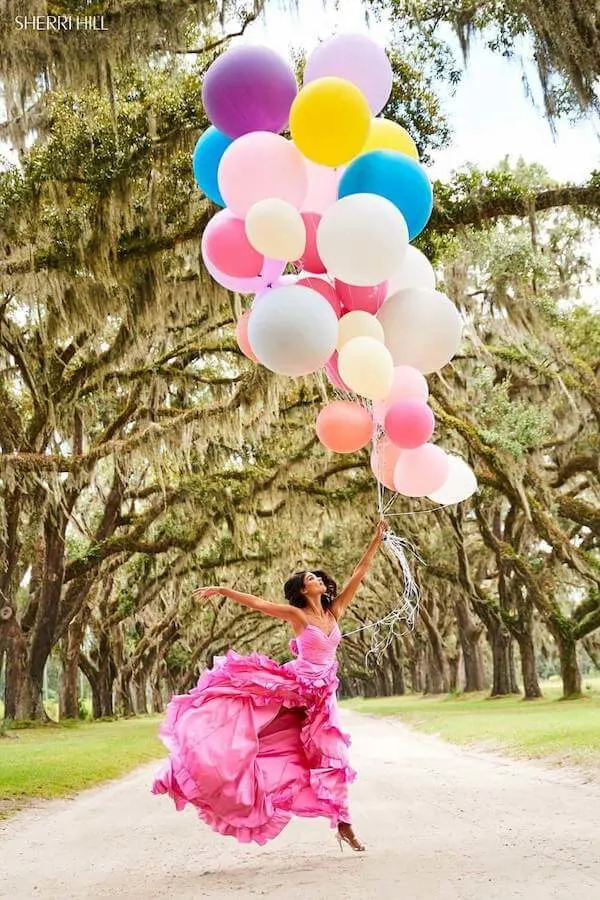 DIY My Birthday Dress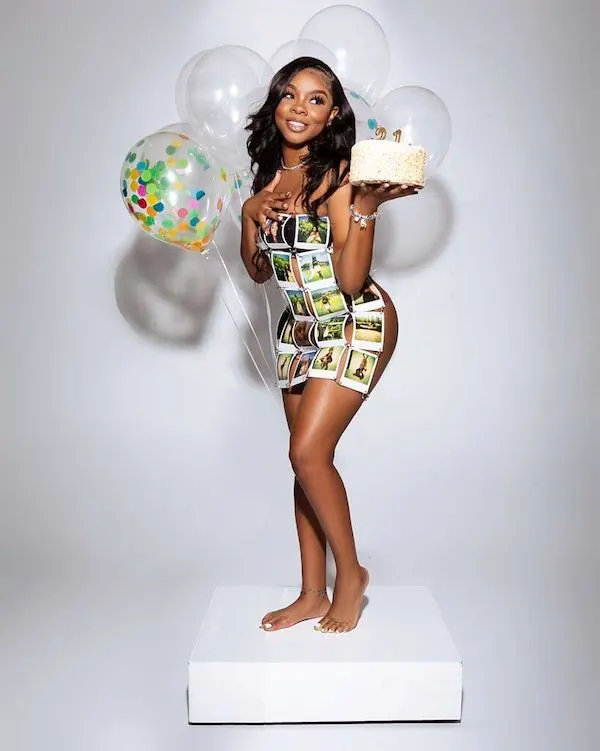 336 Months Old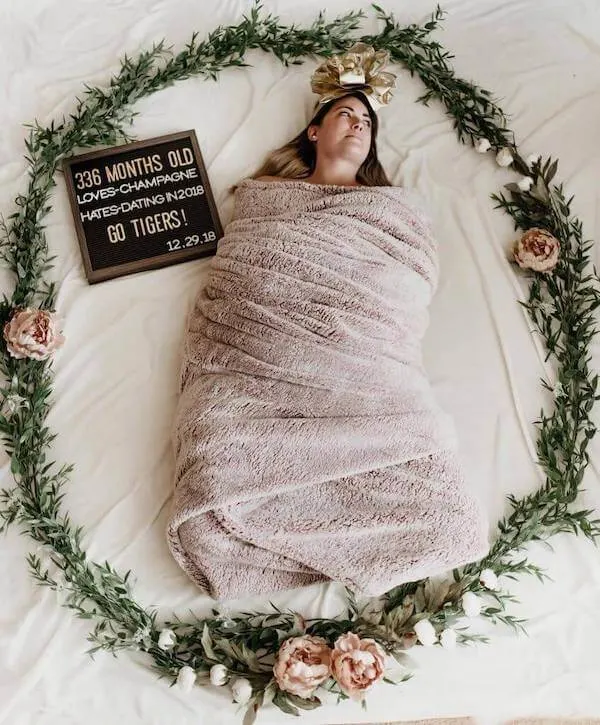 Birthday Queen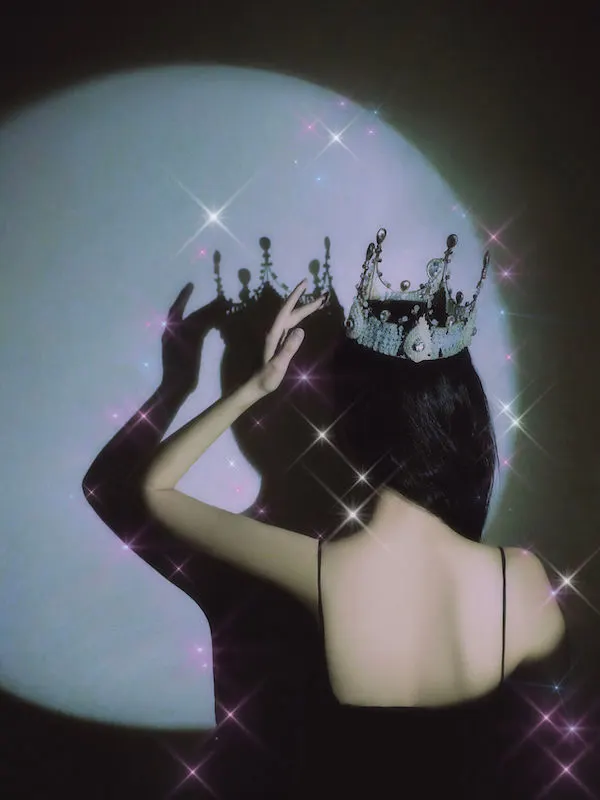 Cute Birthday Shoot Ideas At Home
One of the best ways to create lasting memories on your birthday is by having a cute birthday shoot at home.
There are countless ideas that you can try out, depending on your style, budget, and preferences.
For instance, if you love flowers, you can create a floral backdrop using fresh or artificial blooms in various colors and sizes.
You can then dress up in a matching outfit and strike some poses that showcase your love for nature.
Another idea is to incorporate balloons into your shoot.
Balloons come in different shapes, sizes, and colors, making them versatile props for any birthday photoshoot.
You can create an arch or garland using balloons and pose beside it while holding some balloons in your hands.
Alternatively, you can spell out your age or name using large foil balloons and take pictures with them as the background.
Gorgeous Photoshoot At Home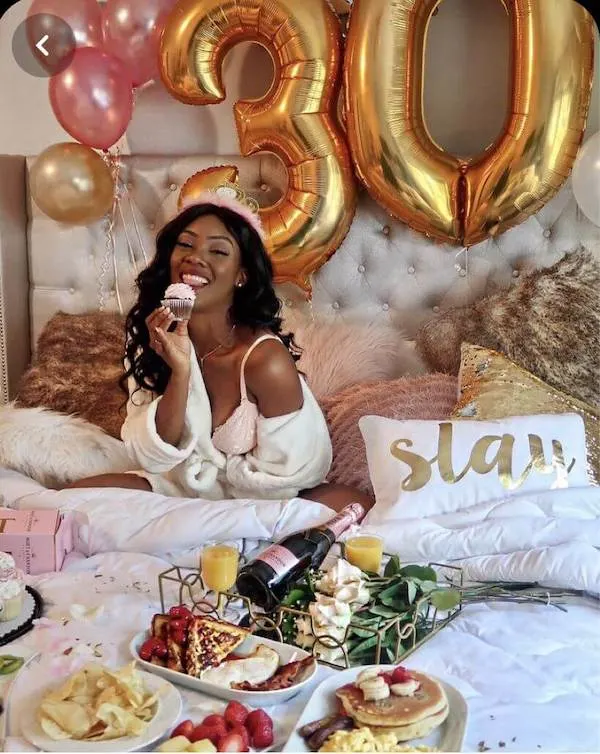 With My Birth Year
Bathroom Birthday Photoshoot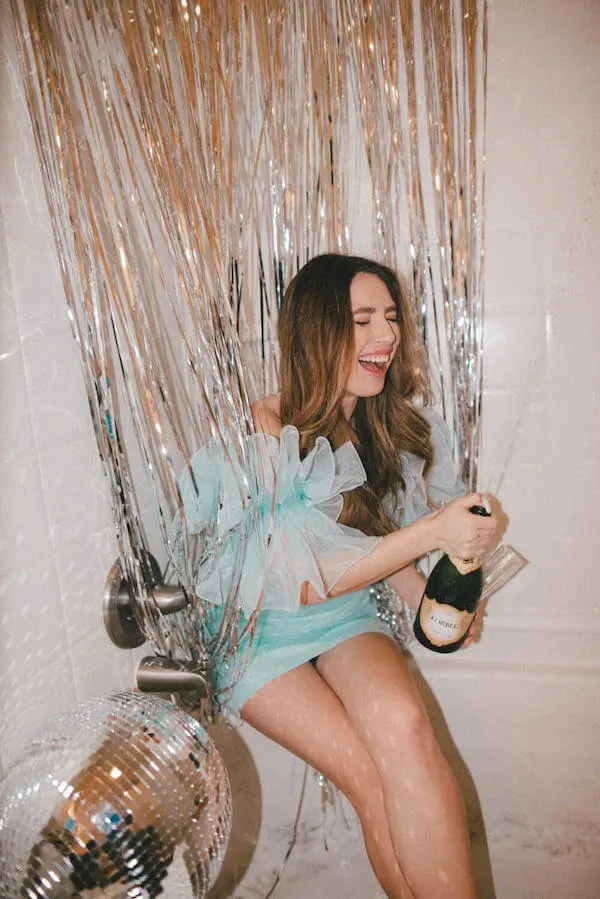 Good Vibes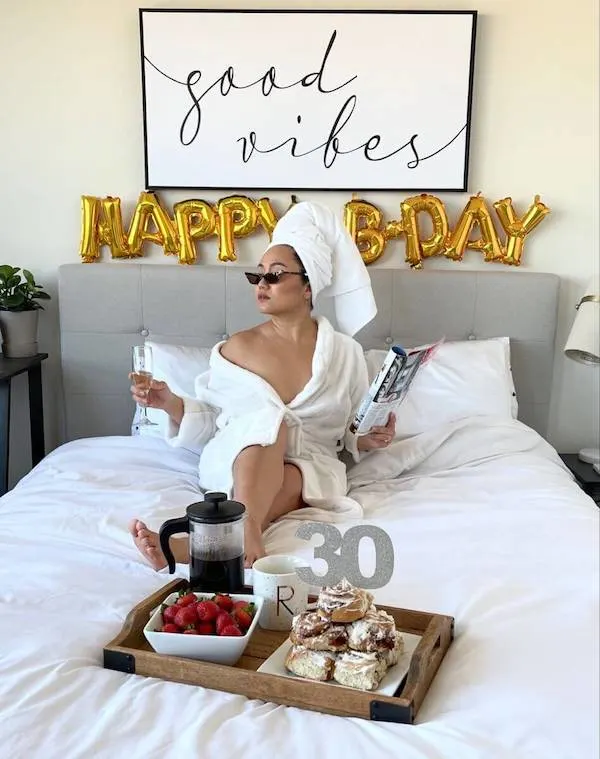 Happy 17th Birthday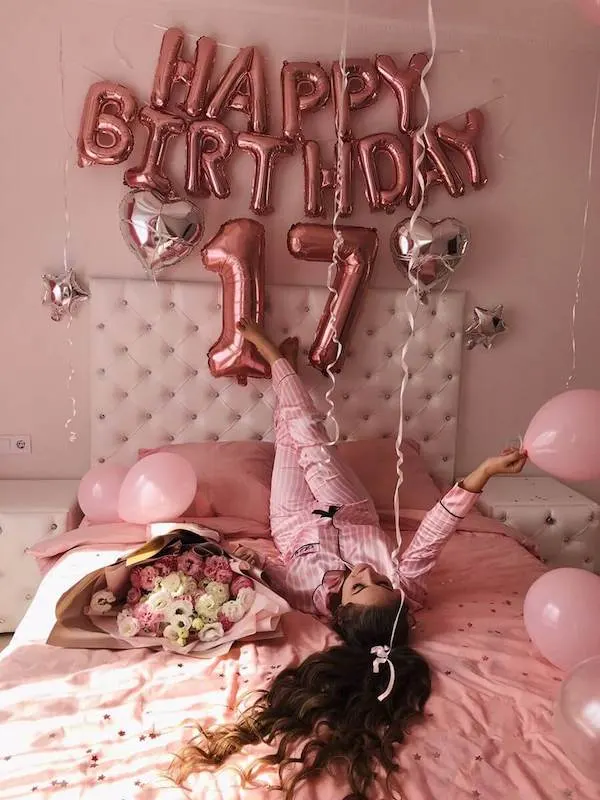 Creative Birthday Pictures For Women
When it comes to celebrating a woman's birthday, creative photoshoots can be a fun and memorable way to capture the occasion.
Whether you are into glamorous portraits, playful candid photos or something in between, there are plenty of ways to make you feel special on your big day.
Some great ideas for women's birthday photoshoots include using balloons, confetti, or other props to add color and texture to the images.
You could also try incorporating meaningful objects or locations that highlight her hobbies, interests, or personal style.
Another option is to go for a themed shoot that reflects your personality or celebrates a particular milestone in your life.
For example, if you love vintage fashion, you could do a retro-inspired photo session complete with old-fashioned clothing and accessories.
If you're turning 30, you might choose a "dirty thirty" theme with playful decorations and cheeky poses.
Last but not least – don't forget about natural light!
A bright sunny day can make for some stunning outdoor shots that really capture the essence of your beauty and energy.
Alternatively, soft diffused light indoors can create an intimate atmosphere perfect for more contemplative shots.
Important Milestone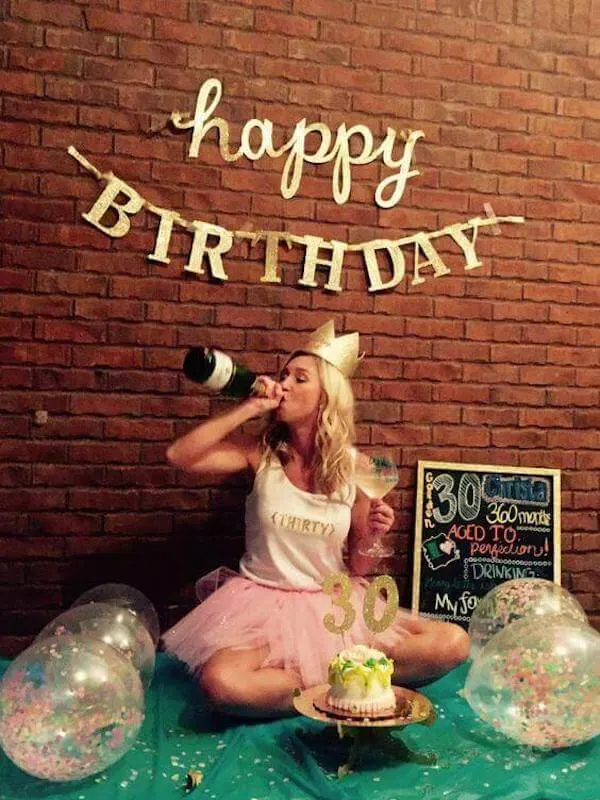 With My Closest Friends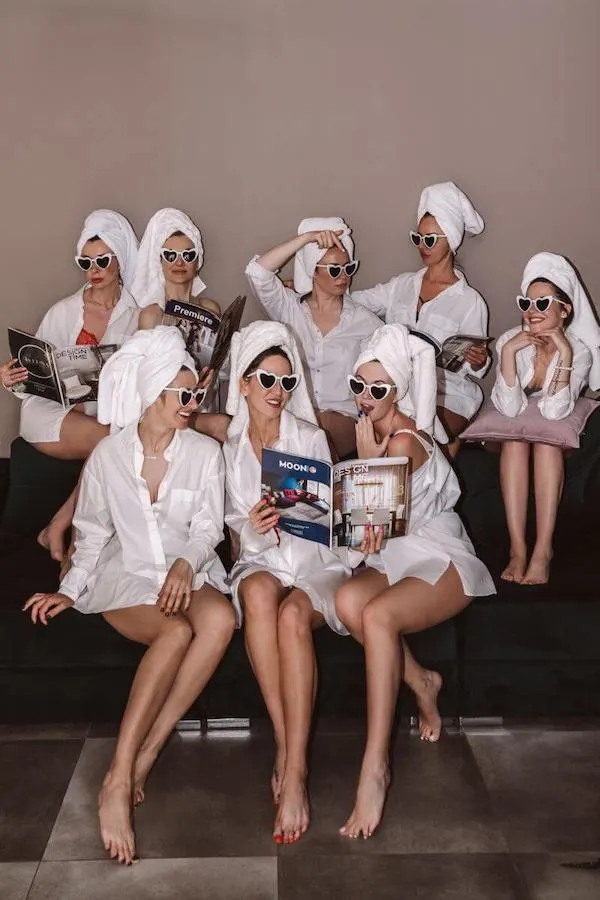 Retro Birthday Portrait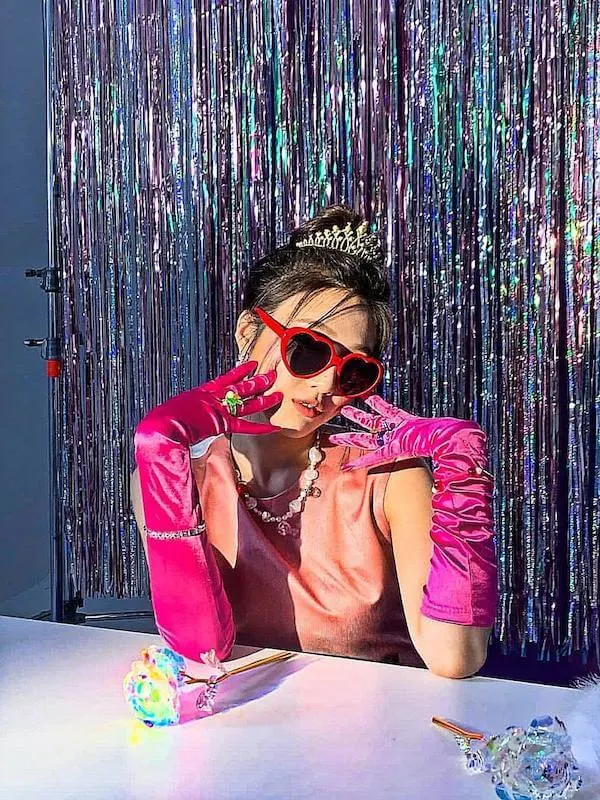 Happy Birthday!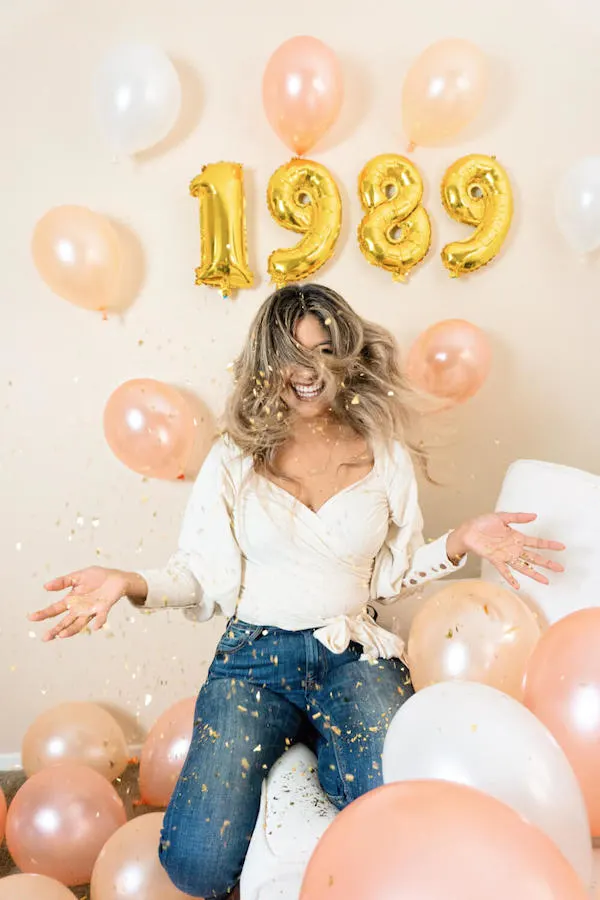 Sweet Birthday Moment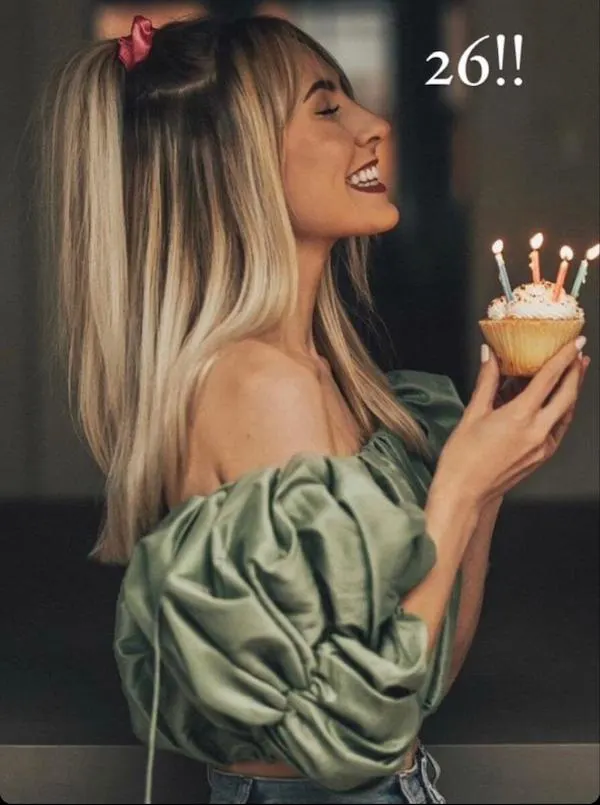 A Big Smile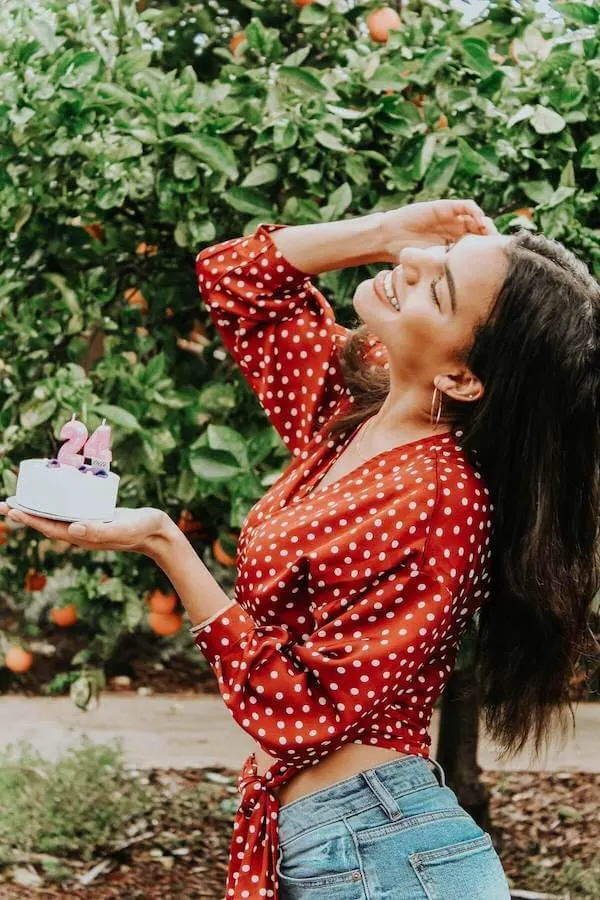 Hold The Birthday Cake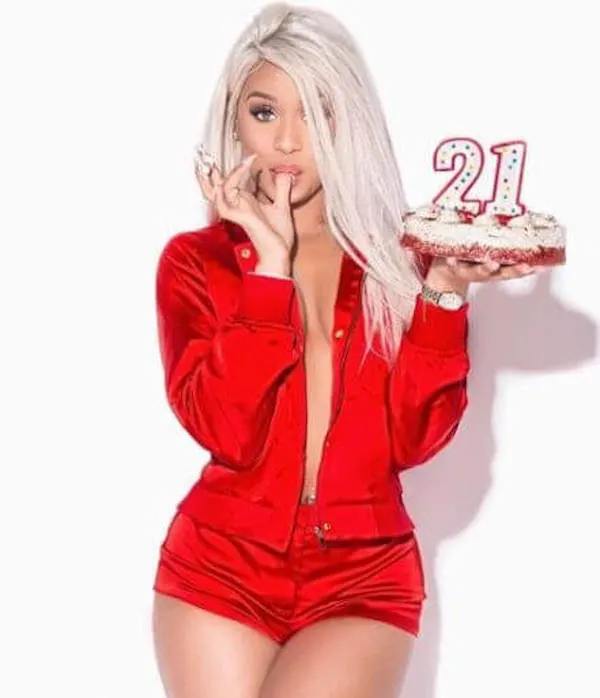 Pink Birthday Photoshoot Ideas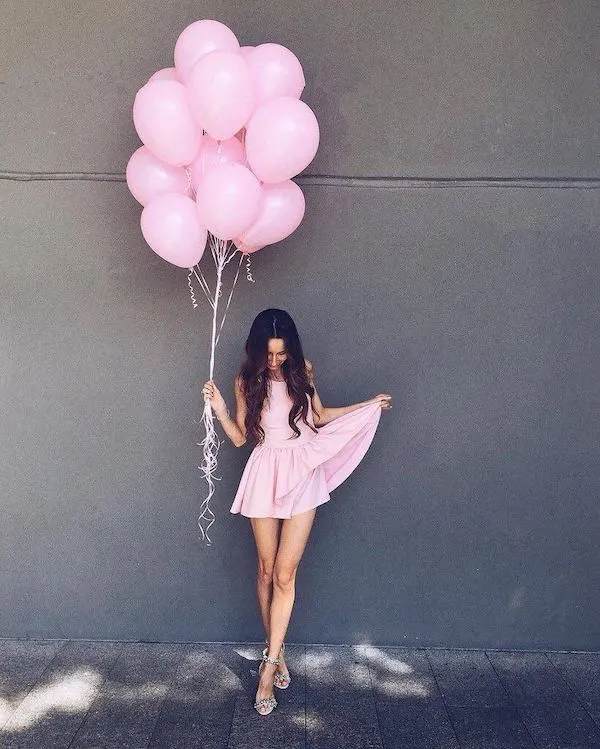 25th Birthday In Bed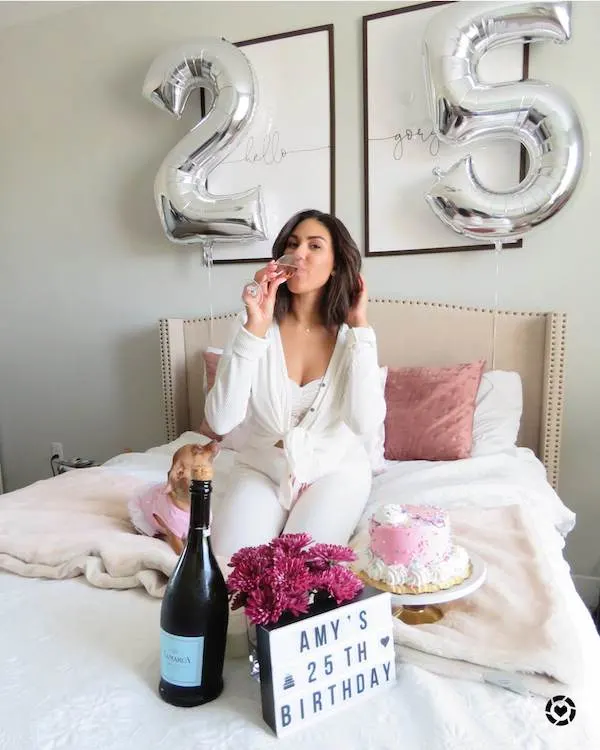 A Sparkler For Your Special Day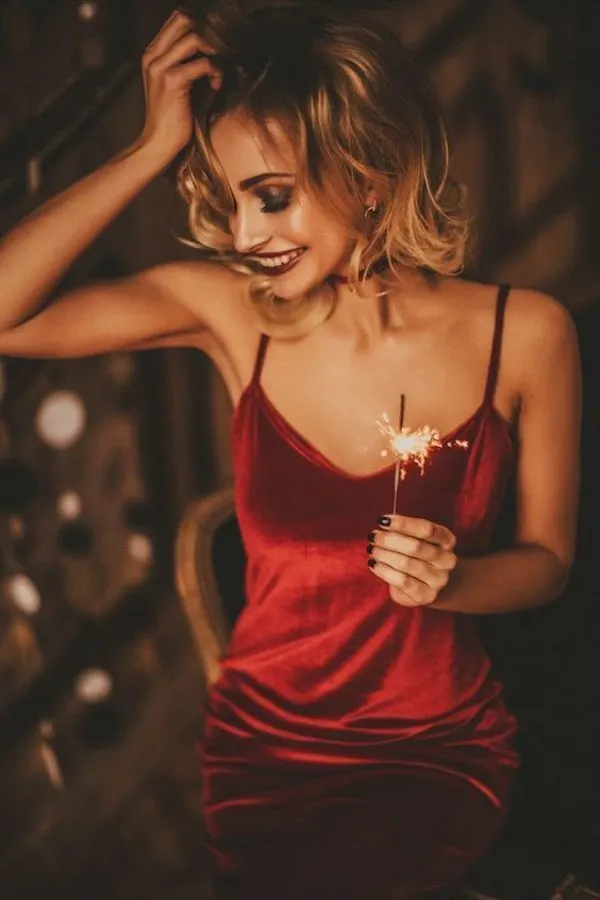 40th Birthday Photoshoot Ideas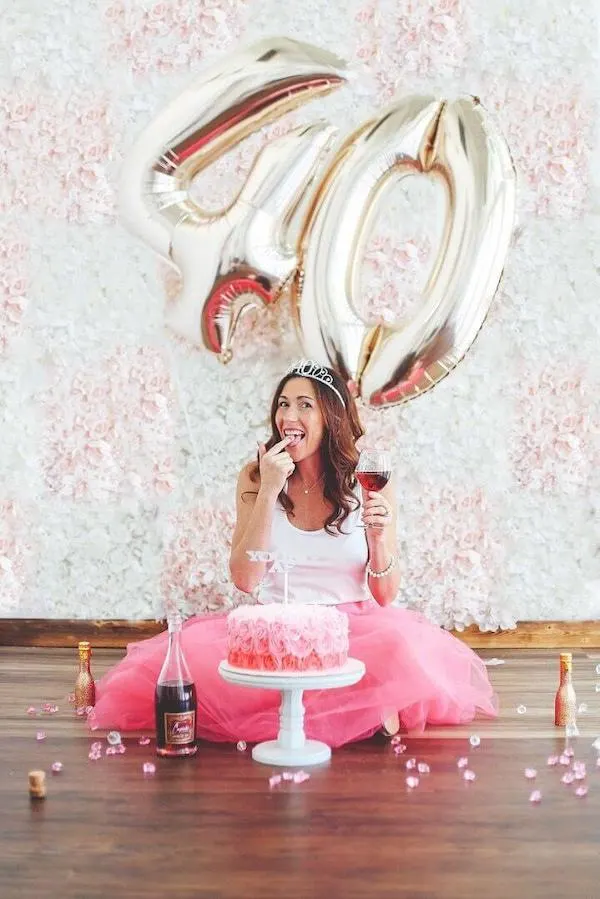 Creative Silhouette Photo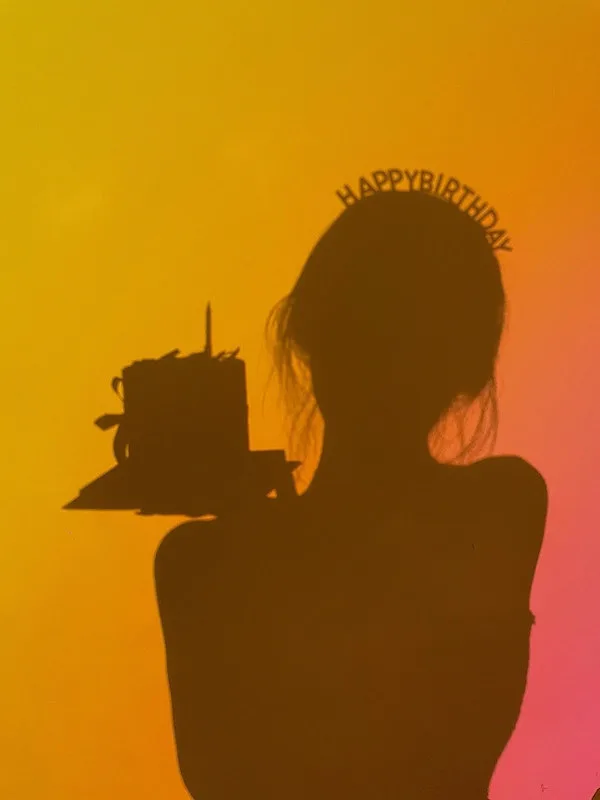 We highly recommend this sunset light to get this kind of photo.
Glam Birthday Photo Shoot Ideas
If you're looking for photoshoot ideas to celebrate your birthday in style, you can't go wrong with a glamorous photo shoot.
Whether you prefer an elegant and sophisticated look, or something bold and daring, there are countless ways to bring out your inner glam on your special day.
One idea is to choose a chic theme that reflects your personal style.
For example, if you love vintage fashion, consider dressing up in retro-inspired clothing and accessories for an old Hollywood-style photo shoot.
Alternatively, if you're into more modern trends, try incorporating metallic accents or bold prints into your outfit for a futuristic vibe.
Another fun option is to add some sparkle and shine to your photos by using glitter or sequins.
You could sprinkle some glitter over yourself or create a glittery background for the photoshoot.
Additionally, props like balloons (preferably gold), sparklers, and confetti cannons can also be used to enhance the glamour of the whole experience.
Whatever approach you choose for your glam birthday photo shoot ideas- make sure it's authentic and unique so that it turns out as memorable as possible!
Burnt Orange Birthday Photoshoot Ideas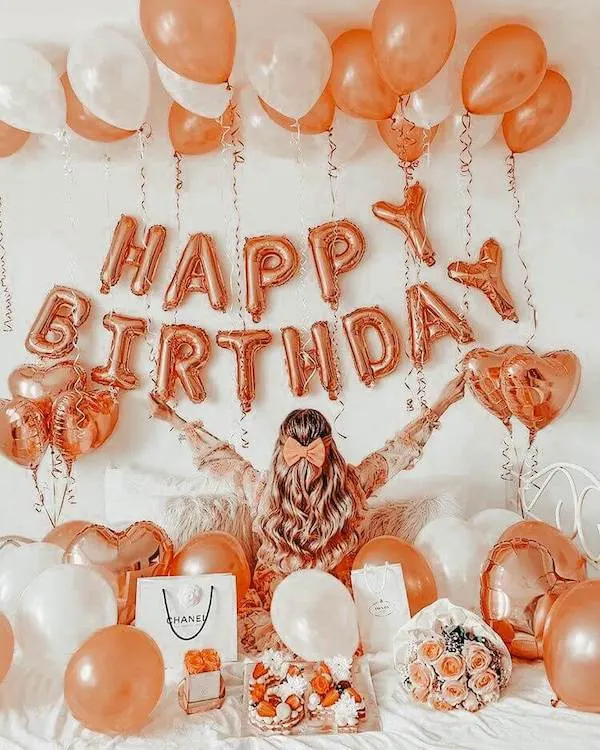 A Milestone Birthday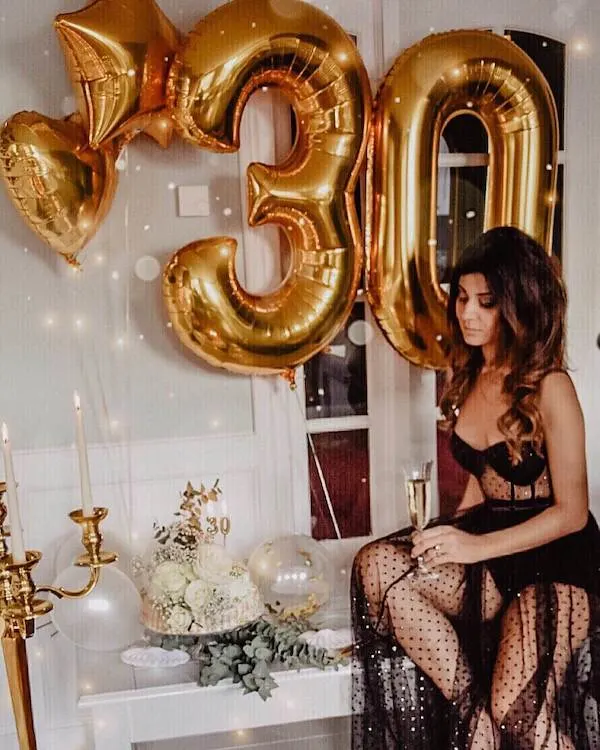 Happy 30th Birthday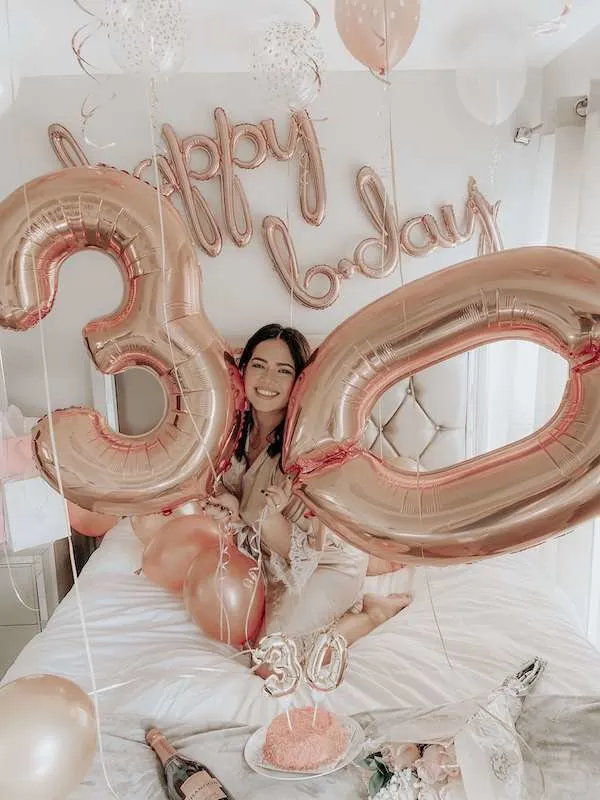 Creative 21st Birthday Photoshoot Ideas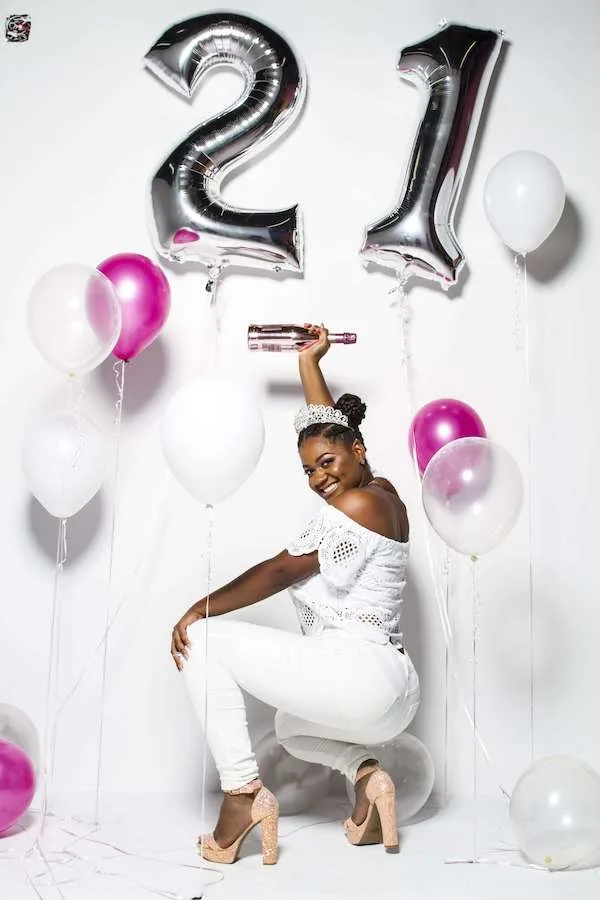 Open The Champagne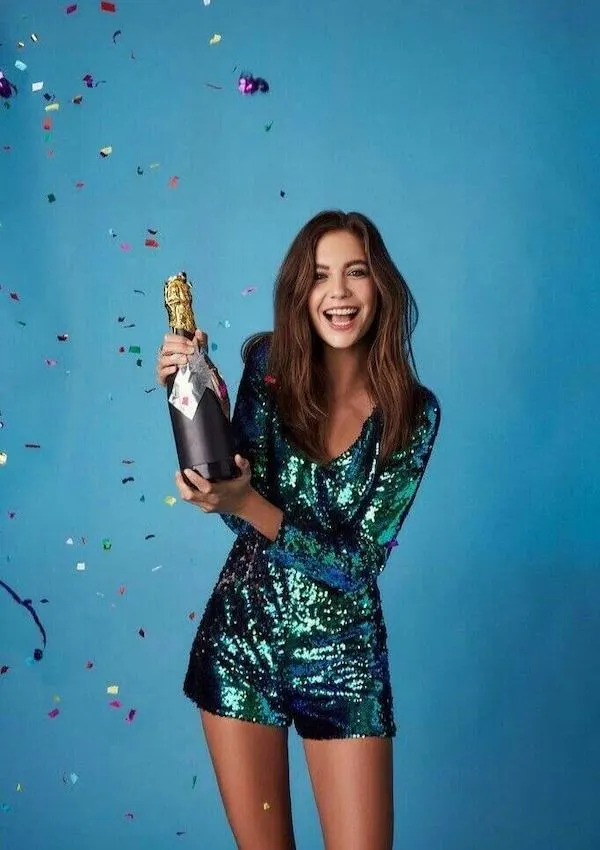 Baddie Birthday Photoshoot Ideas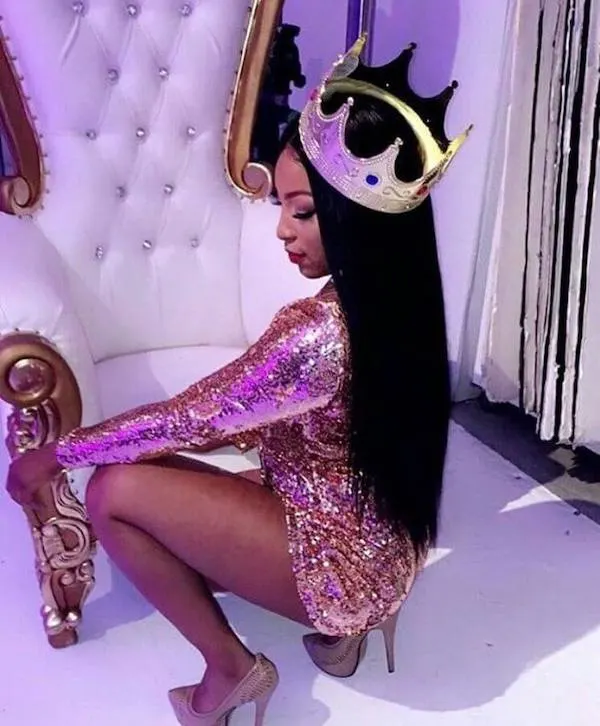 Set Up A Birthday Gift Area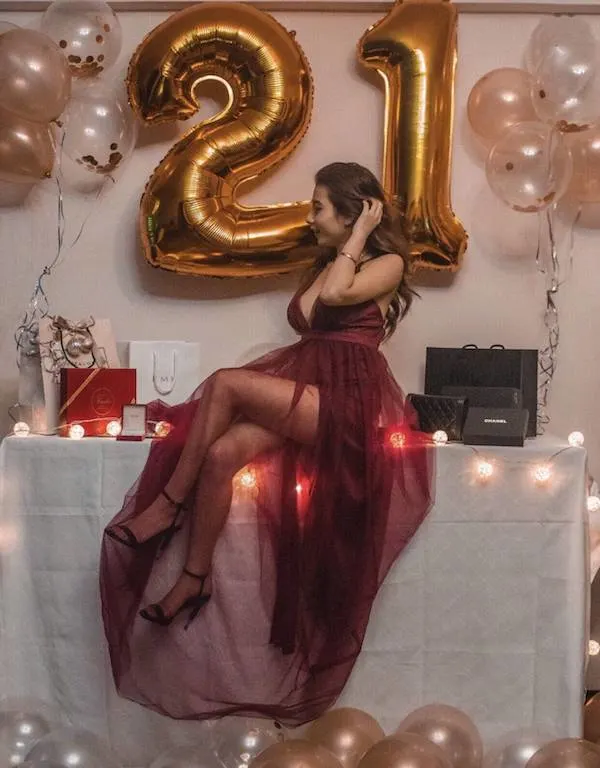 Fun Photo Ideas For Birthday parties
If you're looking for fun photo ideas to capture the memories of your birthday party, there are plenty of creative options to choose from.
One idea is to create a DIY photo booth with props such as hats, glasses, and signs that guests can use for silly photos.
You can also set up a backdrop with balloons or streamers that match your party theme for more cohesive pictures.
Another idea is to incorporate games into your photoshoot.
For example, you could have a scavenger hunt where guests need to find certain items and take a picture with them.
This will encourage guests to interact and have fun while capturing memorable moments.
Finally, taking group photos is always a great option.
You can gather everyone together for a big group shot or divide guests into smaller groups based on their relationship (e.g., family members, coworkers) for more intimate pictures.
No matter what photo ideas you choose, make sure to have fun and enjoy the moment!
Birthday Photo With Friends And A Cute Photo Booth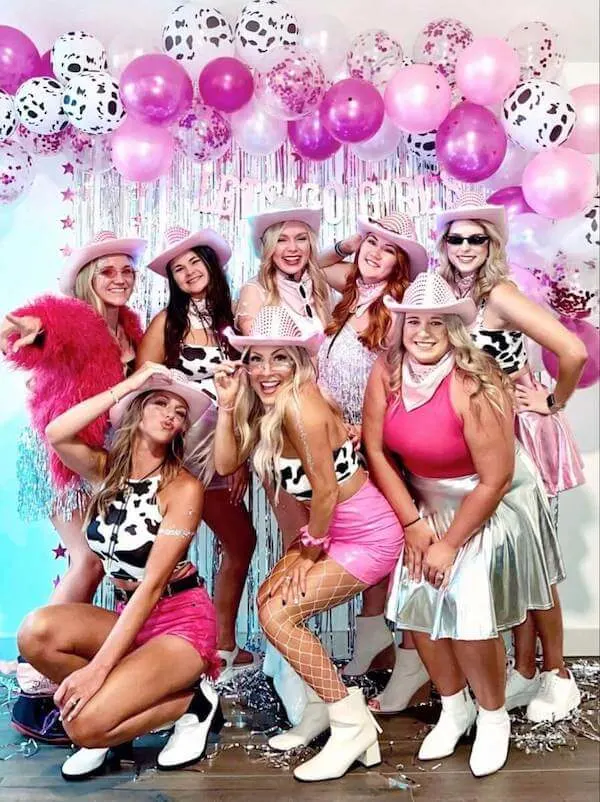 Try Out Different Poses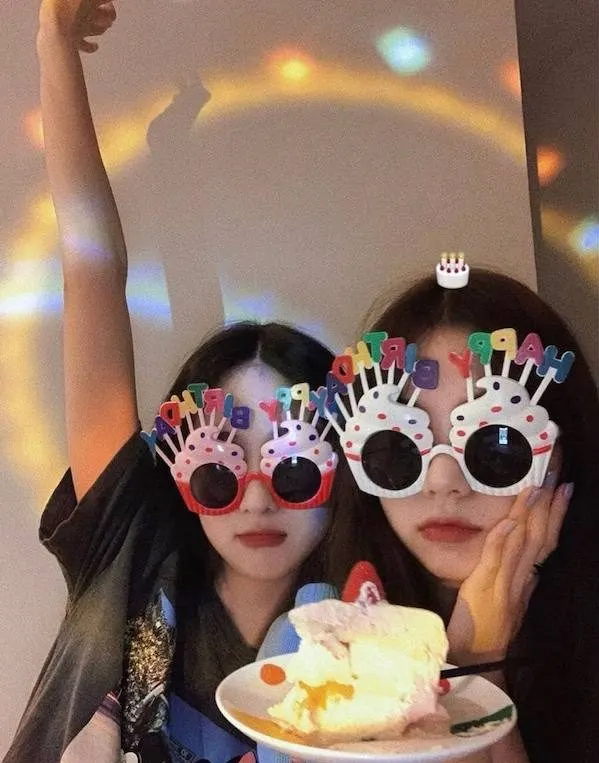 Happy Birthday Banners & Confetti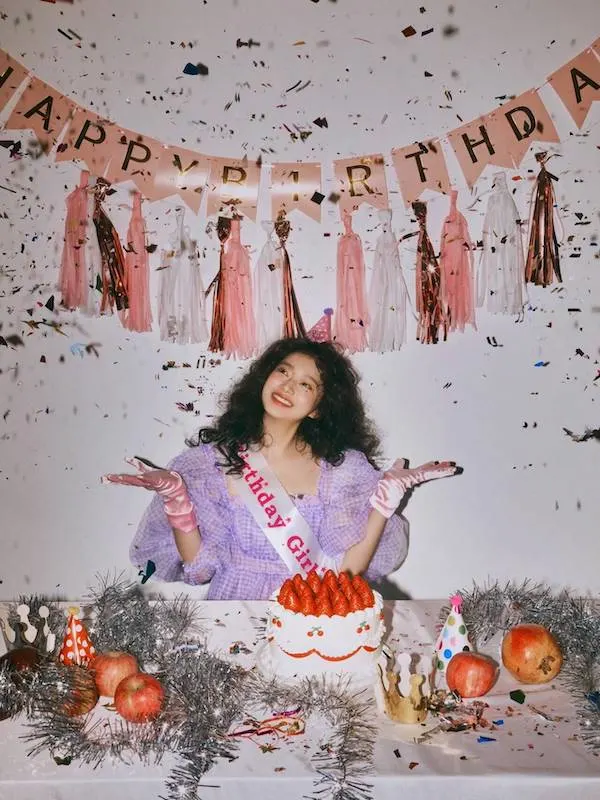 Birthday Celebration Photoshoot Ideas For Adults
One of the best birthday celebration photoshoot ideas for adults is to recreate a famous movie scene.
Choose a movie that you and your friends love, and then select an iconic scene from it to replicate.
Make sure to dress up in character and find a location or backdrop that matches the setting of the film.
This will make for some unforgettable memories and photographs.
Another great idea is to have a themed photoshoot based on your favorite hobby or interest.
Whether it's cooking, hiking, painting, or dancing, you can incorporate elements of your hobbies into the shoot by creating props or using them as accessories in your outfits.
Don't be afraid to get creative with this one – think outside the box!
Lastly, consider having a vintage-inspired photoshoot for your birthday celebration.
Dress up in old-fashioned clothing and use vintage props like antique cameras, suitcases, or typewriters as part of the shoot's decor.
You could also rent out an old-timey location like an abandoned warehouse or retro diner for added authenticity.
This theme makes for some stunning black-and-white photographs reminiscent of days gone by!
Cute 18th Birthday Photoshoot Ideas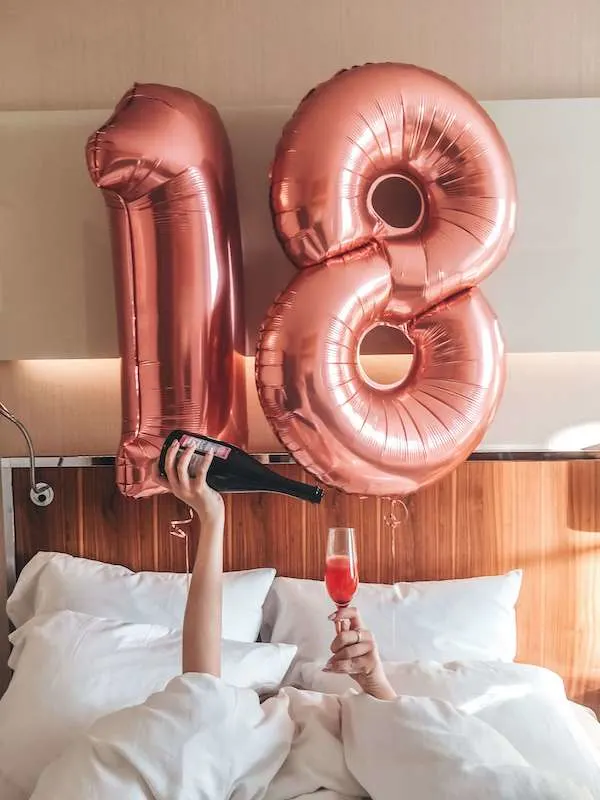 Cute Dreamy Balloon Bouquet Set Up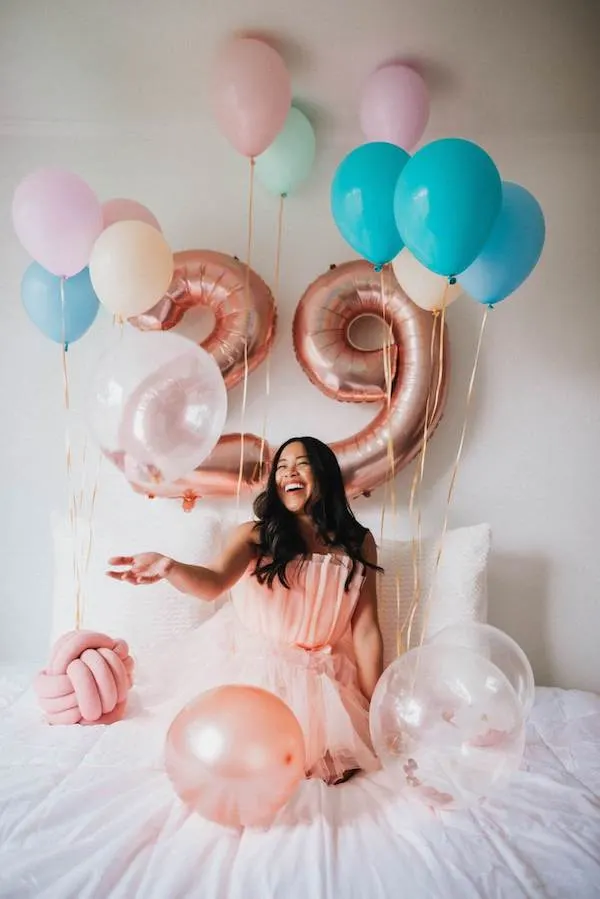 Kiss The Balloons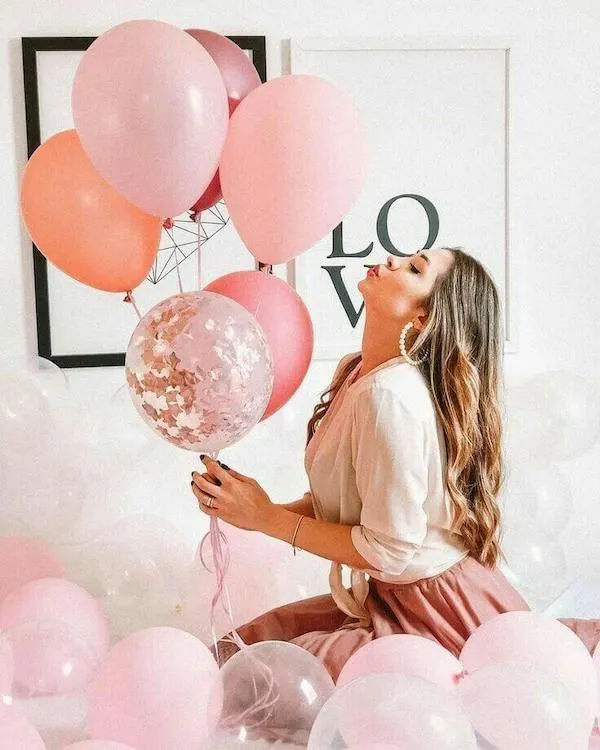 Real Flowers Top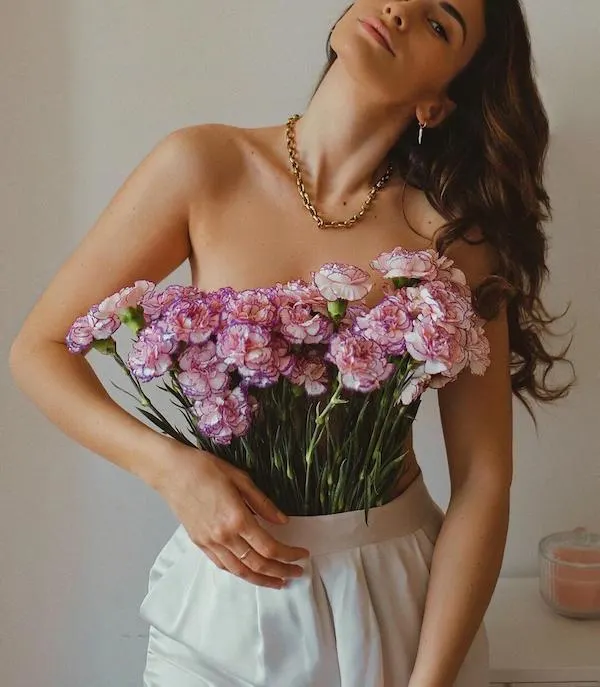 Use A Projector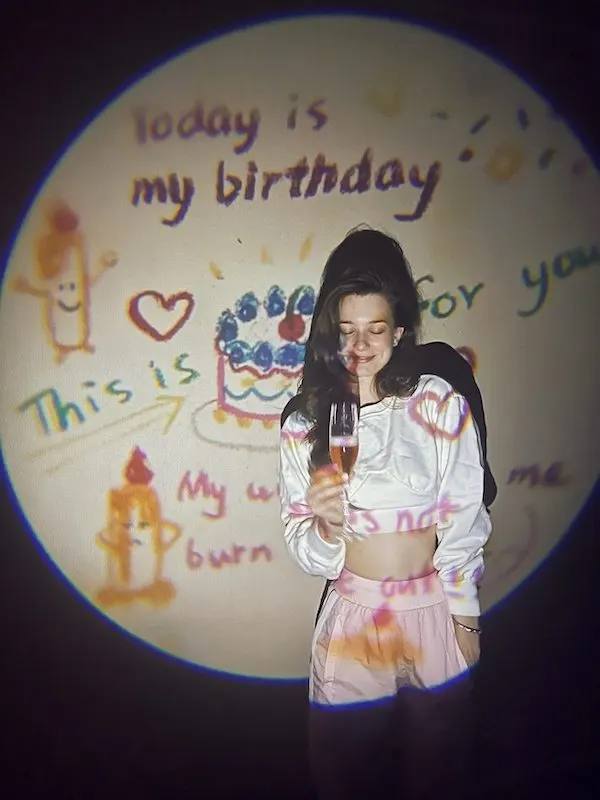 To copy this idea, you need to prepare a projector, then choose a white wall, and cast your favorite image on the wall.
You can get our favorite under-$5 projector with the exact same image here at SHEIN.
Birthday Group Photo Ideas With Friends
One option is to have everyone wear matching outfits or accessories, such as hats or sunglasses, for a cohesive look.
Another idea is to stage a fun activity, like playing a game or having everyone hold balloons of different colors and sizes.
For something more whimsical, consider using props like giant letters spelling out the birthday person's name or age.
You could also try creating an optical illusion by positioning people in different parts of the frame so that they appear to be interacting with each other in unexpected ways.
Finally, if you want to capture the atmosphere of the party itself, try taking candid shots throughout the night rather than just posed group photos.
This will give you a more authentic representation of the celebration and create memories that will last long after the candles on the cake have been blown out.
Swimming Pool And A Bunch of Balloons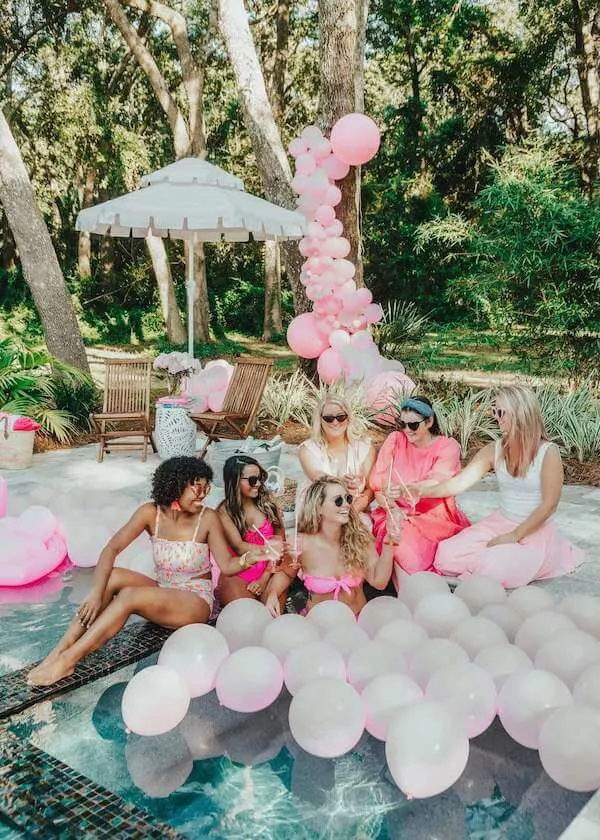 Huge Party Celebration Photo With Friends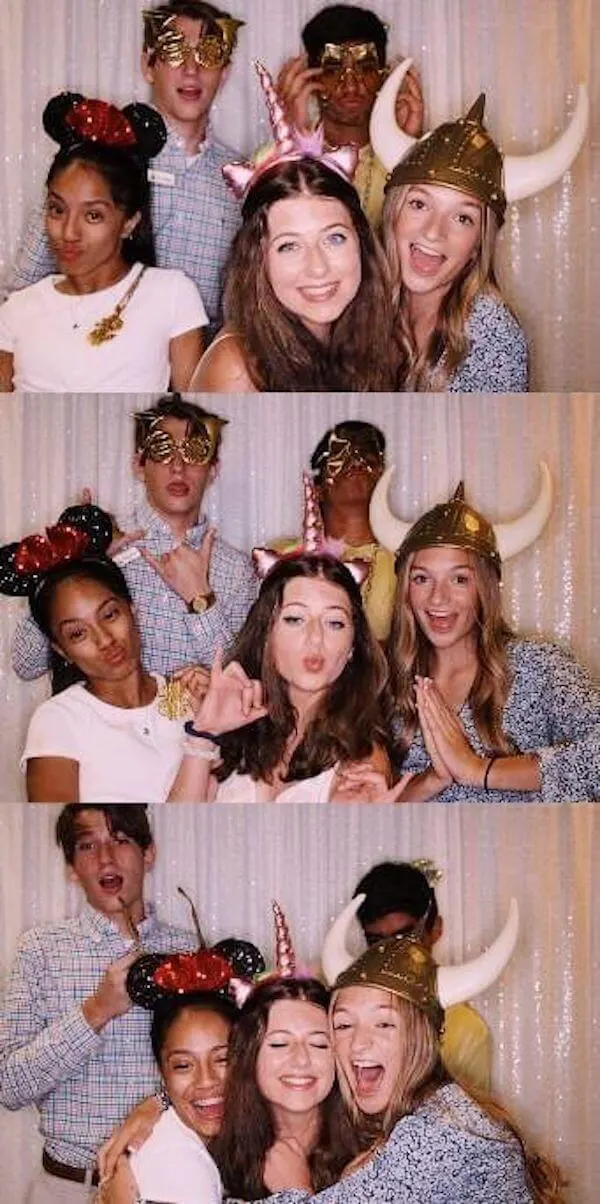 Perfect Birthday Pajama Party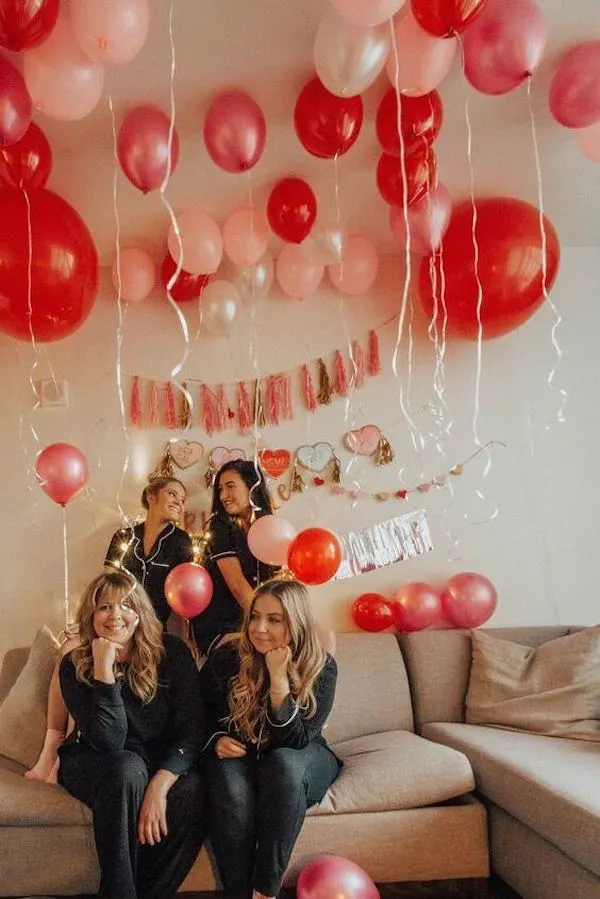 Birthday Photo With My Bestie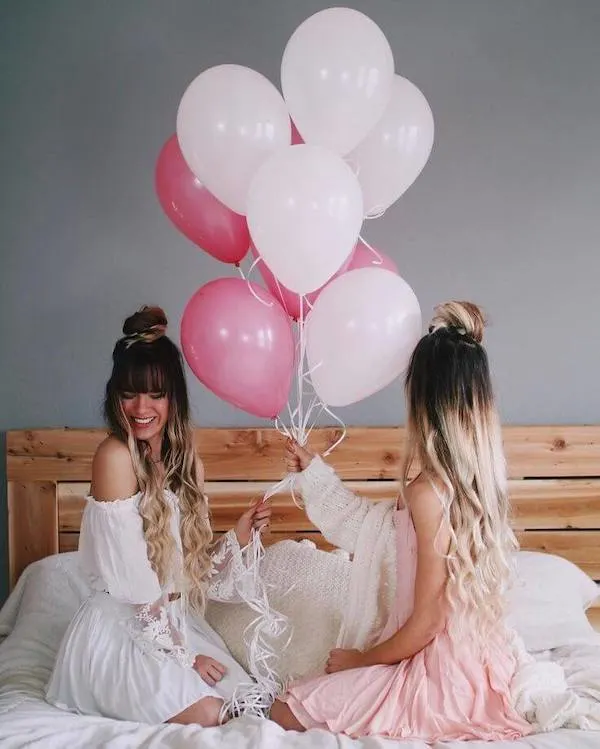 Take Photos With Your Friends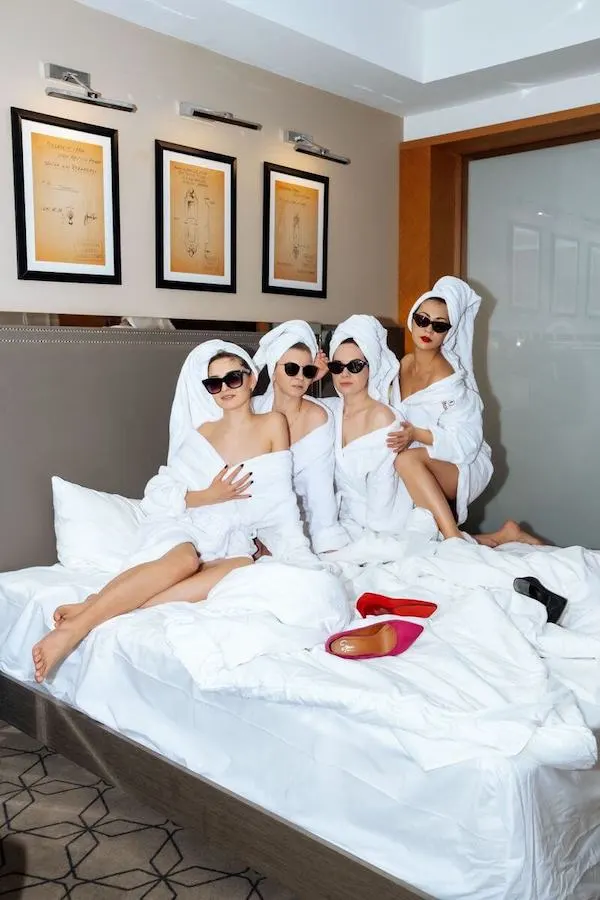 Birthday Photoshoot Ideas Outside
If you want to have a memorable birthday photoshoot, consider taking it outside.
The natural beauty of the outdoors can provide a stunning backdrop for your pictures.
One idea is to head to the beach and capture shots with the ocean in the background.
You could also choose a park or garden with plenty of greenery for a more earthy feel.
Another great option is to plan your shoot around an activity that you enjoy doing outside.
If you love hiking, take pictures on a scenic trail with mountains or forests in the distance.
Alternatively, if cycling is more your style, take some action shots on your bike while cruising along a picturesque path.
No matter what outdoor location you choose, be sure to coordinate your outfit and accessories accordingly.
Think about colors and textures that will complement the scenery around you.
Beach & Natural Light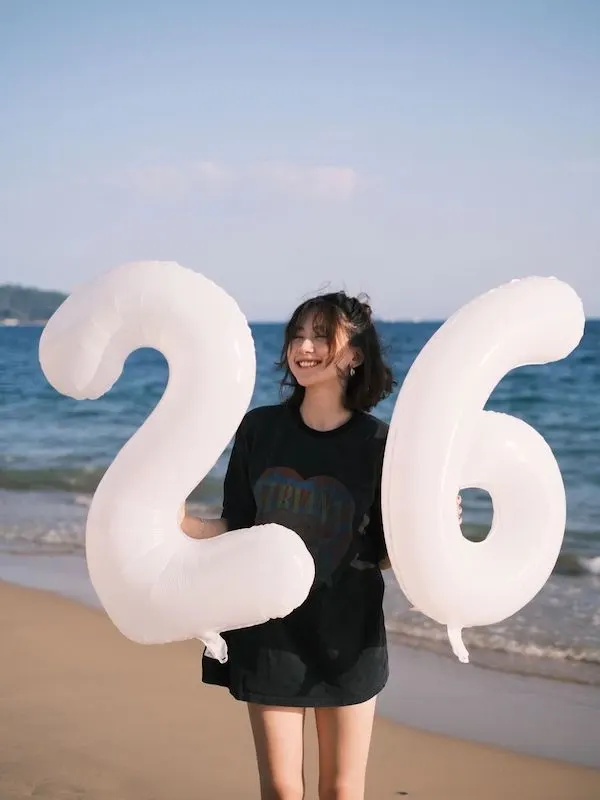 Sweet 16th Birthday Photoshoot Ideas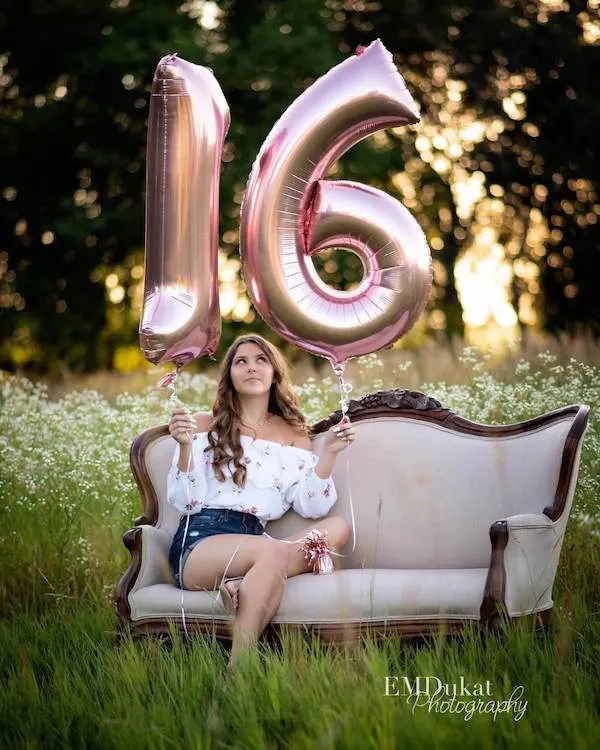 Amazing Picture Ideas of Sweet 16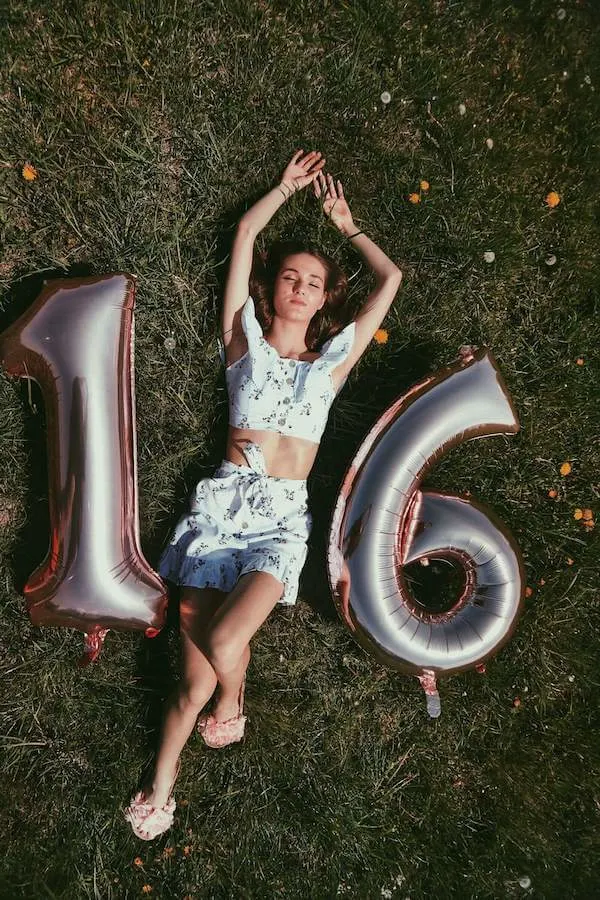 I am 20 Now!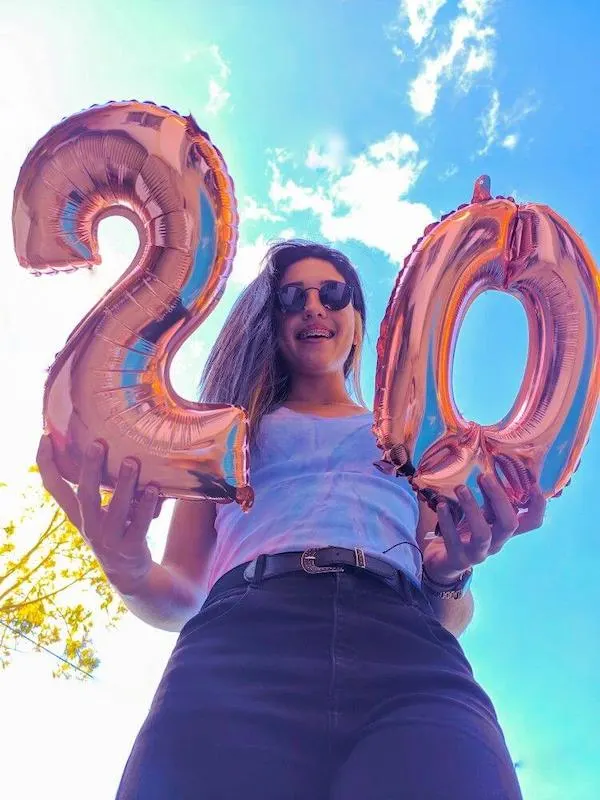 18th Birthday Number Balloons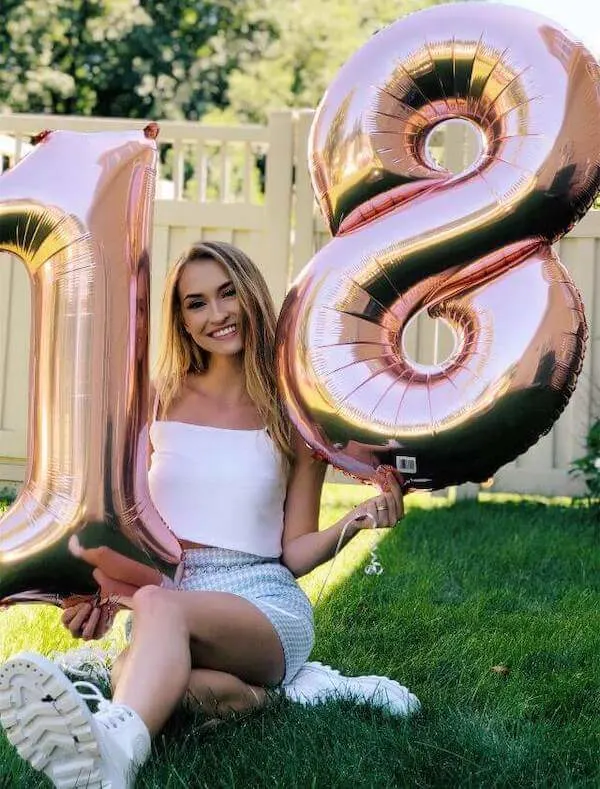 Glam 35th Birthday Photo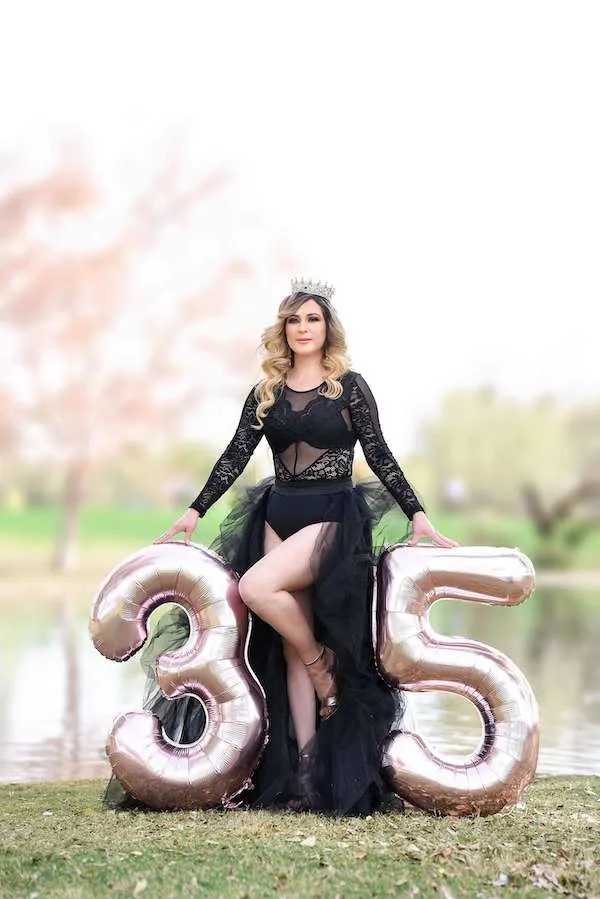 Child's Birthday Photoshoot Tips & Cute 1st Birthday Photoshoot Ideas
Capturing a child's first birthday is an unforgettable milestone that deserves to be celebrated in style.
One of the best ways to do this is by organizing a photoshoot session for your little one.
A successful photo shoot requires careful planning and an eye for detail.
Here are some tips to make your child's birthday photoshoot memorable:
First, choose a theme that reflects your child's personality or interests.
This will help set the tone for the shoot and make it more fun and engaging for everyone involved.
Second, select a location that fits the theme and is safe and comfortable for your little one.
Finally, make sure you have all the props, costumes, and accessories ready before the shoot.
For cute 1st birthday photoshoot ideas, consider incorporating balloons or banners with your baby's name on them into the shoot as they add color while also focusing attention on them being celebrated.
Another great idea would be to include their favorite stuffed animal or toy in some of the shots as this will likely remind you years later of what they loved at that age when looking back on those pictures together.
Finally, if you really want to go all out then why not try putting together an elaborate cake smash setup complete with a beautiful cake customized just for them?
Angelic Look of My Little Girl
First Birthday Photo Ideas With Family Members
Cute Flower Crown & First Birthday Cake Smash Photoshoot
This post was all about birthday photoshoot ideas.
About The Author
Tracy is an experienced personal stylist, shopping expert, and fashion & lifestyle blogger. She has been featured on Time Magazine, Bustle, Best Life, Glam, The Zoe Report, Mic, and GOBankingRates, for her insights on fashion, beauty, home decor, and lifestyle. Read More
Related Posts: