Looking for the best boudoir photography outfit ideas? Check this post for expert tips to take the best boudoir photos and what to wear for your upcoming boudoir session.
Boudoir shoot is becoming more and more popular now. It's a terrific way to commemorate how wonderful you are and boost your confidence.
Of course, they are also one of the best gifts a bride or girlfriend can give to her significant other.
If you are planning a boudoir photo shoot, then you should definitely check out our article today.
In today's article, I'll share the pre-shoot preparation tips for a boudoir photography shoot, as well as 40+ boudoir photography outfit ideas and bonus points for inspiration. These will allow you to better prepare for your shoot and achieve the most glamorous boudoir photos.
So scroll down to check these boudoir photoshoot tips and outfit ideas, and don't hesitate to share them on social media sites.
This post may contain affiliate links, which means I'll receive a commission if you purchase through my link, at no extra cost to you. Please read the full disclosure here.
This post is all about boudoir photography outfit ideas.
Top Tips For Taking Perfect Boudoir Photos
1. Be bold and try creative outfits.
You can discuss with your photographer to find out different styles that you like. For example, for costumes, I prefer to bring elements such as lace, yarn and beads, which are very romantic.
2. Choose low saturation colors.
For the clothing and scene, avoid bright colors to make your photos never out of style.
And I recommend taking photos during the golden hours. It is a perfect time to get the warm shine on the skin, presenting a gentle and romantic feel.
3. Maintain the best state.
You can have a light meal before the shoot, so that you have enough energy to finish the whole shoot.
4. Chat with the photographer and get more familiar with your photographer.
Before picking a professional photographer, study their previous work carefully to understand their style and prepare yourself mentally.
You can also learn more about the professionalism of the photographer to see if they are worthy of your trust.
5. Ensure that the shooting environment is private enough.
Pick a quiet and private environment with your photographer so that you can feel safe enough.
6. Pay attention to the hair style and outfits' quality.
Check if the hair is clean enough, and if the clothes are clean and high quality. These details are crucial points to present the whole photo.
7. Choose the appropriate makeup.
Choose the style of makeup you need, and keep it clean.
8. Wash and moisturize your whole body skin before taking pictures.
This will enable your skin to present the best condition in front of the camera.
9. Practice more before the shoot.
You can collect your favorite poses and expressions before the official shoot, for example, you can collect them into your Pinterest board.
Then practice more, so you won't be nervous when you're actually shooting, and you might be able to improvise better.
Best Boudoir Photography Outfit Ideas: What To Wear For A Boudoir Photo Shoot
Garter Belt
The garter belt is gentle and delicate, perfect for boudoir photos. Shooting partial body is very seductive.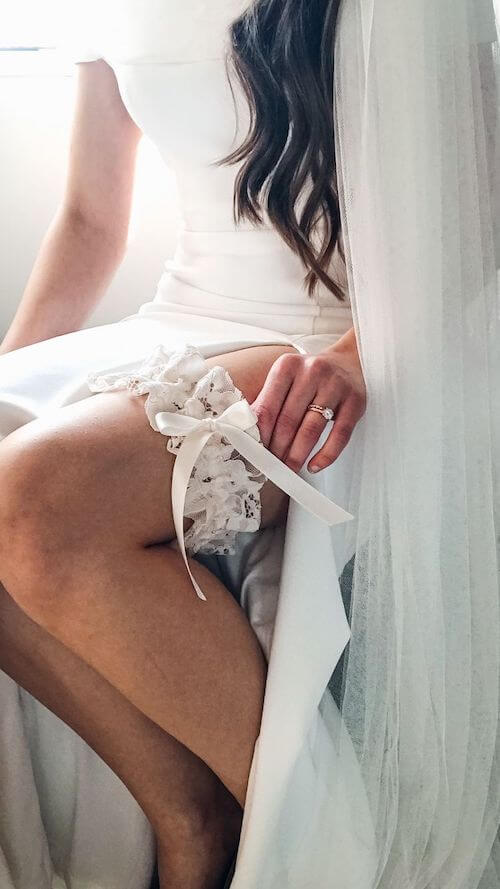 via Pinterest
Matching Bra Panty Set
A matching set can show your tasteful lifestyle and will make the picture look more advanced.
If you are not confident enough about your body, you can add outerwear. Compared with fitted clothes, an oversized blazer of the same color would be better.
img class="size-full wp-image-23275 aligncenter" src="https://www.girlsharestips.com/wp-content/uploads/boudoir-photography-outfit-ideas-1.jpeg" alt="boudoir clothing" width="500″ height="617″>
Another cute idea is to pair your white set with white Nike socks.
Leather Jacket
Leather leather moto jacket is popular option and is my very favorite boudoir outfit choices. The leather material and the bare skin form a sexy and wild contrast.
You can laugh, enhance the picture of the wild and lively tension, or as in the photo below, with a cool expression to form your personal style.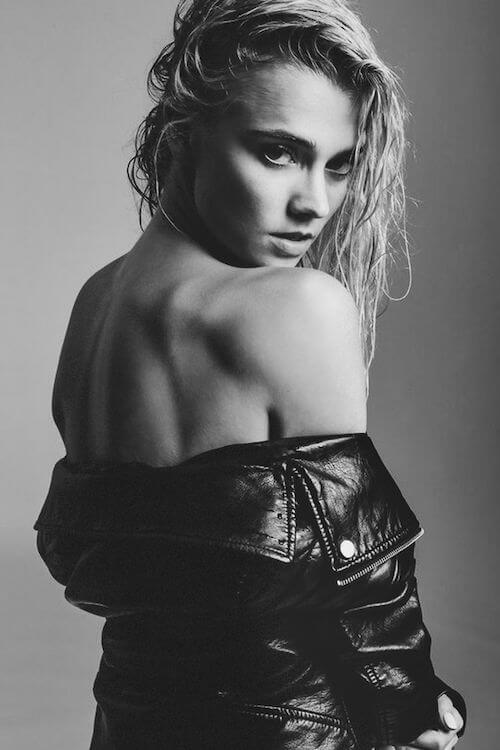 Underwear Set And Night Rope
Another piece I like to add to the matching underwear set is the night rope. The best choice is to choose the same color as the underwear, or a contrasting color.
It is also recommended that you choose a night rope with lace to add interesting feminine details.
Beautiful Night Gowns
Plus, you can't go wrong with flashy night gowns anyhow.
Make the most of the early morning or evening sunlight, and let the wonderful light completely reveal the gown material's splendor, and your perfection.
via Pinterest
High Heels
One of the best things with the sexiest features of women is a pair of high heels.

Oversized Sweater
Wrap part of your body in an oversized sweater, exposing your stunning shoulders and legs. Under the loose silhouette of the sweater, every inch of your body is so slender and lovely. It suits any body type.
Sweater is also especially good with the cold season atmosphere, making everything so cozy.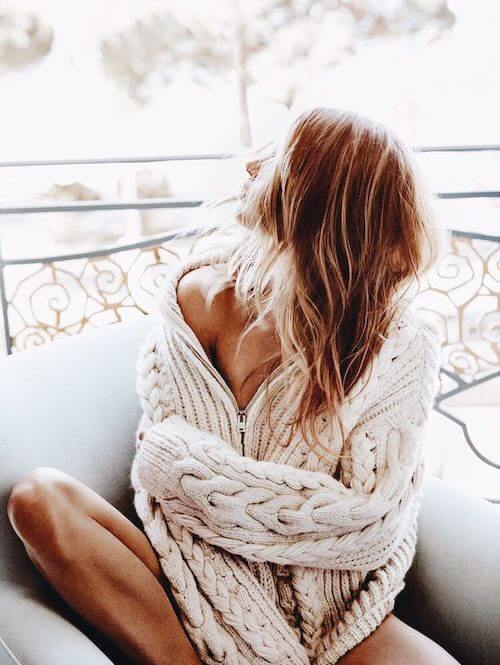 via Pinterest
One-Shoulder Sweater
Another great option is the one shoulder sweater, remember to show your carefully selected bra straps.

Long Necklaces
I like to include feminine details in my boudoir photos, such as a special piece of jewelry, to add a personal touch.
One great addition is a long, delicate, slim necklace. Gold, diamond, or pearl will work. They are especially perfect for a bridal boudoir photo shoot.
You will find them very useful. When you can't think of a pose to take a picture in, why not fiddle with these necklaces? They make your body look very soft and beautiful.
via Pinterest
Sports Jersey
Looking for a cute bridal boudoir outfit? This is one of the best gifts full of a lot of fun for your significant other.
Sheer Tops Or Lace Pieces
Compared to the complete nudity of showing too much skin, partial nudity and half-covered naked body is the real sexy to achieve a successful photoshoot.
You can get this beautiful lace bodysuit below on Etsy.
Simple White Tank Top
Try a thin simple tank top for a casual look? Remember to choose a looser one.

Vintage Slip Dress
A simple and delicate slip dress can make your photos present the most perfect feminine and slouchy style.
I prefer a vintage style slip dress that helps you look as if you've stepped out of a sexy old movie or just gotten out of bed in a Parisian apartment. In short, it's just very glamorous.
A Pair Of Jeans
How perfect is a pair of well-fitting jeans? It can make you look full of just the right amount of wild and naughty style.
Because jeans themselves are one of the representatives of sexiness, so you don't even need to show your whole legs, just your waist and part of your buttocks in jeans, yet others will still think the part you didn't photograph is perfect.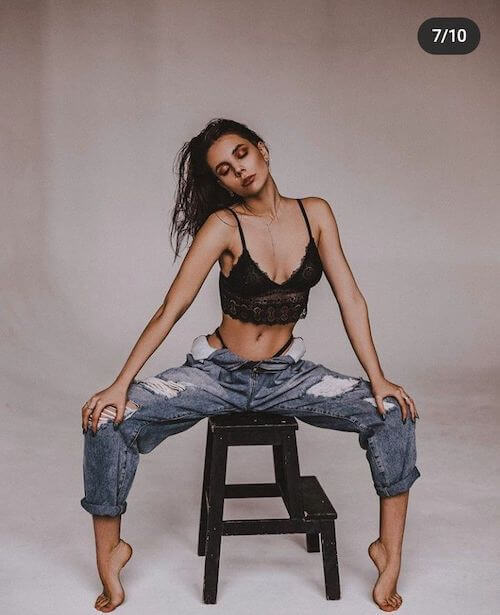 via Pinterest
White Button Down Shirt
Choose your favorite dress shirt for your boudoir photography session.
Whether you wear it casually, or tie up the hem of the shirt to show your waist modifying your body shape, it will make you fall in love with it.
source
Wedding Veil
How can you not take a photo wearing a wedding veil for your bridal boudoir session? Remember, a hazy cover-up will be more attractive.
via Pinterest
Oversized Shirt
Similar to the oversized sweater effect and comfort level mentioned before, but an oversized shirt is more figure flattering and suitable for more seasons.
Remember to keep your hair fluffy and, if possible, enhance your eye makeup, but leave the lips alone so it looks like you just woke up or just got out of the shower? In short, it's very seductive.

High Stockings
A pair of knee-high socks has a bit of a boot effect, but with a more homey look.
Choose a soft and warm knit wear to go with it.

via Pinterest
Little Black Dress
Elegant and charming women all have little black dresses.
Which part of your body are you most satisfied with? Use your little black dress to show off your favorite body parts.
via Pinterest
Black Bodysuit
Wearing a good basic bodysuit is a great way to perfectly show your body lines and flexibility.
You can try your favorite yoga moves, but remember to keep a relaxed expression.
Sexy Dress
A sexy dress is a good idea for any style boudoir photoshoot, especially for a bridal boudoir photo shoot.
The general rule is, bing sexy, but elegant, remember to choose a dress that perfectly balances these two points.
One of the secrets is to choose a dress that is slightly loose, so as to have an effortlessly sexy look.
Also, I especially like the look of sexy dresses in wonderful light. Talk to your boudoir photographer about what you're about to wear and see how they use the light to create the best effect.
via Pinterest
Sexy Lingerie
Similarly, when choosing black lingerie or a white piece that is sexy in itself, be sure to pay attention to the light and the different colors of settings.
Be sexy, not vulgar. A qualified photographer and light design should have to help you achieve this.
via Pinterest
Business Suit
The business suit is very popular now, and it is equally popular in the choice of clothing for boudoir photos.
You can wear them alone. If you want to wear them with a cute bra, remember to choose a lace bra.
The femininity of the lace accents and the slightly masculine nature of the business suit form a wonderful sense of conflict that is really great.
via Pinterest
Man's Button Down Shirt
As you may have deeply understood, women are very sexy in men's clothing, one of which is wearing men's button down shirts. And it is a great alternative of any of your feminine outerwear and is also one popular choice for boudoir clothing.
Whether it is a lighter shirt or a slightly thicker one, it is very versatile.
You can try a little different looks before the shoot and find out the sexy outfit ideas you like.
via Pinterest
A Pair Of Thigh-High Boots Or Knee-High Boots
What is the best companion to a suit? A pair of high boots! And it is recommended that you choose high heeled boots.
It comes with an aggressive style, i.e. aggressive and sexy.
Pair Of Black Stockings
Try more stockings in different thicknesses to pair with your tops.
Corset
The following idea is really smart! She used a delicate corset and real flowers together to make a unique tube top in a fun way.
Off Shoulder Top
I really like this slightly loose, off-shoulder top with delicate details. It makes your shoulder and neckline look perfect.
via Pinterest
Sexy Pajamas
Set a clean white scene or surround yourself with the same color scheme decorations to create a luxurious feel.
So, which boudoir outfit ideas do you like? What are you going to wear for your boudoir photo shoot?
This post was all about boudoir photography outfit ideas.
Related Posts: