Looking for the best dresses to wear with cowboy boots to a wedding? Check this post for the style tips and the 47+ best dresses to wear to a western or rustic wedding with your favorite cowboy boots!
The wedding fashion world has seen an increasing trend of wearing cowboy boots to a wedding, not to mention that a pair of great cowboy boots are a great option for a western or country-style wedding.
So what about the dress? What kind of dress to pair with your cowboy boots?
If you are looking for a perfect dress for the coming western wedding, country wedding, or barn wedding, you've come to the right place.
In today's article, I am sharing with you the best style tips and different ways to style for a wedding with cowboy boots, and the best wedding guest dresses to wear with cowboy boots that you can shop directly from our favorite retailers.
At the end of the article, I am also sharing our favorite cowboy boots for you to choose from.
So scroll down to check these tips, dresses, and boots, and don't hesitate to pin them to your Pinterest board, and share them on social media sites.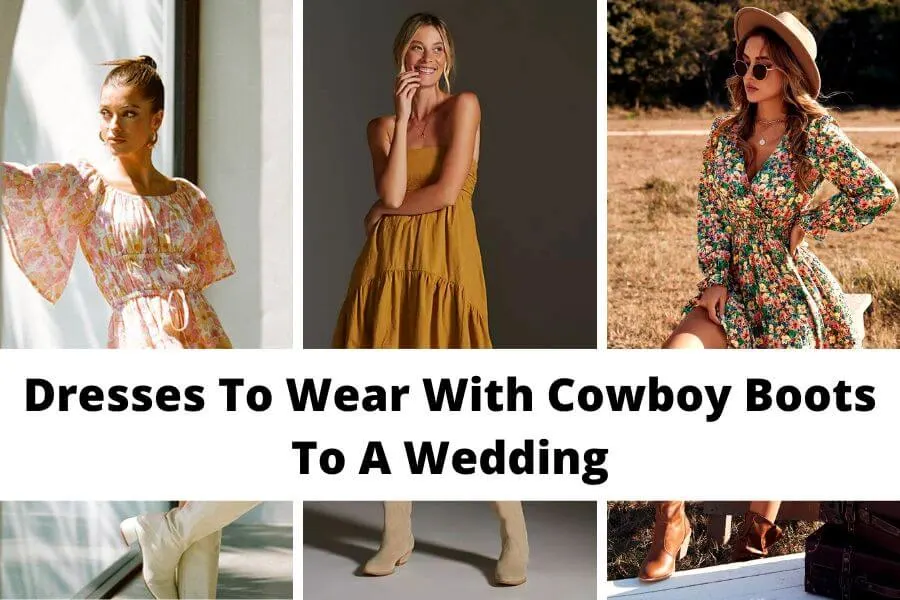 This post may contain affiliate links, which means I'll receive a commission if you purchase through my link, at no extra cost to you. Please read the full disclosure here.
This post is all about dresses to wear with cowboy boots to a wedding.
Can You Wear Cowboy Boots to A Wedding As A Guest?
Yes, you can.
In fact, while the whole fashion industry is embracing the country vibe, cowboy boots and cowgirl boots are becoming more and more popular now in weddings, not only in western weddings, barn weddings, or casual country weddings but also in many other styles of weddings where bold brides and wedding guests opt for this fun way to dress for a wedding.
What Types of Dresses To Wear With Cowboy Boots To A Wedding?
Western weddings and rustic weddings tend to celebrate the casual, natural, free, and rustic elements of the style. So I especially recommend boho style dresses, floral dresses, and prairie dresses that have the same spirit, and let their flowy fabric, delicate patterns, and gentle temperament help you enjoy many compliments at your wedding.
In addition, I also love sexy high slit dresses, especially if you want to show off the finely engraved flowers and great leather of your favorite cowboy boots, a high-slit dress gives you the most effortlessly chic new look.
Of course, a pair of cowboy boots are becoming a popular choice in the fashion world right now, so step out of the box and embrace more glamorous dress designs with western footwear.
From short dresses to long dresses, from lace to ruffles, you will see that the eclectic wildness of cowboy boots and the sexy and beautiful dresses are so compatible that you will be able to stand out from the crowd.
But please avoid wearing white dresses which may have the exact same color of the wedding gown.
Scroll down to choose the right dress to pair with your cute cowboy boots.
The Best Western Wedding Dresses And Rustic Wedding Dresses To Wear With Cowboy Boots
Boho Dresses
Bohemian dresses look free, romantic, and perfect to match your cowboy boots for a western wear.
You can choose light and soft fabrics, and the simple cut reveals your unique fashion taste. You can also choose a single yet beautiful color, but use a variety of details to make this wedding guest outfit look beautiful and moving.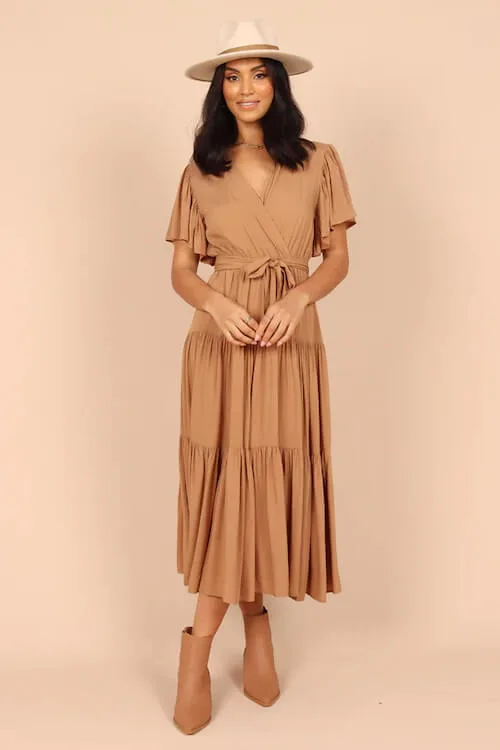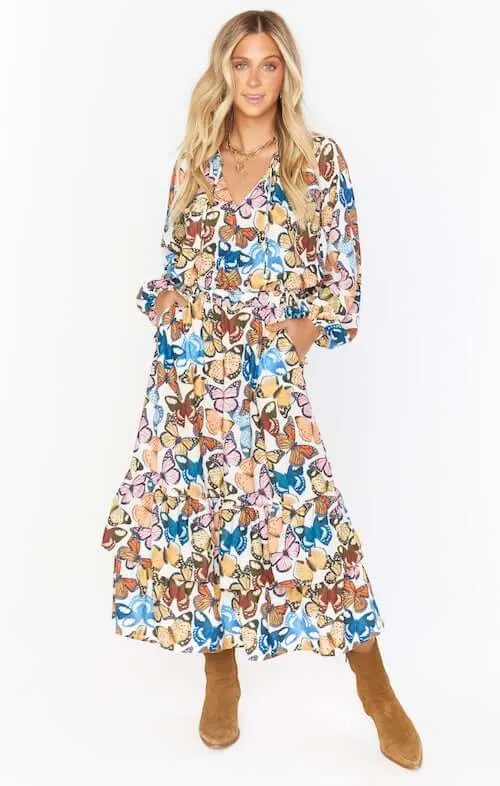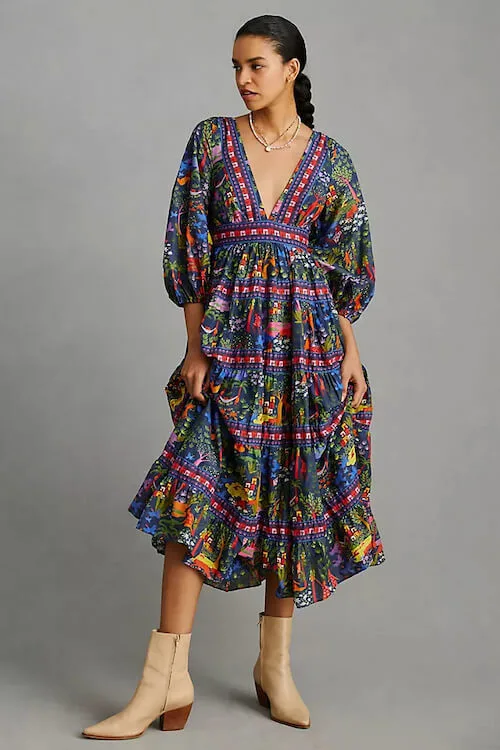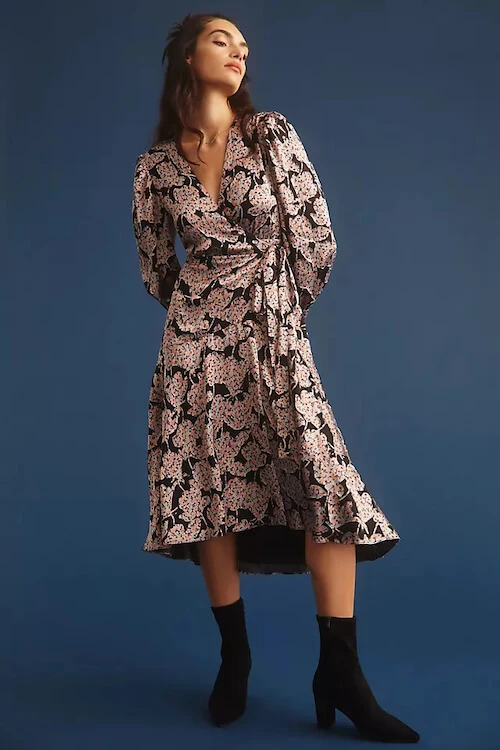 Boxy Dresses or Shirt Belted Dresses
Boxy dresses have a simple and straightforward silhouette that never goes out of style. To make your wedding guest dress look more interesting, you can choose those boxy dresses with cute patterns or lace.
In addition, some shirt dresses with good fabric texture also have the effect of boxy dresses.
If you want to accentuate your waist and create a more perfect body proportion, you can choose a shirt dress with a belt and then use a pair of higher cowboy boots to create long legs and a slim waist.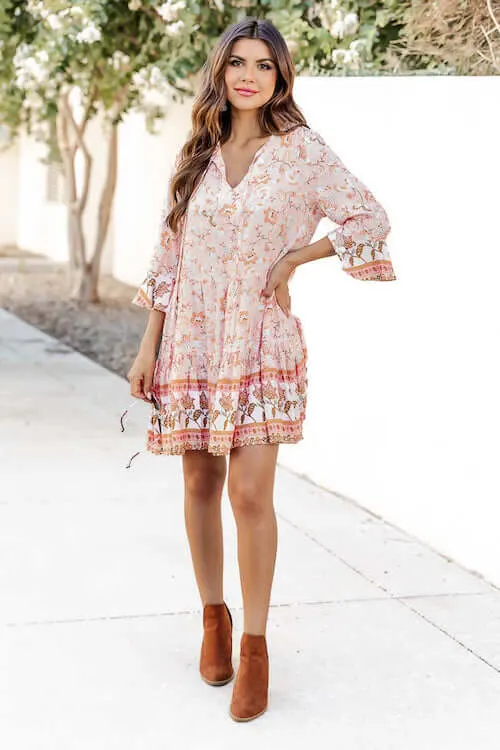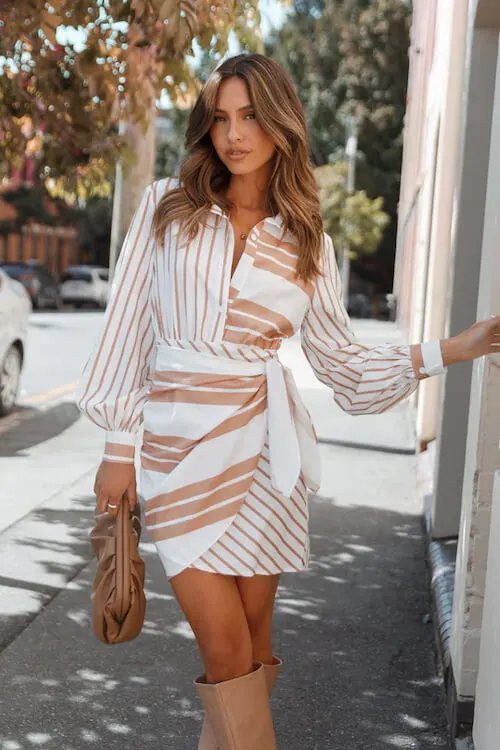 Floral Dresses
When it comes to rustic weddings, the first thing you might think of is a floral dress.
They are the best dresses for country-style weddings. Whether they are light and romantic prints or big and colorful prints with a few bright colors, they can instantly bring people into the beautiful country style wedding scene and become one of the best dresses for weddings.
You can choose the regular black or brown cowboy boots to match your floral dress, or you can choose stylish white cowboy boots to brighten up your whole look.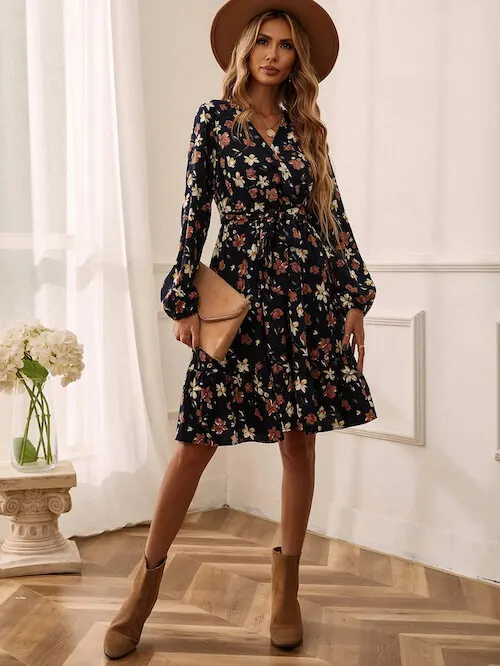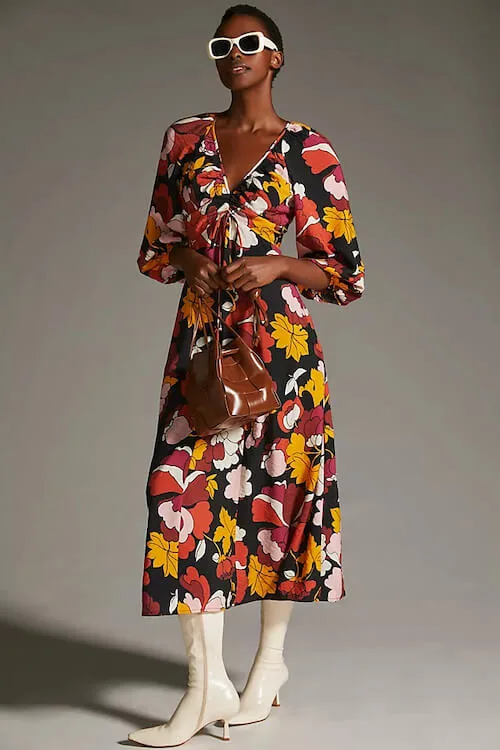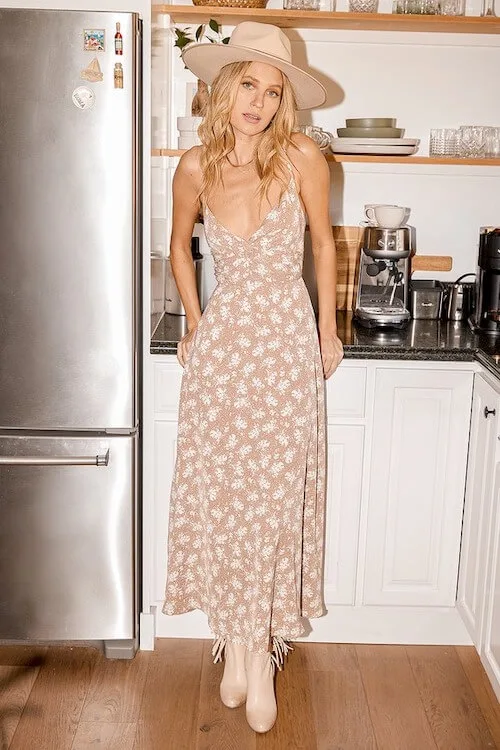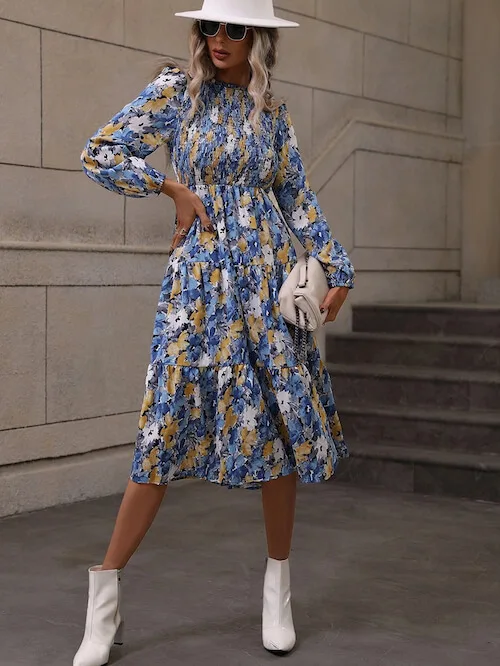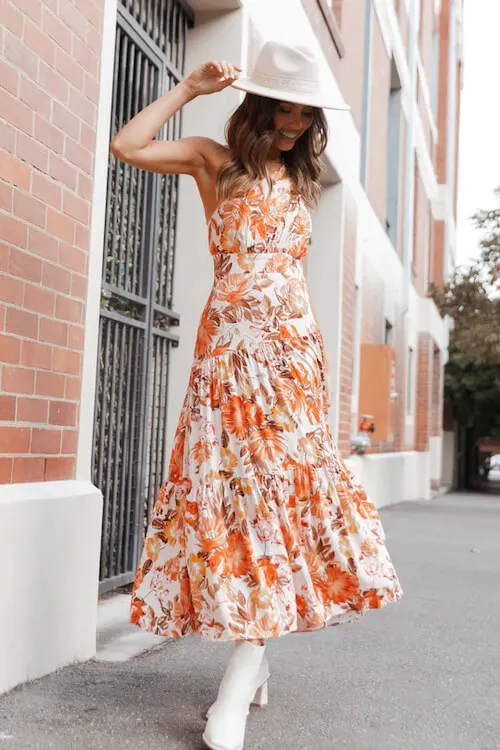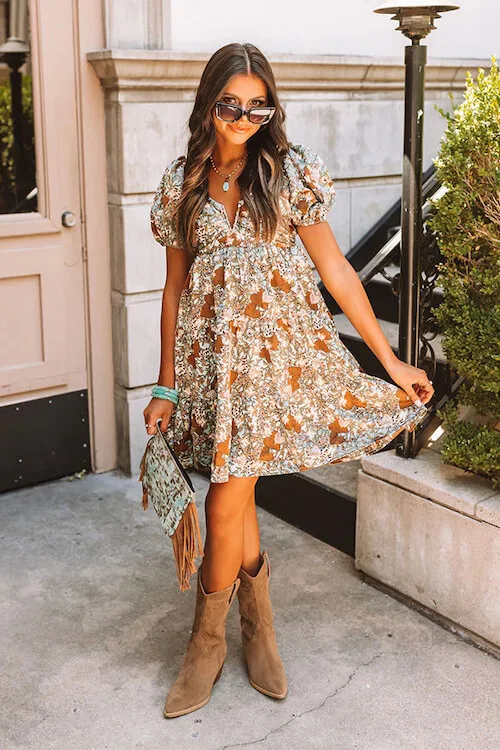 High-Low Dresses
Unique and stylishly designed high-low dresses are one of the best dress options to pair with cowboy boots for a wedding.
They have the formal dress styles perfect for more formal wedding dress codes, and the low hemline helps you show off your beautiful cowboy boots perfectly while looking a little more light and lively. What a good choice!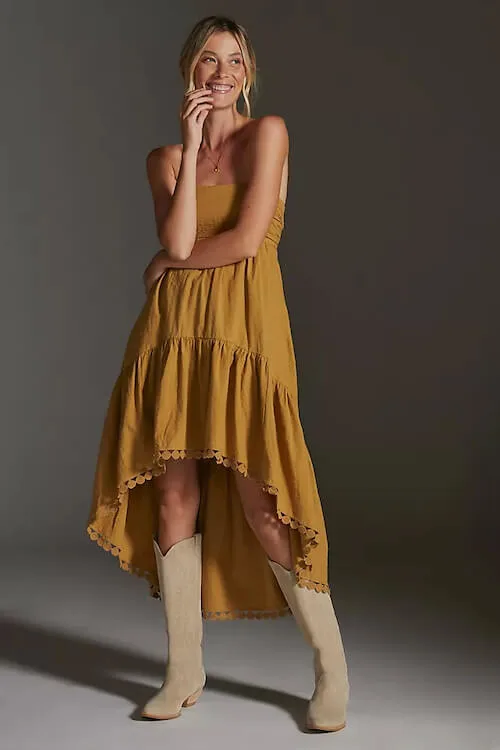 High Slit Dresses
Sexy high slit dresses are one of the best dress designs to pair with high boots, and of course with cowboy boots.
Free, flowing, and sexy, they really are the best wedding guest dresses out there.
And, they fit almost any body type!
For example, if you happen to be pregnant and want a wedding guest dress that is both comfortable and flattering, a high slit dress is sure to meet your needs. They often have a waist-adjustable belt that will allow you to go to the wedding with confidence.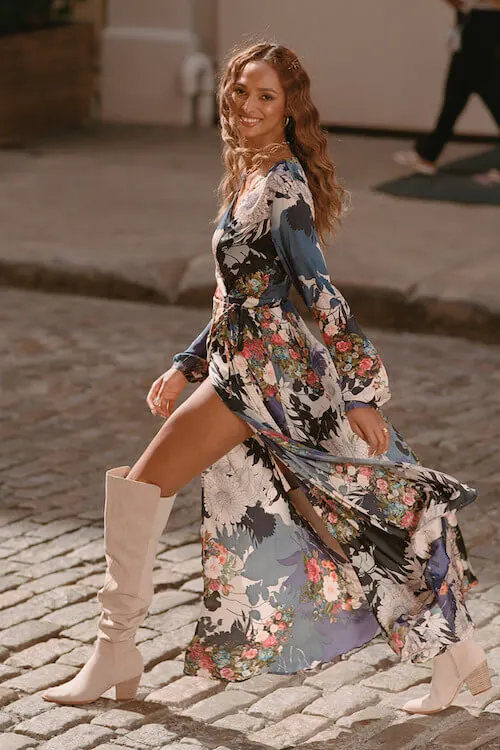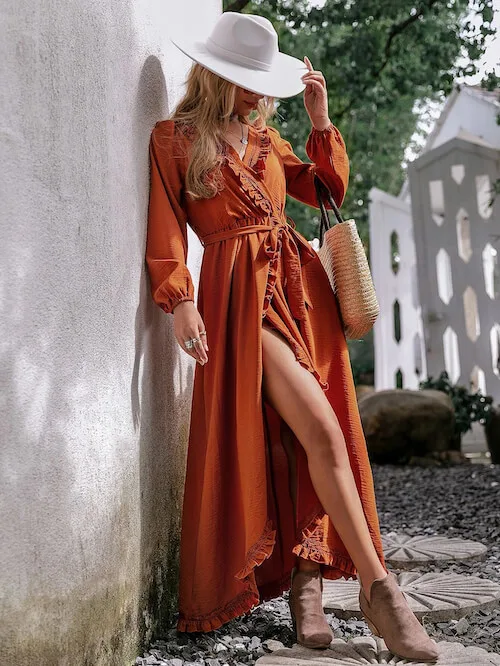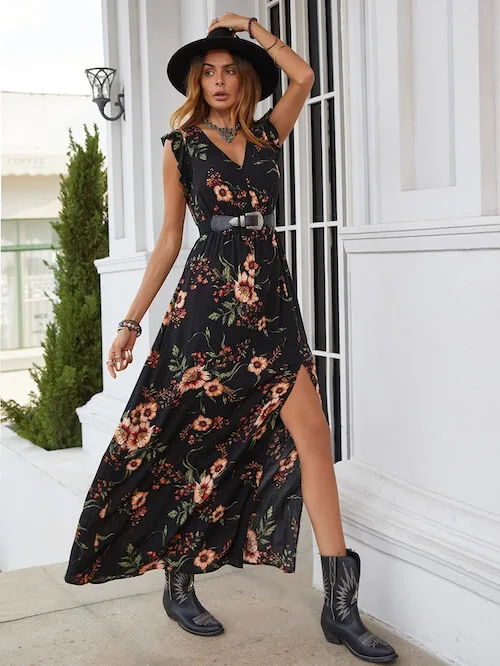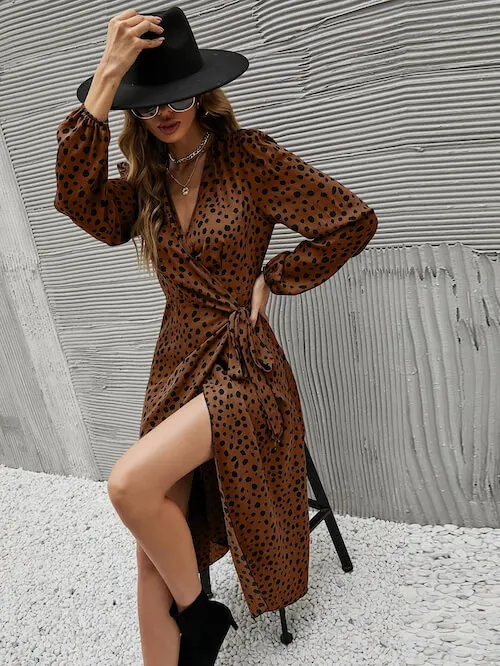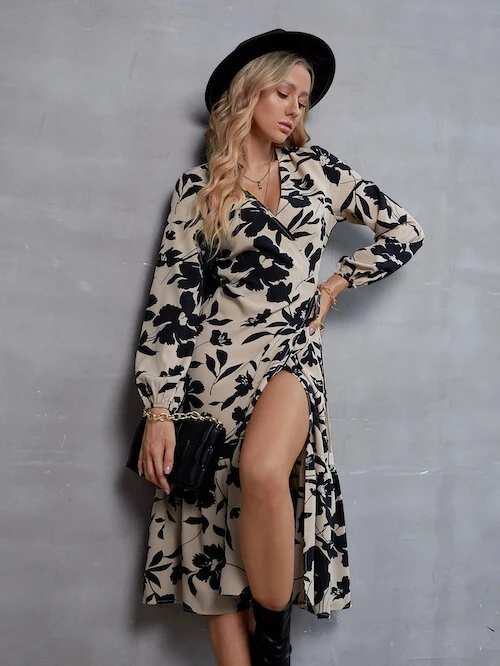 Lace Dresses or Ruffled Dresses
The romantic and lovely lace dress is one of the best partners for cowboy boots.
However, if you are attending a wedding, a white lace dress will not be appropriate. But the good news is that you can also choose other colors.
For example, green lace dresses or even tan ruffled dresses look equally gentle and cute, which is a great choice.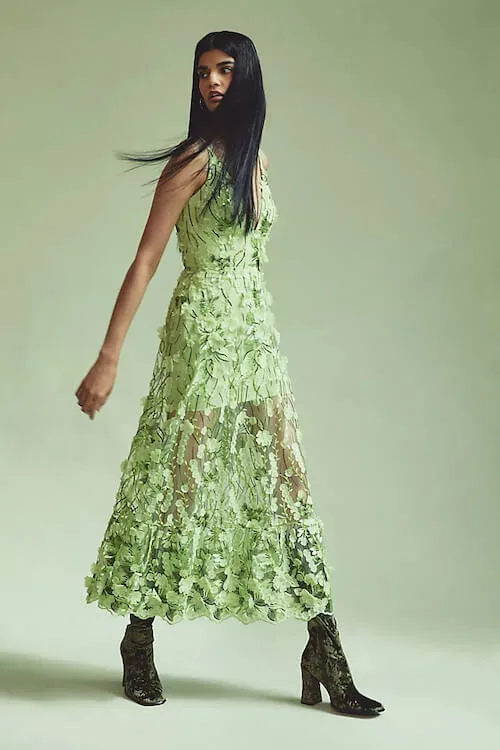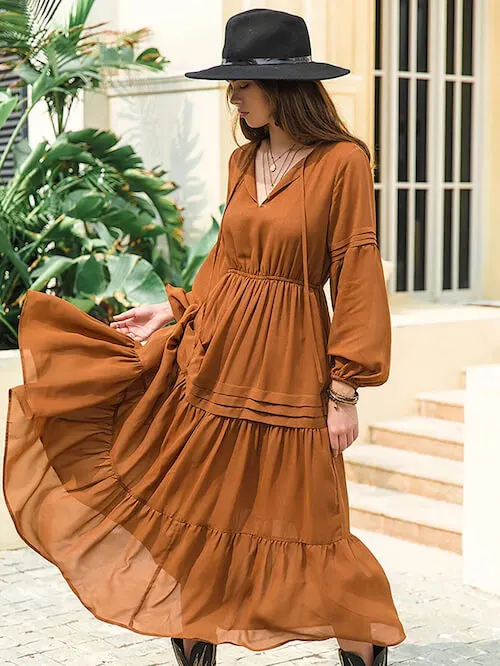 Long Dresses
Feminine long dresses are perfect for wedding occasions. You can wear long cowboy boots or slightly short boots to go with them.
Also, don't forget to add western style jewelry and other accessories like a cowboy hat, or a western belt to make your look more stunning.
For example, a brown or black leather belt can also help you to create more perfect proportions and can add more interesting visual details to your look.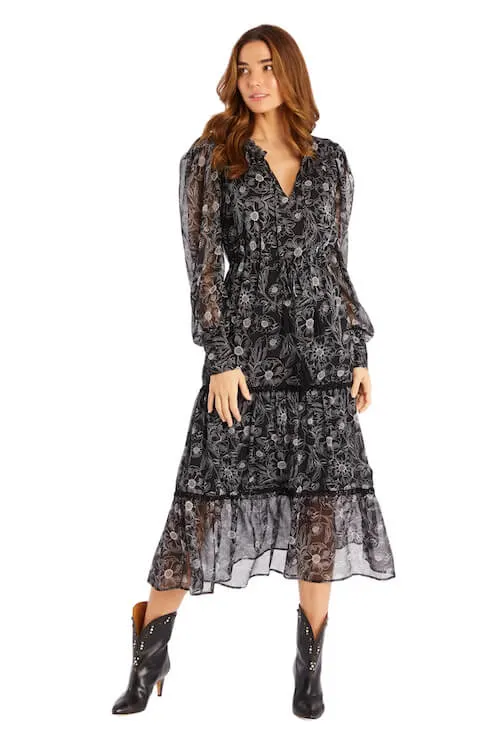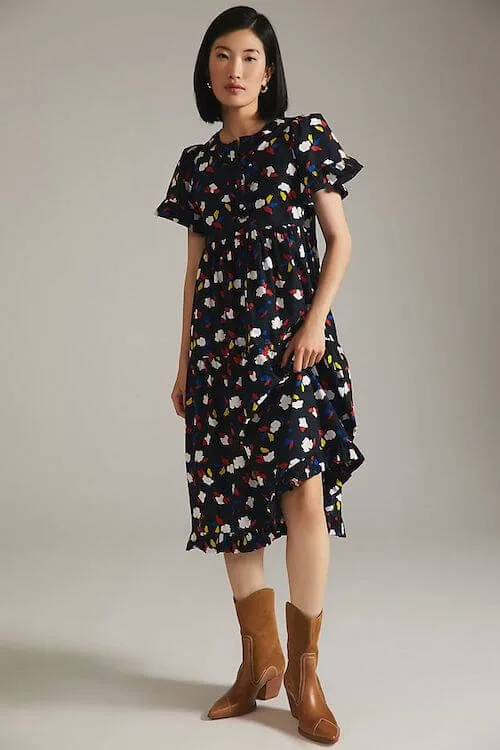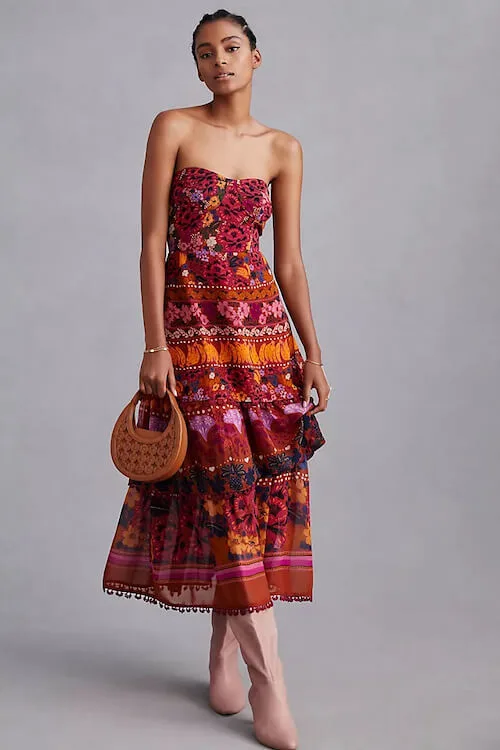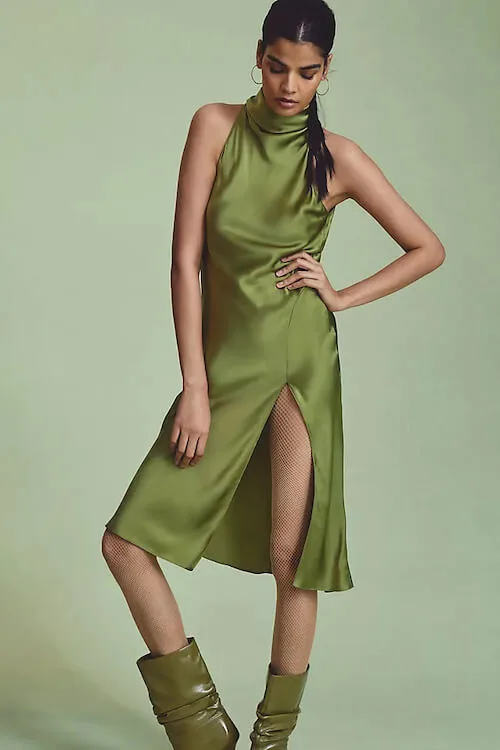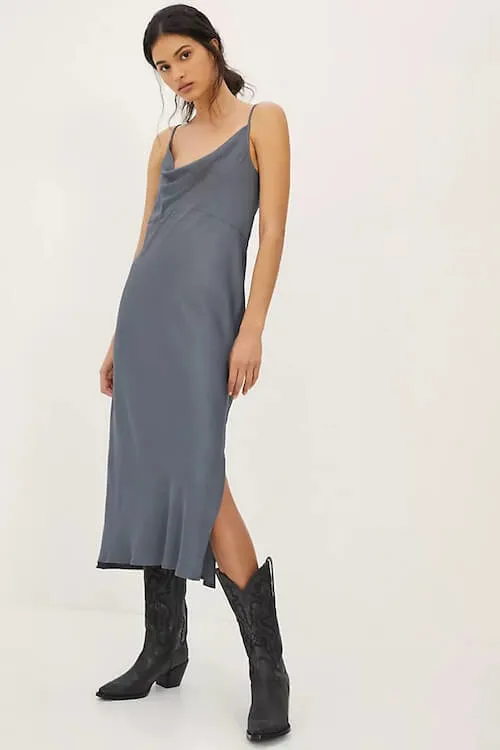 Maxi Dress
Maxi dresses look glamorous and demure, and they are very appropriate for any weddings all year round.
For your cowboy boots, you can choose a color that contrasts with the color of the dress so that you look very stylish.
You can also choose nude-colored cowboy boots to make the whole outfit look more gentle and sweet.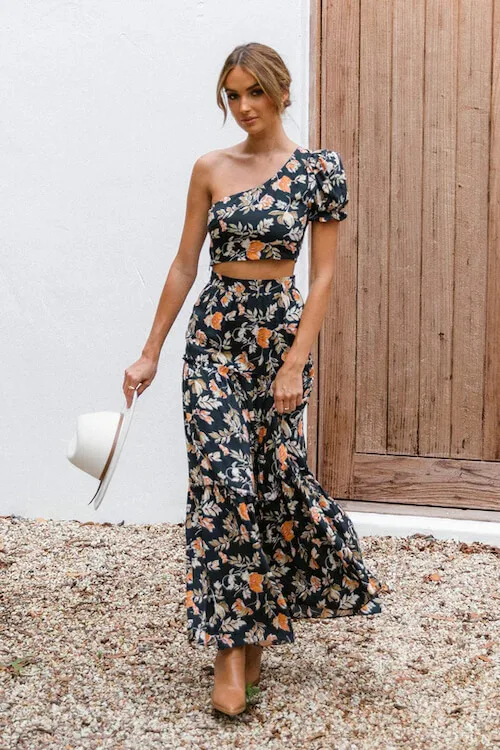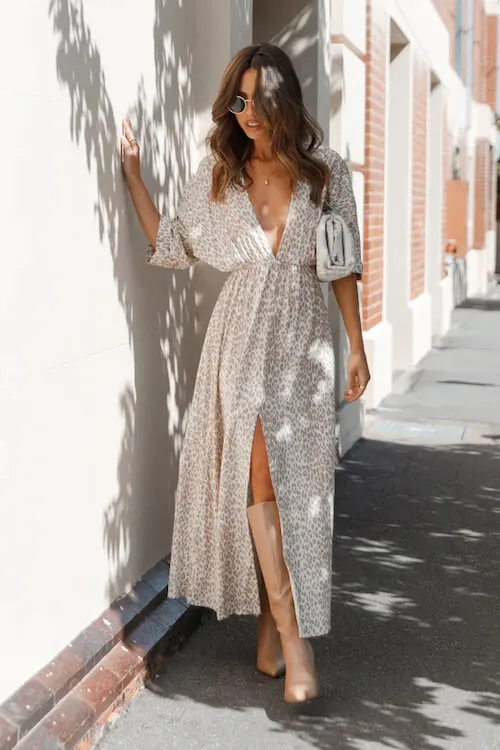 Mini Dresses
If you love the sexy and energetic style in the warmer months, then you should definitely choose a mini dress.
Of course, you can't wear the most popular combo of a pair of casual shoes and a mini dress for a wedding, but you can totally choose your favorite pair of cowboy boots which are also one of the most fashionable shoes now to make your wedding day look even better.
For a wedding, you can choose a little black dress, a simple satin slip dress, or a detail-filled bodycon dress. You can also be creative and add your favorite accessories to create a perfect outfit.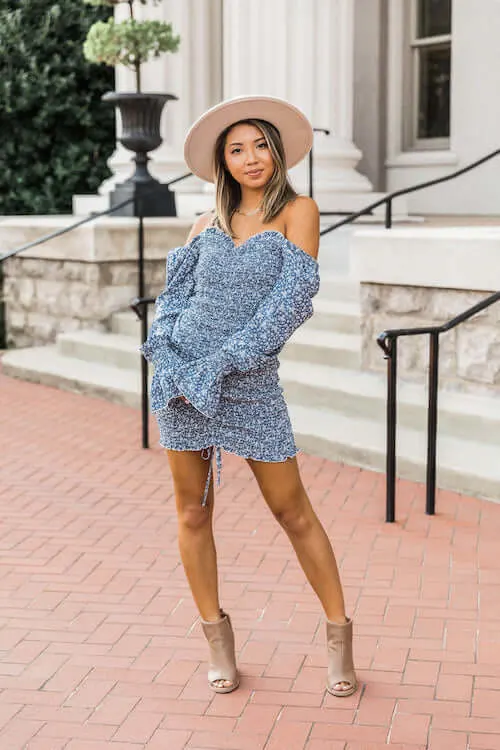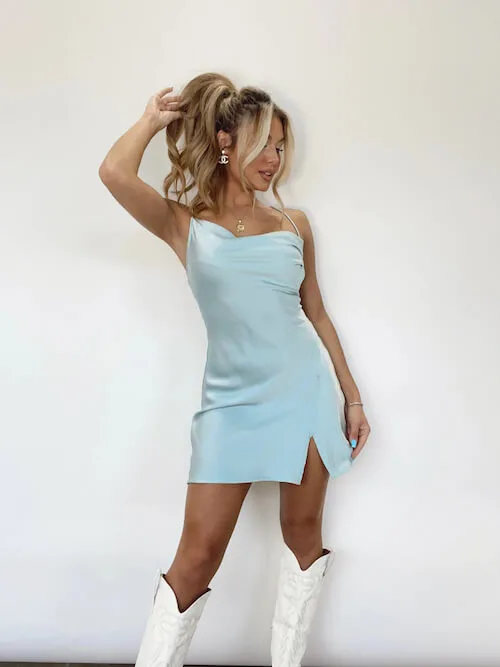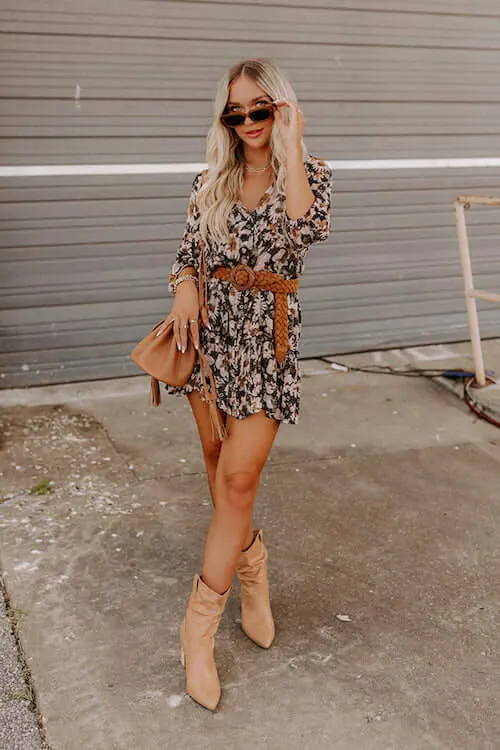 Prairie Dresses
The prairie dress style has gained popularity throughout the fashion world. So, when you are going to a country wedding, how can you not consider wearing a pretty Prairie dress that is like a work of art and wraps your body perfectly?
So all you need to do is put it on, put on your cowboy boots, add red lips and your charming smile, and you are the best guest for the wedding.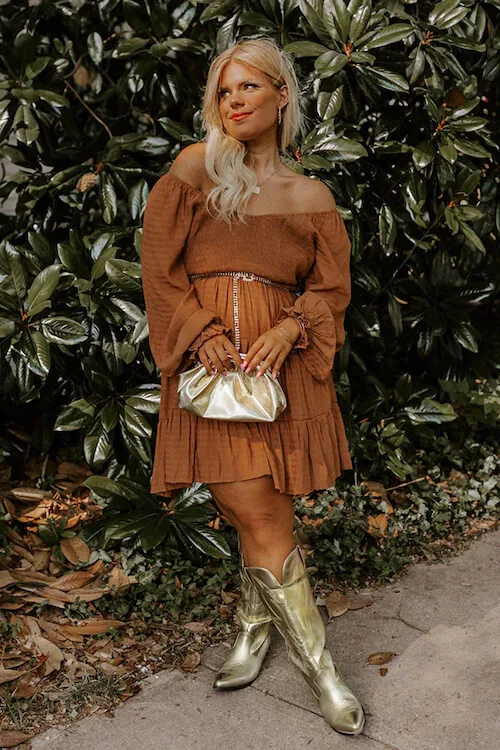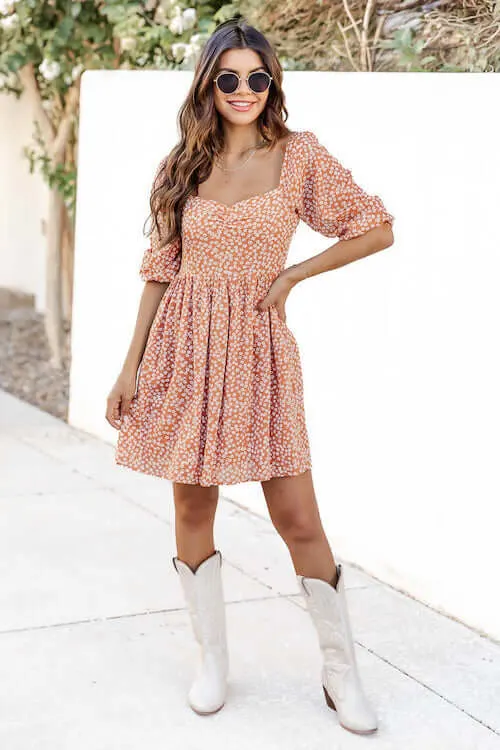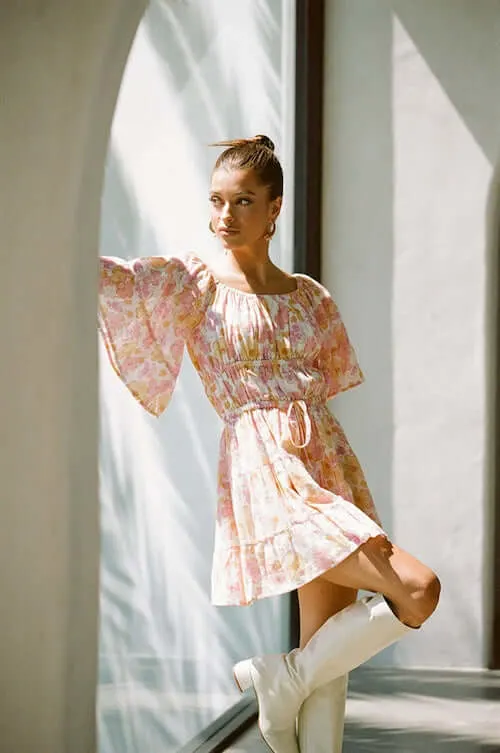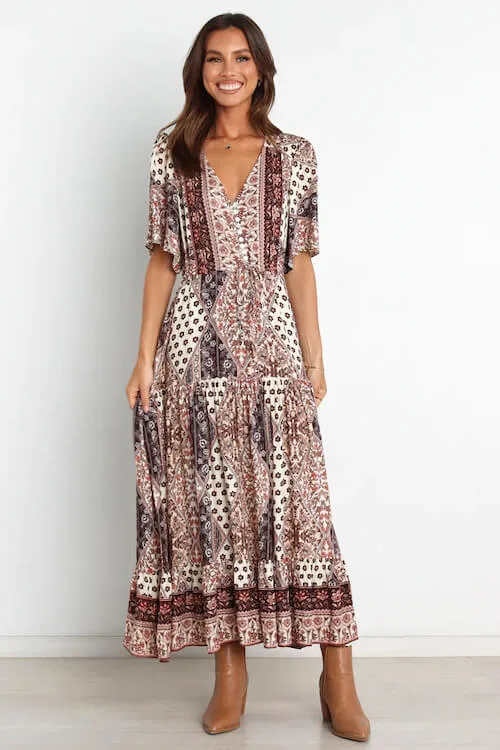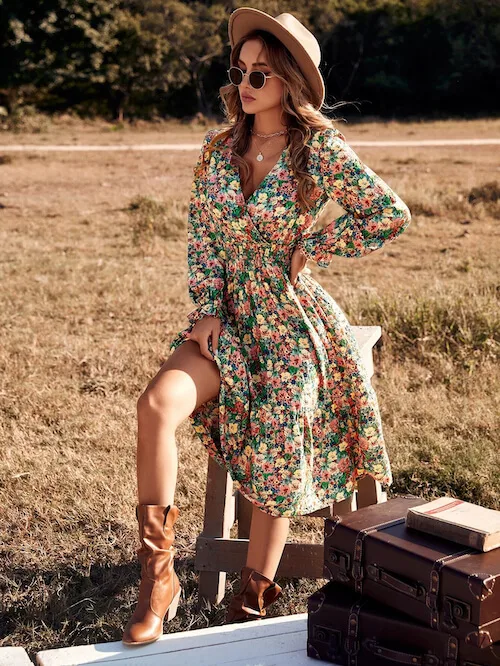 Cute Short Dresses
When it comes to boots, a short dress is certainly one of the most popular partners for boots.
Especially, if you don't really want to invest in a so-called wedding guest dress that you might only use once or twice to wear to a wedding, a stylish short dress is one of the best options for you.
This versatile short dress will allow you to attend a wedding with a chic western look, while still allowing you to wear it for many other special occasions confidently.
For wedding guest attire, I suggest you choose a short dress with a waistline design that will allow you to look more formal while still being sexy and beautiful.
At the same time, if you choose a short dress with a special pattern and stylish design, you can just wear the simplest jewelry, which is more fashionable and can highlight the beauty of your dress and your boots to the maximum extent.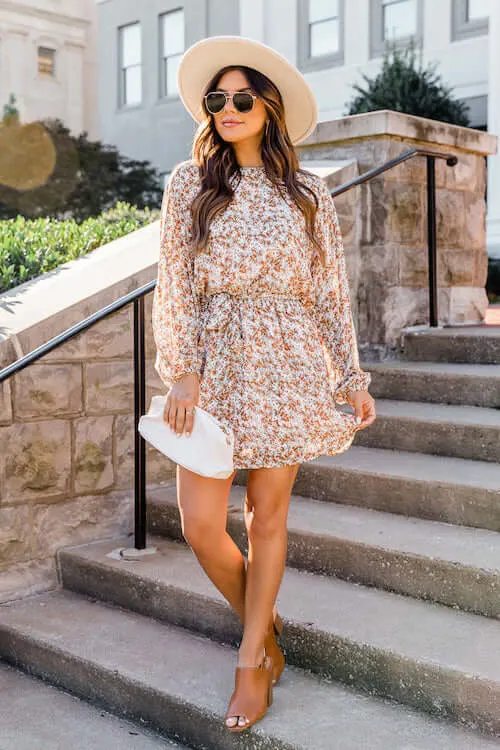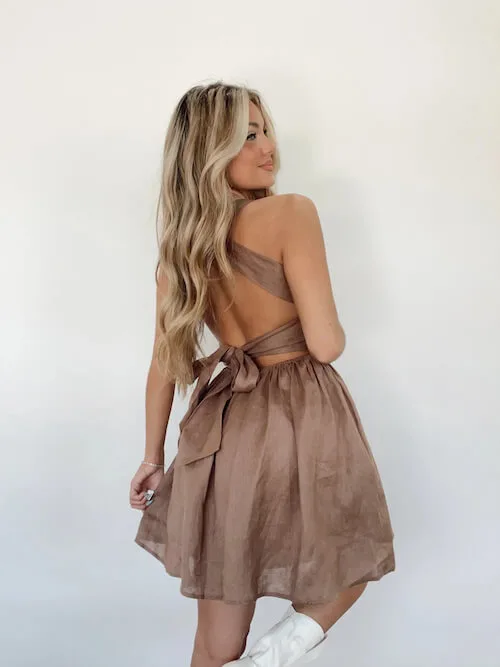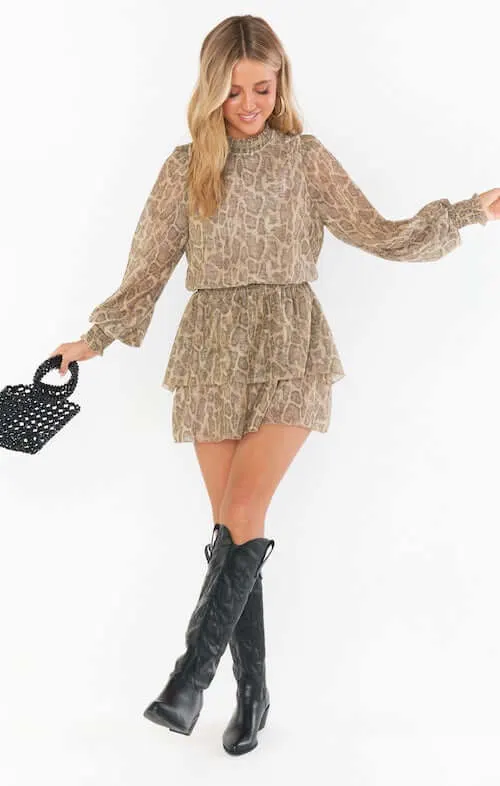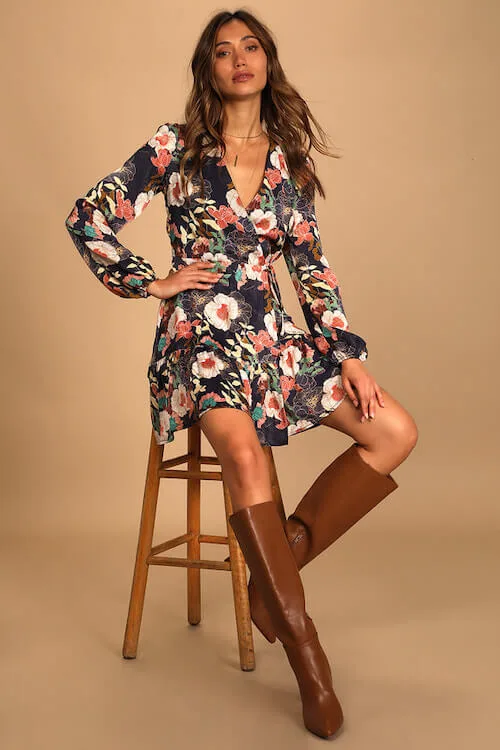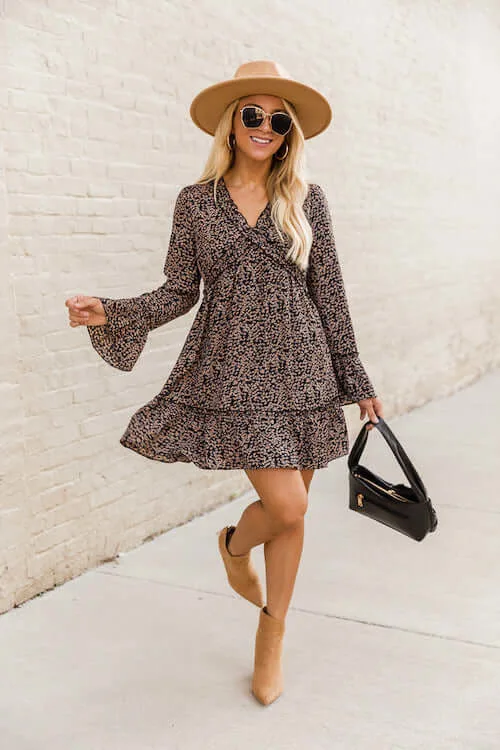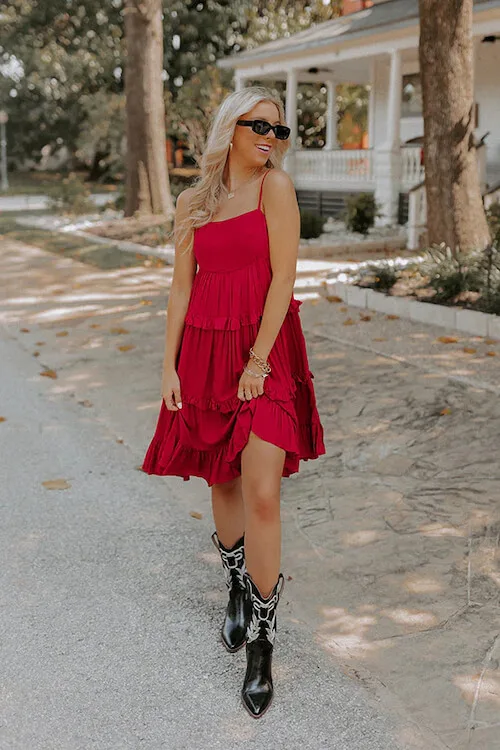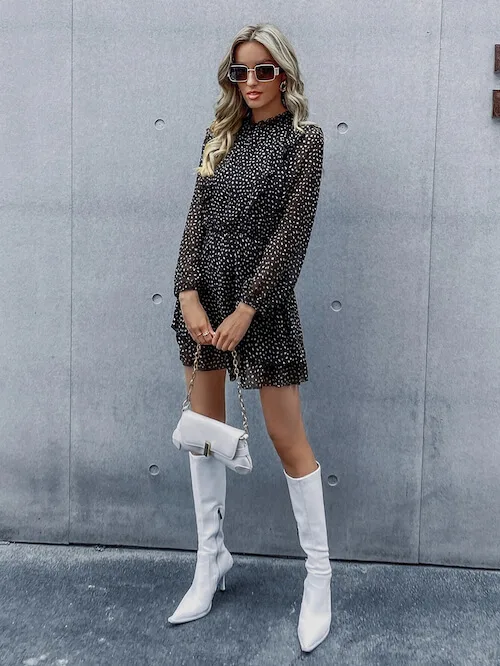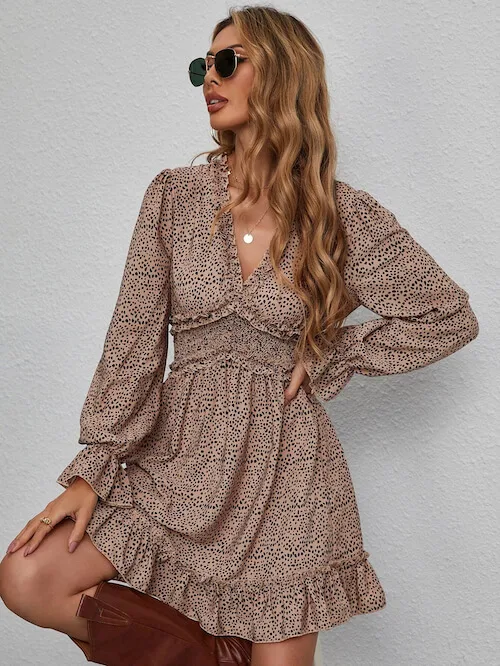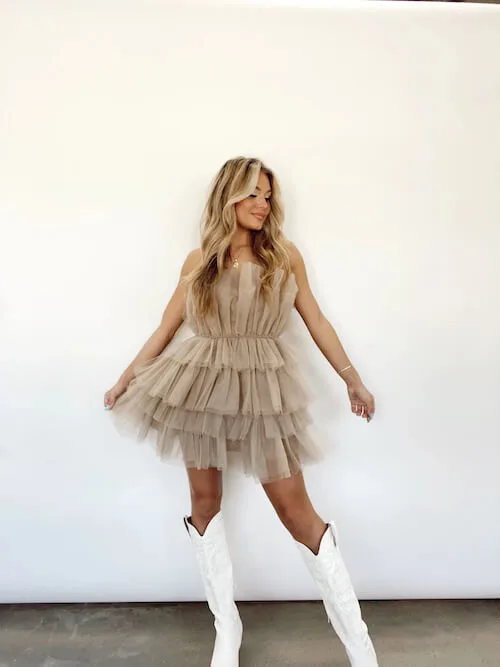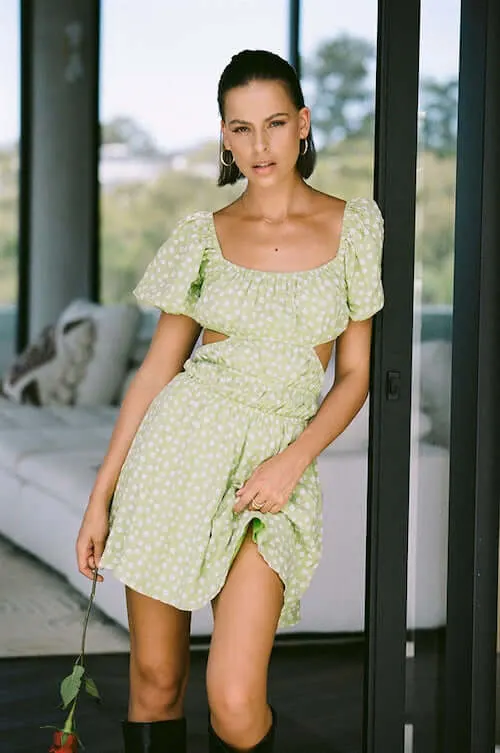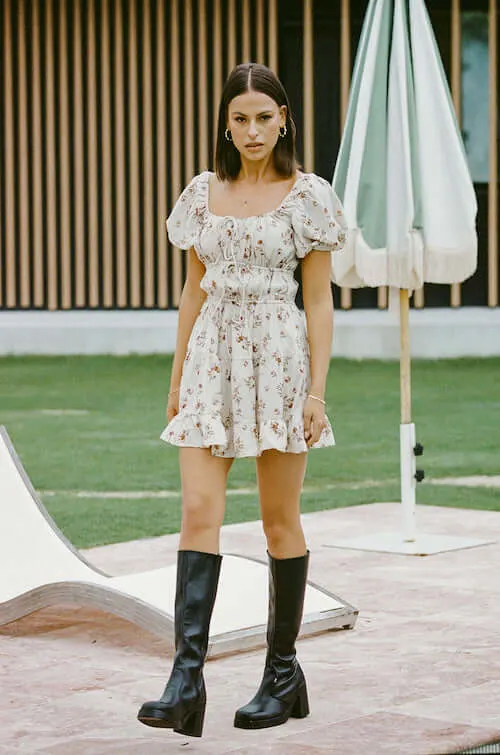 How To Style Your Dress And Cowboy Boots To Wear To A Wedding In Winter?
In the colder months, I suggest you wear a thicker fabric dress, such as a satin or velvet dress, especially, you can wear a long dress to keep warm.
If you prefer a shorter dress, the one with long sleeves is the best option, and for the footwear, a longer pair of cowboy boots is a better choice.
Then, you can add accessories in darker shades to complete the whole look.
Also, you can add a stylish thick jacket, both long and short. At some casual weddings, you can even wear a denim jacket.
Whether it's a fur jacket, leather jacket, or denim jacket, I suggest you choose a simpler design without too many decorations and patterns to avoid looking tacky and cheap.
What Other Clothing Pieces Can You Wear With Cowboy Boots To A Wedding?
A slim-fitting top paired with a floral skirt is also perfect for a wedding with cowboy boots.
If you prefer pants, then you can choose dark-colored pants including black or brown leather pants to match your western boots.
If the dress code of the wedding allows for jeans, then a pair of dark blue or even black skinny jeans will be more suitable and will make you look slimmer.
For the top, you can choose a floral off-the-shoulder top to pair with pants and boots.
Best Cowboy Boots To Wear To A Wedding: How To Choose A Great Pair of Cowboy Boots
What kind of cowboy boots to choose from for the wedding? You should choose the right cowboy boots according to the wedding dress code, as well as your dress style.
Usually, a pair of simple black cowboy boots with very good leather is the best choice. Meanwhile, brown cowboy boots are also ideal for a great look.
In addition, more and more wedding guests are also starting to choose stylish beige or white cowboy boots. This is a great way to make the dress code look more fresh and romantic.
You also need to consider the height of a pair of boots. If you are wearing a long dress, you can also choose a pair of short cowboy boots.
Finally, if your dress' design is very simple, then you can boldly choose cowboy boots with unique designs such as tassels, studs, and beautifully engraved flowers to add more personal style.
Ahead, please check our favorite different types of cowboy boots this year.
Shop Our Picks

This post was all about dresses to wear with cowboy boots to a wedding.
About The Author
Tracy is an experienced personal stylist, shopping expert, and fashion & lifestyle blogger. She has been featured on Time Magazine, Bustle, Best Life, Glam, The Zoe Report, Mic, and GOBankingRates, for her insights on fashion, beauty, home decor, and lifestyle. Read More
Related Posts: