Looking for tips for 80s fashion for women? Check this post for the best style tips and the 70+ best outfits to copy for your daily wear and 80s party outfits!
The 80s were a decade of bold fashion choices, where style broke free from the constraints of conformity.
Women embraced vibrant colors, loud prints, and exaggerated silhouettes to express their individuality.
From power suits to neon leggings, the fashion trends of this era still hold a special place in our hearts today.
Whether you're looking to channel your inner Madonna or simply want to add a touch of retro flair to your wardrobe, we've got you covered.
In this article, we'll explore how to style iconic 80s looks and provide you with 70+ inspiring outfits that capture the essence of this unforgettable decade.
Get ready for a fashion journey back in time as we dive into the world of 80s fashion for women!
This post may contain affiliate links, which means I'll receive a commission if you purchase through my link, at no extra cost to you. Please read the full disclosure here.
This post is all about 80s fashion for women.
80s Fashion Trends For Women: What To Wear For The 80s Style
The Ostentatious Style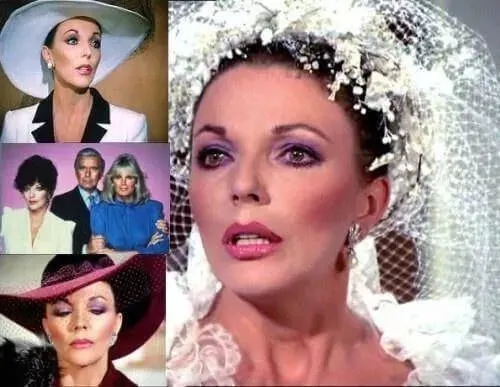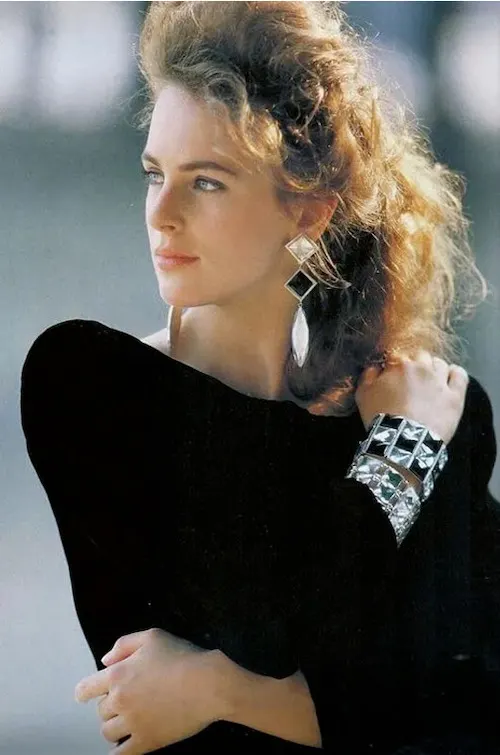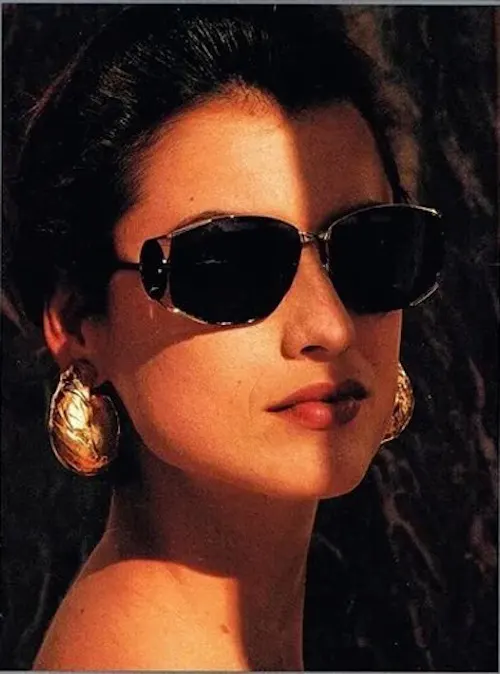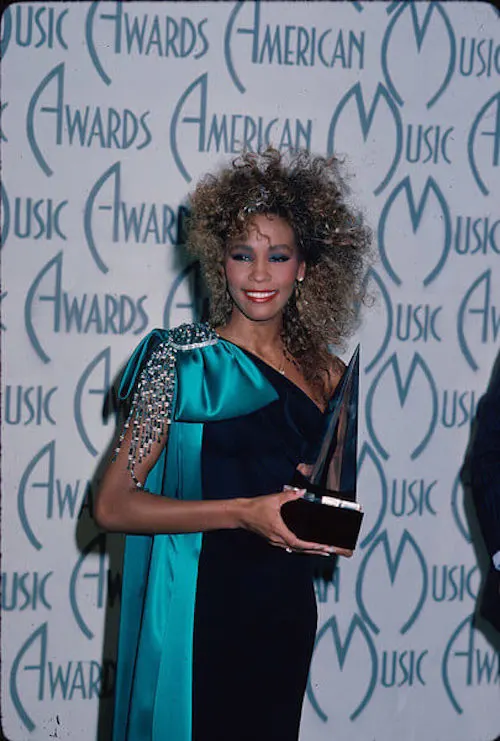 In the extravagant world of 80s fashion, one style that truly stood out was the ostentatious style.
This bold and flamboyant look was all about making a statement with your outfit.
From oversized shoulder pads to bright colors and metallic fabrics, the ostentatious style pushed boundaries and embraced excess in a way that was both empowering and playful.
One key element of the ostentatious style was its fearless use of color.
Dresses, skirts, blouses – everything came in vibrant shades like electric blue, neon pink, and acid green.
Mix-matching these bold hues created an eye-catching visual explosion that perfectly captured the spirit of the era.
Metallic fabrics like lamé were also popular for this style, adding an extra layer of glamour to already head-turning outfits.
Accessories played a crucial role in completing the ostentatious look.
Chunky gold chains, oversized earrings adorned with gemstones or feathers, and statement belts made from animal print or shiny patent leather were just some examples of how fashionistas incorporated extravagance into their ensemble.
The overall effect was a head-to-toe extravagance that demanded attention wherever you went.
The ostentatious style may have been over-the-top by today's standards but it provided women with a sense of confidence and empowerment during a time when individuality took center stage in fashion.
So why not embrace this daring trend and bring some boldness back into our wardrobes?
Oversized Silhouettes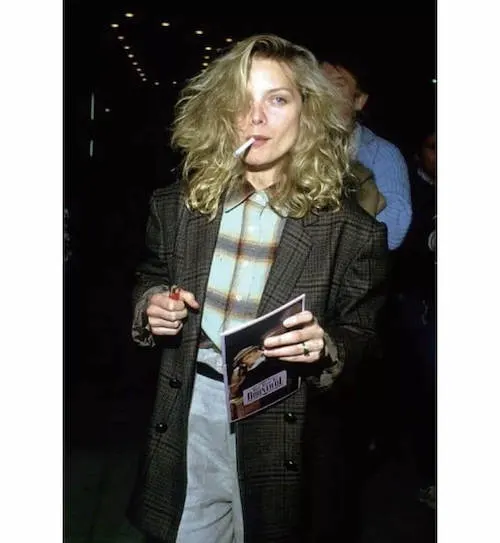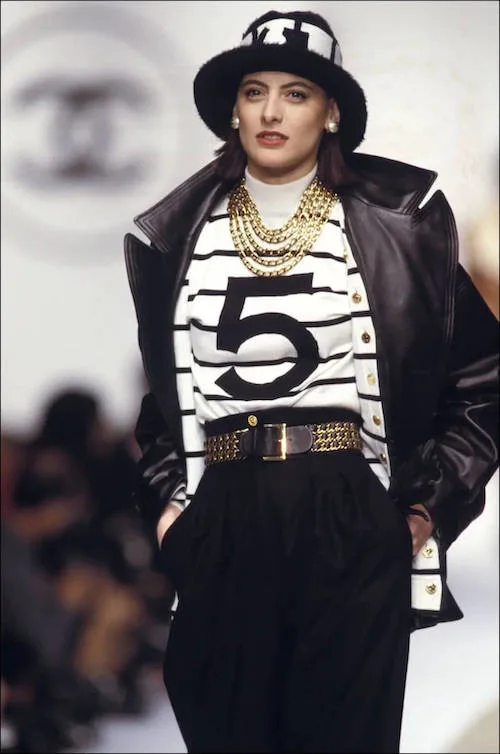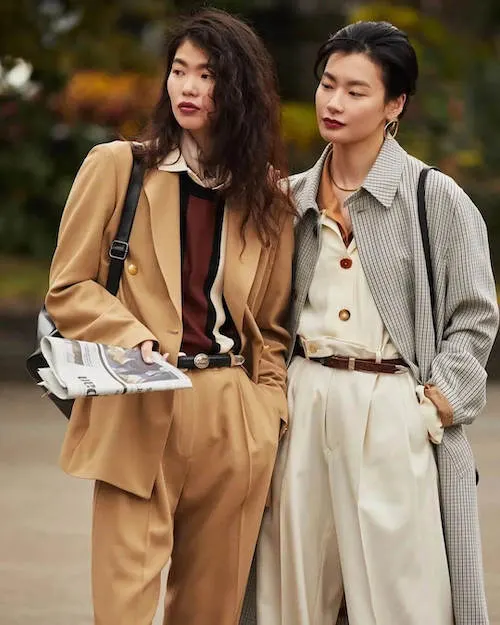 Oversized silhouettes were a hallmark of 1980s fashion and continue to make a statement today.
This trend was all about embracing bold and exaggerated proportions, allowing women to express themselves with confidence and individuality.
From oversized blazers to baggy jeans, the 80s offered an array of options for those who wanted to stand out from the crowd.
One iconic example of oversized silhouettes in the 80s was the power suit.
Women in this era took inspiration from menswear and embraced shoulder pads that added width and structure to their outfits.
Paired with wide-leg trousers or a skirt, these suits exuded power and authority.
Another popular choice was oversized sweaters or sweatshirts that could be styled off-the-shoulder for a casual yet sexy look.
While oversized silhouettes may seem daunting to style, there are some key tips that can help create a balanced look.
Firstly, it's important to consider proportion – pair an oversized top with more fitted bottoms or vice versa to maintain balance within your outfit.
Secondly, accessorize wisely – adding statement jewelry or a belt can help define your shape when wearing loose-fitting garments.
Lastly, play with textures – mixing different materials can add depth and interest to your ensemble.
Fitness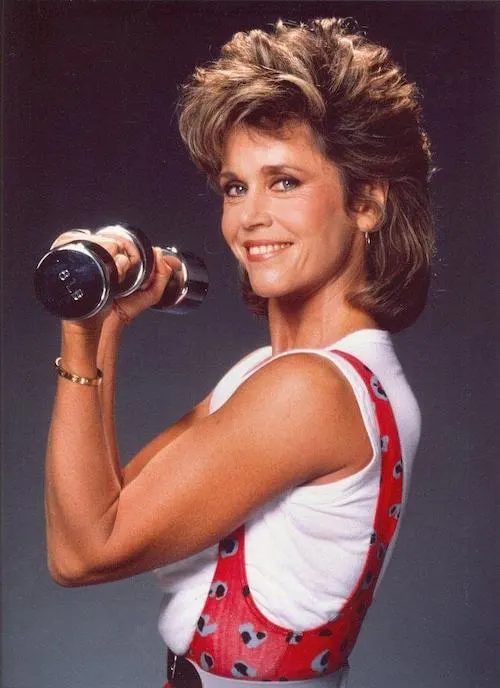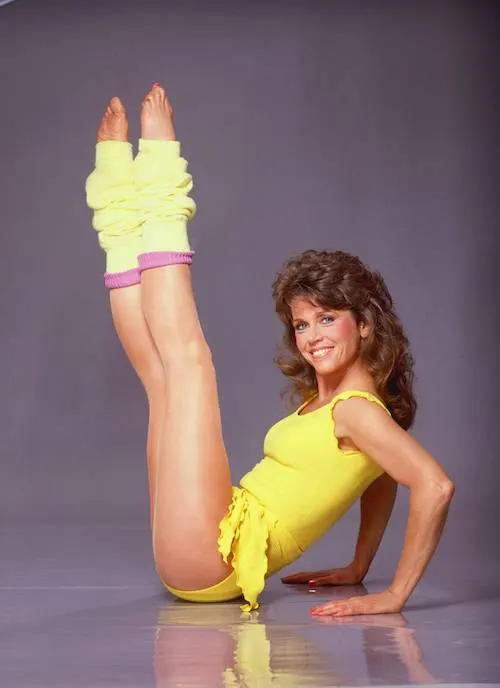 During the early 1980s, a surge in aerobic fitness gained momentum, spearheaded by well-known figures like Jane Fonda and Olivia Newton.
Jane Fonda played a pivotal role in popularizing aerobic exercises and even authored weight-loss recipes.
She recorded over a dozen instructional aerobics videos, captivating the attention of nearly all older Americans through television.
The advent of teaching videotapes allowed fashion-conscious individuals to indulge their passion for sports by following along at home.
Simultaneously, dance fitness gained popularity, drawing women in with its energetic music and the exhilaration of immersing oneself in the experience.
80s Makeup Looks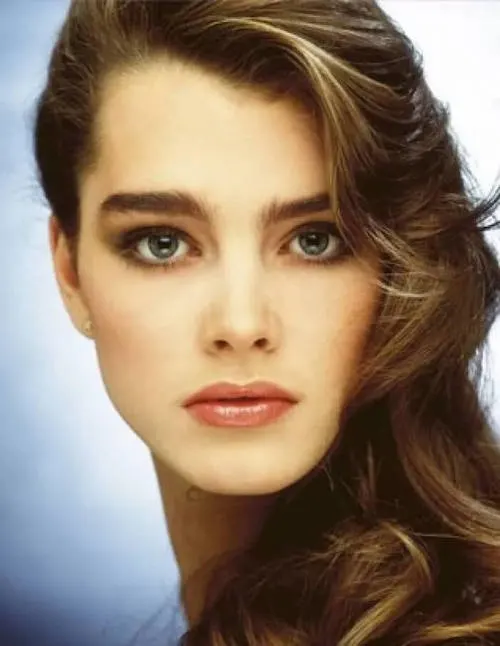 1980s makeup trend was bold, colorful, and often over-the-top, reflecting the vibrant energy of that era.
Bright neon eyeshadow, defined blush, and glossy lips were some of the defining characteristics of 80s makeup looks.
Neon was a popular choice for eyeshadows in the 80s.
Women would often apply electric blue or hot pink shadow all over their lids and even extend it up to their brows for an exaggerated effect.
Matching colored eyeliner was also a common sight. This daring choice added a fun and playful element to any look.
Another notable feature of 80s makeup looks was intense blush application.
Women would sweep bright shades like fuchsia or coral onto their cheeks, creating a strong pop of color that complemented their colorful outfits perfectly.
The goal was to achieve high cheekbones and flushed cheeks that could be seen from miles away.
Lastly, glossed-up lips were all the rage in the 80s. Lipsticks with high-shine finishes such as vinyl or metallic were favored by many women during this era.
The emphasis on luscious lips drew attention to the mouth and completed the overall bold aesthetic.
80s Hairstyles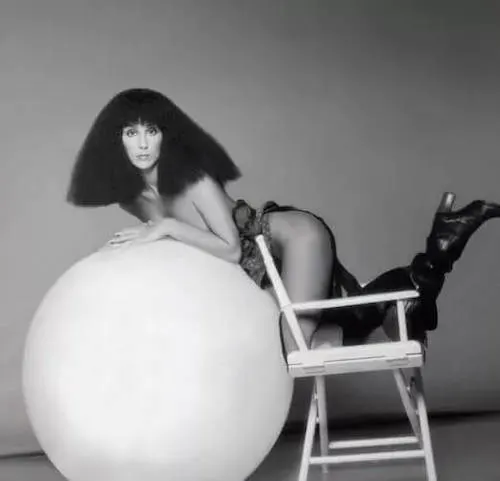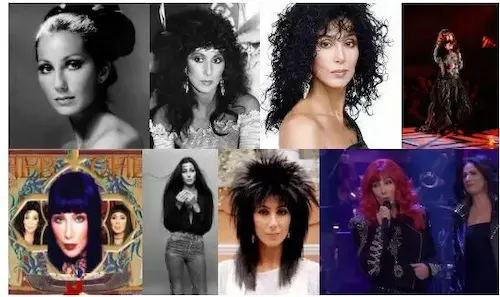 The 80s were a time of bold and larger-than-life hairstyles that perfectly reflected the spirit of the era.
From big perms to sky-high bangs, women in the 80s embraced hairdos that defied gravity and made a statement.
One iconic hairstyle from this era was the infamous mall hair, characterized by its excessively teased roots and voluminous curls.
It's hard to deny that these over-the-top hairstyles exuded confidence and showcased a rebellious attitude that defined this decade.
Another popular hairstyle during the 80s was the feathered look, epitomized by Farrah Fawcett's signature style.
Feathered hair had flicked-out layers that cascaded down from a center part, creating softness around the face.
This hairstyle not only added dimension but also allowed for creative styling options like half-up styles or accessorizing with colorful scrunchies or headbands.
The most fashionable actress in mainstream American culture in the 1980s was Cher.
She had lots of iconic hairstyles in the 80s.
1980s Fashion Style Icon
Princess Diana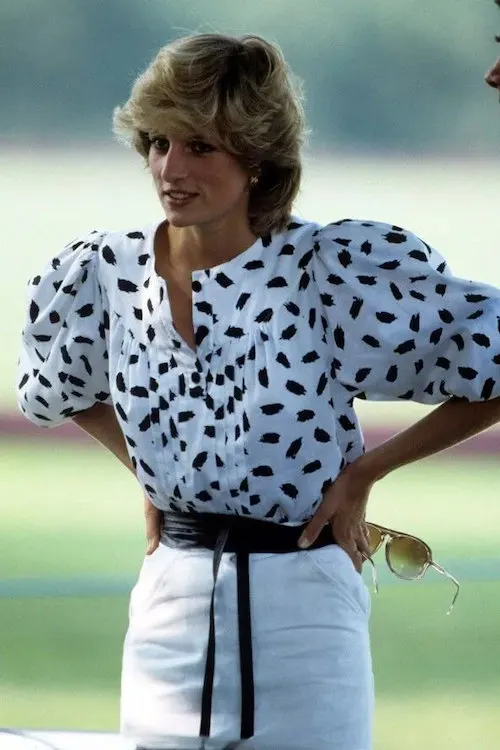 Princess Diana, also known as the Princess of Wales, was not only a fashion icon but a symbol of grace and elegance in the 80s.
Her style choices were bold, yet refined, pushing the boundaries of traditional royal dressing.
One of her most iconic looks was the off-the-shoulder black velvet gown she wore to a gala event at the White House in 1985.
This daring choice showcased her confidence and individuality, making a statement that resonated with women all over the world.
Diana's fashion influence extended beyond glamorous evening wear; she also had an impeccable sense of casual chic.
She popularized oversized sweaters paired with cycling shorts or jeans—a now-classic combination that epitomizes effortless coolness.
Additionally, Diana frequently incorporated colorful accessories into her outfits, from vibrant scarves to statement hats.
Her ability to inject vibrancy into her ensembles without overwhelming them demonstrated her innate understanding of balance and personal style.
Madonna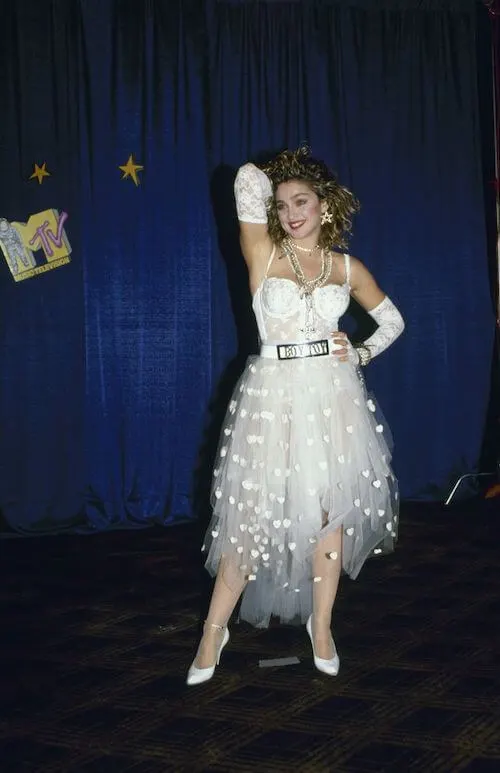 Madonna, the Queen of Pop, was not only a trendsetter in music but also in fashion during the 80s.
Her iconic looks revolutionized women's fashion and continue to inspire contemporary style trends even today.
Madonna was known for her bold and daring choices, pushing boundaries with her provocative outfits that challenged societal norms.
One of Madonna's most memorable looks from the 80s is her Like a Virgin ensemble.
The combination of a white lace corset, fingerless gloves, layered necklaces, and crucifix earrings became an instant sensation.
This outfit epitomized Madonna's ability to blend a mix of femininity and rebellion effortlessly.
She showed women everywhere that they could be both sexy and powerful without compromising their individuality.
In addition to her provocative styles, Madonna also popularized other fashion staples such as oversized blazers, fishnet stockings, and fingerless gloves.
She embraced the masculine-feminine aesthetic by pairing structured blazers with lingerie-inspired tops or skirts.
This fusion of elements created a unique sense of empowerment for women in a time when society often dictated what they should wear.
What 80s Fashion Pieces To Invest In
Bold Jackets and Shoulder Pads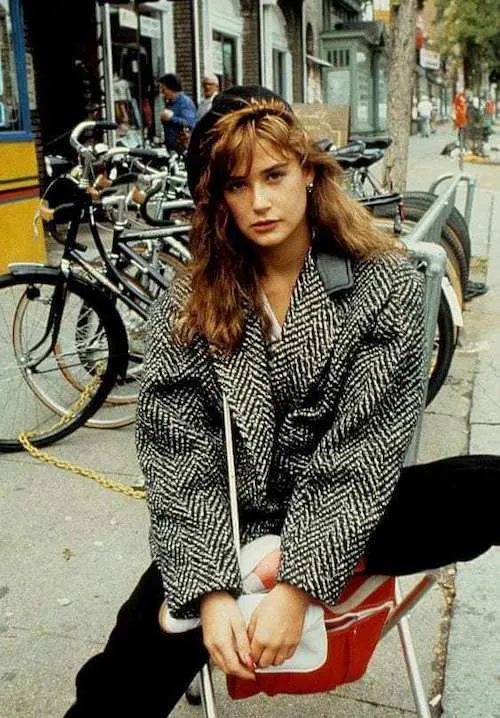 Bold Jackets and Shoulder Pads were the epitome of 80s power dressing.
These fashion choices made a statement, exuding confidence and strength for women in the workplace.
The jackets were often oversized with strong structured shoulders, giving women a bold and assertive silhouette.
The shoulder pads became symbolic not just of fashion trends, but also of breaking gender stereotypes.
They represented a move towards equality, as women demanded to be taken seriously in professional settings.
The exaggerated shoulders created an illusion of width and authority, empowering women to command attention and respect.
Rock-Chic Denim Jacket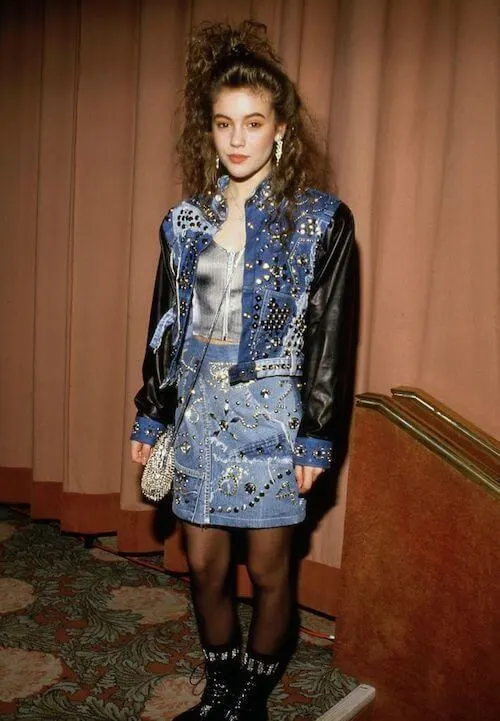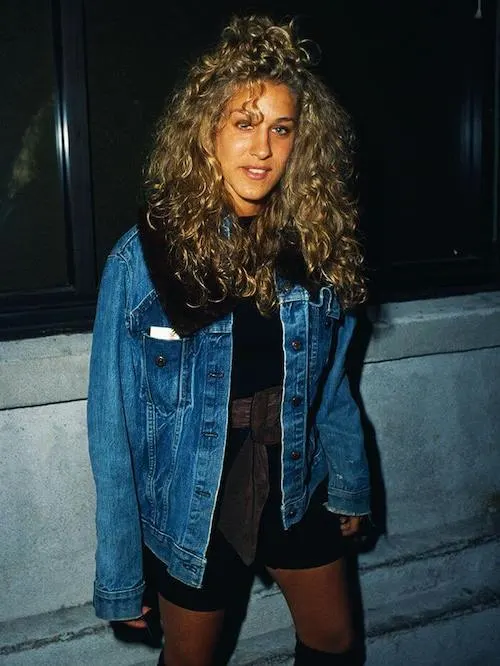 To achieve an authentic 80s look, opt for a worn-out denim jacket with shoulder pads.
Pair it with high-waisted jeans and a crop top for a punk-inspired outfit.
Complete the look with some chunky boots and accessorize with layered chains and statement rings.
Neon Colors and Bright Patterns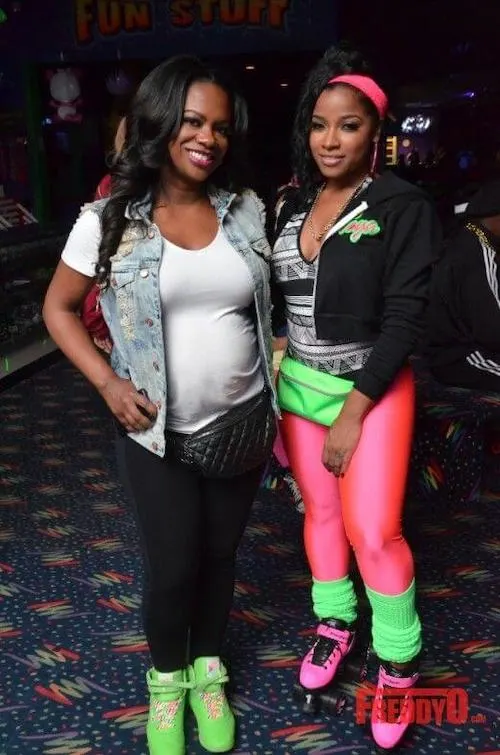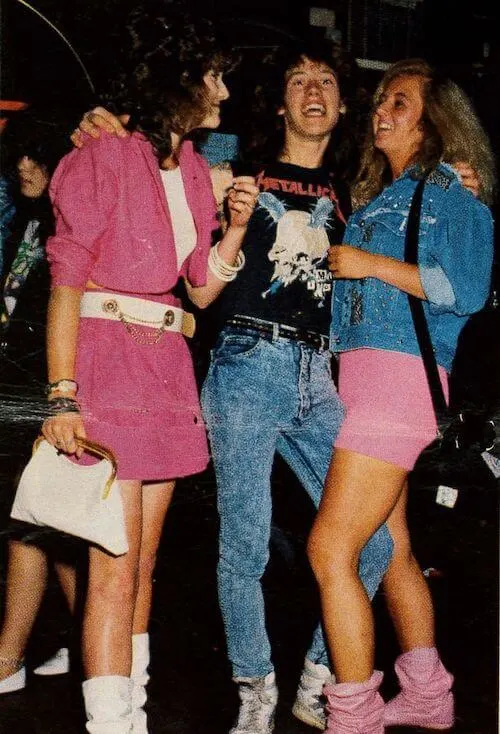 Neon colors were huge in the 80s fashion scene.
From vibrant pinks to electric greens, these bold hues were seen in everything from dresses to accessories.
Rocking neon was a surefire way to stand out and make a fashion statement.
80s Workout Vibes: Leggings, Leg Warmers, and Crop Tops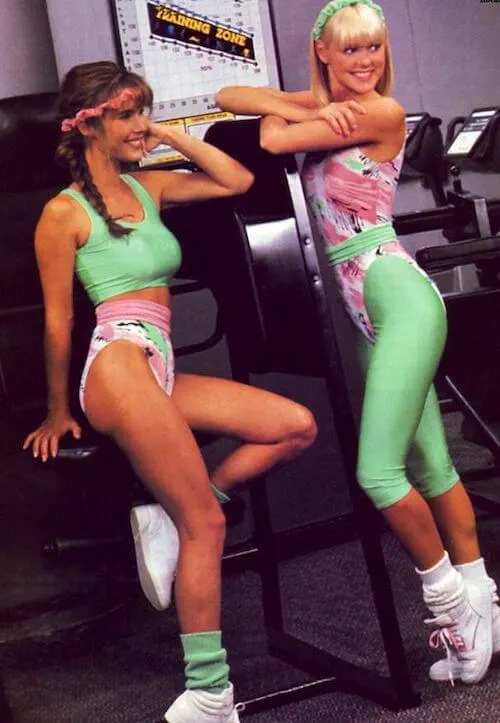 The 80s gave birth to the athleisure trend that we still see today.
Leggings, leg warmers, and crop tops were popular in the 80s and continue to be staples in women's fashion.
These pieces added a touch of comfort and casual cool to any outfit.
Channel your inner Jane Fonda with an 80s workout-inspired outfit.
Pair some high-waisted leggings with a crop top in a bold color.
Layer on some leg warmers for extra 80s flair.
Complete the look with a headband and some retro sneakers to nail that authentic 80s gym outfit.
Polka Dots and Preppy Styles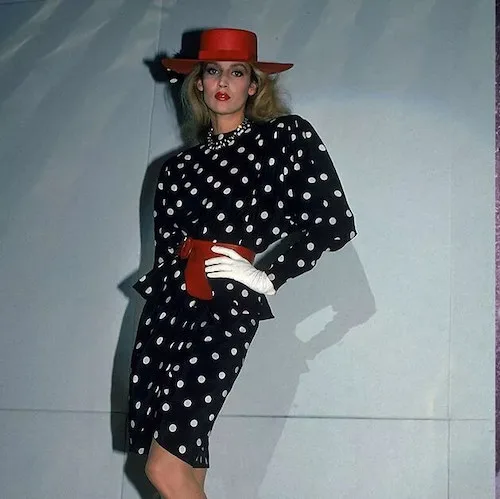 Not all 80s fashion was bold and edgy.
The preppy style was also popular during this decade.
Think polka dot blouses, high-waisted skirts, and tailored blazers.
Princess Diana was a style icon known for her elegant and preppy fashion choices.
Rock and Punk Fashion With An Edgy Leather Jacket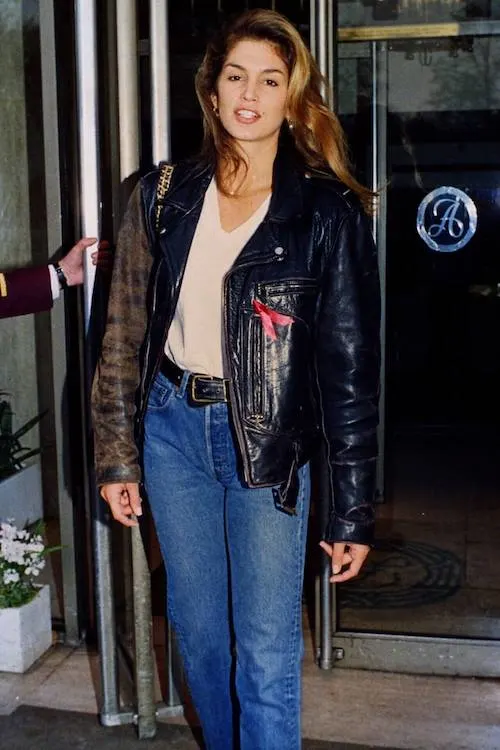 The 80s was also a time of rebellion and punk fashion.
Leather jackets, ripped jeans, and band tees were staples of this edgy subculture.
Embrace your inner rockstar and channel the punk fashion trends of the 80s.
Add some combat boots and studded accessories for that extra edge. Don't forget to accessorize with some chunky silver jewelry to complete the punk-inspired look.
Cute 80s Fashion For Women Outfits To Copy
Below are the cutest 80s fashion-for-women outfits that we can recreate in our daily life and they are still amazingly trending now!
Crop Bazer + Hip Pants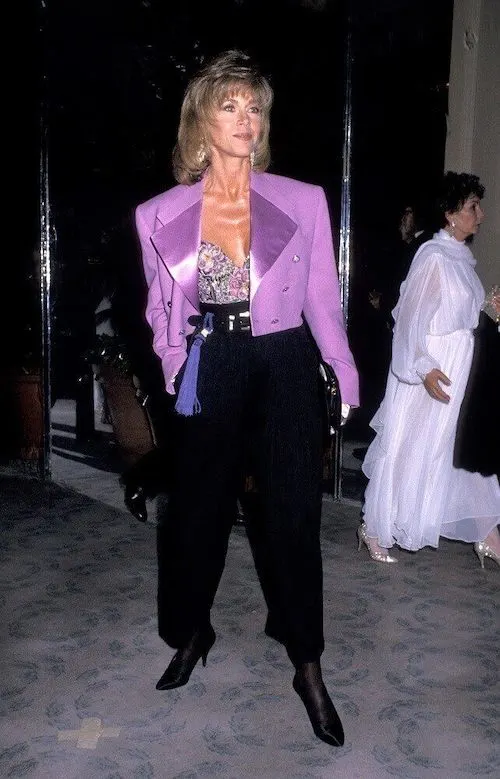 Denim Jacket + Patterned Fitted Pants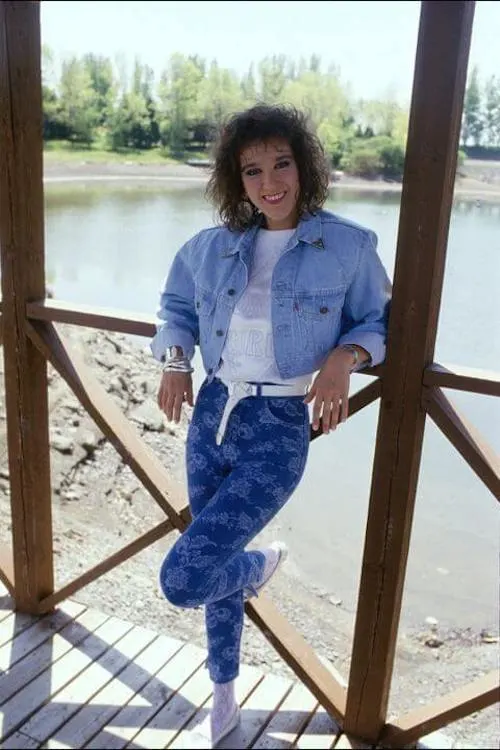 Black Padded Leather Blazer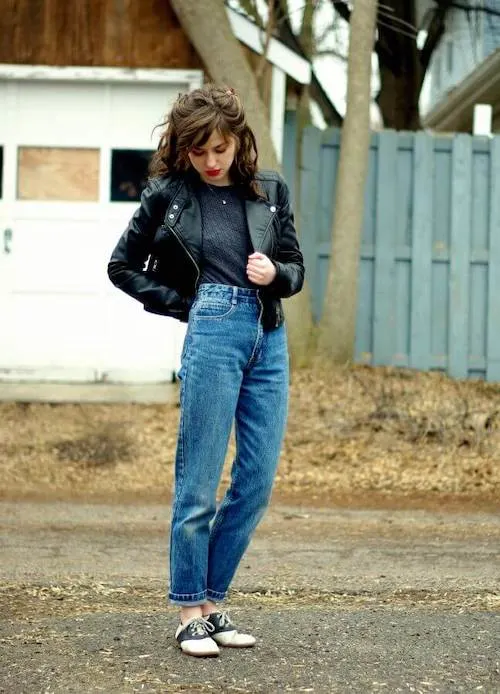 Oversized Tee + Jean Skirt + Statement Earrings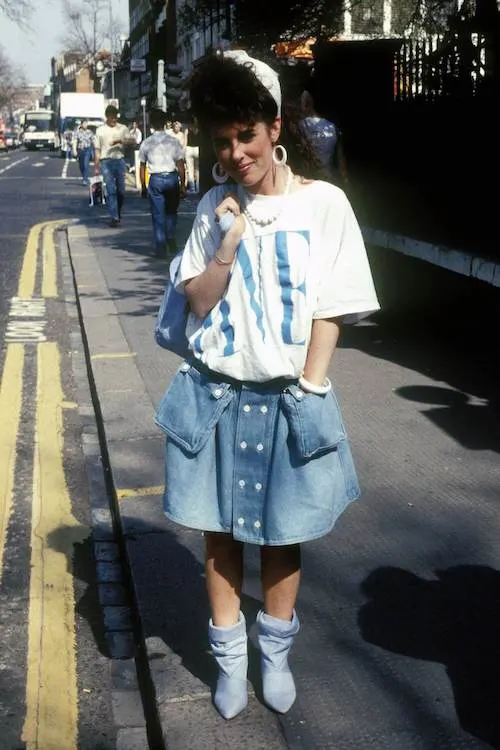 Oversized Denim Shirt + Floral Maxi Skirt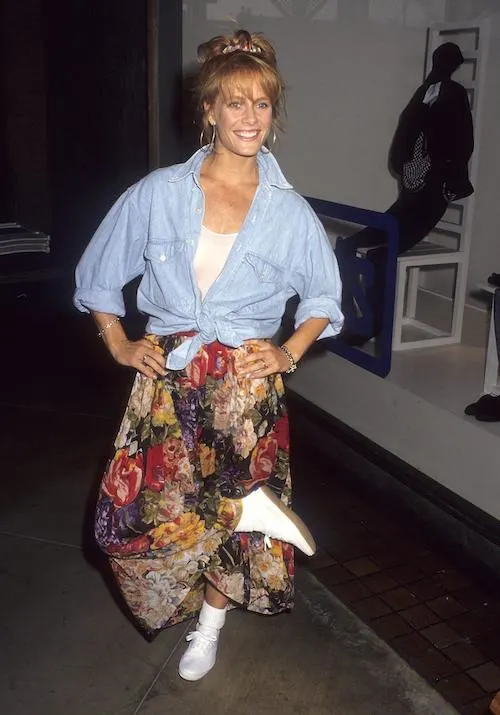 Oversized Black Blazer + White Tee + Jeans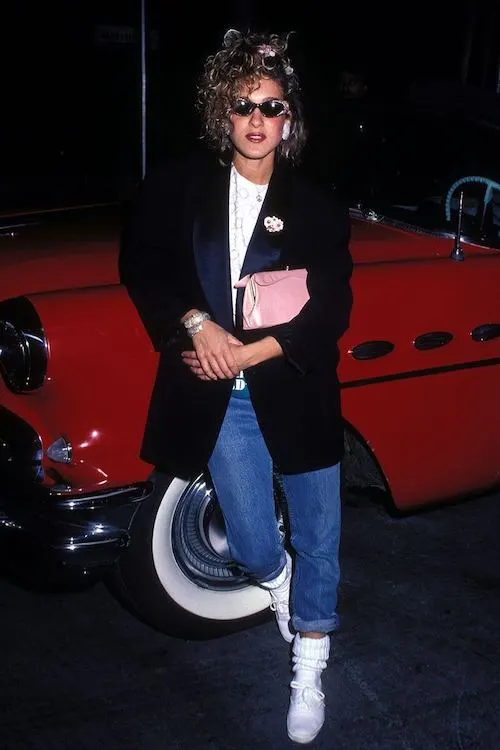 Blazer Suit + White Tee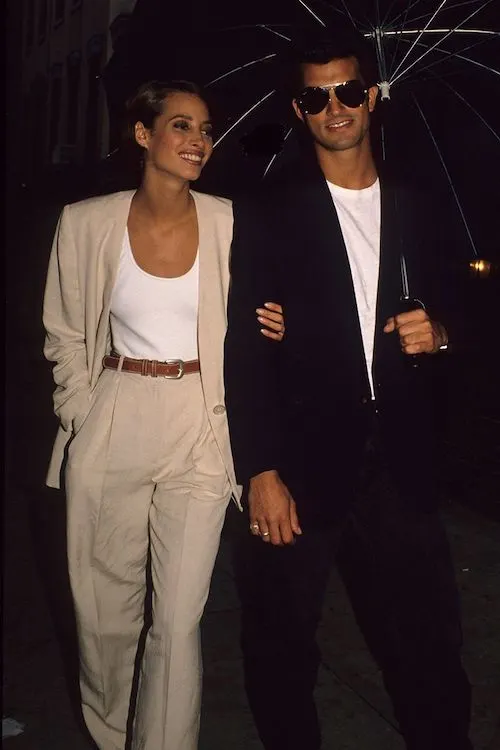 Bright Color Top + Baggy Cropped Trousers + Platform Boots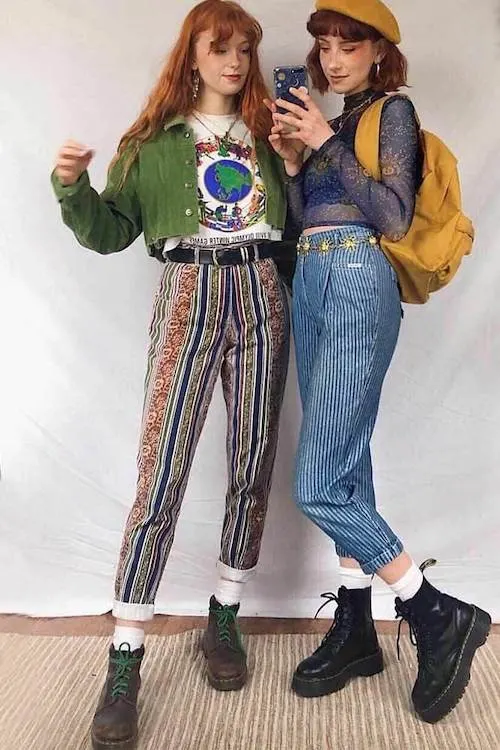 Padded Top + High Waist Jeans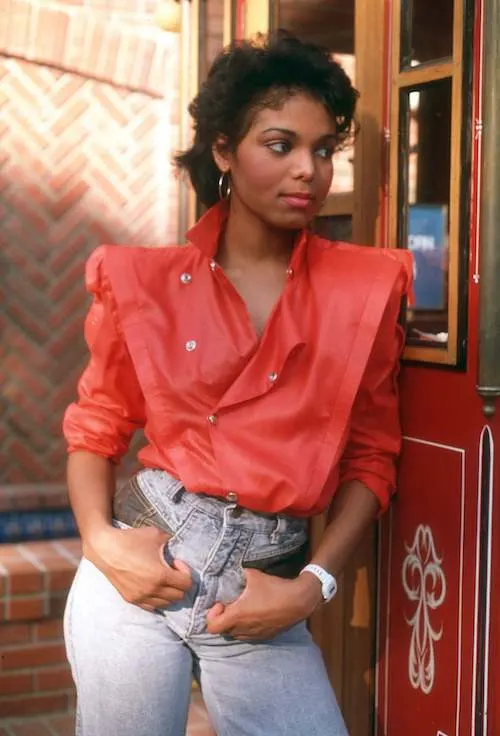 Oversized Sweater + High Waist Jeans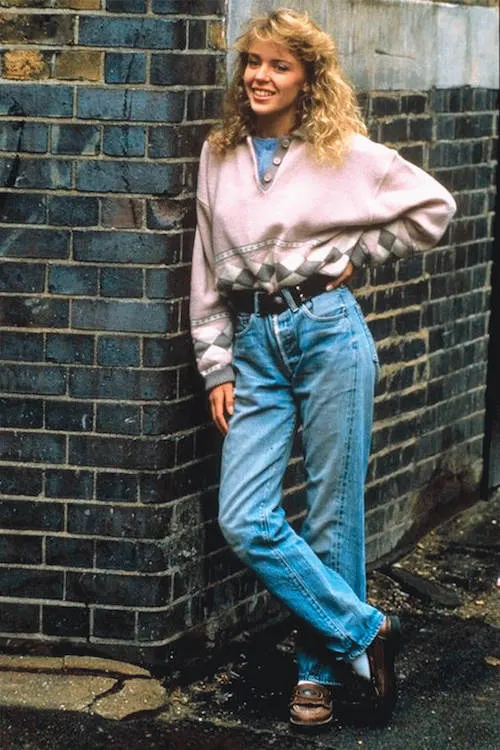 Ruffle Blouse + Jeans Or Jean Skirt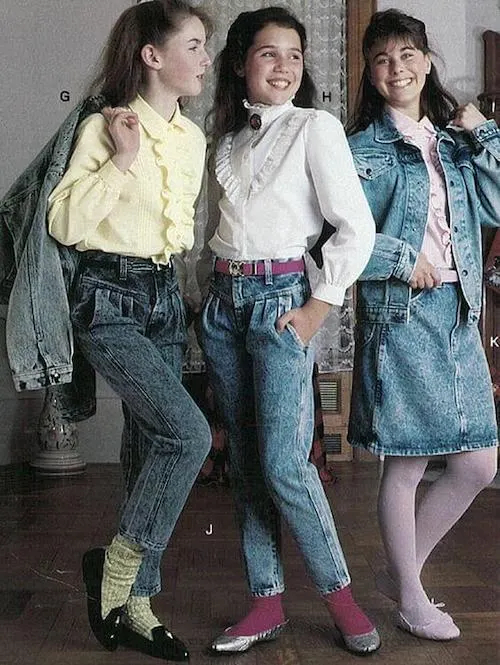 Chic 80s Fashion For Women
If you are looking for 80s style outfits that are suitable for work, casual dates, or even travels, below we round up the looks that we can copy using current trending fashion items.
Power Suits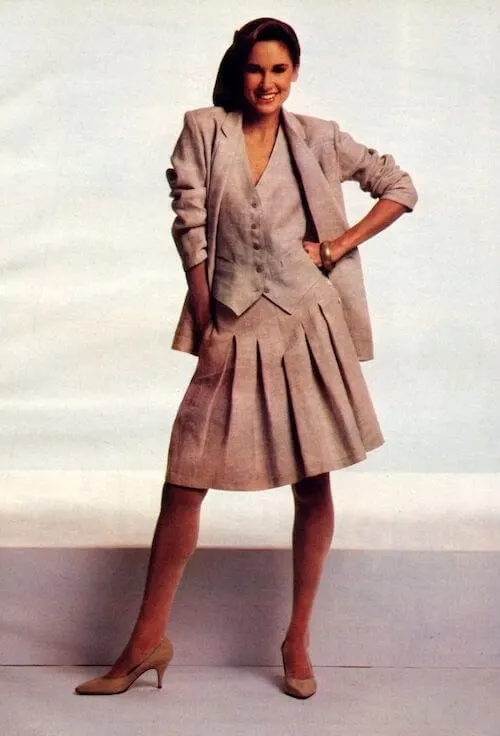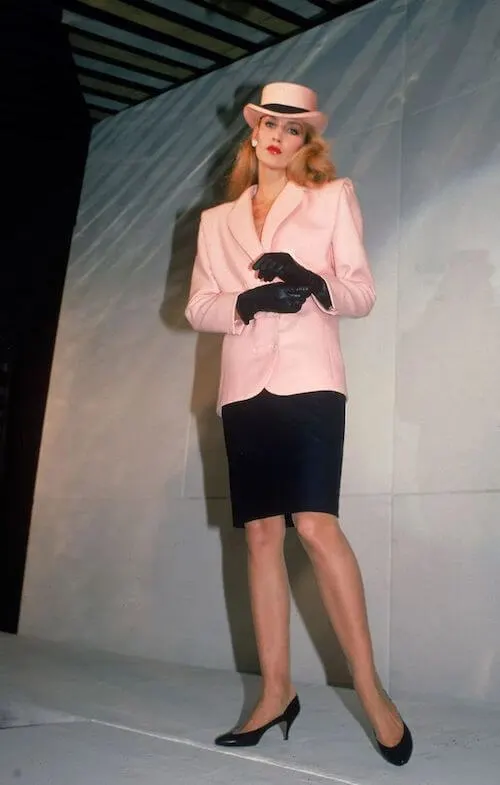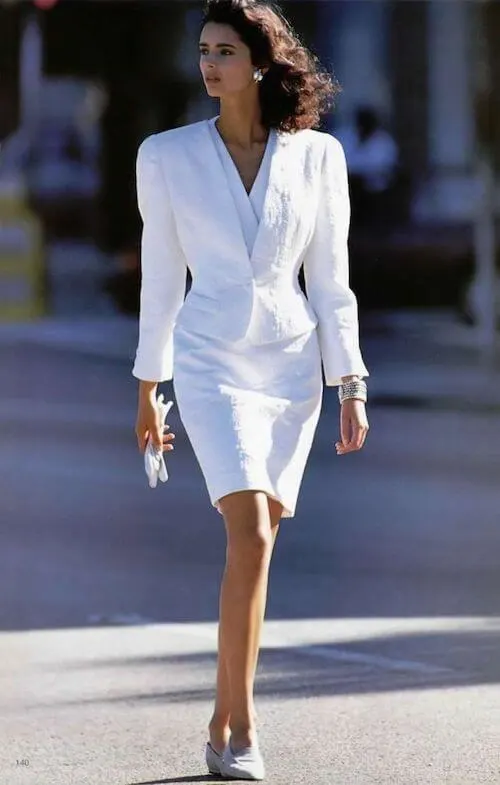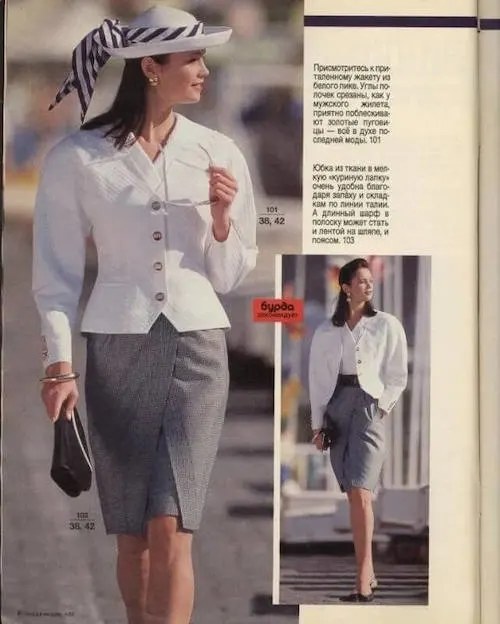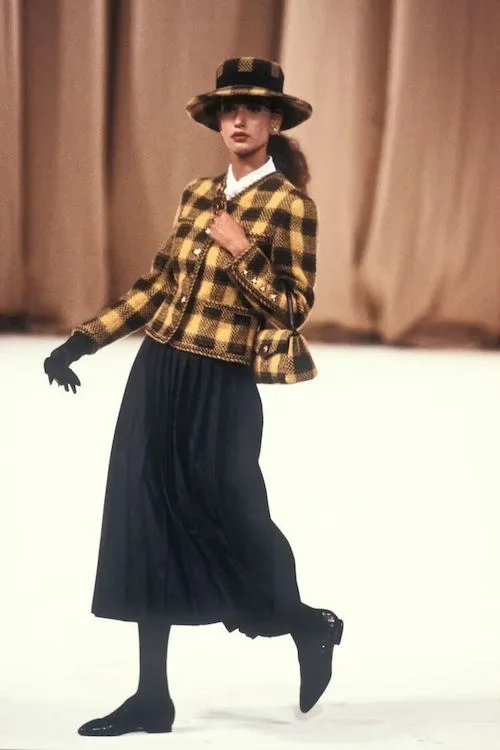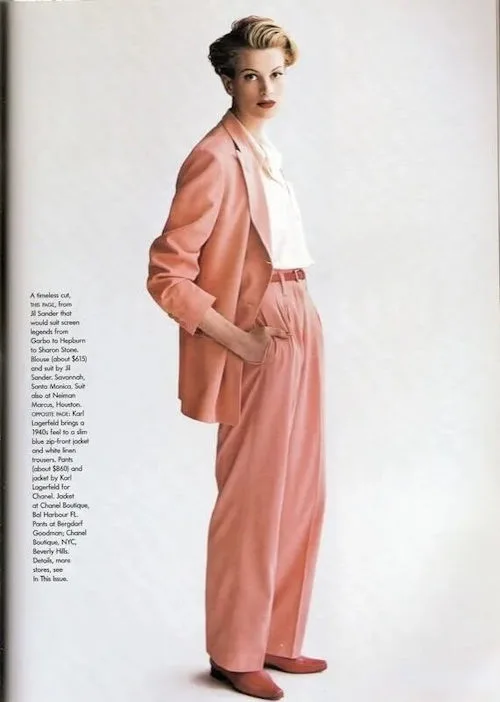 Suits in the 80s were not just a fashion statement for men.
Women also embraced this powerful and sophisticated trend, breaking away from traditional feminine attire.
It was a time when women started to assert themselves in the workplace, and what better way to do it than by wearing sharp tailored suits?
But these were no ordinary suits – they exuded confidence, authority, and style.
Shoulder pads were all the rage, creating a strong silhouette that commanded attention.
Additionally, bold colors such as bright reds and electric blues took center stage, making a statement that women meant business.
The 80s suit trend for women was not just limited to the office – it became a symbol of empowerment outside of work hours too.
Young girls everywhere embraced the idea of being both feminine and powerful. Suits allowed women to feel elegant while subverting societal norms and constraints.
Jackets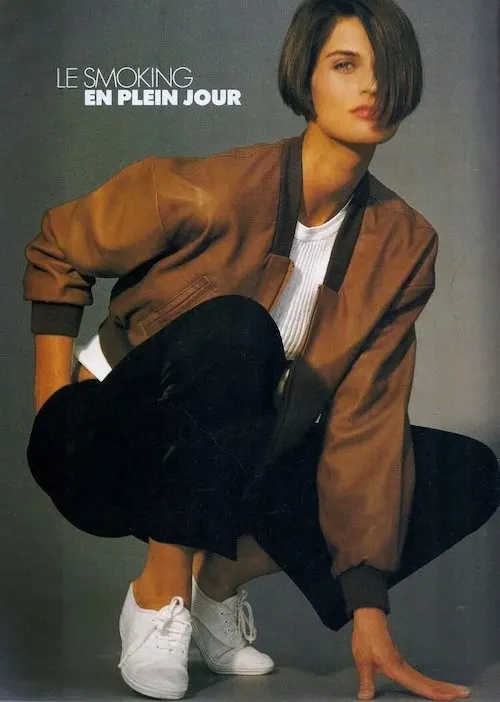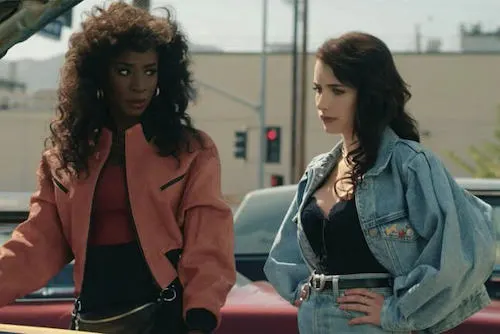 Jackets were an essential part of 80s fashion for women, adding a touch of coolness and edginess to any outfit.
From oversized denim jackets adorned with patches and pins to neon-colored windbreakers, the 80s were all about making a bold statement.
These jackets became more than just a piece of clothing; they became symbols of rebellion and individuality.
One popular jacket style that defined the 80s was the bomber jacket.
Originally designed for military pilots, it quickly gained popularity among women as a stylish way to channel their inner tomboy.
The iconic boxy shape and ribbed cuffs and waistband added a touch of athleticism to any ensemble.
Paired with high-waisted jeans or a mini skirt, the bomber jacket exuded confidence and streetstyle coolness.
Another fashionable choice for jackets in the 80s was the leather biker jacket.
Synonymous with rock 'n' roll culture, this rebellious outerwear brought an element of toughness to any outfit.
Women would layer their biker jackets over band t-shirts or colorful dresses to create contrast and convey an air of nonchalant attitude.
The slick texture and metal hardware details made these jackets incredibly versatile, suitable for both casual day outings or wild nights at loud concerts.
White Collar Blouses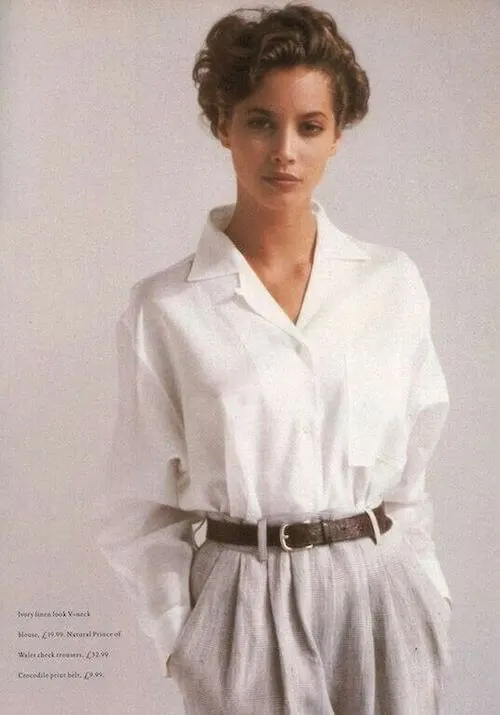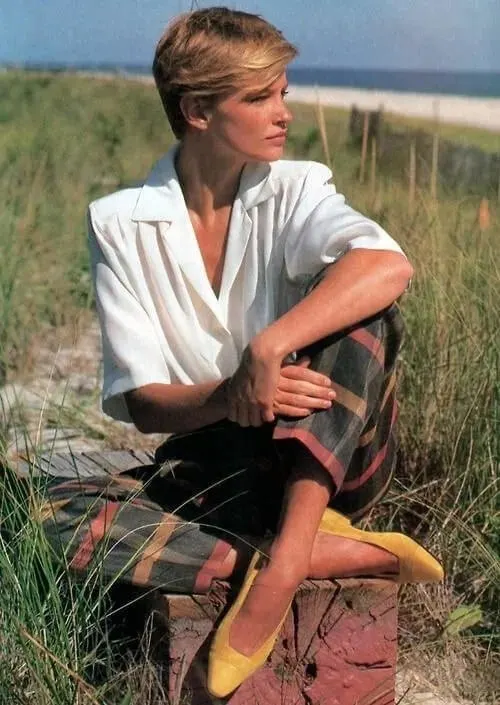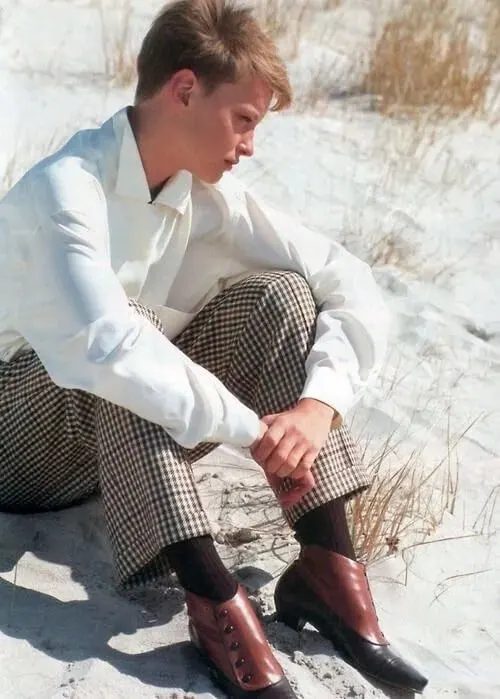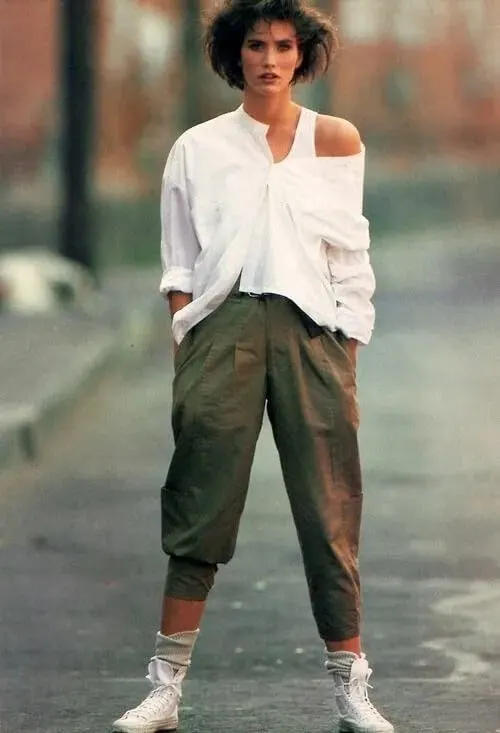 White collar blouses were a staple in 80s fashion for women, adding an air of sophistication and professionalism to any outfit.
These blouses often featured crisp, oversized collars that framed the face and drew attention to the neckline.
The white collar blouse was versatile and could be worn both in formal and casual settings, making it a popular choice among working women during this decade.
What made white collar blouses truly unique was their ability to add a touch of femininity to power dressing.
While shoulder pads and structured suits dominated the workplace, these blouses offered a softer alternative.
Pairing a white collar blouse with high-waisted trousers or pencil skirts created a polished yet feminine look that defied traditional notions of power dressing.
It was an empowering way for women to express their individuality and challenge societal norms through fashion.
Additionally, white collar blouses became synonymous with preppy style in the 80s.
Teamed with pleated plaid skirts or tailored shorts, they evoked a sense of collegiate charm and sophistication.
Women embraced this aesthetic as it allowed them to make bold fashion statements while still conforming to conservative dress codes prevalent at the time.
Tailored Trousers Or Wide Leg Pants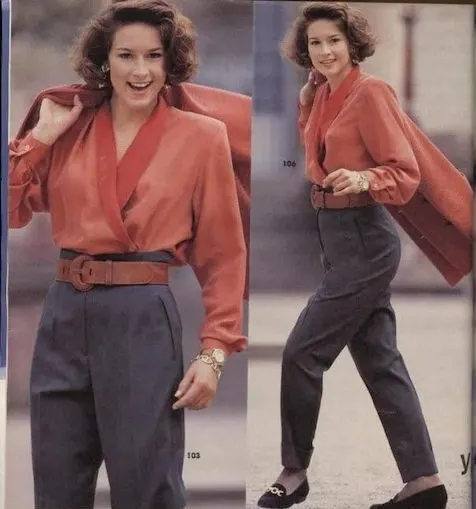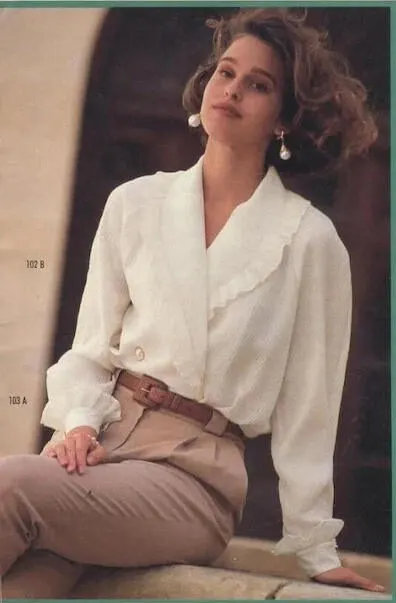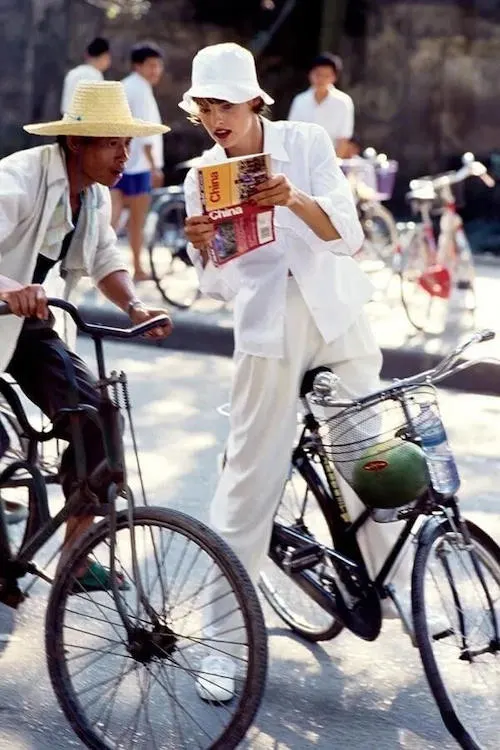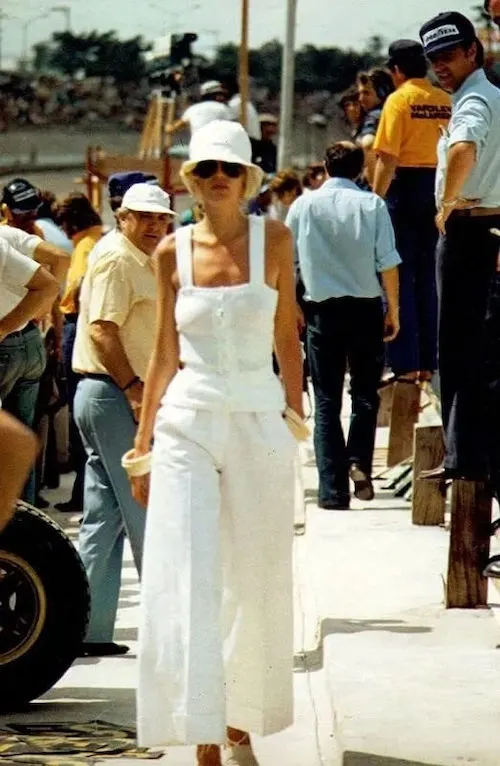 Tailored trousers and wide leg pants were both iconic styles in women's fashion during the vibrant era of the 80s.
While tailored trousers exemplified a refined and structured look, wide leg pants offered a more relaxed and daring aesthetic.
The juxtaposition of these two styles allowed women to experiment with different silhouettes and express their individuality.
Tailored trousers, often adorned with sharp cuts and defined lines, reflected the power dressing trend that was popularized by influential figures such as Margaret Thatcher.
These pants were often paired with structured blazers or oversized shoulder pads to further enhance a strong and commanding presence.
On the other hand, wide leg pants provided an alternative option for those seeking comfort without compromising on style.
With their flowing material and loose fit, these pants fostered a sense of freedom while still exuding sophistication.
Shirt Dresses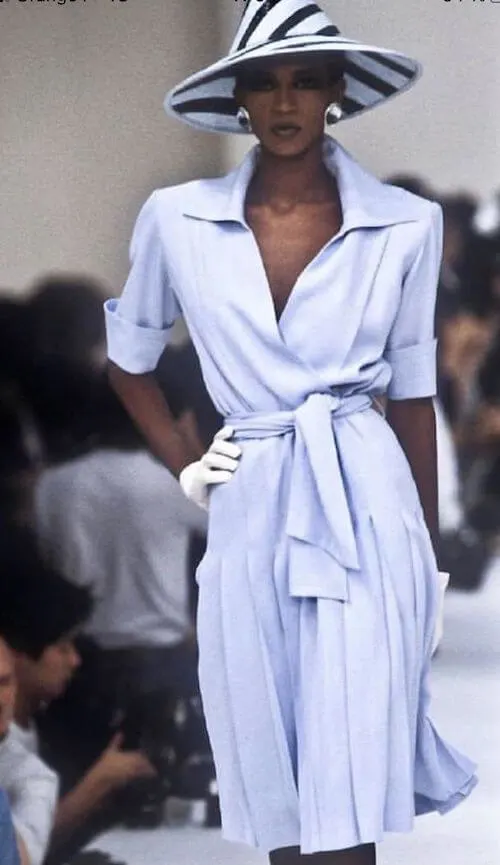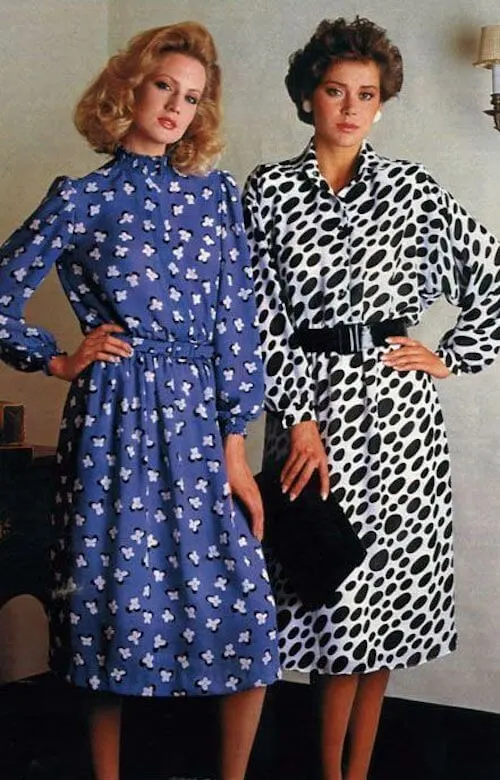 Shirt dresses epitomize the effortlessly cool style of the 80s.
These versatile and chic garments were embraced by women of all ages for their comfortable yet fashionable appeal.
The genius behind shirt dresses lies in their ability to function as both a dress and a shirt, offering infinite possibilities for styling.
One of the defining characteristics of shirt dresses in the 80s was their bold patterns and vibrant colors.
From stripes to polka dots, these prints added an element of fun and playfulness to any outfit.
Additionally, shirt dresses often featured oversized collars that drew attention to the neckline, creating a dramatic and eye-catching look.
Colored Leggings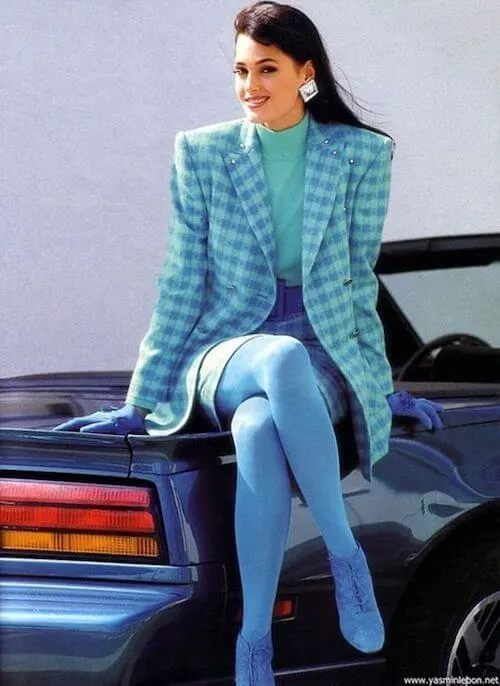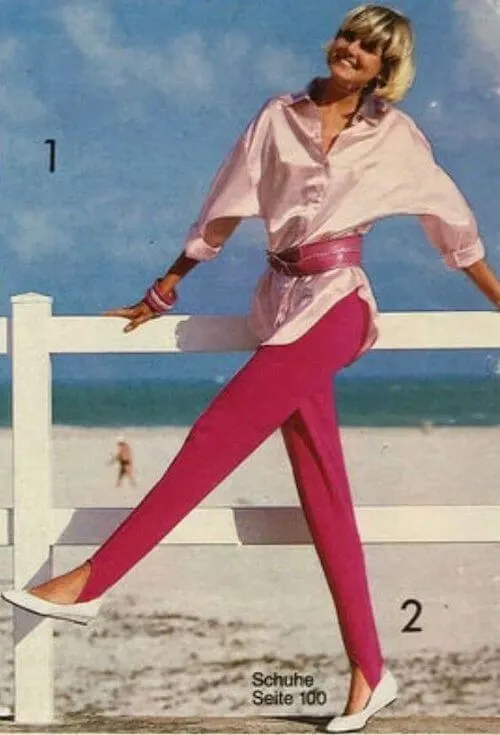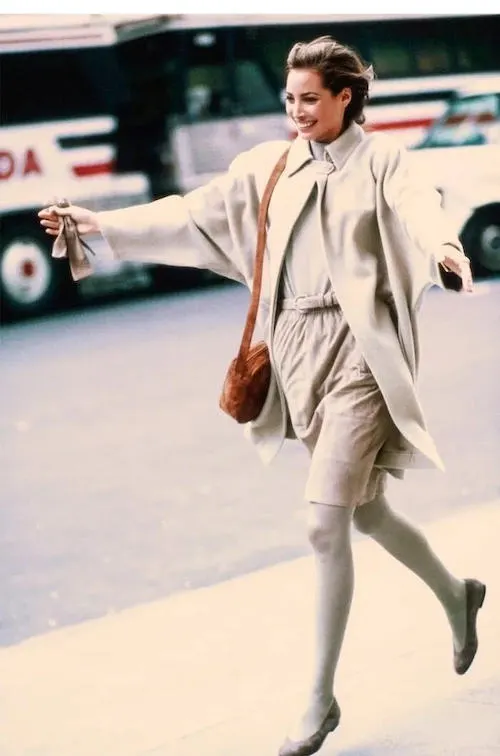 In the realm of 80s fashion for women, colored leggings were an absolute staple.
These vibrant, bold bottoms provided a burst of personality to any outfit and quickly became synonymous with the decade's unique style.
From neon greens and pinks to electric blues and oranges, there was no limit to the multitude of hues available.
Colored leggings allowed women to express themselves in a way that previous generations could only dream of.
It was an era where conformity took a backseat to individuality, and these eye-catching bottoms perfectly embodied that spirit.
They instantly transformed even the simplest ensemble into a fashion statement, whether paired with oversized sweatshirts or layered under denim skirts.
Statement Accessories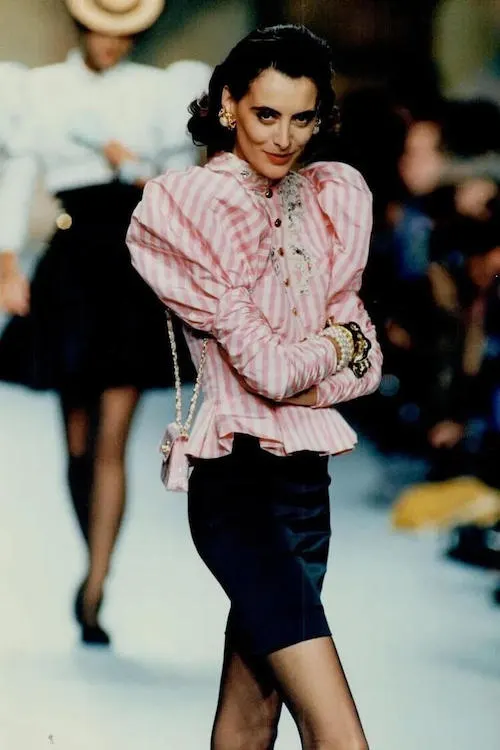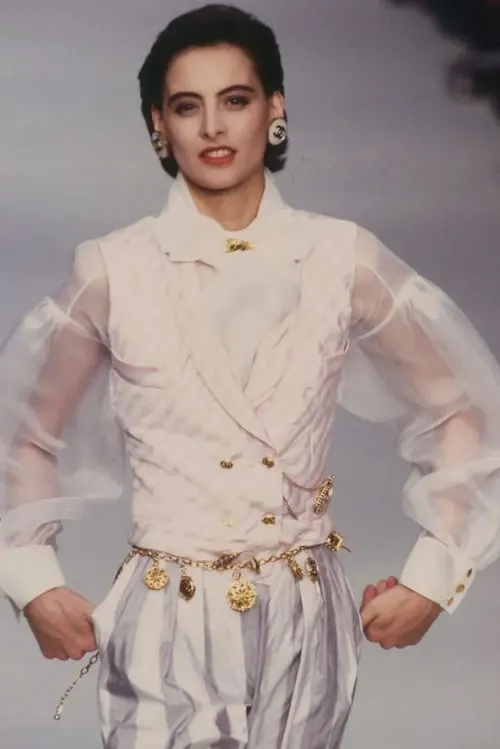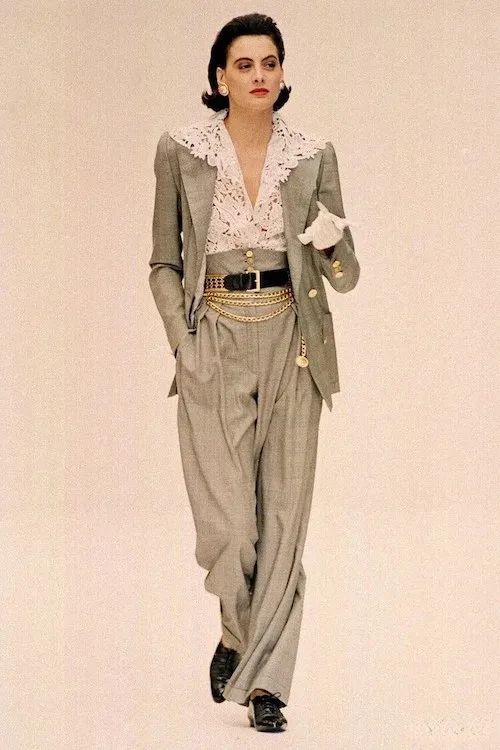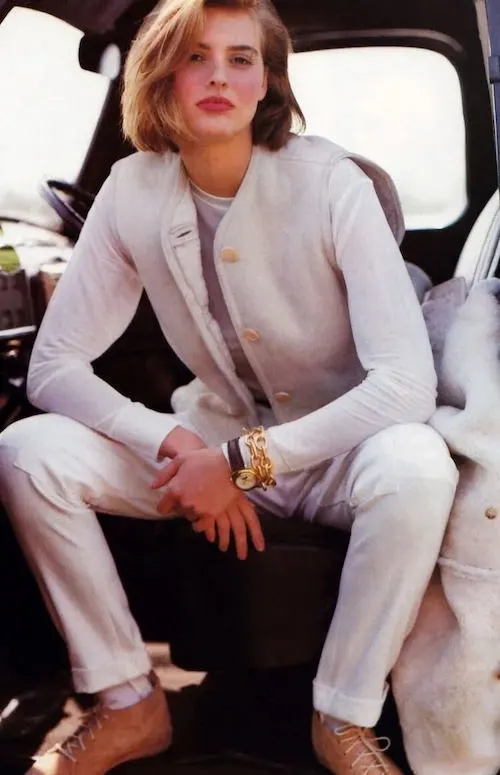 Statement accessories were a crucial part of 80s fashion for women.
From chunky oversized earrings to bold and vibrant belts, these accessories played a significant role in making a fashion statement.
One of the most iconic statement accessories of that era was the shoulder pads.
Women embraced this trend with open arms as it added power and structure to their outfits.
Another popular accessory during this time was the fanny pack.
Originally designed for practical use, it quickly became a stylish accessory worn around the waist or across the chest.
The fanny pack came in various colors and patterns, adding an element of fun and quirkiness to any outfit.
Paired with high-waisted jeans or a brightly colored tracksuit, it epitomized the casual yet cool aesthetic of 80s fashion.
Statement sunglasses were also an essential part of 80s fashion for women.
Large and exaggerated frames adorned with rhinestones or geometric patterns made heads turn wherever you went.
They not only protected your eyes from the sun but also gave an air of mystery and glamour to any ensemble.
The Best 80s Party Outfits Ideas: What To Wear To A 80s Party
80s themed parties are now trending and below are our favorite looks for the 80s parties.
Bright Color Tops + Pants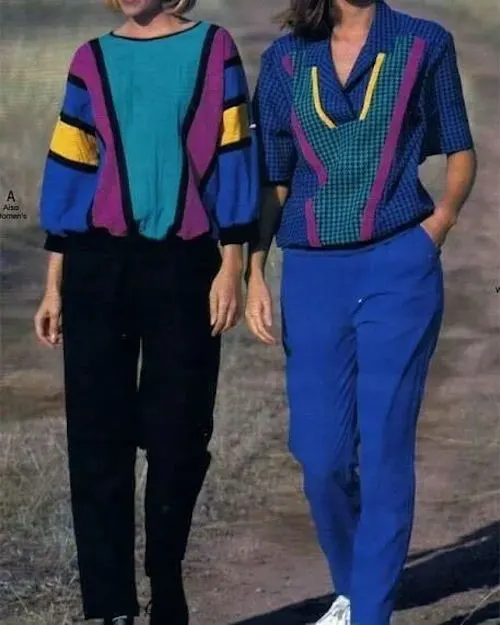 Denim On Denim And Polo Shirt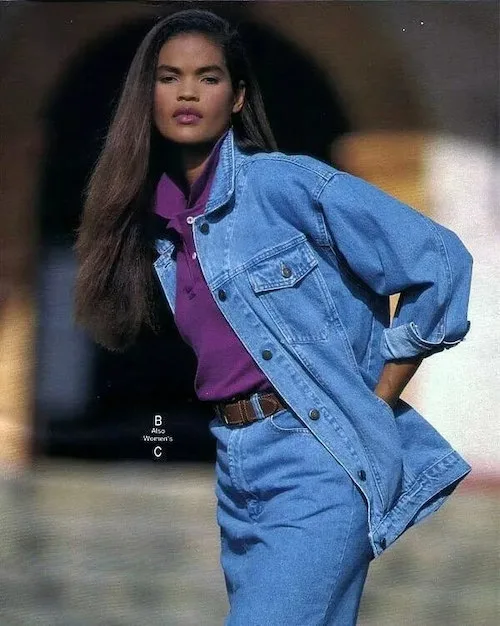 Denim Overall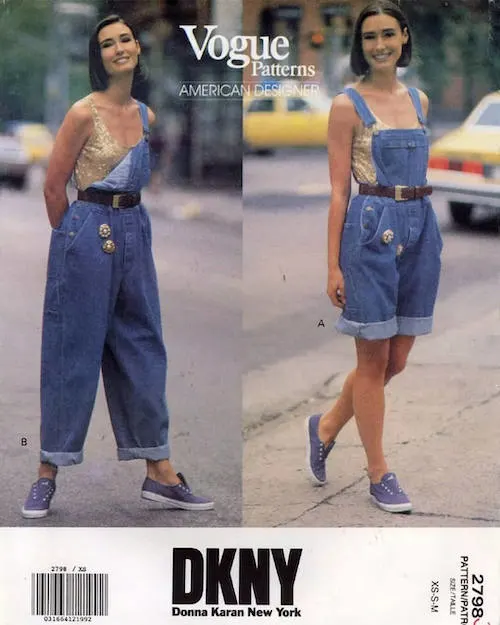 Tee + High Waist Jeans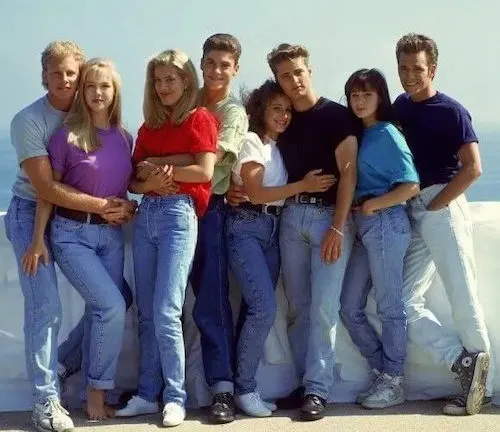 Slim Top + High Waist Flared Jeans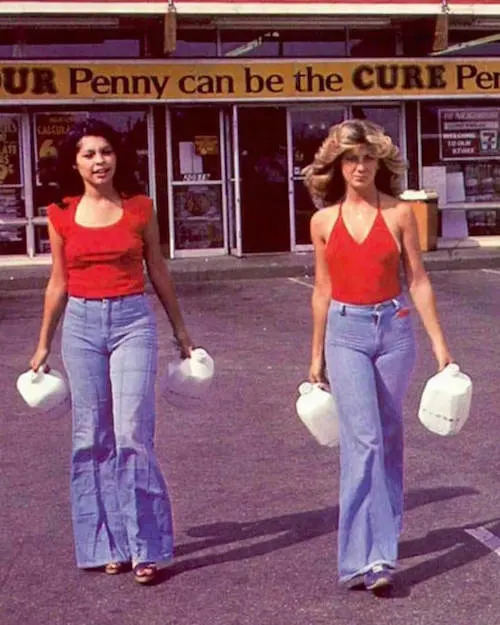 Oversized Top + Trousers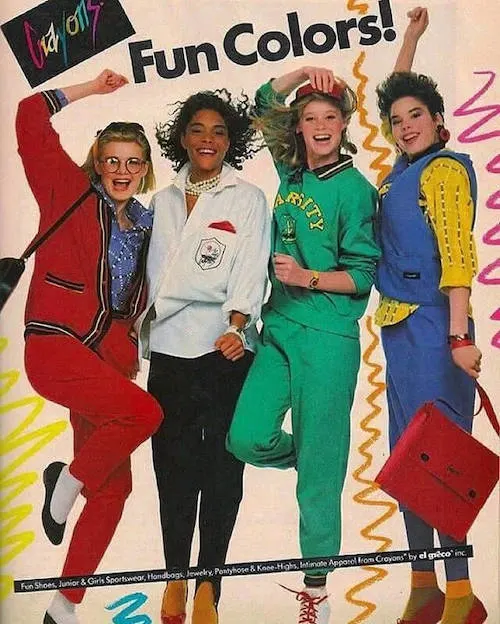 Oversized Graphic Tee + High Ponytail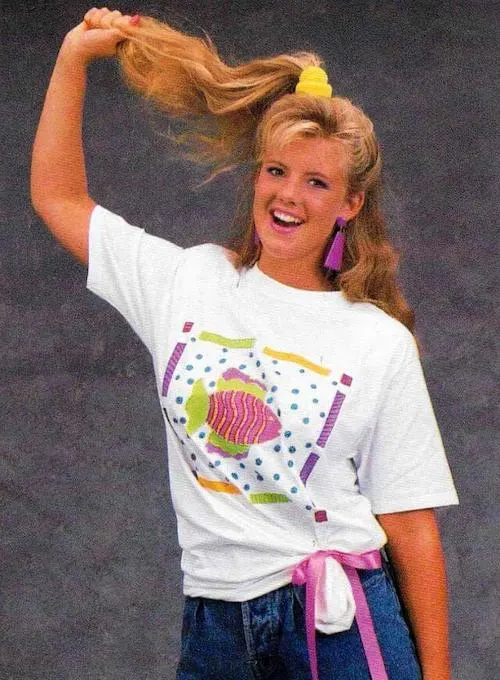 80s Group Costumes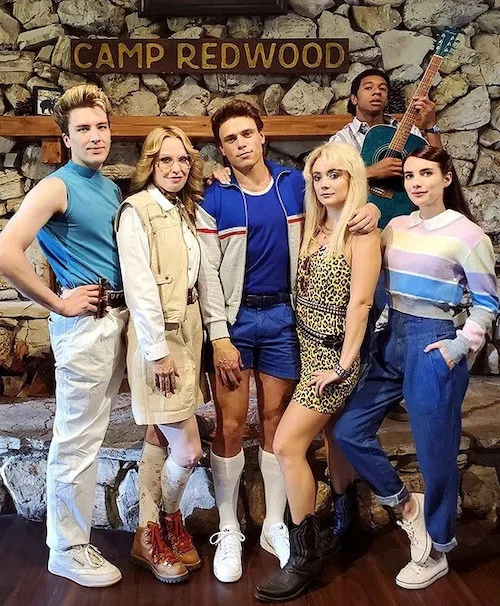 Oversized Jacket + Graphic Tee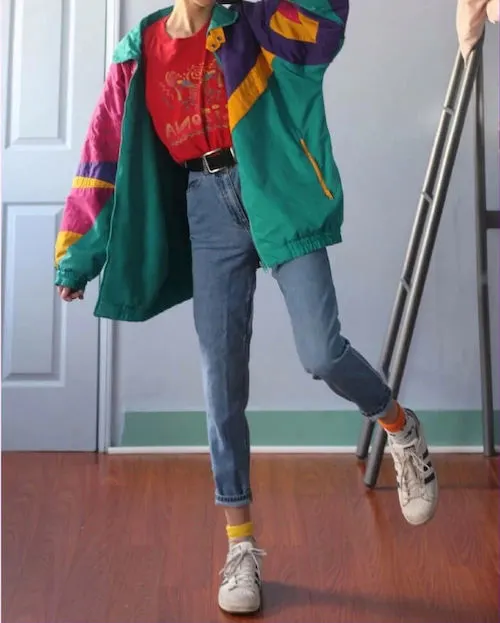 Wear A Leotard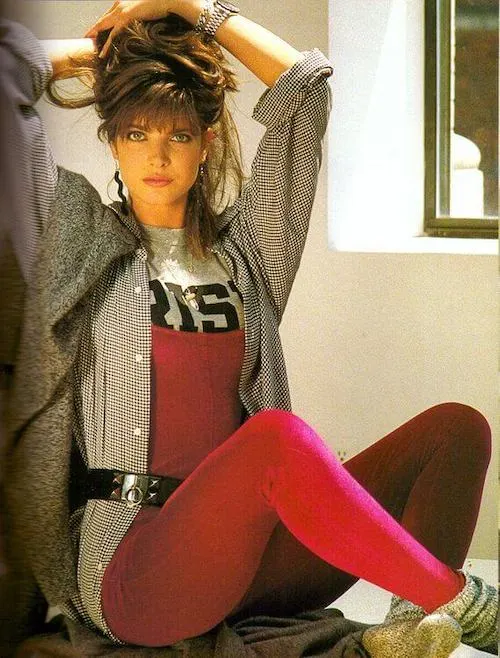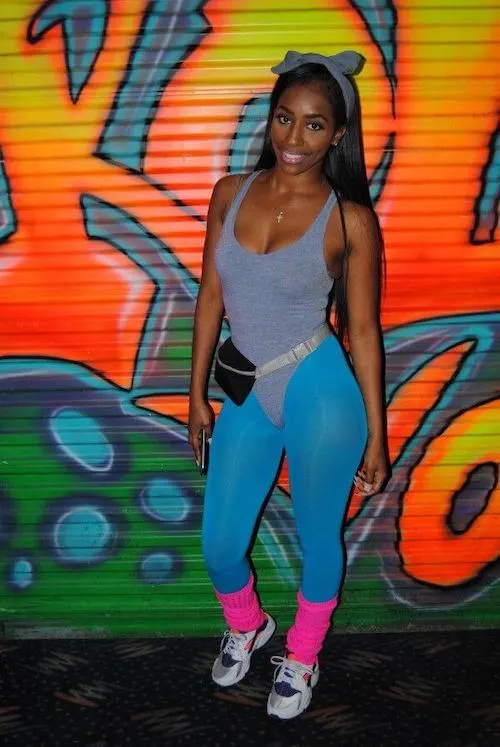 Dress For The 80s Workout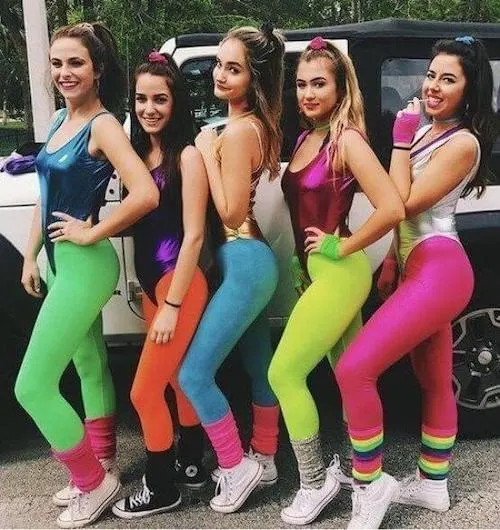 1980s Aerobics Junkie
80s Hip Hop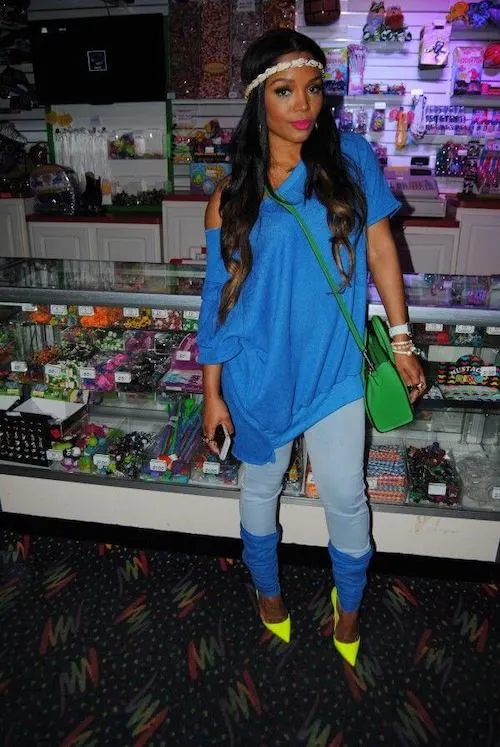 One Shoulder Top + Skinny Pants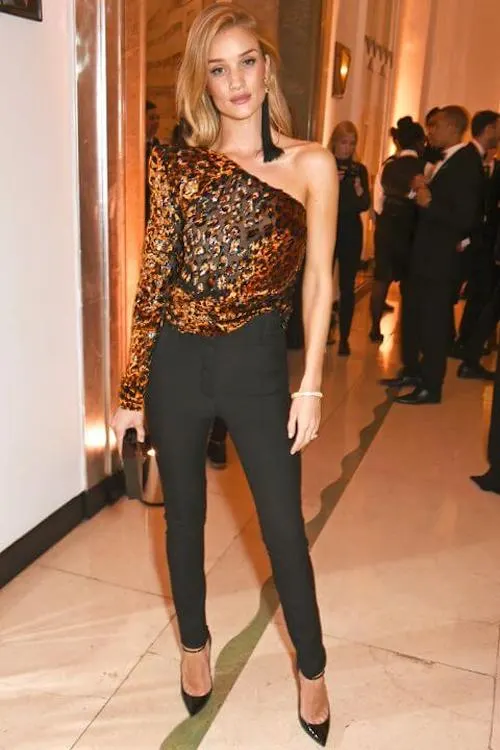 Sequins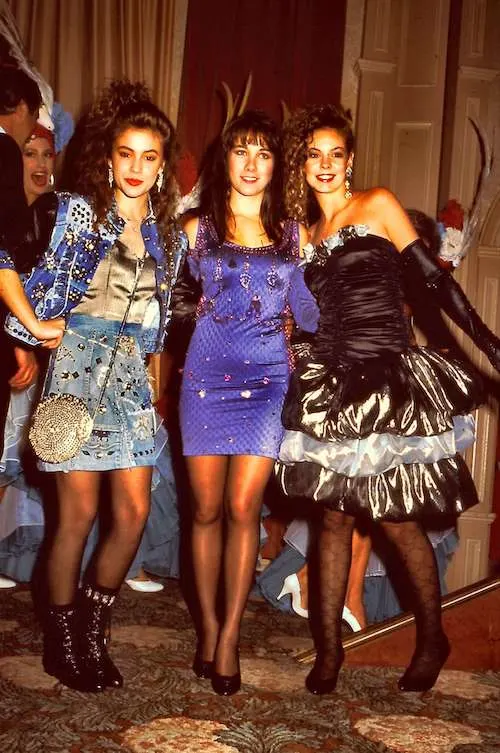 Sequins Dress + Headband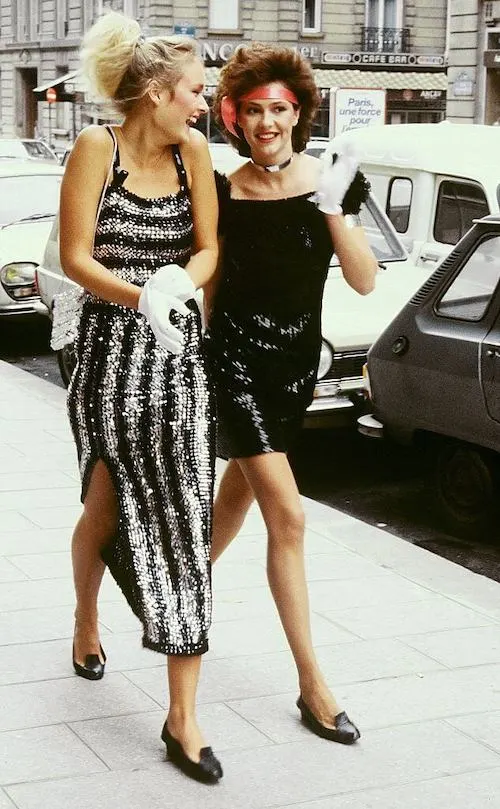 Retro Sunglasses + Statement Earrings + Statement Top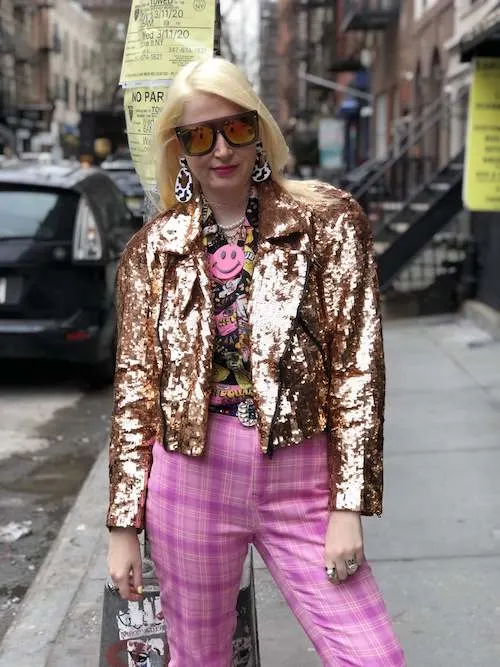 FAQs
Q: What is 80s fashion for women?
A: 80s fashion for women refers to the trends and styles that were popular during the 1980s.
It was a decade known for bold, colorful, and dramatic fashion looks.
Q: How can I style an 80s outfit for women?
A: To style an 80s outfit for women, you can start by embracing bold colors and patterns.
Opt for oversized t-shirts, shoulder pads, high-waisted jeans, and statement accessories.
Q: What were some of the best 80s fashion trends?
A: Some of the best 80s fashion trends include neon colors, acid-washed jeans, big hair, leg warmers, biker jackets, power suits, and shoulder pads.
Q: Who were the fashion icons of the 80s?
A: The 80s had several fashion icons, including Madonna, Princess Diana, Cyndi Lauper, and Jane Fonda.
They were known for their unique and trendsetting fashion choices during that era.
Q: What are some popular outfits for women in the 80s?
A: Popular outfits for women in the 80s included off-the-shoulder tops, oversized sweaters, mini skirts, leggings, bodysuits, and denim jackets.
Q: How did women wear their hair in the 80s?
A: In the 80s, women wore their hair in various styles such as big permed curls, teased hair with lots of volume, side ponytails, crimped hair, and the iconic feathered hairstyle.
Q: What were some popular fashion accessories in the 80s?
A: Some popular fashion accessories in the 80s included scrunchies, fingerless gloves, chunky jewelry, big hoop earrings, fanny packs, and oversized sunglasses.
Q: Who were some famous fashion designers in the 80s?
A: The 80s saw the rise of famous fashion designers like Versace, Marc Jacobs, Calvin Klein, Christian Lacroix, and Jean Paul Gaultier.
They contributed to the iconic fashion moments of the decade.
Q: What was the 80s punk fashion trend?
A: The 80s punk fashion trend was characterized by rebellious and edgy styles.
It included ripped clothing, leather jackets, band t-shirts, safety pin accessories, and spiked hairstyles.
Q: What are some outfit ideas for an 80s theme party?
A: Some outfit ideas for an 80s theme party could include a neon-colored bodysuit paired with high-waisted jeans, leg warmers, and big hoop earrings.
Don't forget to tease your hair and add some bold makeup!
This post was all about 80s fashion for women.
About The Author
Tracy is an experienced personal stylist, shopping expert, and fashion & lifestyle blogger. She has been featured on Time Magazine, Bustle, Best Life, Glam, The Zoe Report, Mic, and GOBankingRates, for her insights on fashion, beauty, home decor, and lifestyle. Read More
Related Post: