If you love 90s fashion and Friends-inspired outfits, this is the guide you need to recreate Friends outfits immediately and easily.
Friends-inspired outfits have been popular for a while, but it is foreseeable that they will continue to be popular, and more and more classic outfits that people can't help but want to copy will be talked about again and again.
Although many years have passed, many brands and fashion bloggers are drawing fashion inspiration from this TV series.
We were also pleasantly surprised to find that many fashion styles popular this year can be copied from this show by finding great ways of dressing.
So, in this post, let's talk about the outfits and combo ideas in "Friends" that are still worth learning from today.
This post may contain affiliate links, which means I'll receive a commission if you purchase through my link, at no extra cost to you. Please read the full disclosure here.
This post is all about Friends outfits.
Best Friends Outfits To Recreate
1. Overalls
Overall was one of the most favorite Rachel's outfits.
Especially in the first few seasons, she had no social experience and worked in a cafe. Stylist Debra McGuire said in an interview that she would deliberately make her dress cute. And the jumpsuit, an item that reduces age, fits her cute image very well.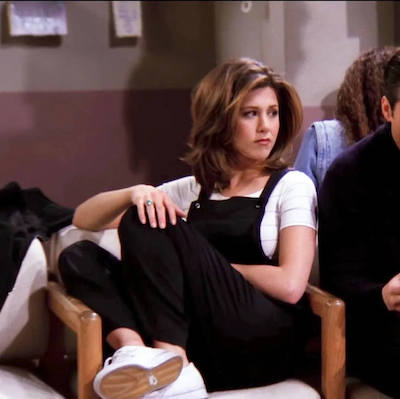 In the play, she performed a variety of ways to wear bibs.
My favorite is pairing with a tank top, a cami, or a knit vest. This is much cuter than painting with T-shirts.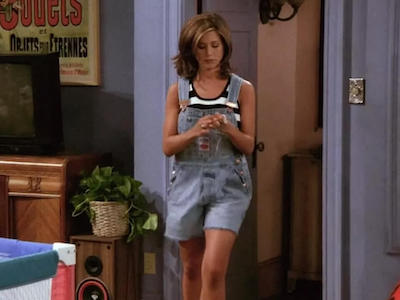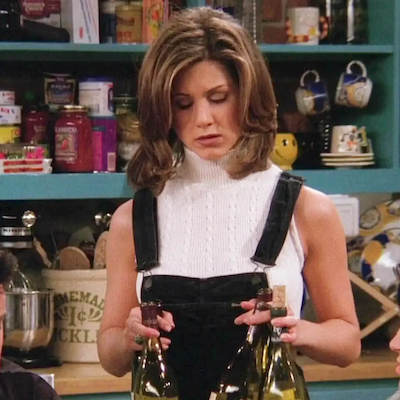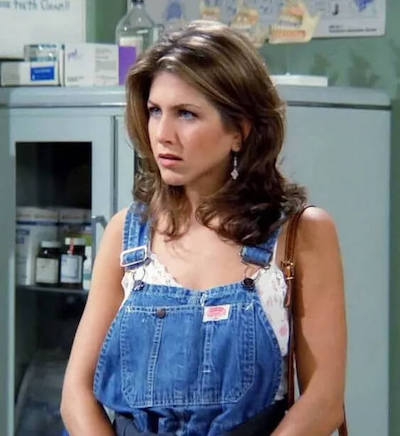 Monica had also worn this combination, and the vest she wore is more simple and relaxed.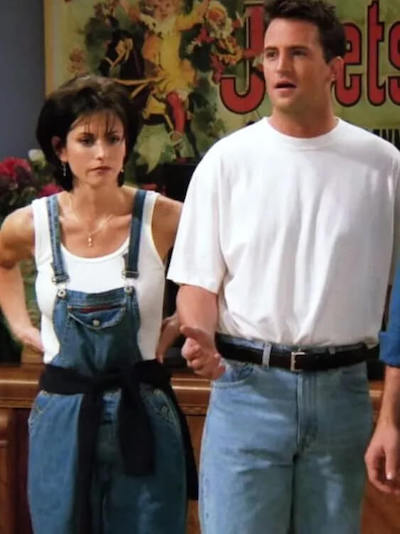 If the jumpsuit is matched with a T-shirt, choosing a T-shirt with a bright color will be more eye-catching.
Monica's classic red and blue contrast color combo was stunning.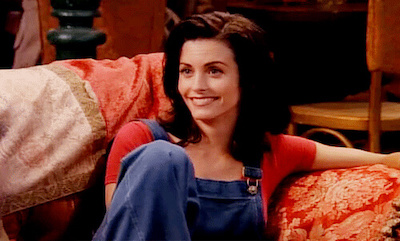 Green short-sleeved + blue denim overall was also an excellent combo.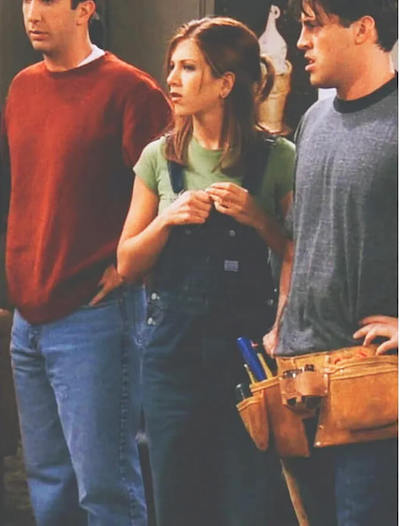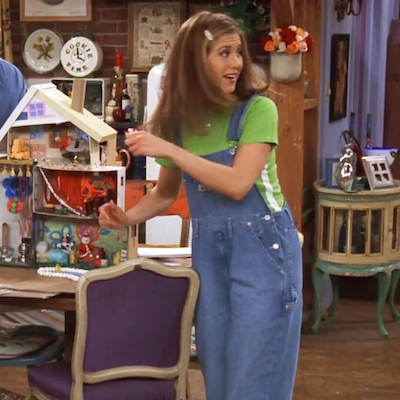 Have you noticed that in the show, Monica often wore red, while Rachel wore more green? The stylist said in an interview that these two colors are one of their respective representative colors. Red symbolizes enthusiasm, and green represents innocence, which fits well with their personalities.
Denim jumpsuits were also very suitable for wearing inside.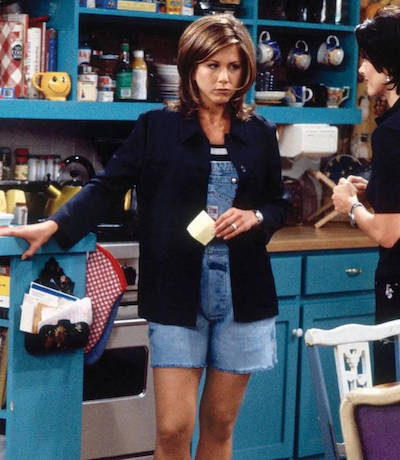 You can also learn from Monica, with a pearl necklace to level up the fashion style.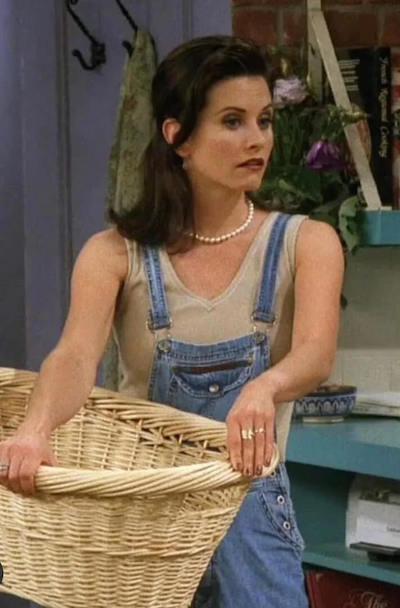 If you don't want to go the ordinary way, you can also put down the straps directly to decorate outfits.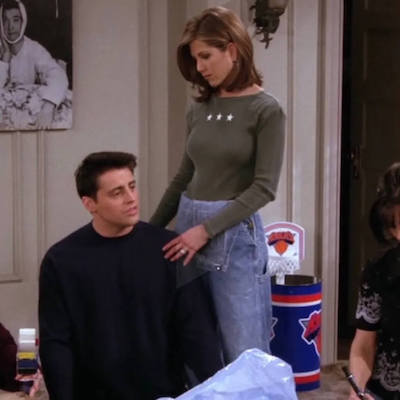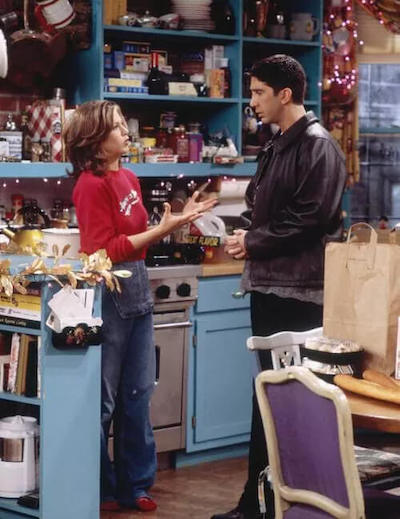 Copy The Looks:
2. Knotted Shirt
Knotting a shirt is also a classic way to wear it, which was particularly popular in the 90s.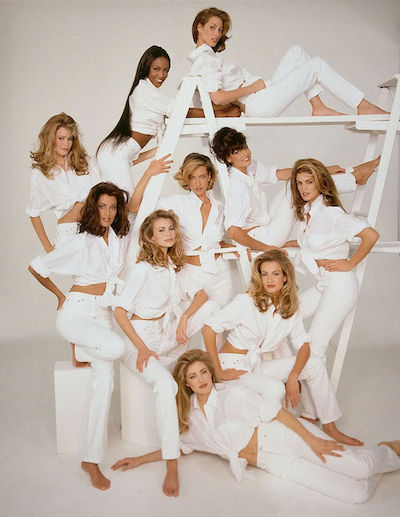 The three heroines in the play all went through this way, but each had a different style.
Rachel's dressing style was sweeter and sexy.
Her shirt was either a sweet color,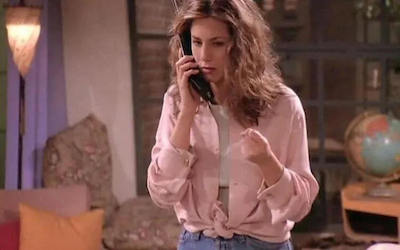 or ultra-short,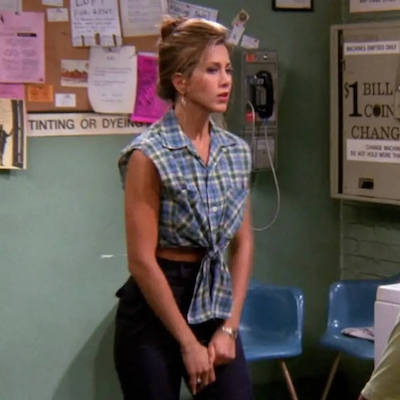 … and she often used a mini skirt to pair them, sexy and energetic.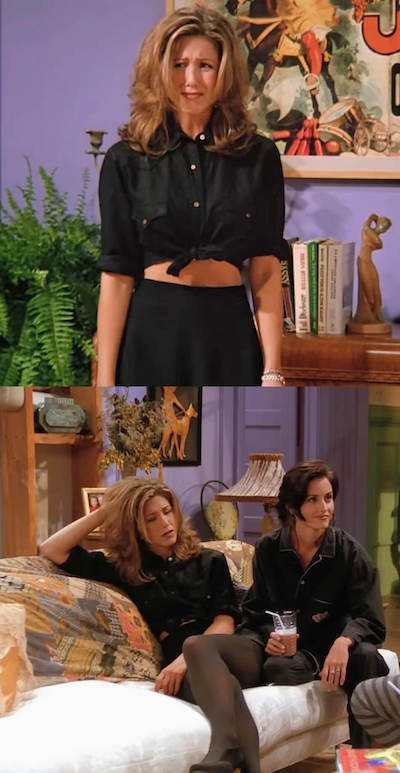 When working as a waitress in a cafe, almost every outfit she wore was combined with an apron. Rachel is probably the only one who can wear aprons stylishly and beautifully.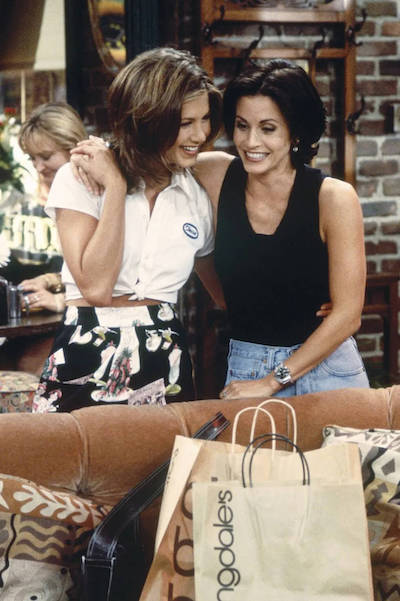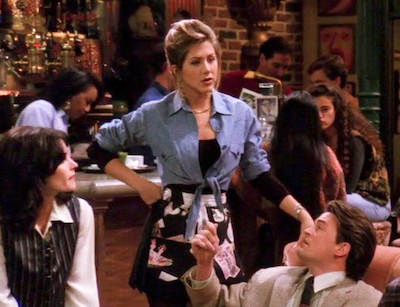 And Monica had a more assertive personality, as well as cleanliness and obsessive-compulsive disorder. So her clothes were neater.
She wore white shirts the most.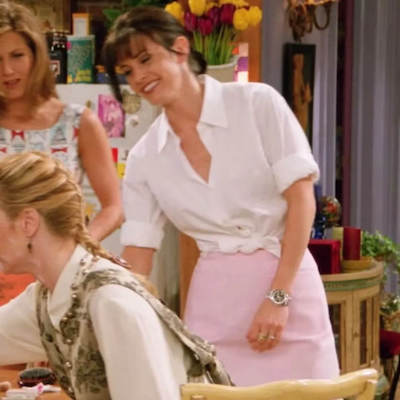 Because she was a chef, her daily outfits should be relatively simple and easy to do, and she wore jeans more often.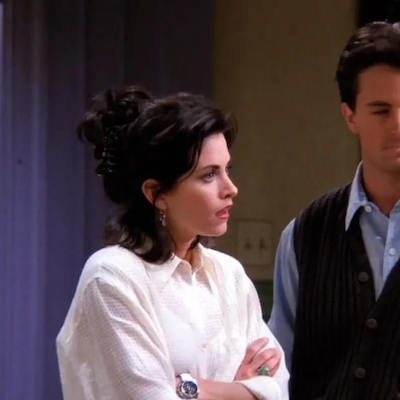 In the posters of the six people, they all wore white shirts and blue jeans. Monica also knotted the shirt.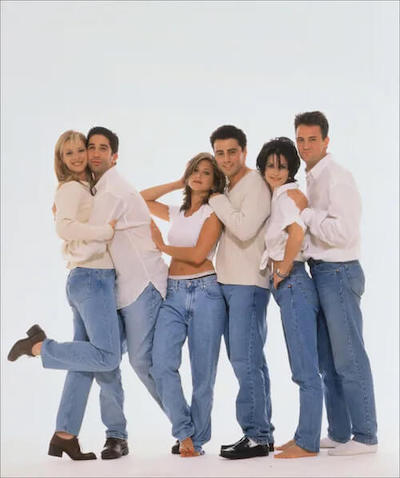 The denim shirt was also tied in a knot. The tomboy style has become popular again this year.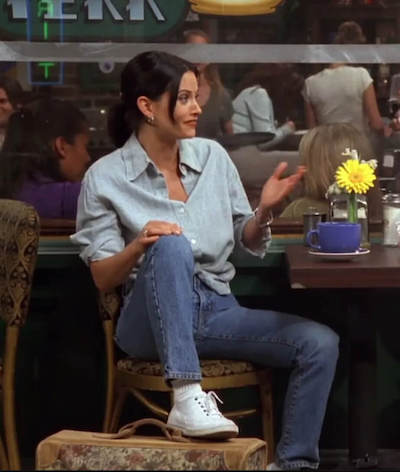 Monica occasionally wore a floral shirt and chose black for the inner and bottoms, so the overall look was chic.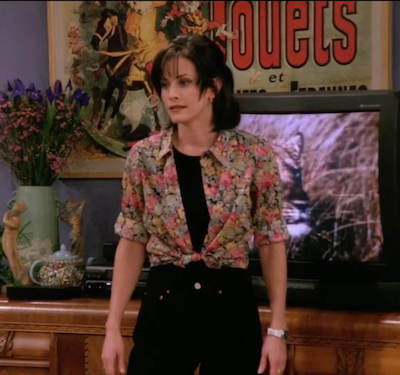 Phoebe also liked to knot his shirt. Phoebe had a miserable life and has been wandering since she was a child. She had wild ideas. Her style of dressing was also very unique. She wore a bohemian style and liked to wear a knee-length printed dress.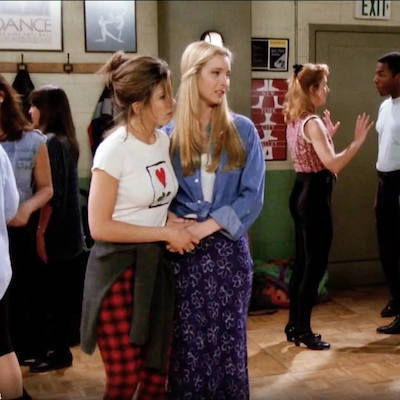 Knotted shirts are trendy in summer, and I recommend you to try them too.
Copy The Looks:
3. Crop Top + Pants
Have you noticed that there were a lot of crop top looks in the show? Monica and Rachel both loved to wear them.
It was cute with short skirts.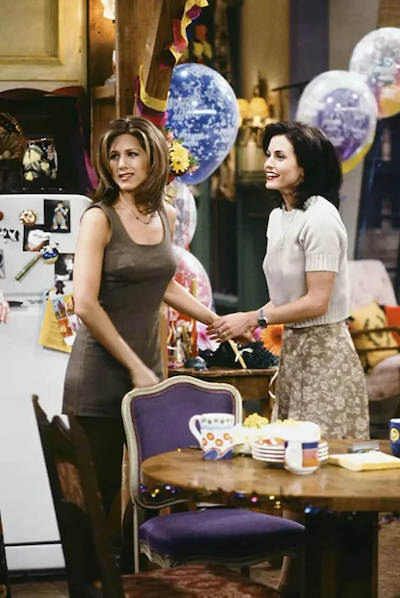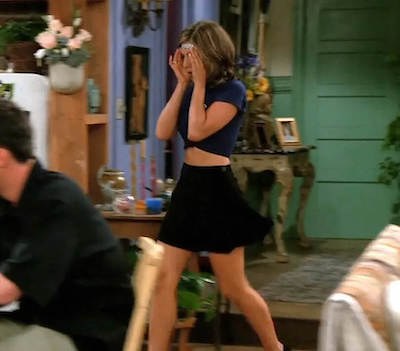 However, they more often paired crop tops with pants.
Choose crop tops that show a feminine figure, and choose long and loose trousers. A little sexy, a little casual. This is also a smart way now!
I like Rachel's casual home wear. The combo of short T-shirt + loose pants was so cute.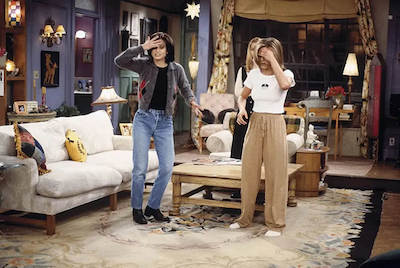 Rachel had a lot of age-reducing items, and there were several T-shirts with various letters and patterns.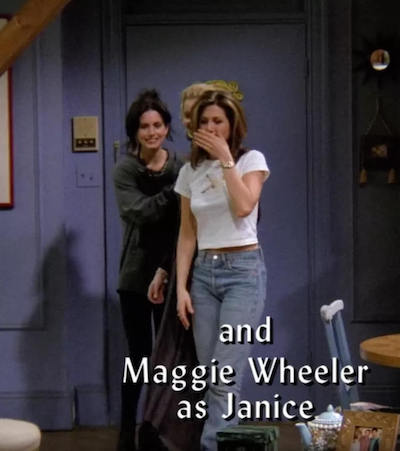 When she went to play a baseball game, she wore a lovely T-shirt with a love heart and a baseball cap.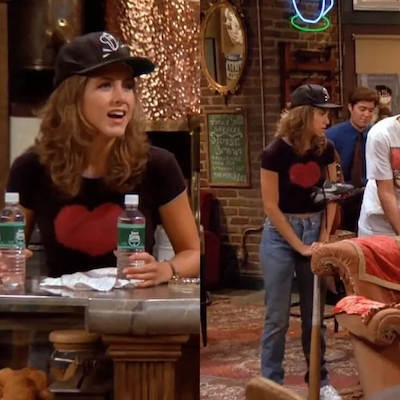 When she dated Ross, you switched to a sexy style, with a V-neck crop sweater + extra-long wide-leg pants.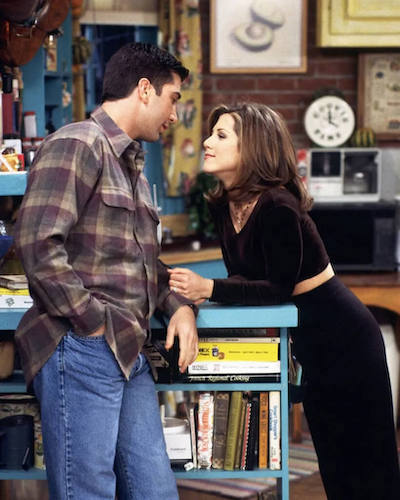 I like the outfit Monica wore when she was dating her boyfriend, Alen, for the last time. The black knit short sleeves and striped wide-leg pants are simple and elegant.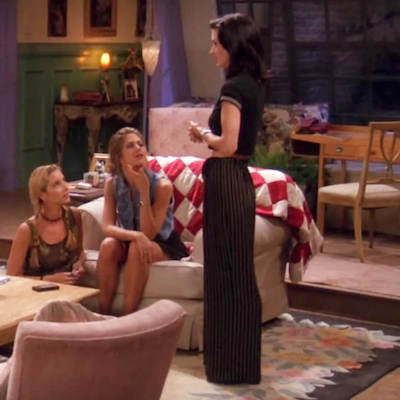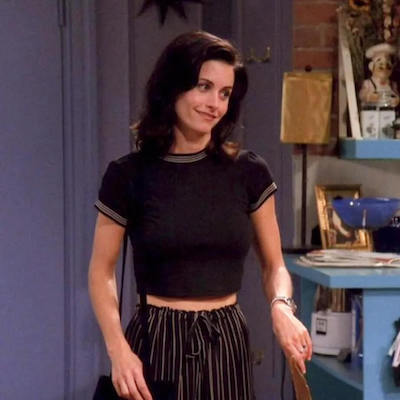 Copy The Looks:
4. Polo Shirt
Polo shirts were probably Monica's favorite tops, and she wore them almost all year round.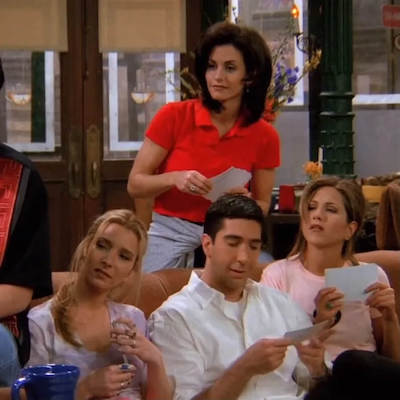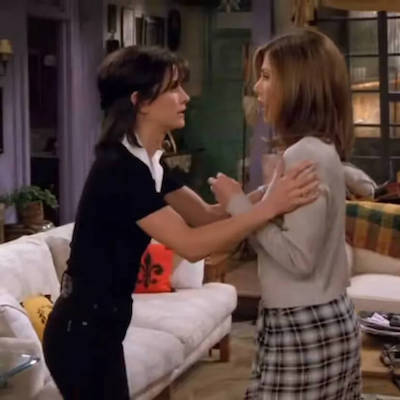 This retro piece has also been trending back for several years.
A Polo shirt with straight suit pants will be more capable. If you wear a pair of simple shoes like loafers, you can go to work directly.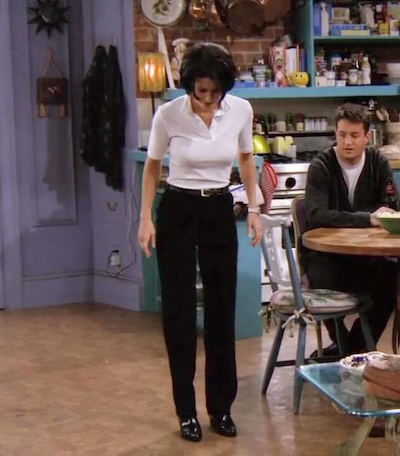 The same white Polo shirt, changing the bottom into straight jeans, was a casual outfit.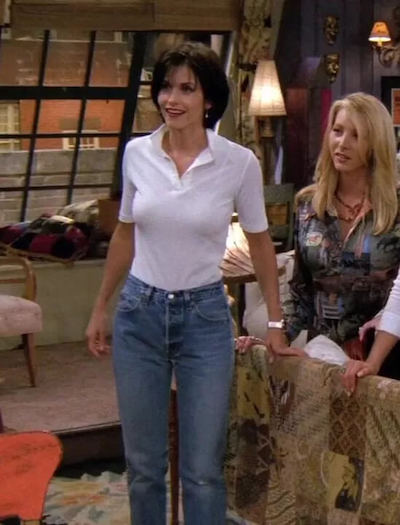 Monica had a variety of different styles of Polo shirts.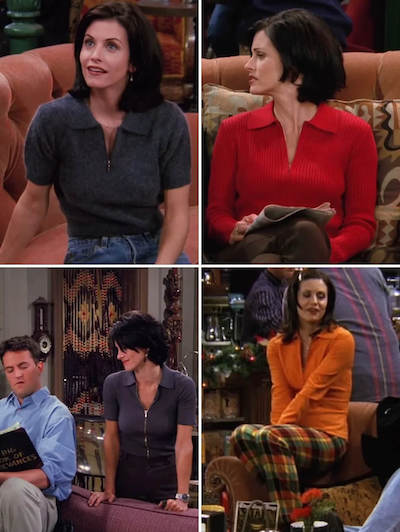 She wore a see-through Polo shirt when she went to the concert for Ross's birthday, paired with velvet straight-leg pants, which were a bit more grand and feminine than her daily style.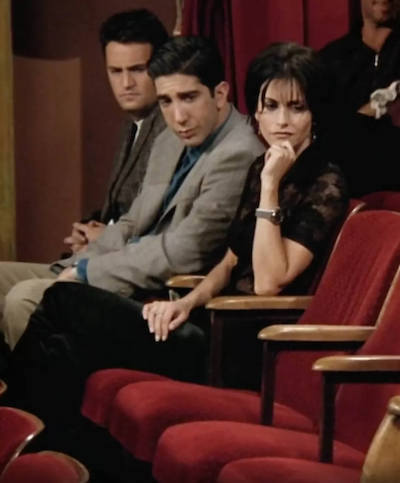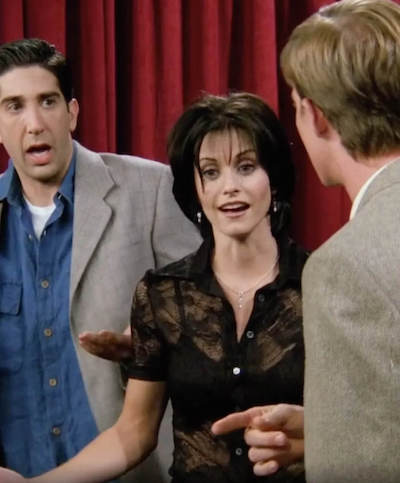 A crop polo shirt + pants were also unique.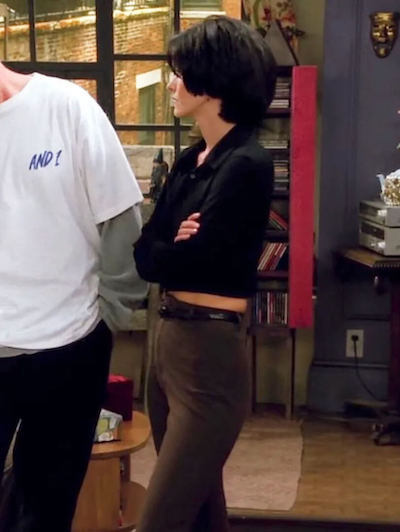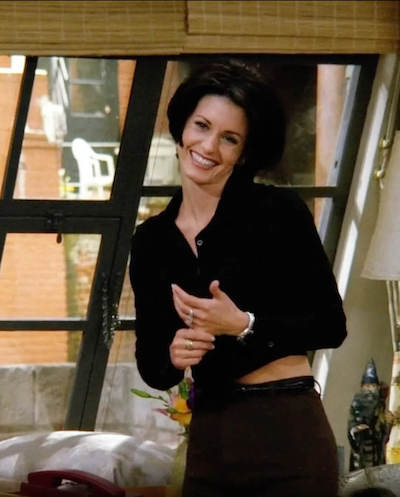 Rachel also wore polo shirts and still loved to wear mini A-line skirts.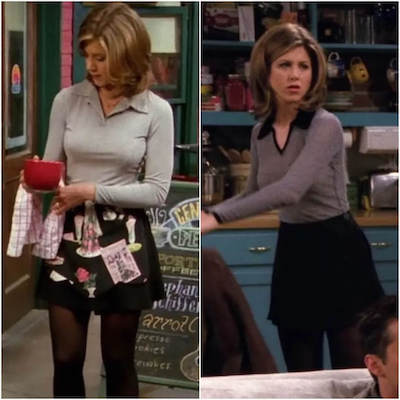 Copy The Looks:
5. Vest
They all wore vests very often. The styles and ways of wearing them still had their characteristics.
Rachel preferred casual denim vests and wore many ways.
She wore the denim vest as a cute coat with a cami inside.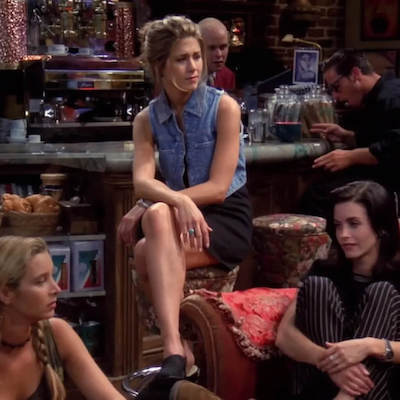 And she wore the denim vest alone and paired it with a mini skirt or shorts, which looked cute.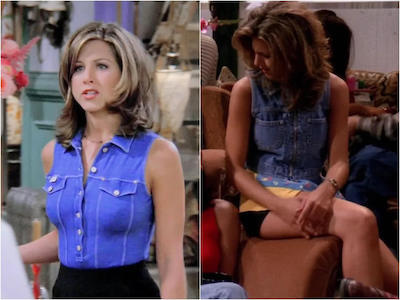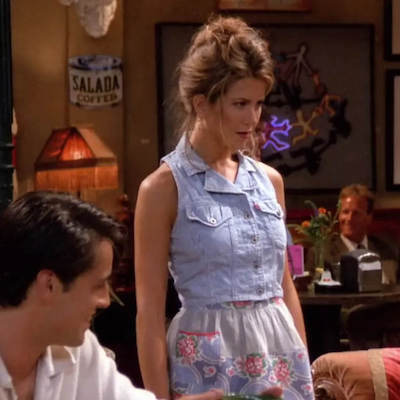 Monica preferred suite vests, and she wore them in a cool way.
The black and white were stylish and handsome, and you can also copy this outfit idea for some important occasions.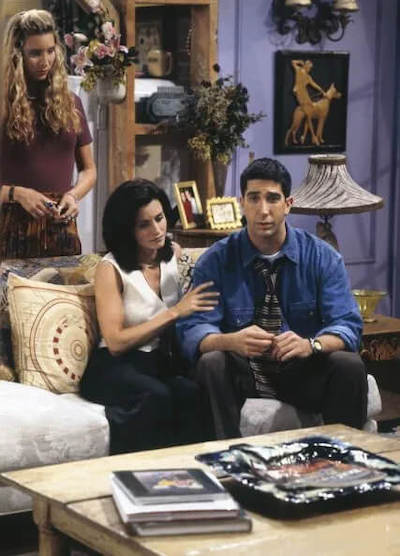 She liked to wear a watch, which is in line with her character of not admitting defeat and being strong.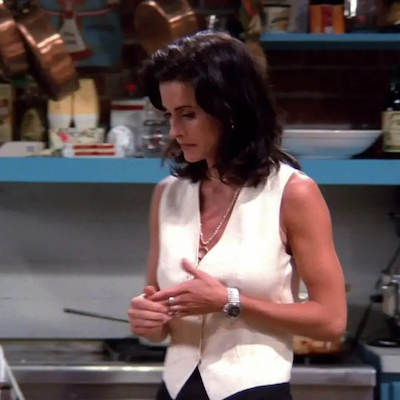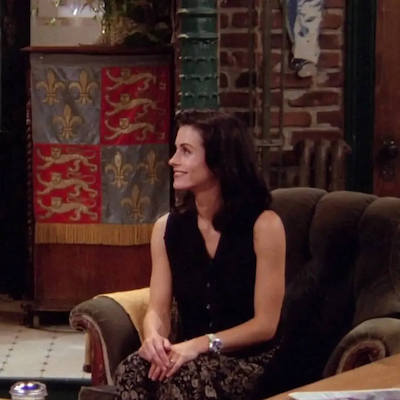 This kind of suit vest with a sense of formality is quite popular now.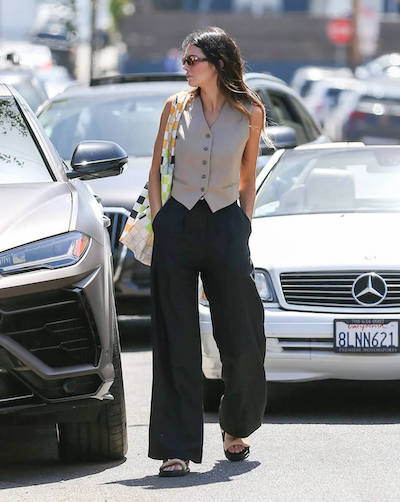 Go bohemian style of Phoebe; she liked to wear a vest with tassels or patterns.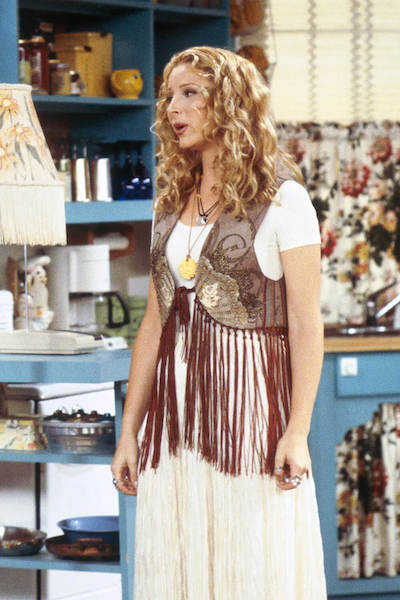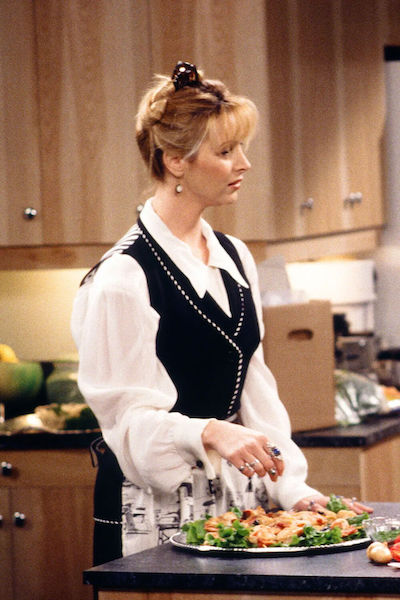 And she used many unique and pretty accessories and bottoms to pair with the vests.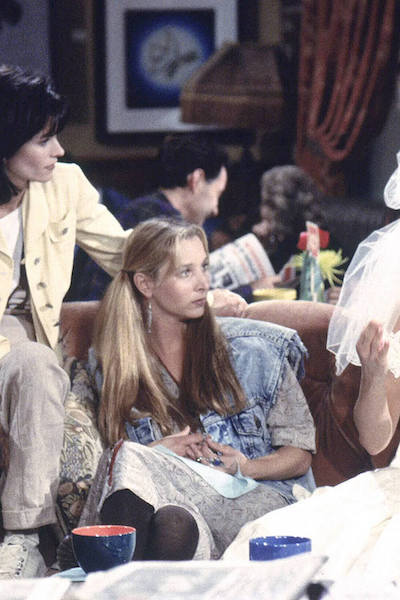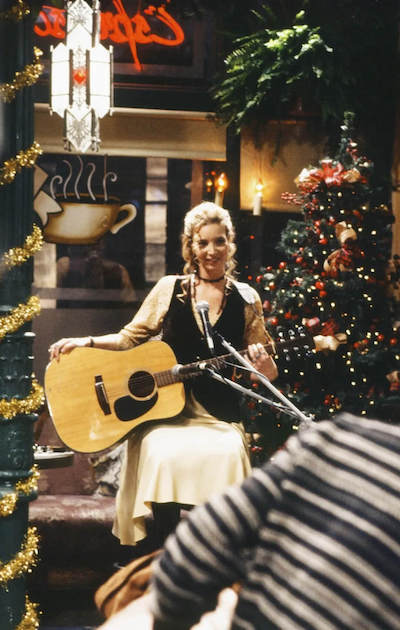 When taking promotional photos, Phoebe also wore an eye-catching print skirt.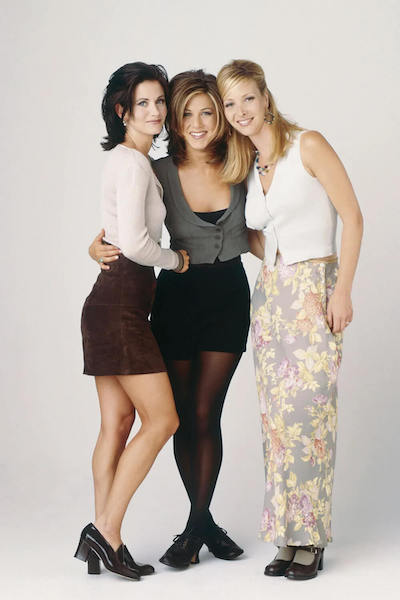 Copy The Looks:
6. Slip Dress
Speaking of Friends outfits, how can there be no slip dress? After all, this item appeared in several posters.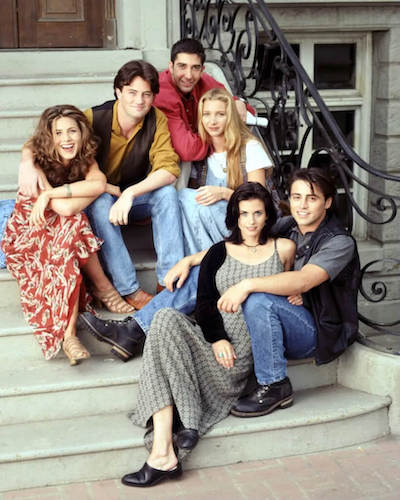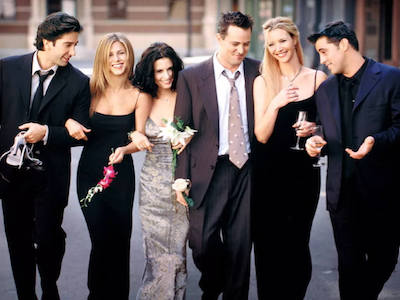 There are also several classic styles in the play.
The most classic must be Rachel's. This Rachel Green dress.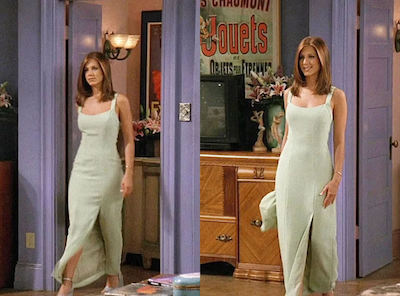 Remember to wear a necklace to level up the look.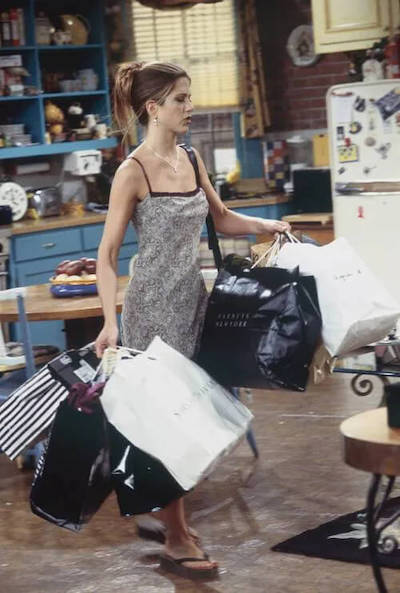 This method of wearing knitted sweaters was trendy back then. A slip dress can be worn from spring and summer to autumn and winter!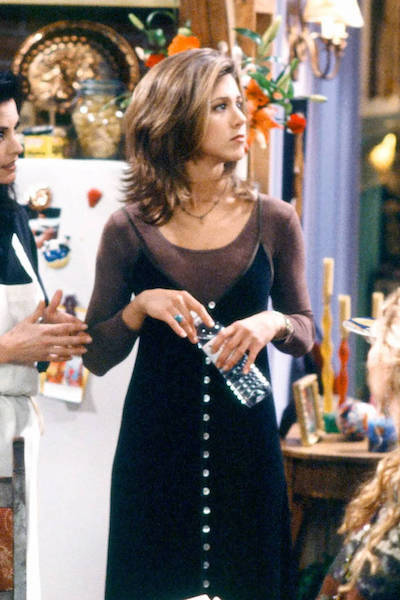 Monica's stunning slip dress outfits were usually red or black.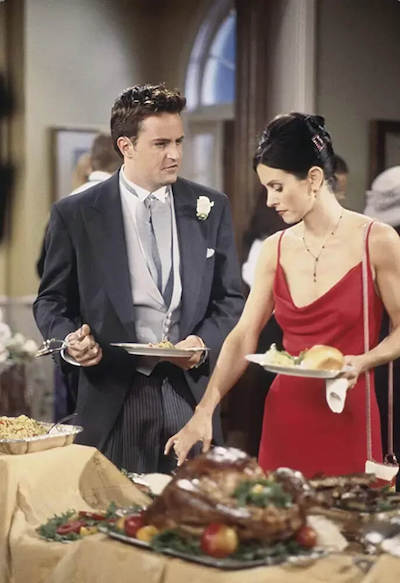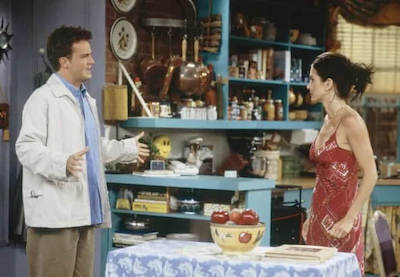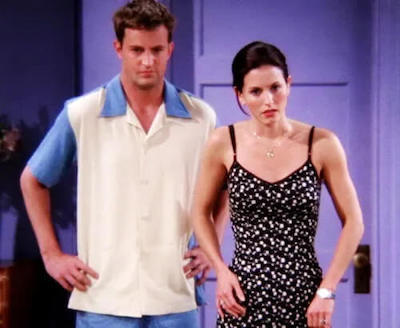 Outside of the show, they often wore slip dresses.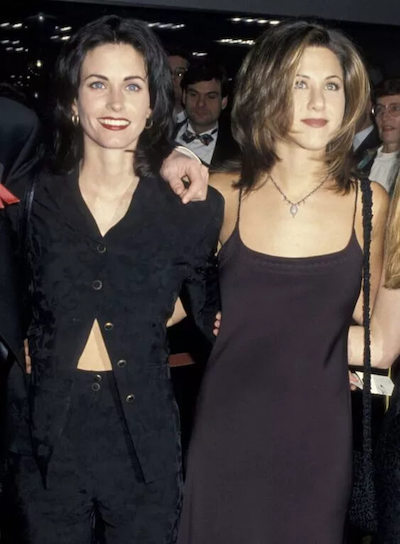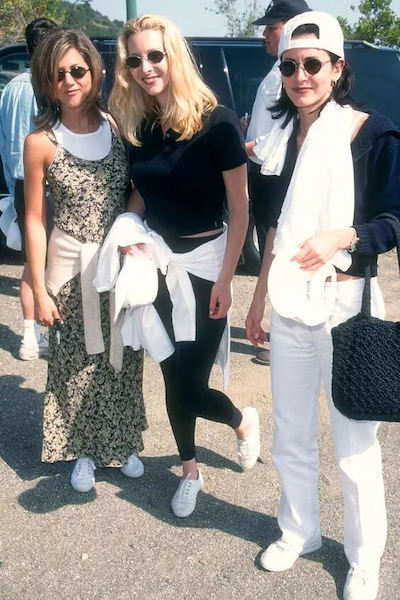 Copy The Looks:
This post was all about Friends outfits.
About The Author
Tracy is an experienced personal stylist, shopping expert, and fashion & lifestyle blogger. She has been featured on Time Magazine, Bustle, Best Life, Glam, The Zoe Report, Mic, and GOBankingRates, for her insights on fashion, beauty, home decor, and lifestyle. Read More
Relate Posts: