Looking for attractive Korean aesthetic outfits for male? Check this post for the best style tips on how to style like Korean men, and the best Korean outfits for males to copy directly.
Modern fashion trends come and go, but one look that has been gaining popularity recently is the attractive Korean aesthetic outfit for men.
As more people become aware of Korean culture, the demand for clothing inspired by this beautiful country continues to rise.
For those looking to add a touch of Eastern flair to their wardrobe, here's a guide to some of the most popular styles in Korean menswear today.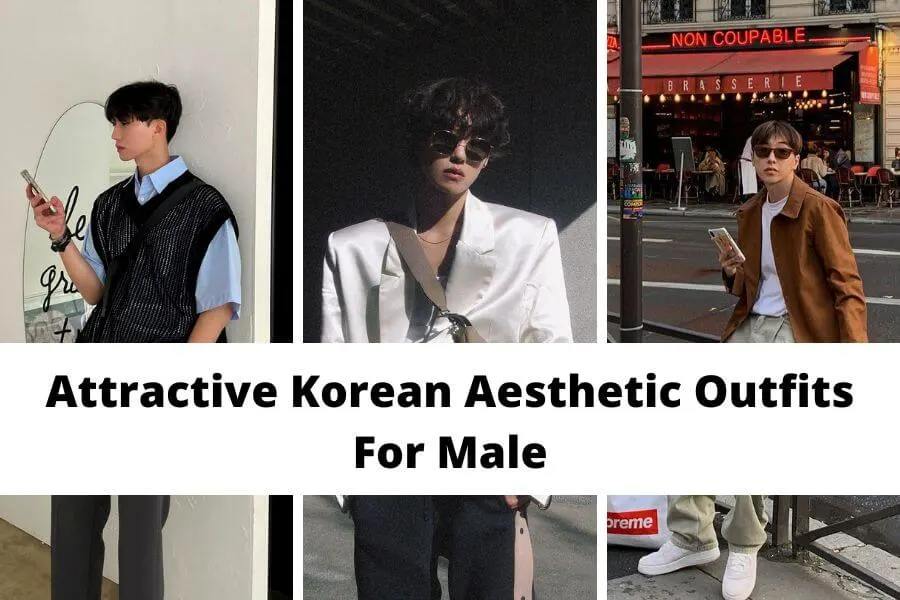 This post may contain affiliate links, which means I'll receive a commission if you purchase through my link, at no extra cost to you. Please read the full disclosure here.
This post is all about attractive Korean aesthetic outfits male.
Korean Beauty Standards For Male
Korean beauty standards for males have been gaining popularity globally.
Korean men are known for their flawless skin, chiseled jawlines, and lean physique.
To achieve these beauty standards, many Korean men follow a strict skincare routine that involves using multiple skincare products to keep their skin hydrated and moisturized.
In addition to good skincare habits, Korean men also focus on maintaining a healthy diet and exercising regularly to maintain their slim physiques.
Many Korean men also prioritize grooming habits such as frequent haircuts and careful attention to facial hair.
Korean fashion is also an integral part of achieving the ideal aesthetic look.
From streetwear-inspired outfits to high-end designer pieces, Korean male fashion tends to be bold, edgy, and unique.
The key is in the details – layering clothes and accessories like hats or sunglasses can elevate any outfit into a standout look that embodies the essence of Korean beauty standards for males.
How to dress like a Korean guy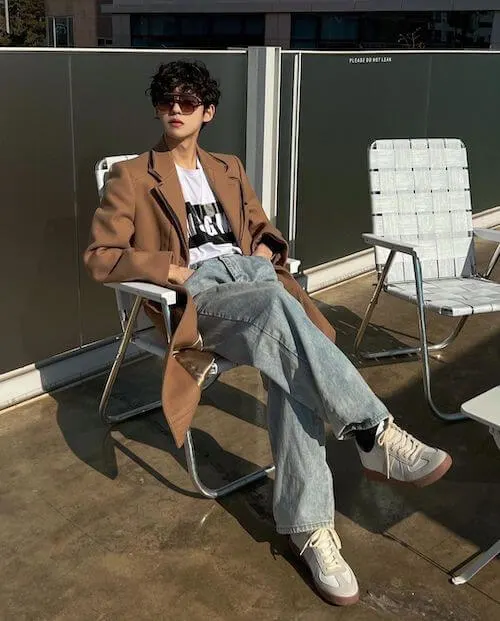 @clorlk
Korean fashion has been on the rise for a while now, with its unique blend of streetwear and high-end style.
It's no surprise that guys are looking to emulate this aesthetic, with its clean lines, minimalist designs, and bold use of color.
If you're interested in upgrading your wardrobe to reflect the Korean fashion scene, here are some tips.
Firstly, start with the basics; plain t-shirts in neutral colors like white or black can be paired with almost anything.
Next up is denim jeans – skinny fit and distressed styles are popular choices.
For footwear, sneakers are a mainstay in Korean fashion; look for statement pieces with bold designs or colors.
Whether you're going for a casual or formal look, an oversized coat can add an extra touch of Korean flair.
Accessories make all the difference when it comes to completing an outfit – try adding a scarf or beanie in colder seasons for added warmth and style points.
Don't forget about details like socks – opting for brightly colored patterns or socks that feature distinct graphics is another way to incorporate Korean aesthetics into your outfit.
By following these simple suggestions anyone can achieve the Korean guy look they desire!
Attractive Korean Aesthetic Outfits Male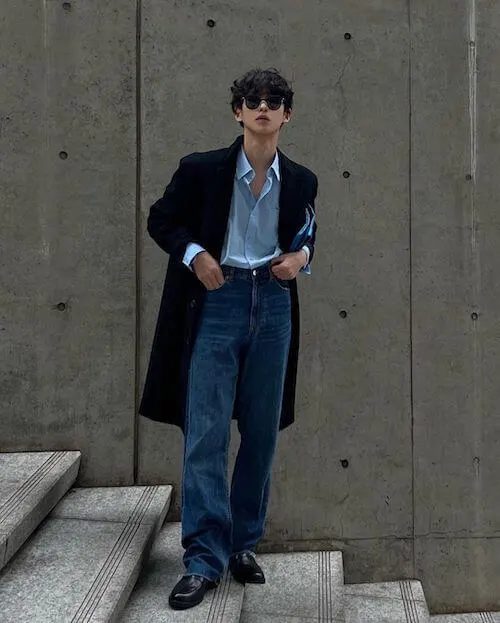 @clorlk
From streetwear to preppy styles, Korean fashion offers a variety of unique clothing choices.
One of the most popular Korean aesthetic outfits for males is the oversized streetwear look.
This style emphasizes comfort while still maintaining an edgy and stylish appearance.
Another trendy option is the use of bold patterns and prints in outfits, which can add personality and flair to any wardrobe.
Additionally, preppy-style clothing such as button-down shirts paired with khakis or chinos is also a popular choice among Korean men.
Overall, Korean fashion offers an extensive selection of attractive aesthetics that cater to all tastes and preferences.
By incorporating these styles into your wardrobe, you can effortlessly elevate your personal style while staying on-trend with the latest fashion trends from Korea.
Now scroll on to check our favorite Korean fashion style for guys.
Casual Korean Look: T-shirts, Jeans, Sneakers
For men who want to achieve an attractive Korean aesthetic outfit, wearing T-shirts with graphics or logos paired with straight-cut jeans can create a clean yet stylish appearance.
The overall look can be elevated by adding a bucket hat or cross-body bag for a touch of sophistication.
Sneakers are also vital elements in completing the Korean-inspired casual attire as they add an edgy vibe while providing maximum comfort.
While it is effortless to pull off this style, choosing the appropriate fit is crucial in achieving this look without looking sloppy.
It's essential to ensure that your clothes complement each other when pairing t-shirts with denim pants and sneakers.
Overall, these three items are must-haves in every man's wardrobe as they offer endless possibilities for creating fashionable looks that keep you comfortable throughout the day.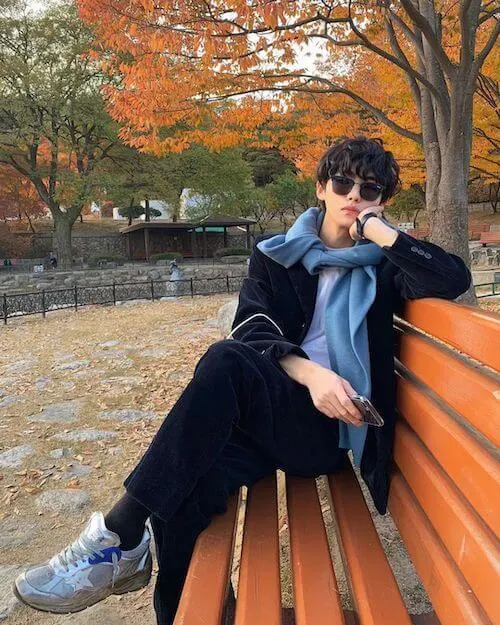 @clorlk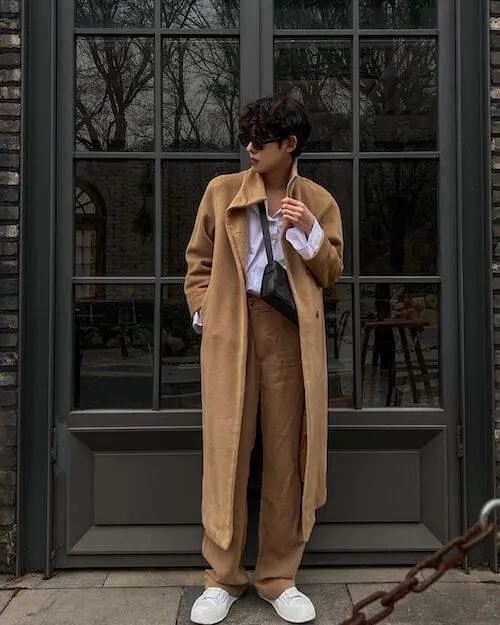 @clorlk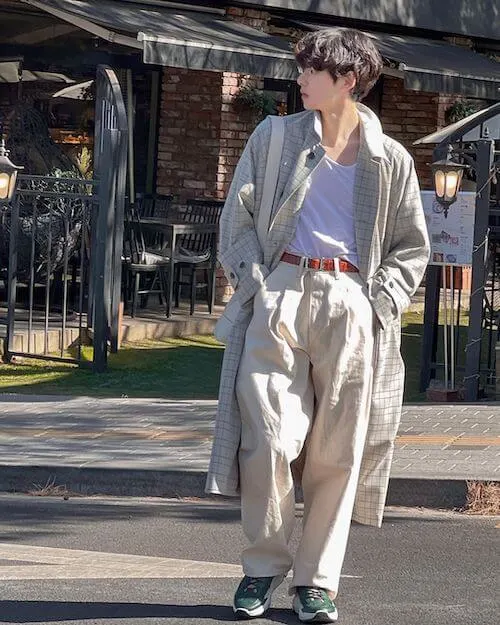 @clorlk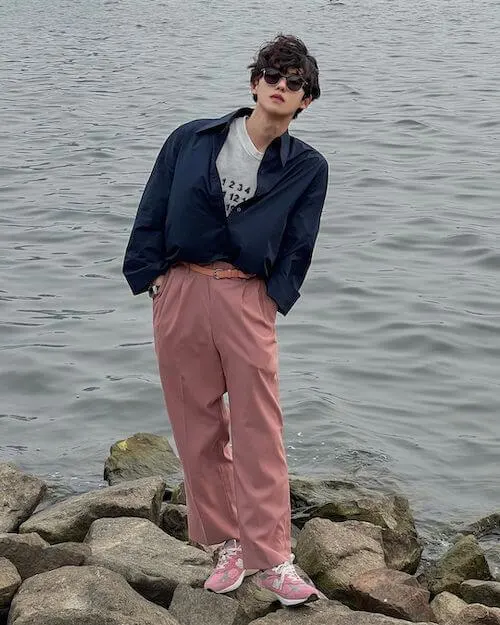 @clorlk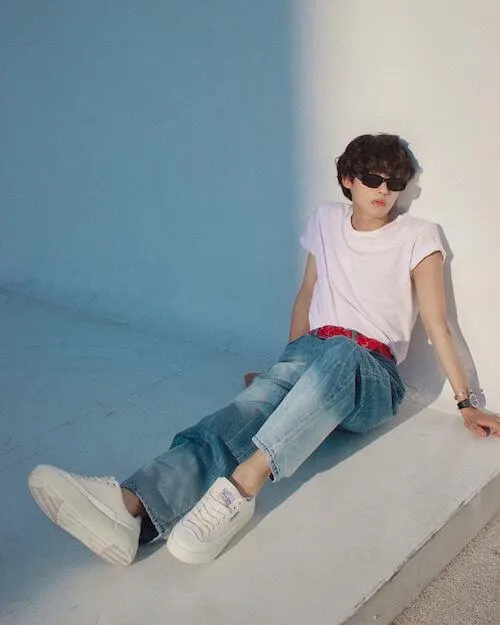 @clorlk
@clorlk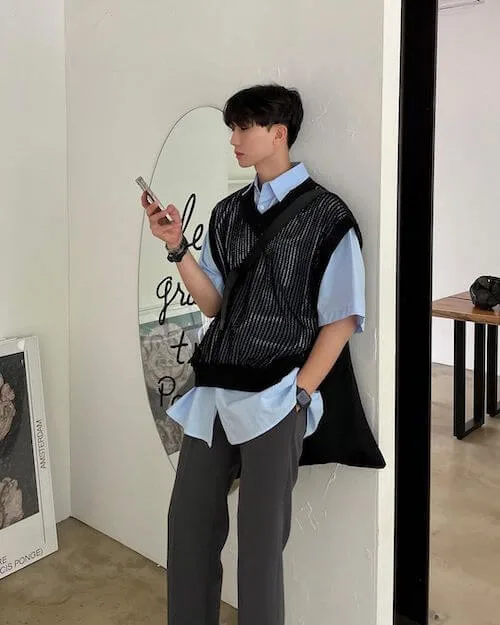 @hi880515
@clorlk
@clorlk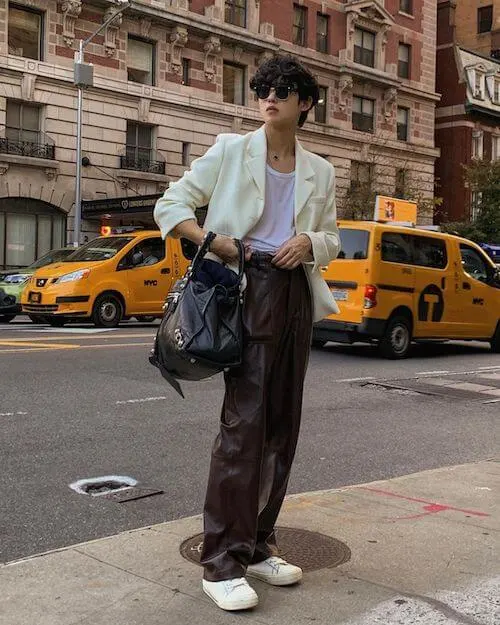 @clorlk
@clorlk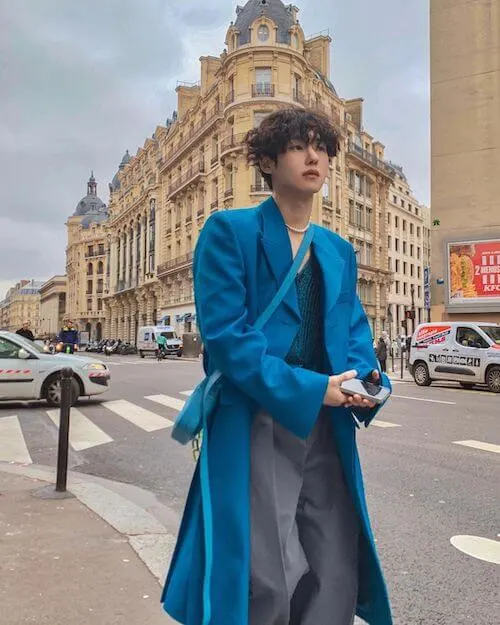 @clorlk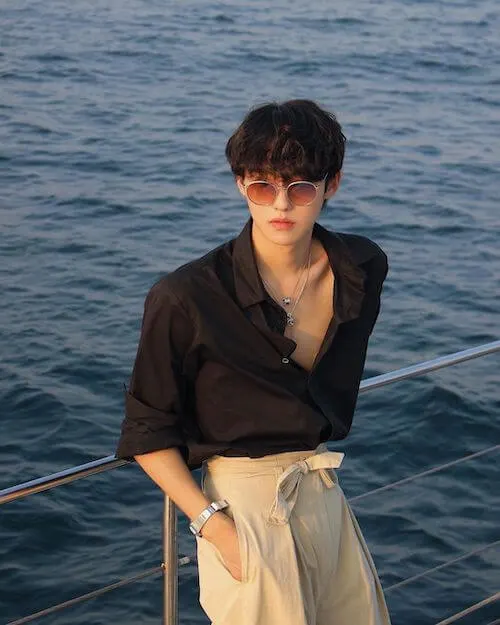 @clorlk
@clorlk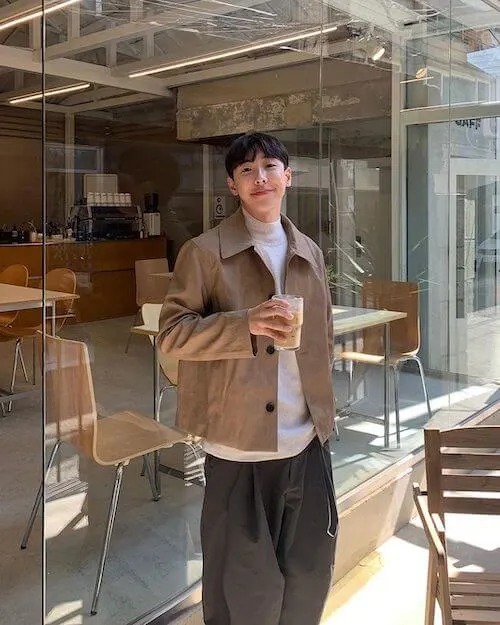 @okayhong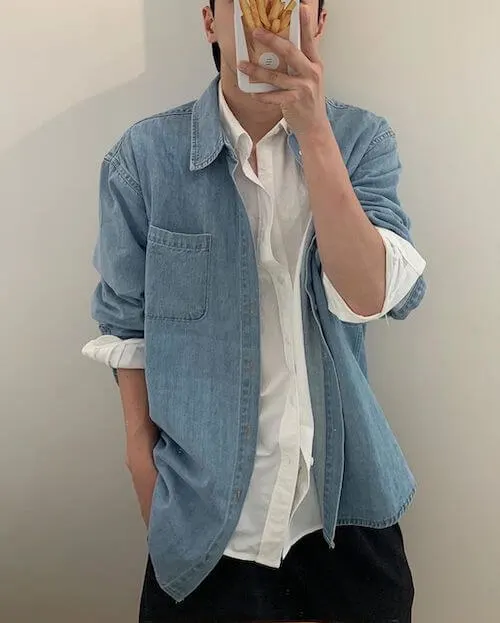 @okayhong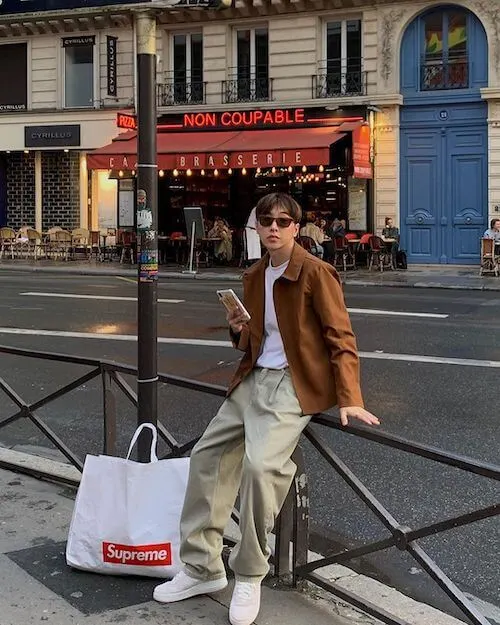 @okayhong
@okayhong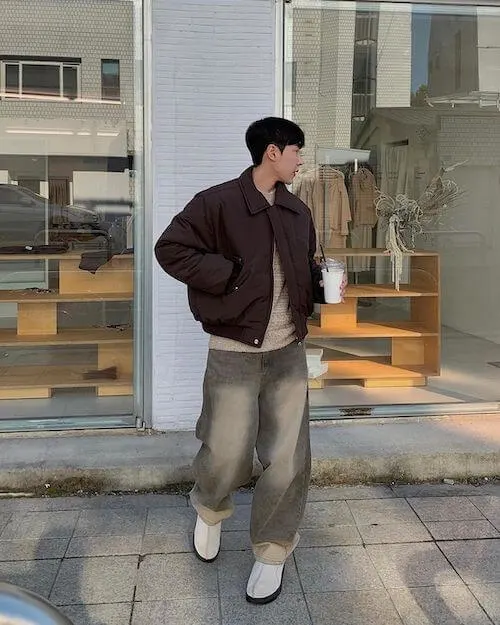 @okayhong
@okayhong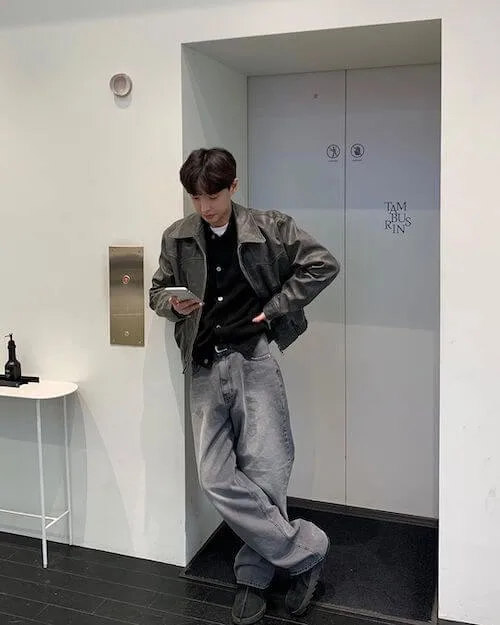 @okayhong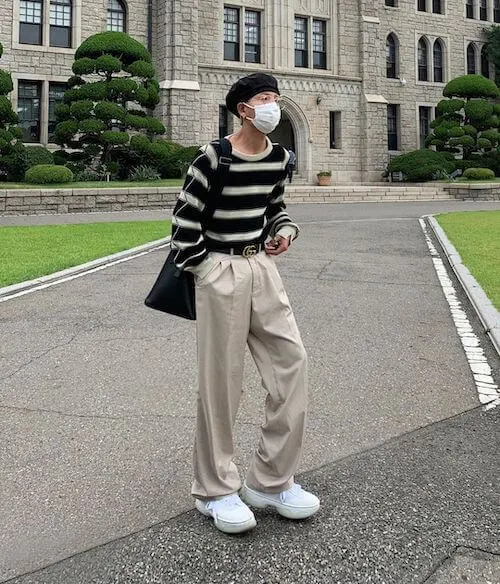 @ahun.e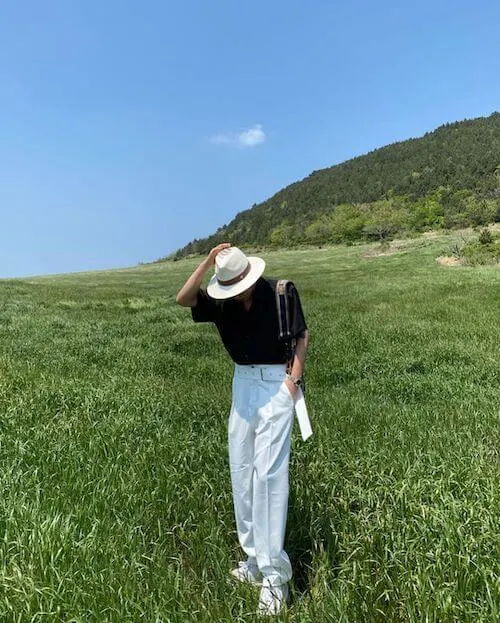 @ahun.e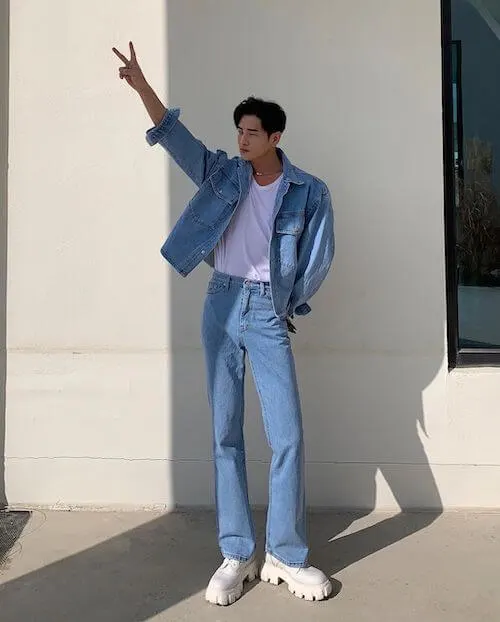 @look.ds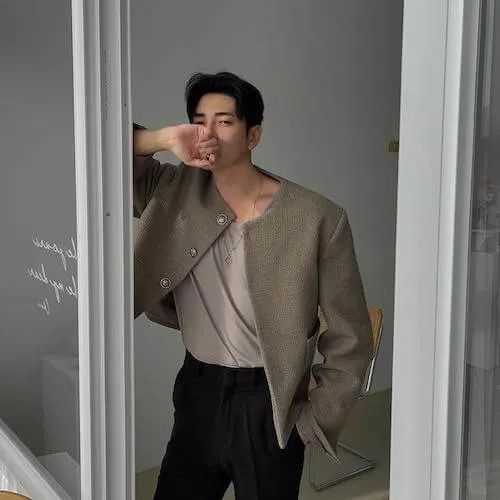 @look.ds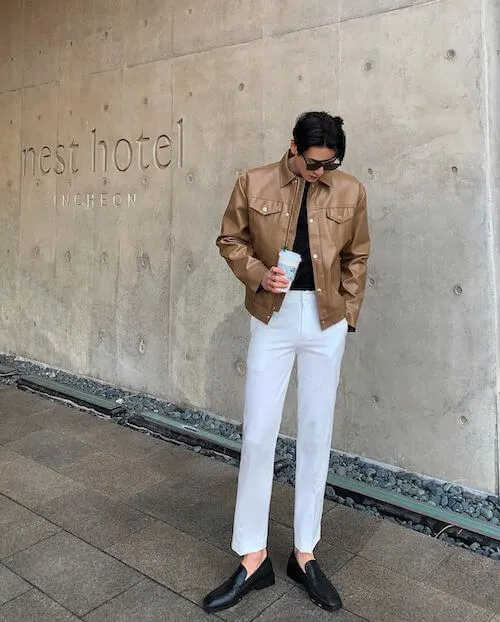 @look.ds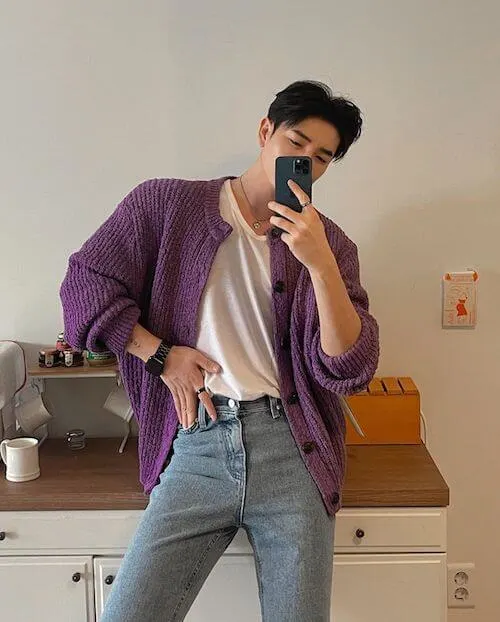 @look.ds
@look.ds
@hi880515
@hi880515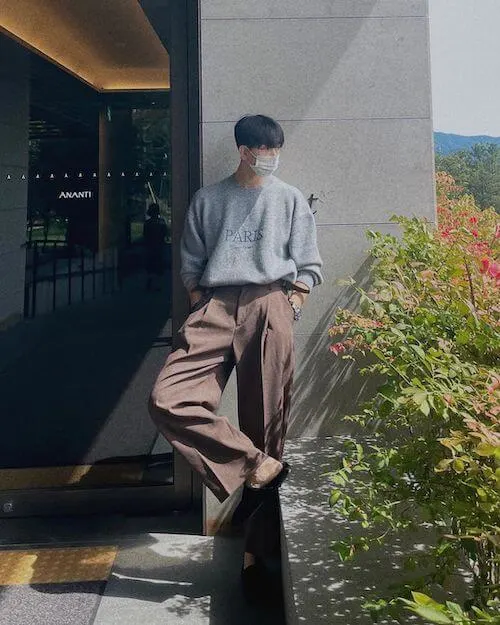 @hi880515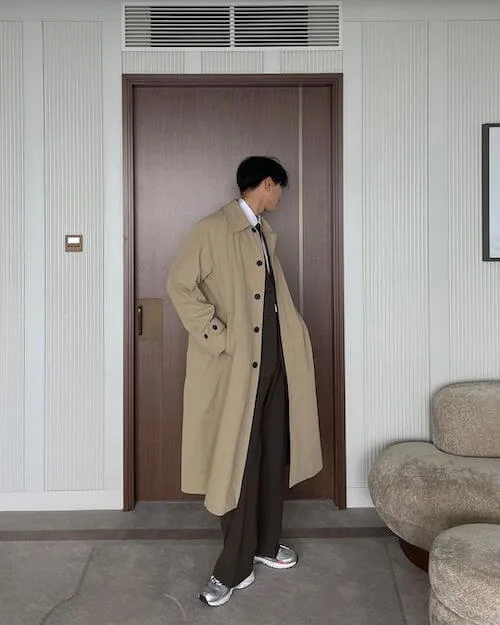 @hi880515
@hi880515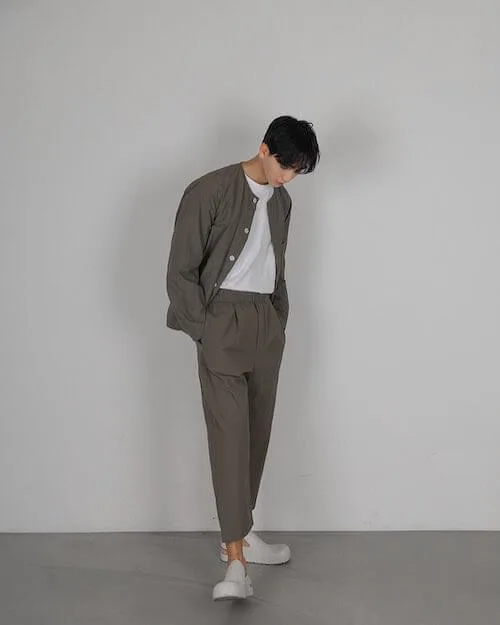 @hi880515
@hi880515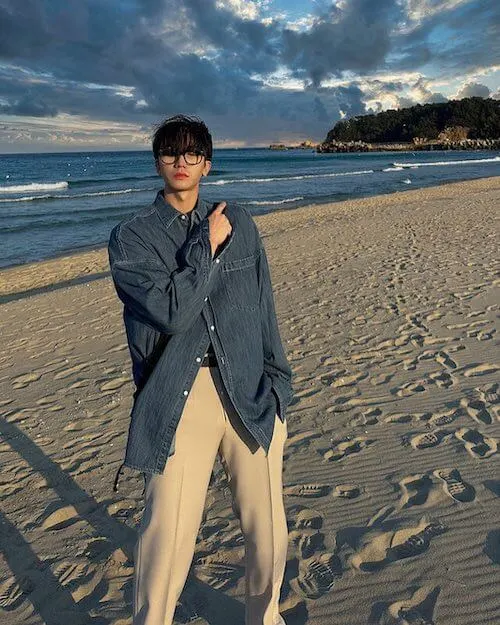 @hi880515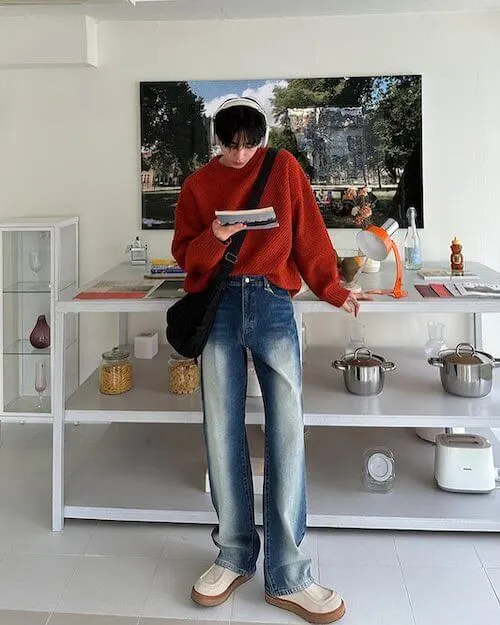 @hi880515
Korean Men's Fashion Streetwear: Hoodies, Sweatshirts, Knit Wear, Tracksuits, Denim Jackets
When it comes to Korean street style, hoodies, sweatshirts, knit wear, tracksuits, and denim jackets are staples that complete any outfit.
They are not only versatile but also comfortable and stylish.
Hoodies and sweatshirts come in different styles that can be dressed up or down depending on the occasion.
Knit wear is perfect for layering during colder months while tracksuits give off a sporty vibe that's both trendy and functional.
Denim jackets are timeless piece of clothing that never goes out of style.
They can be paired with almost anything and still look fashionable.
A well-fitted denim jacket gives off a rugged yet polished look that's perfect for casual outings or dates.
Korean street fashion for males incorporate these streetwear pieces into their everyday wardrobe effortlessly.
With clean lines and bold colors, the combination of hoodies or sweatshirts with knitwear creates an ideal balance between comfortability and style, while pairing denim jackets with tracksuits gives off an edgy vibe suitable for the modern man on the go.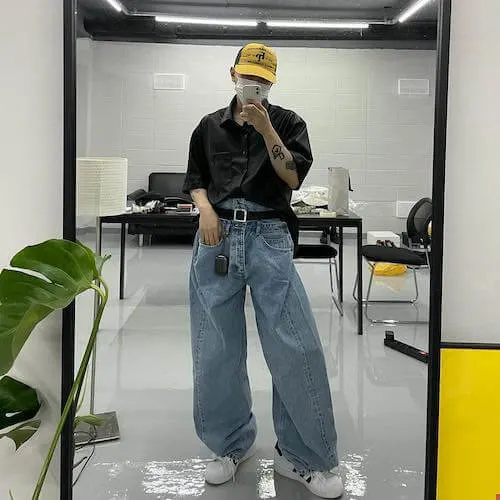 @coke3cake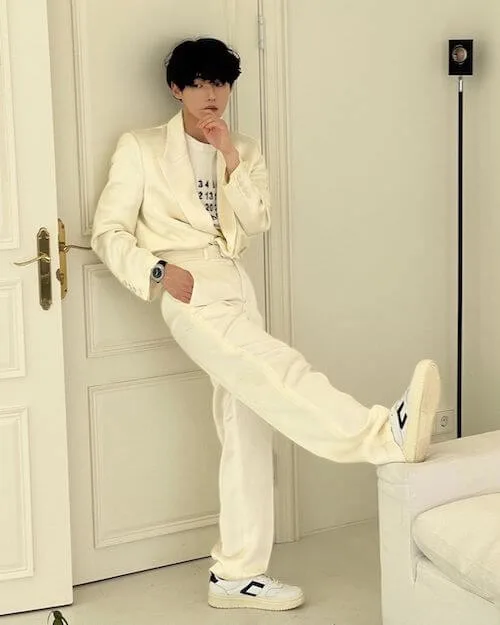 @clorlk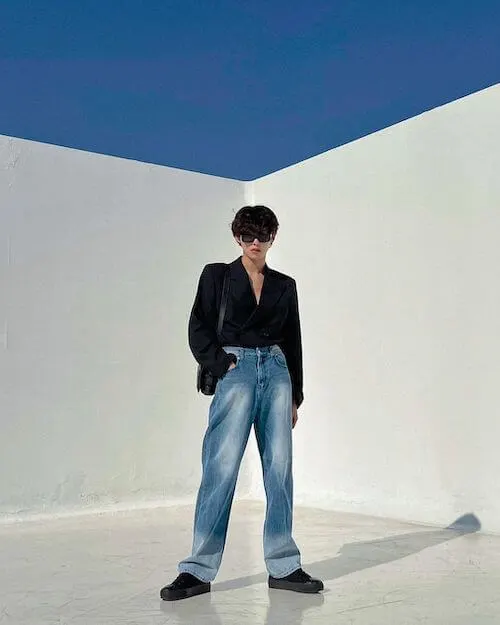 @clorlk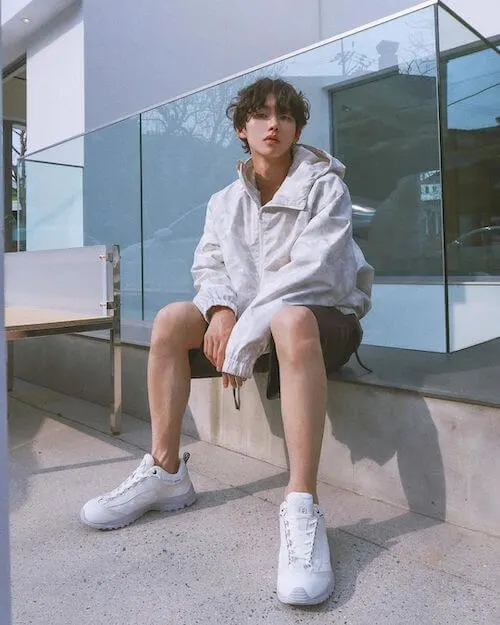 @clorlk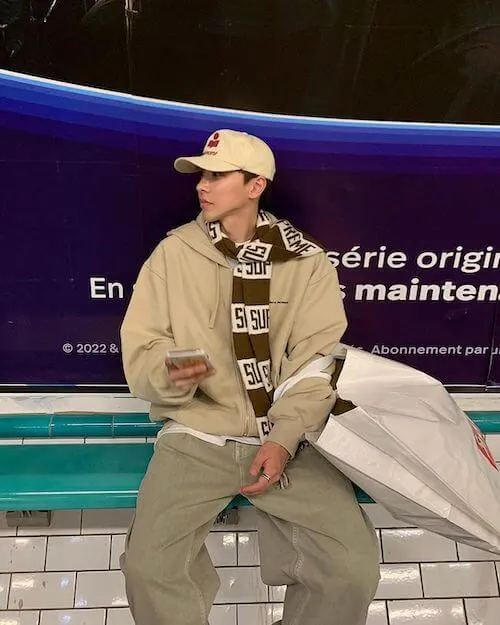 @okayhong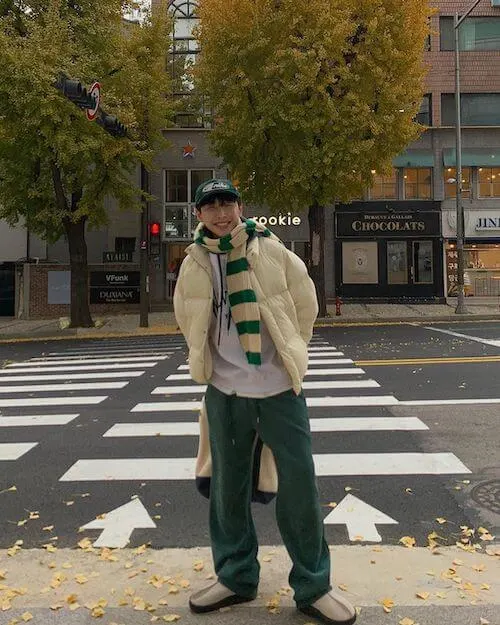 @okayhong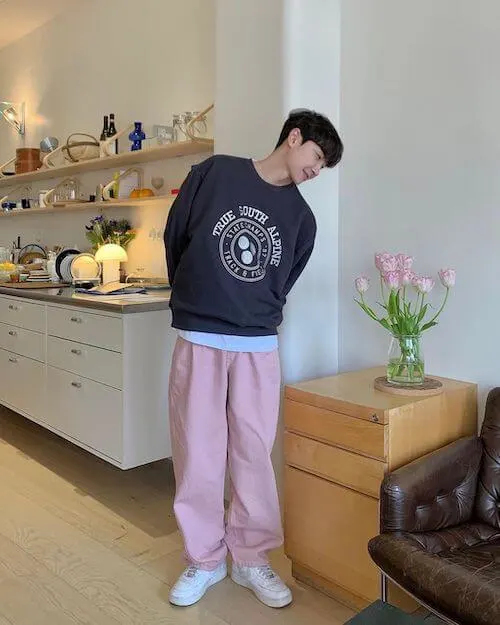 @okayhong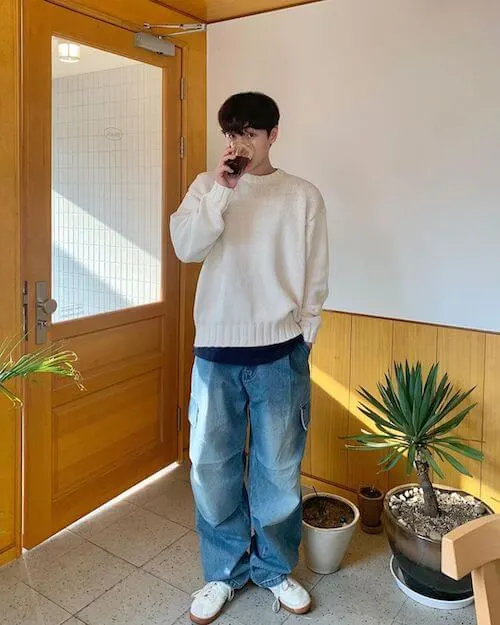 @okayhong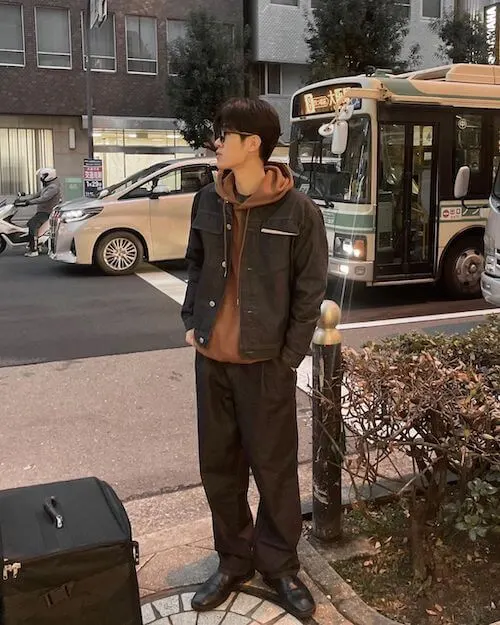 @cent__hw.s.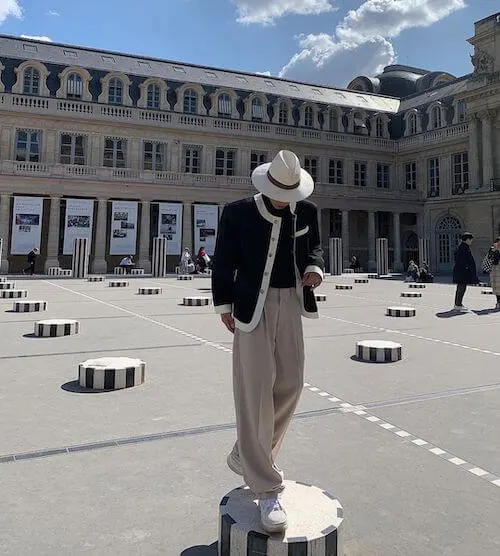 @ahun.e
@ahun.e
@ahun.e
@ahun.e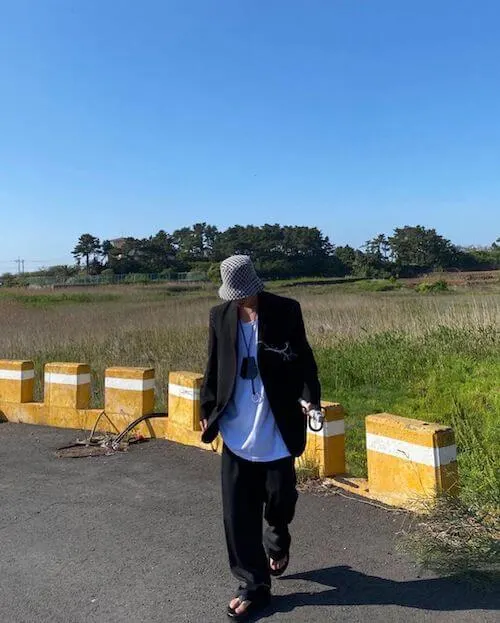 @ahun.e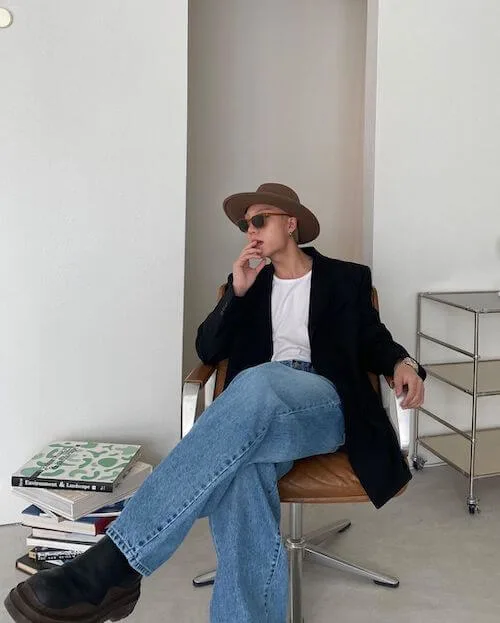 @ahun.e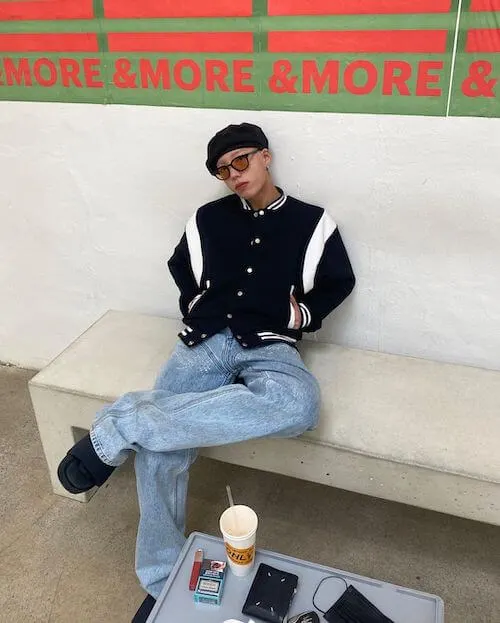 @ahun.e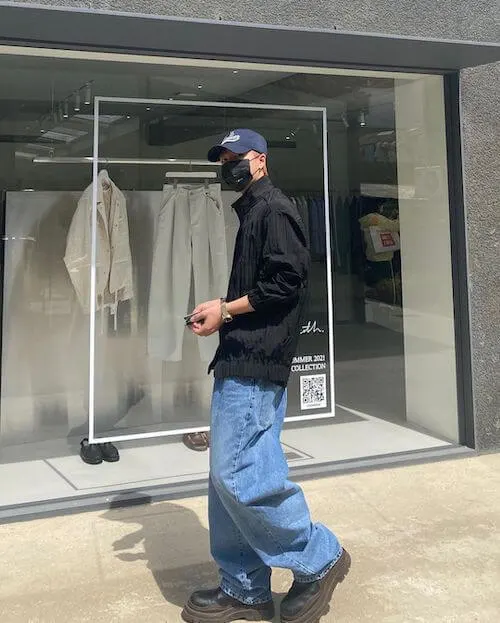 @ahun.e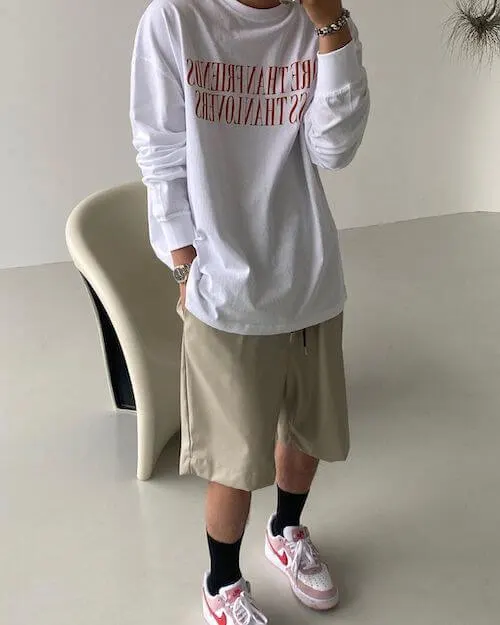 @ahun.e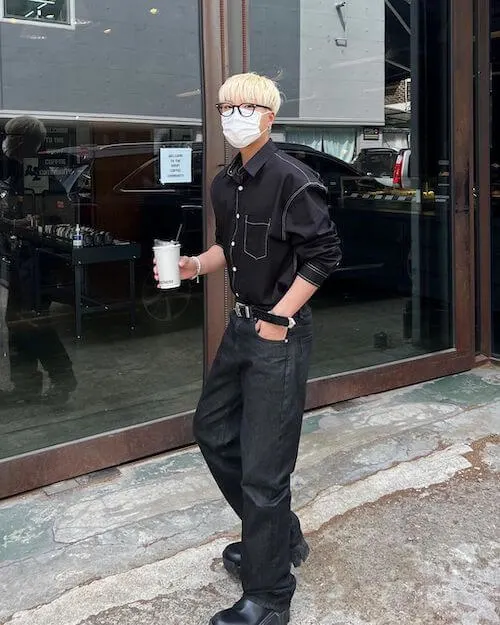 @ahun.e
@ahun.e
@look.ds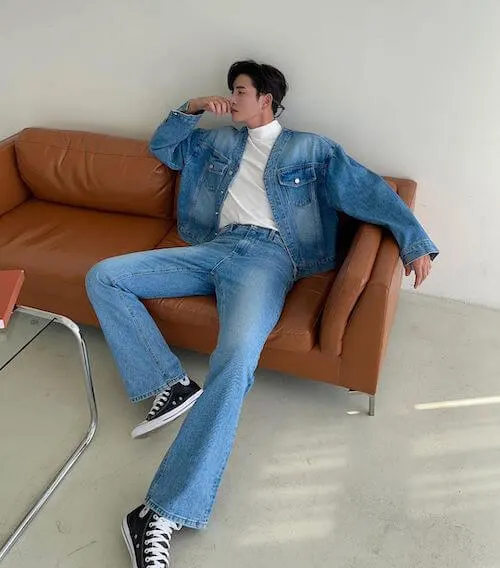 @look.ds
@hi880515
@hi880515
@hi880515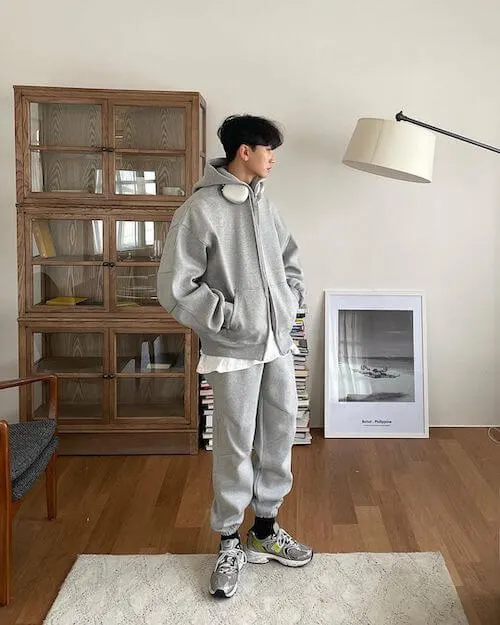 @hi880515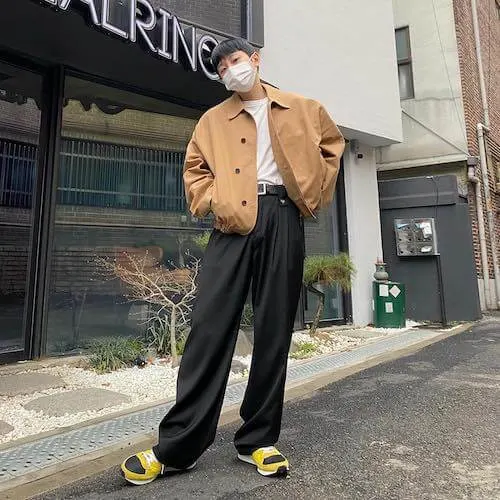 @coke3cake
Formal Style: Blazers, Button Downs, Slacks
Blazers, button-downs, and slacks are essential pieces of clothing that every man should have in their wardrobe.
These items exude formality and sophistication, making them perfect for any formal occasion.
When it comes to Korean aesthetic outfits for men, these pieces can be easily incorporated into the overall look.
Blazers come in various styles such as single-breasted or double-breasted, and they can be paired with button-down shirts for a classic formal look.
For a more casual take on this outfit combination, opt for a patterned shirt or switch out the blazer with a cardigan.
Meanwhile, slacks complete the ensemble by providing comfort while still adhering to the dress code.
The great thing about incorporating these items into a Korean aesthetic outfit is that it adds an extra level of refinement without sacrificing style.
Even if you're not attending any formal events anytime soon, having blazers, button-downs and slacks ready in your wardrobe ensures you're prepared for any occasion that requires dressing up.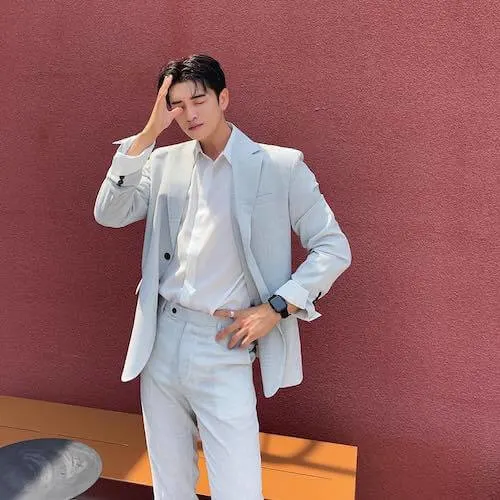 @look.ds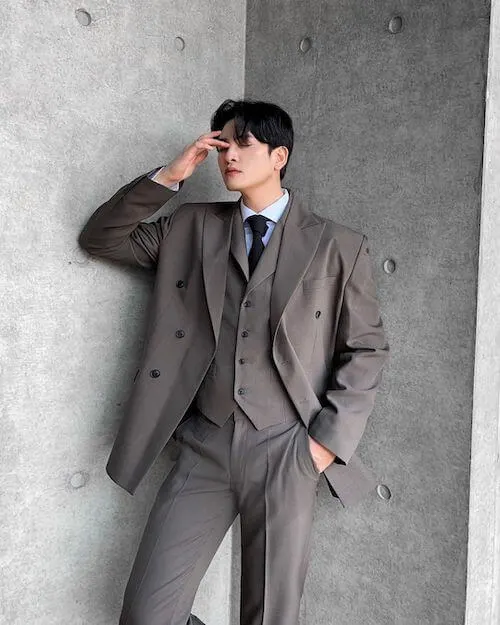 @look.ds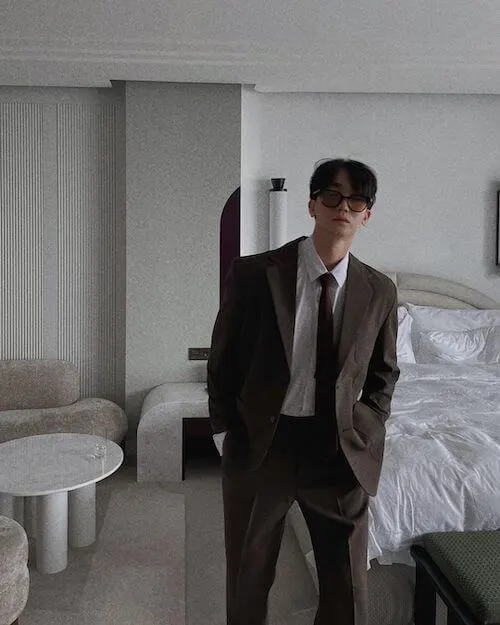 @hi880515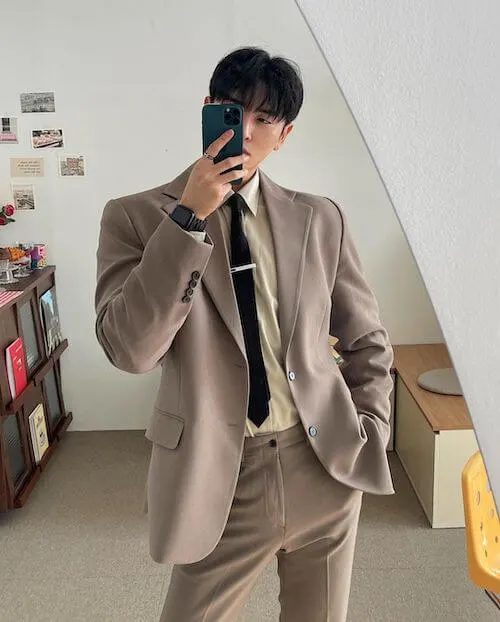 @look.ds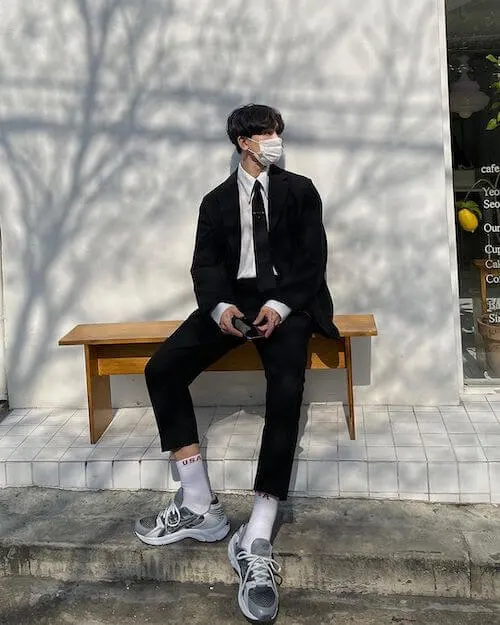 @hi880515
@hi880515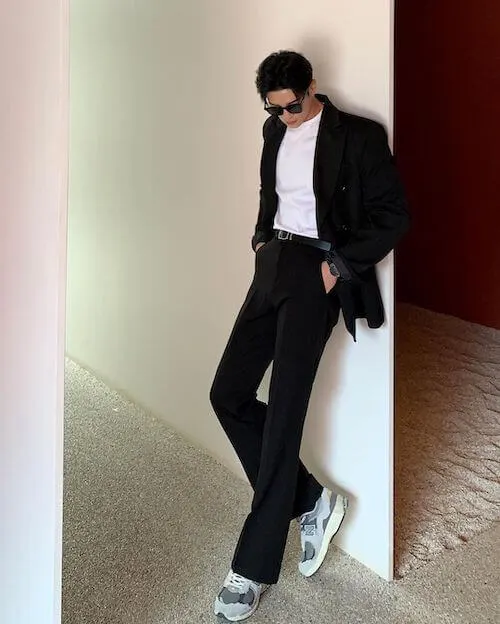 @look.ds
Popular Korean Dark Aesthetic: Black and Gray Tones
The dark aesthetic, with its black and gray tones, is a stunning way to show off style while still keeping an air of mystery.
This look is perfect for those who want to stand out from the crowd while still maintaining a sense of sophistication.
The key to pulling off this aesthetic is in choosing the right pieces that complement each other perfectly.
One way to achieve this look is by pairing a simple black t-shirt with some distressed gray jeans.
Adding some silver accessories such as rings or bracelets can help elevate the outfit even further.
Alternatively, you could opt for a black leather jacket layered over an all-black ensemble for a chic and edgy vibe.
When it comes to footwear, black boots or sneakers are always a safe bet – they effortlessly tie together any dark-toned outfit.
Ultimately, the dark aesthetic provides endless possibilities when it comes to expressing your unique style and personality through fashion.
So don't be afraid to experiment and find what works best for you!
@ahun.e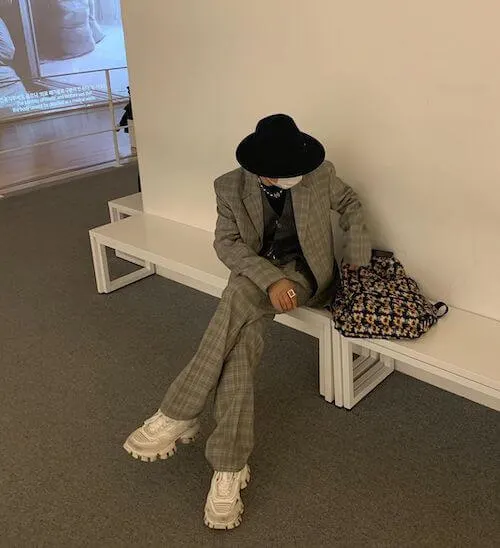 @ahun.e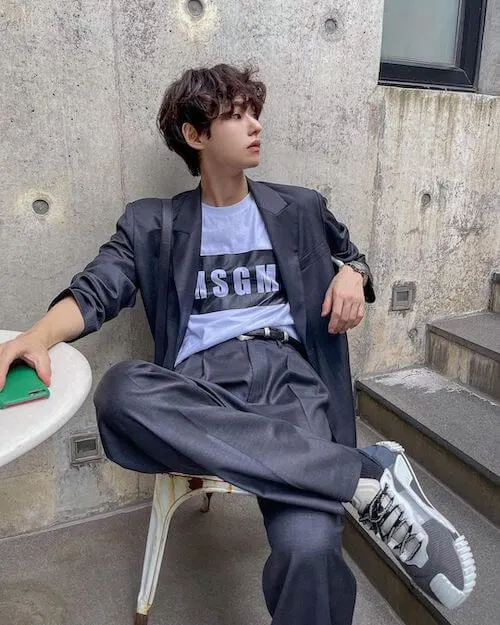 @clorlk
@hi880515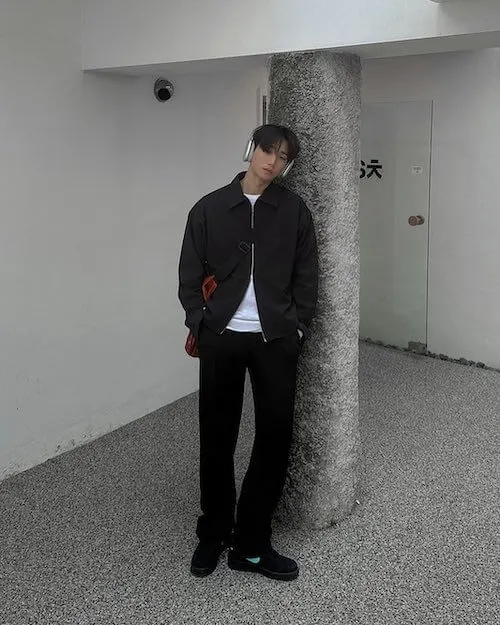 @hi880515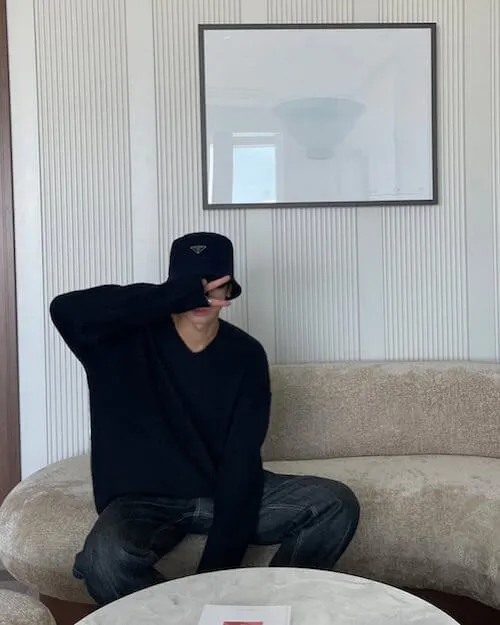 @hi880515
@hi880515
@hi880515
Korean Style Accessories: Hats, Bags, Jewelry
Accessories are an essential part of any outfit, and they can make a significant difference in how the outfit looks.
When it comes to Korean aesthetic outfits for males, hats, bags, and jewelry are some of the most popular accessories.
Hats add an extra layer of style to any outfit and come in various styles such as bucket hats, baseball caps, beanies, etc.
They can also be worn all year round with different materials for each season.
Bags are another accessory that is not only stylish but also practical.
A backpack or messenger bag can complete an outfit while providing functionality for carrying everyday essentials like laptops or books.
Crossbody bags have become increasingly popular in recent years due to their convenience and versatility.
Lastly, jewelry has become more prevalent among men's fashion choices in recent years.
From simple necklaces to bold rings or bracelets, adding a piece of jewelry can elevate an outfit from basic to stylishly sophisticated.
Accessories like these provide endless possibilities when it comes to styling Korean aesthetic outfits for men who want a little something extra that will make them stand out from the crowd.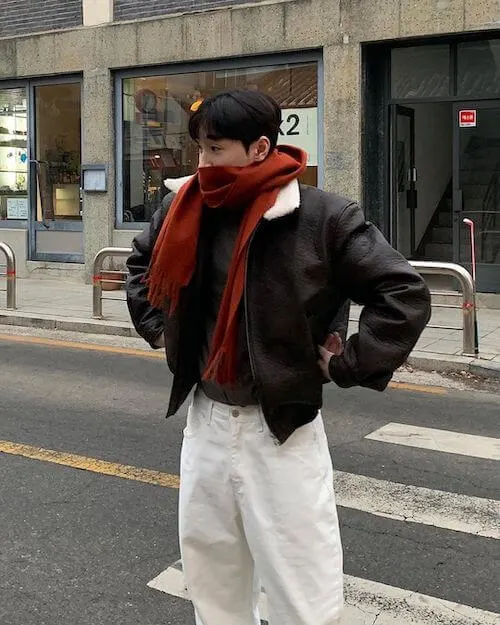 @okayhong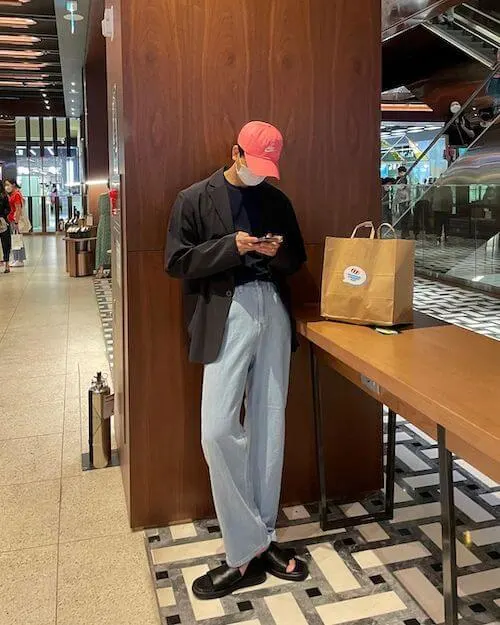 @hi880515
@clorlk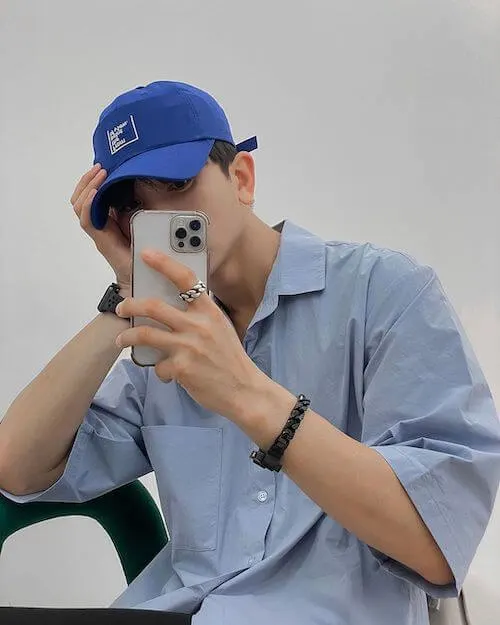 @hi880515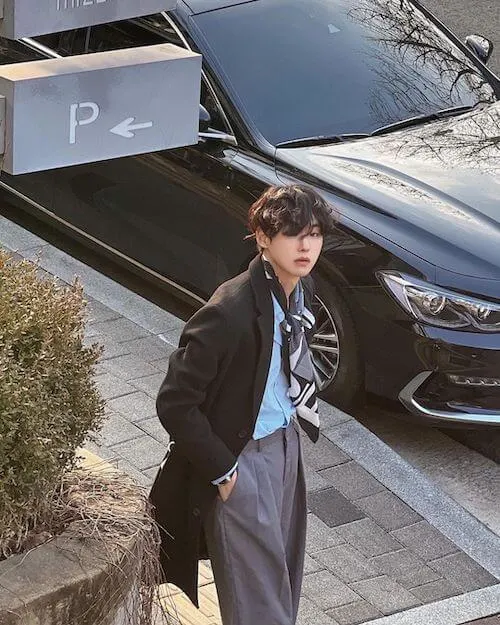 @clorlk
@clorlk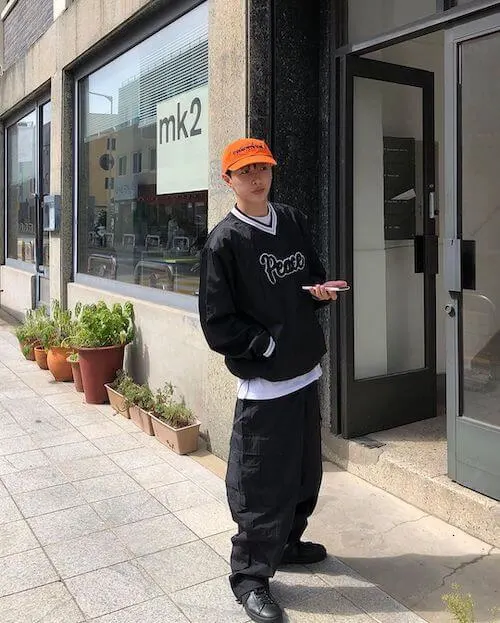 @okayhong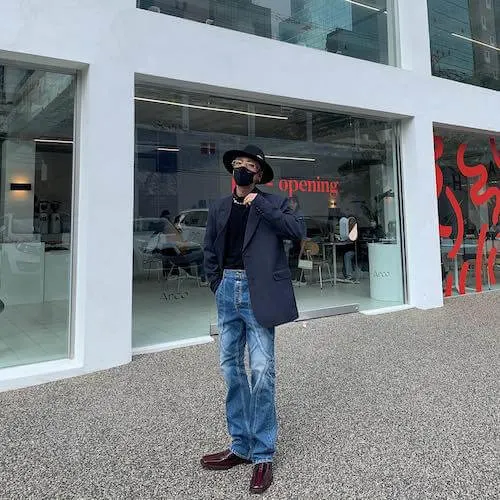 @ahun.e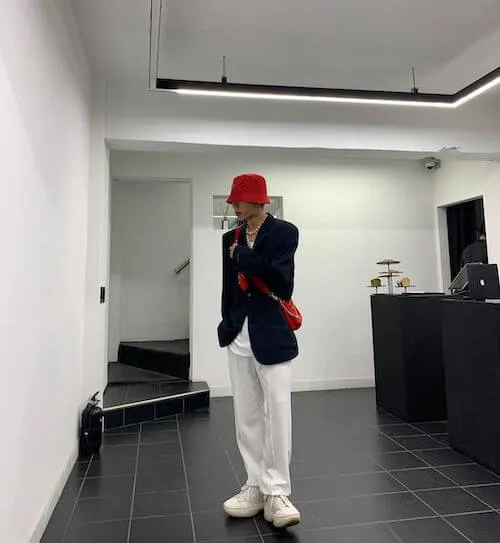 @ahun.e
K-Pop Idols Inspired South Korean Fashion
From oversized streetwear to fitted suits, Korean fashion encompasses a wide range of styles that can suit any taste.
Bold patterns and bright colors are often seen in K-Pop stars inspired outfits, paired with statement accessories like chunky sneakers or sleek sunglasses.
Layering is also a popular trend in Korean fashion, allowing for endless combinations of pieces to create unique looks.
Whether you're looking to fully embrace the K-Pop aesthetic or simply add some trendy pieces to your wardrobe, there's no denying the influence that Korean fashion trends have had on the industry.
So why not take some inspiration from these attractive outfits for men and try out something new?
Who knows – you might just find your new go-to look!
More Trendy Korean Outfit Ideas for Guys
Shop for our picks of Korean outfits for guys from our favorite retailers:

This post was all about attractive Korean aesthetic outfits male.
About The Author
Tracy is an experienced personal stylist, shopping expert, and fashion & lifestyle blogger. She has been featured on Time Magazine, Bustle, Best Life, Glam, The Zoe Report, Mic, and GOBankingRates, for her insights on fashion, beauty, home decor, and lifestyle. Read More
Related Posts: