Looking for easy and romantic date night dinner recipes? Looking for ideas to create your private and special moments at home? Check the below post.
It's actually not very hard to have a delicious and romantic date night dinner at home. All you need is to pick up what you like from our date night dinner recipe recommendations.
We also have romantic DIY date night decoration ideas that you can easily recreate at home.
So try to create a romantic date night dinner by yourself and enjoy it with the one you love so much!
This post may contain affiliate links, which means I'll receive a commission if you purchase through my link, at no extra cost to you. Please read the full disclosure here.
This post is all about date night dinner recipes.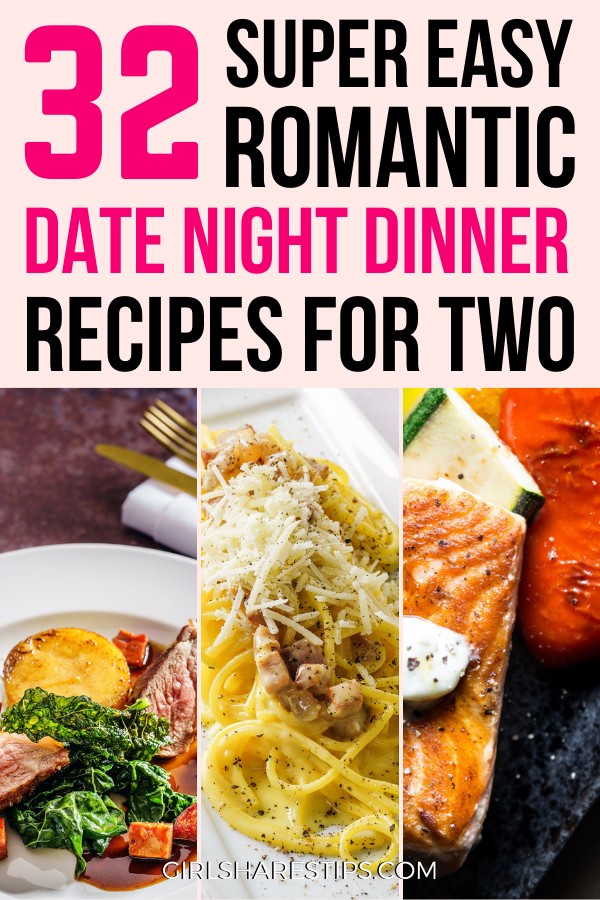 10 TIPS ON PREPARING A DATE NIGHT DINNER AT HOME
1.Send him an invitation before dinner.
Although you are having your date night at home, it would be a good idea to send him an invitation to make it romantic.
2. Decorate the table and room.
Set the table beautifully. You can use flowers, candles, and your favorite table cloth. Find more DIY decoration ideas here.
3. Don't forget the music.
Playing soft music in the background.
4. Change the lights.
You can set up different lights for your special date nights.
You can even use your DIY photo lights with the photo of you two to make it more romantic. Check this post.
5. Dress up according to the theme.
6. You can invite your significant other to prepare the dinner with you.
Cooking together can also be a part of your date night.
7. Choose your best dinnerware.
8. Prepare some questions in advance.
If you are nervous or not very good at talking, prepare some topics you are comfortable with in advance would be a great help. Find more dating questions here.
9. Plan well what to do after dinner. You can prepare some romantic movies in advance.
10. Smile all the time. To him, your look and behaviors are so much more important than the dishes.
BEST DATE NIGHT DINNER RECIPES
1.Comfort French Chicken Stew with White Wine | Honeysuckle
A perfect meal for a cold day and get a super cozy moment at your home. Follow the video below:
2. Homemade Creamy Shrimp Alfredo | ThatGirlCanCook!
I love this soooo much! Who doesn't love a good Alfredo? This is a super quick and easy and cheap recipe for you to get a romantic dinner for you two at home! Follow the video below:
A light yet romantic recipe in a season when you can get fresh mushrooms. Imagine you have this in the forest.
4.Easy Classic Beef Stroganoff | Natashas Kitchen
An easy and excellent 30-minute dinner.
5.Crispy Fajita Fish Tacos | Twisted
6.Creamy Parmesan Mushroom Chicken | Rose Oatley
My boyfriend and I usually cook this. It's so scrummy delicious! Follow the video below:
8. 4-Course Italian Dinner | Tasty
If you have time, this should be one of your best choices! You don't need to go out for it. Cook it at home for you two.
Always a good choice for holidays or date nights! The combination of the sugar with the hot pepper is unbelievably good!
Can you believe that you actually only need 20 minutes to complete it? It's a fast, easy and delicious dish. Check the below video:
11.Salt-and-Pepper Chicken with Spring Quinoa Pilaf | Recipe Zone
A beautiful and very healthy choice for you two!
Salmon is always a popular choice for a date night dinner. You only need about 10 minutes for this. Very tasty and juicy! I promise you, it is sooooo easy to cook it!
13.Pan-Seared Cod in White Wine Tomato Sauce | Chef Sheilla
A light and refreshing fish dish. Low in calories.
14.Asparagus Stuffed Chicken | Tasty
Chicken and asparagus are my favorite delicious food. Easy to cook and beautiful.
It's always one of my boyfriend's favorite. Good choice for a cozy date especially when you two are far from your hometown.
Who doesn't love it?
Perfect for a casual date night. You can cook it together.
20. Creamy Shrimp Alfredo Pasta | Natashas Kitchen
Very easy to make but super delicious! Also an excellent choice if you are on a budget.
Perfect for a weekend date night!
You will never go wrong with this! This potato gnocchi is light, soft, and airy. In this recipe they serve them with tomato sauce, and you can also try with any other sauce.
24. Stuffed Pork Chops | Food Wishes
In this recipe, the pork shops are being flavored from the inside-out with fresh peaches.
Enjoy this dinner with a superior textural and tastural experience.
Perfect for weekend or holiday dinner.
A classic comfort food. Rich and comforting Beef Bourguignon in a delicious rich sauce.
28. Slow Cooker Chili With Beans | Cooking with Glen
Easy way to have a BIG taste!
29. Slow Cooker Chicken Tortilla Soup | The Cookie Rookie
Healthy and made-easy.
30. Easy & Healthy CHICKEN QUINOA Grain Bowl | Honeysuckle
This is a Greek Souvlaki inspired Chicken Quinoa Grain Bowl. Pefect for a lunch or casual date night dinner! Another super healthy choice!
I love instant pot! And this is one of my favorite instant pot recipes. Easy and tasty, and kind-of last minute date night dinner choice. And you don't need prep work!
32. Instant Pot Minestrone Soup | Pinch of Yum
I became a huge fan of the instant pot this year! Believe me! You absolutely need one instant pot!
This post was all about date night dinner recipes.
About The Author
Tracy is an experienced personal stylist, shopping expert, and fashion & lifestyle blogger. She has been featured on Time Magazine, Bustle, Best Life, Glam, The Zoe Report, Mic, and GOBankingRates, for her insights on fashion, beauty, home decor, and lifestyle. Read More