Looking for the best high school graduation gift ideas for him? Check the below amazing gift ideas that boys really love and show your congratulations and love to him!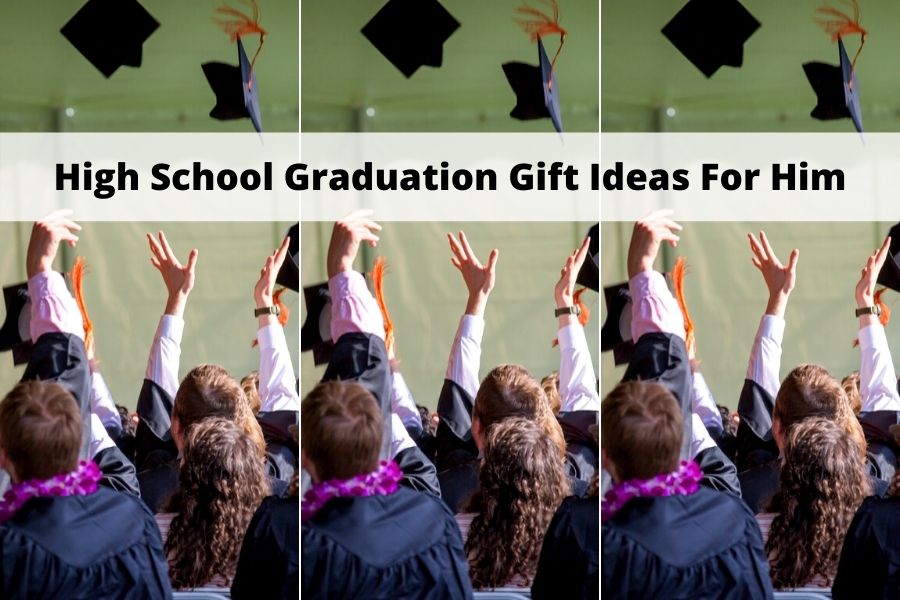 Fiding high school graduation gift ideas for him is not an easy task. Don't worry! In this post, we have listed 47 most popular graduation gifts for boys graduating from high school, including trendy gifts, thoughtful gifts, practical gifts, keepsake gifts, and last minute gifts, which fit all budgets. You can definitely find the one you like for your son, your bother, or your boyfriend!
This post is all about high school graduation gift ideas for him.
BEST HIGH SCHOOL GRADUATION GIFT IDEAS FOR HIM
1. Incase ICON Slim Backpack
This is a stylish, comfortable, and sturdy backpack! Features two large dedicated compartments for his MacBook, iPad and iPhone, along with purposeful pockets for organizing extra accessories and other essentials. The internal laptop compartment stores up to a 16-inch MacBook. Perfect for classes or internships.
Designed as a slim carrying solution without sacrificing storage or other important features. Also features padded shoulder straps with multiple adjustment points for added comfort and a customized fit.
2. Kindle Paperwhite Essentials Bundle
The thinnest, lightest Kindle Paperwhite yet—with a flush-front design and 300 ppi glare-free display that reads like real paper even in bright sunlight. It is now waterproof, so he is free to read and relax at the beach, by the pool, or in the bath.
3. MVMT Men's Chronograph Watch with Analog Date
A stylish and high quality watch is a must have for a college guy. He will use it a lot to increase his confidence for a job interview or for a work!
MVMT is very popular among college boys. This watch has a 5 MM case, 100% genuine leather strap with main dial and three subdials: 24 hour clock, 30 minute timer and 60 second timer, very sleekly designed.
4. Bose QuietComfort 35 II Wireless Bluetooth Headphones
The boy will thank you so much when he receives this! This is a lifesaver! It helps him clear away the noisy distractions and get deeper into his music, his work, or whatever he wants to focus on.
5. Tile Stickers
He will find them one of the most useful things he brings to his college!
Tile Sticker easily and discreetly attaches to remotes and other electronic devices, outdoor recreational equipment and travel gear, and any other smaller item that he wants to track for a long time. He'll gain peace of mind knowing he can open the free Tile app and tap Find to locate his stuff.
6. Hydro Flask Water Bottle
A high quality water bottle is a must have for college students! This water bottle is dishwasher safe, and the Slip-free powder coating won't sweat. It keeps the coldest drinks icy cold and hot drinks piping hot for hours.
7. Apple Watch
An Apple watch can make his college life easier! The Apple Watch Series 6 is the best smartwatch Apple currently sells. It comes with top-of-the-line health features, a brighter always on display, and fast charging. College freshmen usually face a lot of pressure in study and life. Therefore, this gift can help him better regulate mental stress and regain physical and mental health.
8. YETI Rambler 20 oz Tumbler
Every college boy needs a tumbler to hold coffee, tea, or water. This Rambler 20 oz. is made from durable stainless steel with double-wall vacuum insulation to protect his hot or cold beverage at all costs.
9. Adidas Team Issue II Medium Duffel Bag
This great bag is made of durable woven fabric with a water-resistant base. It has a spacious main compartment and a ventilated side pocket for wet or muddy shoes, a padded shoulder strap, and padded handles for comfortable carrying. Perfect as an overnight bag, travel luggage, or a gym bag.
10. Travelers Club 4 Piece Midtown Luggage Set
College boys like to travel around. At least, he can use this luggage set the first time he moves to his college dorm. This luggage can meet almost all his travel needs in the college.
11. Personalized Leather Wallet
He may have an old wallet, or give him a more premium and personalized wallet. The blessings you want to say to him can be customized on it.
12. JBL Flip 4 Waterproof Portable Bluetooth Speaker
This compact speaker is powered by a 3000mAh rechargeable Li-ion battery that offers 12 hours of continuous, high-quality audio playtime. Sporting durable, waterproof fabric materials that are available in 6 vibrant colors, Flip 4 is the all purpose, all weather companion that takes the party everywhere.
13. Apple AirPods Pro
Who doesn't like Apple Airpods Pro? He will always use them when working out or going to class!
14. Apple MacBook Pro
If you don't know what to give him, you can never go wrong with this gift.
15. Columbia Men's Watertight II Rain Jacket
If it rains all year round where he goes, he must need this one. Even if it doesn't rain much where he goes, he needs this practical rain jacket from time to time when he travels.
This Columbia Men's Watertight II Jacket is a rainy-day staple for its lightweight, waterproof and breathable design. It features an abrasion resistant chin guard, two zippered side pockets, elastic cuffs, and an elastic hem.
16. Baseball Cap
The baseball cap is one of the favorite accessories of college boys. He can be worn on many occasions and he will never go wrong.
17. Ray-Ban Sunglasses
He must need a fashionable pair of sunglasses, doesn't he? Give him a pair of Ray-Ban sunglasses. If it is too expensive, you can give him another pair of sunglasses. A boy will never dislike a pair of sunglasses.
18. Timberland Men's 6 inch Premium Waterproof Boot
These boots are not only practical, strong, and durable, but also very fashionable. Compared with ordinary casual shoes, these shoes are more stylish and cool.
19. Nike Air Max 95
Nike Air Max 95 should be every boy's dream. More importantly, these shoes are very fashionable and comfortable and can be worn on many occasions. He will never feel that these shoes are outdated and will wear them for many years.
20. Adidas Originals Men's Swift Running Shoe
He should need a new pair of running shoes! The Swift distills elements from '80s running designs and adds a modern feel. These knit shoes are covered with a striking camouflage graphic and are finished with smooth welded details. They come with a supportive, sock-like feel and are built for all-day ease with a cushy midsole.
21. Nike Men's Dry Pant Rivalry
College boys will always use sweatpants. This Nike one is very suitable for a college boy. It doesn't look naive like some big logos designs, and it doesn't make people feel like he is wearing a grown-up outfit.
22. adidas Men's Adilette Shower Slides
This pair of slides will accompany him to spend a lot of college time. He can take a shower and hang out in these slides. Of course, he can also wear them to class.
BEST THOUGHTFUL AND PRACTICAL HIGH SCHOOL GRADUATION GIFT IDEAS FOR HIM
23. TV Backlights
This gift is inexpensive but really unique and amazing! The TV LED strip lights sync with ambient sound. Turn on his favorite movie, and then LED TV backlights to change colors and speeds based on rhythm, and bring him more immersive entertainment!
24. Tray Organizer
This valet tray organizes all his accessories, valuables, and it helps to keep his nightstand, desk, or dresser top clutter-free. 5 compartments designed to store his keys, cell phone, wallets, jewelry, watch, and other accessories in one place.
25. Safe Lock Box
The college dorm will not have a safe, so he will find this gift very practical! This safe has a slim size so it fits conveniently inside of a drawer. It has a programmable electronic keypad for easy operation; emergency back-up key included; small handle on door for quick access.
26. Bamboo Charging Station Dock
This is one dock for all gadgets: The ideal bamboo organizer compatible with 4/5/6 Ports USB desktop charger. Tangled cables killer, no more cluttered cables on his desk, keeps his desktop neat and tidy.
27. Touch Bedside Lamp
Not only a touch lamp, but it is also a bluetooth speaker compatible with most cell phones and computers. In addition, HFP feature makes it also a Bluetooth speaker phone. The AUX-IN jack allows him to play music from his iPod / MP3 players via 3.5mm audio cable. Also, it can play music from TF card (TF card not included) directly.
28. Coleman Rolling Cooler
College boys will have a lot of travels and parties….Whether he is strolling to the beach or going to a ball game, the heavy-duty wheels handle almost any terrain with little effort. This high-capacity cooler holds up to 84 cans, which means he'll have plenty of room for refreshments for a whole group of friends. This cooler can helps him become popular immediately in college!
29. Coleman 42-Can Soft Cooler with Removable Liner & Wheels
Another great design from Coleman! Keeping food and drinks chilled on the go is no bother with the Coleman 42-Can Soft Cooler with Removable Liner & Wheels. A removable liner fits inside the zippered main compartment and works well when using ice to keep items cold. Simply take the liner out to dump any ice melt.
30. Tool Kit
He should need to use these tools frequently in his dorm room.
This is a combination of basic tools: all the sockets and wrenches you could want. It also comes with screwdrivers for more delicate work and some handy all-around tool like a box cutter, Allen key set, a hammer, an electroprobe, tape measure and so on. The toolset includes limited tools with unlimited functionality.
31. YnM Weighted Blanket
This weighted blanket is highly rated on Amazon. College boys may often suffer from insomnia. This blanket can help him fall asleep better. It is sturdy, has seven breathable layers, and comes in five different sizes and nine weight options from 5 to 25 pounds.
32. Famiworths Single Serve Coffee Maker
It has received a super high rate on Amazon and has a reasonable price. This personal single-serve coffee maker will give him that fresh, pure taste that is required to jump-start his day. He can have his coffee ready to drink in only 3 minutes. Moreover, it has an auto cleaning function, very suitable for a boy! When he is done using this one-of-a-kind coffee machine, simply press 2 buttons and let the machine clean itself. Forget to shut off his machine? Don't worry, the machine will automatically turn off after brewing a cup of coffee.
33. HP OfficeJet 3830 All-in-One Wireless Printer
He may have overslept and will not have time to print the paper that is about to be turned in. This printer can save him!
This compact printer from HP has the ability to print crystal clear documents and photos, along with copying, scanning, and faxing capabilities. With a touch screen control panel and wifi connectivity, it's less than two feet wide, so he could easily store it on his desk and still have room to spare.
34. The Naked Roommate Book
You may want to give some advice to boys who are about to go to college, but you may not know what to say? Don't worry, buy this book and let it speak for you.
For 10 years (and counting), The Naked Roommate has been the #1 go-to guide for the very best college experience!
This essential, fully updated edition is packed with real-life advice on everything from making friends to managing stress. Hilarious, outrageous, and telling stories from students on over 100 college campuses cover the basics, and then some, including topics on
College Living: Dorm dos, don'ts, and dramas
Finding People, Places, & Patience: Friend today, gone tomorrow
Classes: To go or not to go?
Dating: The Rules for College Love
The Party Scene: Sex, drugs, and safety first
Money: Grants, loans, and loose change
35. Large Dopp Kit Travel Shaving Bag
College boys often need to travel with friends, do internships, and participate in various other activities. A practical and good-looking toiletry bag can make him look neater and more mature.
This special double zipper design makes him watch clearly and access its inner contents easily. Simply pull on the connected zip puller for full exposure, and he never needs to make the bag full exposure with one hand when he is looking for something. It has a large capacity, so it could hold all his toiletries in his travels. There are separate zipped pockets and a net pocket inside of the main compartment that he can organizer precious items with it.
36. Echo Dot with clock + Amazon Smart Plug
This is a fun and useful gift for a college student. It can save time for him, help him get more organized, and bring fun to his stressful college life.
It is perfect for his nightstand – See the time, alarms, and timers on the LED display. Tap the top to snooze an alarm. And it is always ready to help – Ask Alexa to tell a joke, play music, answer questions, play the news, check the weather, set alarms, and more.
37. Hamilton Beach Breakfast Sandwich Maker
He might really want to make a healthy and delicious breakfast or lunch in his dorm room. Then this sandwich maker can help him. Don't expect a boy to master complicated cooking techniques, so the sandwich maker is his best choice.
This breakfast sandwich maker cooks his custom sandwich in just 5 minutes; perfect for brunch or a quick, healthy meal on the go.
38. Rapid Ramen Cooker
Microwave Ramen in 3 Minutes!! A healthier and faster way to cook ramen noodles! It's essential for college students. He'll never have to worry about water to boil or washing pans, or other dishes. The heat-resistant handles make it easy & safe to remove from the microwave.
39. Schwinn Wayfarer Adult Bike Hybrid Retro-Styled Cruiser
Bikes are great for commuting for college students! Compared with a car, using a bike can save a lot of maintenance costs, and it does not take time to find a parking space, and it can also be used as an exercise tool!
40. Wake Up Light Sunrise Alarm Clock
Wake him up naturally! This Sleep Aid digital alarm clock is designed for everyone in fact, especially for heavy sleepers. Sunrise simulation light with 7 natural sounds will be on gradually from 10% brightness to 100% by 30 minutes before alarm setting time. If he thinks 30 minutes is too long, he can set the process to 20 minutes or 10 minutes.
41. Mini Projector
This mini projector will help him to enjoy his spare time and have a great party in his dorm!
This video projector allows him to connect his smartphone(iphone / android phone)directly with an MHL cable(not included) which makes him share videos and photos on his iPhone / Android smartphone. It is also compatible with a variety of devices, such as TV sticks, PC, laptops, TV, USB disk, DVDs, PS4…almost all multimedia devices.
BEST KEEPSAKE HIGH SCHOOL GRADUATION GIFT IDEAS FOR HIM
42. Personalized Bottle Opener
College students will drink beer…Give him a personalized bottle opener! Not expensive, but very unique. He will love it!
43. Customized

Map Poster
Want to give him a meaningful graduation gift? Why not send him a customized poster of his hometown map?
44. Customized Phone Case
The phone case is an item that is used every day. A mobile phone case customized with photos full of fond memories or encouraging words is a great gift!
45. Scratch The World Travel Map
Do you want to encourage the boy who is about to become a college student to explore the world more and more bravely? Give him this gift.
This scratch-off map of the world is a great gift for your favorite adventurer to plan a trip on the world map wall poster then record their journey! Also, the perfect gift to educate young explorers. It can also become the most special wall decoration in his dormitory.
46. Snack Package
College students always like snacks. He can enjoy it alone or share it with family and friends.
BEST LAST MINUTE HIGH SCHOOL GRADUATION GIFT IDEAS FOR HIM
47. Amazon Prime Membership
If you really don't know what to give him, give him this! Very convenient. Also a fantastic last-minute gift!
Other Posts You May Like:
√ 31 Inexpensive High School Graduation Gift Ideas That Are Thoughtful And Trendy
√ 37 Trendy High School Graduation Gift Ideas
√ 20+ Cute Unique Graduation Gifts For Best Friend In High School
√ 50 Best Trendy High School Graduation Gifts For Her: The Ultimate Guide!
√ 31 BEST GRADUATION PARTY IDEAS YOU WANT TO COPY FOR THE CLASS OF 2022
√ 27 Best Graduation Party Decorations Ideas You Need To Check
Found this post on high school graduation gift ideas for him useful? We'd love it if you shared this post on Pinterest!