Don't know what feel good movies to watch when depressed? We prepared the list of the feel good movies we love so much for you.
When facing difficulties, when you are too stressed, in a bad mood, or depressed, there will always be movies as good medicine to heal your wounds. They may bring you unexpected happiness, joy, and touches.
Take a look at these feel good movies to relax your mind!
This post may contain affiliate links, which means I'll receive a commission if you purchase through my link, at no extra cost to you. Please read the full disclosure here.
This post is all about feel good movies to watch when sad.
Feel Good Movies To Watch When Depressed
1. Heidi
The film was set in the Alps, and we can see the best look about family and friendship in this movie. Isn't the passion of love and the human nature of returning to nature the beauty we strive for?
2. Maudie
In the torrent of flustered life, she tried her best to live a good life.
3. The Young And Prodigious T.S. Spivet
The outside world is wonderful. Go straight ahead. The road is always there.
4. My Summer in Provence
In a beautiful place in southern France, Paul suddenly welcomed three uninvited guests-his granddaughter and grandson from Paris.
There are a blue sea, a lively market, and a group of lovely people in the movie.
5. Wonder
A little boy with a face different from others found warmth in the indifferent world and reconciled with the world. We are all this little boy with our own flaws, and we continue to move forward.
6. Up
He tied thousands of balloons to the roof. An older man, a child, and a dog flew into the sky with the house and flew to South America. He traveled with his wife's dream.
7. Begin Again
If you have a breakup, you must watch this movie.
This movie tells you, don't give up everything to follow your boyfriend to a foreign country because the ending is likely to be unhappy.
If you are sure to follow him, you must find yourself like a heroine, become brave and independent, and own your own life.
8. The Danish Girl
It tells how a man became the woman he always wanted to be. Someone always teaches us how to find ourselves.
Feel Good Movies To Watch When Sad
9. About Time
A story about time travel: love requires all sincerity, and there is no shortcut.
10. Good Will Hunting
An obscure handyman is a mathematical genius once in a century. But his experience made him erect a high wall in his heart, and he couldn't even open his heart to the people he loved.
Finally, a goodwill hunter let him open the heart. Face your own heart bravely.
11. The Intouchables
French comedies are always warm and humorous.
Don't be afraid when you are in a trough time, because tomorrow will never be worse than today.
From being healthy to being paralyzed is not the end of life. There will always be someone who makes you laugh again.
12. WALL-E
When Wall-E, the last robot on earth, met Eva, the outer space robot, a touching story began. With the warm and relaxing melody, the movie talks about the inner world of Wall-E. Inadvertently, you will fall in love with this movie too!
13. Flipped
A very moving story about first love.
14. I Am Sam
Sam's hesitant fatherly love will make you cry. A heartwarming story of Sam, a mentally-challenged father, and a cute girl Lucy. The director took every shot touching.
15. Under the Tuscan Sun
After the divorce, the female writer came to Tuscany, Italy. By chance, she bought an old house where she made new friends and regained her life from her emotional scars. The scenes of the movie are like European oil paintings.
16. Brooklyn
A girl from an Irish town came to Brooklyn, New York, hoping to take root and survive, but finally had to make a difficult choice between his hometown and New York.
Homesickness, struggle, marriage, and childbirth, this series of topics makes it easy to find resonance in the movie.
The film's costumes, scene arrangement, and music are meticulous and exquisite, as if people have returned to Brooklyn of that era.
17. Before Sunset
The two met again in Paris nine years later and had a romantic time.
18. The Terminal
When the protagonist arrives at the airport, he is told that his motherland has changed, and his passport and bank card are invalid. During the 9 months stuck in the airport, he encountered many interesting stories and finally found his love.
19. Bridget Jones's Diary
Humorous and funny movies. Being single is not terrible. Love life, and bravely pursue love.
20. Love Actually
It is especially suitable to watch during festivals, and it is also very suitable to watch with friends. A series of warm and touching love stories.
21. The Holiday
The background music is amazing. The love story is moving. After watching the movie, you will regain hope in life.
22. Eat Pray Love
The divorced heroine enjoys food in Italy, meditates in India, and falls in love in Bali. Following the heroine's footsteps, you will seem to have gone to those beautiful places during the movie watching.
Feel Good Movies To Watch With Family
23. A Good Year
A London stock trader inherited his uncle's French winery, recalled his childhood in Provence, met a cousin he had never met, and met a romantic love. Finally, he gave up his high-paying job and returned to Provence.
24. Enchanted
What kind of stories will occur when the ancient magic princess comes to the modern metropolis Manhattan?
Even though the reality is cold and cruel, the princess still uses her passion to influence every hard-hearted person.
25. The Odd Life of Timothy Green
An infertile couple suddenly got a child growing out of the soil. They began to see the world from a child's perspective.
26. The Secret Life of Walter Mitty
If you have seen Greenland, the Himalayas, and Iceland's volcanoes, you will never be defeated by life.
When you lose motivation, you must watch this movie.
27. 50 First Dates
I can't remember you, but I can't stop falling in love with you at first sight.
True love means falling in love with the same person again and again.
28. The Hedgehog
We are all lonely hedgehogs. Only people with the same frequency can see the unknown elegance in each other's hearts.
29. I Am Dragon
A dragon and the Duke's young daughter. This relationship is a self-saving experience.
Finally, the heroine ran to freedom, and the dragon found his home.
30. The Intern
Women with their own business are beautiful. The middle-aged uncle who loves life is lovely. Live well and enrich yourself.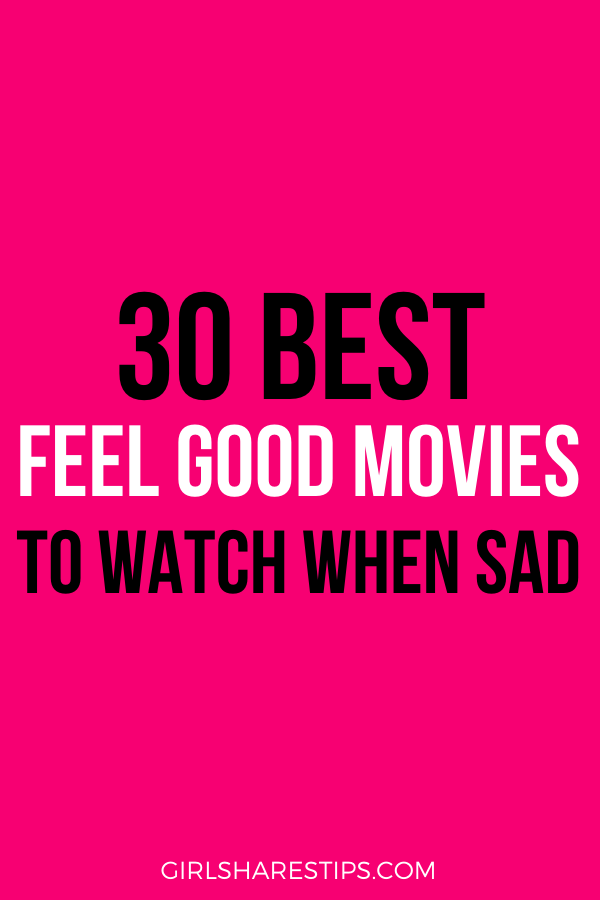 This post was all about feel good movies to watch when sad.
About The Author
Tracy is an experienced personal stylist, shopping expert, and fashion & lifestyle blogger. She has been featured on Time Magazine, Bustle, Best Life, Glam, The Zoe Report, Mic, and GOBankingRates, for her insights on fashion, beauty, home decor, and lifestyle. Read More