Dare to be bold and alluring this Halloween? Explore our selection of sexy Halloween costumes for women that will leave everyone breathless. From classic Halloween costumes to group Halloween costumes for best friends or groups, we have it all!
Halloween is just around the corner, and it's time to unleash your inner seductress!
Whether you want to channel your favorite movie character or bring out your wild side with a daring costume, we've got you covered.
In this article, we have curated a list of 60 sexy Halloween costumes that are sure to turn heads at any party.
From sultry vampires to fierce superheroes and everything in between, these outfits will help you embrace your sensuality while celebrating the spookiest night of the year.
So get ready to make a statement and leave a lasting impression with these jaw-dropping ensembles!
This post is all about sexy Halloween costumes for women.
Classic Sexy Costumes for Women
Beauty And The Beast
When it comes to iconic Disney princesses, Beauty from Beauty and the Beast definitely stands out.
Her timeless beauty, both inside and out, has captivated audiences for years.
This Halloween, why not channel your inner Belle and bring her enchanting charm to life with a sexy twist?
You can opt for a traditional yellow ballgown style dress or embrace the modern interpretation by choosing an off-the-shoulder corset design with ruffled details.
Complete the look with gold accessories and classic red rose accents in your hair or as jewelry.
Black Angel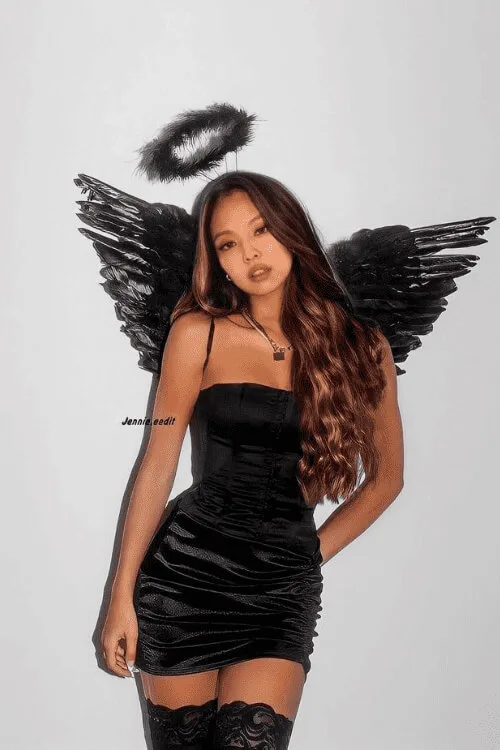 @kimjennie.eedit
One of the most alluring and captivating Halloween costumes for women is the Black Angel.
This dark and mysterious ensemble combines elements of elegance, seduction, and a touch of danger.
With its sleek black wings, form-fitting corset, and flowing skirt, this costume is perfect for those seeking to exude confidence and power at any Halloween party.
Whether you choose to go for a more traditional angelic look or add a twist with some sexy accessories like thigh-high boots or fishnet stockings, the Black Angel costume is sure to turn heads wherever you go.
School Girl
@serrafinaca
One of the most popular choices for Halloween costumes among women is the classic school girl look.
There's something undeniably alluring about stepping into the role of a naughty student, complete with a short plaid skirt, knee-high socks, and a white button-down shirt tied at the waist.
It's a costume that allows women to tap into their playful side and embrace their youthful energy.
Cruella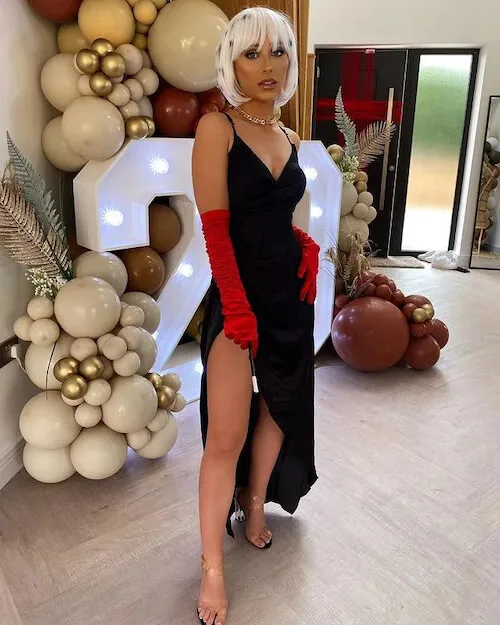 @abigailprior_
Cruella de Vil, the iconic Disney villainess from 101 Dalmatians, has long been a Halloween favorite among women who want to embrace their inner badass.
With her striking black and white hair, red lips that ooze confidence, and bold fashion choices, Cruella is the epitome of sexy and powerful.
And let's not forget her signature cigarette holder that adds an extra touch of mystery and allure.
Whether it's embracing your wild side or flaunting your wicked sense of humor, Cruella offers an invitation for women to step outside of their comfort zone in style this Halloween season.
Clown
@lindseybibik
Clowns have long been a staple of Halloween costumes, but forget about the traditional circus clown.
This year, it's all about bringing sexy and sultry vibes to this classic character.
Channel your inner mischief-maker with a twist by choosing a clown costume that enhances your curves and showcases your confidence.
So grab your wig, don your best smile, and get ready to paint the town red – because tonight's festivities are guaranteed to be anything but ordinary!
Clueless
@karischarlotte
One iconic and undeniably sexy Halloween costume for women is Cher from the cult classic movie Clueless.
With its unforgettable outfits and quotable lines, Clueless not only remains a beloved film but also serves as a timeless source of inspiration for Halloween costumes.
Slip into a plaid two-piece set with knee-high socks, pair it with some trendy heels, and you can also add oversized sunglasses to complete the epitome of '90s fashion.
Prince
@oliviachatfield
Queen of Hearts
@jordanmathiss
The Queen of Hearts is a classic and sexy Halloween costume choice for women who want to exude power and elegance.
Inspired by the iconic character from Lewis Carroll's Alice's Adventures in Wonderland, this costume allows you to embrace your inner regal diva.
The Queen of Hearts costume typically features a fitted corset-style dress that accentuates your curves, paired with a voluminous skirt adorned with heart motifs.
Add a crown or tiara, complete with the signature playing card design, to instantly transform into this royal character.
Angels
@49.al
@lydiakarax
The great thing about angel costumes is their versatility – you can go for a classic look with a floor-length white gown or opt for something more daring like a plunging neckline, mini skirt, or thigh-high slit.
Pair it with dramatic makeup, intricate lace gloves, and shimmery wings for added glamour.
Red Riding Hood
A modern interpretation of this enchanting character often involves a form-fitting dress that accentuates every curve, paired with a daring thigh-high slit that tantalizingly reveals just enough skin.
The addition of a hooded cape adds an air of mystery and intrigue to the ensemble.
Witch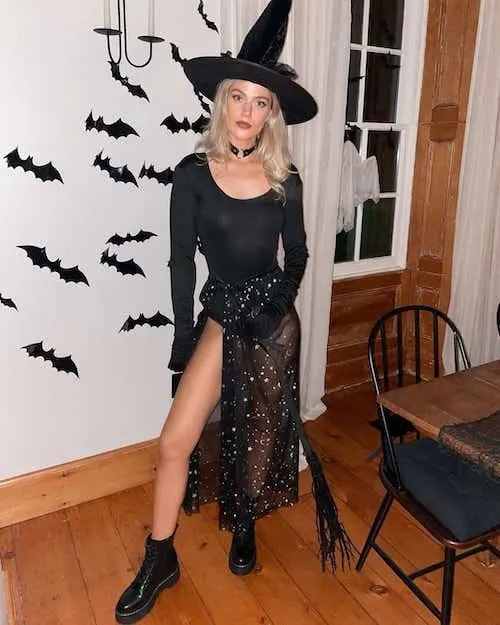 With her dark allure and mysterious powers, the witch is an iconic symbol of both fear and feminine power.
From her pointy hat to her swirling cape, every detail of a witch costume exudes a seductive charm that captivates both men and women alike.
Carrie
@sophiabbirlem
Carrie has become a popular choice for Halloween costumes.
This classic horror character is instantly recognizable with her blood-stained prom dress and intense gaze.
Dressing up as Carrie allows women to tap into their darker side and embody the power of revenge.
The allure of the Carrie costume lies in its ability to make a bold statement while still being undeniably sexy.
Whether you choose to go all out with fake blood and disheveled hair or opt for a more subtle interpretation, dressing up as Carrie is sure to leave an unforgettable impression at any Halloween party.
Poison Ivy
@karischarlotte
For those looking to unleash their inner seductress this Halloween, the perfect choice is Poison Ivy.
This iconic character from the Batman universe exudes confidence, allure, and a hint of danger.
With her vibrant red hair, green outfit adorned with leaves and vines, and her ability to control plant life, Poison Ivy represents both beauty and power.
Cheetah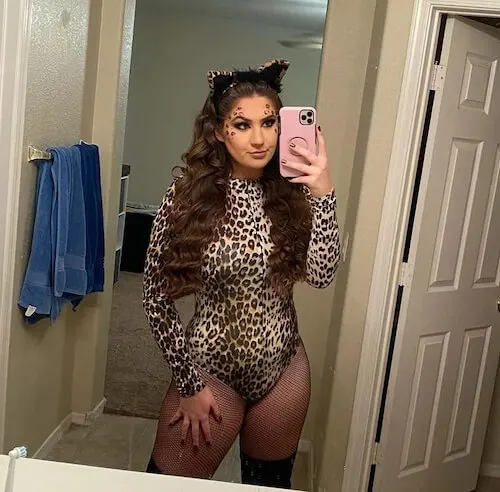 @dancendivaala
When it comes to sexy Halloween costumes, the cheetah always prowls its way to the top of the list.
With its sleek and agile body, this big cat embodies strength and sensuality like no other.
Dressed in a cheetah costume, you're guaranteed to turn heads wherever you go.
Barbie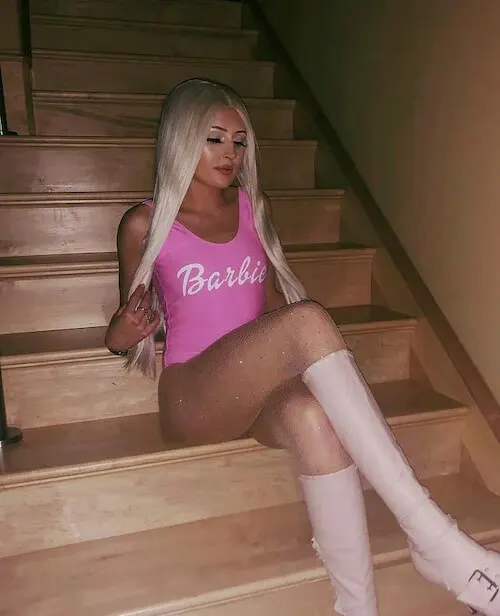 @limitless_trainings
Sexy Barbie Halloween costumes have become a popular choice for women who want to tap into their inner fashion icon.
With their form-fitting dresses or swimsuit, sky-high heels, and perfectly coiffed hair, these costumes channel the glamorous and glamorous side of Barbie.
Harley Quinn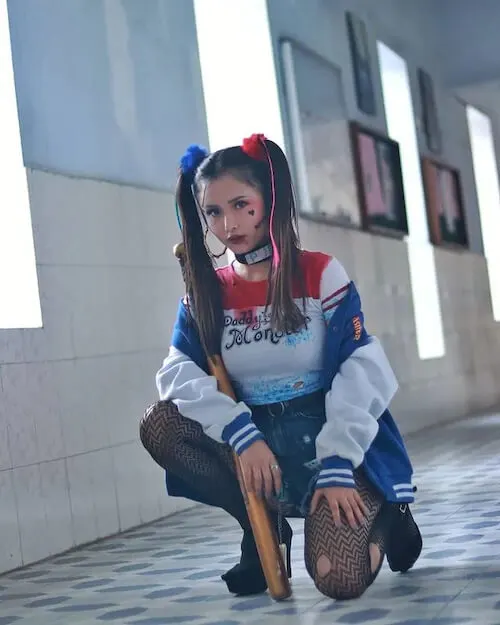 @choiden._
Whether you choose to dress up as classic Harley Quinn or put your own spin on the character with unique accessories or makeup choices, embodying this mischievous vixen is sure to turn heads at any Halloween party.
Nurse
@courtneykuhnel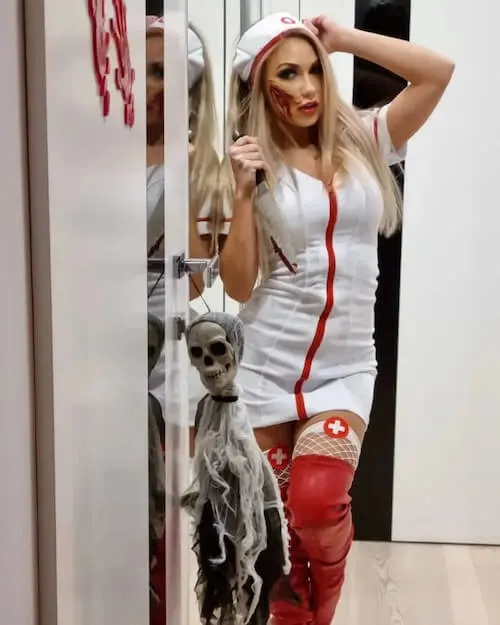 @malenkaaga
With its combination of elegance and allure, the sexy nurse costume allows women to embrace their inner seductress while still maintaining a sense of sophistication.
Cupid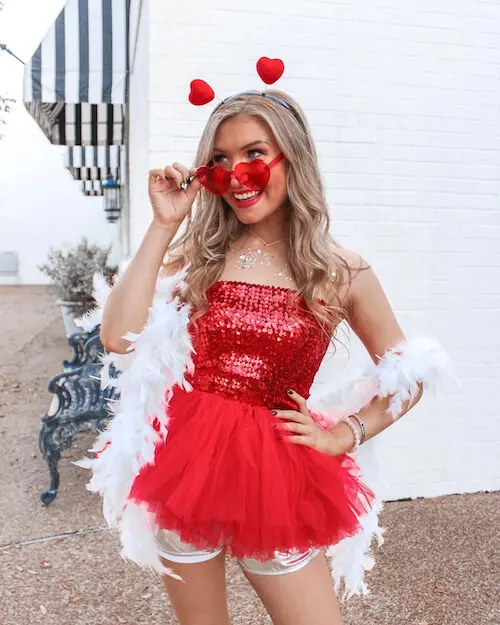 @thelaurennorris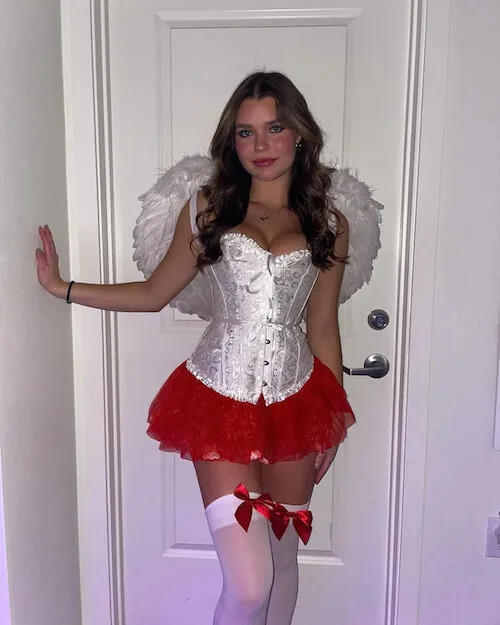 @trynityscott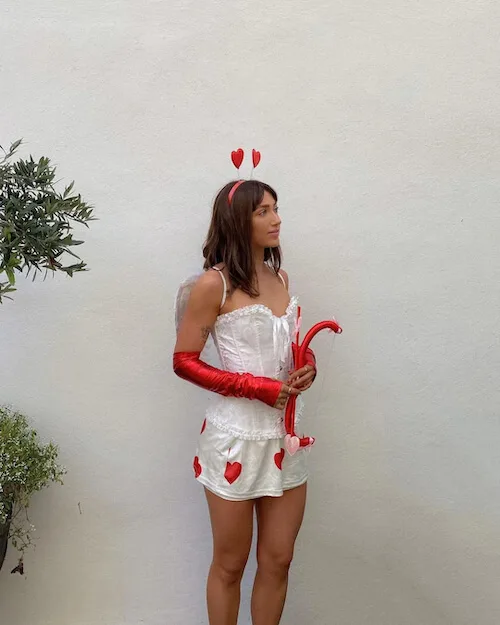 @chasewodtke
If you're looking to harness the power of love this Halloween, why not channel your inner Cupid?
Whether you opt for a traditional interpretation with fluffy wings and a golden halo or take a modern approach with a sultry twist, dressing up as Cupid adds a touch of whismsy and charm!
Winx Fairy Costume
@actuallyadrienne
The Winx Fairy costume is a perfect choice for women who want to embrace their playful and whimsical side this Halloween.
With its vibrant colors, delicate wings, and form-fitting design, this costume is both feminine and alluring.
Velma
@sincerely_mels
Velma is the epitome of brains and beauty, making her the perfect choice for a sexy Halloween costume.
She may not be the first character that comes to mind when you think of sultry costumes, but don't underestimate this smart and sassy redhead.
With her signature orange turtleneck and thick-rimmed glasses, Velma's nerdy-chic look exudes a unique charm that is both alluring and sophisticated.
Roaring Twenties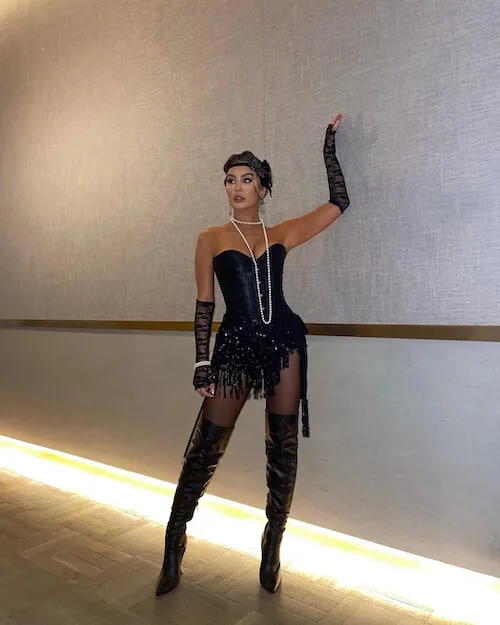 @emmamilton
Sparkle in sequined dresses, shimmy in feathered headbands, and dance until dawn at all your Halloween parties like a true Gatsby girl!
Air Hostess
@chasewodtke
The air hostess costume has long been a staple choice for women looking to turn heads on Halloween night.
With its sleek and sexy design, it's no wonder that this ensemble remains a popular choice year after year.
Pirate
@kailaregann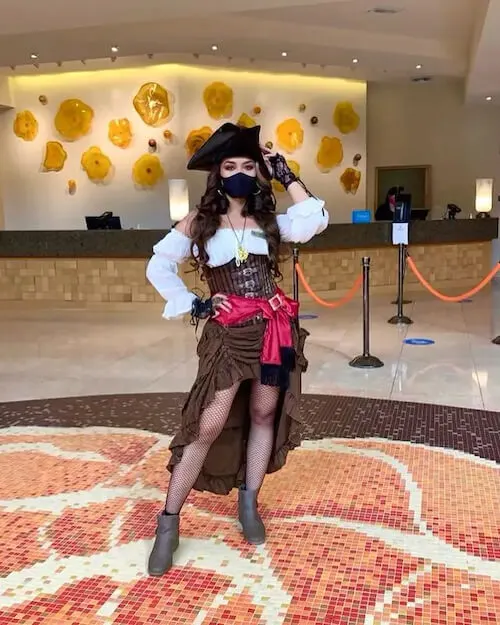 @ninaguerra_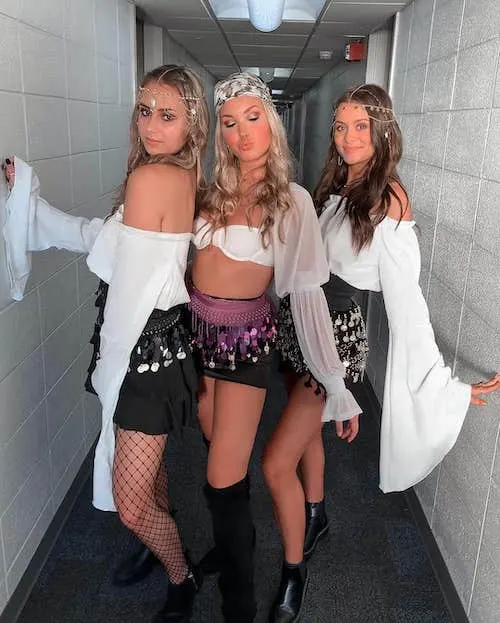 This year, let's take our pirate costume game to the next level. Instead of opting for the typical buccaneer look, why not go for something more daring and sexy
Think lace-up corsets that enhance your curves, thigh-high boots that command attention, and off-the-shoulder blouses that show just the right amount of skin.
A sexy pirate costume allows you to channel both strength and sensuality while still embodying the spirit of adventure.
Lola Bunny
@justina.sadecki
When it comes to dressing up as Lola Bunny for Halloween, there's no limit to creativity.
You can sport her classic basketball outfit with a touch of feminine allure, or go all out with a sultry bunny costume that captures her seductive charm.
Whatever you choose, embodying Lola Bunny's essence allows you to embrace your own sensuality while paying homage to this fearless character.
Red Evil
@_liv.molyneux
One popular and attention-grabbing Halloween costume choice for women is the seductive Red Evil costume.
This bold ensemble combines elements of danger, power, and allure to create a captivating look that will turn heads at any Halloween party or event.
The striking red color symbolizes passion and dominance, while the devilish details add an element of mystery and intrigue.
Lara Croft
@kasiaczerwinska
One of the most iconic and empowering video game characters of all time, Lara Croft has captivated gamers and moviegoers for decades.
With her adventurous spirit, intelligence, and stunning looks, it's no wonder that dressing up as Lara Croft for Halloween is always a popular choice.
So this Halloween season, why not pay tribute to an icon who has inspired generations of gamers?
Minnie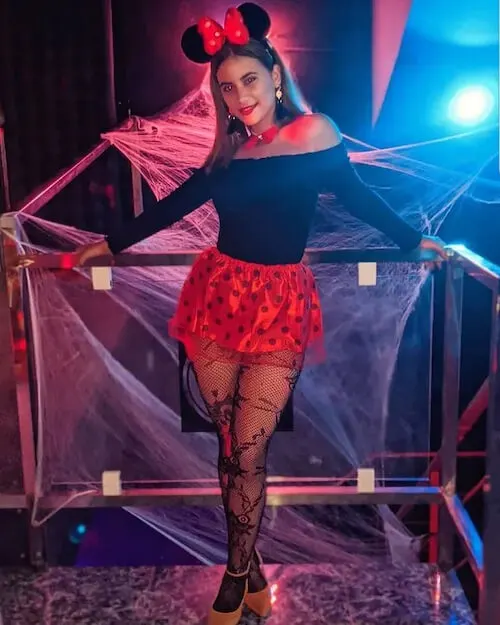 @tobelore
When it comes to sexy Halloween costumes, Minnie Mouse is a classic and timeless choice.
The iconic red and white polka dot dress paired with those adorable mouse ears instantly transforms any woman into the playful and flirty character we all know and love.
One way to make your Minnie costume extra sexy is by opting for a shorter dress that shows off your legs.
Pair it with some black stockings or fishnet tights to add an extra touch of allure.
Another option is to choose a form-fitting dress that accentuates your curves, making you feel confident and sultry.
Adding some high heels in either black or red will also give you that extra boost of sexiness while highlighting your leg length.
Harry Potter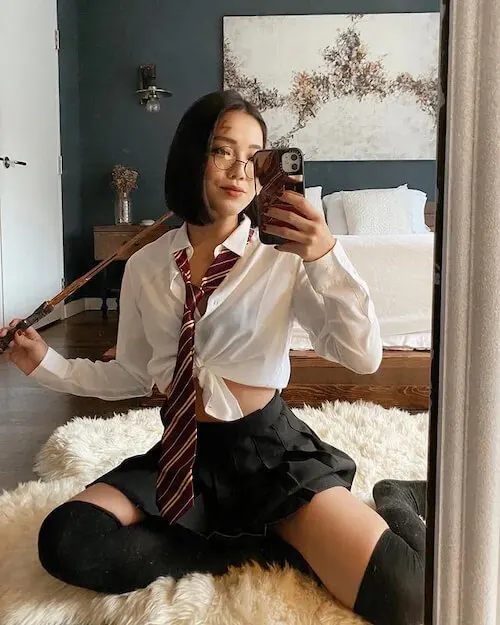 @arina.yoga
Whether you're a Gryffindor, a Slytherin, or any other Hogwarts house, there's no denying the allure of dressing up like a witch or wizard from J.K. Rowling's magical series.
Medusa
@lilybroncati
One Halloween costume that never fails to turn heads is the seductive Medusa ensemble.
An embodiment of both beauty and danger, dressing up as this mythical Gorgon can unleash your inner femme fatale.
Bunny
@ezgifindik
@penelopechloe
@natalia.fonte
When it comes to sexy Halloween costumes for women, the bunny outfit is a classic choice that never fails to turn heads.
Whether you go for a traditional Playboy-inspired look or put your own spin on it, the bunny costume exudes both innocence and seduction.
Jessica Rabbit
@blancaplz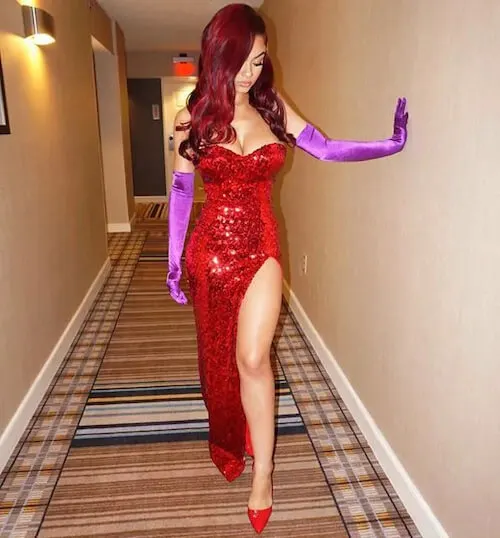 When it comes to sexy Halloween costumes, one classic character that never fails to make an impact is Jessica Rabbit.
This sultry redhead from the 1988 film, Who Framed Roger Rabbit, has been a symbol of seduction for years.
Dressed in her form-fitting red sequined gown and with her hourglass figure, Jessica Rabbit embodies confidence and allure.
Fairy
@katelyndewitt_
@lydiakarax
Few costumes embody the ethereal allure as effectively as the fairy costume.
With delicate wings, flowing dresses, and a touch of enchantment, it's no wonder that this fantasy-inspired outfit remains a staple for Halloween festivities.
Channel your inner woodland sprite or choose a darker, more mysterious fairy look to captivate everyone around you.
Creative Halloween Costumes For Women
Mia From Princess Diaries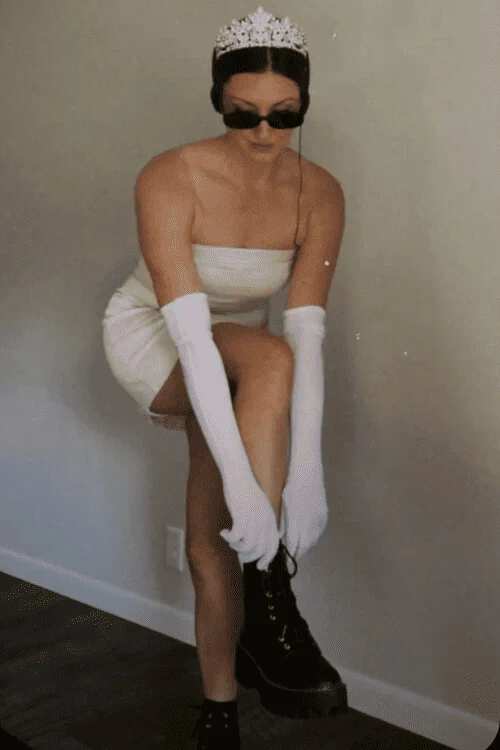 Mia Thermopolis, played by the ultra-talented Anne Hathaway in the Princess Diaries series, captured our hearts with her quirky and endearing personality.
While she may not be the first character that comes to mind when thinking about sexy Halloween costumes, Mia's transformation from frizzy-haired teenager to confident princess is a powerful narrative that makes for an unexpected and captivating costume choice.
Astronaut
@nicolettesauchelli
The Astronaut costume is a perfect choice for embracing both your sexy and adventurous sides this Halloween.
It taps into our fascination with space travel and the unknown, while also allowing you to show off your out-of-this-world curves.
The iconic white jumpsuit hugs your body in all the right places, highlighting your figure and giving you an air of confidence as you explore new frontiers at that Halloween party.
Whether it's through celestial patterns on the jumpsuit or dazzling accessories like helmets or rocket ship purses, there are endless opportunities to make your Astronaut ensemble stand out from the crowd.
Play around with makeup by incorporating glittery stars or silver accents to give yourself an otherworldly glow.
Pair it with sleek silver boots or heels that will elongate your legs and add a touch of futuristic flair to complete the look.
Plastic Surgery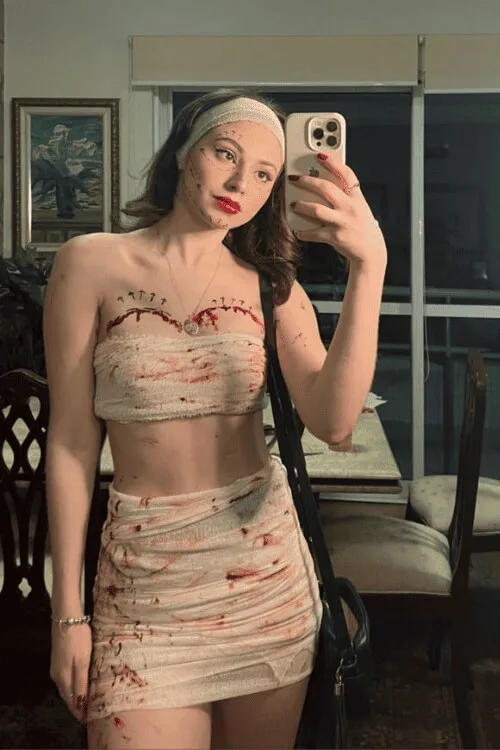 @giugicasagrande
Have you ever considered dressing up as a plastic surgery patient for Halloween?
While it may seem shocking at first, this unique costume choice can actually be quite fascinating.
The key to pulling off this costume is in the details.
Add some bandages strategically placed around your face and body, emphasizing areas commonly associated with cosmetic procedures.
Use makeup techniques like contouring and highlighting to mimic surgical enhancements such as nose jobs or cheek implants.
You can even incorporate fake medical records or consent forms into your outfit to further enhance the authenticity of your character.
Niobe From The Matrix
@chloebailey
Niobe from The Matrix is a character that exudes confidence, strength, and sexiness.
Played by the talented Jada Pinkett Smith, Niobe stands out as a symbol of female empowerment in the sci-fi franchise.
Her sleek black leather outfit and edgy hairstyle make for an incredibly sexy Halloween costume choice.
Sherlock Holmes
@julianarmah
If you're looking to add an air of mystery and intellect to your costume this year, why not channel your inner Sherlock Holmes?
The iconic detective, created by Sir Arthur Conan Doyle, has captivated readers for over a century with his sharp mind and a keen eye for detail.
Dressed in a classic deerstalker hat and a long coat or a cute dress, Sherlock Holmes epitomizes sophistication and intrigue.
Buzz Lightyear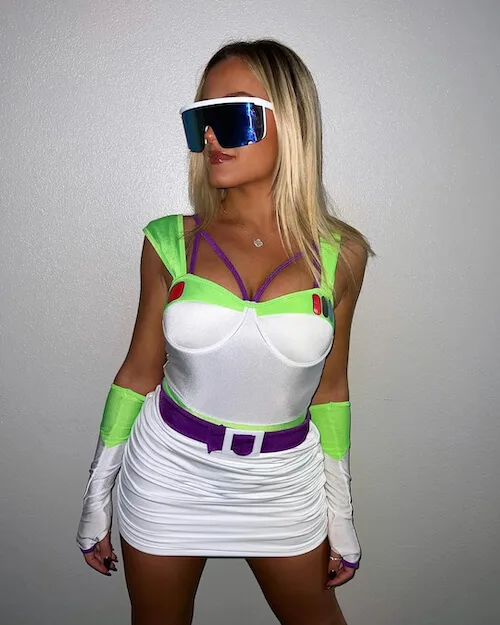 @alesspatane
Buzz Lightyear, the iconic space ranger from Pixar's Toy Story franchise, has become a beloved character for both kids and adults alike.
And who can resist the allure of donning his futuristic suit for a sexy Halloween costume?
While dressing up as Buzz Lightyear may seem unconventional, it's an ingenious choice that combines nostalgia with a touch of seductiveness.
So why not unleash your inner Space Commando this Halloween?
Step out in style as Buzz Lightyear; after all, to infinity –and beyond– is where self-expression truly begins!
Mia Wallace
@blanka_duczkowska
Mia Wallace, the iconic character from Quentin Tarantino's film Pulp Fiction, has become a timeless symbol of style, sophistication, and allure.
With her sleek black bob, red lips, and edgy fashion choices, Mia embodies the perfect mix of sexiness and mystery.
By donning her signature white shirt with black shorts or trousers paired with a simple black coat, you can step into the shoes of this enigmatic heroine.
Warcore
@georgiaharbridge
This emerging style blends elements of military-inspired clothing with a dark and futuristic twist, creating a fierce and powerful look that is sure to turn heads.
Firefighters
@heidisnipes
So this Halloween, instead of going for the usual sexy nurse or sexy cat costume, consider honoring our real-life heroes by becoming one yourself.
Fortune Teller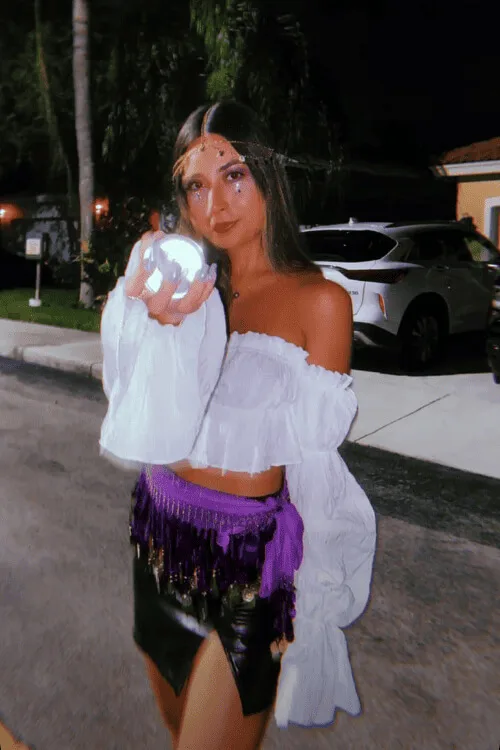 @kayla_sossi
The fortune teller costume is a perfect choice for Halloween if you want to tap into your mysterious side and unleash your inner psychic.
With its ethereal allure and enchanting aesthetic, this costume is sure to captivate all those who encounter it.
The cute skirts, velvet cloaks, and crystal ball accessories create an air of mystique that is hard to resist.
Mortal Kombat
@gabyquintero17
@alena_galan1869
Known for its intense fighting action and diverse cast of characters, Mortal Kombat offers a range of options for women to showcase their fierce side on Halloween night.
Whether you want to embrace your inner warrior as Princess Kitana or step into the boots of the ruthless Mileena, Mortal Kombat costumes allow you to embody these powerful female fighters.
The sleek and form-fitting design of these outfits adds a splash of sensuality while maintaining the essence of strength and confidence.
Loki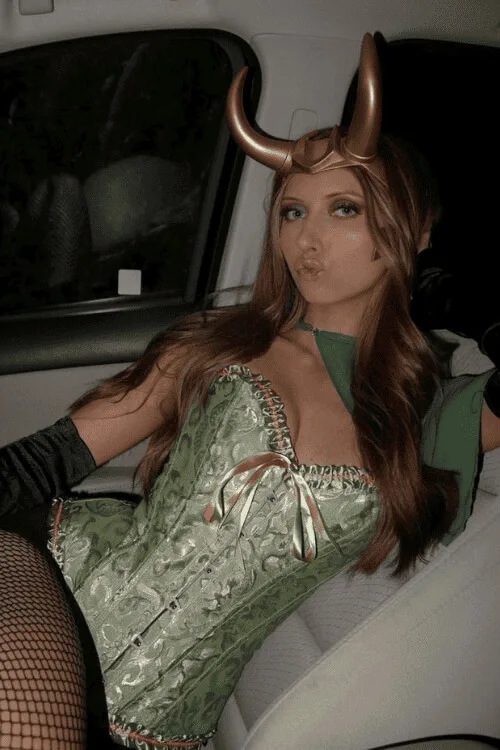 @kemkin
Loki, the God of Mischief and Trickery from Norse mythology, has become an icon for both comic book fans and Halloween enthusiasts alike.
With his cunning mind, charming smirk, and dark aesthetic, it's no wonder that women are drawn to the allure of dressing up as Loki for Halloween.
Elle Woods Pink Bunny
@emilyless.com
Elle Woods, the iconic character from the movie Legally Blonde, has inspired women around the world with her bubbly personality and determination.
One of her most memorable looks is undoubtedly her pink bunny costume.
This Halloween, why not channel your inner Elle Woods and rock this sexy yet playful ensemble?
The pink bunny costume allows you to embrace your feminine side while keeping it fun and flirty.
With its soft, plush fabric and adorable bunny ears, you'll instantly feel like the life of the party.
Luigi
@lo.lovallo
Just when you thought the Mario Brothers couldn't get any sexier, Luigi comes on the scene to steal your heart!
While Mario tends to hog the spotlight with his iconic red hat and mustache, Luigi brings a whole new level of charm and allure.
Pink Cowgirl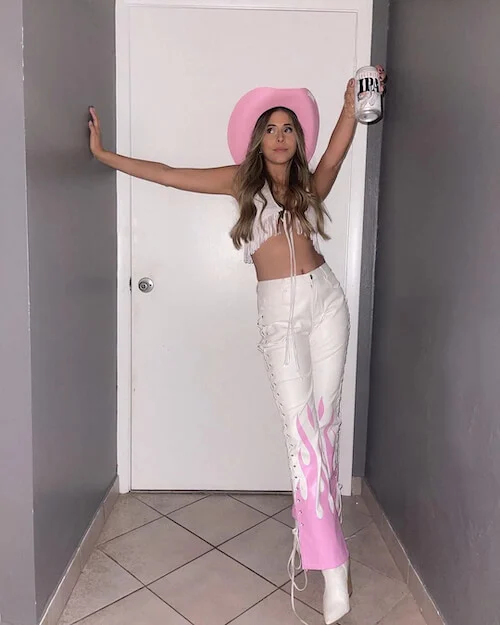 @danniponce
Channeling the spirit of the Wild West, this costume is all about embracing femininity with a dash of ruggedness.
With its tight-fitting denim shorts or flared pants hugging those killer curves and a plaid shirt tied at the waist, the cowgirl look offers a perfect balance between sensuality and toughness.
Mulan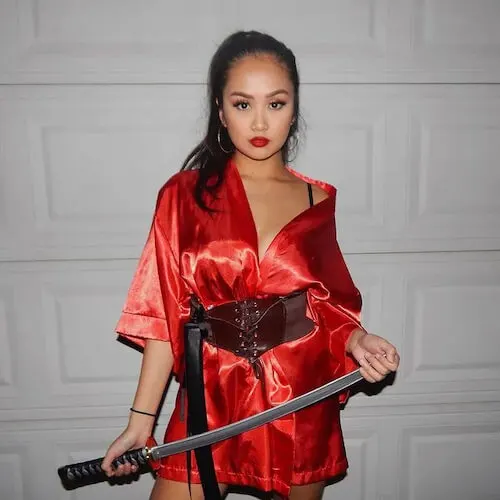 @jessicacabanos
When it comes to sexy Halloween costumes for women, why not draw inspiration from a powerful and iconic female character like Mulan?
The elegance of a Mulan costume lies in its balance between gracefulness and fierceness – a delicate silk dress combined with armor-like accessories make for an exciting contrast.
Group Halloween Costumes For Best Friends
Mummies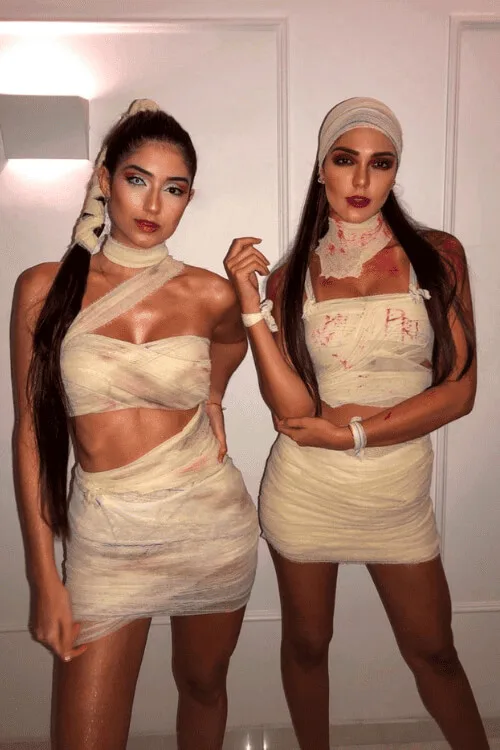 @marinalevya
Mummies may not be the first thing that comes to mind when thinking about sexy Halloween costumes, but they can actually be a surprisingly alluring and mysterious choice.
The allure of mummies lies in their air of ancient mystique and exoticism.
Wrapped in bandages, with only glimpses of skin visible, mummy costumes create an enticing sense of intrigue.
Racecar Drivers
@courtney_best
This Halloween, why not channel your inner speed demon by dressing up as a racecar driver?
Show off your fearless spirit by donning a fireproof jumpsuit paired with sexy racing boots or high heels.
Accessorize with driving gloves for that extra touch of authenticity.
Group of White Angels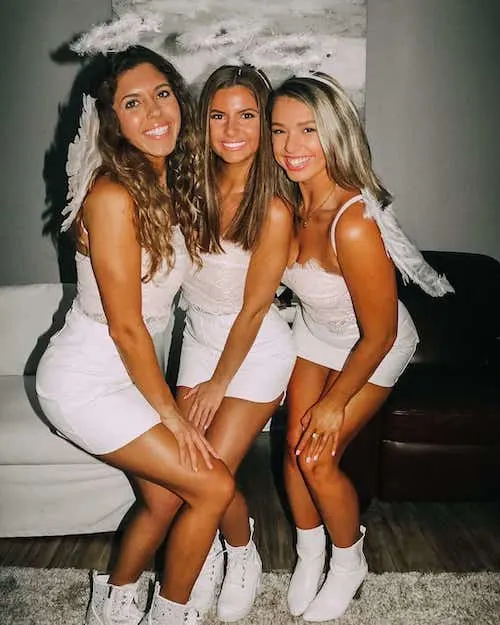 Each angel can bring their unique touch by incorporating different accessories or props, such as feathered wings or halo headbands adorned with rhinestones.
This post was all about sexy Halloween costumes for women.
About The Author
Tracy is an experienced personal stylist, shopping expert, and fashion & lifestyle blogger. She has been featured on Time Magazine, Bustle, Best Life, Glam, The Zoe Report, Mic, and GOBankingRates, for her insights on fashion, beauty, home decor, and lifestyle. Read More
Related Posts: