Looking for classy modern cowgirl outfits to copy? Check this post for the expert style tips and the 70+ best cowgirl outfit ideas from with links for any season and any occasion, including casual summer outfits, wedding outfits, themed party outfits, and more.
In the fashion world, the cowgirl style and the country style fashion are more and more popular among fashion lovers and brands, and you can see celebrities and fashion blogs showing their passion for different cowgirl styles.
Its freedom and whimsy are very in line with the current popular neutral style. When women wear cowgirl style clothing, whether it is for a wedding, party, gathering, photoshoot, vacation or daily wear, they can embrace the wild colors of cowgirl style and sexy femininity to produce a charming and fashionable effect.
If you are looking for classy modern cowgirl outfits, you've come to the right place.
In today's article, I am sharing with you quick tips on how to dress like a cowgirl in different kinds of ways, and the 70+ best cowgirl outfits from our favorite online fashion stores for you to copy and shop directly.
So scroll down to check these cute cowgirl outfit ideas in different styles, and don't hesitate to pin what you like to your Pinterest board, and share them on social media sites.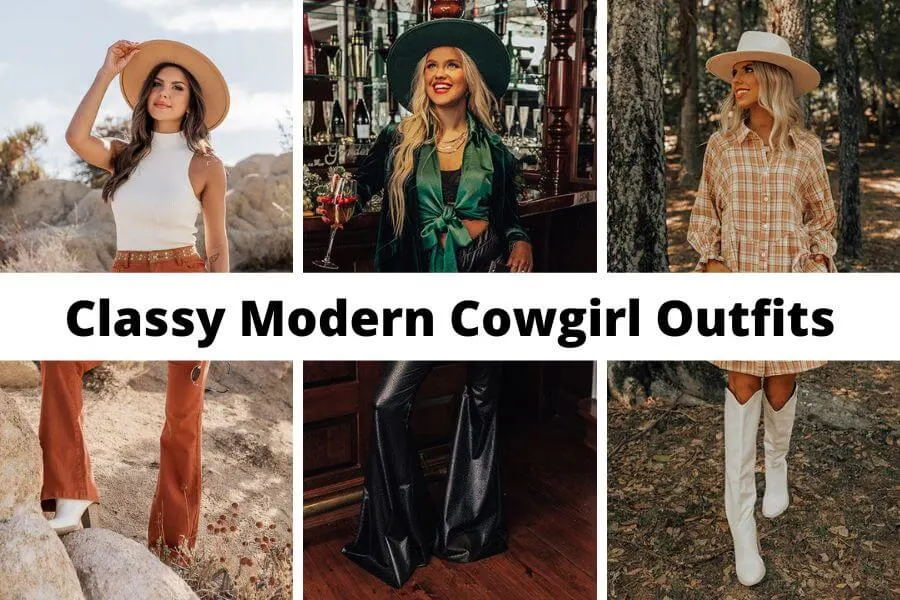 This post may contain affiliate links, which means I'll receive a commission if you purchase through my link, at no extra cost to you. Please read the full disclosure here.
This post is all about classy modern cowgirl outfits.
How To Dress Like A Cowgirl In A Modern Classy Way
Mix brown, denim blue, white, plaids, and animal prints.
These colors and patterns are a cowgirl's go-to color and can quickly give you a cowboy-inspired vibe.
But be careful not to have more than three colors or patterns in your outfit, which can make you look more classy and avoid being too tacky.
Own a pair of stylish cowboy boots.
Black, brown and white are the most popular cowboy boot colors. You can choose tall cowboy boots or short cowboy boots according to your preference.
In addition, you can also boldly choose some special color cowboy boots, such as gold, silver, hot red western style boots, to add a pop of color to your outfit for a new look.
Embrace western-style accessories.
Add cowgirl staples including chunky necklaces, wide black leather belt, cowboy hat, a nice handbag, to your collection to bring your cowgirl style to the next level.
Appropriately add eye-catching decoration
Such as tassels, sequins, etc. to add to your personal touch..
Classy Modern Cowgirl Outfits For Fall And Winter Season
Kick off your fall winter fashion this year with a pair of comfy cowboy boots, and embrace them as part of your everyday wear. Black, brown, and suede cowboy boots are perfect for a cold day classic look.
In early fall, you don't even have to pack up the beautiful dresses for spring and summer, pair them with your darker pieces and your cowboy boots for a trendy transitional casual wear.
Plaid and retro prints are essential fall elements for a country girl. Fall color plaids are especially popular. Layer different shades on top of each other based on the weather condition for a stylish look.
But you can also choose some distinctive colors, such as pink, green check, purple prints, to add a pop of color to your cold months wardrobe.
In colder days, wear black thigh to pair with your cowboy boots, and add thick jean jacket or black or brown leather jacket to keep cozy and cute.
Red Plaid Shirt + Blue Denim Jeans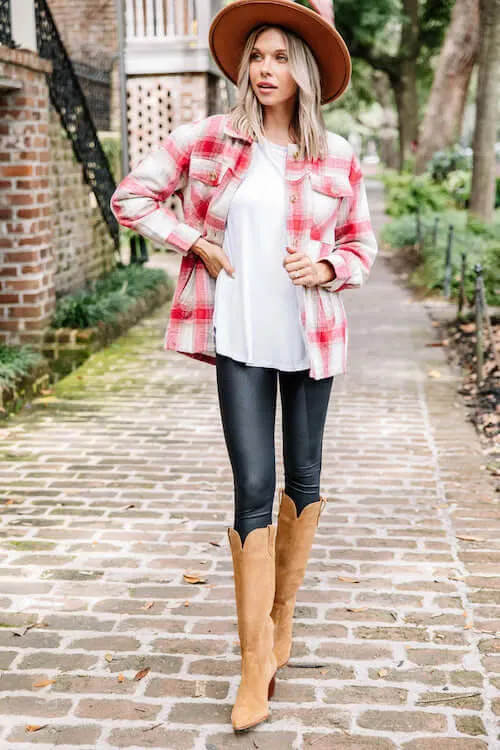 This Is The Day Burgundy Red Mixed Print Dress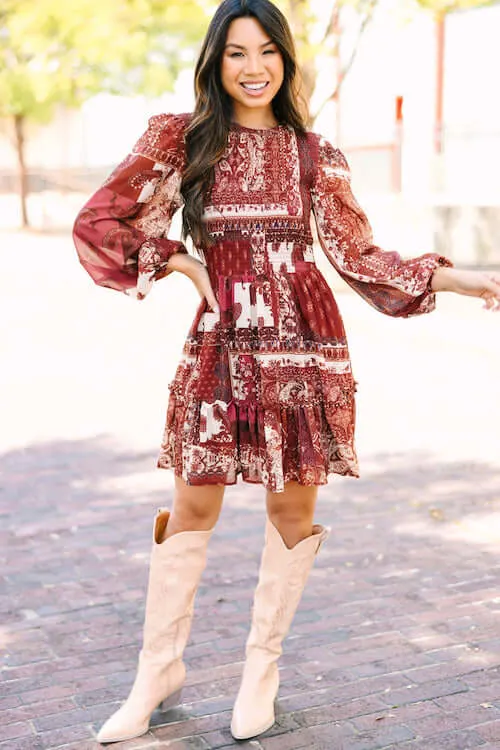 On Time Navy Plaid Pattern Shirt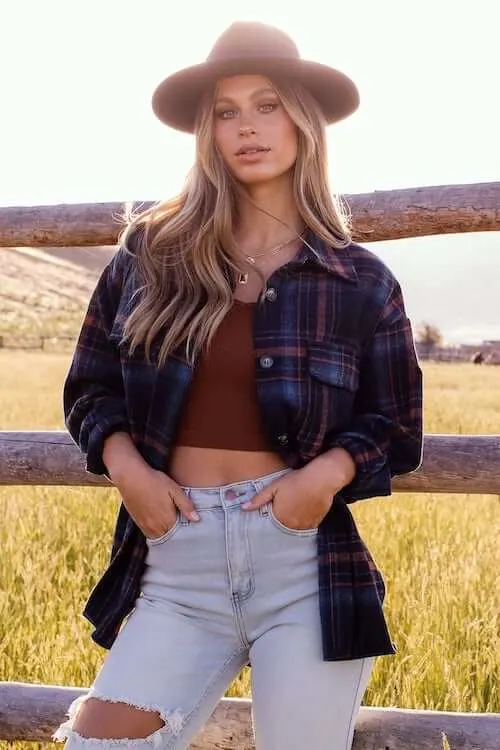 Cream Cable Knit Cowl Neck Sweater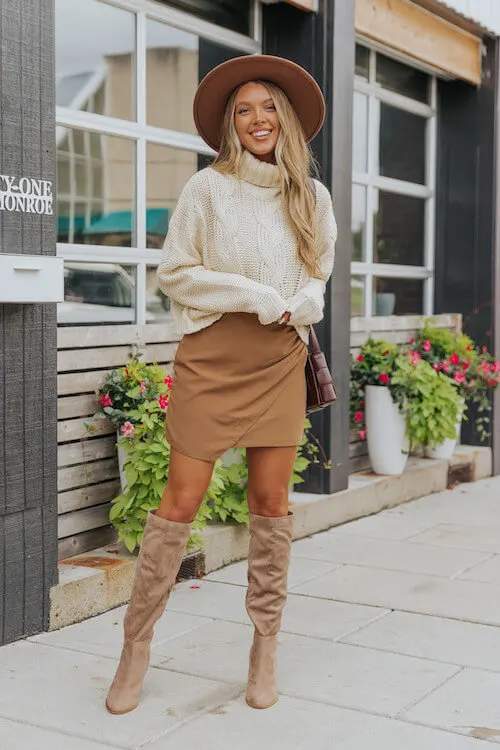 Vintage Black Nashville Triangle Graphic Tee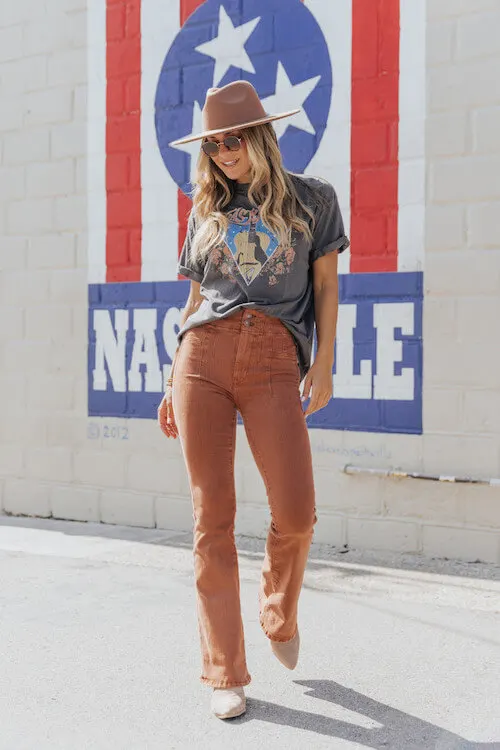 Rust Embroidered Waist Pants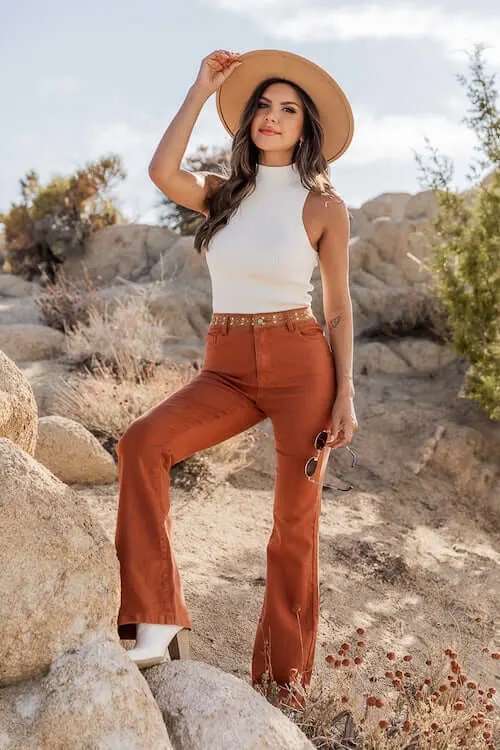 Green Plaid Contrast Denim Top + Black Skinny Jeans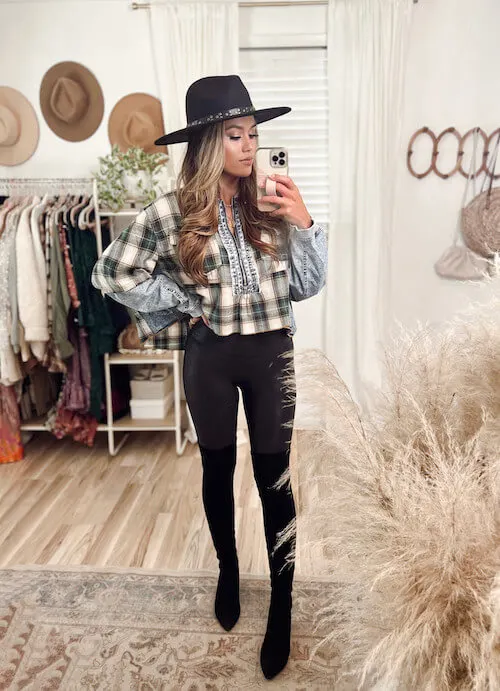 Tularosa Camel Printed Fringe Cardigan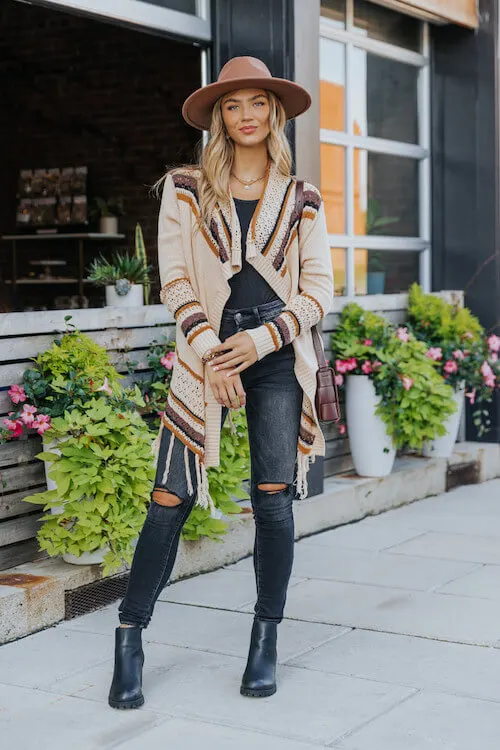 Warm Taupe Flannel Shirt + Nice Handbag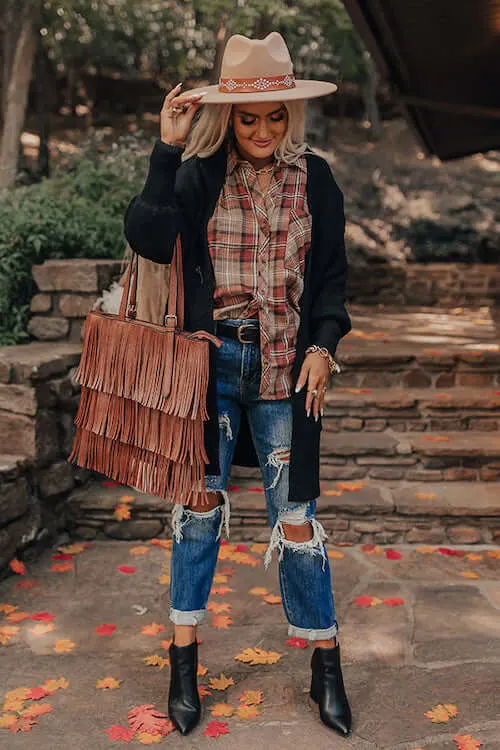 Sweet As Sugar Button Up + Cowboy Boots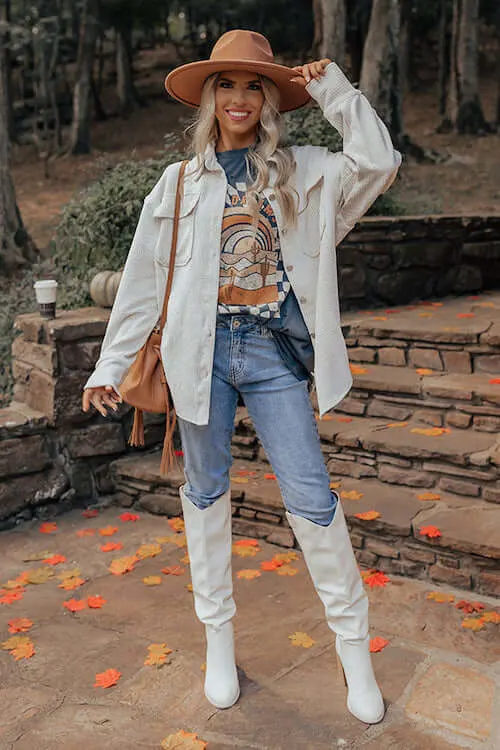 Vermont Strolls Shift Top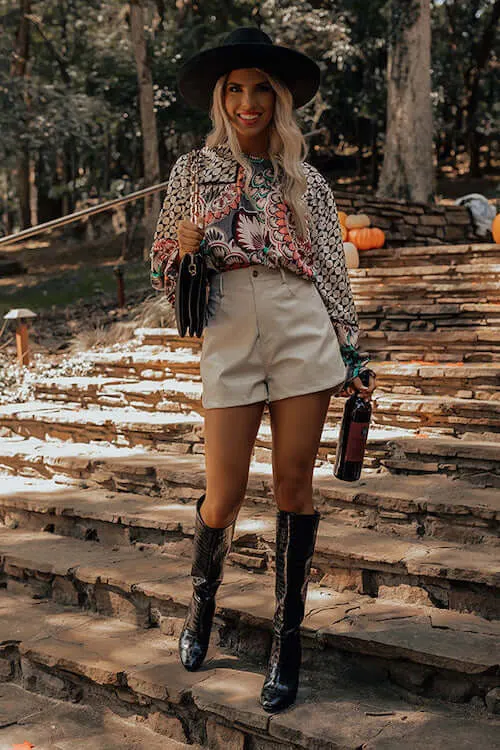 Green Shift Top + Cowgirl Boots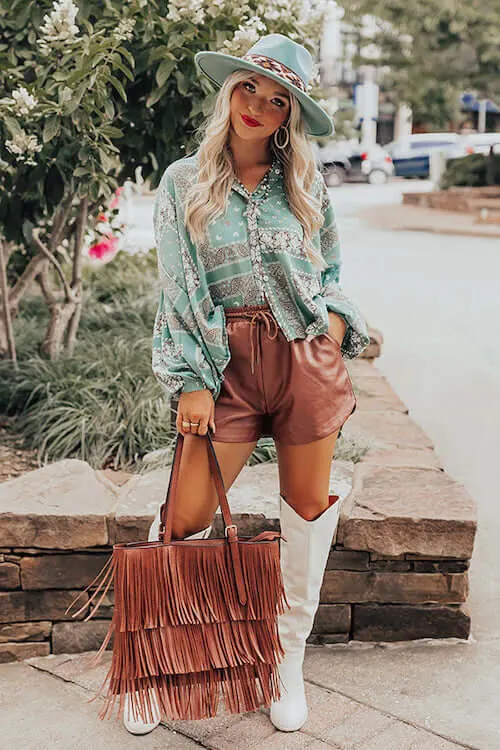 Durango Dress ~ River Blue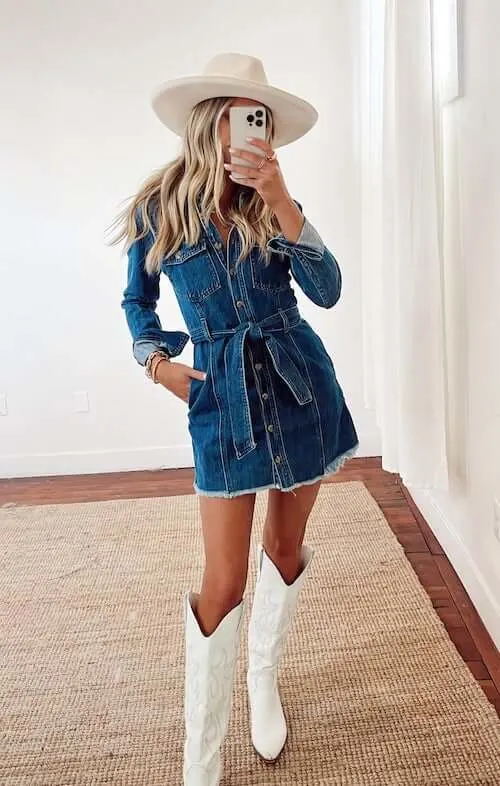 Felt The Chill Plaid Dress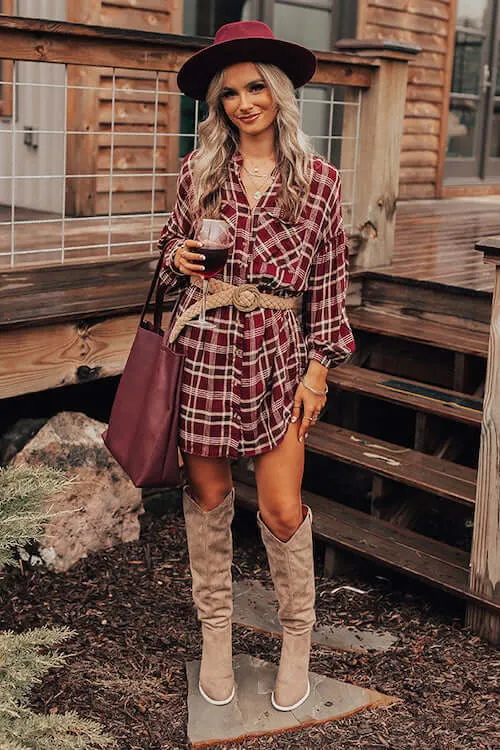 Mini Denim Skirts + White Knee-High Boots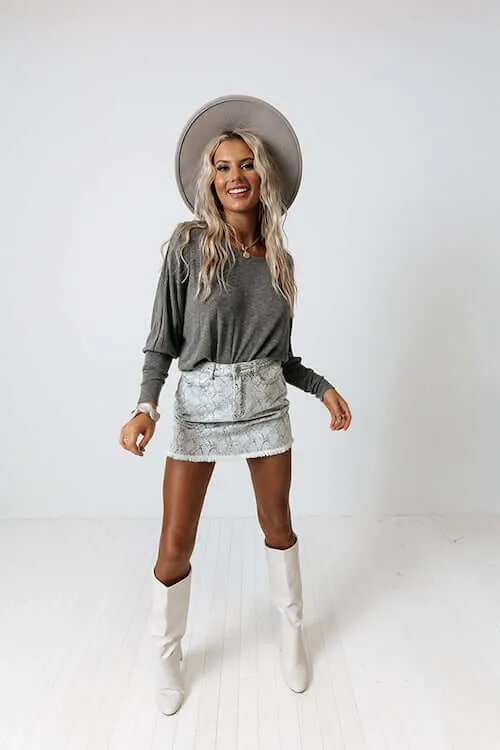 Coziest Home Knit Dress In Black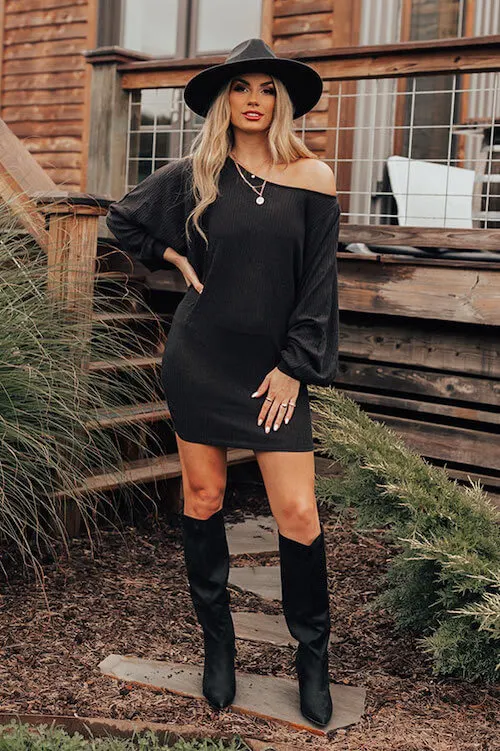 Lattes And Love Flannel Dress In Latte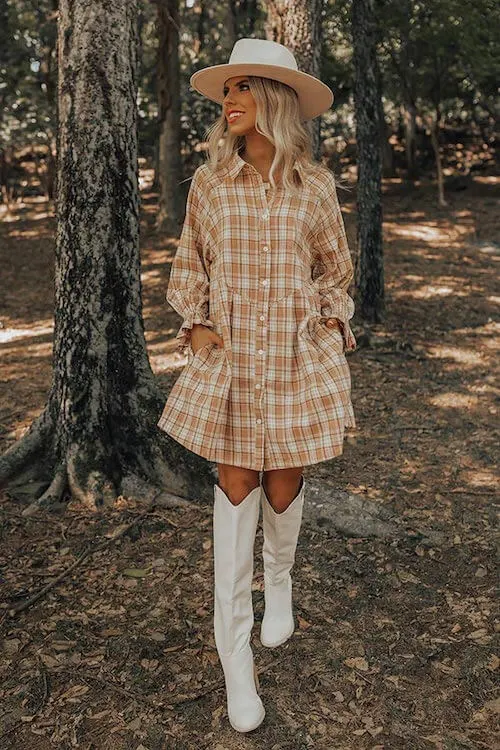 Drawn To The Beach Linen-Blend Button Up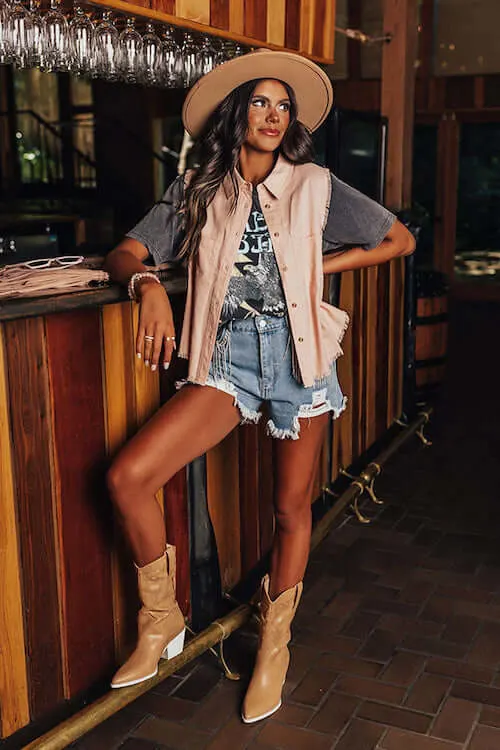 Mystical Dreamer Graphic T-Shirt Dress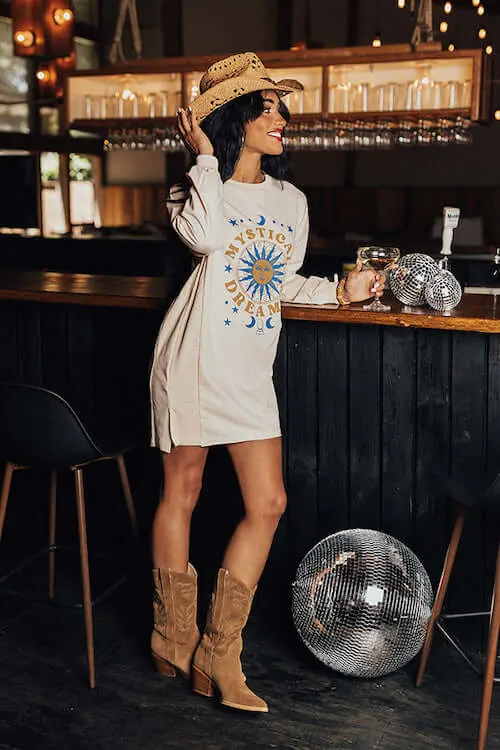 Brown Faux Leather Skirt + Cowboy Hat + Brown / Black Leather Jacket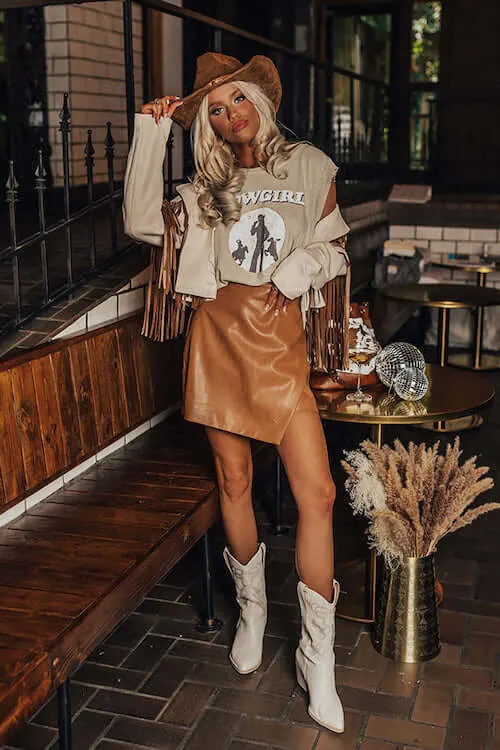 Contrast Lace Flounce Sleeve Black Shirt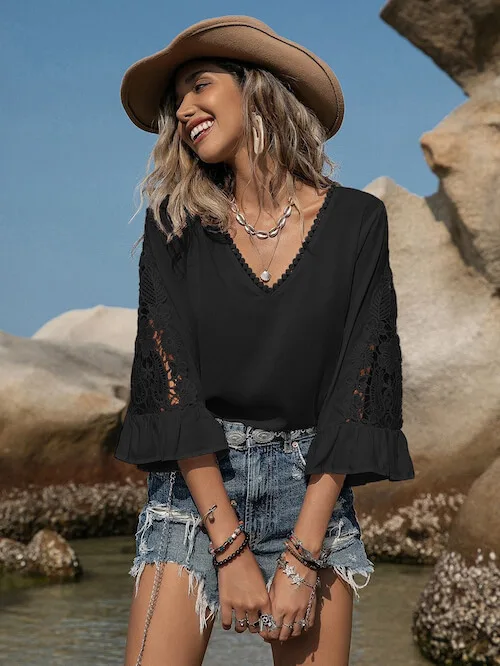 Lantern Sleeve Shirred Back Dalmatian Print Crop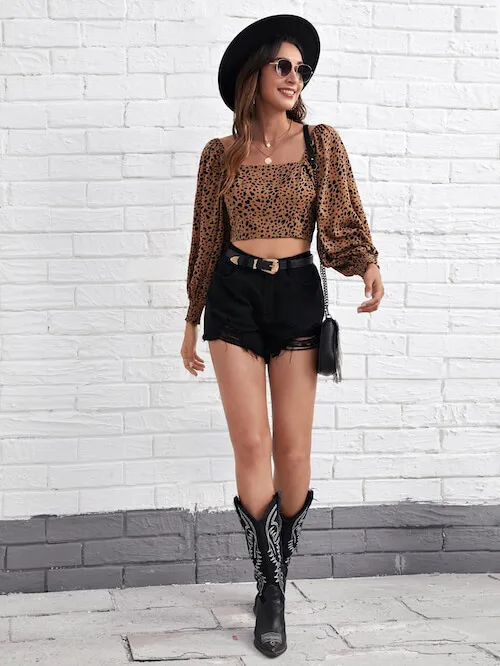 Graphic Embroidery Tie Front Jacket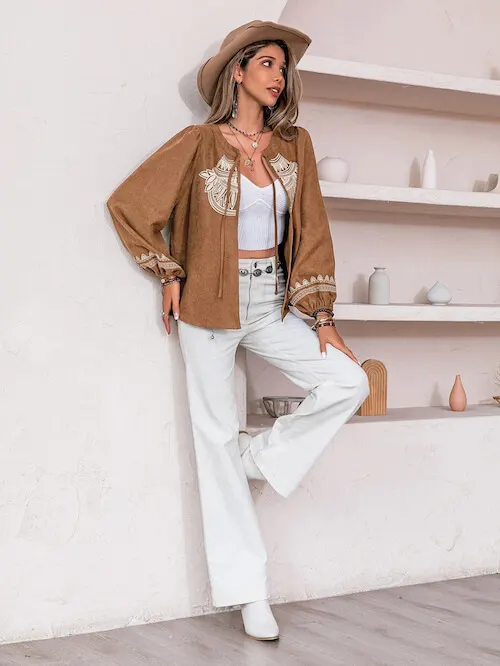 Open Front Contrast Fuzzy Suedette Coat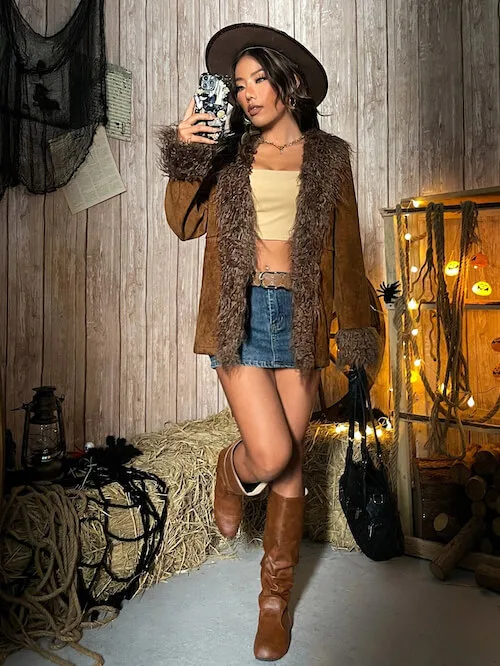 High Rise Bell Bottom Burgundy Pants + White Crop Top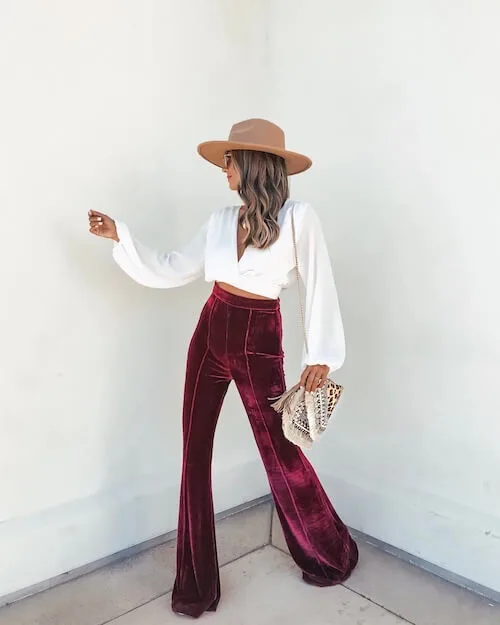 Beautiful Casual Summer Cowgirl Outfits
Spring and summer cowgirl outfits make people feel like they are in the beautiful countryside, where everything is so free, fresh and cute.
A romantic and sexy summer dress or a little black dress is ideal for pairing with cowboy boots for a perfect look, which is one of the trendiest fashion trends of the year.
White pieces are very popular. You can even go bold with the trendy white cowboy boots for a eye-catching and lovely cowgirl look.
White Bell Bottom Jeans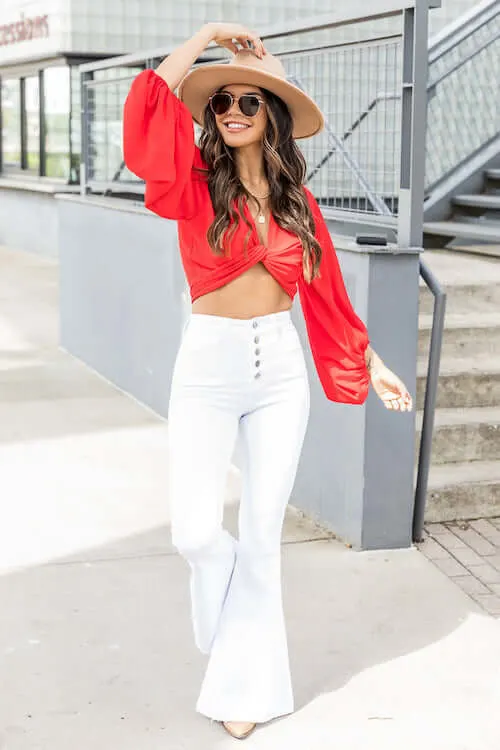 Blush Tank + Blue Denim Skirt / Chambray Midi Skirt + Chunky Necklaces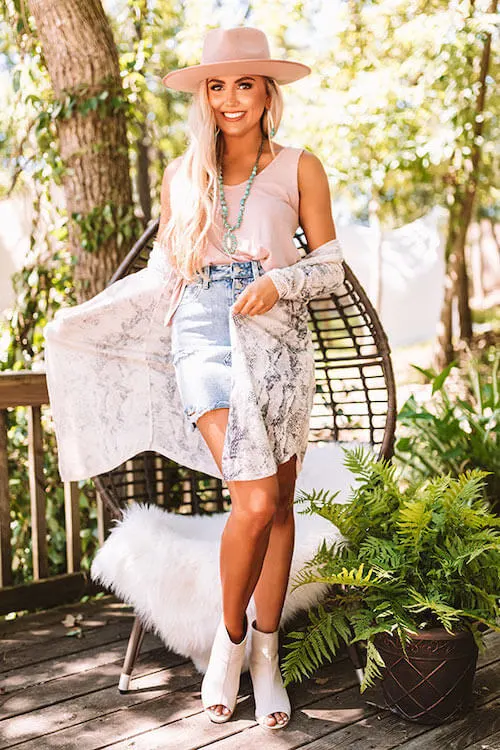 Frayed Hem Medium Wash Bell Bottom Jeans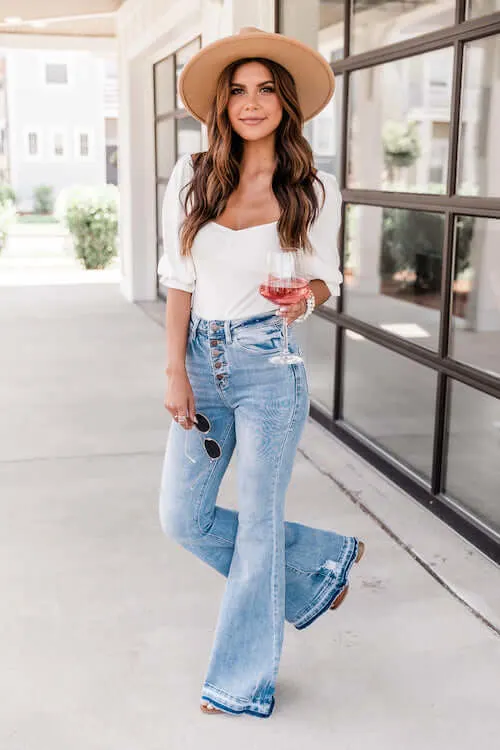 Cute On Repeat Babydoll Dress In Pink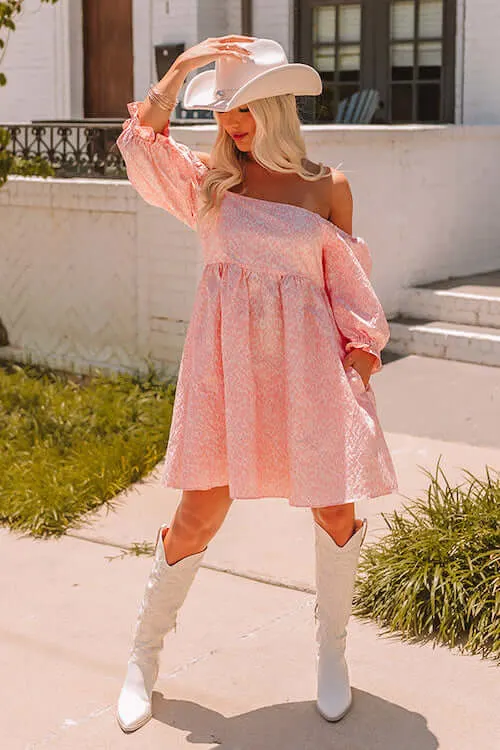 Sweeter Than Sunshine Babydoll Dress In Olive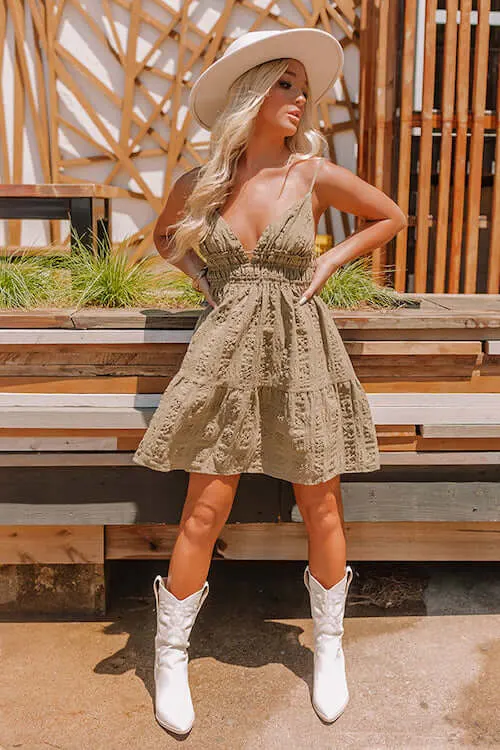 Johanna Mini Dress ~ Sea Stripe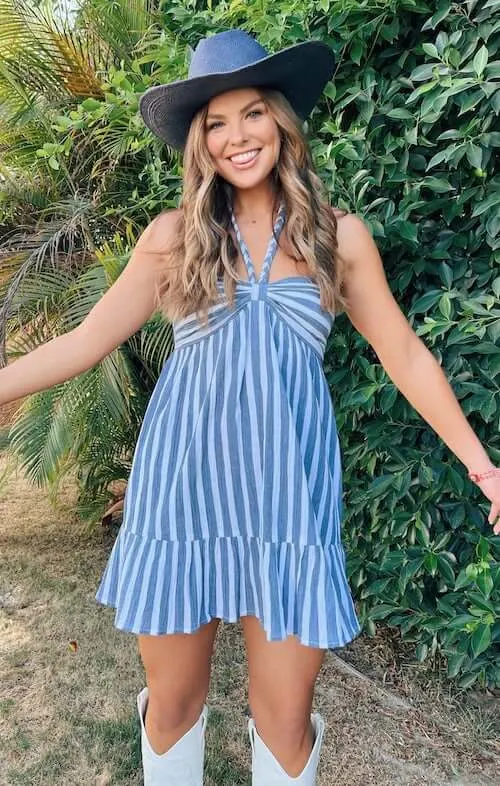 Enjoy The Daylight Babydoll Top In Beige
Nashville Music City Graphic Tee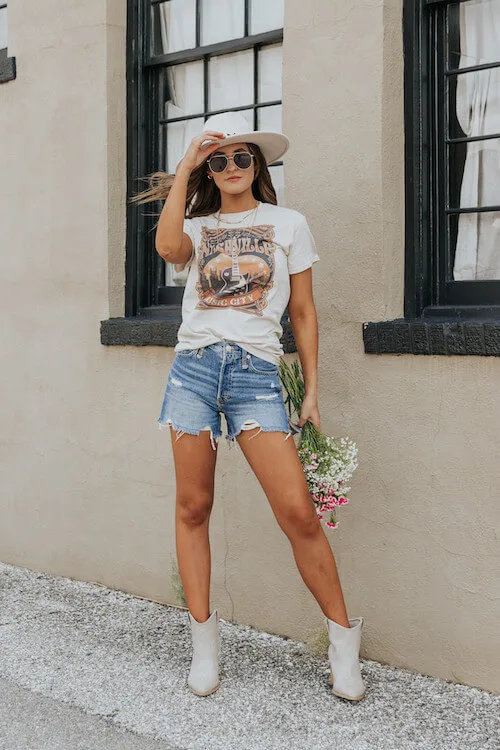 Wild West Rodeo Legend Graphic Tee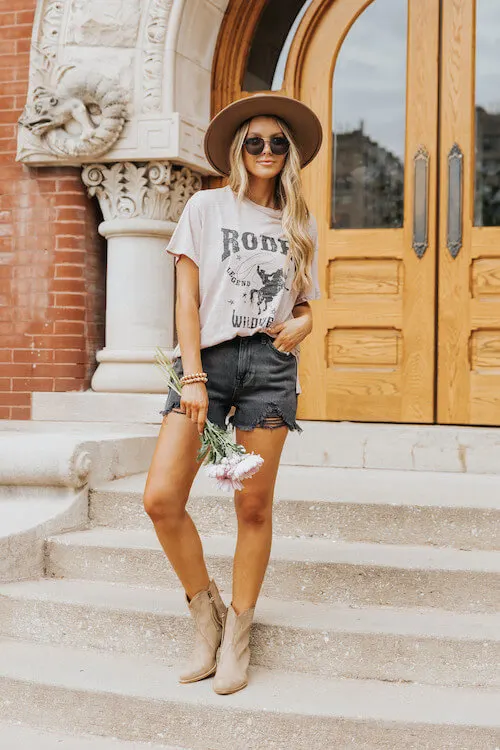 Colombia Collared Dress ~ Holy Cow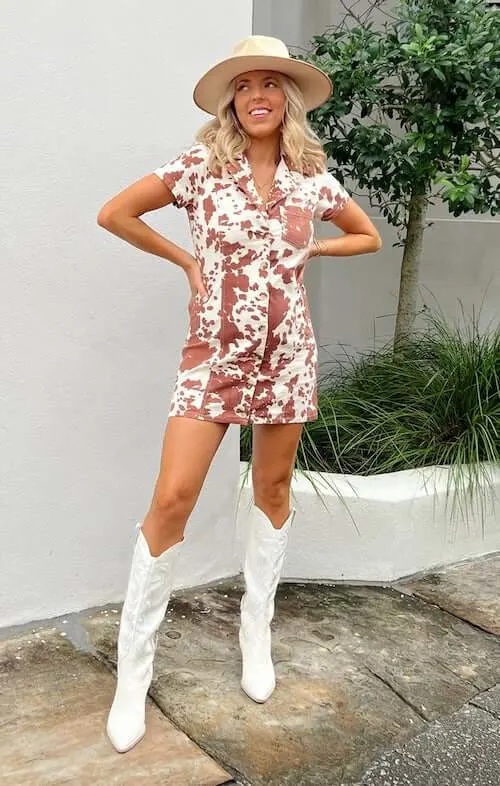 Cannon Romper ~ Washed Black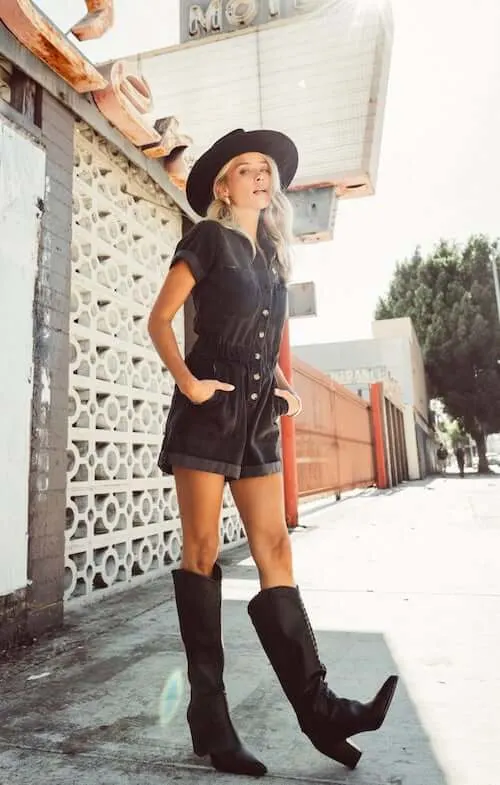 Lime Cowl Neck Tank + Denim Shorts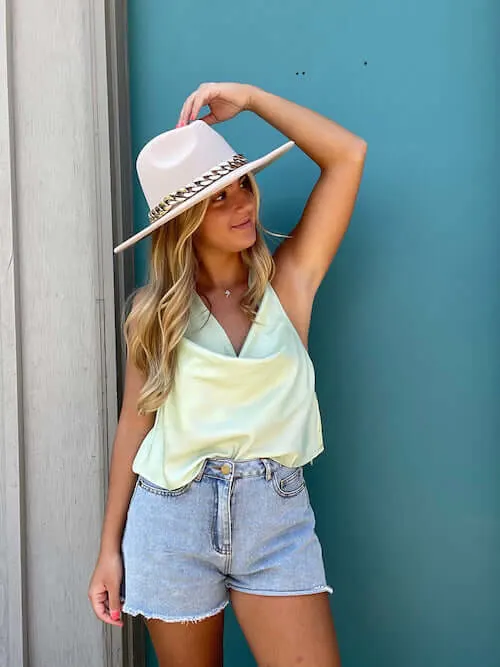 Kiss Let Me Go Distressed Graphic Tee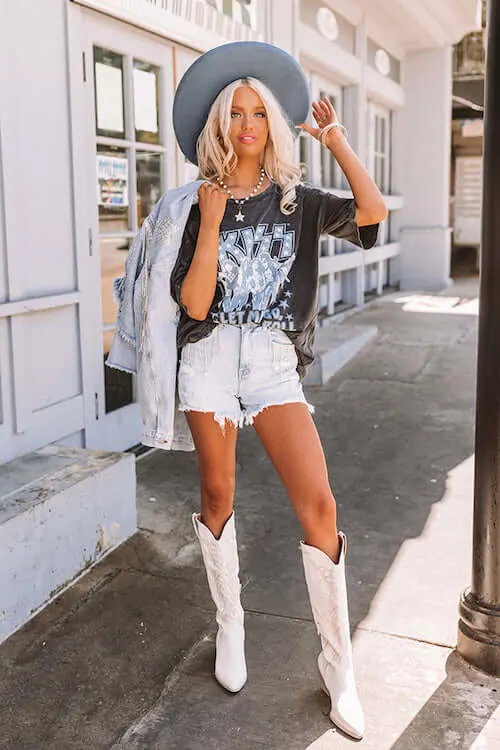 Latest Obsession Ruffle Top In Hot Pink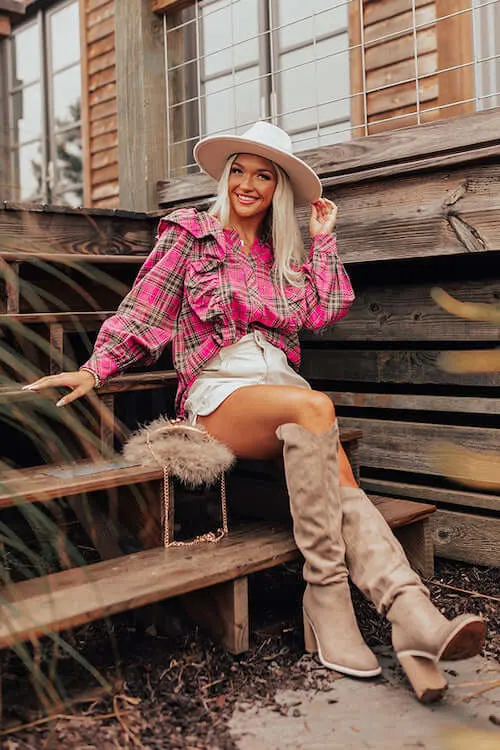 Story For Another Time Chambray Top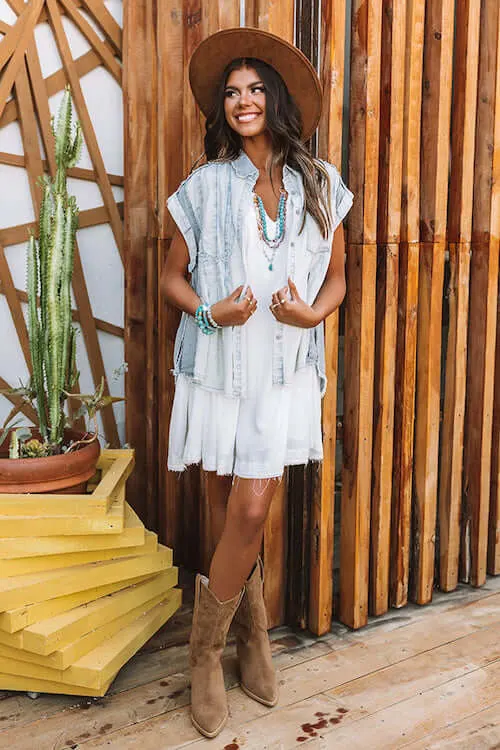 Pink Floyd Animals Distressed Graphic Tee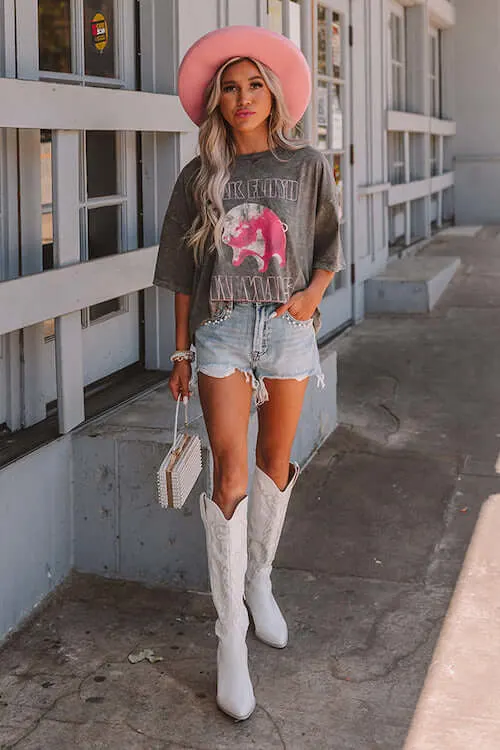 White Eyelet Top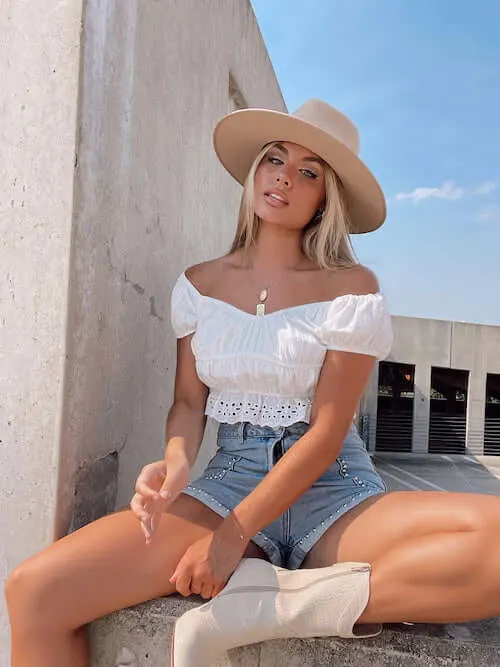 Emery Jumpsuit ~ French Blue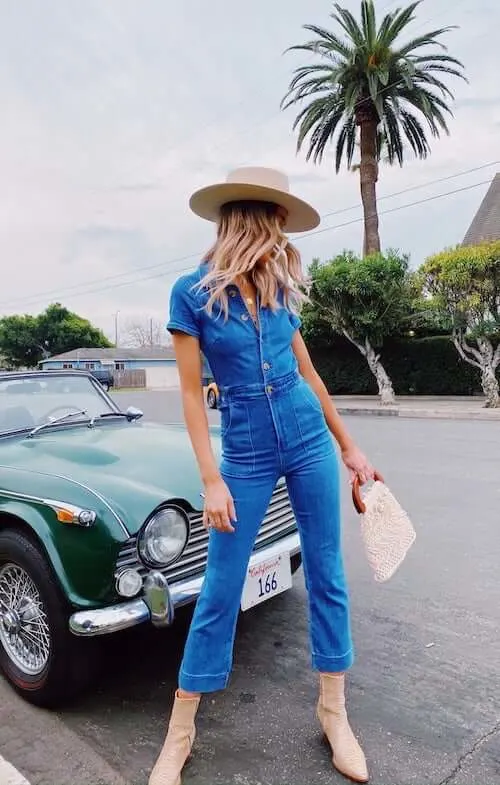 Wild West Oversized Distressed Tee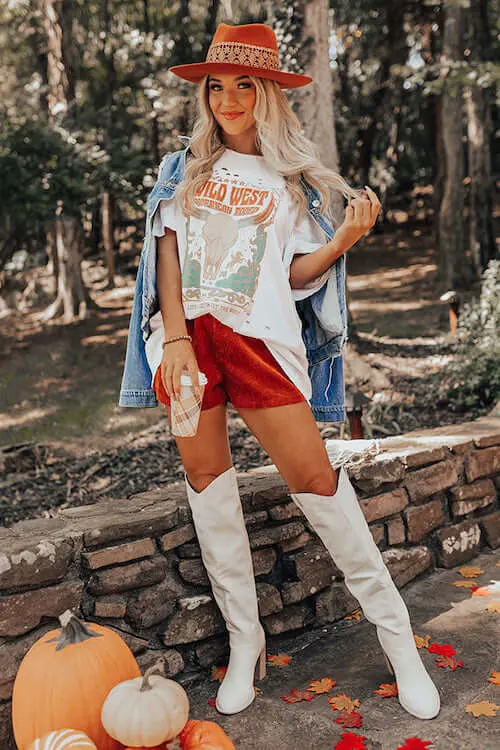 Carrie Collared Dress ~ Cool Paisley
Emily Embroidered Cherry Red Dress / Tribal Print Dress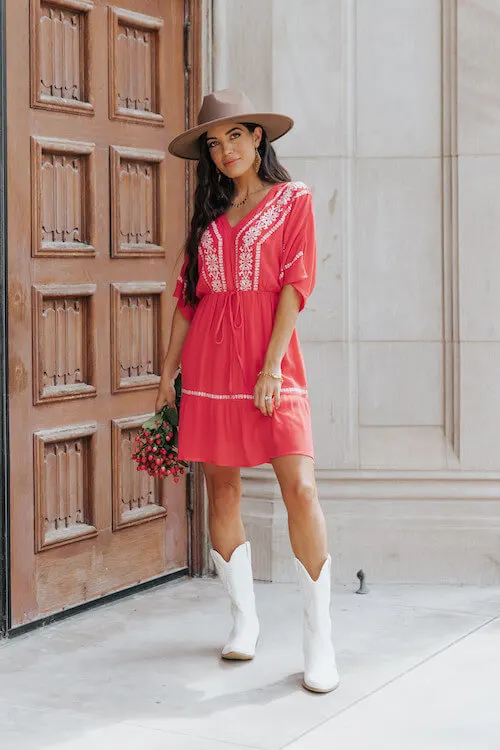 Cow Print Shorts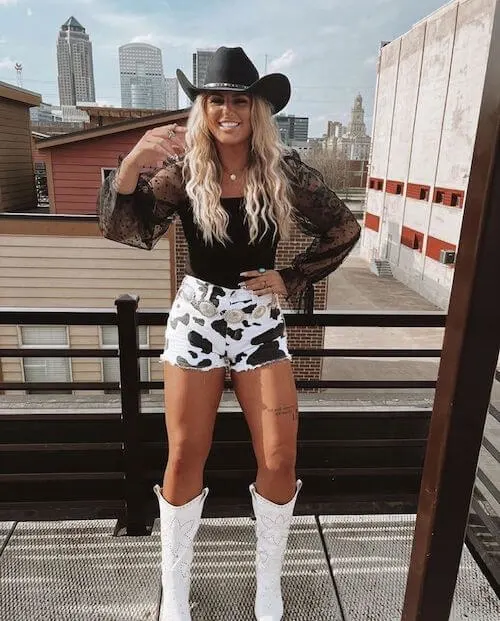 Forest Green Ruffle Trimmed Off-the-Shoulder Maxi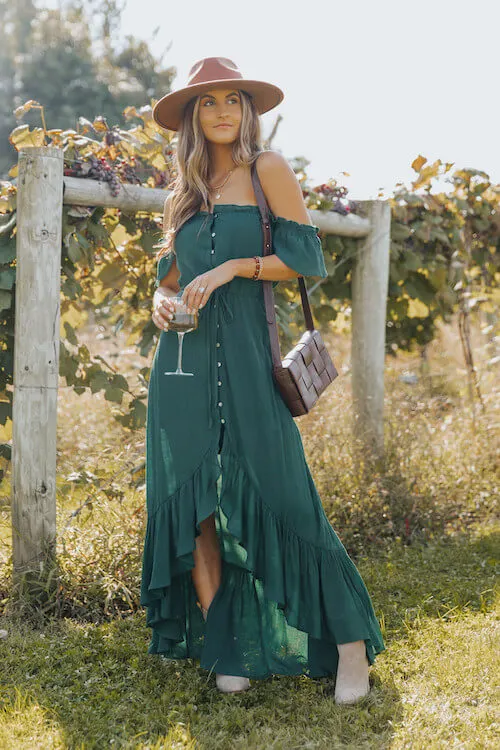 Fringe Long Sleeved Shirt + White Skort + Straw Hat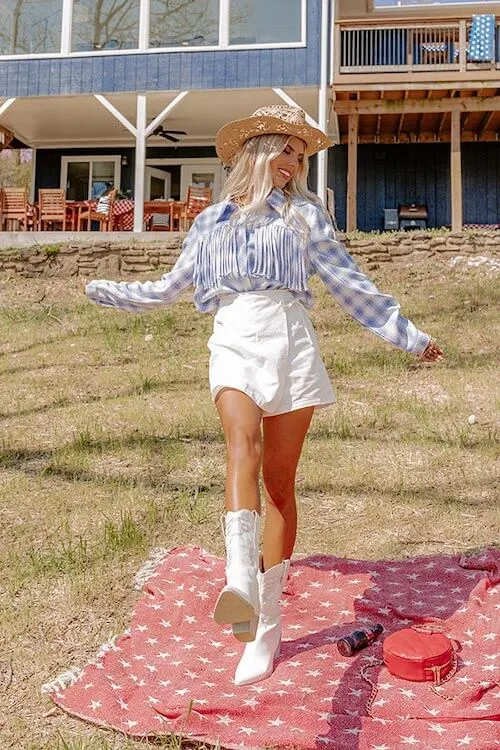 Themed Cowgirl Look Ideas for Parties (Halloween, Birthday, etc)
Various cowboy-themed parties filled the hot nights.
From a Halloween party to a western themed birthday party, from Kendall Jenner party outlook to trending western fashion looks in IG, a cowgirl costume is a great option for parties and various gatherings. Don't hesitate to showcase your favorite cowgirl fashion style with creative and chic clothing pieces.
Wear glittering sequins, fringes, velvet, silk, embroidery, leather… it's all so attractive and the best way to create the cutest western outfits for parties.
Adding a right bit of colour such as hot pink, dark green or red to your whole look is also an amazing idea.
Cute Gothic Style Outfit Ideas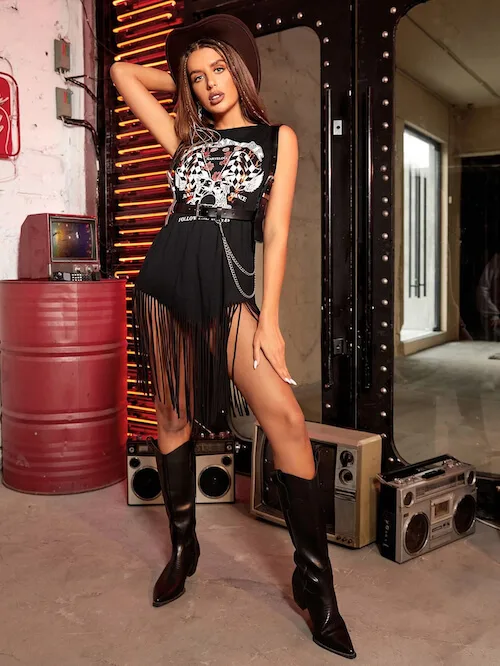 Star Sequin Cowboy Hat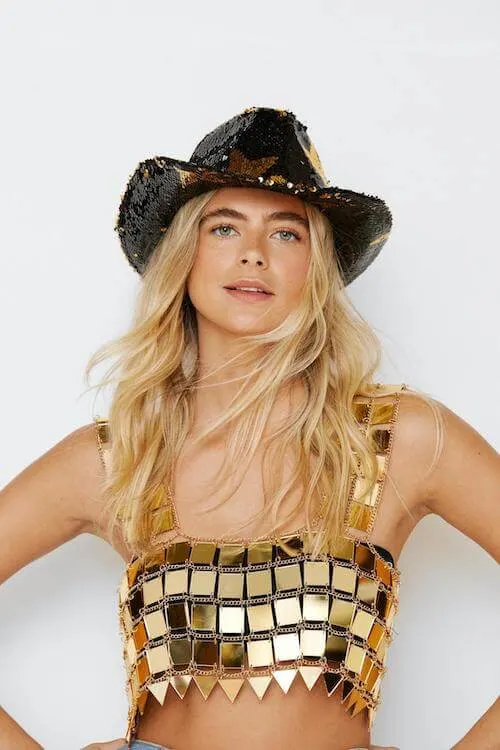 Hearing Music Checkered Crop Top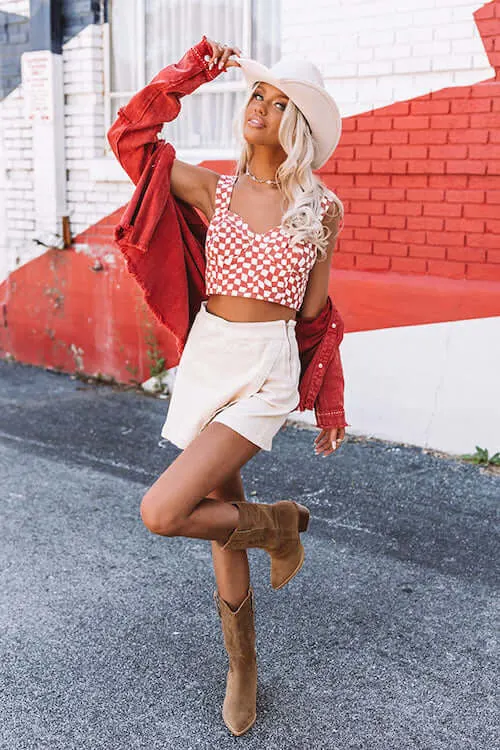 Velvet Contrast Lace Cami Dress & Coat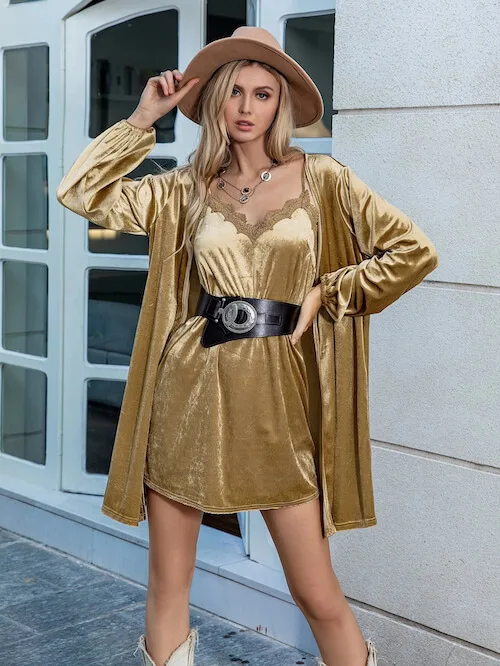 Allover Print Draped Front Asymmetrical Hem Backless Halter Dress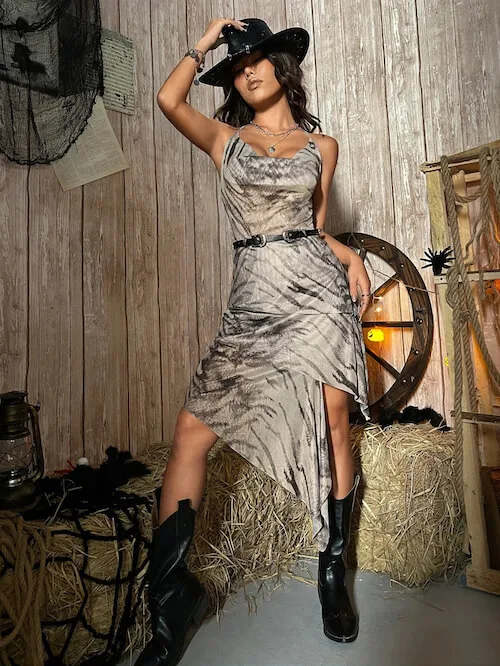 Western Beaded High Split Longline Halter Top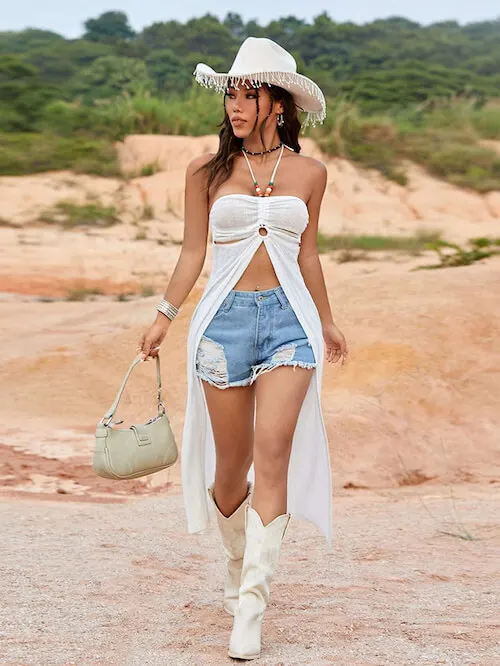 Western O-ring Fringe Trim Cut Out Bead Tie Backless Halter Dress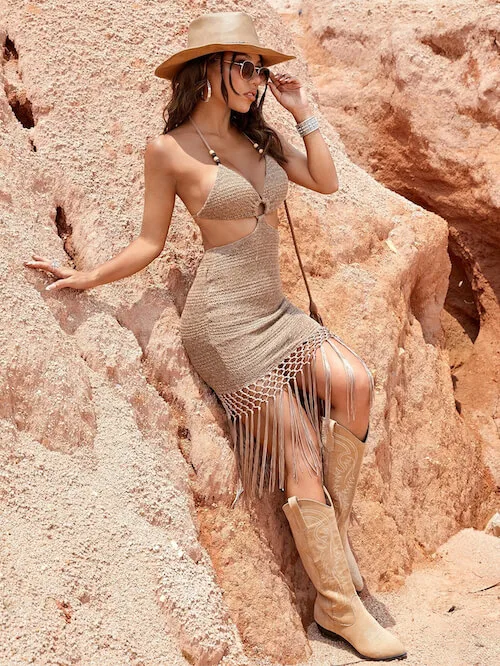 Button Up White Shirt + Black Hat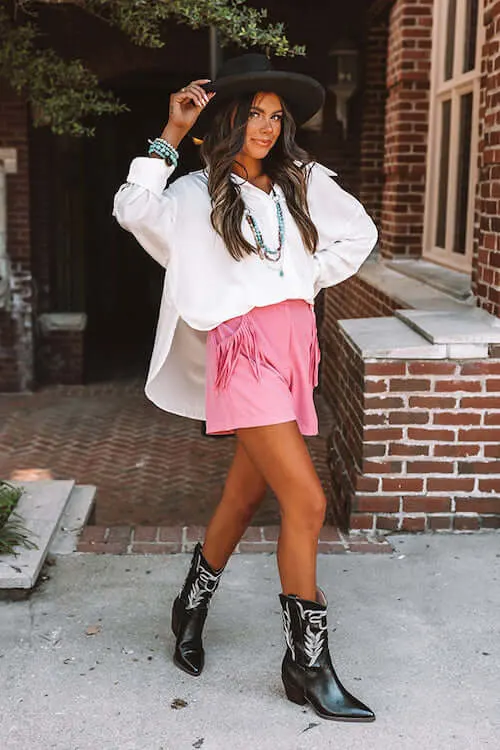 Black Color Plaid Skirt + Pink Hat + Pink Shacket + Black Boots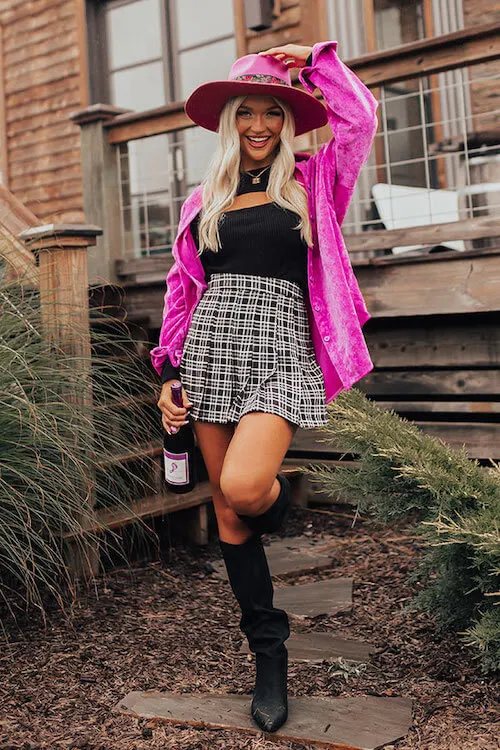 Kidman Mini Dress ~ White Sprinkle Sequins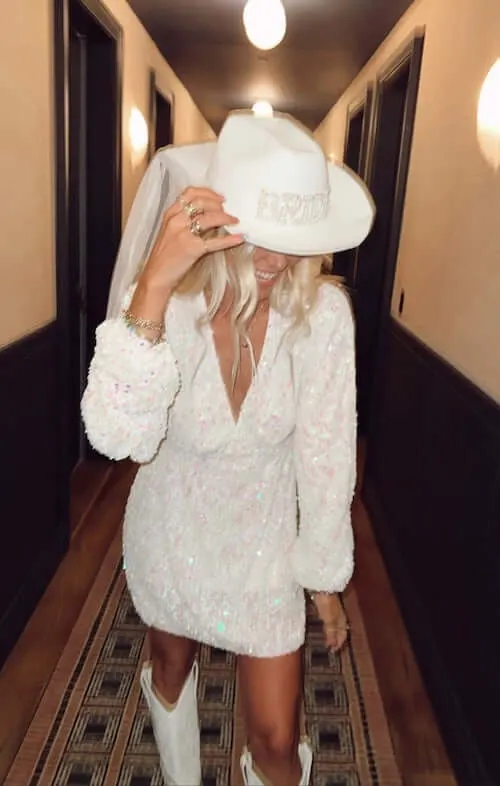 Dolly Skirt ~ Silver Confetti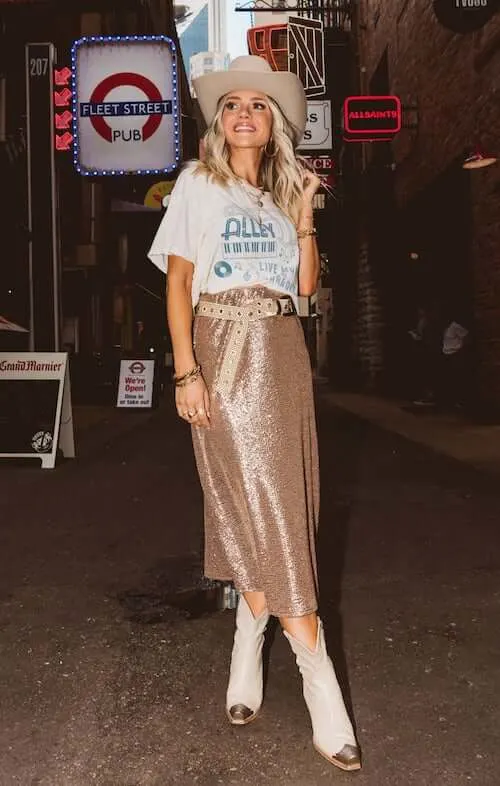 Let's Go Girls Graphic Oversized Tee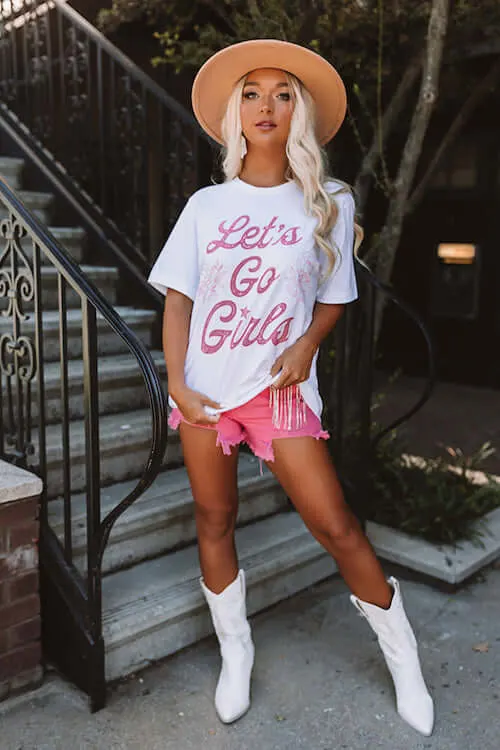 The Hubbard High Waist Corduroy Shorts In Rust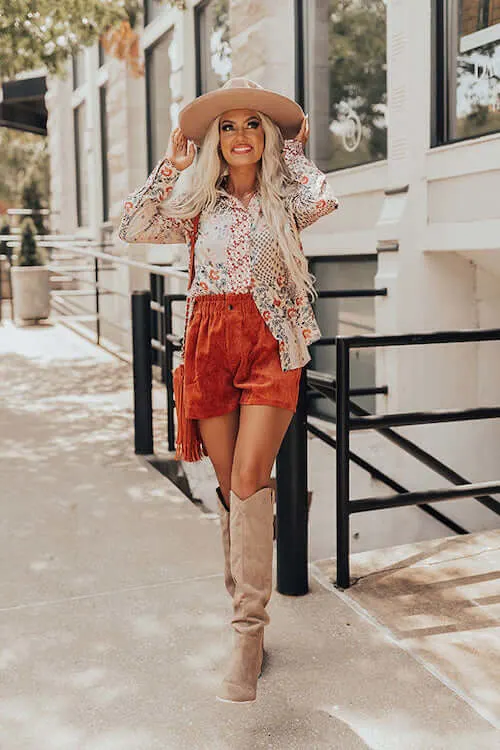 Sparkle Denim Jackets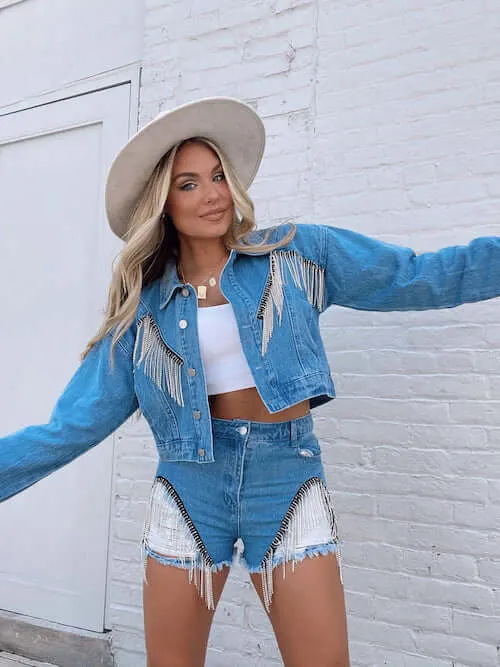 Satin Tie Top in Hunter Green + Flare Leather Pants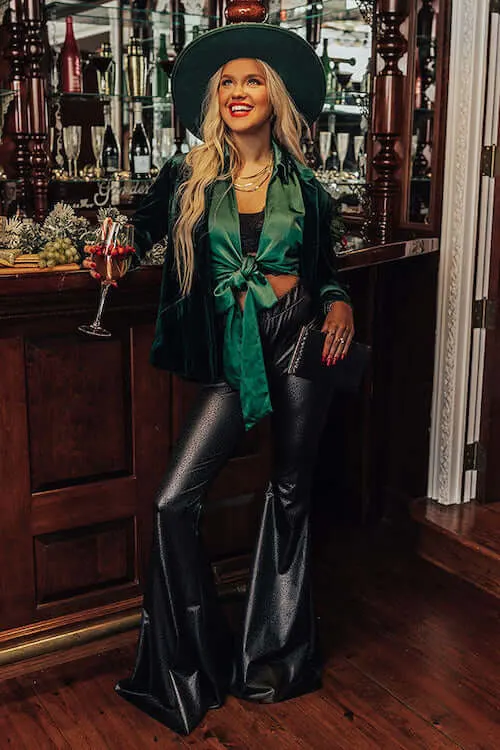 POLKA DOT MESH MIDI DRESS + Black Shirt + Denim Shorts + Black Boots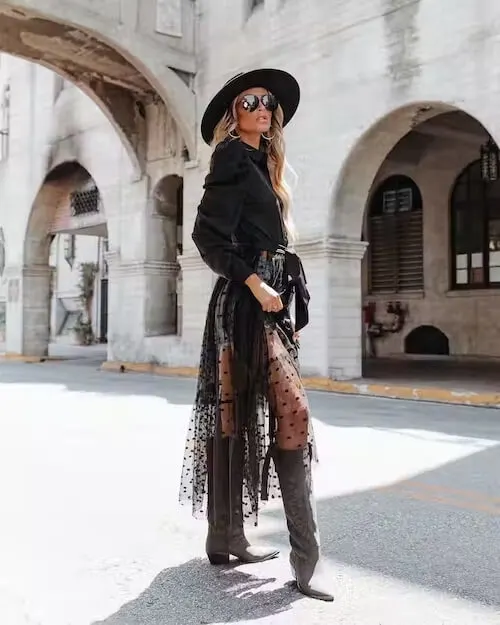 Classy Modern Cowgirl Outfits For Themed Wedding And Formal Occasions
Going to a western wedding or country wedding? A charming cowgirl outfit is your best choice for these themed weddings.
One of the easiest and best ways is to wear a cute flowy dress with a pair of cowboy boots.
In autumn and winter, you can choose warm tones and velvet dresses. In spring and summer, light and elegant dresses are the best choice.
Floral Embroidery Flounce Sleeve Velvet Dress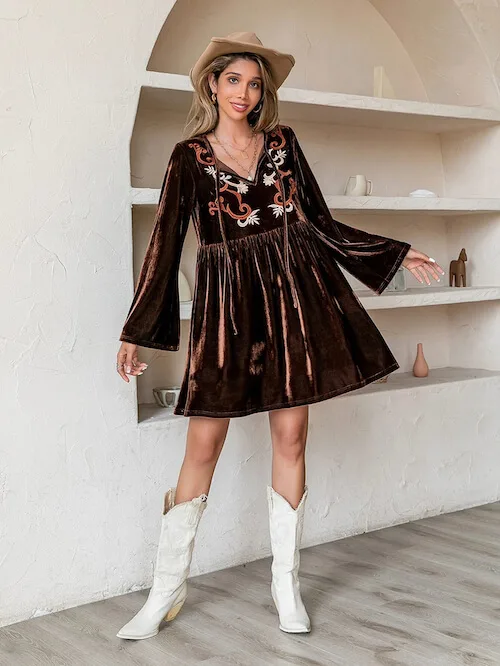 Floral Print Split Thigh Dress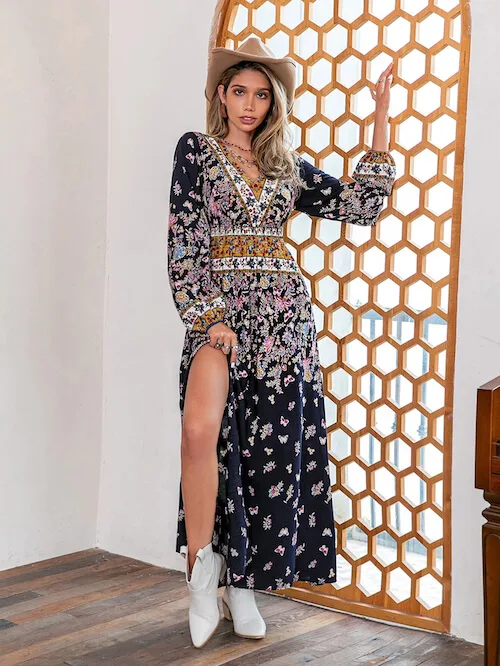 These Are The Days Midi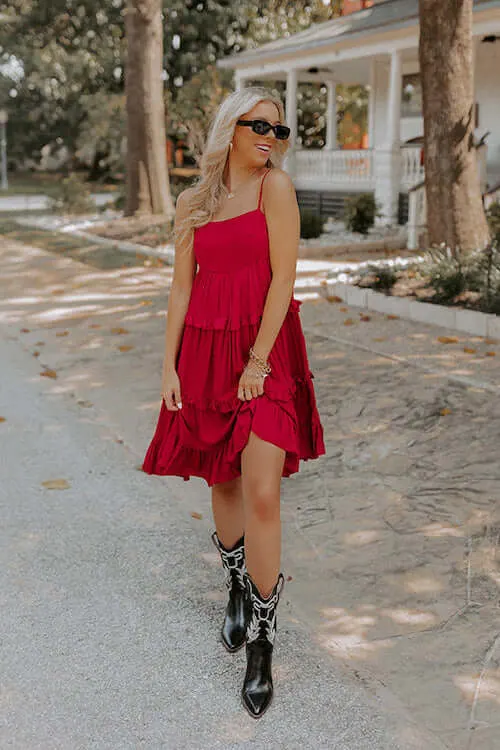 Keep Going Blue Ditsy Floral Dress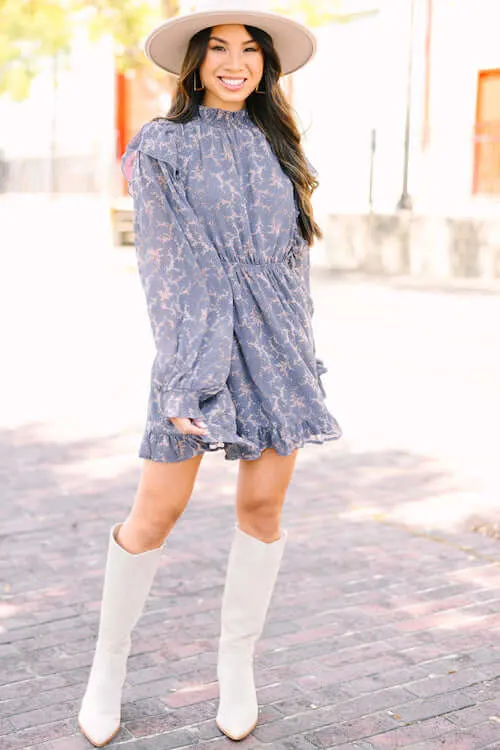 Cinnamon Smocked Long Sleeve Mini Dress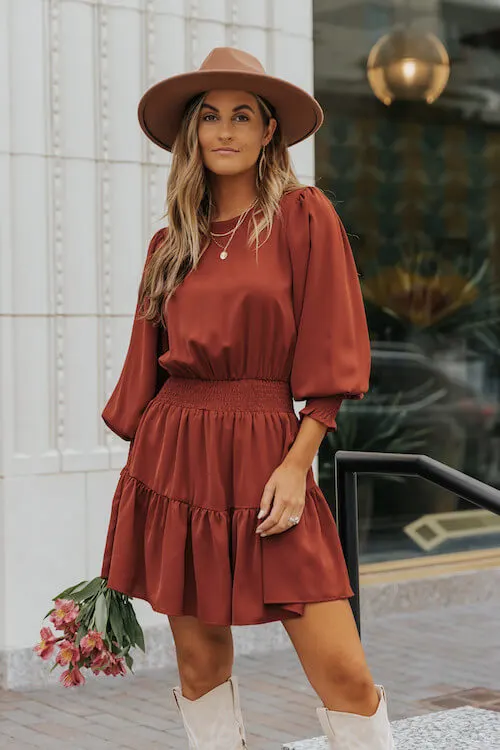 Emerald Lace Shirtdress + A Pair of Awesome Brown Boots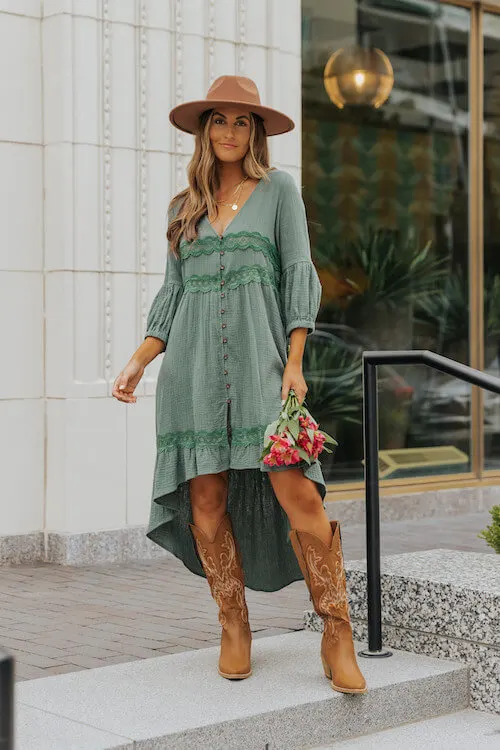 Cute White Cowgirl Look Ideas
Whether you're attending a white-themed party or spending spring and summer vacations, a white cowgirl look is a great idea and a classic cowgirl look.
You can opt for a simple white dress. Pair it with beautiful accessories in a stylish way to make a huge difference. It is a really cute idea.
You can also combine white or cream items to create cute outfits and fully show your great fashion taste of western wear.
Candid Feelings Shift Dress In Ivory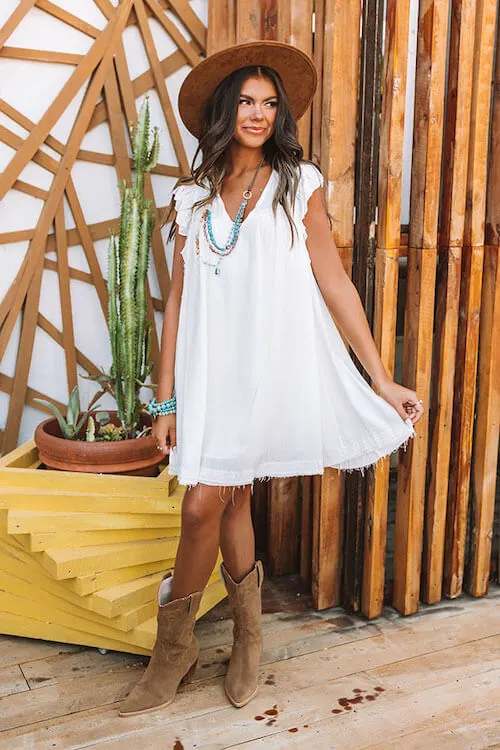 Officer Grunge Vest / Sleeveless Jacket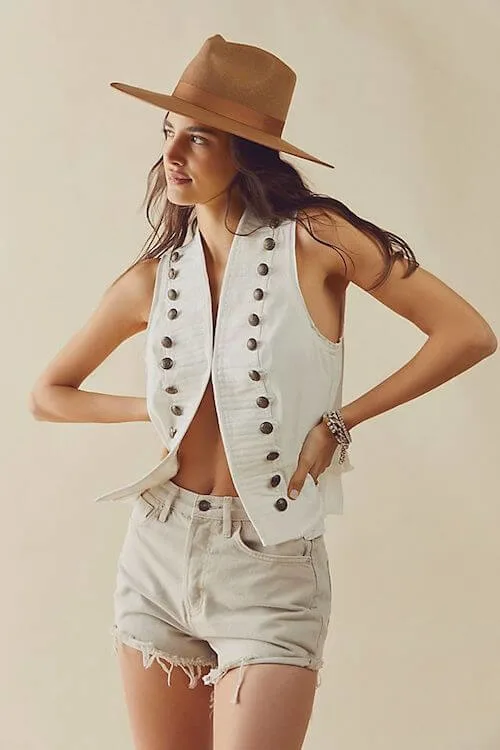 Sloane Romper ~ Seasalt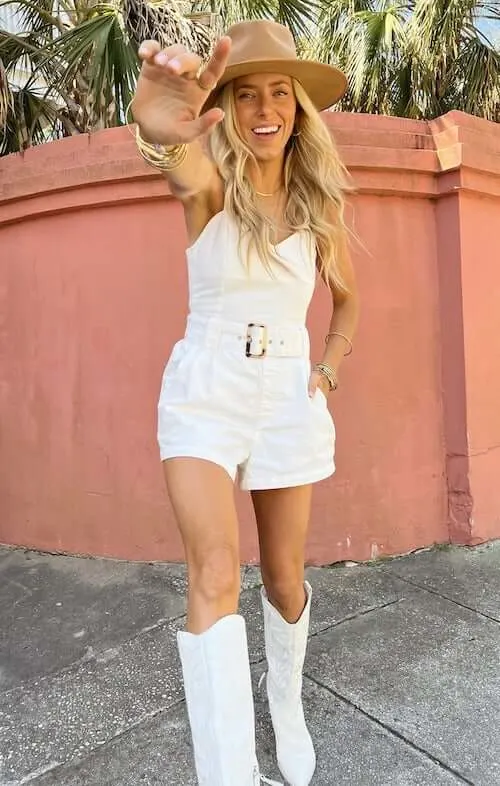 This post was all about classy modern cowgirl outfits.

About The Author
Tracy is an experienced personal stylist, shopping expert, and fashion & lifestyle blogger. She has been featured on Time Magazine, Bustle, Best Life, Glam, The Zoe Report, Mic, and GOBankingRates, for her insights on fashion, beauty, home decor, and lifestyle. Read More
Related Posts: