Looking forward to the best wedding guest dresses to wear this year? Check this post for our picks of 45 wedding guest dress ideas to shop right now!
Recently, there seem to be more and more weddings to attend. People celebrate when they can get together, so they put more enthusiasm into dressing up for the wedding. And as more and more people choose outdoor weddings, you will see more beautiful and colorful wedding costumes.
Want to know which dress to choose for your next wedding? Check these 45 best wedding guest dresses we have selected! Whether you are attending a formal wedding, casual wedding, a garden wedding, a beach wedding, a spring or summer wedding, or an autumn or winter wedding, you can find the one you like in our carefully selected list!
This post may contain affiliate links, which means I'll receive a commission if you purchase through my link, at no extra cost to you. Please read the full disclosure here.
This post is all about wedding guest dresses.
Best Wedding Guest Dresses For Garden Weddings
1. Kourtney Dress
The romantic Kourtney is a midi-length dress with a fitted bodice and center back smocking. It has a slim-fitting faux wrap skirt with a high slit. The straps are adjustable so that you can fit them to your liking.
2. Wrap Belted Floral Print Cami Dress
This sexy dress is full of vibrant patterns, making you more charming in the garden.
3. EAST ATLANTA MAXI DRESS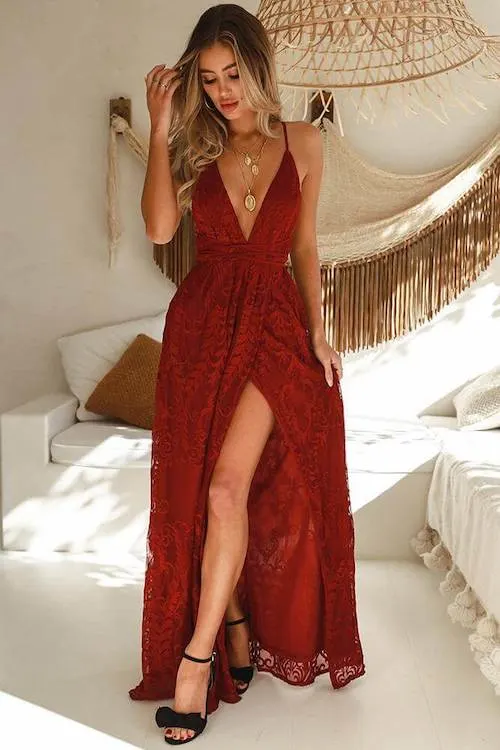 This gorgeous dress has a V neckline with drawstrings tied to the waist, a partially elasticated waist, and a slit on the skirt. Wear it with a messy bun and gold hair jewelry!
4. Orchid Dance One-Sleeve Floral-Print Cotton-Poplin Dress
Johanna Ortiz's dress is made from BCI cotton-poplin decorated with 'Fern Green' blooms. This cute wedding guest dress has a voluminous puffed sleeve and falls to a fluted hem that's perfect for dancing in as it'll swish and sway so beautifully. Style it with gold jewelry and strappy sandals.
5. CADENCE DRESS
This trendy halter neck midi dress features an adjustable fabric waist tie that covers the figure and a layered skirt with frill detailing. This piece is perfect for weddings and work parties.
6. Twilight Dress
The stunning Twilight Dress is fitted in the bodice with a relaxed-fitting skirt, so you get structure and comfort all in one. This dress features tie straps, a smocked back bodice to provide a little bit of stretch, and a side slit to give you some breathing room.
7. GAIA FLORAL MIDI DRESS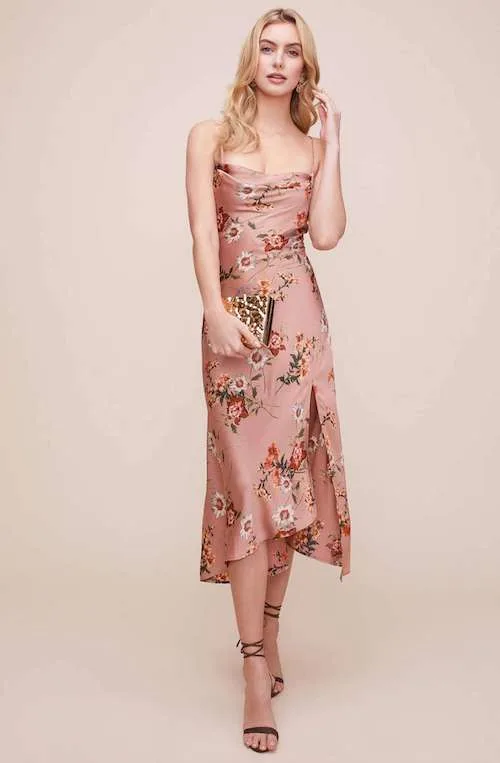 Slip into sexy with this breathtaking dress. The cowl neckline accentuates the bust and is supported by skinny shoulder straps. Vintage-inspired floral print decorates this style. The fitted bodice descends to a relaxed midi skirt with a front slit accent. Low cut back with adjustable cross straps.
8. RUNAWAY THE LABEL Tammy Maxi Dress
The romantic tailoring of this dress and the unique and artistic print pattern will make you very elegant and charming.
9. Love and Blooms Blush Floral Print Off-the-Shoulder Dress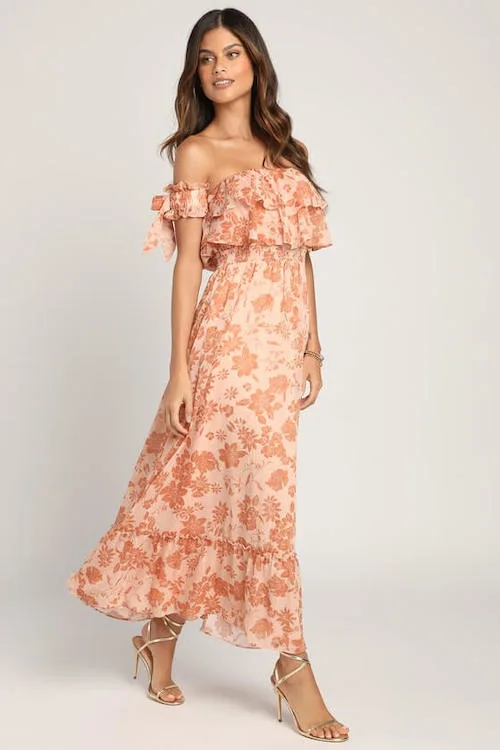 Lightweight and gauzy woven fabric boasts a brown floral print and glittering lurex threading throughout this dress with an elasticized off-the-shoulder neckline and banded, short sleeves with ruffled trim and bow accents. A tiered flounce bodice atop a smocked waist continues to a breezy maxi skirt with a drop seam tier with ruffle trim.
10. Gala Ready Blush Pink Off-the-Shoulder Ruffle Midi Dress
This charming Georgette midi dress is a surefire statement maker with its elasticized off-the-shoulder neckline, shift-style bodice, and quad-tiered ruffles that cascade down to the modest midi hem.
Best Wedding Guest Dresses For Beach Weddings
11. Solid Flounce Hem Cami Dress
This lovely dress is full of the charm of the sea. The beautiful blue color and the excellent tailoring of the skirt perfectly combine to set off your beautiful shoulder and necklines, making you light and elegant every step of the way.
12. The Bella Floral Print Blouson Gown
A balance of classic and contemporary, this lightly draped gown is covered in roses and fashioned with a V-neck, gathered waist, and a slit A-line skirt.
13. Phoenix Maxi Dress
Embrace your inner wild child with this Phoenix Maxi Dress. This intricate floral print dress features thigh-high splits so you can explore in style.
14. Event Midi Dress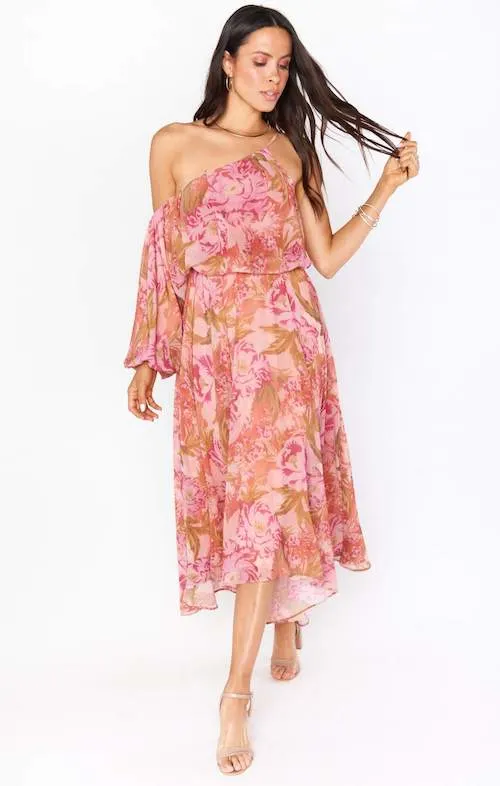 The billowing floral fabric is draped and cinched to perfection in this stunning one-shoulder midi dress. An elastic waist and wrists are comfortable while doing all the work to make sure the bodice and sleeve are perfectly voluminous.
15. Away On Vacay Green Floral Print Two-Piece Maxi Dress
A fun floral print, in shades of pink, white, magenta, and green, make this dress an elegant option for any occasion, while a fun two-piece design allows you unlimited options for mixing and matching.
16. Garden Meandering Blush Floral Print Maxi Dress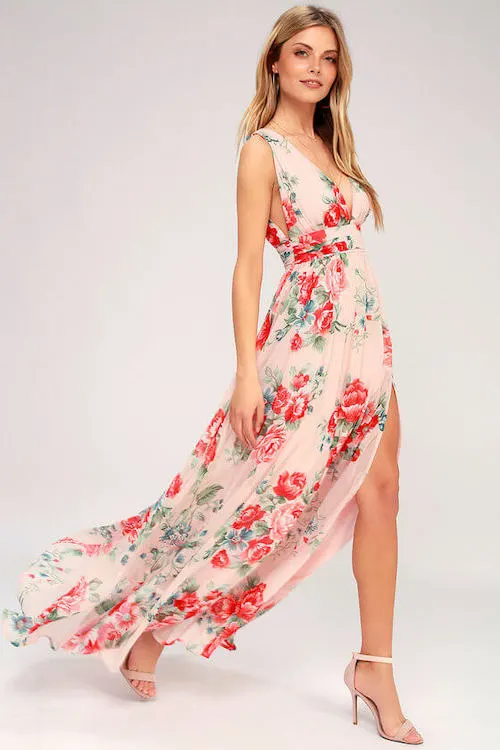 Sweeping maxi skirt, with a side slit, falls below a gathered waistline.
Best Wedding Guest Dresses For Cocktail Weddings
17. Pleated Bodice Spaghetti Strap Satin Tulip Dress
Perfect for parties and wedding guests alike, this on-trend satin dress features figure-flattering pleating both along the faux-wrap bodice and cascading from the waist of the tulip skirt.
18. STARTED WITH A KISS MIDI DRESS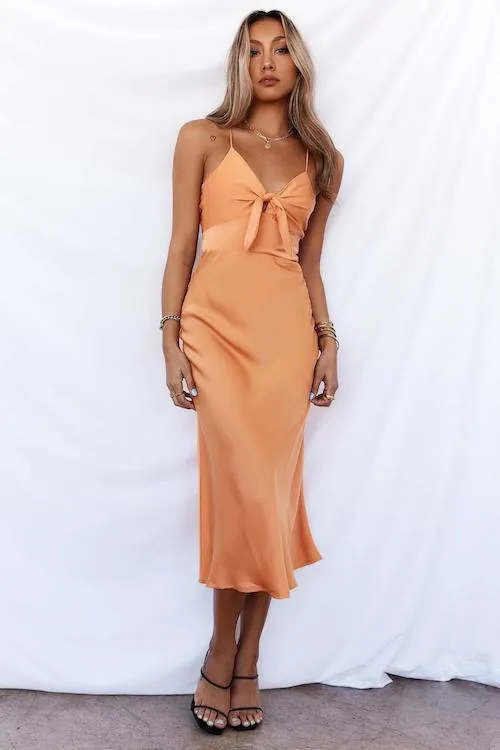 The Started With A Kiss will be your savior in looking fabulous, but not better than the bride, of course. The tie-up bust and silky slip will flatter you on all ends – along with the gorgeous open-back style. Style yours with neutral heels and drop earrings.
19. TIFFANY SLEEVELESS HIGH SLIT FORMAL DRESS
Keep your look chic and on point in the stunning Tiffany formal dress! She features a sleeveless bodice, spaghetti straps that lead to a cross-back design, and a square neckline. Her high waist seam leads to a floor-length skirt with a slim silhouette and a high slit with ruffle detailing. Complete your outfit with a pretty rhinestone necklace and strappy heels.
20. Satin Floral Cowl Flute Hem Slip Dress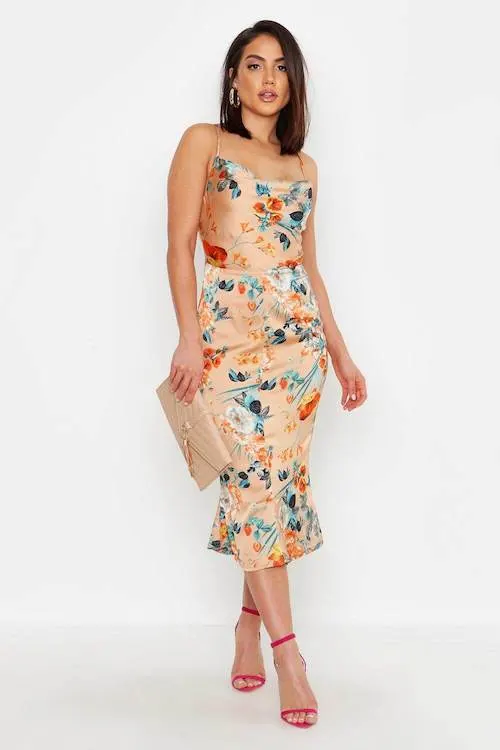 All eyes on you in this cute satin floral cowl flute-hem slip dress. Styled with a midi length, spaghetti straps, cross-back strap detailing, and floral print, this satin slip dress is sure to turn heads.
21. Khaki Mesh Ruched Bardot Midi Wedding Guest Dress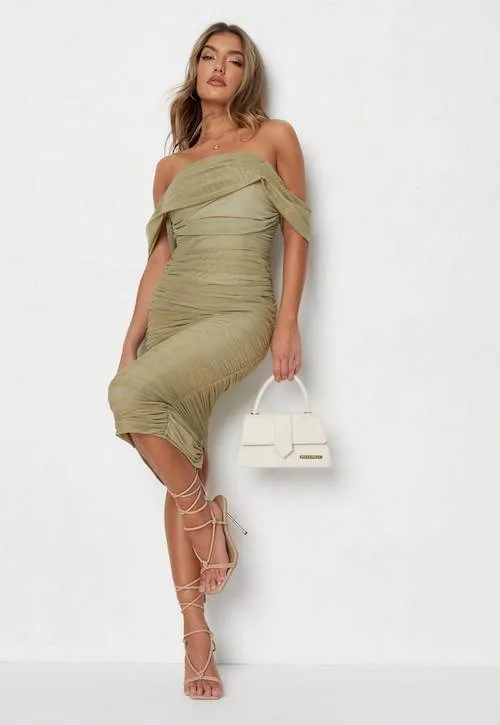 This Bardot style midi dress features a mesh ruched fabric with back zip, showing your sexy style and attractive personality.
22. Eden Midi Dress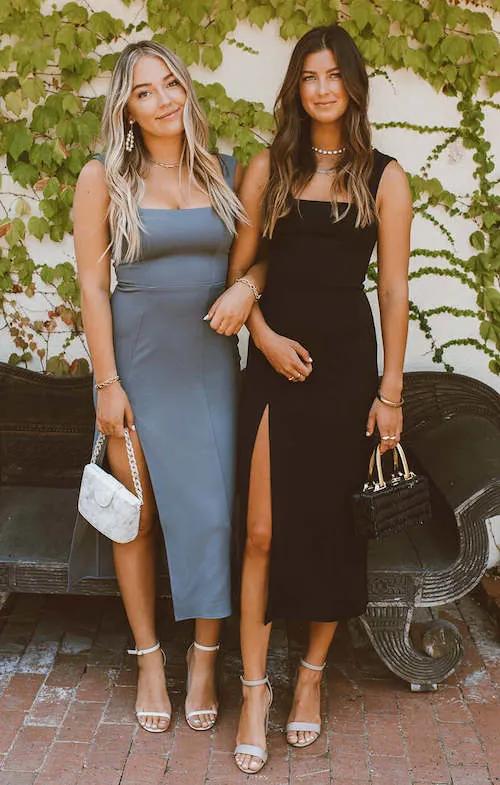 Soft sage green stretchy fabric holds in all the right places, punctuated with a side slit. The square neck is complimented with a thicker strap to make sure you feel secure no matter where you wear her!
23. Unlimited Love Dusty Pink Lace Trumpet Midi Dress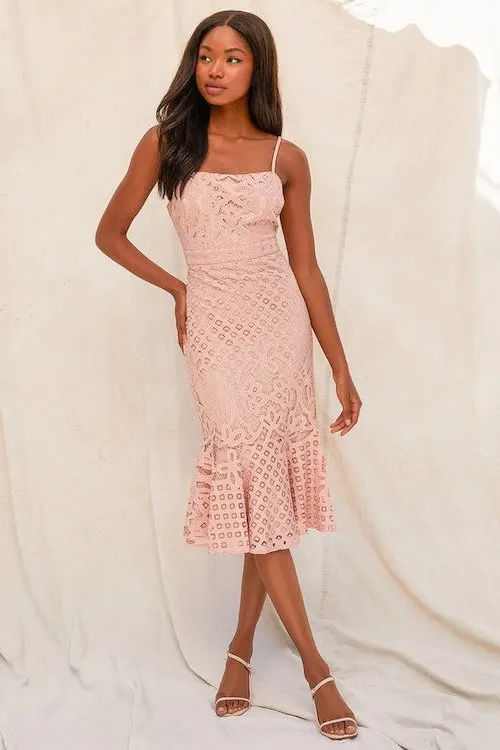 Lovely embroidered lace creates a straight neckline, a darted bodice, and a high banded waist, all supported by adjustable spaghetti straps.
24. Something Just Like This Maxi Dress Navy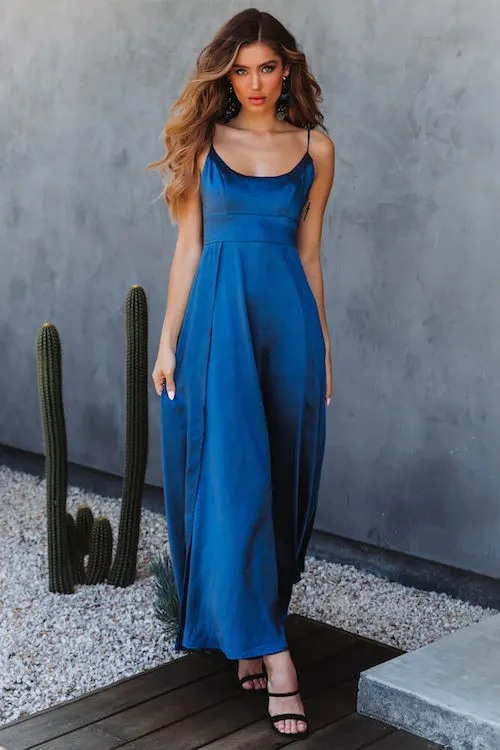 This stunning style features a round neckline, thin adjustable shoulder straps, invisible back zipper and splits down the skirt.
Best Formal Wedding Guest Dresses
25. Manhattan Slip Wedding Guest Dress
Sparkle like the star that you are in the stunning Manhattan Slip Formal Dress!
26. Blue Satin Ruffle Side Cami Wedding Guest Dress
This beautiful blue satin midi dress features a cowl neckline and chic ruffle high low hem detail.
27. All About Love Lavender Maxi Wedding Guest Dress
Woven poly shapes a pleated, surplice bodice, fitted waist, and cascading maxi skirt. This lovely lavender maxi dress features adjustable straps.
28. Amaryllis Wedding Guest Dress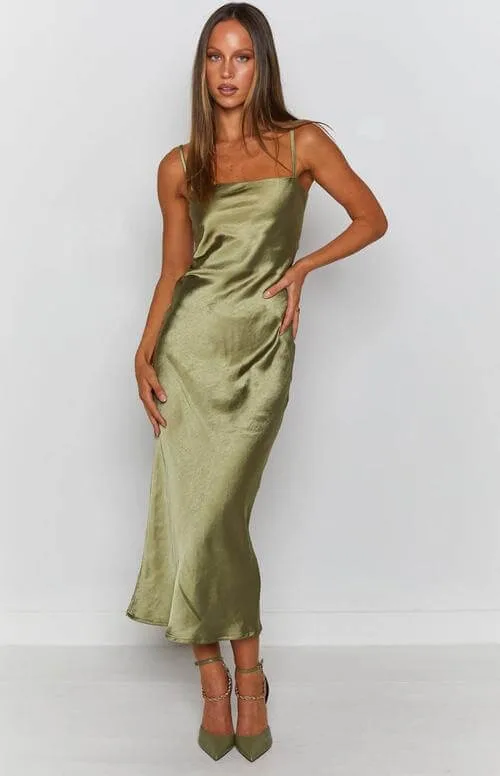 So elegant. So sleek. Be breathtakingly beautiful at your next event in this effortless midi.
29. Absolutely Breathtaking Blush Pink Maxi Wedding Guest Dress
The Lulus Absolutely Breathtaking Blush Pink Maxi Dress has left us speechless! The lightweight woven fabric falls from a modified halter neckline into a princess-seamed bodice supported by slender, adjustable straps. A fitted waist gives way to a full maxi skirt with a sexy side slit perfect for showing off your cute heels!
30. Claire Midi Wedding Guest Dress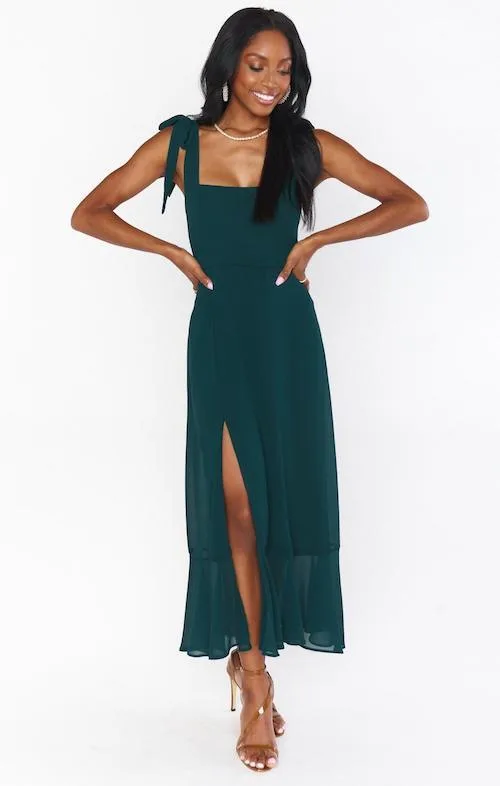 This lovely square neck midi dress is filled with charm! The fitted bodice has a smocked back to achieve the perfect fit for a range of bust sizes met with a flowy midi skirt and side slit. It comes with a detachable waist sash as well as detachable bows for the straps! This is an effortless and versatile midi dress for all your maids or even a special event!
31. Montez One-Shoulder Bow-Detailed Cloqué Midi Dress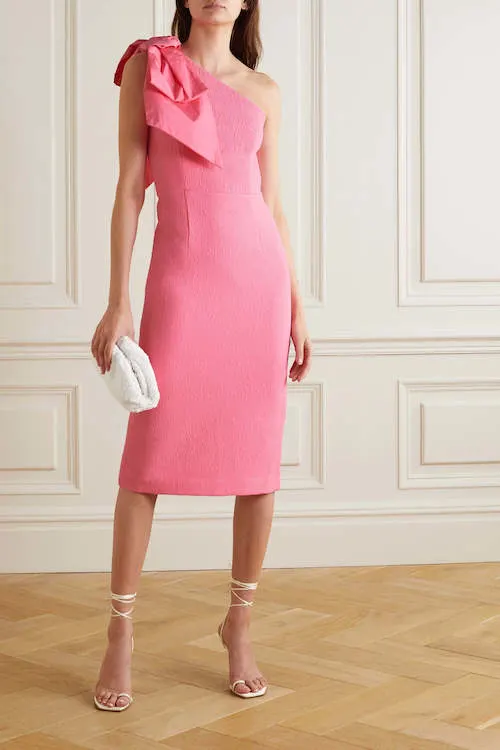 This stylish dress is cut from pink cloqué and has a nipped-in waist and chic single shoulder topped with an oversized bow. Team yours with pointed pumps.
32. LAST ONE Khaleesi Dress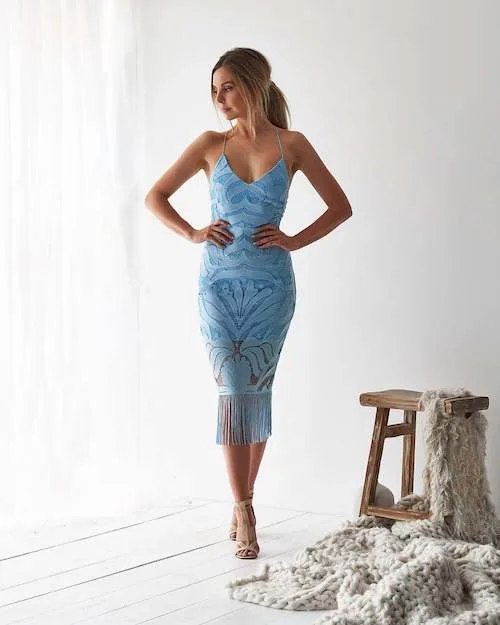 This elegant and delicate dress will make you more beautiful and moving. The exquisite lace and the unique design of the skirt hem make this dress show excellent taste and style in simplicity.
33. In Love Forever Emerald Green Lace-Up High-Low Maxi Dress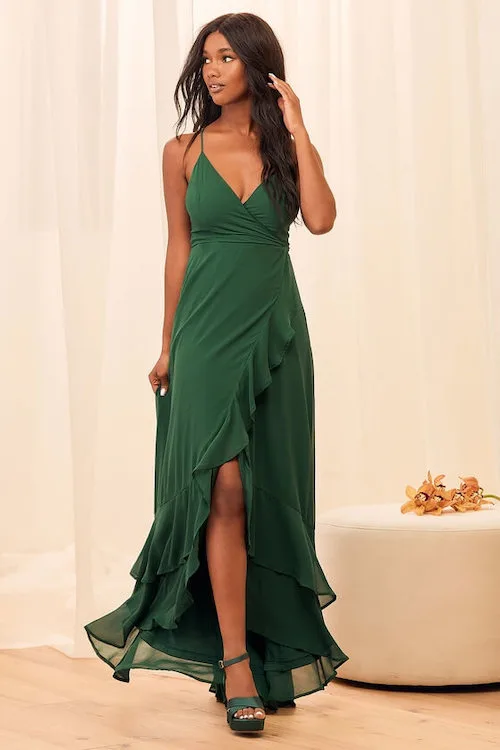 A wrapped maxi skirt stuns with a double tier of flouncy ruffles before falling to a high-low hem.
34. Simply Stunning Slate Blue Satin Floral Jacquard Midi Dress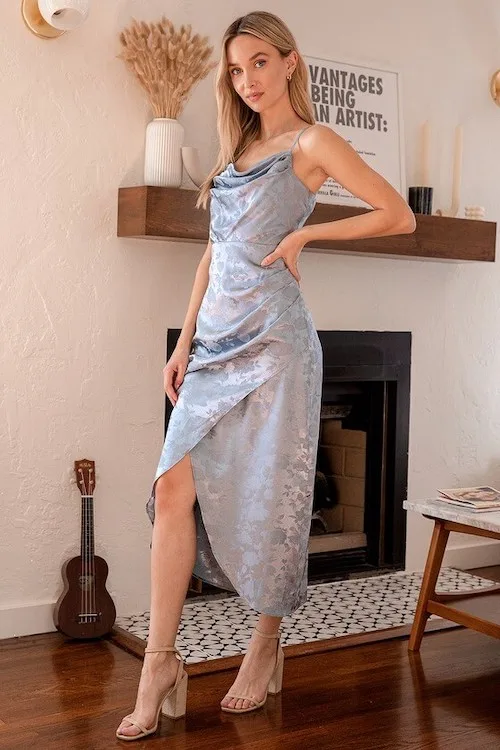 This gorgeous dress is composed of sleek satin jacquard fabric (with a floral pattern throughout) that forms a cowl neckline and a sleeveless bodice, all supported by adjustable spaghetti straps.
Best Casual Wedding Guest Dresses
35. Off Shoulder Knot Sleeve Tiered Hem Chiffon Wedding Guest Dress
The gorgeous design shows your soft shoulders and slender waist, making you look gentle and charming.
36. RED LEOPARD PRINT FRILL HEM MIDI DRESS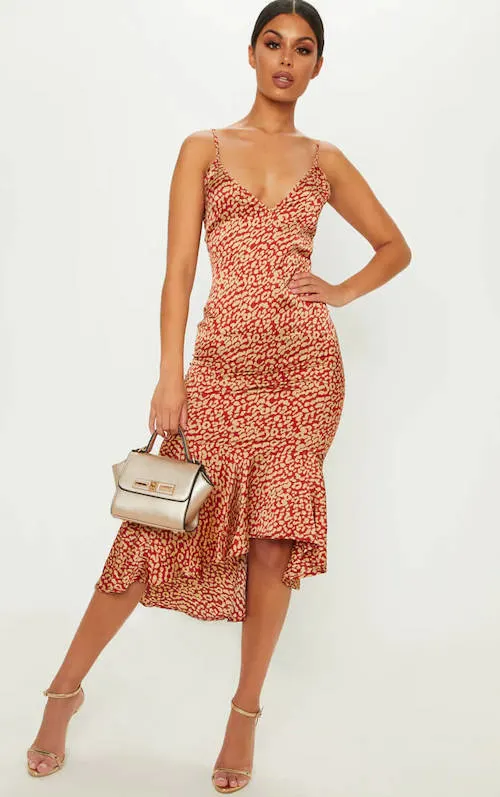 This attractive dress features a red leopard print satin fabric with a frill hem design and thin shoulder straps. Style it with some strappy heels and a mini bag for a special occasion look.
37. MIRARI DRESS
This beautiful dress comes in a crisp white tone base with a beautiful multicolored floral print. It features a high neckline, long relaxed sleeves, and a fabric waist tie to cinch in the figure beautifully. This stunning midi pairs fabulously with your favorite pair of heels for a perfect outfit at your next event!
38. Blush Pink Chiffon Wedding Guest Dress
This cute dress makes you look beautiful. Whether it is the skirt fabric or the skirt belt and other details, it shows the excellent quality of this dress, allowing you to attend to any occasion with confidence.
39. Orange Satin Frill Cold Shoulder Cami Mini Dress
This is a sexy and stylish cami cold shoulder mini dress in a stretch satin fabric with off-shoulder frill detail and a cami strap.
40. Sunny Daze Wedding Guest Dress
Be gorgeous in this fantastic Sunny Daze Dress! Style it with neutral block heels and tousled waves.
41. Vince Tiered Asymmetric Dress
Crinkled satin captures light and holds its shape for flounced movement on this shirred and tiered dress, balanced by a slim camisole bodice.
42. Sweet Like You Navy Ruffled Mini Dress
Lightweight woven chiffon shapes this breezy little number with a deep V-neckline and short, ruffled sleeves.
43. Jetsetter Darling Ivory Floral Dress
This lovely ivory floral dress features a perfect V-neckline with a tie detail, ruffle trim, and tie waist.
Best Wedding Guest Dresses: Spring And Summer
44. LAYING LOW MIDI DRESS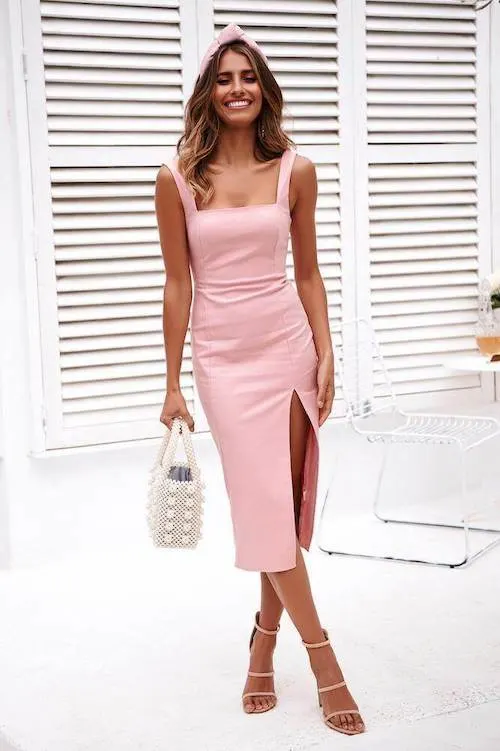 This stunning pink dress features a straight neckline with thick band straps. It has an invisible back zip and a thigh-grazing split. Take it up a notch and complete the look with a messy bun, two-toned bandana, and barely there heels!
45. In Love Forever Blush Floral Lace-Up High-Low Maxi Wedding Guest Dress
Lace-Up High-Low Maxi Dress, you'll always be in love! In a lovely pink, white, and green floral print, Gauzy woven fabric dances across a surplice neckline with elegant princess seams. A set of crisscrossing adjustable straps top off the alluring lace-up back. A wrapped maxi skirt stuns with a double tier of flouncy ruffles before falling to a high-low hem.
46. BLOCK IT OUT MIDI DRESS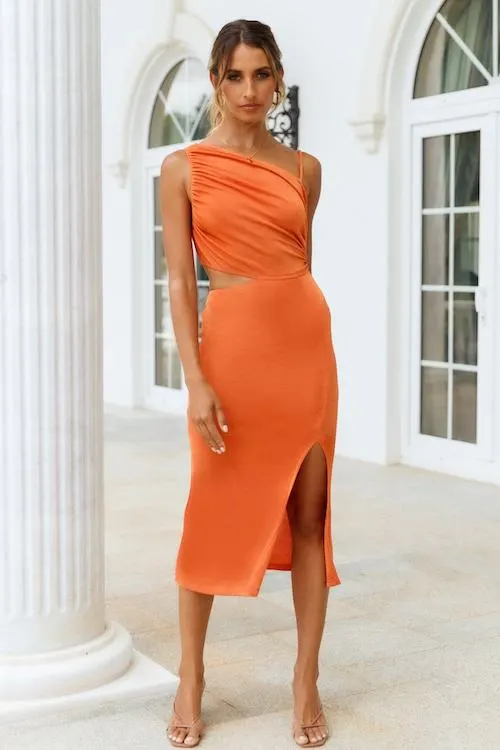 Jaws will drop! The Block It Out Midi Dress is the chicest thing out! Featuring cut-outs to the sides and a gorgeous high neck feature, with a thick strap and thin strap, this will have you wanting more! Style yours with bouncy curls, simple heels, and a glowing makeup look.
47. SMOOTH SOUNDS MAXI DRESS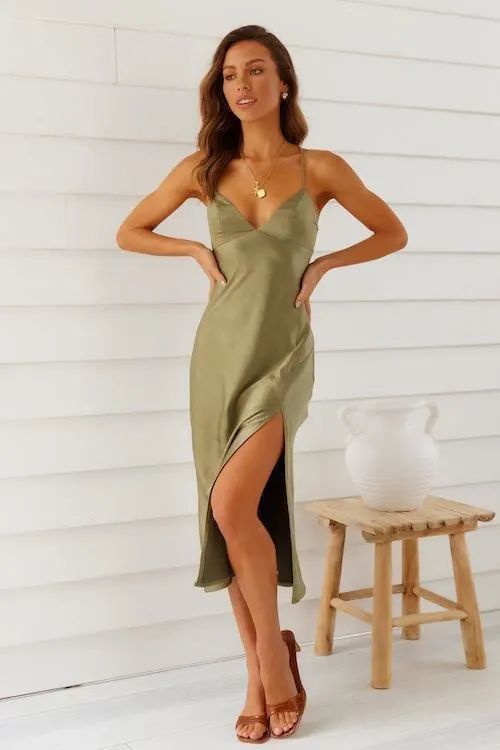 Slide into the party vibes with this trendy dress. The dress has a sweetheart neckline, backless with versatile tie detail, and a side slit. You'll be the sexiest girl in any setting. Styler yours with a crossbody bag and a glam red lip.
48. Talulah Luscioius floral print midi dress
The vibrant print shows your good wishes to the couple and your good taste. The excellent tailoring and delicate design of the dress will set off you elegantly and charmingly.
49. Peach Satin Ruched Bust Maxi Dress
This gentle and lovely dress features a ruched bust and adjustable cami straps. The peach color is so suitable for a summer wedding!
50. LACE A LINE MIDI DRESS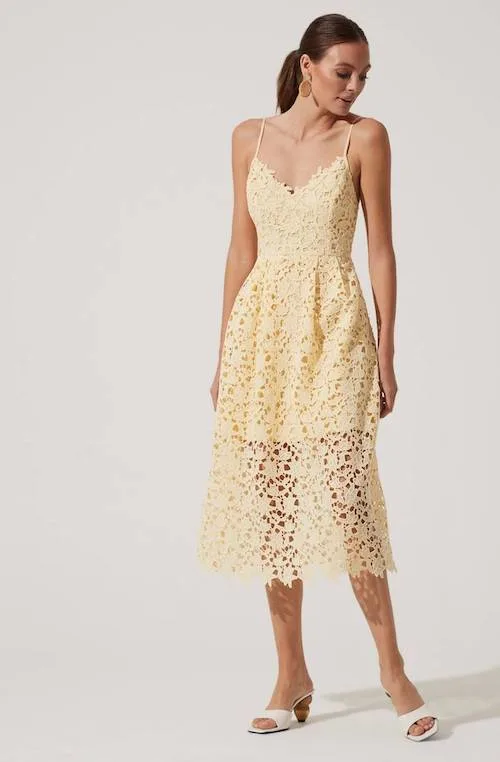 An ultra-femme and figure-flattering closet staple. It features a lace overlay plunging neckline and playful A-line silhouette that descends to a midi-length skirt. Finished with skinny adjustable straps and a hidden zipper back closure.
51. Fulton Dress
This dress is fitted in the bodice and waist with a relaxed skirt. It has a front slit and a smocked back bodice for a little bit of stretch.
52. Show Up Late Peach Knot Satin Maxi Dress
This adorable peach maxi dress features a knotted tank detail with a tie waist and slit hem.
53. Always Celebrating Sage Green Satin Off-the-Shoulder Mini Dress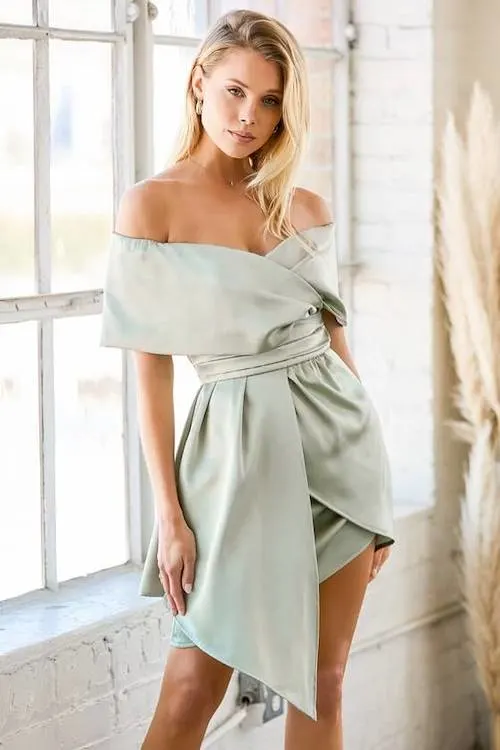 Gathered high waist sits above a mini skirt with an asymmetrical overlapping panel!
Best Wedding Guest Dresses: Fall And Winter
54. Fallen Shoulder Midi Wedding Guest Dress With Tie Detail
The design of this dress is lively and elegant. The beautiful waist design can accommodate many body shapes, allowing you to wear beautiful and confident effortlessly!
55. Cali Dress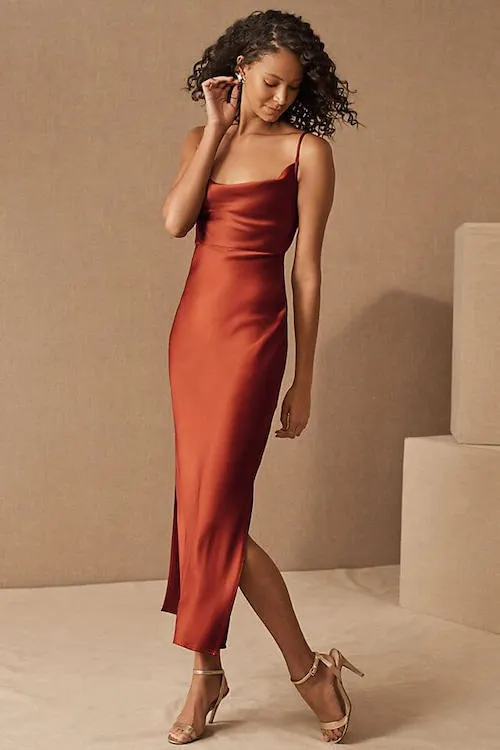 We were deeply moved by the high quality and beautiful colors of this dress. It is very suitable for a winter wedding, bringing a warm and elegant atmosphere.
56. Song of Love Blue Grey Off-the-Shoulder Maxi Dress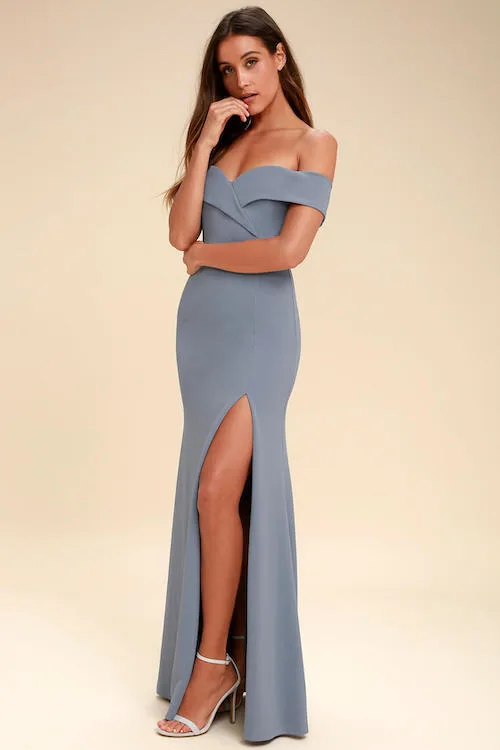 An overlapping, off-the-shoulder neckline creates a romantic look atop this stunning maxi dress, composed of medium-weight stretch knit. Princess-seamed bodice carries into a fitted waist, and figure-flaunting mermaid skirt with a sultry side slit.
57. Significant Other Paradis Dress
A fluid, asymmetric design adorned with sunset palms delivers instant warm vibes with this Significant Other dress.
58. Lavender Mini Wedding Guest Dress with Long Sleeves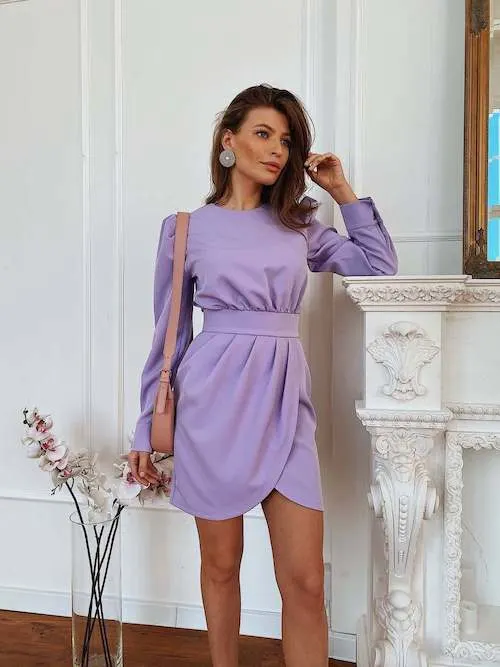 Long sleeve mini dress for elegant and stylish ladies. The dress is marvelous: voluminous sleeves, tulip skirt, belt imitation – you will definitely love the dress.
59. Draped Satin Dress
Wide, crossover straps to tie at the back of the waist for a draped effect at front, making this dress unique and beautiful for a wedding!
60. Expressed Permission Dress Navy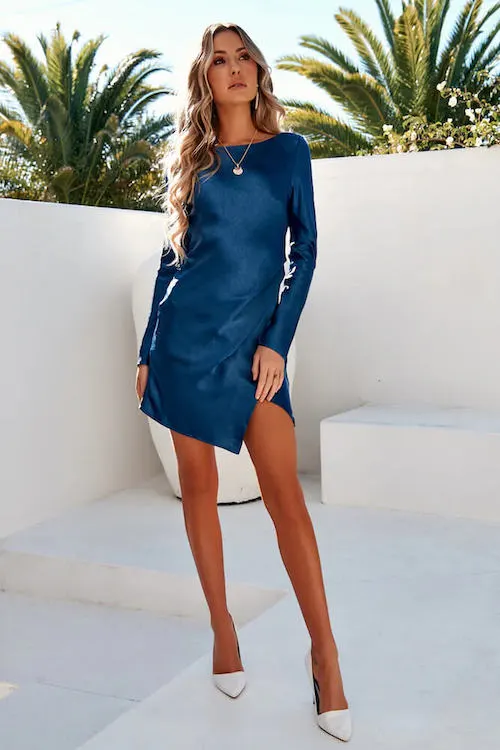 This stunning A-line dress features a luxurious satin fabric that screams high-end glam!
This post was all about wedding guest dresses.
About The Author
Tracy is an experienced personal stylist, shopping expert, and fashion & lifestyle blogger. She has been featured on Time Magazine, Bustle, Best Life, Glam, The Zoe Report, Mic, and GOBankingRates, for her insights on fashion, beauty, home decor, and lifestyle. Read More
Related Posts: