Looking for the best New Years Eve rave outfits? Check this post for the best rave outfit ideas for any NYE festival to celebrate the new year!
It's time to start thinking about what you are going to wear for New Year's Eve!
A rave is a perfect way to ring in the new year and you want to make sure that your outfit makes a statement.
You want to be comfortable, but also fashionable so here are some tips on how you can create your own look for this special night.
This New Year's Eve, let your style speak for itself!
From vibrant colors to bold patterns, there are plenty of outfit options to choose from that will make you stand out in the crowd.
Whether you are looking for something bright and fun or sleek and sophisticated, this guide will help you find the perfect rave outfit for New Year's Eve.
With these tips, advice, and outfit ideas, you'll be ready to ring in the new year in style.
So scroll down to check these rave outfit ideas and trendy rave clothing pieces for New Year's Eve, and don't hesitate to pin them to your Pinterest board, and share them on social media sites.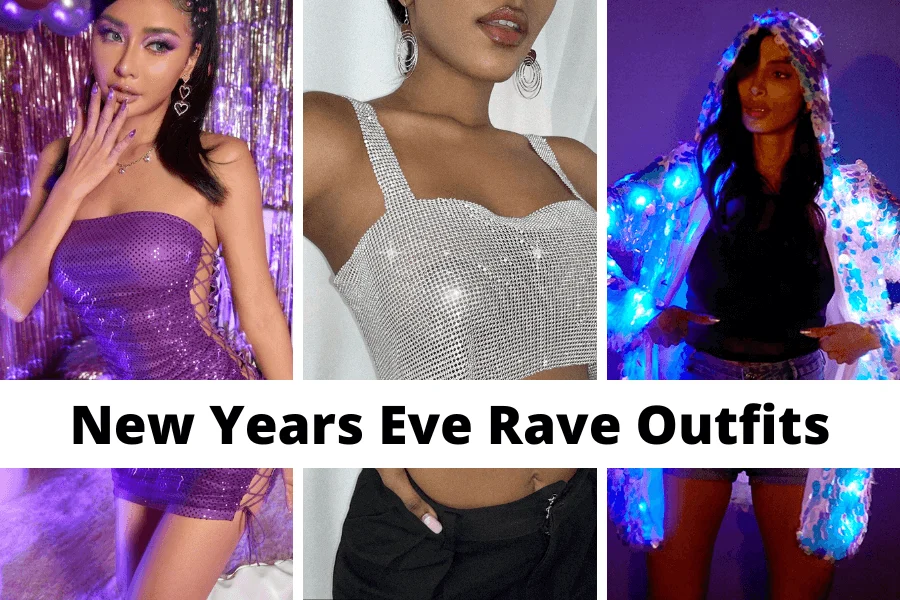 This post may contain affiliate links, which means I'll receive a commission if you purchase through my link, at no extra cost to you. Please read the full disclosure here.
This post is all about New Years Eve rave outfits.
What do you wear to a rave on New Years Eve?
For any New Year's Eve celebration, deciding what to wear is always a challenge.
But when it comes to an all-night rave, the stakes are even higher!
Whether you're attending your first rave or are a seasoned veteran of the club scene, here's what you should wear to ensure you look and feel your best on this special night.
When it comes to choosing pieces for raves, comfort should be your top priority.
Look for fabrics that will breathe like breathable cotton or silk which won't make your outfit too hot and uncomfortable as the night progresses.
It's also important to think about items that will stand out in a crowd – flashy colours and statement pieces such as fishnet tights or leggings can elevate any simple outfit.
Most importantly – don't forget comfortable shoes!
What do you wear to a rave in December?
When it comes to raving in December, the most important thing for any raver is to make sure their outfit is on point.
It can be difficult to figure out what exactly people should wear during a rave in winter, especially as December brings colder temperatures and potentially wet weather.
But fear not! There are plenty of fun options that will keep you looking stylish and feeling warm all night long.
To make sure you stay cozy while showing off your individual style, layer up with items such as wool sweaters or faux leather jackets over classic rave staples like neon tanks and fishnet tops.
Don't forget to accessorize too!
A wide brim fedora or a fun beanie can add a touch of uniqueness to any look.
What do you wear to an outdoor winter rave?
Dressing for an outdoor winter rave can be daunting.
With the temperatures dropping, you want to make sure that you'll stay warm while looking stylish and on trend.
The key is to layer up with comfortable yet fashionable pieces that won't restrict your movement on the dance floor.
It's important to consider both warmth and style when selecting your rave outfit for the night.
Start by choosing a base layer of thick leggings or thermal tights, followed by a bodysuit or tank top and then a long-sleeve shirt or sweater over it.
For extra protection against the elements, opt for a lightweight jacket in faux fur or faux leather that will add texture and shine to your look.
Can you wear black on new year's eve?
The answer is yes!
Black is a classic style choice that never goes out of fashion, so why not start off your new year in style with a timeless black look?
For those attending a more casual event like a rave, black outfits are perfect.
They can be dressed up with statement jewelry or bold accessories to make them more eye-catching.
You can go for sleek and slim silhouettes or add some edge with distressed fabrics and leather accents.
What to Wear to New Year's Eve Events & Festivals
Whether you are attending a rave or a more traditional event, finding the perfect outfit can be tricky.
Here are some tips on what to wear to New Year's Eve events and festivals this year.
For those planning on attending a rave, comfort should always come first!
Opt for lightweight fabrics like cotton or spandex, as these will help keep you cool throughout the night.
If it's cold outside, don't forget to layer up in brightly colored t-shirts and sweaters – adding a pair of statement boots or trainers will complete the look.
For something edgy, why not try opting for neon colors paired with fun accessories?
Rave Outfits for the New Year Eve
If you're heading out for a night of wild partying, then a rave outfit can help you stand out from the crowd.
From light up accessories to bold prints, there are plenty of options when it comes to styling your rave look.
For something truly eye-catching, why not go all out with an LED dress or top?
Whether it's neon brights or pastel shades that you prefer, these garments are sure to attract attention on the dance floor.
Alternatively, if you'd like something a bit more subtle yet still fun, opt for reflective materials such as sequins or metallic fabrics.
You could even add some extra shine with glitter accessories and sparkly jewelry.
Now scroll on to check our favorite NYE rave wear ideas to copy and shop for from affordable online fashion stores!
Sheer Fishnet Metallic Top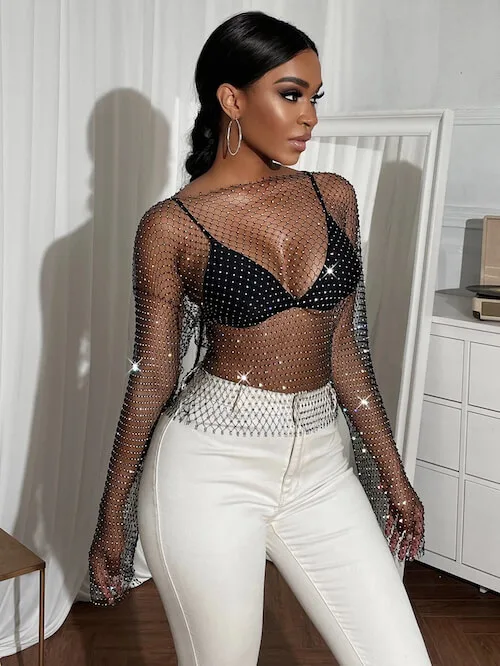 Backless Sequins Bodycon Dress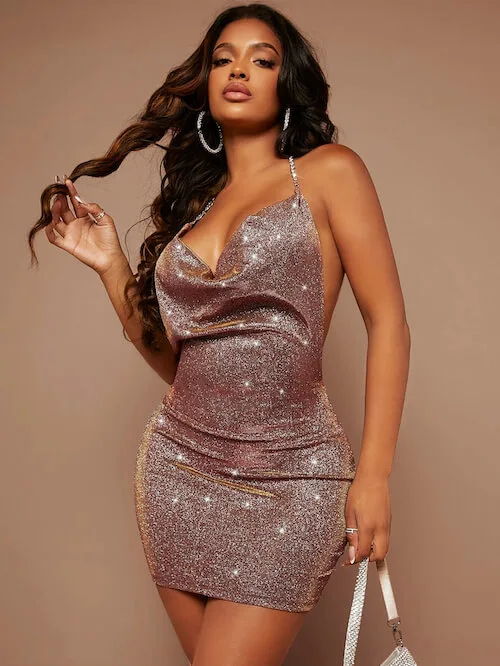 Butterfly Embroidery Cami Top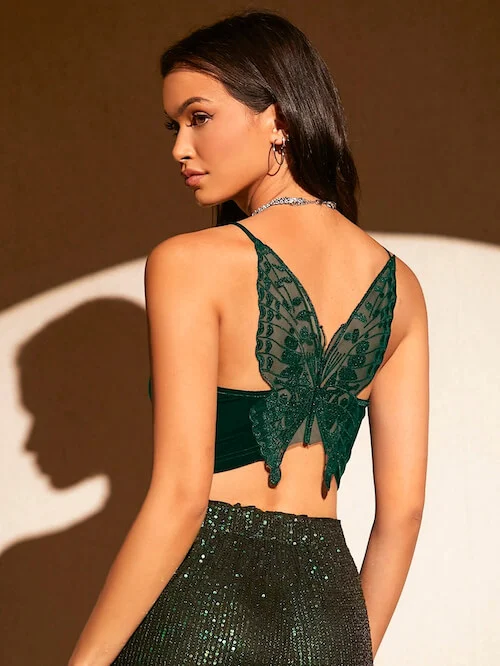 Metallic Cami Top & Bodycon Skirt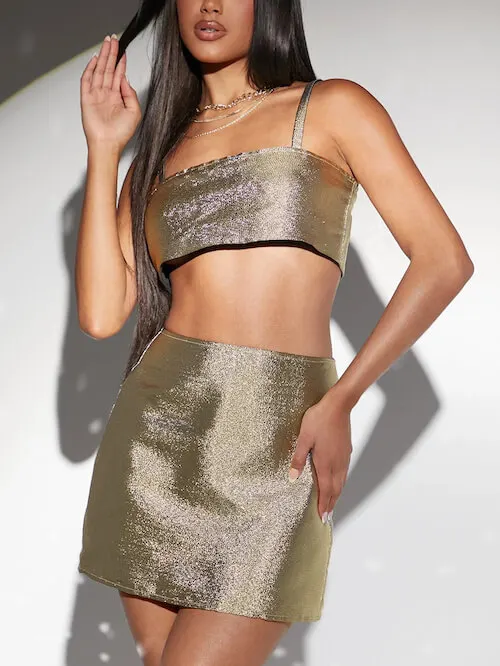 Halter Neck Sequin Dress + Knee High Boots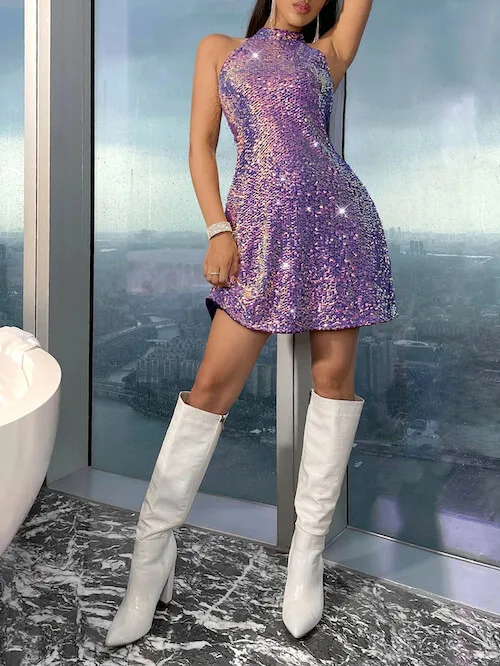 Fuzzy Trim Dress + Metallic Accessory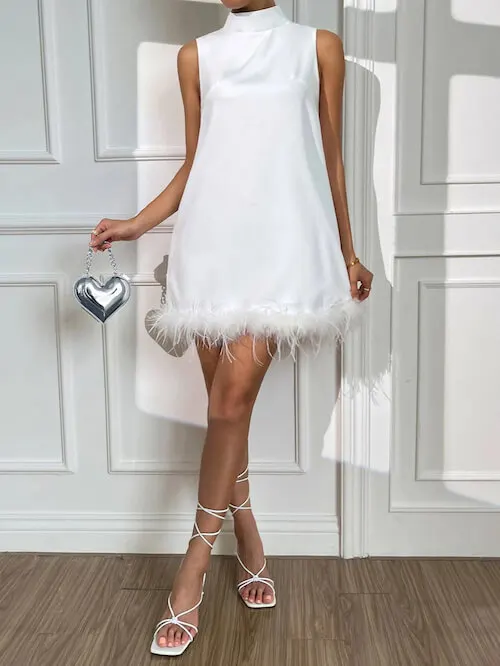 Sequin Fringe Dress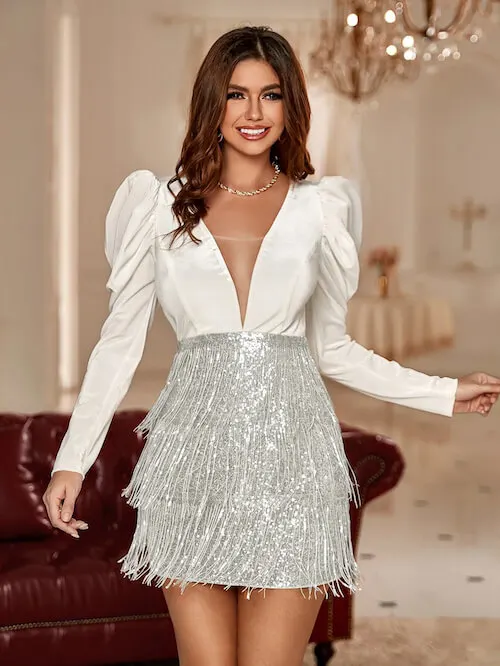 Lace Up Side Sequins Bodycon Dress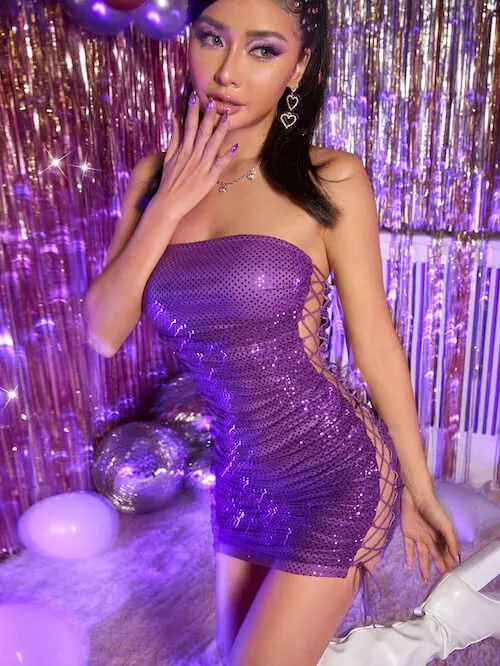 Sequin Halter Top & Mini Skirt
Long Sleeve Chain Crisscross Bodycon Dress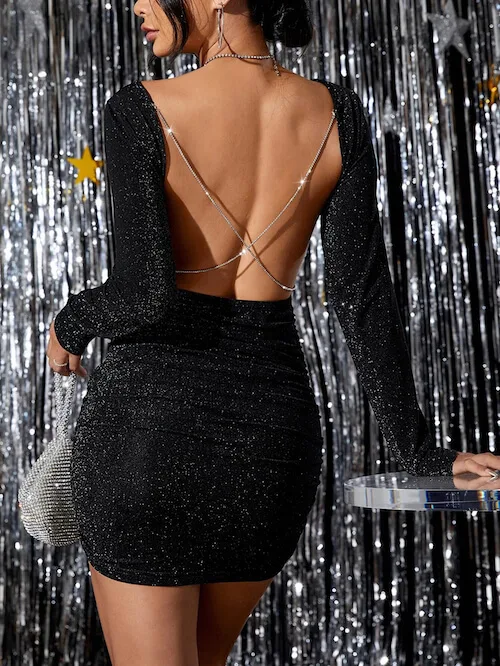 Glitter Strap Satin Mini Dress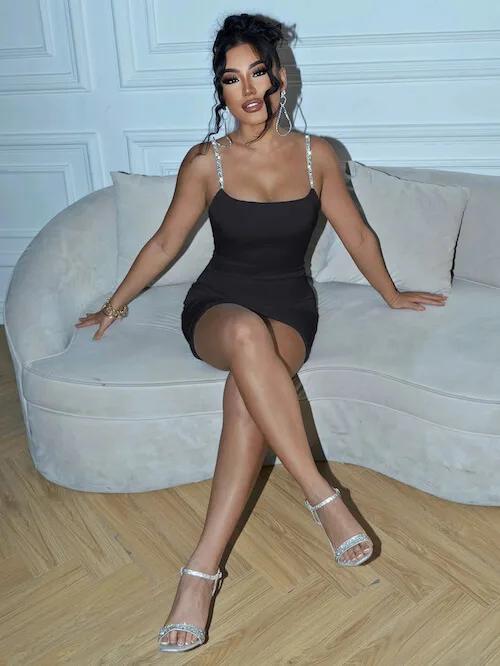 Sequin Tube Top + Jeans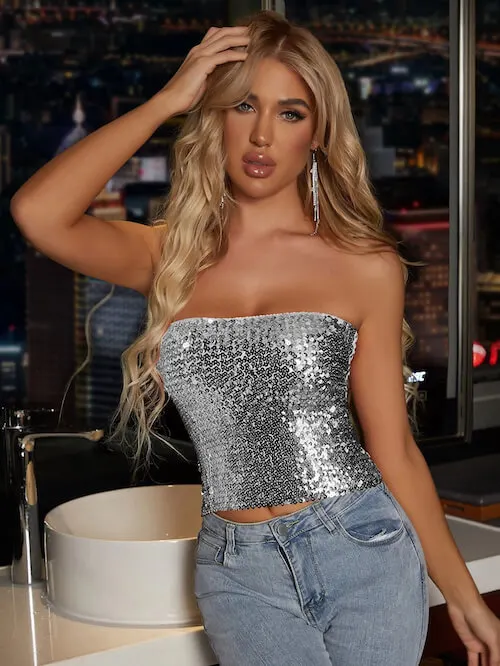 Sequin Cami & Skirt Set + Mesh Top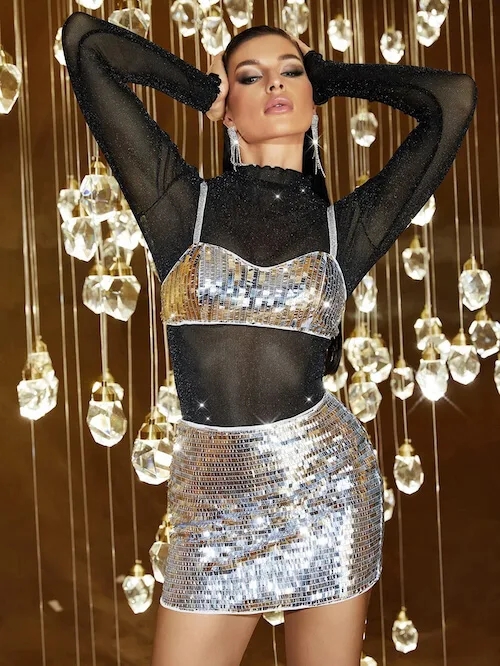 Metallic Cami Top + Black Pants
Butterfly Shape Cami Top + Pink Pants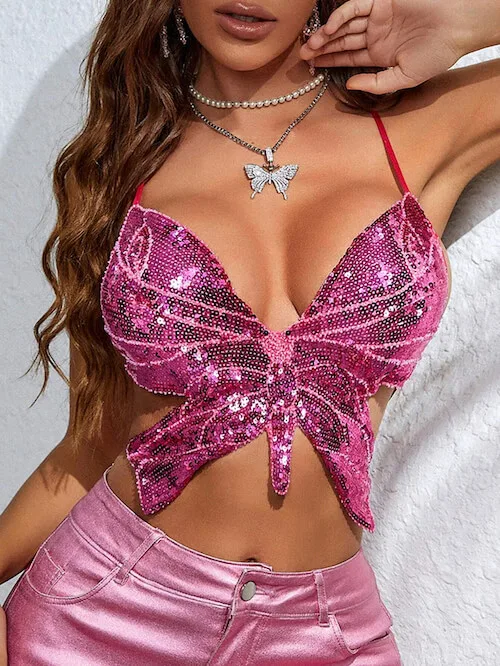 Fringe Trim Cami Top & Skirt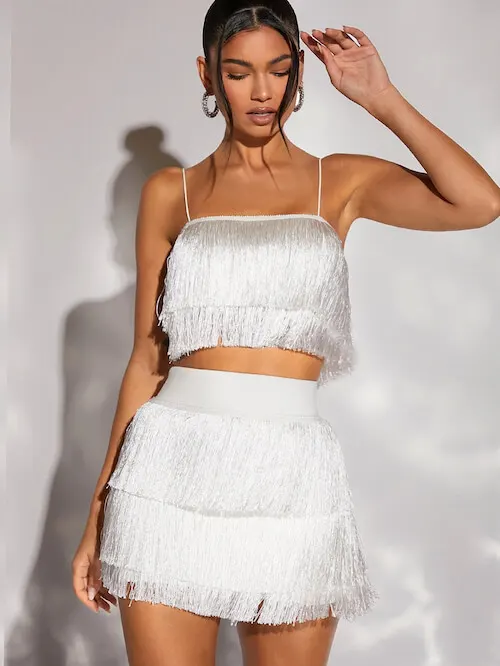 Fuzzy Trim Sequin Tank Top & Skirt Set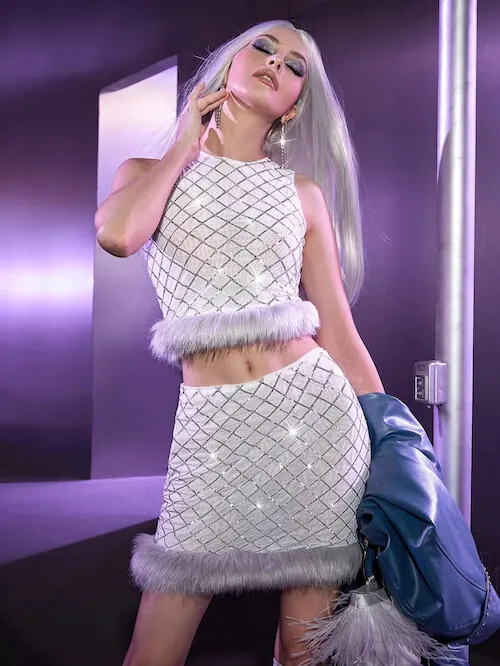 Metallic Flare Leg Pants + Fuzzy Bra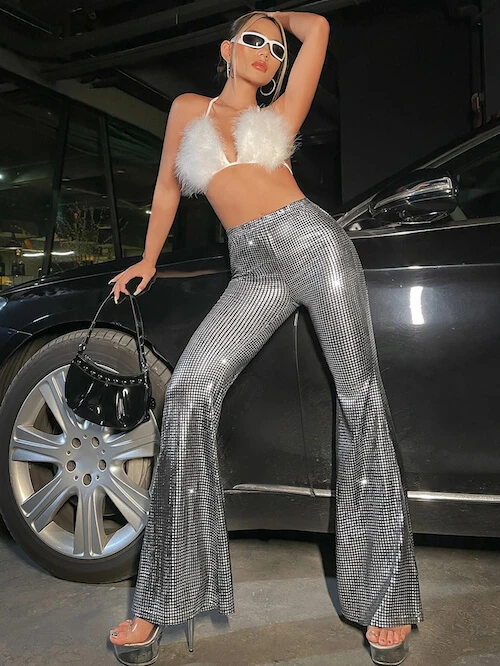 Silver Sequin Cami Dress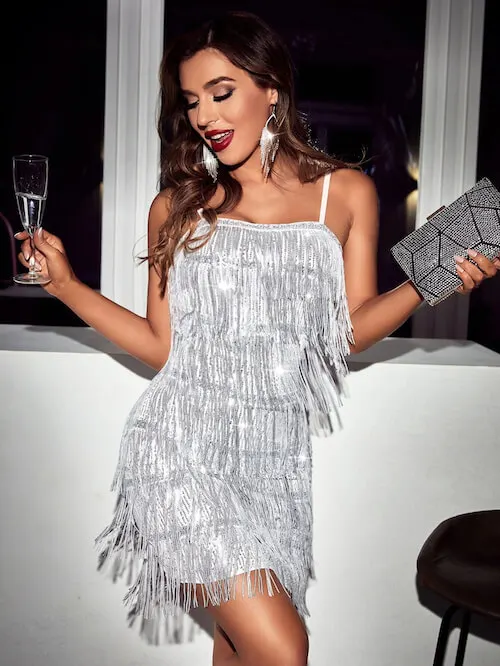 Rainbow Striped Cami Dress
Holographic Bikini & Sequin Skirt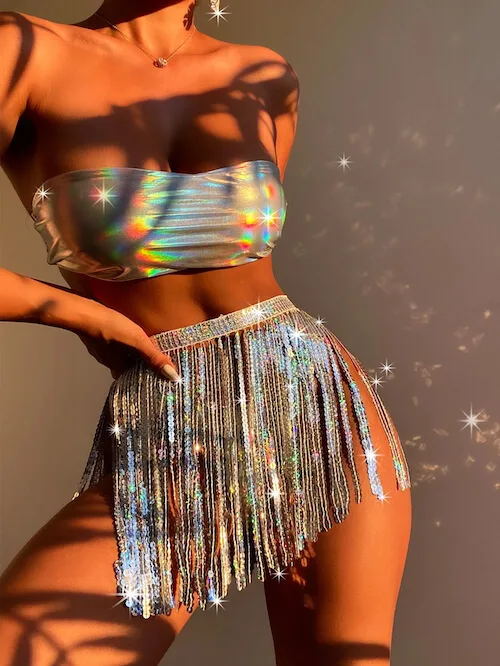 Sequin Fringe Bikini Top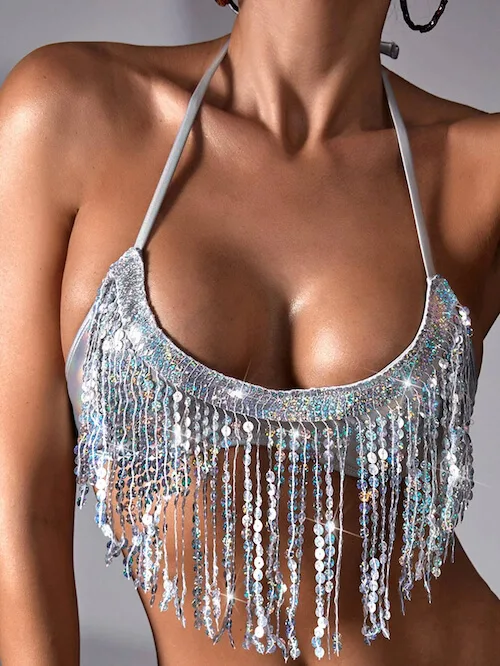 Led Fur Coat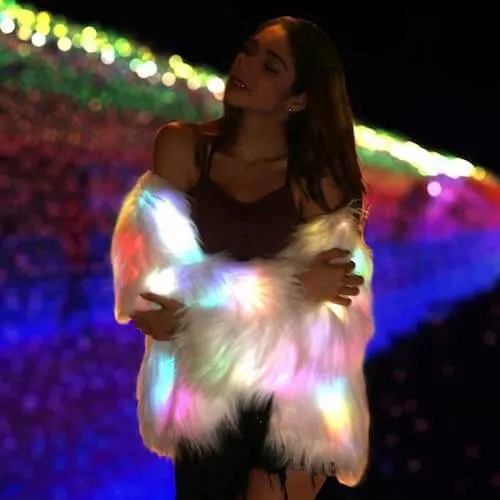 LED Sequin Jacket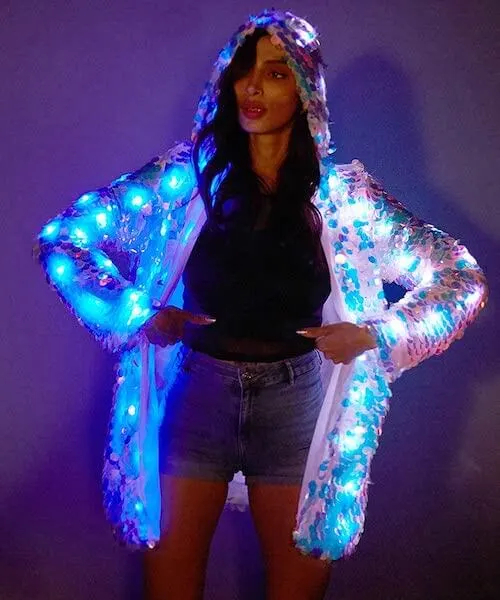 Festival Sequin Rave Top + Shorts
Star Sequin Holographic Costume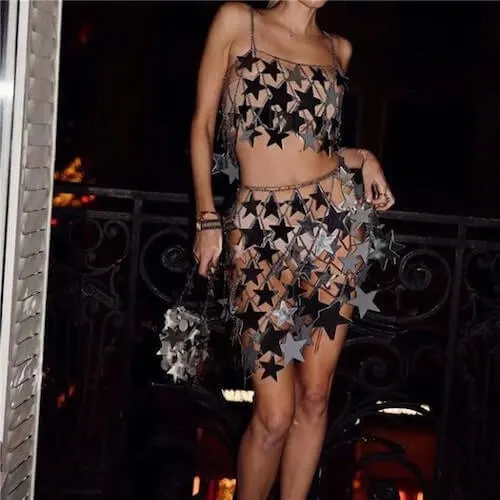 Crop Fuzzy Jacket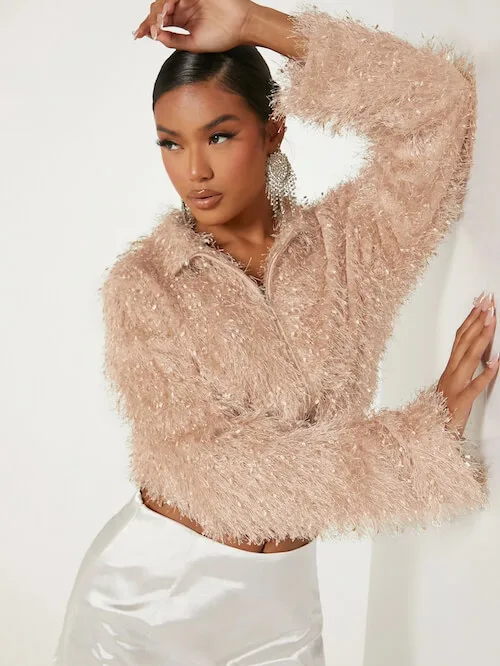 New years eve rave outfits
Start with a simple yet stylish top.
Try something with sequins or glitter, or even an animal print.
Pair it with bottoms that will keep you dancing throughout the night – think bootcut jeans or leather trousers.
Add some rave-ready accessories such as glow sticks, face jewels and sparkly hats. Layer up by adding chunky silver jewelry and neon colored waistcoats for a bolder look.
Finally don't forget your favorite pair of sneakers or go all out and opt for some space boots instead!
This post was all about New Years Eve rave outfits.
About The Author
Tracy is an experienced personal stylist, shopping expert, and fashion & lifestyle blogger. She has been featured on Time Magazine, Bustle, Best Life, Glam, The Zoe Report, Mic, and GOBankingRates, for her insights on fashion, beauty, home decor, and lifestyle. Read More
Related Posts: