Want to know what color shoes to wear with navy dress? Check this post for the best shoe colors and styles ideas to pair with a navy blue dress for different occasions, and the best navy blue dress outfits to shop for directly.
Navy blue dresses are staples in a woman's wardrobe. They are even more versatile than a little black dress.
Whether it is a formal occasion, a leisure holiday, a romantic spring and summer, or a festive fall and winter, an elegant winter wedding or a romantic beach wedding, a navy dress can always make it easy for us to dress up or down, and to attend various occasions with confidence.
If you are looking for the best shoe colors and styles to pair with your favorite navy dress, you've come to the right place.
In this article, I am sharing with you the best shoes to wear with navy dresses, and how to choose the right shoes to wear with navy dress for different occasions. I also include the best navy dress outfits and our favorite color shoes from the best online fashion stores for you to shop for directly.
So scroll down to check this style guide of navy blue dress outfits, and don't hesitate to pin your favorite outfit ideas to your Pinterest board, and share them on social media sites.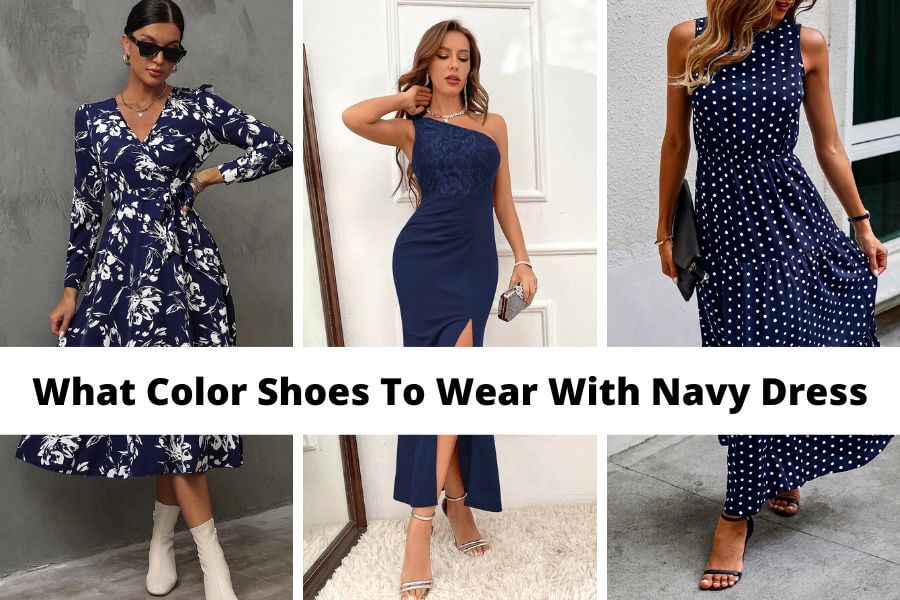 This post may contain affiliate links, which means I'll receive a commission if you purchase through my link, at no extra cost to you. Please read the full disclosure here.
This post is all about what color shoes to wear with navy dress.
The Best Color Shoes To Wear With Navy Dress
Choosing shoes in different styles and colors can often instantly make our dresses look completely different.
So, for a navy dress outfit, what are the most popular colors for the footwear?
Black Shoes
The first is the versatile black shoes. Black shoes are elegant and low-key, perfect for any skin tone, so they go well with dresses in a variety of colors and prints.
You can give your navy dresses an elegant and feminine look by wearing classy black heels and strappy sandals.
You can also try black short boots, combat boots, cowboy boots, etc., let the wildness of the boots and the elegant dress form a wonderful fashion clash, bringing more visual interest.
In the fall and winter days, if you are looking for the best cold season shoes for your navy blue dresses, then a pair of black boots is one of the most ideal choices.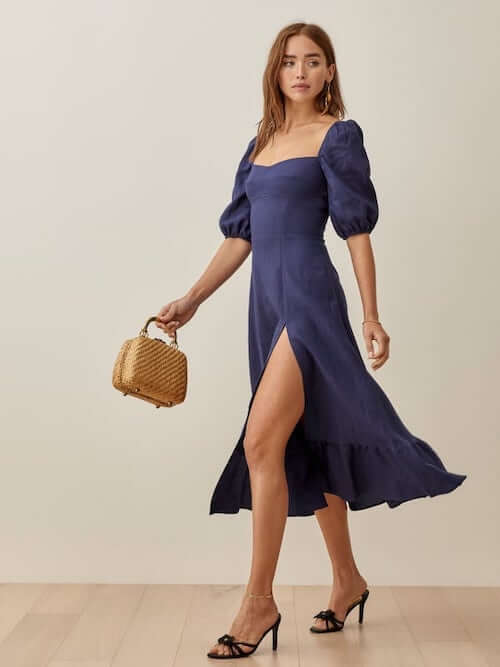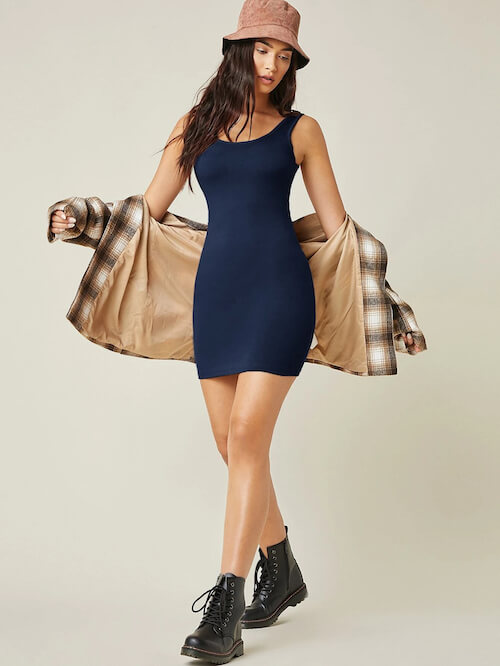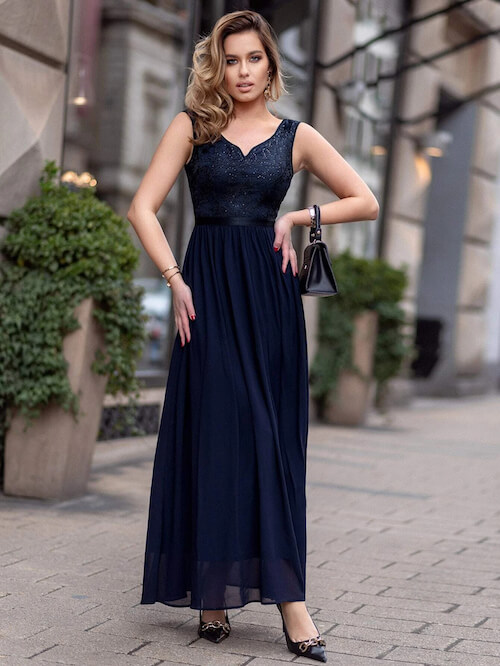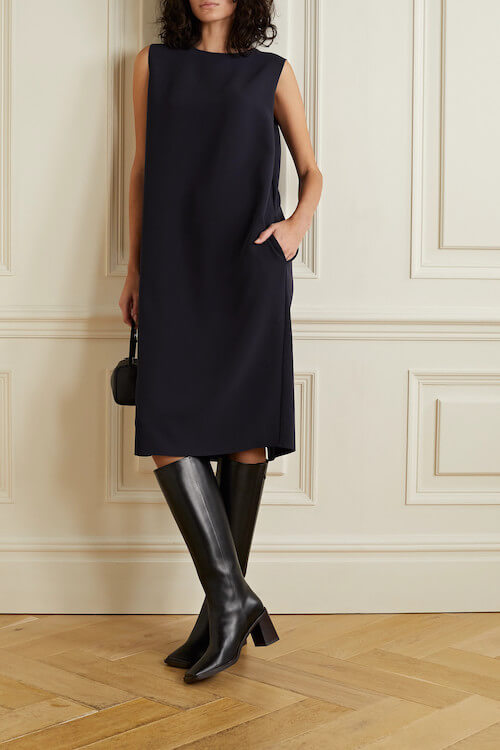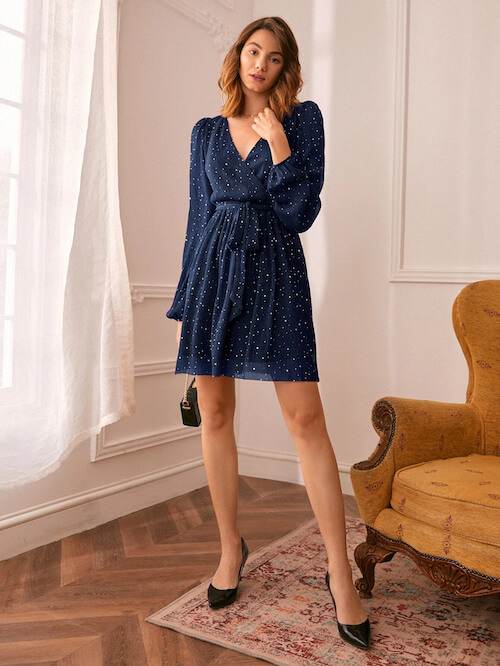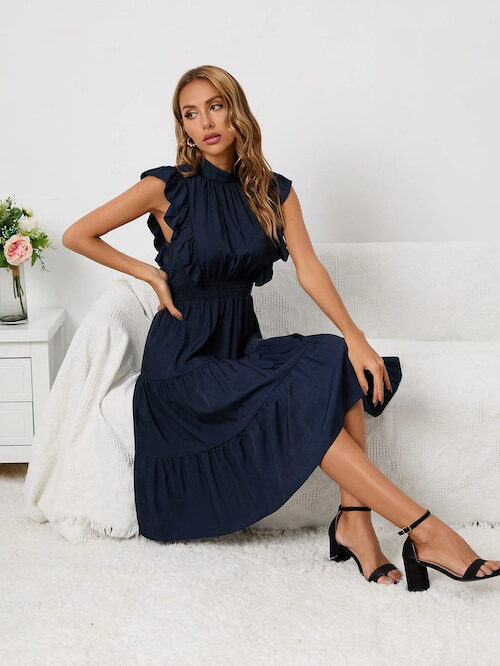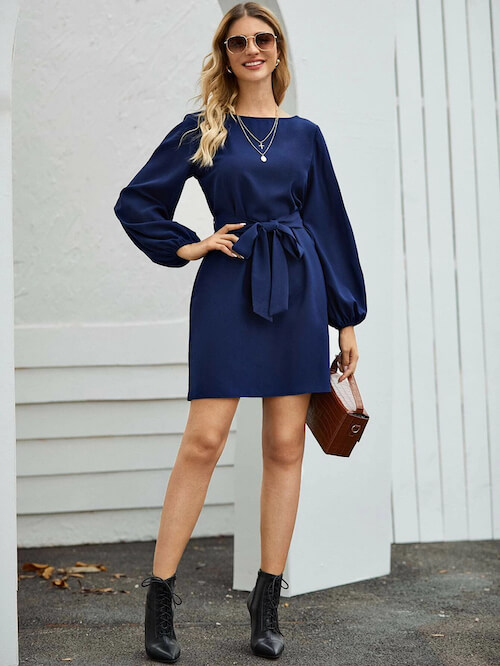 Shop Black Shoes
White Shoes
In the color matching of clothing, white is also very versatile. And white is more fresh and eye-catching than black, which can add a refreshing and refreshing detail to your darker colors outfits.
In addition, white sneakers and white sandals in white shoes naturally have the style of summer vacation. If you want to dress down a navy blue dress to make it more suitable for leisure time, then you can choose a pair of white shoes to match it.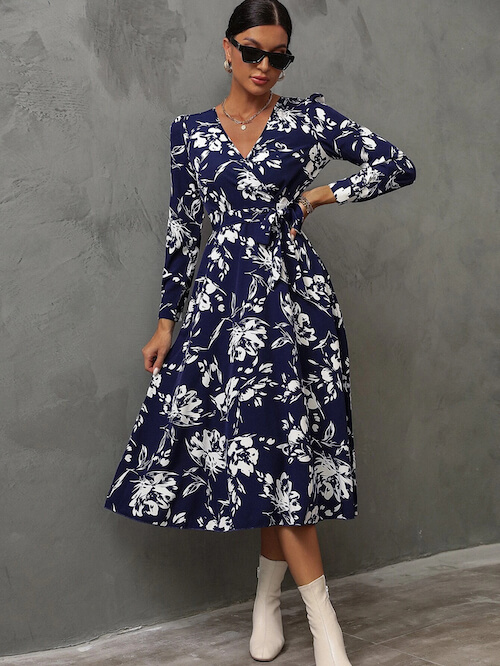 Shop White Shoes
Brown Shoes / Tan Shoes
Yellow tone color is the complementary color for blue tone color. Complementary colors are also very suitable colors to match with each other. Therefore, you can choose brown shoes to match your navy blue dresses.
This pairing is perfect for all seasons. In summer, a pair of brown slippers or sandals will make your navy dress outfits look very chic.
In fall and winter, a pair of dark brown boots brings a very fashionable cozy vibe, making your dress naturally the best piece of your fall and winter wardrobe.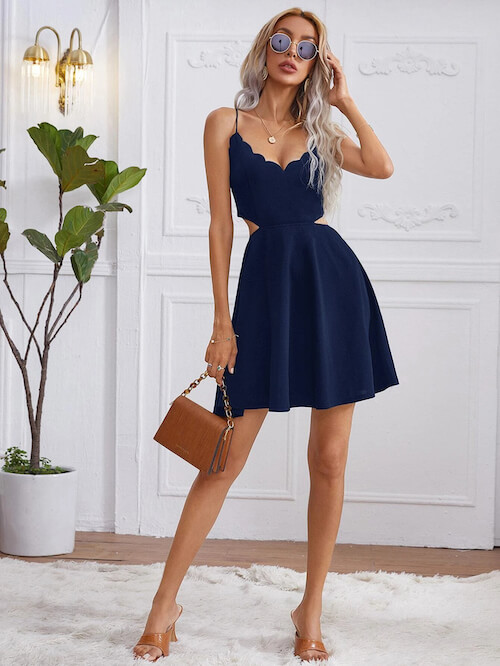 Shop Brown Shoes
Silver Shoes
A pair of silver shoes is so classy and noble, it is best to match with your navy blue dresses for all kinds of weddings, parties, and formal dress code occasions.
Especially in the holidays, when you choose a sequin navy blue formal gown, I especially recommend you to wear a pair of silver shoes to match this dress, and you will become the most dazzling beauty in the holiday parties.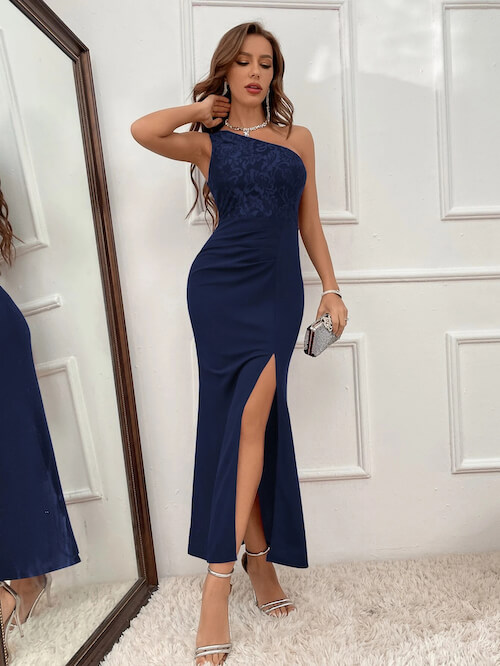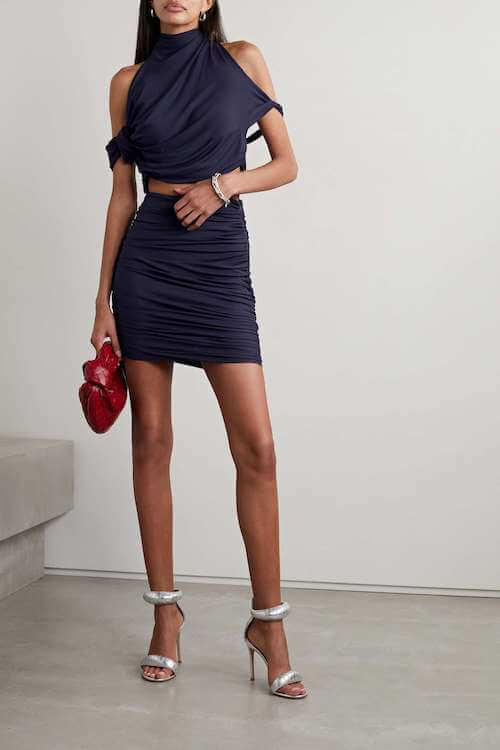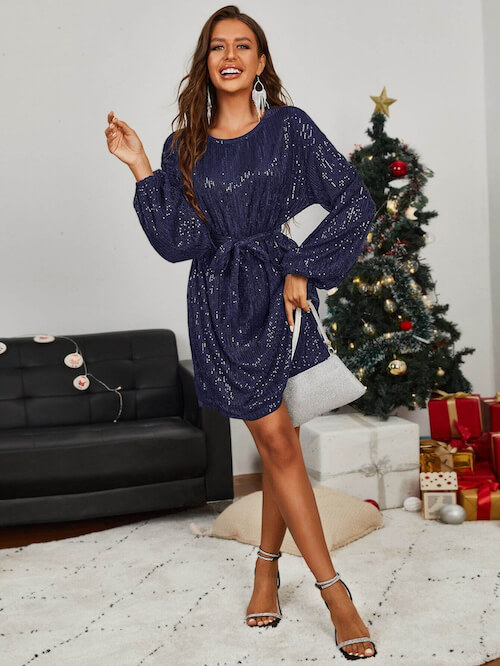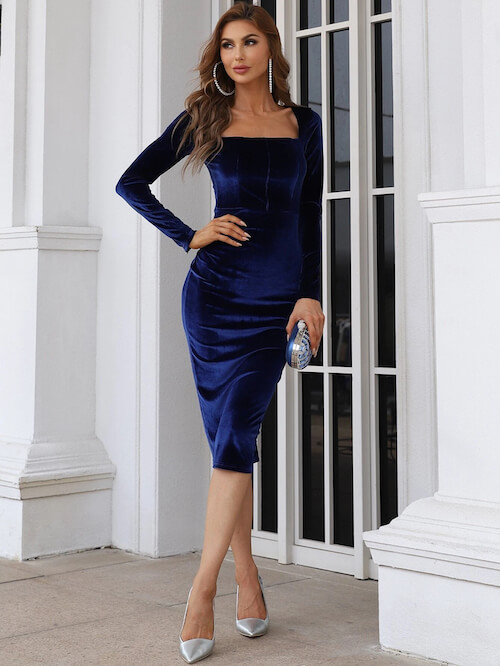 Shop Silver Shoes
Gold Shoes
In addition to silver, gold is also a very suitable shoe color for navy blue dresses.
Especially if most of your jewelry is gold, using gold shoes to match the color of your jewelry will work best.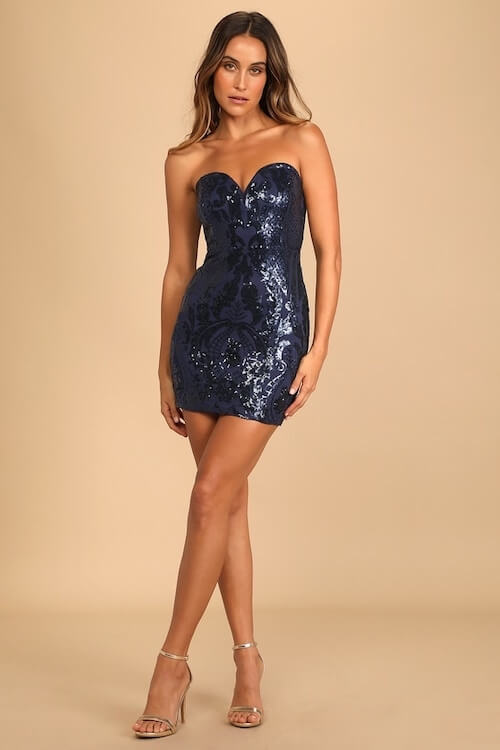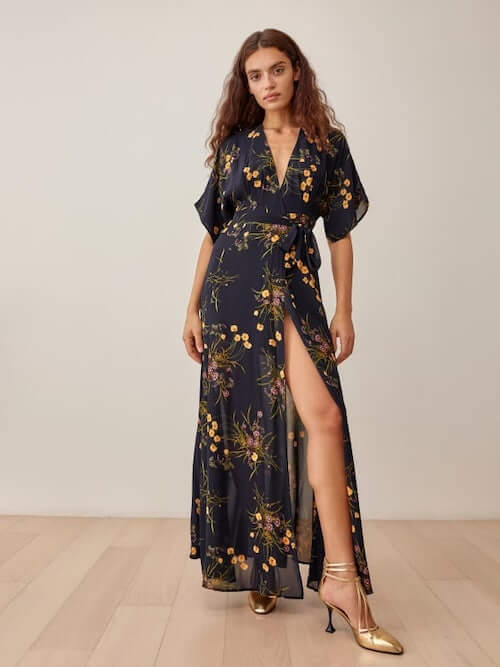 Shop Gold Shoes
Nude Shoes
Nude is also a very versatile shoe color with a perfect neutral tone. A pair of nude heels or nude flats look very stylish, and they are great options for casual or formal occasions, and can show your good fashion sense.
You can experiment with different shades of nude to see which one suits your personal style best.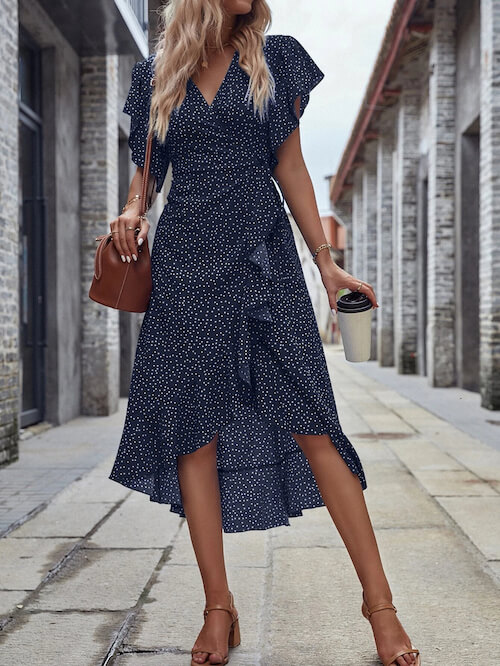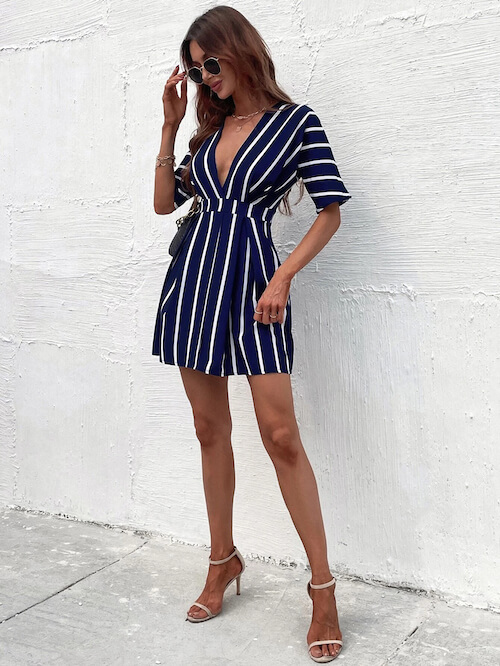 Shop Nude Shoes
Pink Shoes / Bright Colors Shoes
Bright pink is one of the most popular fashion elements this year, so why not try a pair of these bold colors shoes to add a pop of color for a bold look?
Then you only need the simplest jewelry and purse to complete your stunning navy dress look.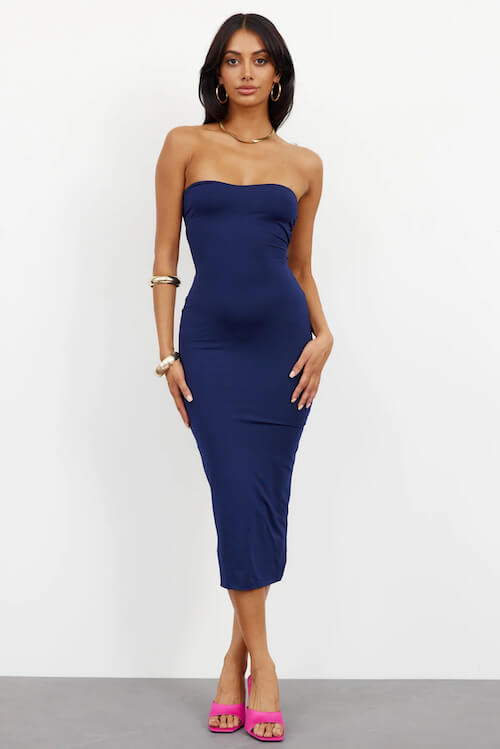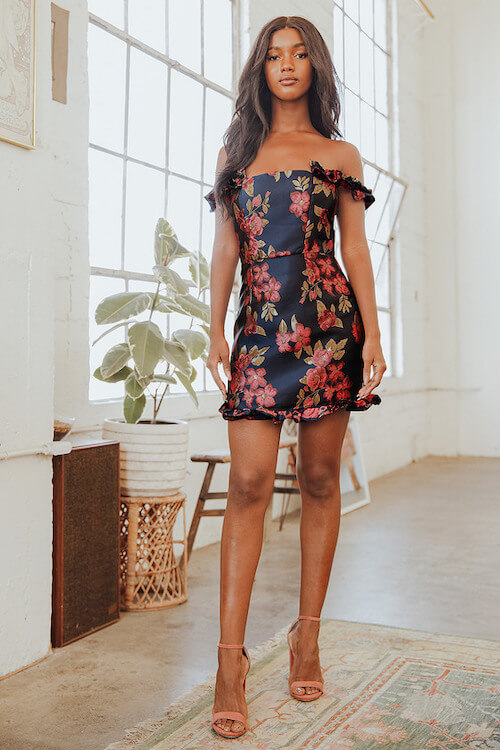 Shop Pink Shoes
Red Shoes
The classic color combination of red and blue is always so youthful. A pair of red shoes is a perfect match with a dark blue dress.
Take your navy color dress look to the next level with a beautiful pair of red shoes for the vacations or parties.
Shop Red Shoes
Yellow Shoes
Fresh yellow shoes are a perfect pair of shoes to pair with elegant navy dresses, making you the most gentle and chic woman.
Choose a darker shade of yellow for a formal occasion, and a cute mustard yellow shade for a lovely casual occasion.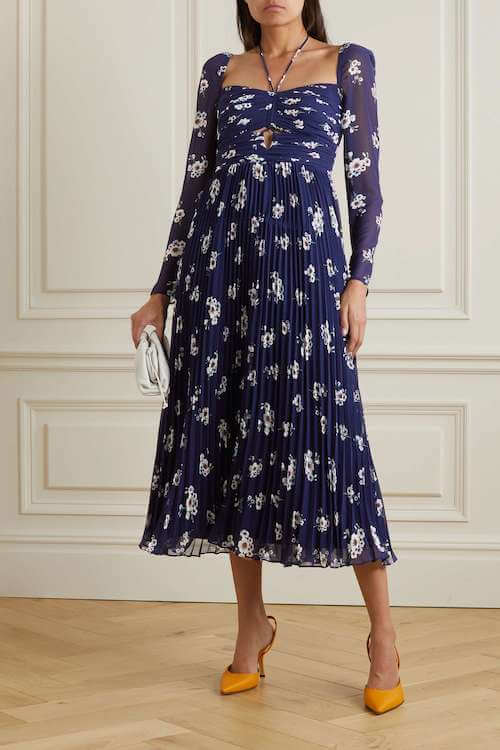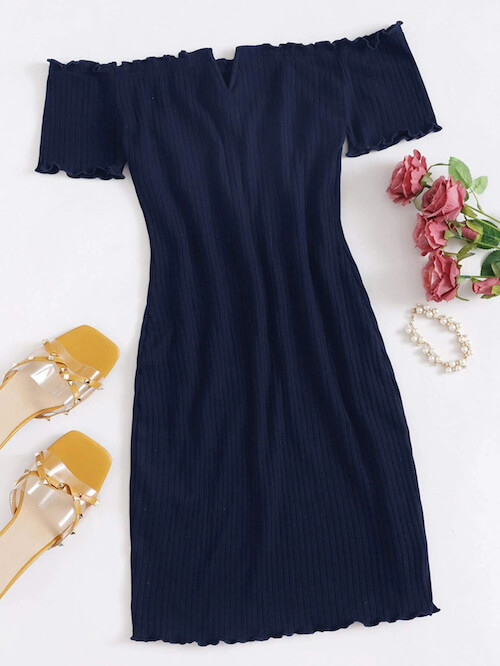 Shop Yellow Shoes
Blue Shoes
An all navy outfit is never out of style.
You can choose shoes of the same texture as your dress, such as navy blue velvet shoes to match your navy blue dress to make you look more elegant and charming.
You can also try light shade of blue shoes to complement your dark color navy blue dresses. This outfit idea is very unique but quite trendy and makes you overall look very cute and not tacky at all.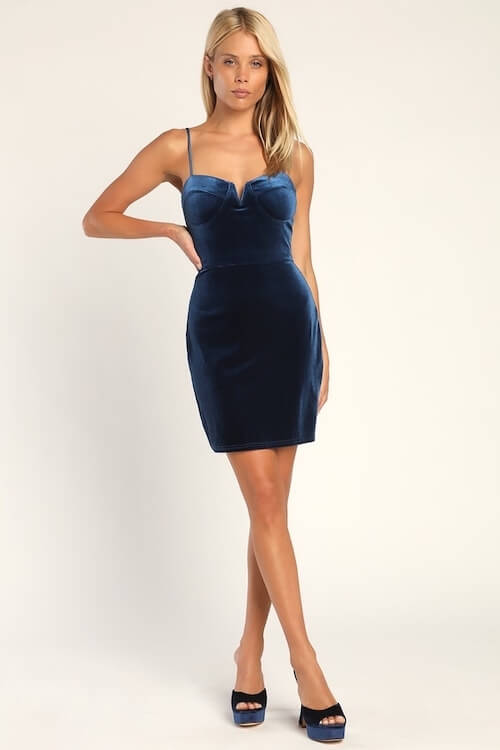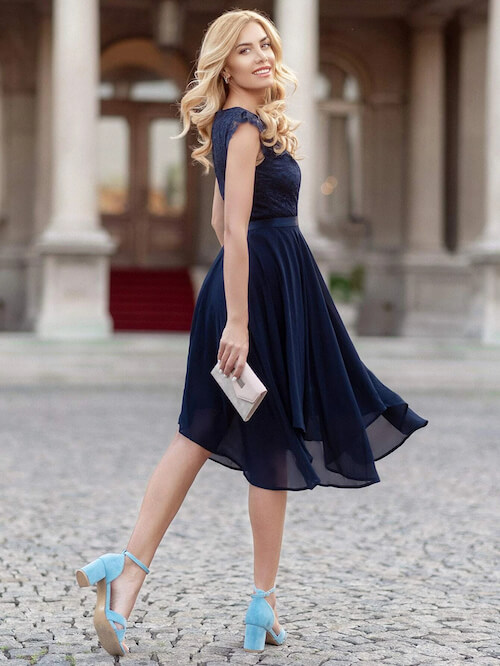 Shop Blue Shoes
Green Shoes
If you want to look special but don't want to try too much red or yellow shoes, you can also choose a pair of green shoes.
The combination of green and navy blue looks harmonious and also adds a little fun detailing and your personal touch to your entire look.
Shop Green Shoes
Ahead, check the style tips on how to choose the right shoe color for a navy dress for different occasions.
What Color Shoes To Wear With Navy Dress For Wedding Or Formal Events
A navy dress is the most popular dress for a formal wear.
If you want to choose the best pair of shoes for your wedding navy blue dress, my first recommendation is a pair of silver or gold shoes. These colors of shoes are gorgeous and elegant, perfect for showing off your best wishes for the bride and groom.
If you don't want to wear such a formal and grand, you can also choose nude or black shoes to match your navy blue dress for a classic look to the wedding. These two colors are more understated than gold or silver, but still formal and elegant.
Want a bit more personal touch? A pair of chic pink strappy heels or pink pumps is also a good choice.
In addition, now more and more wedding guests also choose to use a pair of white knee high boots to match the dress to attend the wedding.
Especially, if your navy blue dress has a high slit design, you should definitely try to match it with a pair of white tall boots. This is a great way to make you look trendy and have your own style.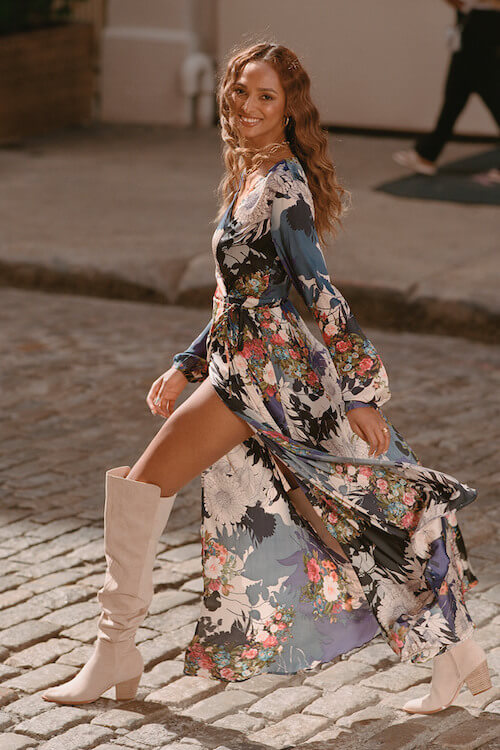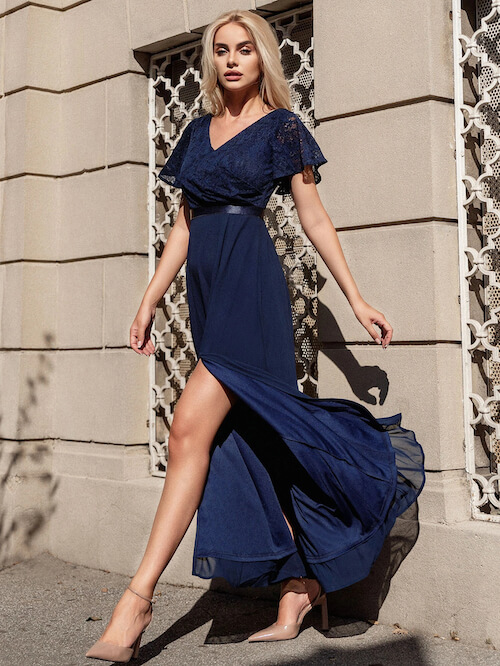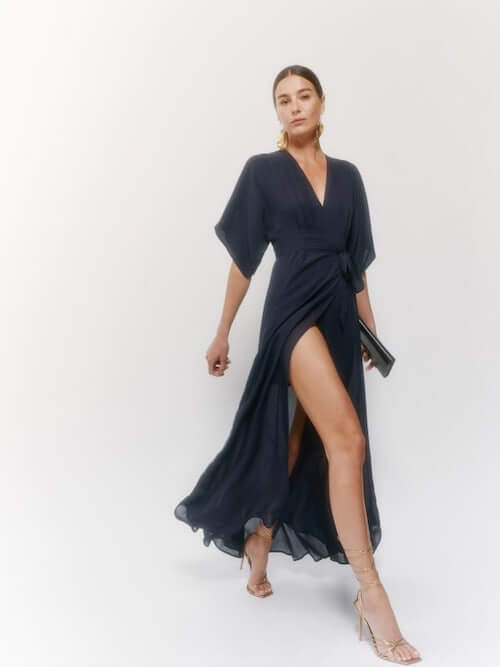 What Color Shoes To Wear With Navy Blue Dress For Casual Wear
White low-heeled shoes, flats and strappy heels, naturally have a casual style.
So if you want to quickly make your simple navy dress perfect for a casual look, then complete your chic look with a pair of white shoes.
In addition, you can also try nude shoes or dark brown or tan shoes that are similar in color to straw shoes.
These colors are all reminiscent of the colors of nature and make you feel like you are in the midst of enchanting nature, perfect for casual and relaxing occasions.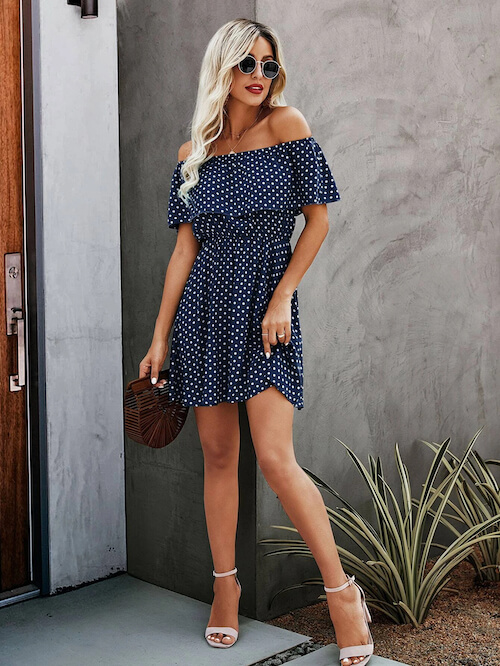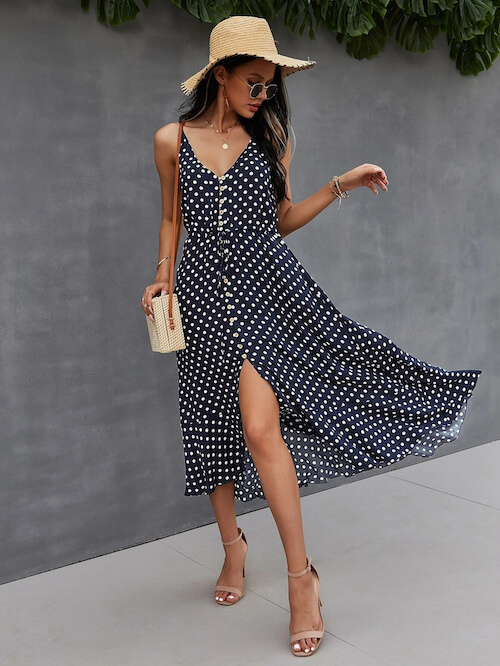 What Color Shoes To Wear With Navy Dress In Fall Winter
Brown and black shoes work best with navy blue dress outfits in fall and winter.
Both of these colors are very versatile, and in addition to pairing with your navy blue dresses, they will work flawlessly with just about any clothing piece in your fall/winter wardrobe.
And when the weather is very cold, you can also add a pair of warm black leggings to keep your navy blue dress still stylish in the cold season.
In fall and winter days, I also especially recommend trying black or brown suede shoes to complement a lovely navy blue sweater dress.
This combo is adorable whether worn alone or with a coat or thick coat.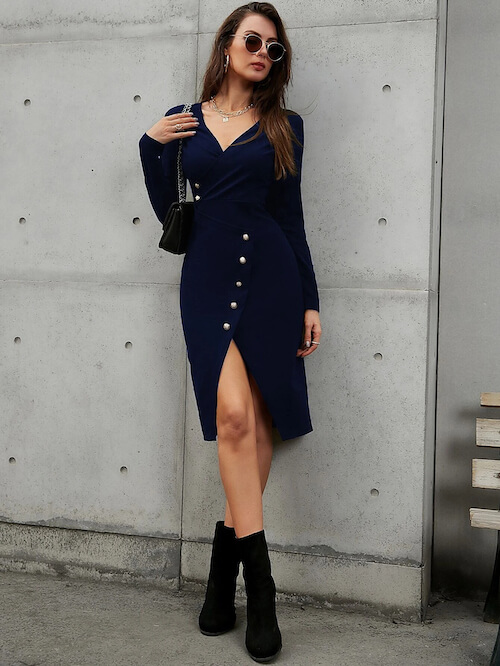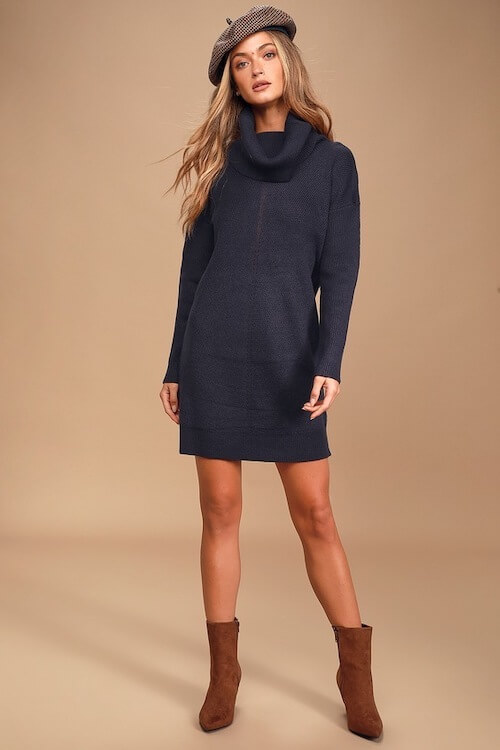 What Color Shoes To Wear With Navy Dress With White Polka Dots
Of all the navy dresses, the navy blue dresses with white polka-dot prints have a retro and nautical feel and are very popular.
The pro tip is: the larger the polka dots on the dress, the stronger the retro feel of the dress. At this time, I suggest you wear more minimalist shoes, such as simple black sandals, so that your outfits don't look tacky.
If the polka dot print is relatively small, then this dress has a very comfortable and relaxed holiday style.
At this time, you can wear flat strappy sandal shoes full of the same resort style, so that you can spend a good holiday with ease and joy.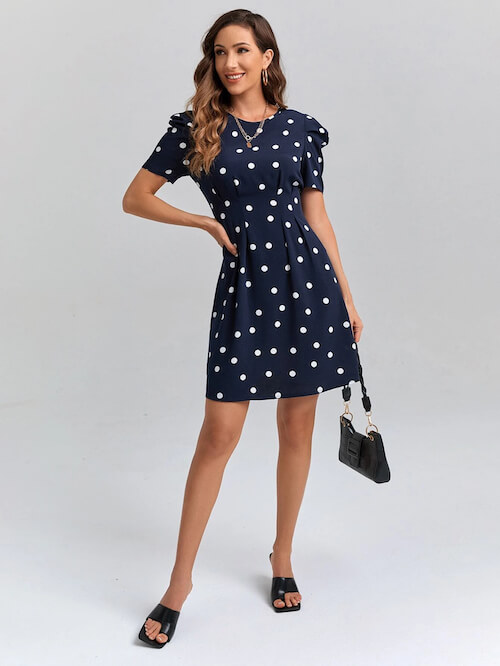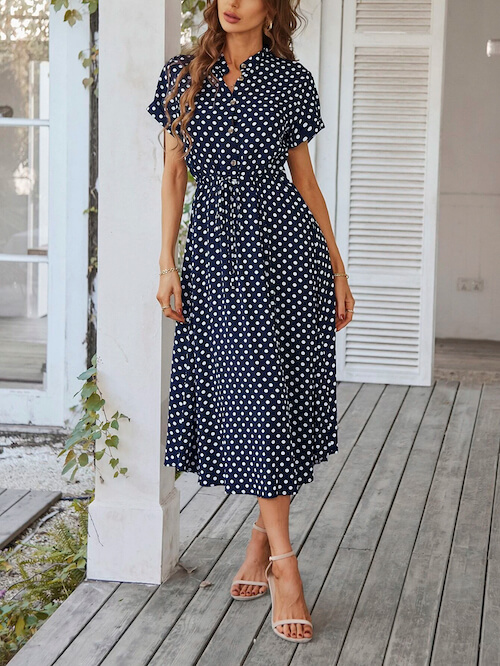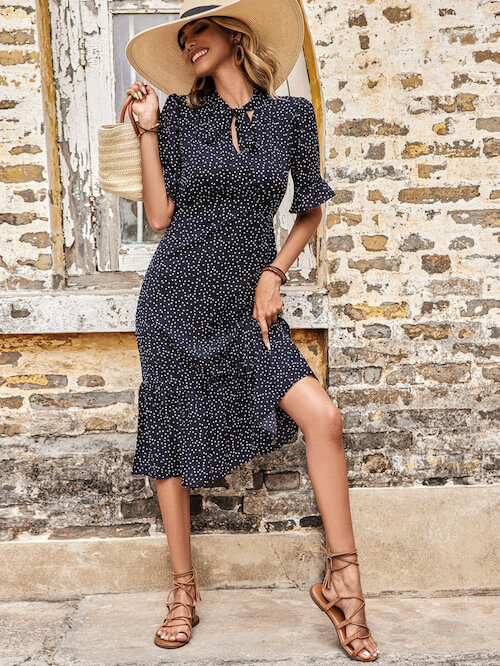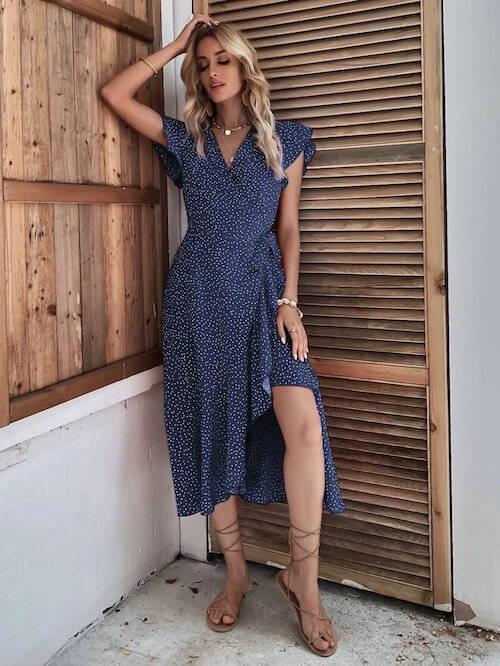 What Color Shoes To Wear With Navy Floral Dress
Navy floral dresses are lovely and suitable for more formal occasions as well as casual vacation occasions.
If you are choosing a pair of shoes that are best for navy floral dress, the first shoes I recommend are black shoes. They are very low-key, and they don't conflict with the print on the dress at all.
Similarly, a pair of simple white shoes is also a best option that will never be wrong at all.
If you want to take your style to the next level, I suggest you choose one of the print colors as your shoe color.
For example, if your navy dress is covered in yellow floral prints, then you can choose a pair of yellow shoes to complete the whole look.
In this way, your shoes and the beautiful print on your navy blue dress form a wonderful echo, which fully shows your fashion matching skills and good fashion taste.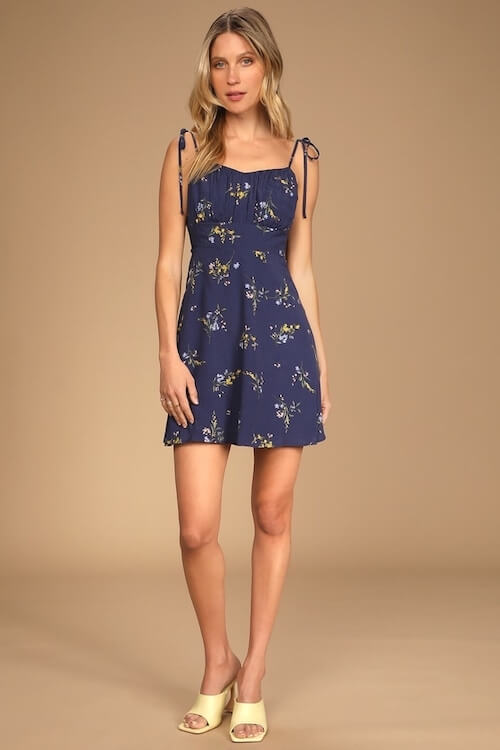 This post was all about what color shoes to wear with navy dress.
Related Posts: