Don't know what to wear to the gym for female? Check this post for the gym style tips, 90+ stylish workout outfits to copy directly, and the best brands to shop!
Exercise and fitness is one of the most important parts of the life of girls who love to be fashionable, even from the first time for gym. Styling a good workout look is a great way make the gym moments so much happier.
At the same time, the fitness industry and the fashion industry are practicing more and more closely. From gym clothing to athletic shoes, the chic fitness outfits make us more beautiful and also allow us to wear the same clothes after working out on a regular basis with confidence.
If you're like me and want to look good at the gym every time, or if you are looking for a good reason to stick to your New Year's resolution this time by bringing more fun to your gym plan, you've come to the right place today!
In today's article, I am sharing what to wear to the gym, and the 90+ best workout outfits for different styles and different shapes, for you to choose the perfect fit for your next great workout!
At the end of the article, I am also recommending the best fitness brands to shop for cute gym attire.
So scroll down to check this complete guide of different outfits and don't hesitate to pin them to your Pinterest board, and share them on social media sites.
This post may contain affiliate links, which means I'll receive a commission if you purchase through my link, at no extra cost to you. Please read the full disclosure here.
This post is all about what to wear to the gym for female.
What To Wear To The Gym: How To Choose Women's Workout Clothes
Supportive Sports Bra
Choosing a high quality supportive bra is the first thing you need to prepare for your gym outfit.
Compared with a regular bra, supportive bras are doing a better job for women to protect their breasts when when exercising.
Leggings / Yoga Pants / Biker Shorts
The workout leggings worn for strength exercises have stretching breathable fabrics, and their wide waist design can also provide certain support for the hips for gym workout.
Some of the leggings will also have ergonomic skills to stop the rubbing during exercise.
The other role of leggings is to highlight the attractive curves, so that you can be more confident when exercising!
Sweatpants / Joggers
For jogging, some yoga class exercises, and other sports, you can also wear joggers and other loose athletic pants. Or when the weather is colder, you can put a jogger on in addition to shorts to keep warm.
Sports Tops
For workout tops, quick-drying sports tops with breathable materials are one of the good choices for your gym clothes.
When selecting a sports top fabric, elasticity and moisture wicking performance are two major considerations.
Functional clothing made of Nylon elastane and Lycra spandex synthetic material has a soft texture and good fit and support.
Cotton / Lycra Spandex blend synthetic fabrics is soft, having both cotton feature and Lycra material rich in elasticity, and not easy to change the shapes.
Compared to a standard cotton T-shirt, quick-drying tops with breathable fabric allow sweat to be evaporated quickly, avoiding the clothes from sticking wetly to the body for a long time, and are especially suitable for heavy exercise and sweaty sports.
But for some girls with more sensitive skin, loose cotton clothing will be more comfortable and soft, is a better choice. Especially for yoga, a relatively light type of workout, will be more suitable, comfortable and stress-free.
Consider Weather Conditions
Add a jacket or oversized sweater to keep warm.
Check Your Gym Dress Code Or Consult Your Personal Trainer
Finally, don't forget to check the dress code of your gym to choose the right activewear.
Or you can also consult your personal trainer for the most appropriate gym wear for each type of exercise to achieve the best results. Different workouts may require different outfits, so consulting your trainer will help you find the correct attire.
Stylish Workout Outfit Ideas
Looking for more different styles? Check below ultimate guide of the best workout outfits we curated for more inspiration!
Leggings + Bright Top
I recommend solid color leggings, especially navy blue, dark green, black, brown, because these colors are easy to match with other pieces and look thinner.
If your upper body is relatively thin, you don't have to wear the same color.
Instead, choosing a different color top would be a good idea. You can choose bright colors top, so that the bright colors highlight your relatively thin position, so that others will automatically ignore your bigger parts.
Black Leggings + Workout Tanks + White Socks
Black Legging casually with a tight white tank top and white socks will look very good, also suitable for everyday wear.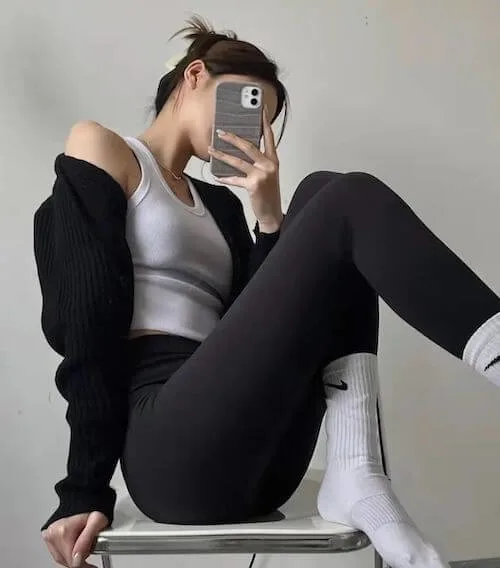 Bra Top + Leggings
Bra tops and leggings look very sexy, especially if the same color bra tops are replaced with white such light-colored bra tops, so that others see the white tops at first glance, will ignore other parts, you will look more attractive.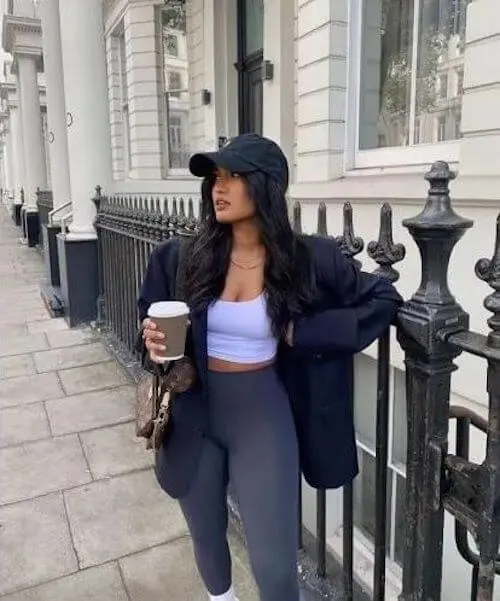 Oversized Blazer + Leggings
Use apple-shaped people's favorite oversized blazer to cover the bigger position above the hip, showing slim legs. Gray, black, white or beige blazers are the best choices to have a good look.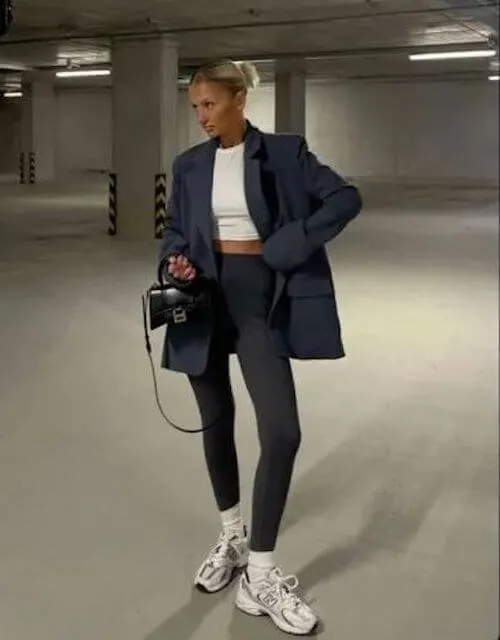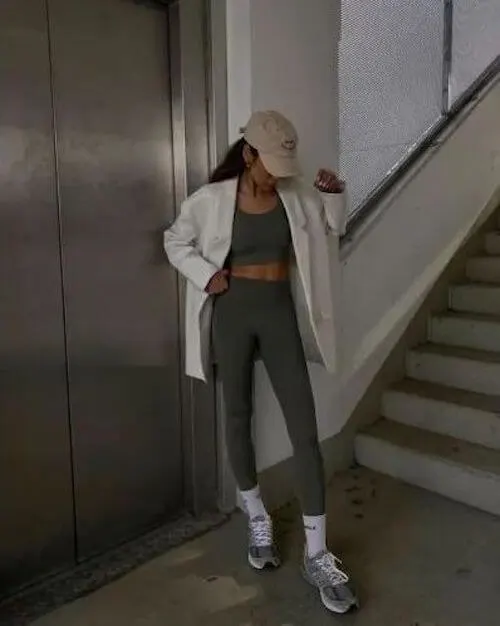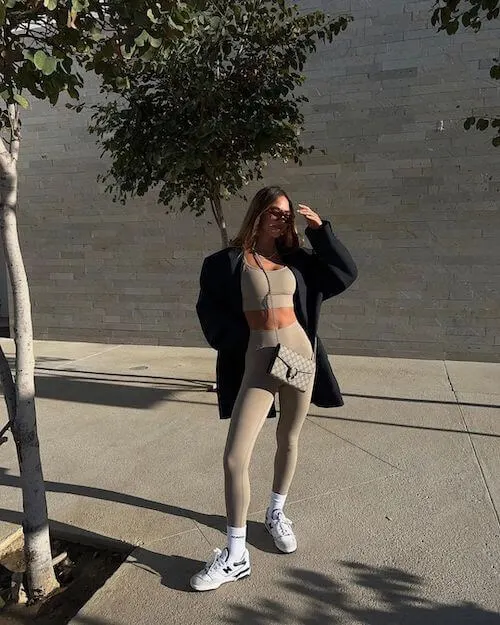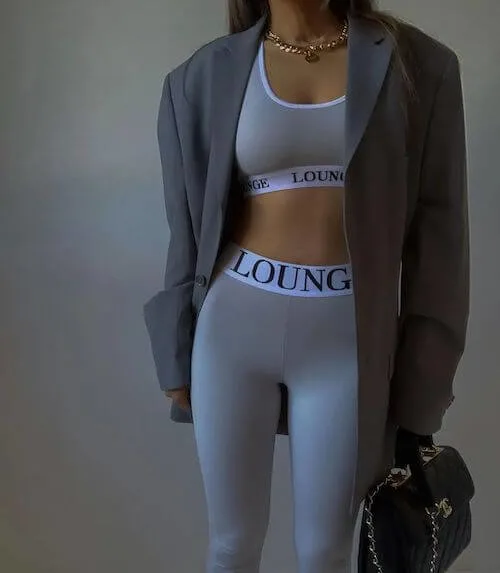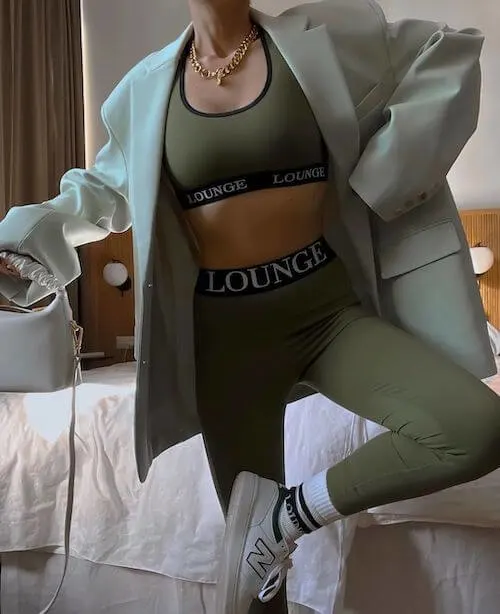 Biker Shorts + Cute Crop Tops + Oversized Blazer + Baseball Cap
Pair your workout outfit with an oversized blazer and a baseball cap to be sexier and chic.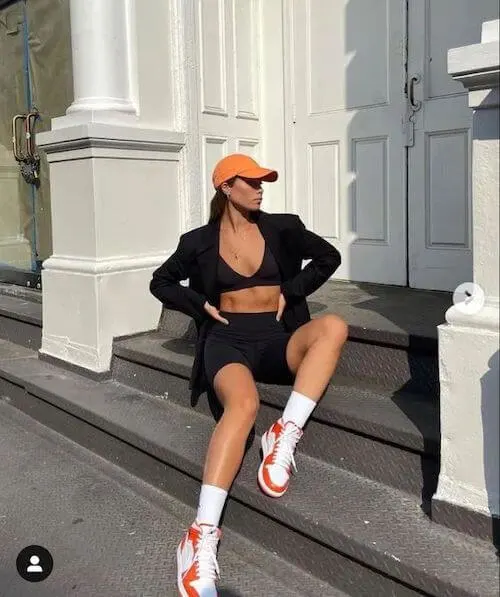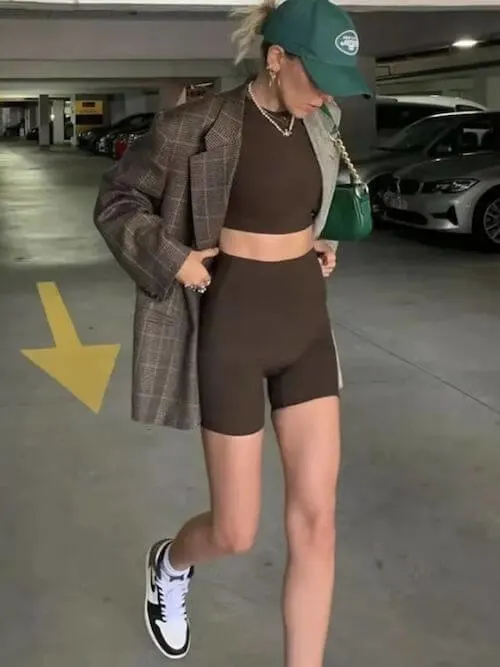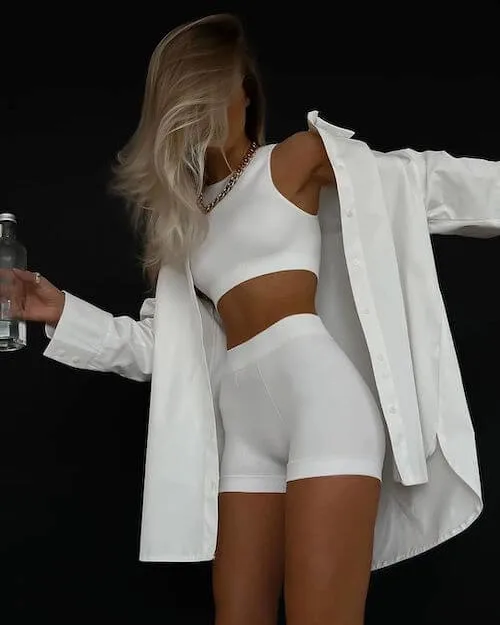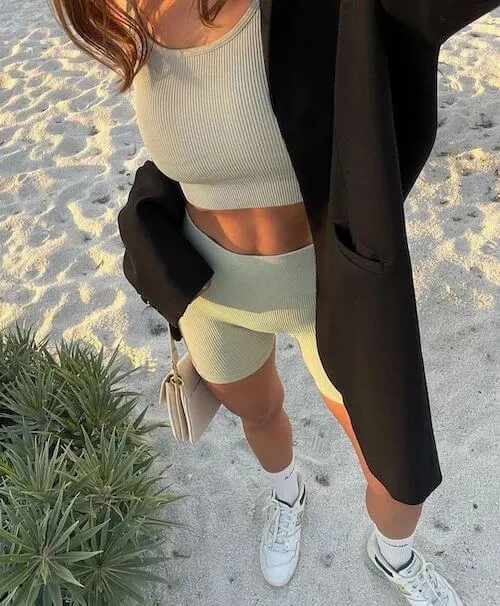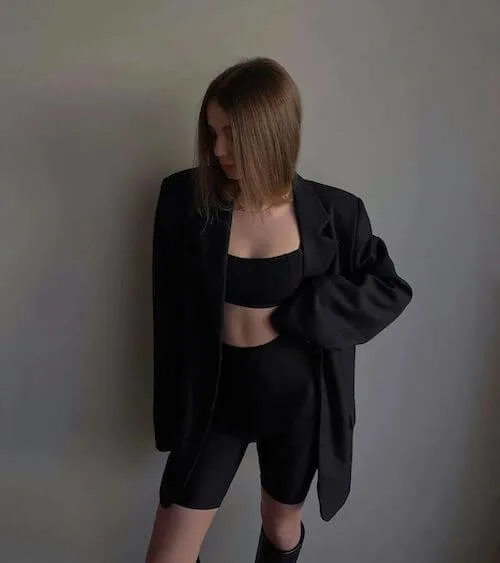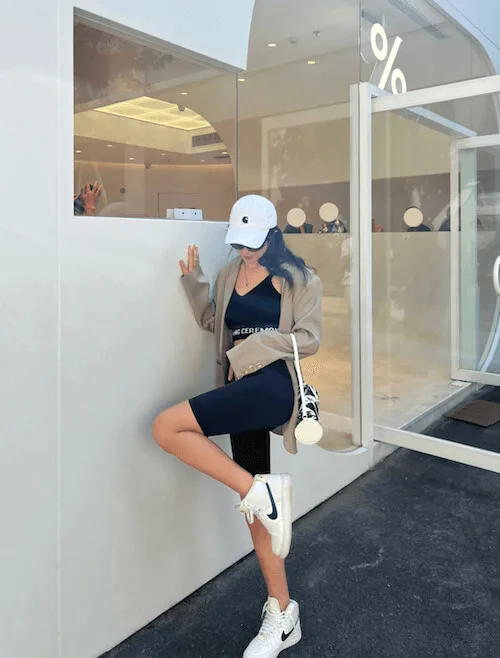 Bike Shorts + Pad Shoulder Short Sleeve Top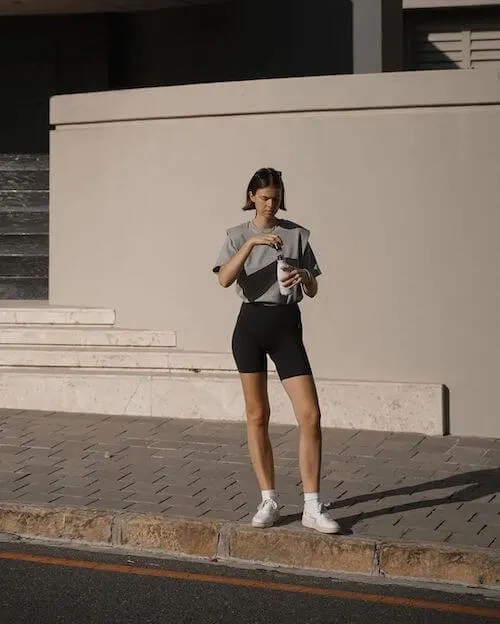 Oversized Hoodie + Bra Top + Leggings
A loose hoodie is also a fashionable piece and can make you look thinner.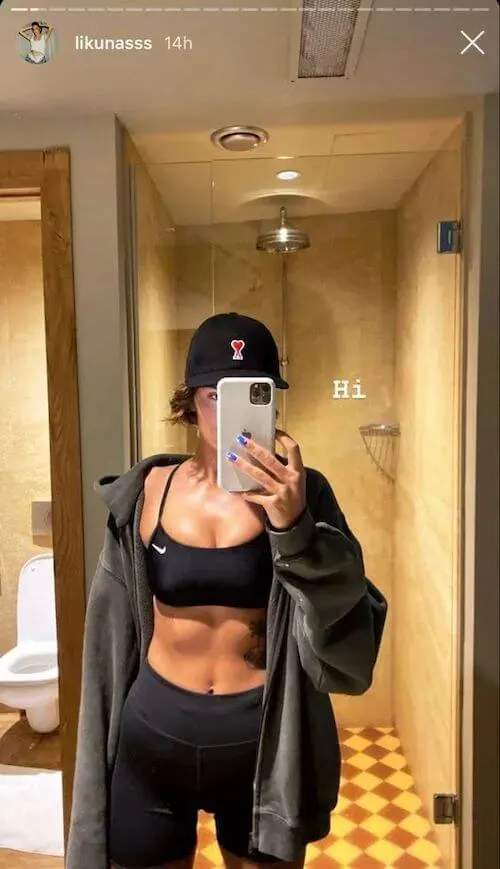 Biker Shorts + Bra Top + Oversized Hoodie
And the white oversized hoodie matches quite well with the white sneakers.
Biker Shorts Workout Sets
The light-colored biker shorts set with the retro bag looks effortlessly chic.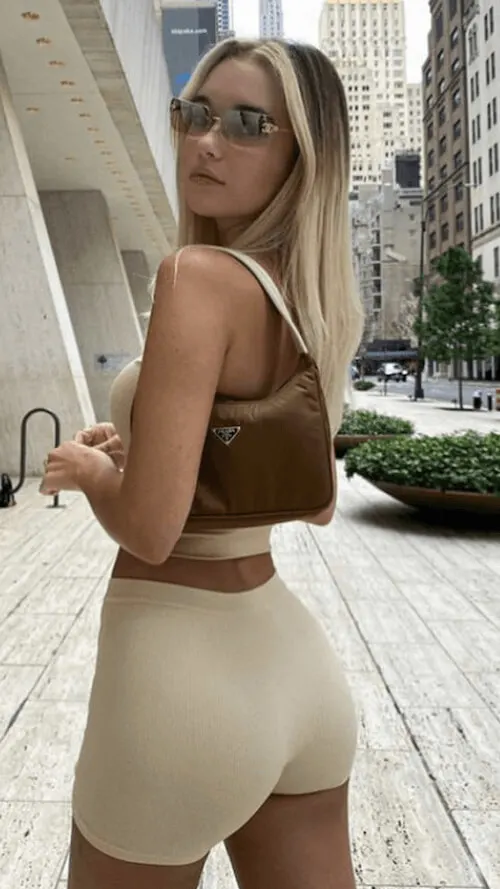 Biker Shorts + Oversized Sweatshirt
This combo helps you show your longer legs and thin waist.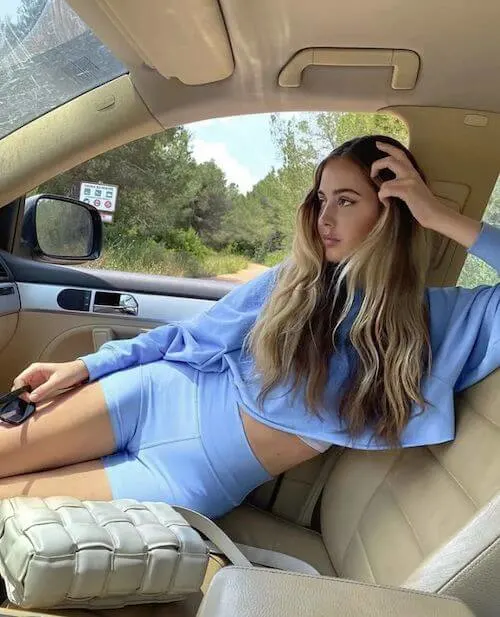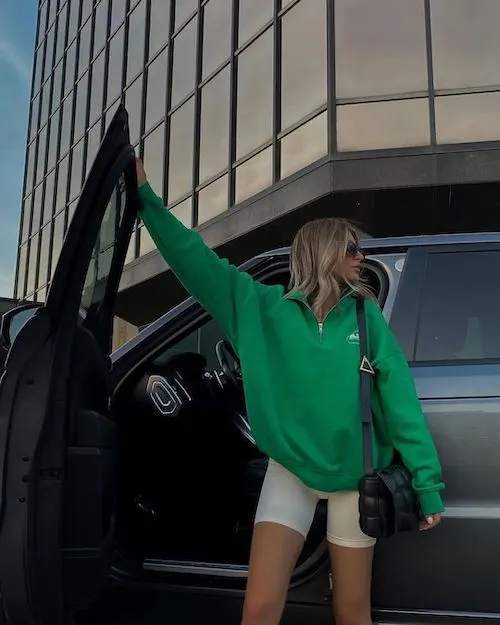 Leggings + Oversized Sweatshirt
The oversized sweatshirt with special colors and patterns looks very cute with plain black leggings.
Crop Hoodie + High Waisted Leggings
Forget about your old t-shirt. Choose the trending crop trend. This is one best gym outfit to show your best body proportion.
Sports Bra + Gym Shorts
The same color sports bra and short shorts make your workout outfit in summer comfortable and put-together, ideal for the hot weather.
Oversized Button Down Shirt + Leggings
Our wardrobe staple oversized button-down shirt can help modify the upper body can also just cover the lower body, two birds with one stone.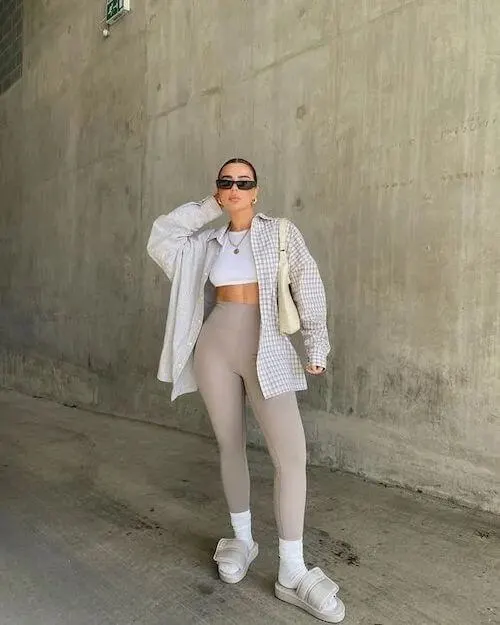 Leggings Set
Wearing your workout outfit set, while choosing the same color for your other accessories, will make your outfit look expensive.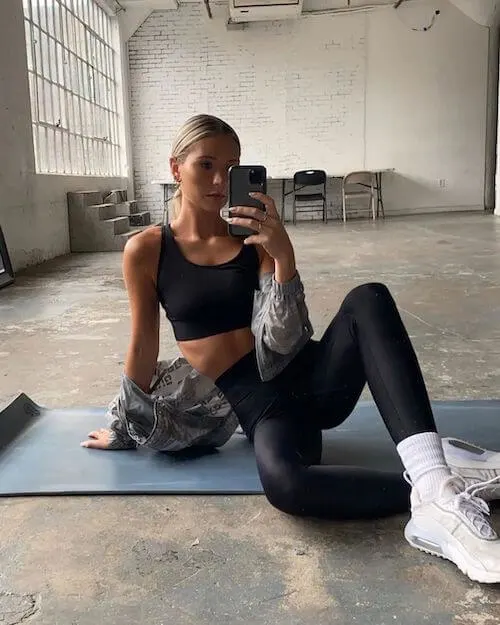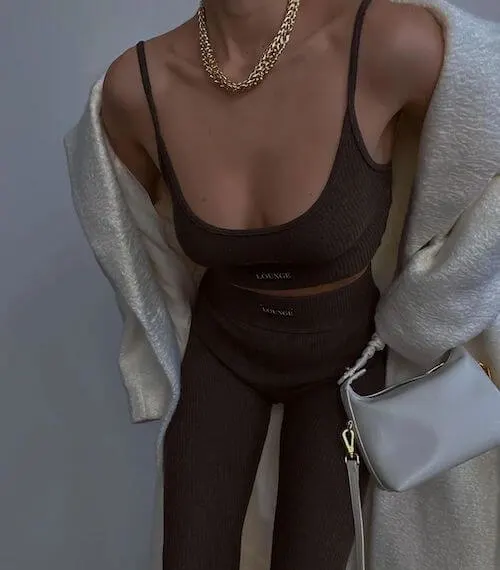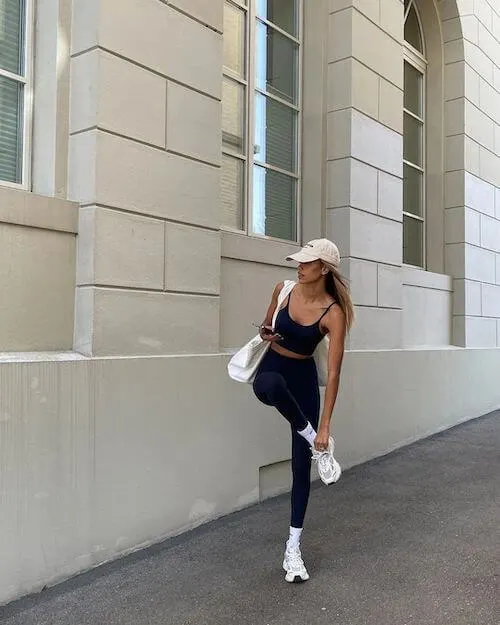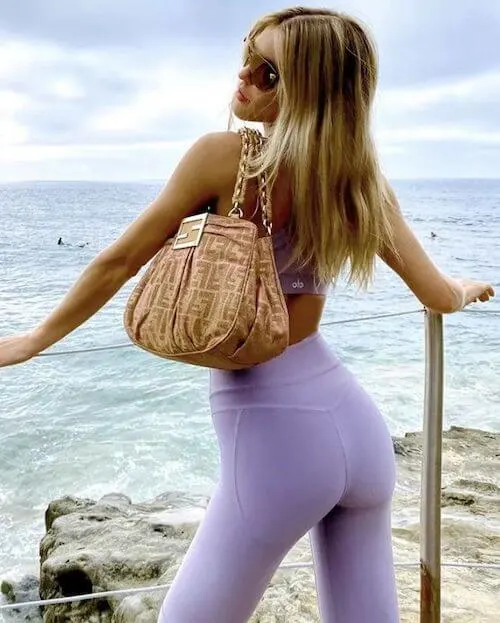 Crop Top + Joggers
Have thick legs that can't wear leggings at all? Let's just choose loose thin joggers to elevate the comfort level with the trending baggy clothing style.
But please reveal your upper body advantage. Wear crop top or bra top to be very sexy in the gym!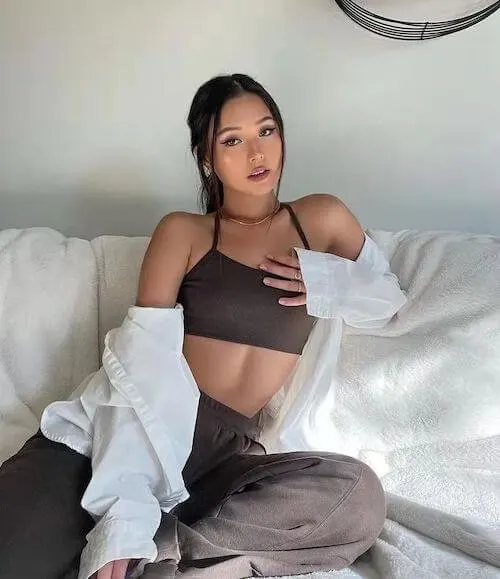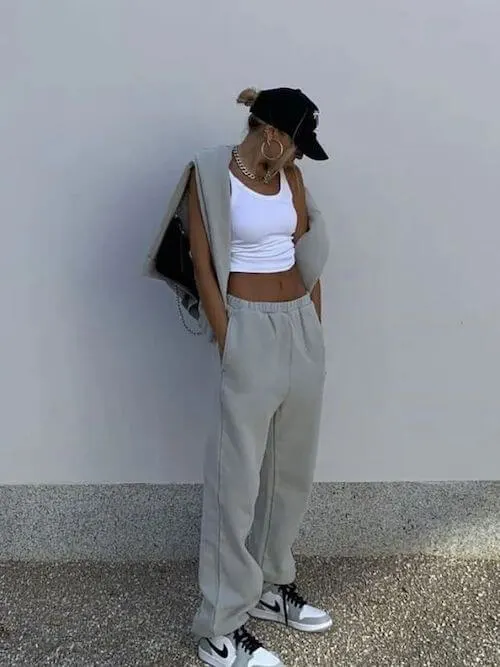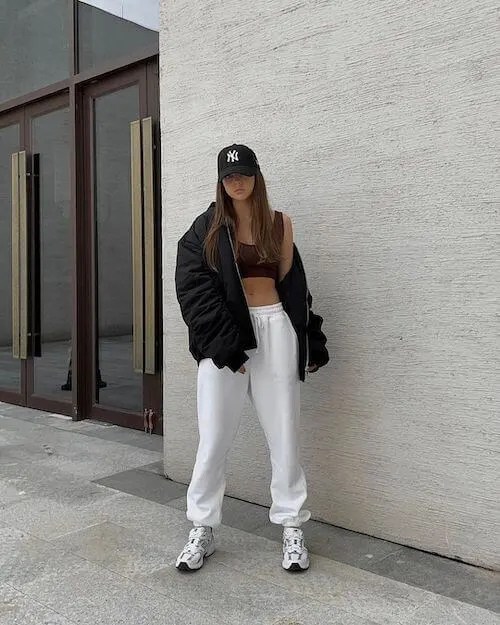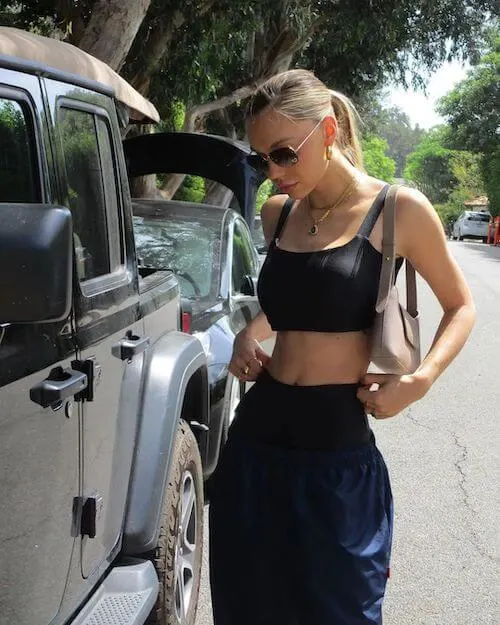 Go With Muted Brown Tone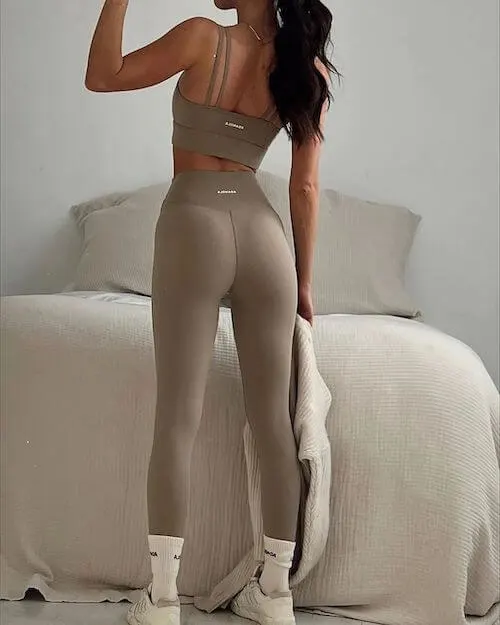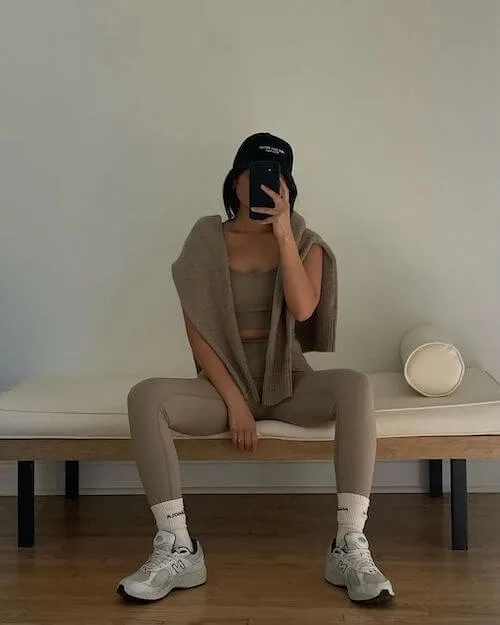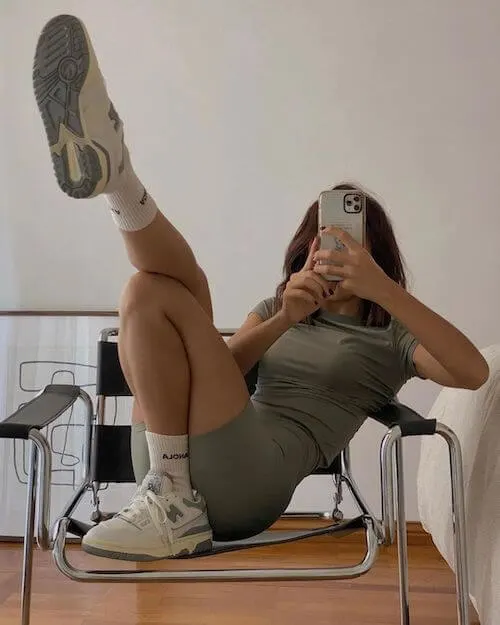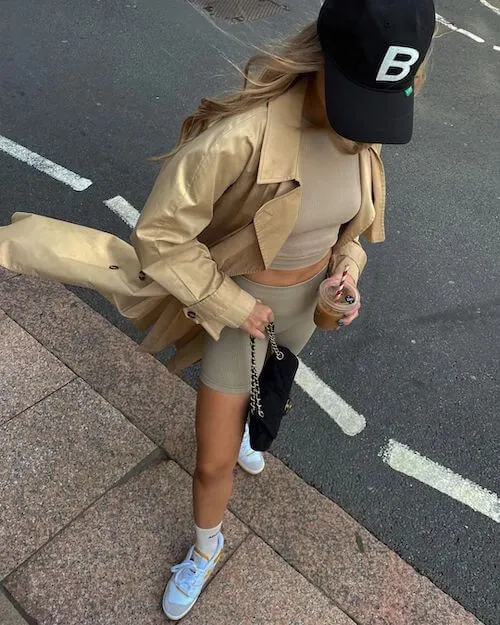 Black Top + White Leggings
A fresh look.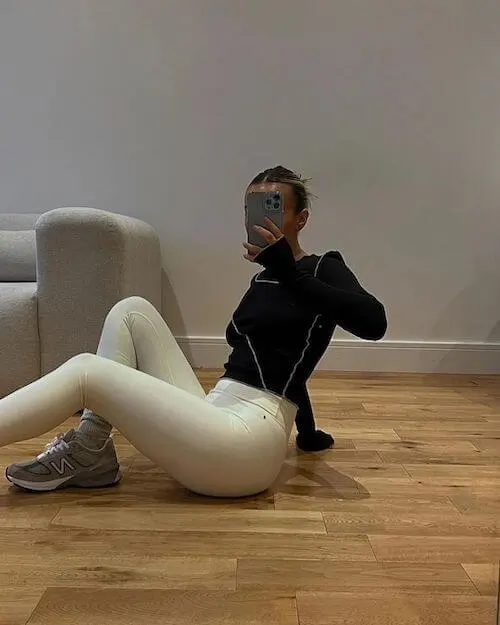 Crop Top + Sweat Shorts
For the hot weather, a pair of sweat shorts or basketball shorts is a great choice.
Light Sporty Set
If you have confidence in your own leg shape, you can boldly wear Morandi colors or light colors.
But be aware that light colors are really easy to penetrate sweat stains, so for those who are easy to sweat, please avoid those colors.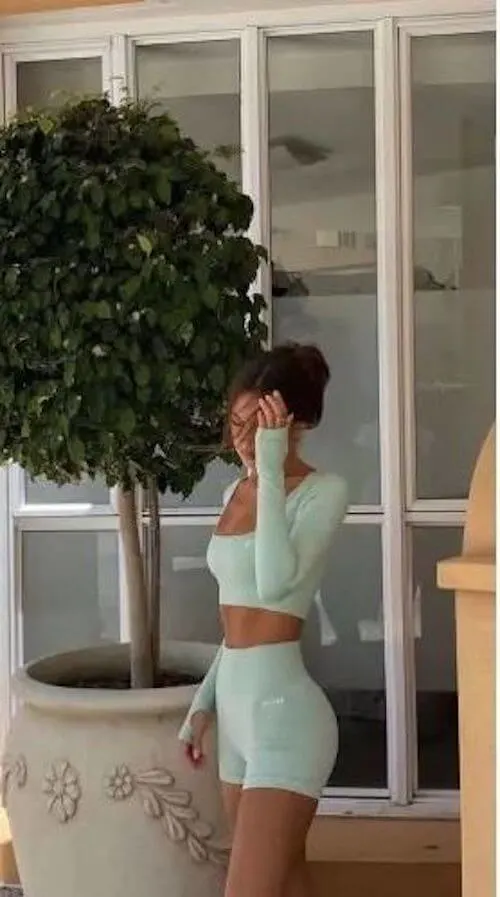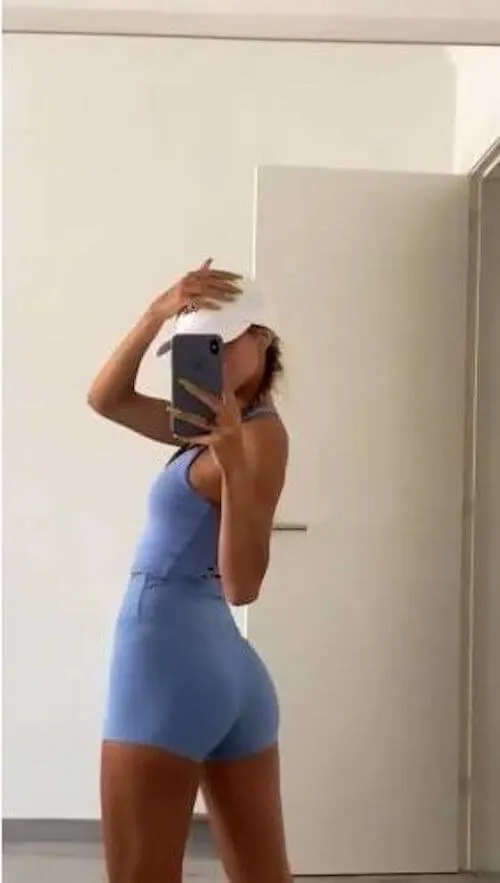 Bomber Jacket + Leggings
A lightweight bomber jacket will elevate your look for many seasons.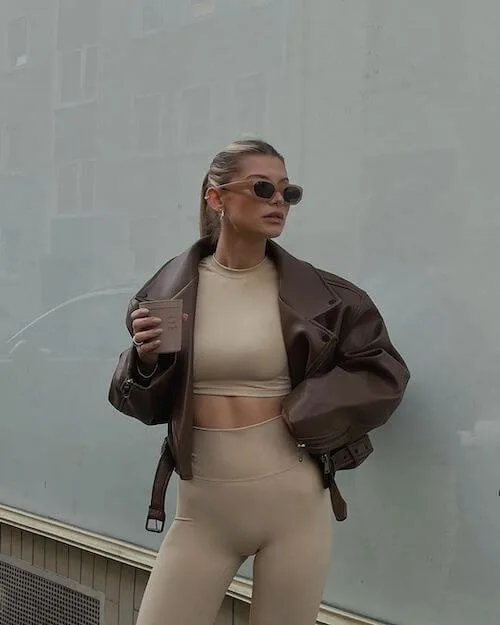 Corset + Crop Top
If you are worried that a thicker waist will not look good, you can wear the corset for a short time at the gym.
Wrap Top + White Leggings
I am falling in love with this ballet-inspired pieces.
Oversized Jacket + Muted Color Top + Muted Color Joggers
If you are tired of dark workout outfit, muted color or light color is an ideal choice. the following idea of using muted color set with red jackets is very cool.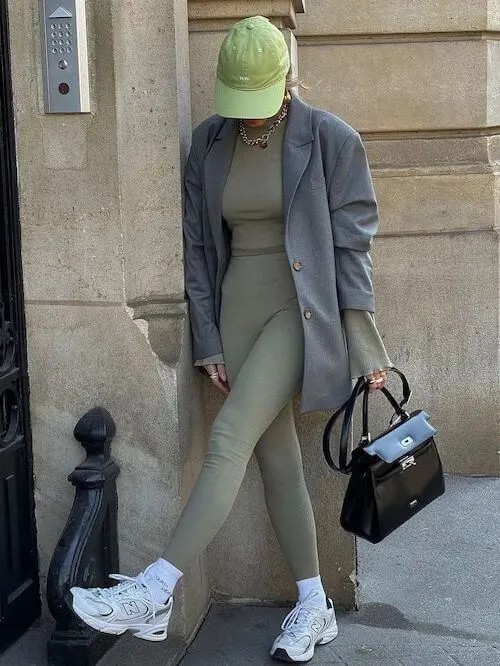 Bright Color Windbreaker + Mesh Leggings
This is a stylish outfit for the rainy days so you will never miss a workout day.
Wrap Top + Joggers
Long sleeved wrap tops are popular for a yoga class and they are also chic for daily wear.
White Socks
White socks go well with any outfit.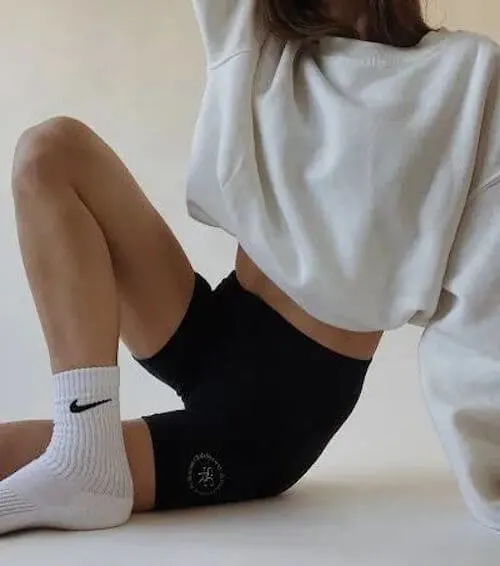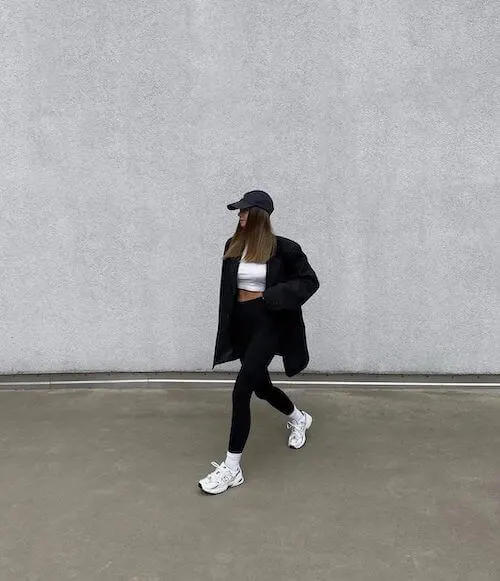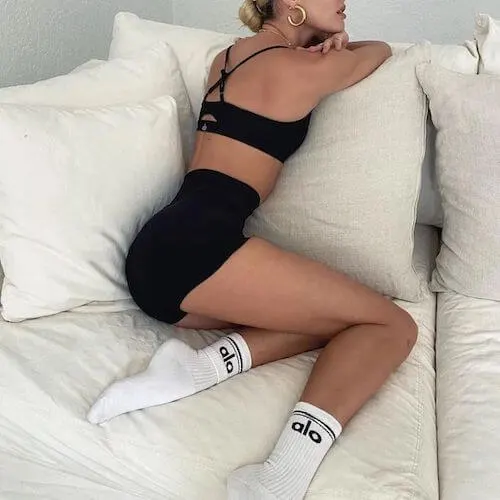 Slide Sandals
For those who want something special, it is more fashionable to replace your sneakers with sports sandals.
However, if you have thick legs, do not wear socks to show more leg length.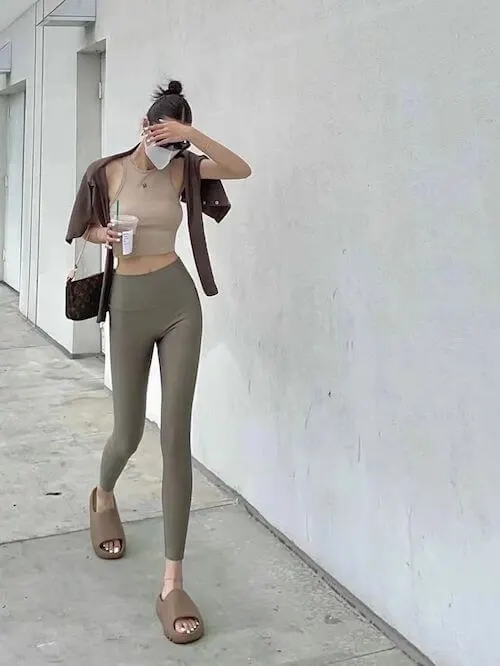 Big Tote / Gym Bag
To go to the gym, well, to load towels, a water bottle, gym shoes, workout gear, and so on, you need to choose a relatively large bag. A big tote, which is light and large, but also fashionable and good looking, is certainly the best option.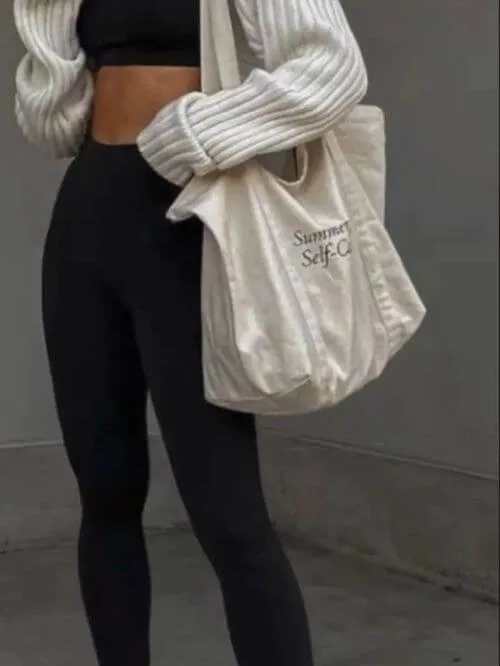 Choose a solid neutral color tote that will go with any outfit.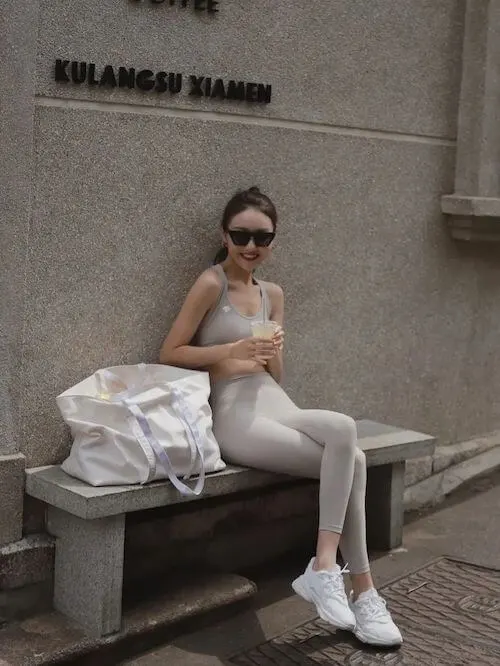 What To Wear To The Gym In Cold Weather
In the colder months, choosing a crop or oversized jacket can make the body proportion better and avoid the bloated feeling that comes from wearing too many clothes.
It is especially important to use the technique of layering, such as adding a denim jacket or bomber jacket outside the hoodie is a very fashionable choice.
Monochrome Look
The monochrome style is so trending for gym right now. You can wear a pair of white socks or a brown pair like the one below to have more fun.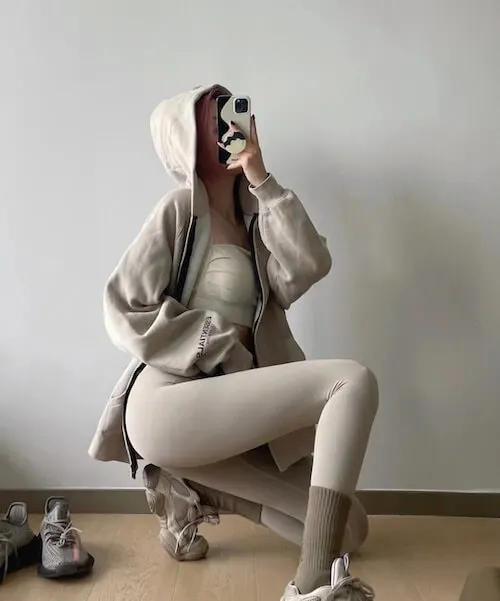 Bomber Jacket + Hoodie + Leggings
This color scheme is never out of style.
Denim Jacket + Hoodie + Leggings + Baseball Cap
I love the layering style which is so easy to copy. You can also change the black hoodie to a white or light gray one and match them with white trainers.
Crop Hoodie + Black Leggings + UGG
White Oversized Sweatshirt + Black Leggings + Sneakers
This white top looks so fresh with the crop black leggings.
Bright Color Oversized Hoodie + Black Leggings
This outfit is comfortable and has an retro style.
Black Oversized Sweatshirt + Gray Leggings
If you are choosing a black and gray scheme for your gym wear, complete your look with a burnt orange or bright color bag.
Short Puffer Jacket + Black Leggings
This outfit is cozy and chic. If you don't have a white collar puffer jacket like the one below, wear a white hoodie inside to add more fashionable details.
Crop Sweater + Leggings
A crop sweater is an ideal option for the cooler months.
Oversized Sweater + Leggings + Beanie
Short Teddy Coat + Leggings / Shorts
Choose colorful teddy coat to add more visual interest to your outfit.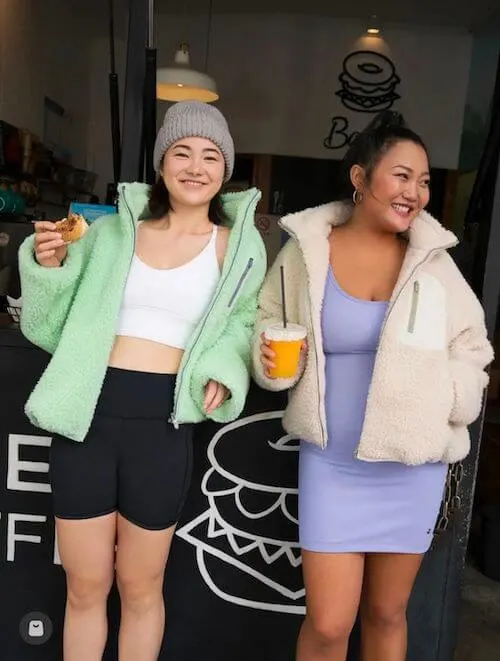 Best Places To Buy Stylish High-Quality Workout Outfits For Gym
Don't know what brands are the best to shop for the most stylish athletic wear? Check the below my favorite fitness brands to shop for the cute pieces.
If I could only recommend one pair of leggings, it would be from this brand.
It is true that the price of its products is not low, but considering thinness, leg modifications and comfort, it is reasonable.
If I had enough budget, I would always buy its products!
Lorna Jane especially has a lot of high quality supporting sports bras for plus size girls, for you to choose a good sports bra at reasonable price with a wide range of sizes. And I personally feel that Lorna Jane is better than lululemon in the sports bra category.
The material of most of their legging is very elastic without any tightening effect. And almost all of them are bright colors and print design, indeed the body requirements are quite high, but really super hot and fashionable!
Girlfriend Collective from Seattle is a well-known eco-friendly sports brand. Each one pair of leggings is made from 25 recycled PET bottles, which is quite in line with the current emerging concept of eco-friendly fashion.
The brand advocates that women of all colors, shapes, and ages can buy the right sportswear in the brand.
Girlfriend Collective also offers eight sizes from XXS to XXXL, so that women of slender or plus size shapes can find the most suitable piece of legging for themselves.
Sweaty Betty is another great brand for a large range sizes gym outfits. They have all kinds of affordable leggings you need for different styles of workouts!
As the sports line of Free People, the whole brand continues the fairy and feminine beauty of the main brand.
Each piece of activewear from this brand uses sweat-wicking and quick-drying fabrics as well as seamless splicing design to improve the comfort of wearing.
Its design can be used as a daily match or as gym outfits: a simple basic shape with a bit of clever design can be perfectly integrated into daily wear.
This is a sports brand that is extremely popular on IG and is worn by many celebrities and stars.
As a high-end yoga apparel brand from Los Angeles, its leggings are different from the previous solid color basic leggings, but a large number of stitching elements added to the leggings, not only beautiful, visually elongated leg lines, and this unique tailoring can perfectly show the body curve with a better fit.
This brand's most trending mesh leggings perfectly add a mysterious and sexy feel to the sportswear.
One of my personal favourite brands. It has a large range of basics that can be worn in the morning to go to the gym, and in the evening to wear to the club.
Adanola is from the UK with cute designs at affordable prices.
The leggings have a very smooth look and are not prone to creasing. And the fabric has some support, not tightly popped on the leg.
The minimalist design, soft texture and muted colors are very flattering to the figure and skin tone, and never picky.
If you are looking for a good tennis skirt, skort, or exercise dress, Outdoor Voices is a brand that you should check out.
If you are on a budget and looking for cute designed high-quality activewear with affordable prices, you should check SHEIN.
Its activewear brand GLOWMODE's best-selling leggings have received thousands of good reviews and are viral on social media sites. And some reviews says "better than lululemon omg"! And it has so many colors to choose from at only $23!
And I love its cute tops and accessories to go with your workout outfit to level up the whole style immediately.
This post was all about what to wear to the gym for female.
About The Author
Tracy is an experienced personal stylist, shopping expert, and fashion & lifestyle blogger. She has been featured on Time Magazine, Bustle, Best Life, Glam, The Zoe Report, Mic, and GOBankingRates, for her insights on fashion, beauty, home decor, and lifestyle. Read More
Related Posts: