Want to know what shoes to wear with black dress? Check this post for the best style tips and shoe ideas to wear with your favorite black dresses.
Every woman's wardrobe has at least one black dress. From the red carpet to casual summer vacation, from formal wear to a sexy night out, this versatile clothing piece is a good choice to bring a lot of conveniences and endless possibilities to our outfits.
And the best thing is, sometimes you don't need to invest a lot of money in your wardrobe to deal with many occasions. Different types of shoes can bring completely different styles to the same black dress.
So, for different occasions, what are the best styles of shoes should you choose to go with your black dress to meet the dress codes?
In this post, I am sharing with you the style tips and the best shoes to wear with a black dress, and our picks of shoes from our favorite online fashion stores for you to choose the right pair of shoes.
So scroll down to check these black dress outfit ideas and the perfect shoes, and don't hesitate to pin them to your Pinterest board, and share them on social media.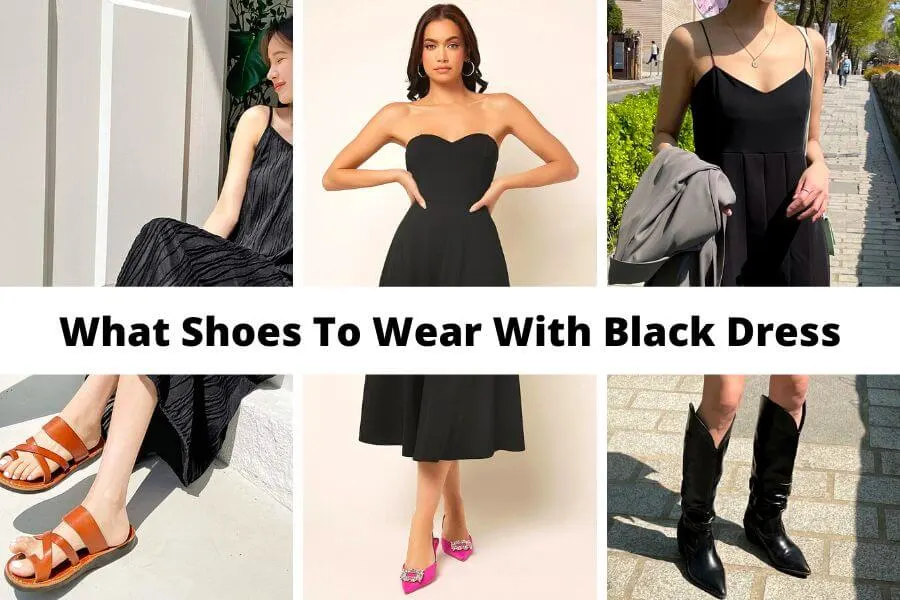 This post may contain affiliate links, which means I'll receive a commission if you purchase through my link, at no extra cost to you. Please read the full disclosure here.
This post is all about what shoes to wear with black dress.
What Shoes To Wear With Black Dress To Wedding
If you are attending a wedding as a wedding guest, you can wear a black dress. Black is permitted as a wedding guest dress color. The key is to wear lively shoes and other accessories to avoid making yourself look like you're going to a funeral.
Therefore, a warm tone is the best choice for your shoes to pair with your black dress for a wedding.
I especially recommend shoes in warm tones, such as red, pink, rose gold, etc.
Besides the different colors, you can also wear boots with vibrant animal prints. They can make you look spring-like and stunning, perfect for attending a wedding and sending your good wishes.
Mermaid Hem Crisscross Halter Dress + Rose Gold Shoes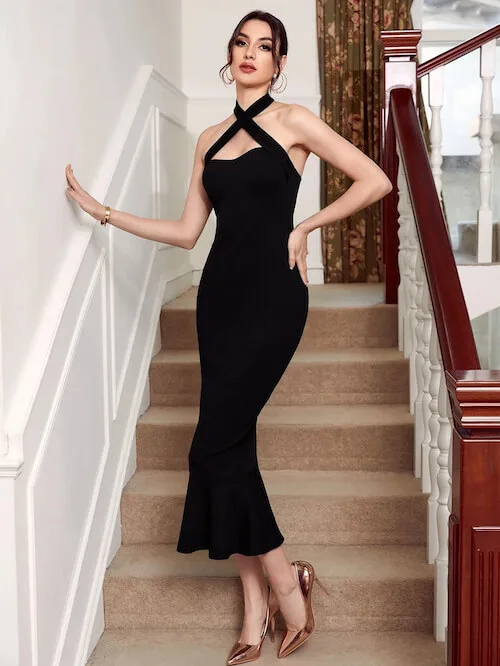 Belt Long Sleeves Black Mini Dress + Red Boots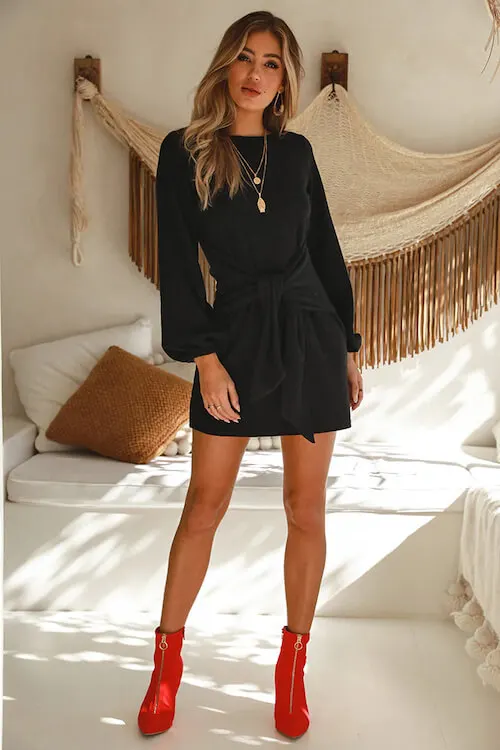 Solid Tube Dress + Hot Pink Shoes / Pink Heels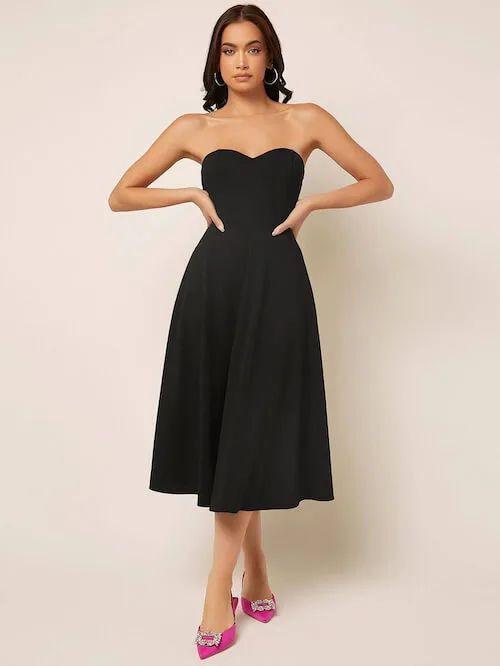 Midi Dress Black + Red Shoes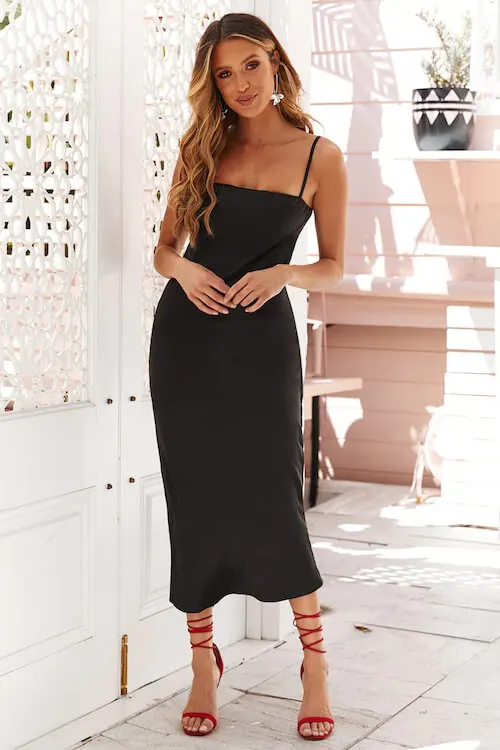 Black Lace Dress + Snakeskin Pattern Boots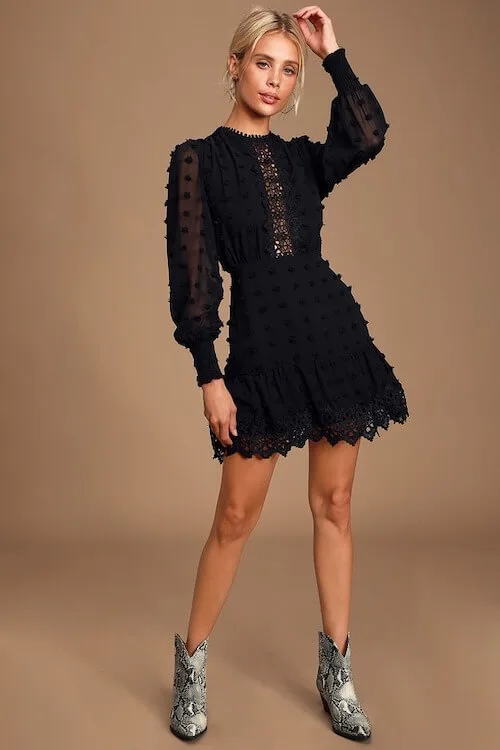 Shop The Shoes
What Shoes To Wear With A Black Dress For A More Casual Look?
A black dress is also perfect for casual occasions throughout the year.
The easiest way to instantly give your dress the perfect casual look is to wear a pair of comfortable flats.
Whether it's sneakers, flip flops, or cold-season flat boots, it can bring down the natural punchiness of a black dress for a laid-back look.
At the same time, there are many new and cute choices for flat shoes. You can choose the color and style of your shoes based on your preferences and how well they coordinate with the colors of your other accessories. And don't forget to try a pop of color to have more fun for your personal style.
The most popular style in recent years is to choose shoes with a strong neutral style, including loafers, chunky or flat boots, cowboy boots, platform flats, etc., to achieve a perfect balance with the sexy style of black dresses, which will make you look less tacky, more fashionable.
Try A Bold Color: Liberte Dress Black + Green Shoes / Navy Blue Shoes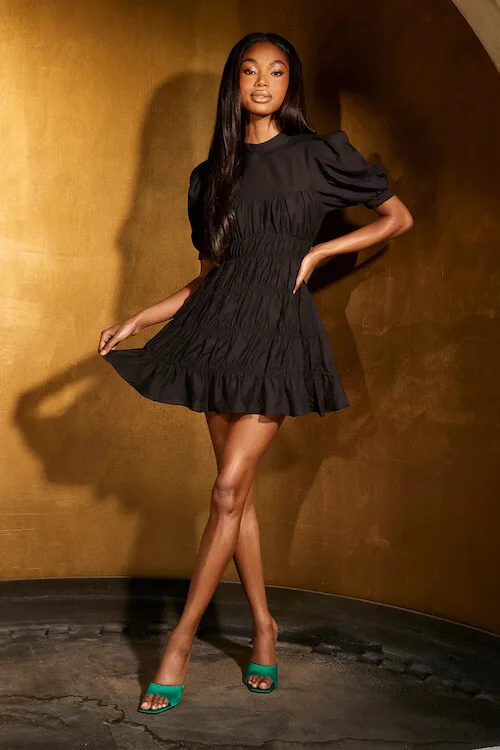 Solid Textured Cami Dress + Brown Leather Shoes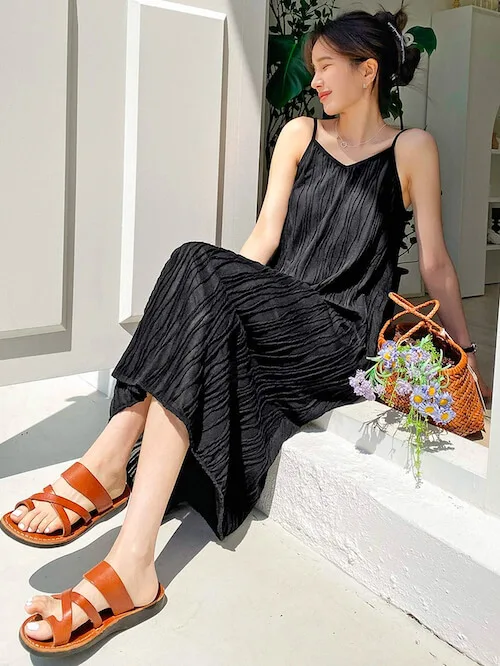 Bishop Sleeve Belted Shirt Dress + White Shoes
Black Puff Sleeve Mini Dress + Neutral Color Platform Shoes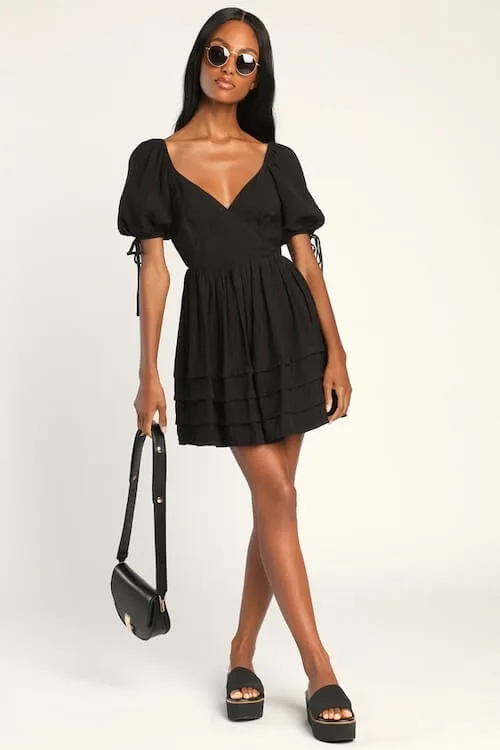 Black Ribbed Knit Cutout Dress + Platform Sandals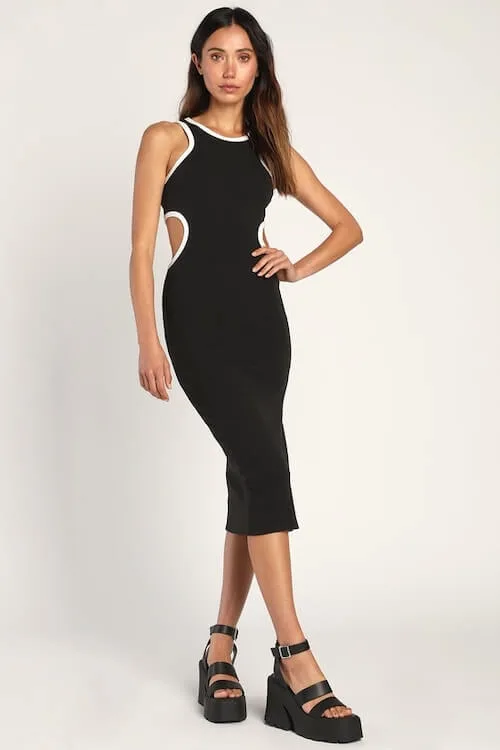 Bodycon Black Dress + White Sneakers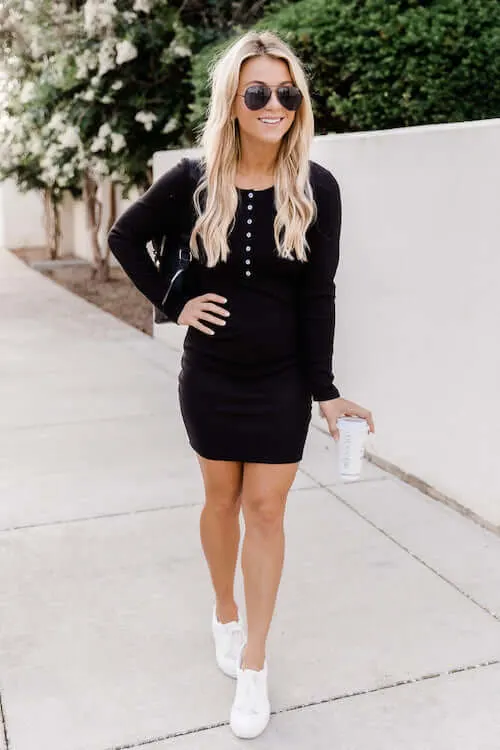 Black Mini Dress + Heels Sandals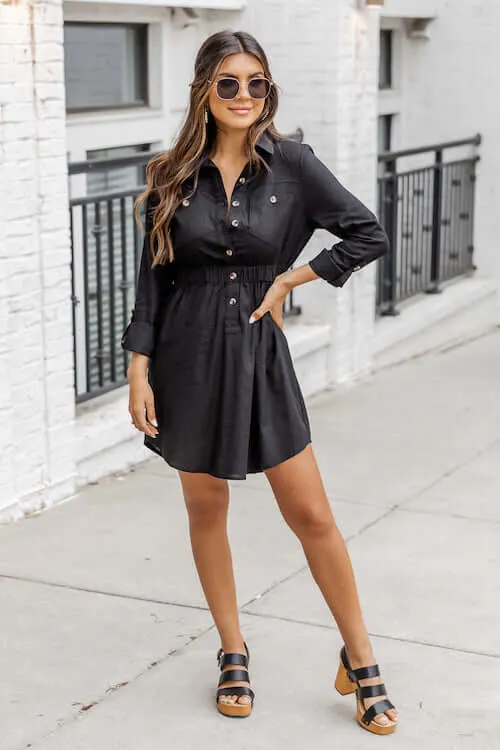 Stretch-Jersey Midi Slip Dress + Flat Sandals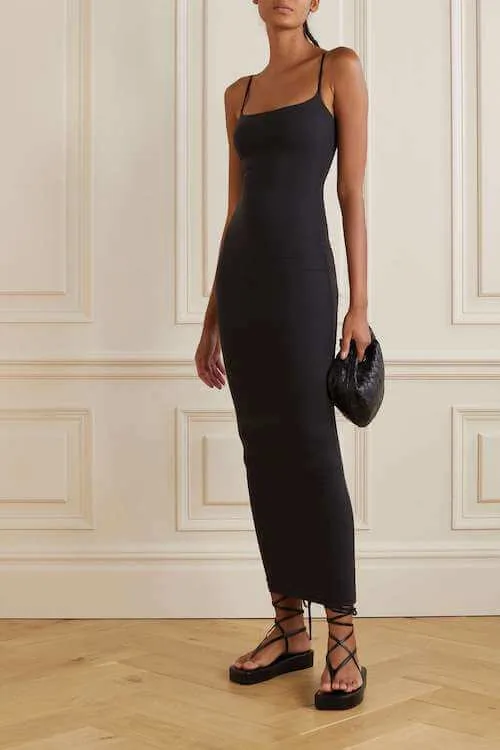 Black Cami Casual Dress + Riding Boots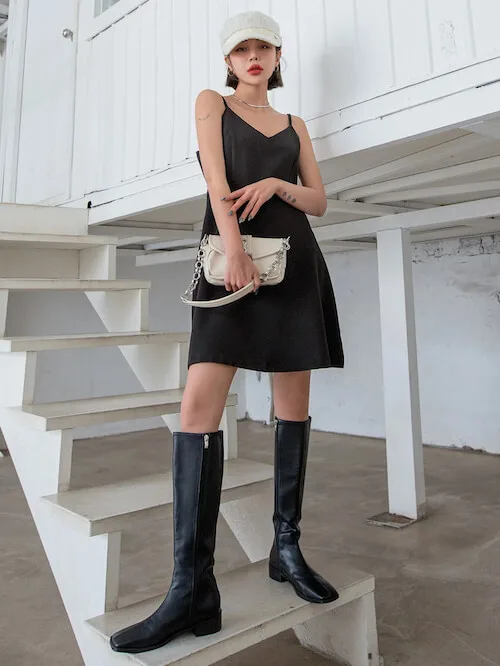 Knit Dress Black + Black Ankle Boots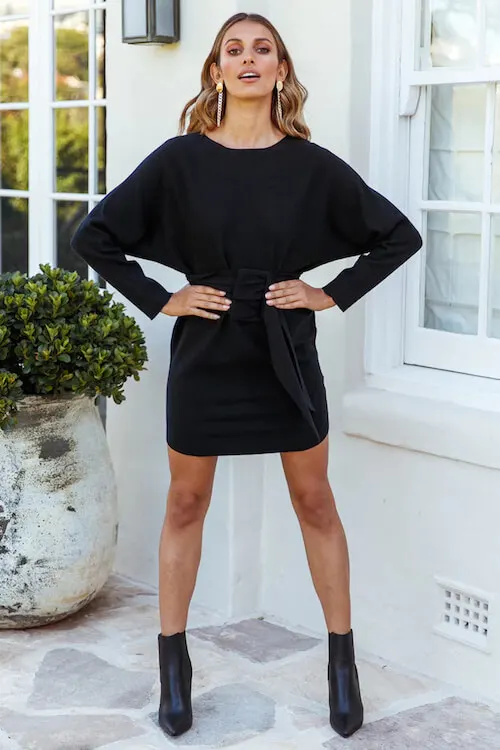 Solid Wrap Shirt Dress + Black Heels Boots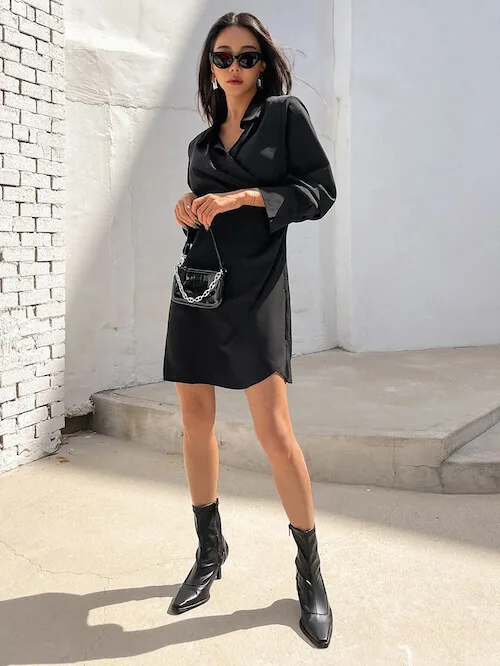 Solid Pleated Cami Dress + Cowboy Boots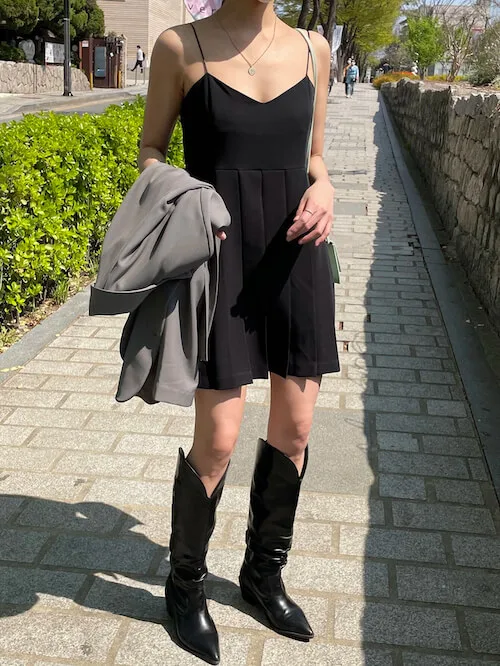 Black Shirt Dress + Black Loafers / Ballet Flats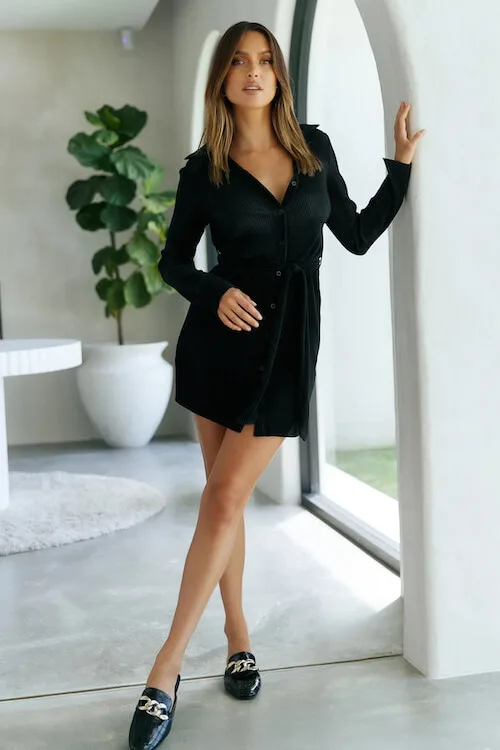 Shop The Shoes
What Shoes To Wear With Black Dress For A Formal Event, Special Occasion or Cocktail Party?
For formal wear ideas, wearing a nice black dress is one of the last-minute plans. For footwear, black is always the best shoe color, and a pair of elegant minimalist black pointed-toe pumps are a classic choice that will never be out of style for an elegant look.
But if you want a unique personal style, you can opt for black heels with some additional elegant decorations.
A pair of pointed-toe heels decorated with rhinestones or pearls are a perfect pair of shoes to add more fun to your outfit.
Also, we highly recommend that you choose pointed-toe high-heeled shoes with good texture and gorgeous colors such as pink, silver, or golden color as your official footwear.
In addition, a pair of thin strap sandals are also a perfect choice now. Therefore, if the dress code is not very strict, you can choose thin strappy sandals with a black dress.
At this time, if your shoes already have more decorations, it is best for your bags and jewelry to have decorations that are consistent with the style and materials of your shoes.
Otherwise, simply choose minimalist bags and jewelry. Avoid focusing too much on your entire look.
For the cold weather, choose classic black leather boots for a chic look.
Velvet Rhinestone Formal Dress + Black High Heels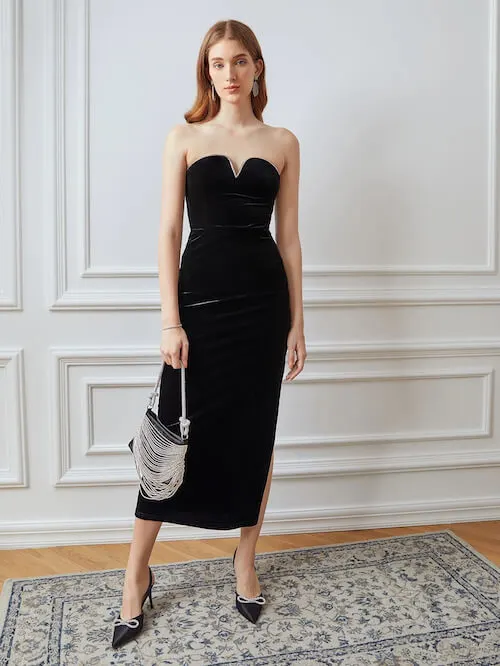 Sweetheart Neck Velvet Prom Dress + Silver Shoes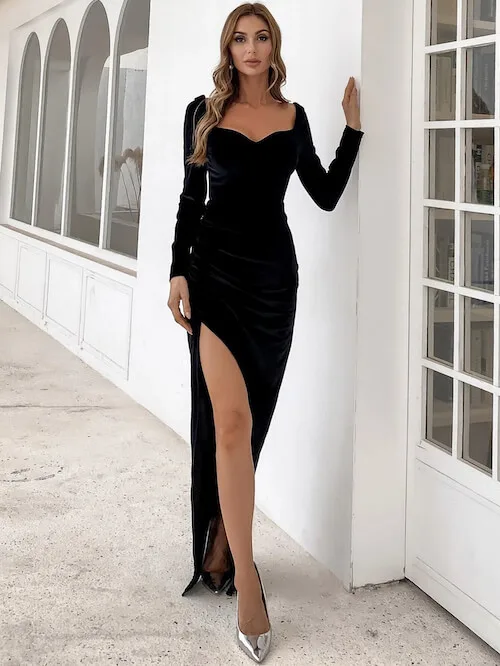 Black Satin Maxi Dress + Golden Shoes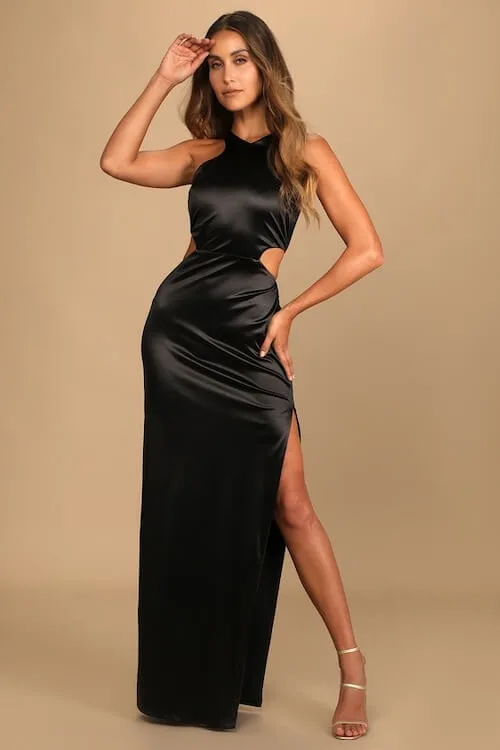 Chic All Black Outfit: Plicated Detail Mesh Panel Cami Dress + Black Shoes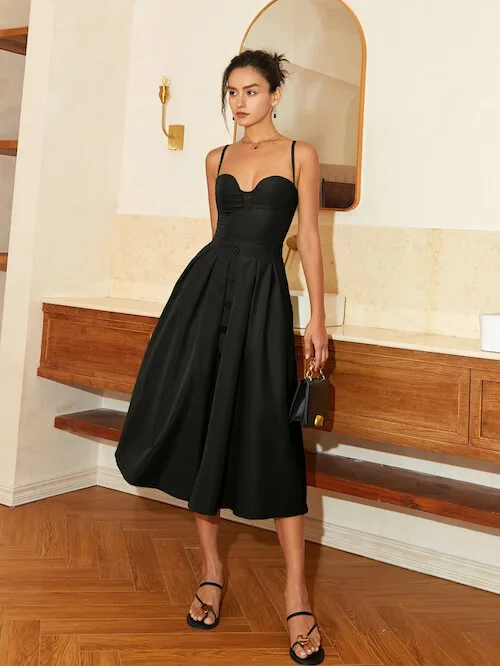 Black Glitter Dress + Gold Shoes + Gold Accessories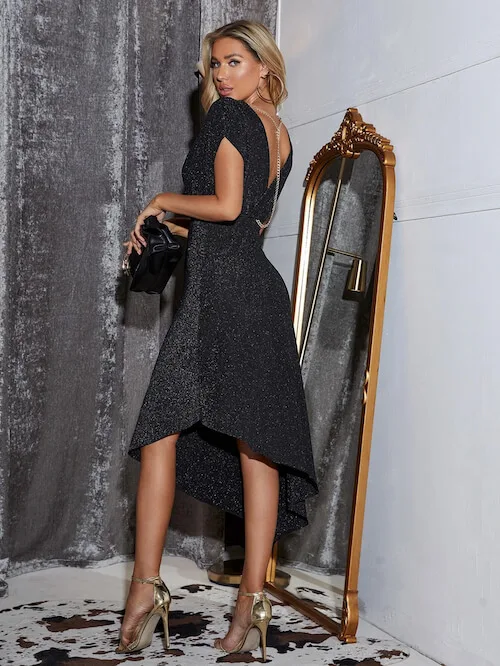 Asymmetrical Hem Cami Dress + Strappy Sandals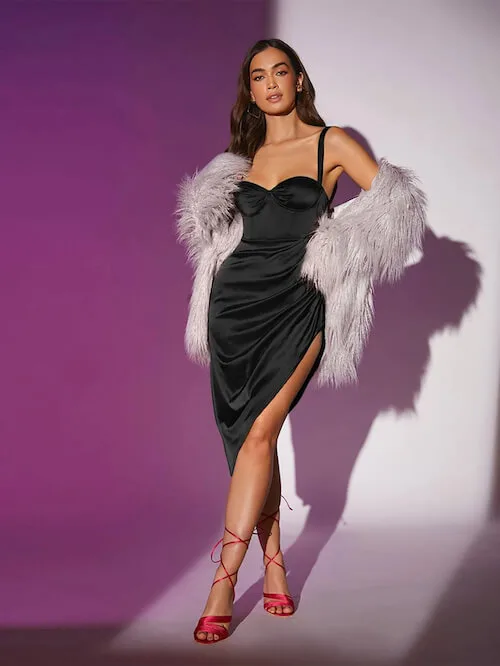 Mock Neck Split Sleeve Bodycon Dress + Knee-High Boots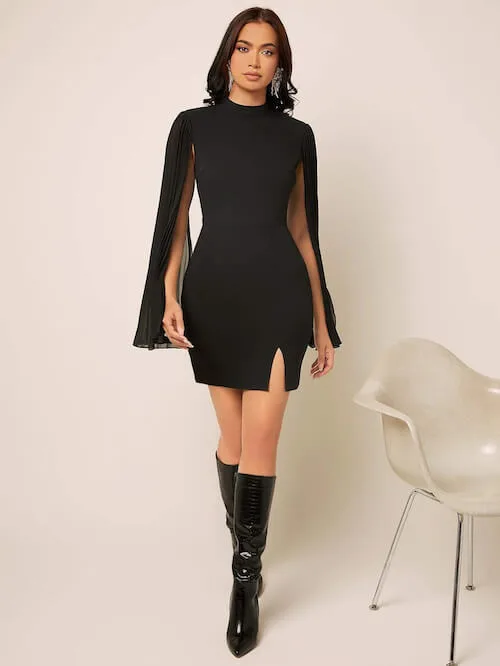 Satin Midi Dress Black + Rhinestone Decor Shoes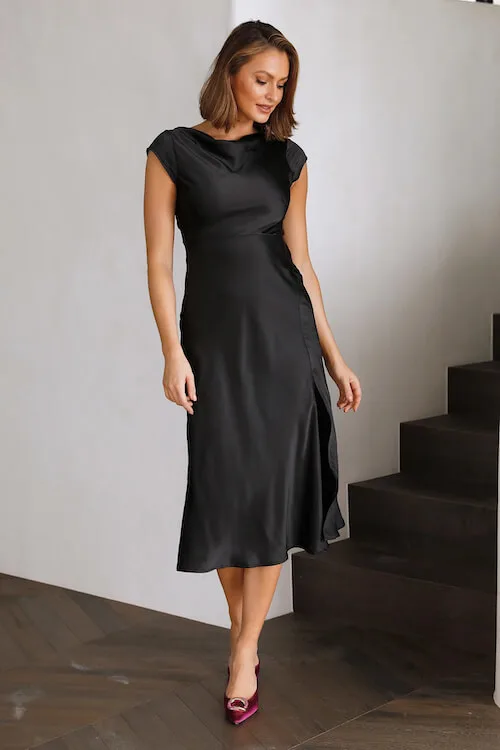 Shop The Shoes
What Shoes To Wear With Black Dress For Evening Wear
Wearing a perfect little black dress is one of the easiest ways to look stunning for a nightclub or night out.
If you want to be more relaxed, a great way is to wear a shorter dress with beige or nude shoes, which is sexy and cute for your evening event.
For a little more sparkle, you should definitely choose shoes with sparkling decorations such as sequins, rhinestones, and even feathers. Or you can opt for shoes with metallic hues to make your toes mysterious and charming under the light and shadow.
A pair of this type of shoes and a color black dress is a perfect combination that will make your nights more radiant and charming.
When the weather is cooler, a pair of animal print shoes or trendy knee-high boots are a great choice.
This year, white knee-high boots are particularly popular. You must try such an edgy look.
Complete your chic looks with stunning statement earrings and a small shining purse.
Cami Ruffle Black Color Dress + Beige Shoes / Beige Heels
Black Sequin Dress + Sequin Strappy Sandals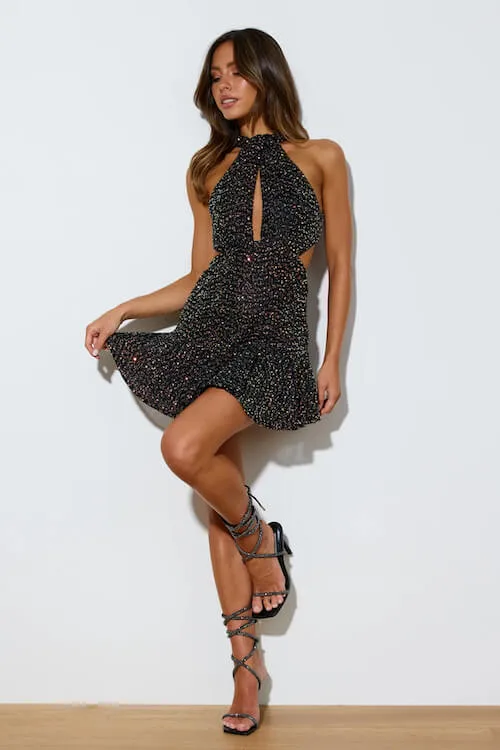 Cami Mini Dress + Bowknot Decor Shoes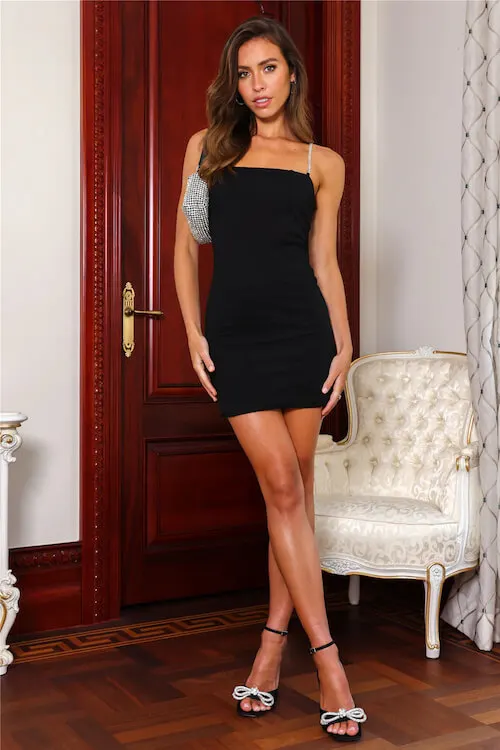 Black Short Dress + Metallic Shoes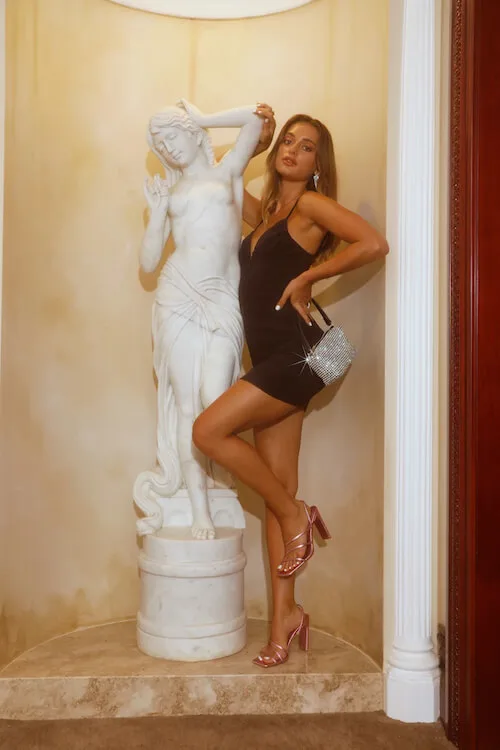 Black Off-the-Shoulder Bodycon Dress + Snakeskin Pattern Wrap Heels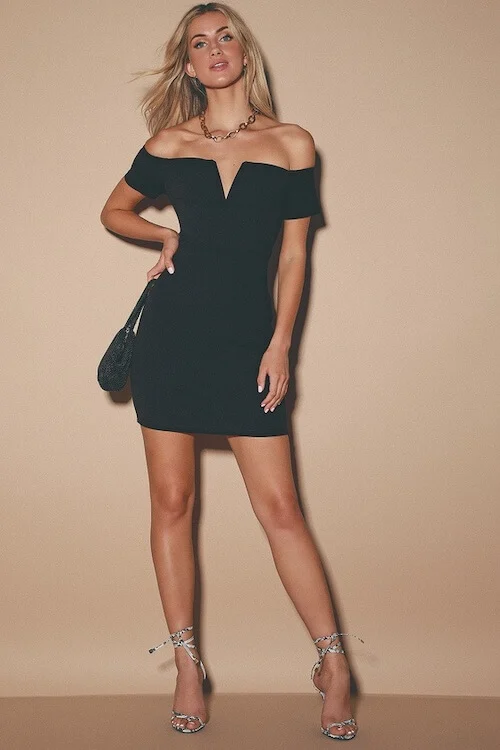 Off Shoulder Flounce Sleeve Dress + White Boots
Cami Maxi Dress Black + Animal Prints Shoes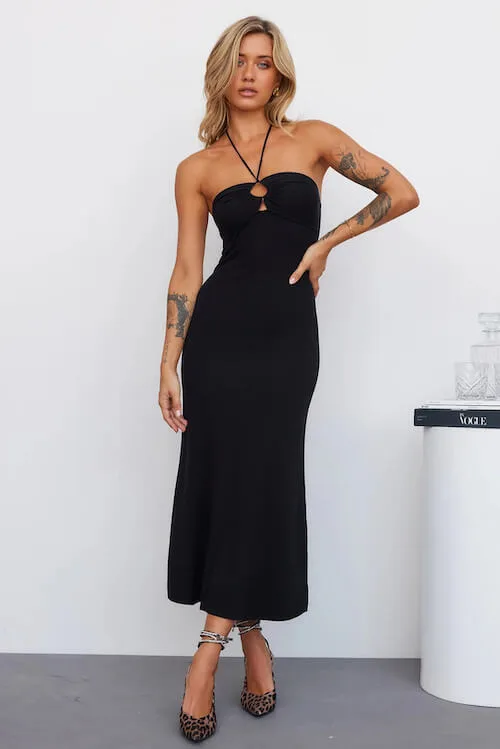 Shop The Shoes
Best Color Shoes To Wear With Black Dress In Winter
For winter, a black dress can be worn alone in not-so-cold weather, or it can be used as an inner layer of clothes, allowing you to fully enjoy the fun of layering.
A pair of black boots and a black dress are a perfect match to keep stylish on cold days. And there are so many different ways to add your personal touch.
In addition to stylish black boots, you can also opt for warm-toned boots. The best colors for a fall-winter black dress look include beige, brown, coffee, and more. They are perfect for fall and winter vibes.
Swiss Dot Layered Hem Dress + Brown Shoes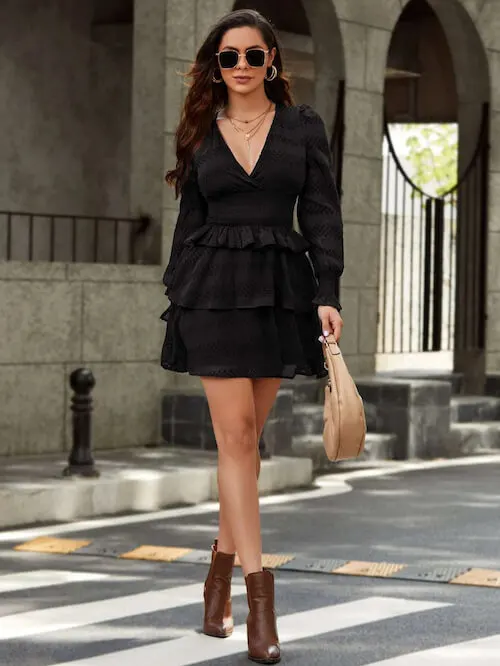 Long Sleeves Knit Skate Dress + Black Suede Shoes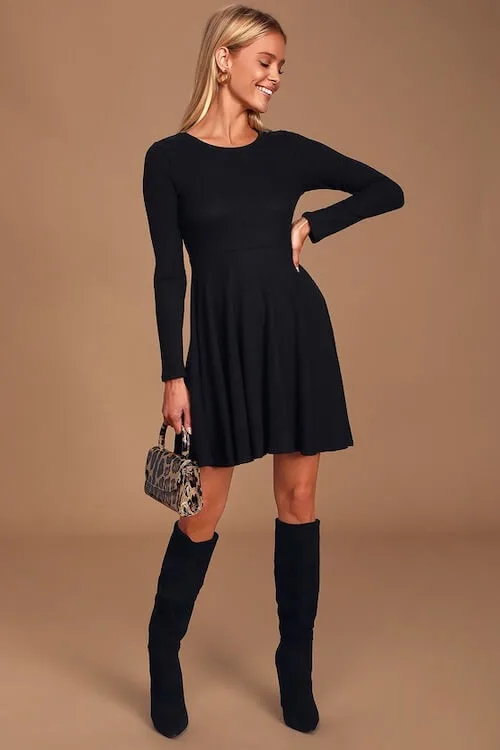 High Neck Solid Bodycon Dress + Leather Ankle Boots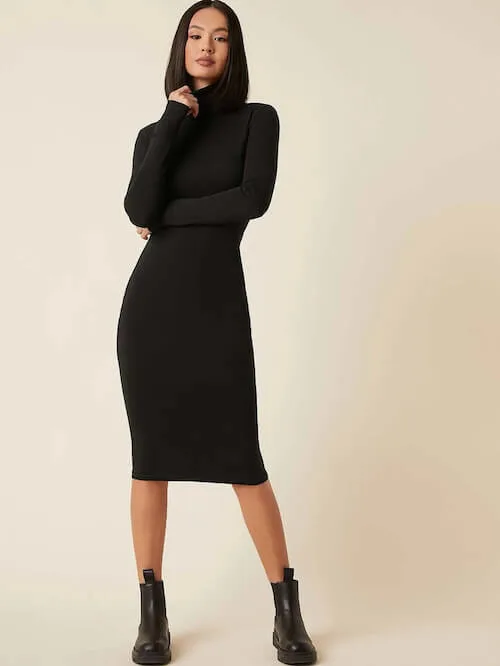 Black Ribbed Bodycon Mini Dress + Casual Shoes + Denim Jacket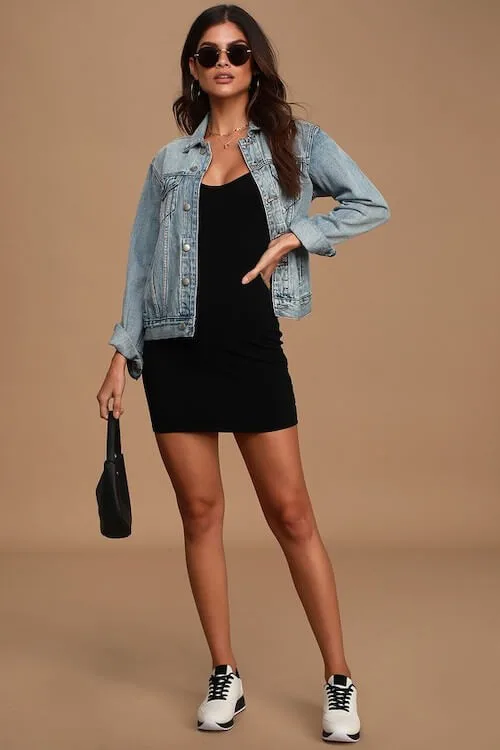 Black Long Sleeve Sweater Dress + Black Knee High Boots + Shacket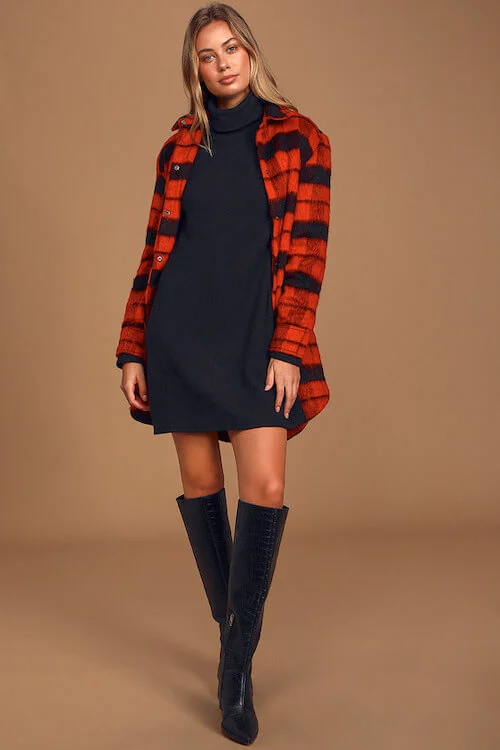 Black Collared Midi Sweater Dress + Nude Shoes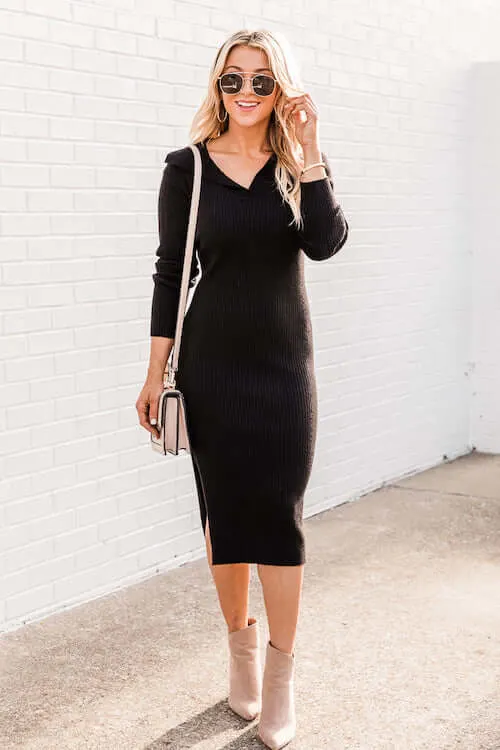 Sexy Back Black Backless Sweater Dress + Tan Shoes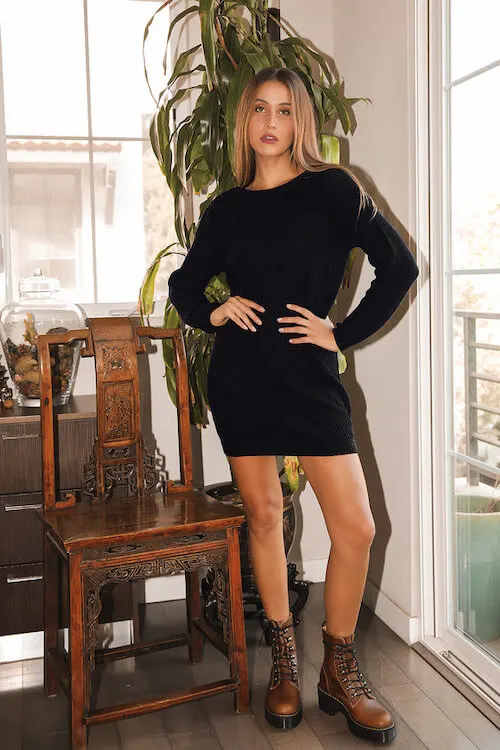 Shop The Shoes
This post was all about what shoes to wear with black dress.
About The Author
Tracy is an experienced personal stylist, shopping expert, and fashion & lifestyle blogger. She has been featured on Time Magazine, Bustle, Best Life, Glam, The Zoe Report, Mic, and GOBankingRates, for her insights on fashion, beauty, home decor, and lifestyle. Read More
Related Posts: