Looking for the best Las Vegas in December what to wear ideas? Check this post for the best style tips and 20+ Las Vegas outfits to copy directly for your Vegas trip in December.
For me, Las Vegas is a truly fantastic place. Every time I visit Las Vegas, no matter how many times I've been there before, and even though I am not a fan of slot machines, I still have a new and great experience.
I especially like to visit Las Vegas in December. This is could be the best time of year for a Vegas trip.
Although many parts of Las Vegas are open year-round and are more crowded near the holidays, I am really fascinated by the glitz and glamour of the festivities, which are so eye-opening and exhilarating.
If you are going to this Sin City this December, and are looking for the style guide and outfit ideas for your winter months Vegas trip, you've come to the right place.
In this post, I am sharing with you the style guide for different occasions in Las Vegas In December, including what to wear to the nightclubs, casinos, and pool parties in Vegas in December, and the best Vegas outfits in December for you to copy directly.
So scroll down to check this comprehensive guide and outfit ideas for your December trip to Vegas, and don't hesitate to pin them to your Pinterest board, and share them on social media sites.
This post may contain affiliate links, which means I'll receive a commission if you purchase through my link, at no extra cost to you. Please read the full disclosure here.
This post is all about Las Vegas in December what to wear.
Is December A Good Time To Go To Las Vegas?
If you are wondering when is the best time to visit Vegas, December is certainly one of the best months.
Though December is the coldest month for Vegas, its average temperature is not particularly cold at this time of year compared to other parts of the States.
And the part of Vegas in December is, with the coming Christmas and New Year, hotels and other places are decorated with festive things, fantastic food, and amazing shows everywhere, which can bring a lot of fun to your holiday trip.
What Is The Weather Weather Like In Vegas In December?
In general, the temperatures in Las Vegas during December are mild, with average highs of 67 degrees and average low temperatures of 45 degrees.
Meanwhile, Las Vegas is surrounded by desert areas, with a large temperature change between day and night.
The temperature of the desert climate during the day is not particularly low, but at night, the temperature will drop more, so be sure to prepare thick clothes to keep warm.
In addition, the weather in December is very dry with little rain, so please prepare enough moisturizer.
What Should You Wear During the Daytime In Las Vegas In December?
Daytime average high temperatures in Vegas in early December tend to be over 60 degrees and will fall to 50 degrees later in the month.
However, the weather conditions may vary from year to year. So I suggest you check the latest weather forecast before you depart.
Generally, the daytime temperatures in Las Vegas in December are comfortable enough to wear tank tops and shorts or a skirt with a thin long-sleeved jacket or cardigan, or just a thin sweater or long-sleeved shirt and a pair of pants or jeans.
However, if you go out of the hotel in the early mornings, you should wear a thicker jacket and long pants.
For footwear, a pair of comfortable closed-toe shoes is the best choice.
If you are going to a fancy restaurant for lunch, then you need to pay attention to the dress code of the restaurant.
If you don't want to wear high heels, then flat shoes or low-heeled pointed leather shoes will be more suitable for most restaurants than a pair of sneakers.
What Should You Wear During Nighttime In Las Vegas In December?
December nights are still relatively cold for Las Vegas. Therefore, a warm and thicker jacket or a cozy sweater is essential. A pair of warm boots with a short skirt is also a very fashionable choice.
If you visit Las Vegas for a long weekend trip during the holiday season, add more visual interest to your look by choosing some festive pieces for a night out.
For example, a sequin top, a pair of velvet or satin pants, and a beautiful pair of heels. These pieces allow you to be more confident and have fun whether you go to the casino at night, have a nice dinner, a show, an ice rink, or other special events.
For the jacket, if you want to keep warm and still look fashionable in the nightclubs, in addition to choosing a leather jacket, you can also choose a stylish and sharp-cut blazer.
It is recommended to choose a satin or velvet blazer, which looks very expensive and has a festive atmosphere.
Although you don't have to follow a formal dress code for most places in Vegas, in nightclubs, a combo of a pair of skinny jeans and a cute top can already meet the requirements of most nightclubs.
But in Las Vegas, the rule of thumb is, that being dressed-up is always better than being dressed-down because you don't want to risk being rejected by the doorman after waiting for hours on cold nights.
So, put on gorgeous and comfortable clothing and enjoy a beautiful December night in Las Vegas. It will be your most unforgettable memory.
What To Wear In Las Vegas In December For Outdoor Activities?
Las Vegas is full of outdoor activities. Whether it's the famous Las Vegas Strip or the natural beauty of the Las Vegas neighborhood, there's very much something to keep you occupied.
When you are outside during the day, you can wear a short-sleeved nice top and long pants, and a pair of flats or sneakers. You can bring a thin jacket in your bag to avoid the very cold weather when you return late from your outing.
A pair of comfortable shoes is very important. Unless you are going to a gorgeous restaurant for dinner, a pair of sneakers is your best bet for long walks outside.
Walking the Strip to visit the various luxury casinos and hotels is one of the most important things to do when visiting Las Vegas. However, it is important to note that the buildings on the Strip may not look like they are far from each other, but there is a distance to walk.
For example, it's a six-kilometer walk from the southernmost hotel on the Strip (Mandalay Bay) to the northernmost tower (Stratosphere), which is an hour and a half walk away! So a good pair of shoes will make your trip more comfortable.
What To Wear In Las Vegas Casinos In December?
Most Las Vegas casinos do not have a strict dress code. Some places require resort casual, and some places require business casual.
But generally, for men, a collared shirt, a nice pair of pants, and a pair of leather shoes are the best choices. You can also choose a polo shirt or a stylish good-quality T-shirt.
For women, you can choose a casual dress or a combo of skinny jeans with a cute top. But be careful to avoid choosing too revealing designs and see-through fabrics.
Also, baggy tops or baggy pants, and athletic clothing pieces and shoes are not appropriate for casinos.
At night, the majority of visitors will choose more dressed-up clothing.
So men can wear dress shoes and a nice blazer, and women can replace jeans with dressy pants or just wear a little black dress.
In December, the weather is colder, so you can add some warm clothing such as a fancy jacket and a warm scarf, or wear a long-sleeved sweater top to keep warm.
What To Wear In Las Vegas In December For Christmas and New Year's Eve?
If you choose to spend your Christmas Day or New Year's Eve in Las Vegas, then you need to choose more festive outfits for your holiday trip.
For example, clothing with sequin decorations, fun prints, bold colors, or gorgeous velvet, silk, fur, and feather pieces. These beautiful and luxurious designs will make you more glamorous in the holiday lights.
Also, don't forget to add sparkling accessories to your nice outfits, such as a pair of eye-catching earrings and a chic clutch that will add more of your personal touch.
Does Vegas Have Pool Parties In December?
Las Vegas is one of the most popular destinations for pool parties, so be ready to have a great time in the sexy and fun heated pool parties!
What To Wear To Pool Parties In Las Vegas In December?
Although the official dress codes for pool parties in Las Vegas may vary a bit, most of them require beach-themed clothing. Therefore, a cute bikini or bathing suit with a chic, light cover-up is a good idea.
As for shoes, some pool parties will advise you not to wear high heels. A pair of chic flat sandals are a more comfortable option. Also, it is not recommended to wear a pair of flip flops.
Best Las Vegas Outfits To Copy In December: Vegas Packing List Inspiration
Want more inspiration? Check the below picks from our favorite retailers to copy and shop for directly.
Silver Sequin Bodycon Mini Dress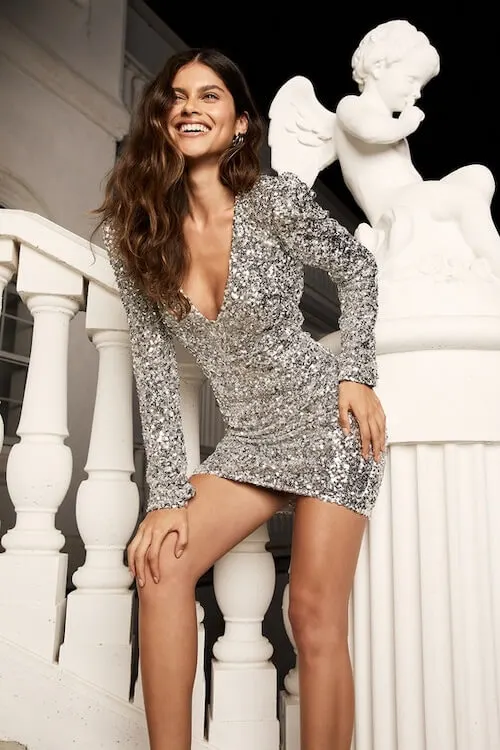 Sequin Little Black Dress
Black Turtleneck Sweater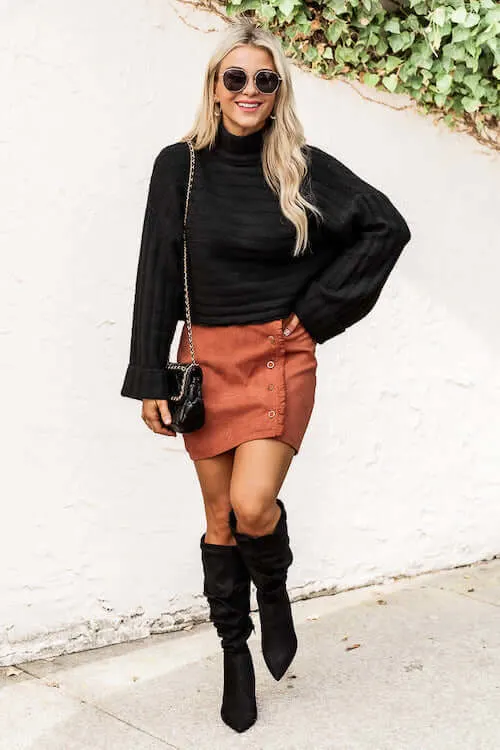 Gold Sequin Tank Top + Denim Jacket / Light Jacket + Leather Skirt + Boots
Beige Balloon Sleeve Belted Sequin Dress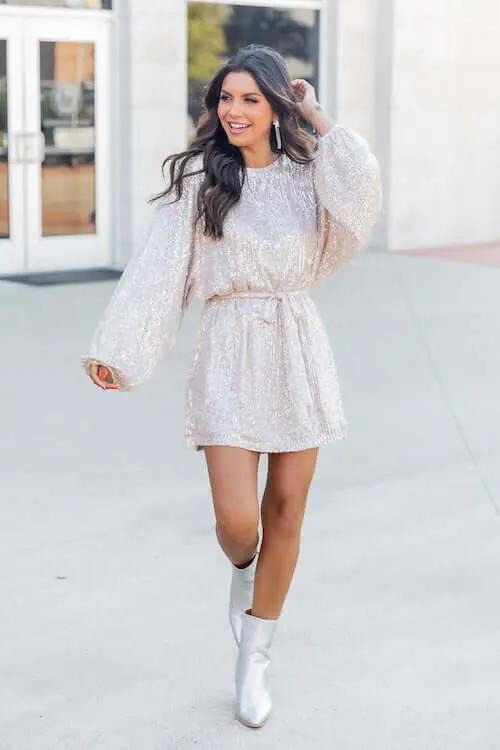 Magenta Satin Ruched Square Neck Dress
Black Leather Moto Jacket + Tank Tops + Animal Print Skirt + Comfortable Shoes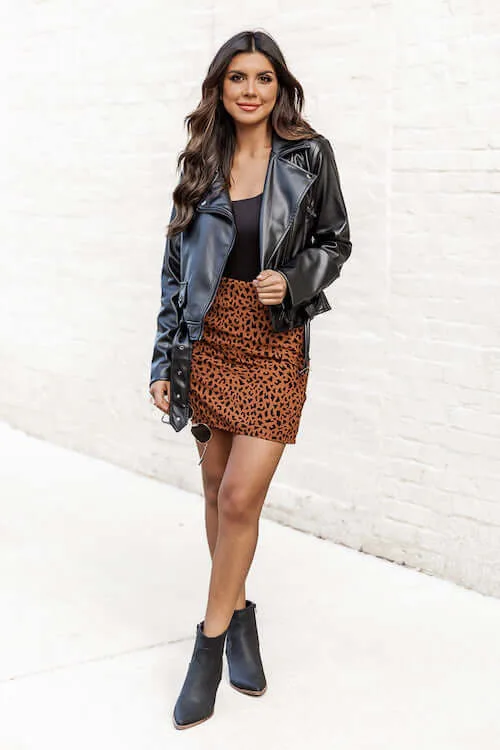 Black Faux Leather Straight Leg Pants + Long-Sleeved Shirt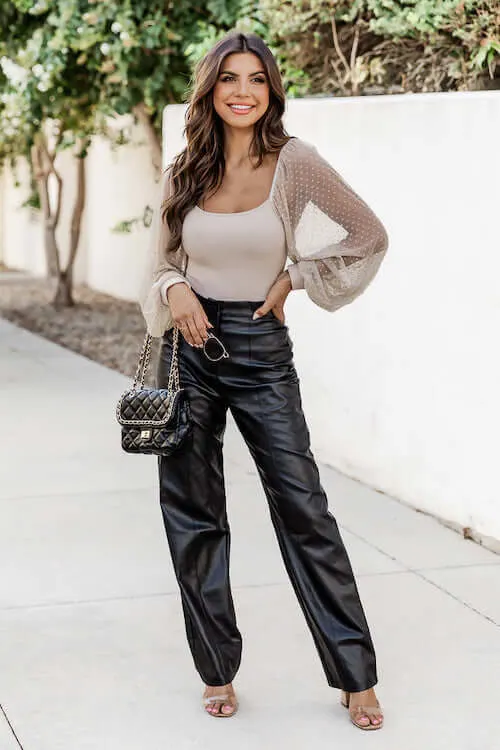 Brown Vegan Leather High-Waisted Trouser Pants + Cute Top
Open Front Sequin Jacket + Mini Skirt
Single Button Glitter Blazer + Slant Pockets Shorts
Deep V Neck Velvet Blazer Dress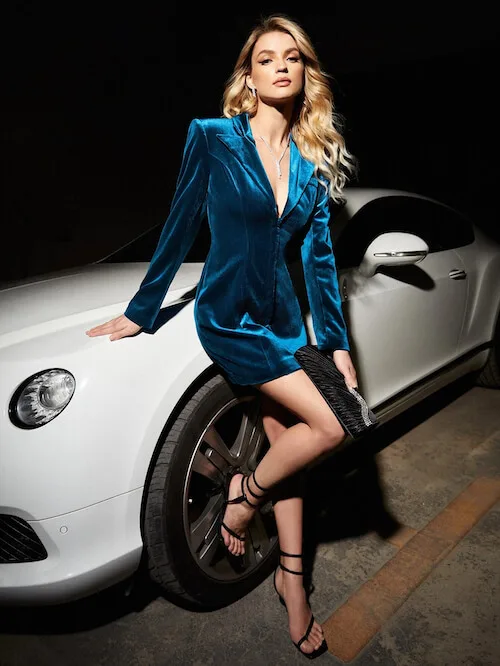 Fringe Detail Tie Side Satin Blazer
All Over Print Button-Up Shirt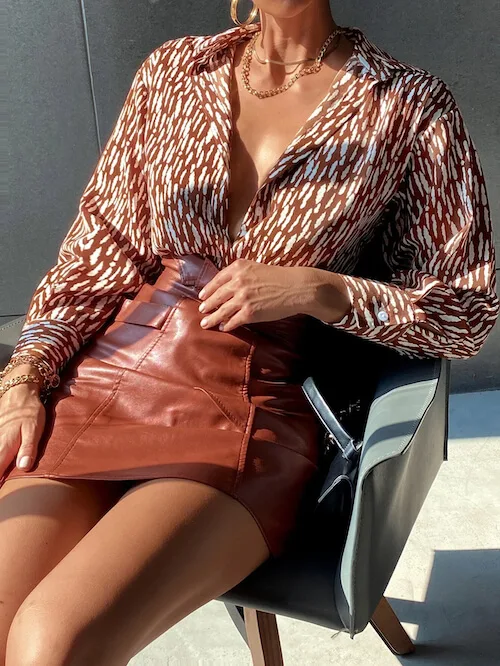 High Waist Ribbed Knit Pants or Dress Pants + Crop Tops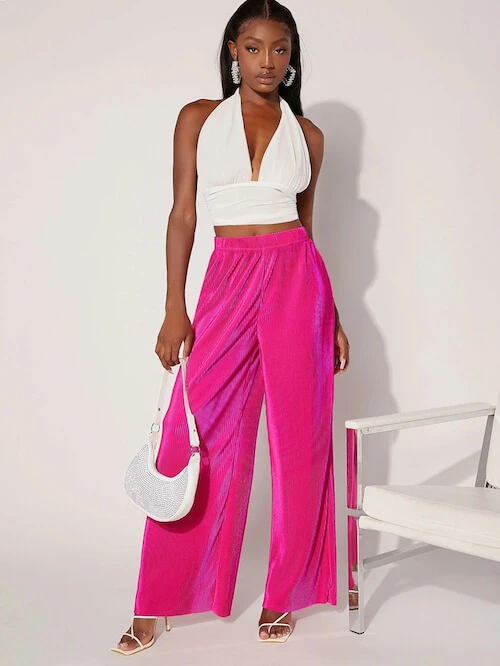 Zebra Stripe Drop Shoulder Sweater + Mini Skirt + High Boots
Drop Shoulder Duster Cardigan
Sequin One-Shoulder Crop Top + A Pair of Jeans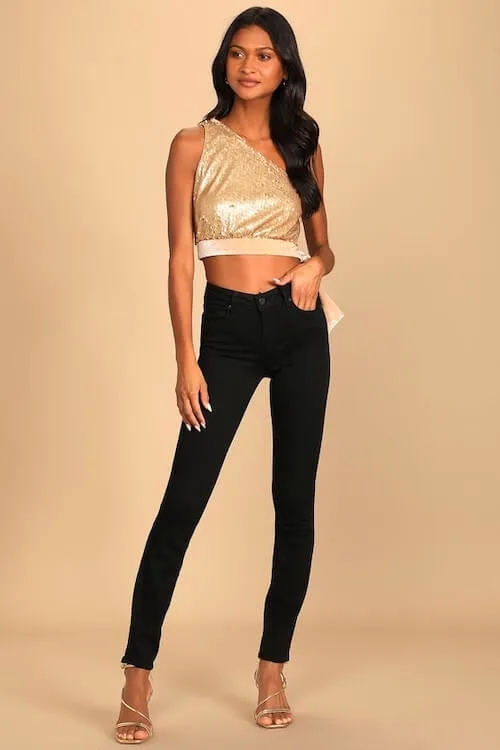 Rose Gold Multi Reversible Long Sleeves Sequin Dress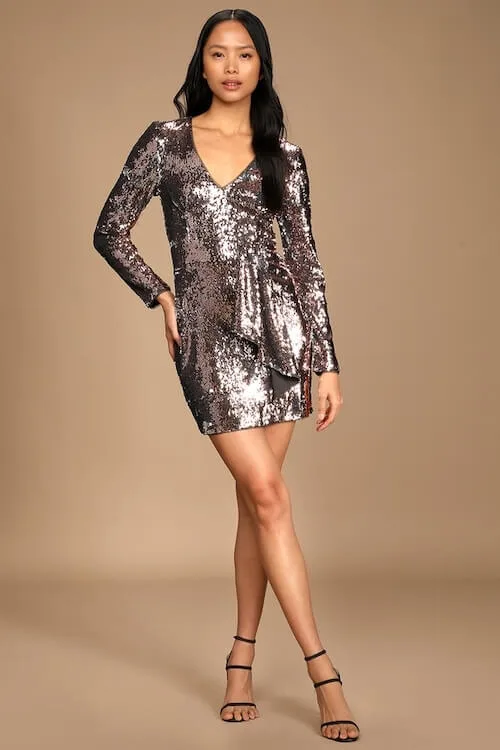 Emerald Green Crushed Velvet Mini Dress
This post was all about Las Vegas in December what to wear.
About The Author
Tracy is an experienced personal stylist, shopping expert, and fashion & lifestyle blogger. She has been featured on Time Magazine, Bustle, Best Life, Glam, The Zoe Report, Mic, and GOBankingRates, for her insights on fashion, beauty, home decor, and lifestyle. Read More
Related Posts: