Looking for classy Christmas outfits? Check this post for the 70+ elegant and chic Christmas outfit ideas for stylish women to copy for different occasions, including Christmas party outfits, outfit ideas for office Christmas parties, and Christmas formal event outfit ideas.
A beautiful Christmas is coming again.
Whether it's getting together with your family, celebrating Christmas with your closest friends, or welcoming the New Year with your significant other, you're sure to be looking for the perfect Christmas outfit.
If you love classy and chic styles and if you love looking for your next Christmas outfit to sparkle, you've come to the right place.
In today's article, I am sharing with you the 70+ classy Christmas outfit ideas that we love so much from our favorite retailers for you to copy and shop for directly.
We cover the perfect Christmas spirit outfits for casual gatherings, Christmas dinner, Christmas parties with family and friends, office Christmas party, and the best outfits for Christmas formal occasions.
So scroll down to check these Christmas clothes and accessories, and don't hesitate to pin them to your Pinterest board, and share them on social media sites.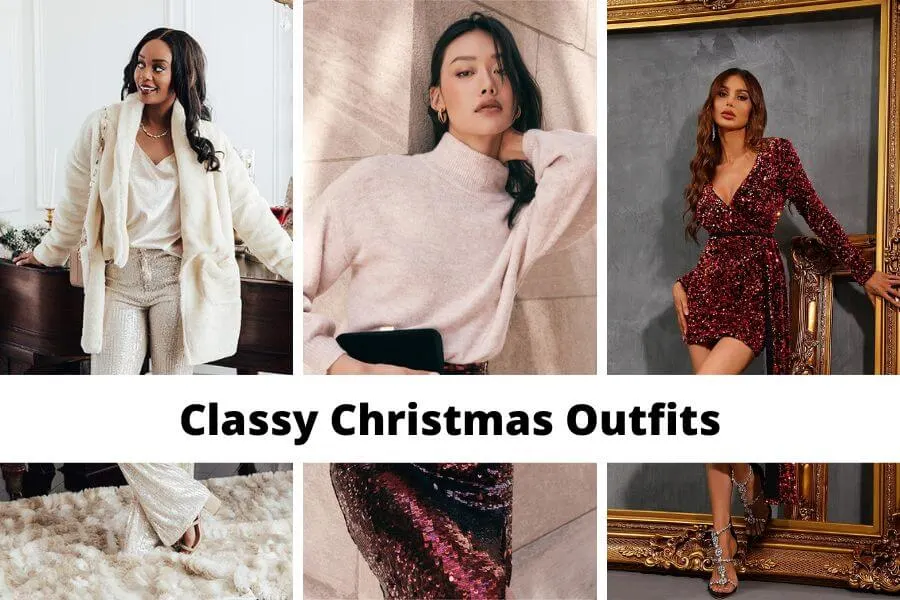 This post may contain affiliate links, which means I'll receive a commission if you purchase through my link, at no extra cost to you. Please read the full disclosure here.
This post is all about classy Christmas outfits.
Classy Christmas Outfits
Classy Christmas time outfits will make you stand out from the festive crowd and once again show off your good fashion sense.
What Are The Best Colors To Wear For Christmas
If you want to create the perfect Christmas style, you can first determine the color of the clothes you like.
Traditional Christmas colors such as red, green, dark blue, and metallic gold and silver are all perfect for the Christmas mood.
To keep your outfits looking classy without being tacky, I recommend choosing at most one traditional Christmas color for your whole look.
You can wear this color all over or match it with other neutrals.
Suitable neutral colors include white, black, brown, silver grey, beige, cream. They can be paired with traditional Christmas colors for a stylish and elegant style.
What Is A Good Outfit For Christmas?
If you want to take your festive style to the next level, you can also add sequin and velvet pieces, which look gorgeous and very Christmas-inspired, perfect for creating a chic Christmas look.
Whether it's a Christmas dinner or a festive gathering between family and friends, beautiful sequin or velvet pieces will add more cute outfit details to your look.
Holiday Season Tulle Skirt Outfit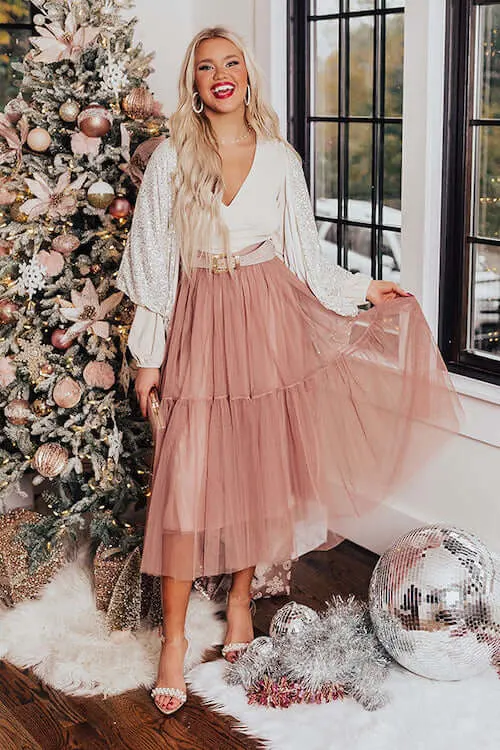 White Knit Top / Ugly Sweater + Burgundy Flare Pants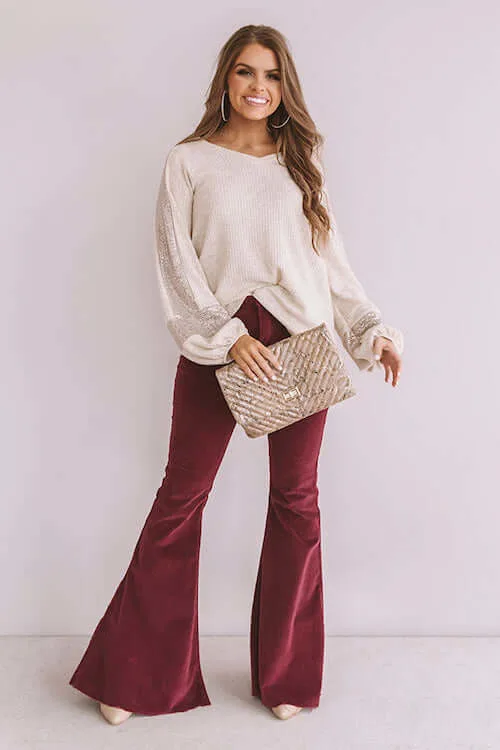 Gree Velvet Tank + Green Velvet Pants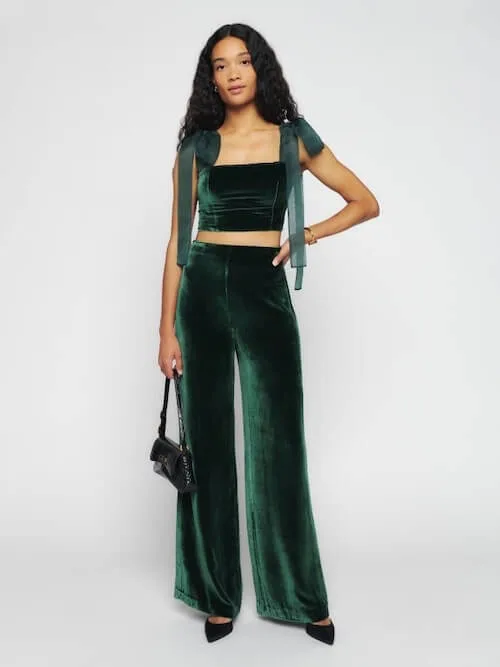 Cute Christmas Day Look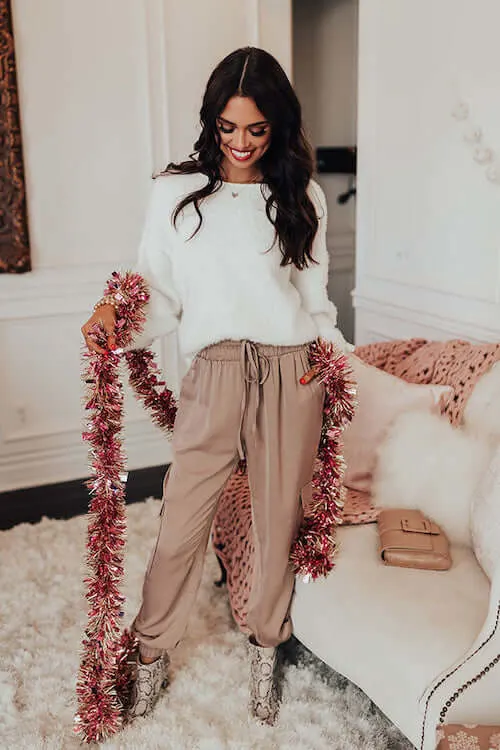 Stylish Christmas Dinner Outfit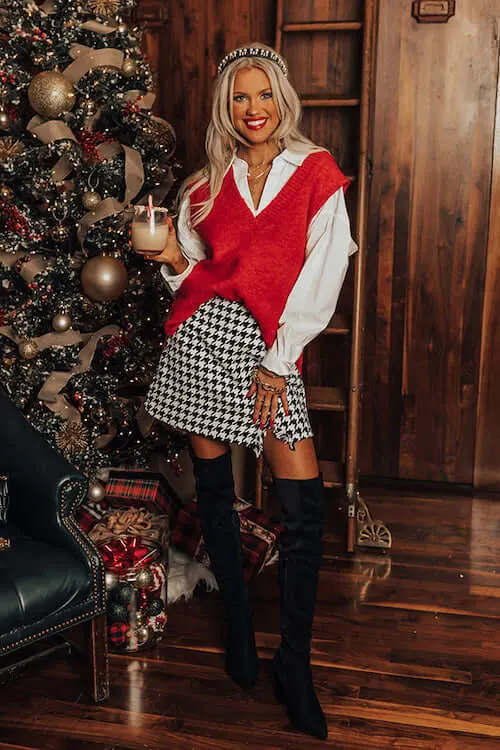 White Shirt + Tweed Coat + Faux Leather Skort + White Boots
Black Top + Grey Mini Skirt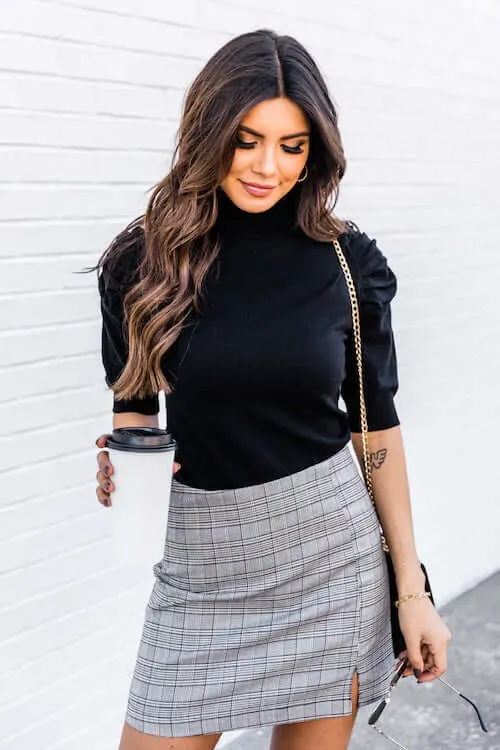 Red Sweater + Tweed Black Skirt + Ankle Boots
Black Sweater + Plaid Skirt
Cream Cozy Sweaters + Brown Leather Skirt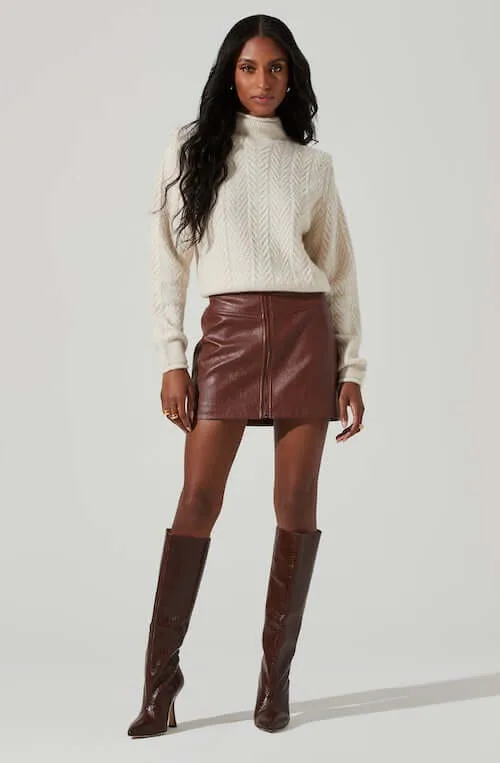 Elevated Casual Look With Green Skirt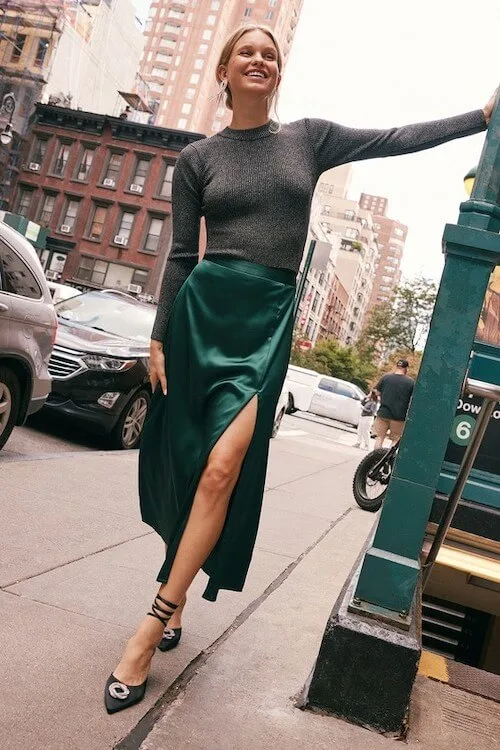 Knit Tan Midi Skirt Set + High Boots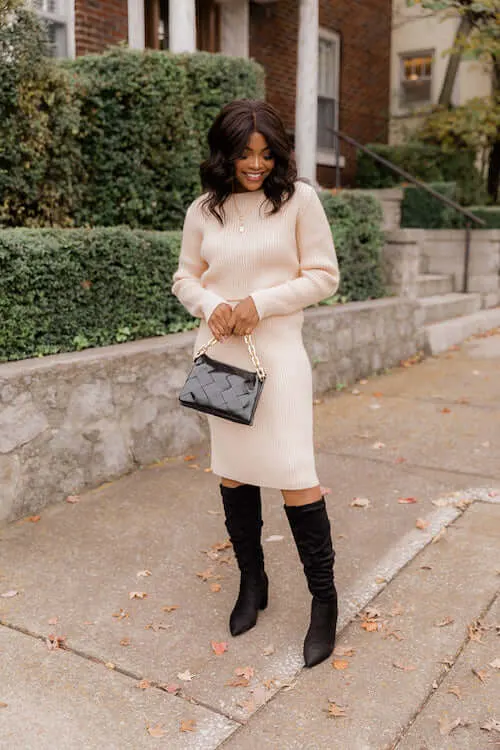 Classy Christmas Outfit For Casual Get-Togethers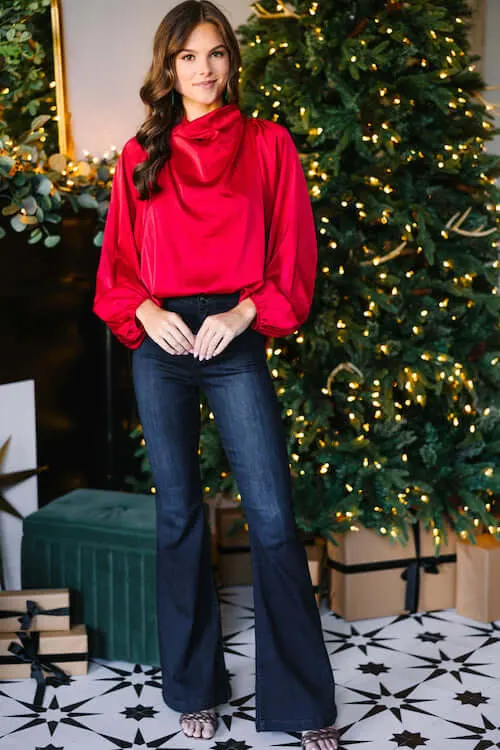 Festive Colors Sweater / Ugly Christmas Sweater + Mini Skirt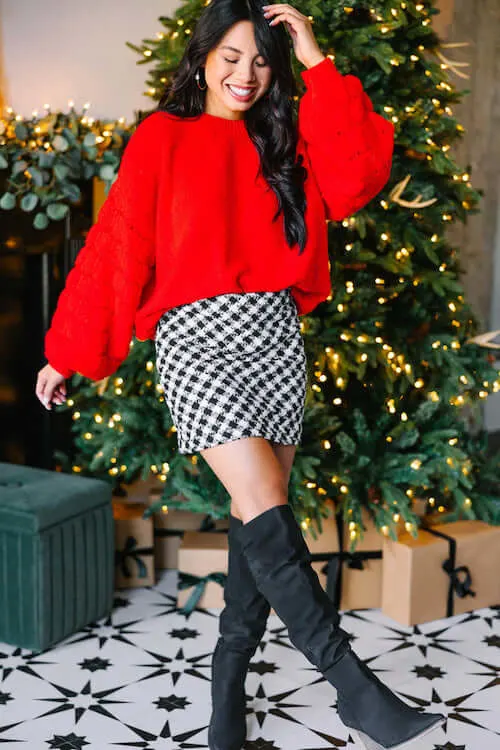 Green Sweater + Black Skinny Jeans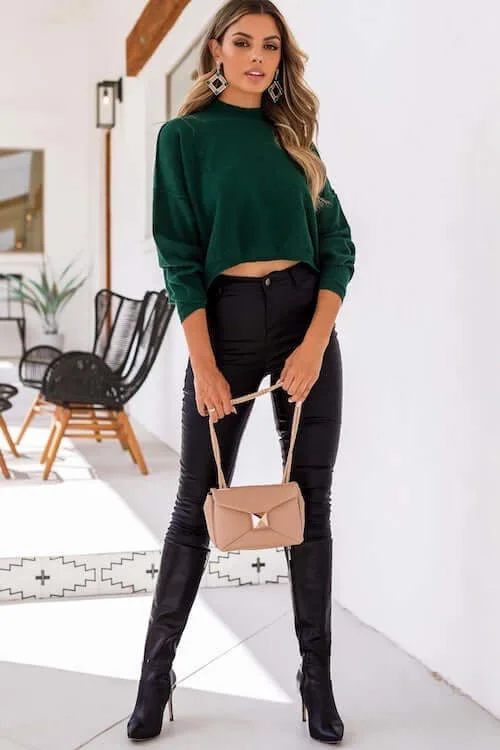 Red Turtleneck Mini Dress + High Heels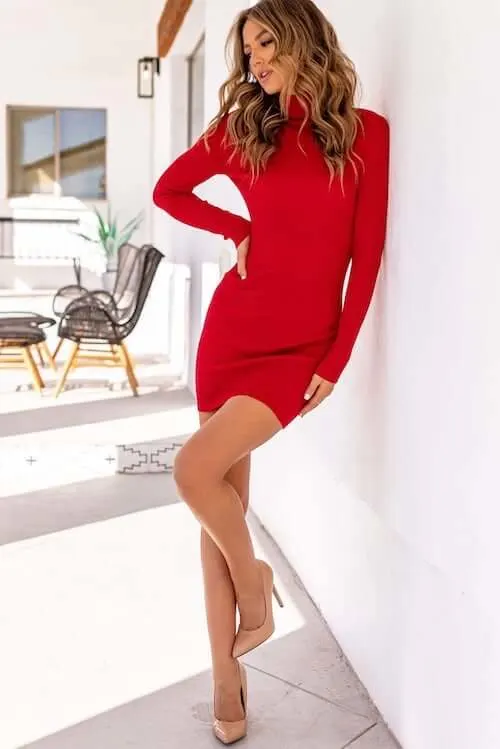 Red Sweater + Black Leather Pants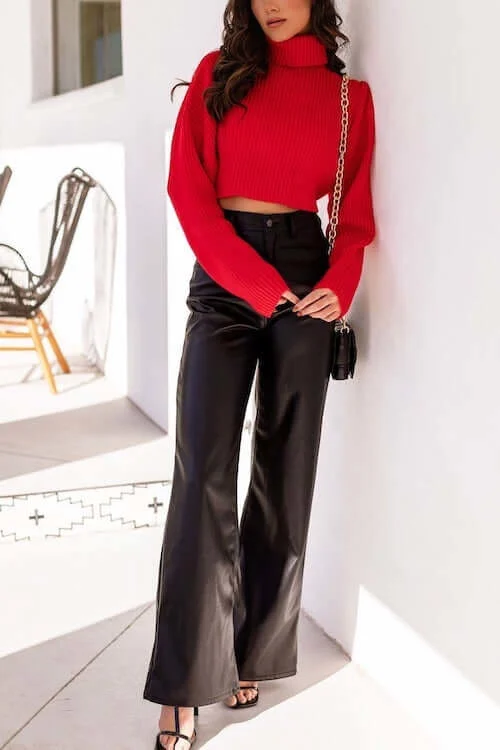 Red Tube Top + Black Pants
Camel Teddy Long Coat + White Sweater + Mini Skirt + White Boots
Navy Velvet Skirt + White Sequin Long Sleeves Top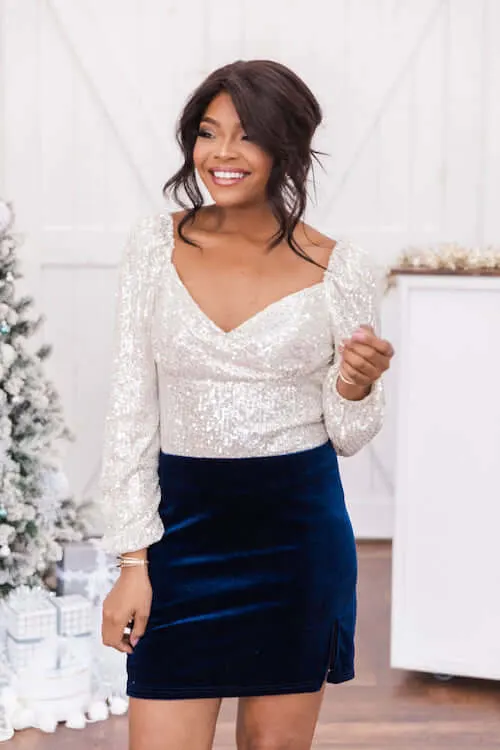 Classy Festive Season Style
Red Leather Skirt + Black Top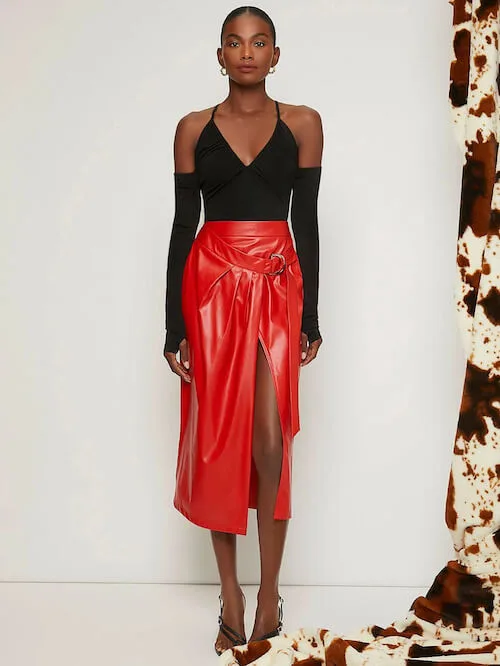 Dark Green Sweater Dress
Chic Casual Outfit For Christmas Season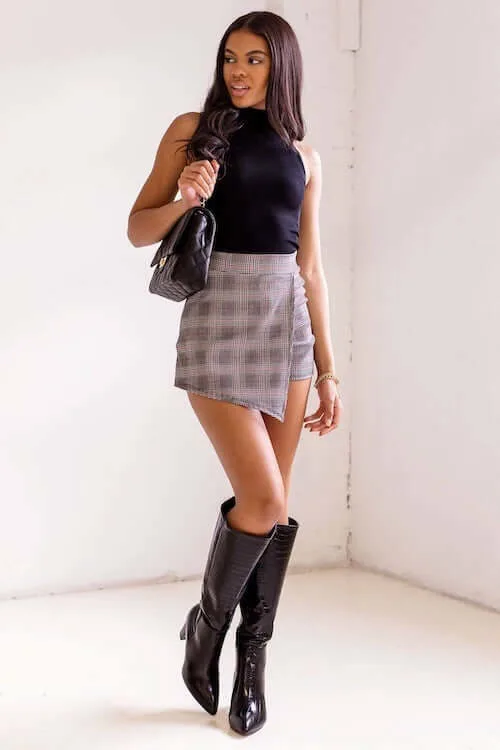 Classy Christmas Party Outfits
Enjoy a merry Christmas party with the trendiest outfits!
Clothing pieces of sequin and velvet are best for Christmas parties. All you have to do is choose a sequin or velvet piece and pair it with the other basics in your wardrobe for the most stylish holiday party look.
For classy women, I suggest you choose the right shoes carefully. A pair of pointed-toe shoes, whether pointed toe heels or pointed-toe leather boots are perfect for a classy party look.
If you like retro style then you can choose a pair of retro style platform shoes. They look so stylish.
You can never go wrong with black shoes. For festive parties, you can also choose stylish white shoes, as well as gold or silver shoes to make you look more elegant and beautiful.
You also need to choose minimalist jewelry. Please avoid wearing tacky and low-quality jewelry. Minimalist jewelry can help you create an elegant look even more.
If you want to make a statement, you can layer several minimal necklaces together, which is very trendy and has your personal style.
Finally, don't forget to wear a delicate little shoulder bag or clutch, and finish your look with a red lipstick.
Sequin Bodysuit + Black Leather Skirt + Black Booties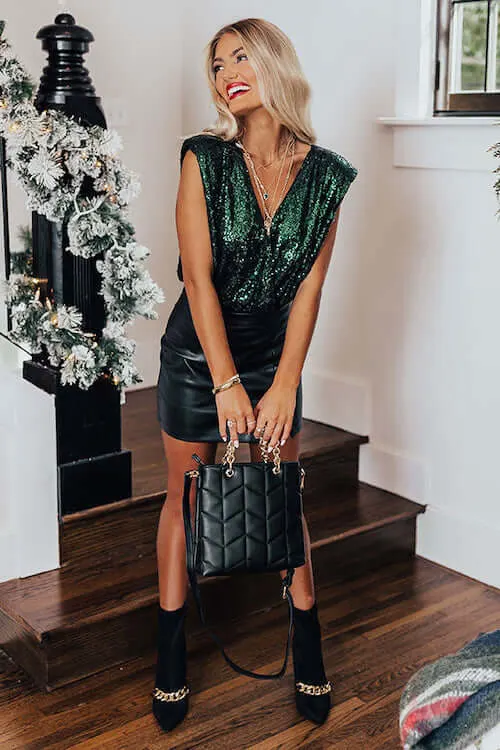 Stylish Christmas Eve Look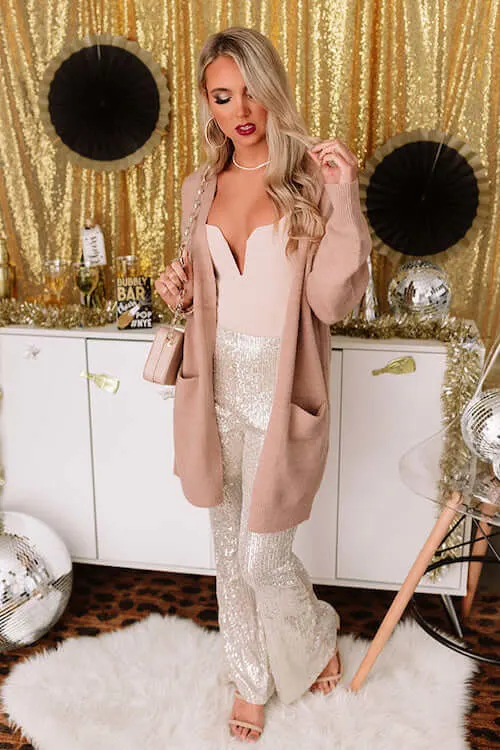 Sequin Top + Sequin Flare Pants
Green Velvet Blazer + Black Velvet Dress Dress
Red Velvet Top + Black Midi Skirt
Satin Top + Blazer + Leopard Skirt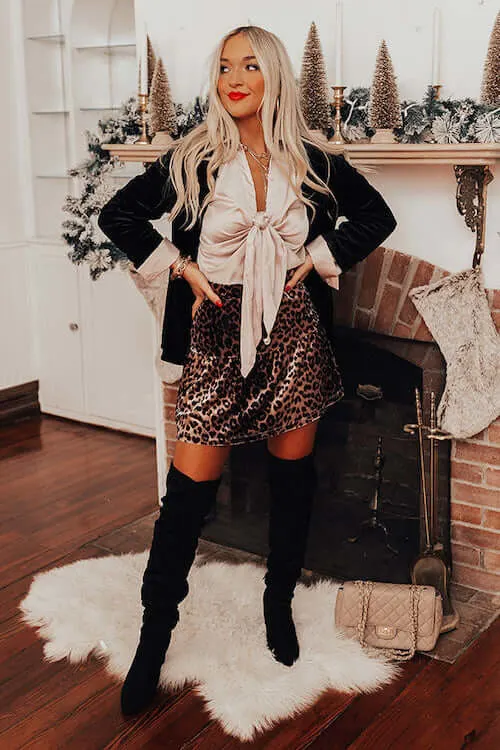 Velvet Little Black Dress
Silver Disco Sequin Dress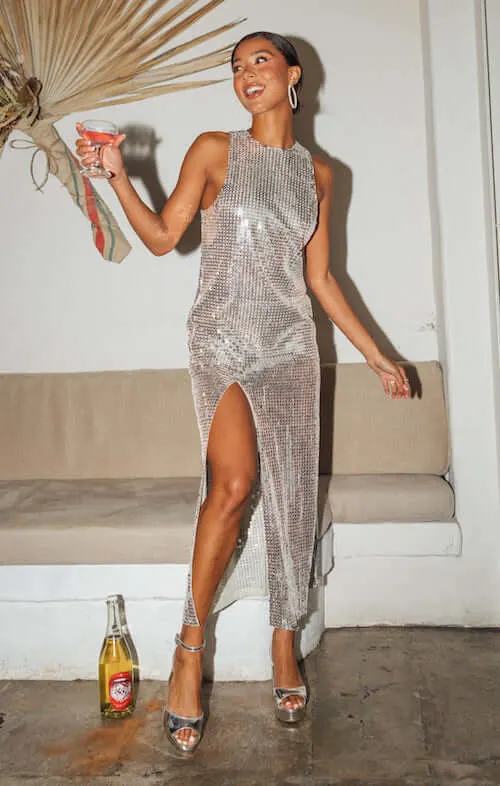 Black Top + Black Mini Skirt + Platform Shoes
White Confetti Skirt Party Look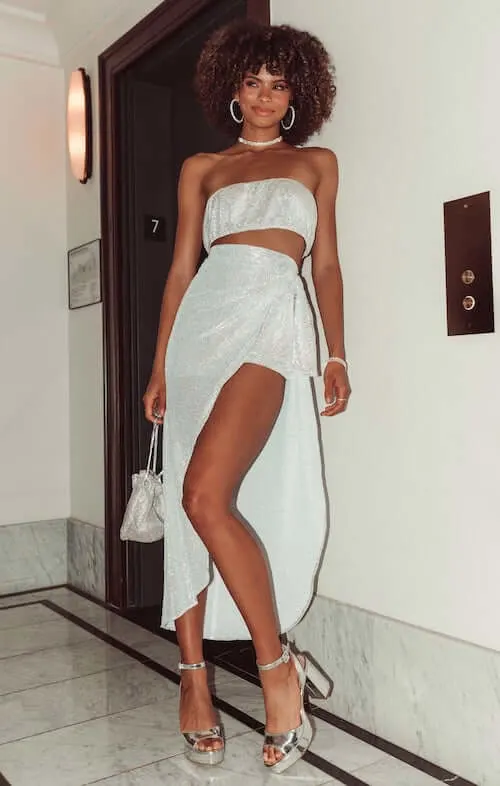 Wine Maxi Dress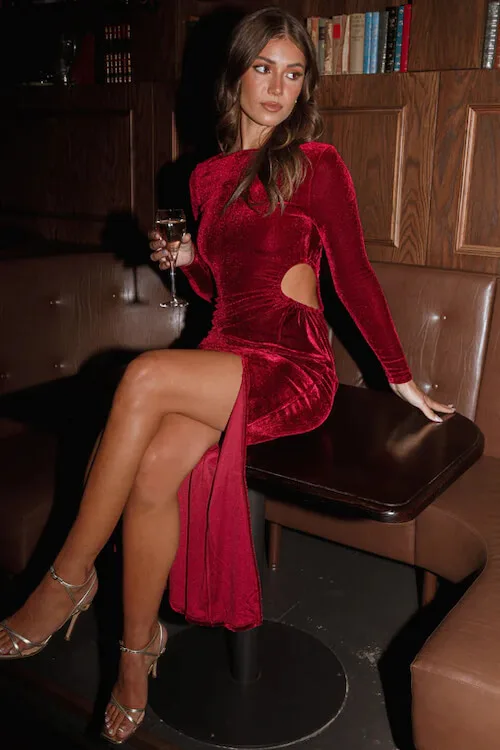 Velvet Knit Top + Black Long Skirt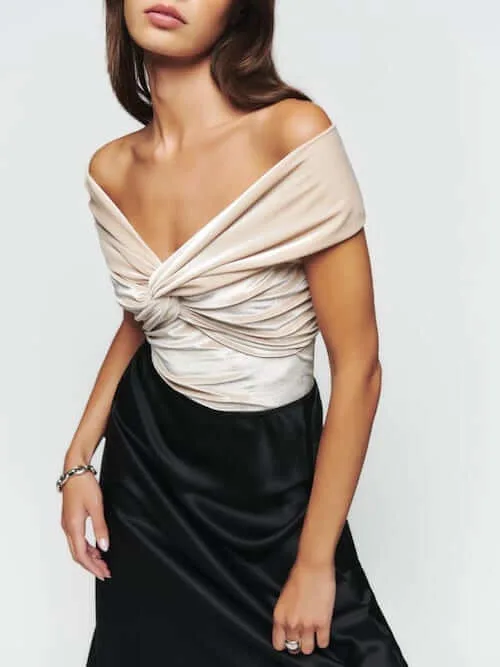 Sequin Bodycon Christmas Dresses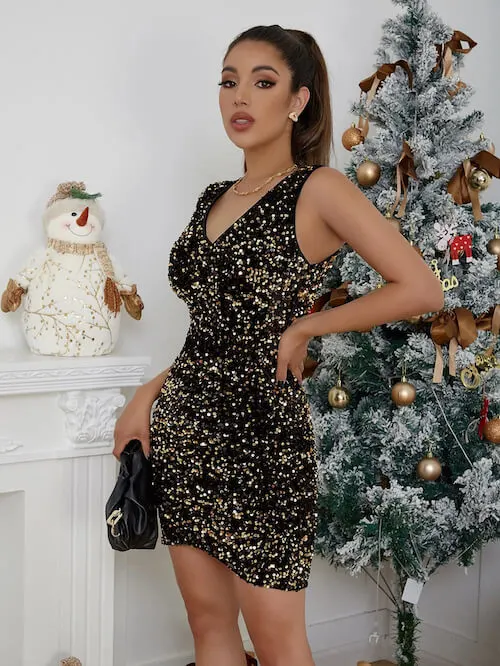 Sequin Party Dresses + White Cowboy Boots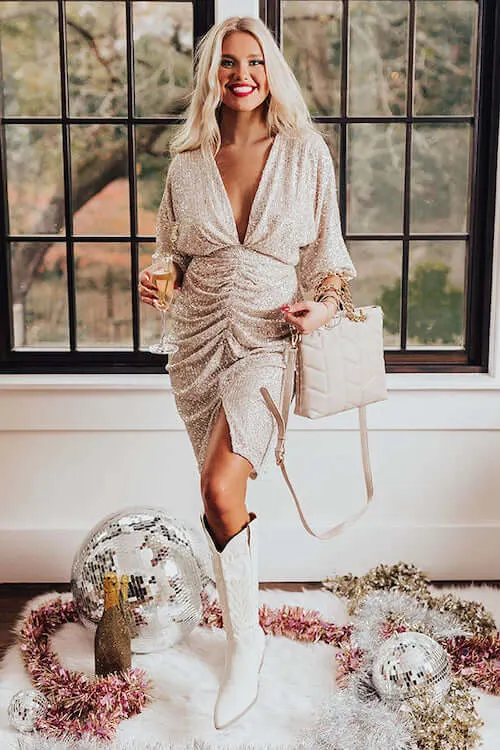 All Black Outfit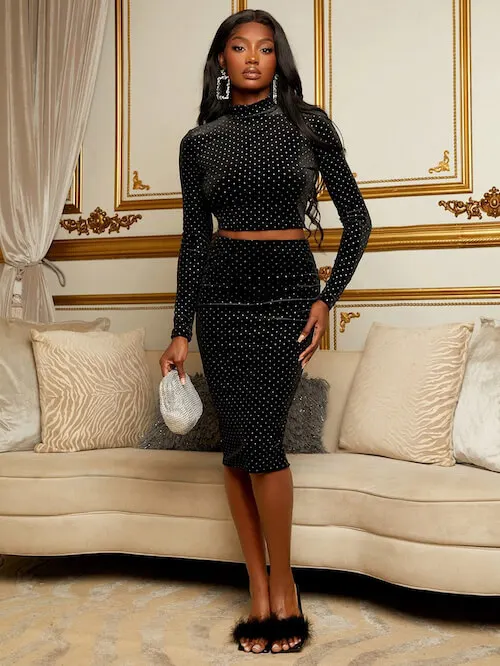 Sequin Jumpsuit for Christmas Season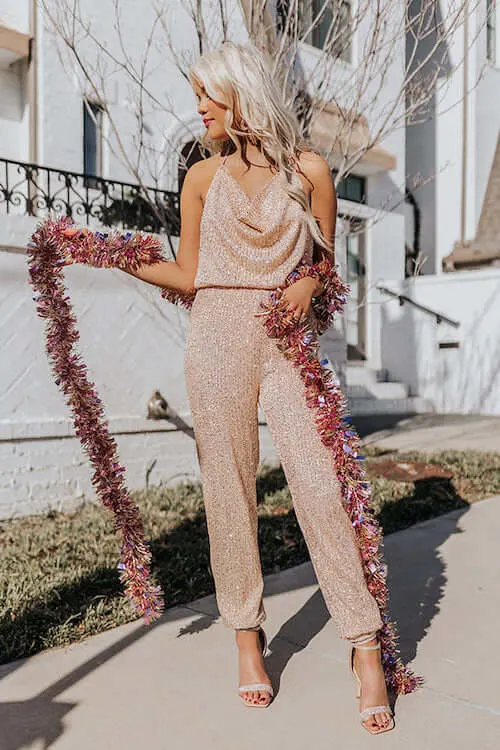 Emerald Green Sequin Bodysuit + Black Jeans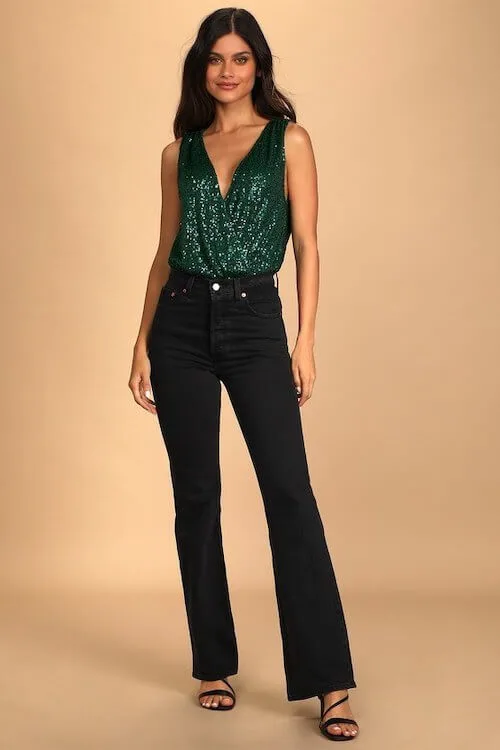 Glitter Top & Skirt + Thigh High Boots
Classy Christmas Outfits For Plus Size Beauties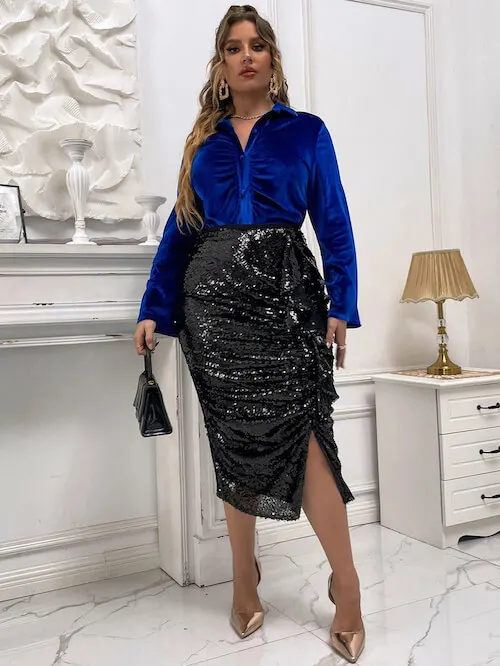 Green Velvet Beaded Box Clutch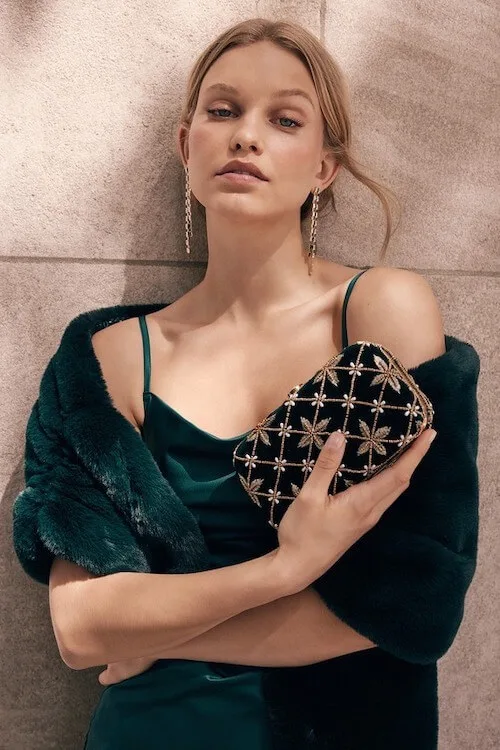 How To Style For An Ugly Christmas Sweater Party
If your Christmas party requires you to wear ugly Christmas sweater, don't worry, you can still look stylish and elegant.
First of all, you can choose ugly sweater with simple color matching.
Secondly, you also need to pay attention to the appropriate matching skills to create a more perfect body proportion.
You can opt for a short ugly sweater and pair it with a high-waisted skirt or pants.
You can also opt for a long, oversized ugly sweater and pair it with a mini skirt to make your legs look very slender.
Is It Ok To Wear Black To A Christmas Party?
Yes! A little black dress is always suitable for any party. The combination of a black top and a black skirt or a pair of black pants is also a chic idea.
For extra festive flair, you can opt for a gorgeous little black dress made of velvet, sequin or satin.
Then don't forget to add shining accessories.
You can also choose bold color, bright color or metallic color shoes to add a pop of color and more holiday cheer to your whole look.
Chiffon Sleeve Sweater + Dressy Jeans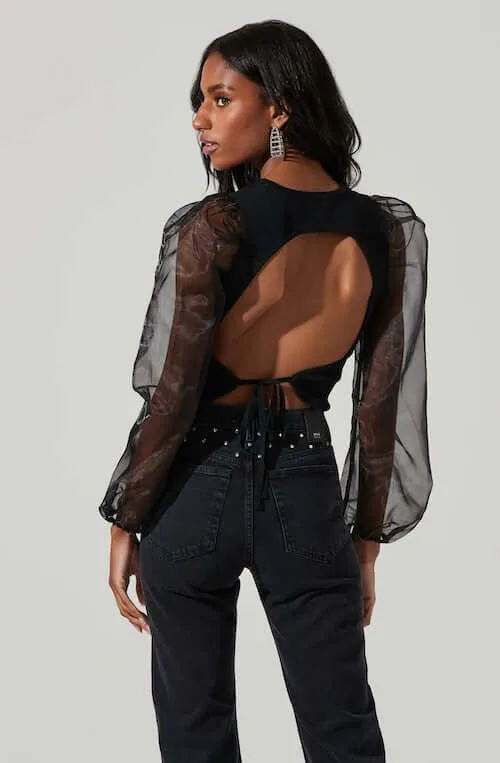 Black Sequin Cardigan + Black Satin Dress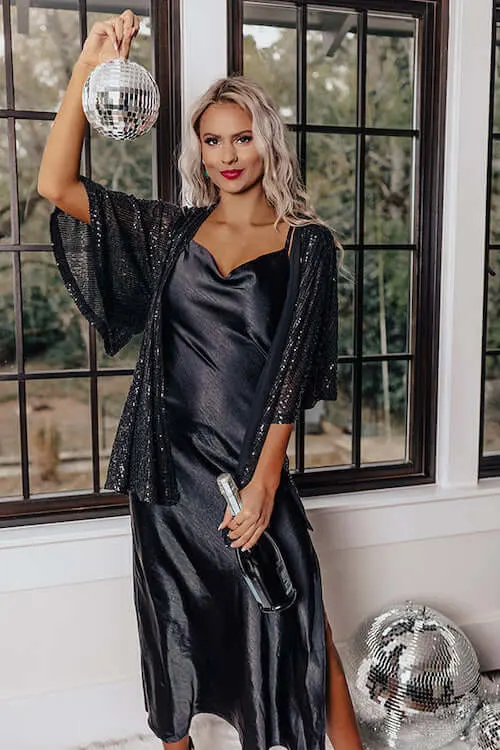 What To Wear To Christmas Dinner
If you are going to Christmas dinner, you can choose a red or green sweater, and then match it with a pair of nice pants or jeans.
You can also choose light colors or Christmas color dresses that look festive and cute.
You can choose velvet dresses, satin dresses or cozy sweater dresses. They are all great.
Next, you can add chic jewelry to your outfits.
You can choose earrings with cute designs, such as bow earrings, or shining dangle earrings, to make your look more glamorous and moving.
If you're attending a Christmas dinner party, remember to choose a pair of high-heeled pointed-toe shoes and bring a cute clutch to complete your holiday look.
Red Christmas Sweaters + Plaid Pants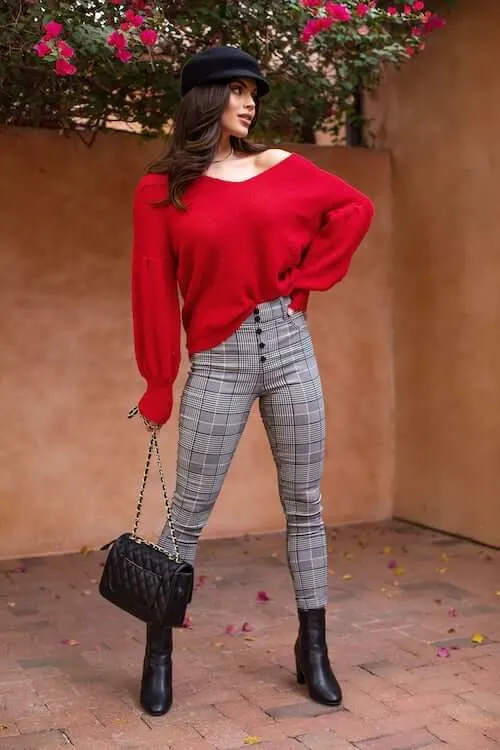 Emerald Green Blouse + White Pants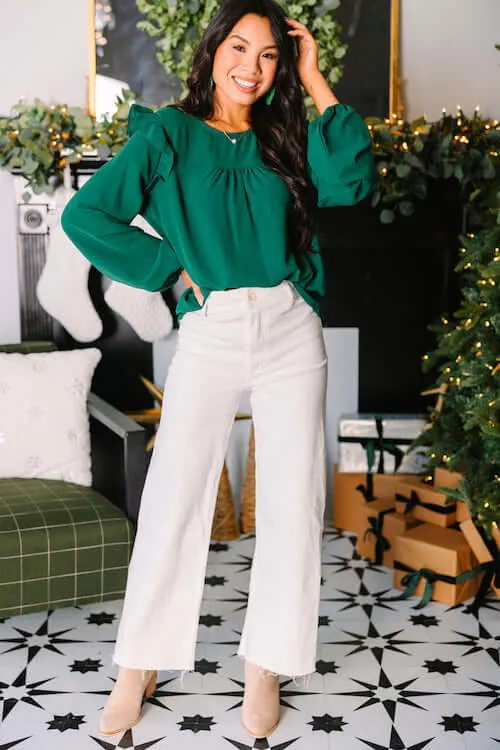 Red Dress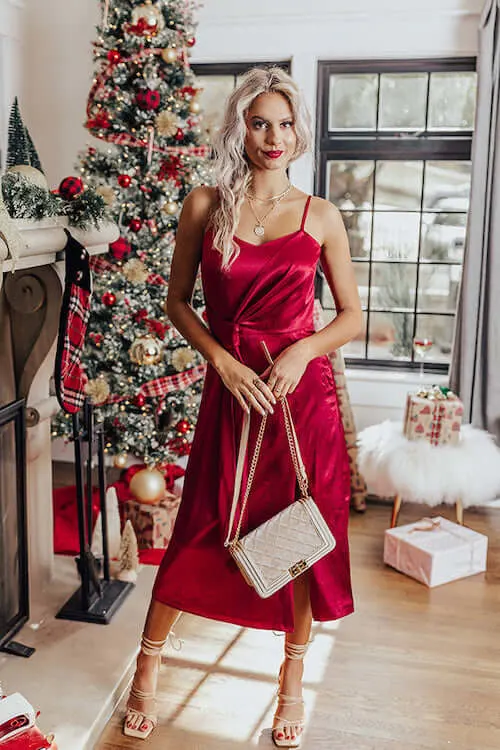 Chic Outfits For Office Christmas Party
For an office Christmas party, you need to choose Christmas attire that will help you look cute and smart.
One of the easiest and trendiest outfit ideas for Christmas office party is to match a pair of skinny pants with a dressy top. You can choose a velvet top, satin top or sequin top.
You can also replace the skinny pants with an elegant mini skirt or midi skirt.
Remember to choose high-waisted skirts, they can help you create a more perfect body proportion and make your legs look more slender visually.
Dresses are also a great option. Whether it's a little black dress, a green dress, or a red dress, you can never go wrong with a dress for a Christmas party.
You can also try trendier holiday party outfit ideas like blazer suits, jumpsuits, or sequin flare pants. These charming pieces are perfect for your office Christmas party time.
What Do You Wear To A Formal Christmas Party
If it's a formal Christmas party, one of the best ideas that will never be wrong is choosing a cocktail dress.
You can also choose a fancy skirt or dressy pants and match it with a nice top.
In the cold weather, one easy way to keep your body heat and maintain a good style is to add a blazer or thin cardigan. Either is a good option.
Please note that you should avoid low necklines or other clothing pieces that are too revealing.
For shoes, stilettos or kitten heel pointed-toe shoes are the best options for formal parties.
Champagne Sequin Blazer + Velvet Tank + White Pants + White Heels
Black Top + Sequin Midi Skirt
Green Cold Shoulder Velvet Top + Black Satin Skirt
Black Tank Top + Leopard Skirt + Neutral Color Cardigan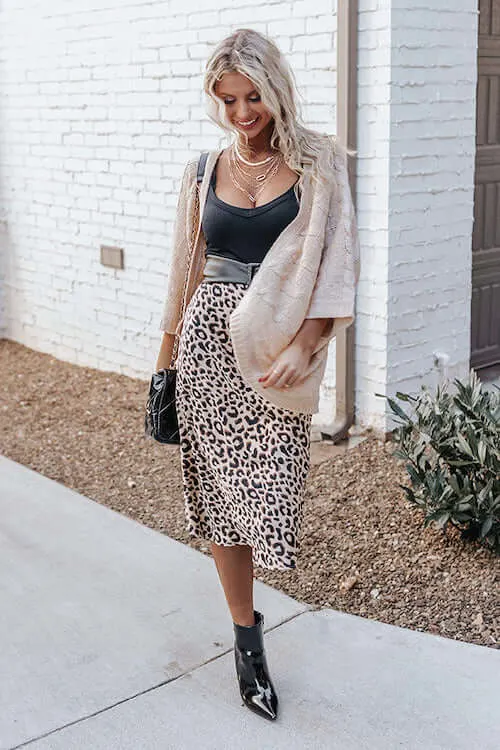 Cream Velvet Tank + Cream Coat + Sequin Pants
Emerald Green Velvet Jumpsuit
Red Tank + Black Leather Leggings
White Top + Green Velvet Pants
Red Blazer Suit for Holiday Parties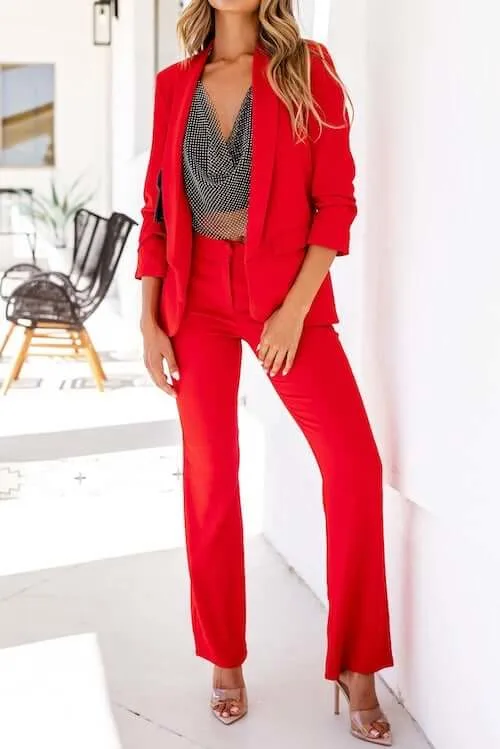 White Top + Royal Blue Velvet Wide-Leg Pants
Stylish Outfit For Christmas Work Party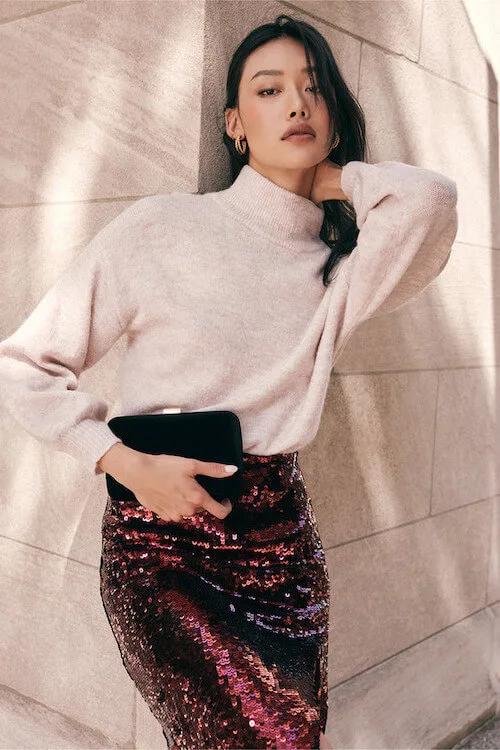 Black Tube Top + Forest Green Velvet Flare Pants
Black Top + Leopard Print Midi Skirt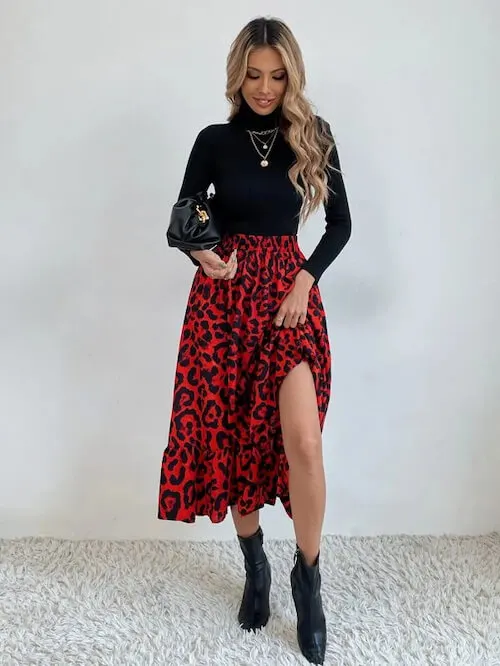 Green Velvet Dress for Office Party
Open Back Midi Dress For Cocktail Party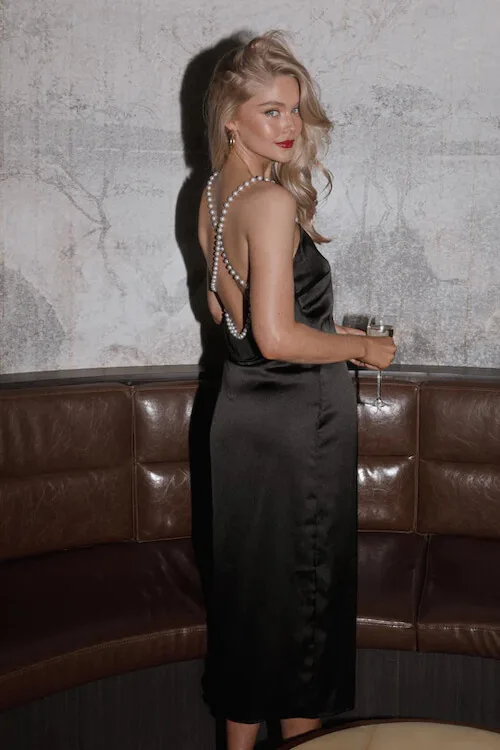 Black Sequin Button Up Top + Black Pants
Teal Blue Sequin Mini Dress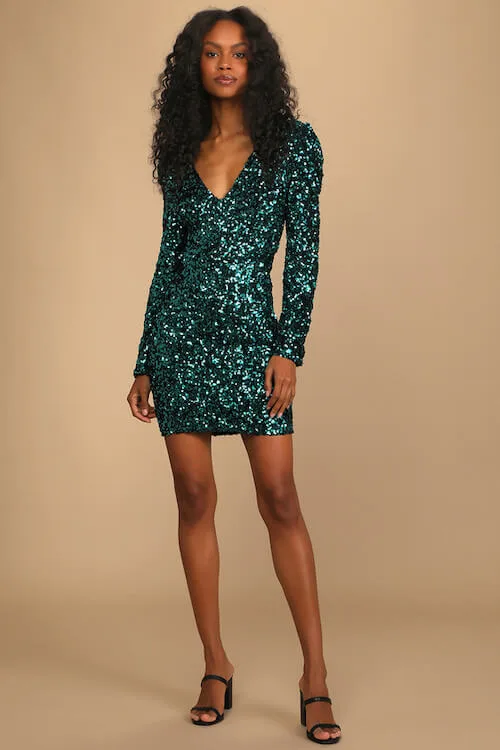 High Waist Sequins Pants + Off The Shoulder Top
Black Gunmetal Dolman Sleeve Top + Leather Leggings
Black Top + Sequin Mini Skirt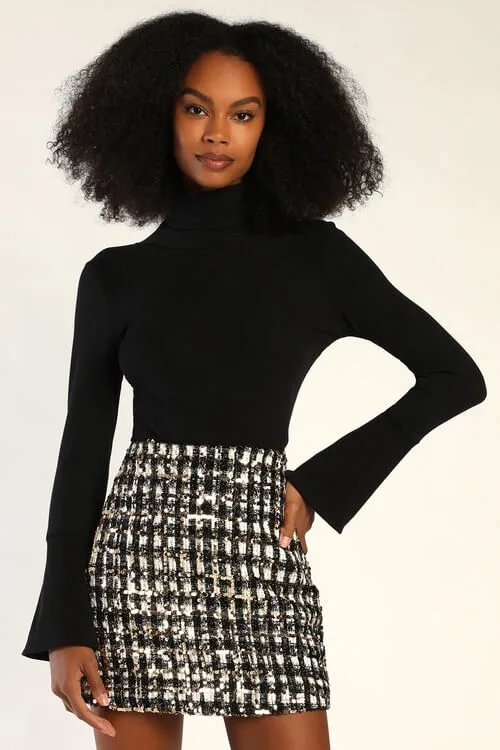 Stylish Christmas formal event outfit ideas
For formal Christmas occasions, a fitted, holiday-inspired dress is the perfect choice. You can choose high heels with pointed toe to match your favorite dress.
Below we have carefully selected for you elegant holiday dresses with different design features, so you can choose your favorite one for formal events at Christmas.
You can also opt for a stylish jumpsuit to show your own personal style.
A pair of black pointed-toe high boots is also a good idea.
If the weather is cold, you can add a long coat or faux fur or fur coat over the dress. They're stylish and warm, making you more charming for winter holiday season.
Gold Sequin Bodycon Dress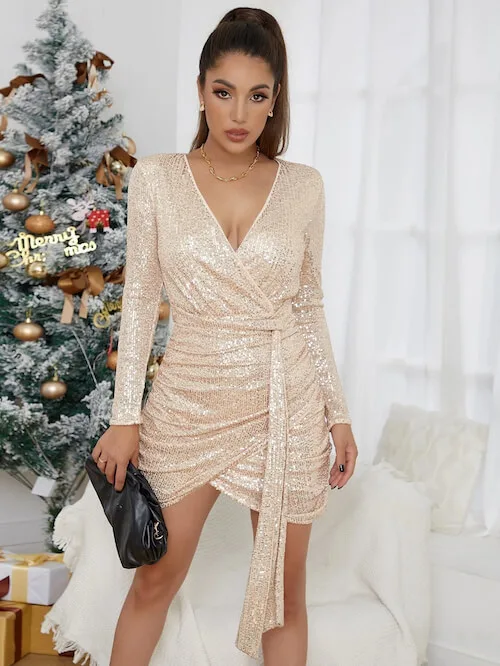 Burgundy Dress
Forest Green Velvet Wide-Leg Jumpsuit
Faux Fur Coat + Gold Dress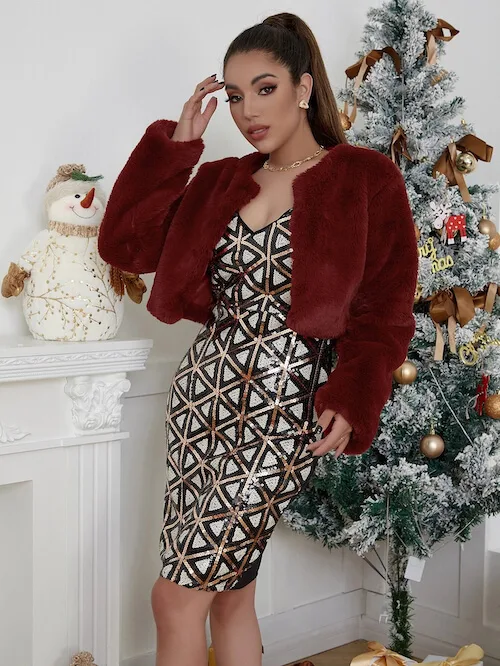 Royal Blue Sequin Maxi Dress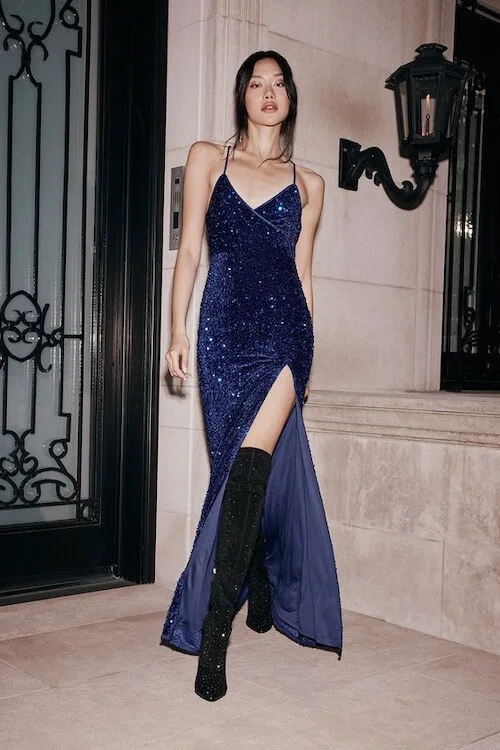 Emerald Green Satin Dress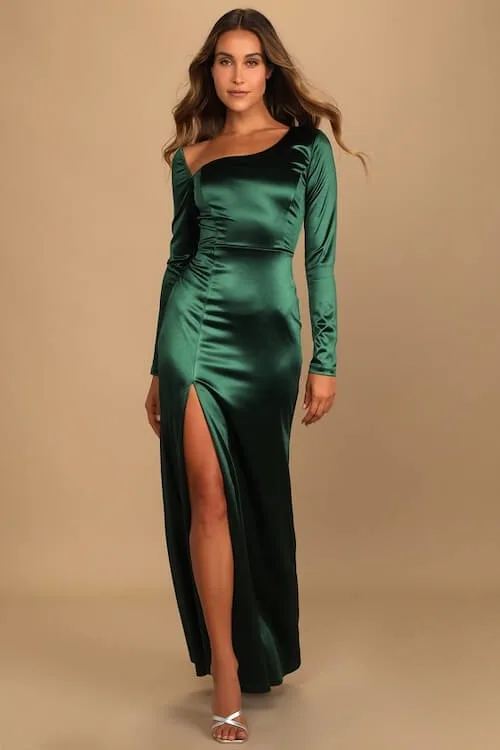 Stylish Christmas Outfits For Special Occasion
This post was all about classy Christmas outfits.
About The Author
Tracy is an experienced personal stylist, shopping expert, and fashion & lifestyle blogger. She has been featured on Time Magazine, Bustle, Best Life, Glam, The Zoe Report, Mic, and GOBankingRates, for her insights on fashion, beauty, home decor, and lifestyle. Read More
Check More Holiday Party Outfit Ideas