Looking for the best New Year's Eve Dresses that won't break the bank? Check this post for the best New Year's Eve dress designs that shine on a budget.
It's a super important moment to kiss this year goodbye and say Happy New Years. And that's why we love to shop for stunning dresses to wear for the NYE.
However, if you want to recover from the days of gifts and holiday shopping, we hear you, and we carefully prepare this list of the best NYE dresses for you to choose from.
Want to see the trendiest but budget friendly New Year's Eve outfit ideas? Check the list below. Common white dresses, floral dresses or your Christmas dresses may not be suitable for this dazzling moment, so we found the cutest sequined designs, ribbed velvet, ruffle cuties, feathered decorations, special details, retro-style embellishments that you wouldn't believe are budget buys.
And we also found the trending festive blazer dresses or 90s-inspired bodycon dresses to add more personal touches to your looks. They will go so well with your petite coats or statement earrings to have you turning heads all night long.
No matter what style you like, from elegant and classy details to stunning cocktail dresses, from chic casual designs, to mini dresses and plus size dresses, from long sleeves to puff sleeves, from little black dresses to satin dresses, from cold shoulders to crop top style, from short hemline ideas to ruched tops inspired designs, from slinky dresses to faux leather dresses, you will find the right festive choices to shine every moment in the NYE parties, an NYE wedding, or your casual stay at home.
So scroll down to check these festive New Years Eve dresses for this party season and don't hesitate to pin the dresses you like.
This post may contain affiliate links, which means I'll receive a commission if you purchase through my link, at no extra cost to you. Please read the full disclosure here.
This post is all about New Year's Eve Dresses.
Sequin New Year's Eve Dresses
Wear a stunning sequin dress for the biggest party of the year. Wear chic tall coats for the cold weather. Skyscraper heels would be the best choice but casual and comfortable flat shoes would also be fine. Designs with A-line silhouette or flared sleeves add an extra festive vibe to the whole outfit.
Stripe Sequin Cocktail Minidress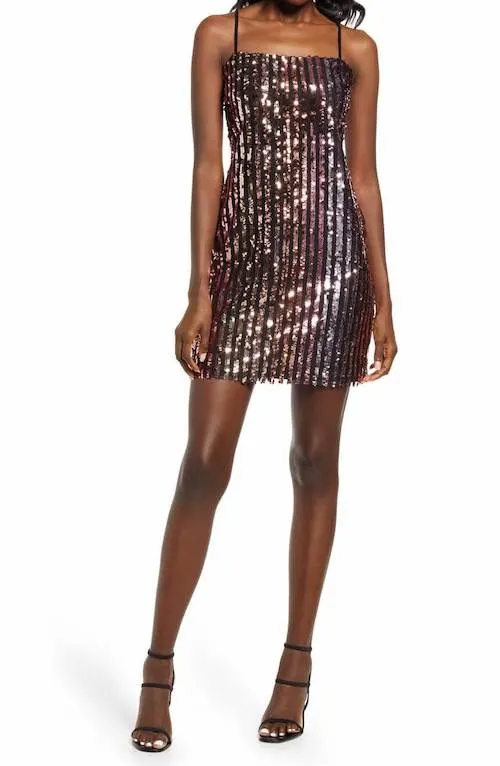 Weekender Silver Sequin Faux-Wrap Mini Dress
Sparkling Moment Maxi Dress Silver
Stop the Show Blue Glitter Skater Dress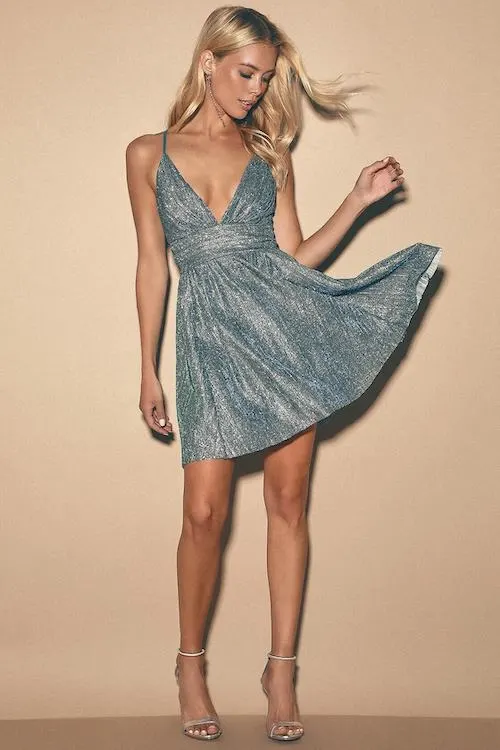 Midnight Lover Sequin Dress Navy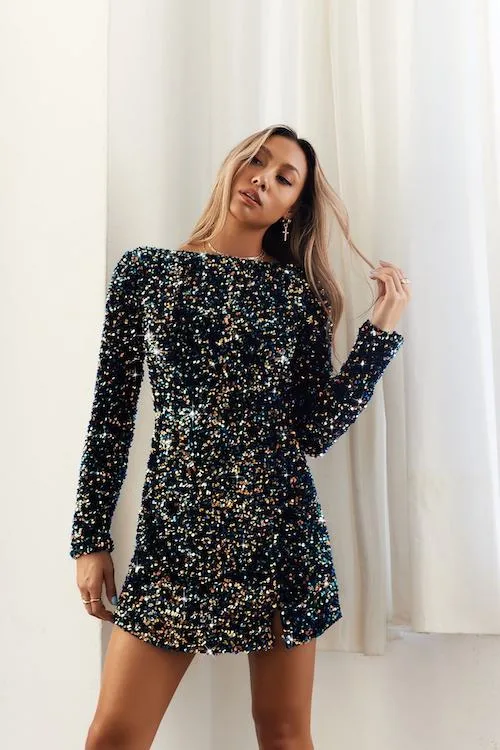 Force of Fashion Green Backless Sequin Mini Dress
Motel Finn Mini Dress
Trendy New Year's Eve Dresses
We love the below trendy designs. Each one would be a killer outfit and easily make you stand out from the crowd. Boldly show off your best assets and pair them with your favorite clutch and statement jewelry.
Club L London wrap front sequin skater dress in gold
French Connection embellished sequin belted mini dress in green
Faux Leather Corset Waisted T-Shirt Mini Dress
Side Ruched Shimmer Dress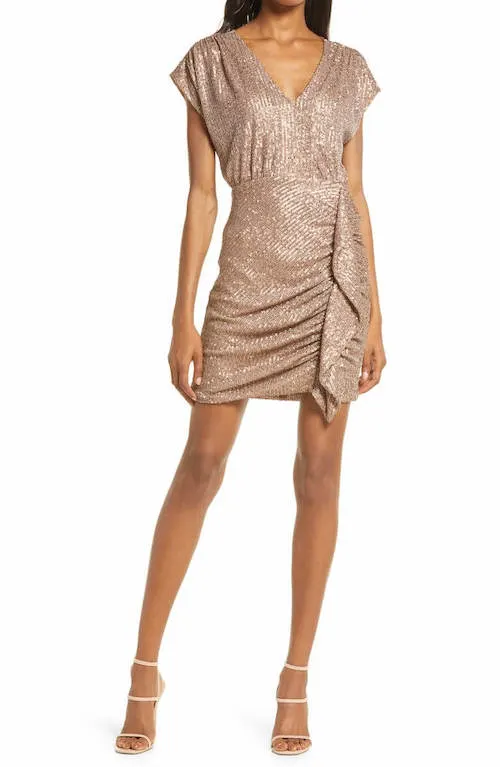 Animal Jacquard Satin V Neck Mini Dress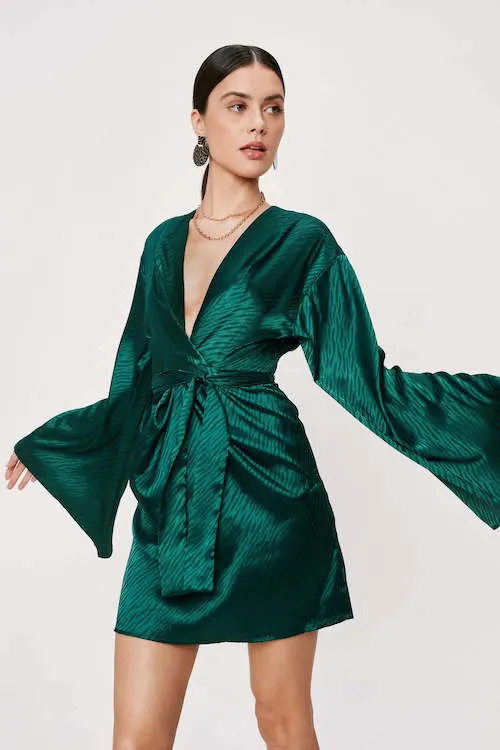 Motel Heidi Mini Dress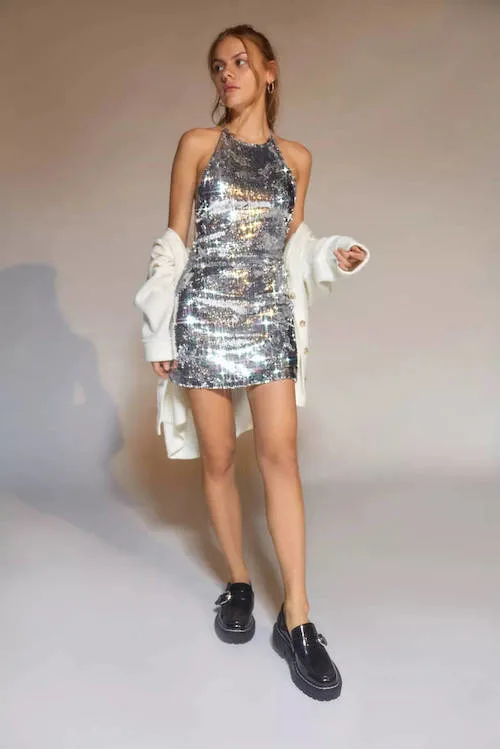 Green Asymmetrical Hem Ruched Sequin Bodycon Dress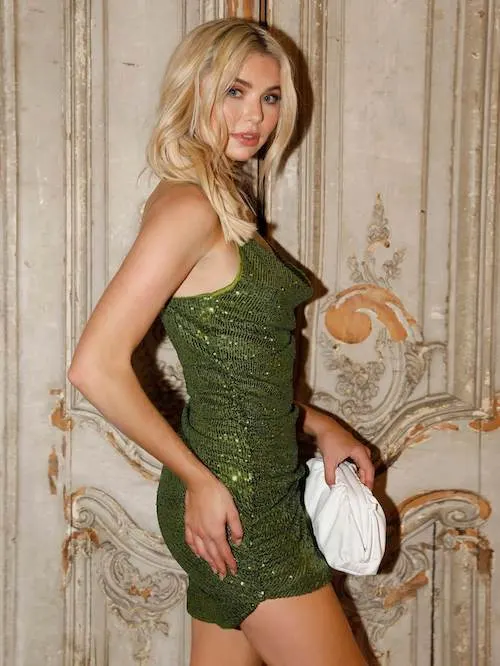 Off Shoulder Wrap Ruched Glitter Dress
Forever Your Girl Mauve Satin Bodycon Dress
Leather Look Mini Slip Dress In Black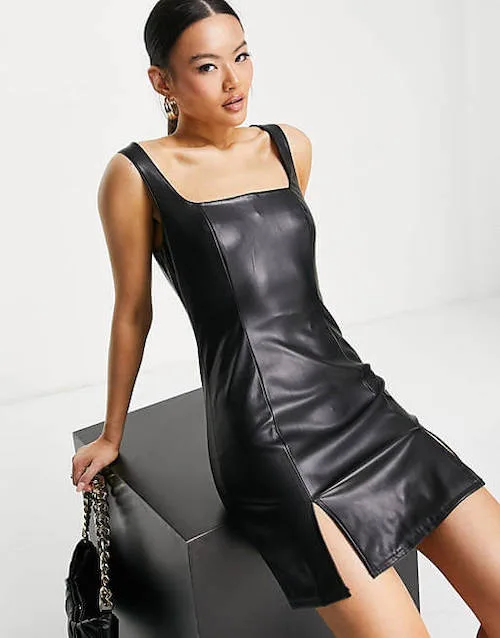 Frequent The Club Dress Silver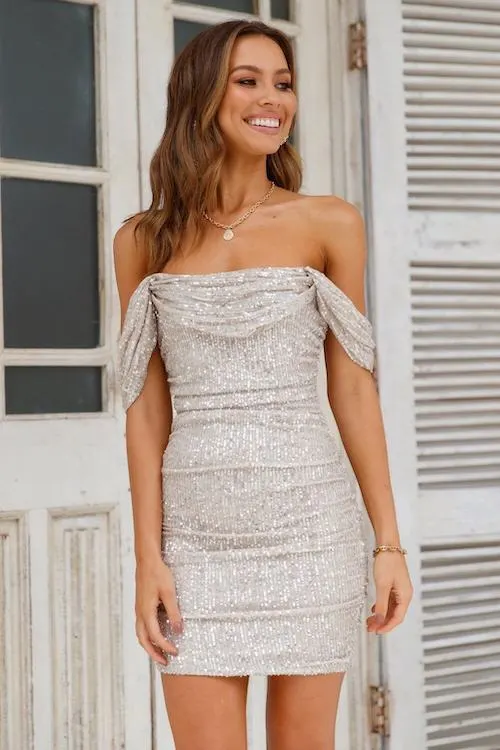 Cut Out Halter Neck Backless Ruched Glitter Bodycon Dress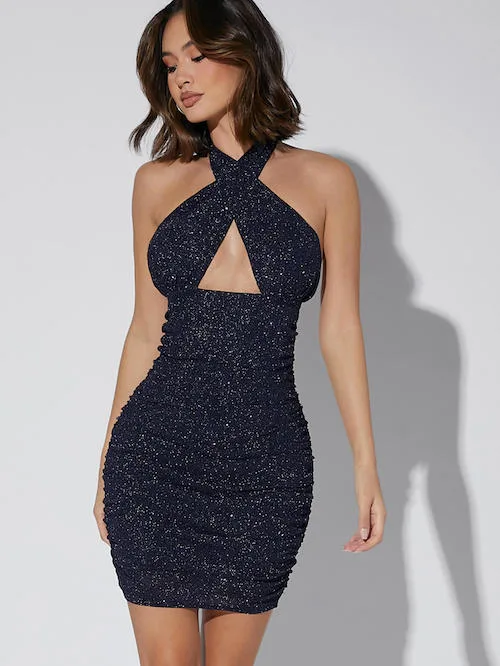 Argyle Backless Sequin Cami Dress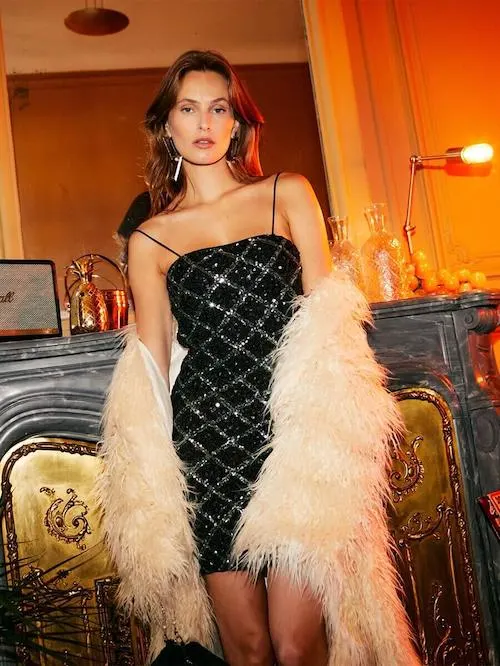 Green Ruched Bust Velvet Bodycon Dress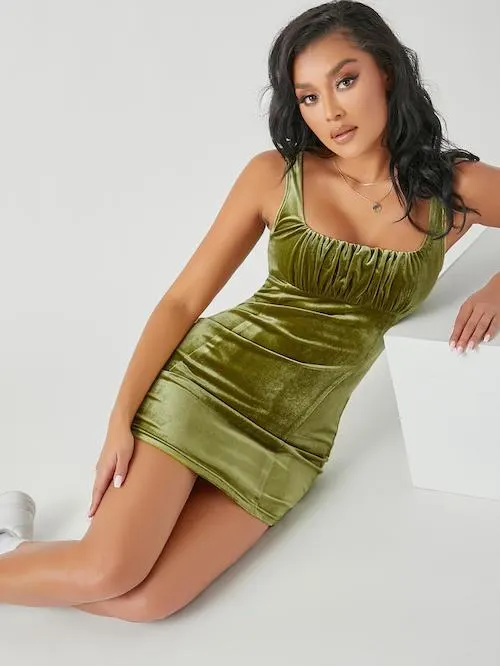 Night City Fever Dress Rose Gold Sequins
Let The Beat Drop Dress Bronze
Blind The Moon Dress Black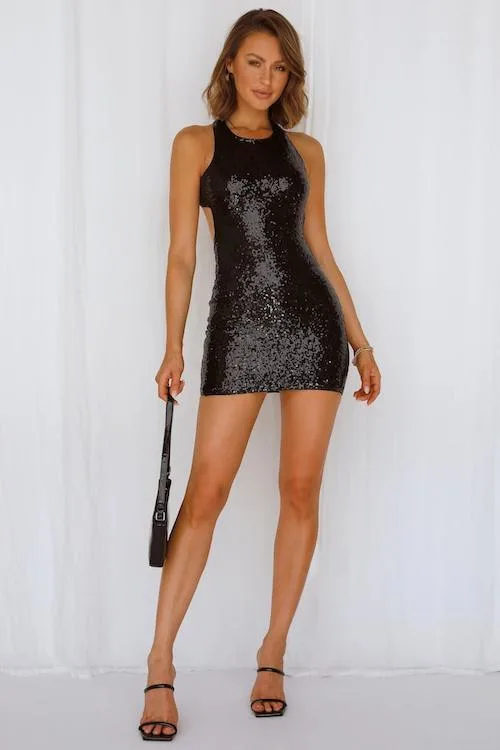 Backless Halter Neck Slit Hem Sequin Bodycon Dress
Flounce London wrap front mini dress with gold sequin
Asymmetrical Hem Sequin Cami Dress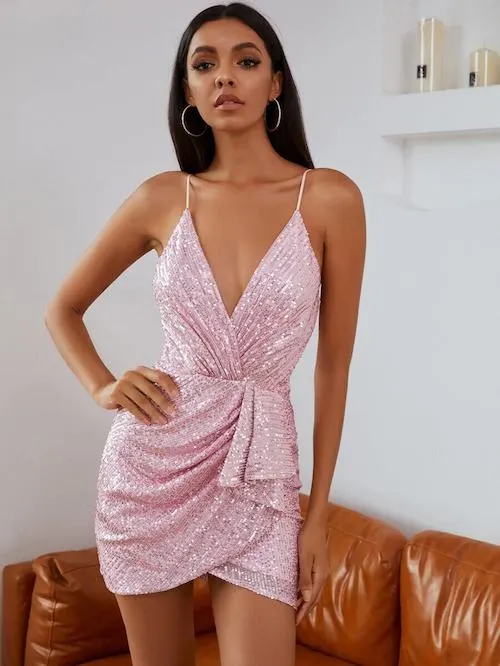 Sequin Blouson Minidress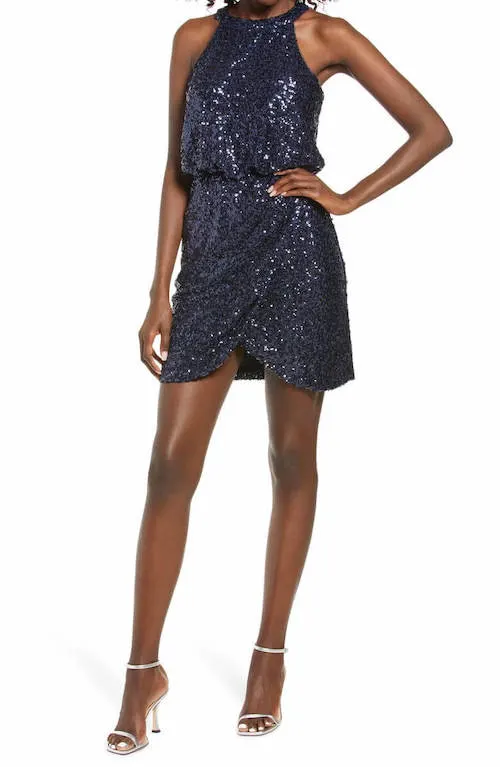 Low Back Glitter Bodycon Dress
Best New Year's Eve Cocktail Dresses
Wear one of the below gorgeous cocktail dresses for the NYE party to show your good taste and personality. Go all out with sparkly jewelry and a lick of lipstick.
Winning Move Backless Metallic Dress
Night Owl Metallic Bodycon Dress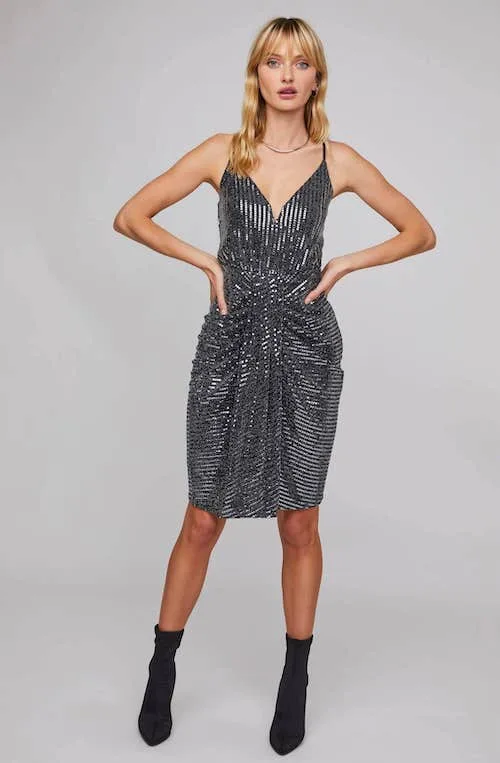 Sequin Deep V-Neck Long Sleeve Minidress
Checkerboard Sequin Wrap Mini Dress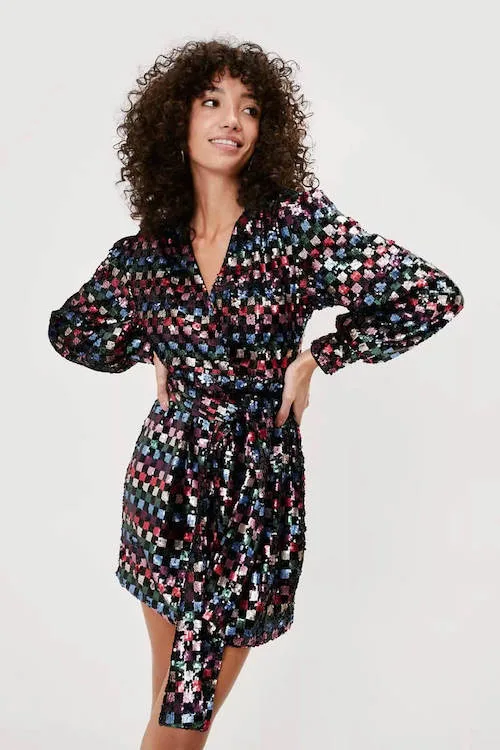 Mermaid Glitter Cami Maxi Dress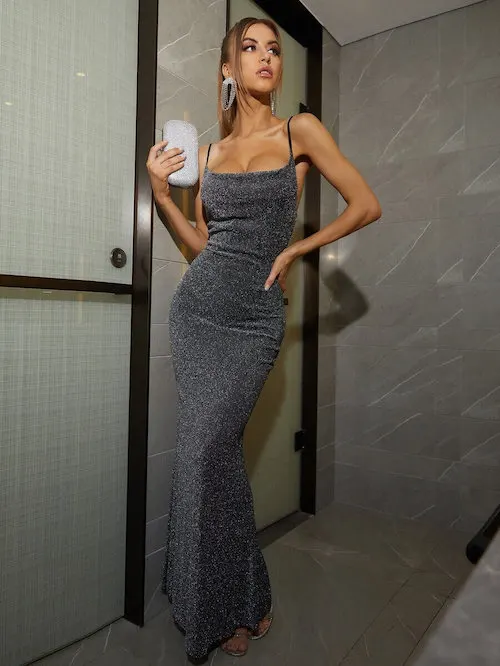 Unique New Year's Eve Dresses
We love unique designs to be bold in the party. Is sequined or satin design the only option for an NYE party? Absolutely not.
Browse below cute red dresses, pink dresses, lace dress designs, and metallic dresses to get inspired. Go flirty or feminine or team your dress with an oversized clutch.
Red One Shoulder Blouson Drape Mini Dress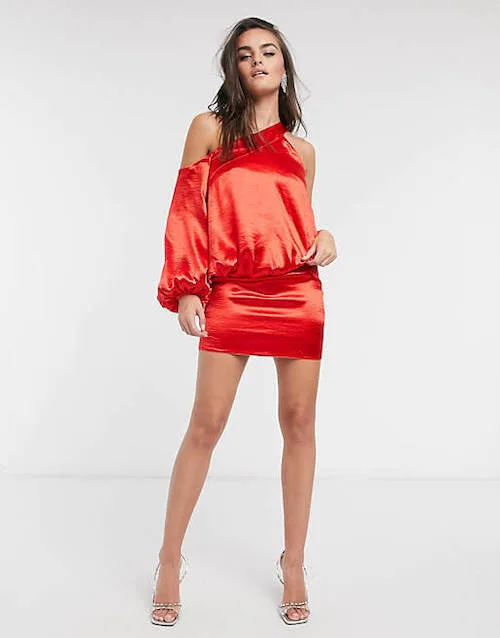 Glitter in the Air Silver Sequin Fringe Bodycon Dress
Spread Your Shine Gold Sequin Embroidered Bodycon Dress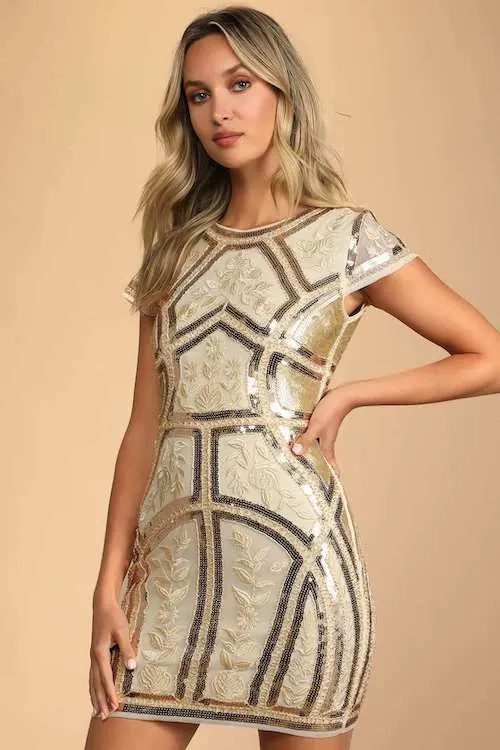 Two Tone Bishop Sleeve Drawstring Front 2 In 1 Satin Dress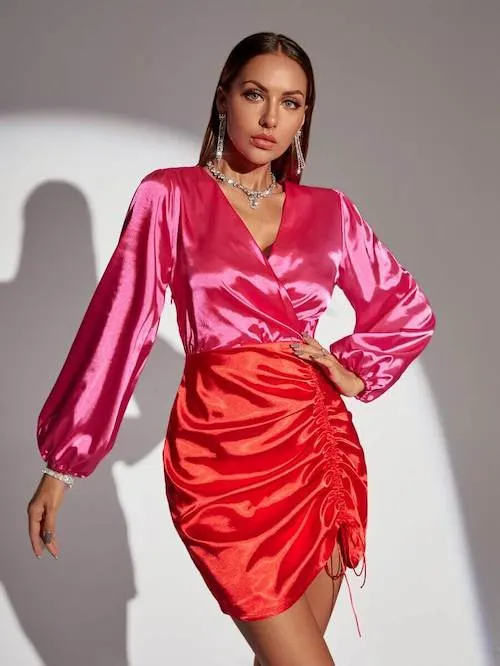 Surplice Neck Ruched Metallic Bodycon Dress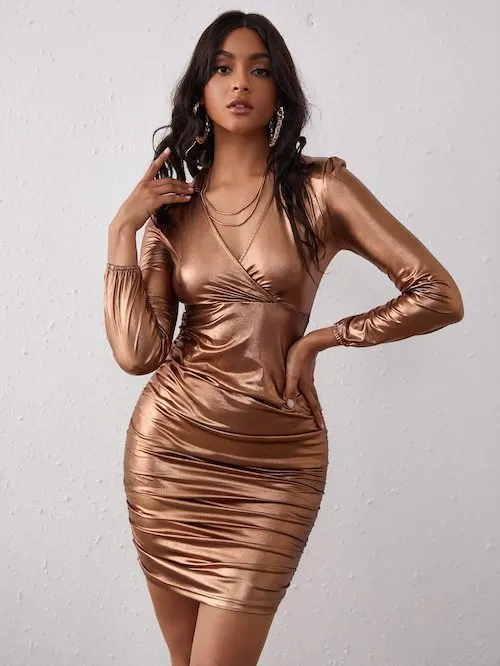 Emerald Green Sequin Lace Frill Hem Bodycon Dress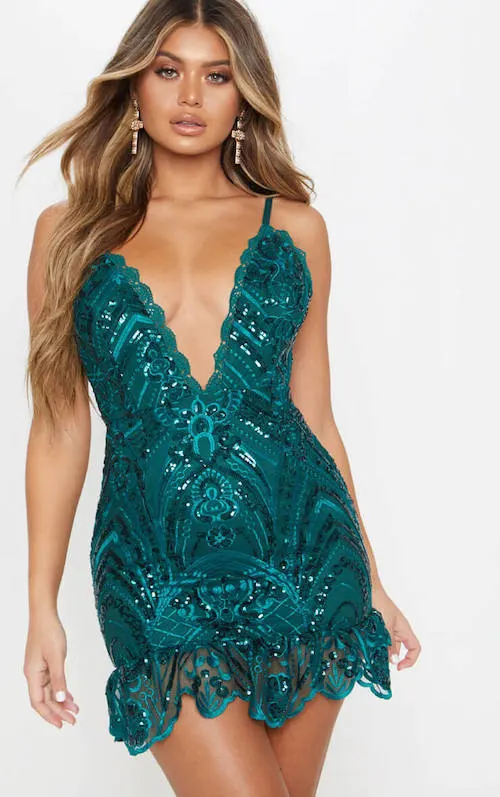 Feather Hem Double Breasted Blazer Dress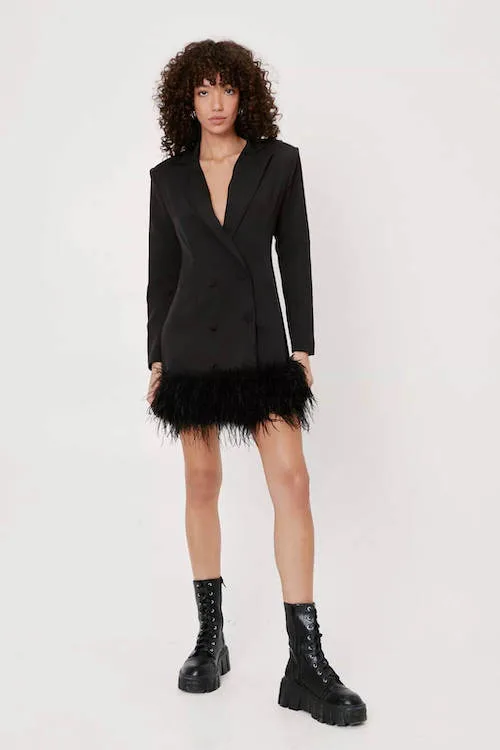 Cinched Open Back Dress
Vintage New Year's Eve Dresses
All eyes will be on you thanks to the beautifully cut dresses that are sure to flatter your figure.
Classic Glam Black Off-the-Shoulder Bodycon Dress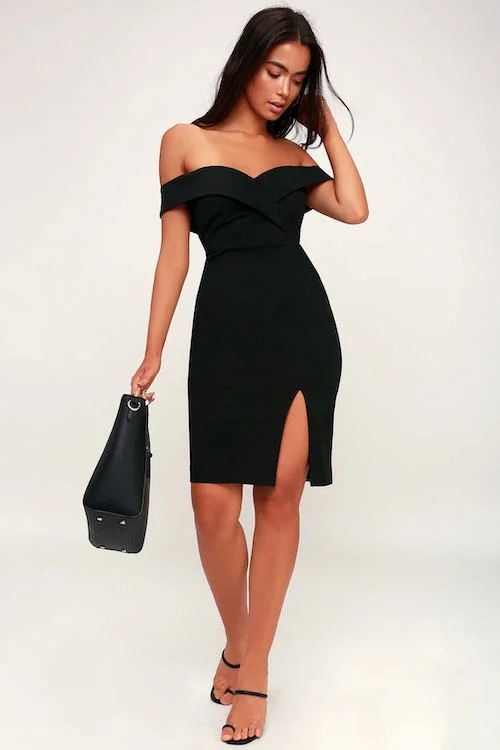 Off the Shoulder Velvet Sparkle Dress
Sequin Wrap Belted A-line Dress
New Year's Eve Dresses Plus Size
Go bold in sequined brights or V deep neckline. They are the perfect special occasion dress designs.
Off Shoulder Sequins Bodycon Dress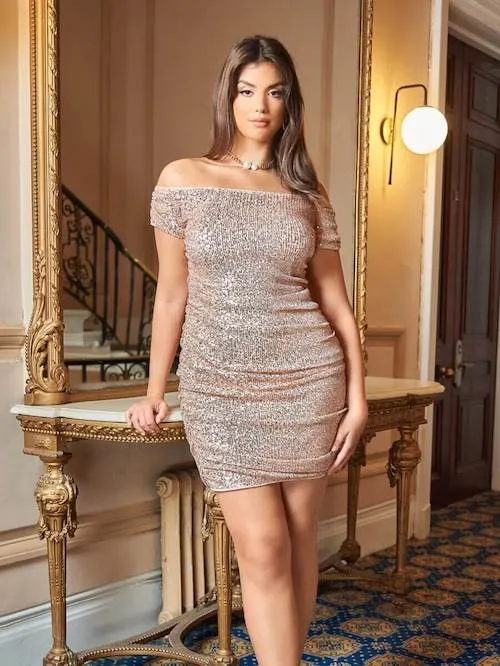 Surplice Neck Wrap Knot Glitter Dress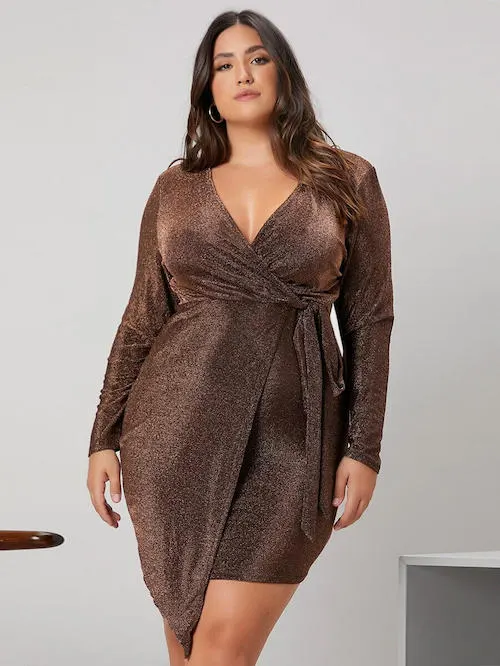 Floral Sequin Wrap Skater Dress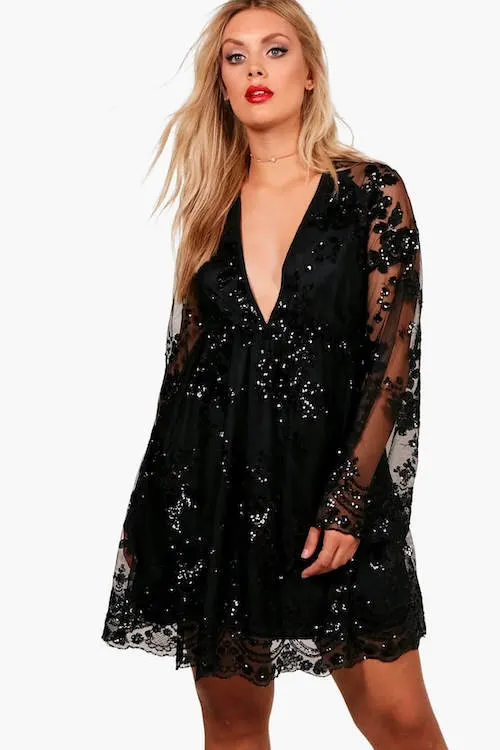 Two Tone Wrap Sequin Dress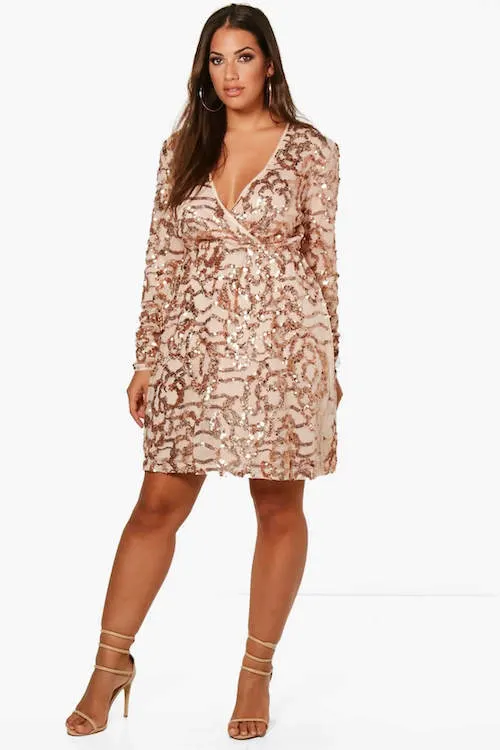 Casual New Year's Eve Dresses
Want comfortable but festive, stylish, and cozy casual wear for your New Year's Eve party this year? Check the below choices to enjoy the casual parties or small gatherings with your family members and closest friends.
Dalmatian Pattern Dolman Sleeve Belted Sweater Dress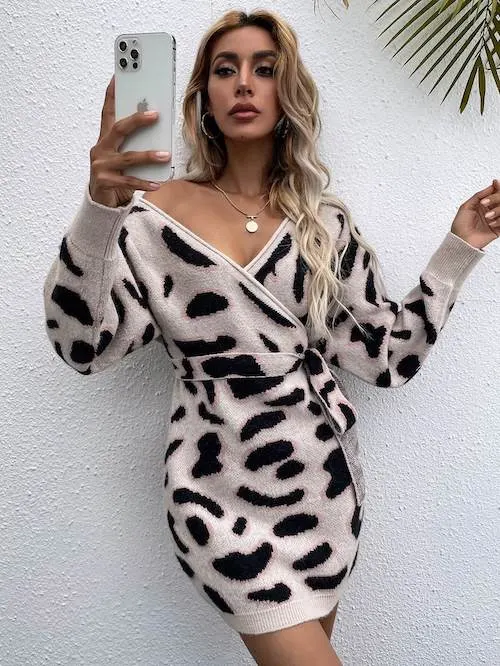 Wrap Batwing Sleeve Belted Cut Out Backless Sweater Dress
Literary Lover Slate Blue Wrap Sweater Dress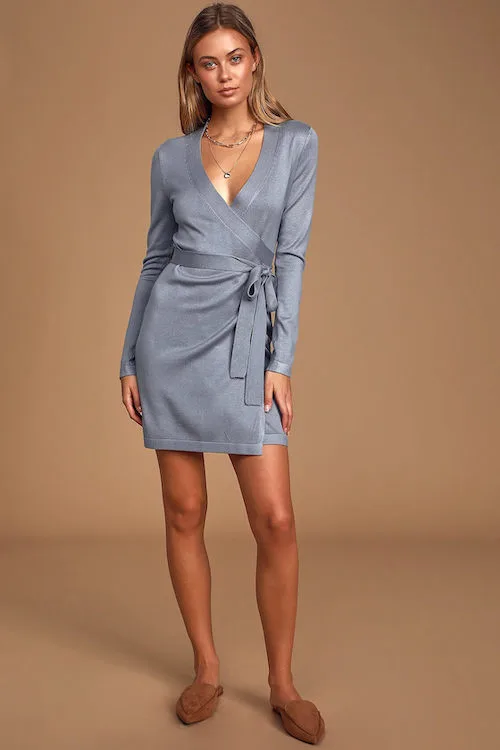 Established Aplomb Long Sleeve Dress
Leaving an Impression Cream Sparkly Sleeveless Sweater Dress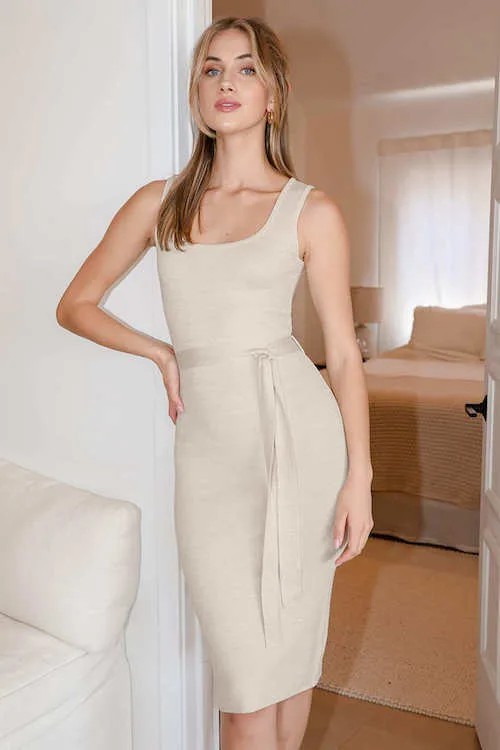 Long Sleeve V Back Sequin Mini Dress In Gunmetal
Surplice Neck Sequins Fitted Dress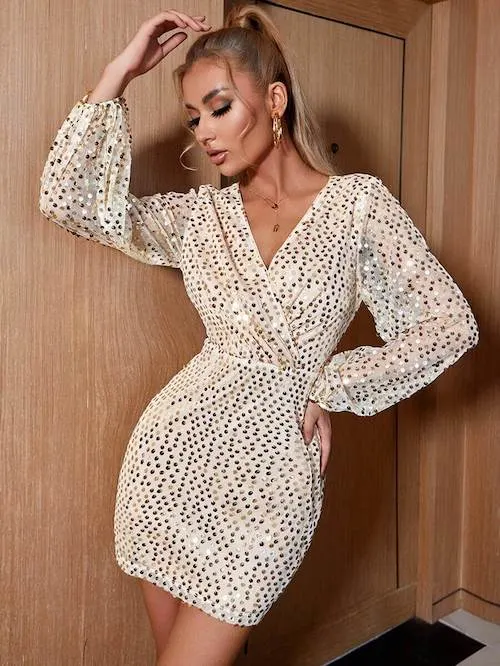 Lantern Sleeve Drawstring Waist Glitter Dress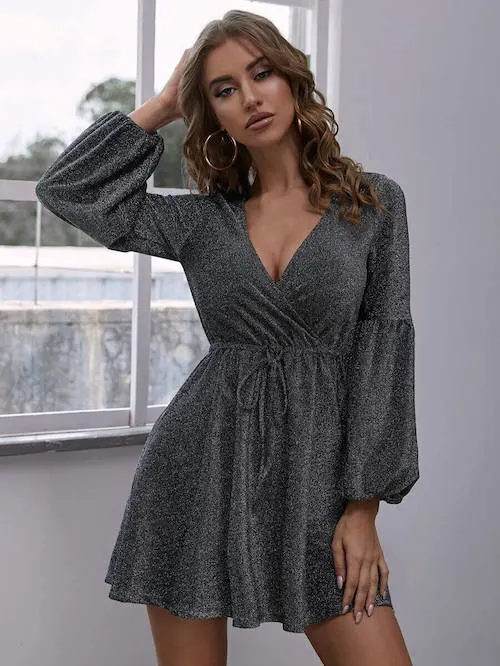 New Year's Eve Dresses For Wedding Guest
Wear a formal yet festive dress for the NYE wedding. Look at the chic and beautiful special details together with trendy one shoulder designs, deep V back designs, or stunning velvet.
I'm Enchanted Emerald Green Velvet Off-the-Shoulder Maxi Dress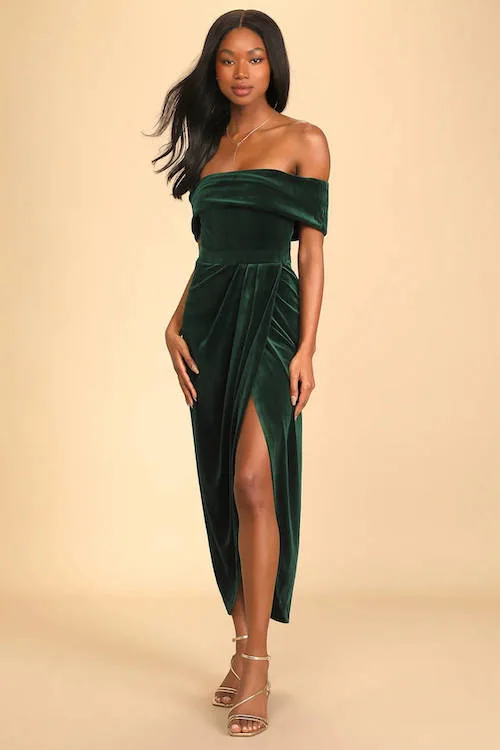 Jazzy Belle Mauve Purple Velvet Dress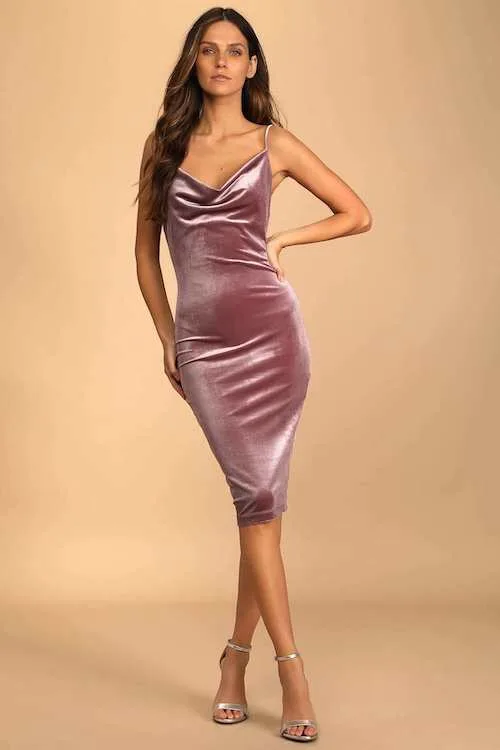 Sleeveless Sequin Stripe Mini Dress with Deep V Back
Ally One Shoulder Mini Dress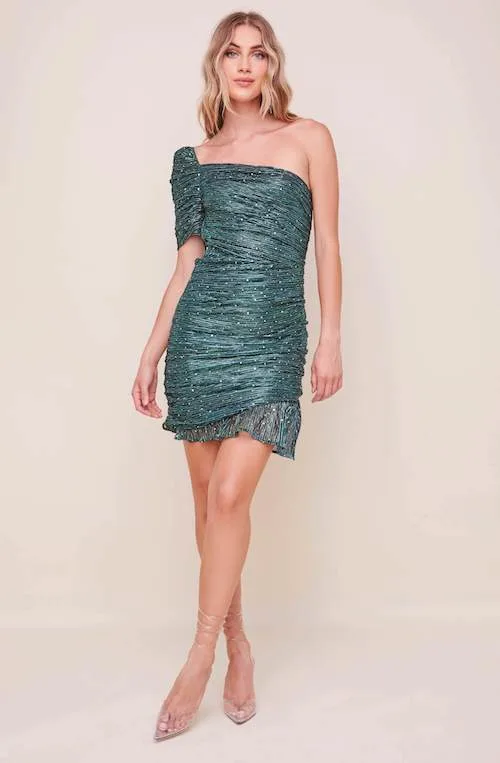 Anna Burnout Velvet Wrap Dress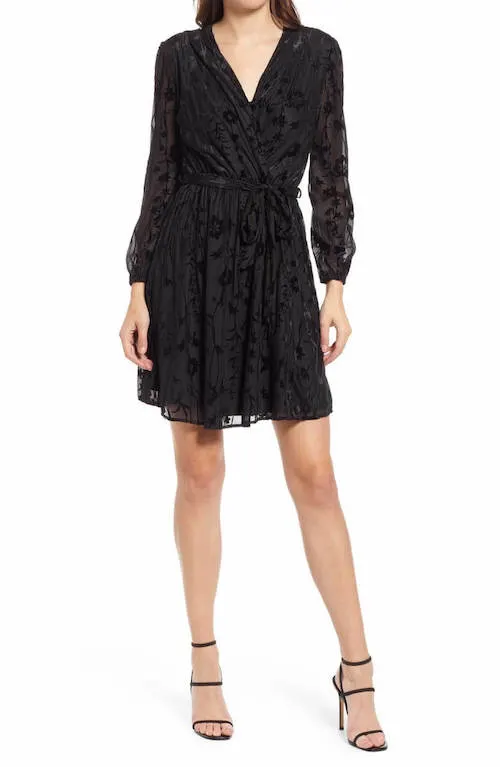 Best Places To Buy Cute And Affordable New Year's Eve Dresses:
A wide range of affordable sequined dresses and satin dresses for special occasions. You can always find the best quality classic designs and unique designs from their store. And if you are attending an NYE wedding and looking for the best affordable New Year's Eve wedding guest dresses, do check their website.
The best place to find super budget friendly amazing party dresses and accessories. If you want to see some more cool party outfit ideas, check their faux leather pants, and faux leather jackets.
And it is also a great place for plus size beauties. They have plenty of plus size leggings, plus size coats, plus size jeans to make your party looks gorgeous.
You can find many classic designs at affordable prices on Amazon. And we love their cute sequined tops and sequined skirts too.
Their satin dresses are amazing with unique and bold colors.
Another great place to find unique and sexy designs. And we especially love their stylish blazer dresses. They also have so many stunning plus size designs, including trendy sequined shirts, satin pants, velvet blazers.
Sometimes you can find the best discounts for the most beautiful party outfits.
They have cute 90s-inspired designs.
One of our go-to stores for the most beautiful dresses for any occasion. Trust-worthy quality and beautiful feminine style.
So many great designs to choose from for any occasion and for any style! They also thoughtfully cover plus size for almost every design.
Another great place for plus size occasionwear outfits and petite beauties.
Trendy party outfits and glam going out outfits at affordable prices. And don't forget to check their party bags and party shoes.
This post was all about New Year's Eve Dresses.
About The Author
Tracy is an experienced personal stylist, shopping expert, and fashion & lifestyle blogger. She has been featured on Time Magazine, Bustle, Best Life, Glam, The Zoe Report, Mic, and GOBankingRates, for her insights on fashion, beauty, home decor, and lifestyle. Read More
Related Posts: