Looking for cute cardigan outfits for women? Check this post for 50+ cute cardigan outfit ideas to level up your outfits right now!
Are you a fan of cardigans? I love them so much! They have so many different styles to add to your outfits. Their beautiful colors help elevate the look to the next level. You can wear them alone or use them to create more layers. So much fun, isn't it?
It may be the best season to wear a cute cardigan recently. In the past few months, the trend of retro, lazy and casual has driven the popularity of cardigans even more. After a long winter, people seem to want to use these soft and beautiful aesthetic clothes to express their immense love for sunshine and warmth.
So we saw cardigans in bright colors, those cute ruffles, and those meticulously embroidered patterns, all made us feel the beauty of these clothes.
At the same time, those knitted textures, on the one hand, make people feel the warmth; on the other hand, they think the design that seems to come from the old-time: the kind of design that your grandmother might make. These retro sentiments make you feel more at ease, comfortable when choosing and wearing these cardigans.
These are all expressed in these cute cardigan outfits. Beautiful colors, feminine details, and thin designs are used to wrap the feminine figure of women. On the other hand, it is the design of knitting, soft materials, oversized or maxi designs, expressing freedom and casualness.
In this post, we will share the best cardigans for women we picked for you at affordable prices and how to style different cardigans with 50+ trendy and cute cardigan outfits ideas.
BEST CARDIGANS FOR WOMEN
Are cardigans are still in style for women?
Of course. Cardigans are the staples that are never out of style.
The most beautiful thing about a cardigan is its diversity, which can be used as a coat and innerwear. Simultaneously, because its material is very soft, it can be worn in various ways and easily add layers to your outfits.
Therefore, whether it is for work outfits or date outfits, or in school, vacation, or traveling, a cardigan that you like can keep you warm and match your changing style anytime, anywhere.
You can see many cardigans even in the most popular 90s style, or Y2K style, or light or dark academic style. It is nothing more than the choice of style, color, or just a change in the skills of wearing.
What are the trendiest cardigans for Women?
Though neural color cardigans are still staples in our wardrobe, we still see the below types of cardigans for women wildly trending right now:
Cropped, front-tie Cardigans
Cardigan Set
Cardigans with embroidery
Chunky Knit Cardigans in black, grey, beige, white, or cream
Fluffy cardigans in almost any color, including red, pink, burgundy
Long cardigans with pockets
Slim, short sleeves cardigans
Pastel color cardigans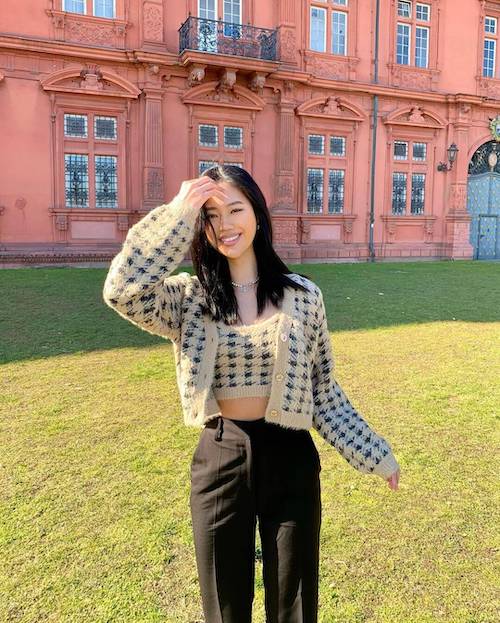 WHERE TO BUY TRENDY AFFORDABLE CARDIGANS
So, where to shop the trendies cardigans at affordable prices? Below are the brands that we love to shop for cute cardigan outfits, and their products' quality is trustable. Besides, many brands have huge sales throughout the year, so you can easily find great deals on them.
Missguided
If you are looking for long cardigans, you check Missguided. They have a range of long cardigans in different colors. They even have cute maxi cardigans, which are suitable for a casual vacation vibe.
Their cute knit shot cardigans that worth checking. This outfit below is suitable for a casual date night.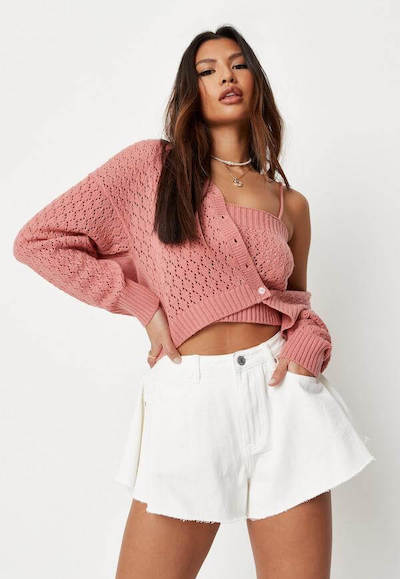 Love floral pattern? Check the floral cardigan from them. I love the retro outfit from their model below.
Bershka
Bershka always has affordable but crazy cute designs. I love their Cropped Tied Cardigans and Cropped button-down cardigans. Most of them are below $20! If you like retro, cottagecore, or romantic style, shop their cardigans!
Nasty Gal
Right now, Nasty Gal has a wide range of fluffy cardigans for women to choose from. But if you want to shop for cardigans for hot weather, they have a unique design of puff short sleeve cardigans and off-shoulder cardigans, which can not be found in any other brands.
ASOS
ASOS has pretty designs of Cardigan Cami Set, including long cardigan cami set, either from ASOS design or other brands. The gingham check pattern is so trendy now, and you will love them. They have different colors too, and the prices are so affordable.
Urban Outfitters
We always love Urban Outfitters for their unique designs and incredible cute mix of colors of their clothes. Right now, they have so many uniquely beautiful cardigans, and if you like a retro or indie style, you should check them.
Moreover, even for neutral color cardigans, they have cute details that make the cardigans outstanding.
Amazon
Have you shopped fashion from Amazon before? If not, why not buy some cardigans from them? They have all the cute trending designs from famous brands to some small independent brands. And also, if you are looking for high-quality basics at affordable prices, go to Amazon! You will find the ones that you can wear for years.
CUTE CARDIGAN OUTFITS FOR WOMEN: HOW TO STYLE A CARDIGAN
What To Wear With A Cardigan?
What do you wear with your cardigan depends on the style you want to create. Below are some most popular ways to style a cardigan on different occasions:
A pair of white or canvas sneakers to create a casual, vacation vibe look
A pair of platform loafers for retro and academic style
A pair of pointed ankle boots for formal and chic looking
A simple tank top for 90s fashion style
A lace cami for a sexy look
An elegant purse for a date night, a straw bag for a beach vacation, and any other casual look bag for school and casual date
A layered necklace to complete the whole look
Want to know more styling tips for cardigans? Scroll down to check the best outfit ideas for cardigans for women.
Cute Black Cardigan Outfits: How To Style A Black Cardigan
Everyone may have a black cardigan. The easiest way to wear it fashionable is to button up all the buttons and pair them with retro jeans, which look energetic and trendy.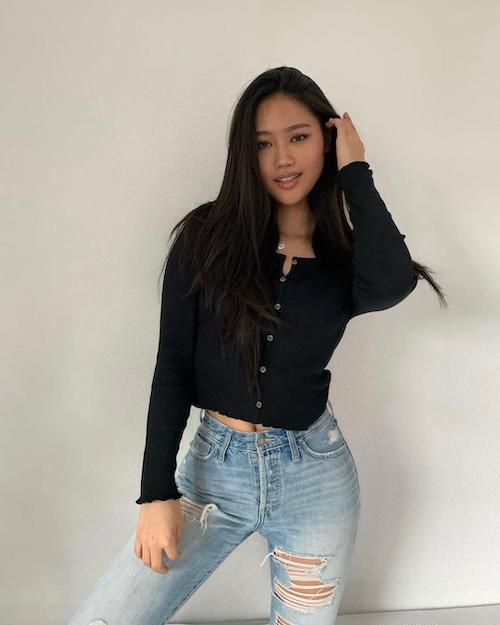 If you need to be more formal and less rigid, you can match crop tapered pants, then tuck the cardigan into the waistband, pair with loafers, an elegant purse, and an outfit for work or a date night outfit will come out.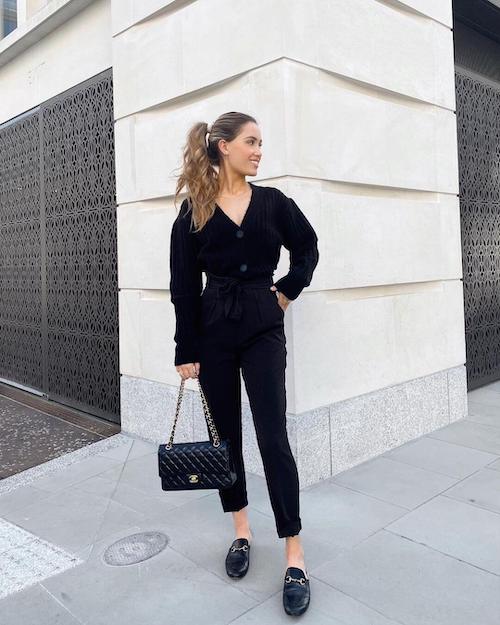 Don't you believe that black cardigans are also very suitable for holiday wear? You can refer to the following outfit. All you need to do is to put on a white inner light-up look inside, pull up the trouser legs, and pair it with loafers and straw bags, and you can go on vacation in this outfit directly.
The short, tight-fitting black cardigan is also a weapon for creating a sexy date night outfit; whether paired with white sneakers or dark ankle boots, it looks perfect.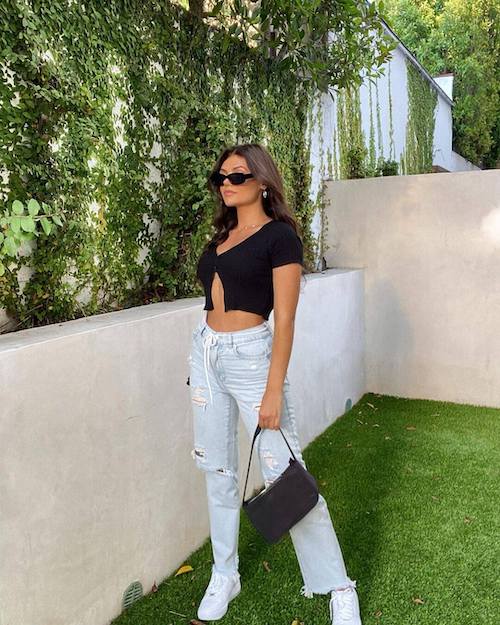 Cute Grey Cardigan Outfits: How To Style A Grey Cardigan
A Grey cardigan can add elegance to the whole outfit. If you don't want to be boring, you can refer to the following ways to wear it.
The first is to choose an oversized grey cardigan, and then choose the same color pants, coupled with a pair of canvas shoes, look very young and casual.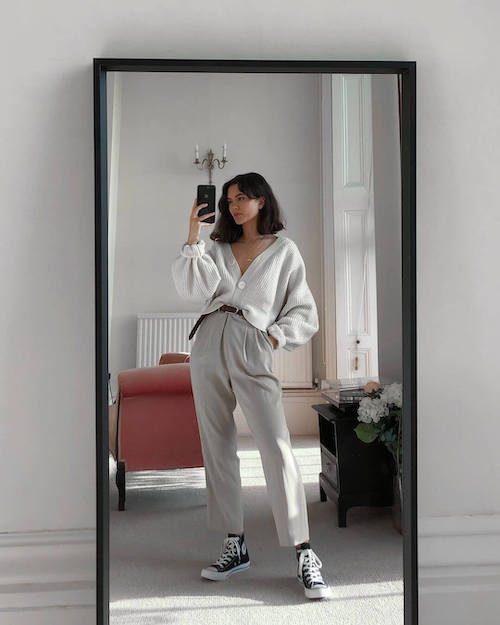 Want to look cuter? Pair it with a black corset and a denim skirt.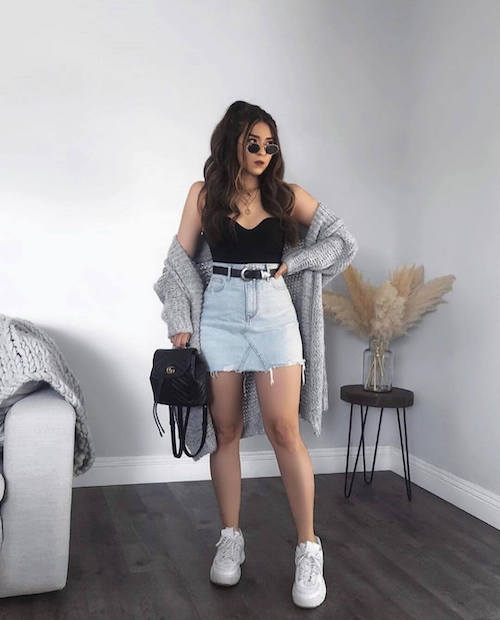 Want to be sexier? Choose a black lace cami! And the layer coin necklace makes the whole look stylish.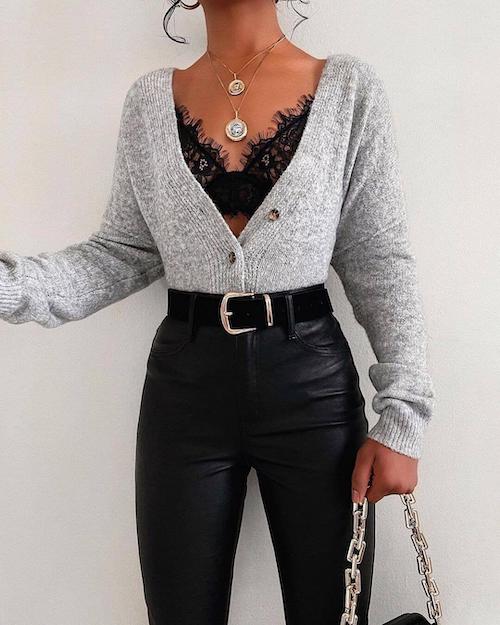 Trendy Pink Cardigan Outfits: How To Style A Pink Cardigan
A pink cardigan will look tacky if worn badly. The following styles of dressing can make you look very fashionable.
The first is to use a simple white interior and canvas shoes to make the overall outfit look retro and add a sense of purity. Because this cardigan is very rich in color, it is not recommended to match it with complicated jewelry, just a simple white inside.
Also, you can choose a pink cardigan with a lower color saturation to neutralize the feminine temperament with jeans.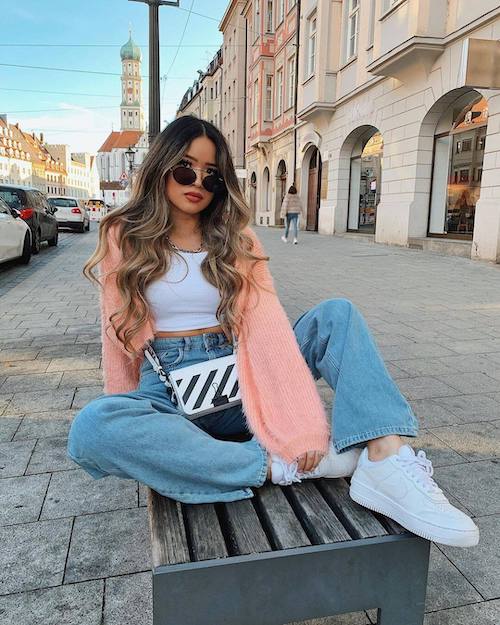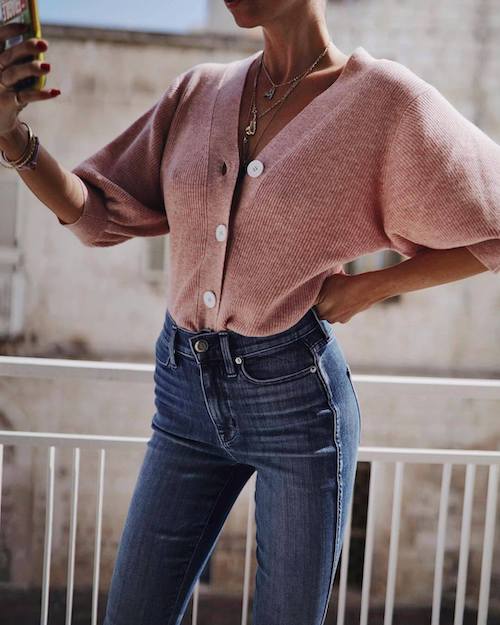 Best Brown Cardigan Outfits: How To Style A Brown Cardigan
The lace cami is the first choice to make the overall outfit look lighter. The cami can be white or black, and these two colors match well with brown.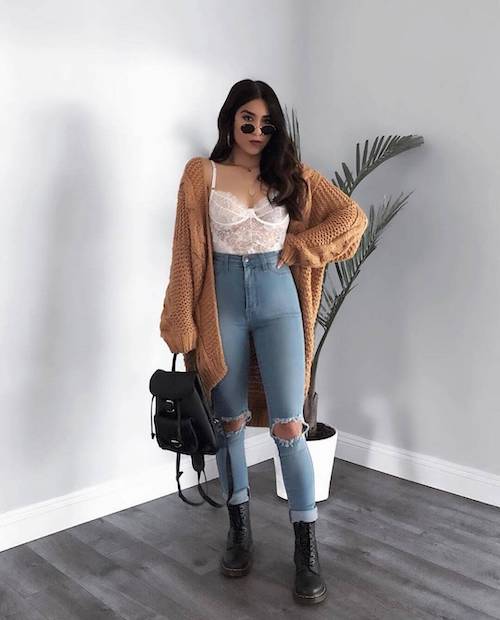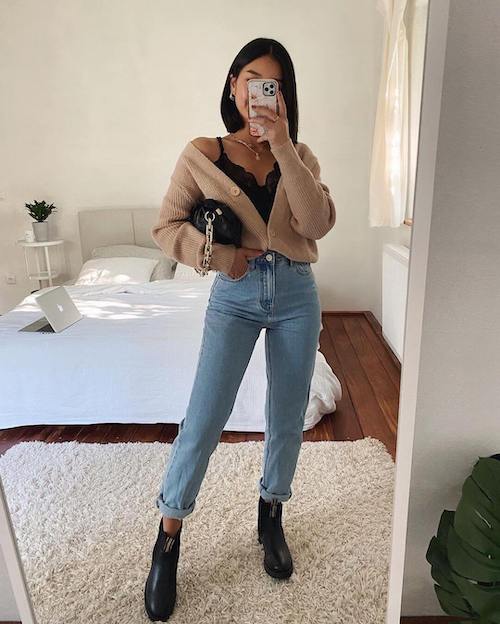 If you want to create a warm feeling, you can wear a brown tank top inside, which looks warm, retro, and cute.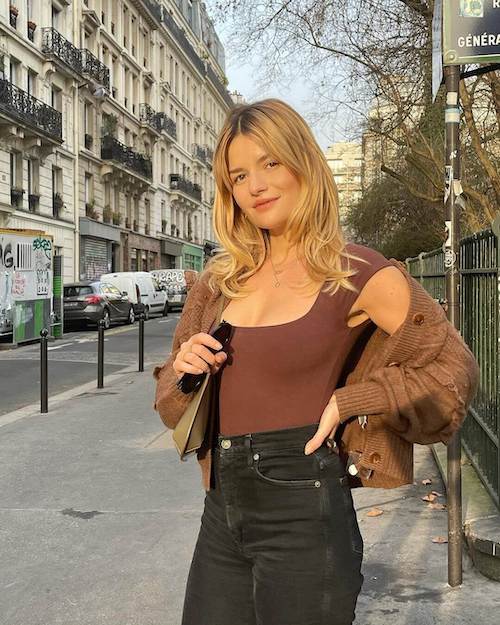 Or directly buttoning the cardigan is also very fashionable, a bit indie style.
The long brown cardigan is still a casual choice when we don't want to wear a jacket when it's cold. You can choose delicate gold necklaces and earrings to add lightness and delicate feelings to the overall outfit.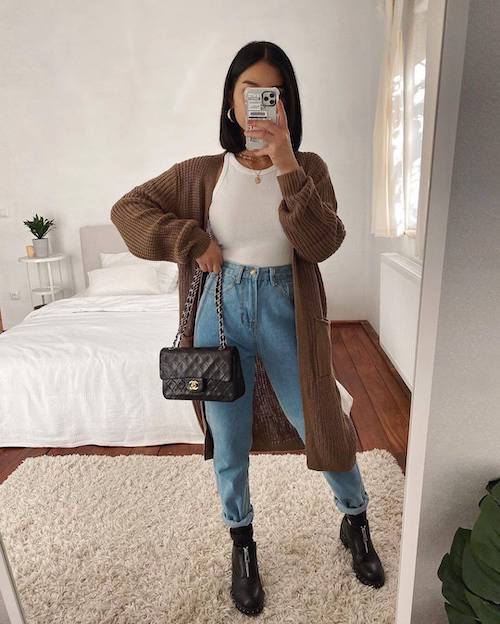 Stylish Beige Cardigan Outfits: How To Style A Beige Cardigan
Beige cardigans look gentle and warm and lovely. There are many styles of beige cardigans to choose from. The first style we recommend is the beige puffy sleeve cardigan. This year, this kind of chunky knit puffy sleeve cardigan is trendy.
Just wear it as a jacket, you can put on a cami or a tube top. It looks young and fashionable.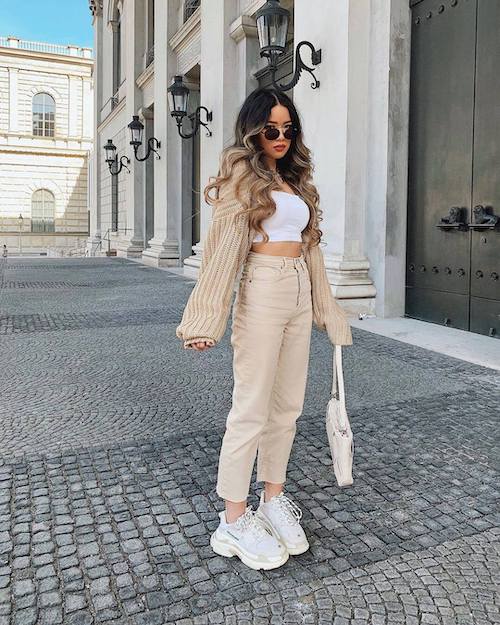 This is perfect for a casual date night. We have shared many stylish date night outfits with cardigans; check our first date outfits ideas and casual date night outfits ideas.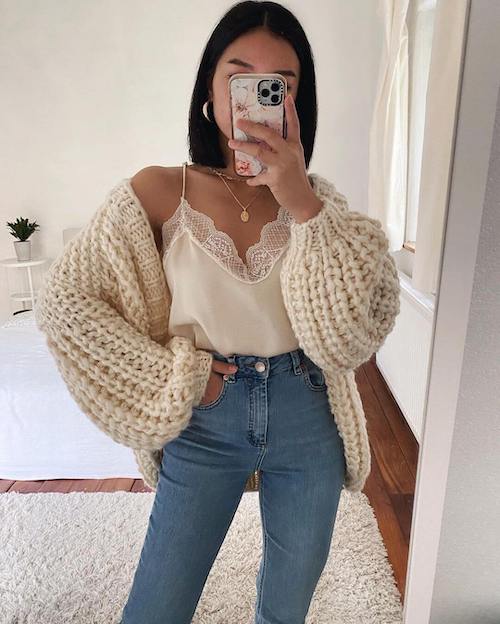 The chunky beige cardigan can add a gentle feeling to a wild and sexy jean shorts look.
If you like the basic beige cardigan, we suggest that you also try to wear it as a knitted top with all its buttons. Remember to wear a belt, and it looks very chic. This outfit is perfect as a business casual outfit as well.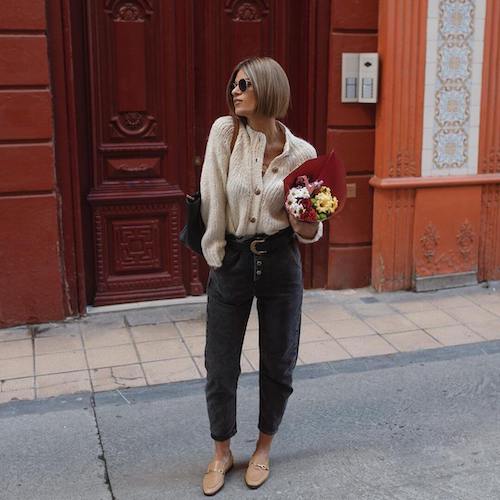 Or you can pair it with wide-leg pants to create a stylish and elegant look.
If it is an ordinary beige long cardigan, the inner outfit must be a simple solid color one, and the accessories should be of a simple style so that it looks cleaner and more expensive. Gold hoops are perfect!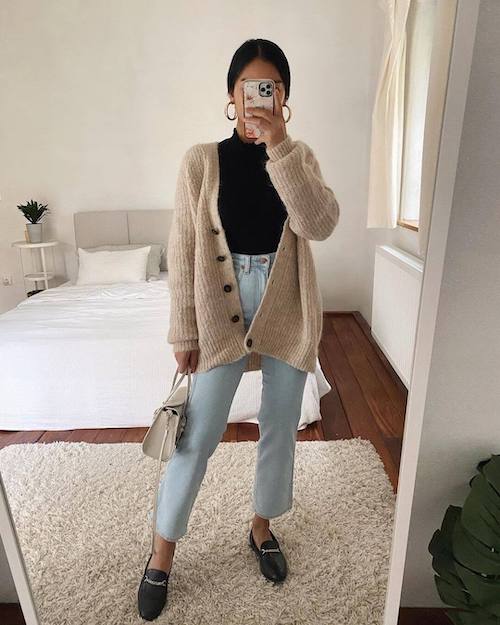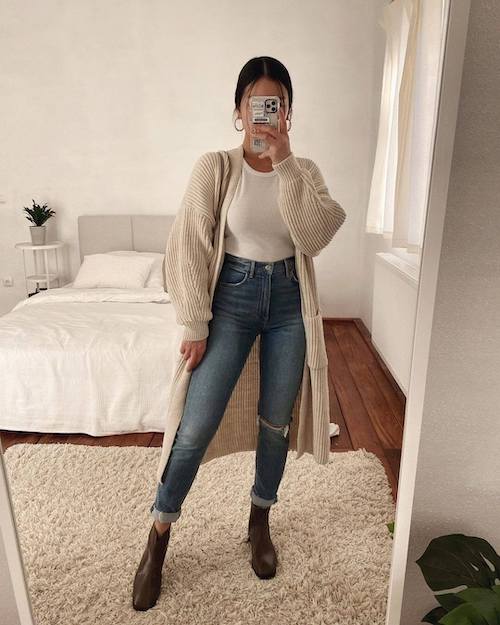 The following style of dressing is very creative and smart. She wore a white shirt under the beige cardigan, which brightened the whole outfit and strengthened the waistline.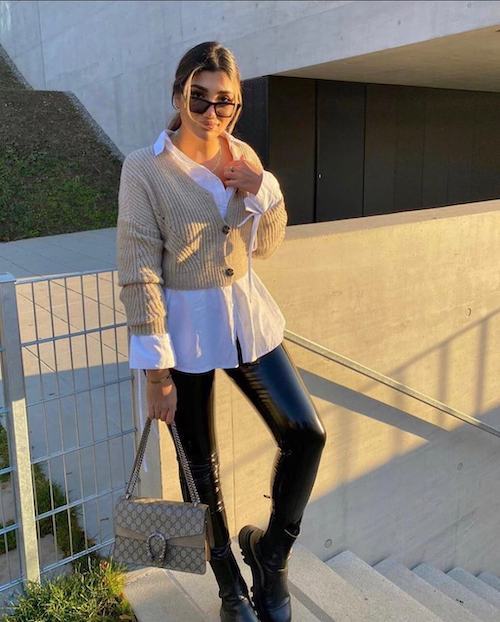 via Pinterest
Chic Burgundy Cardigan Outfits: How To Style A Burgundy Cardigan
Burgundy's cardigan is not typical, but it will look exceptional and temperamental if you buy it. It looks exquisite when worn as a knitted top and is an excellent choice for date night outfits. The most suitable match is high-heeled shoes.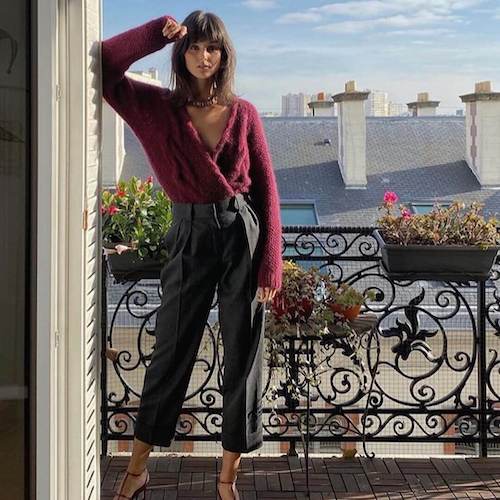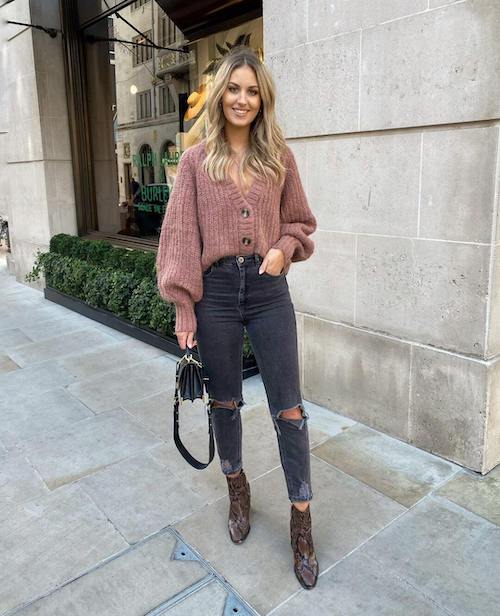 It's also great if worn as a jacket. If you are worried that the burgundy color looks too old-fashioned, choose a white crop top and white sneakers to make the whole outfit look much younger.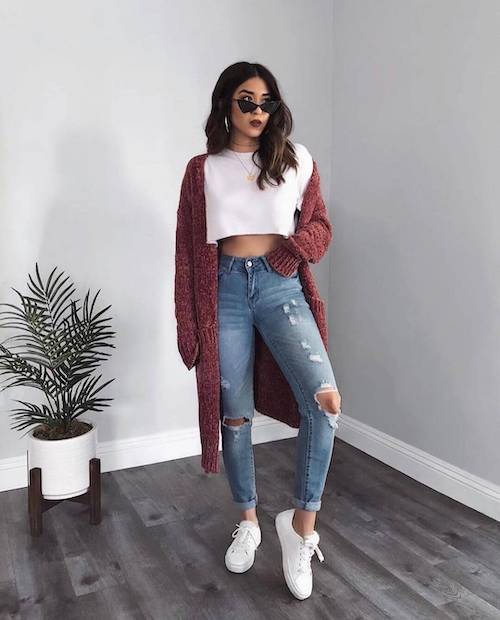 Beautiful Yellow Cardigan Outfits: How To Style A Yellow Cardigan
The yellow cardigan is so suitable for spring. If you own a yellow cardigan, why not use it to match your beautiful floral dress? It can be matched with almost any floral dress of any color.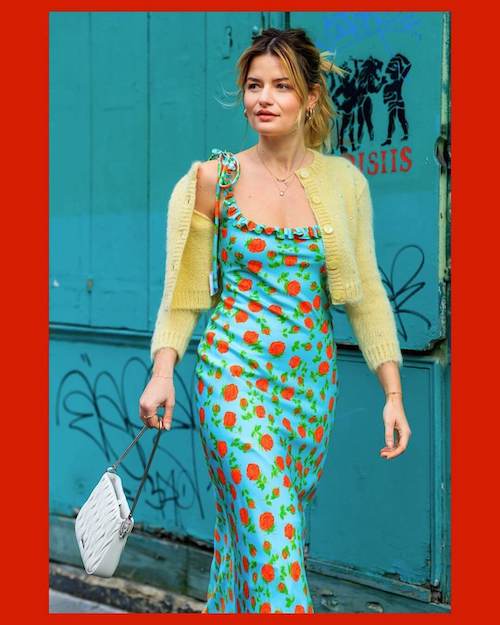 When paired with a pair of white pants, it looks sunny and expensive. This outfit also uses a belt to highlight the waistline to make the figure look better.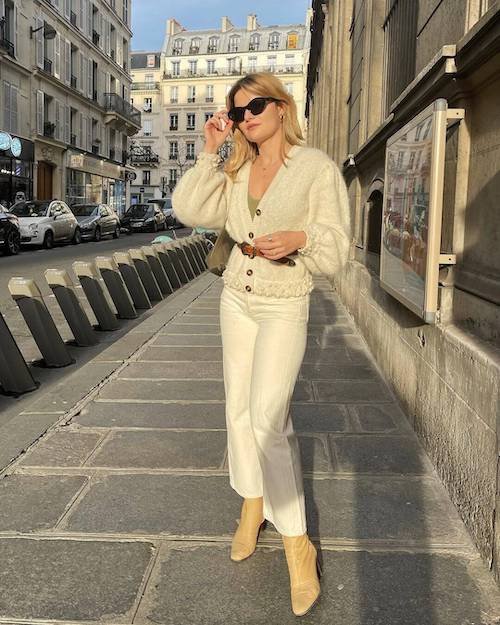 Cute Green Cardigan Outfits: How To Style A Green Cardigan
One of the popular colors for cardigans this year is green. If you like green, you can try a short green cardigan, which is very lively and beautiful.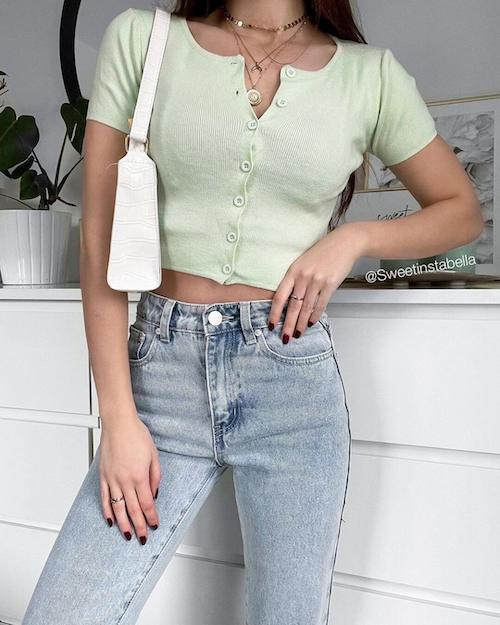 If you don't buy a short one, place the bottom of the cardigan into your pants so that you can fully express the youthful and lively feeling of green.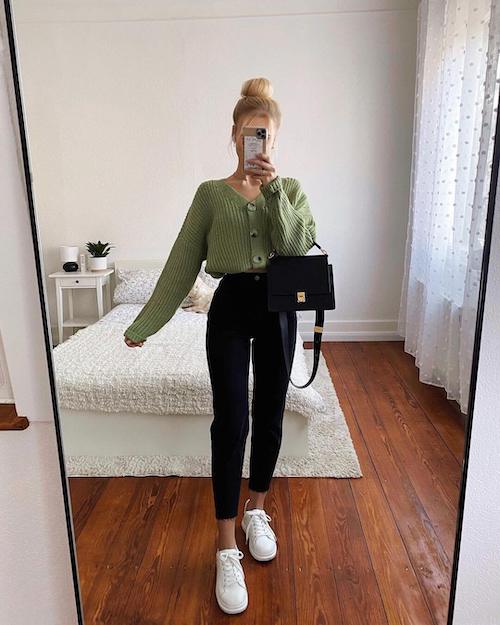 The green cardigan and black lace cami are also a perfect match!
Look at the following two outfits. The sexiness expressed by the black lace cami and the youthful tenderness brought by the green cardigan has become a strong contrast. They look very special and attractive.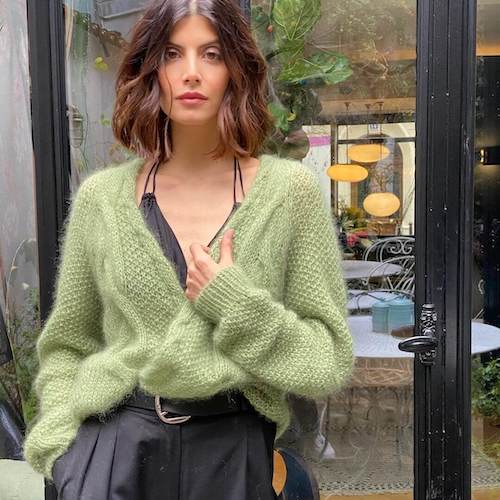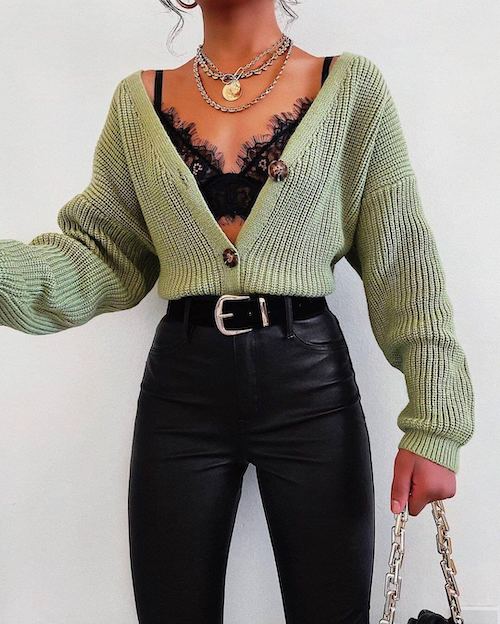 Best White Cardigan Outfits: How To Style A White Or Cream Cardigan
Compared to white, I would prefer cream knitted cardigans because the cream does not have as much contrast with other colors as white to match better. Whether it is paired with jeans or white trousers, it looks very expensive.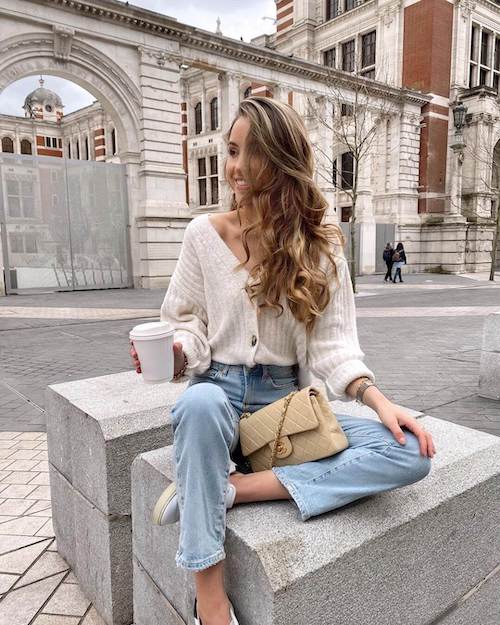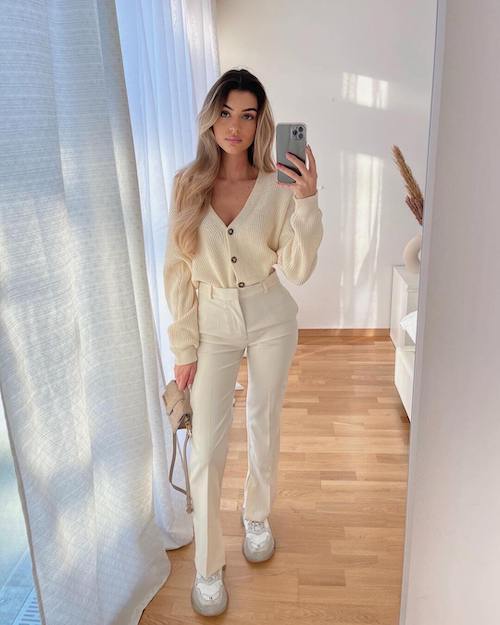 via Pinterest
But if you choose a white cardigan, you can refer to the following ways to elevate the look.
One is to choose cardigans with embroidered patterns, which look very special. Embroidery patterns are trendy this year. Such a cardigan is gorgeous simply with a pair of denim shorts.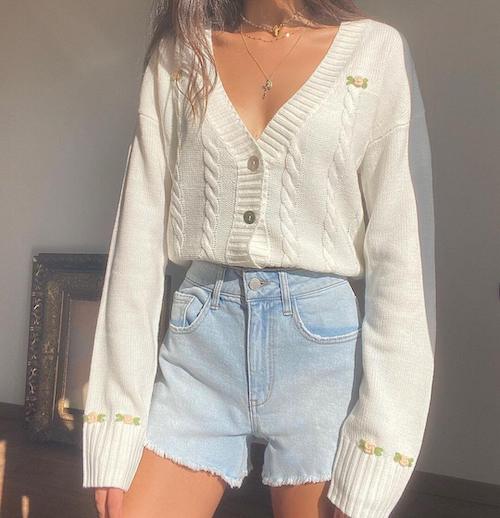 Another way is to stack accessories. Because pure white tops look cheap because they are too simple, stacking accessories will make the whole outfit look more layered, increasing fashion. For example, a headscarf and a canvas bag are a great match, making the entire outfit look casual and young.
Or you can tie the hem of the white cardigan at the front and match it with a slip dress. Besides, use sunglasses and bags to enrich the overall outfit.
via Pinterest
Best Oversized Cardigan Outfits: How To Style An Oversized Cardigan
For an oversized cardigan, the easiest and never outdated way is to wear it as a fashionable jacket in fall or winter and then pair it with black leggings, which look stylish.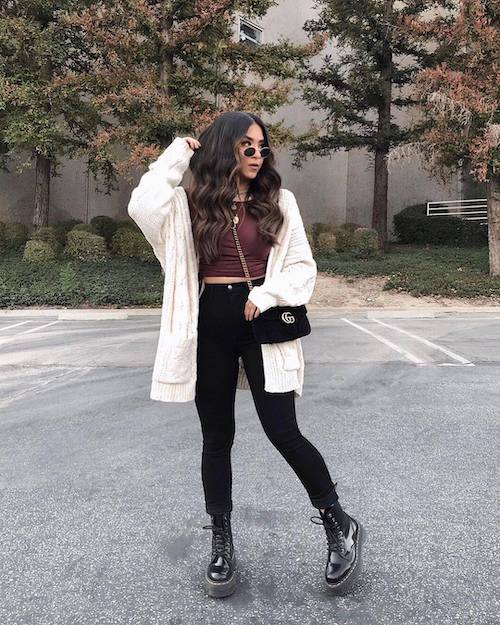 Also, the lazy style is trendy recently. The oversized cardigan is a good item for creating a lazy style. An oversized cardigan paired with wide-leg pants that are also very popular recently. An effortlessly chic outfit.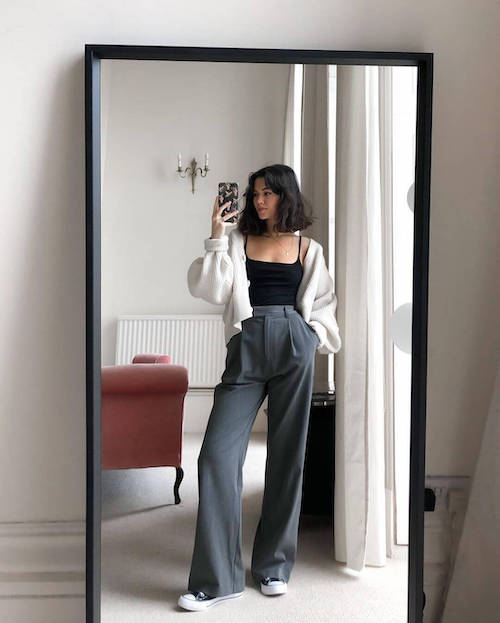 For oversized girls, fashionable girls always use the following styling tip to expose one shoulder!
The oversized cardigan is not fully buttoned up, and a big V-neck is formed on the chest. This way will make your shoulder and necklines more beautiful. It looks fashionable and sexy.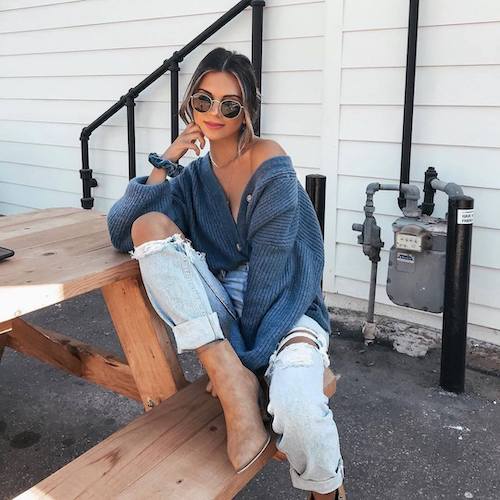 via Pinterest
This method is also brilliant to create a date night outfit! If you don't know what to wear for a date, use your oversized cardigan to create a NEW outfit for you!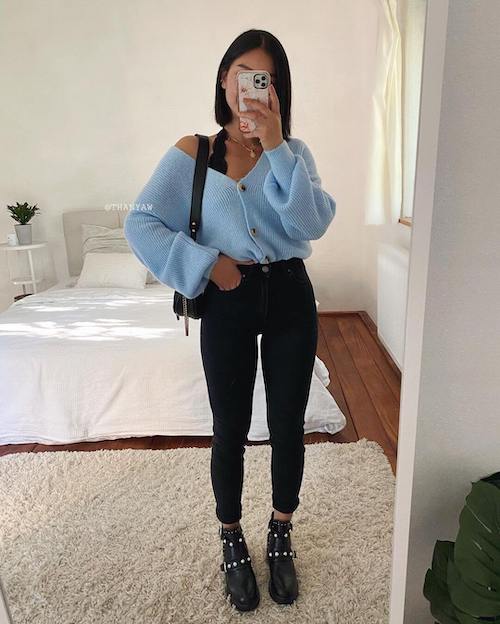 Besides, if you don't know how to match clothes, oversized cardigans are likely to be worn like home clothes. Therefore, an efficient tip is to match them with the layered necklace, making the outfit look matched and increasing the fashionableness.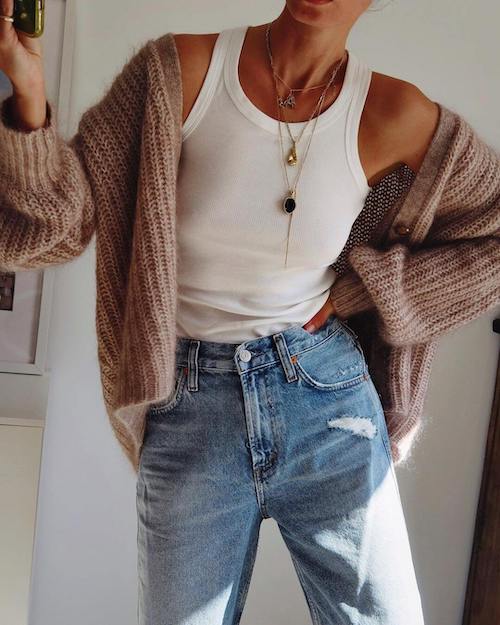 Long Cardigan Outfits: How To Style A Long Cardigan
We most recommend you wear a thin one for the long cardigan, which looks lovely with a delicate lace cami.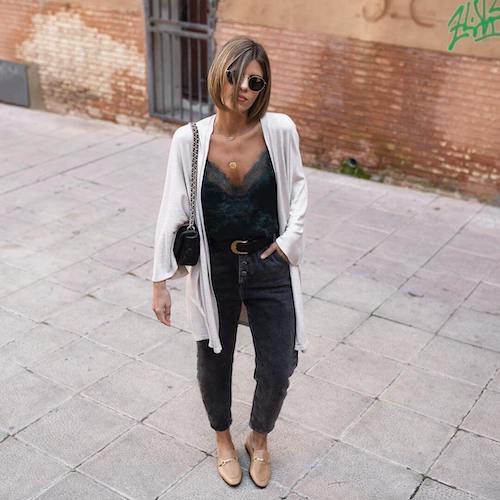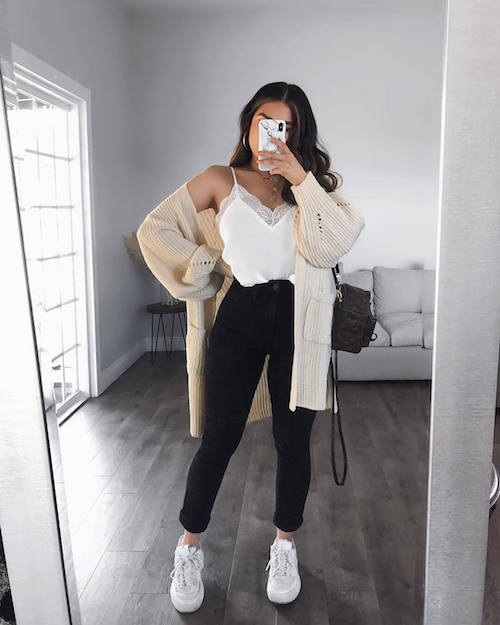 A very long cardigan can make you look skinny. If you are worried that too long clothes will make you look short, wearing pointed shoes can help you look taller.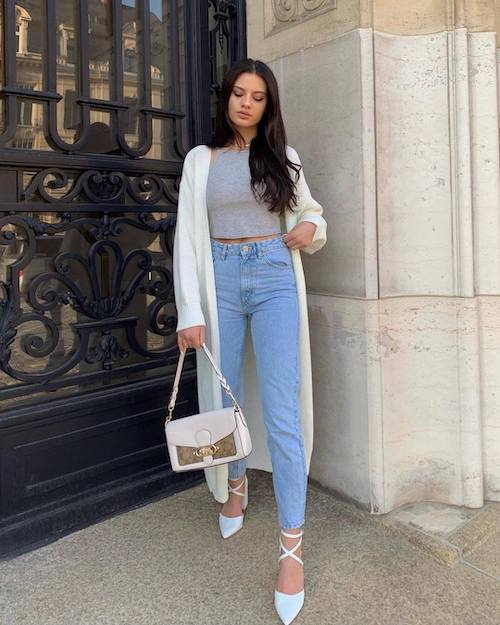 Short Cardigan Outfits: How To Style A Short Cardigan
The short cardigan looks lively and retro and has become very popular recently. You can boldly try different bright colors as long as the inside is matched with a simple solid-color inner. The best bottom to match these short cardigans is jeans!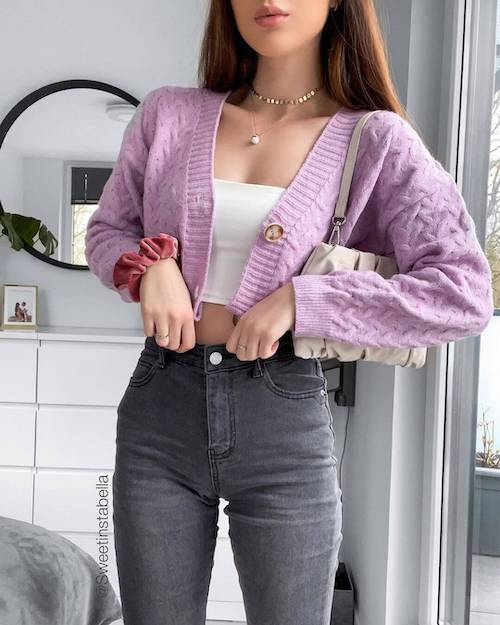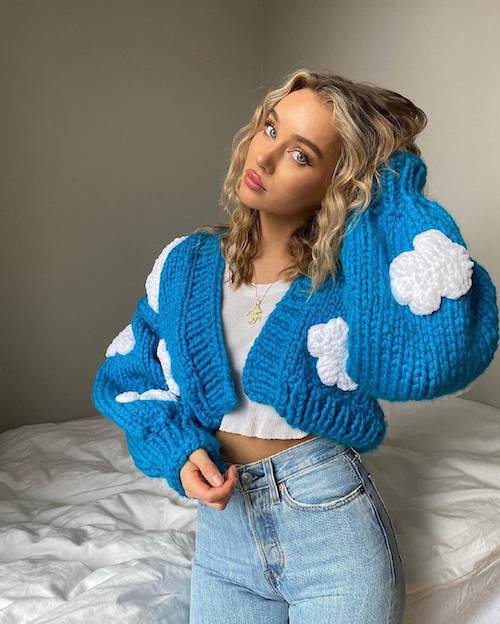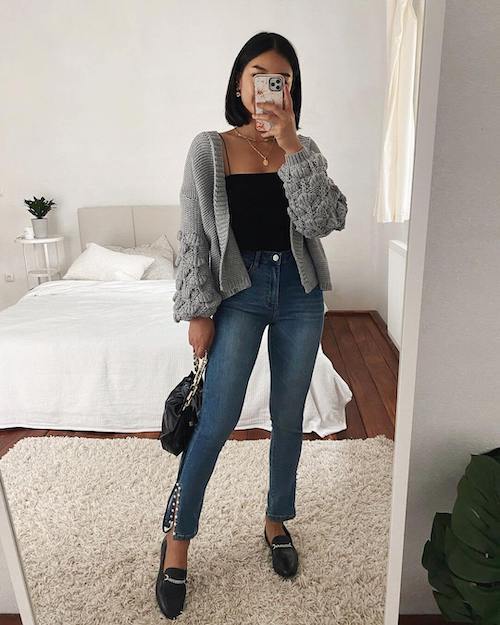 If it's an oversized short cardigan, don't forget the one-shoulder dress we just said, it looks sexy and cute.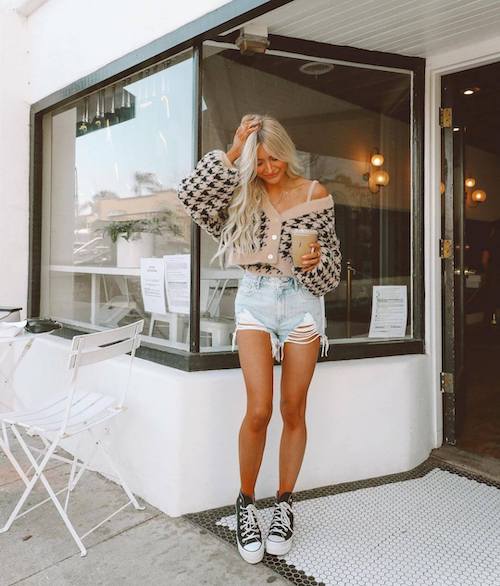 Of course, how can you miss a crop short-sleeved cardigan? The best way to match is with low-waist wide-leg jeans to quickly create a retro hot girl! Remember to unfasten the top button.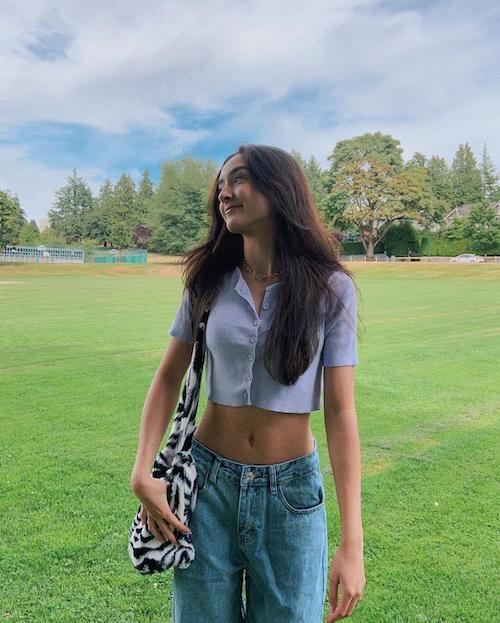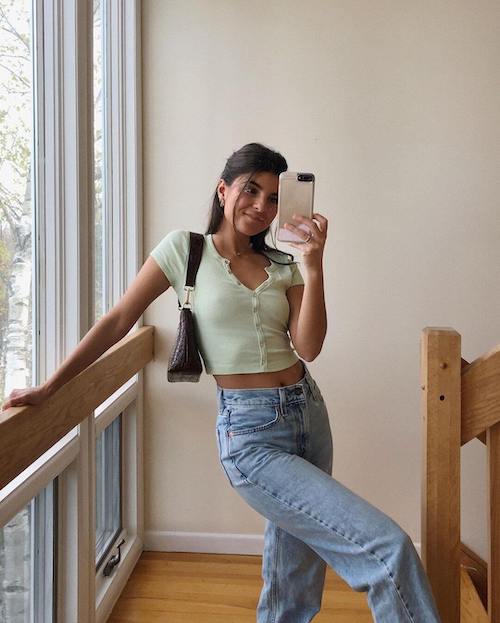 This post may contain affiliate links, which means I'll receive a commission if you purchase through my link, at no extra cost to you. Please read the full disclosure here.

This post is all about cute cardigan outfits.