Looking for cute cardigan outfits for women? Check this post for 50+ cute cardigan outfit ideas to level up your style. From casual street style to cozy cardigan outfits to work, we've got the best style tips to help you create perfect outfits with a cardigan right now!
Cardigans are a timeless wardrobe staple and there is no doubt that they can add a chic flair to any outfit.
Whether you're looking for something for the office or for a casual day running errands, cardigans are always a great choice.
Not only are they comfortable, but having one in your closet can easily take any look from simple to stylish.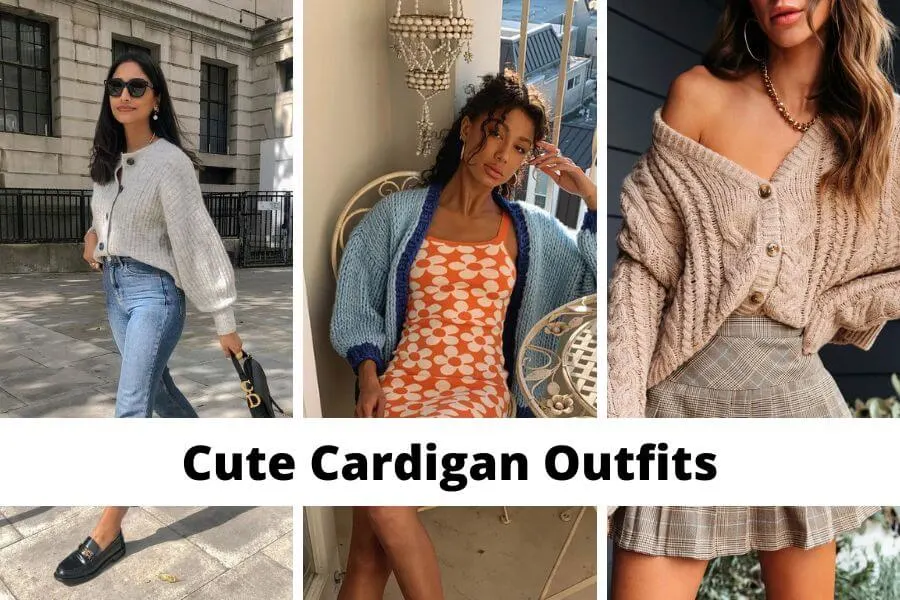 This post may contain affiliate links, which means I'll receive a commission if you purchase through my link, at no extra cost to you. Please read the full disclosure here.
This post is all about cute cardigan outfits.
Are cardigans still in style for women?
Are cardigans still in style for women? The answer is yes, and they are more popular than ever!
Cardigans have been a staple in a woman's wardrobe since the 1950s.
This timeless piece of clothing has stood the test of time and continues to be an essential part of modern-day fashion.
The versatility of the cardigan allows it to be worn with many different outfits.
It can be dressed up or down depending on the occasion; making it perfect for work, school or casual wear.
Furthermore, there are endless colors and styles available when it comes to cardigans, so no matter what look you're going for there is sure to be something that fits your needs perfectly.
So if you're looking for something comfortable yet stylish for multiple occasions, then a cardigan is definitely worth trying out!
What are the trendiest cardigans for Women?
Though neural color cardigans are still staples in our wardrobe, we still see the below types of cardigans for women wildly trending right now:
Cropped, front-tie Cardigans
Cardigan Set
Cardigans with embroidery
Chunky Knit Cardigans in black, grey, beige, white, or cream
Fluffy cardigans in almost any color, including red, pink, burgundy
Long cardigans with pockets
Slim, short sleeves cardigans
Pastel color cardigans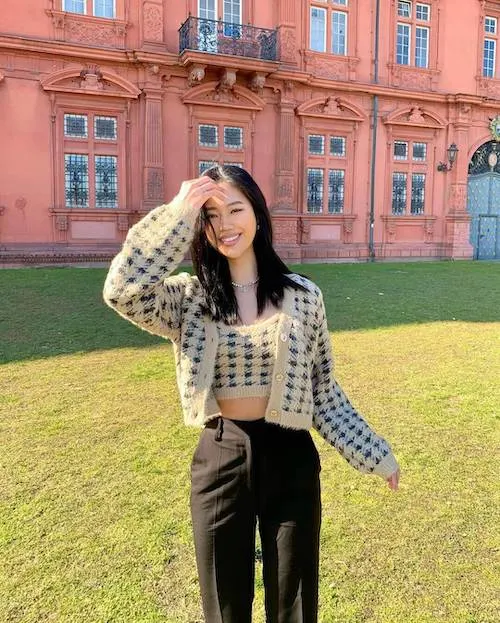 CUTE CARDIGAN OUTFITS FOR WOMEN
What To Wear With A Cardigan?
What do you wear with your cardigan depends on the style you want to create.
Below are some most popular ways to style a cardigan on different occasions:
A pair of white or canvas sneakers to create a casual, vacation vibe look
A pair of platform loafers for retro and academic style
A pair of pointed ankle boots for formal and chic looking
A simple tank top for 90s fashion style
A lace cami for a sexy look
An elegant purse for a date night, a straw bag for a beach vacation, and any other casual look bag for school and casual date
A layered necklace to complete the whole look
Want to know more styling tips for cardigans? Scroll down to check the best cardigan outfits ideas for women.
Cute Black Cardigan Outfits: How To Style A Black Cardigan
Styling a black cardigan can create a look that is both stylish and comfortable.
Whether you're looking for something more casual or something more formal, here are some tips on how to style a black cardigan for women.
A great way to start styling your cardigan is by pairing it with skinny jeans or leggings.
This will give you an effortless yet chic look that can be dressed up or down depending on the occasion.
For example, if you're going out to dinner try adding in some strappy heels and statement jewelry for a bit of glamour.
On the other hand, if you're just running errands pair it up with some flats or sneakers for a comfy but still put-together look.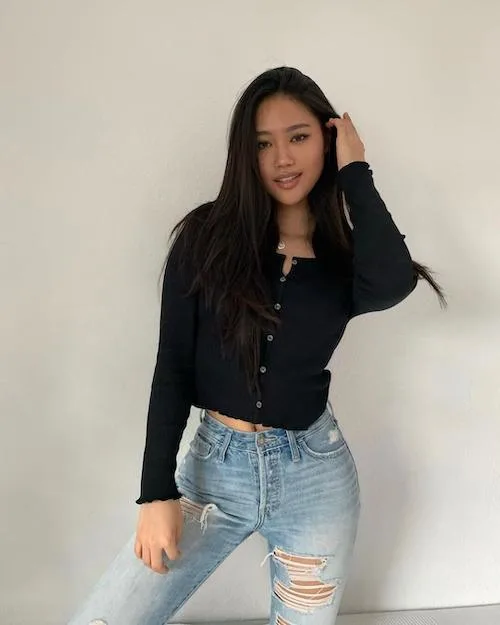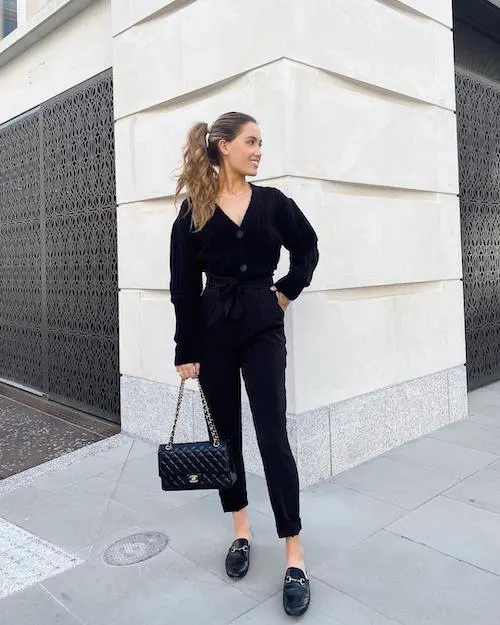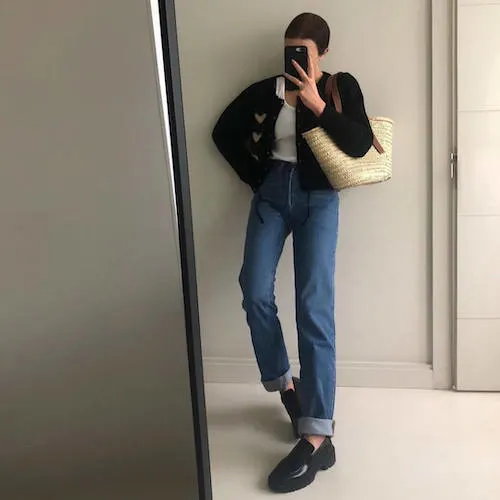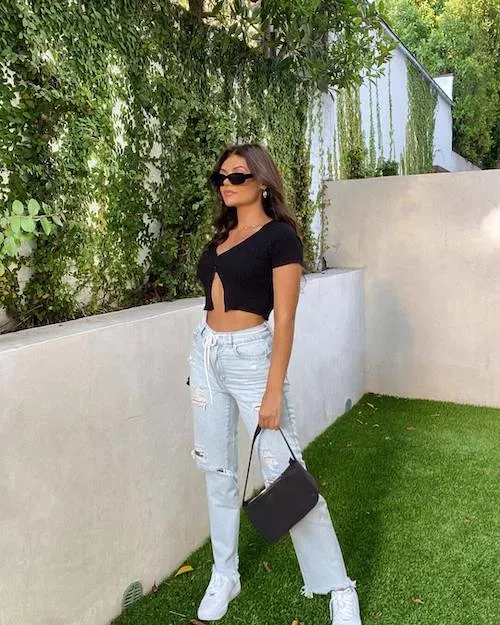 Cute Grey Cardigan Outfits: How To Style A Grey Cardigan
For women, there are many ways to style a grey cardigan.
To create an effortless everyday look, try pairing it with a white t-shirt and jeans.
Accessorize with some statement jewelry and chunky boots for an edgy vibe.
For something more dressy, pair the cardigan with fitted trousers and a crisp white shirt tucked in at the waist.
Finish off this look with some heels or ankle boots and gold hoop earrings for an elegant finish.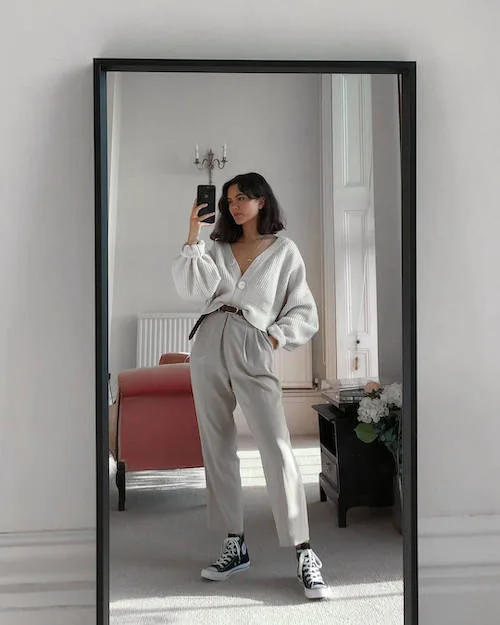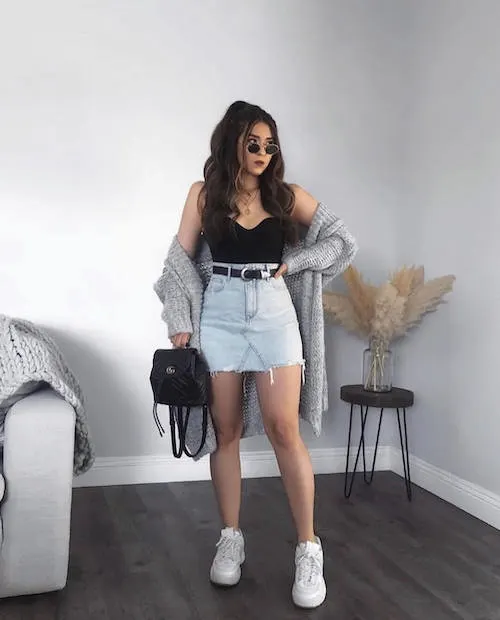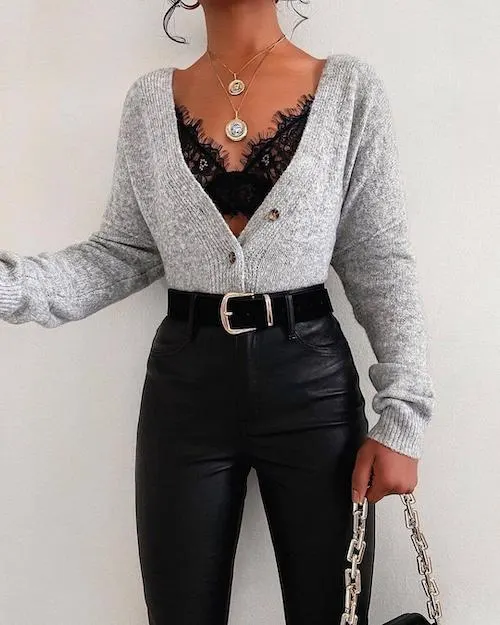 Trendy Pink Cardigan Outfits: How To Style A Pink Cardigan
Whether you are looking for something to wear on a night out, or something more casual for running errands, styling a pink cardigan is easy and fun!
Here are a few tips to help you get the perfect look:
Begin by selecting the right shade of pink for your body type.
For petite figures, lighter shades are best as they will elongate your silhouette and draw attention to your best features.
If you're going for a more dramatic look, darker tones give off an edgy vibe that can be paired with jeans or skirts.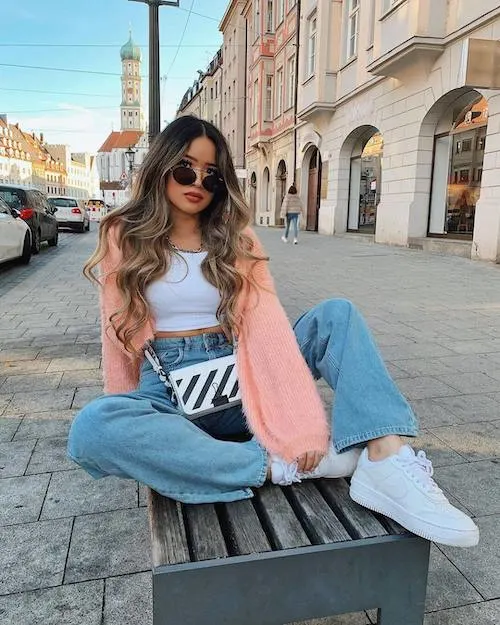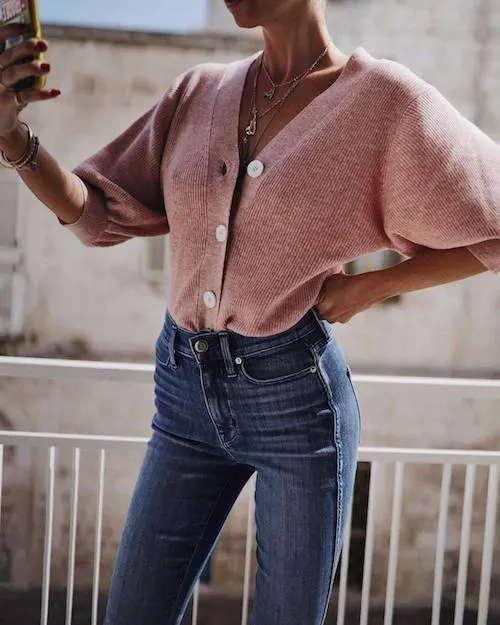 Best Brown Cardigan Outfits: How To Style A Brown Cardigan
Whether you want to dress it up for the office, or make it more casual for weekend wear, there are many ways to style your brown cardigan.
To start off, try pairing your brown cardigan with neutral colors like black and white.
For example, layer your brown cardigan over a white top and black pants – perfect for the office!
You can also add a statement necklace or scarf to give the outfit an extra touch of sophistication.
If you're going for something more casual, opt for jeans and some flats or sneakers with your brown cardigan – this is an easy way to create an effortless yet stylish look.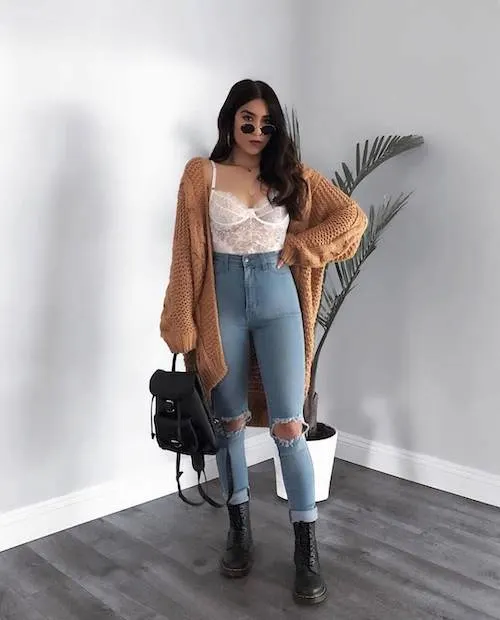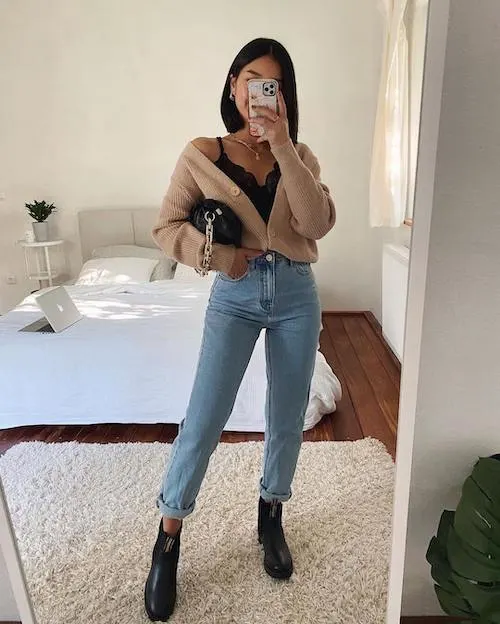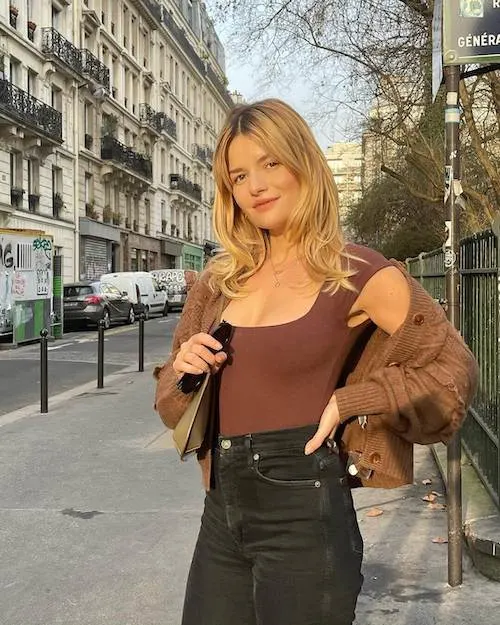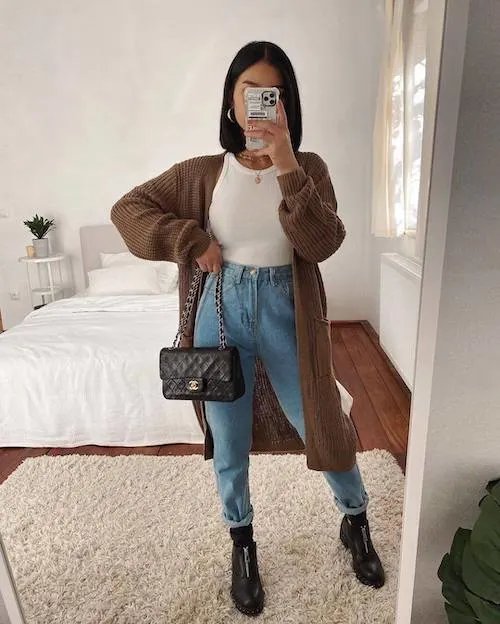 Stylish Beige Cardigan Outfits: How To Style A Beige Cardigan
A bridge cardigan is a wardrobe essential for women.
If you want to dress up your bridge cardigan, pair it with a silky cami and slim-fit pants in an elegant color palette such as black, navy or gray.
A tailored blazer will add extra sophistication while strappy heels will give you maximum impact.
Accessories should be kept minimal but feel free to add statement jewelry if you're feeling bold.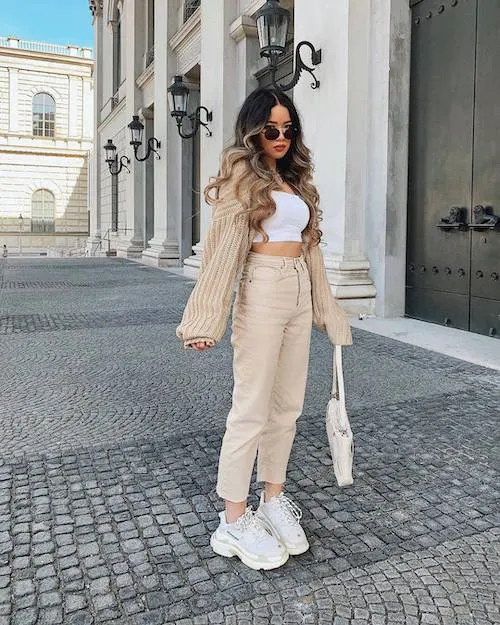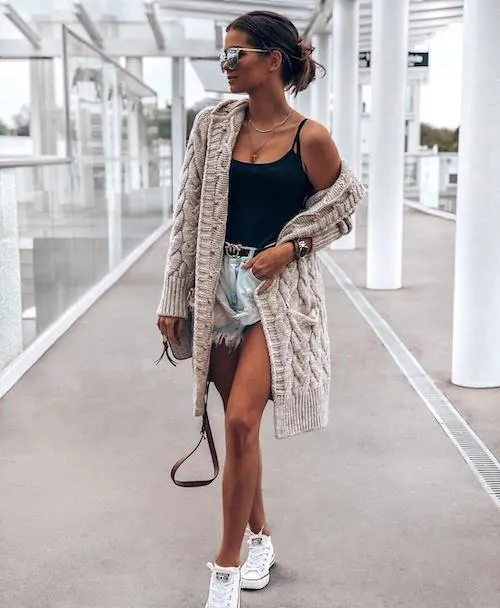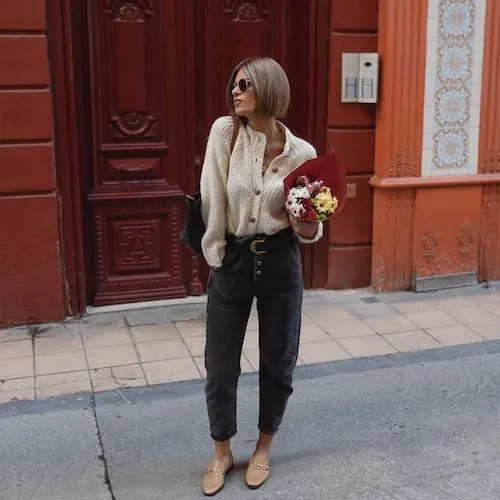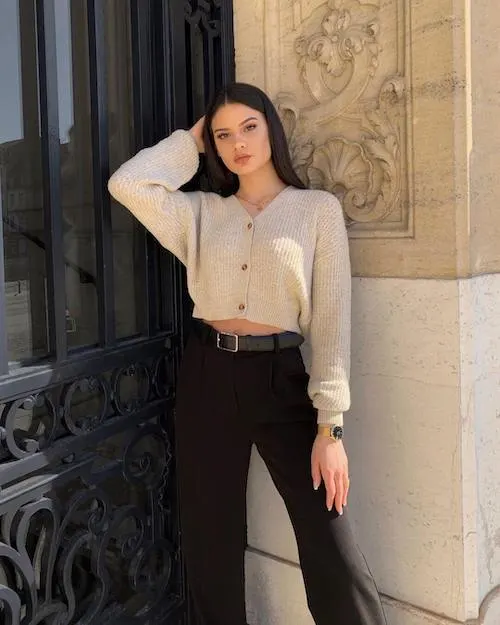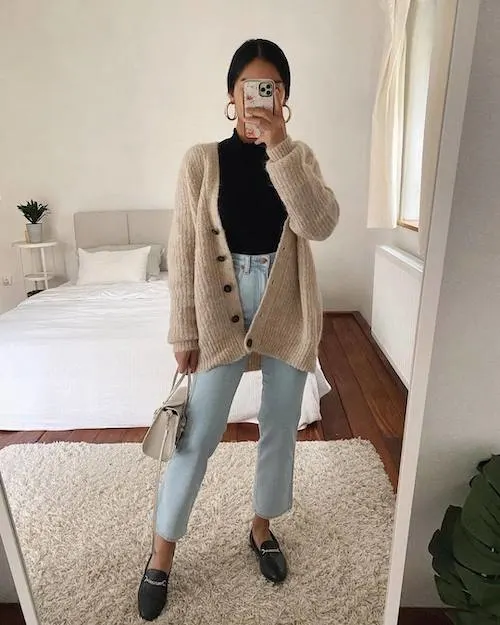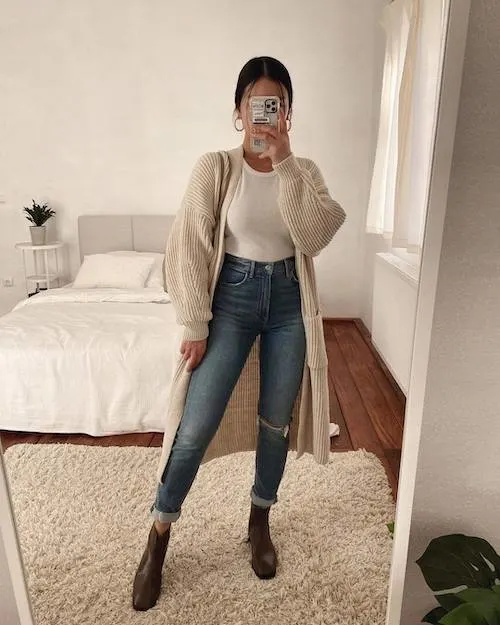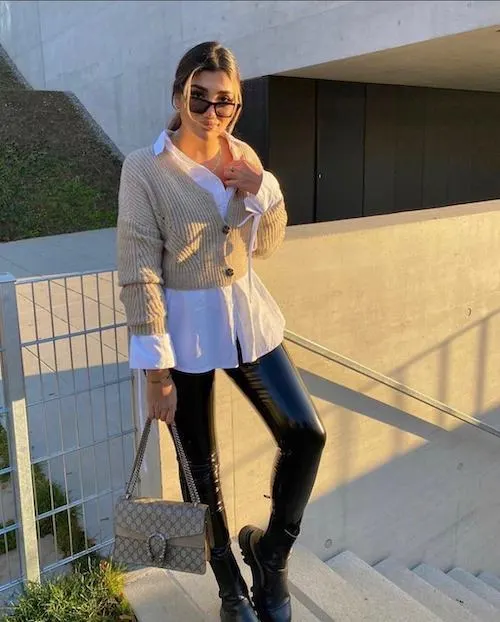 via Pinterest
Chic Burgundy Cardigan Outfits: How To Style A Burgundy Cardigan
A burgundy cardigan is a classic piece of clothing that every woman should have in her wardrobe.
To create a casual look, pair the cardigan with your favorite jeans and t-shirt.
Add some simple accessories such as sunglasses, a long necklace, and flats or sneakers to complete the outfit.
For those wanting to add extra warmth during colder months, layer the cardigan over other neutral colors such as black or white for an effortlessly chic ensemble that will never go out of style.
If you're looking for something more dressy, try pairing the cardigan with a midi skirt and ankle boots in matching shades of burgundy or brown.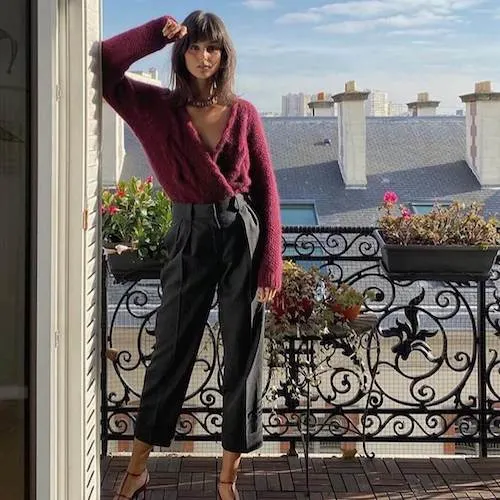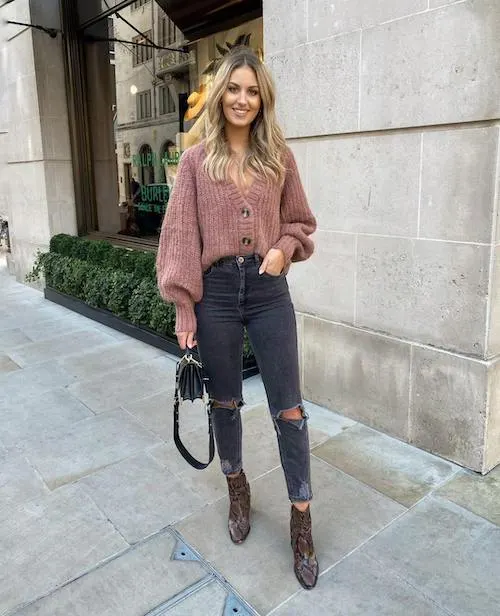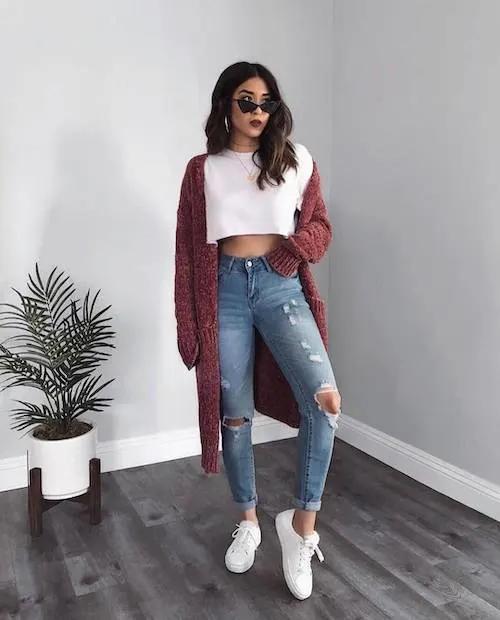 Beautiful Yellow Cardigan Outfits: How To Style A Yellow Cardigan
Are you looking to add a little pizzazz to your wardrobe? Why not try styling a yellow cardigan for women!
This cheerful hue is perfect for any occasion, from brunch with friends to a night out on the town. Here are some simple tips for styling this bold color.
Start by finding the right fit. A yellow cardigan should enhance your body shape and flatter your features rather than swamping them.
If you're petite, opt for an over-sized style that sits just above the knee – this will make you look taller while still highlighting your figure.
For those who are curvier, choose a slim-fit cut that follows the contours of your body without being too tight.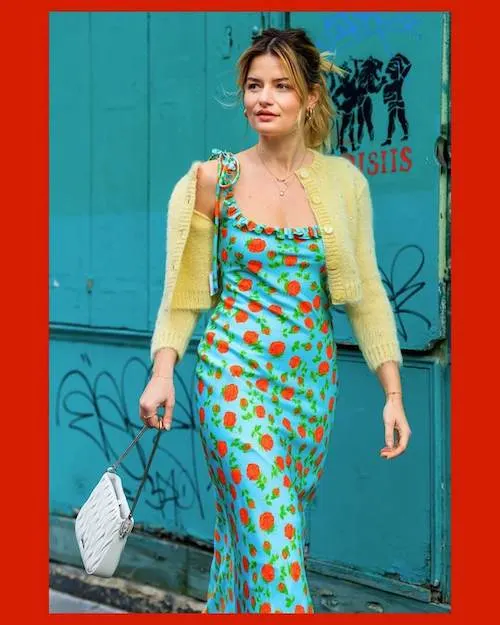 Cute Green Cardigan Outfits: How To Style A Green Cardigan
Green cardigans are a must-have staple in any woman's wardrobe. Perfect for adding a splash of color to an outfit, they can take you from day to night with the right styling.
The key to nailing this look is layering and accessorizing.
A white tee or cami worn underneath creates a classic base for the color pop of your green cardigan.
Add jeans or culottes for a casual daytime look – complete the ensemble with some pointed flats and statement earrings for an effortless finish.
For evening events opt for black trousers instead of jeans and add some heeled ankle boots – finished off with a sleek leather bag & bold lipstick shade, you're ready to go!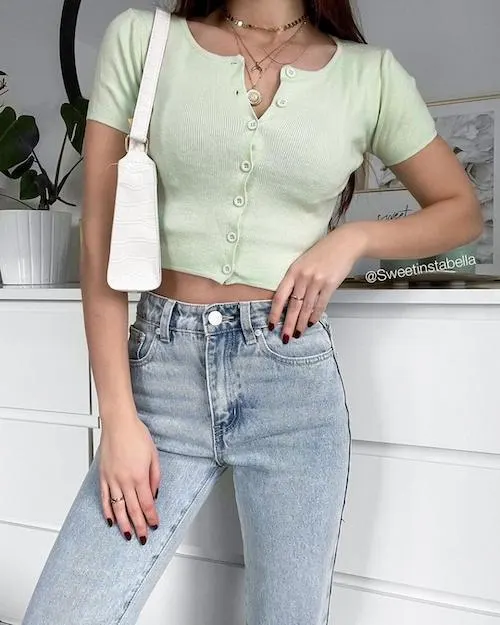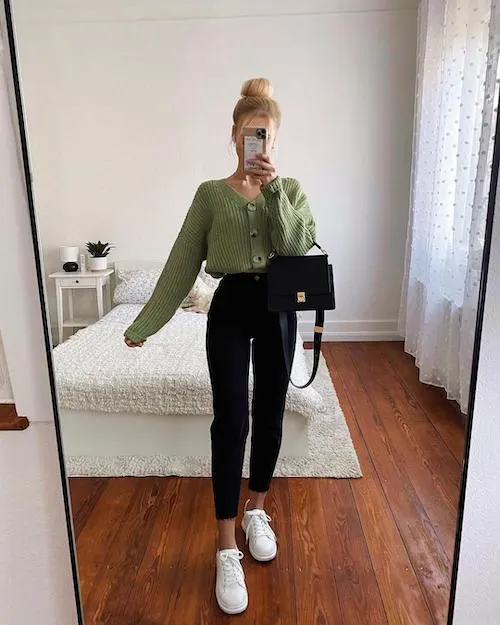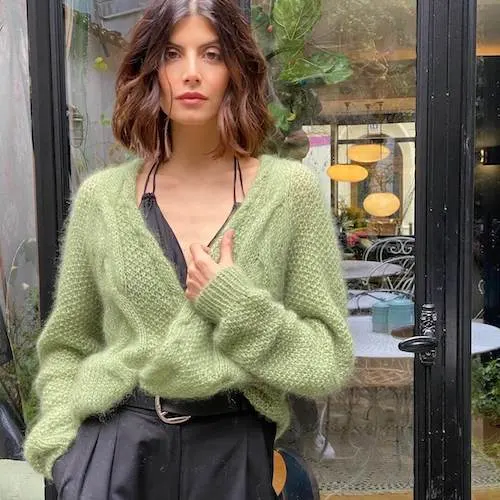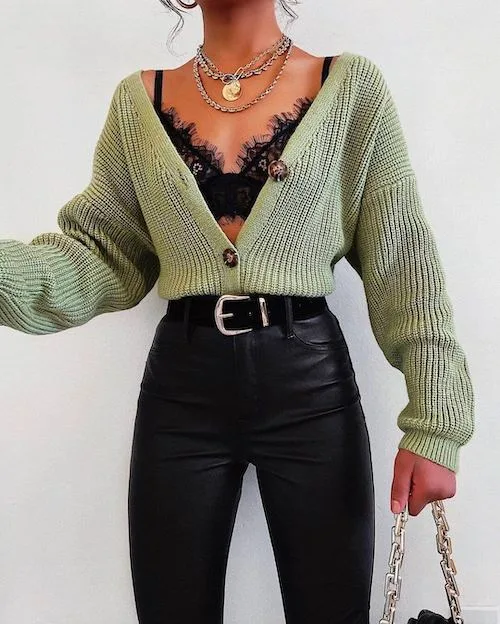 Best White Cardigan Outfits: How To Style A White Or Cream Cardigan
Adding a white cardigan to your wardrobe is an easy way to instantly give your wardrobe a classic, timeless feel.
Whether you opt for a cropped, longline or oversized style there are plenty of ways to style it up and make it work for any occasion.
Here's how to style a white cardigan for women.
Start by considering the fit and silhouette of the white cardigan that you choose.
For an effortless day-time look try pairing a loose-fitting white cardigan with jeans and sneakers or trainers – this relaxed look is perfect for running errands or brunch with friends.
For more formal occasions like work meetings or client lunches, opt for tighter fitting styles such as ribbed knit designs; pair these with tailored trousers, blouses and heels for an elegant aesthetic.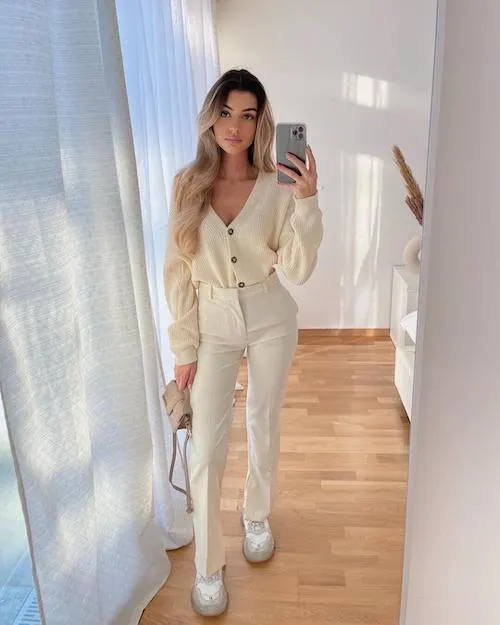 via Pinterest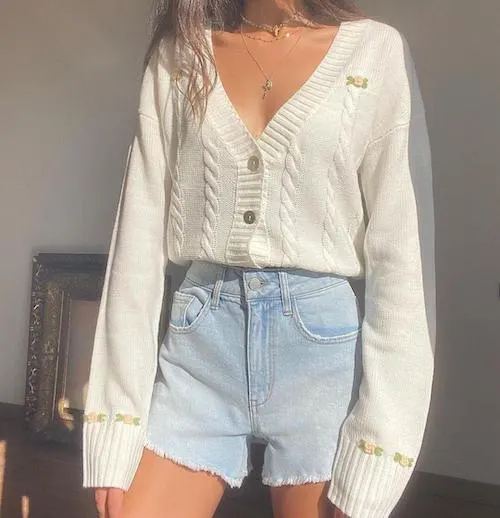 via Pinterest
Best Oversized Cardigan Outfits: How To Style An Oversized Cardigan
An oversized cardigan is the perfect way to stay warm and stylish at the same time.
Whether you are looking for something casual or dressed up, it can be styled in many different ways.
Accessorizing with the right pieces is key to achieving a head-turning look that will have others asking where you got your outfit from.
To get started, choose an oversized cardigan with a neutral color like black, white, or gray so that it can be easily accessorized.
Then add a basic cami underneath if it's not already included in your ensemble.
This creates an effortless look while allowing for extra warmth on those chilly days.
Balance out the bagginess of the cardigan by adding fitted bottoms such as leggings or skinny jeans – this will help create more structure and definition around your waistline.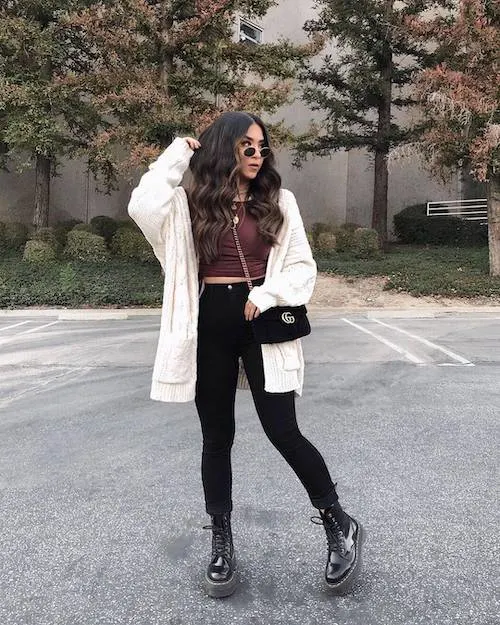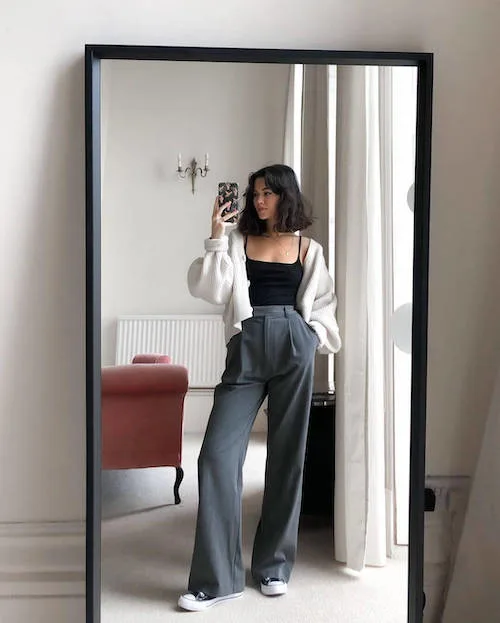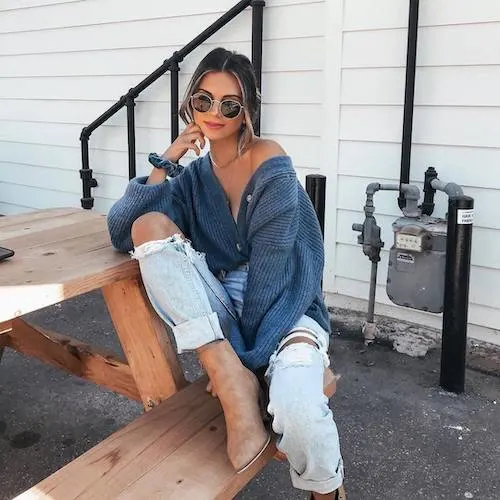 via Pinterest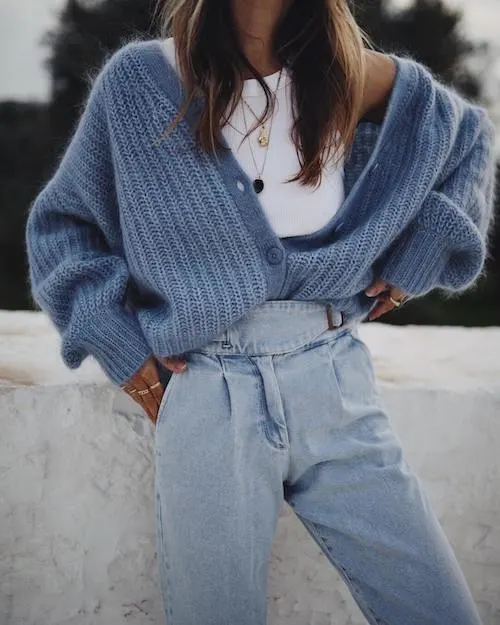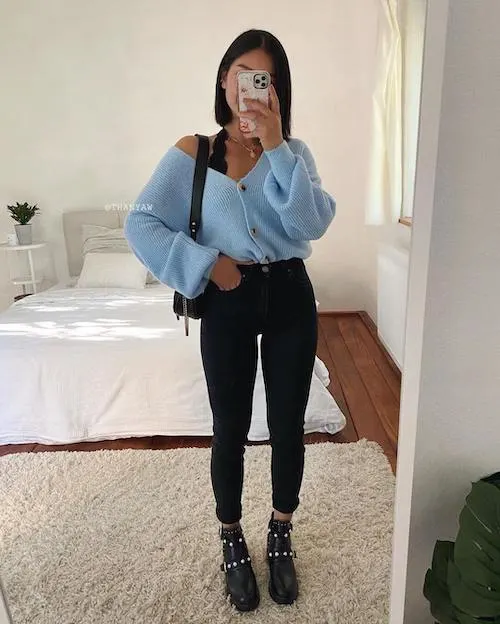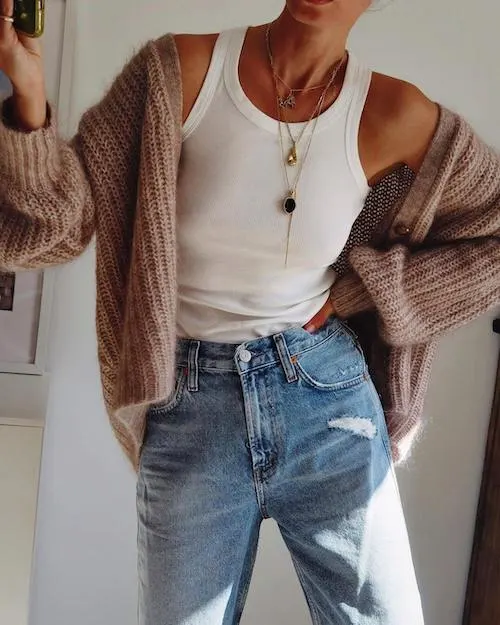 Long Cardigan Outfits: How To Style A Long Cardigan
A long cardigan is a great wardrobe staple for any woman.
It's perfect for layering over dresses during the summer months and can be styled up or down to suit any occasion.
From workwear to weekend wear, there are plenty of ways to style this timeless piece of clothing for women.
Here are some tips on how to get the most out of your long cardigan.
First, consider pairing it with a fitted top and trousers or jeans for a classic look that you can wear anywhere.
You could also try cinching the waist with a belt to define your shape and give it an extra touch of sophistication.
For colder days, why not layer it over a warm jumper or dress?
You could also finish off the look with ankle boots and statement jewelry pieces – perfect for elevating your style in an instant!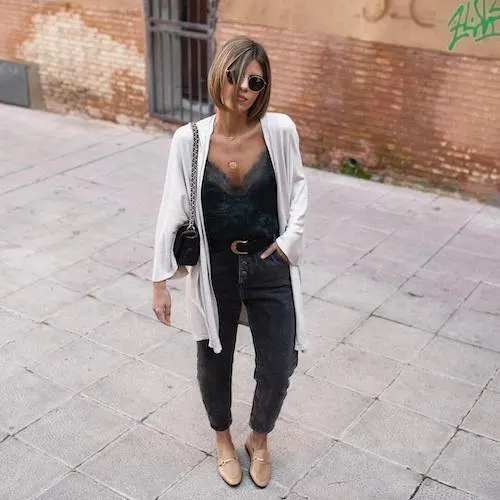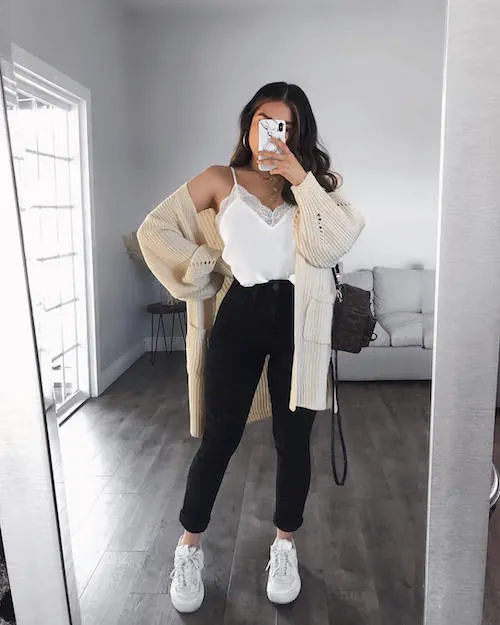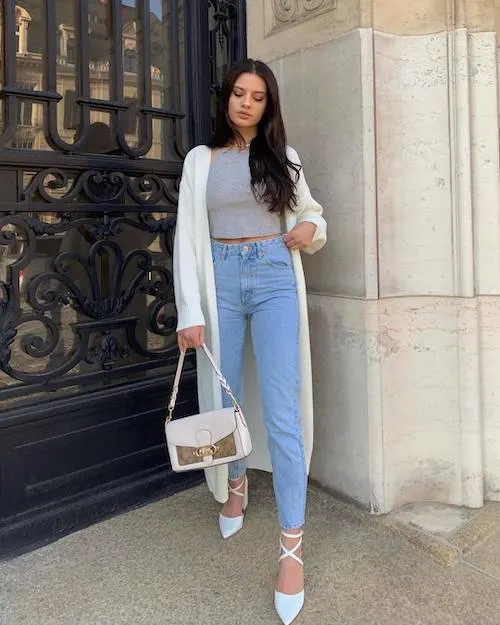 Short Cardigan Outfits: How To Style A Short Cardigan
This season, the short cardigan is quickly becoming the must-have piece for any fashionista.
Here we share our top tips on how to style a short cardigan for maximum impact without compromising comfort.
One foolproof way to style a cropped or short cardigan is by pairing it with jeans and boots or sneakers – this combination will give you an effortless and relaxed look that's still fashionable.
If you want something dressier, why not try styling it with an above-the-knee skirt and heels?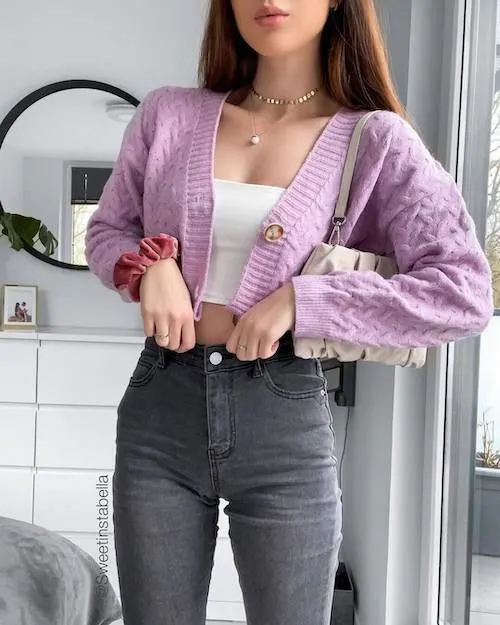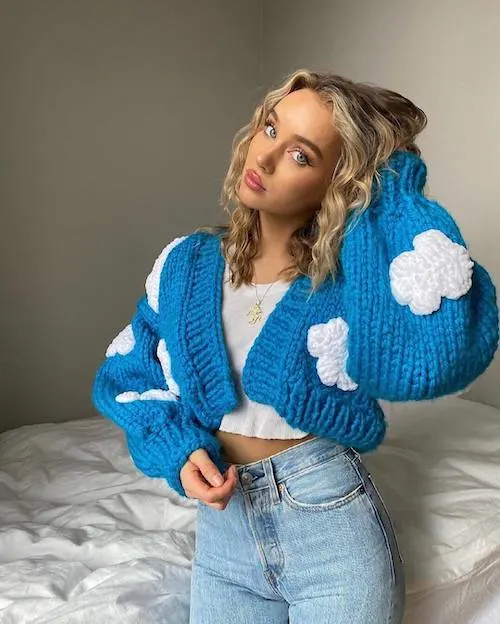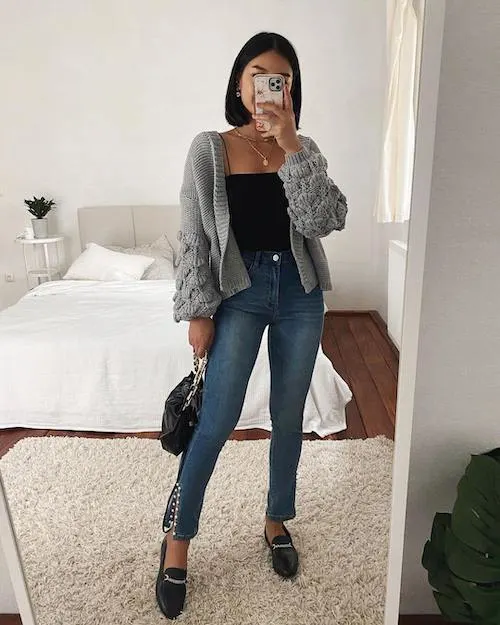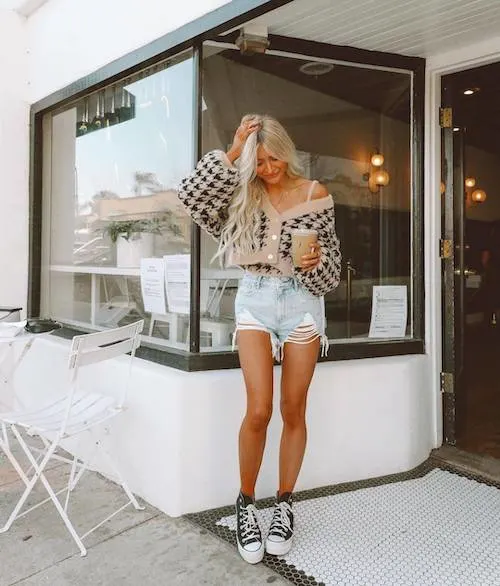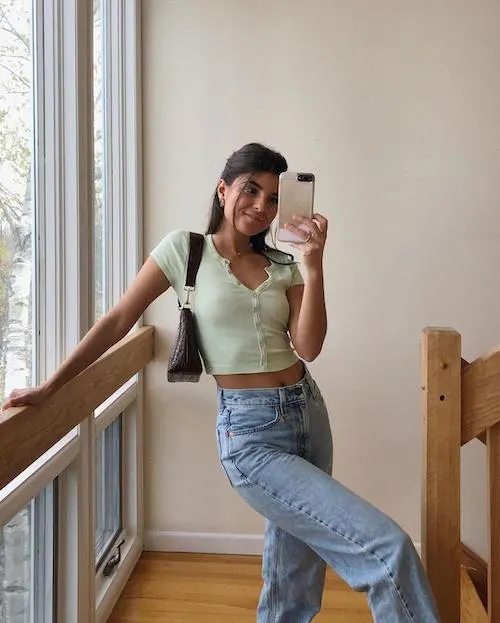 What to Wear With Cropped Cardigan?
A cropped cardigan is the perfect way to add a touch of style and warmth to any outfit for women.
It can make any ensemble more sophisticated, and it's an excellent layering piece that looks great with many different bottoms.
Whether you prefer to dress up or dress down, there are plenty of options when it comes to finding the right piece to wear with your cropped cardigan.
If you're looking for a polished office look, try pairing your cardigan with a pair of high-waisted trousers or a skirt.
This combination will be classic but modern at the same time, and you can accessorize it with interesting jewelry pieces like earrings or necklaces.
For those days when you want something more casual, skinny jeans are always a good option; just add some ankle-length boots or sneakers for an effortless yet chic vibe.
How to Style a Cardigan
Cute Outfits With A Cardigan For Spring Summer
Welcome the warmer weather this spring and summer with a cute cardigan outfit.
From lightweight fabrics to chunky knit designs, there's no shortage of styles to choose from.
Whether you're looking for something casual or formal, cardigans provide the perfect combination of comfort and style.
To help you find the perfect look for any occasion, we've compiled some of our favorite cardigan outfits for spring and summer.
For those days when only a light layer will do, try pairing a thin cashmere cardigan with cropped skinny jeans and sandals.
To dress it up further, add an oversized statement necklace and color-coordinated clutch bag.
If you're heading out in colder temperatures, opt for an oversized wool design over a long sleeve shirtdress or wide-leg trousers – perfect for keeping warm while still looking chic!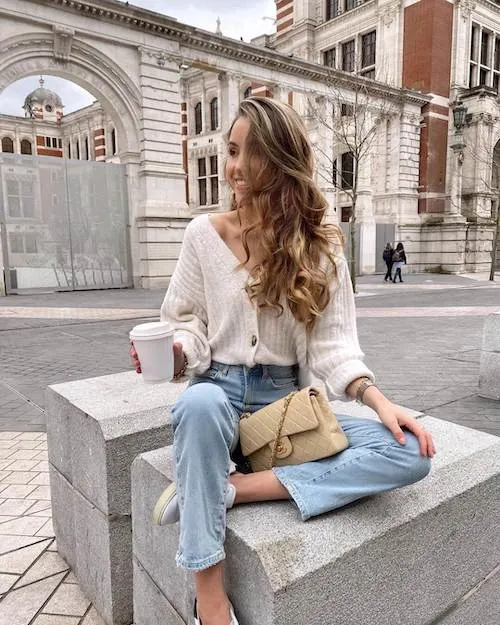 Cozy & Stylish Ways To Wear A Cardigan For Fall Winter
For an everyday casual look, pair your favorite cardigan with jeans or leggings and a basic t-shirt.
To make the outfit look more put together, accessorize with jewelry, scarves, or hats.
If you live in a particularly cold area, you may want to add extra layers such as an overcoat or puffer vest for added warmth.
Elevate your style by wearing your cardigan overtop of dressier pieces such as midi dresses or jumpsuits.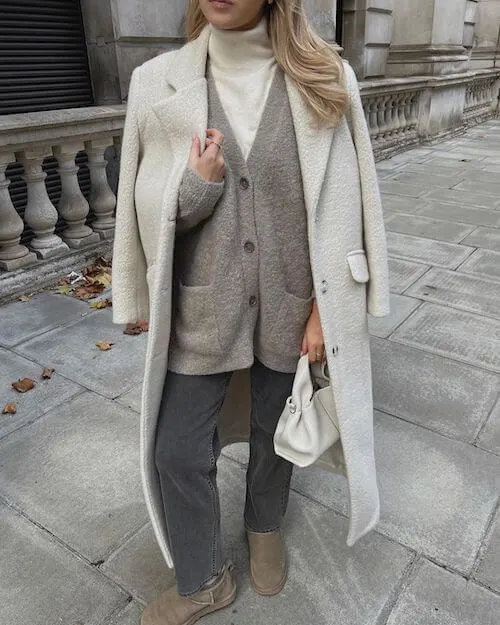 @mildagud
How To Style Cardigans For Work?
Cardigans are a great wardrobe staple that women can use to create fashionable, professional looks for their next meeting or job interview.
Here's how to style cardigans for work:
To keep your look polished, choose a structured cardigan with clean lines and minimal detailing.
Pair it with dress pants and a crisp white blouse underneath the cardigan for an easy and timeless office look.
Accessorize with small jewelry pieces like stud earrings or delicate necklaces that won't take away from your outfit's sophisticated vibe.
Or go bolder with rich jewel tones like emerald green or burgundy red to add some color to your ensemble without going overboard.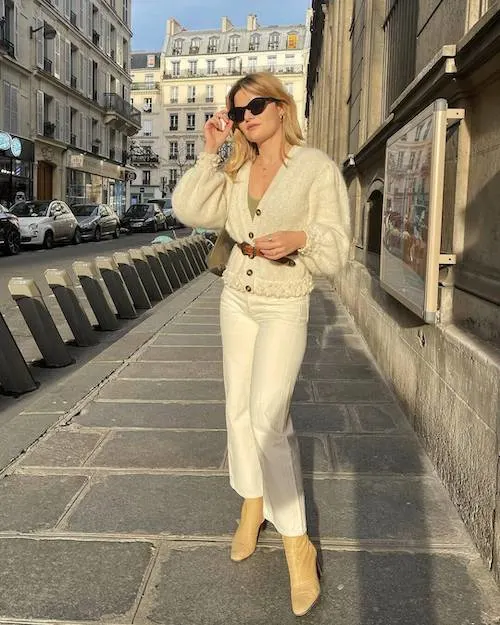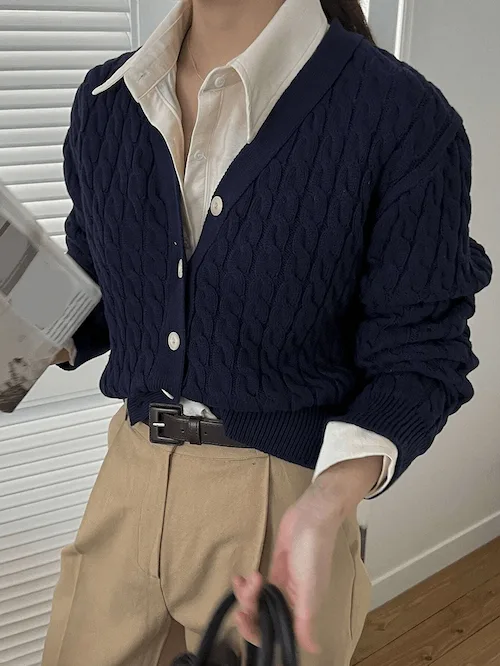 Stylish Cardigan Outfits To Try For Date Night
When it comes to date night, ladies often find themselves in a bit of a fashion pickle.
You want to look your best but also stay comfortable and feel confident.
We have the perfect solution: stylish cardigan outfits!
These cozy-yet-chic looks will keep you feeling cool as a cucumber while looking hot on your evening out with your bae.
From playful preppy ensembles to glam rockstar getups, there's something for every woman's style.
Wear classic long cardigans over midi dresses for an ultra-feminine look or pair cropped sweaters with high-waisted jeans and boots for a modern take on vintage style.
With so many options available, you're sure to find the perfect outfit that will make your date swoon!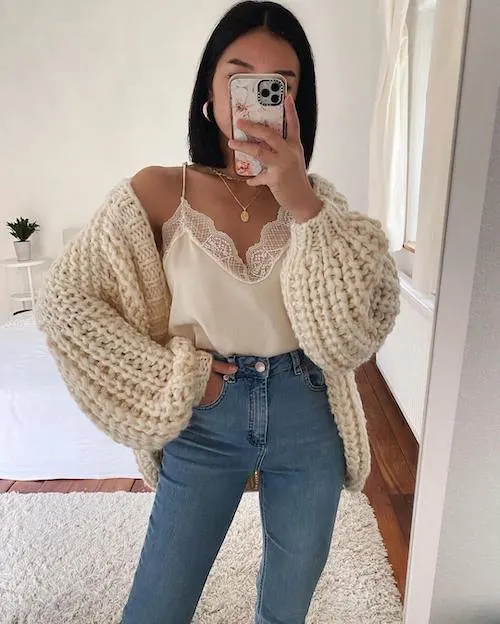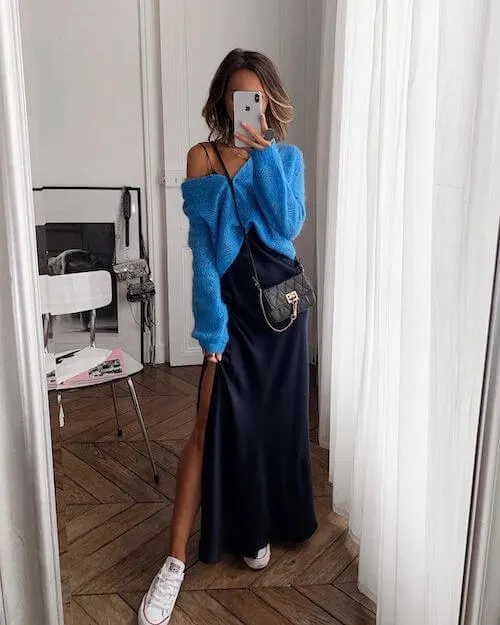 @babiolesdezoe
More Chic Cardigan Outfit Inspiration Ideas
Long Cardigan + Floral Top + Floral Skirt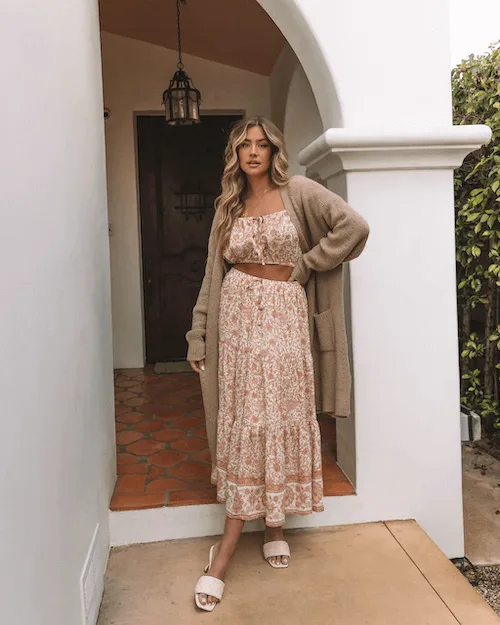 White Cardigan + Denim Shorts
Chunky Cardigan + High-Waisted Skirt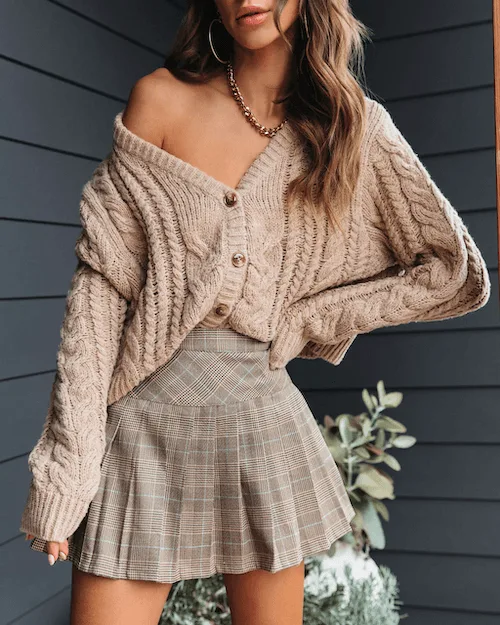 Cozy Cardigan Fall Look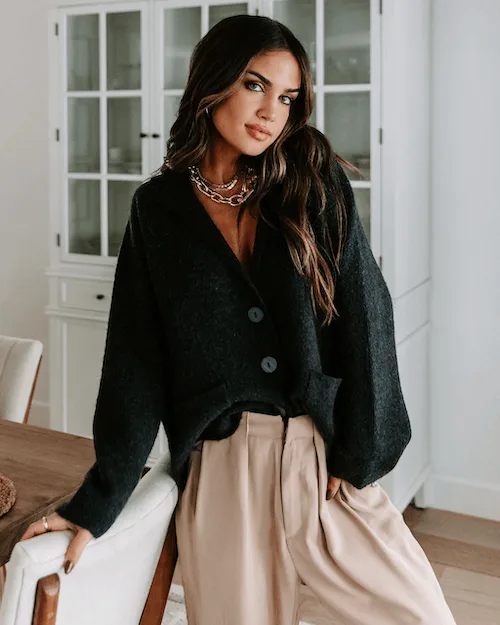 As A Jacket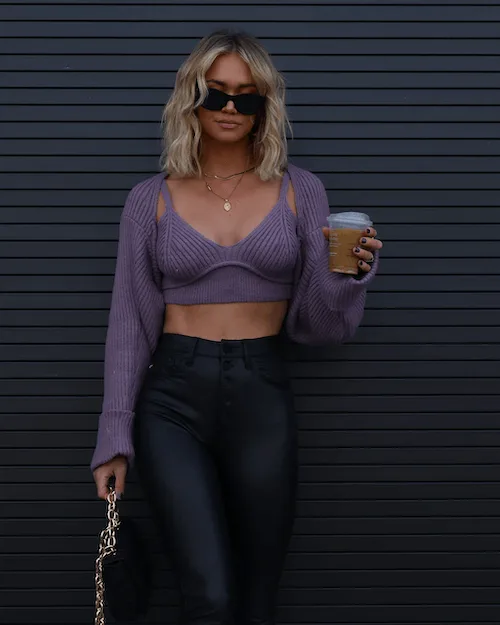 Fuzzy Cardigan + Silk Dress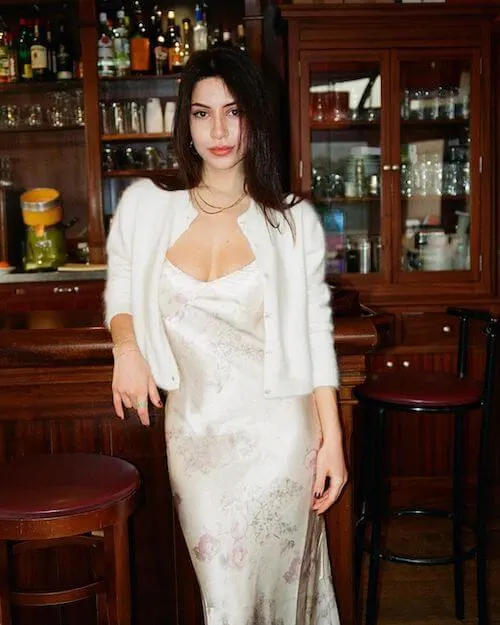 @ani.maar
Cardigan + Jeans + Loafers or Mules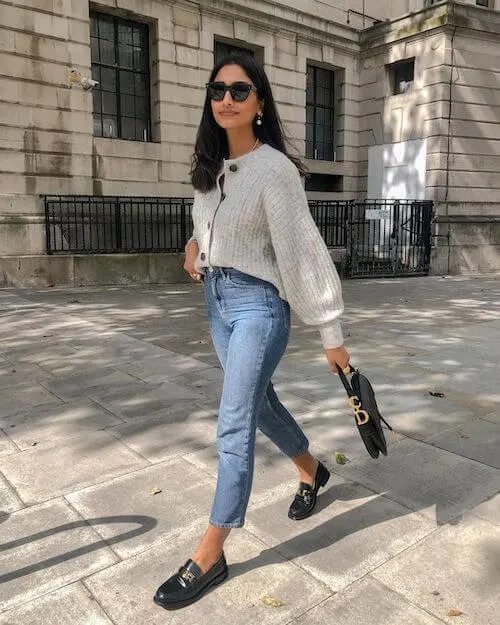 @cocobeautea
Cardigan + Black Pants + White Sneakers
@cocobeautea
Chic Street Style Casual Outfit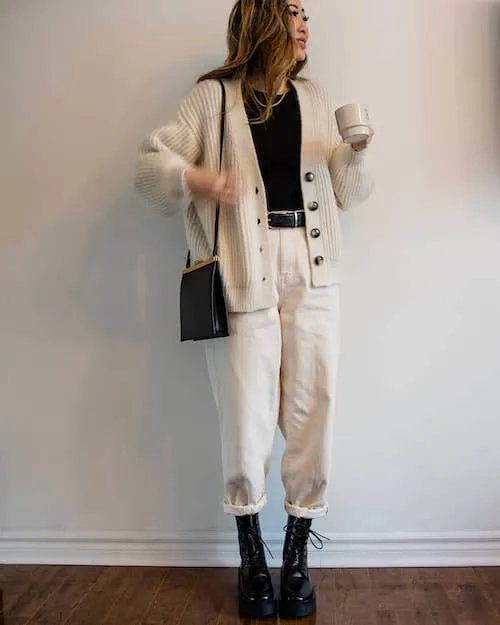 @thatsotee
Button Down Cardigan + Denim Shorts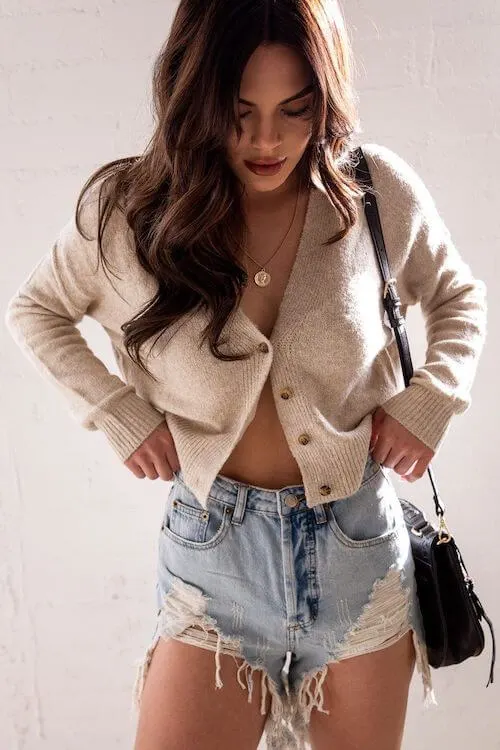 Oversized Cardigan + A Pair of Leather Pants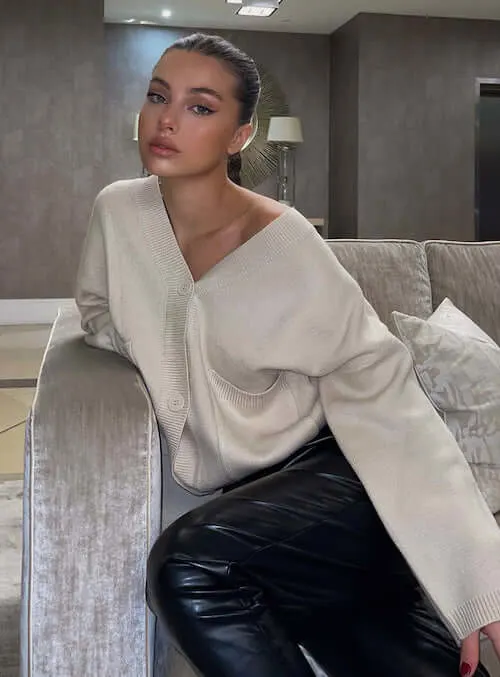 Cardigan + Mini Skirt + Chunky Loafers
Cute Cardigan Dress Outfit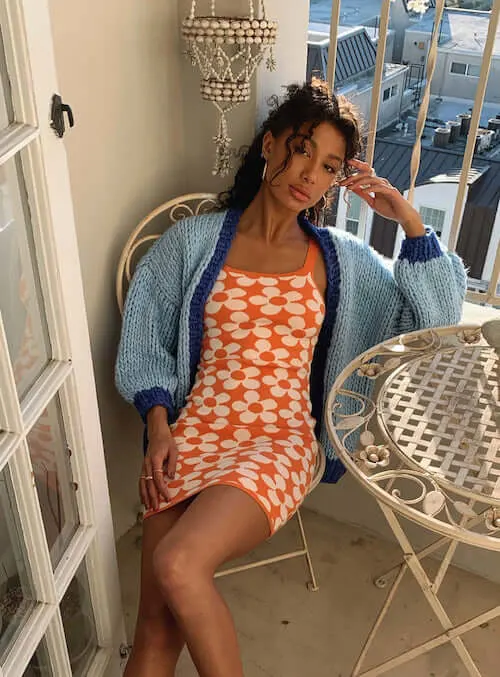 Cardigan + Tank Top + Jeans
What goes best under a cardigan?
Cardigans are the perfect addition to any outfit, providing a comfortable and stylish touch of warmth.
But what goes best under a cardigan?
Whether you're looking for a cozy combination or something more chic, there are several combinations that make for ideal cardigan ensembles.
For an effortless look, pair your cardigan with a simple tee or tank top.
This is an easy go-to option as it can be dressed up with jewelry and accessories for a dressier vibe or left plain for something more casual.
For added warmth during the winter months, try layering over a long sleeve shirt or lightweight sweater – the two combined together will bring the perfect level of comfort and style.
And if you want to add extra dimension to your outfit, wear your cardigan open overtop of an eye-catching blouse; this look is sure to turn heads!
This post was all about cute cardigan outfits.
About The Author
Tracy is an experienced personal stylist, shopping expert, and fashion & lifestyle blogger. She has been featured on Time Magazine, Bustle, Best Life, Glam, The Zoe Report, Mic, and GOBankingRates, for her insights on fashion, beauty, home decor, and lifestyle. Read More
Related Posts: