Wondering how to wear long cardigan without looking frumpy? Check this post for chic ways to style a long cardigan and modern long cardigan outfit ideas for different occasions.
Long cardigans are versatile and stylish pieces of clothing that can complete any outfit.
With the right styling, they can be the perfect piece to add some modern flair to your wardrobe.
But it's easy to get it wrong and end up looking frumpy.
So how do you wear a long cardigan without looking frumpy?
In this article, we will explore chic and modern long cardigan outfit ideas that are guaranteed to keep you looking stylish and fashionable.
So scroll down to check these stylish ways to wear a long cardigan for different occasions, and don't hesitate to pin them to your Pinterest board, and share them on social media.
This post may contain affiliate links, which means I'll receive a commission if you purchase through my link, at no extra cost to you. Please read the full disclosure here.
This post is all about how to wear long cardigan.
Are long cardigans still in style 2023?
Long cardigans are timeless pieces of clothing that never truly go out of style.
Whether you're looking for something to keep you warm during the winter months or a fashion-forward piece that will take your outfit to the next level, long cardigans are an ideal choice.
This year, these cozy garments have experienced a resurgence in popularity.
This season, long cardigans come in a variety of cuts and colors to suit any taste.
From oversized silhouettes with bold prints to subtle shades with classic details such as pockets or buttons, this type of garment can be dressed up or down for any occasion.
Whether you opt for a neutral shade or a colorful pattern, you can't go wrong with the classic look of a long cardigan.
How do you wear a cardigan that is too long?
If you have a cardigan that is too long, it doesn't mean you have to get rid of it – there are plenty of ways to wear it and still look chic.
With the right styling tricks, a long cardigan can become one of your favorite pieces in your wardrobe.
The best way to make sure your outfit looks stylish is by making sure all proportions look balanced.
Start with pairing the cardigan with something fitted underneath like a tight t-shirt and skinny jeans or leather pants.
This will keep the focus on the cardigan while also creating an alluring silhouette.
Ahead, we are sharing more tips on wearing a long cardigan in a chic way.
What top do you wear under a long cardigan?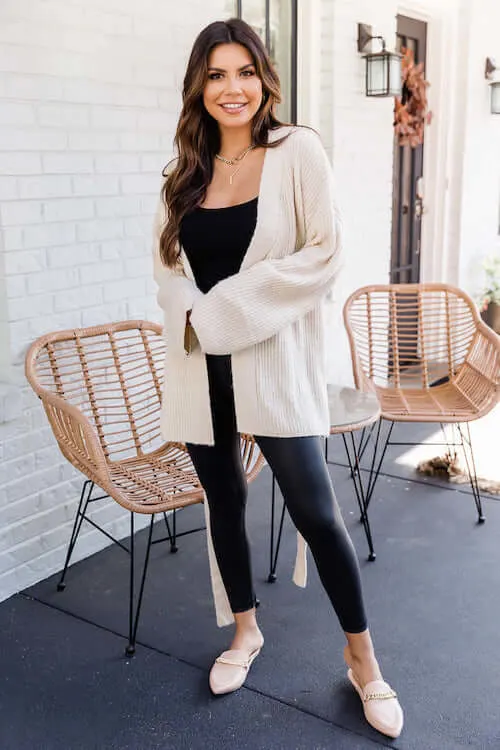 The possibilities are endless when it comes to pairing tops with your long cardigan – from comfortable basics like t-shirts, light sweaters and tank tops, to dressier options such as blouses or camisoles.
For a casual look on cooler days, consider wearing a thin sweater or a cotton tank top under your long cardigan for extra warmth without adding too much bulk.
How do you wear a long cardigan when short?
When it comes to wearing a long cardigan when you're short, there are certain styling tricks you can use to make the look work.
To start, try pairing the cardigan with slim-fit bottoms like skinny jeans or leggings.
This will help create an appearance of length and balance your proportions.
Additionally, avoid over-layering with your outfit and opt for monochromatic looks instead.
Choosing pieces in similar tones will also elongate the figure while adding a stylish touch to the ensemble.
Finally, don't forget that accessories can go a long way in making an outfit stand out!
Try wearing trendy statement jewelry or purses that draw attention away from your height and give you an extra boost of confidence.
With these tips in mind, you'll be able to rock any long cardigan.
What do you wear with a long cardigan for a chic modern look?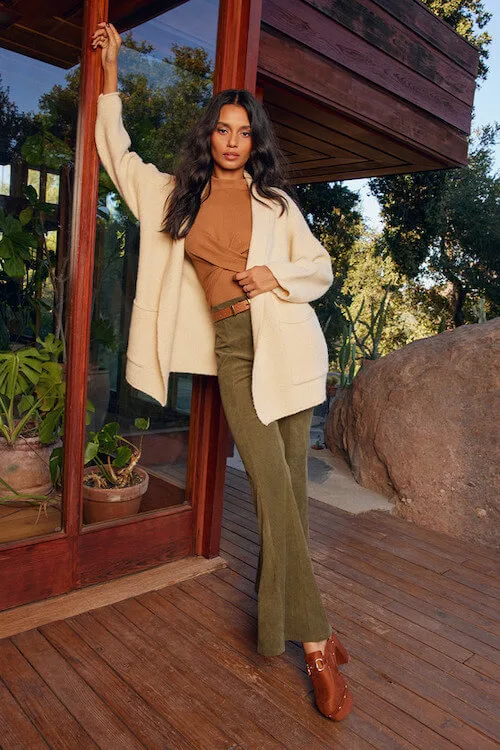 Long cardigans are the perfect way to keep warm while still looking stylish.
If you want to rock a chic, modern look, pairing your long cardigan with the right pieces is key.
To pull off a fashionable ensemble, start by picking out your favorite color or pattern of the long cardigan and go from there.
For a casual look that's also put together, choose one of your favorite fitted T-shirts and pair it with skinny jeans.
Add a statement belt for an extra pop of style, then slip on some ankle boots or sneakers depending on the occasion.
Finish off the outfit with jewelry pieces like hoop earrings and layered necklaces for an effortless vibe.
If you're going for something dressier, consider pairing your long cardigan with a silky tank top or cami along with leather leggings or trousers.
Add some strappy heels and a clutch for a night out.
No matter what look you're going for, long cardigans are the perfect way to complete your outfit!
How do you layer a long cardigan?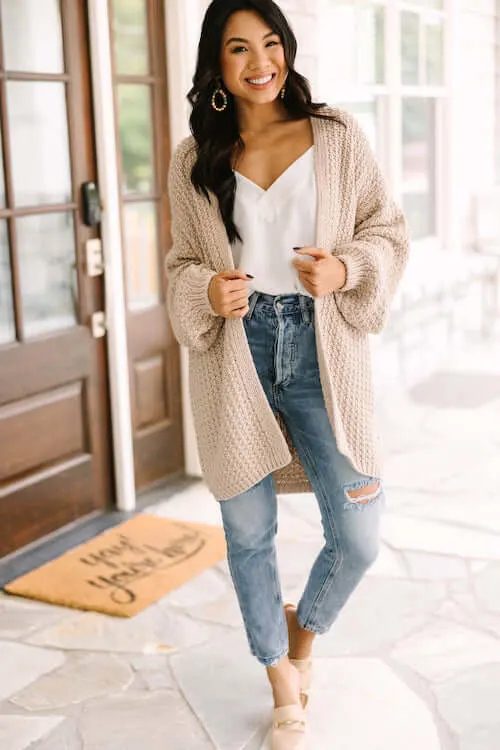 Layering a long cardigan can be a great way to add warmth and style to any outfit.
Whether it's on top of a dress or over jeans, adding this layer can take an ordinary look to the next level.
There are several different ways to layer a long cardigan. Here is a quick guide on how to do it right.
First, choose the right piece for your outfit.
When it comes to color and texture, think about what will complement what you already have in your wardrobe.
Stick with neutral colors like gray or black that match most items.
Then pick out a fabric weight that works with the season – something lightweight in summer and thicker knitwear during colder months.
Next, decide how you want your layers to fit together.
A snugger fit looks more polished while opting for oversized cardigans gives off an edgier vibe.
Finally, decide what you want to layer underneath or over your cardigan.
If you're wearing a dress or skirt, an over-layer will keep you warm while still showing off your outfit underneath.
Cardigans also work well over button-ups and blouses.
The best part about cardigans is that they work with pretty much any outfit.
Wear them over t-shirts, blouses, dresses and more.
They're also the perfect way to spice up a basic outfit.
How to wear long cardigan under coat?
The key to making this layered look work is choosing the right pieces and pairing them correctly.
Start by selecting a quality wool or down coat that fits properly and falls just below your waistline.
Then choose a long cardigan in an appropriate color or pattern that complements your coat without clashing with it too much.
When putting on both pieces, make sure that the bottom of the cardigan extends slightly below your belt line so that it can be seen when you button up your coat.
How to wear long cardigan plus size?
When it comes to keeping warm, nothing beats a good cardigan.
For plus size women, long cardigans are an ideal option as they can be paired with almost any outfit and provide extra warmth during colder months.
But how should plus-size women wear a long cardigan?
With these simple tips, you can ensure your long cardigan looks stylish and flattering.
First of all, consider the fit of your long cardigan – it should be comfortable and not too tight or baggy.
Choose a material that is lightweight enough for layering but thick enough to keep you warm when needed.
Opt for darker colors such as navy blue or black as they will help create a slimming silhouette on your figure.
Longer lengths are also recommended as they will draw the eye downwards and give the illusion of a longer frame.
Finally, accessorize! Add a necklace, scarf, or pair of earrings to your outfit for an extra polished and finished look.
How to wear long cardigans with jeans?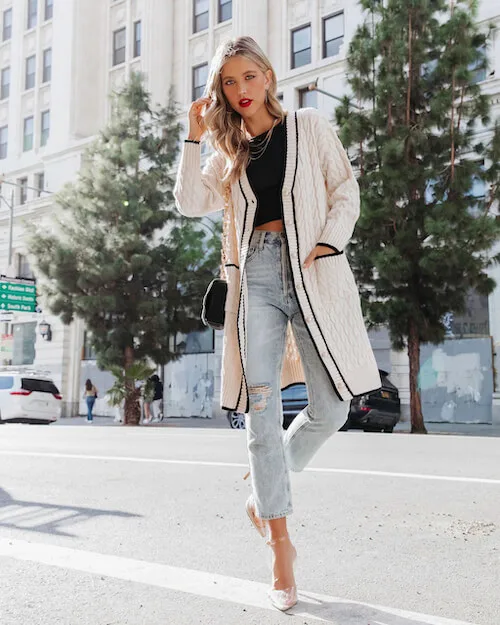 When wearing skinny jeans with a long cardigan, keep the rest of your outfit minimalistic for a streamlined look.
Opt for neutral colors like black or grey and add subtle accessories such as a belt or scarf if desired.
For more stylish looks that still maintain warmth, try pairing long cardigans with straight leg jeans and boots—perfect for a casual outdoor lunch or shopping trip.
To finish off this outfit, layer on an oversized coat in case temperatures drop while you're out and about.
For those who love an elevated chic style with a little bit edgy vibe, wear long cardigans over wide-leg jeans with heels to create an elegant silhouette.
What to wear with long cardigans in winter?
Below are my favorite tips on wearing a long cardigan in winter.
Pair your long cardigan with skinny jeans or leggings for a classic look.
A pair of leather boots will add to the cozy style while keeping your feet warm.
For colder days, try layering up by adding a turtleneck underneath your cardigan for an extra layer of warmth and texture.
Add accessories such as gloves and a beanie hat to complete the look.
For evening events, dress up your long cardigan with an elegant maxi skirt or midi dress for an ethereal feel.
How to wear long cardigan in summer?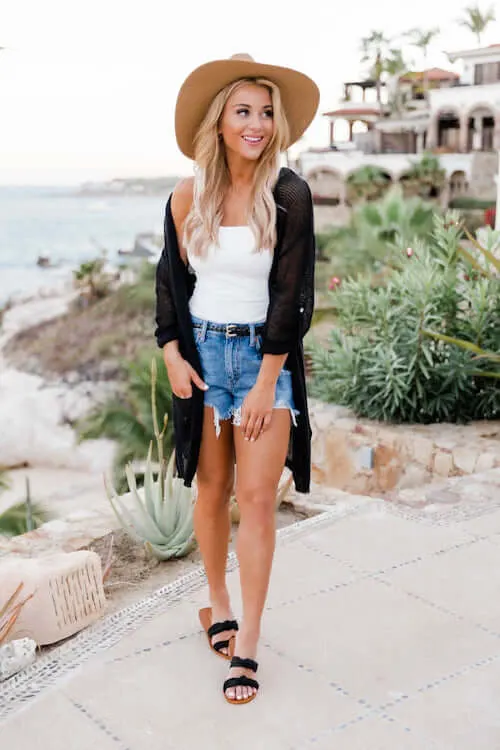 The long cardigan is the perfect fashion staple for any season, but it can be especially stylish in summer.
With its lightweight material and airy designs, a long cardigan can help keep you cool while also adding some extra style to your outfit.
To get the most out of this classic wardrobe piece, here are some tips on how to wear a long cardigan during the summer months.
Start by choosing a lightweight fabric that won't make you overheat in hot weather.
Linen is always a good choice as it looks great and will keep you nice and cool.
Find an open-front design with patch pockets or an oversized look with rolled up sleeves for maximum breathability.
You can also combine your long cardigan with lighter fabrics such as cotton or chambray for a modern look.
How To Wear A Long Cardigan For Work?
The long cardigan is a closet staple of your wardrobe, especially during the colder months.
But how can you make sure that it looks appropriate for work?
Here are some tips to help you look professional when wearing a long cardigan to the office.
Firstly, choose fabrics that are more formal – such as wool or cashmere
They will help create a polished look and keep you warm at the same time.
Keep away from novelty fabrics as these will give off a casual vibe which is not appropriate for most workplaces.
Pair your cardigan with timeless pieces like trousers and skirts in neutral colors like black or navy blue for an understated yet chic ensemble.
Finish off the look by adding sophisticated accessories such as a chic belt, simple jewelry and leather bags or shoes.
These will instantly elevate any outfit and ensure that you look smart at all times!
How To Wear A Long Cardigan For Date Night?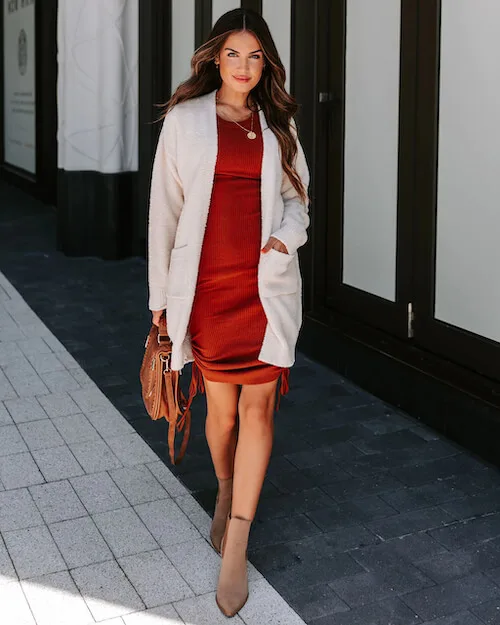 For date night, you want to look your best in an outfit that spells effortless chic.
Long cardigans are the perfect piece for a romantic outing as they offer the ideal balance of comfort and style.
The key is to choose the right silhouette and fabric for your body shape and occasion.
Here's how you can wear a long cardigan for an unforgettable date night:
Pick out a lightweight fabric in neutral colors like tan or navy that will work with any outfit.
Opt for soft, breathable fabrics such as cotton, linen or cashmere which provide warmth without looking bulky.
For a classic look, layer it over a dress or skirt paired with heeled ankle boots and subtle jewelry.
For a casual date, you could also go for a modern take on this timeless trend by pairing it with skinny jeans, chunky sneakers and statement earrings.
Chic Long Cardigan Outfit Ideas: Best Outfit Formulas
Want more inspiration? Check the below our favorite ways to style a long cardigan to copy and shop for directly.
Button Down Shirt + Straight Leg Jeans + Sneakers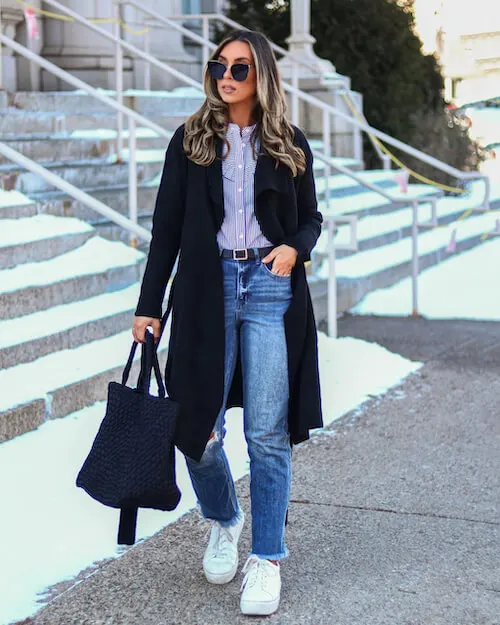 Long Cardigan Sweater Mini Skirt + High Boots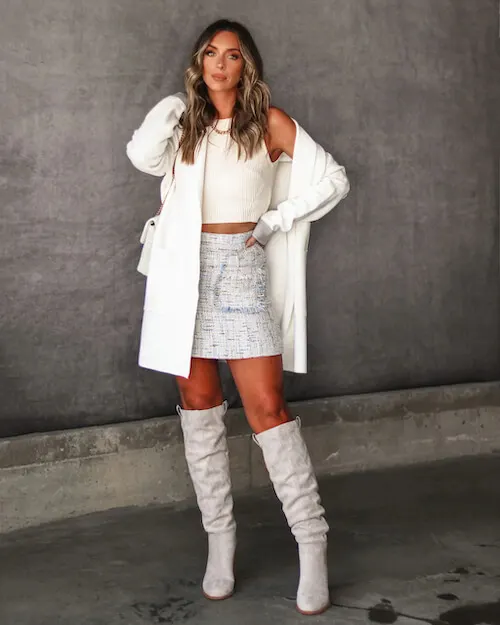 Long Cardigan With A Dress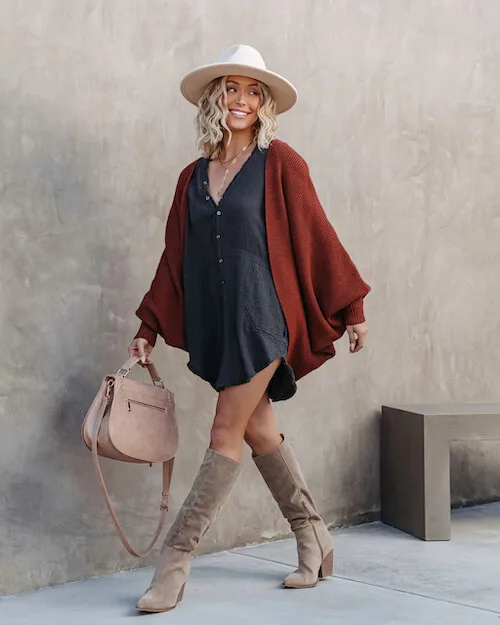 Long Cardigan + Ankle Pants + Ankle Boots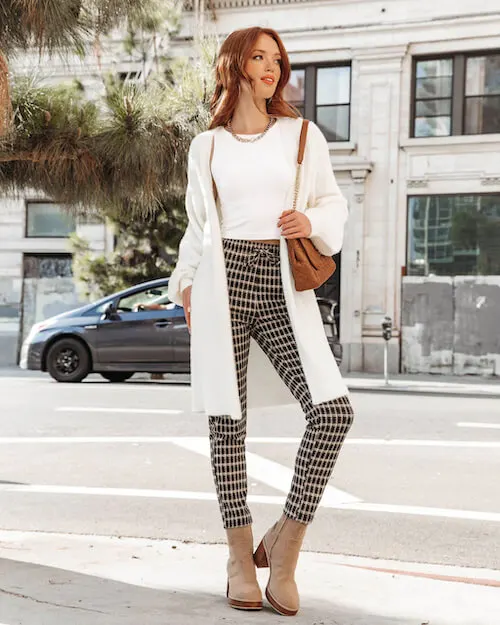 Maxi Cardigan Sweater + Bodysuit + Jeans + Ankle Booties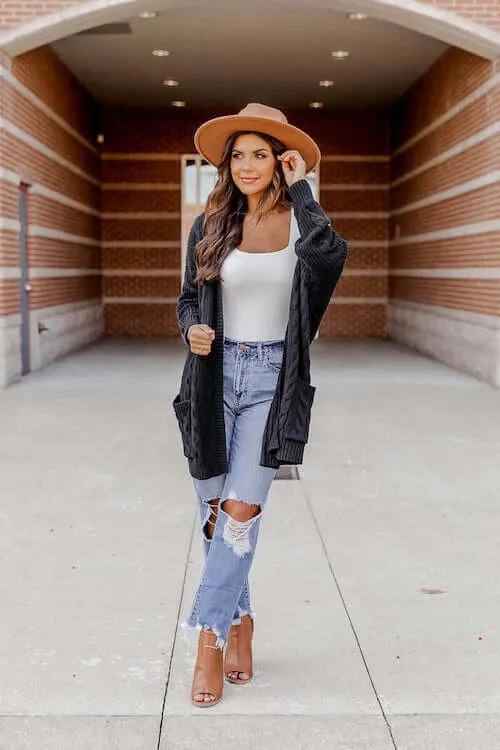 Black Lace Cami + Faux Leather Leggings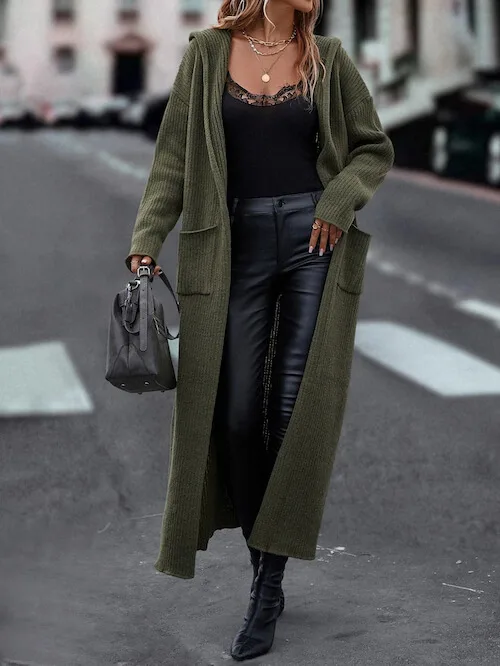 Chic Casual Look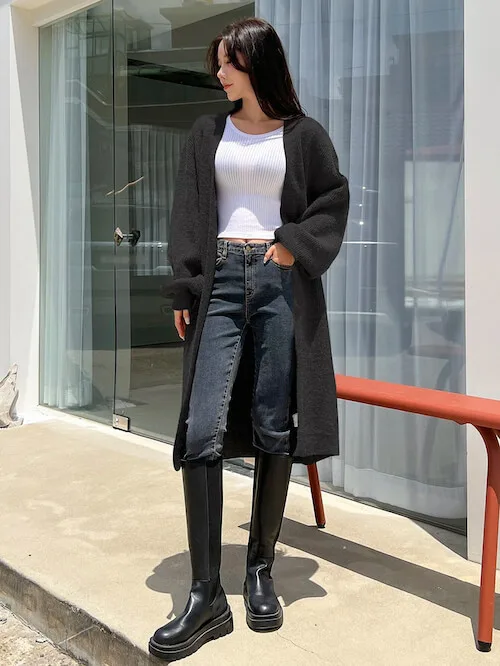 Long Cardigan Outfits With Midi Skirt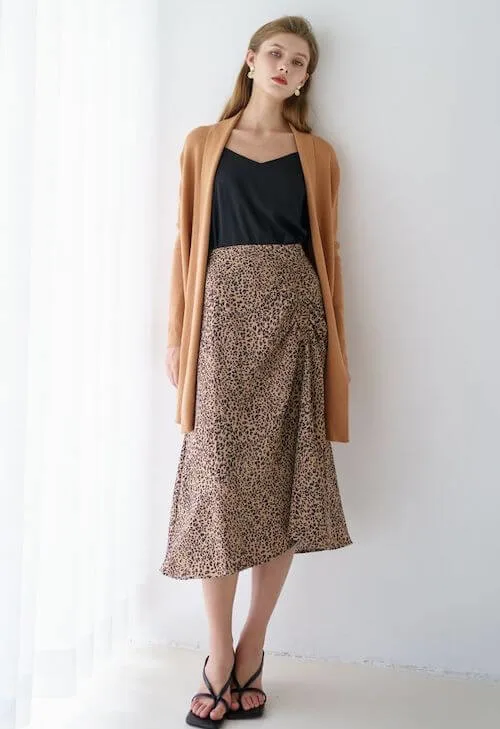 Chunky Knit Long Cardigan + White Tee + Straight-Leg Jeans + Sneakers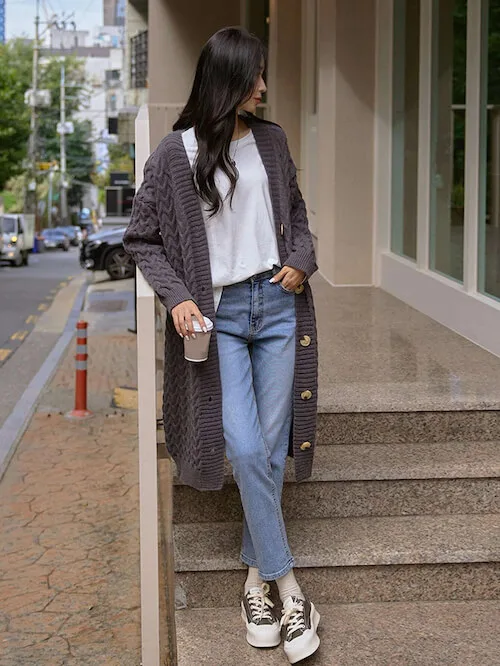 Cute Date Night Outfits With Long Cardigan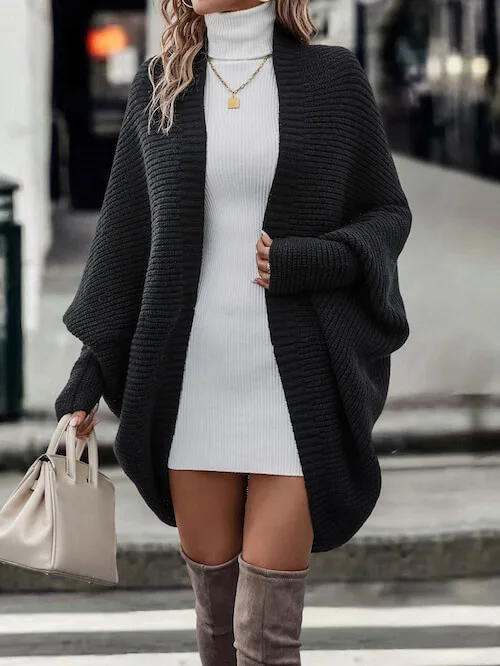 Add A Belt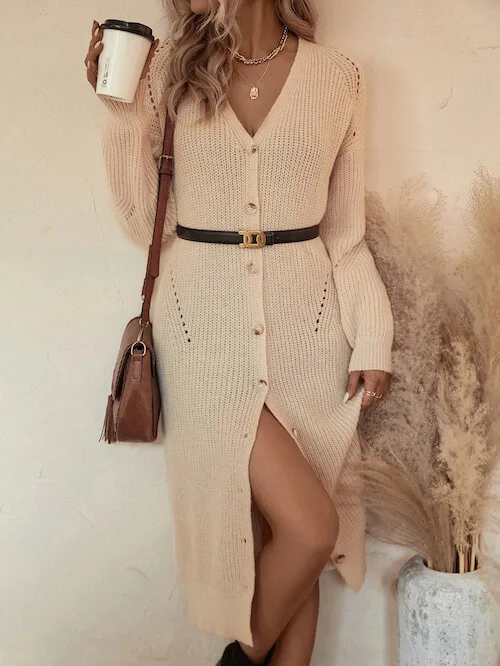 Add A Scarf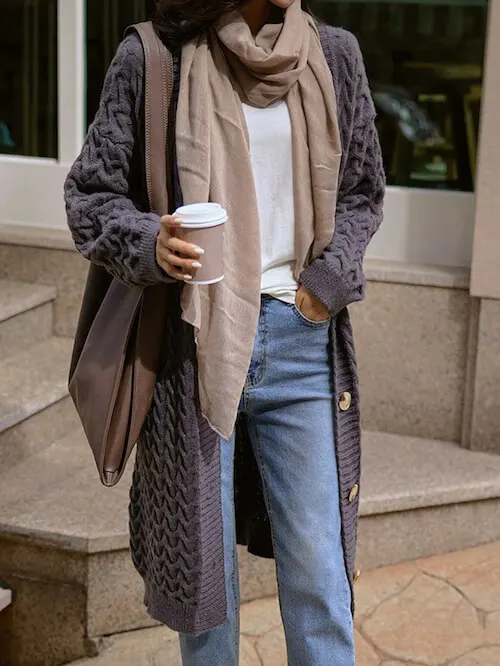 Long Cardigan Sweater With Black Jeans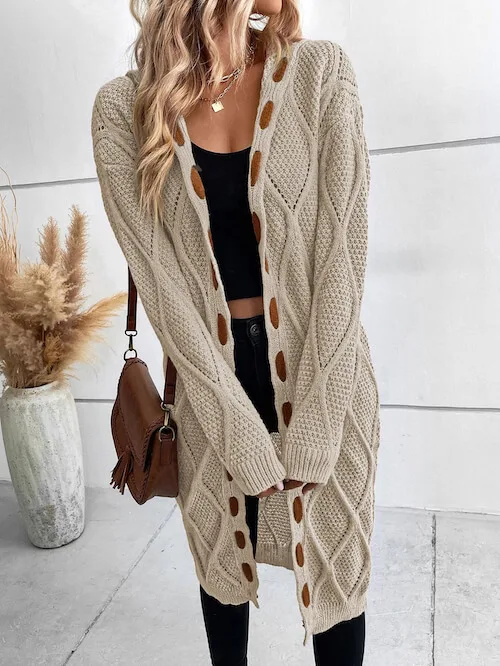 Long Cardigan + Sweater Dress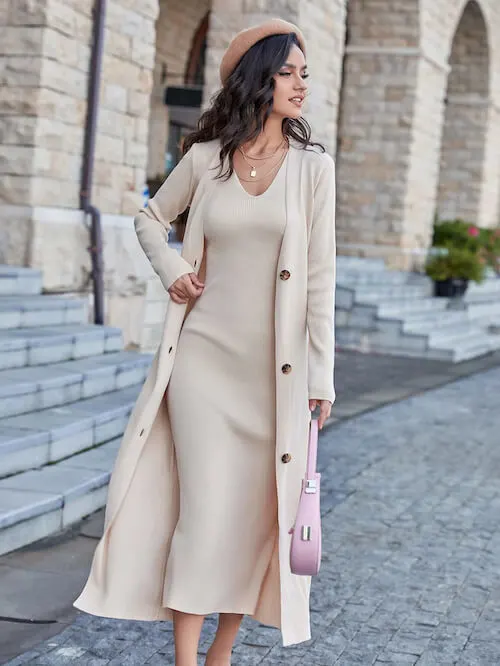 Oversized Cardigans + Jean Shorts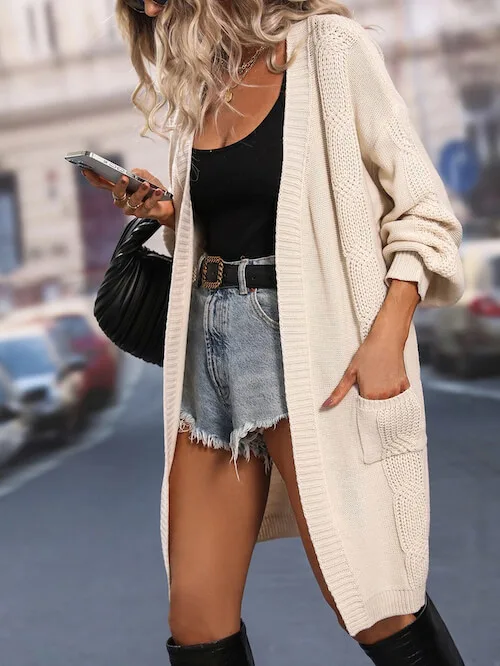 Cardigan Sweater + Skinny Jeans + Loafers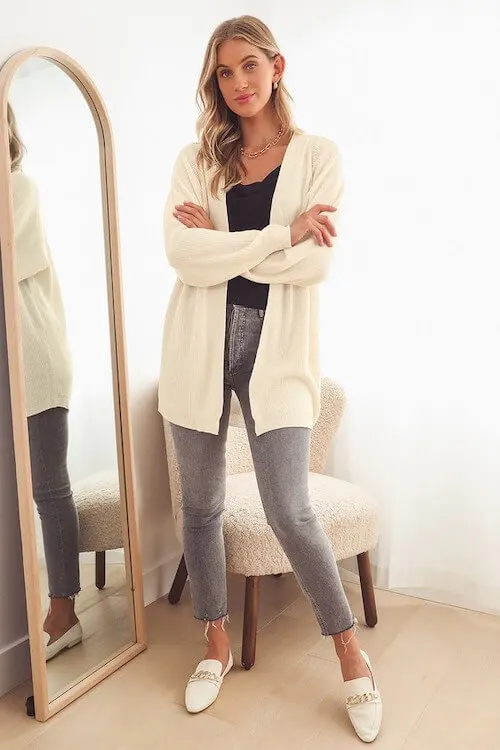 Cozy Neutral Colors Outfit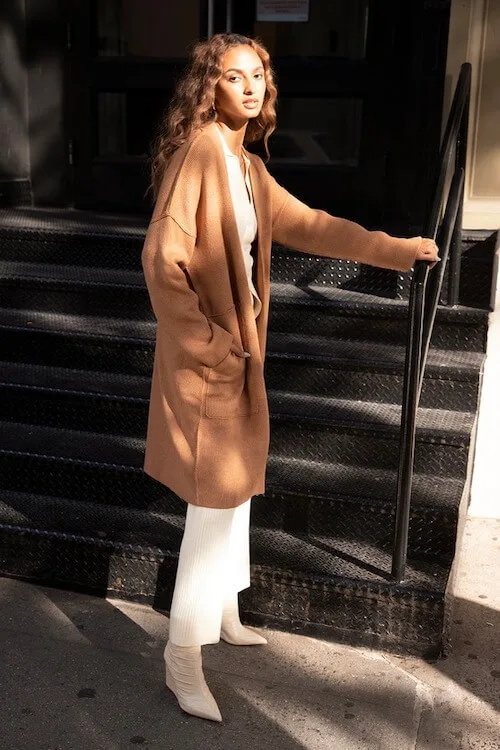 Leopard Pattern Longline Cardigan Outfit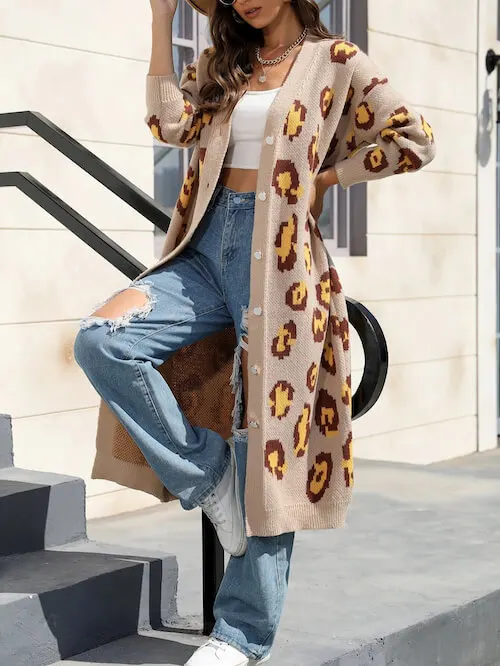 Business Casual Outfits With Long Cardigan And Dress Pants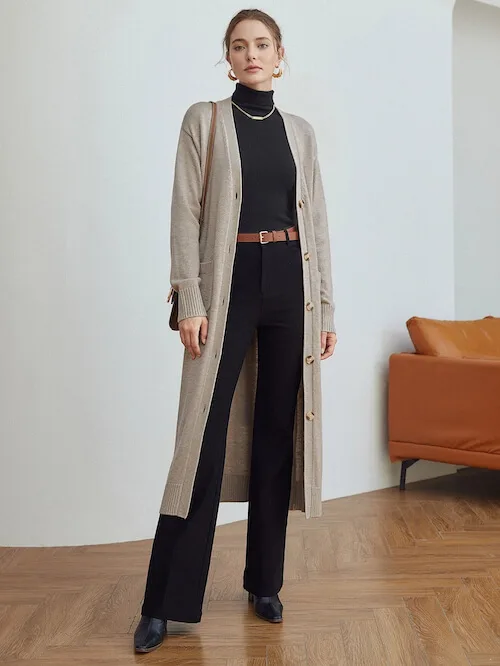 Wear A Long Cardigan With Jeans And Booties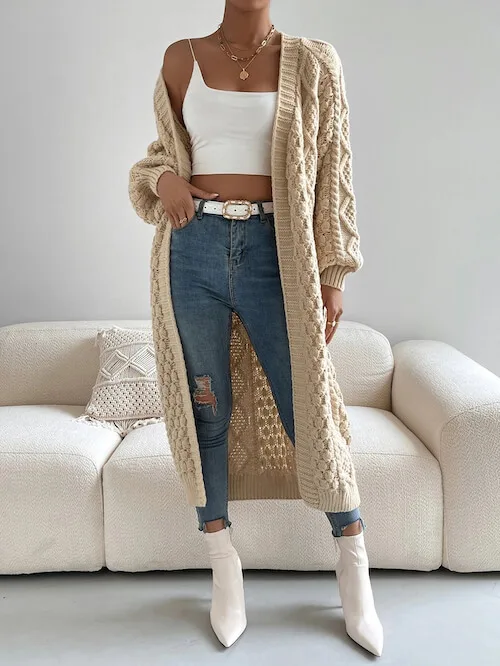 Black Cardigan + White Boots
Thinner Cardigan + Black Bodysuit + Black Skinny Jeans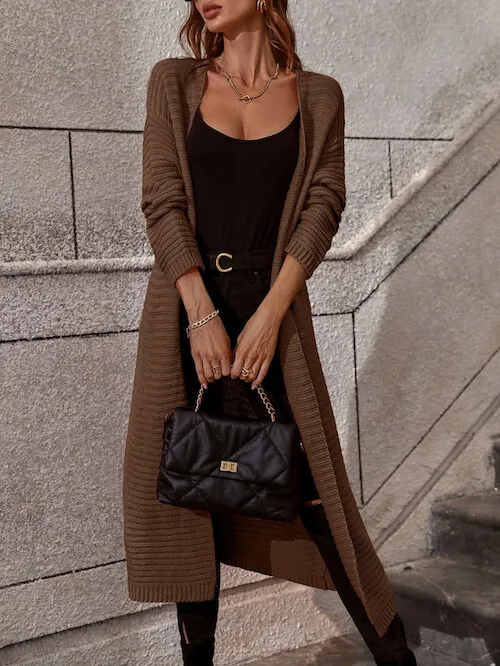 Black Shorts + Black Tights + Knee High Boots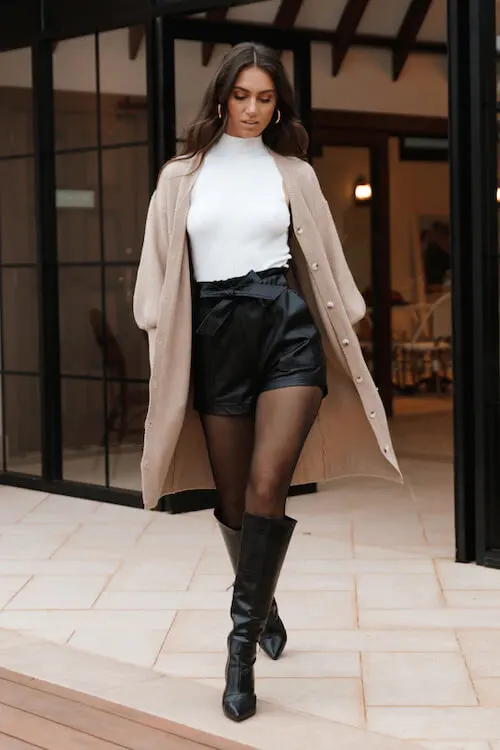 Grey Cardigan + Black Top + Wide Leg Pants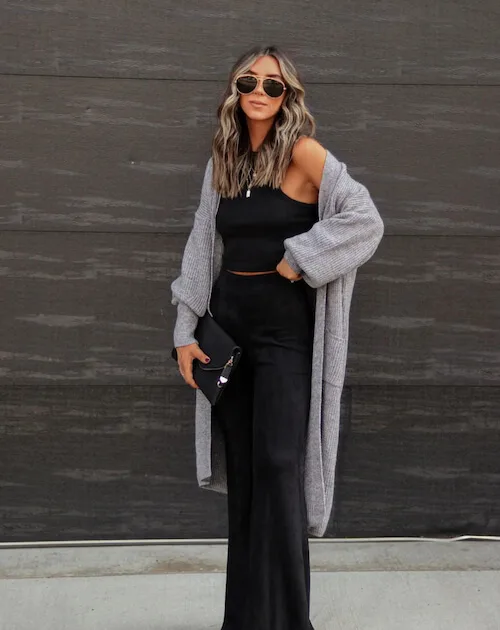 White Cardigan + White Knit + Brown Leather Pants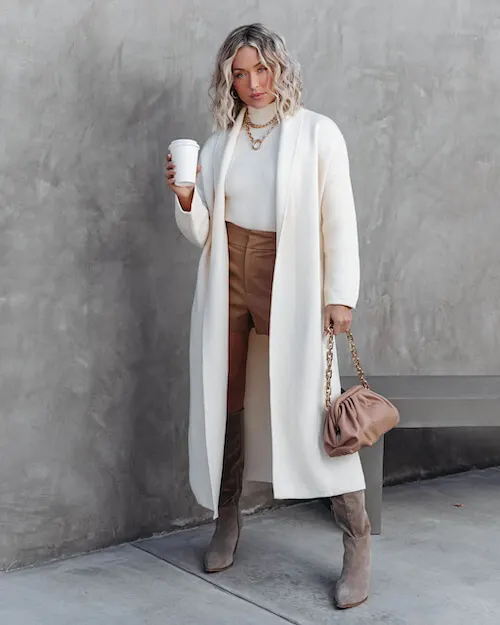 Fall Outfits With Long Cardigan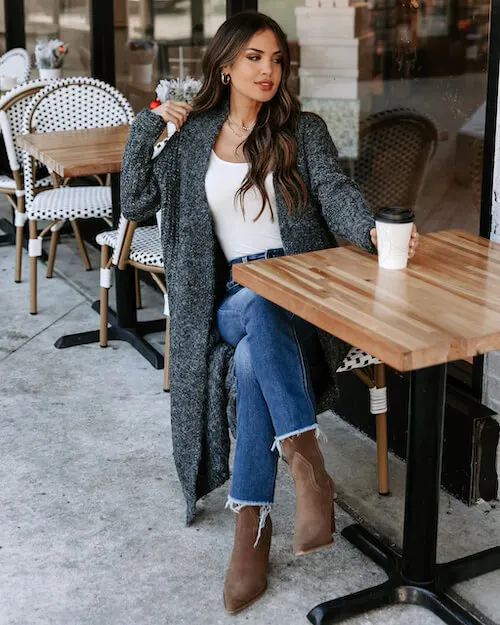 Tan Cardigan + White Top + White Skirt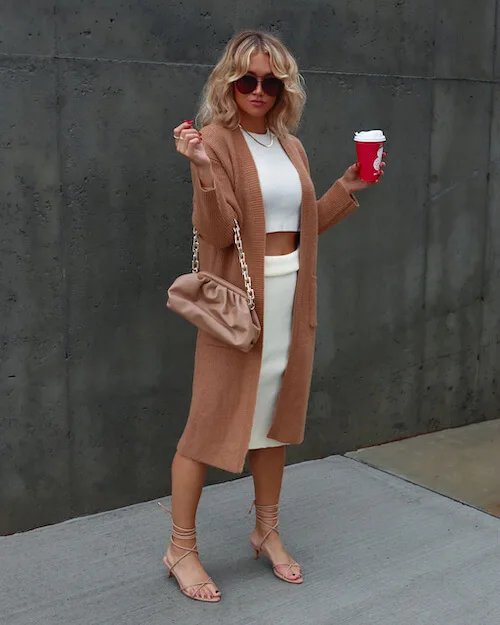 Classic Style With Heels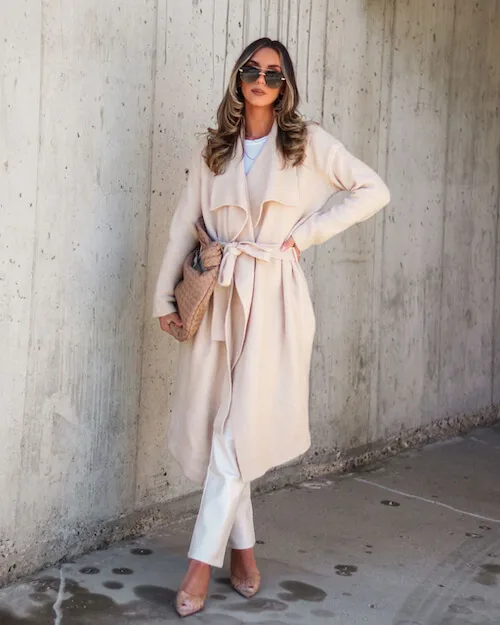 Crop Tank Top + Jeans + Combat Boots
Long Cardigan Outfit For Plus Size Women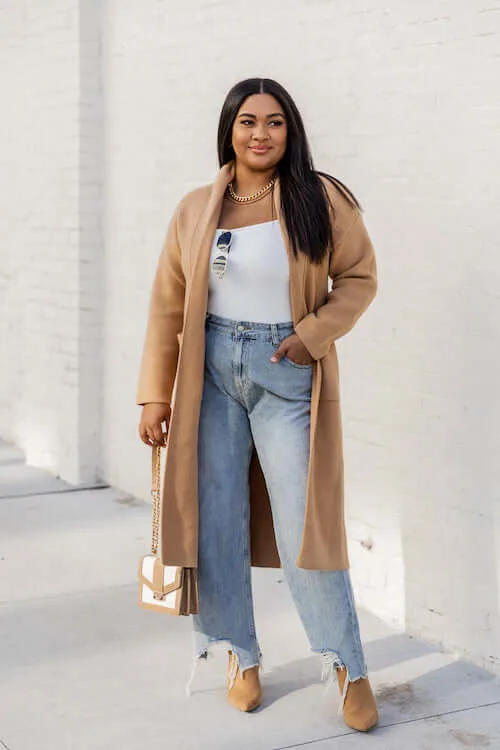 Shirt Dress + Long Cardigan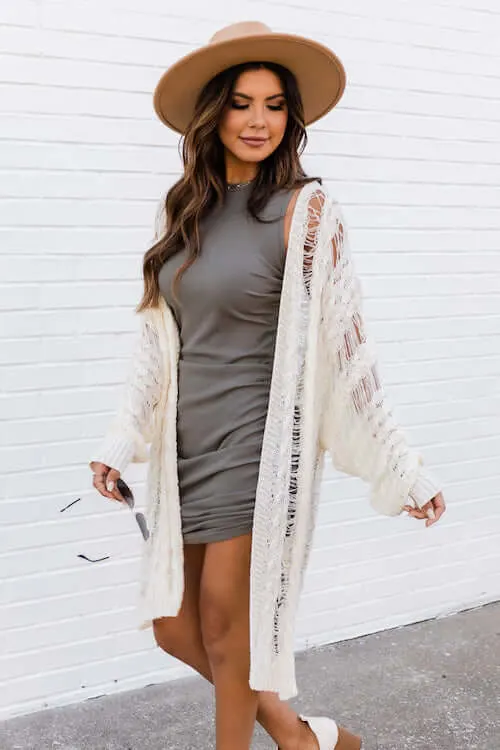 White Top + White Pants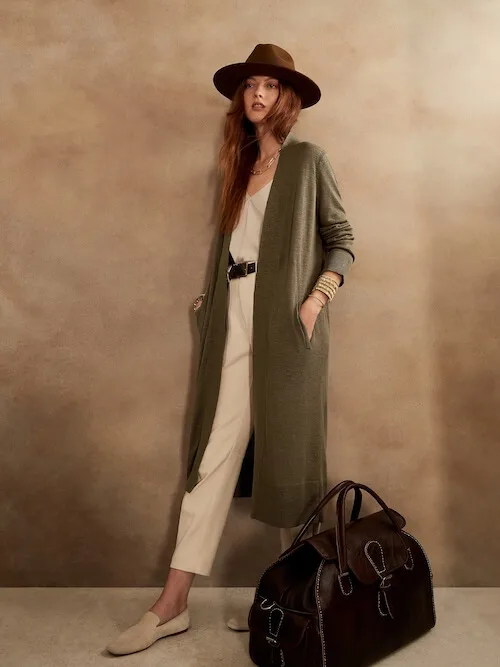 Cozy Cardigan Layers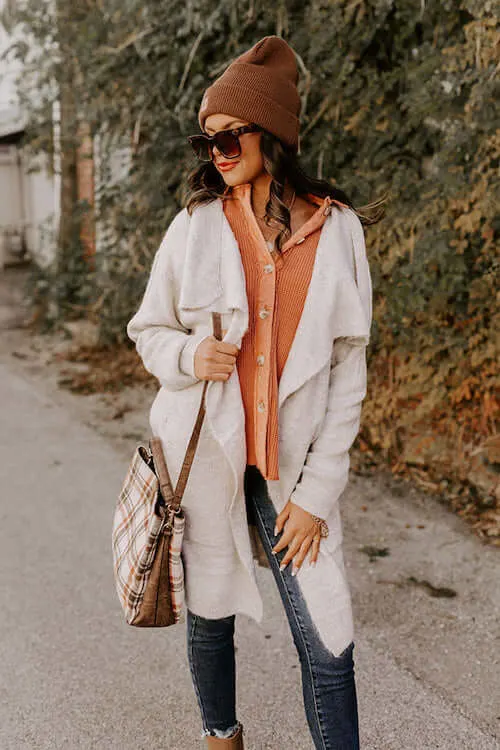 Long Sleeve Blouse + Wide Leg Jeans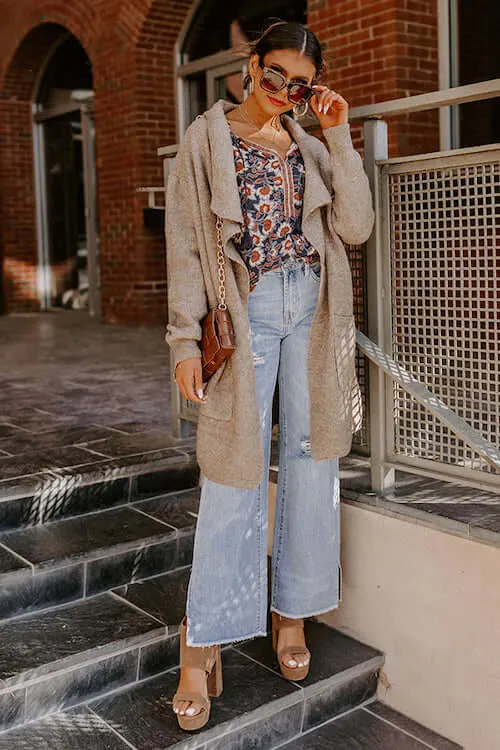 Hoodie + Leggings + Chunky Sneakers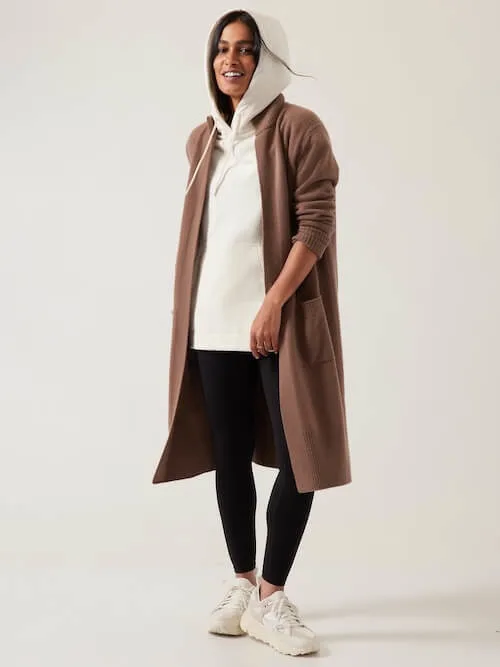 Cute Hot Pink Long Cardigan Outfit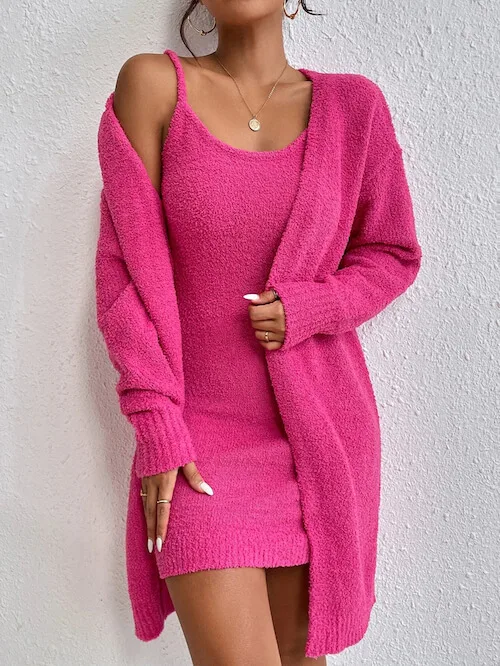 Stylish Olive Green Long Cardigan Look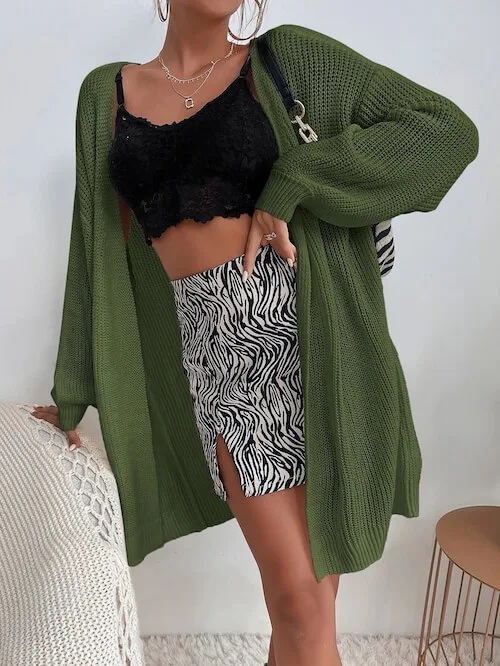 Red Long Cardigan Style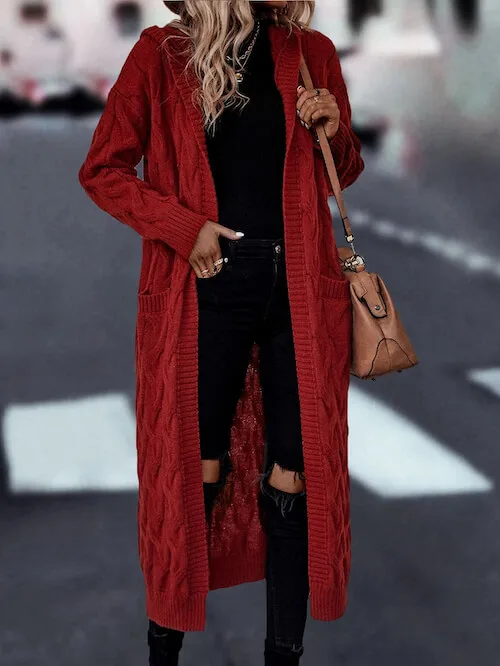 Can you wear a long cardigan over a short dress?
Yes, you can wear a long cardigan over a short dress and it can look great.
It's an easy way to accessorize and add more layers to your outfit while still looking stylish.
A long cardigan gives the perfect balance of coverage and style when paired with a short dress.
The resulting look is both fashionable and comfortable, making it perfect for any occasion.
A key element in pulling off this look is getting the right fit for your cardigan.
It should be made from lightweight material so that it doesn't overwhelm the dress underneath or make you too hot if worn indoors.
Make sure that the hem of your cardigan falls just below the hemline of your dress to create an effortless silhouette without looking messy or cluttered.
With just a few simple tricks, you can easily rock this combination with confidence!
When wearing a cardigan over a dress which should be longer?
When it comes to wearing a cardigan over a dress, the lengths of both items should be taken into consideration.
Below are different ways to wear a cardigan over a dress for different styles:
A good rule of thumb for a classic look is that the hemline of the dress should fall beneath the bottom edge of the cardigan. This helps create a sleek, pulled-together look and also allows for more coverage and warmth.
However, wearing a longer cardigan over an above-the-knee dress is especially popular at present as it can create a modern silhouette. If you choose this look then make sure to opt for a cardigan length that hits just below your knees.
On the other hand, if you are wearing an ankle-length maxi dress then layer with shorter cropped cardigans or shrugs instead.
The goal is to keep proportions in mind; when pairing two pieces together they should not compete visually with each other but rather complement each other in terms of length and style.
Conclusion: Tips For Wearing Long Cardigans Without Looking Frumpy
In conclusion, long cardigans can be a fashionable and comfortable staple of any wardrobe.
With the right fit, fabric, and accessories, you can look stylish as well as cozy in your long cardigan.
Remember to take into account your body type when choosing your cardigan; this will help you find the perfect length for an optimal look.
Layer with interesting pieces such as colorful scarves, statement jewelry, and bold boots to create a unique style.
This post was all about how to wear long cardigan.
About The Author
Tracy is an experienced personal stylist, shopping expert, and fashion & lifestyle blogger. She has been featured on Time Magazine, Bustle, Best Life, Glam, The Zoe Report, Mic, and GOBankingRates, for her insights on fashion, beauty, home decor, and lifestyle. Read More
Related Posts: