Looking for stylish pink sweater outfit ideas for women to copy? Check this post for the best style tips on how to wear a pink sweater, baby pink sweater outfit ideas, hot pink sweater outfit ideas, what to wear with a pink cardigan, pink sweater dress, pink vest, and more!
Pink is a timeless and classic color that can be worn all year round.
Whether your style is preppy, modern-classic, or daringly chic, there are countless ways to incorporate the hue into your wardrobe.
A pink sweater is a great way to add a feminine touch to any outfit without appearing too over-the-top.
Are you looking for some fresh and modern pink sweater outfit ideas?
Whether it's for a casual weekend look or something more dressed up, this article has got you covered!
From layering over a dress to mixing with jeans, we'll explore all the possibilities that come with styling a pink sweater.
With the right accessories and styling tricks, wearing pink can be both sweet and chic.
So let's jump right in and discover some unique and modern outfit ideas featuring a trusty pink sweater.
This post may contain affiliate links, which means I'll receive a commission if you purchase through my link, at no extra cost to you. Please read the full disclosure here.
This post is all about pink sweater outfit ideas.
What to Wear with a Pink Sweater?
Wearing a pink sweater is an effortless way to show off your unique style.
Whether you're dressing for work or play, the perfect outfit begins with the right pink sweater.
From classic crewnecks to trendy oversized designs, there are plenty of options available.
Here's how to complete your look and make the most of this versatile top.
For a casual weekend look, pair your pink sweater with distressed jeans and white sneakers. Complete the ensemble with a cute fedora hat and matching crossbody bag for a stylish spin on everyday basics.
For something more polished, try tucking it into tailored trousers or an A-line skirt with pointed-toe pumps and delicate gold jewelry.
To keep things comfortable while still looking put together, try layering your sweater over an airy dress in a bold hue like teal or yellow–the contrast will really make both pieces pop!
Scroll on to check our favorite ways to style a pink sweater outfit this year!
Chic & Cute Pink Sweater Outfit Ideas To Wear The Trend
Chic pink sweater outfits have been an instant hit, making their way into the wardrobes of stylish fashionistas everywhere.
Whether you're attending a weekend brunch or heading out to a fancy dinner, pink sweaters can easily be incorporated into your everyday wardrobe for maximum style points!
Here are some chic pink sweater outfit ideas that will bring you from day to night in no time at all.
Baby Pink Sweater Outfit Ideas
Baby pink sweaters are a great way to add feminine vibes to your wardrobe.
Whether you're looking for a casual or dressy look, there is no limit when it comes to styling baby pink sweaters.
Start by choosing the right fit and material for your body type – this will help ensure that you look your best!
For example, if you have an inverted triangle shape, try opting for an oversized baby pink sweater with draping details.
If you have an hourglass figure, opt for something more fitted such as a cropped cable knit style.
Next, decide what bottoms to wear with it – depending on the occasion and how dressy or casual you want the look to be.
Skinny jeans or denim shorts look great when paired with this statement piece!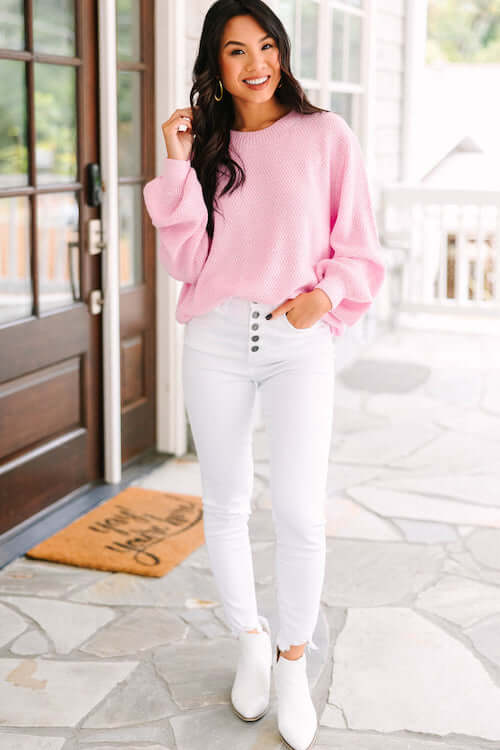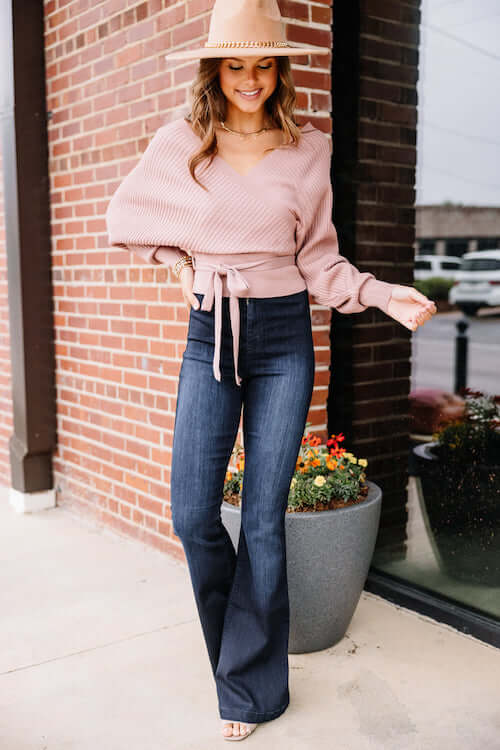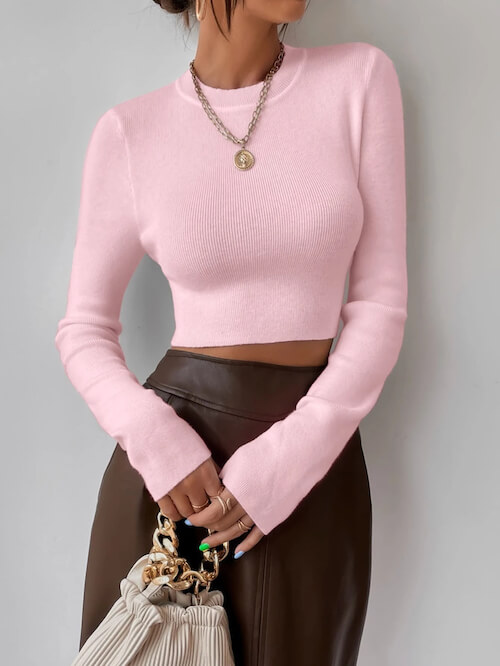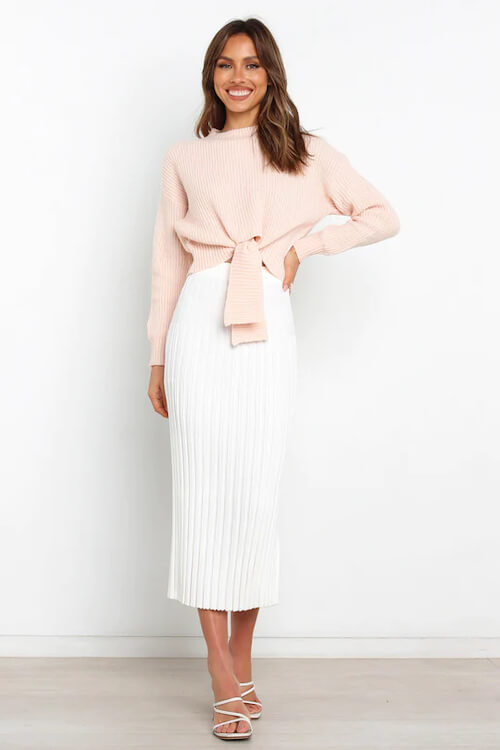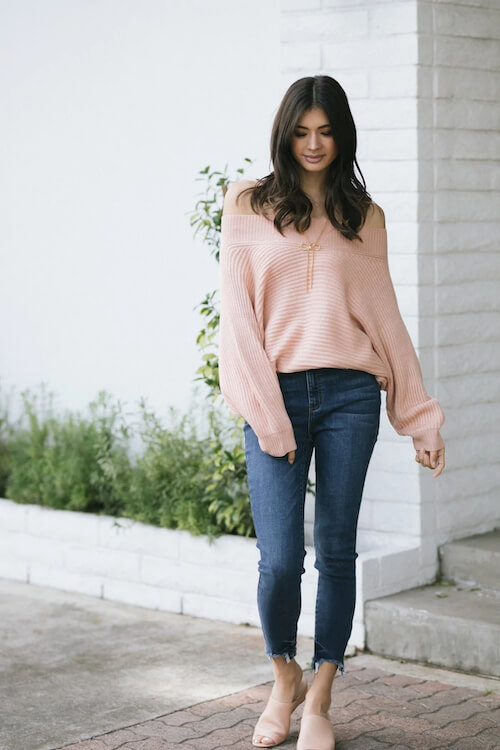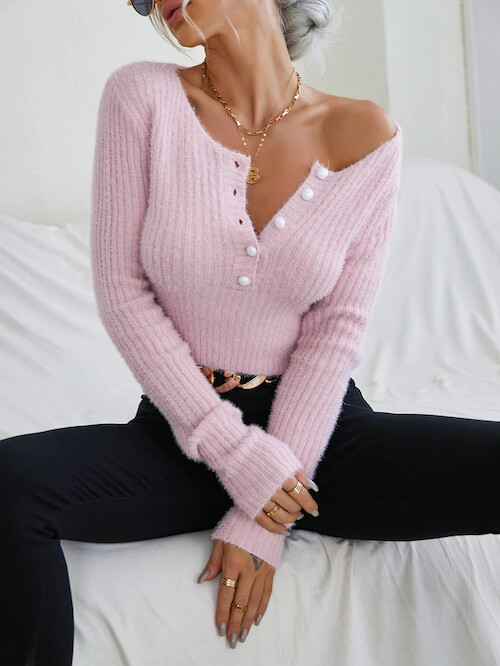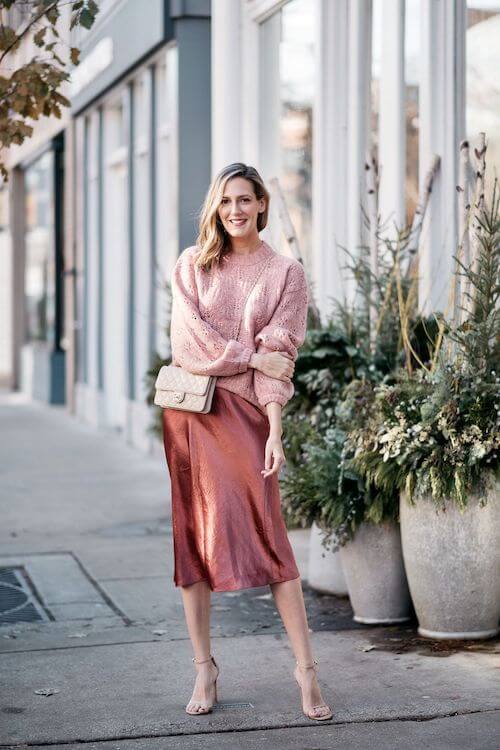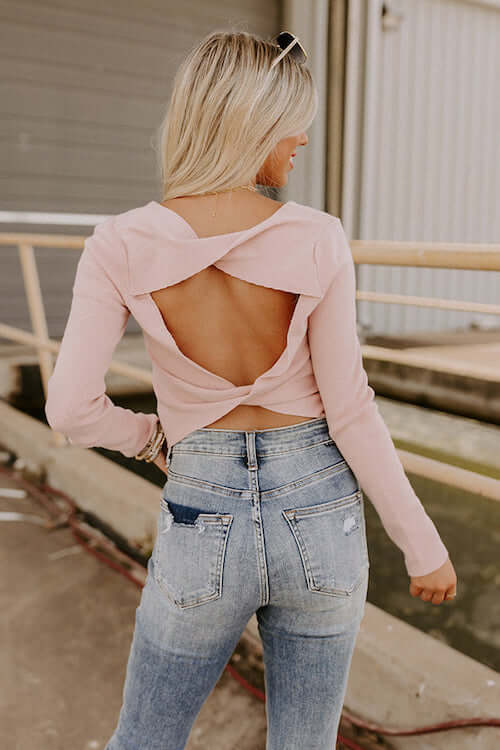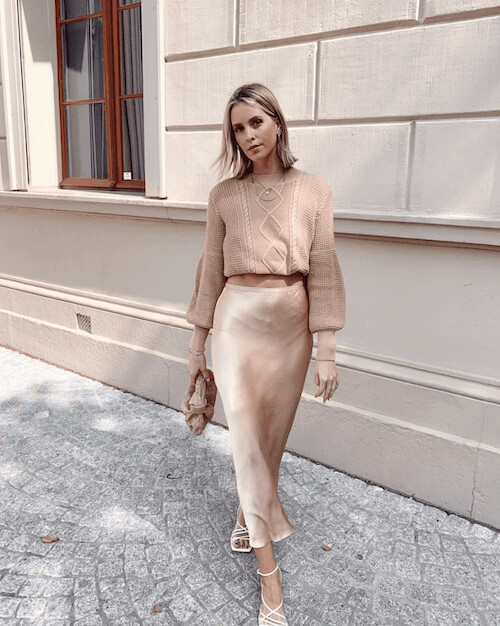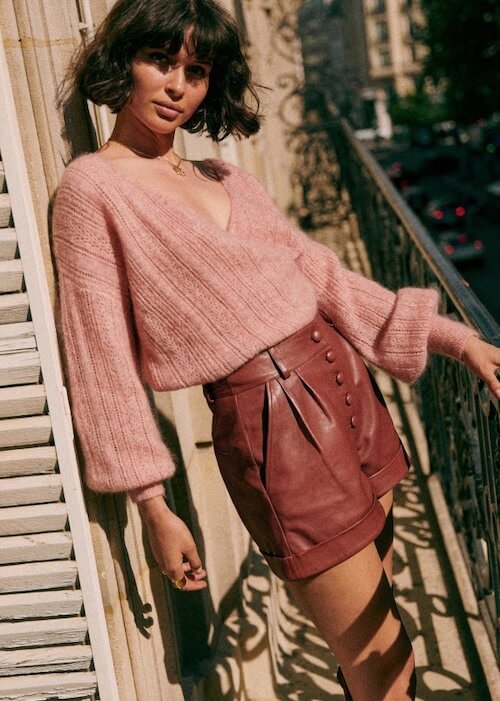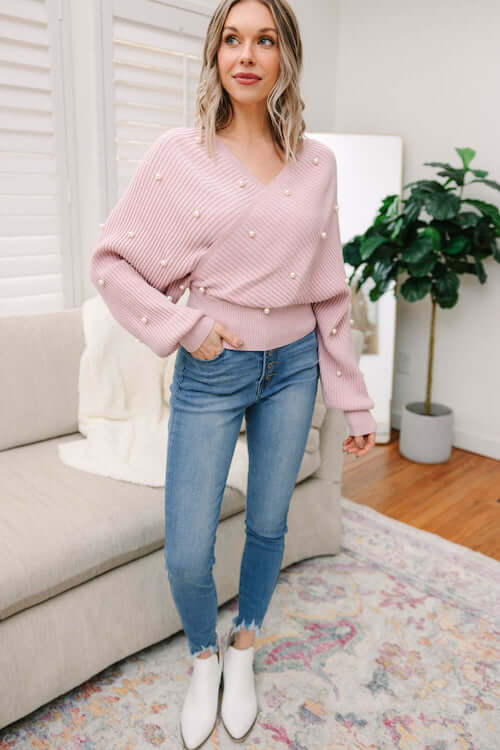 Light Pink Sweater Outfit Ideas
Light pink sweaters can be a great way to add a girlish, feminine twist to any outfit.
Whether you're going out on the town or just running errands around town, wearing a light pink sweater can help you show off your sense of style and elevate your look.
Here are some tips on how to give your light pink sweater an extra oomph and make it stand out.
First, think about the fit of the sweater; choose one that is fitted but not too tight so that it flatters the figure without squeezing in too much.
Also consider pairing the light pink sweater with subtle colors like white, grey, or beige for an elegant look.
For a more dramatic flair, pair contrasted colors such as black for a modern twist or navy blue for a more casual feel.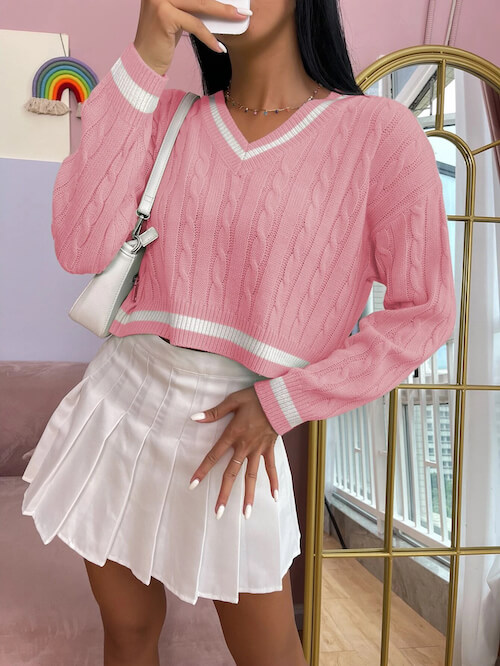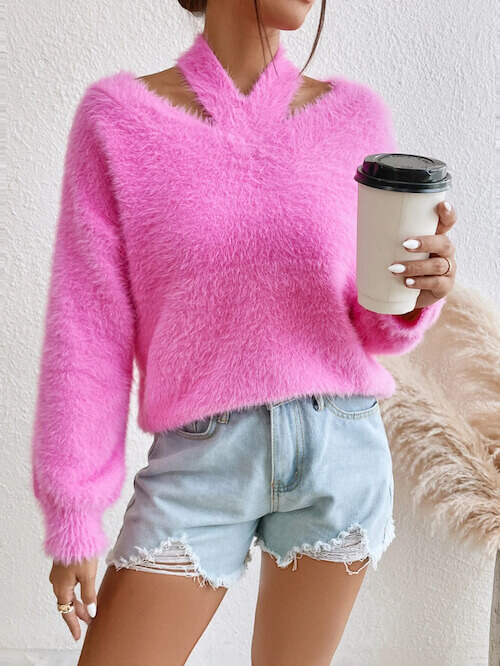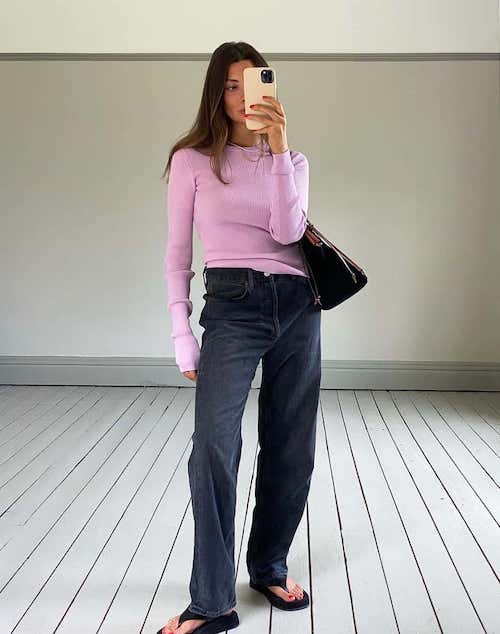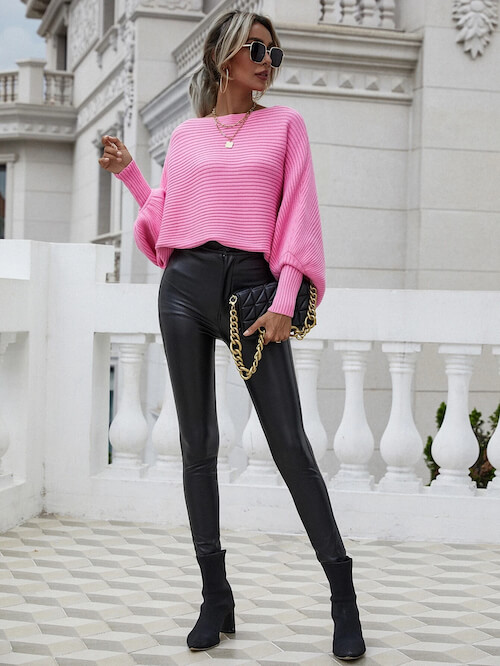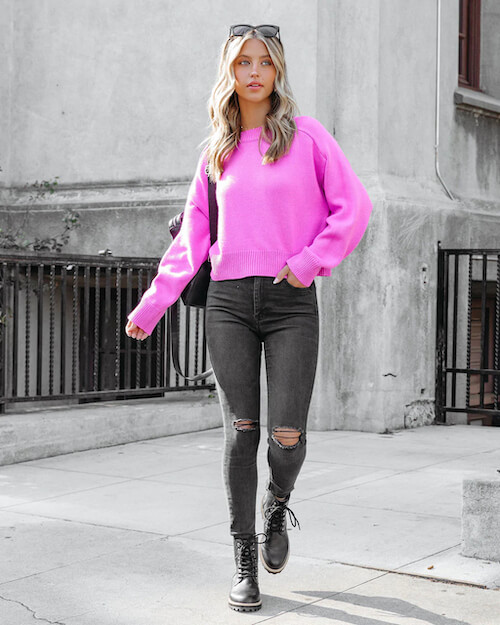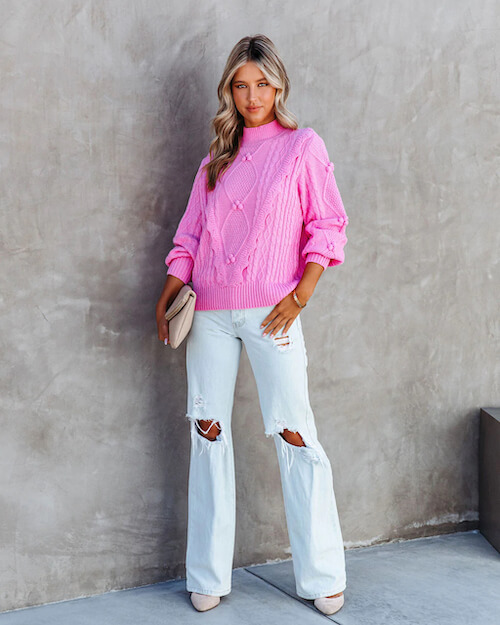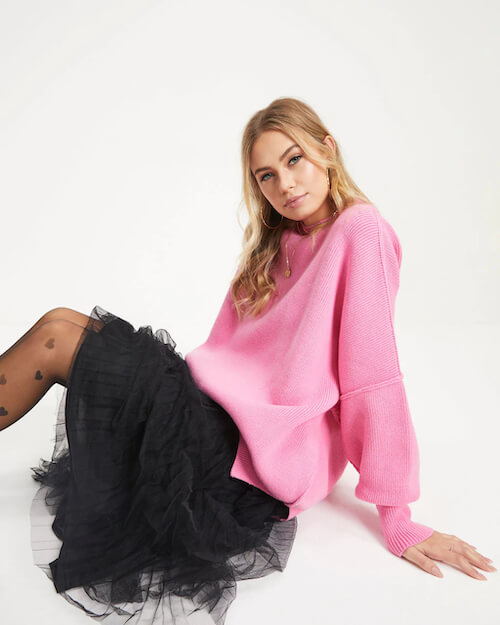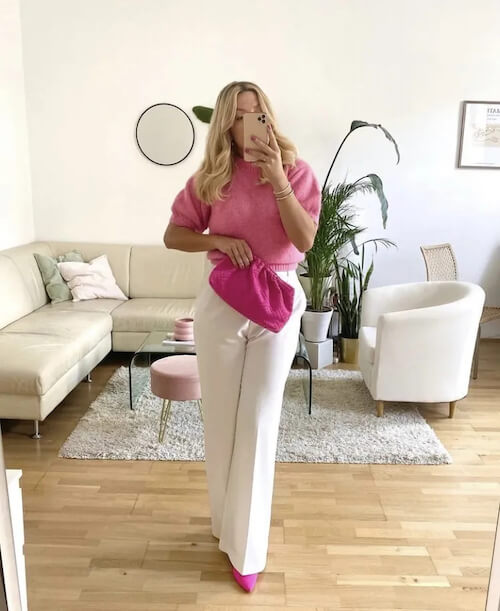 Hot Pink Sweater Outfit Ideas
Hot pink is a vibrant, eye-catching color that can easily be incorporated into any wardrobe.
Whether you're looking for a casual outfit or something more formal, styling a hot pink sweater is an easy way to make any look more impactful.
Here are some tips on how to style a hot pink sweater for women.
Begin by selecting the right cut of sweater for your body type.
A cropped version works great as an accent piece in summer months and looks best when paired with high-waisted bottoms like shorts or midi skirts.
For winter months, opt for an oversized fit and layer it with other pieces such as overcoats and blazers.
Accessorize your look with dainty jewelry and statement bags to add texture to the bold hue of the sweater.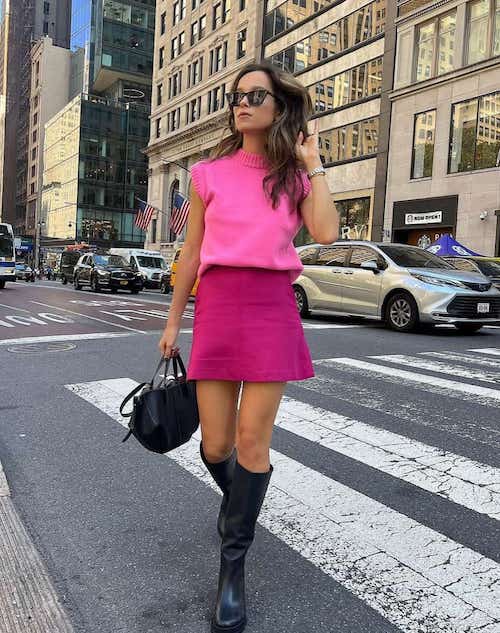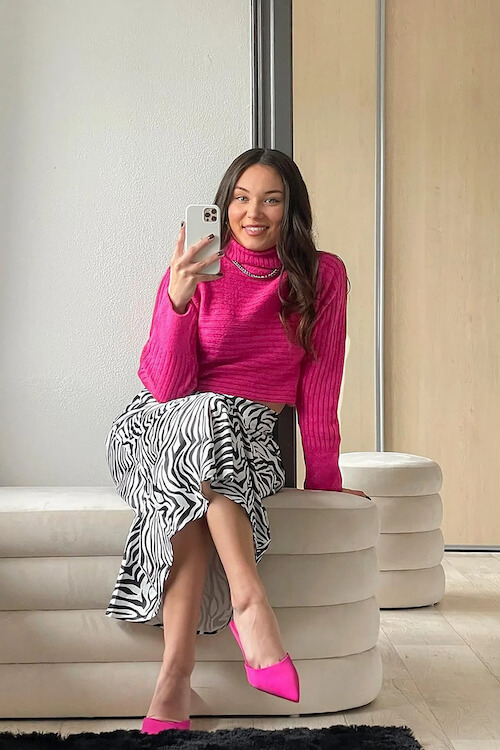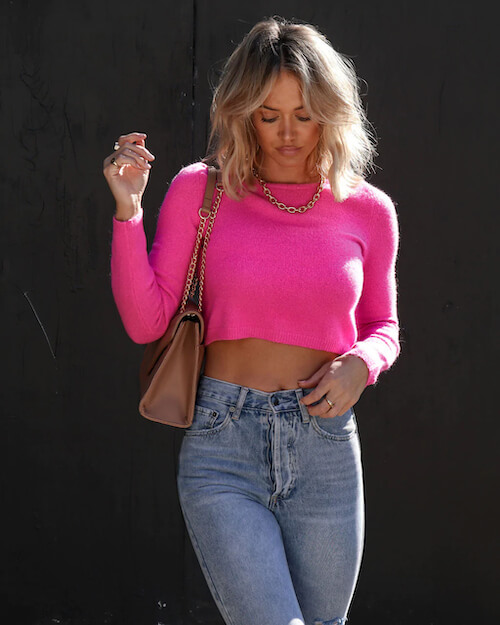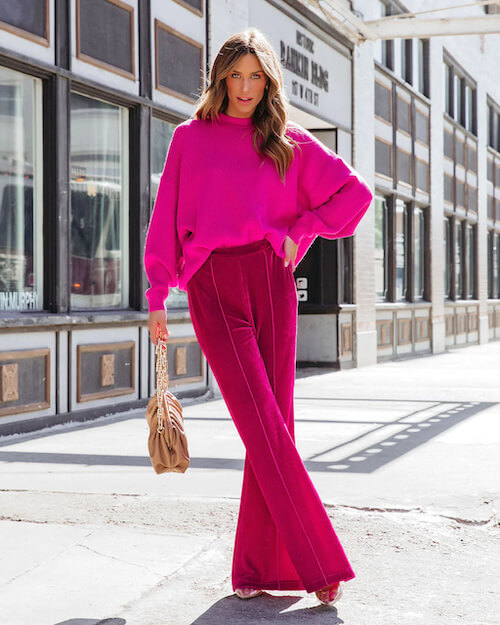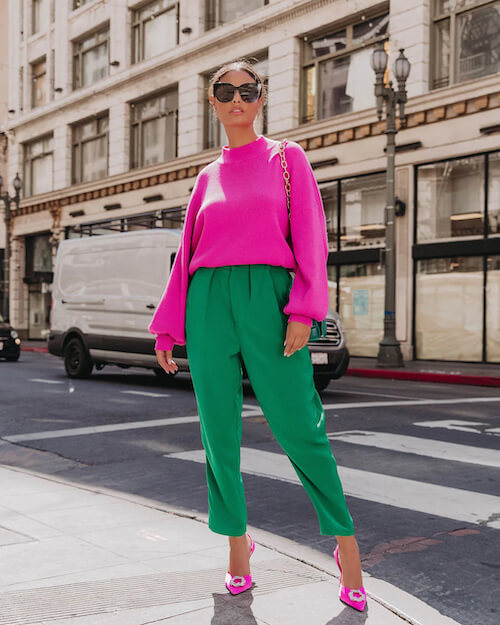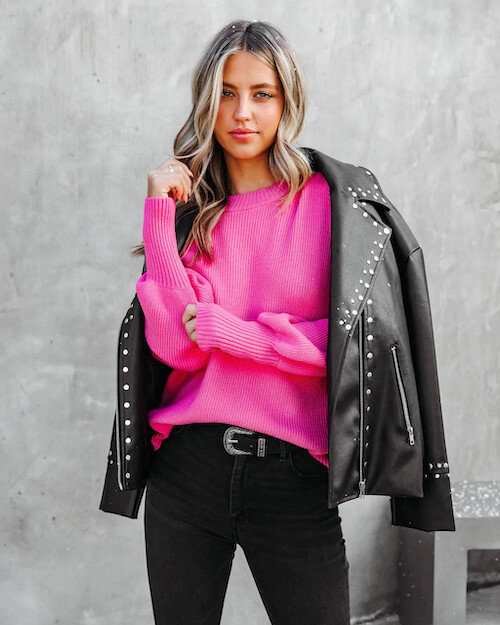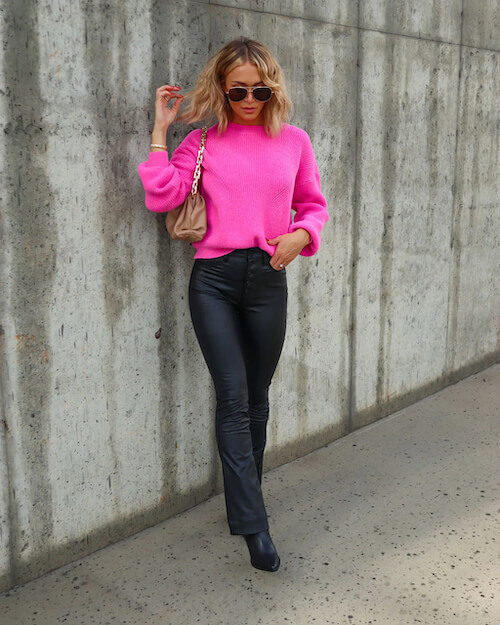 Dark Pink Sweater Outfit Ideas
Dark pink is a powerful color that exudes femininity and style.
For women looking to create an outfit around this hue, a dark pink sweater can be the perfect base piece.
When it comes to styling your new dark pink sweater, pairing it with black or white bottoms is an easy and classic way to go.
For something edgier, try matching the sweater with some distressed jeans and booties for an on-trend street style look.
You can also create a feminine feel by tucking the sweater into a pleated midi skirt and adding a pair of ankle strap sandals for balance.
Alternatively, try tucking the front of the sweater into a high-waisted skirt or dress pants for a more professional feel.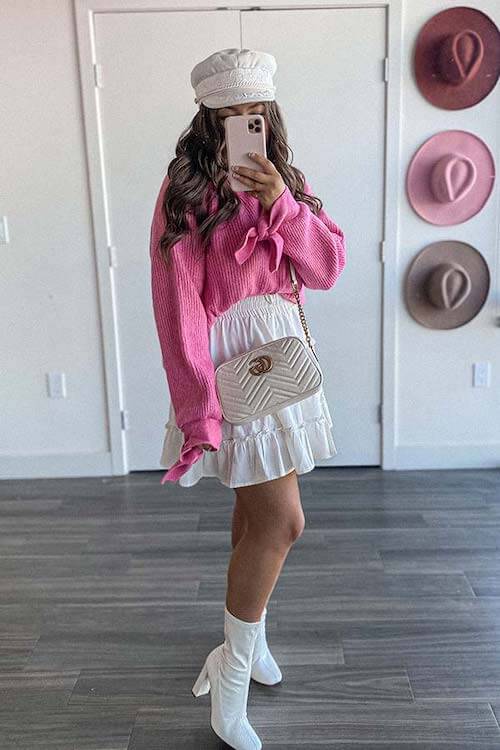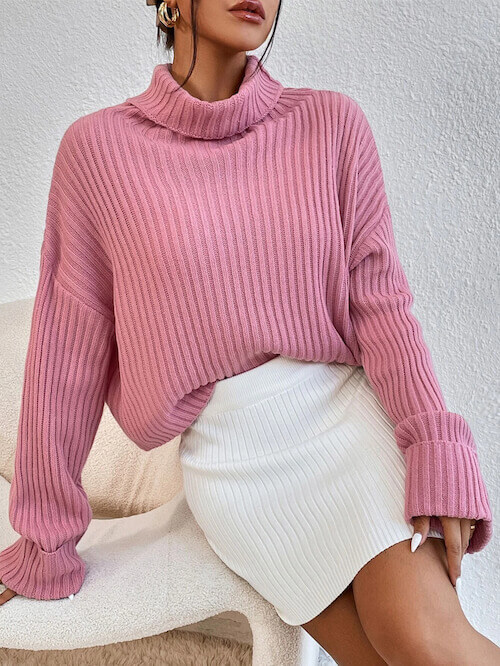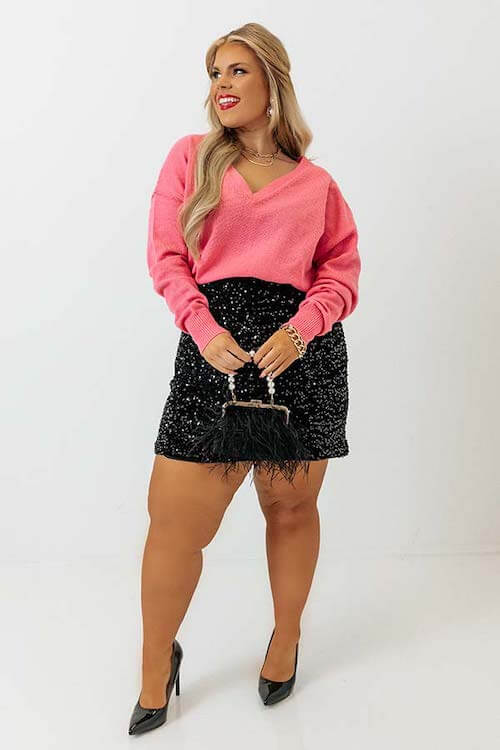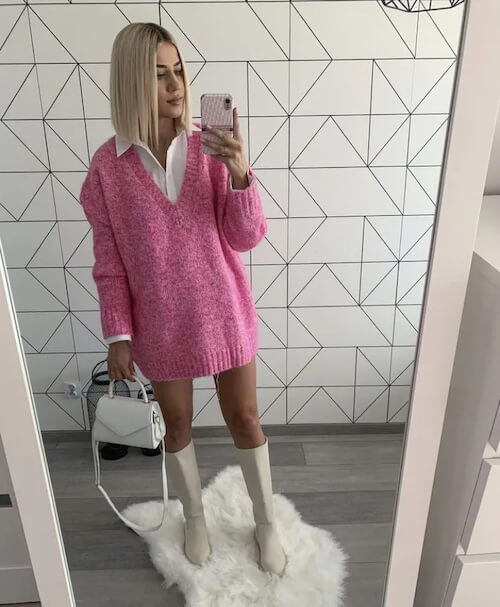 [email protected]_roksanax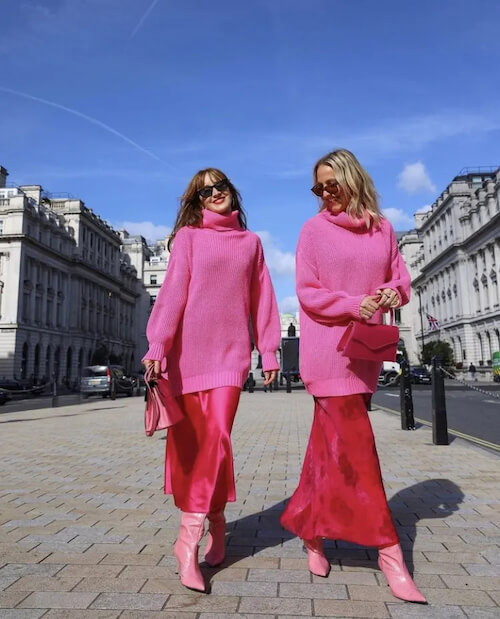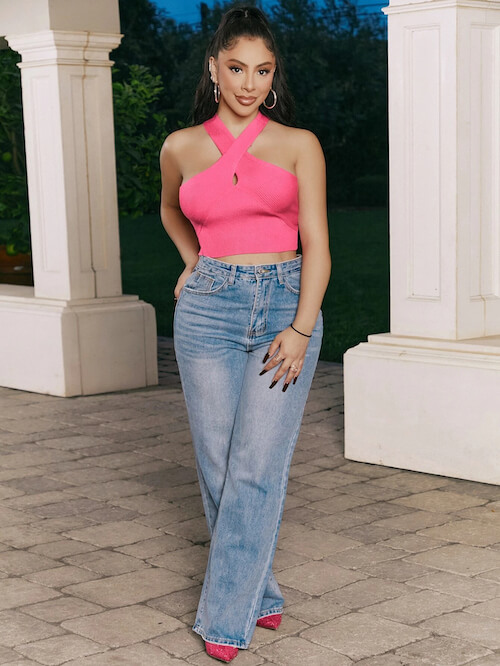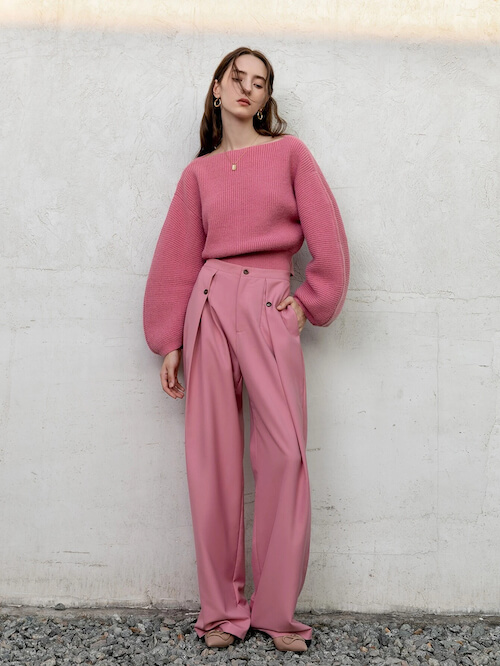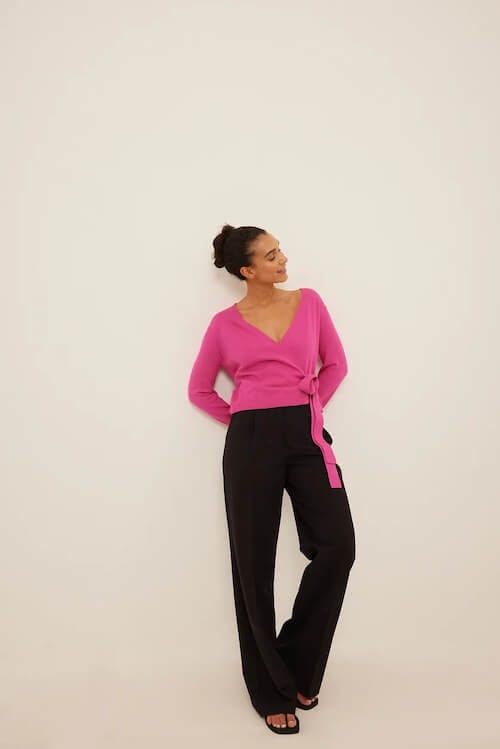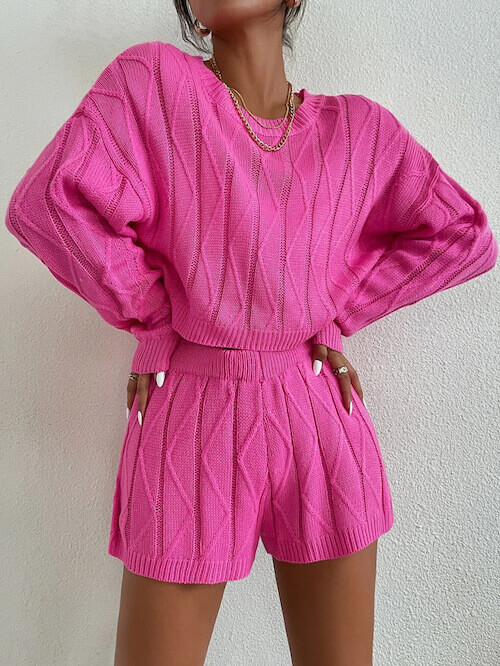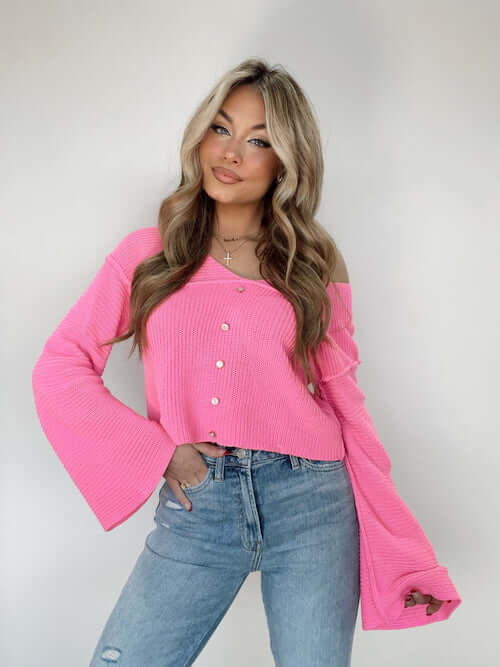 Pink Cardigan Outfit Ideas
A pink cardigan is a wardrobe staple for women of all ages.
It can be dressed up or down depending on the occasion, making it incredibly versatile.
For an effortless everyday look, pair the pink cardigan with dark wash jeans and a white t-shirt.
Add some fun accessories like hoop earrings or a necklace to dress it up a bit more.
For something more formal, layer the cardigan over a black tank top and a pleated skirt.
Finish off the ensemble with ankle boots and statement jewelry for added flair.
Finally, if you want to go ultra-feminine try wearing it with a floral midi dress and heeled sandals – perfect for special occasions or date night!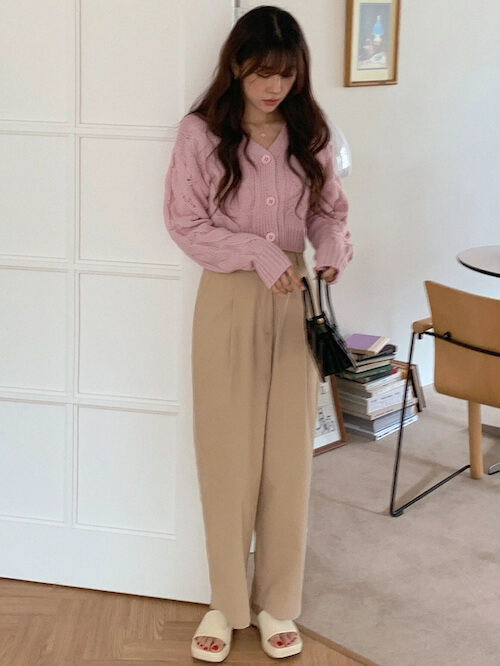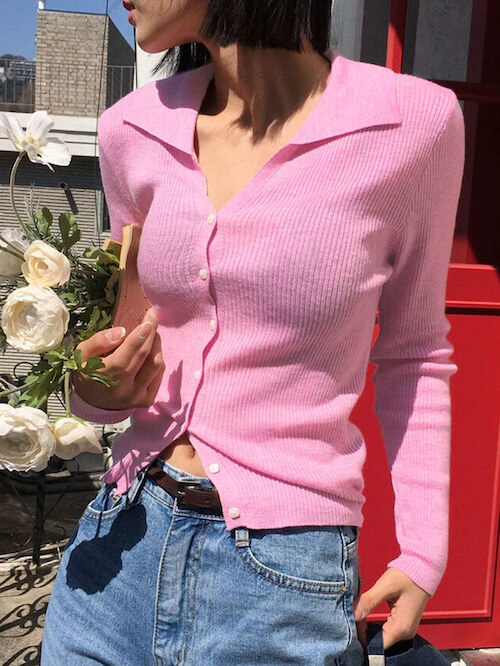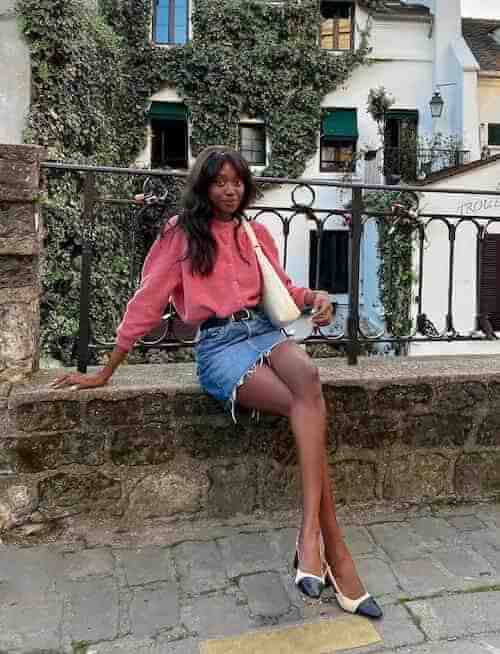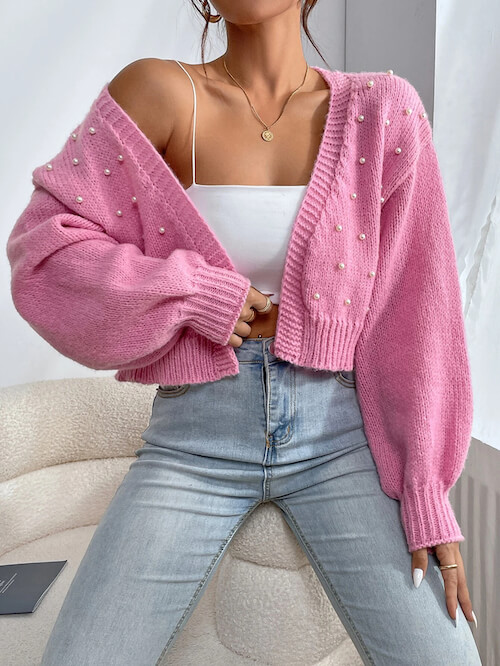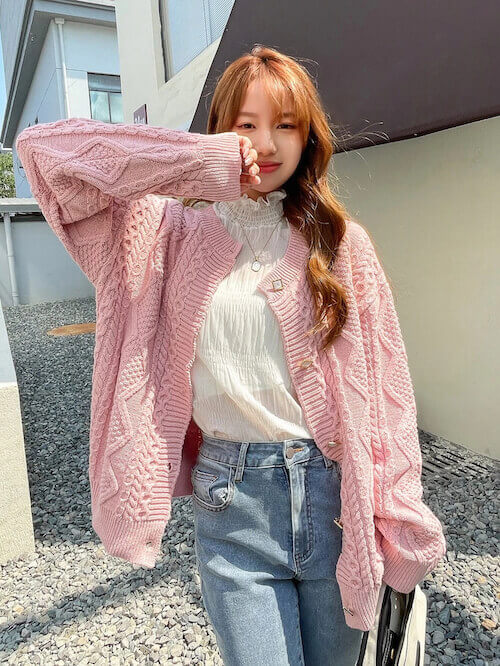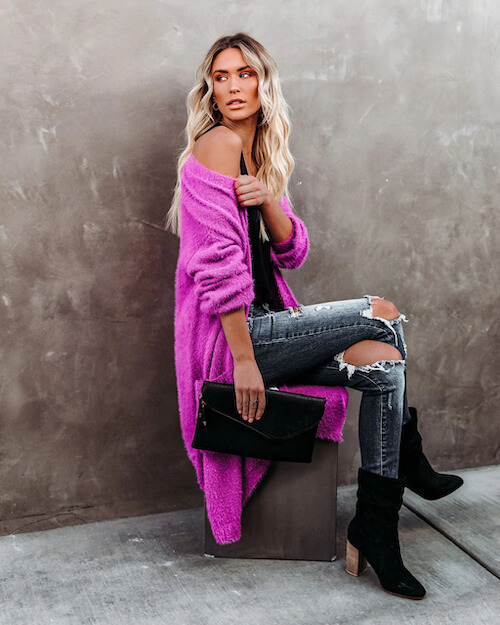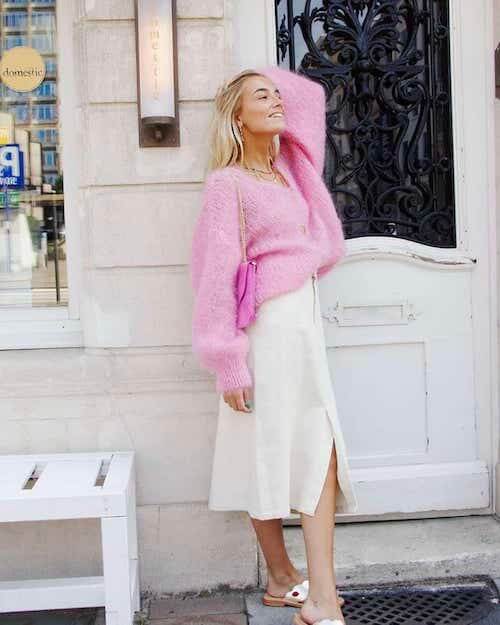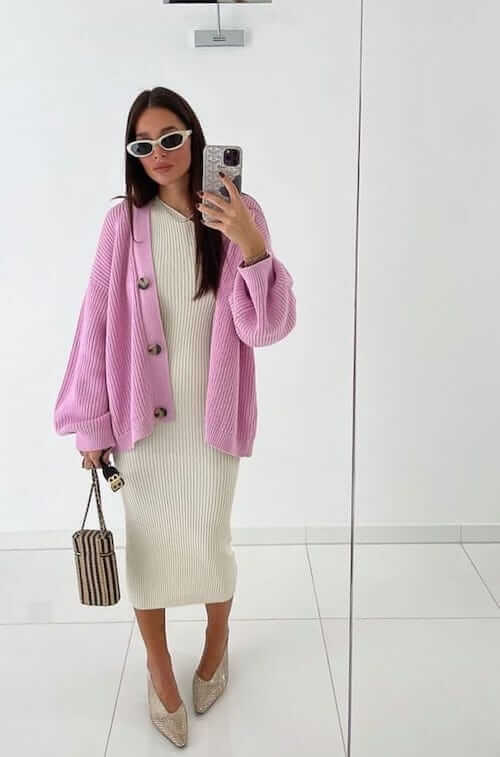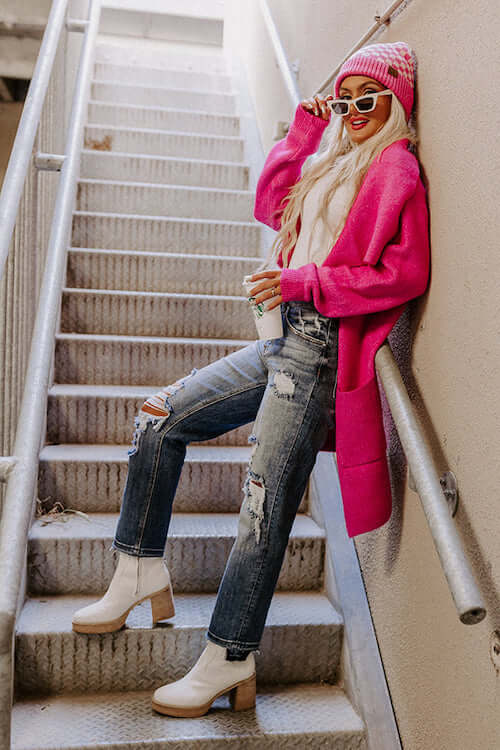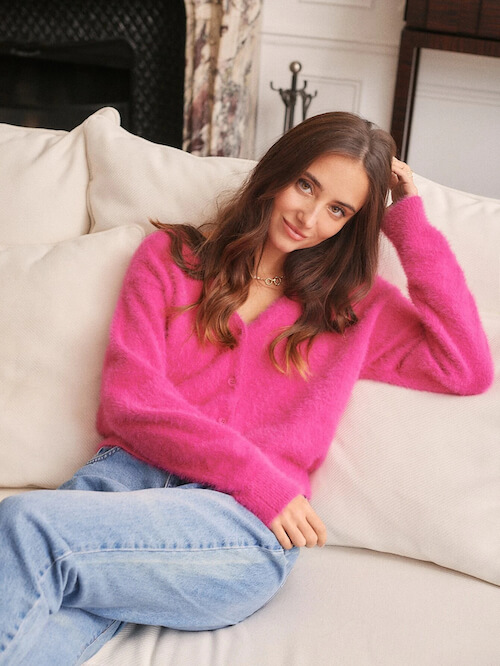 Pink Sweater Dress
A pink sweater dress is a great way to look stylish and on-trend this season.
This versatile piece of clothing can be dressed up or down, depending on the occasion and the styling.
Here are some tips on how to style a pink sweater dress for women this season.
When it comes to accessorizing, there are plenty of options available when it comes to styling a pink sweater dress.
For an elevated look, try pairing the dress with chunky heeled boots or ankle boots in black, brown or red.
A statement belt around the waist is also a great way to break up the dress while adding definition at the same time.
Add some delicate jewelry pieces such as necklaces and drop earrings for an extra touch of glamour.
For colder days, layer your look with a faux fur coat or leather jacket for added warmth and style points!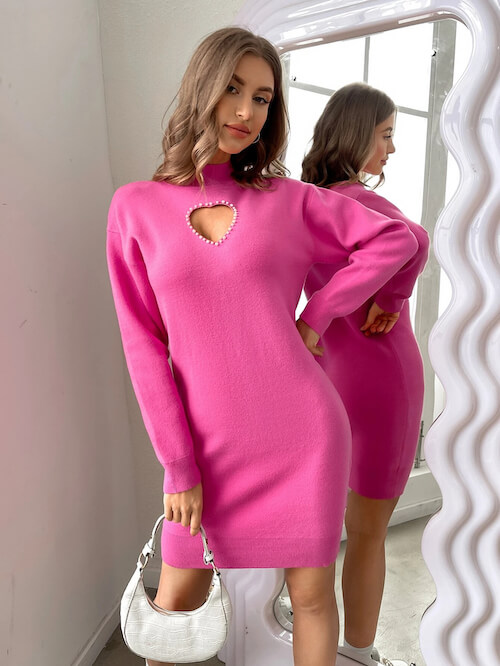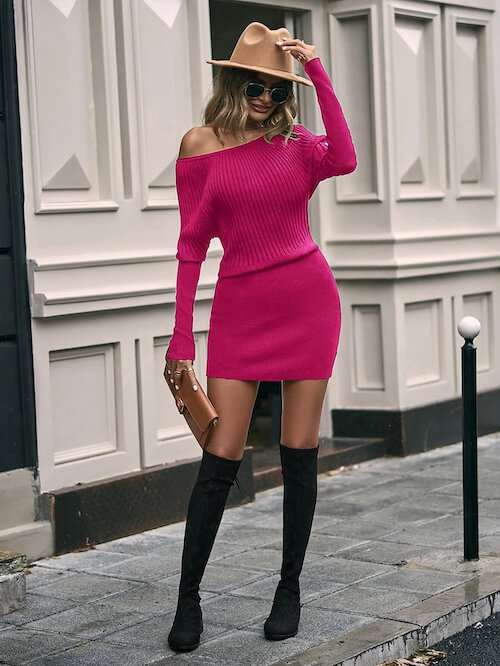 Pink Sweater Vest
If you're looking to add a feminine and whimsical touch to your wardrobe, a pink sweater vest is a perfect addition.
From boxy sweaters with cropped hemlines to knitted vests with belted waists, there are so many options available for creating unique ensembles.
Start by pairing the vest with a pair of dark blue jeans and white sneakers.
This retro-style look is perfect for running errands or enjoying brunch with friends.
You can dress it up by swapping out the sneakers for heeled boots and carrying an elegant clutch bag for a romantic date night look.
It's also easy to give the outfit some edge by trading in the jeans for trendy leather pants or a tennis skirt for a chic Y2K and elevated preppy style.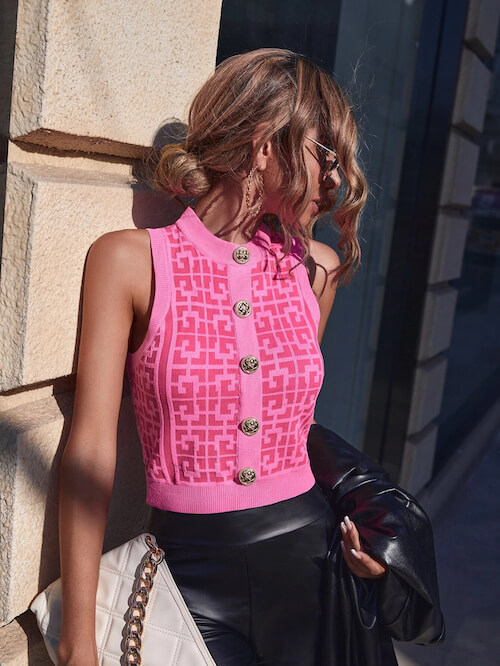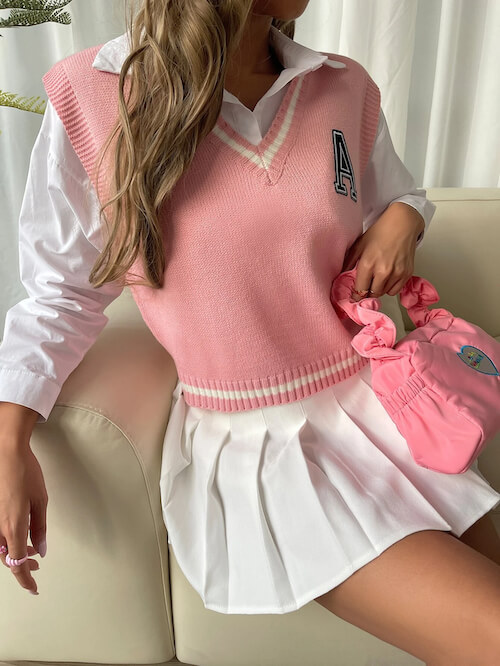 Modern Ways to Wear your Light Pink Sweater in the Winter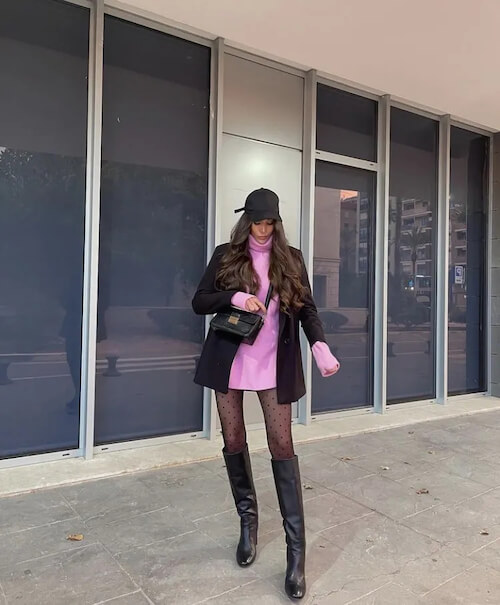 Wearing a light pink sweater during the cold season doesn't mean you have to sacrifice style or warmth.
Here's how you can wear your light pink sweater throughout the winter months and still look fashionable!
For starters, try pairing it with an oversized coat for extra warmth.
This look is perfect for dashing around town and running errands, or even just going out for coffee with friends.
If you're looking for something more dressed up, layer your sweater over a button-down shirt and tuck it into tailored trousers or jeans — adding heeled boots will give you even more height and polish off the ensemble perfectly!
What color pants go well with a pink sweater?
When it comes to choosing the perfect pants for a pink sweater, below are my favorite options.
A classic look would be to pair your pink sweater with dark-colored bottoms like navy or black jeans or trousers.
This provides a chic, timeless look that is sure to impress.
For a more casual style, you could go with lighter colors such as khaki or even white pants for a chic lazy back style.
A faded light denim would also provide great contrast against the bright color of your sweater, effortlessly elevating your style to the next level.
What color shoes look best with a pink sweater?
When choosing the perfect shoes to go with a pink sweater, below are my favorite tips:
Nude, beige and white shoes all work well with more muted tones of pink.
For brighter shades, colors like blush and pastel blues will help create an eye-catching look.
If you want to add some contrast to your outfit, dark colors like black and navy blue can also be effective choices.
Lastly, bold colors such as red or yellow can really make your ensemble pop if you're feeling adventurous!
Ultimately, it's important to choose what feels best for you so that you feel confident in your style while wearing your favorite pink sweater.
Conclusion: How do you style a pink sweater?
In conclusion, styling a pink sweater for women is easy and fun.
Whether you choose to dress it up with a midi skirt, keep it casual with jeans, or mix it up with bold colors, the options are limitless.
Give yourself permission to have fun while styling pink sweaters and let your creativity shine through!
This post was all about pink sweater outfit ideas.
Related Posts: