Looking for trendy knee high boots outfits to copy? Check this post for the 80+ best knee high boots outfit ideas to level up your look this season!
It is booties time!
The boot trends this year are quite apparent. Over-the-knee boots are no longer so popular. All kinds of shorter boots are still trending.
Among all the fashionable types, the most popular ones are knee high boots. While you may have ankle boots as your wardrobe staple, we strongly recommend you add knee high boots to your collection! It is not an exaggeration to say that every fashion blogger has a pair of knee high boots now.
These magic boots make the whole outfit effortless chic and can help slim your bare legs no matter what body type you are, even without black tights or leather leggings, and even with flat knee-high boots! They can also be worn directly to the office or a party with a simple black blazer or a midi dress. We obsess with them!
Want to know how to choose the best knee high boots and what to wear with the knee high boots?
In this post, we are sharing the best fashion tips for knee high boots, our favorite boots, and stylish outfits with knee high boots. And you can also find the cutest outfits to shop for directly.
So scroll down to check the different outfits with knee high boots, and don't hesitate to pin the ideas you like.
This post may contain affiliate links, which means I'll receive a commission if you purchase through my link, at no extra cost to you. Please read the full disclosure here.
This post is all about knee high boots outfits.
Why Knee High Boots Are Still In Style
First, they are more versatile.
Many people like to compare knee high boots with over-the-knee boots or thigh-high boots.
The styles of the two tall boots are pretty different. The type of over-the-knee boots is mature and feminine, so avoid being too sexy in your outfits.
The knee high boots are more neutral and handsome, with more space for choosing the other items in your outfits, so they are suitable for more styles and occasions.
Second, they are actually suitable for almost all people of different heights and body proportions.
The over-the-knee boots are more tightly wrapped so that the calf muscles will be more prominent.
But compared to other boots of this length, the knee high boots are more stiff and stylish. So they can modify the leg shape and are very friendly to women with thick calves.
How To Choose The Knee High Boots
We strongly try on knee high boots offline before you purchase them. But if you would like to shop them online, below are our tips on how to choose the best-fit knee high boots for you:
1. Choose wider boots
It is best to measure your leg circumference before buying and then look at the circumference of the boot tube. Remember to choose a tube that is larger than the leg circumference. A wider boot tube will make the legs slimmer.
2. Choose the right height
Choosing the right height of the boots is also critical. The taller the boots and the closer the top of your boots to the knee, the longer and straighter the legs will look.
However, if the boot shaft is too high, it may be uncomfortable to wear. So it is best to choose soft but stylish leather.
3. Choose the right calf's shapes
If the backside of the boots is straight, without a curve design, it will help your legs look straight and show a cool style.
On the contrary, the curvilinear design highlights the lines, shows thin legs, and is relatively mature and feminine.
It is more recommended for those with thicker legs to choose a curved one, which will be better wrapped, and the curved part is just used to put the calf.
If you choose this straight type for those with more fleshy calves, one may not be so comfortable to wear, the calf is stretched by the boots, and the calf muscles may also stretch the boot shaft, which is not very beautiful.
4. Choose the right material
The softness and hardness of the boots also need to be considered.
The stiff material looks neater. If your legs are straight, they will be straighter when you wear stiff boots.
The softer material looks more elegant, but it is also prone to wrinkles.
Trendy Knee High Boots Outfits To Copy
Black Knee High Boots Outfits
If you want to buy a pair of versatile knee high boots that can be worn for a few more years, then choose the basic black classic knee-high boots. You can choose a very plain style, without any decoration. Although it is a bit ordinary, it will be very wearable.
Pair them with your favorite pencil skirts or other chic short skirts, you can get perfect work outfits immediately.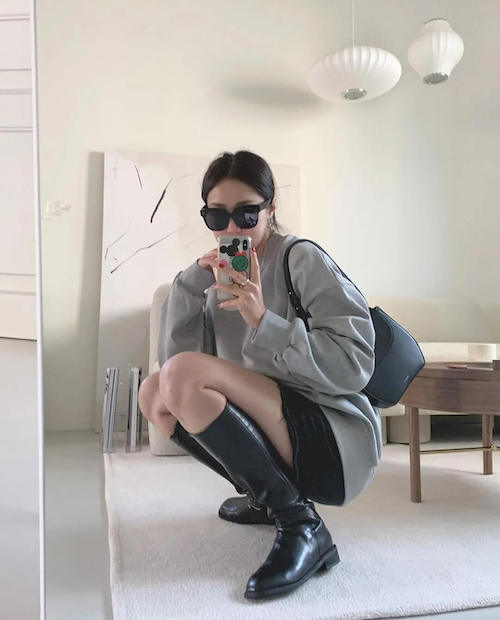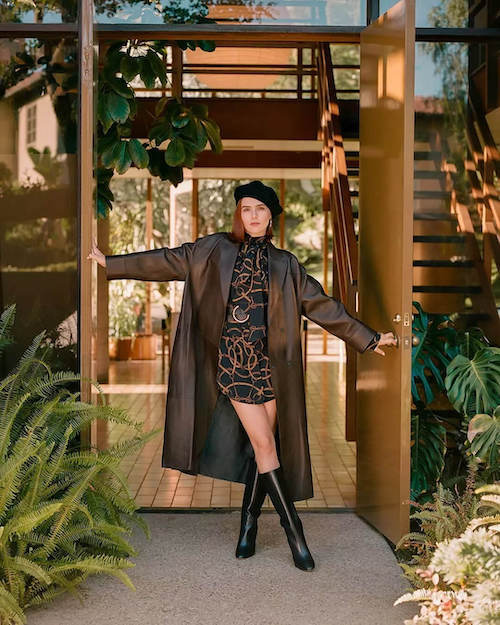 Cute Black Knee High Boots Outfits We Love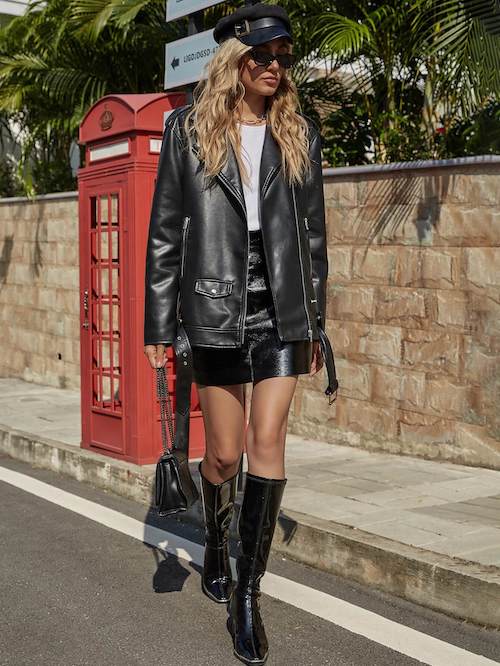 White Knee High Boots Outfits
A pair of white knee high boots are also a great option. They are particularly suitable for matching with beige, khaki, and brown clothing in winter, making your outfits cozy and elegant.
A trend this year is to pair white boots with a cozy sweater dress. This is a perfect fall outfit and also suitable for your winter wardrobe. Add a long coat and black leggings to this outfit and you get a perfect look.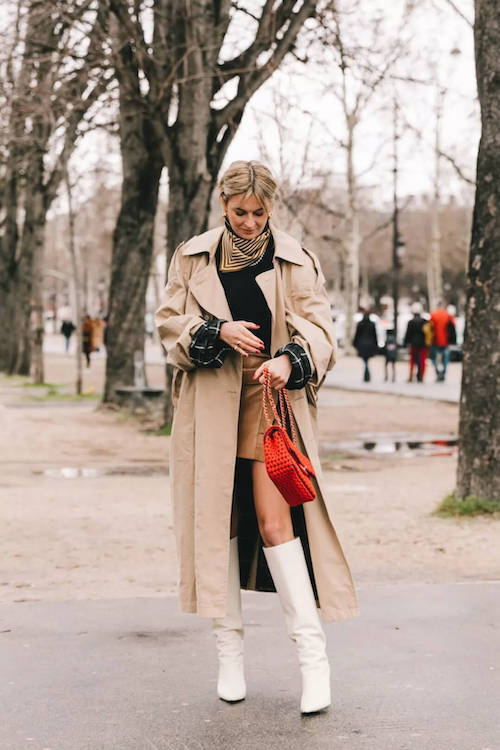 White Knee High Boots Outfits We Love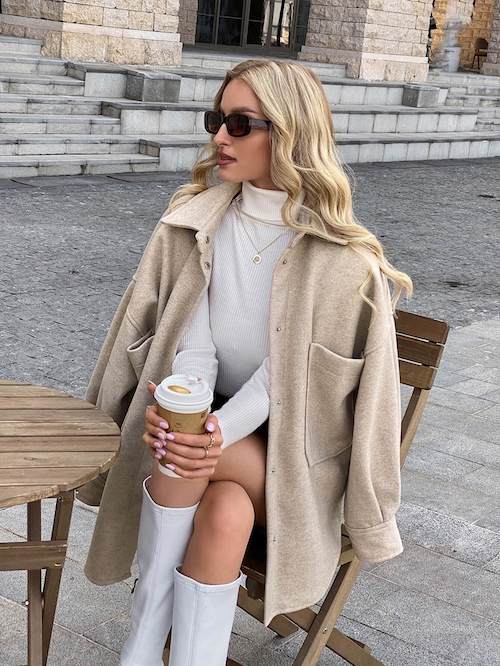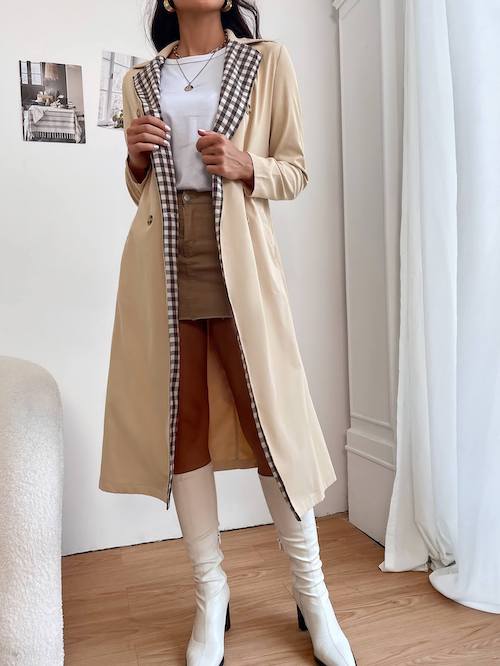 Brown Knee High Boots Outfits
A pair of brown knee high boots is another trending choice in recent years. It has a strong sense of retro, and at the same time, makes you look thinner, and it can add more color to your outfits.
Pair the brown boots with a simple black mini dress, a trendy black blazer dress, or a festive oversized knit sweater to get a casual look suitable for different occasions, including a casual work outfit, date night, and a holiday party.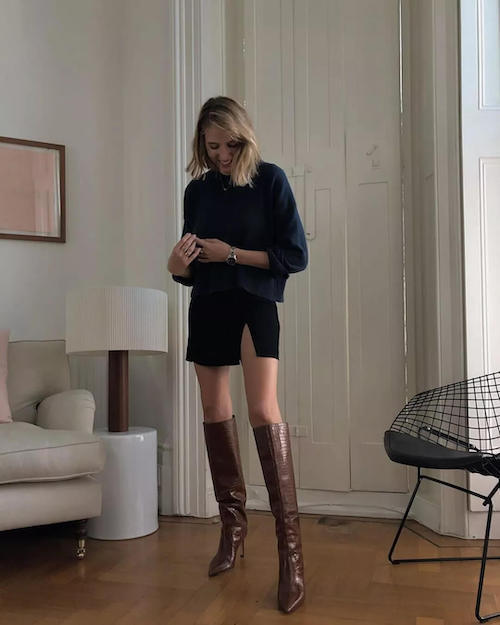 Brown Knee High Boots Outfits We Love
Tan Knee High Boots Outfits
Tan is brighter than brown. And you can use leather tan knee high boots or tan suede boots to bring more different styles to your outfits.
You can also pair different style items with your tan boots, like beautiful fall dresses, cute mini skirts, feminine blouses, simple leather shorts. These different textures add more fun to your look than a simple ordinary black look in the cold weather.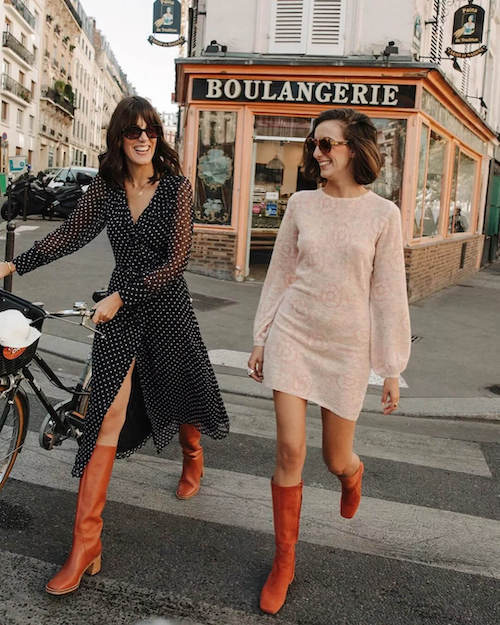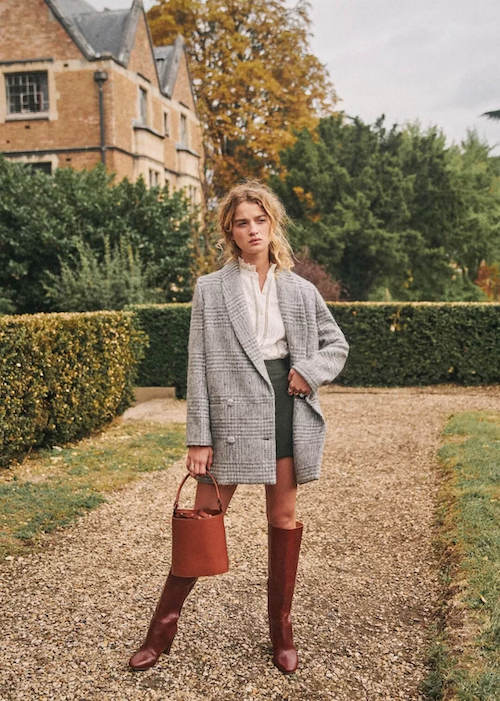 Tan Knee High Boots Outfits We Love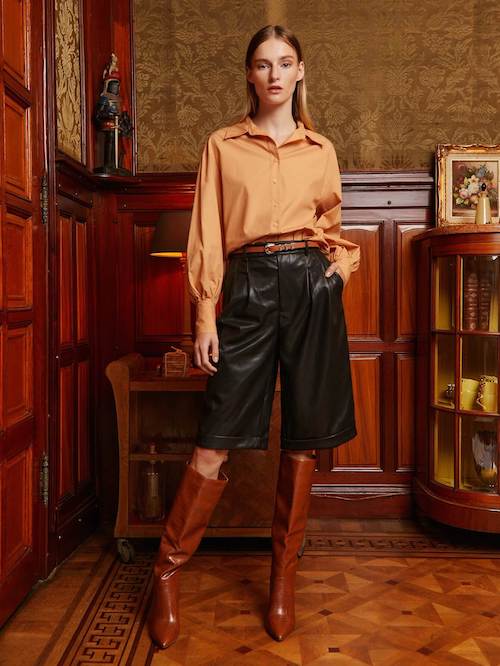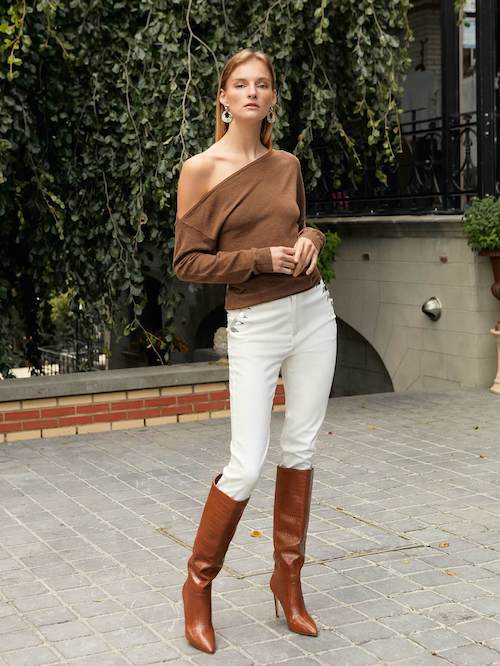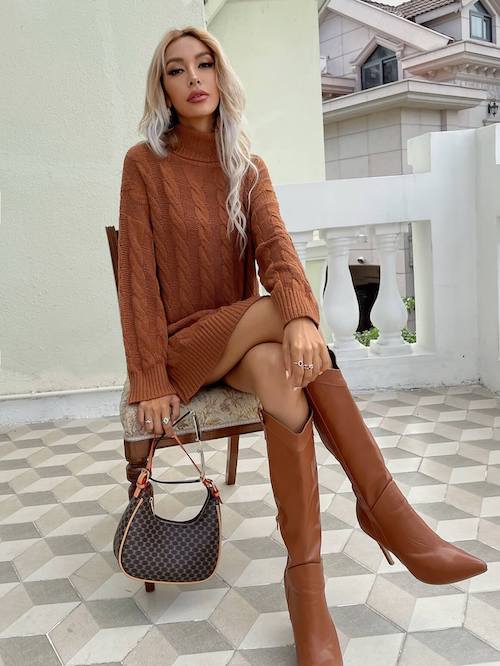 Burgundy Knee High Boots Outfits
Love elegant and cozy style? The burgundy knee high boots are the best choice. The burgundy knee high boots are very elegant, and you can often see them in fashion advertisements.
If you like retro and sleek style, prepare yourself a pair of burgundy knee high boots and a simple dress, which is a formal date night outfit that can easily stand out.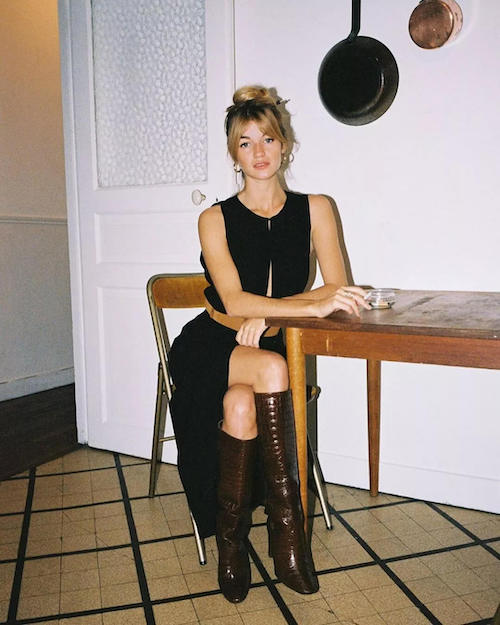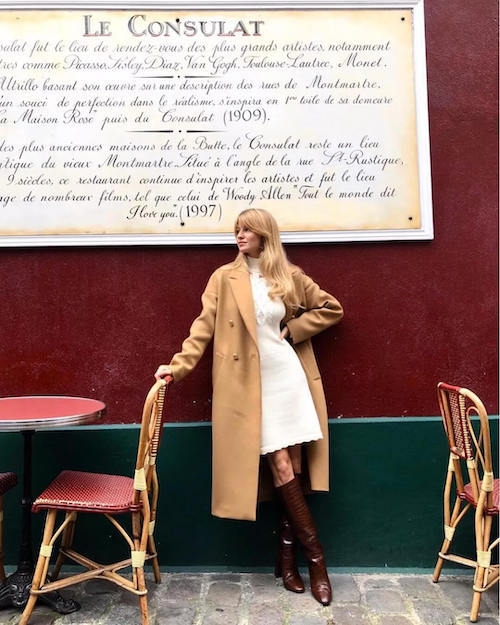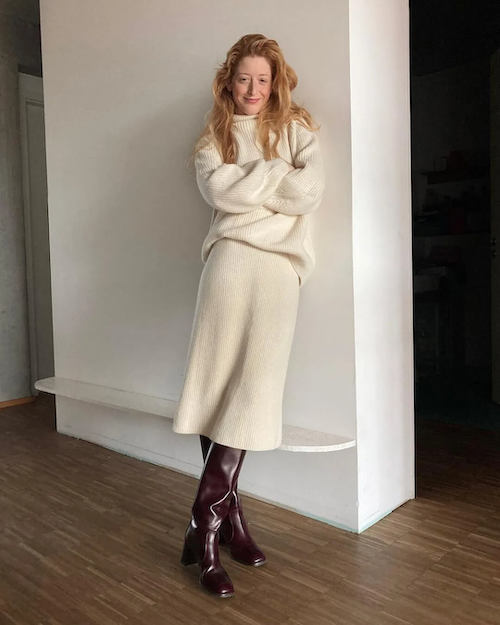 Snakeskin Knee High Boots Outfits
Snakeskin knee high boots have been popular in recent years. We recommend that you wear simple styles and colors to match so that your boots become the focus of your whole look.
And you will look chic and show your excellent taste even you pair the boots with the simplest white tank top and long cardigan.
Snakeskin Knee High Boots Outfits We Love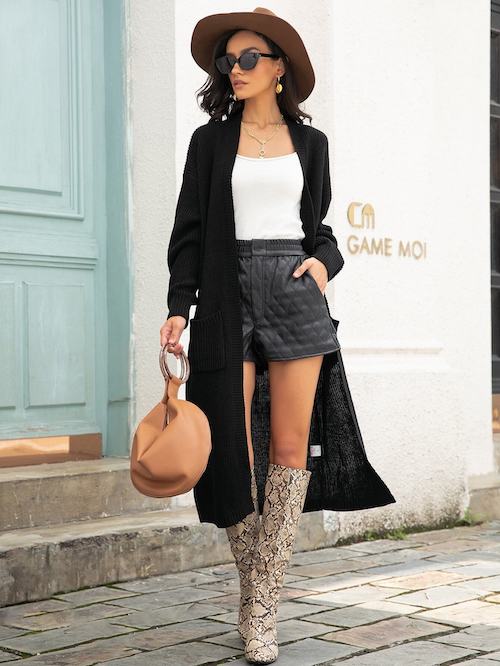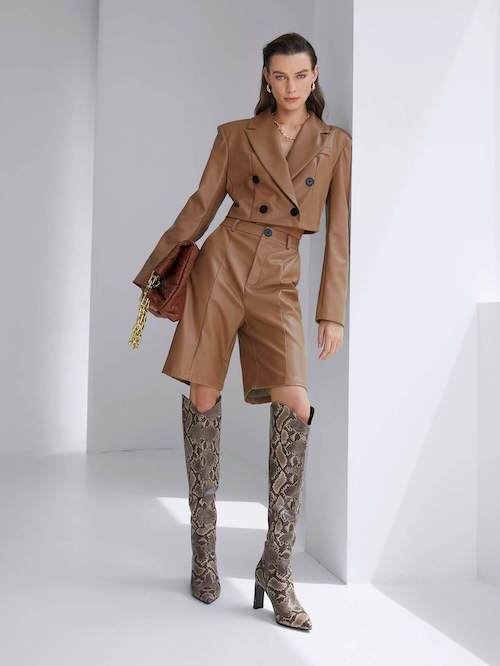 How To Wear With Knee High Boots: Best Knee High Boots Outfits To Copy
With Leggings Or Skinny Jeans
The first choice to wear with knee high boots is undoubtedly leggings or denim jeans. These tight-fitting designs will look neater show longer legs.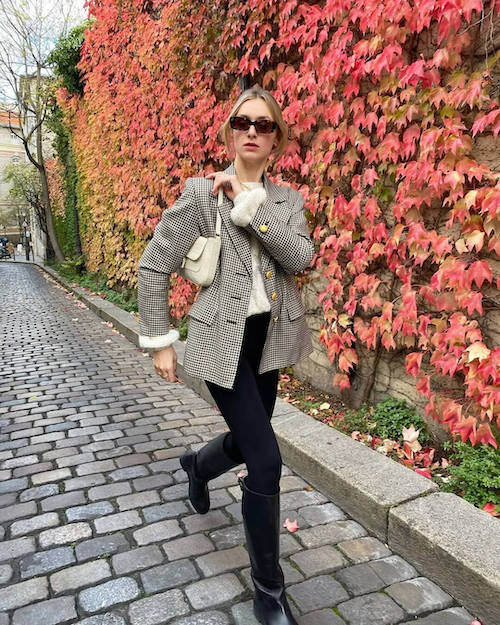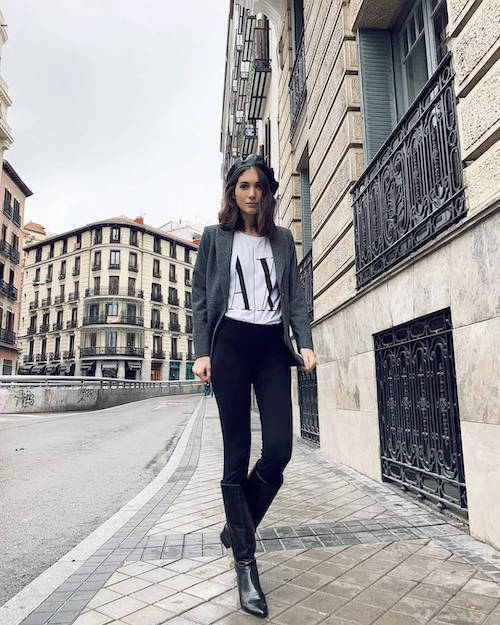 Did you find that the above outfits have one thing in common? That is, they are all matched with blazers! This is the current trend. The knee high boots fit a simple blazer so well. And longline blazers also look better.
Or you can try the all-black looks with your black knee high boots and black skinny jeans. These outfits keep warm and look expensive.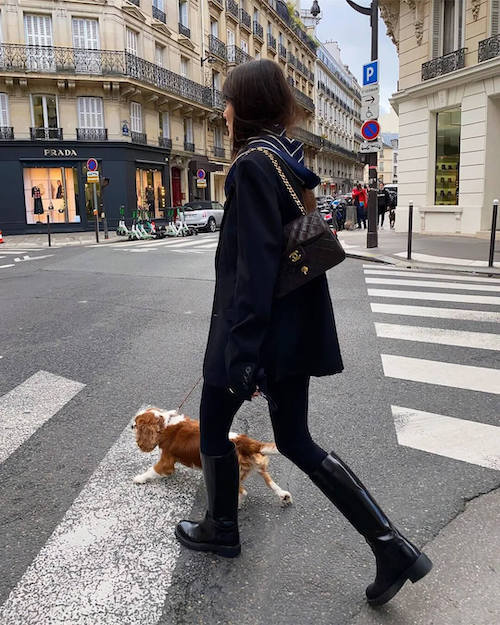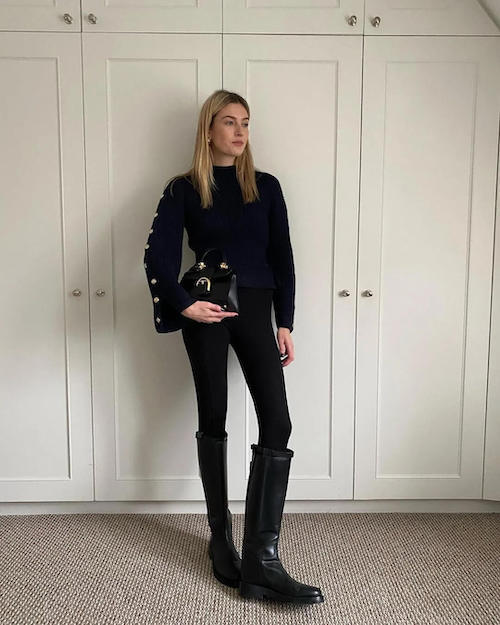 Long cardigans are also excellent to pair with skinny jeans and knee high boots. You will look tall and cute in your everyday wear.
And you can also change your black boots to burgundy boots or tan boots to add a great addition to your stylish look. They are stylish with a white blouse and casual jeans.
Knee High Boots Outfits With Skinny Jeans We Love
With Pants
Besides leggings and skinny jeans, cigarette pants and cargo pants are becoming more and more popular.
If you want to imitate this kind of outfit, don't choose too wide pants, a little wider, pipe pants, or overalls with natural wrinkles on the thighs, which can add a bit of randomness to the knee high boots.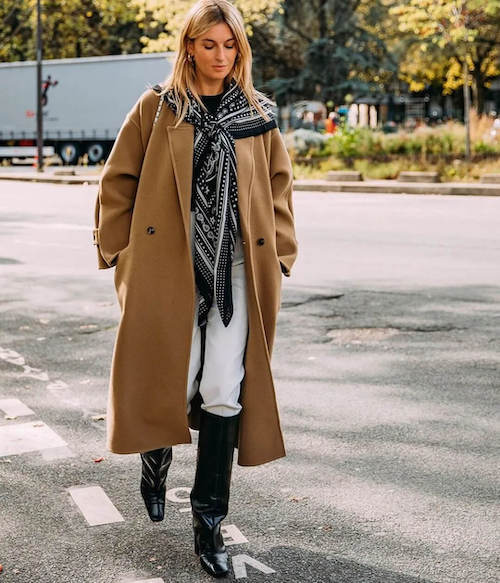 Remember to choose a high-waisted one, and it is also recommended to use belts, belt bags, and other items to enhance the handsomeness of the shape further.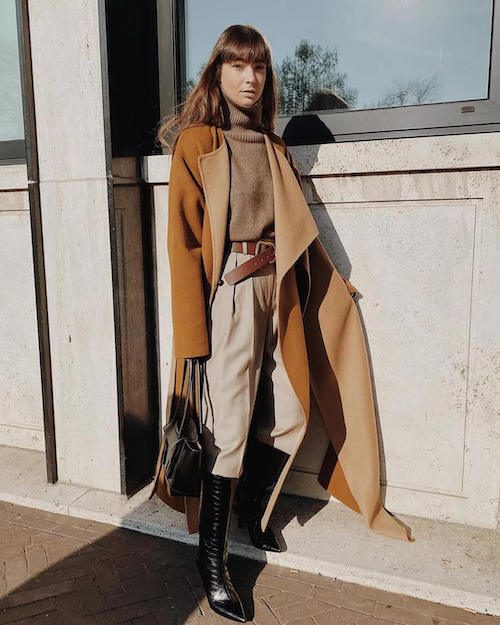 With Dresses
In street photography, the combination of knight boots and skirts is much more than that of pants.
Because of the handsomeness of the knee high boots, they can be well balanced with the various feminine elements of your favorite dresses, and it is easier to bring up different sparks.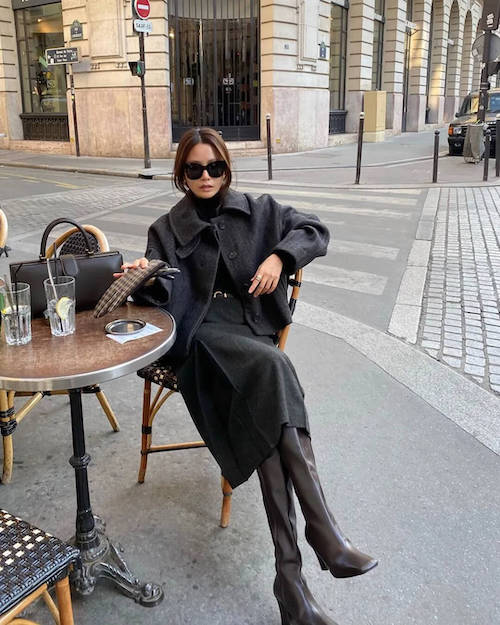 A big V-neck wrap dress, a vacation vibe floral dress with different colors, and a pair of knee high boots can make people shine in warmer months.
Love exotic print? You can try knee high cowboy boots to get an amazing look.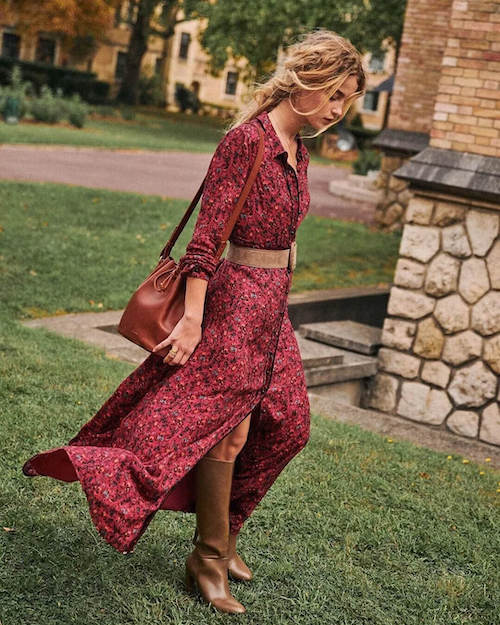 You can also tie up the belt of your trench coat or thin long coat and make it look like a dress to pair it with your knee high boots. And this is much warmer too.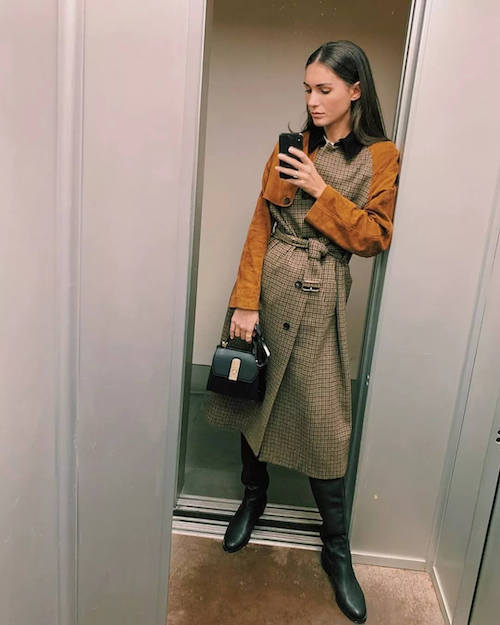 Knee High Boots Outfits With Dresses We Love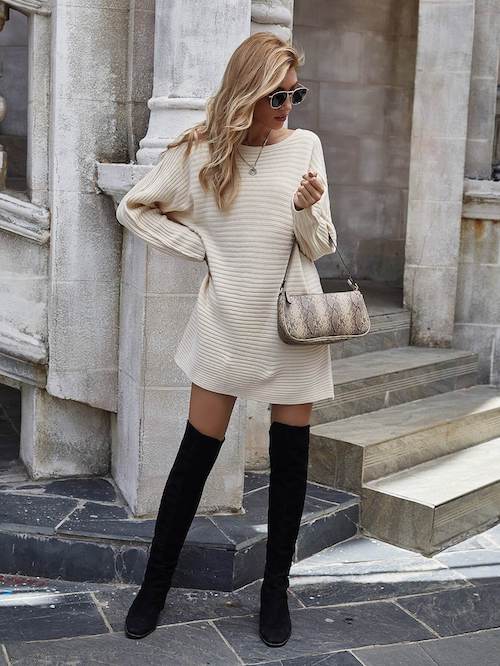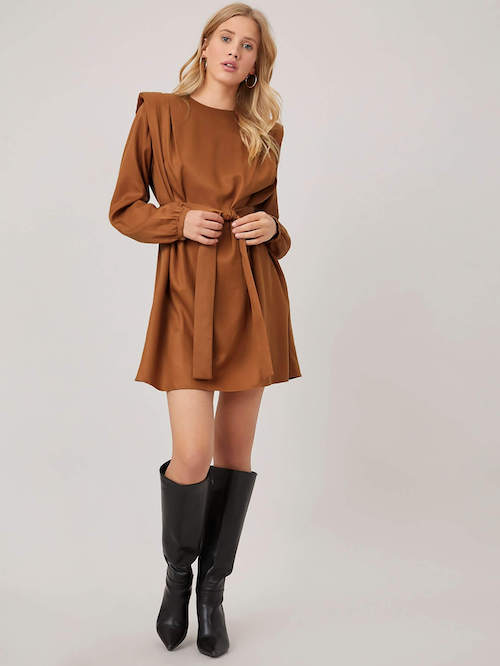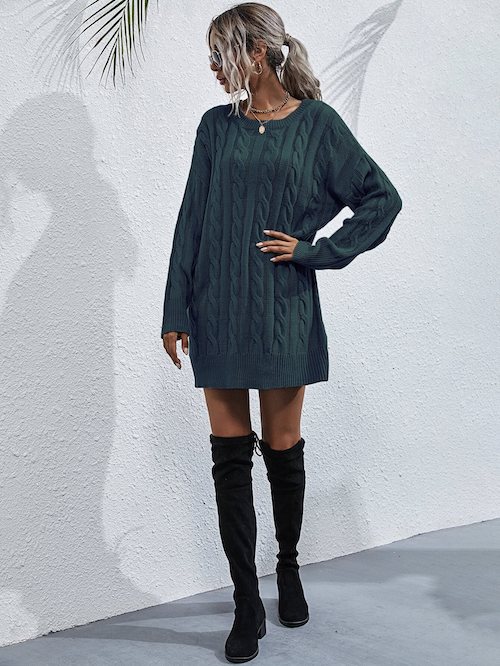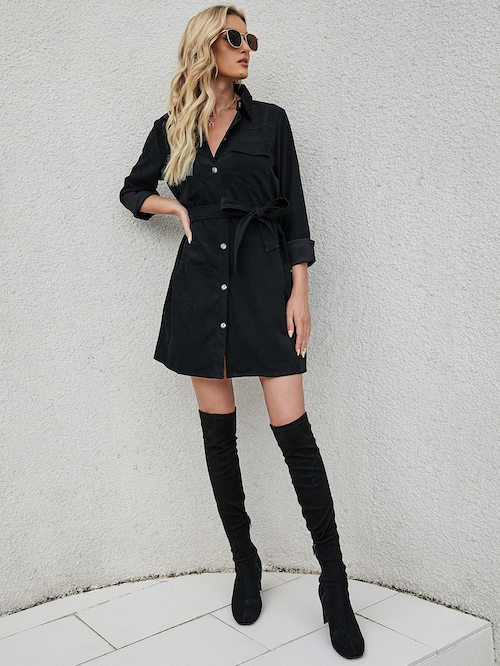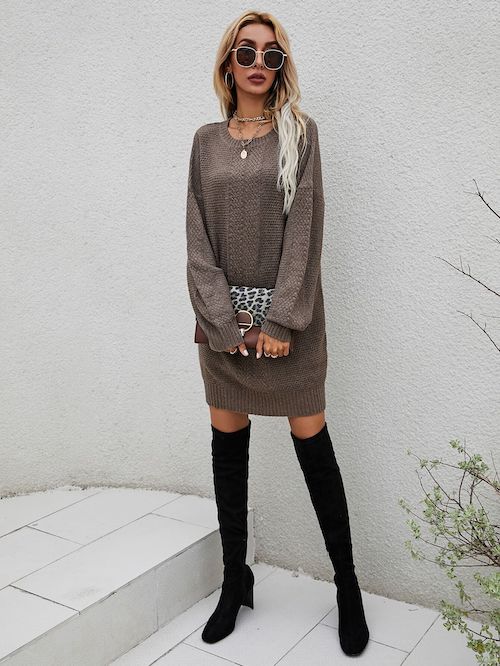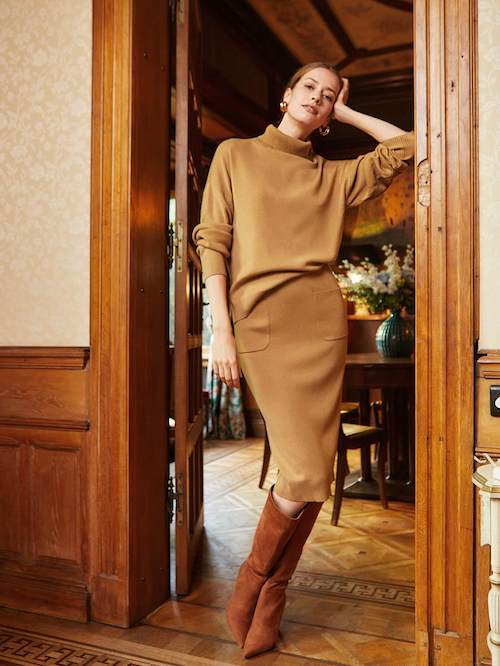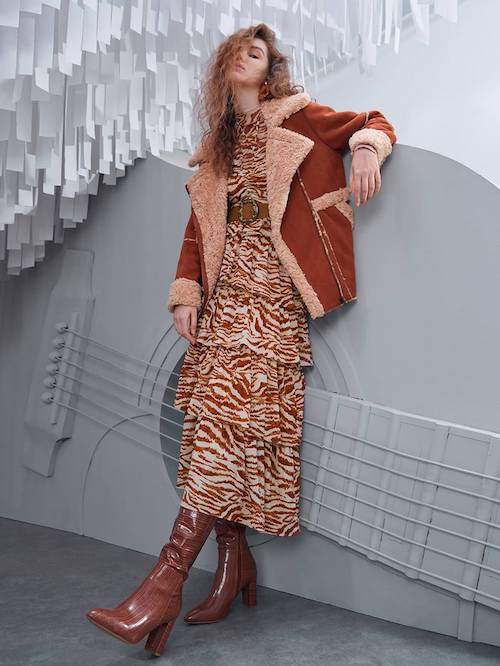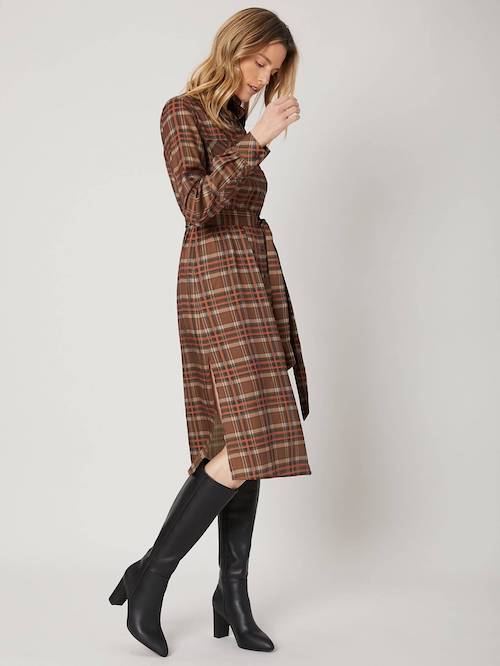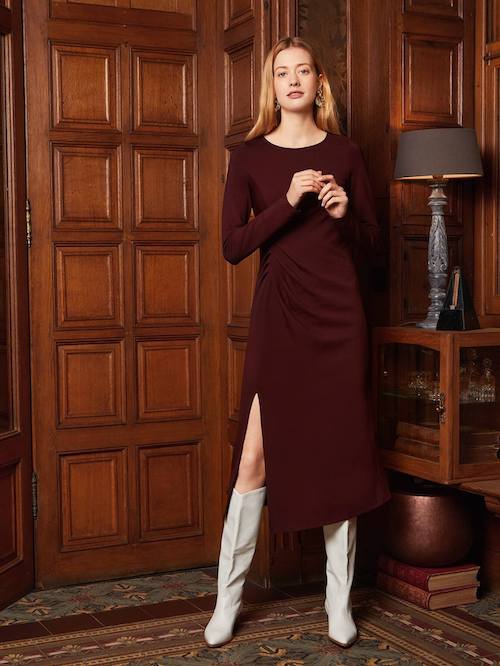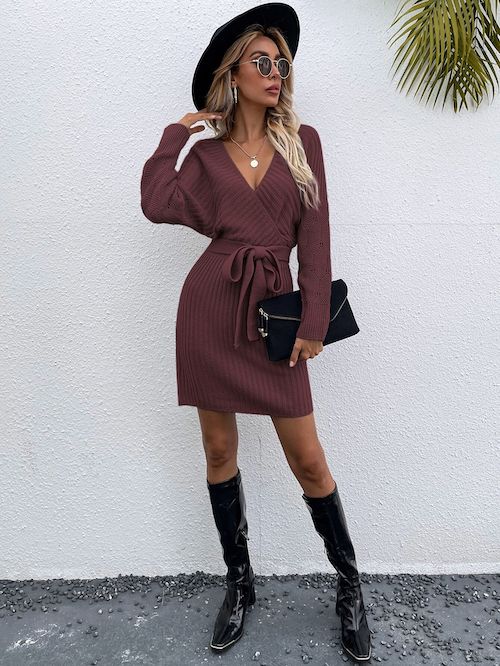 With Midi Skirts
For those who are afraid of cold, midi skirts are your best choices to wear with a pair of knee-high boots.
The midi skirt is over the length of the knee, just covering the boots, and then you get the best chic look.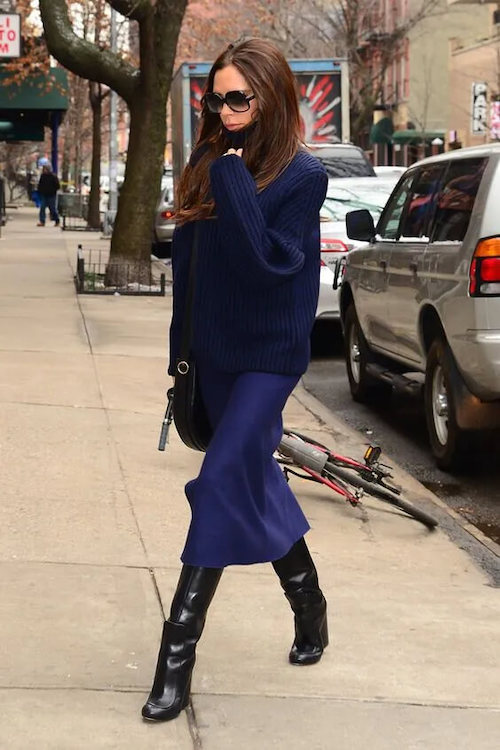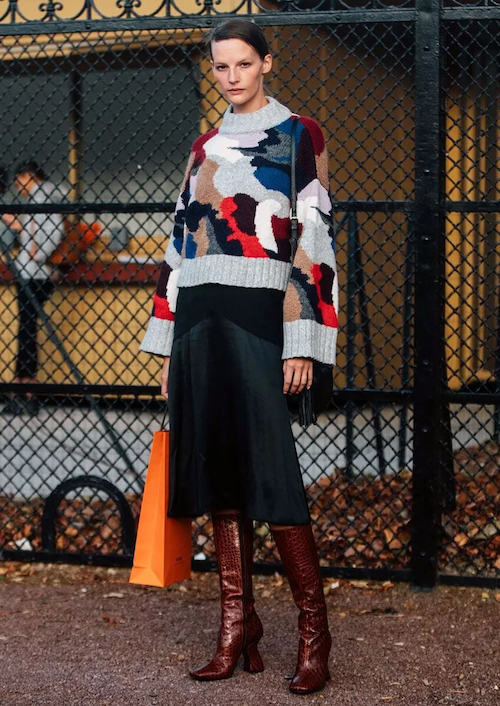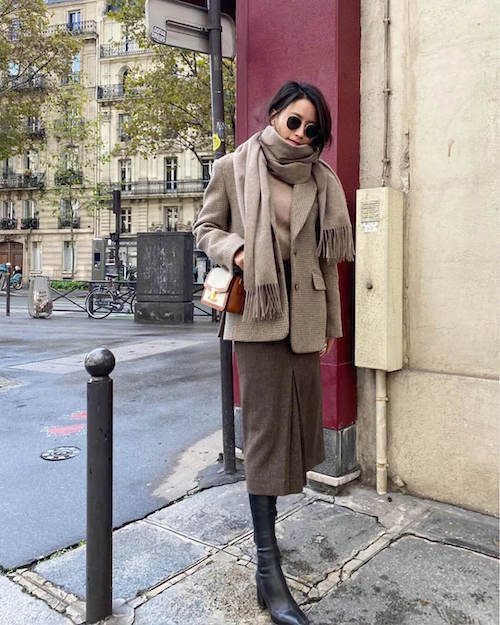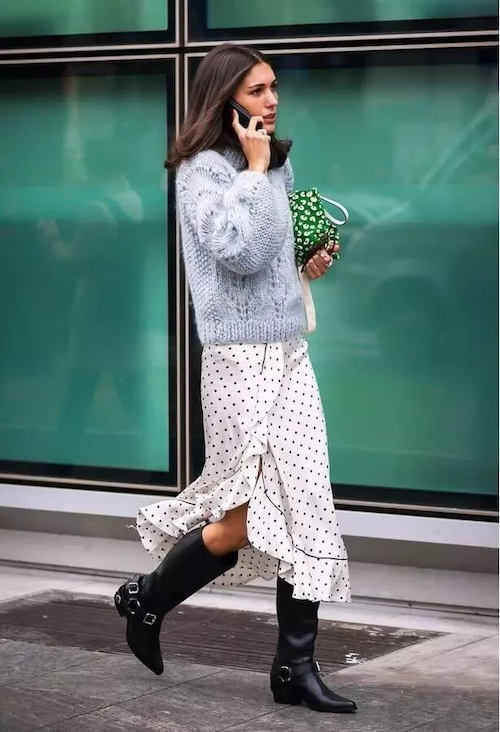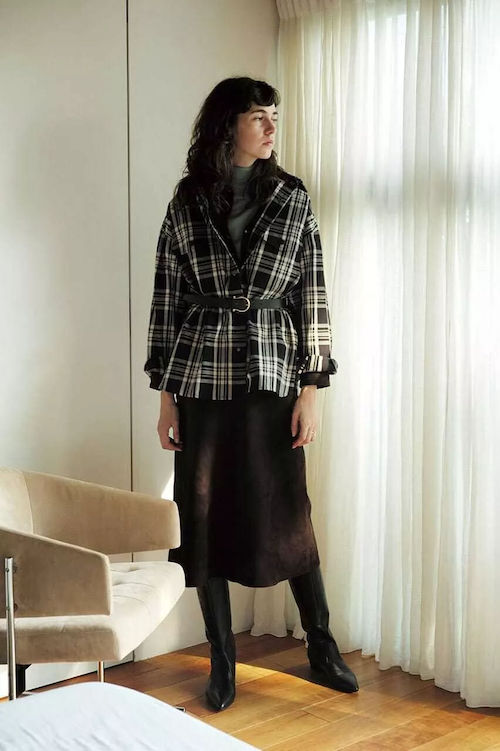 We also recommend you try the slit skit, which is a bit more feminine.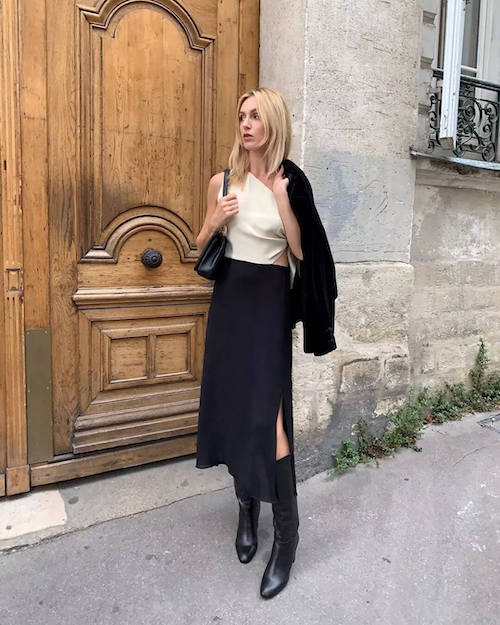 Add a more formal look blazer, and your style will instantly become different. This is a perfect work outfit in the cold weather.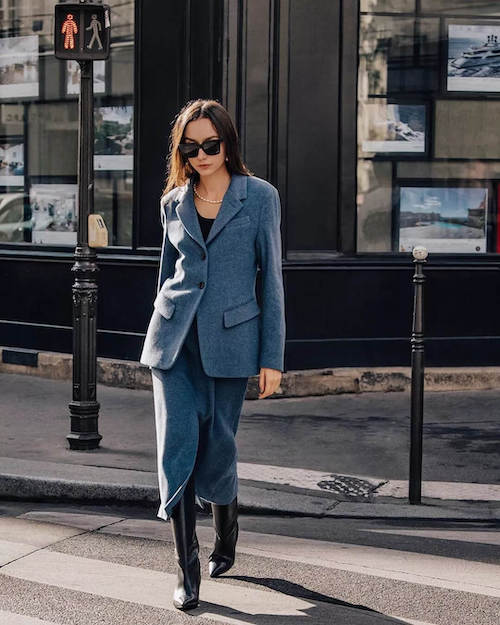 Knee High Boots Outfits With Midi Skirts We Love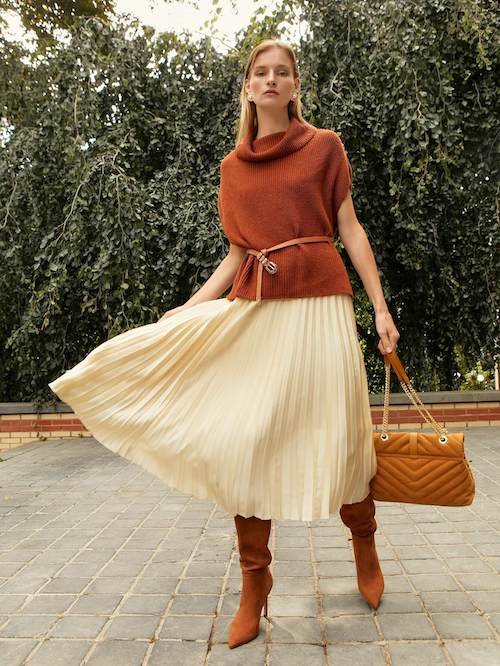 With Mini Skirts
The mini skirts are sexier, and when they are paired with high heels or over-the-knee-high boots, they may look too sexy and tacky. So simple knee high boots are better choices for a mini skirt especially a leather skirt.
These outfits are so cute with the right level of sexiness. And you can easily add an oversized sweater and a long coat or a black leather jacket or a cool denim jacket to this mini skirt outfit when it gets colder.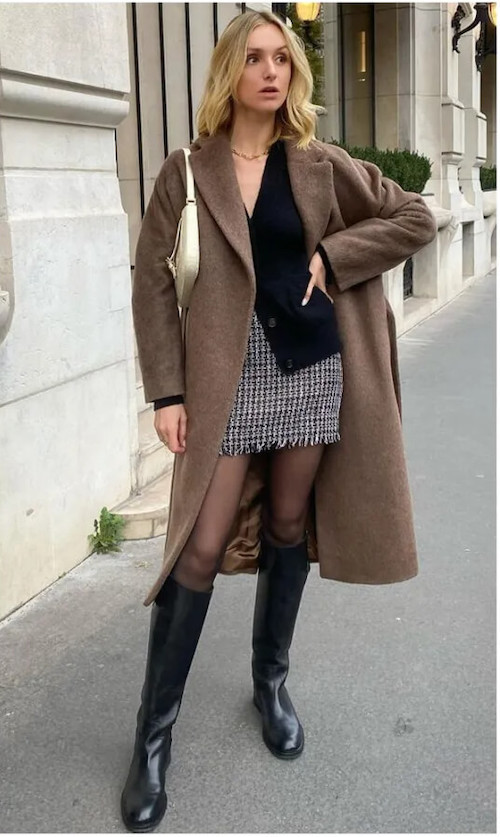 Knee High Boots Outfits With Mini Skirts We Love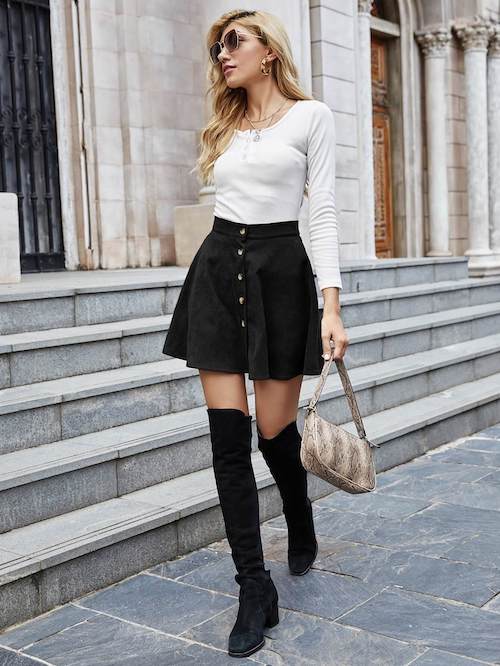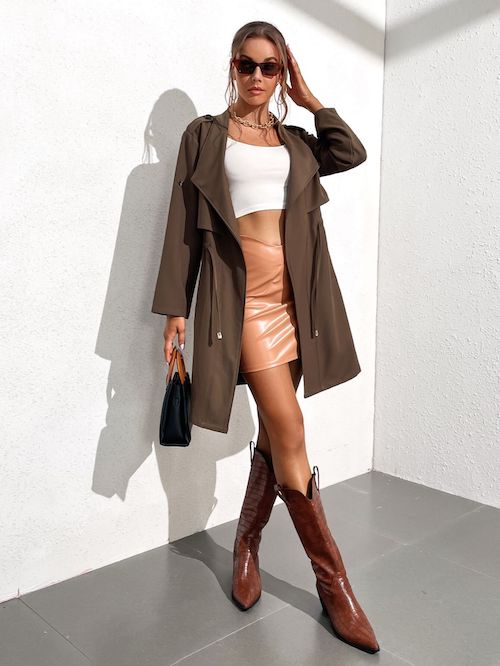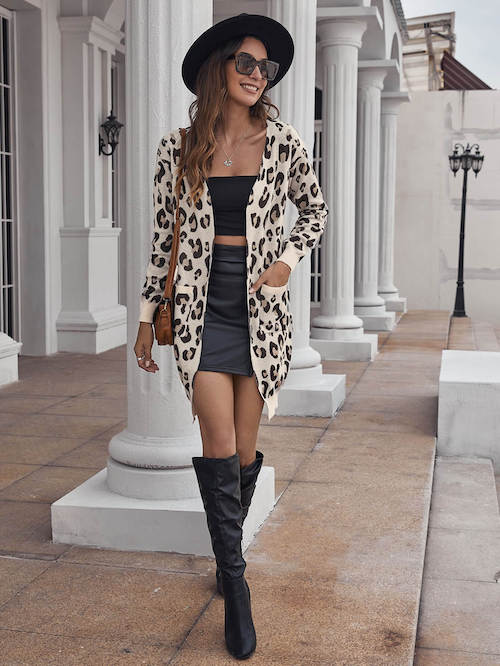 With Shorts
Some shorts are unique to knee high boots. And we strongly recommend you to try leather shorts, which are chic and warmer.




Knee High Boots Outfits With Shorts We Love

This post is all about knee high boots outfits.
Related Posts: