Looking for the best dresses to wear with thigh high boots? Check this post for the best style tips and 50+ picks from our favorite retailers to shop for directly.
Thigh high boots are always in-style in the fashion world. They are the closet staple for fashion girls, especially in the fall winter season, and almost any winter clothing pieces can be matched with them.
Moreover, thigh high boots' inherent elegance allows you to not worry about your sexiness and beauty being covered up in the bulky winter clothes.
Among all the best friends of thigh high boots, a dress is a perfect piece to pair with a pair of thigh-high boots. They seem to fit perfectly with very many different styles of dresses.
From soft printed dresses to sexy mini wrap dresses, from edgy blazer dresses to warm sweater dresses, from summer to winter, the combinations of a dress and a pair of thigh high boots can always bring us a lot of surprises.
If you are looking for the best dress to pair with your favorite thigh high boots this year, you've come to the right place.
In today's article, I am sharing with you our 50+ our favorite dresses for your to shop for directly.
So scroll down to check these style tips and different types of dresses, and don't hesitate to pin them to your Pinterest board, and share them on social media sites.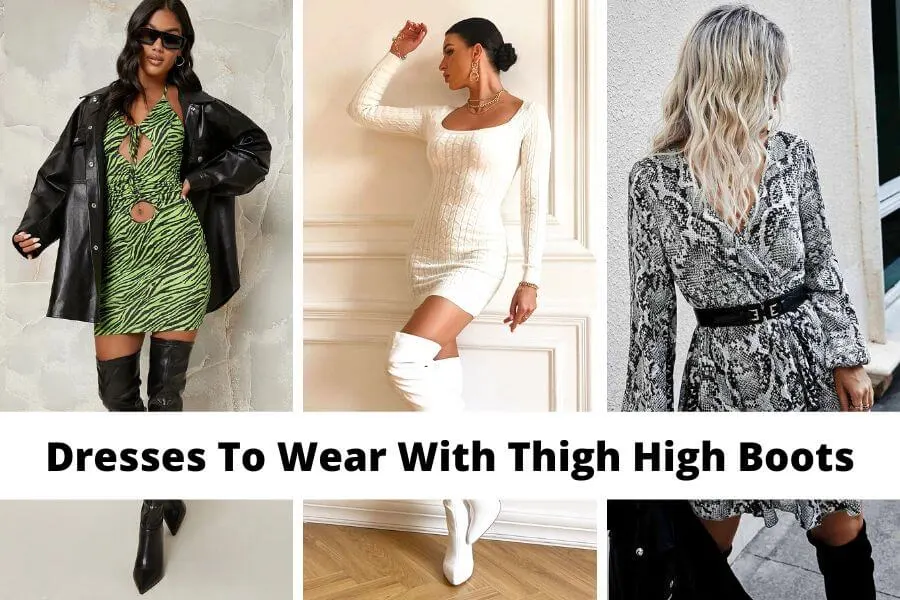 This post may contain affiliate links, which means I'll receive a commission if you purchase through my link, at no extra cost to you. Please read the full disclosure here.
This post is all about dresses to wear with thigh high boots.
Best Dresses To Wear With Thigh High Boots
Thigh high boots are over the knee length. The top of the boots are higher than that of knee-high boots, so the easiest way and the best option to style them is to choose a shorter length dress to go with a pair of thigh high boots.
At the same time, in order to show off your perfect figure, you can choose a dress with a waist design to make your waist look slimmer for any body type. This is a great way can help you perfect your body proportions.
If your dress does not have a waist design, then you can add a belt to it. This thigh high boots outfit idea is especially suitable for the fall winter cold days.
You can choose a belt that is similar to the color of your favorite boots, and if necessary, you can also choose a hat and bag of the same color to make your overall look more elegant and charming.
In addition, a long dress is also a perfect choice for thigh high boots style.
You can choose a long dress that is more fitted so that the dress and the boots are more closely connected together. It is a great option allows you to get enough warmth even on a cold day.
Or you can choose a long dress with a high slit design, so that your boots are hidden in the hemline of the dress, which is very sexy and attractive.
Finally, thigh high boots sexy style is also particularly suitable with edgy style dresses, such as suit dresses and silky slip dress.
These dresses' relatively short hemlines and the good wrapping thigh high boots, can help you visually modify your charming legs for your night out or date night looks.
Ahead are our picks for different occasions from our favorite online fashion stores to shop directly.
Sweetheart Neck Puff Sleeve Tie Back Satin Bodycon Dress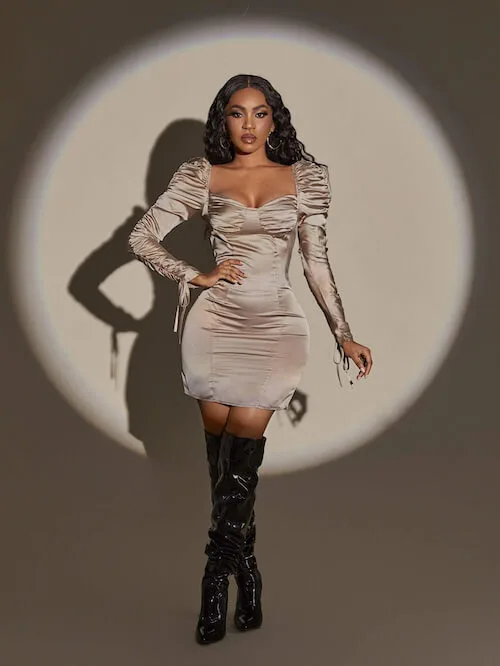 Tie Side Overlap Collar Ribbed Knit Sweater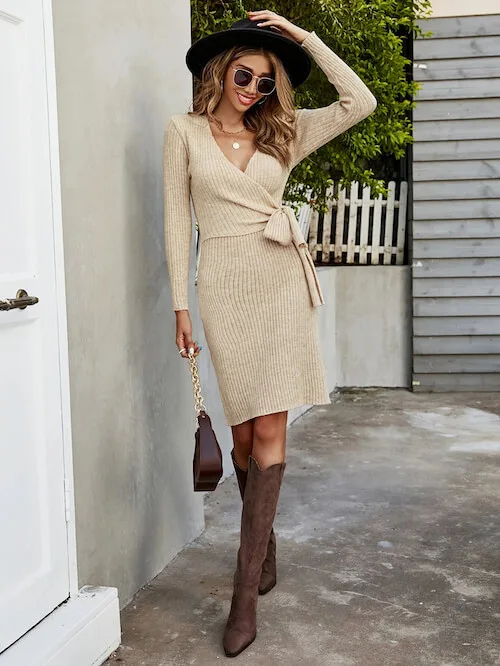 Shoulder Pad Sweater Dress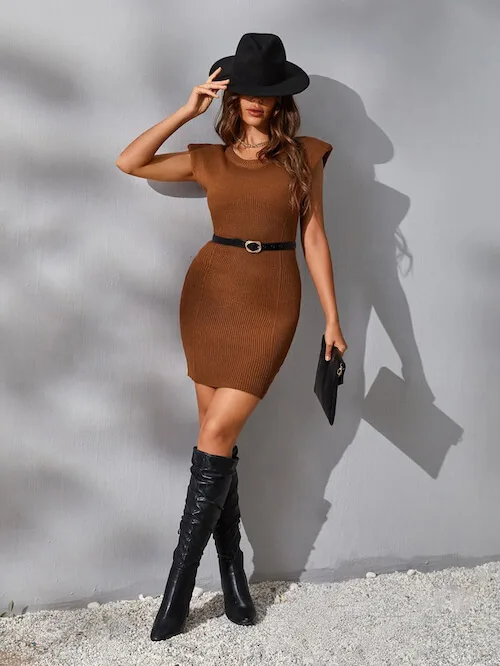 WOOL-MIX ASYMMETRICAL HEM SWEATER DRESS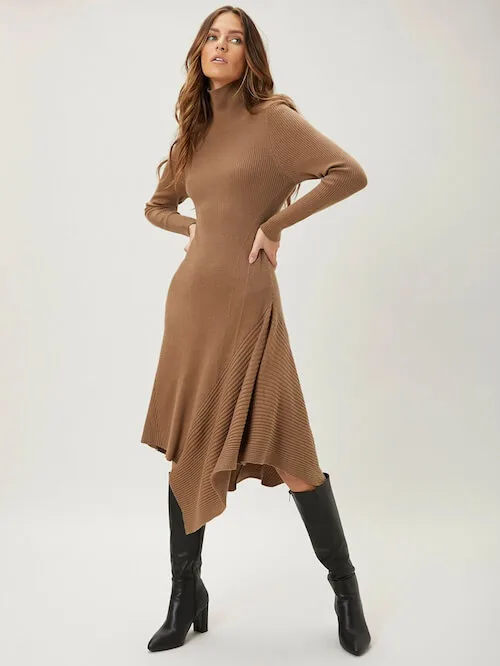 Striped Trim Cable Knit Sweater Dress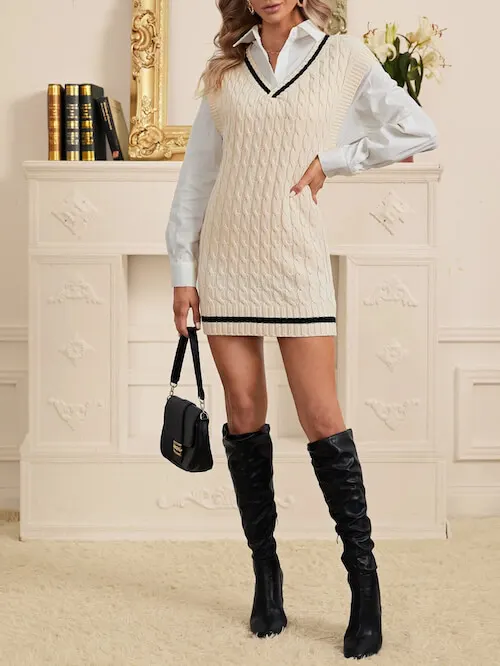 Turtleneck Drop Shoulder Oversized Sweater Dresses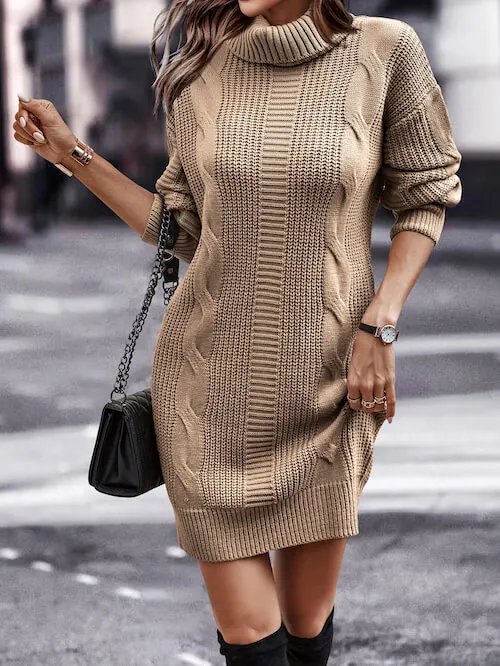 Scoop Neck Bodycon Sweater Dress
Belted Ribbed Knit Bodycon Sweater Dress
ECO RECYCLED POLYESTER TURTLENECK SWEATER DRESS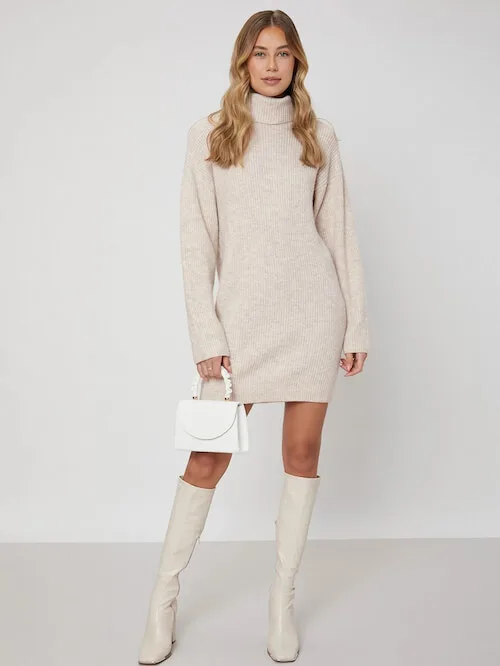 Drop Shoulder Slit Hem Ribbed Knit Sweater Dress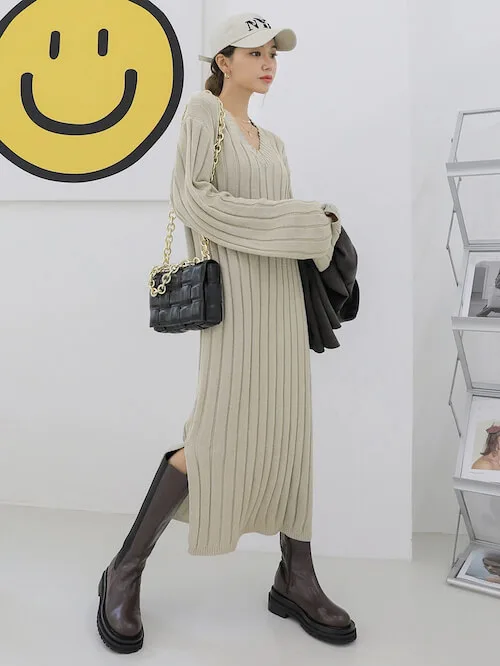 Casual Soft Pink Dress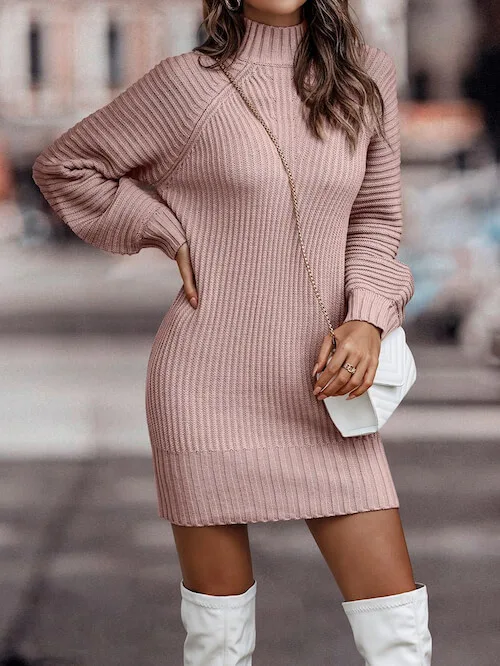 Turtle Neck Drop Shoulder Chunky Knit Sweater Dress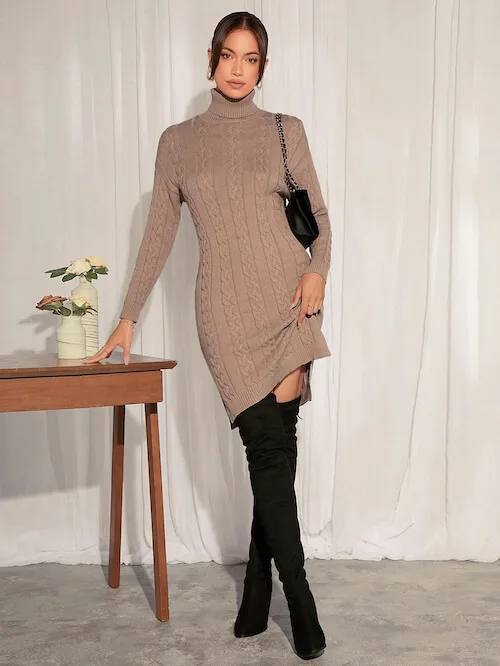 V-neck Leopard Pattern Distressed Sweater Dress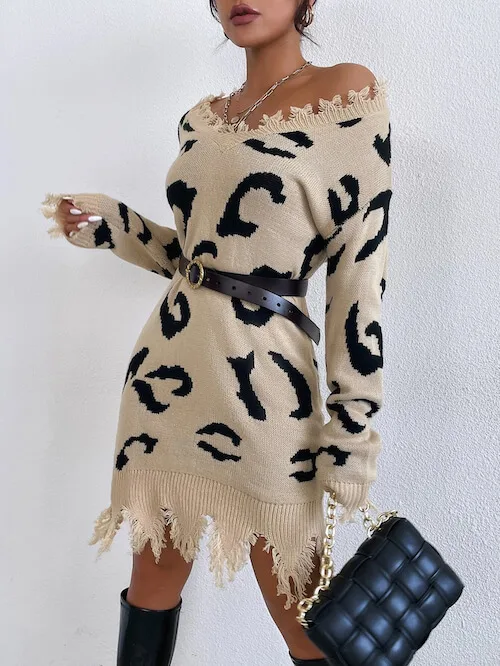 Ditsy Floral Print Frill Trim Dress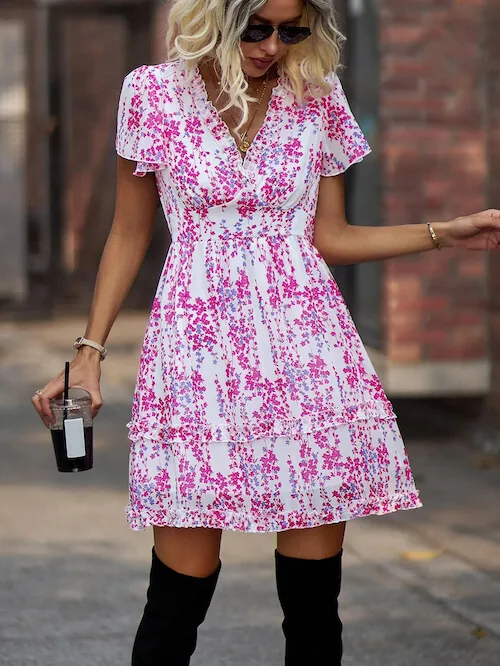 Contrast Trim Button Through Dress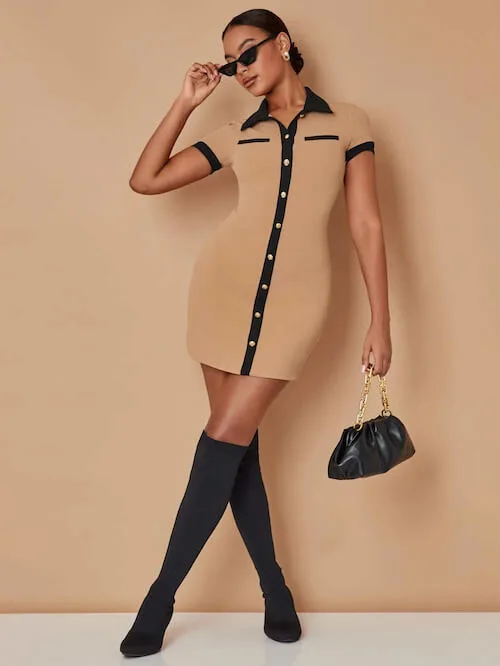 High Neck Ribbed Knit Short Dresses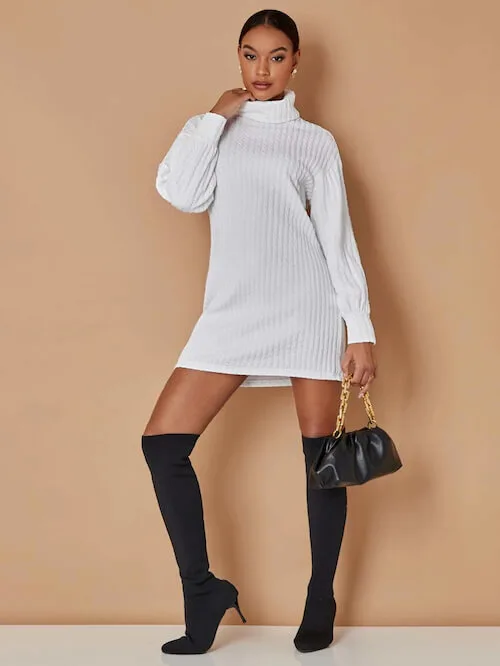 Plaid Print Overall Dress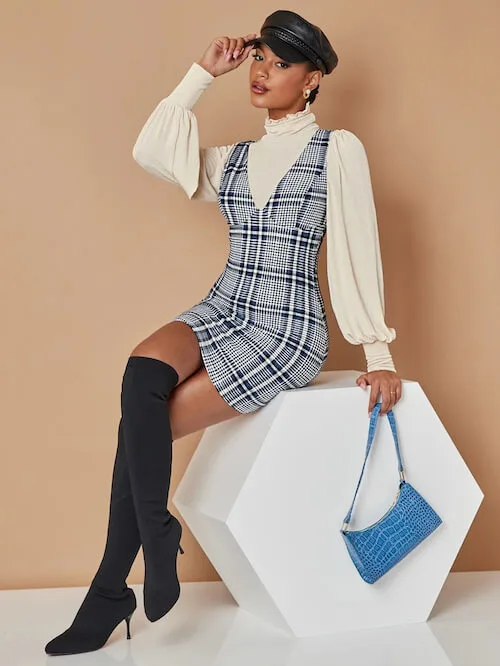 Confetti Print Keyhole Back Ruffle Dress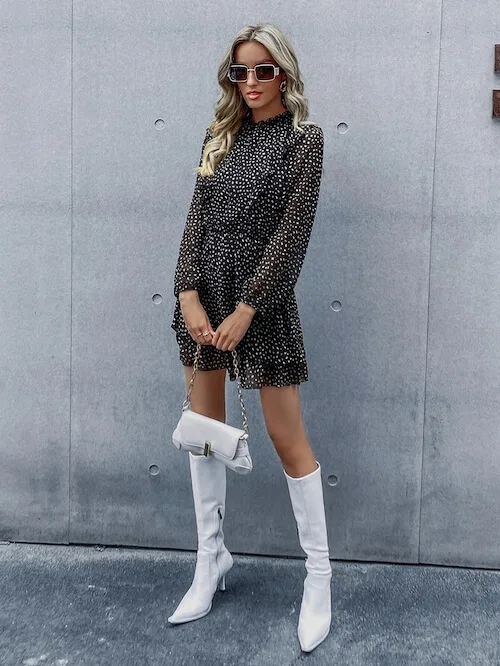 Solid Roll Up Sleeve V Neck Curved Hem Dress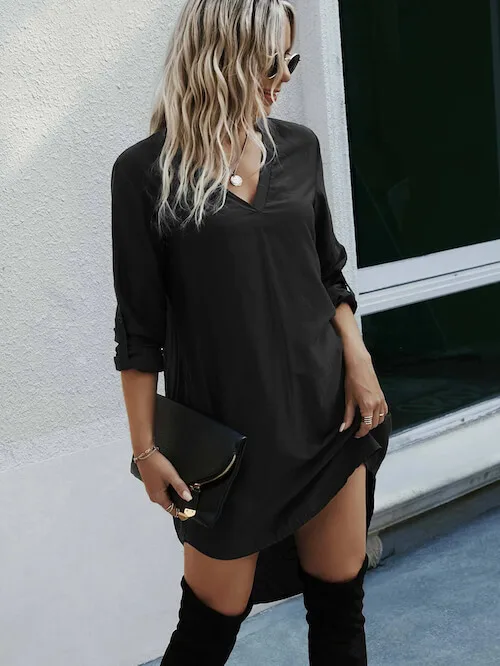 Bishop Sleeve Belted Tee Dress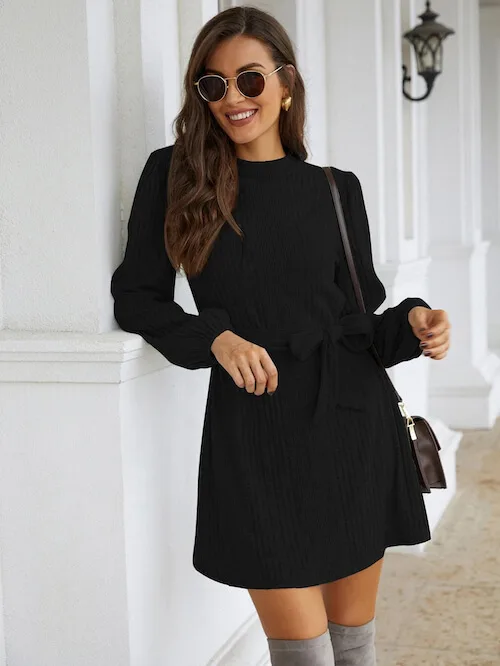 V-neck Plisse Belted Dress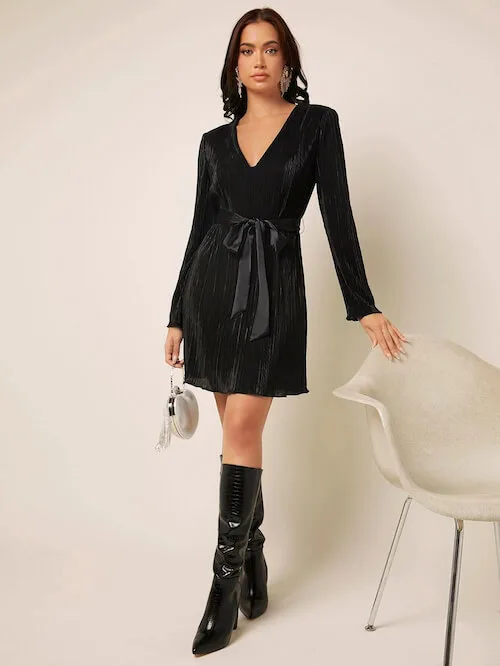 Asymmetrical Hem Floral Dresses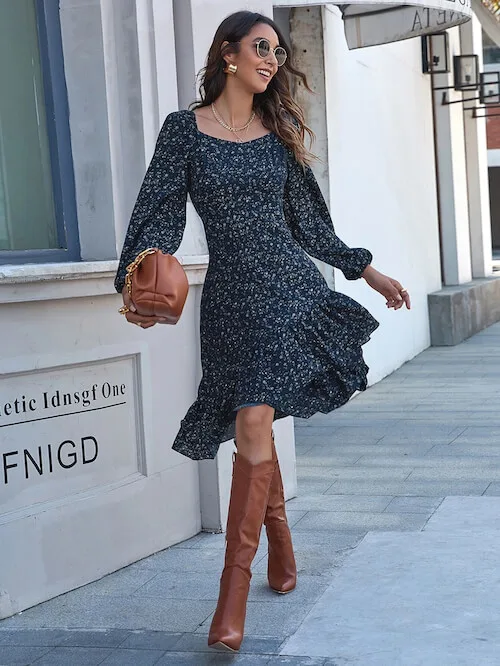 Solid Velvet Fit And Flare Dress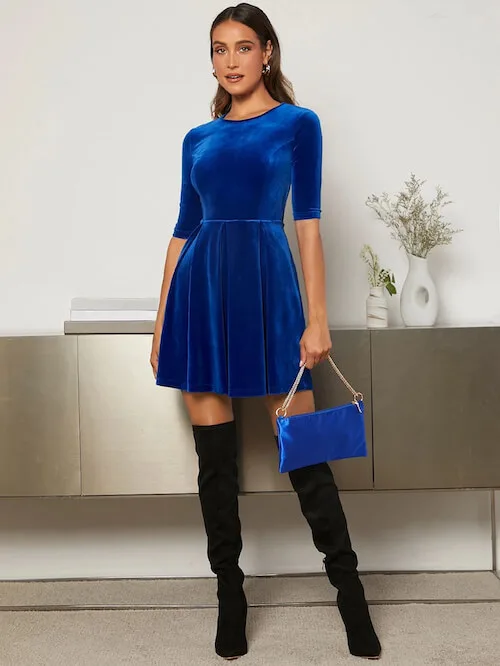 Allover Print Ruffle Hem Long Dress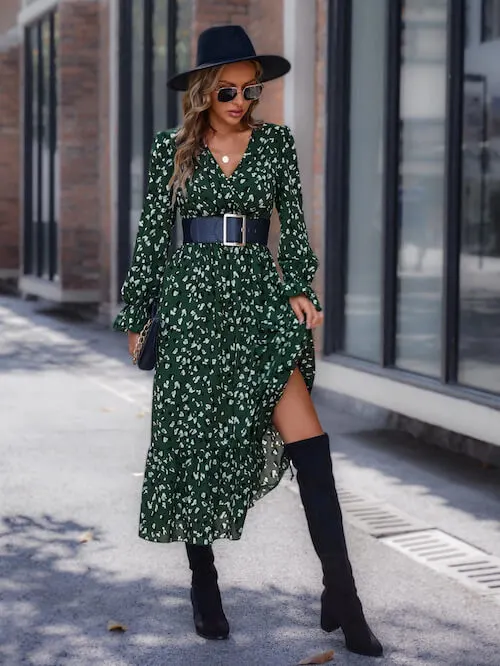 Solid Button Front Corduroy Overall Dress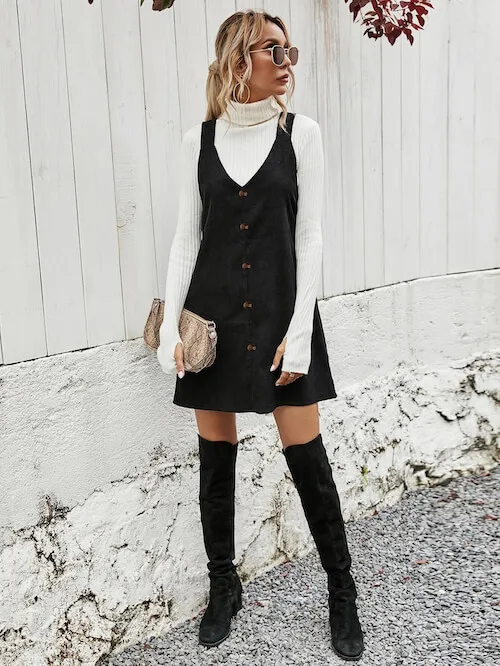 Lapel Neck Fringe Trim Longline Blazer Dress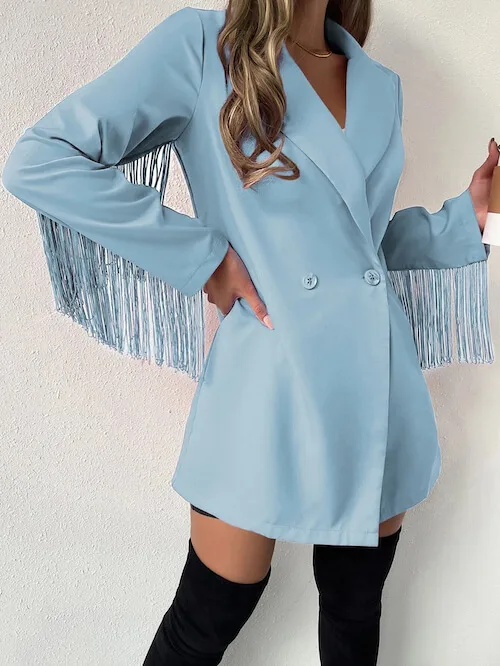 Lapel Neck Eyelash Lace Panel Belted Blazer Dress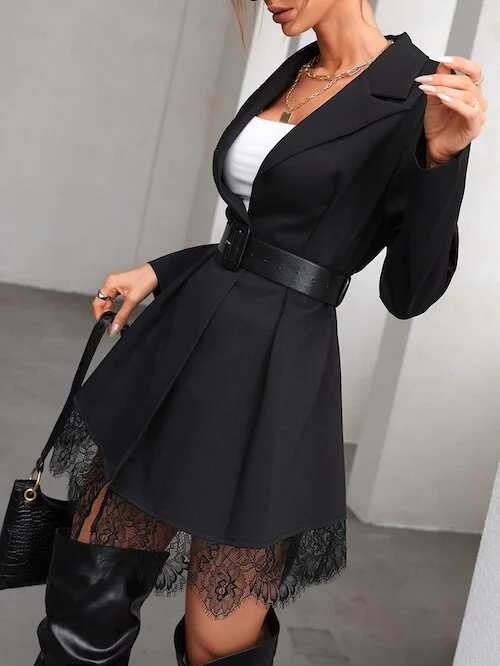 Leopard Print Bishop Sleeve Ruffle Dresses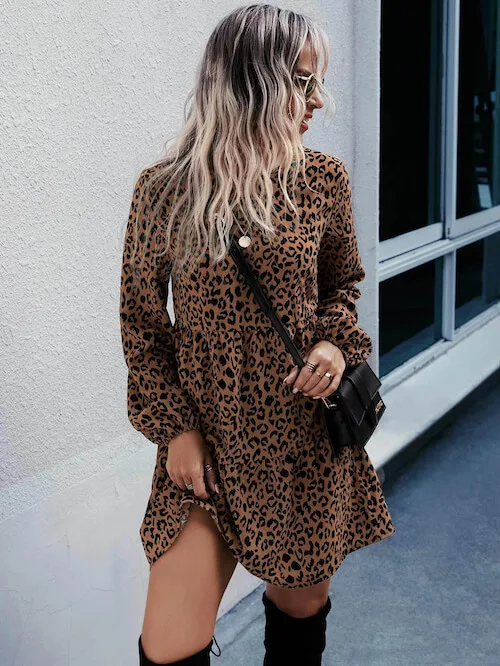 Ditsy Floral Flounce Sleeve Ruffle Hem Shirred Bodice Dress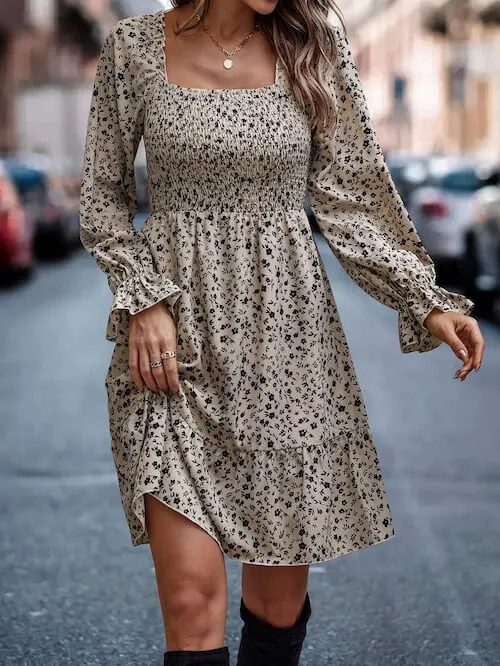 Animal Print Overlap Collar Bishop Sleeve Dress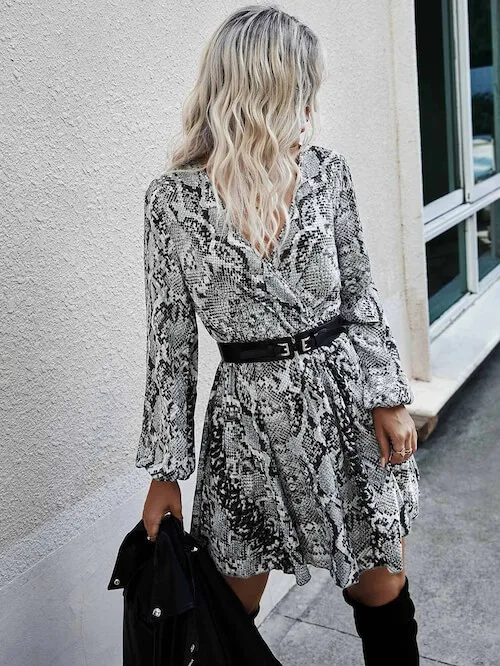 Plaid Classic Shirt-Dress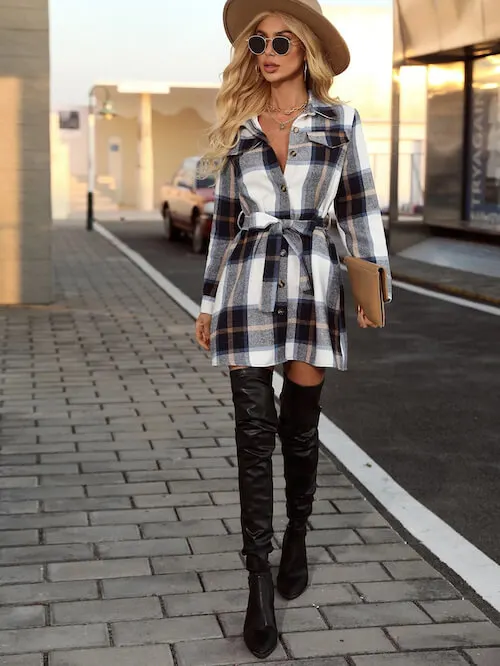 Contrast Guipure Lace Bishop Sleeve Ruffle Hem Belted Dress
Ditsy Floral Tie Neck Bishop Sleeve Layered Dress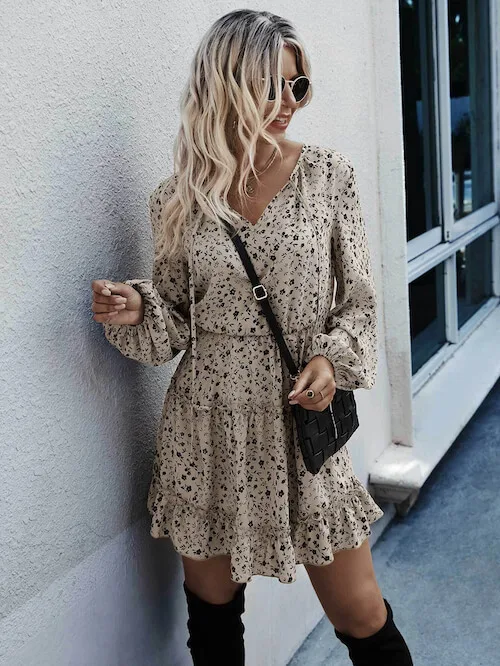 Rib-knit Ruffle Hem Dress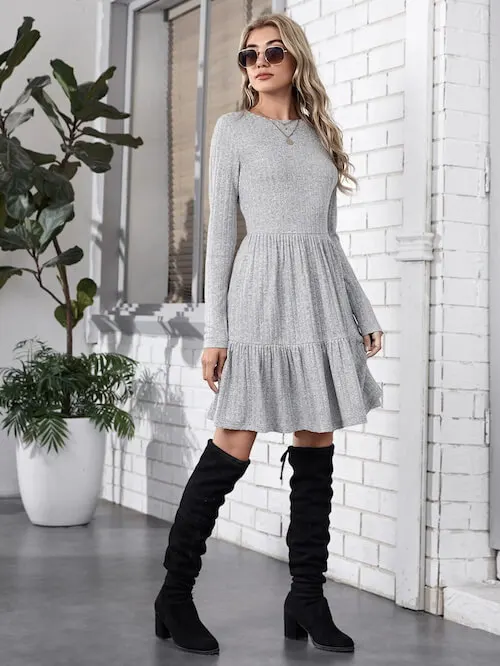 Mauve Purple Ribbed Knit Long Sleeve Skater Dress
Long Sleeves Mini Dresses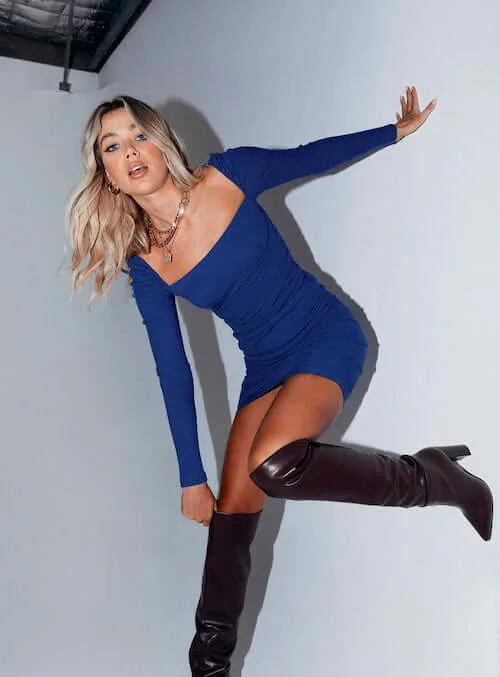 Black Floral Print Cutout Midi Dress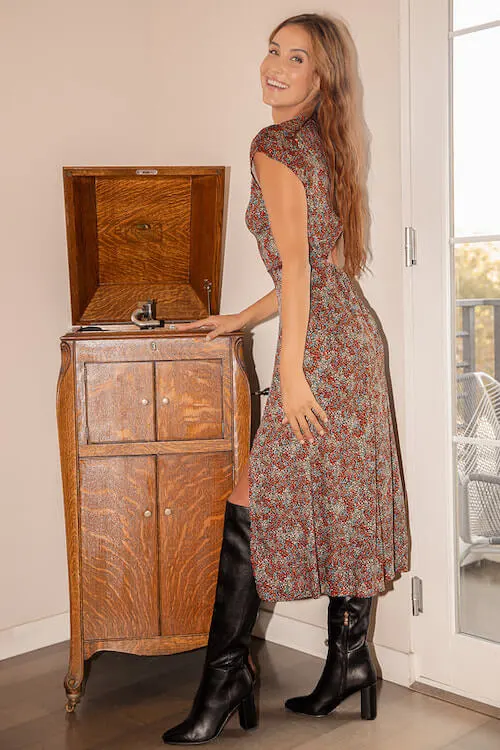 Belted Blazer Dress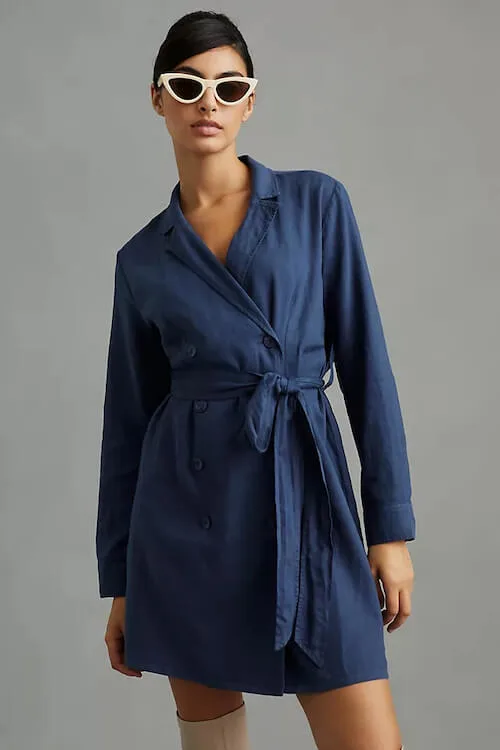 Kelsi Dagger Brooklyn Logan Over-The-Knee Boots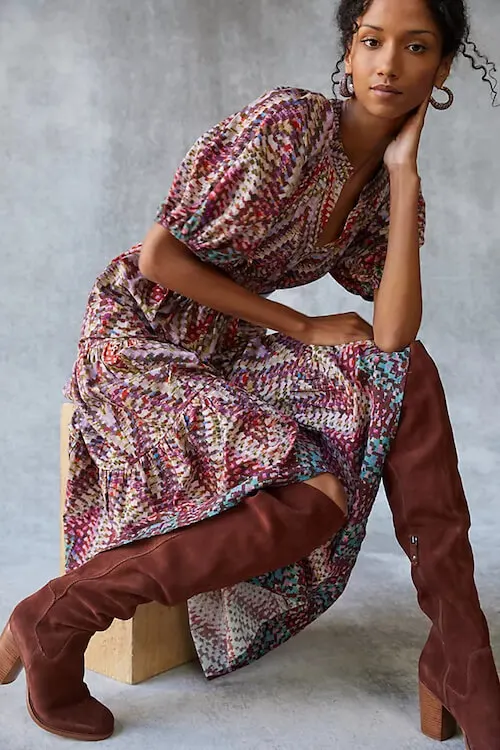 Bell-Sleeve Mini Dress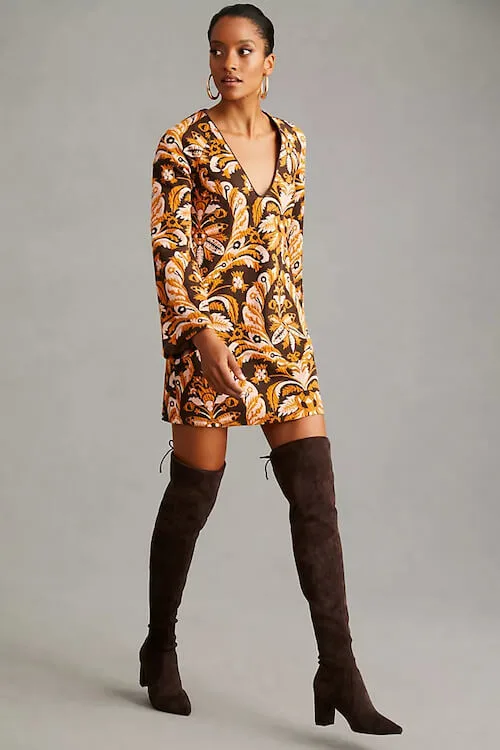 Red Tiered Mini Dress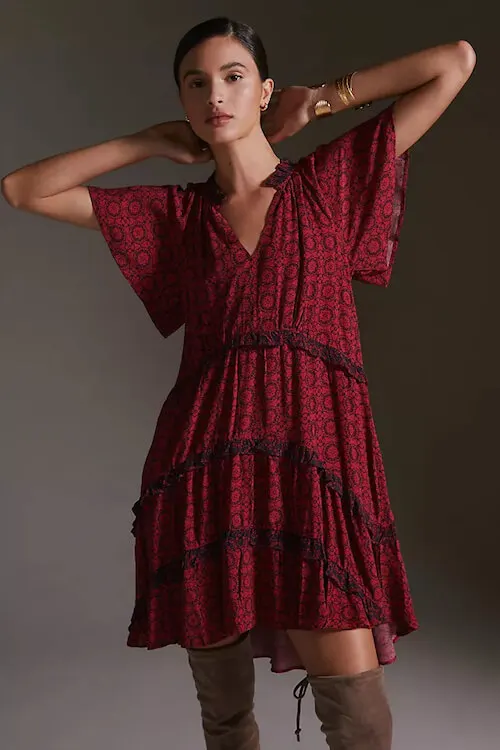 Printed Chiffon Maxi Dress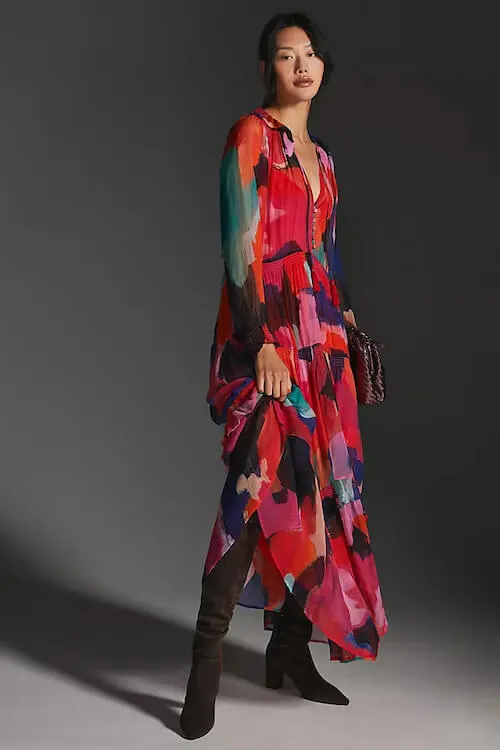 Blue Ruffled V-Neck Dress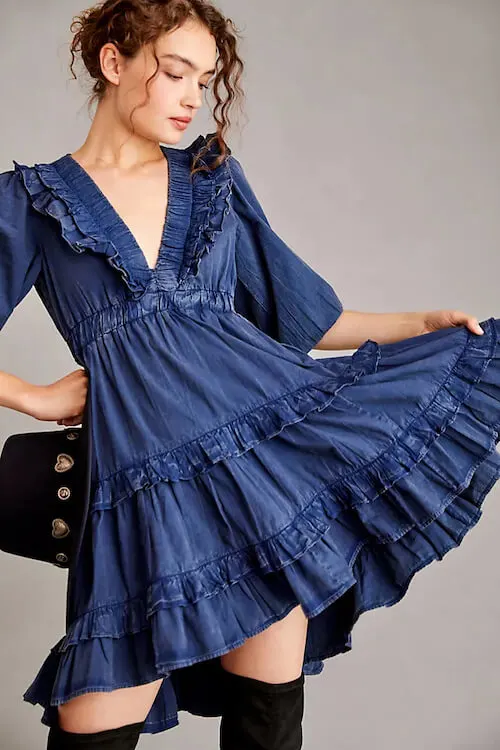 Modern Mini Dress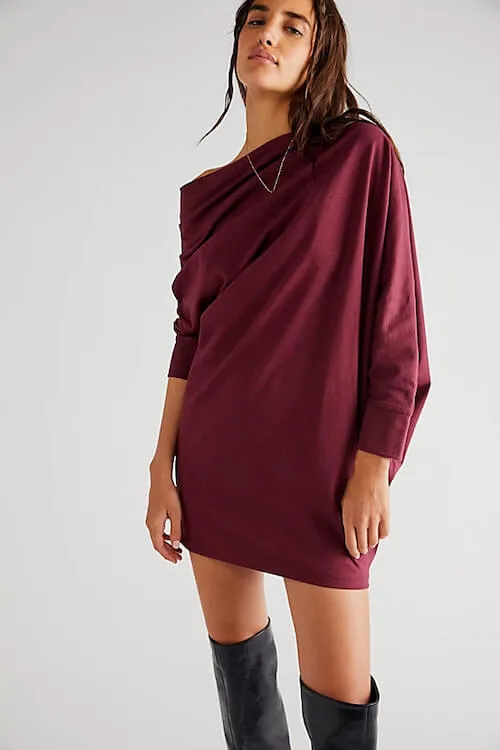 Cute Dresses To Wear With Thigh High Boots For Warmer Months
In spring and summer, it is a good idea to wear thigh high boots to match the dress for an edgy look.
I suggest you choose a shorter dress or light and breathable fabric dress, which is more comfortable to wear. And try different colors boldly to create a stunning look.
On warmer days, I also recommend trying a simple shirt dress with thigh high boots.
The soft style of the thigh high boots will create a more interesting contrast to your simple dress design, giving your outfit a very nice balance of feminine and neutral styles that will make you look very stylish.
Backless Cami Black Dress For A Chic Look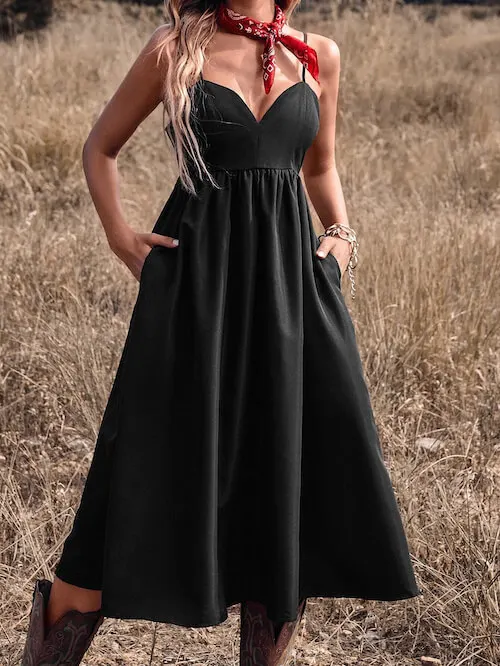 One Shoulder Cut Out Satin Silky Dress For A Sexy Look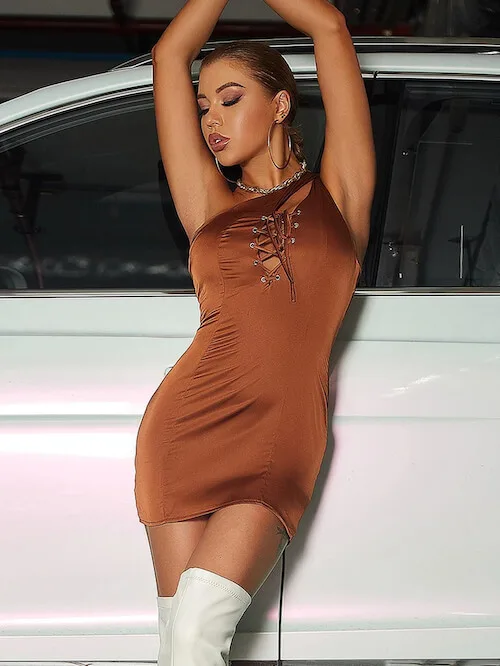 Rust Floral Mini Dress For An Everyday Look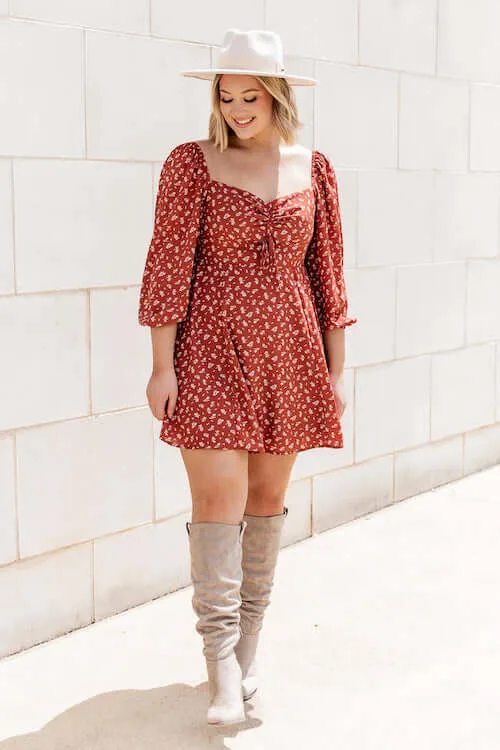 Green Bodycon Mini Dress For An Edgy Look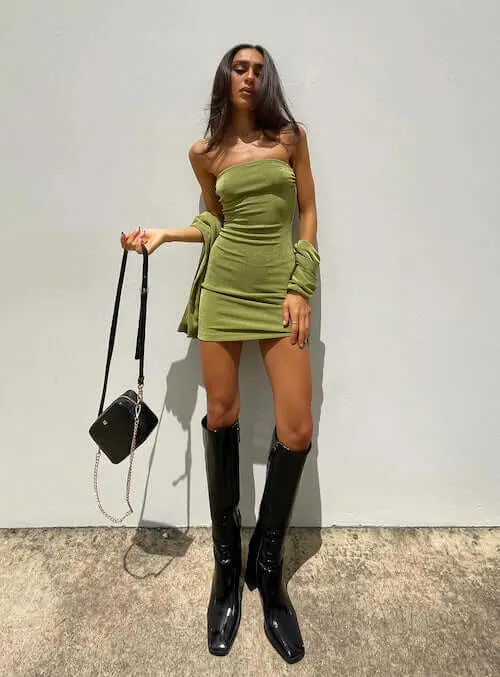 Print Shirt Dresses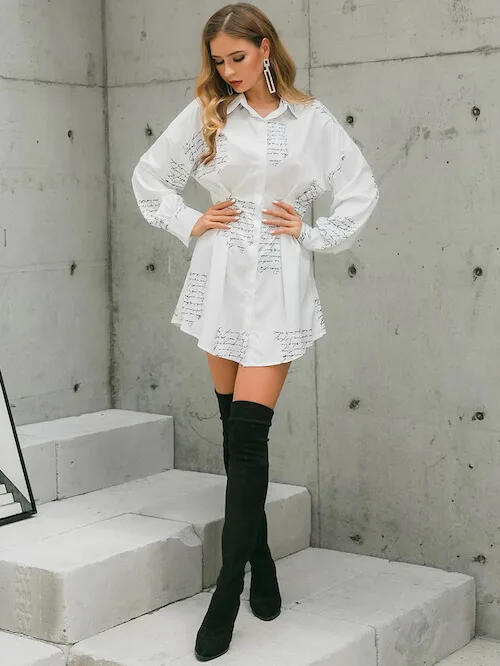 Cute Dress-Boots Combinations For Cold Weather
In fall, there are even more dresses to choose from to pair with your thigh high boots.
For the fabric, in addition to cotton, you can also choose flannel, corduroy, leather, velvet dresses, and of course the gentle and lovely sweater dresses. They allow you to easily create cute fall outfits.
If the fabric of your dress is relatively thin, then you can also put an an oversized top, such as an oversized sweater or oversized jacket, on top of your dress during the transition season.
For the color, choose lovely colors of fall and animal print designs, which look perfectly with leather or suede thigh high boots.
In the winter months, add a warm jacket to your dresses. A leather jacket, a long coat, or a trench coat are all great options.
When it gets colder, you can also wear black tights under your tall boots, or put on skinny jeans and boots first, then add a dress. These cute outfits keep you warm and chic in the winter.
In fall and winter, a pair of thigh high boots can bring a lot more fun to our outfit matching game.
Want the easiest and most convenient fall outfit for work? Use a plaid shirt dress to match with thigh high boots, comfortable and very professional.
Need to attend a wedding in autumn? Don't forget to try a pair of thigh high boots with a romantic maxi dress, they make your wedding guest outfit look unique and stylish.
It is also a great idea to add a dress of holiday vibe to your collection, such as a Christmas green dress. This whole outfit is perfect for the holiday seasons.
Sweater Dress + Black Blazer + Black Thigh-High Boots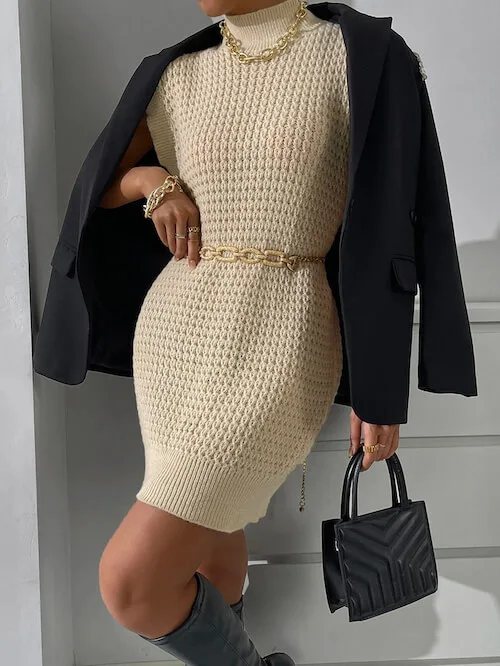 Faux Leather Drop Shoulder Curved Hem Belted Dress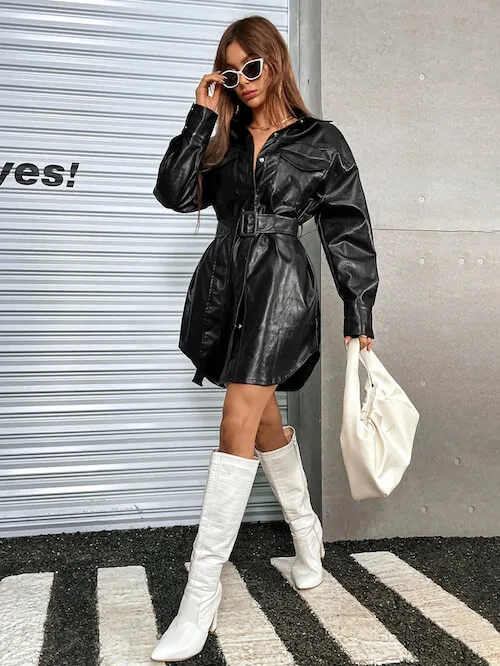 Brown Plaid Single Breasted Belted Shirt Dress
Blue Floral Print Satin Wrap Maxi Dress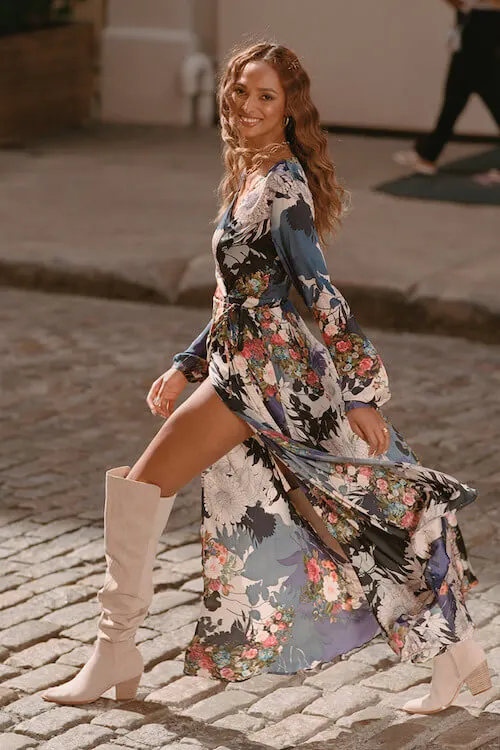 Sweetheart Neck Split Hem Velvet Dress + Slouchy Boots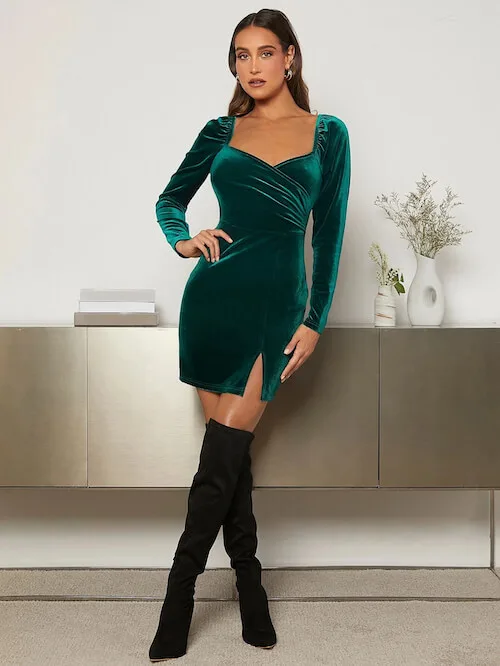 Batwing Sleeve Sweater Dress + Grey Suede Thigh High Boots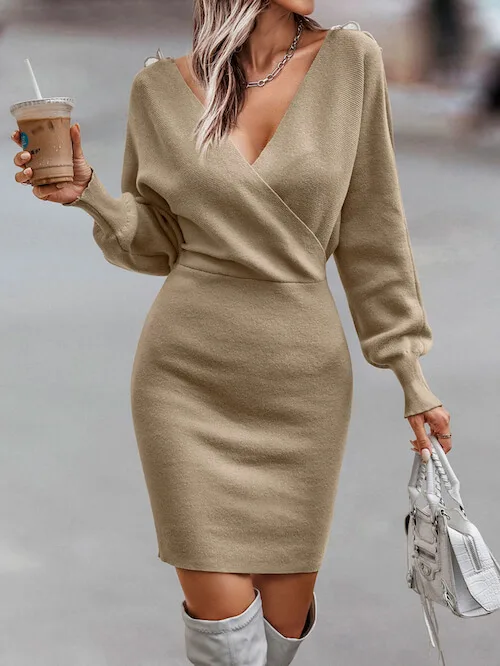 Tan Boots + Snakeskin Print Mini Dress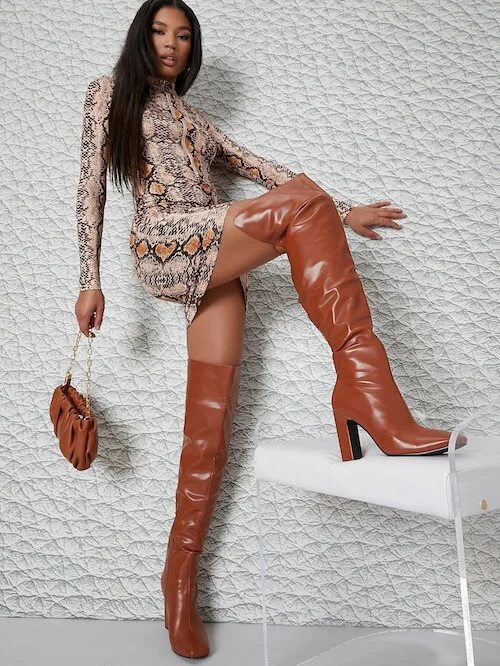 Faux Leather Block Heels Black Leather Boots + Print or Black Mini Dress + Leather Jacket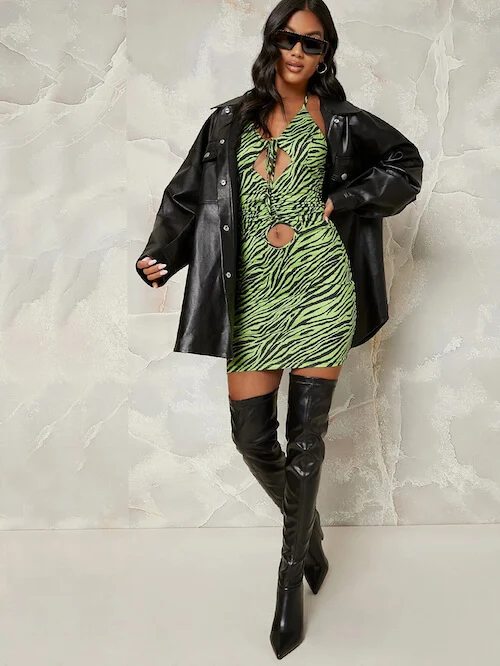 Other Everyday Wear Ideas To Style Thigh High Boots In The Cold Season
If you are looking for more inspiration to style your thigh high boots, below are our favorite style formulas:
Mini Skirt + Chunky Sweaters + Long Coat + Thigh High Boots
Midi Skirts + Chunky Sweaters + Thigh High Boots
A Pair of Skinny Jeans + Short Oversized Top + Thigh High Boots
Short Skirt + Slim Top + Trench Coat + Thigh High Boots
All Black Outfit: Black Leather Skirt + Black Sweater + Black Boots
This post was all about dresses to wear with thigh high boots.
About The Author
Tracy is an experienced personal stylist, shopping expert, and fashion & lifestyle blogger. She has been featured on Time Magazine, Bustle, Best Life, Glam, The Zoe Report, Mic, and GOBankingRates, for her insights on fashion, beauty, home decor, and lifestyle. Read More
Related Posts: