Looking for the best dresses to wear with cowboy boots? Check this post for the style tips and 70+ best dresses to pair with your cowboy boots right now.
Cowboy boots have been trending back to the fashion industry for a while, and it is amazing to see so many styles that go well with cowboy boots.
Though skinny jeans, denim shorts, a cute crop top, and a classic cowboy hat are among the most popular choices to chase the western style, we strongly recommend you to wear a perfect dress to pair with your favorite pair of cowboy boots this year.
No matter the season, it goes without saying that some of the simplest and most convenient pieces in our wardrobe are dresses. Even in the colder months, we throw one on and run out the door with a pair of tall boots to keep the cozy and chic style.
But if you are tired of the knee-high boots or combat boots that everyone seems to wear everywhere, and if you are looking for some creative and fun way to give your favorite dresses a refreshing vibe, let a pair of cowboy boots become your next staple for almost all the seasons and even some of the special occasions!
From sun dresses to maxi dresses, from sweater dresses to sequined party dresses, the strong and fun contrast between the feminine style of a dress and a wild and cool style of cowboy boots easily form the best street style of sexiness and fashion.
We can't get enough of the combination of cowboy boots and flowy designs, mini hems, and even ruffle and laces that make us still feel like a confident and free country girl in the busy city.
Whether you are in warmer months or you are in cold weather, you can find a great option out of the different ways of styling a dress with cowboy boots to get a perfect outfit.
In this post, we share what styles of dresses go well with cowboy boots, how to style them, so you can see how fashion people are wearing the cowboy boots trend with their dresses for different styles, and shop our favorite dresses to wear with cowboy boots accordingly. You'll leave here feeling confident about how to wear the on-the-rise trend.
So scroll down to check these dresses and don't hesitate to shop and pin the designs you like!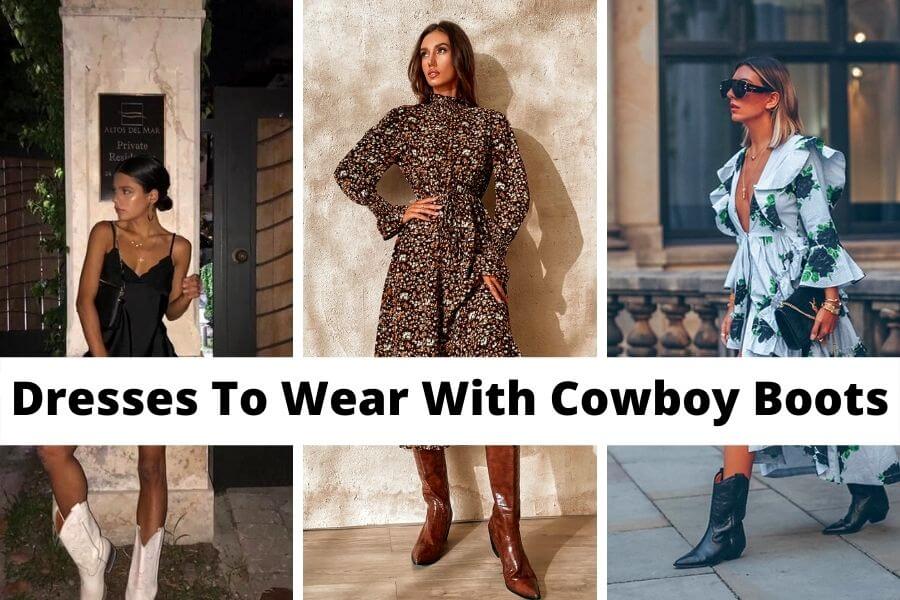 This post may contain affiliate links, which means I'll receive a commission if you purchase through my link, at no extra cost to you. Please read the full disclosure here.
This post is all about dresses to wear with cowboy boots.
Boxy Dresses To Wear With Cowboy Boots
If you are looking around to find a refreshed and creative way to dress up the trending boxy dresses and babydoll dresses this year, choose a good pair of cowboy boots. They add the perfect wild vibe to the innocent look brought from a boxy dress.
You can off course add a belt to the beautiful dress but a more stylish way is to go without a belt to look so much cuter!
Country Dresses To Wear With Cowboy Boots
Of course, country dresses are the most popular choices. And don't forget to add on the western style accessories to level up the whole style and complete the good look.
Or you can dress up your favorite sexy lace cami dress with a great pair of cowboy boots and a cowboy hat. You can choose statement pieces of bright colors to add the perfect pop of color and personal style. This outfit is so sexy and cute even suitable for country concerts or a western theme party.
Want to wear outfit formula in cold weather? Add a denim jacket or a leather jacket. These two kinds of jackets are born to have western-style!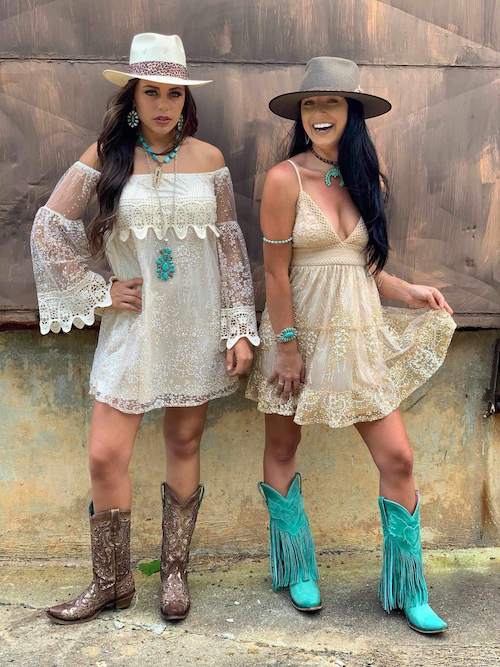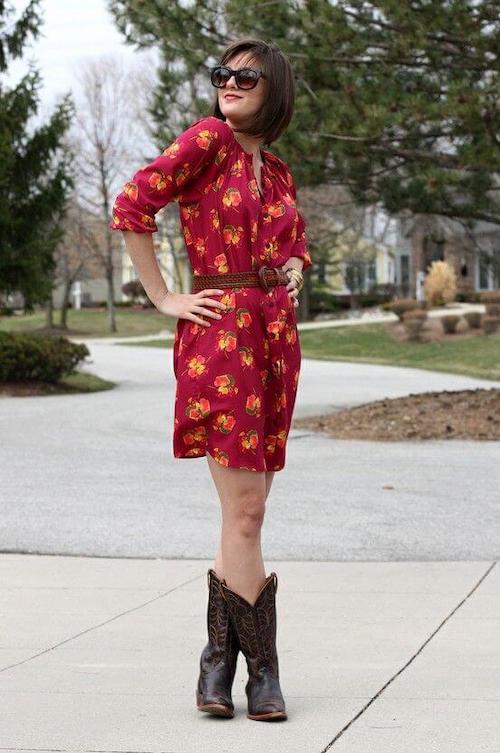 Cute Summer Dresses To Wear With Cowboy Boots
Can't you believe that? A pair of cowboy boots has become our new summer wardrobe staple, and the combo of a cute summer dress and cowboy boots is our go-to choice for a super stylish casual look.
But I suggest choosing relatively shorter cowboy boots to go with your summer dresses to make you look more refreshed and lighter.
If you prefer taller cowboy boots, a pair of white cowboy boots would be a better choice for summer.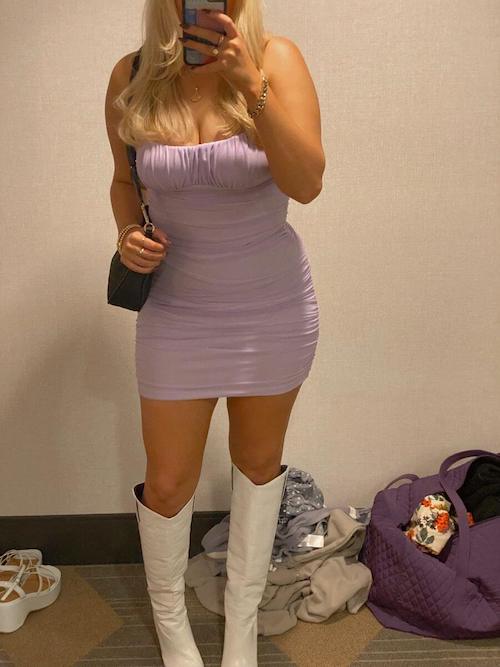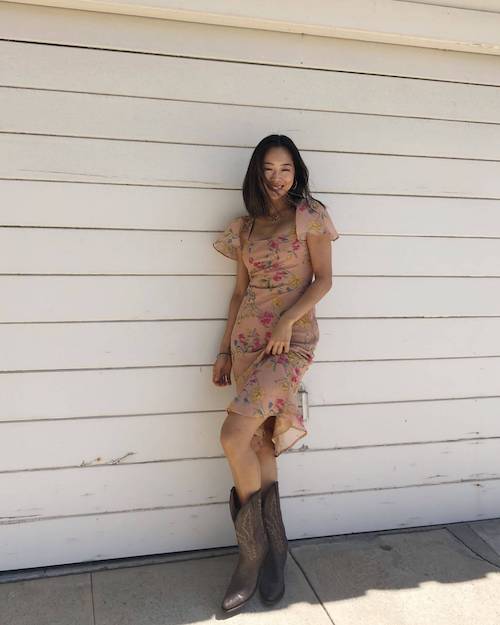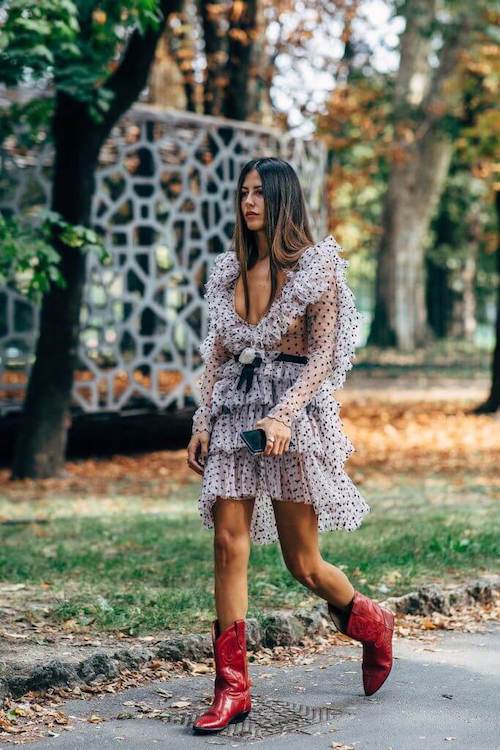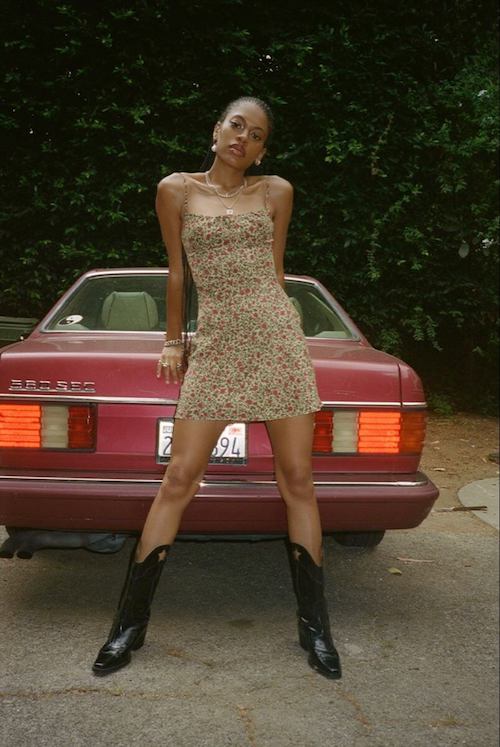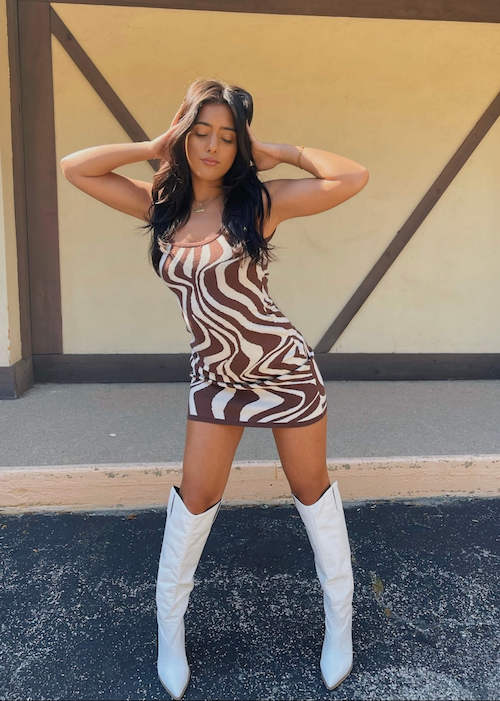 Denim Dress
Denim goes so well with cowboy boots. Choose a denim dress and a pair of cowboy boots for your next fall picnic or fall date outside, or a cool style that the fashion crowd would embrace in the latest street style. It's also an easy outfit that is super photogenic.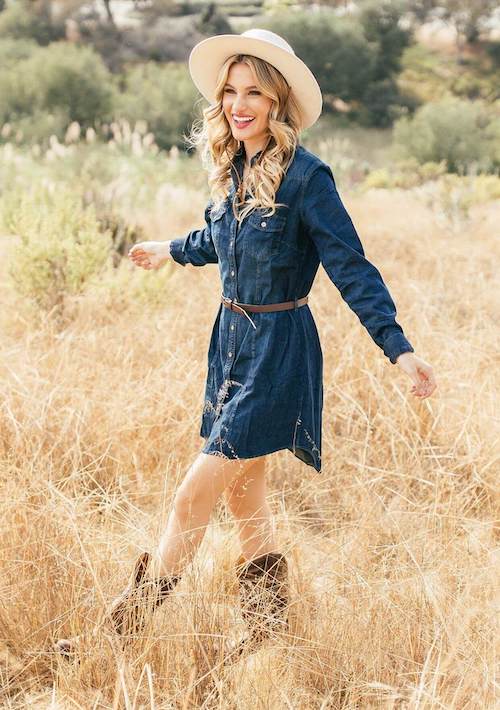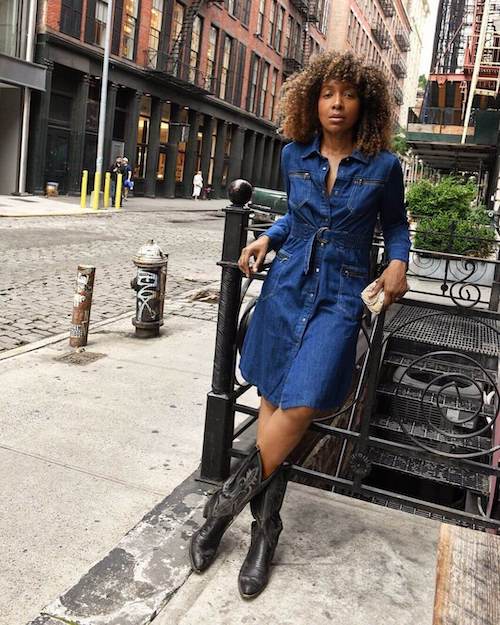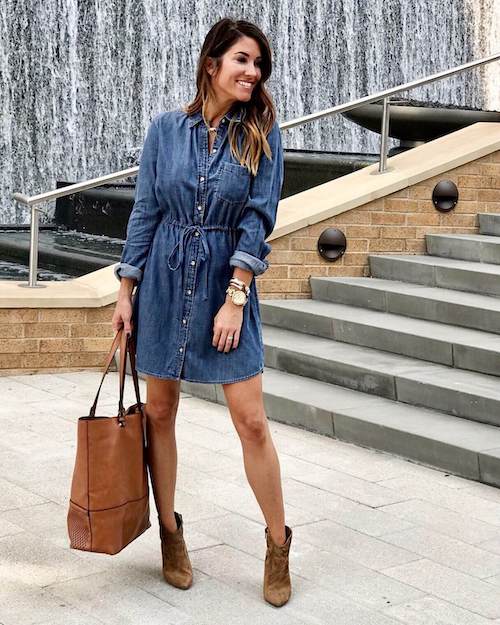 Floral Dress
Cute cowboy boots and cute floral dresses seem born to be together! The beauty of this combo is that there is a balanced feminine feel in it. You can easily dress up your cute dress next time with a shorter pair of cowboy boots for your romantic date out next time.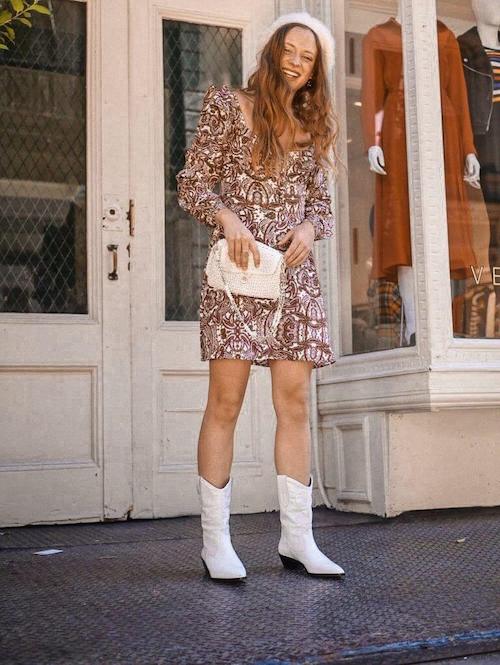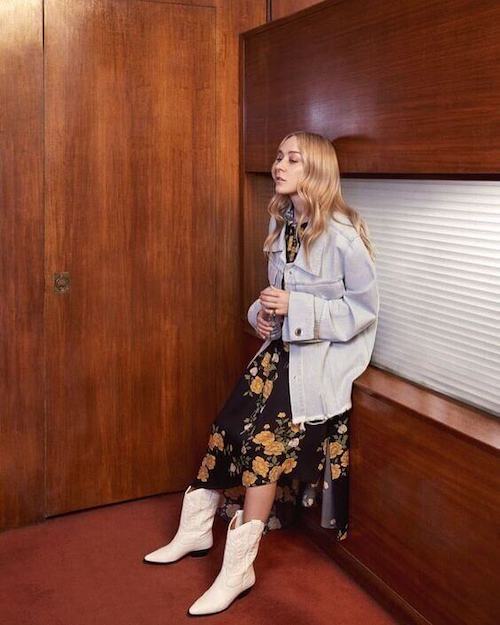 Flowy Dresses
These cute silhouettes of the flowy dresses make the classic western boots enter the spotlight in a chic way.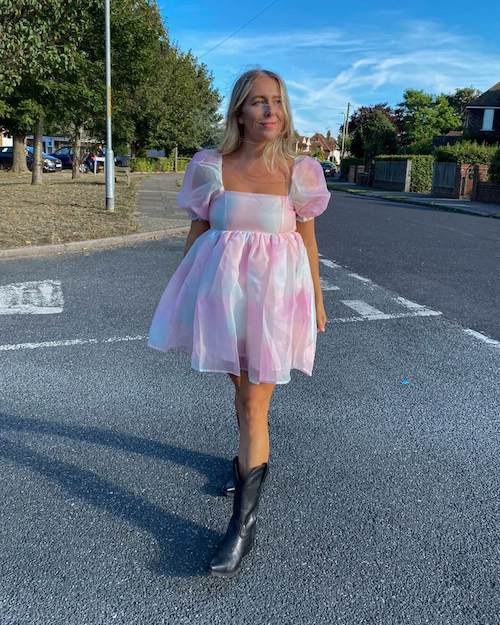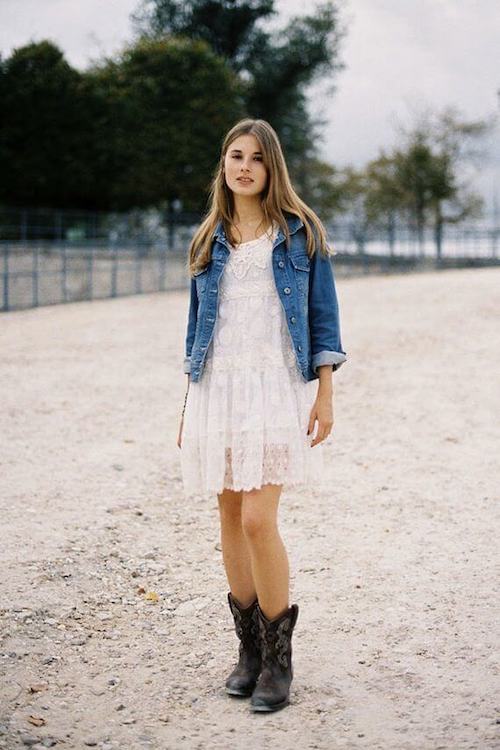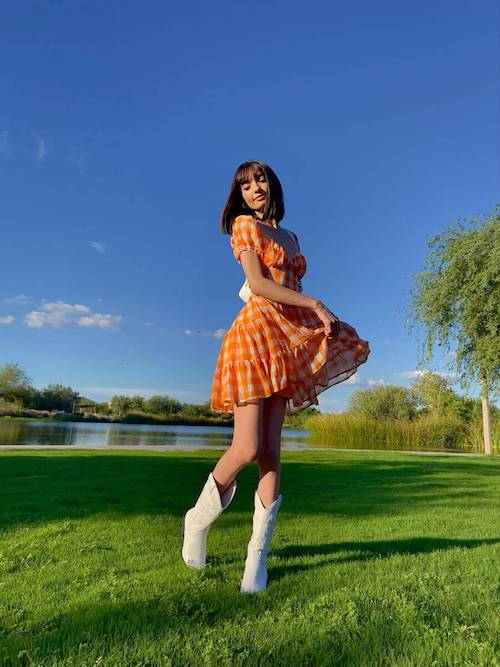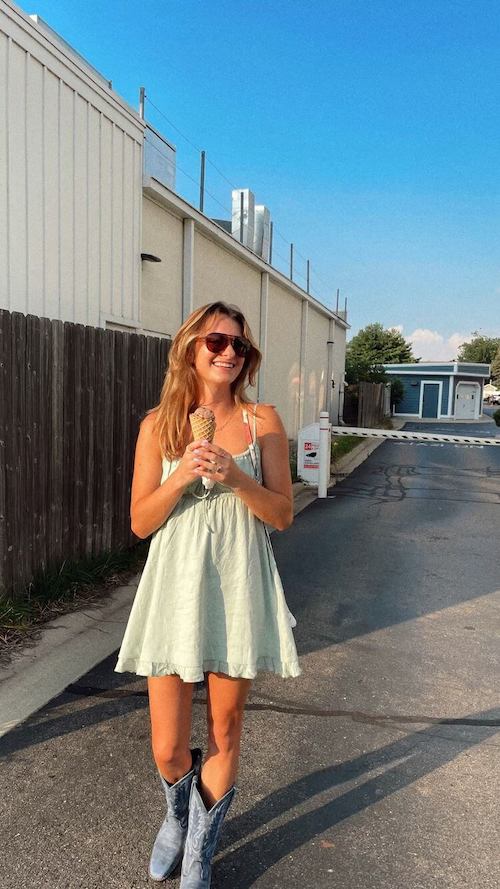 Flowy Farm-chic Maxis
Or a farm chic maxi. Emphasize the beautiful prints with simple black cowboy boots, tan cowboy boots or other dark solid color cowboy boots to strike the perfect balance of elegance and wildness.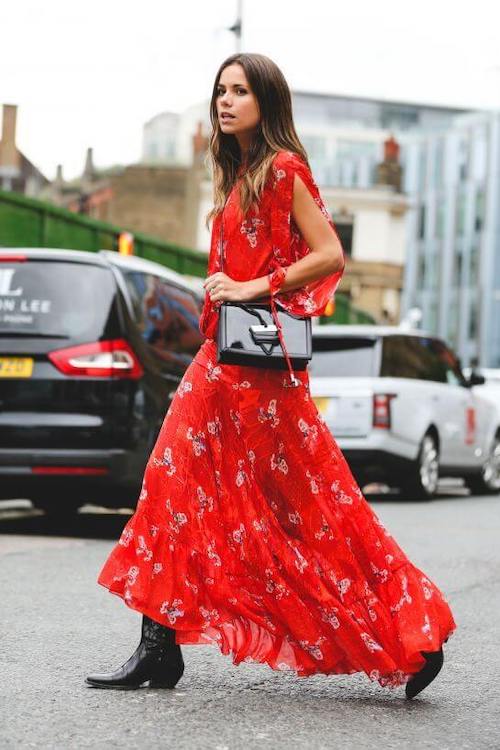 Jumper Dress
This is such a magical combination! This great look increases the sense of youth and naughtiness of the jumper dress dramatically, and the cowboy boots surely add interest and creativity to your look.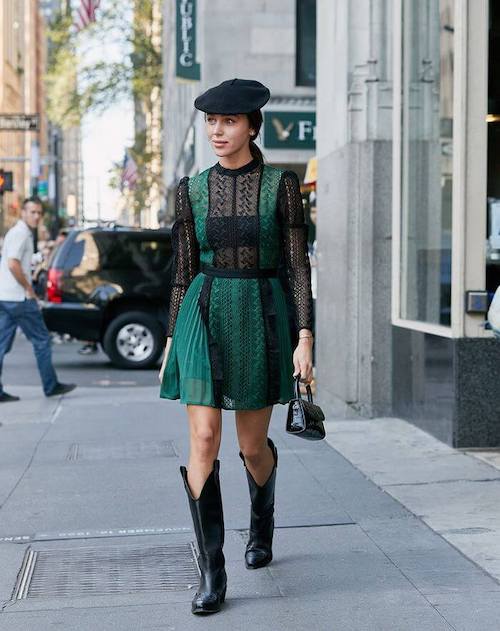 Little Black Dress
You may have never known what a great look a simple black dress can create with the right pair of boots.
From the stunning look of a good bodycon moment to the on-trend design of an edgy black blazer dress, the cowboy boots are surprisingly matched well with these elegant or sexy black dresses, and make them the best outfits for a date night or club.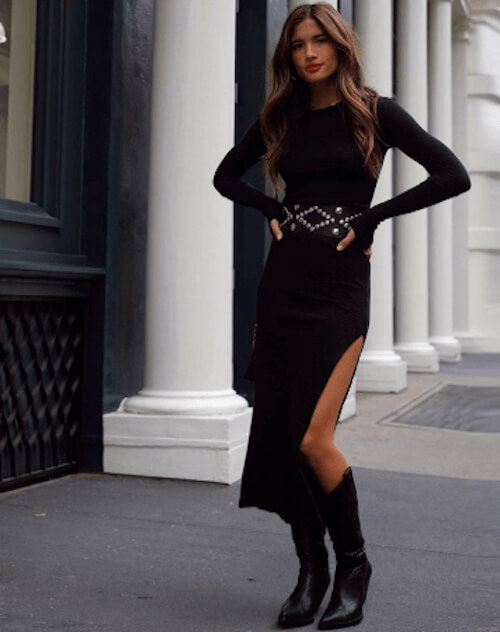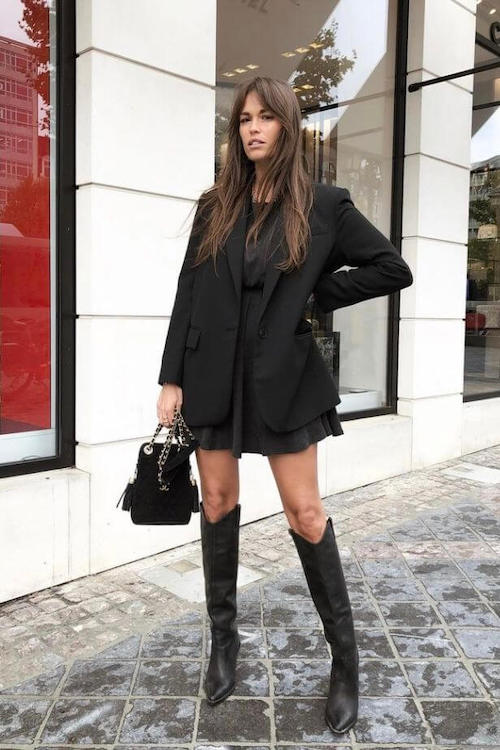 Long Dress
Lean into the casual trend and opt for the western wear inspired styles to pair with your normal long dress for work or date this season.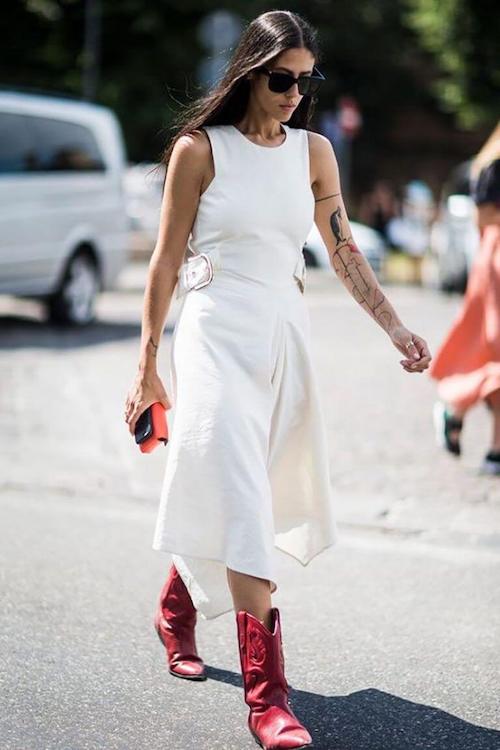 Long Maxi Dress
Show your best self with confident sexiness with the cowboy boots and the split long maxi dresses.
Choose boldly designed floral prints, bright colors, and exaggerated ruffles and hems to express their charms to the most extend. They are guaranteed to make you stand out easily.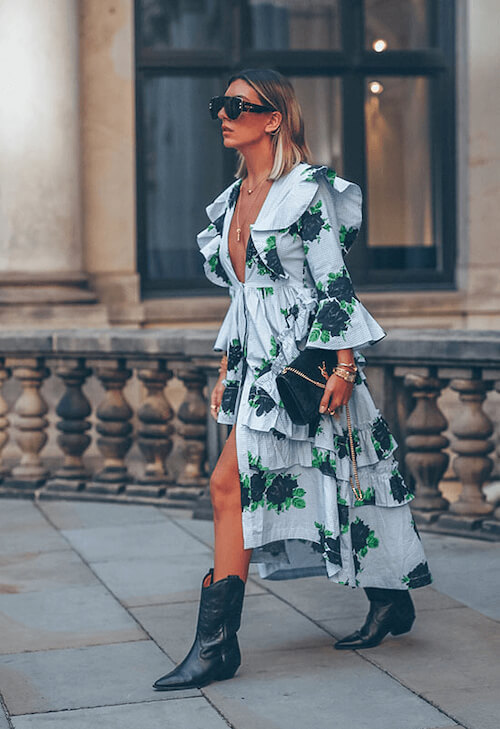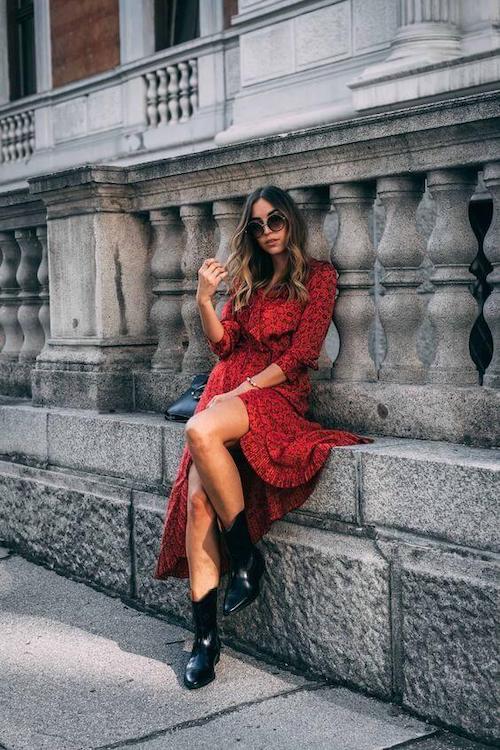 Midi Dress
Comfortable and stylish short cowboy boots are one of the best choices when it comes to boots to go with midi dresses.
I strongly recommend you try this combo in the transitional seasons, and the cute cowboy boots are surly to remind you of all the sunny moments while you are inching closer and closer to the cold winter months.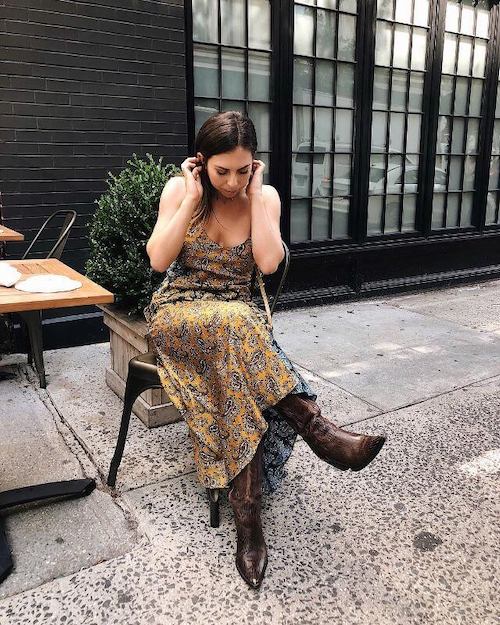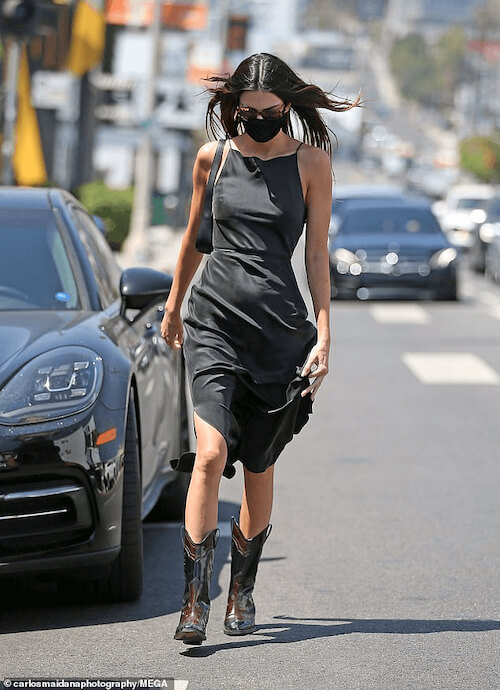 Mini Dress
A mini dress is now our summer staple and the good news is we now have another fun and fashionable way to style it!
Either long cowboy boots or short cowboys boots are perfectly matched with mini dresses. The lines of cowboy boots help modify your leg's shapes and also help make your upper body look sexier and cuter.
Forget about the minimalist or elegant styles and embrace the retro and colorful 90s style. Amazingly you can get all this vibe right from the combo of your bodycon mini dress or blazer dress with your new cowboy boots!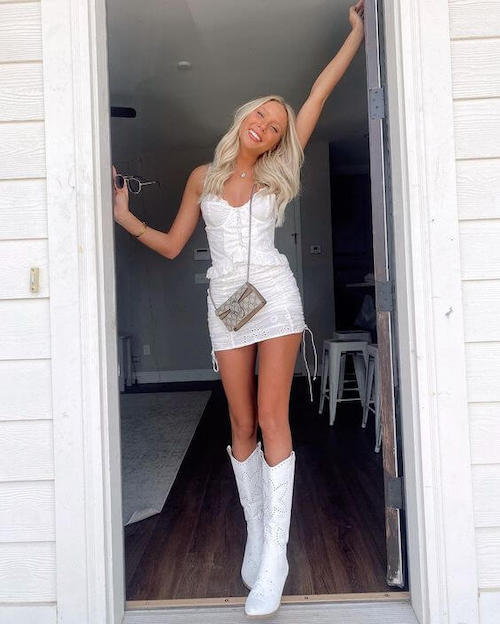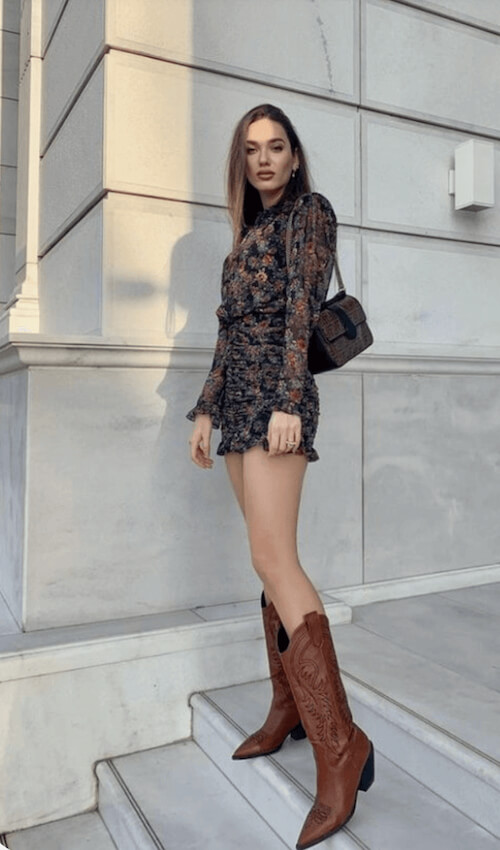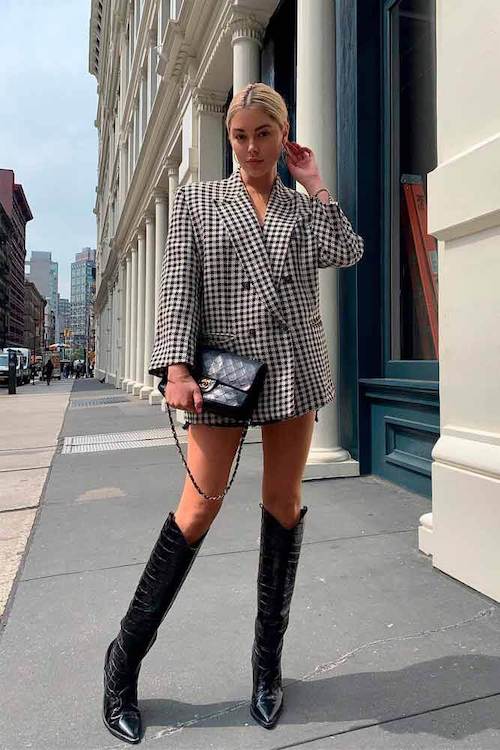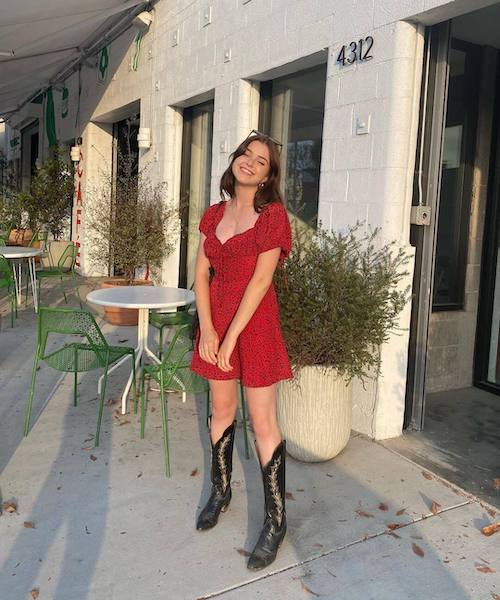 Off Shoulder Dress
Off shoulder design has a highly romantic nature, so it's better to add some bold and rough feeling accessories like drop earrings or a belt to make the dress match cowboy boots well.
It's also a dress style that you can wear directly to a western wedding and fits almost every kind of body shape.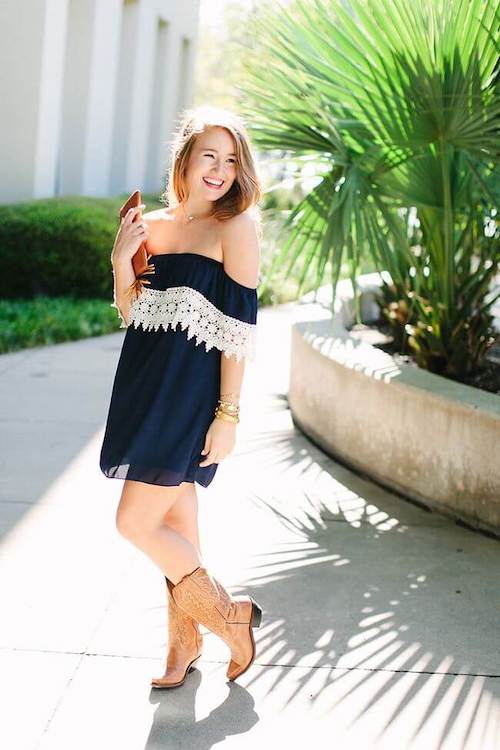 Shirt Dress
Shirt dresses' trend is back this year and if you want a special look with the normal work outfit, add a leather jacket and a leather belt over your shirt dress then you are all set.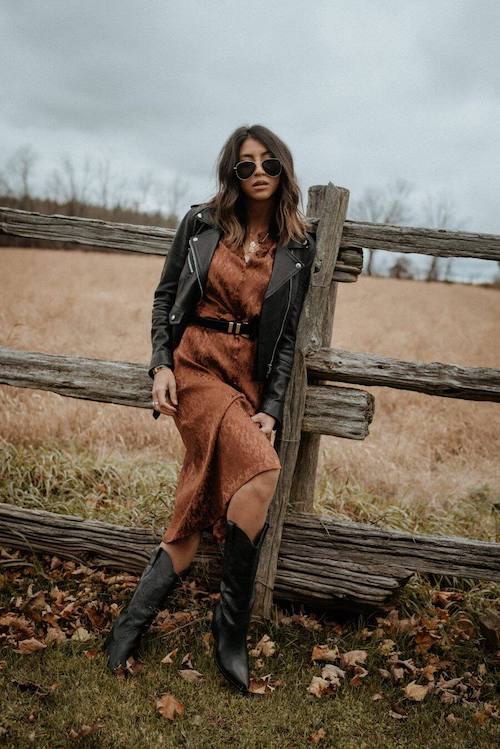 Simple Dress
Give your high heels or strappy sandals a rest and embrace the wild and vibrant side! We can't wait to wear our slip dresses with the cowboy boots to our date night and parties, and we will surely receive all the compliments!
The silky simple dresses will make you feel like a princess escaping straight from the palace and wearing the first and best boots that you find in the clothing shop right around the corner. Enjoy the night and adventures, gorgeous!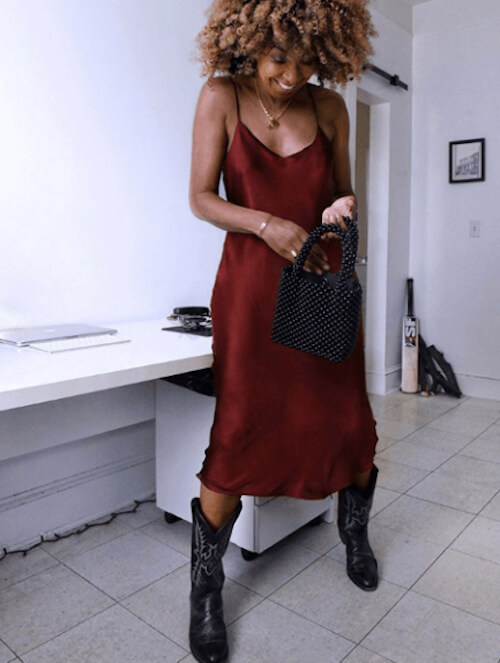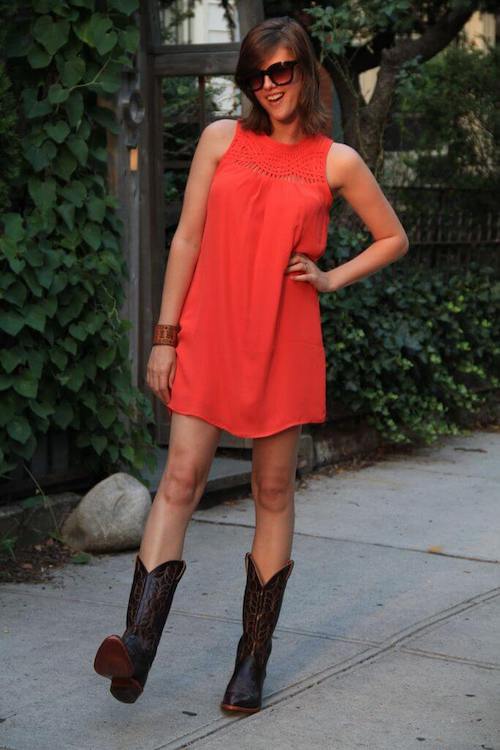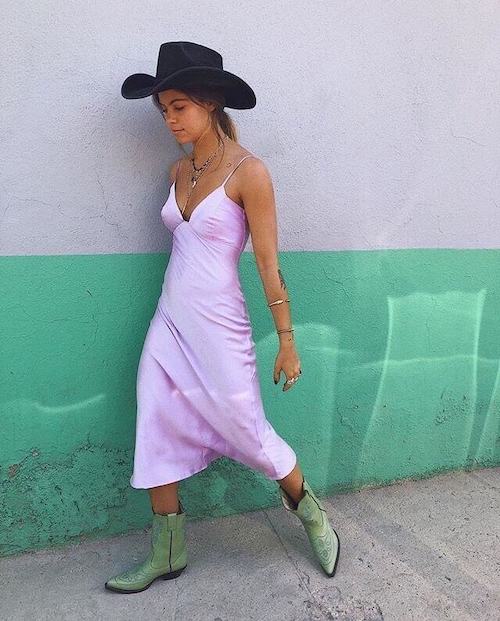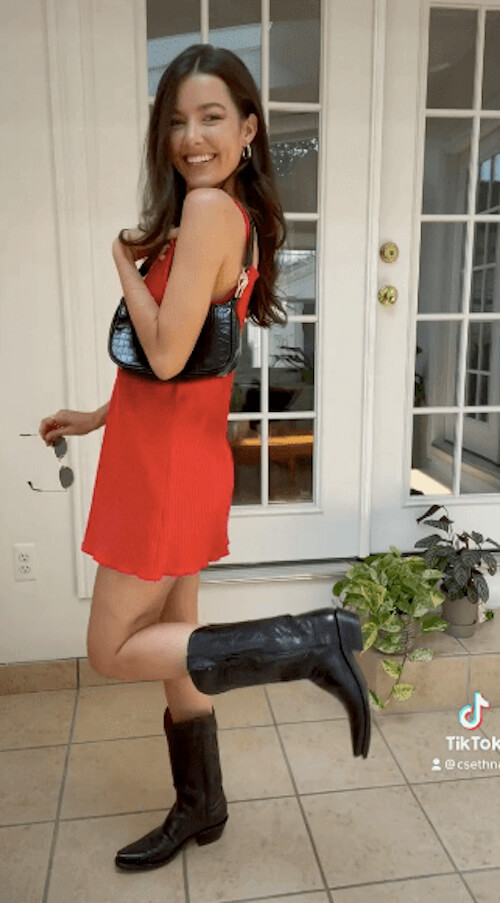 Western Dresses
Want more inspiration for your next party night? Try the eye-catching combo of a western dress and cowboy boots!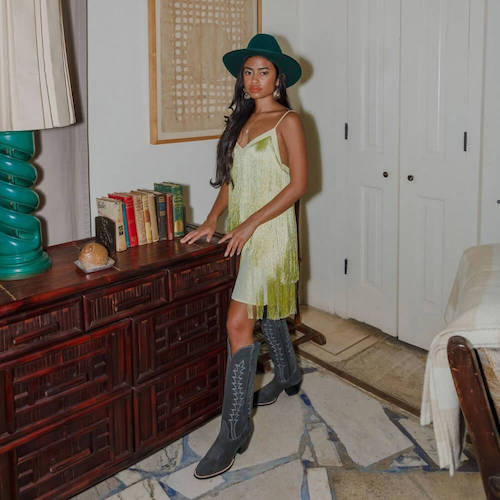 Wrap Dresses
Sometimes it is hard to find the right shoes for your cute wrap dresses, right? Sneakers are too casual, knee high boots are too "stiff", and high heels are too sweet.
So look no further than a pair of cowboy boots to create the right look you are searching for a long time.
The beautiful shape of the cowboy boots makes them perfectly match different styles of wrap dresses, and the ruffles and belts of the dresses form a cute contrast with the boots successfully. That is the best effect fashion girls are chasing the most right now!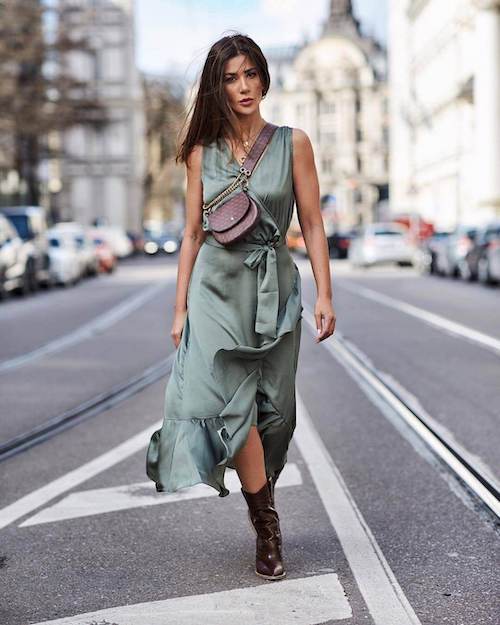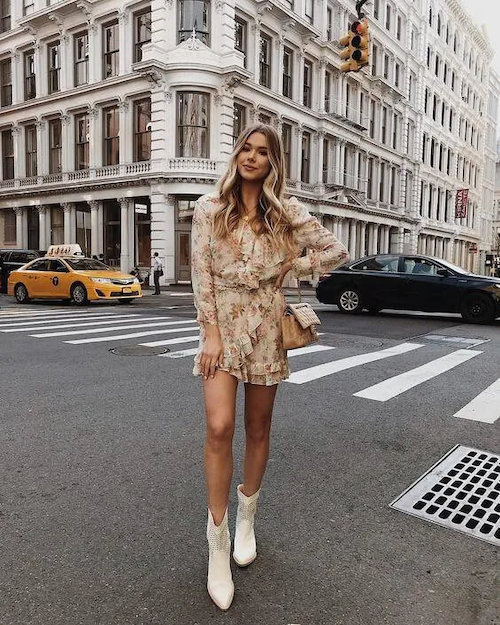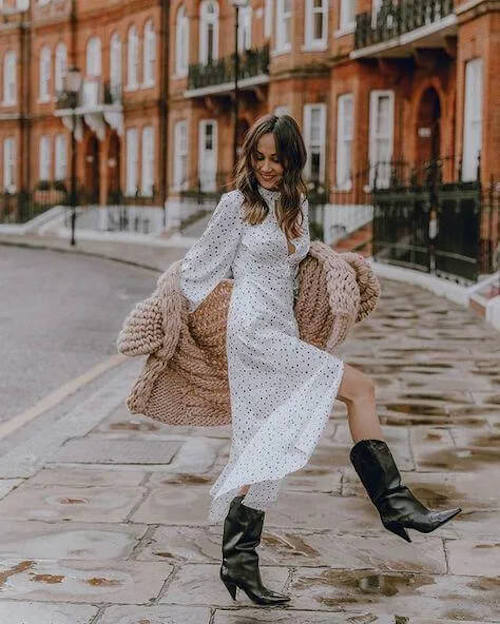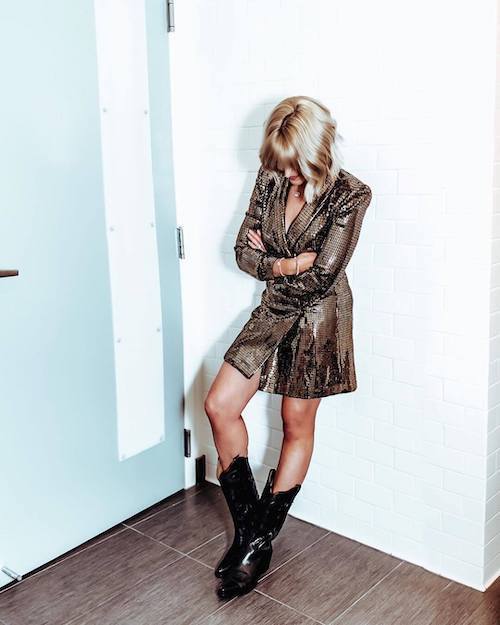 Shop Our Favorite Dresses To Wear With Cowboy Boots
If you want to see more style inspiration and cute dresses to wear with cowboy boots, read on to learn how to pair dresses with cowboy boots in more different ways, and I am also sharing our favorite dresses that you can easily pair with your cowboy boots and are worth scooping up now.
Plaid High Low Hem Button Up Belted Shirt Dress
Balloon Sleeve Flowy Smock Dress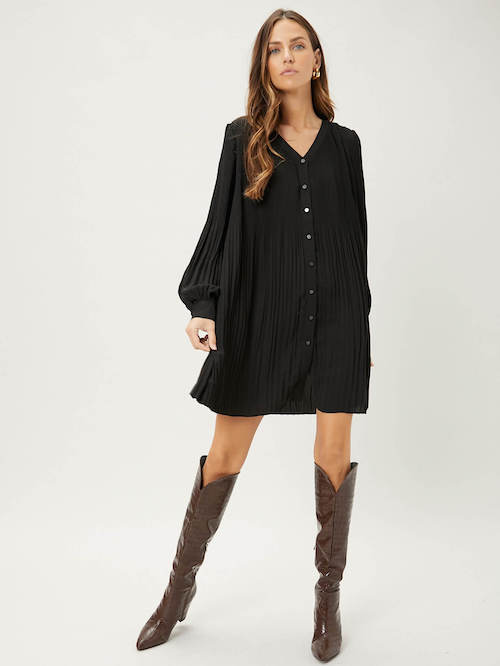 Sweetheart Neck Gingham Print Dress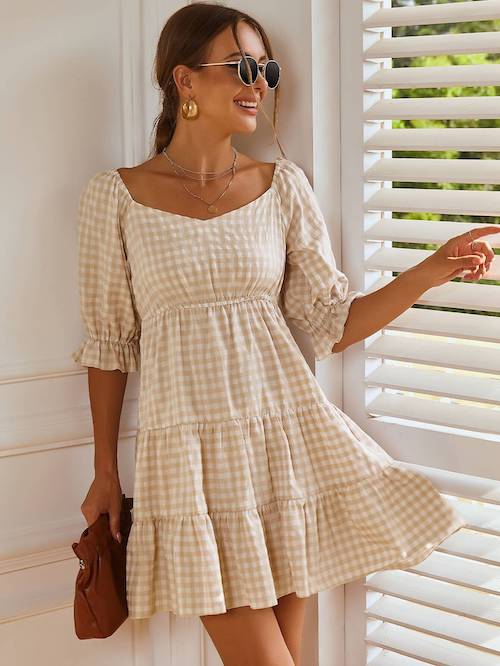 Lantern Sleeve Flippy Hem Dress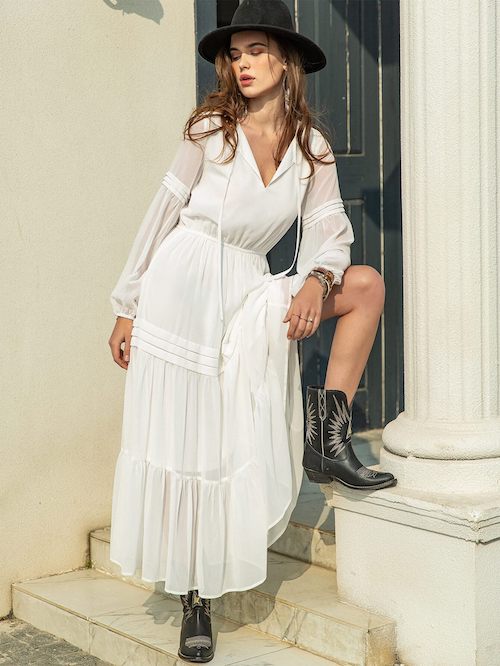 Lace Trim Mini Dress
Ruffle Mini Dress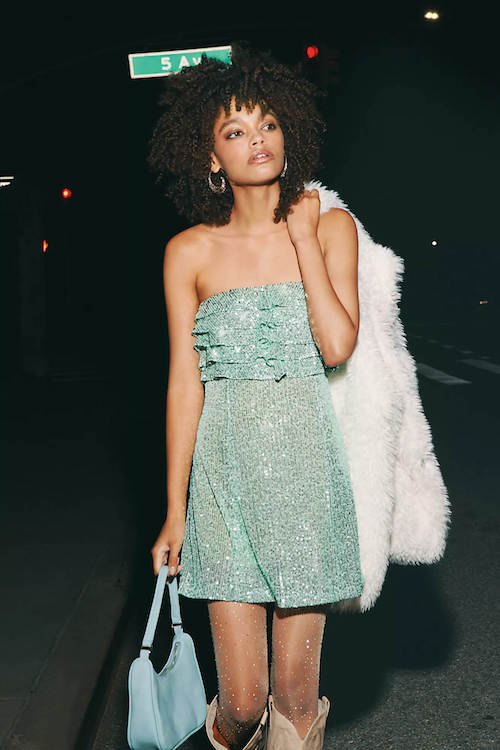 Plaid Mini Dress
Long Sleeves Jacquard Mini Dress
Sequined Plaid Mini Dress
Smocked Mini Dress
Turtleneck Sweater Mini Dress
Palms Sweater Mini Dres
Tiered Babydoll Mini Dress
Embroidered Open-Back Maxi Dress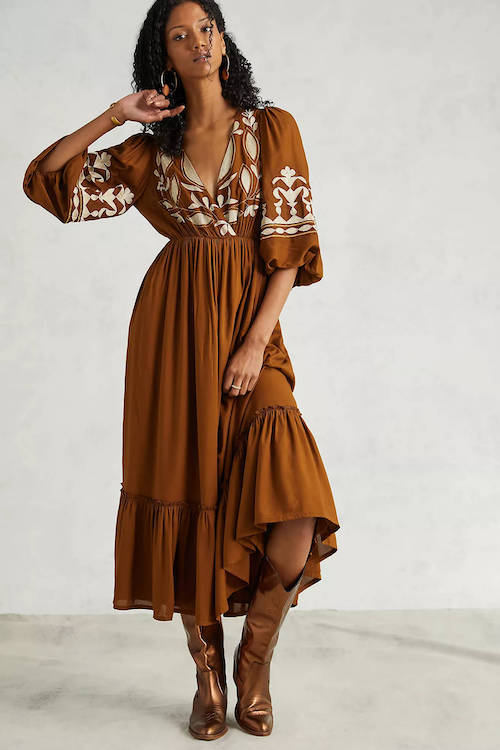 Reese Floral Midi Dress
Puff-Sleeved Sweetheart Mini Dress
Plaid Lantern Sleeve Ruffle Hem Dress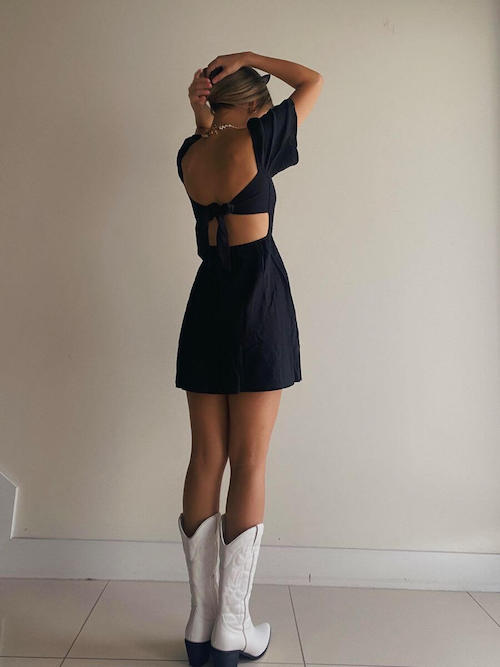 Allover Print Tunic Dress
Ditsy Floral Flounce Sleeve Ruffle Hem Tie Front Dress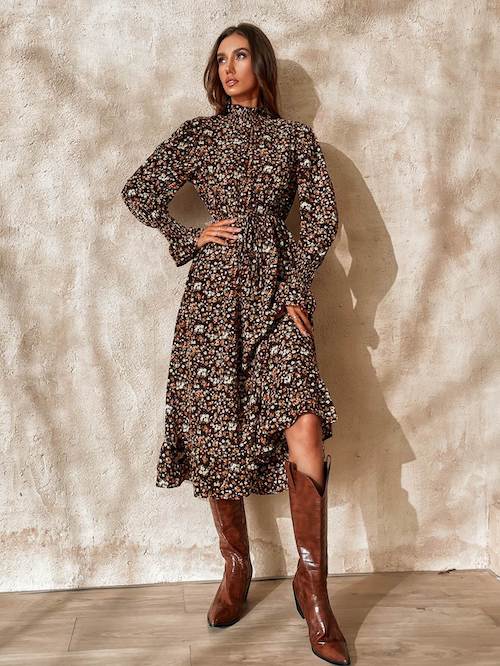 Frill Trim Belted Wrap Hem Dress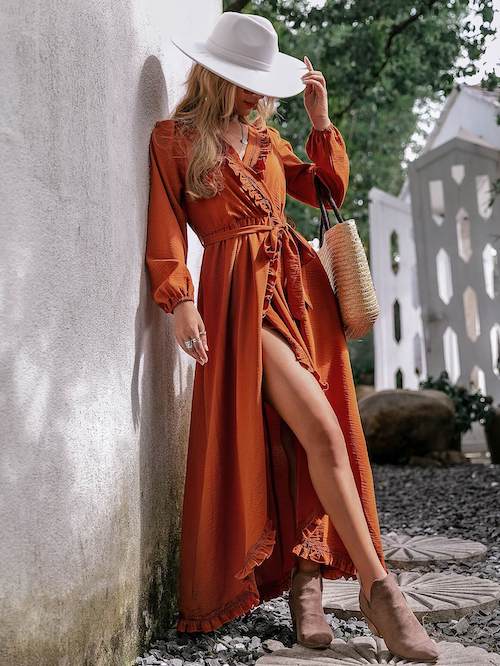 Embroidery Detail Tassel Tie Front Velvet A-Line Dress Without Belt
This post was all about dresses to wear with cowboy boots.
Check More Cowboy Boots Looks: