Are you looking for trendy Korean girl outfits? Check this post for stylish Korean outfit ideas that every Korean fashion lover would want to copy. From the best dress outfits, to tops and accessories, we've got you covered.
The fashion industry in Korea has been on the rise for some years now.
With the increasing global appeal of Korean pop music and television dramas, many people have become interested in Korean fashion.
Korean fashion is known for its unique and stylish outfits that showcase a mix of traditional and modern elements.
In this article, we'll show you the best Korean girl outfit ideas that every fan of Korean fashion would adore.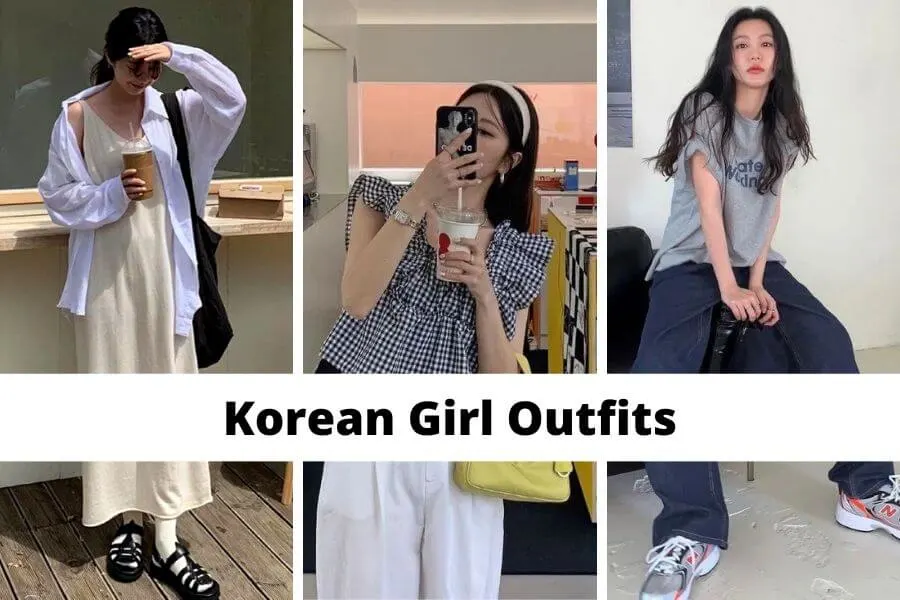 This post may contain affiliate links, which means I'll receive a commission if you purchase through my link, at no extra cost to you. Please read the full disclosure here.
This post is all about Korean girl outfits.
What is Korean fashion?
Korean fashion is a style that has gained immense popularity in recent years.
It is known for its unique blend of traditional and modern elements, resulting in clothing that is trendy yet timeless.
Korean fashion draws inspiration from various sources such as Kpop idols, Korean dramas, streetwear, and even the country's rich cultural heritage.
Korean fashion is all about breaking traditional fashion rules and creating something new and exciting.
It's a fashion style that is highly fashionable and puts a lot of emphasis on being trendy.
What are the characteristics of Korean fashion?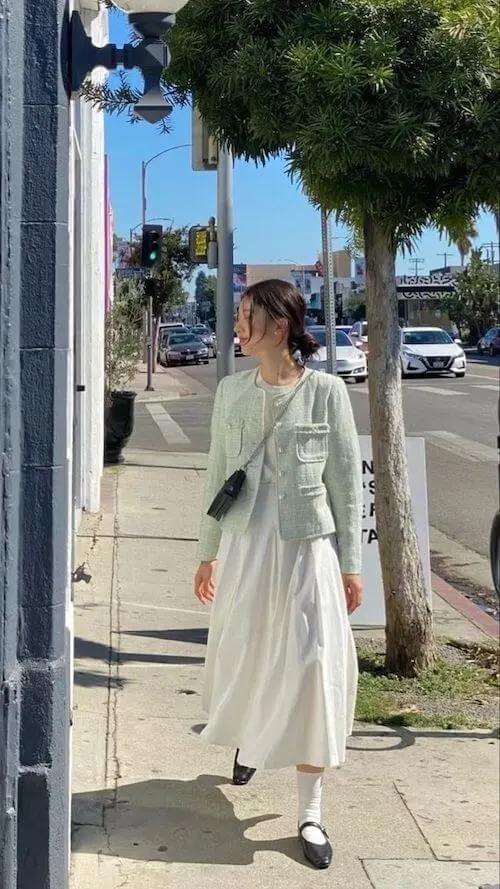 Korean designers often incorporate elements of traditional Korean clothing, such as hanbok-inspired silhouettes or the use of bold colors and graphic prints, into contemporary designs.
The result is a fashion aesthetic that is both timeless and cutting-edge.
Another characteristic of Korean fashion is its focus on individuality and self-expression.
Korean street style, in particular, is all about mixing and matching unexpected pieces to create a completely original look.
This attitude towards fashion has led to the rise of many young Korean designers who are pushing the boundaries of what's possible in terms of style.
Finally, quality craftsmanship is highly valued in Korean fashion.
From delicate embroidery to intricate beading, attention to detail is evident in every piece that comes out of Korea's thriving fashion industry.
Whether you're looking for casual wear or something more formal, you can be sure that any garment made in Korea has been crafted with care and precision.
What makes Korean fashion unique?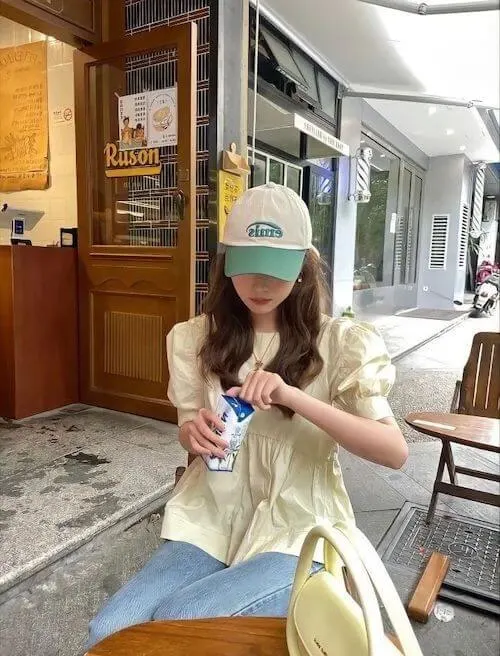 Korean fashion is known for its unique blend of modern and traditional styles.
The fashion industry in South Korea has been booming in recent years, with Korean designers gaining recognition on a global scale.
What sets Korean fashion apart is the emphasis on clean lines, fresh or bold colors, and eye-catching prints.
This is evident in many Korean girl outfits, which often feature vibrant hues and playful patterns.
Another element that makes Korean fashion stand out is the use of accessories.
Women's accessories are an essential part of any outfit in Korea, from statement earrings to oversized sunglasses.
Additionally, layering is a popular styling technique that adds depth and interest to an outfit.
This allows for versatility when it comes to dressing for different occasions or seasons.
Overall, what makes Korean fashion unique is its ability to seamlessly blend traditional elements with contemporary trends while maintaining a distinct identity.
For those looking for inspiration on how to incorporate this style into their wardrobe, there are endless options available online through social media influencers and K-beauty brands alike.
What are the latest trends in Korean fashion?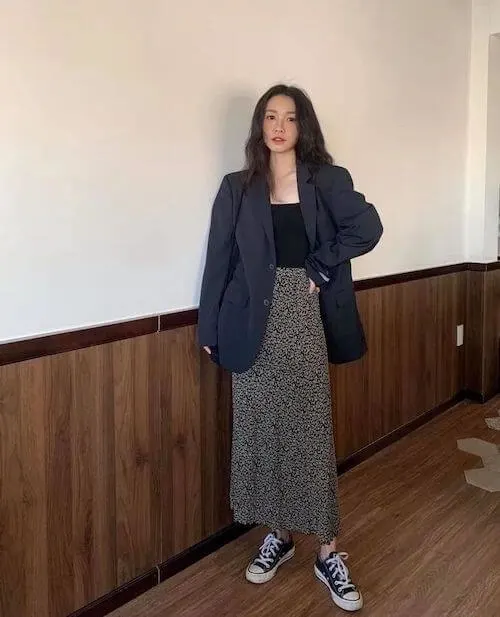 The latest Korean fashion trends include oversized outfits, baggy pants, denim shorts, and crop tops.
Layering is also on-trend in Korea, making it easy to mix and match pieces to create standout outfits.
Another popular trend in Korean fashion is streetwear inspired outfits that showcase a sense of style while keeping things effortless and comfortable.
Top Korean Outfits for Girls
How can I style a Korean skirt?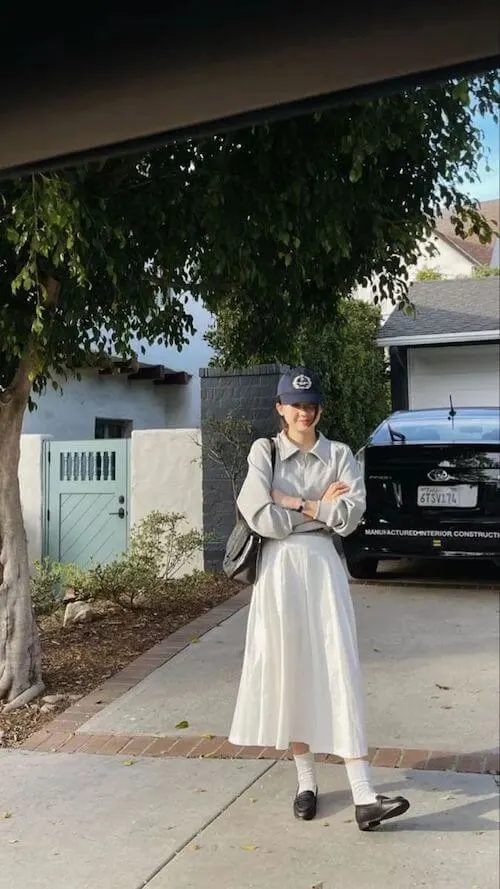 Korean skirts are a popular trend in Korean fashion.
They come in a variety of styles, lengths, and designs.
The most popular style is the A-line skirt, which flares out from the waist down to create a flattering silhouette.
To style this type of skirt, you can pair it with a cute crop top or blouse tucked into the waistband for a chic look.
Another way to style Korean skirts is by layering them over tights or leggings.
This not only adds warmth but also adds an extra dimension to your outfit by incorporating different textures and colors.
You can finish off the look with ankle boots or sneakers for a casual yet stylish vibe.
If you're feeling bold, try mixing prints and patterns with your Korean skirt.
For example, you can pair a floral print skirt with a striped top or vice versa. Just make sure that the colors complement each other and don't clash too much.
With these styling tips, you'll be able to rock any Korean skirt effortlessly!
What are some popular Korean jacket styles?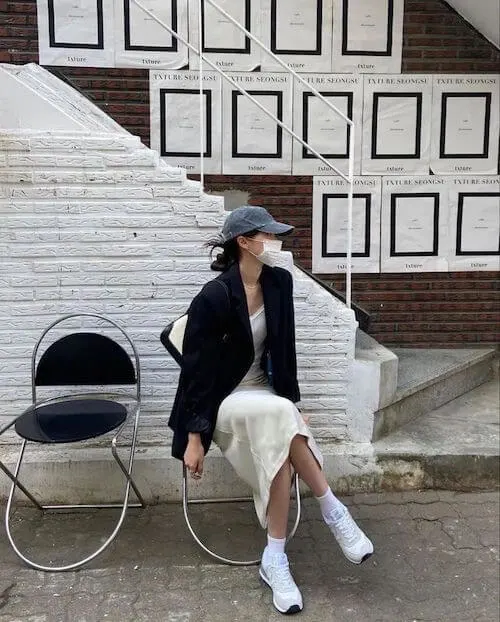 One of the most popular Korean jacket styles is the oversized denim jacket.
This style is perfect for those who want to look effortlessly chic and stylish.
It can be paired with almost any outfit, making it a versatile piece in any wardrobe.
Another popular Korean jacket style is the bomber jacket, which comes in various colors and designs.
It's a great option for those who want to add some edge to their outfit.
For those looking for a more feminine touch, the blazer-style jacket is a must-have item.
It can instantly elevate any outfit and give off an elegant vibe.
The modern twist on this classic piece includes adding bold prints or unique details like oversized buttons or ruched sleeves.
How do I wear an oversized sweater like a Korean?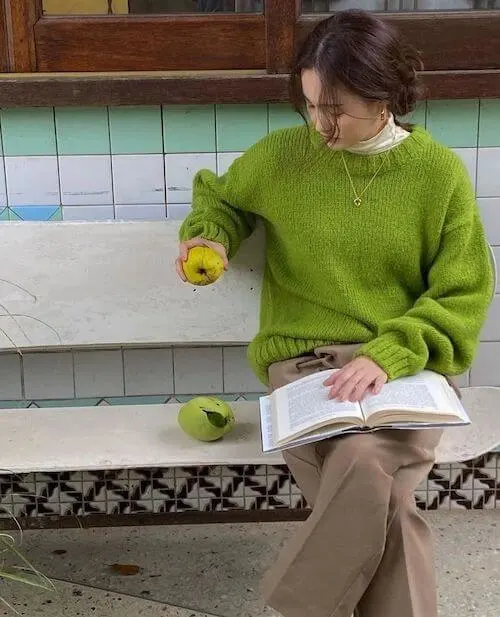 Oversized sweaters have remained one of the most popular fashion items among Korean girls for a while now.
You can pair your oversized sweater with wide leg pants or a long skirt, and complete the look with ankle boots or sneakers.
This will give you a sleek and comfortable silhouette that is perfect for any occasion.
Another way to wear an oversized sweater like a Korean is by layering it over a collared shirt or blouse.
This not only adds depth and structure to your outfit but also gives it a preppy touch that looks effortlessly chic.
You can also add accessories such as statement jewelry, sunglasses, or hats to elevate your look further.
Cute Korean outfit ideas
What are some popular baggy pants styles in Korea?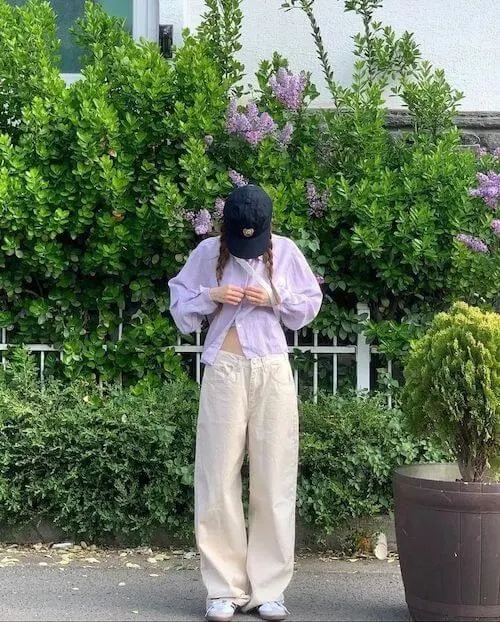 Baggy pants have been a popular trend in Korean fashion for quite some time now, and the variety of styles available is vast.
One of the most prominent styles is the wide-leg pants that flare out from the waist, often made with lightweight materials such as linen or cotton.
These pants are incredibly comfortable to wear in warm weather and can easily be dressed up or down.
Another popular style that has emerged recently is baggy cargo pants with multiple pockets on both sides, adding an edgy look to any outfit.
They come in various lengths ranging from ankle-length to cropped ones, perfect for pairing with sneakers or boots.
Jogger-style sweatpants are also a favorite among Korean fashion enthusiasts due to their versatility and comfort.
The elasticized cuffs at the bottom give them a tapered appearance while still being loose fitting around the hips and thighs – ideal for running errands or lounging at home.
How do I style denim shorts like a Korean?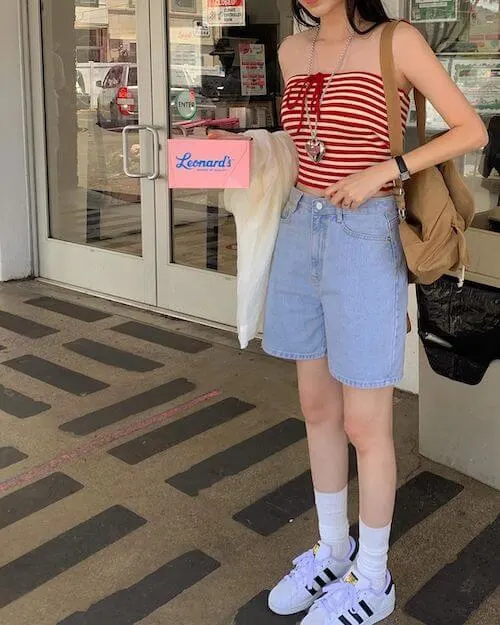 Denim shorts are a staple fashion item in Korean fashion.
When it comes to styling denim shorts, Korean women opt for a casual and comfortable look.
This can be achieved by pairing denim shorts with oversized shirts or t-shirts, which can create a relaxed silhouette.
For a more feminine touch, you can add a cropped top or blouse to balance the outfit.
Another popular style in Korea is layering. Layering denim shorts over leggings or stockings adds warmth during cooler months while still maintaining style.
In addition, adding accessories such as belts and hats will elevate the overall outfit.
When it comes to shoes, sneakers or sandals are the preferred choice for comfort and practicality.
However, if you're looking for an edgier look, ankle boots or platform shoes can also be paired with denim shorts.
What are some tips for rocking a crop top in a Korean outfit?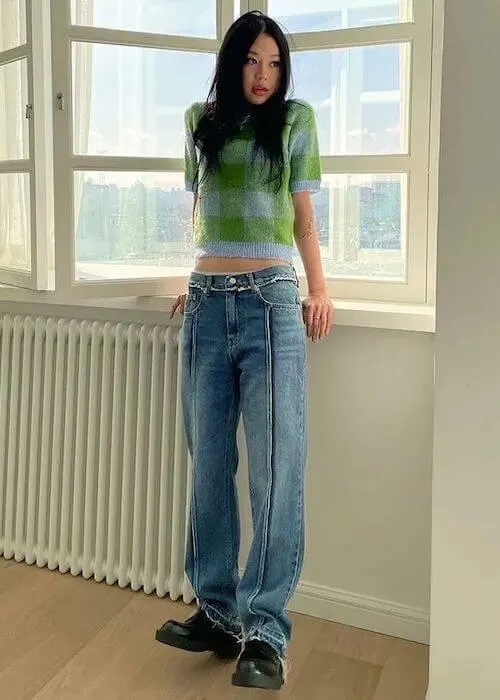 To rock a crop top in a South Korean style outfit, there are some tips that you should keep in mind.
Firstly, make sure to pair your crop top with high-waisted bottoms like jeans or skirts as this will create a balanced and flattering look.
When it comes to choosing the right type of crop top for your Korean outfit, opt for one with interesting details like ruffles or lace trimmings which will add dimension and texture to the overall look.
Additionally, accessorize your outfit with dainty jewelry pieces like layered necklaces or studs to complement the simplicity of the crop top.
Lastly, don't shy away from bold patterns or colors when it comes to Korean outfits.
Experiment with different prints and shades that complement your skin tone and personal style.
Korean Fashion for Girls
What are some stylish Korean sweatshirts?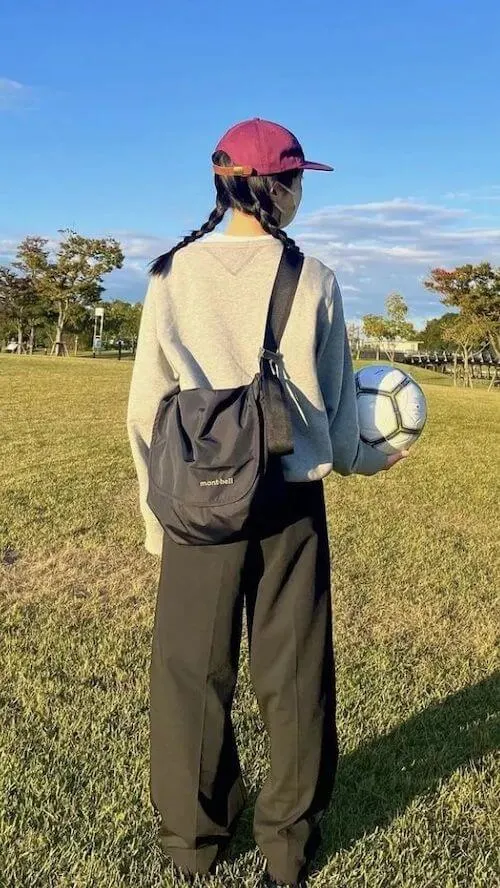 Korean fashion is all about being comfortable yet chic, and sweatshirts are a staple piece that perfectly embodies this style.
One popular option is oversized crewneck sweatshirts with bold graphics or phrases written in Hangul or English script.
These can be paired with skinny jeans or leggings for a casual yet trendy look. Neutral color oversized sweatshirts are also trending among Korean girls.
Another popular trend in Korean sweatshirts is cropped hoodies with unique patterns or embroidery designs.
These cropped styles can be worn over high-waisted skirts or pants for a feminine touch, while still maintaining the comfortable and relaxed vibe of a traditional sweatshirt.
Finally, if you're looking for something more versatile and practical, opt for classic zip-up hoodies in neutral tones like black or gray.
These can be dressed up or down depending on the occasion and can easily become a go-to piece in your wardrobe rotation.
How can I incorporate T-shirts into a Korean outfit?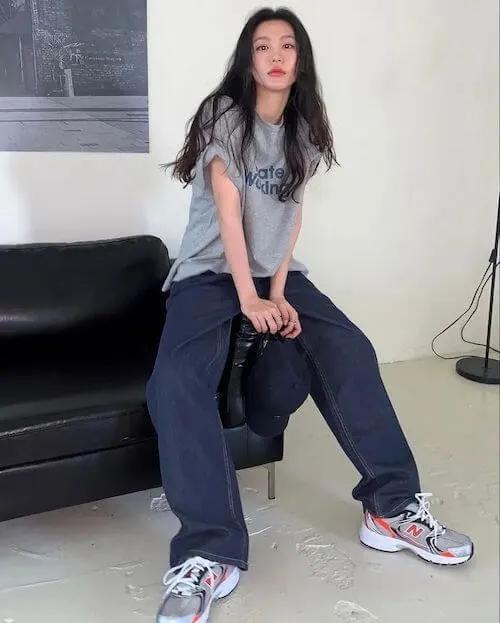 To start off, you can pair a simple white T-shirt with a high-waisted skirt and sneakers for a casual yet cute look.
Alternatively, you can tuck a graphic tee into wide-leg pants and add some statement jewelry for an edgier vibe.
When it comes to layering, try wearing a cropped T-shirt over a long-sleeved blouse or adding an oversized cardigan on top of your tee.
Don't be afraid to experiment with different colors and prints when it comes to T-shirts in Korean fashion.
Pastel shades like lavender and baby blue are popular choices, as well as graphic tees featuring K-pop bands or slogans.
What are some popular blouse styles in Korea?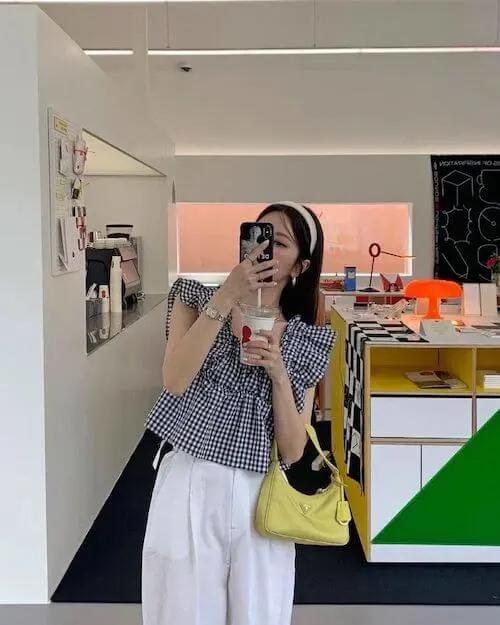 Korean blouses are known for their unique designs and styles.
One of the most popular blouse styles in Korea is the ruffled blouse.
This type of blouse features layers of frills or ruffles on the sleeves, collar, or hemline, giving it a feminine and playful look.
It can be worn with jeans or skirts to create a cute and stylish outfit.
Another popular style is the off-the-shoulder blouse.
It's perfect for those who want to show off their collarbone and shoulder area while still maintaining a sense of elegance.
Lastly, there's the bow-tie blouse which has recently become a favorite amongst Korean fashion lovers.
These blouses have large bow-ties at the neck or back, adding an element of whimsy to any outfit.
They come in various colors and prints ranging from polka dots to stripes making them versatile enough to wear both casually and formally depending on how it is styled.
Korean Girl Outfits With Jeans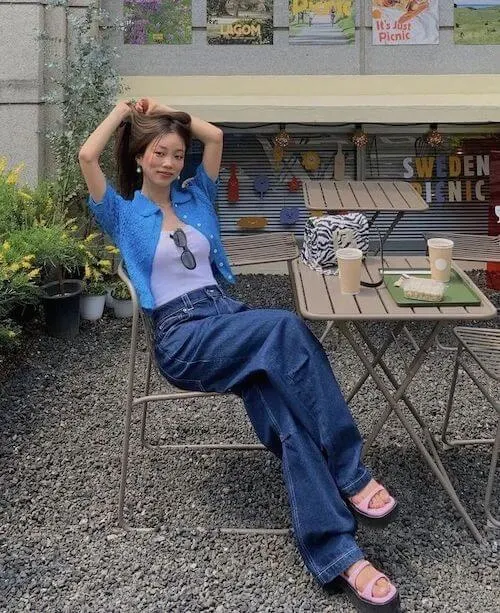 Korean girl outfits with jeans are a popular choice for those who want to achieve that effortless and chic look.
From oversized denim jackets paired with skinny jeans to high-waisted mom jeans paired with cropped tops, there are many ways to incorporate denim into your Korean fashion wardrobe.
One great way to elevate your outfit is by adding statement accessories such as chunky sneakers or bold earrings.
Another key element in achieving the perfect Korean girl outfit is layering, so don't be afraid to add a turtleneck or cardigan under your denim jacket or pair a short jacket over your favorite cropped top and high-waisted jeans.
Black Korean Outfits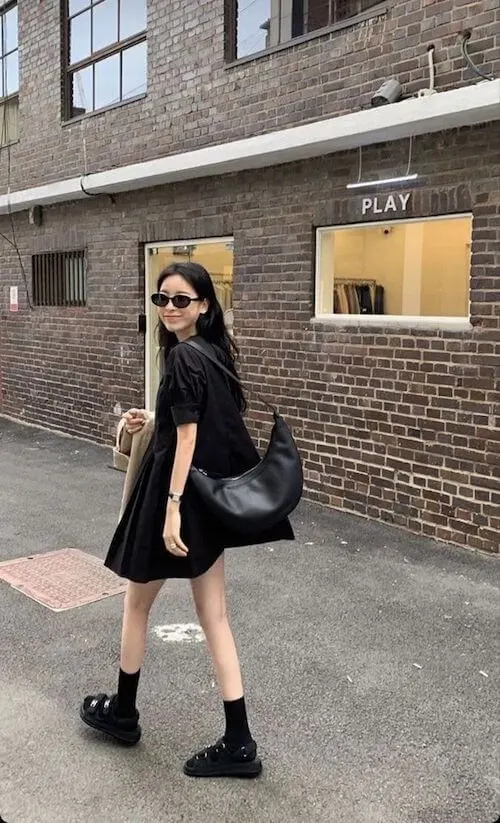 When it comes to Korean fashion, black outfits are often paired with white sneakers or boots, or chunky sandals to add some contrast and edge to the overall outfit.
One way to incorporate black into your Korean outfit is through statement pieces such as oversized blazers or trench coats.
These items not only provide warmth but also give an effortless yet stylish vibe that is perfect for the fall season.
For those who prefer a more casual approach, black turtlenecks or sweatshirts can be paired with ripped jeans or leather pants for an edgier look.
Swag Korean Outfits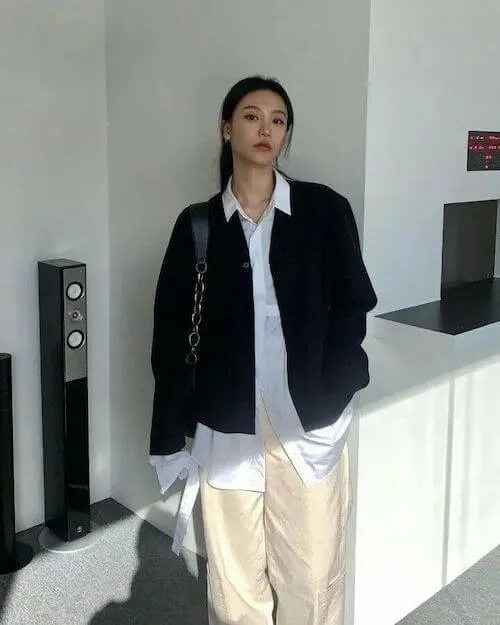 When it comes to swag Korean outfits, there are a variety of options that can help you stand out from the crowd.
One popular choice is the oversized denim jacket paired with graphic tees and baggy pants.
This combination creates an effortless yet trendy look that's perfect for a casual day out.
Another option for those interested in swag Korean outfits is the streetwear style.
Composed of loose-fitting clothing and bold accessories, the streetwear aesthetic offers plenty of opportunities to experiment with patterns, textures, and colors.
For example, you could pair a neon-hued windbreaker with ripped jeans and chunky sneakers for an edgy but fashionable look.
Finally, if you're looking for something a little more feminine while still maintaining that swag factor, consider adding some accessories like chokers or chain belts to your outfit.
These small details can add some edge to your outfit without overpowering it or detracting from its overall vibe.
More Korean Clothing Styles and Outfit Ideas
Scroll on to check out more our favorite Korean girl outfit ideas!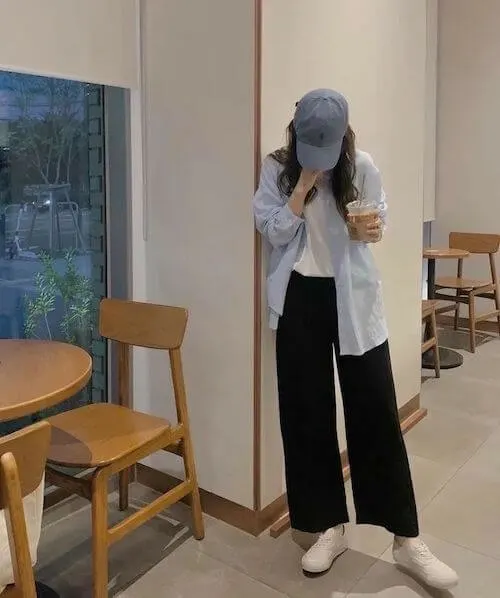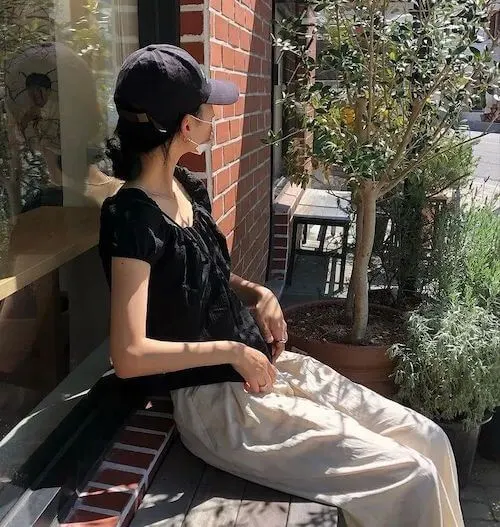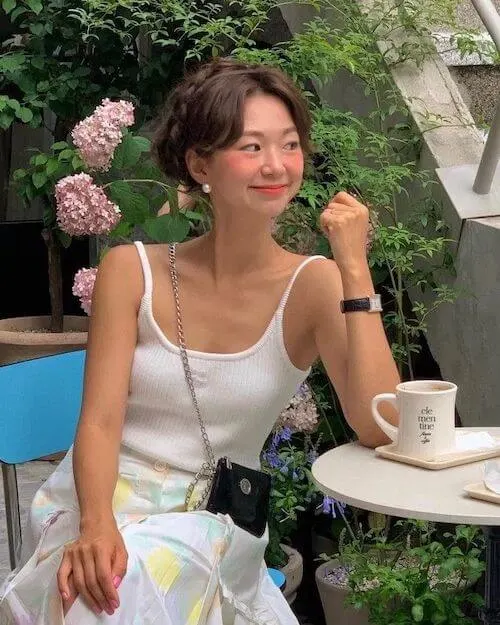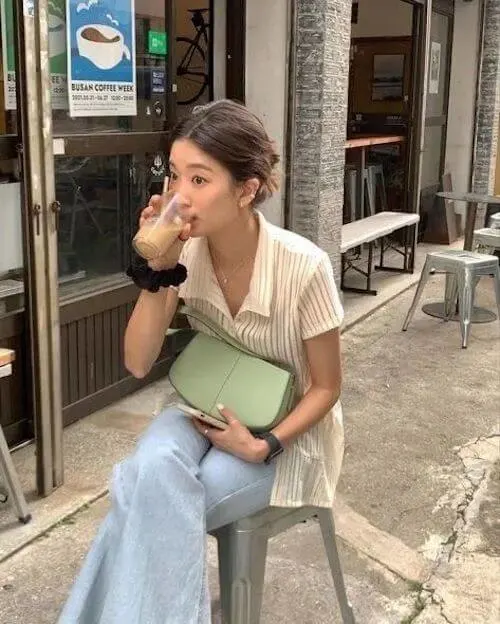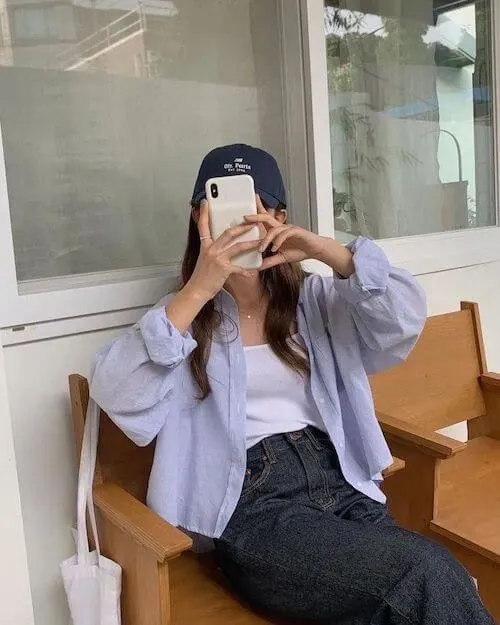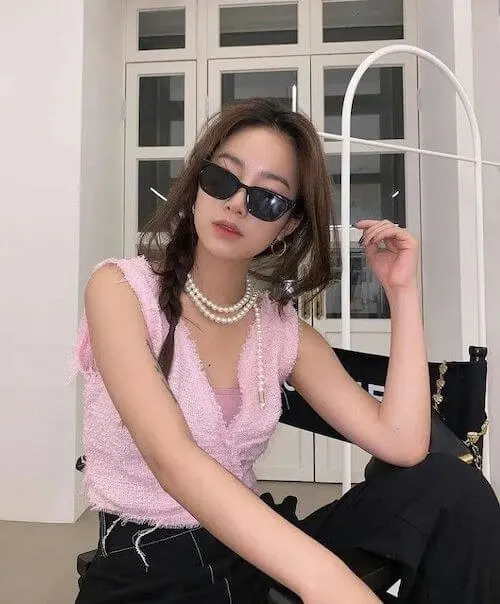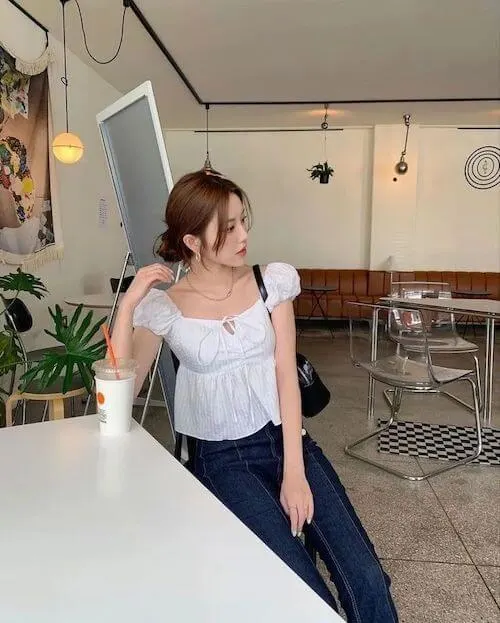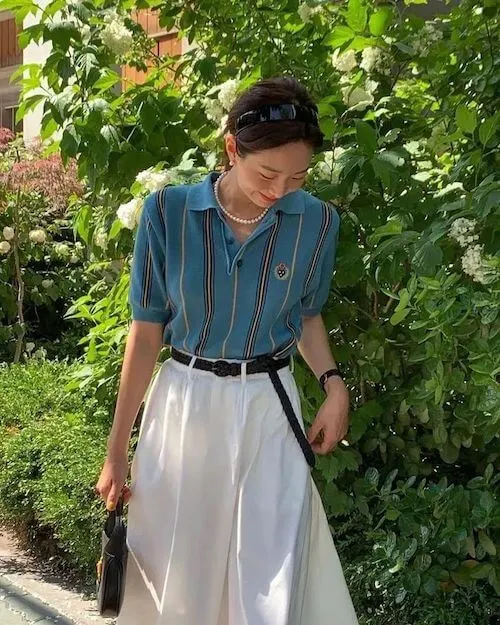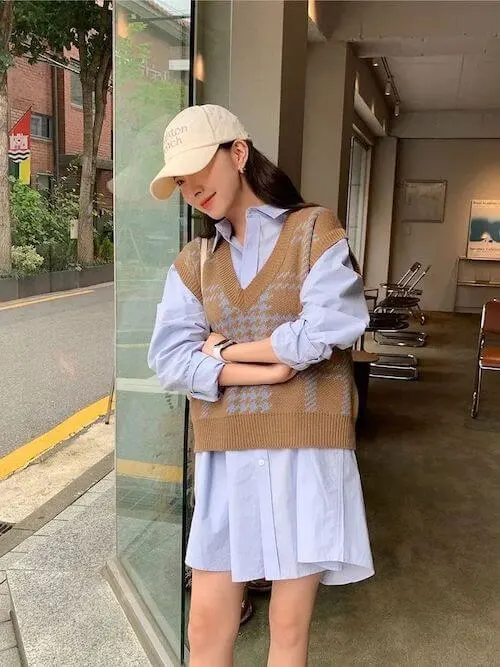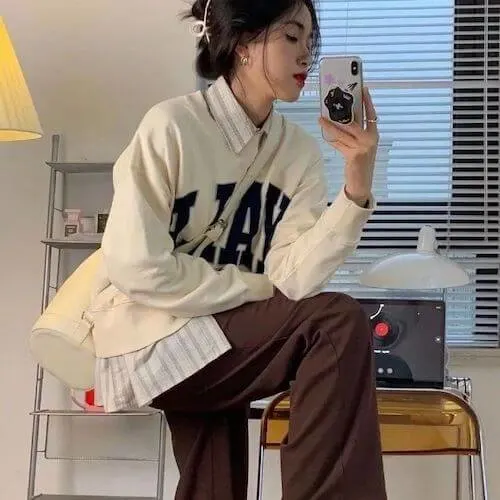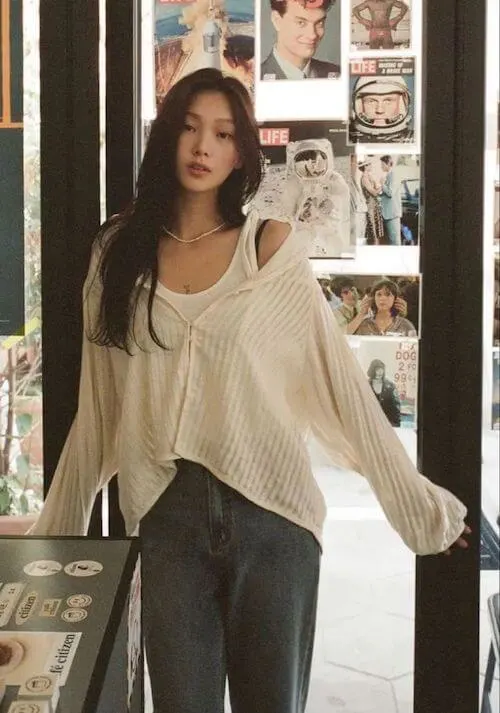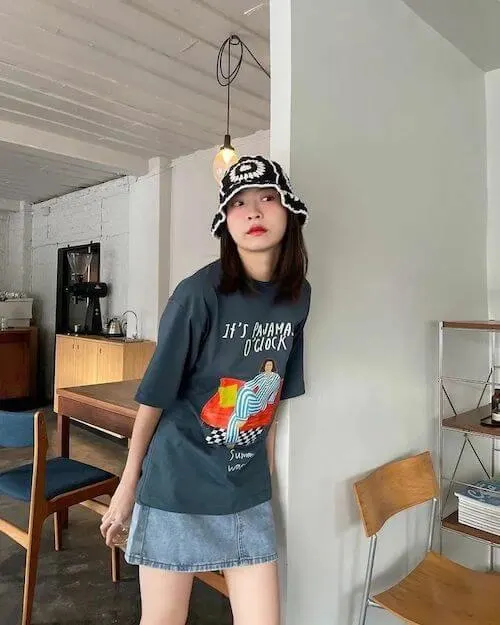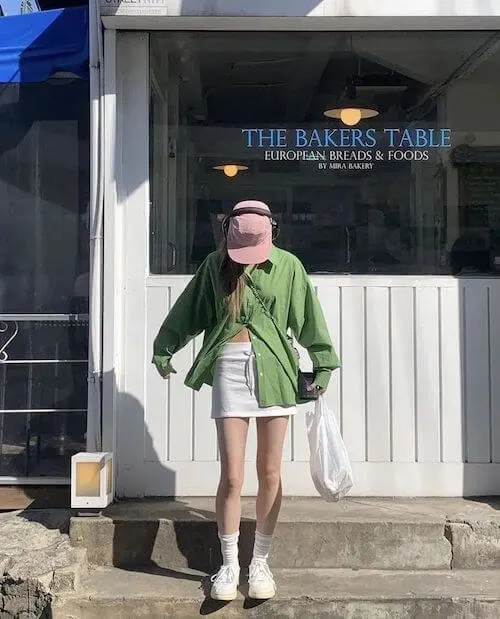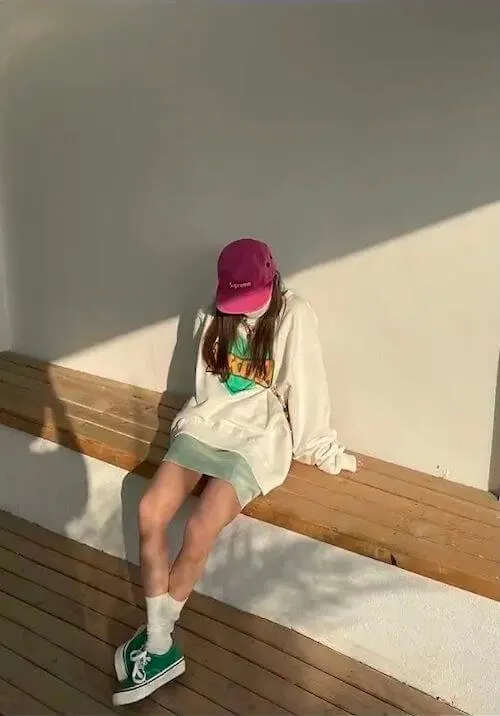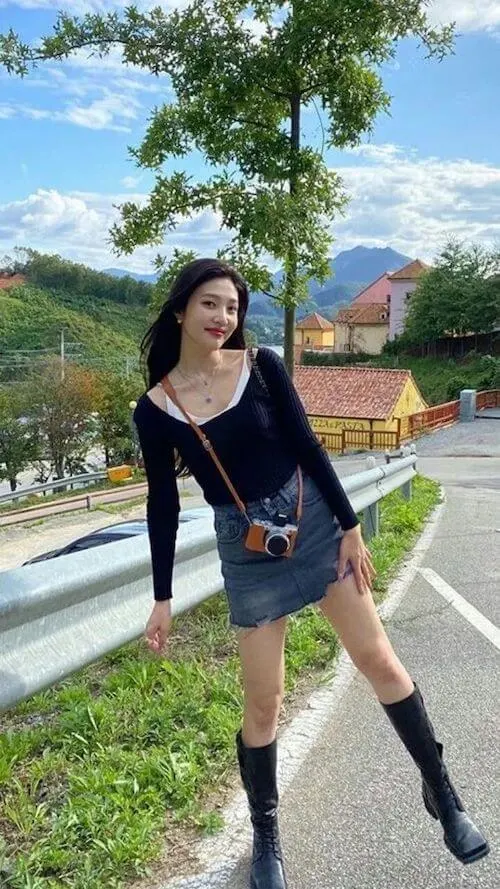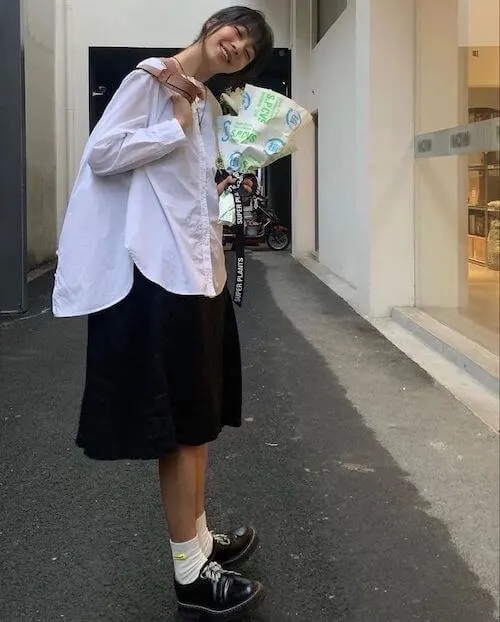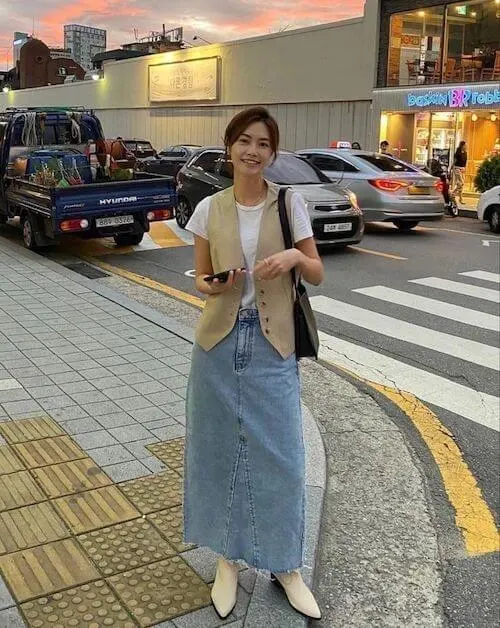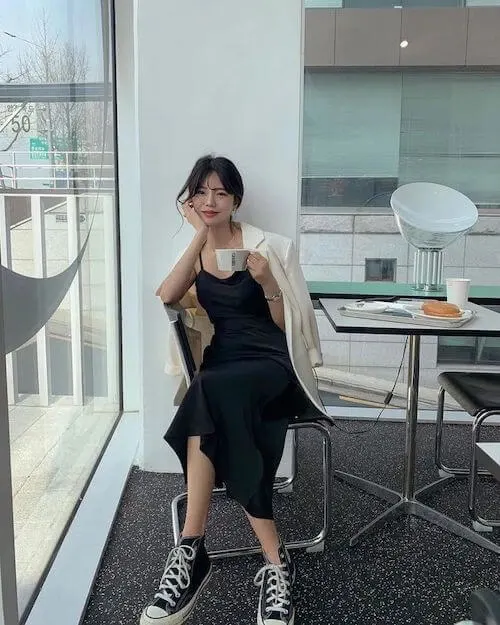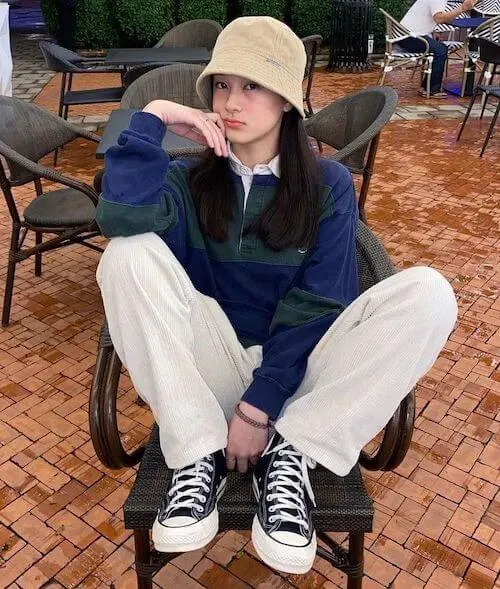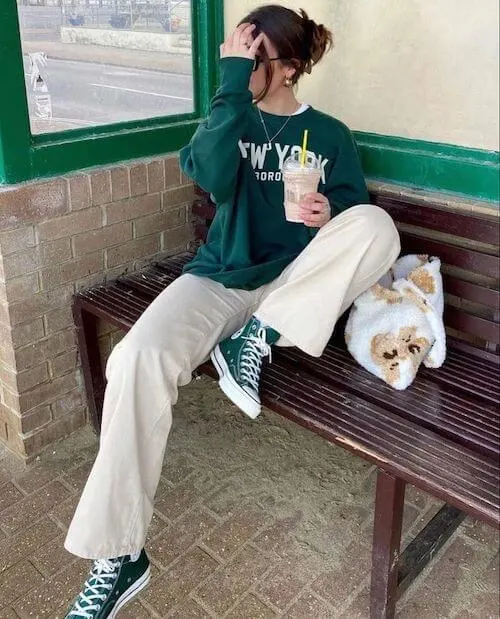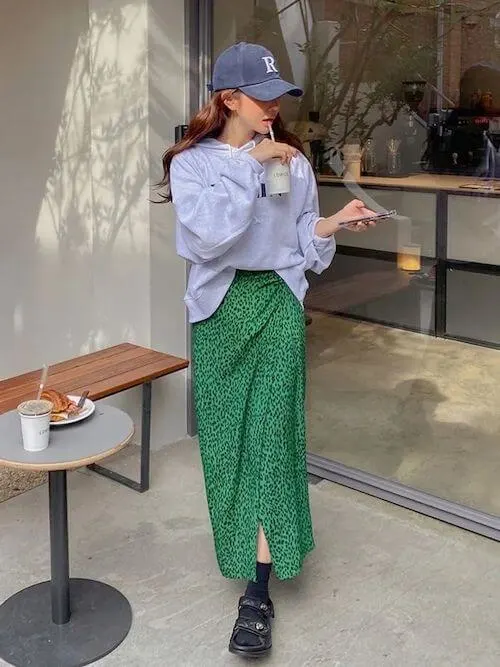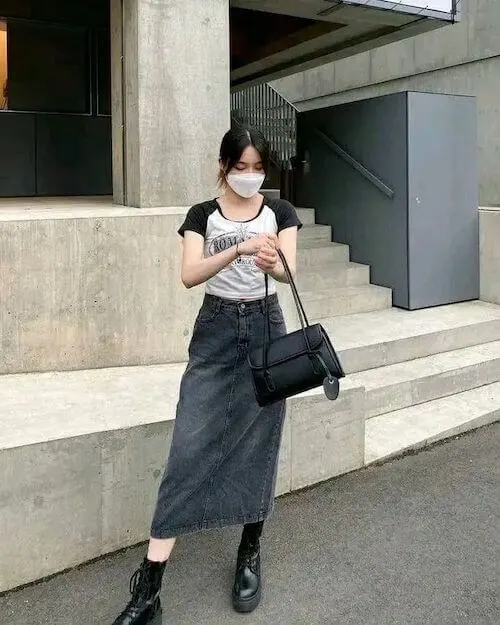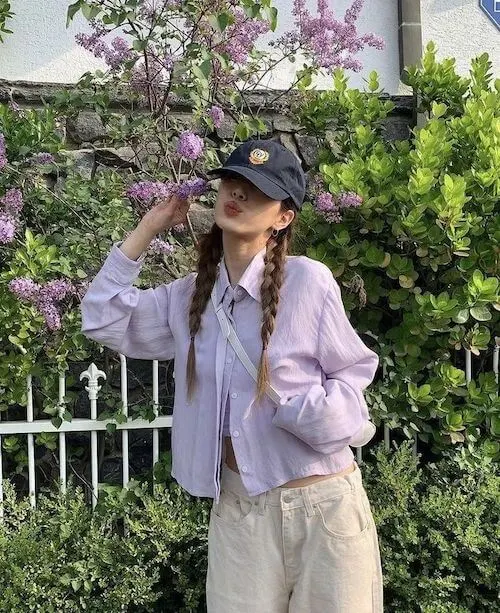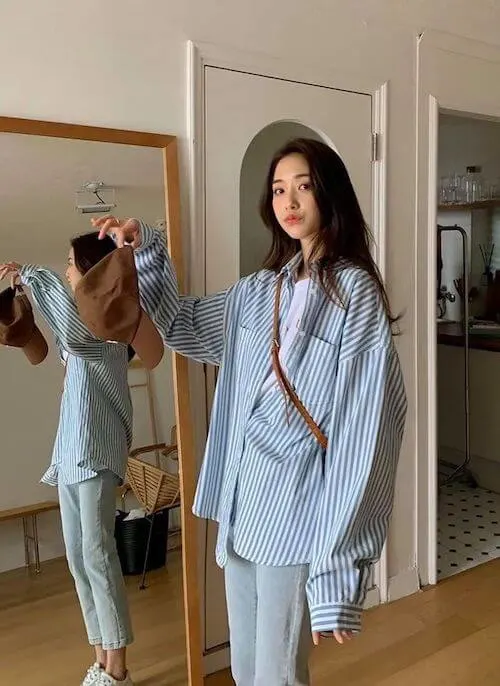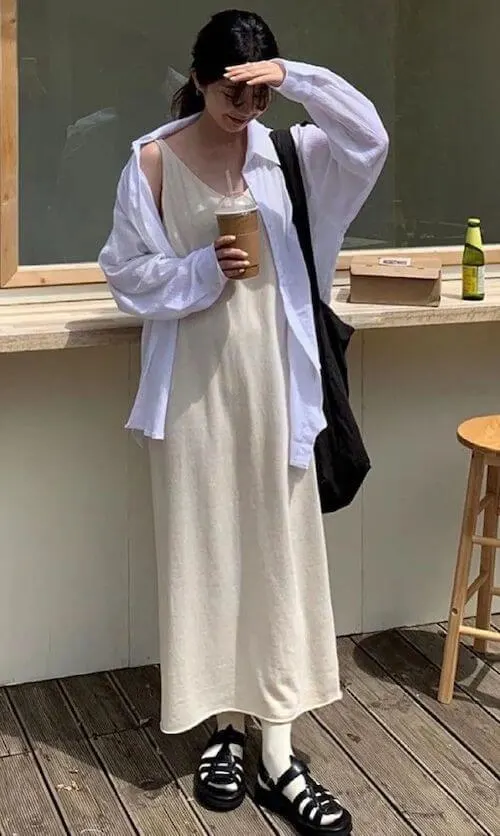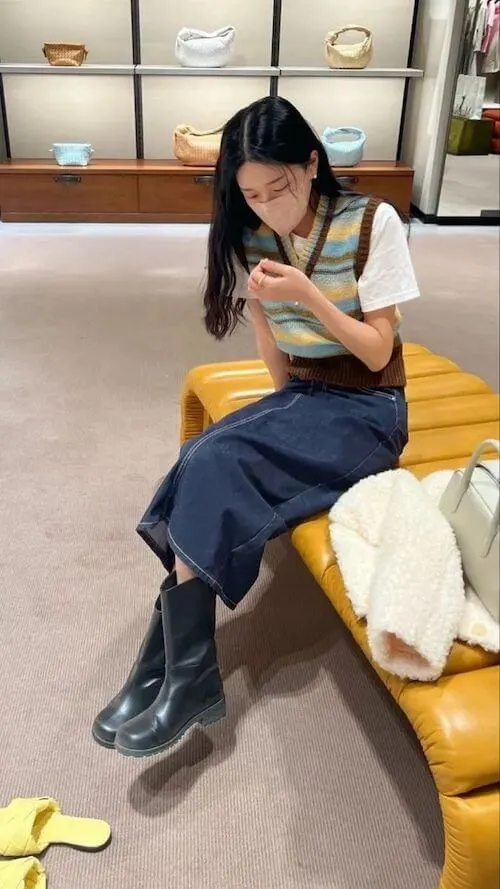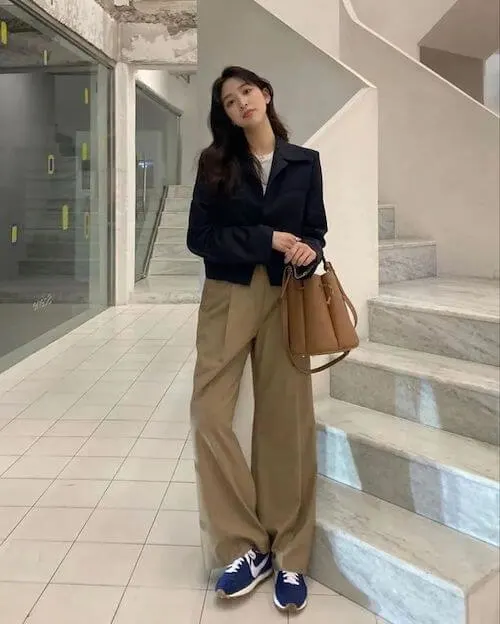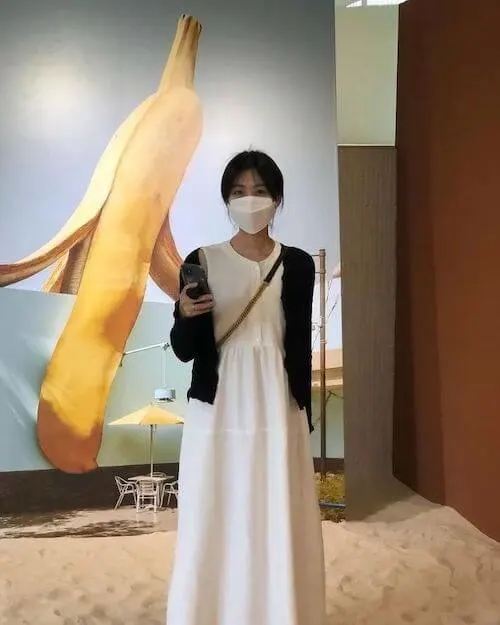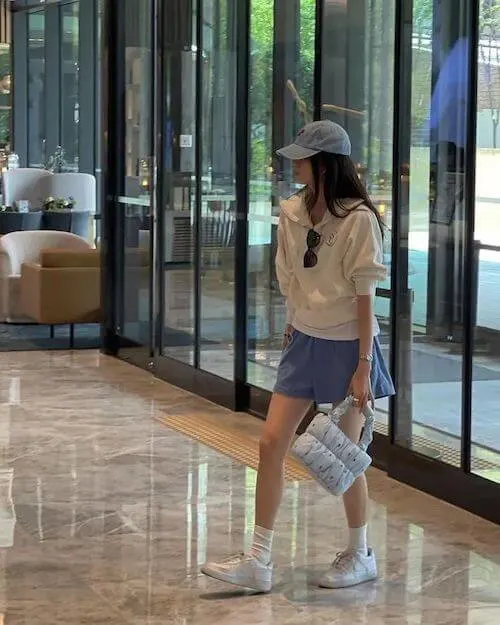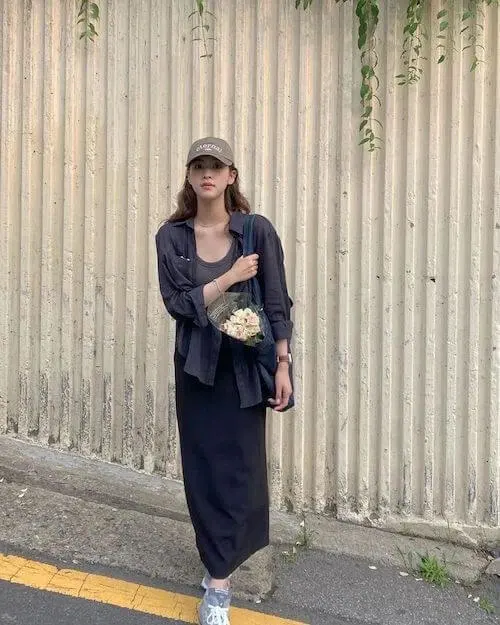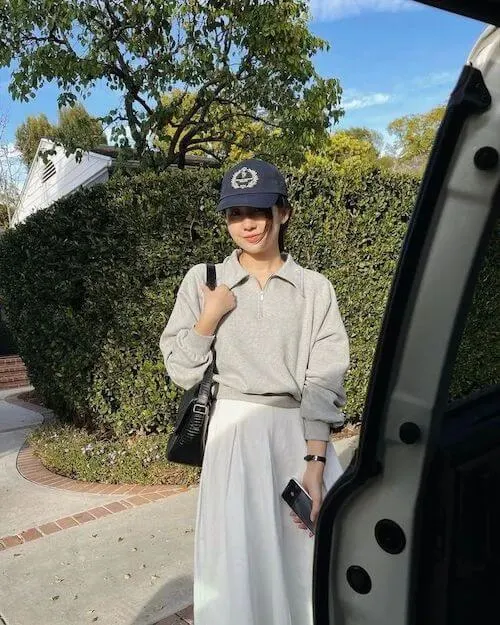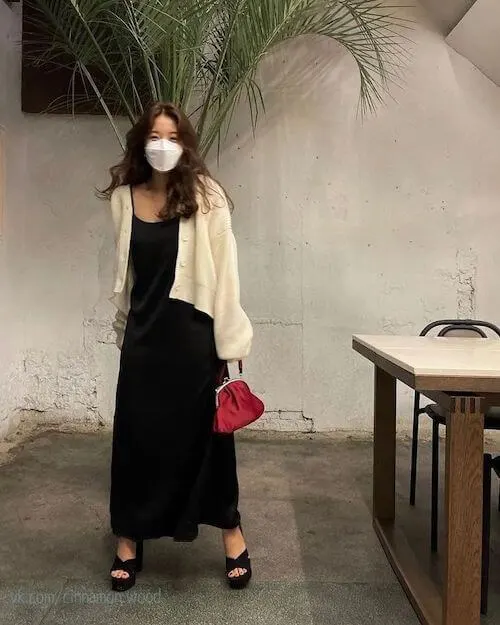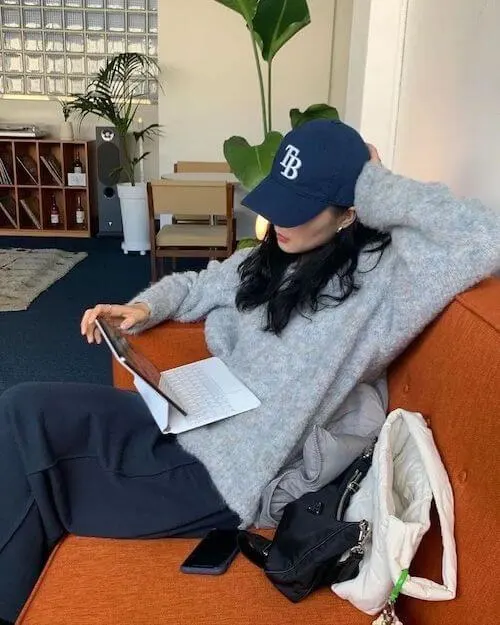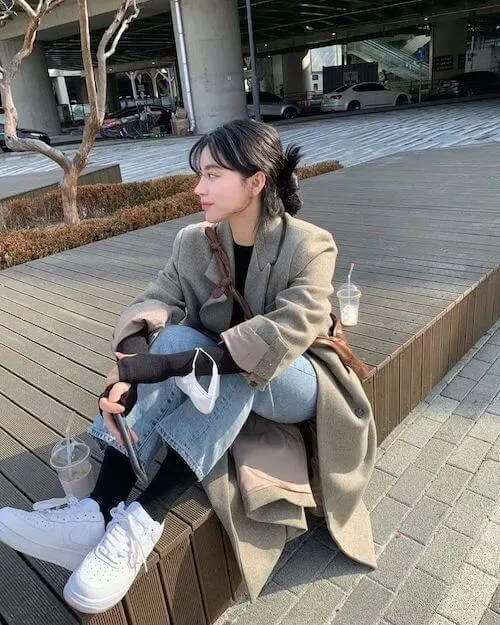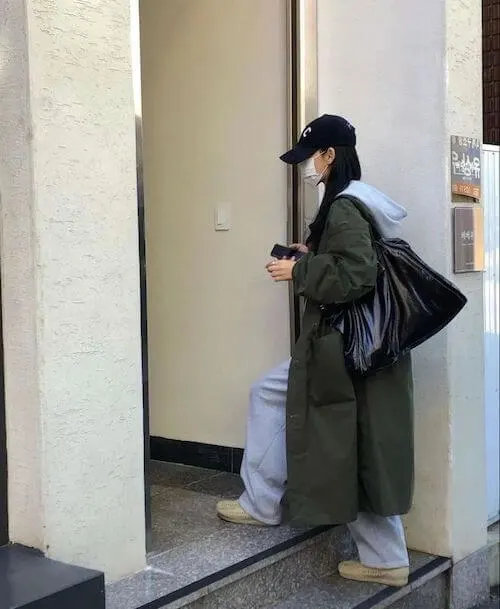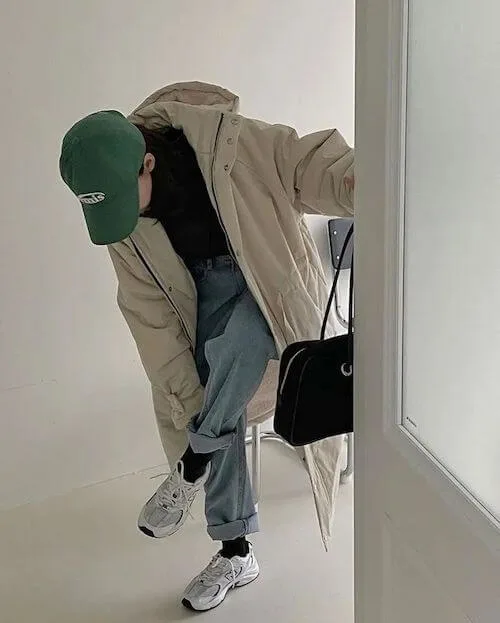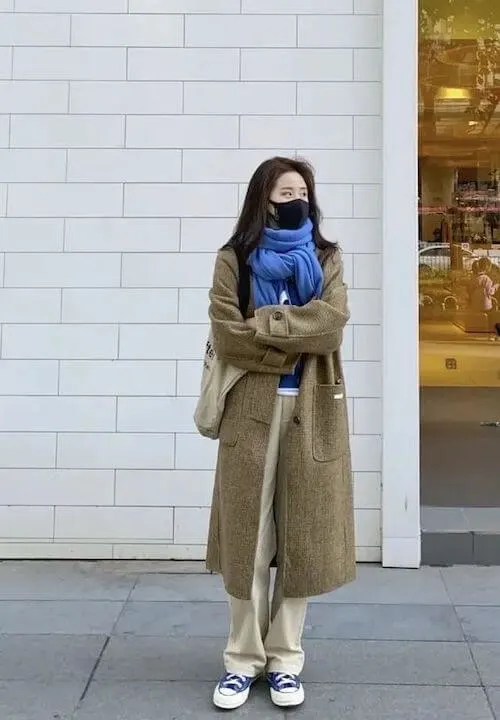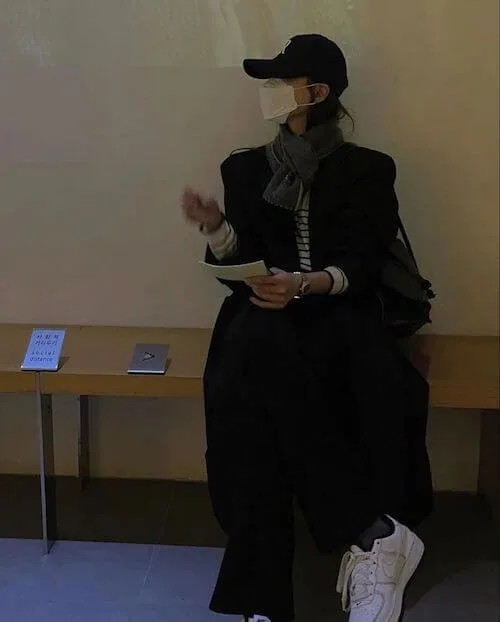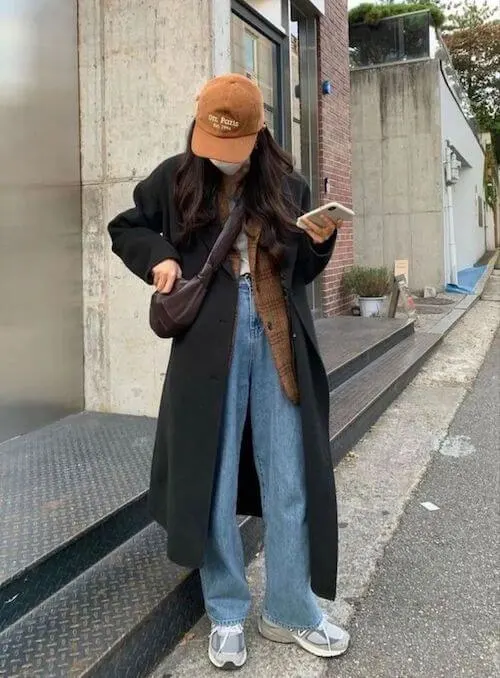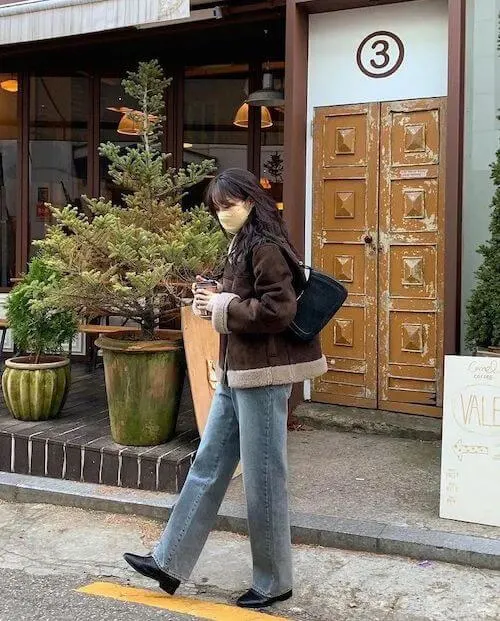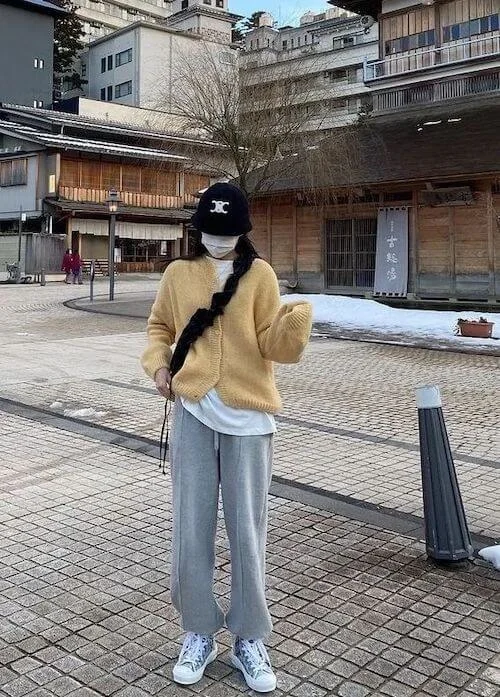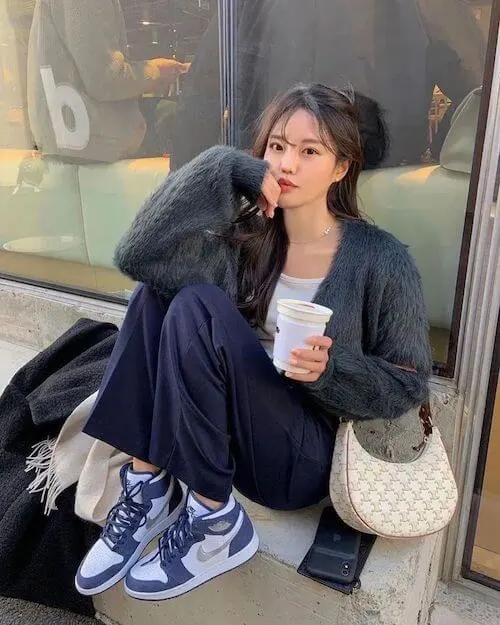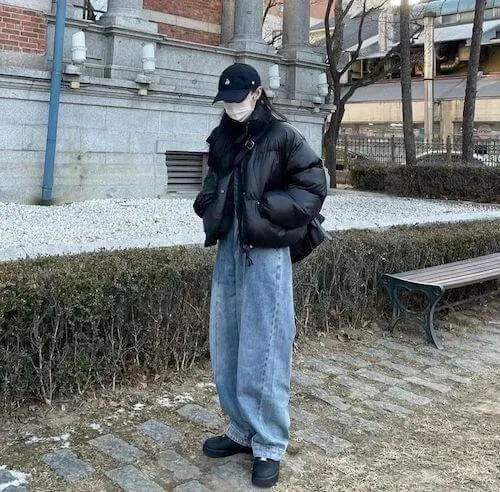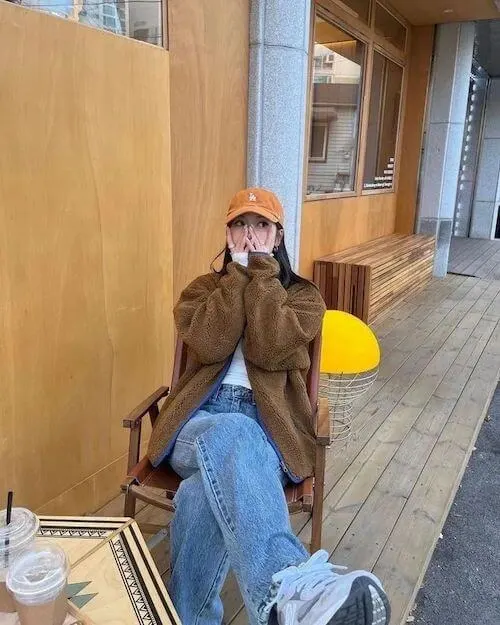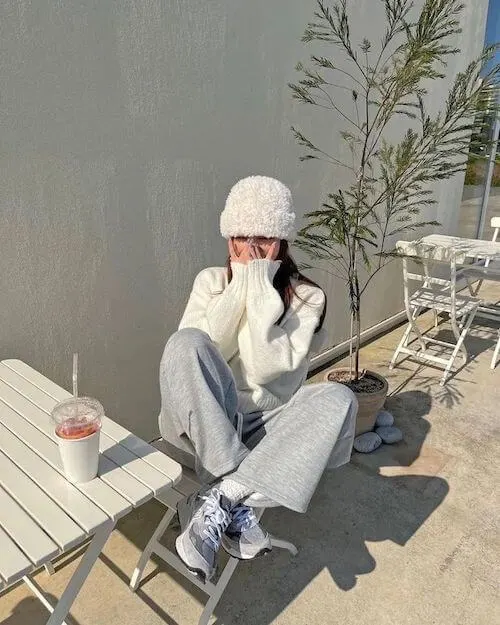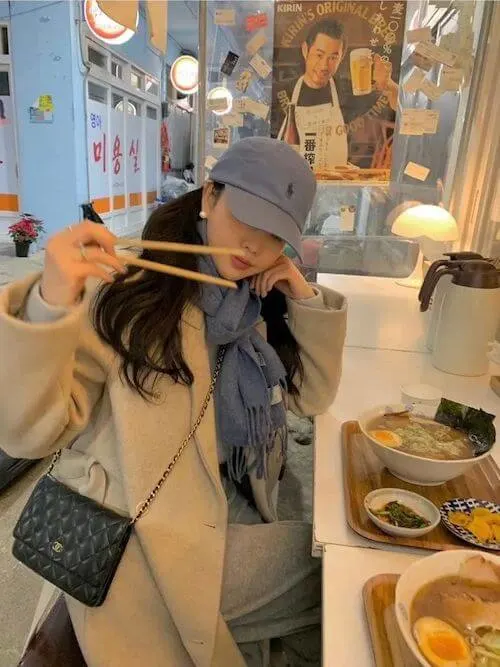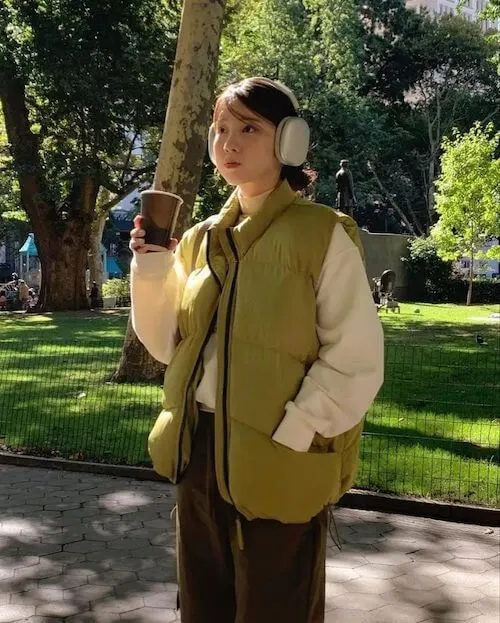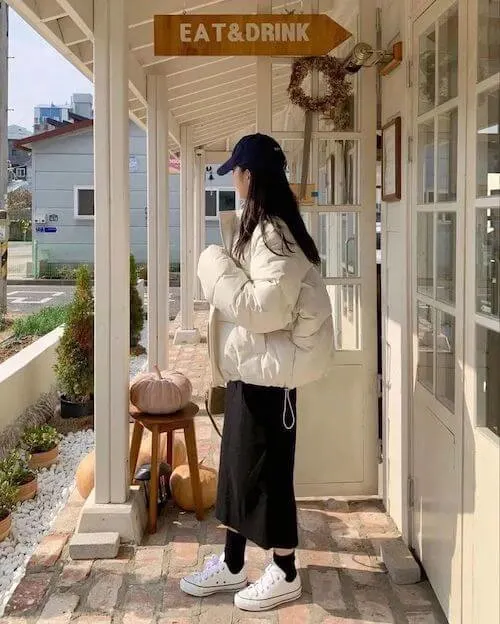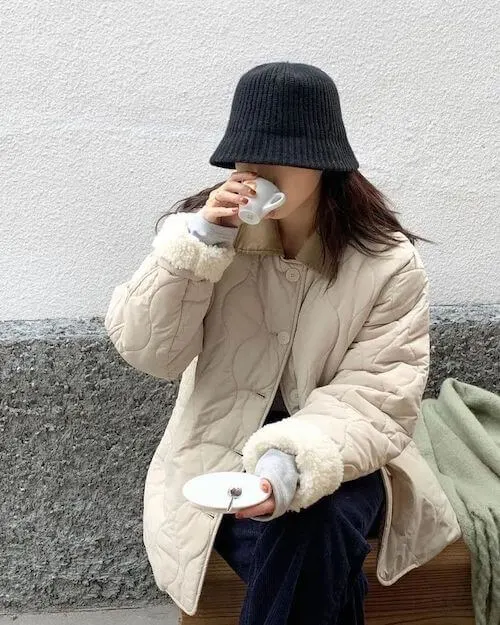 Where can I find the best Korean clothes?
What are some popular Korean clothing stores and Korean fashion brands?
Korean fashion has become increasingly popular in recent years, and with it comes a variety of clothing stores to choose from.
One of the most well-known Korean clothing stores is Stylenanda, which offers trendy and stylish clothes for women.
From oversized t-shirts to unique accessories, Stylenanda has everything you need to achieve that effortless yet chic Korean look.
Another popular store is Mixxmix, which is known for its cute and colorful outfits that are perfect for the summer months.
Mixxmix offers a wide range of clothing options that cater to different styles and preferences, including preppy and streetwear-inspired pieces.
If you're looking for something more classic and timeless, Uniqlo is a great option.
While not exclusively Korean, Uniqlo has been a staple in Korean fashion for several years due to its quality basics like plain tees and denim jeans that can be mixed and matched with any outfit.
With its affordable price point, it's no wonder why many Koreans love shopping at Uniqlo.
Some other popular Korean or K-inspired clothing brands/stores include Ader Error, 8Seconds, W Concept, KOODING, YesStyle, and DAZY.
How can I shop for Korean clothes online?
Shopping for Korean clothes online can be a fun and exciting way to explore the latest fashion trends from Korea.
There are many online retailers that specialize in Korean fashion, offering a wide range of styles and designs to choose from.
Some popular websites include YesStyle, Stylenanda, KOODING, and W Concept.
You can also find more Korean designer brands at popular online stores like SSENSE.
These sites offer everything from trendy streetwear to elegant dresses and everything in between.
What are some tips for buying Korean clothes?
If you're interested in buying Korean clothes, there are several tips to keep in mind.
Firstly, research reputable Korean clothing brands and online stores to ensure that you're purchasing high-quality items.
Next, before you start shopping, it's important to know your measurements.
Most Korean clothing sizes run smaller than American sizes, so be sure to check the sizing charts before making a purchase.
Additionally, reading reviews from other customers can help you gauge the quality and fit of the clothing.
When shopping for Korean clothes, it's also helpful to look for inspiration from K-pop music videos or Korean dramas.
This can give you an idea of current trends and how certain pieces can be styled together for a cohesive outfit.
Lastly, don't forget about accessories!
Adding a few statement jewelry pieces or a cute bag can elevate any outfit and give it that extra touch of Korean fashion flair.
Conclusion: Trendy Outfit Ideas To Dress Like Korean Girls
In conclusion, Korean fashion is a fashionable and trend-setting style that offers a unique and playful approach to dressing up.
By mixing traditional and modern elements, Korean fashion has created a distinct style that is adored by many people worldwide.
With these cute Korean outfit ideas, you're ready to add some super cute Korean outfits to your wardrobe and dress well.
This post was all about Korean girl outfits.
About The Author
Tracy is an experienced personal stylist, shopping expert, and fashion & lifestyle blogger. She has been featured on Time Magazine, Bustle, Best Life, Glam, The Zoe Report, Mic, and GOBankingRates, for her insights on fashion, beauty, home decor, and lifestyle. Read More
Related Posts: