Looking for cute Korean outfits with jeans? Check this post for the best style tips and Korean outfit ideas from Korean fashion bloggers and K-pop idols to elevate your wardrobe to the next level!
Korean fashion is one of the most popular styles in the world.
It encompasses a wide range of looks, from streetwear and sportswear to ultra-feminine and ultra-chic.
One of the most versatile pieces in any Korean wardrobe is jeans.
Jeans can be dressed up or down depending on the occasion and they look great with many different types of outfits.
In this article, I am sharing with you the best tips on how to wear jeans like a Korean girl, the most popular fashion combinations, and the cutest Korean outfits with jeans for you to copy directly.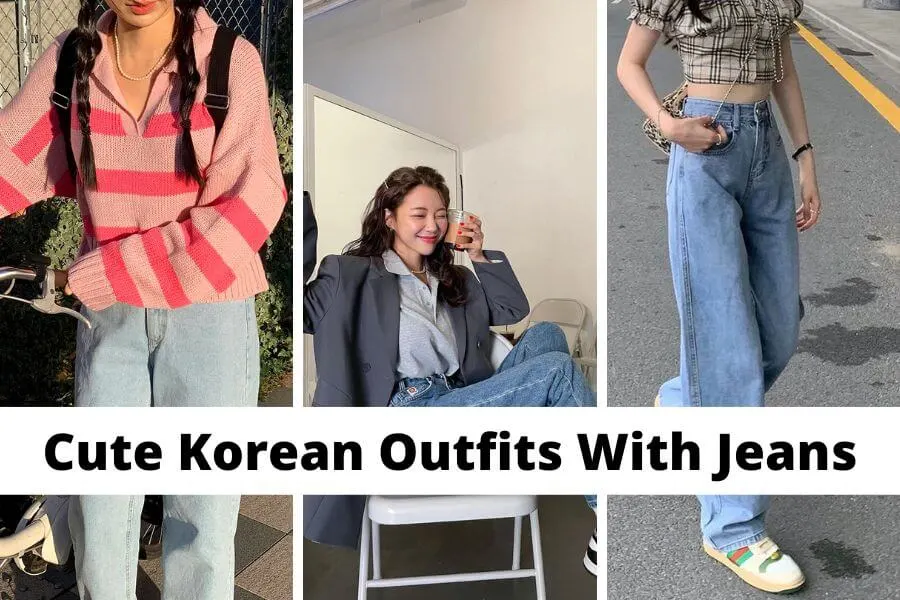 This post may contain affiliate links, which means I'll receive a commission if you purchase through my link, at no extra cost to you. Please read the full disclosure here.
This post is all about cute Korean outfits with jeans.
How to look cute in jeans like a Korean girl?
Jeans are a wardrobe essential for women all around the world, and Korean girls have taken this staple to a whole new level.
Their ability to look effortlessly cute and stylish in jeans is something that many of us aspire to achieve.
So, how can you emulate their style and look just as adorable in denim? Here are some tips:
Firstly, choose the right fit.
Koreans tend to prefer skinny or straight-leg jeans with a high waistline.
This helps elongate your legs and accentuate your figure while still providing comfort.
Secondly, consider the color of your jeans – Koreans often opt for light wash or pastel shades which add a feminine touch to any outfit.
Thirdly, accessorize wisely.
A simple belt can add an extra dimension of cuteness while also cinching in at the waistline for a flattering silhouette.
Cute Korean Outfits With Jeans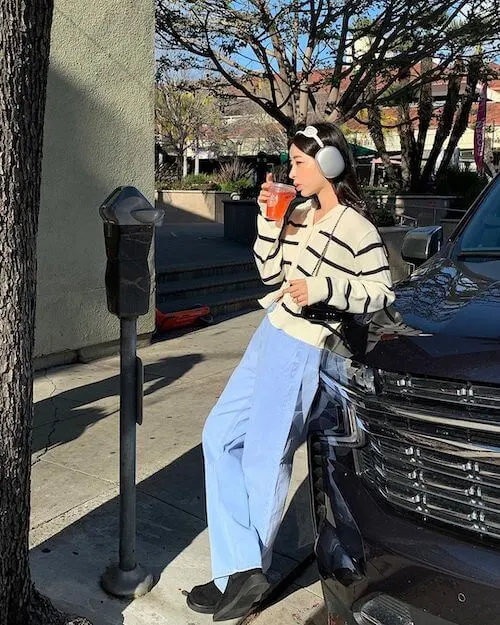 Korean fashion is all about blending comfort and style, and nothing says comfortable yet stylish like a pair of jeans.
Pairing jeans with cute Korean clothing items can create a trendy look that stands out from the crowd.
From oversized sweaters to cropped tops, there are endless options for creating a unique outfit.
One popular Korean fashion trend is the "boyfriend" or baggy fit for jeans.
This relaxed fit pairs perfectly with a fitted top or blouse to balance out the look.
Wide-legged and flared jeans are also making a comeback in Korean fashion, paired with tucked-in blouses or crop tops.
Accessories can take any outfit to the next level, and this applies to cute Korean outfits with jeans as well.
Hats, bags, shoes, and jewelry can add an extra touch of personality to an already chic ensemble.
Overall, incorporating denim into your wardrobe is essential for achieving effortless Korean style while staying comfortable throughout the day.
Scroll on to check out the most popular formulas for styling jeans like a Korean girl.
Oversized Sweatshirt + Baggy Jeans
This look is not only comfortable and practical but also stylish and chic.
Here are some tips on how you can rock this Korean street-style trend like a pro.
Firstly, invest in good quality oversized sweatshirts that are soft to the touch and have a loose fit.
You can choose from a variety of colors such as pastel shades or bold prints depending on your personal style preference.
Pair it up with baggy jeans that sit high on your waist for an effortless yet trendy look.
Secondly, when it comes to footwear, opt for chunky sneakers or platform boots for an edgy vibe, or go for classic white sneakers for a more casual look.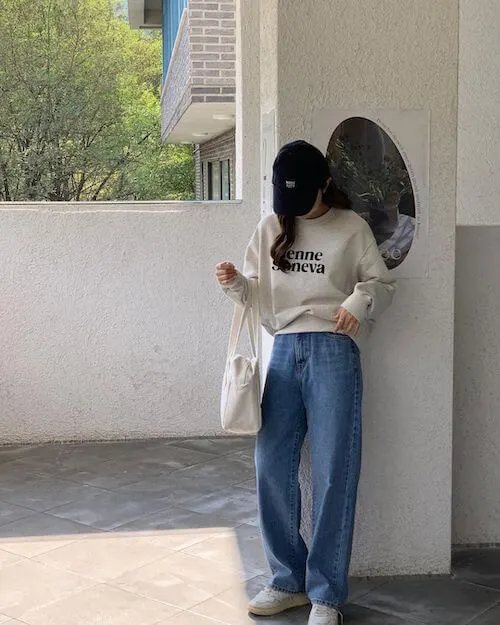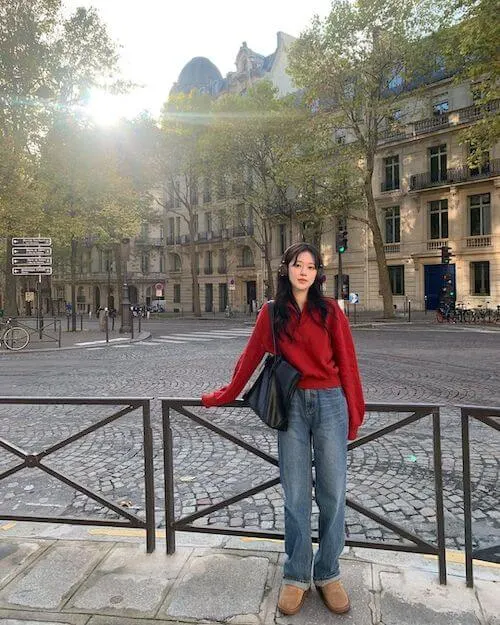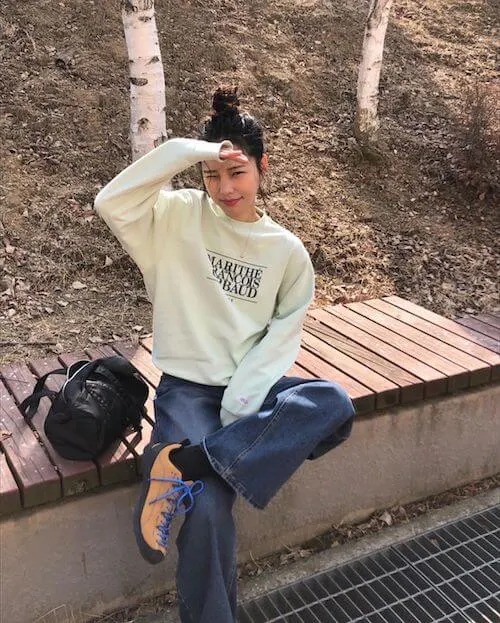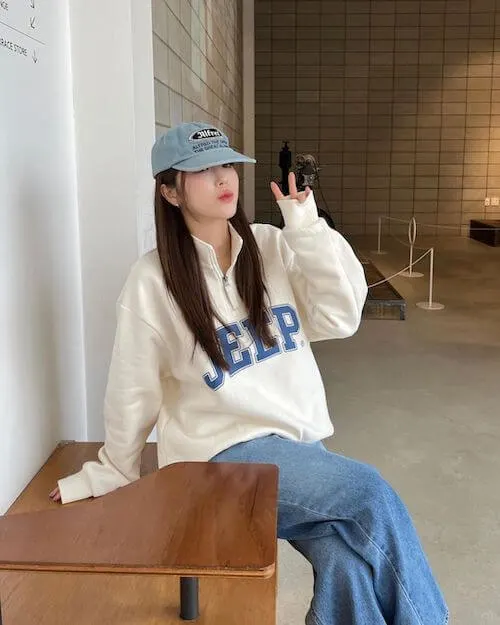 Oversized Button Up Shirt + Jeans
This look is all about finding the right balance between comfort and style and incorporating light colors and pastel hues to create a soft, feminine vibe.
To rock this trend like a Korean girl, start by choosing an oversized shirt in a light color such as cream or pale pink.
Look for a shirt made from a lightweight fabric that drapes nicely on your frame.
Pair it with high-waisted jeans in any wash you prefer – from classic blue denim to trendy black or white styles.
Accessorize with simple jewelry like delicate earrings or a dainty necklace to keep the focus on your outfit.
You can also add some personality by carrying a small pastel-colored bag or wearing shoes in a coordinating hue.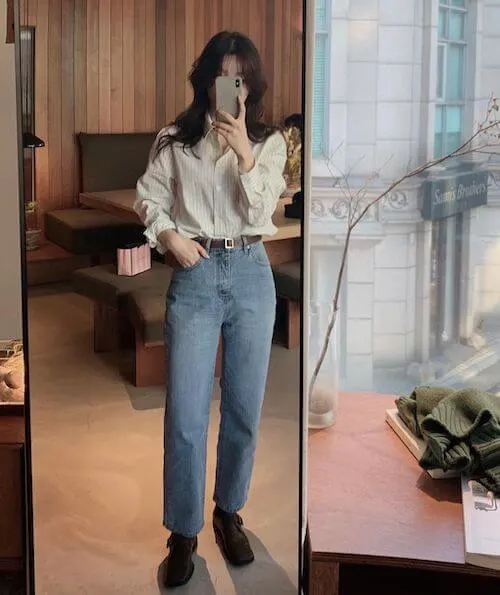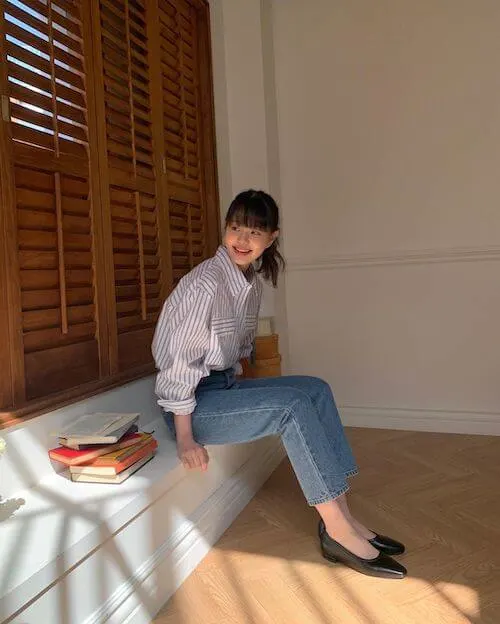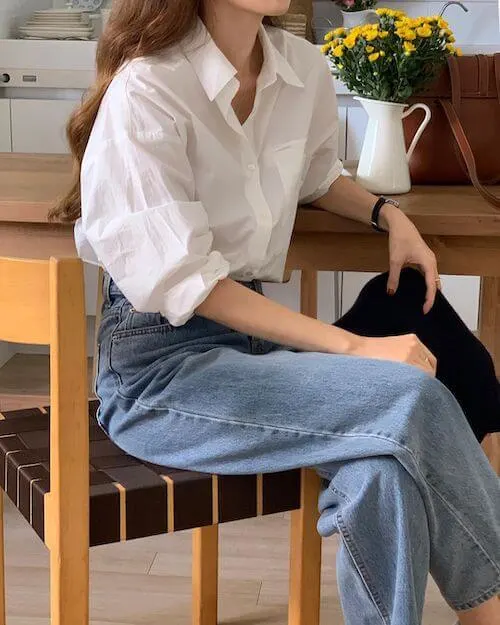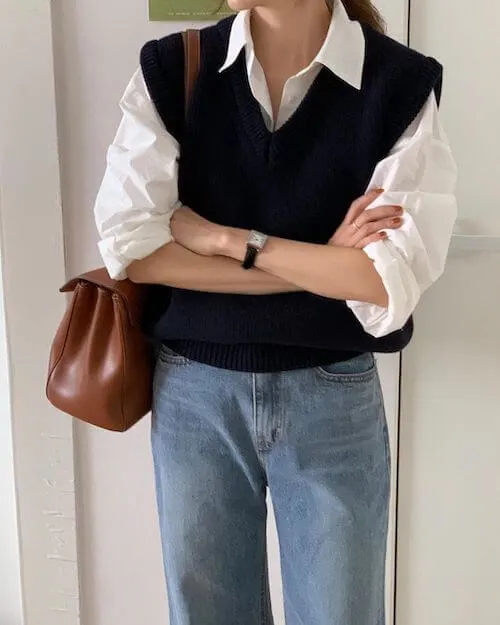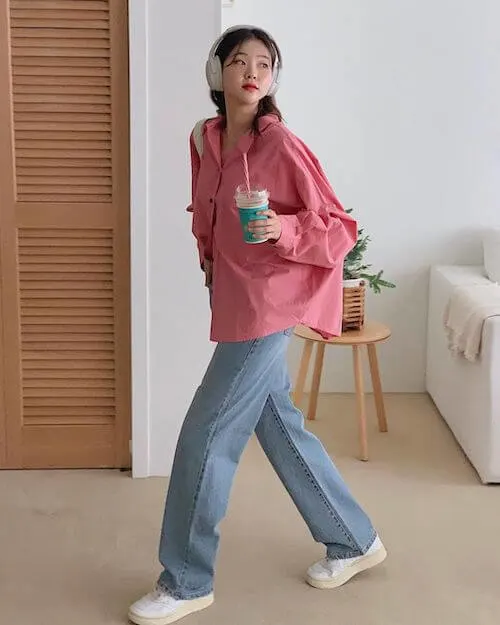 Oversized Blazer + Wide Leg Jeans
This effortless yet chic look is perfect for any occasion, whether it's a brunch date or a day out with friends.
To nail this style, choose neutral colors for the blazer like beige or black for a classic and versatile look.
When it comes to styling an oversized blazer, the key is to balance the proportions of your outfit.
Pairing it with wide-leg jeans will create a flattering silhouette that elongates your legs while giving you ample room to move comfortably.
For a more casual vibe, opt for distressed denim or cropped jeans that show off your ankle boots.
To complete the Korean girl-inspired look, add some statement accessories like chunky sneakers or hoop earrings.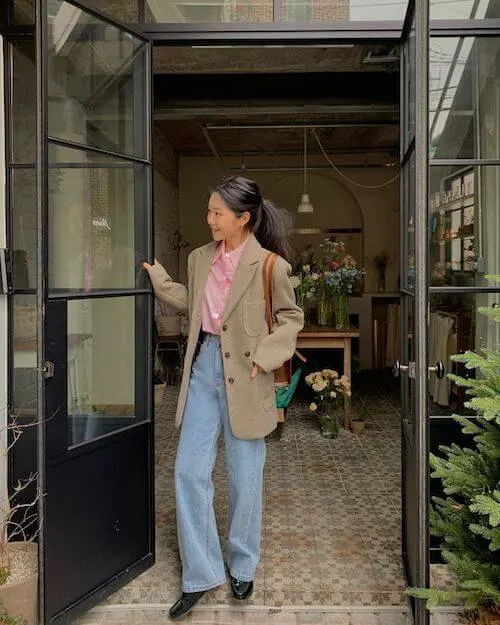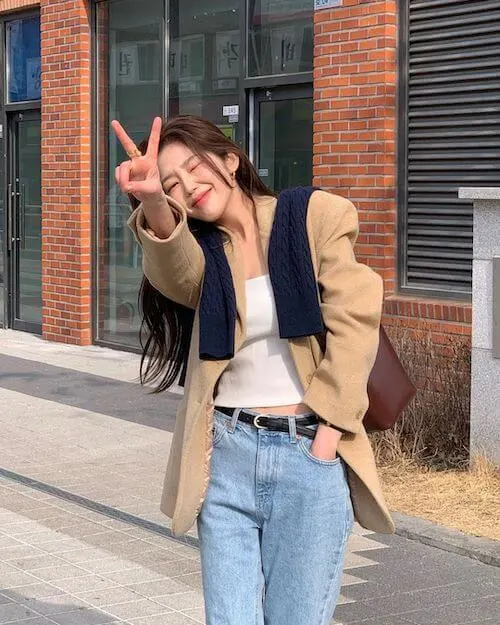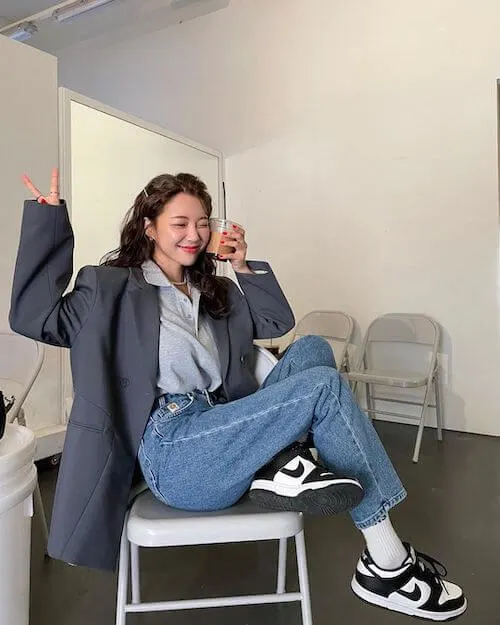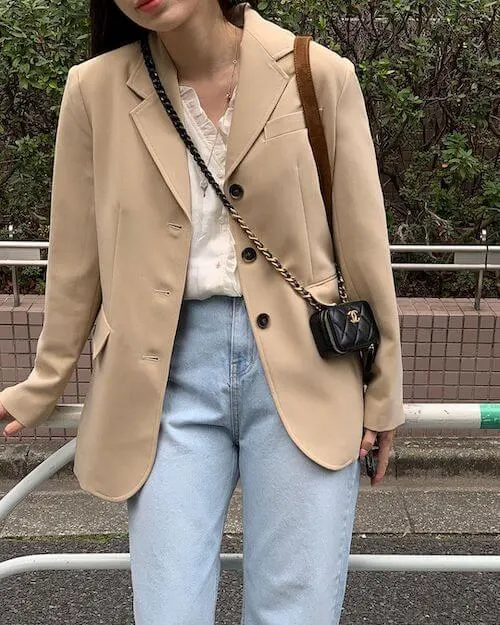 Simple White Shirt + Light Wash Jeans
This combination not only looks chic but also keeps you comfortable throughout the day.
The key to nailing this look is choosing the right fit for your shirt and jeans.
The shirt should be slim-fitted and made from breathable fabric that allows air to flow through.
This will keep you cool during hot summer days while also highlighting your figure in a flattering way.
As for jeans, opt for a pair that sits comfortably on your waist and has a straight or slightly tapered leg cut.
Another thing to keep in mind when styling this outfit is accessorizing it appropriately.
A delicate necklace or simple earrings can add some personality without overpowering the simplicity of the outfit.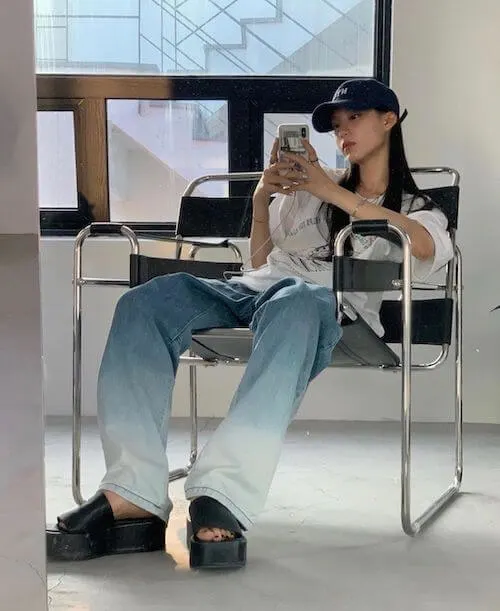 Crop Top + High-Waisted Jeans
This look is perfect for those who want to show off their figure while still keeping things trendy and chic.
Whether you're going out with friends or just running errands, this outfit will have you looking your best.
To pull off this look like a Korean girl, it's important to choose the right pieces.
Start by finding a crop top that fits well and isn't too revealing.
Look for tops that hit at or above your belly button but don't show too much skin on the sides or back.
For high-waisted jeans, go for a pair that hugs your curves in all the right places without being too tight around your waistline.
When it comes to accessorizing this outfit, keep things simple yet stylish.
A pair of trendy sneakers can add an edge to any look.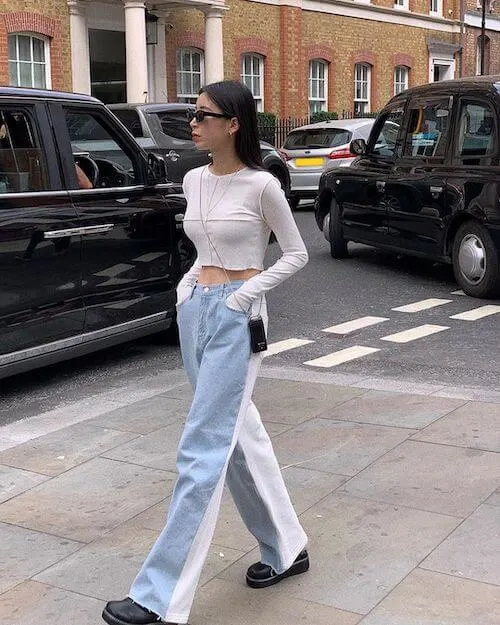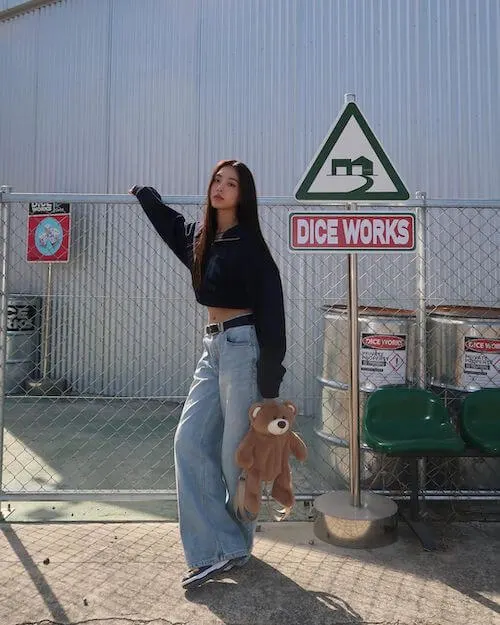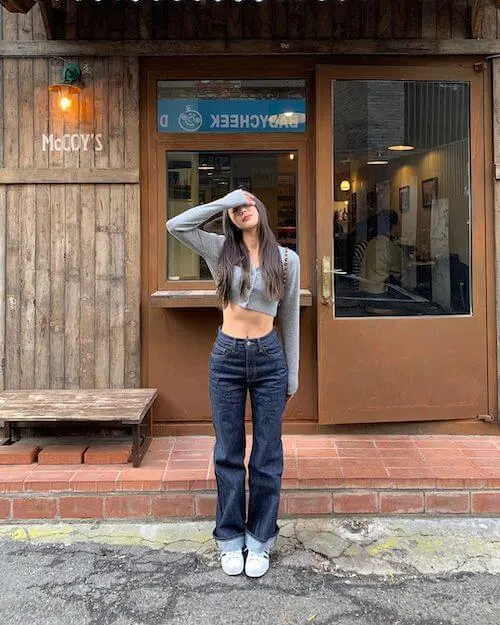 With Pastel Color Sweater
Wearing a pastel color sweater and jeans like a Korean girl can be an effortless way to achieve a stylish and trendy look.
The key is to keep it simple, yet eye-catching.
Firstly, choose a high-waisted pair of jeans that fit well around your waist and hips.
This will accentuate your curves while also giving you the illusion of longer legs.
Secondly, opt for a pastel sweater in colors such as mint green, baby pink, or powder blue.
These colors are perfect for springtime and will complement your skin tone beautifully.
Accessorize the outfit with dainty jewelry such as small hoop earrings or layered necklaces.
Keep it minimalistic but make sure to add some sparkle to complete the look.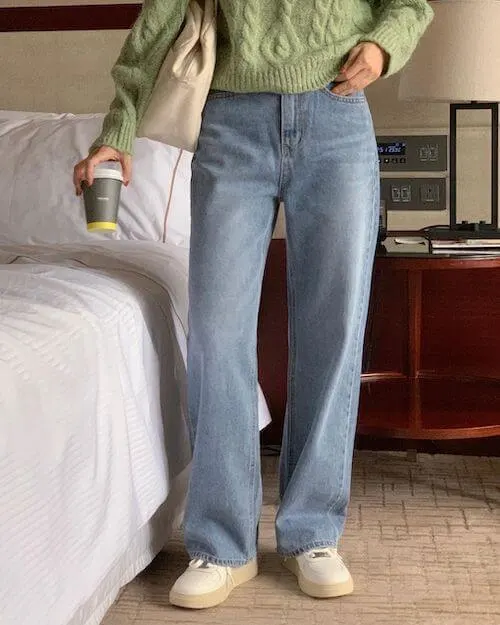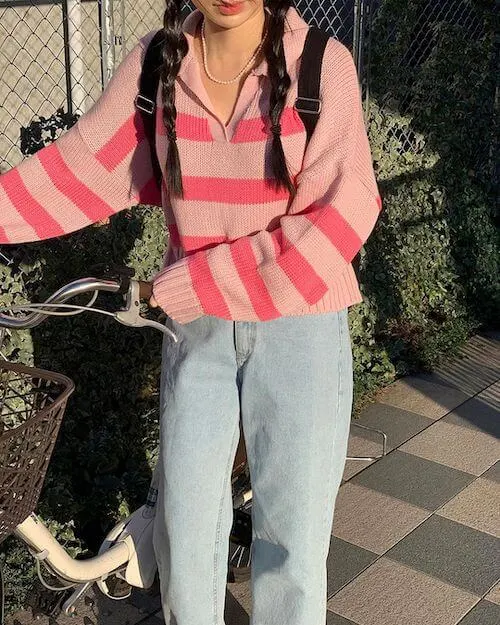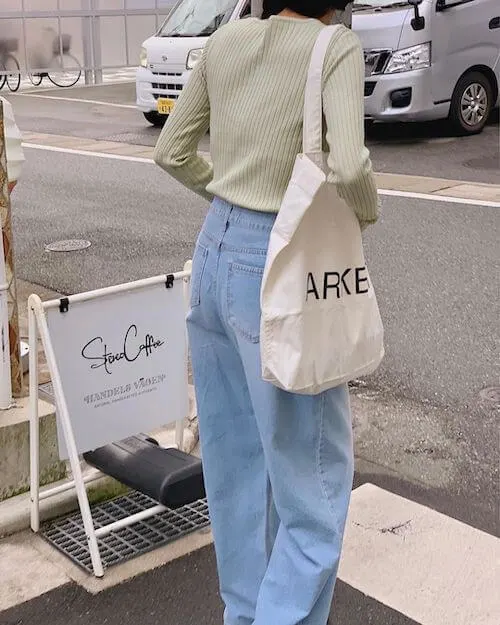 With Light Color Jacket
This look is effortlessly chic and perfect for any occasion, from casual outings to formal events.
To achieve this style, start by choosing a light-colored jacket in shades like beige or pastel pink.
Pair it with your favorite pair of jeans, whether they are skinny, straight-leg, or wide-legged.
For a more relaxed vibe, opt for distressed or ripped jeans instead.
When wearing this outfit, accessories are key to completing the look.
Korean girls love adding statement pieces like oversized sunglasses, chunky jewelry, and small bags to their ensembles.
Finish off your outfit with some comfortable yet stylish shoes such as sneakers or flats to create that effortless Korean girl style that everyone will envy!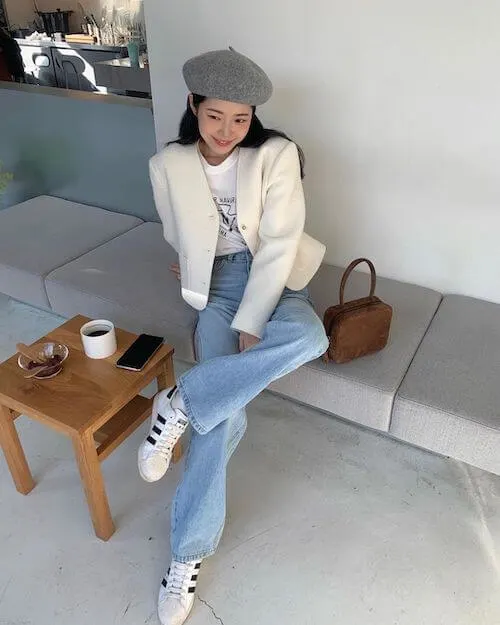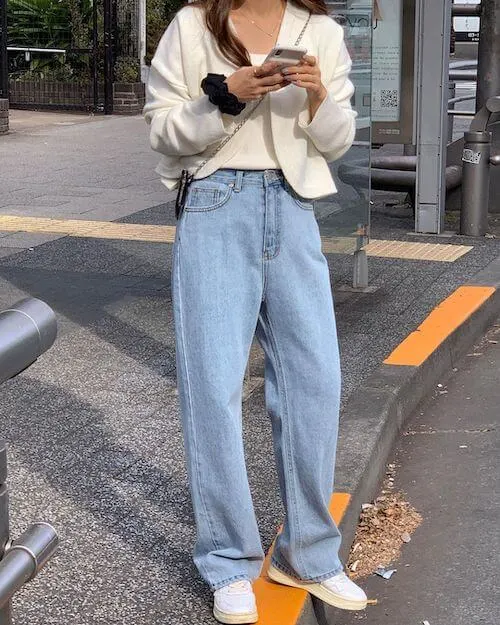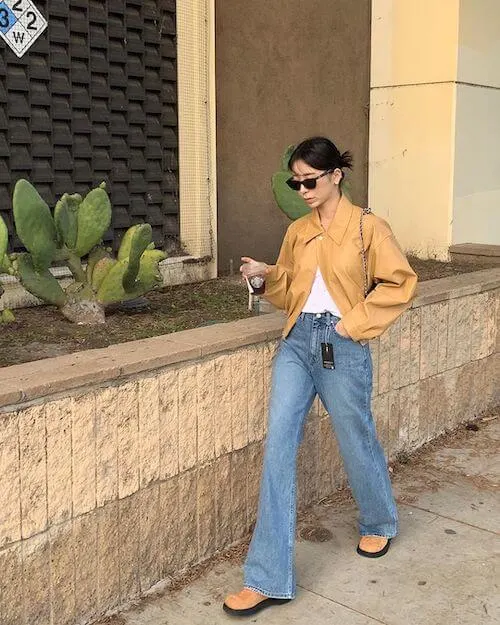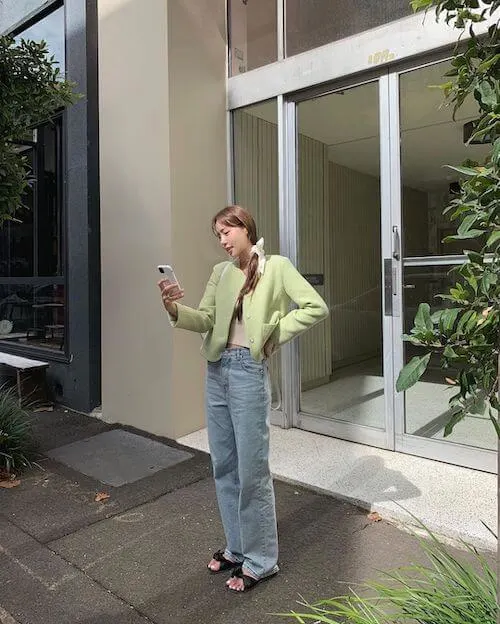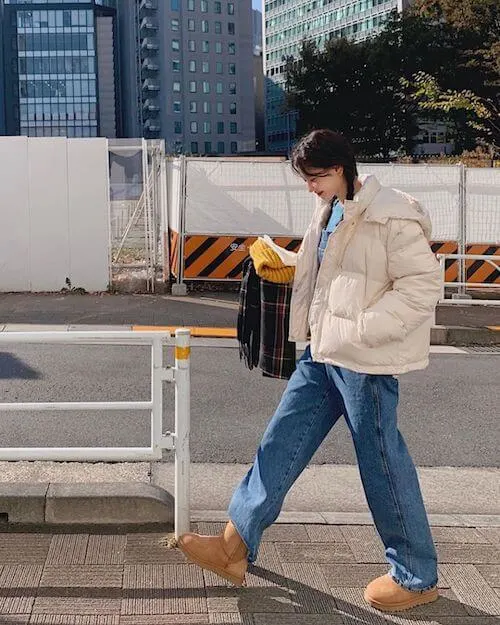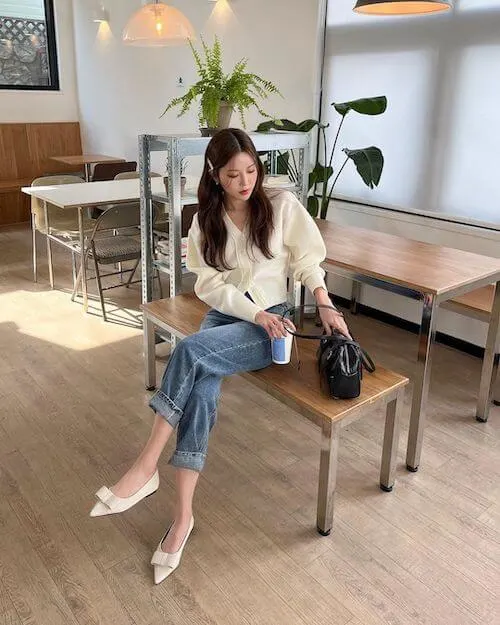 With Stylish Cardigan
Cardigans and jeans are a classic combination that never goes out of style.
Korean girls have taken this pairing to the next level by infusing their own unique style into the mix.
To achieve a Korean girl's cardigan and jeans look, start with a fitted pair of high-waisted jeans.
This will elongate your legs and create a flattering silhouette.
Next, choose a short cardigan in neutral colors such as beige or gray, or in sweet colors like yellow, pink, or blue.
You can wear a feminine blouse with cute collars or a simple button-up shirt inside the cardigan to add more visual interest to your outfit.
Accessorize with chunky jewelry pieces like large hoop earrings or statement necklaces to add some personality to your ensemble.
Complete the look with canvas sneakers or ankle boots for an effortless yet put-together vibe.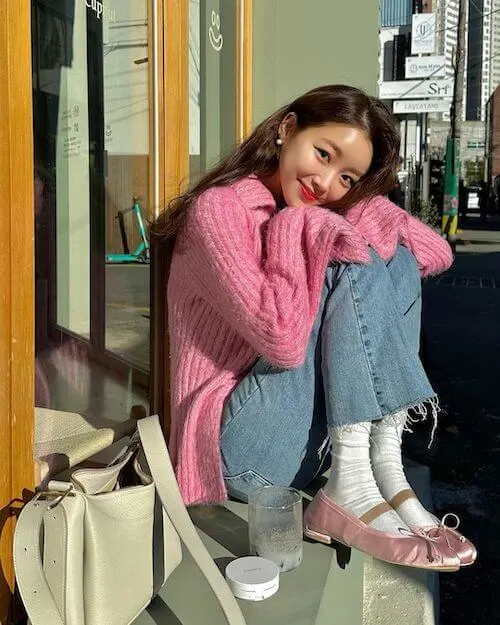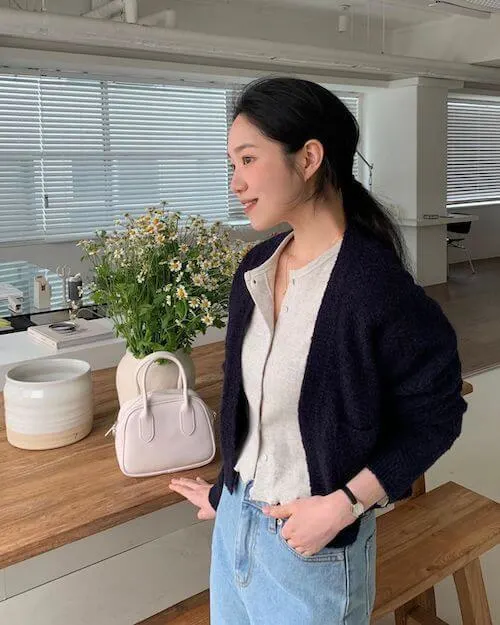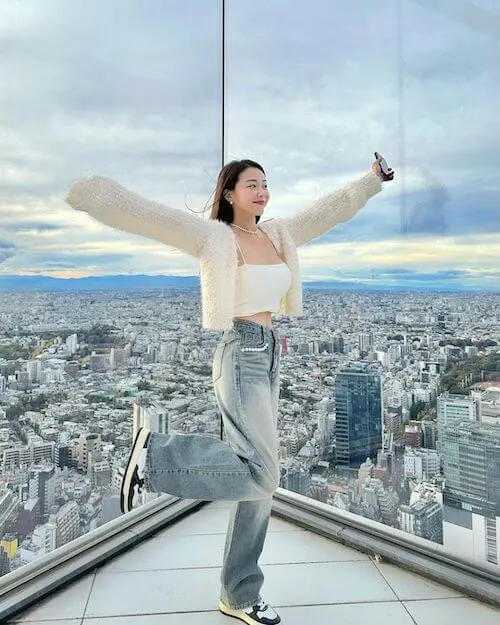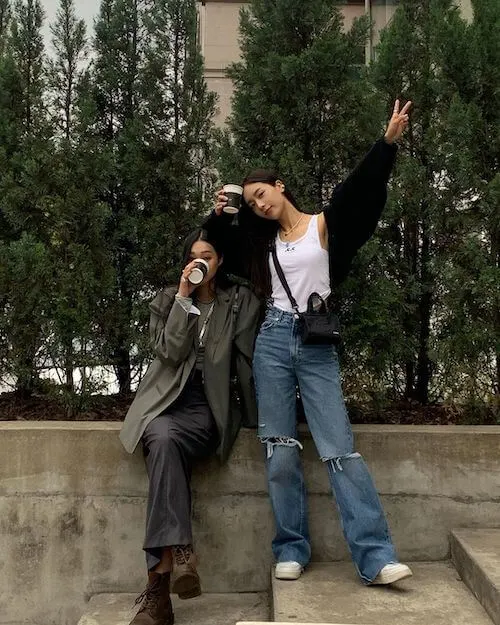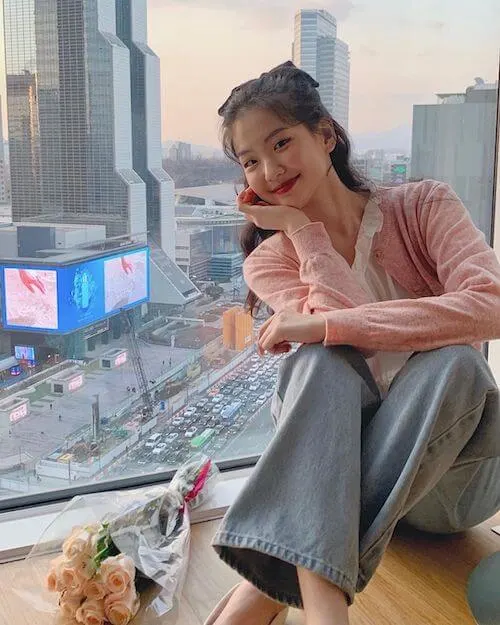 With Feminine Blouse
To pull off this look like a Korean girl, you first need to choose the right blouse.
Opt for something flowy and light-colored such as pastel hues or soft floral prints.
You can also go for ruffles or lace details that add a touch of elegance to your outfit.
Pair it with skinny or straight-leg jeans in dark washes for a sleek look.
When it comes to accessories, less is more in Korean fashion.
Avoid over-accessorizing and stick to simple pieces such as stud earrings or delicate necklaces.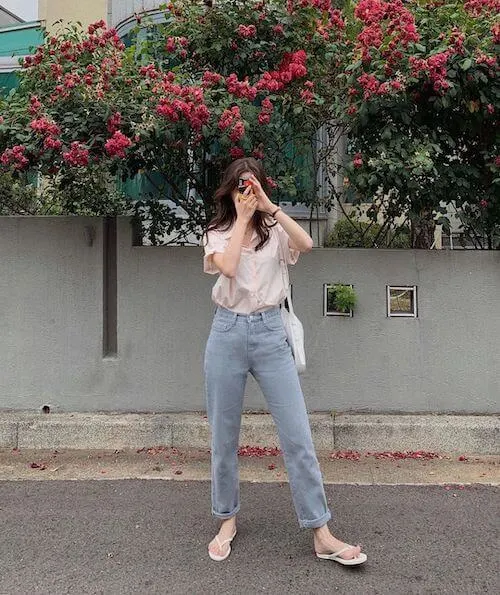 Easy To Wear Street Style
This style combines classic denim jeans with trendy and fashionable tops to create a casual yet stylish look.
The key to achieving this look is to choose the right pair of jeans.
Korean fashionistas often opt for high-waisted or mom-style jeans that offer a comfortable fit while still looking fashionable.
These types of jeans can be paired with oversized t-shirts, cropped tops, or off-shoulder blouses to create a laid-back yet stylish vibe.
To complete the look, accessories such as sneakers, bucket hats, and crossbody bags are added for extra flair.
Whether you're running errands or meeting friends for lunch, this Korean-inspired street style is perfect for any occasion!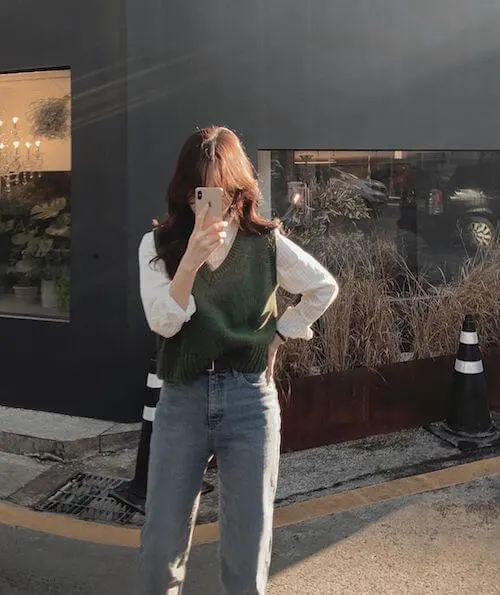 K-pop Idol-Inspired Looks
Firstly, try experimenting with different styles of jeans such as skinny jeans, wide-leg, straight-leg, or bootcut jeans.
Skinny jeans are a good choice to show your curves.
In addition, try layering a cropped cardigan or a chiffon blouse to give your look a chic and more mature vibe.
Wide-leg jeans paired with a crop top give off a laid-back yet sophisticated vibe.
Straight-leg jeans provide a sleek and chic appearance when paired with heels or sneakers.
Bootcut jeans are perfect for those who want to elongate their legs as they create an illusion of length.
Accessories also play an essential role in completing the K-pop idol look.
Add a cute beanie hat or simple hair accessories to complete the look.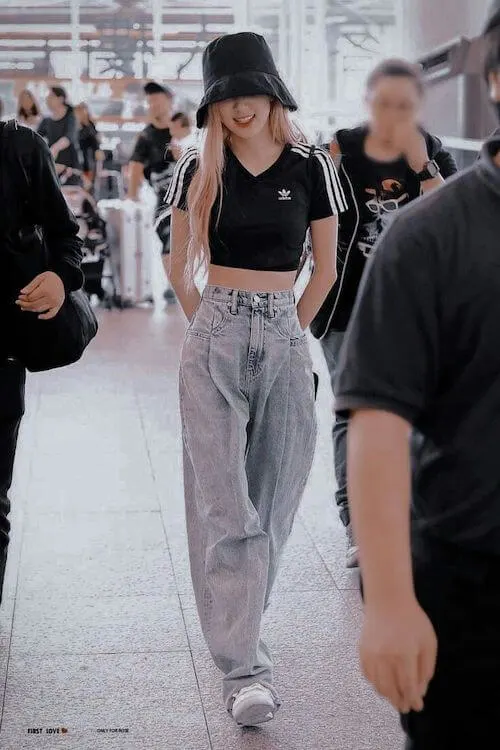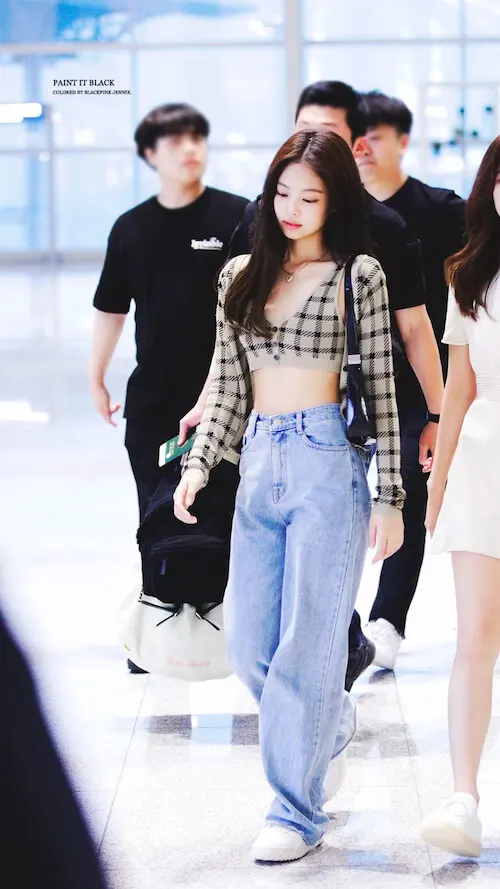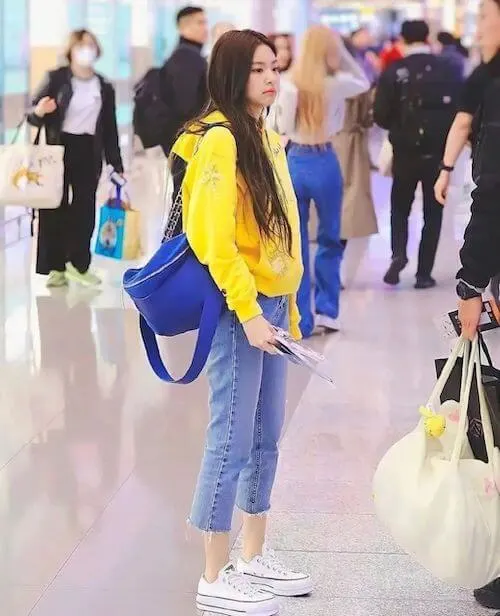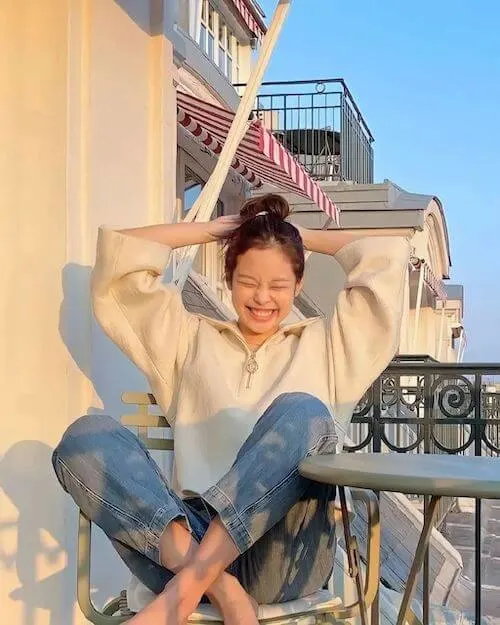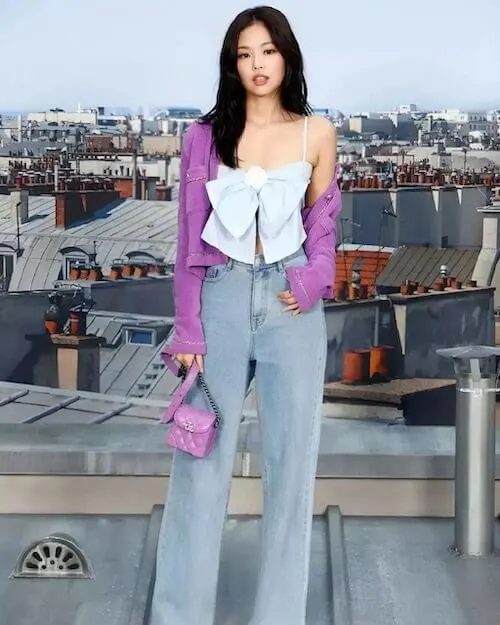 Korean Jeans Outfits With Sneakers
If you've ever been to Korea or just happened to come across Korean fashion blogs, you might have noticed that Korean girls often pair their jeans with sneakers.
This effortless and casual look is a trend that has been gaining popularity worldwide, and for good reason.
Not only does it provide comfort for your feet, but it also adds an edgy vibe to any outfit.
To achieve the perfect balance between casual and stylish, start by selecting the right pair of sneakers.
Opt for classic styles such as Converse All Stars or Adidas Samba in neutral colors like white or black.
Additionally, try to choose sneakers that are streamlined and not too bulky.
When pairing your sneakers with jeans, make sure the length of the jeans complements the shoes.
Avoid wearing jeans that bunch up around the ankles as this can make your legs look shorter than they actually are.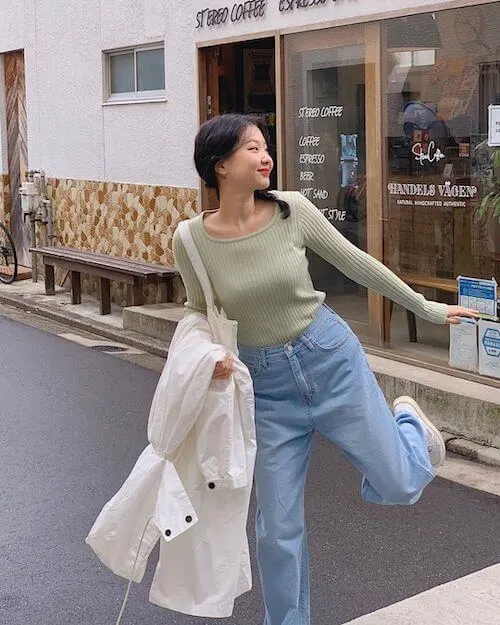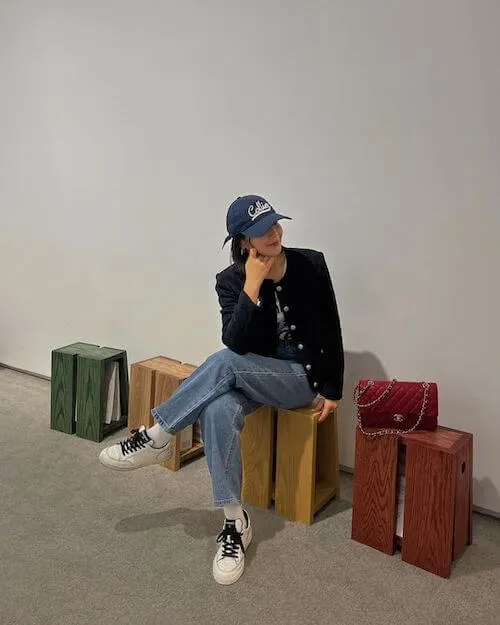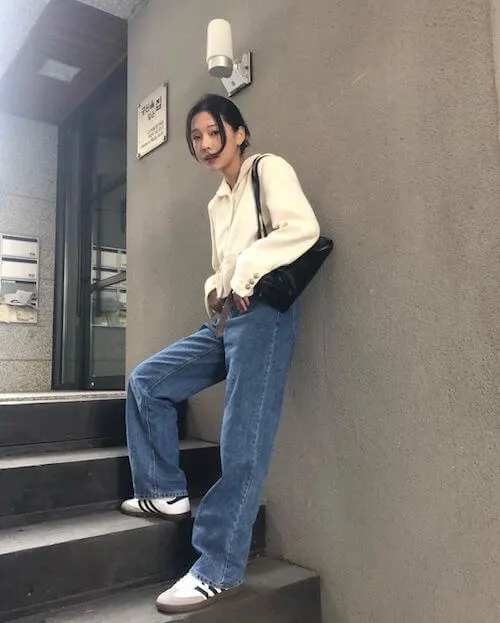 More Cute Korean Outfit Ideas With Jeans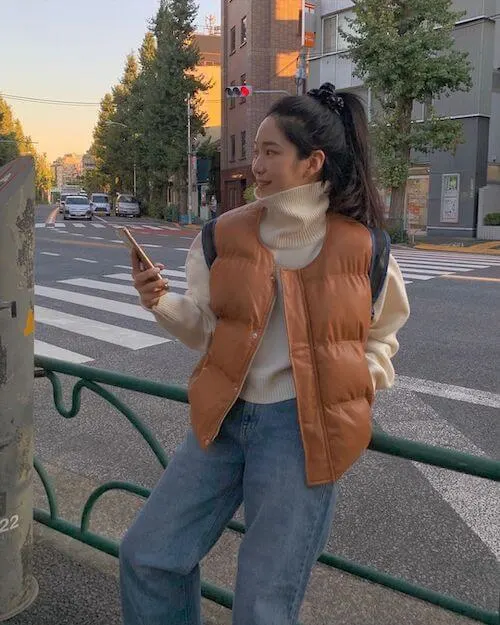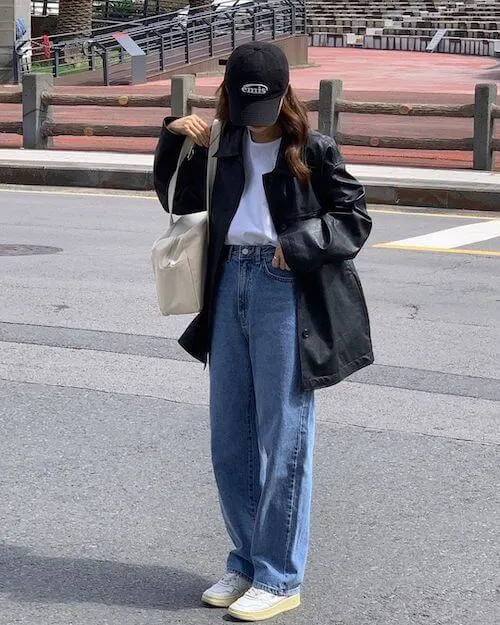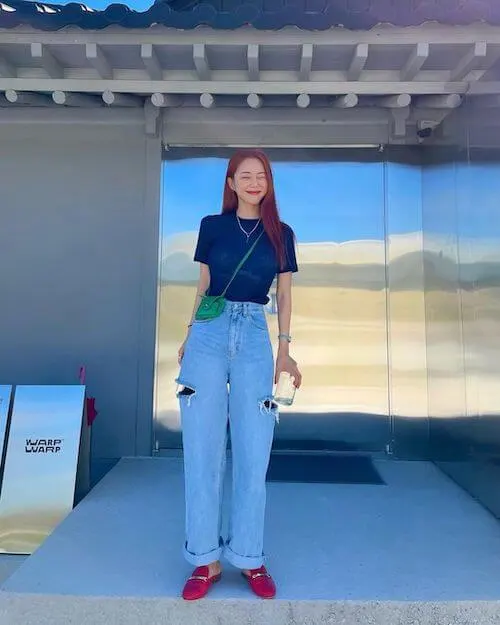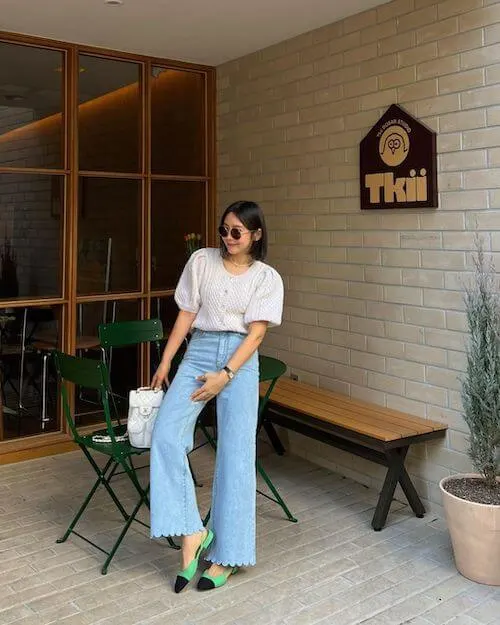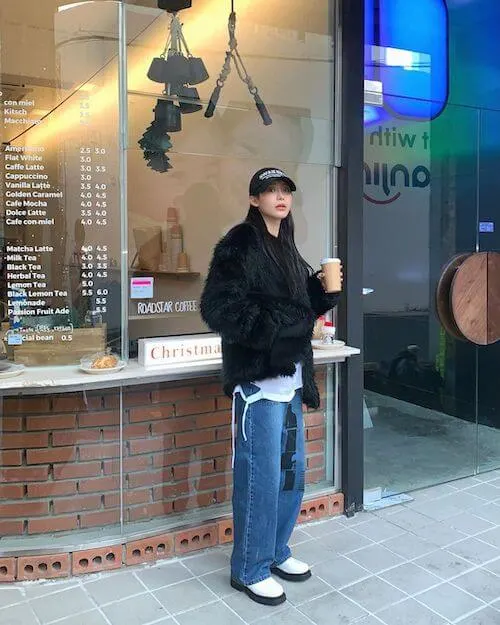 Korean Style Jeans Outfits From Our Favorite Retailors
Conclusion: Korean Fashion Outfit Styles With Jeans
In conclusion, Korean fashion is an incredible way to make a statement with your style.
It's versatile, fashionable, and undeniably cute!
Keeping things simple with basic jeans and a trendy top can be enough to make any outfit stand out.
No matter where you are, taking cues from Korean fashion can help you add a touch of cuteness to your wardrobe.
If you're feeling bold, try mixing and matching different pieces to create the perfect look that's all your own.
This post was all about cute Korean outfits with jeans.
About The Author
Tracy is an experienced personal stylist, shopping expert, and fashion & lifestyle blogger. She has been featured on Time Magazine, Bustle, Best Life, Glam, The Zoe Report, Mic, and GOBankingRates, for her insights on fashion, beauty, home decor, and lifestyle. Read More
Related Posts: