Want to know what to wear on a casual first date? Check this post for expert tips and the 50+ best outfit ideas to copy directly.
Choosing an ideal outfit for a casual first date is not an easy task. We sometimes really need a break from the little black dress or other midi dresses for a more formal dinner date, but we also worry that the casual outfit we choose is not romantic and suitable for the casual date to make the best first impression.
Sure, a casual dress may be a good idea for a casual first date for female, which you may have read about in lots of date outfit guides, but what is a better choice or more impressive outfit idea, and what if you really want to wear pants or jeans?
In fact, from stylish casual first date outfits with jeans to flowy mini dresses for a daytime date, actually, the perfect outfit ideas for a casual first date are way more than what you have known. Meanwhile, though we recommend you stick to the safer card by not showing too much skin and not being too sexy on your first date, in order to keep the mystery and make your date wants to know you more, we strongly encourage you to add a touch of personal style to your perfect first date outfit.
Need more inspiration and style tips? Don't worry, we have rounded up the best expert tips and outfit formulas that you can copy directly, so you can make a good impression for the first time and win your second date successfully.
So in this post, you'll find everything from the first date outfits with jeans we can't get enough of to the stylish combos with a nice top that you will want to add to your collection. Plus lots of ideas for cold weather.
From a first date outfit for a coffee date to a casual drink date, from an outdoor date to a casual dinner date, you can surely find the best option you like and release your date stress with the best look you are confident with.
Besides, all the outfits in this post are shoppable from our favorite retailers. You can shop them directly from the "Shop The Look" below each outfit idea.
So scroll down to check what we have found for you for your first date, and don't hesitate to pin the ideas you like.
This post may contain affiliate links, which means I'll receive a commission if you purchase through my link, at no extra cost to you. Please read the full disclosure here.
This post is all about what to wear on a casual first date for female.
What To Wear On A First Date: Casual Dinner Date Outfit Ideas
Jeans still have a special place in our casual date wardrobe. Paired with chic simple earrings and a small purse, they can make any cute top into a perfect casual date look.
As we mentioned before, one important thing for a perfect first date outfit is never to show too much skin and keep simple to show your chic fashion taste. So we love to add an off-shoulder top, one-shoulder top, satin cami top, or a satin sleeveless bodysuit, to pair with the jeans to make a perfect balance between sexiness and casual feel, which is ideal for the first casual date.
Besides jeans, the trending loose-fit leather pants or straight-leg faux leather pants have become another great staple for a casual date look. They have the perfect evening dinner feel but they are actually quite versatile to be a casual look date night piece when paired with an oversized top.
Love dresses? Try a loose-fit little black dress, a casual cotton solid color midi dress, or a ribbed bodycon dress. They are chic and comfortable in a casual way and help you get relaxed and express your best self on your first date. You can even wear them confidently to a fancy restaurant for a nice candlelight dinner by pairing them with a pair of nice tall boots and a chic small purse.
Ribbed One-Shoulder Sweater Top + Skinny Jeans + Ankle Boots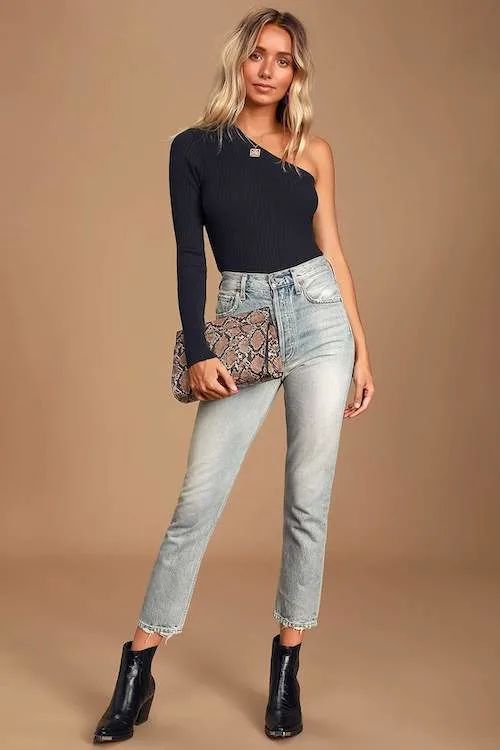 Off-the-Shoulder Knit Sweater + Skinny Jeans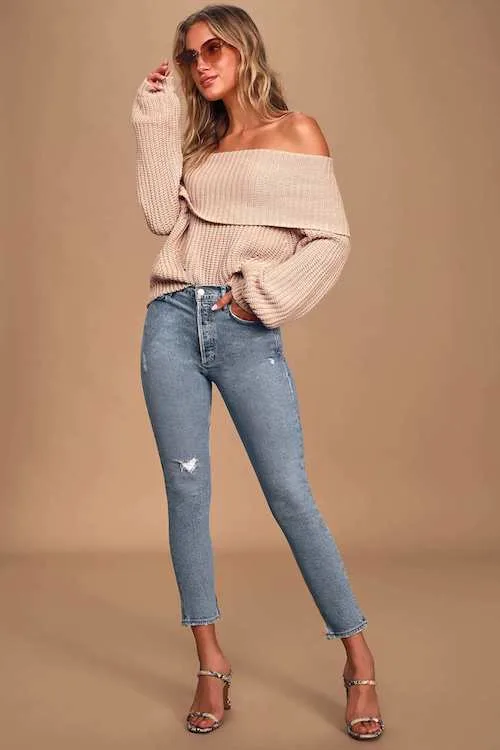 Burgundy Satin Sleeveless Cowl Neck Bodysuit + Mom Jeans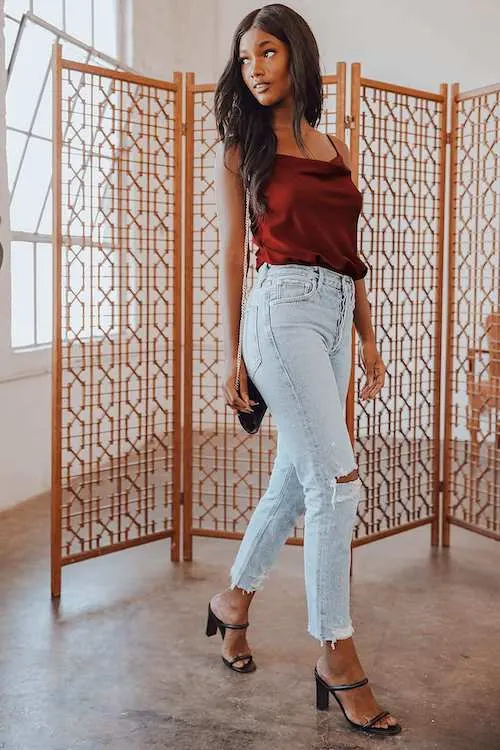 Light Grey Oversized Lightweight Jacket + Little Black Dress
Cream Satin Asymmetrical Tank Top + High Waist Jeans
Deep V Neck Ribbed Long Sleeve Bodysuit + Black Pants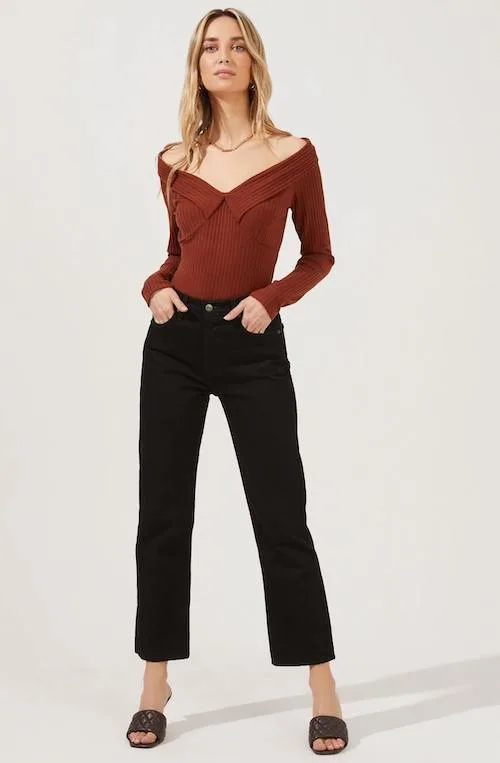 Balloon Sleeve Flowy Smock Dress + Brown Cowgirl Boots
Floral Off Shoulder Blouse + Jeans + Leather Belt + Black Boots
Ribbed Bodycon Dress + Knee High Boots
Straight Fit Twist Top + White Pants
Solid Batwing Sleeve Sweater + Black Leather Pants
Black Twist Front Tank Dress
What To Wear On A Casual First Date To Casual Drinks
You can wear a little bit sexier in your casual drinks date outfit, but not too much. Jeans or black loose-fit leather pants or faux leather pants are perfect for casual evening dates, and a meshy sleeves top, a tank top, or a cami top that shows your beautiful arm lines are all great choices to meet the dress code of a casual date outfit.
Want to show your beautiful legs? Pair a skirt or skort with a long sleeve loose top and tuck it into the skirt to achieve the best body proportion for your overall look.
For the cooler months, add a chic cardigan over your cami top, or switch the cami top to an expensive-looking velvet top or a cute button-down long sleeve top. You can even style them in a cold-weather casual date outfit by adding an oversized blazer or a long coat.
Beige Swiss Dot Long Sleeve Bodysuit + Blue Jeans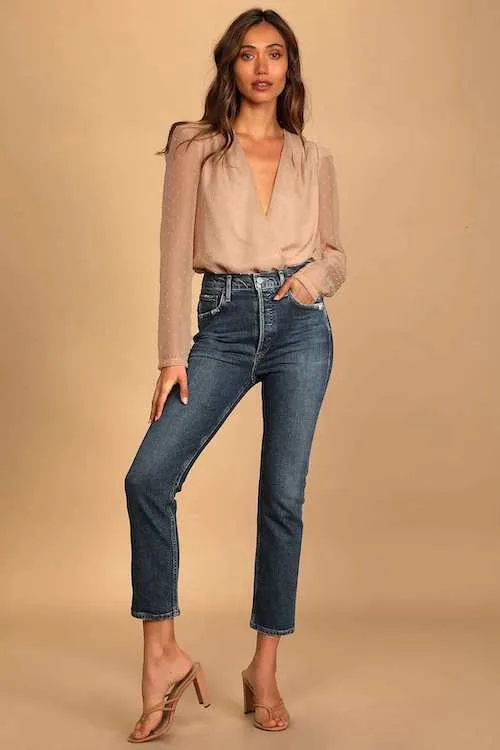 Black Sleeveless Turtleneck Top + Black Leather Pants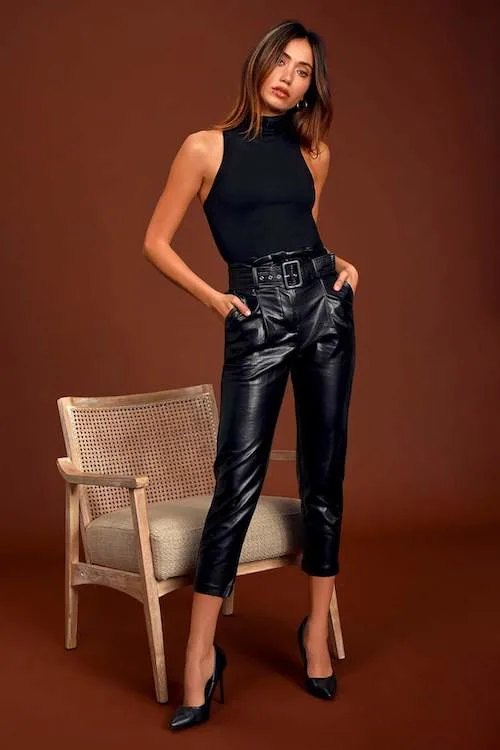 Wine Red Mesh Sleeveless Bodysuit + Black Jeans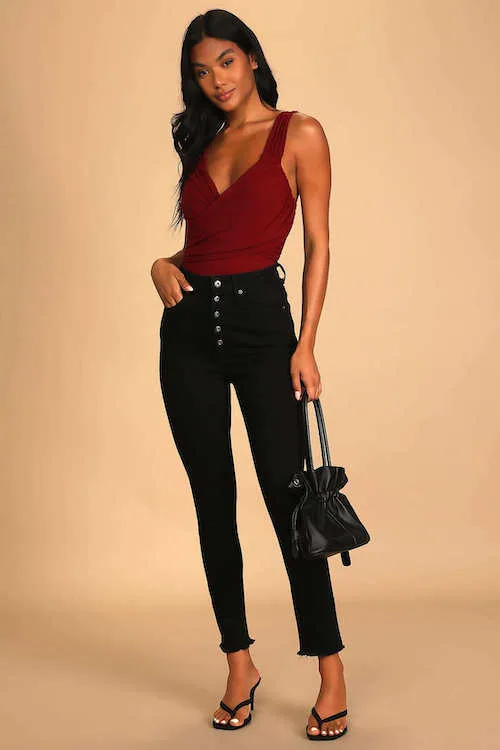 Beige Ruched Mesh Sleeveless Bodysuit + Straight Leg Jeans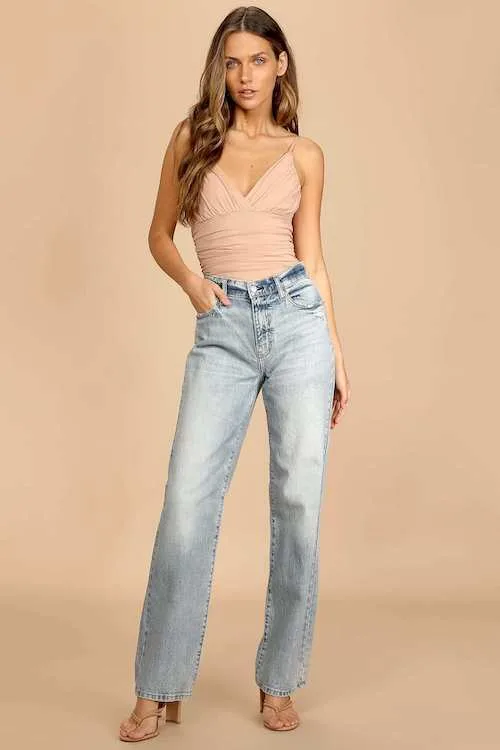 Long Sleeves Blouse + Black Vegan Leather Skort
Cable Knit Batwing Sleeve Cardigan + White Tee + Jeans + Black Boots
Velvet Top + Dark Blue Jeans
Knit Button Up Top + Jeans
What To Wear On A Casual First Date: Coffee Shop Date Outfit Ideas
Blue jeans and a cute skirt are must have pieces for any casual date wardrobe. For daytime coffee dates, adding a warm neutral color top will never be wrong.
We love a cozy cream, beige or brown cozy sweater or knit top to pair with these simple bottoms for a perfect coffee date look. Warm, chic, and surprisingly versatile, these combos also look insanely great underneath a winter coat in cold weather.
Have the date in the holiday season? A beautiful red top is a great choice for your first coffee date. The red will look gorgeous with the holiday vibes.
A mini skirt with a simple top in solid colors is one thing, but a mini skirt with a top in red is another. The beautiful red makes even the simplest casual settings full of confidence and romance instantly, and you will look stunningly attractive.
Heather Red Oversized V-Neck Sweater + Jean Skirt + Combat Boots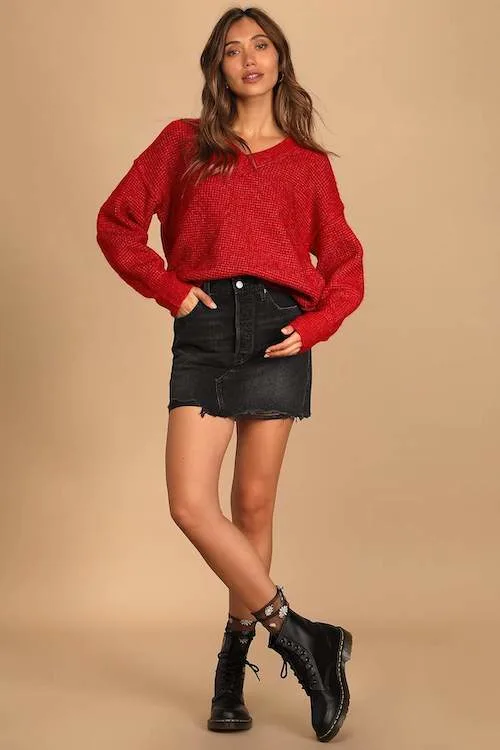 Ruched Frill Puff Sleeve Top + Blue Jeans + Tan Boots
Black Slim Top + Sweater Vest + Tie Waist Faux Leather Midi Skirt + Knee Boots
Ribbed Knit Drop Shoulder Dress + Black Boots
White Rib-Knit Drop Shoulder Sweater + Black Skirt
White Shirt + High Waist Tartan Slit Skirt
What To Wear On A First Date In Winter
A long coat or a puffer coat wasn't the end game after all. From what to wear underneath to change to another cute and cozy outerwear, you can find other creative and stylish right outfits for a new story.
Try a sweater top and a leather jacket in the same color scheme, switch your classic black boots to a snakeskin pattern pair, or dress up your cardigan look with a trending corset. Complete the look with gold hoops or pearl drop earrings to make your outfit even sweeter.
Check the below outfits and choose your favorite first date outfit idea. You will definitely have a good time for your winter date and be highly impressive!
Rust Brown Sweater Top + Plaid Skirt + Leather Jacket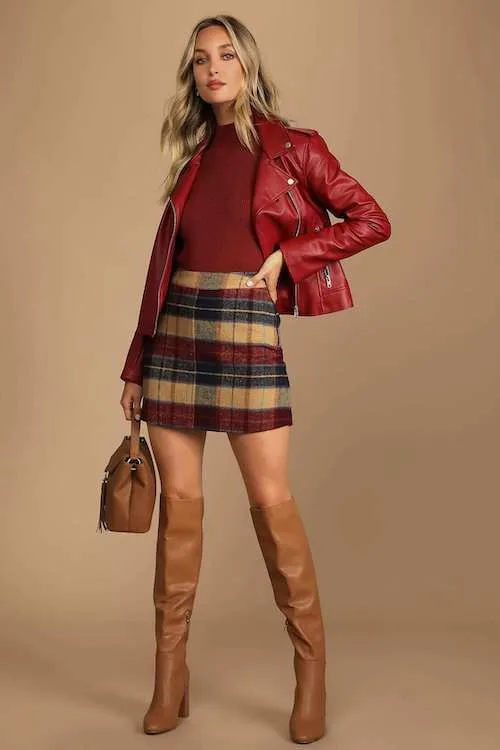 Charcoal Grey Off-the-Shoulder Midi Dress + Snakeskin Boots
Corset + Simple Skirt + Oversized Cardigan + Knee-High Boots
What To Wear On A Casual First Date: Daytime Date
There are so many cute outfit formula ideas for a daytime first date, but to make it way better, we suggest you choose a cute top in seasonal colors to add more sparks to your date.
For example, a brown or cream sweater for a fall and winter date, a cute little white mini dress, or a pair of white pants for a spring or summer daytime date.
Additionally, warm colors such as red, brown, beige, orange, are always the better options for a daytime date outfit than cold colors like blue. But if the blue or black color is more suitable for your skin tone, try a navy blue one with floral subtle print to make it more vibrant, or layer your black dress with olive green outerwear, to make the outfits so much cuter.
And don't forget your cute accessories, sunglasses, velvet scrunchies, bracelets. These may not be easily spotted on an evening date, but for a daytime date, they will add more romantic details to your overall look.
Rust Brown Loose Knit Sweater + Crop Jeans
Taupe Peplum Tank Top + White Pants + Strappy Sandals
White Surplice Puff Sleeve Mini Dress
Navy Blue Multi Print Off-The-Shoulder Dress + Boots
Allover Print Frill Trim Midi Dress
White Sweater Dress + White Boots
Knee Length Belted Sweater Dress + A Pair Of Low Heels
Rib-knit Top + Black Mini Skirt + Black Thigh-High Boots
High Neck Sweater + Black Shorts + Knee High Boots
Olive Green Bomber Jacket + Black Mini Dress
What To Wear On A First Movie Date
Be casual in the most stylish way for your first movie date. A comedy is the most popular choice for a first date, so the combo of an oversized sweater top or a graphic tee and black boots is a go-to idea.
Or you can level up your comfortable outfit with a chic black blazer, a trendy denim jacket, or a stylish sports jacket. A totally edgy look may not be suitable for your first movie date, but these items mentioned previously can never be wrong.
Besides, leather miniskirts or animal print midi skirts truly don't get enough shine, and when paired with graphic tees or simple white tees, they make for a fail-safe outfit.
A reminder, you may have a walk after the movie, so be sure to wear a pair of comfortable shoes for your movie date.
Animal Print Midi Skirt + Graphic Tee + Black Blazer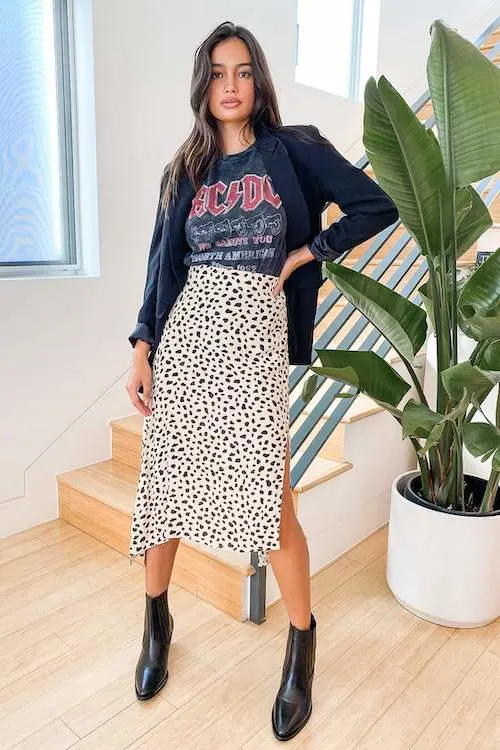 White Tee + Mini Skirt + Black Blazer
Turtleneck Knit Poncho + Thigh High Boots
Graphic Tee + Denim Jacket + Olive Green Vegan Leather Mini Skirt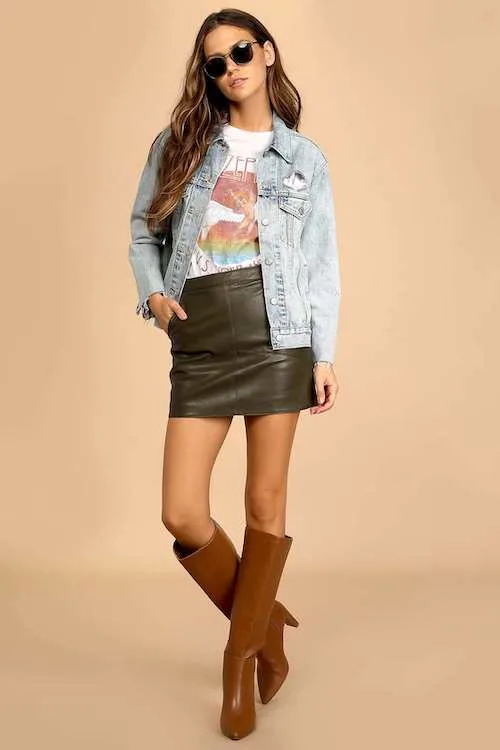 What To Wear On A First Date: Best Outdoor Dates Outfit Ideas
One of the most important first date tips is to be comfortable and confident, so please wear comfortable shoes for your outdoor first date. Wear a comfortable pair of sneakers, ballet flats, a nice pair of block heels, or low heel boots, and your favorite pair of jeans or shorts to enjoy a good time.
But don't worry that your outfit will look less stylish without high heels, a simple top in a bright and light color is a great option to create a cute and chic look for outdoor activities, and it is sleek teamed with a blazer, loose pants or blue jeans and chunky boots.
Want to add more sparks? Bring on simple cute accessories including gold hoop earrings, a leather belt, a cute bright color or unique-shape purse, or even a hat or beanie, to give your outfits more touch of fashion.
Or you can change your normal blue jeans or black pants to a bright color pair to make the outfit comfortable but in a super fashionable way.
Looking for a look that is perfect from a daytime outdoor walk to a casual dinner later? Put a white oversized blazer over your slip dress and pair them with a pair of white sneakers.
The white colors add a perfect casual touch to your dress, which may be usually worn for a formal date, then you can perfectly get dressed from day to night effortlessly. And this combination is also a perfect date outfit for the transitional seasons.
Cream Off-the-Shoulder Sweater + Black Jeans
Simple Top + Cropped Jeans
Black Top + Bermuda Shorts + Knee High Boots + Cardigan
Pearl Beaded Sweater + Denim Shorts
Tapered Pants + Simple Top + Trench Coat
Slip Dress + Oversized Blazer + White Sneakers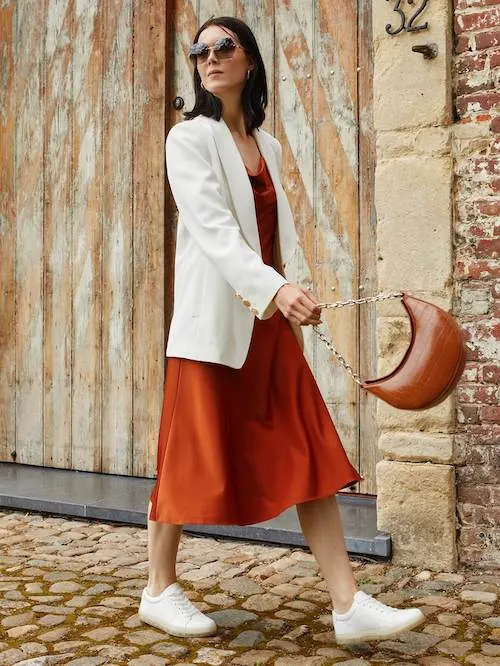 White One Shoulder Oversized Tee + Jeans
This post was all about what to wear on a casual first date for female.
About The Author
Tracy is an experienced personal stylist, shopping expert, and fashion & lifestyle blogger. She has been featured on Time Magazine, Bustle, Best Life, Glam, The Zoe Report, Mic, and GOBankingRates, for her insights on fashion, beauty, home decor, and lifestyle. Read More
Related Posts: