Looking for the best leather pants outfits to copy? Check this post for the 70+ trendiest leather pants outfit ideas that we can't wait to copy.
Leather pants or faux leather pants, faux leather leggings are so trending among fashion girls that they have become our new wardrobe staples and our favorite pants.
When you are looking for edgy bottoms, a perfect pair of leather pants or faux leather pants are a great option and popular choice now. Compared with skinny jeans, the leather look seems cozier and more fashionable. They can be used to create chic casual outfits, work outfits, and the perfect night-out outfits to win plenty of compliments for us.
If genuine leather pants are beyond your budget, there are also excellent faux leather pants and faux leather joggers to choose from.
So today, we share with you the leather pants trends this year, the introduction of each type of leather pants, easy-to-copy styling tips, and the 70+ leather pants outfit ideas in different ways, and the cute affordable leather trousers to shop for. Scroll down to check these ideas, and don't hesitate to pin the images you like.
This post may contain affiliate links, which means I'll receive a commission if you purchase through my link, at no extra cost to you. Please read the full disclosure here.
This post is all about leather pants outfits.
Leather Pants Trends
In the past, people always consciously included leather pants as exclusive items for cool girls and beautiful-legged stars, or rock stars with a cool denim jacket or denim vest. However, the popular leather pants this season have a clear difference from the past.
Besides skinny pants, there are more options to choose from. They are more casual, relaxed, and loose-fitting slacks, so they will be much more friendly to us ordinary people in everyday life.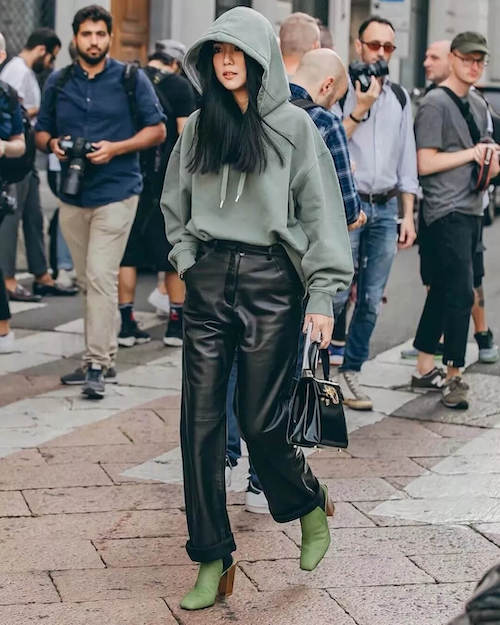 The loose and casual leather pants type may lack the cruel sense of cruelty but retains its unique, handsome style, and the chic and straightforward fashion tone is fascinating.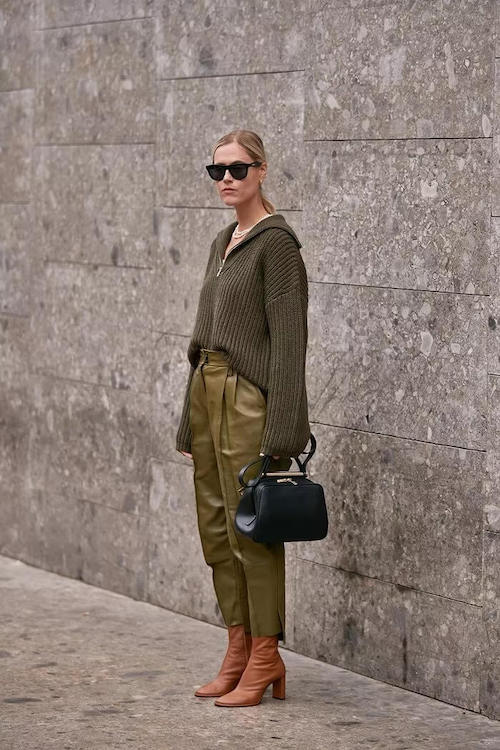 Among them, the trendiest ones are the cropped tapered high waisted leather pants. Not only are they neat and cool, but they can also make you look taller and slender!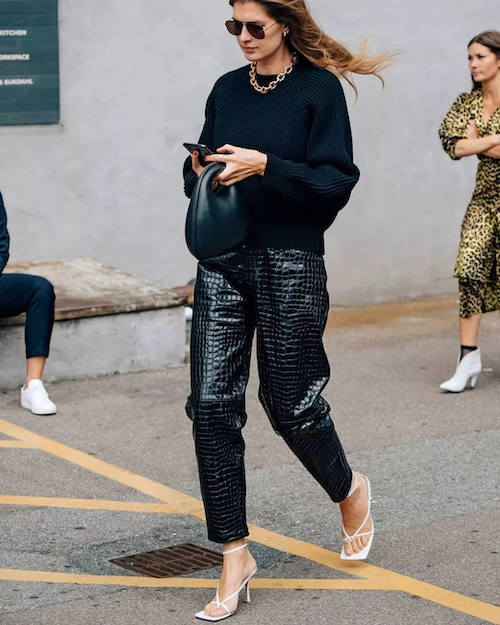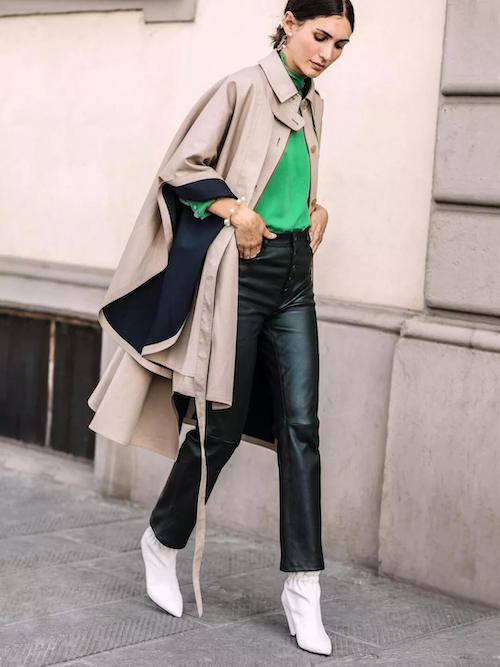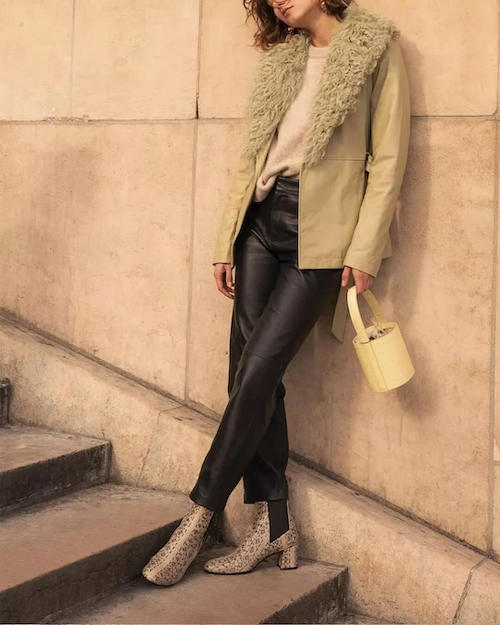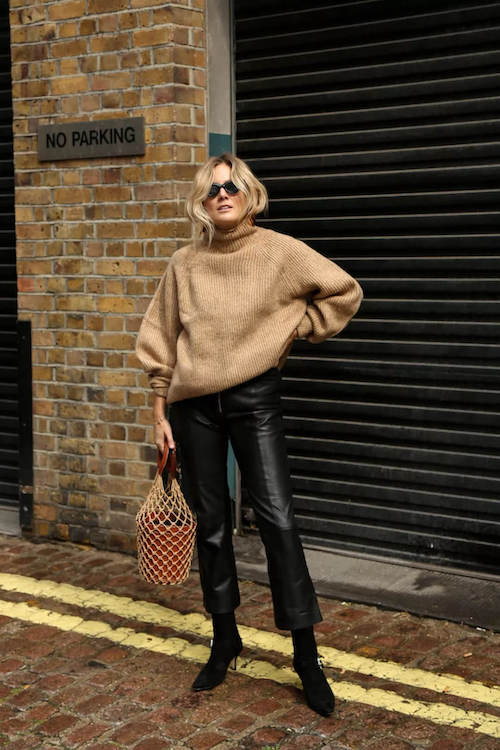 The other trendiest type is leather jogger pants. They are comfortable to wear and suitable for more people and can magically embrace the fashion trends in your ordinary outfits immediately, and they are the best ways to get an edgy look or a stylish casual look effortlessly.
Wear a simple and cozy black top or a solid oversized sweater in neutral colors in the cold weather and a great pair of leather pants, and you are all set.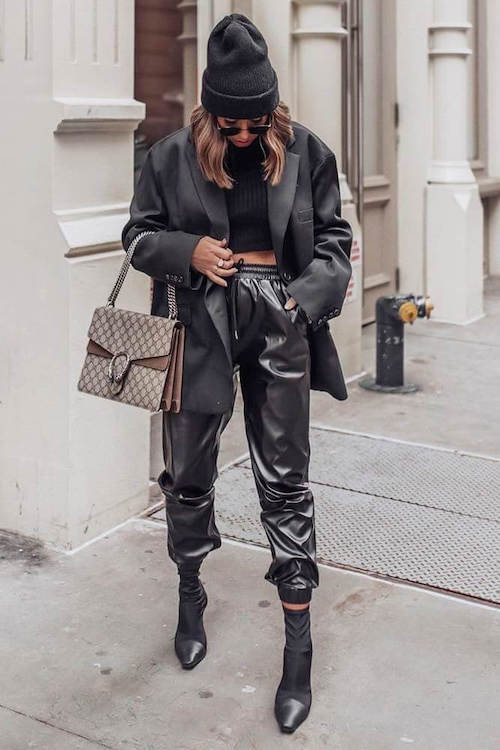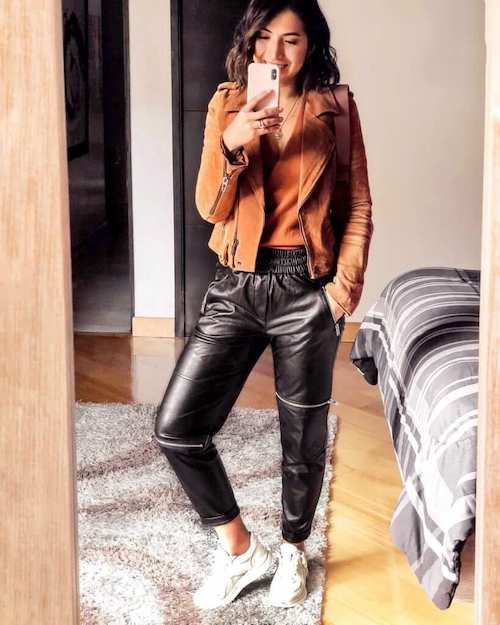 Besides black leather pants, there are more different colors right now. Earth colors, including khaki, caramel, brown, dark maroon, and other earth colors, are trending now. This year, bold colors are an important theme in fashion, so boldly try more different leather pants colors to add more highlights to your polished look.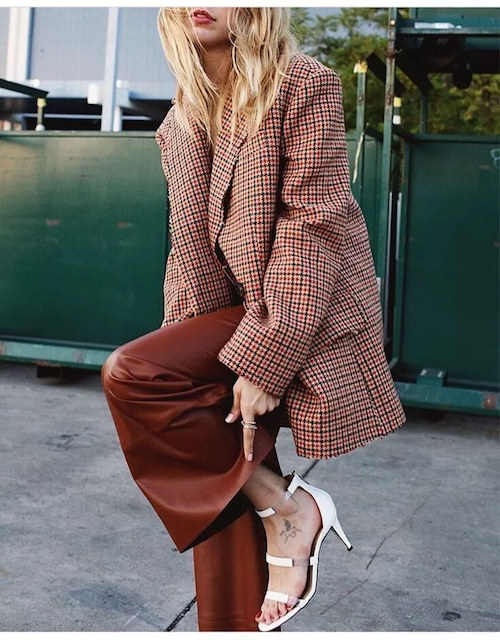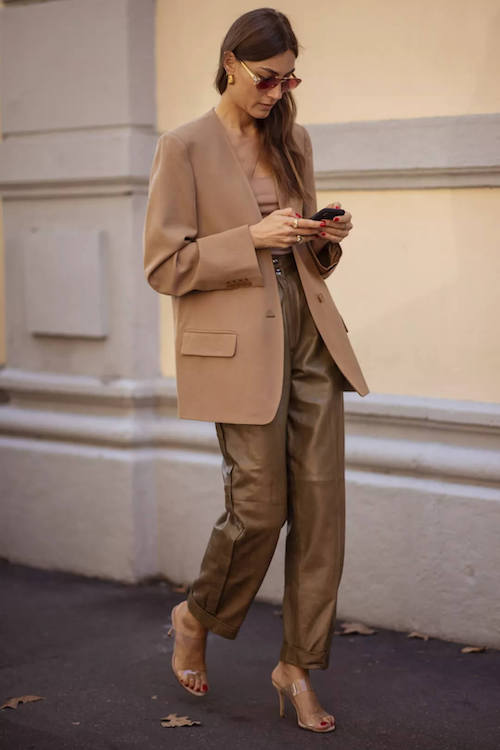 Trendiest Leather Pants Outfits To Copy: What To Wear With Leather Pants

Leather Pants + Sweater
Leather pants + sweaters, two pieces of different materials, are very fashionable together. The smooth leather will make the sweater more textured, and the sweater will neutralize the coldness of the leather and make it warmer.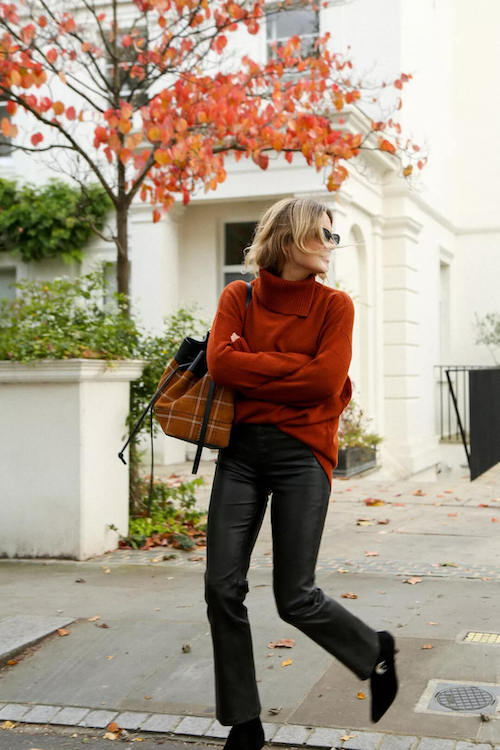 Leather Pants + Coat
Leather pants + coat, whether it is a long coat or a short coat, can modify the buttocks and thighs, especially for girls with thick thighs. Long coat + leather pants allow you to have a perfect body proportion.
From skinny leather pants, straight leg leather pants, to wide leg leather pants, almost all kinds of leather pants can be well paired with a coat.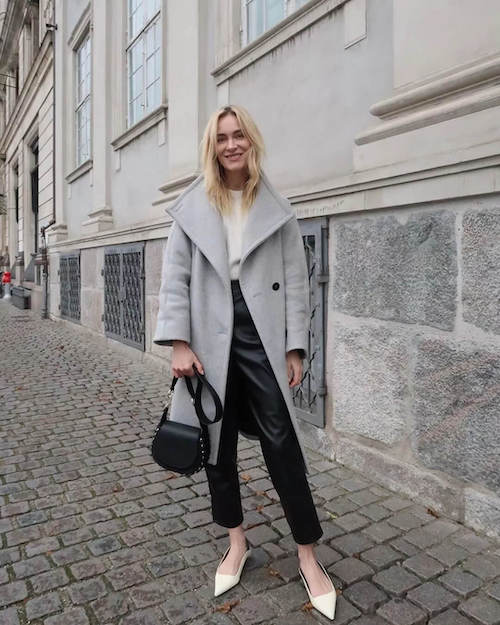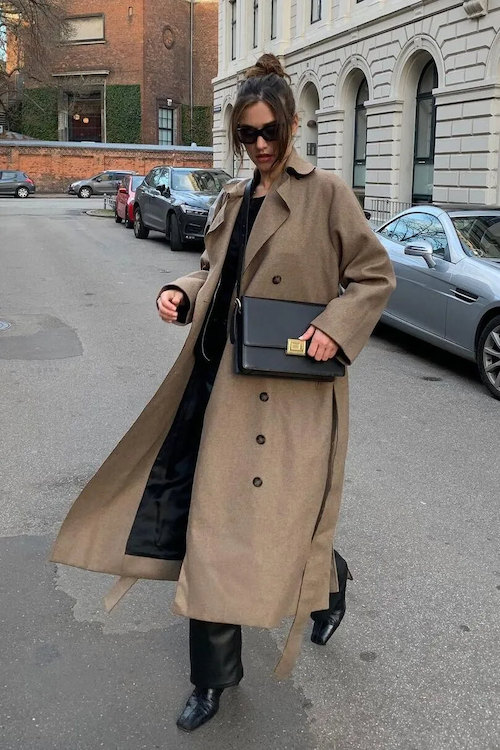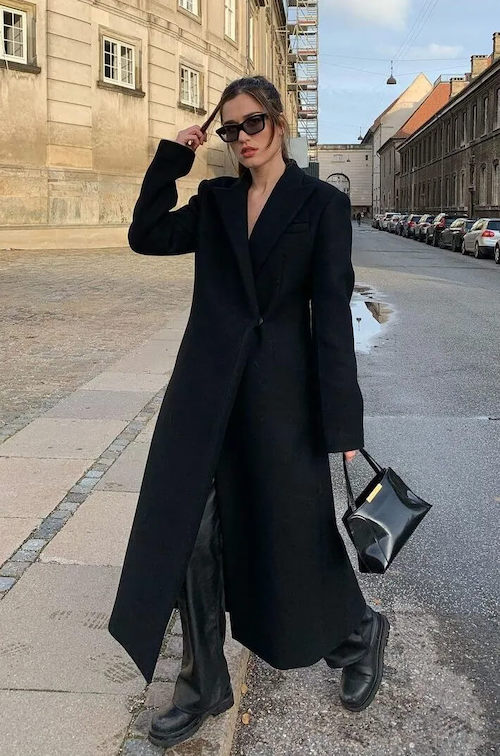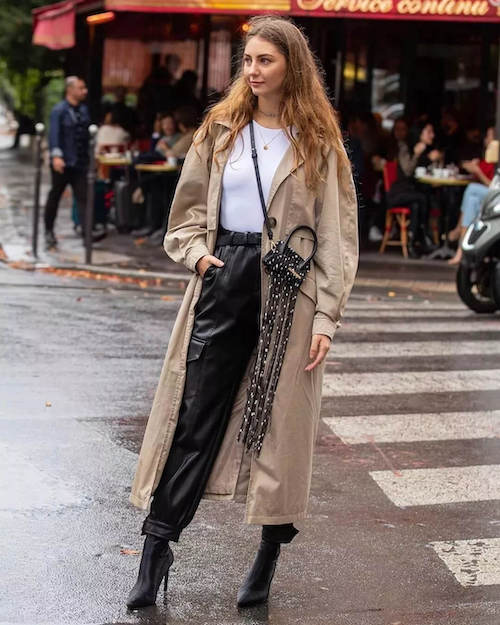 Although leather pants are versatile, we strongly recommend you try plaid coats to stand out from the crowd. The plaid coat will make people focus on the plaid pattern and ignore the legs' shape, visually modifying your figure to get the best styles.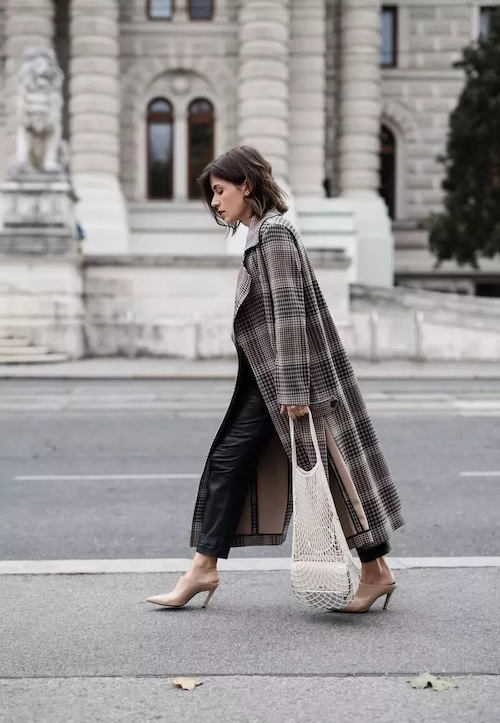 Leather Pants + Blouse
Leather pants can also be worn in a feminine style, with elements such as chiffon, lace, silk, and ruffles. The charm doubled by the leather pants is the most irresistible.
Choose a feminine blouse or a simple white shirt to pair with your leather pants. This is a perfect outfit for a date night and a casual work outfit.
Black Leather Pants Outfits
To create outstanding all-black looks in autumn and winter, black leather pants are essential. Whether it is exquisite or chic street style, they all look perfect.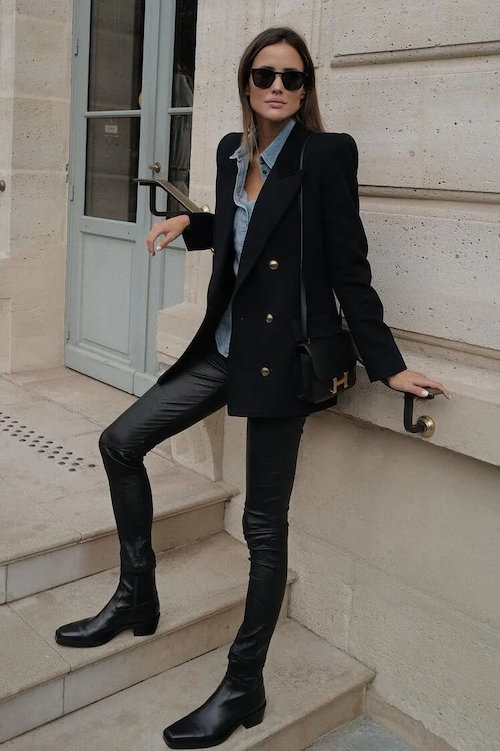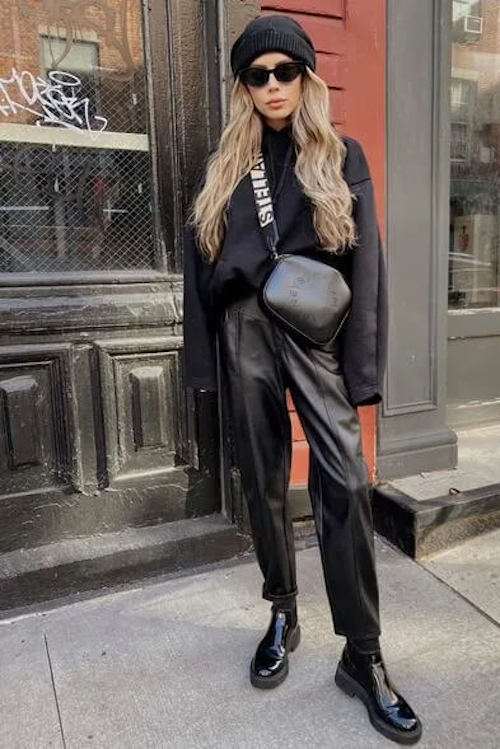 Even with the simplest clothes, you can make your outfits look more expensive and full of fashion.
img class="alignnone size-full wp-image-15821 aligncenter" src="https://www.girlsharestips.com/wp-content/uploads/leather-pants-outfits-11.jpg" alt="leather pants outfits" width="500″ height="752″>
Brown Leather Pants Outfits
If you feel that the classic black leather pants are not enough to show your personality, you can also boldly try other colors. The earthy tone is the first choice.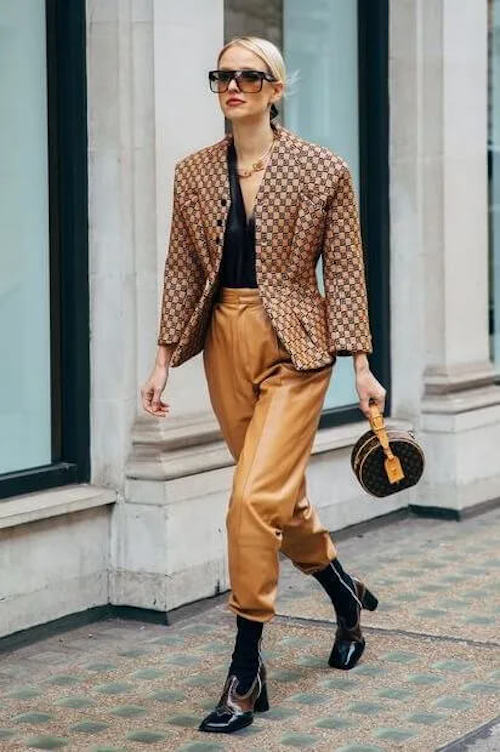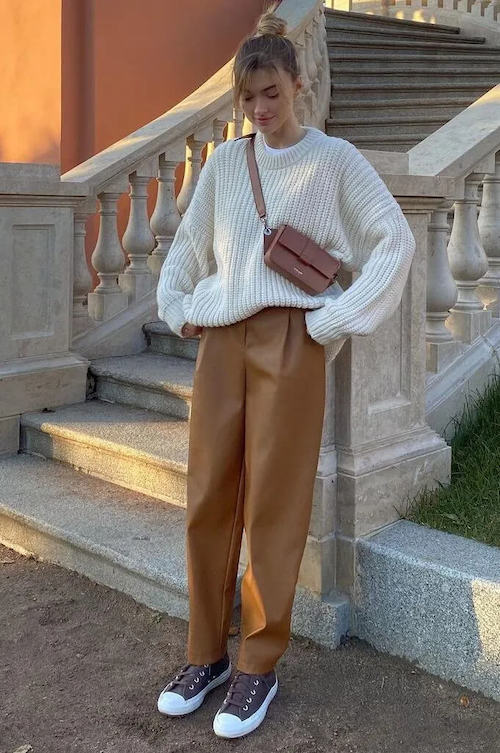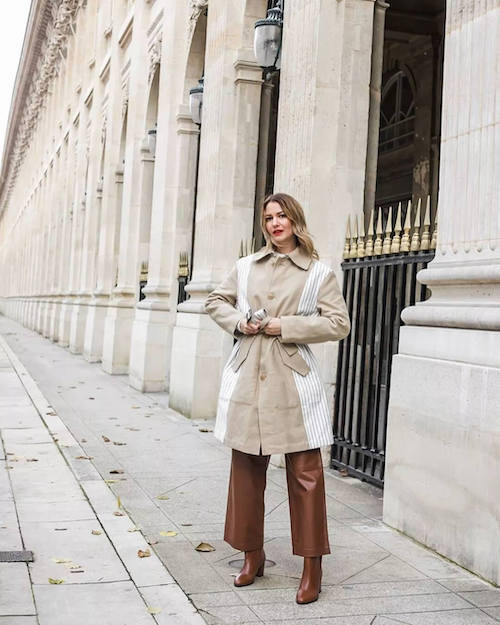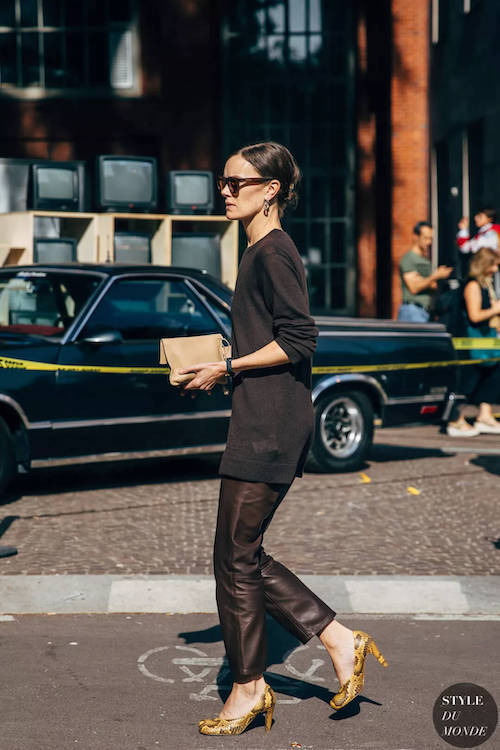 Or eye-catching dark green, crimson leather pants, beige leather pants, etc. They can make your cold-weather look no longer dull at all.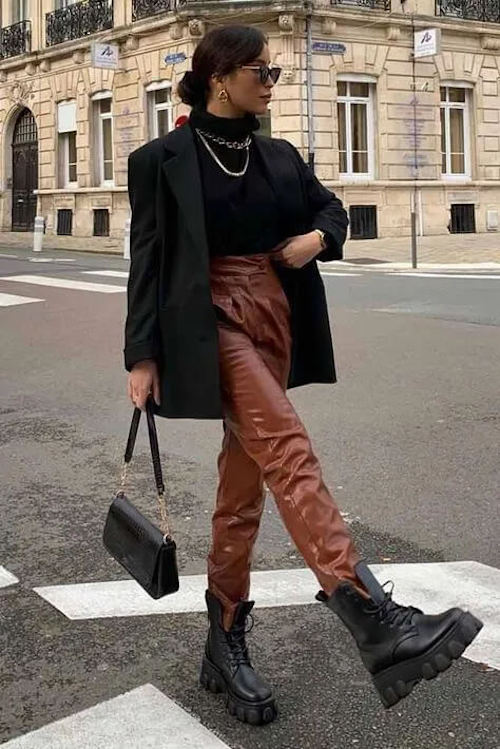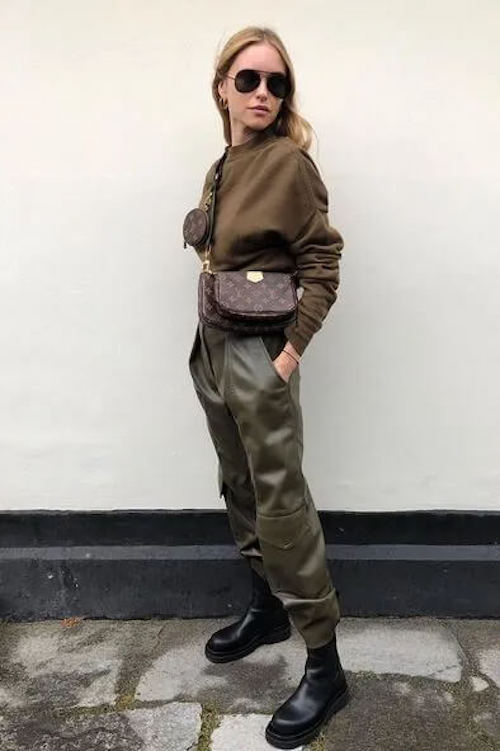 Casual Leather Pants Outfits
Leather pants are also far more fashionable and versatile than you think.
Whether it is the trendy and handsome street style or the cool and beautiful girly style, it can help you easily grasp the great styles and become the most fashionable girl in the crowd.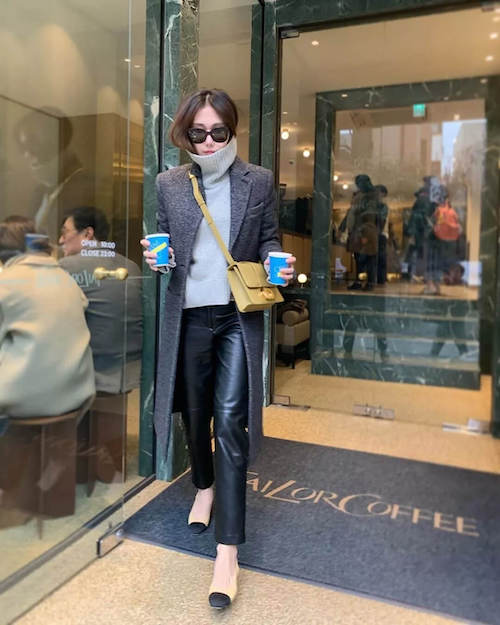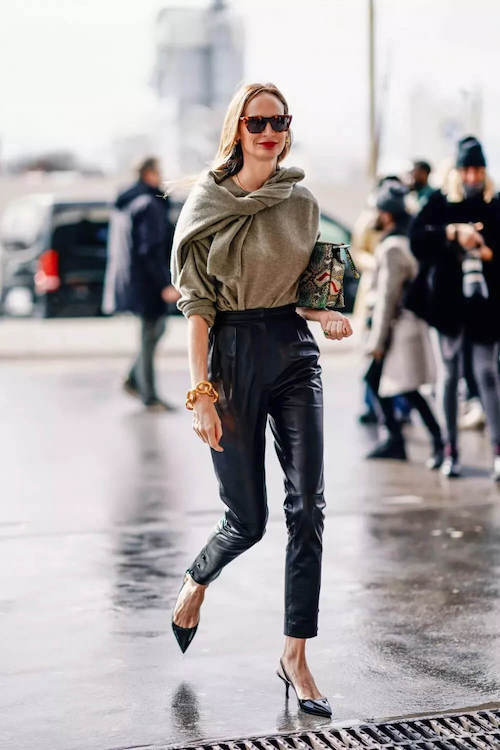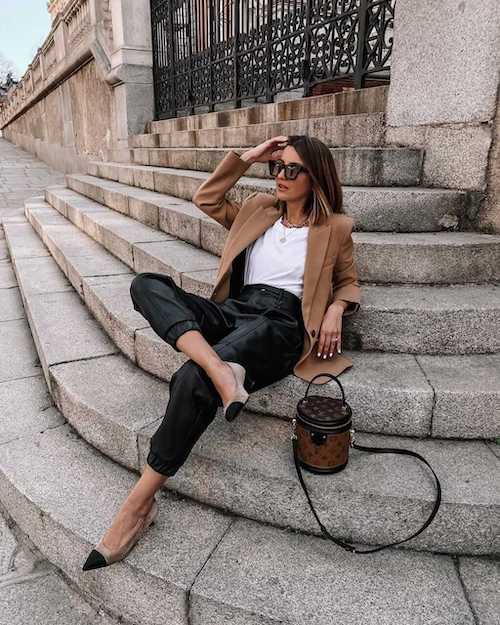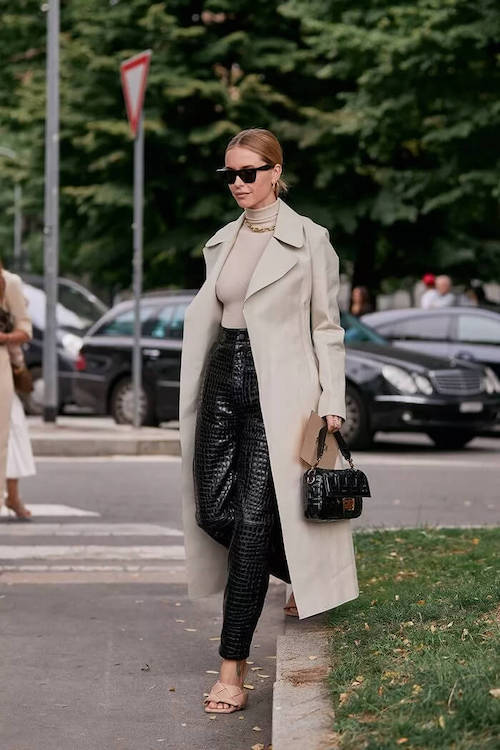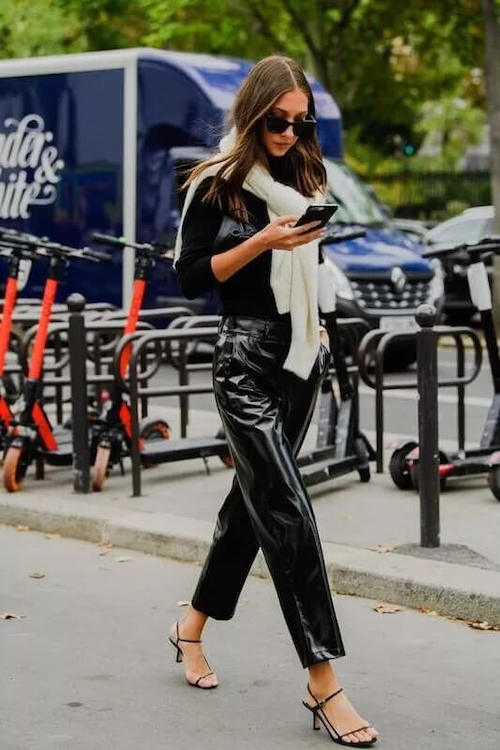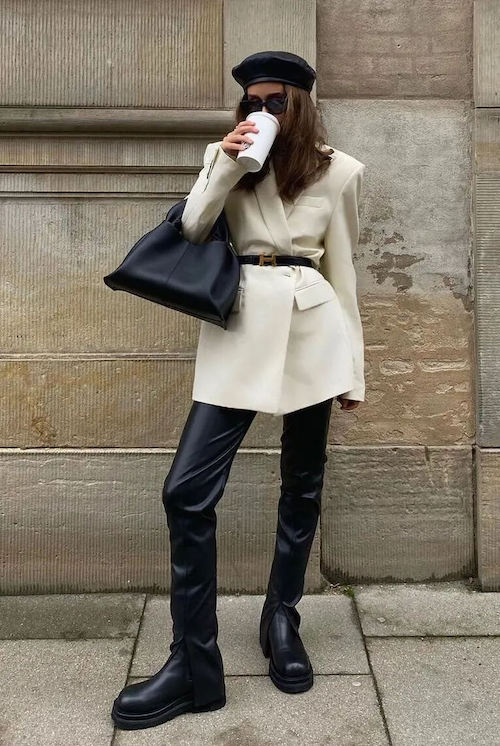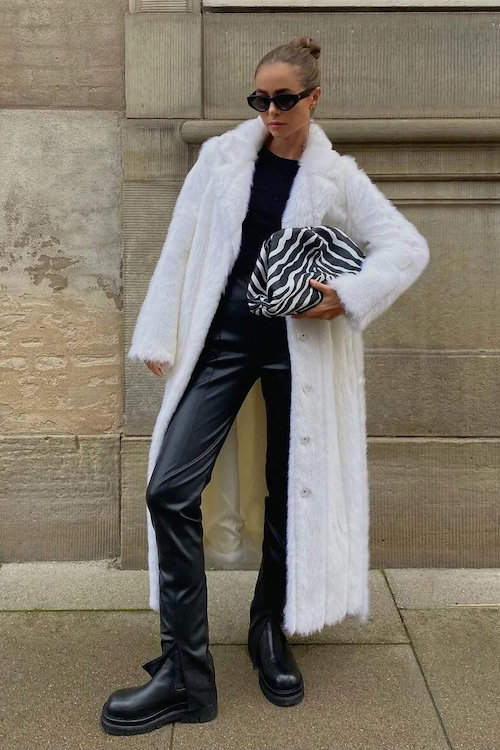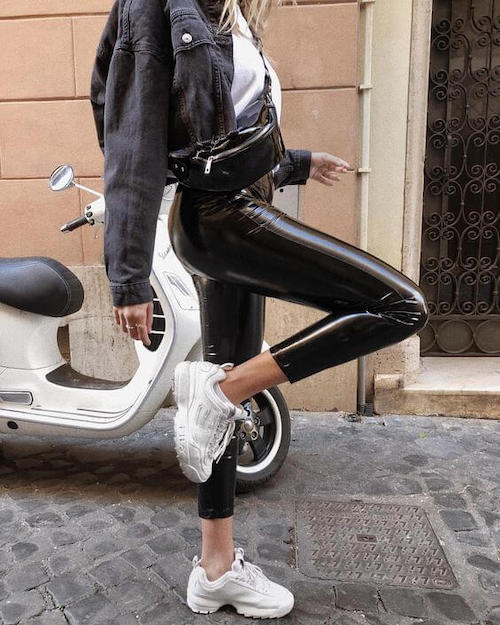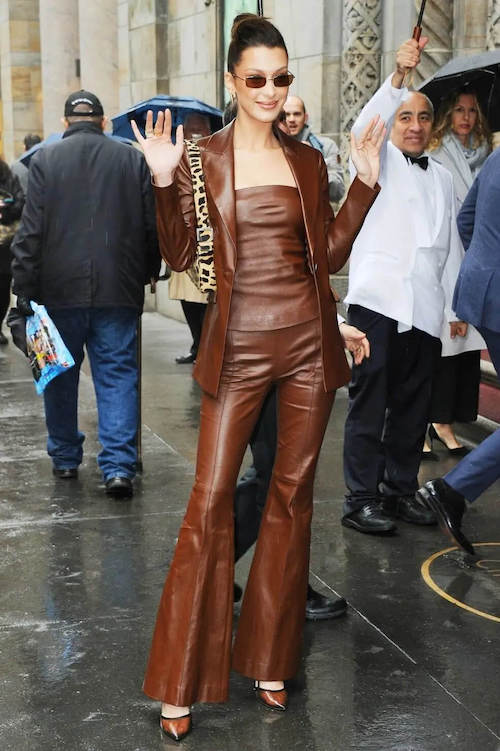 Leather Jogger Pants Outfits
Leather joggers can perfectly replace tight-fitting leather legging to shape the perfect body proportions while being more comfortable to wear.
Therefore, leather joggers are great choices for casual wear or even a night-out outfit.
You can wear a comfortable simple crop top, a tube top, a graphic tee, or even a solid basic tee to pair with your leather joggers in the warmer months.
When it gets cold, change the top into simple chic knitwear or chunky sweater, or add a black leather jacket. These leather pant outfit ideas are perfect fall outfits and are also quite suitable for the winter season.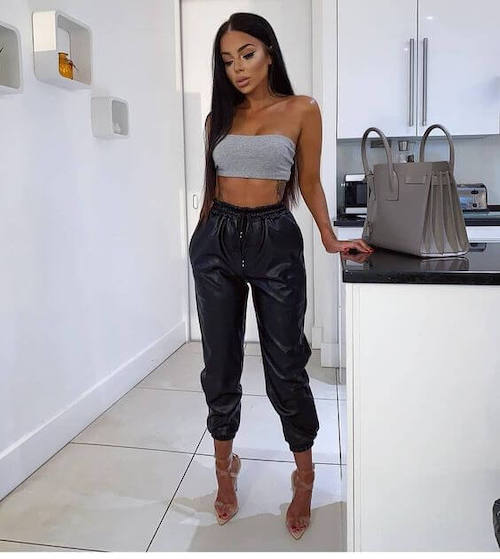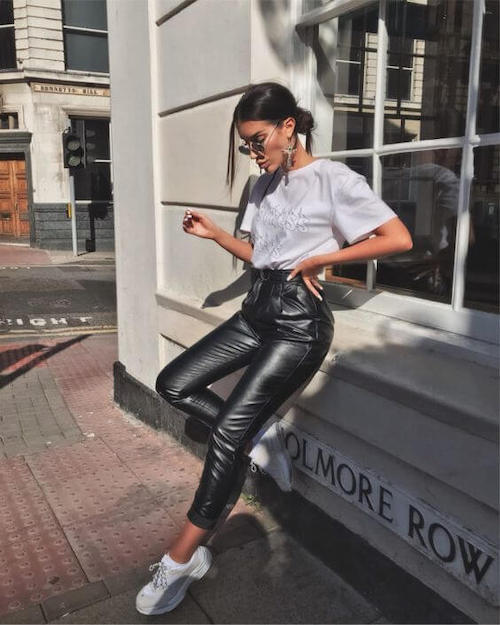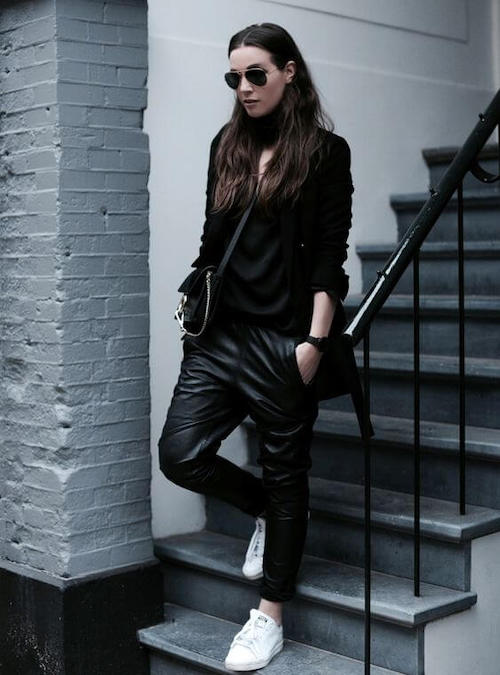 A short top is the best choice to maximize the appearance of longer legs.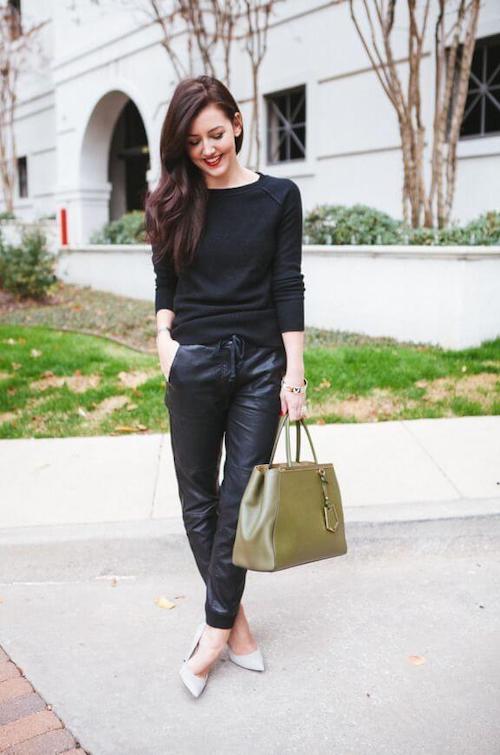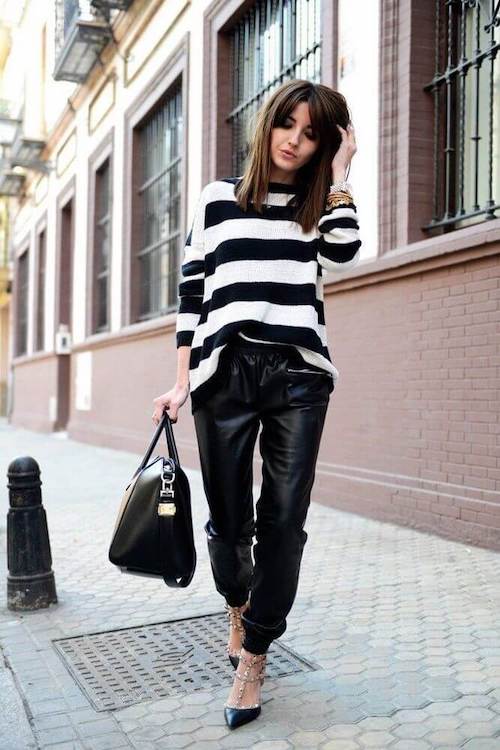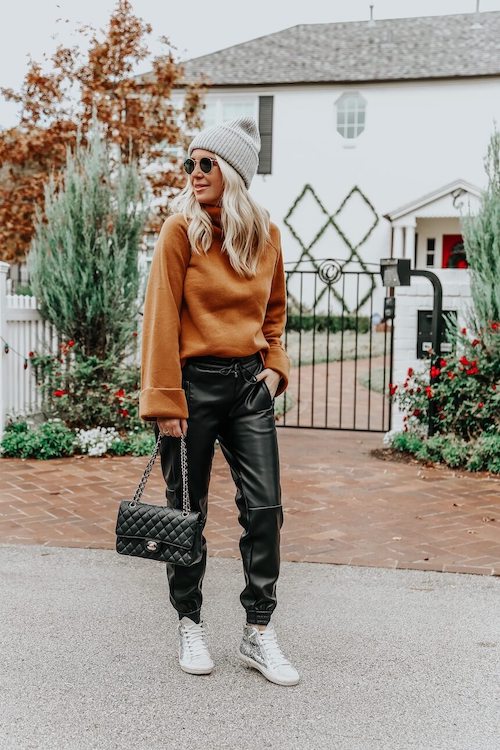 If you are wearing a long coat, you can choose a shorter top inside, or put the hem of the top into the leather pants.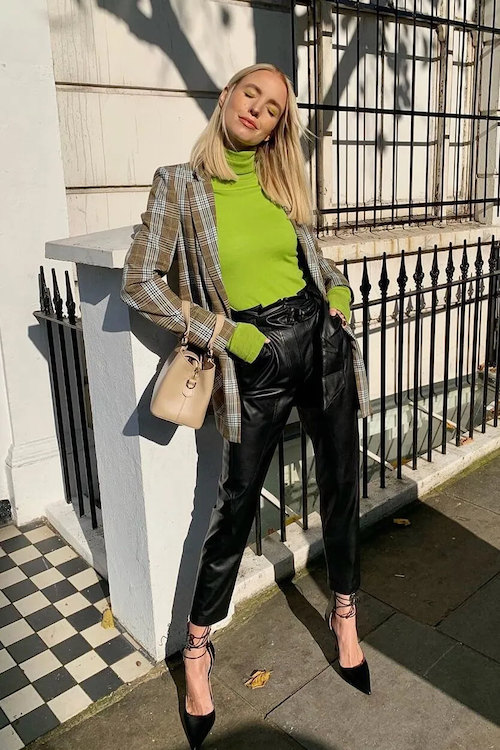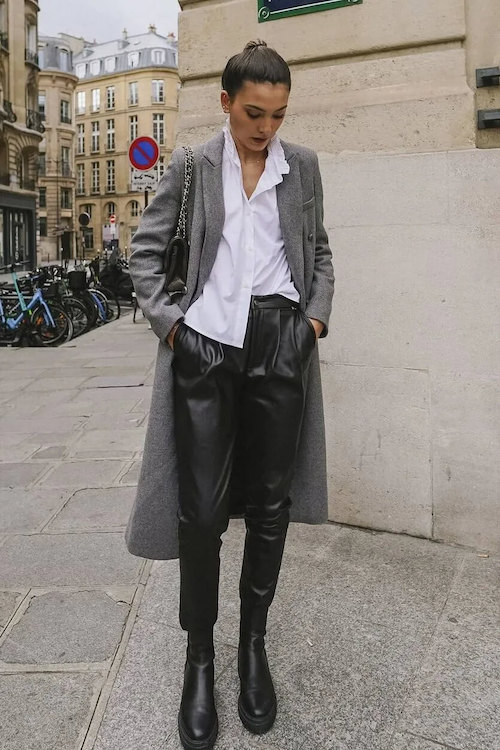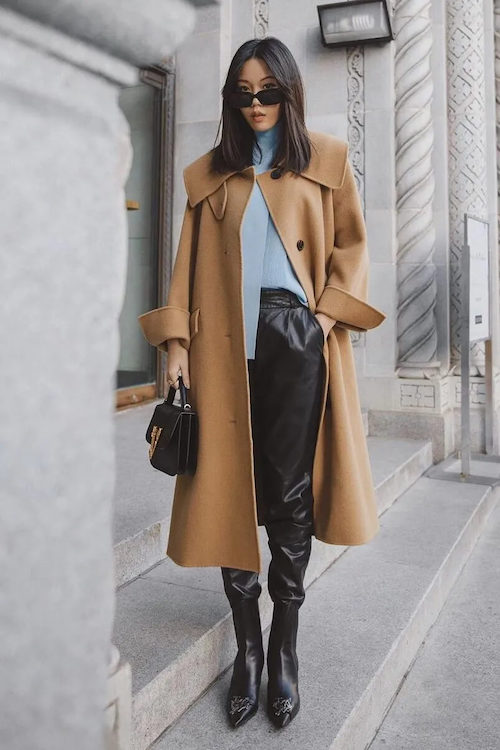 Leather-Pants Outfits With Boots
The combination of black leather pants and black booties makes your legs look a lot longer!
Pointed-toed boots are the first choice of boots, which can make people look thinner.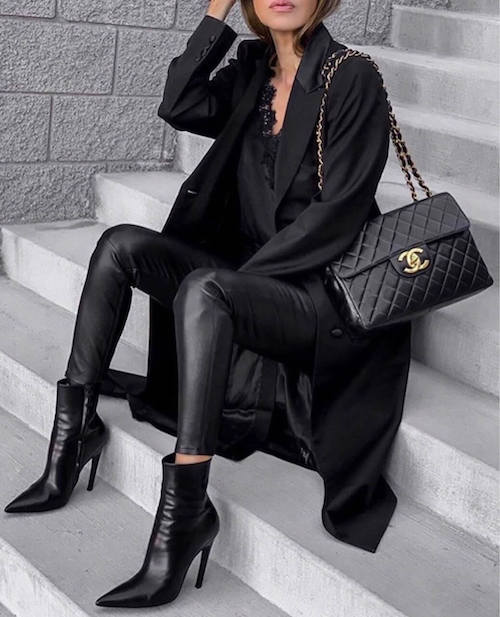 If they are square-toed or round-toed boots, then choose cropped leather pants, which can expose the slim ankles and have an excellent slimming effect.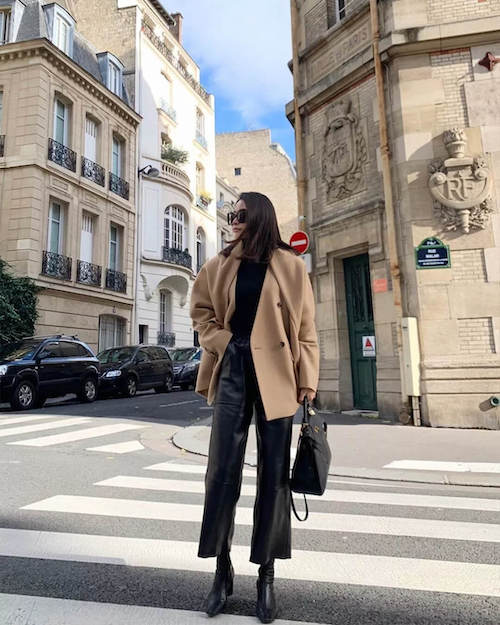 In addition, compared with ordinary black pants, black leather pants have a certain heaviness, so they are perfectly paired with the trendy platform boots, platformed black ankle boots, and combat boots.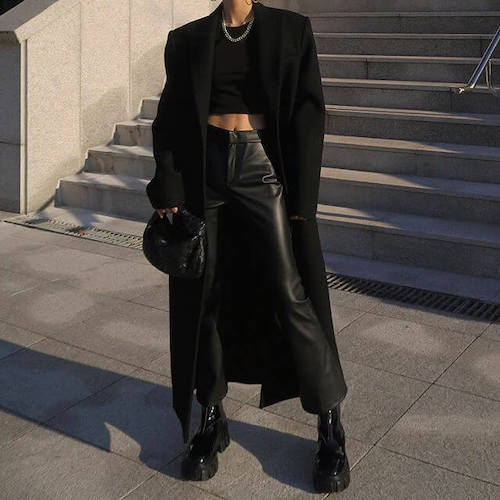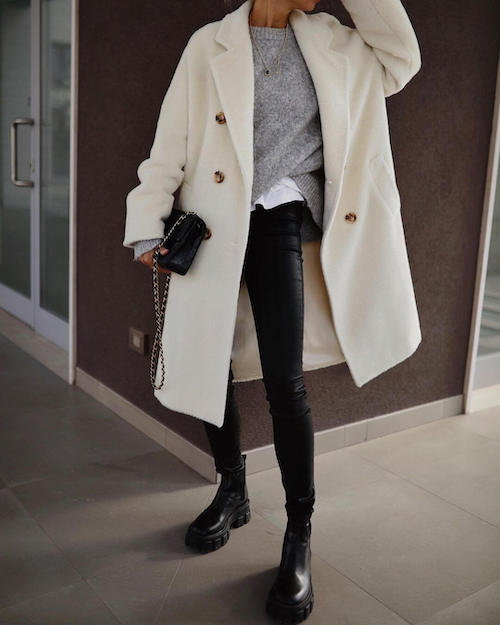 The color of the boots can also be similar to the tops you are wearing so that the colors are not messy and look neat.
Leather Pants Going Out Outfits
If you really don't know what night-out outfits to wear, first choose a pair of black leather pants you like and wear a crop top.
The combo of the legging-style leather pants and black knee-high boots are the classic outfits for a night out, and we also recommend you to try wider-leg fits with high heels, which are so trending now.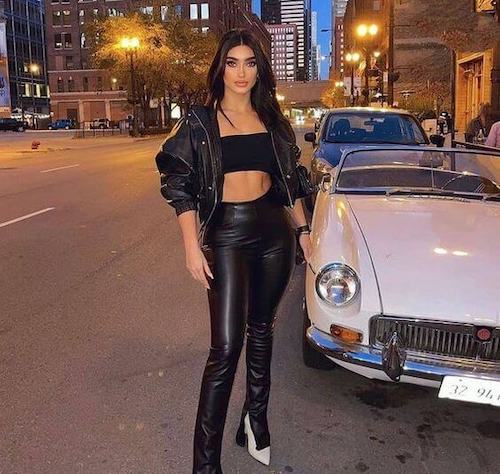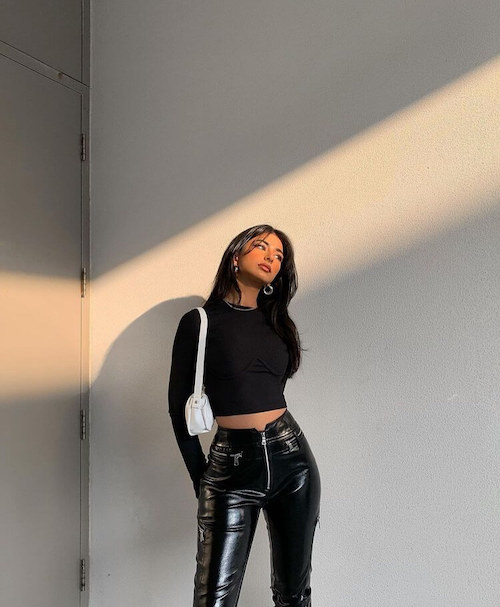 Or other tops with a certain degree of exposure, such as corset, or other tops with off-shoulder design and mesh tops, can make you look sexy in a stylish way. Wear a statement necklace to complete the whole look.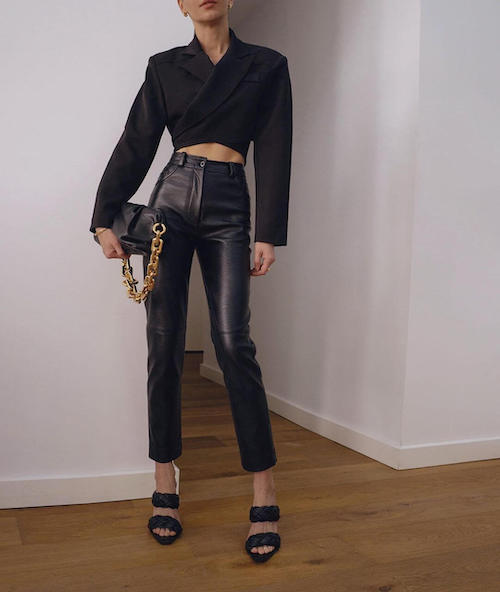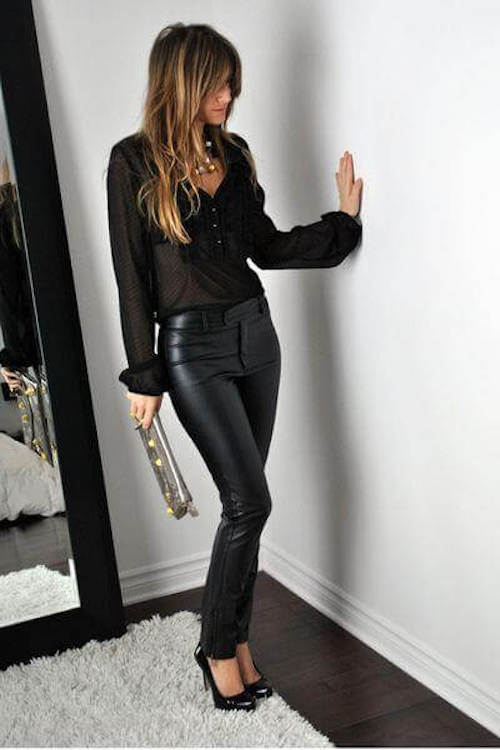 Cute Affordable Leather Pants We Love This Year
Check below for cute and affordable leather pants for different styles: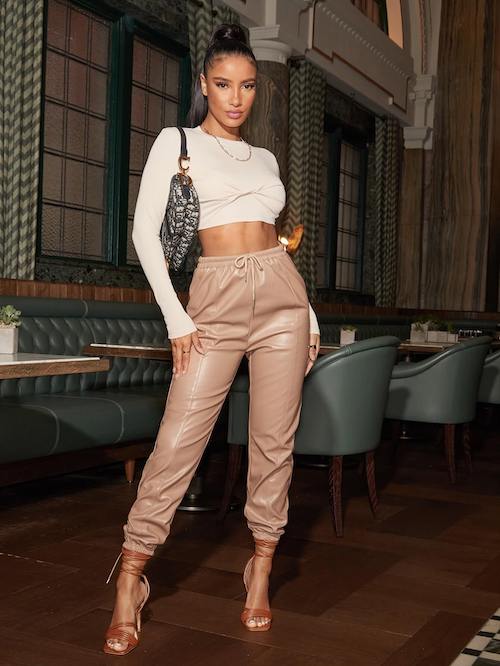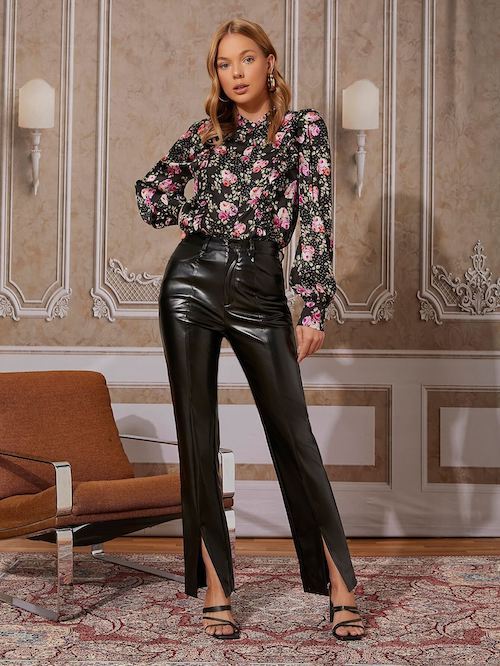 This post was all about leather pants outfits.
Related Posts: