Wondering what to wear on a first date in winter? Check this post for the best fashion tips and 25+ cozy chic winter date outfit ideas or winter date night outfit ideas for your first date to leave a good first impression! From chic overcoats and sweaters to boots and beanies, we have everything you need to ensure your first date is a success! From a perfect outfit for cold weather to a cozy coffee date outfit, from a cute casual look to a dressy winter fashion idea to look cute for your romantic date, we've got you covered!
When it comes to first dates, there's no doubt that the winter season can be a tricky one for wardrobe choices.
It's cold outside, and you want to look your best without getting too chilly.
But don't worry!
Here are 25+ cozy-chic winter first date outfit ideas that will make sure you impress your date while keeping warm and looking stylish all night long.
Whether you're going out for dinner or a movie, these winter outfits are sure to make a great impression.
So get ready to turn heads with these stylish yet comfortable winter looks for your next winter date!
This post may contain affiliate links, which means I'll receive a commission if you purchase through my link, at no extra cost to you. Please read the full disclosure here.
This post is all about what to wear on a first date in winter.
What should a woman wear on a first date In the Winter?
When going on a first date in the winter, it is important to dress appropriately.
For example, a woman should opt for an outfit that combines style and comfort.
A great choice could be a long-sleeved blouse paired with trousers or jeans in a dark solid color.
To add warmth and style, layer over a colorful cardigan or sweater.
Accessorize with boots or comfortable shoes that are appropriate for the weather.
A scarf is also essential to keep you warm while looking stylish at the same time.
Lastly, don't forget your coat if you're planning on being outdoors – pick one that will match your outfit and make sure it's warm enough for the cold winter weather.
All of these pieces combined will help create an attractive yet comfortable look that is perfect for a first date in the wintertime.
What color should a woman wear on a first date?
When deciding what color to wear on a first date, the most important thing to consider is the desired atmosphere.
If you want the date to be romantic and sophisticated, then it's best to opt for a neutral color or a soft pastel tone such as baby pink or light blue.
These colors will make you look lovely and feminine without being too over-the-top.
For an edgier look, try wearing something bolder such as a deep red or electric blue.
These shades will create a powerful presence and show your confidence.
Whatever color you choose, make sure it reflects your personality and helps you feel comfortable so that you can enjoy yourself during the date.
What should you NOT wear on a first date for women?
On a first date, it's important to make the right impression.
One of the most effective ways to do this is through your fashion choices.
But there are certain pieces that should be avoided if you want to look your best and show off your personality.
Here are some of the items that women should not wear on a first date.
Firstly, avoid wearing clothes that are too revealing or over-the-top sexy – especially if you don't know each other very well yet; leave something for their imagination!
A nice dress or blouse coupled with a pair of jeans will always look chic and timeless.
Additionally, try to stay away from anything too tight as it can give off an uncomfortable vibe.
It s best to avoid layers and any clothing that is too bulky or heavy.
Keep your outfit simple and clean, so you don t appear too busy.
Lastly, don t wear anything that s too formal.
Looking too serious can appear off-putting or intimidating.
Finally, it is very important to be well groomed on a date.
Having clean and nicely styled hair and makeup will make you look more attractive and put together.
Is it OK to wear jeans on a first date?
On a first date, it can be difficult to decide what to wear.
Everyone wants to make a great impression and look their best.
But does that mean you have to wear something dressy?
Is it OK to wear jeans on a first date?
The answer is yes!
Jeans are perfectly acceptable for a first date in winter.
They provide both comfort and style — two key ingredients when dressing for any occasion.
Jeans can be dressed up with an elegant coat or blouse, or dressed down with a casual vibe sweater and sneakers.
Plus, they're versatile enough to take you from day-to-night without having to change your outfit.
So if you're looking for the perfect winter first date outfit, don't be afraid to break out the jeans!
How do you look hot on a first date?
Are you looking to make a good first impression on your next date?
Looking and feeling your best are essential elements of a successful date.
To look hot on a first date, start by selecting an outfit that flatters your figure and expresses your personality.
Choose clothing that makes you feel good; it will project confidence and turn heads.
Makeup can also help you look hot for the occasion – focus on enhancing your features rather than masking them with heavy products.
A classic smoky eye or red lip will draw attention to key areas of the face, while dewy skin adds a youthful glow.
Add texture with messy waves or sleek curls, but keep it natural and effortless-looking for maximum allure.
Lastly, complete the look with statement accessories like earrings or necklaces – they will draw attention away from any imperfections you may be self-conscious about.
What do you wear on a day date in the winter?
Winter can be a tricky season to dress for, especially when it comes to going on a date.
The key is to look chic and stylish while also staying warm.
Here are some tips on how to dress for the perfect winter day date.
Start off with a pair of boots that not only keep you warm but make a statement.
Look for knee-high boots in black or brown leather as they will go with any outfit and add an air of sophistication.
Then, layer up with some cozy pieces like chunky sweaters and jackets that are both fashionable and functional.
Choose items with interesting textures such as quilted material or faux fur to take your look up a notch.
Accessorize this base layer with colorful scarves, hats, mittens, or gloves for added warmth and flair!
What do you wear on a winter outdoor date?
When it comes to winter dating, what you wear can be a major factor in how much fun you have.
Whether your date is an outdoor adventure or just a casual stroll around town, there are some key pieces of clothing that will keep you warm and looking stylish.
A good base layer is essential for any winter date.
Look for something thin but cozy like a merino wool thermal top or leggings that won't weigh you down.
Over this, layer on some warmer pieces like jeans and a sweater or puffer vest and coat combo depending on the weather.
For those who want to dress up their look, try adding some accessories like colorful scarves or hats to make your outfit pop.
Finally, don't forget about shoes!
Things to keep in mind: avoid wet feet at all costs by investing in waterproof boots, preferably with traction if you're planning an outdoor activity.
What to wear on a first dinner date in winter
A first dinner date can be nerve-wracking, but choosing the right outfit doesn't have to add to your stress!
Whether you're going for a dressy or casual dinner date, there are plenty of stylish winter looks you can put together.
For a night out in cooler temperatures, consider wearing a maxi dress or midi dress with knee high boots.
This look is classic and elegant — perfect for a dressier restaurant.
If you prefer something more low-key, try pairing dark wash jeans with a long sleeve top and ankle boots for an effortless yet chic look.
Finish your ensemble off with statement jewelry pieces or an eye-catching scarf for added flair.
No matter what style you choose, these winter items will keep you warm and fashionable all evening long!
What to wear on a casual first date in winter
When it comes to picking an outfit for a casual winter first date there are some timeless pieces you can rely on.
Opt for classic jeans paired with an oversized sweater or long-sleeved top that will keep you warm and looking chic.
A trench coat is another staple item that's perfect when it gets colder outside as it adds instant elegance to any outfit while also keeping you warm.
Add some personality with fun accessories like colored scarves or hats, along with stylish boots and your ideal winter date night look is complete!
What do I wear on a first date to lunch in winter?
With a lunch date in the winter months, you want to make sure that you look fabulous but also feel comfortable and warm.
To ensure that your first impression is a successful one, here are some guidelines for what to wear on your lunchtime outing.
Begin by choosing an outfit based on the type of restaurant you are going to.
If it's something more casual like a cafe or diner, opt for semi-casual attire such as jeans paired with an elegant blouse or sweater.
To add visual interest and keep warm at the same time, layer up with a light jacket or cardigan and add some stylish accessories like jewelry or a scarf for extra warmth.
What Should I Wear to a Coffee Date in winter?
When it comes to coffee dates in winter, style is just as important as comfort.
The perfect coffee date outfit should be cozy and chic while also being warm enough for a chilly day.
So what should you wear to your winter coffee date?
One fashionable but sensible option is to go for layers.
Start with a long sleeve top paired with skinny jeans or corduroys and layer on a vest or chunky knit cardigan.
For added warmth, opt for wool pieces like an alpaca wrap scarf or a wool beret.
You can also bring along a coat if the temperature dips too low—just make sure it's lightweight and structured so you don't feel weighed down when you take it off indoors.
For your shoes, simple sneakers or minimalist boots are always a great choice because they offer both comfort and style.
What do I wear on a first date to the movies in winter?
When attending a movie date in cold weather, pick an outfit that will keep you warm yet stylish.
Women should opt for a warm coat with knee high boots, skinny jeans or leggings paired with a cardigan or sweater.
To add extra warmth layer up with a scarf and gloves in your favorite colors or prints.
Keep accessories minimal; just enough to make you stand out without drawing too much attention away from the movie itself!
What To Wear On A Ice Skating First Date In Winter?
Winter is the perfect time to bring out your inner romantic.
Taking a first date ice skating can be a great way to get to know each other, but what should you wear?
Whether you are an experienced skater or a complete beginner, the key is to strike the perfect balance between practical and stylish.
Be sure to dress warmly in layers.
A comfortable thermal base layer will keep you warm and cozy, while adding some extra flattering bulk for those inevitable falls!
Top this with a long sleeved t-shirt or light blouse and finish with a winter coat in either faux fur or wool for style and extra insulation against the cold.
Accessorise with gloves, furry earmuffs and a woolly hat – opt for lighter colors such as cream or pink which will stand out against darker outerwear colors like navy or grey.
Choose a pair of low-heeled ankle boots or trainers for an elegant and sexy look that will see you through the coldest of days!
Perfect First Date Outfit Ideas In Winter
To help you put together an excellent winter wardrobe, we have compiled our favorite fashion combinations on what to wear for your ideal first date in wintertime.
So scroll on to check these winter clothing ideas and create the best outfit to wear on your first date!
Leather Jacket + Midi Dress + Knee High Boots
[email protected]_jackson
Teddy Coat + White Pants + Winter Boots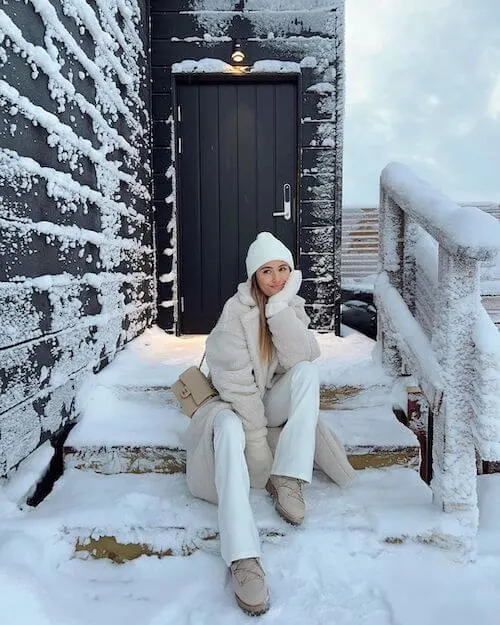 Black Coat + Knit Dress + Belt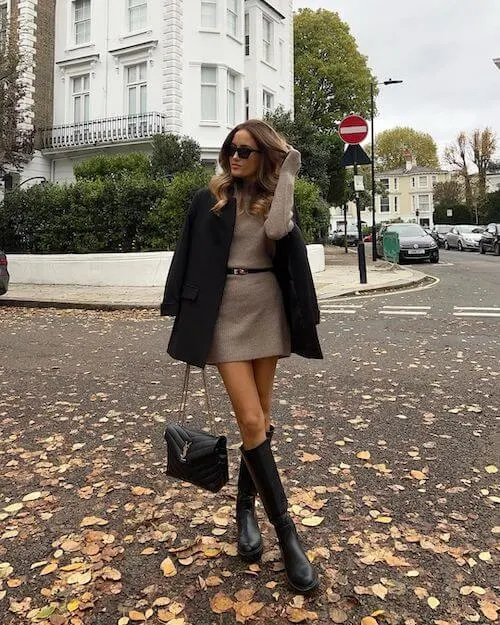 Blazer + Mini Skirt + Black Tights + High Boots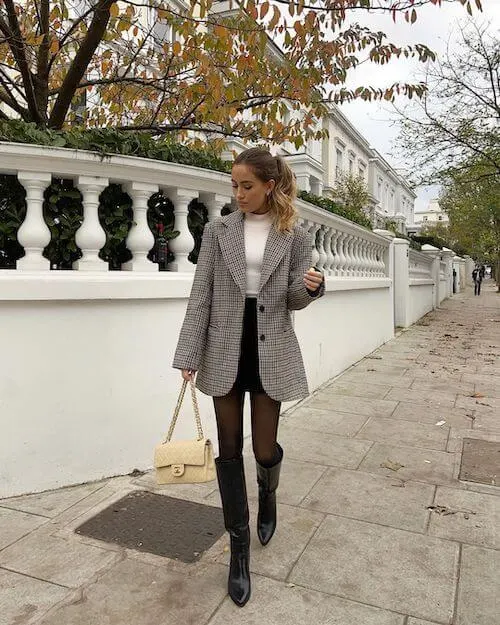 Beige Blazer + White Shirt / Blouse + Mini Skirt + Brown Boots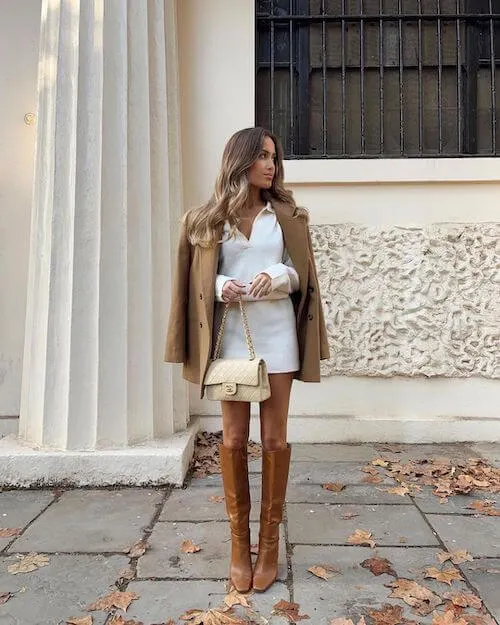 Oversized Sweater + Midi Skirt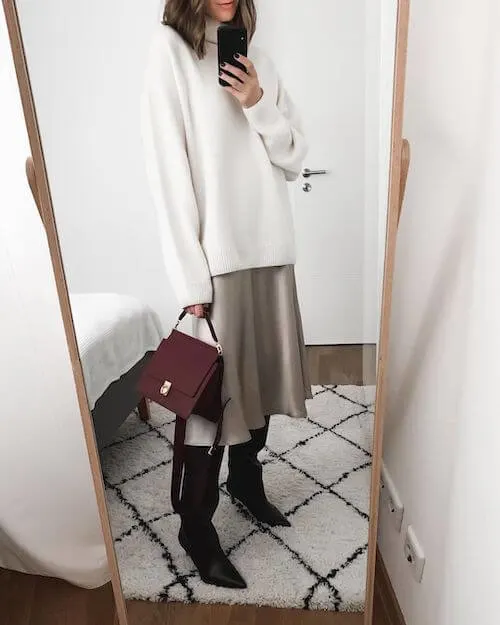 Winter Coat + Turtleneck Sweater + Leather Leggings + Sneakers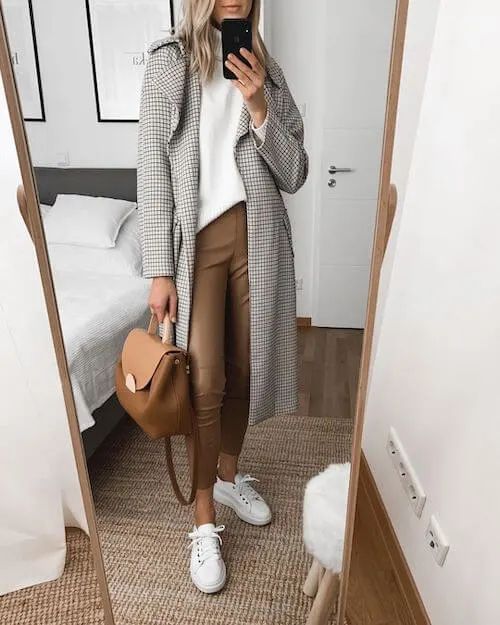 Blazer Jacket + Black Leather Pants + Heels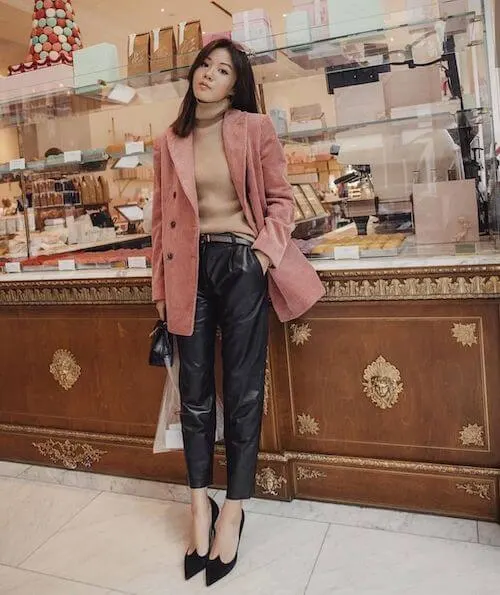 IG@@tsangtastic
Long Trench + Black Pants + White Sneakers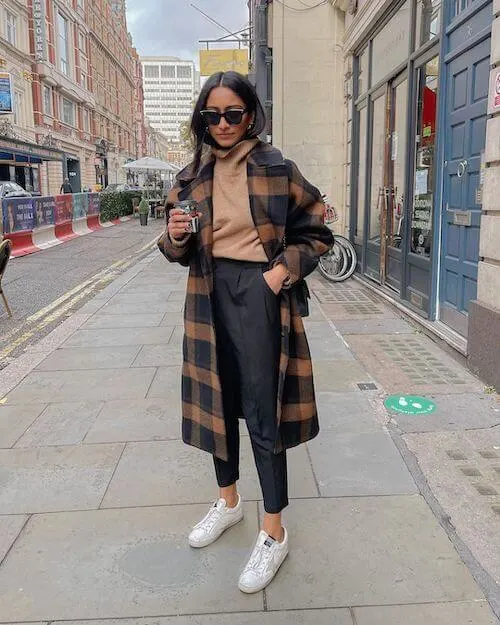 Puffer Coat + Mom Jeans + Combat Boots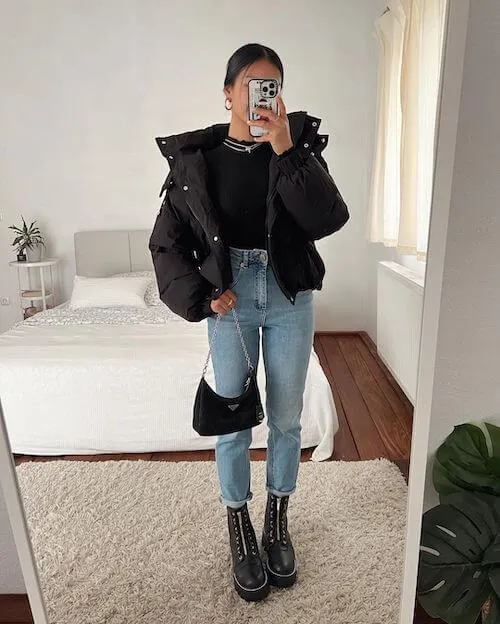 Beige Puffer Jacket + Scarf + Beanie + Black Denim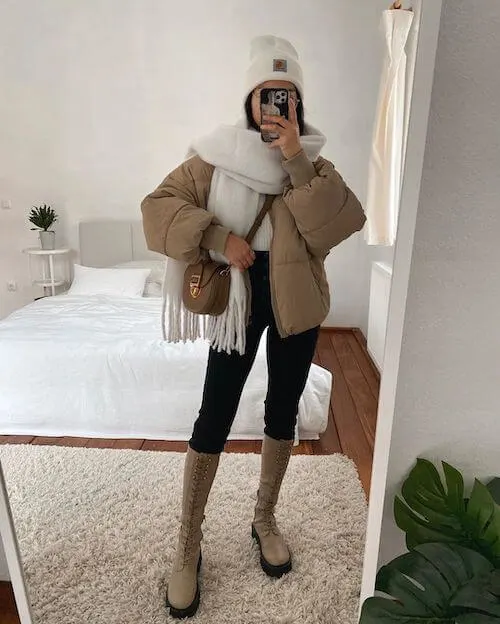 Short Coat + Black Top + Blue Skinny Jeans + Ankle Boots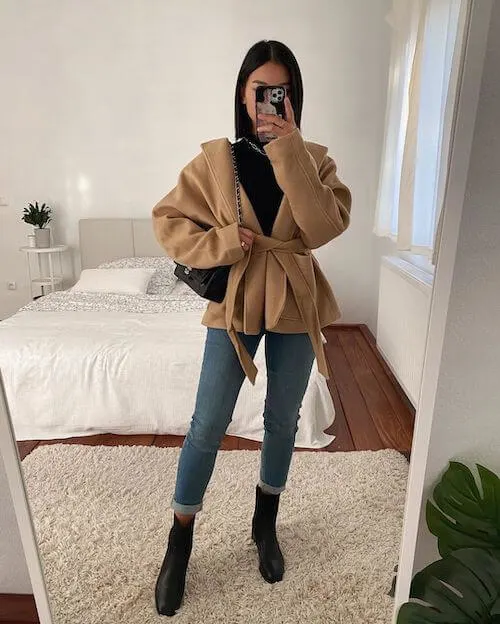 Black Bodysuit + Black Leather Skirt + Long Coat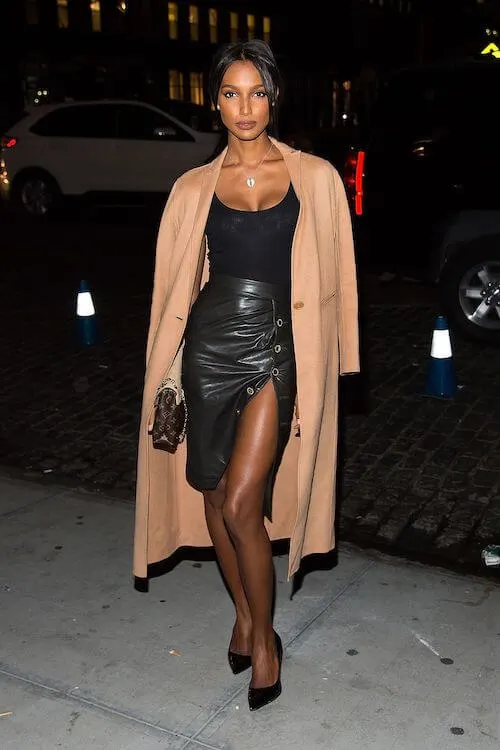 via Pinterest
Sweater Dress + Short Boots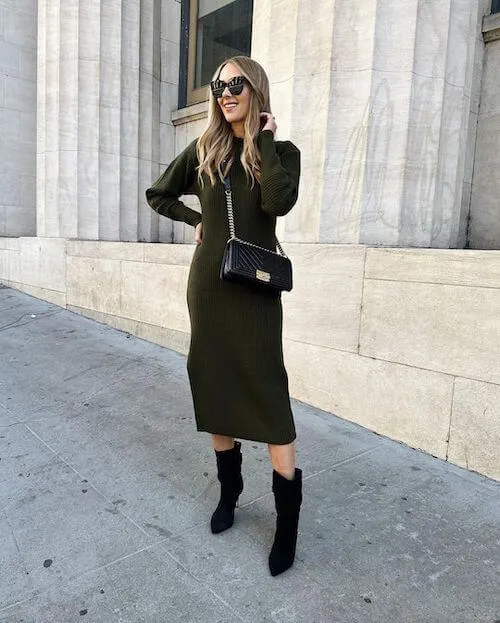 [email protected]_jackson
Off The Shoulder Sweater + Black Leather Leggings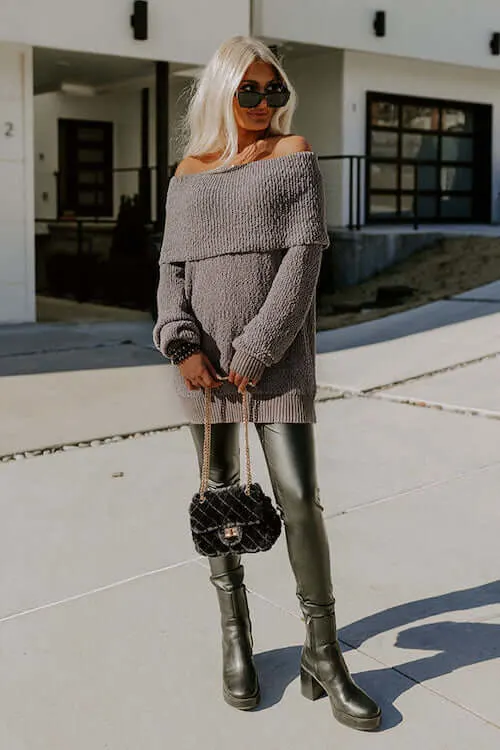 Cute Sweater + Jeans + White Boots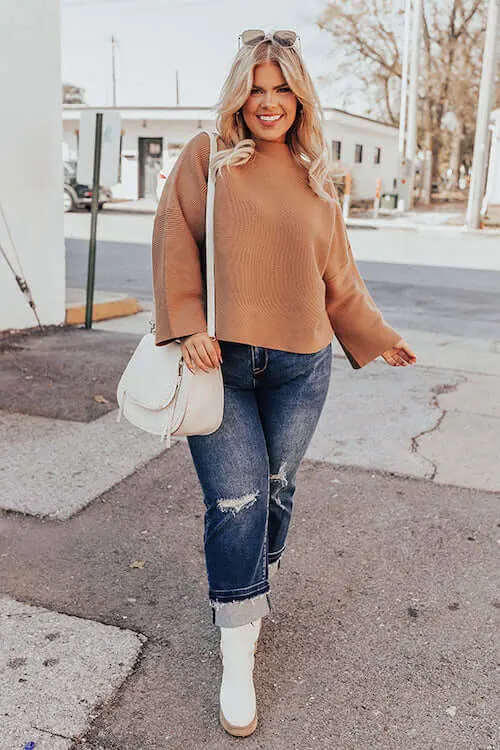 Tan Coat + Plaid Skirt + Knee-High Boots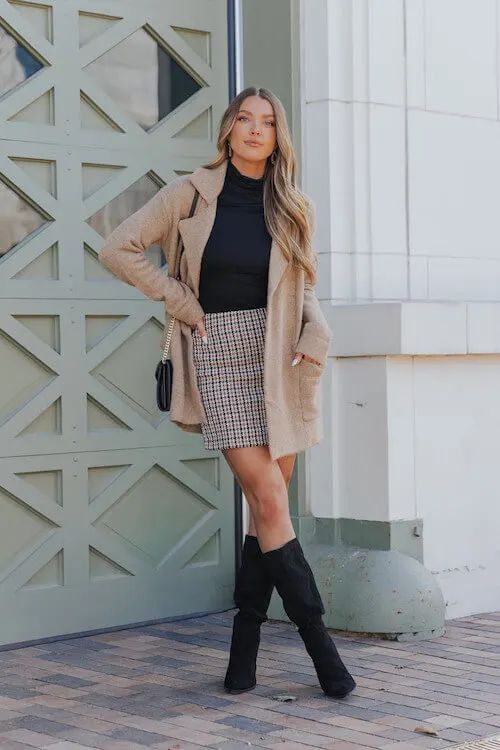 Knit Top + Knit Skirt + Ankle Booties
Casual Winter Date Night Outfits For Valentines Day
Casual Sweater + Sequin Skirt + Black Tights + Black Boots
Crop Top + High Waist Skirt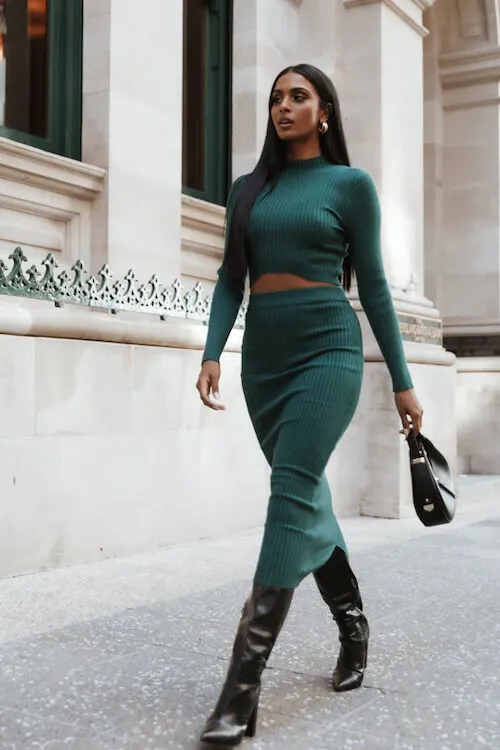 Dressy Winter Date Night Outfits: Black Leather Jacket + Little Black Dress / Slip Dress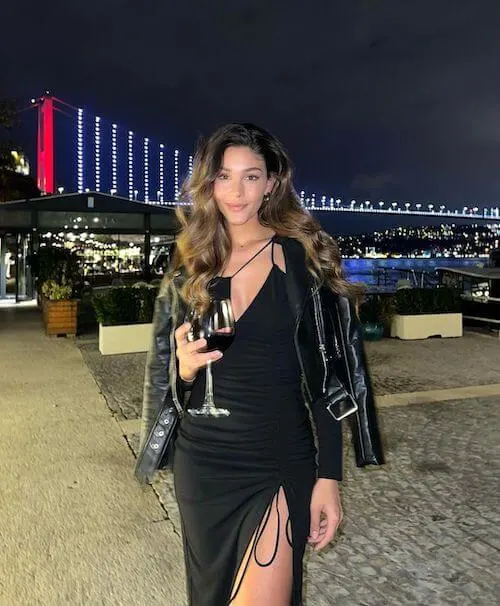 Casual Date Night Outfit Ideas For Cold Weather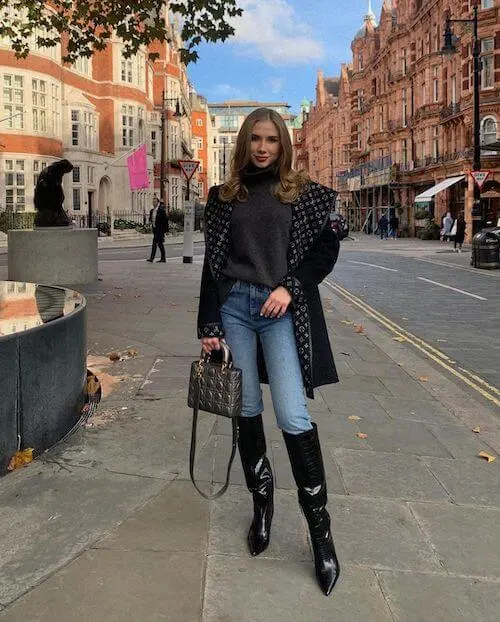 IG@@ksenks.s
Chic Date Night Outfits For Winter First Date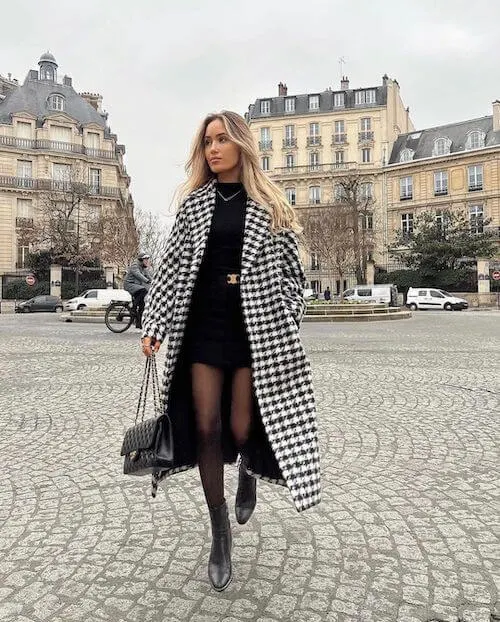 Cute Winter Date Outfit Ideas For First Date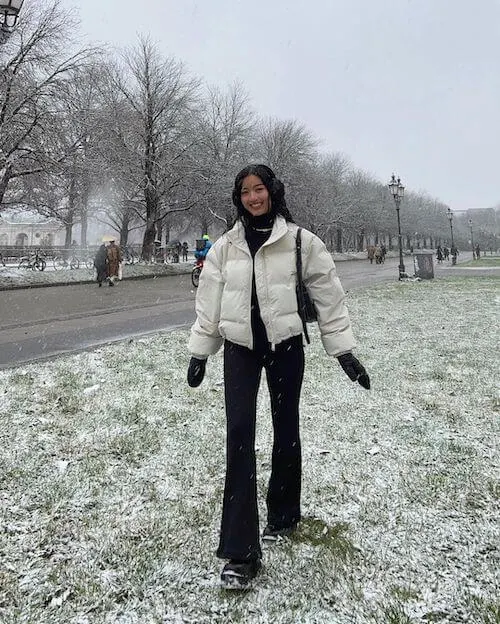 Winter Outfit Ideas For Men For A First Date
When it comes to what to wear on a winter date especially the first date for men, there are many options to choose from.
A classic suit in a dark grey or navy shade is always a good choice – not only will it look stylish, but it will also keep you warm and help you feel confident throughout the night.
Alternatively, if you want something more casual but still smart, opt for a well-fitting pair of jeans paired with a crisp white shirt and blazer.
Layer up with a scarf and wool coat to complete the look.
For footwear, stick with classic leather shoes or boots – they'll make any outfit look effortlessly put together.
Finish off the ensemble with some statement accessories such as a watch or hat to add an extra touch of style.
With these tips in mind, you'll be sure to choose the right outfit for your first date and have your date swooning!
This post was all about what to wear on a first date in winter.
About The Author
Tracy is an experienced personal stylist, shopping expert, and fashion & lifestyle blogger. She has been featured on Bustle, Best Life, Glam, The Zoe Report, Mic, and GoBankingRates, for her insights on fashion, beauty, home decor, and lifestyle. Read More
Related Posts: