Want to know what to wear on a yacht dinner? Check this post for the best yacht dinner fashion guide for both men and women, and chic yacht dinner outfits to copy directly.
Whether you are a member of a yacht club or not, there are now more and more opportunities for you to enjoy a meal on a yacht. Yes, it is now very popular to have a dinner party or even a business party or birthday party on a yacht.
So your next question is, what to wear to a yacht dinner? Especially, if it is for a special occasion on a yacht, what is the appropriate dress code for a yacht?
You may have heard that some yacht clubs have strict dress codes for a boat party or a specific cruise line. But in fact, the choice of outfits varies depending on the style of the dinner.
So in this article, I am sharing with you the guides on how to choose the right yacht dinner outfits for different yacht dinner styles, and the best picks from our favorite retailers for you to copy and shop for directly.
So scroll down to check these yacht dinner outfit ideas, and don't hesitate to pin them to your Pinterest board and share them on social media sites.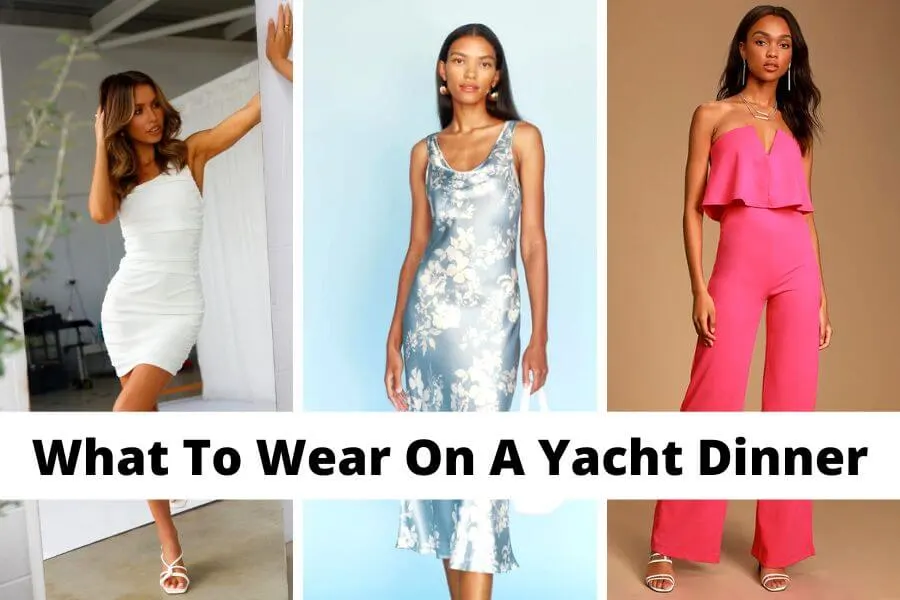 This post may contain affiliate links, which means I'll receive a commission if you purchase through my link, at no extra cost to you. Please read the full disclosure here.
This post is all about what to wear on a yacht dinner.
What To Wear To A Yacht Dinner Party
The range of dressing styles for yacht dinners is very wide, and can be divided into formal, semi-formal, business casual, and casual depending on the dress code for dinner. Therefore, I suggest you read the dress code carefully after you receive the dinner invitation.
Sometimes, there is a specific dress code such as you should wear nautical colors to your yacht dinner, but there are more less-strict options too.
The general rule of thumb: you can't go wrong with a little dressed-up.
For Men
For men, if it is a relatively formal yacht party dress code, wear a dark suit, such as black, navy blue, etc, and a nice dress shirt.
And if it is a formal dress code, you cannot wear boat shoes, khaki pants, loose pants, cargo shorts, Bermuda shorts, or polo shirts.
If it is a casual dress code, you can wear casual or semi-formal attire at this time. The combo of a casual collared top and khaki pants is a good choice for a chic look.
Pay attention to the choice of clothing color and avoid choosing too fancy floral colors. When the weather is cold, you can add a thin cardigan or pullover. For shoes, you can wear minimalist tennis shoes or oxford shoes.
Even for casual occasions, I don't recommend you wear T-shirts or shorts. They are hard to look good and don't look expensive very often.
For Women
For ladies, if you're attending a formal yacht dinner, a long evening gown certainly won't be wrong as formal wear, especially for a dinner on a luxury yacht.
Make sure you take care of your hair, put on a bright but not tacky lip balm, and pick out delicate jewelry to make you look great at the dinner.
For semi-formal and casual dinners, women can also opt for shorter cocktail dresses and dressy jumpsuits for a casual look, which can look very chic at boat parties.
While some casual dinners can allow jeans or sneakers, I would still recommend wearing lower-heeled closed-toe shoes. They are just as comfortable as sneakers, but look sexier and fit the dinner party vibe.
If you must wear jeans, a pair of dark, slim-fitting jeans would be better than regular jeans.
If it comes to a fancy dinner party such as a birthday party or holiday party, you can also wear a sequin dress.
Avoid wearing dress styles that are too loose, casual, or revealing. Remember to strike the perfect balance between sexy and elegant.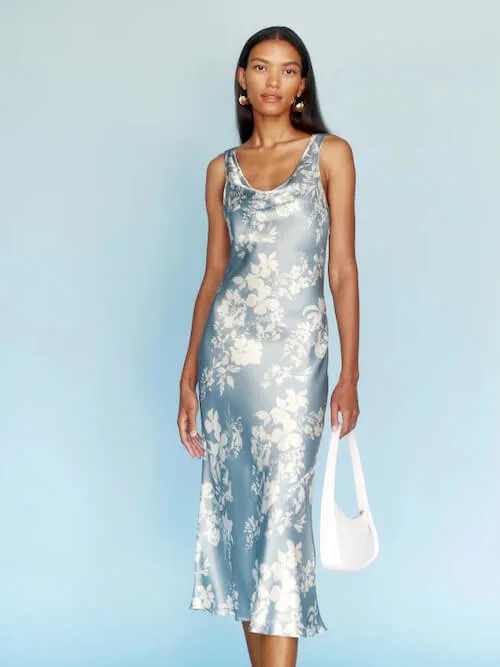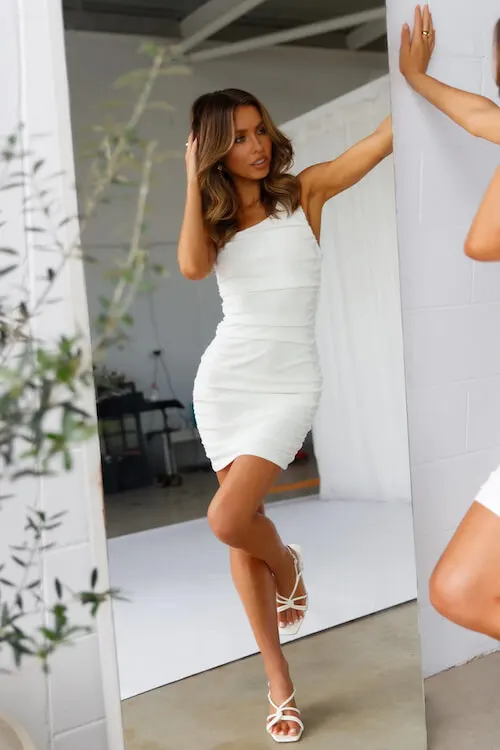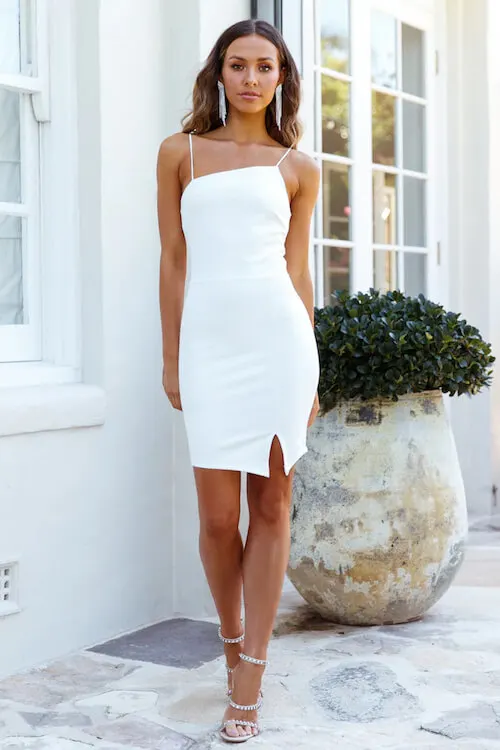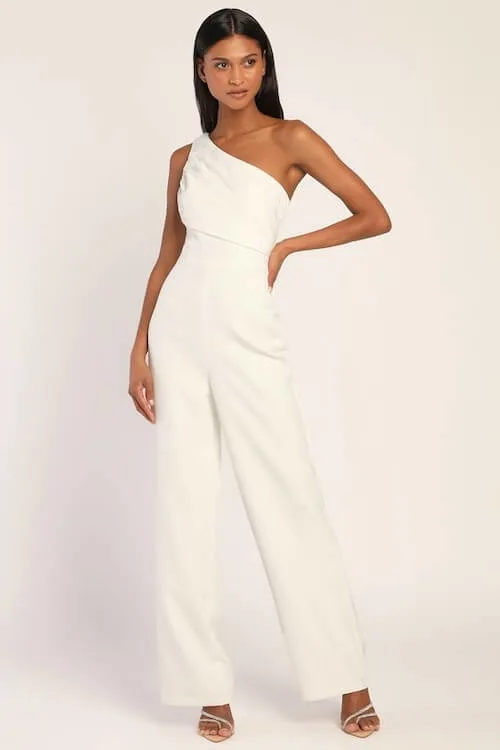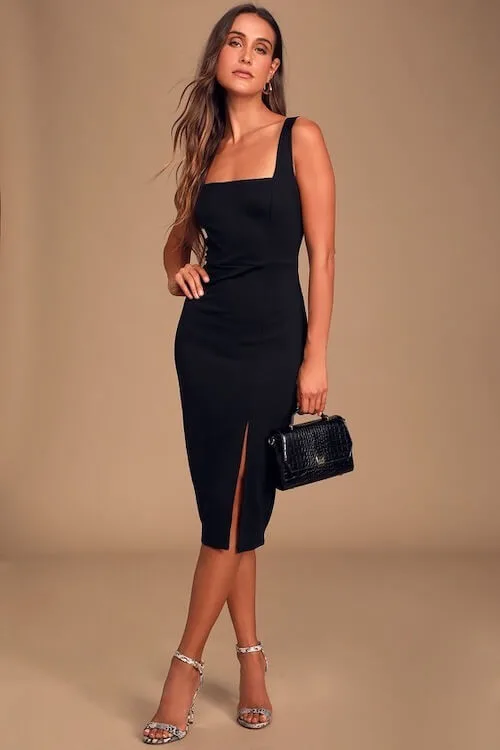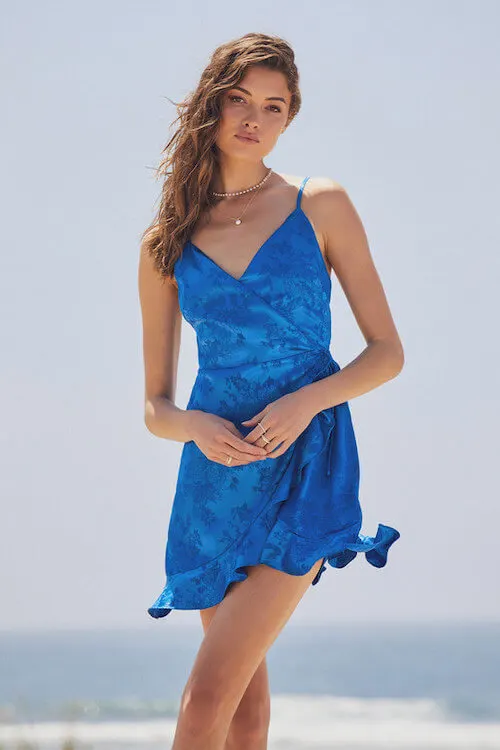 What To Wear To A Yacht Dance Party
If it's a yacht evening dance party, you can wear your favorite casual nightclothes.
I suggest you choose a more fashionable style and lighter and more breathable clothing fabric so you can enjoy the evening with more confidence during the dance.
For Men
Men can choose khaki pants or comfortable jeans, and choose polo shirts or oxford shirts.
As for shoes, you don't need to wear overly formal shoes at this time. Wearing shoes and oxfords are good choices that allow you to be comfortable and look handsome at the same time.
For Women
For ladies, please choose casual attire that both shows off your beautiful curves and allows you to move easily and comfortably. Dresses with a waistline design such as a cute wrap dress or a short flowy dress are all great choices.
But please avoid choosing a skirt that is too long so that you don't inadvertently fall over in the dance.
When the weather is hot, you can also choose a cute top or even the recently very fashionable wide-leg linen pants.
A slightly resort-style and fun knee-length summer dress is also a great idea for the yacht night dance.
You can also choose special statement earrings to make your outfits look even better.
In addition, if you need to dance a lot, you should avoid choosing too high heels, kitten heels or ballet flats are more appropriate options.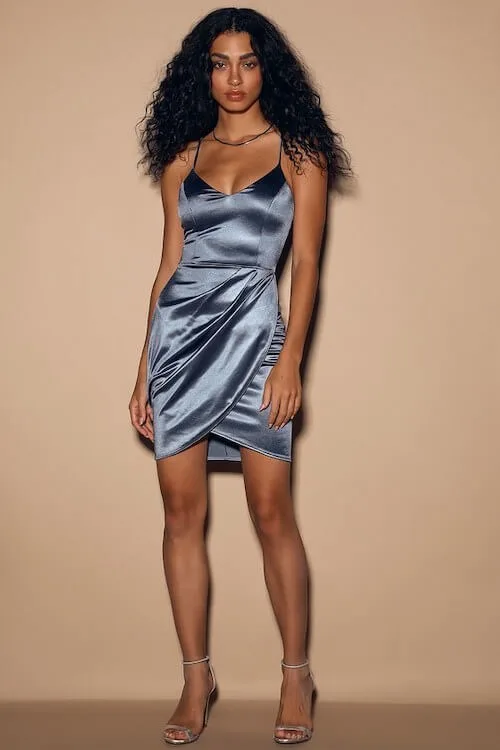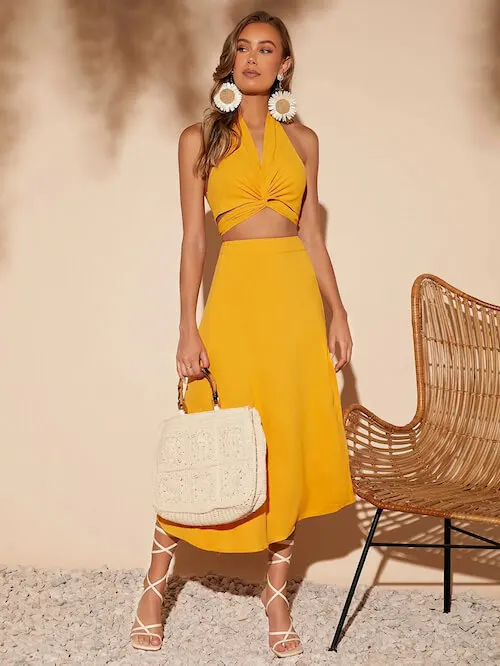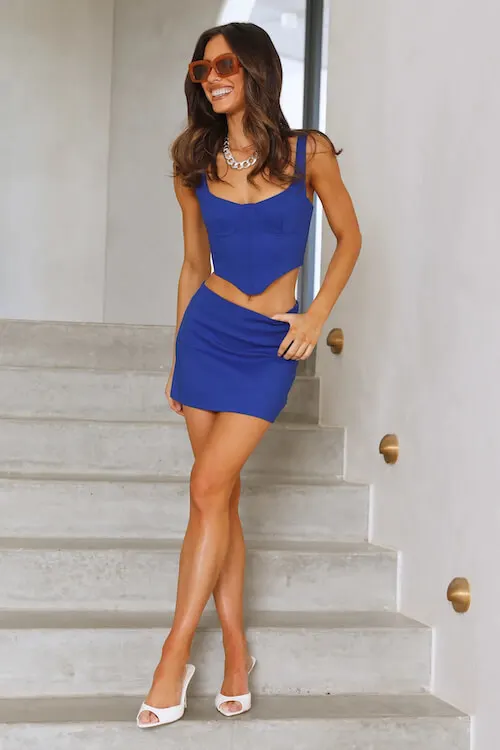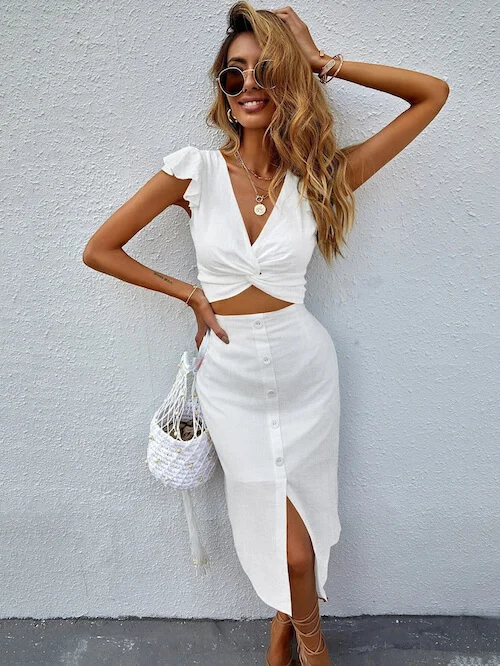 What To Wear To A Yacht Cocktail Party
For Men
Cocktails will not be as formal as a black tie, so gentlemen can opt for dress slacks as well as a tie and matching jacket as great cocktail wear.
Of course, you can also wear a full suit as your cocktail attire, but remember to choose a relatively conservative neutral color rather than exaggerated bright colors or print design.
For shoes, you can never go wrong with black and brown leather shoes. Oxfords or loafers are good choices.
Remember to match the color of your socks with the color of your dress pants. Also, remember to choose a belt that is the same color as your leather shoes.
For Women
For ladies, a well-fitting cocktail dress is always one of the best choices. A little black dress is a classic look, but I would also suggest that you can choose some other colors.
If you can't decide what to choose, just choose a solid color dress with a few small design details and you'll be sure to look great.
If you want to choose a dress with a print, a subtle print dress is a much more perfect outfit than a large and bright print.
For shoes, a pair of pointed-toe shoes will make you look more slender and sexy. Choose black, gold, silver, nude or pink shoes to bring your outfits to the next level.
Also, you need to choose delicate jewelry and bags and avoid choosing bulky, tacky, and low-quality accessories.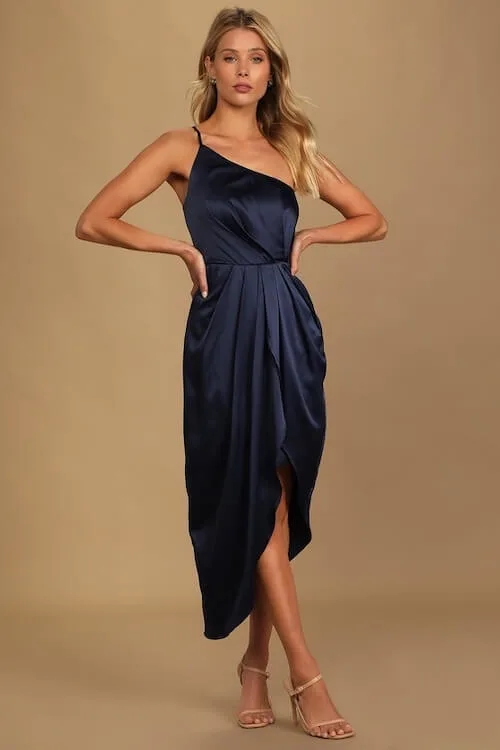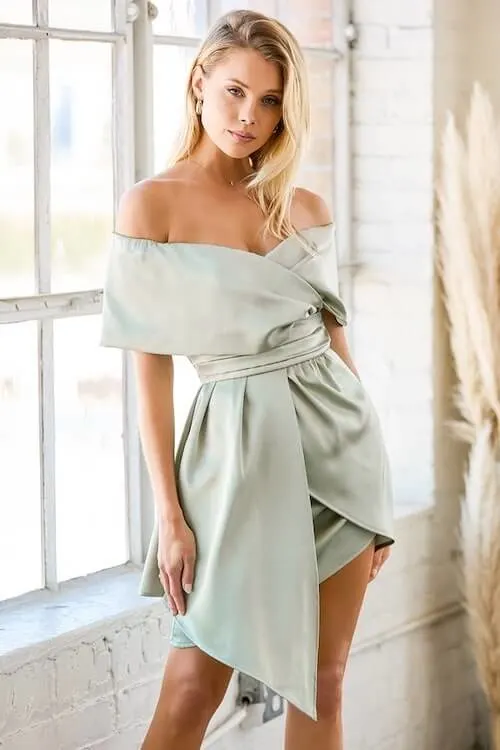 What To Wear To A Yacht Business Party or Business Dinner
For yacht business dinners, remember that professionalism is more important than glamour.
For Men
For men, a black or navy suit is a great choice. Of course, for a more casual business dinner, you can also wear khaki pants and pair them with a good quality polo shirt, linen shirt, or neutral color casual button-down shirt.
For footwear, leather shoes are always a great choice. You can wear oxfords or loafers to make you look smart.
For Women
For women, the easiest way is to upgrade your business casual outfit a little to make it more in line with a yacht dinner vibe.
You can change your common long-sleeved tops to silk or satin dressy sleeveless shirts, or change your pants to dressy pants or silk long skirt that can modify your long legs and thin waist.
Of course, you can also wear midi dresses. You can wear a long-sleeved shirt dress or a short-sleeved dress with a nice waist design and relatively thicker fabric.
If you choose a sleeveless dress, please be careful not to choose a design that is too revealing or a fabric that is too thin. Your dress should look both elegant and more expensive.
An elegant suit is also an appropriate attire. You can choose suits with some special designs to add interest visually.
For business dinners, you should avoid choosing jewelry that is too shiny. Simple and uniquely designed gold and silver jewelry, or pearl jewelry, is your best choice for a yacht business dinner.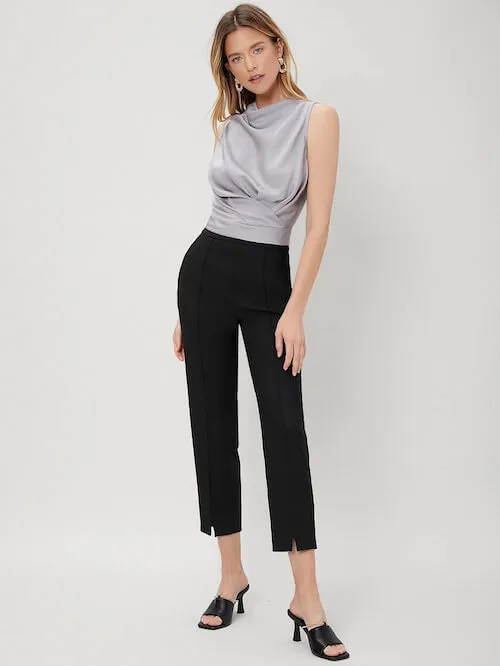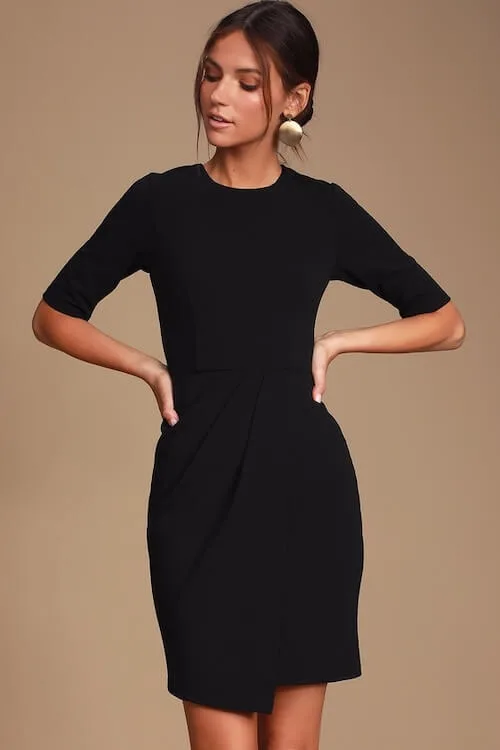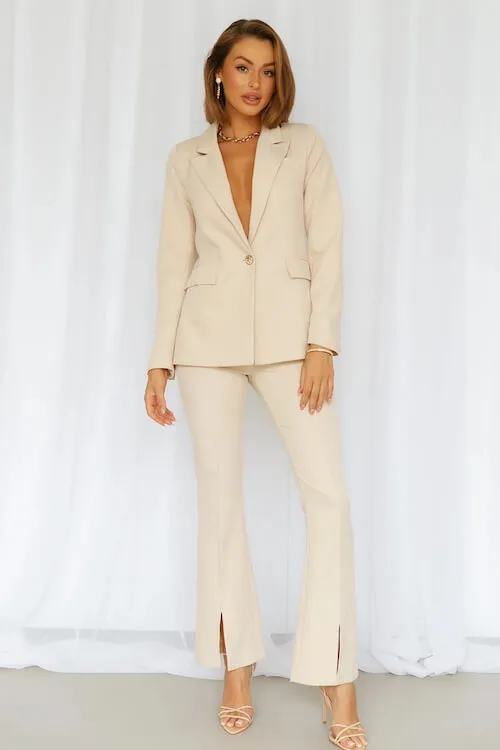 Yacht Clubwear For Dinner Dos And Don'ts
Although more and more yacht dinner dress code is not as strict as they used to be, and many people are boldly experimenting with more fashionable designs instead of a traditional yacht club attire, there are still some appropriate dress code that you should pay attention to if you want to look much better for your yacht night events.
Avoid Flip Flops, Torn or worn clothing, baseball hats or other sporty hats, and undershirts
Even for the most casual yacht dinner, unless it's a private party with a few of your closest friends, you need to avoid these pieces above for your evening wear, especially some chic pieces such as tank tops or a sports coat that may be very popular for girls for a night out. However, they don't look appropriate for a yacht dinner party.
I suggest you read the dress code carefully after you receive the invitation. Some yacht clubs have their own websites with detailed instructions on the various dress codes to help you.
Bring Chic Clutches
For yacht dinners, you should avoid carrying shoulder bags that are too large or too casual. A fine clutch is a beautiful detail of your dinner attire.
Shop The Clutches

Add A Dressy Light Jacket For Cool Weather
There are times when it is colder inside the yacht, or at night when the temperature on the water drops very much, so you can add a light dinner jacket. A silk or satin black, white, or navy blue blazer is a good idea for your dinner cruise.
When it's colder, a nice faux leather or leather jacket is also very fashionable for your dinner parties.
Shop The Jackets

Wear Elegant But Comfortable Shoes
At a dinner party, unless you are very confident in your high heels, I suggest you wear relatively low heel or even flat shoes for yacht dinners.
They will keep your feet comfortable all evening for a lot of fun, and allow you to walk around comfortably and even dance non-stop.
Shop The Shoes

What to wear to a Yacht dinner for kids?
Want to take your kids to a yacht dinner? The kids' dress code should follow those of the adults.
Quick tips: one of the best ways is to choose kids' outfits that match their parent's outfits.
This post was all about what to wear on a yacht dinner.
About The Author
Tracy is an experienced personal stylist, shopping expert, and fashion & lifestyle blogger. She has been featured on Time Magazine, Bustle, Best Life, Glam, The Zoe Report, Mic, and GOBankingRates, for her insights on fashion, beauty, home decor, and lifestyle. Read More
Related Posts: