Looking for the trendiest all-white outfit ideas for women? Check this post for the best all-white outfits and styling tips to level up your look this year.
When summer arrives, I want to dress refreshingly and lightly.
Why don't you wear a fashionable all-white outfit to bring out the right romantic style?
via WeHeartIt
In addition to white dresses, oversized white shirts are also trendy recently.
This shirt has a more street-style way to wear. You can refer to Hailey Bieber's street style:
The sports tops and denim skirts are obviously white single products, but different materials are stacked together to create a sense of layering, which is very fashionable.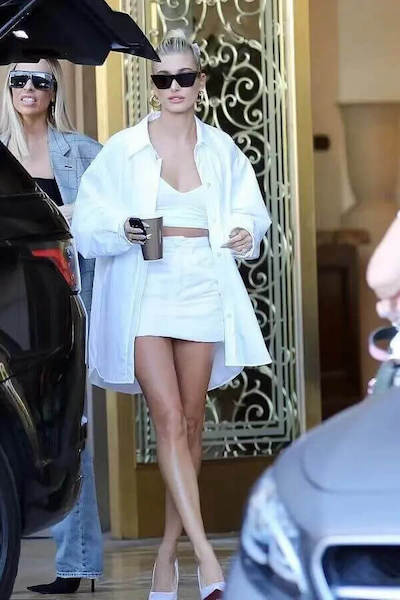 via Pinterest
Summer is really suitable to wear white, especially the all-white outfit, which can be refreshing, casual, romantic, and elegant.
So in this post, we are sharing our favorite all-white outfits and styling tips. Scroll down to check the all-white outfit ideas for women, and don't forget to pin the ideas you like.
What Brands Are Loving All White Outfits Now
You will found that all-white outfits are still in style now. Many brands are loving them and introducing more all-white outfits to us.
In the season suitable for vacation, Emporio Armani takes us to the sea.
The new sustainable capsule series inspired by nautical travel, with pure white as the main color, embarks on a comfortable and fashionable adventure under the blue sea and blue sky.
via fave.co
via fave.co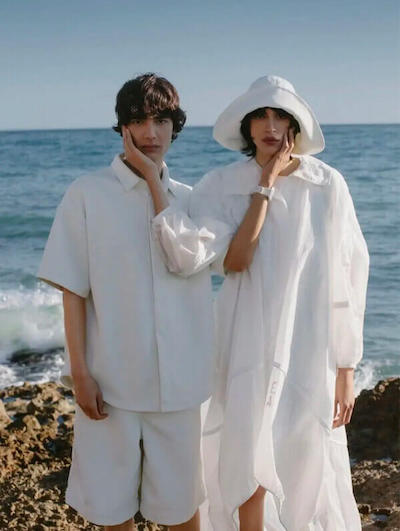 via fave.co
via fave.co
White is a changeable color. In the spring and summer series released earlier, Emporio Armani also launched many beautiful white items.
There are gentle white dresses and all-white combos of tops and Bermuda shorts, paired with white sandals or hollow pointed boots, and each has its own beauty. (photos below from Emporio Armani)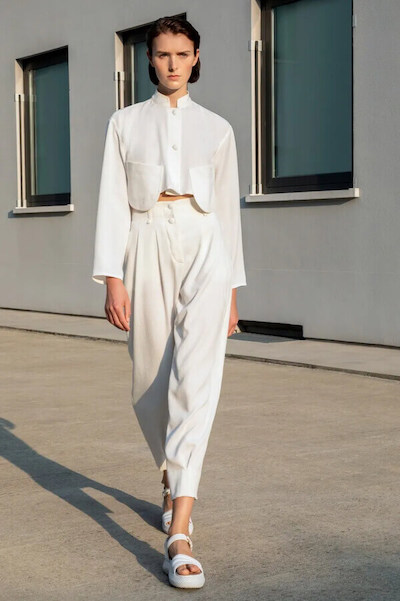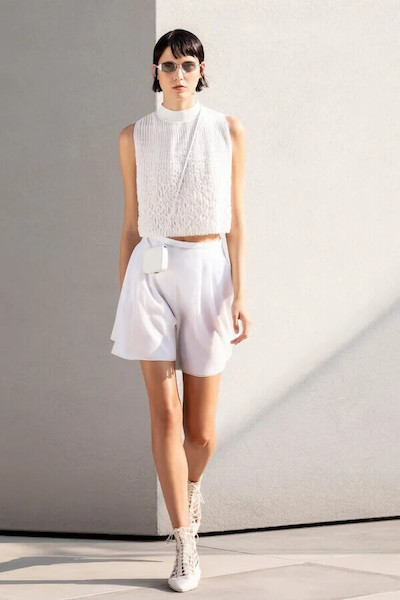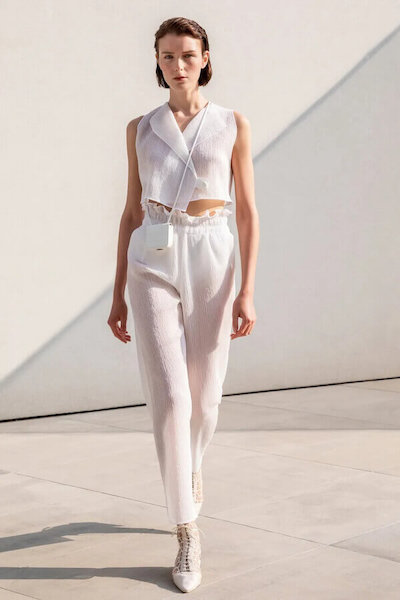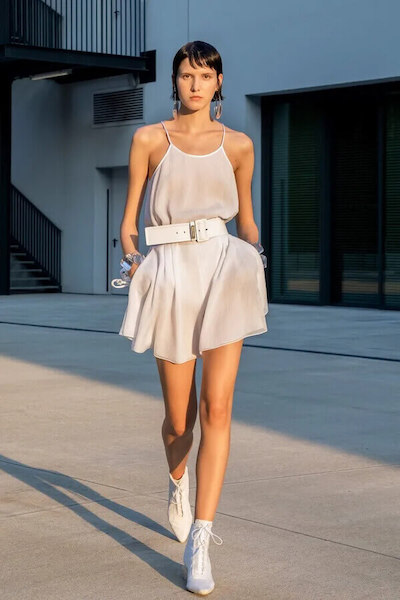 The all-white outfits on the Dior show are full of vacation style.
They are all see-through materials such as crochet and jacquard, and they will not feel heavy when layered together. They are very suitable for seaside vacations. (photos below from Dior)
The French guy Simon Porte Jacquemus is really romantic. He once moved the show to the golden wheat fields of southern France and let the models wander around in all-white outfits and shoes. They were gorgeous.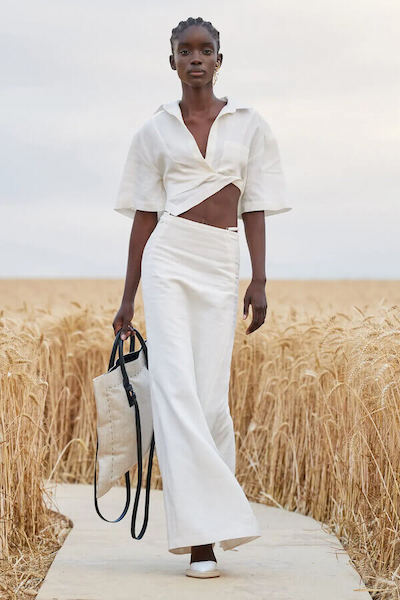 via vogue.ru
via vogue.ru
via vogue.ru
Equally romantic is Cecilie Bahnsen, who used white dresses and flat shoes to create a girly dream.
via Pinterest
On a leisurely afternoon, the girls walking on the streets of Milan may be wearing Red Valentino. From clothes to shoes, bags, and hats are white, and they are the crowd's focus.
via vogue.de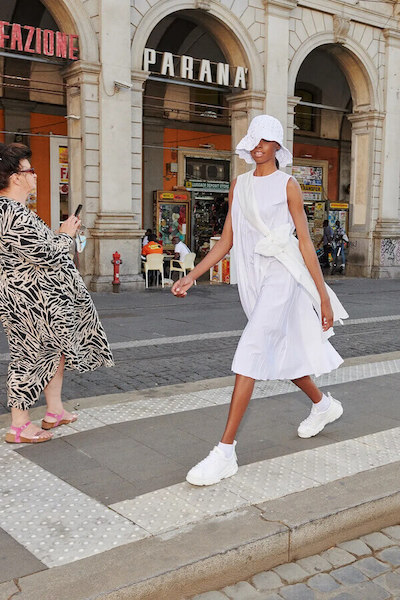 via vogue.de
How To Wear All White Outfits?
Wearing all-white outfits is easy to say, but it is not easy to dress nicely and stylishly.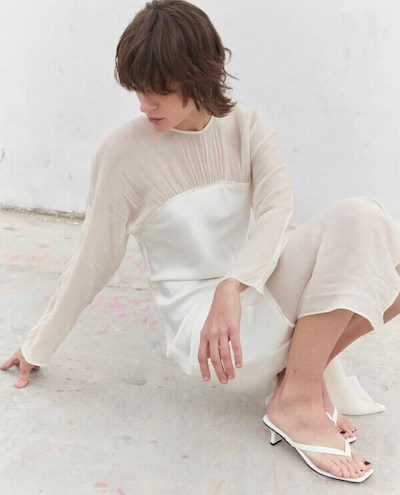 via WeHeartIt
All White Outfit Ideas For Women: Choose The Right White
Is white just white? No, there are many kinds of white.
The simplest can be divided into cool white tones and warm white tones. In the look of Jacquemes, the girl's shirt is cold white, and the skirt is warm white and more beige. The contrast is obvious.
Generally speaking, cool white is suitable for girls with cold skin tones, and they look bright and shiny when worn.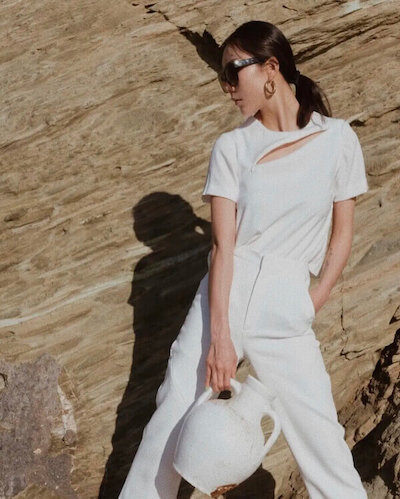 via Pinterest
Conversely, yellow-skinned and black-skinned girls will only not so energetic when they wear cool white clothes.
via Pinterest
Warm white is friendly to girls with warm yellow skin and healthy colors, and it has the effect of brightening the skin tone on the upper body, as if it comes with a light board to go out, making the whole person look bright, healthy, and beautiful.
In wearing white outfits, many fashionable people like to mix and match different shades of white.
According to the principle of cold and warm, warm yellow girls are suitable for the idea of ​​wearing warm on the top + cold on the bottom.
For girls with cold yellow skin and partial pink skin, choose cool colors for the tops close to the face and warm colors for the bottoms. It is not easy to make mistakes.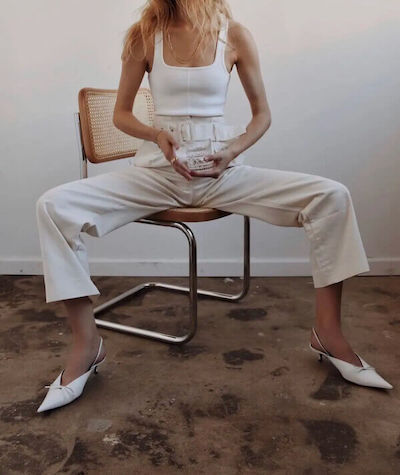 via WeHeartIt
All White Outfit Ideas For Women: Mix Different Materials
The white top and bottom of different materials are mixed and matched together, which has a special style, which makes the single color matching look not boring.
For example, the combo of cotton T-shirts and jeans reveals a touch of gentleness in the coolness.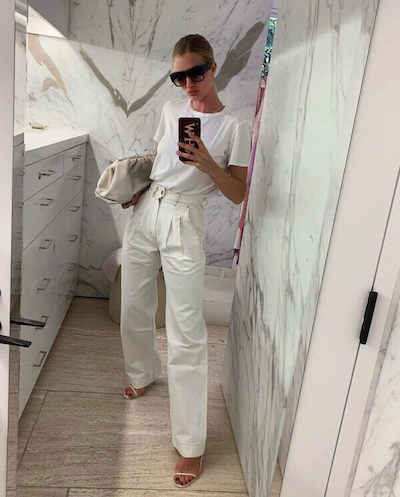 via Pinterest
Knitted texture or white vest with elasticity and denim bottoms have different effects, which look more casual and dynamic.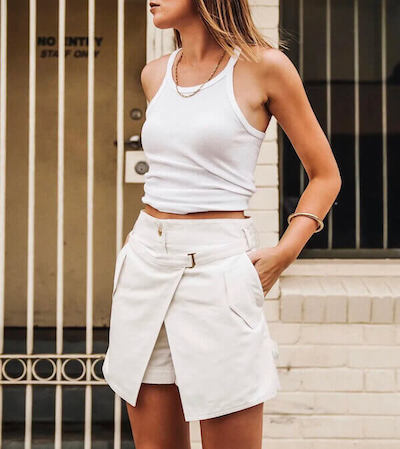 via WeHeartIt
In addition to the difference in touch, white cotton shirts and jeans are collisions in thickness and style, but they are harmoniously matched together.
Add a pair of white leather Muller shoes to complete the change from light to calm material.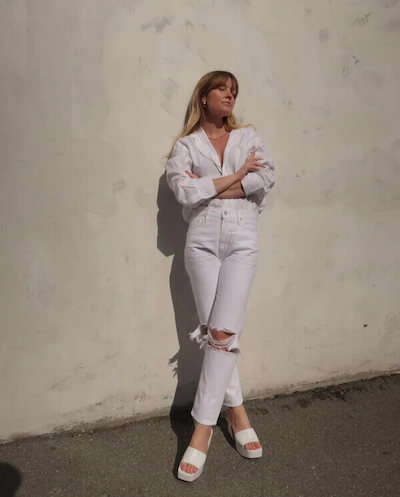 via WeHeartIt
This off-shoulder shirt from blogger Jeanette Madsen is made of taffeta, with a gentle warm gloss and matte texture of cold white jeans, so special.
And it is more recommended to a pair of white sandals to be lighter and more summer.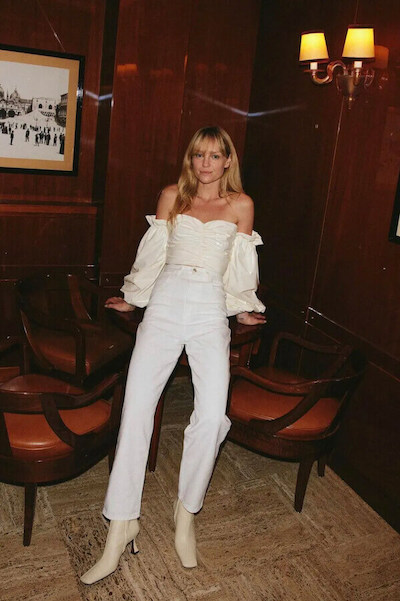 Wearing silk camisole + crop jeans is not new, but it is light and comfortable to match all white.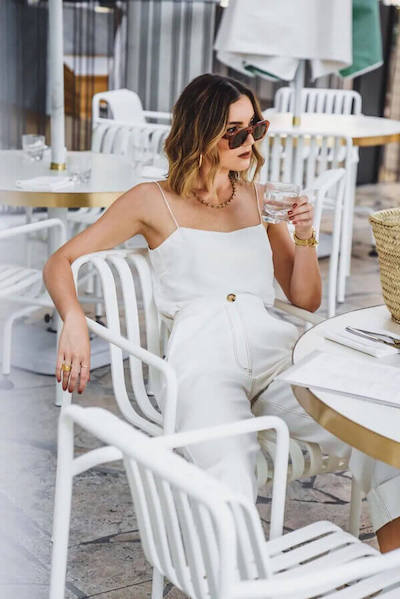 via Pinterest
In addition, natural cotton and linen are always harmonious and beautiful to wear because of the same attributes, which makes people feel relaxed from visual to wearing.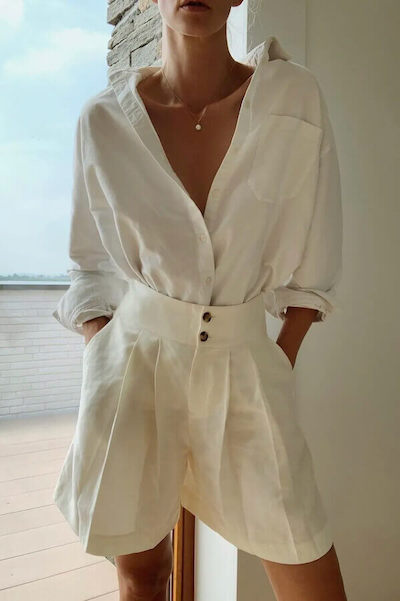 All White Outfit Ideas For Women: Wear All White Sets
All white sets are also popular this year. Or you can choose the same color and same materials for the tops and the bottoms.
Such as puff sleeve tops and A-line shorts, which are lovely.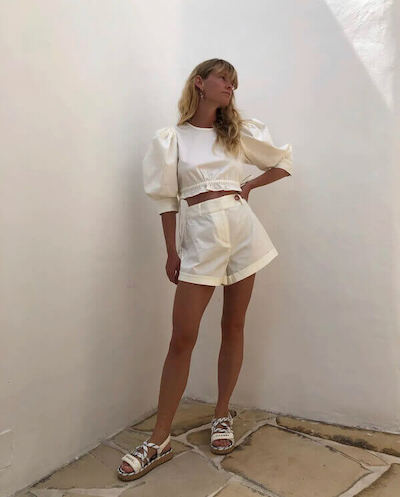 There are also sets of short cotton shirts and Bermuda shorts. Pair them with a pair of chunky sneakers, looked casual and chic.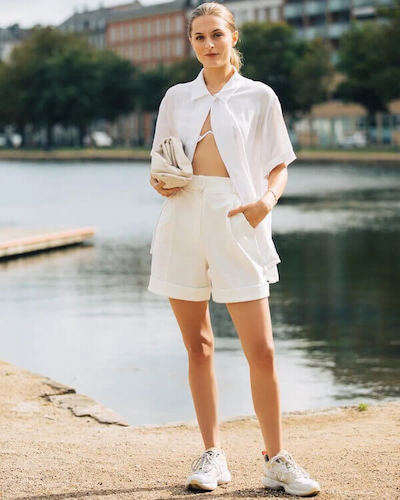 The thin cotton and linen texture, loose and comfortable style, don't want to wear them to the summer vacation?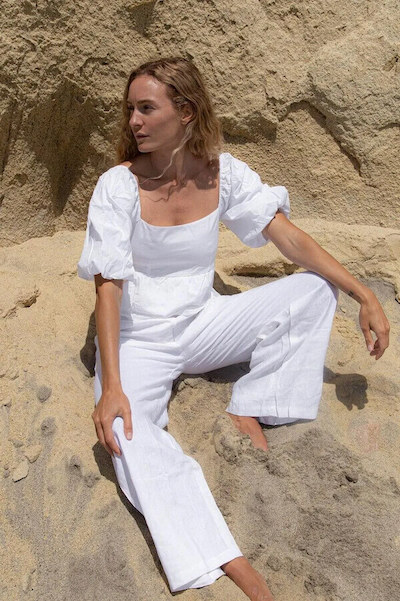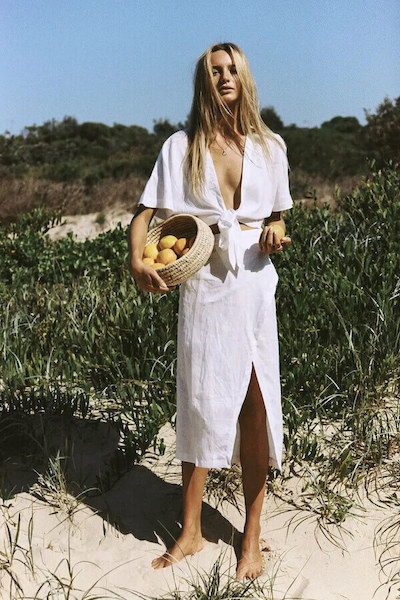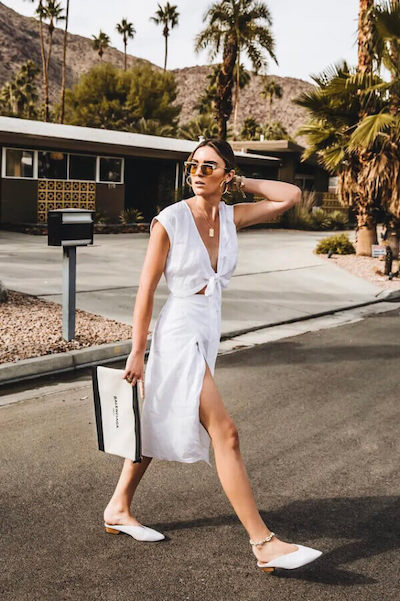 via Pinterest
Even for the same material, all white items, the design has changed, and the overall style has also changed a lot.
The combo of an oversized shirt and the knee-length skirt is especially suitable for work outfits.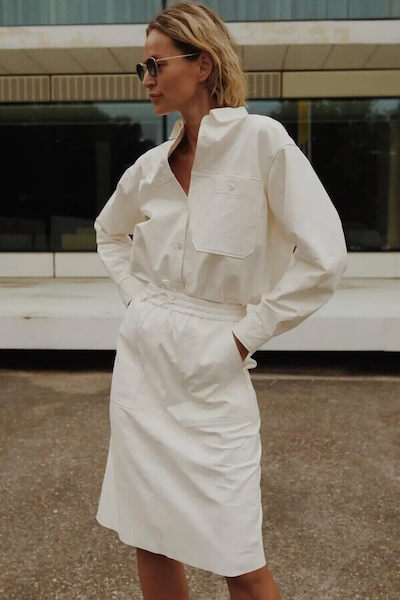 via closed.com
Or you can choose the trendy all-white vest or blazer sets. You will become effortless chic immediately.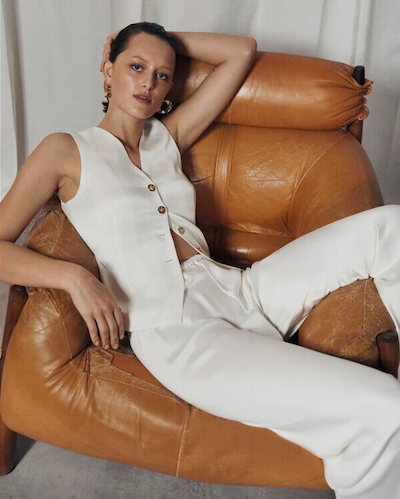 via Pinterest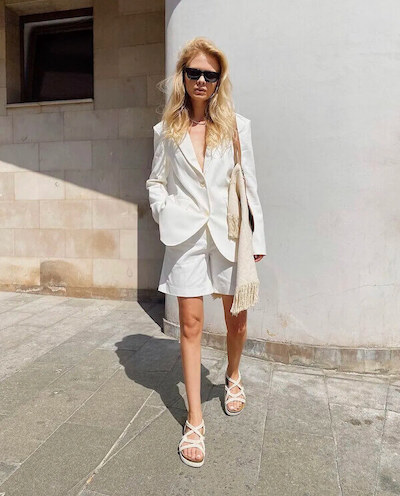 via WeHeartIt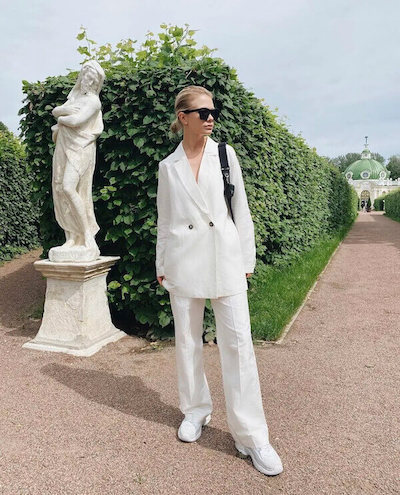 All White Outfit Ideas For Women: One Piece Dresses
For one-piece dresses, there are big differences in style by choosing different materials.
For example, Rosie Huntington-Whiteley, Zina Charkoplia, and others all love to wear white knitted skirts. They must be paired with leather square-toed sandals, which are both elegant and look powerful. And these outfits are also perfect for an all-white party.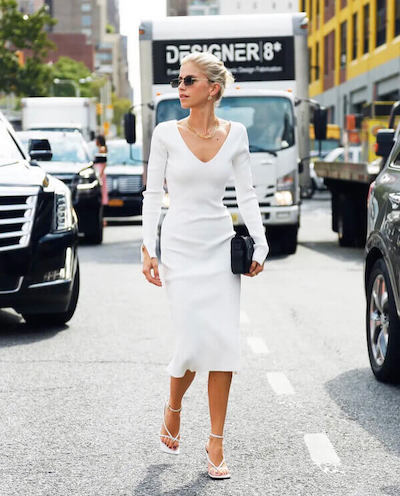 via Pinterest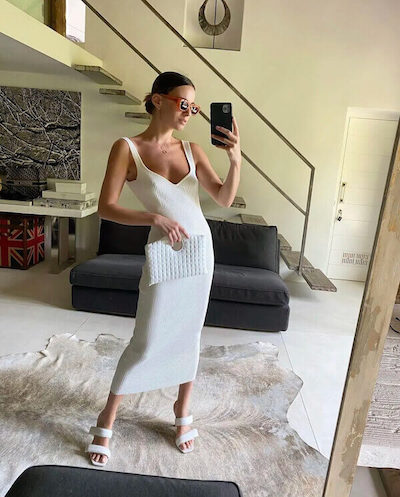 via Pinterest
Tulle and chiffon dresses are romantic and light in summer.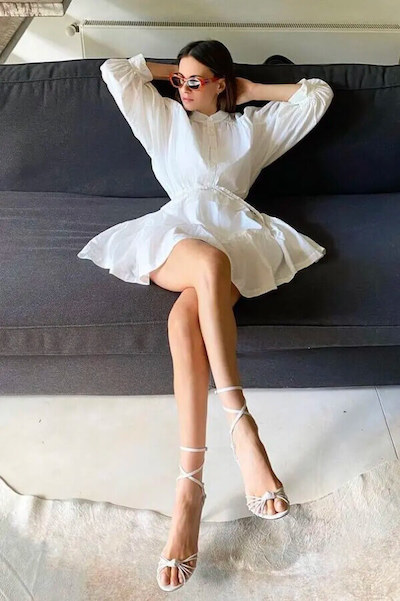 The cotton and linen material comes with a sense of leisure and comfort. It looks good with simple white sneakers, and it also goes well with white high heels.
via Pinterest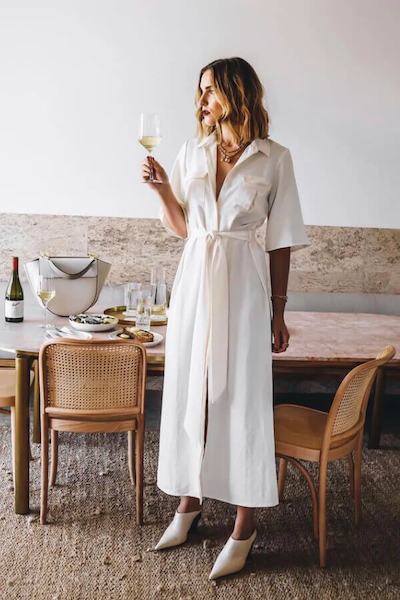 via Pinterest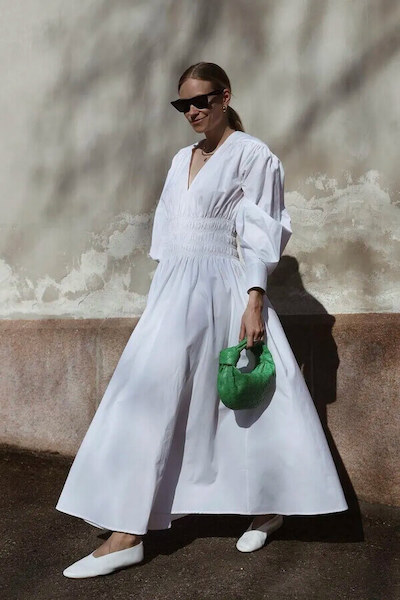 via Pinterest
Silk satin dresses are showing gorgeousness and exquisiteness, and you need a pair of feminine sandals.
via Pinterest
via Pinterest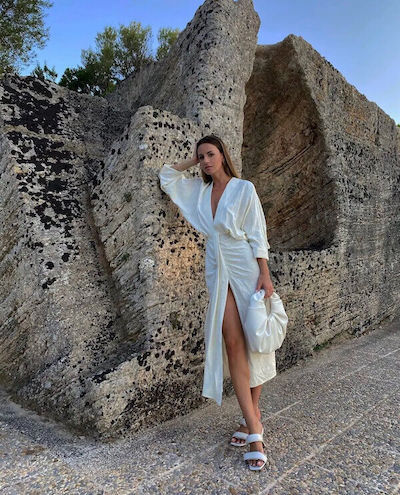 via Pinterest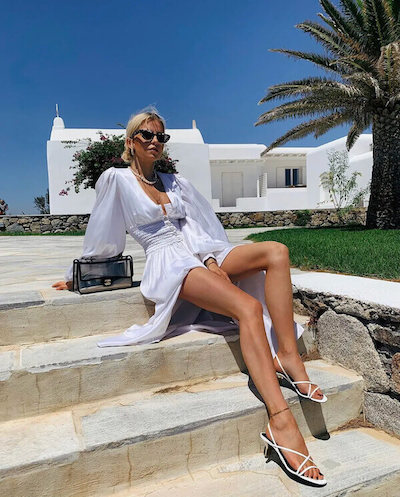 via WeHeartIt
All White Outfit Ideas For Women: White Jumpsuits
Cool girls also like to wear white jumpsuits, looked stylish and cute.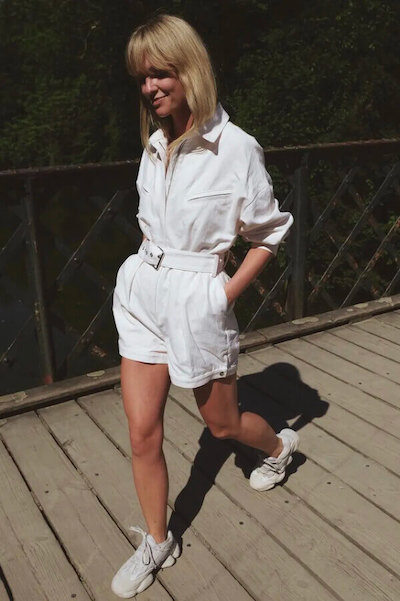 via WeHeartIt
The short style is free and easy, and you can pair them with cute sneakers.
The long jumpsuits are also neat and beautiful, and they can be worn on a wider range of occasions, from the workplace to parties and vacations.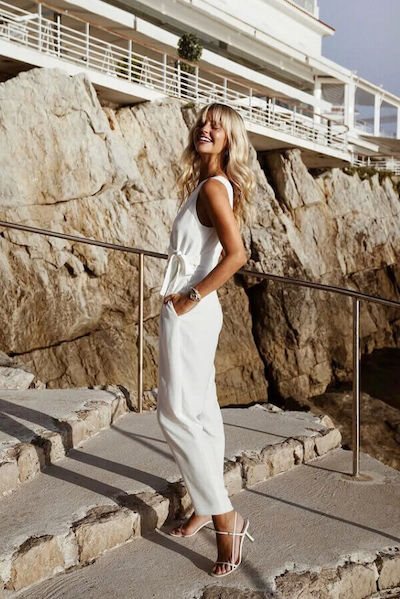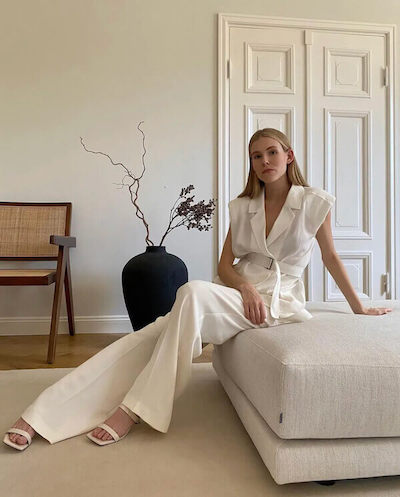 >>>Click the banner below to shop white outfits:
Other Summer Fashion Ideas You May Like:
This post was all about all-white outfit ideas for women.