Looking for the best Christmas maternity photoshoot ideas? Check this post for the cutest Christmas maternity photo ideas, the best tips to get perfect maternity pictures, and what to wear to your coming Christmas maternity session.
Christmas is the best time of year to take warm maternity photos. Whether it's to remember the pregnancy moments or to make Christmas cards for your best friends, warm and cute or even very creative pregnancy photos can bring more sweet moments to your pregnancy time, with all the best wishes for the coming new year.
If you are looking for the best Christmas maternity photo ideas this year to copy directly, you've come to the right place.
In today's article, I am sharing with you how to take perfect Christmas maternity photos, the best maternity photoshoot ideas for Christmas of different styles, including Christmas maternity photos at home and for the outdoor photo sessions, and the best Christmas maternity photoshoot outfits to shop for directly.
So scroll down to check the best Christmas maternity photo shoot ideas and don't hesitate to save them to your Pinterest board and share them on social media sites.
This post may contain affiliate links, which means I'll receive a commission if you purchase through my link, at no extra cost to you. Please read the full disclosure here.
This post is all about Christmas maternity photoshoot ideas.
When Is The Best Time To Take Christmas Maternity Photos?
The best time to take maternity photos is between Week 26 and Week 36. The effect of such a body shot will be better, early pregnancy to shoot may affect the fetus, and the baby bump is not obvious enough, so it is not recommended to shoot early.
The actual situation can be combined with the mother who wants to shoot later, after 36 weeks of pregnancy, basically, the pregnant mother's action is not so convenient, so do not push to 36 weeks at the latest.
It is recommended for the mother-to-be in 16-32 weeks to take maternity photos for also the following reasons.
1. The fetus has the right size.
This time belongs to the late pregnancy, so there is more amniotic fluid and more fetal activity space, so the situation is relatively stable, taking pictures even if a little strenuous will not have any risk.
2. The physical condition of the mother-to-be is relatively good.
Taking maternity photos needs to have a variety of poses for a long time and consumes more energy. And in Week 26 to Week 36, the mother-to-be will not feel particularly strenuous and her action is also convenient, and taking maternity photos needs to have a variety of poses for a long time and consumes more energy.
How To Take Perfect Christmas Maternity Photos
If it is your first time taking maternity photos, below are our favorite tips:
1. Choose a professional photographer
If you are hiring a photographer, please choose a professional maternity photographer.
Because maternity photos are after all different from wedding photos, or children's photos, it's object is the pregnant woman, and the photography focus is different.
If the photographer is more professional in taking maternity photos, he or she will help the pregnant mother choose the right clothing, styling, etc., and the photos will be better.
2. Make the appointment well in advance
You must make a good appointment with the photographer before taking photos. Especially for the Christmas holiday maternity photos, you should make an appointment with the photographer in advance to avoid the situation that the photographer goes on vacation.
If it is to go to the studio shooting, you can try to avoid the crowded days and weekend time, so that you do not have to wait too long, but also avoid the weekend travel crowded conditions.
3. If it is an outdoor shooting, do not go too far away
Pregnant women should not be tired of going around, so you can not go very far away from your home, in order to avoid unexpected situations.
4. Involve your family members
Communicate fully with the rest of your family before the shoot, so that everyone can be creative, plan shooting actions and prepare props for the shoot together. This will be more able to take natural and warm photos.
5. Try taking photos at home
The festive atmosphere of Christmas will make you want to try taking maternity photos at home. Beautiful Christmas decorations, Christmas trees, and Christmas outfits are the perfect props.
So, go ahead, take this perfect opportunity and try taking your own maternity photos. In this article, we will share many ideas and tips for shooting at home and outdoors to help you take more creative Christmas maternity photos.
Best Christmas Maternity Photoshoot Ideas
You can hire a professional photographer or you can do your own Christmas maternity photo shoot at home.
But whether you shoot outdoors or indoors, you need to be careful to choose a cleaner background that will better accentuate the contours of your pregnant belly.
In addition, you also need to choose more elastic clothes, so that your pregnant belly can be more attractive in the light.
I suggest you try different lighting effects before the shoot, such as natural light outdoors, or indoor holiday lights, or even candlelight. Light is an essential element in creating the atmosphere of the festival. You can try more and see what kind of clothes and color schemes you should choose under different light to get the best photo effect.
Finally, boldly use a variety of lovely Christmas decorations to decorate your photo environment. Remember to choose more warm-looking holiday decorations to make the smiles of the expectant mothers look more charming.
Show Your Baby Bump
There is no cuter pose than showing off your pregnant belly with confidence. Relax and enjoy your time in front of the Christmas tree.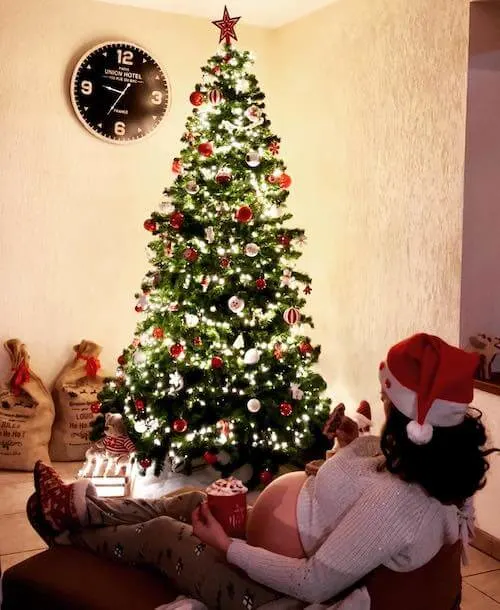 via Pinterest
Try Different Angles
Taking a selfie is an interesting idea. Choose your favorite Christmas decoration and record your happy smile.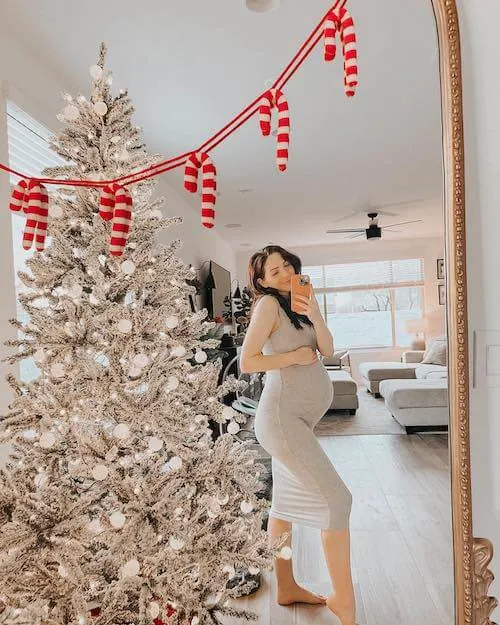 via Pinterest
Candy Cane Heart
A very simple and easy way, but it looks full of the charming festive atmosphere of Christmas.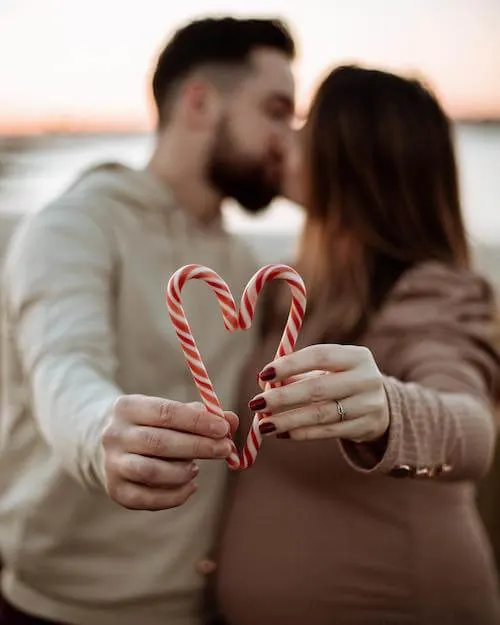 via Pinterest
Touch The Pregnant Belly
Letting your man touch the pregnant belly is a great way to have sweet maternity photos.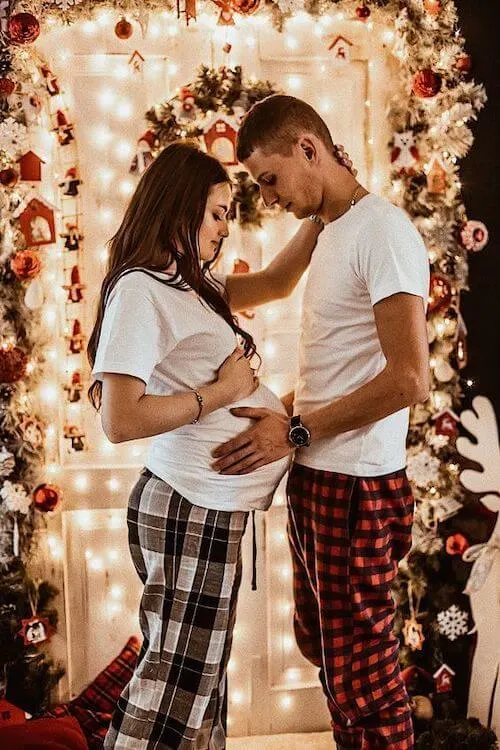 With Your Pet
Don't forget to have a good time with your pet.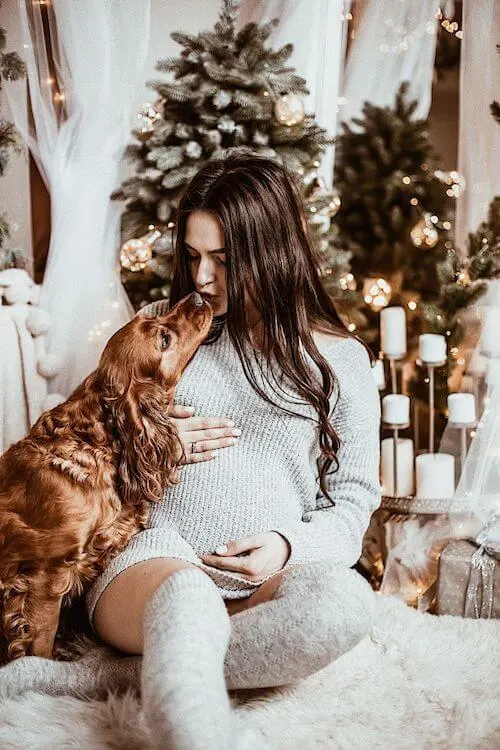 via WeHeartIt
Hold The Hands
The happiness of you two is almost overflowing off the screen.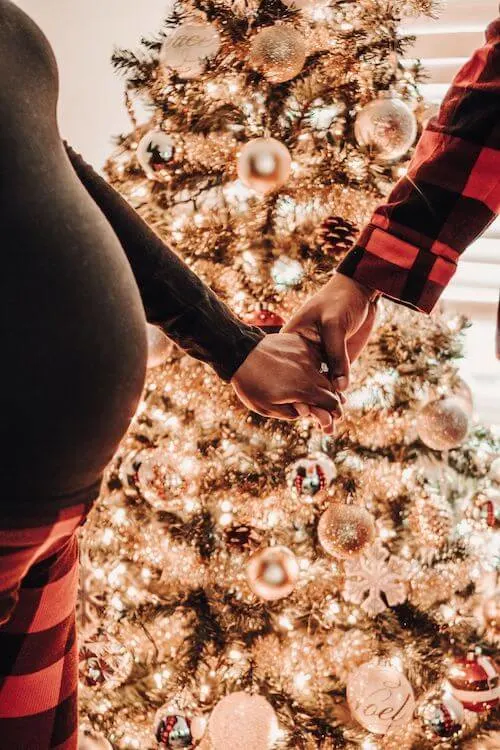 via Pinterest
All The Family Members
Who wouldn't envy such a family?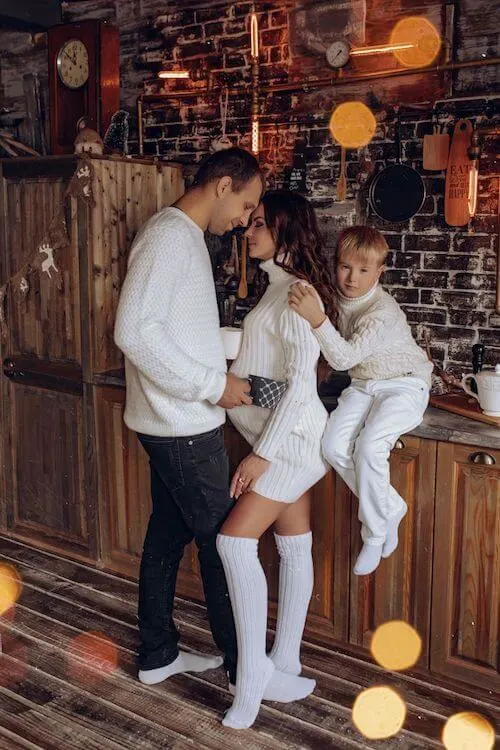 via Pinterest
Share The Special Moment With Your First Child
Take pregnancy photos with your first child and share the wonderful time of welcoming a new family member.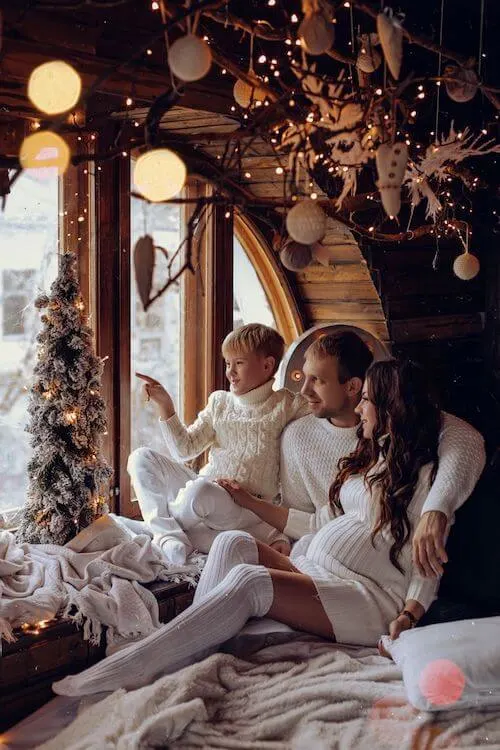 via Pinterest
Simple Pose In Front Of The Camera
This pose is not difficult to copy, but it looks very professional and very romantic.
I especially like the idea of wearing matching hats and stockings.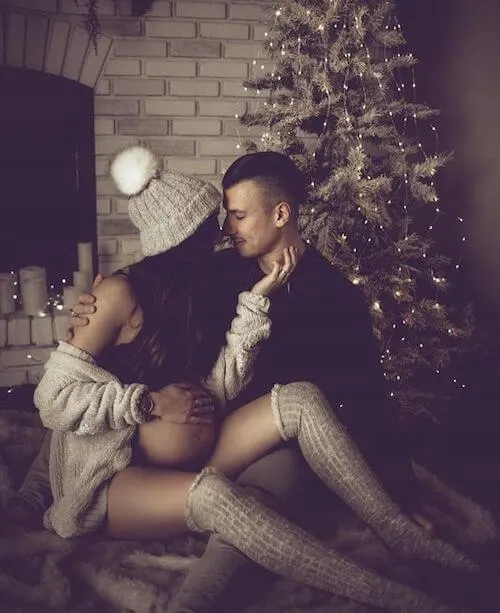 via weheartit
Lying In His Arms
Enjoy this moment in silence and look forward to the new life together.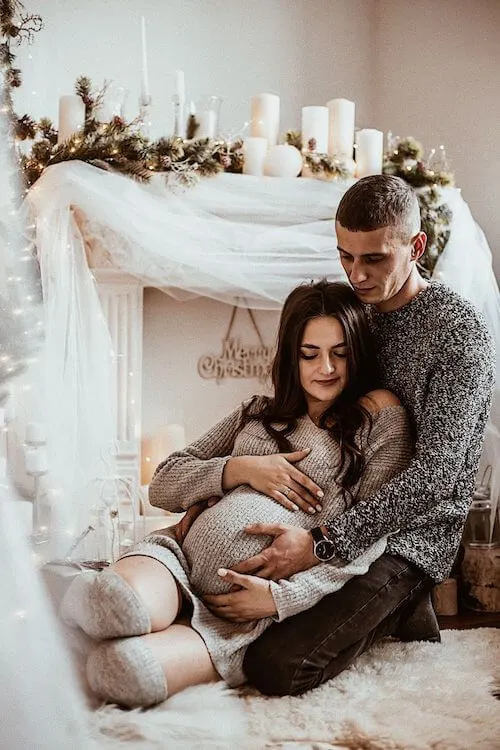 via Pinterest
The Fairy Lights
via Pinterest
Pregnancy Announcement By Your First Baby
Getting your FIRST BABY to announce this pregnancy is a great idea!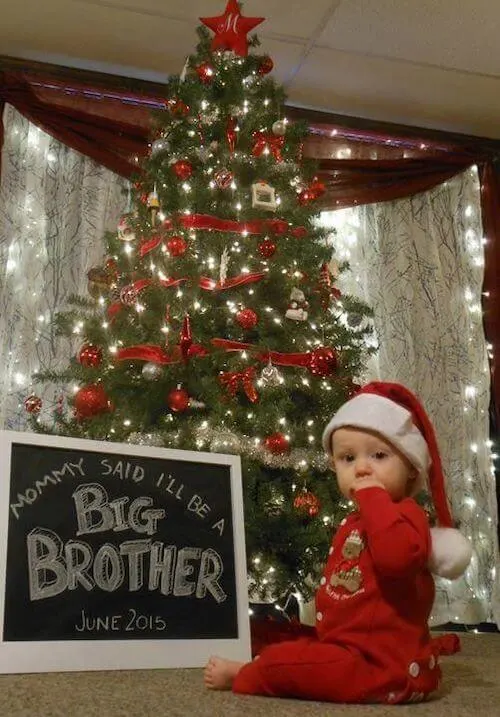 A Pair of Baby Shoes
This is such a fun way to announce your pregnancy.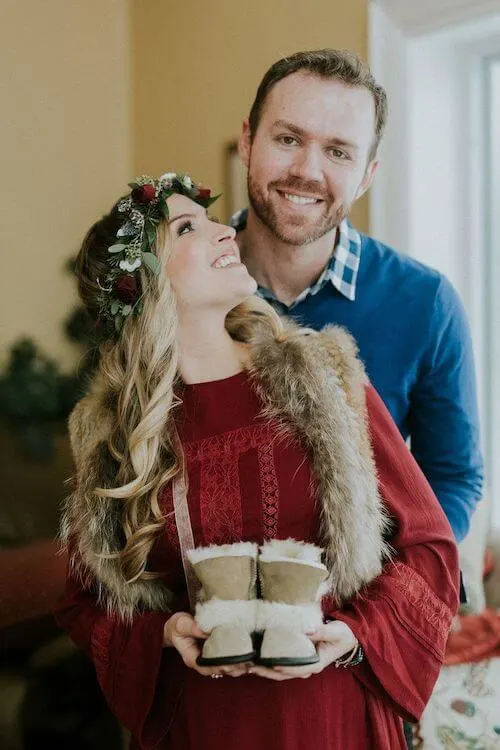 Cute Christmas Vibe Lingerie Set
Wear lingerie with a Christmas vibe and be the sexiest mother-to-be this Christmas.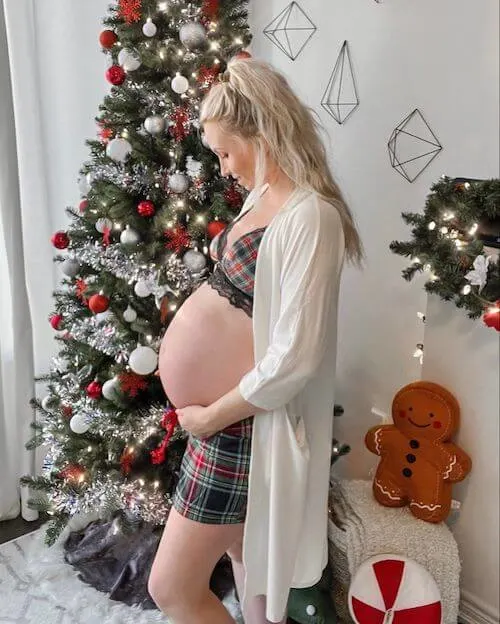 via Pinterest
Share The Special Time
Involving all the family members in the family photo is one best way to take maternity photos.
Do Not Open Until The Due Date
This is such a creative idea!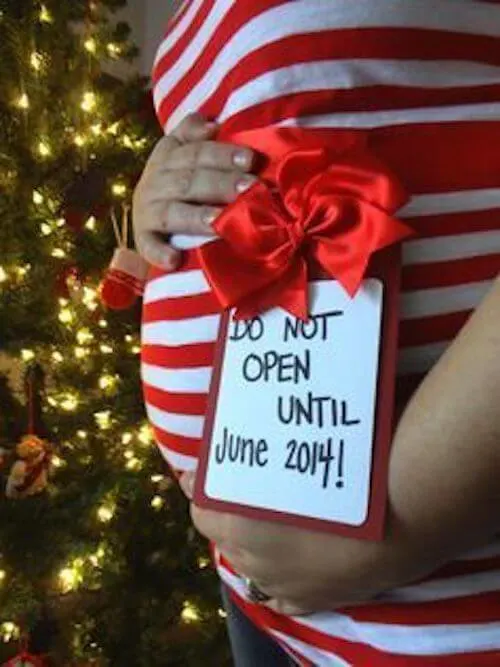 All The Family Members
A very simple photo shoot pose, with neutral color outfits to show your fashion taste.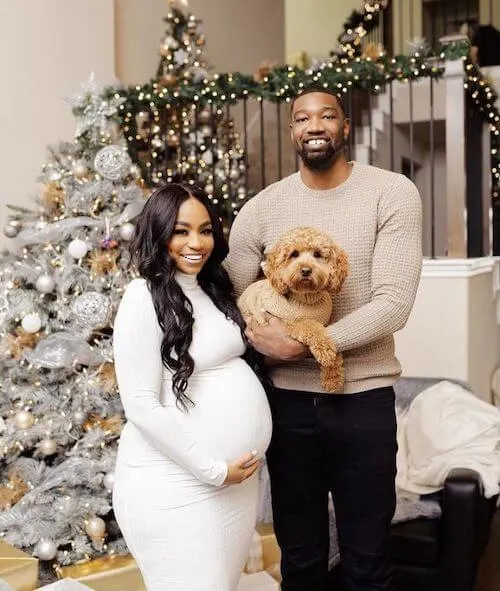 Cute Plaid Pants
Of course, you can also wear matching plaid pants to make the photos look both festive and relaxed and cute.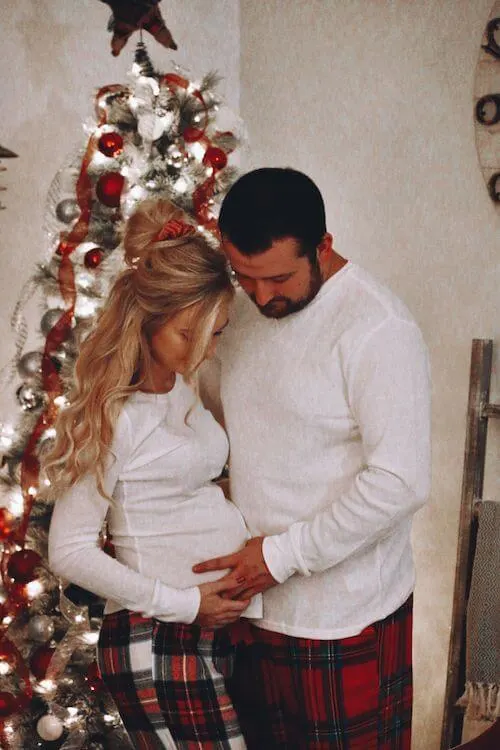 A Happy Pregnancy Announcement
Sit comfortably in front of the camera and announce your pregnancy.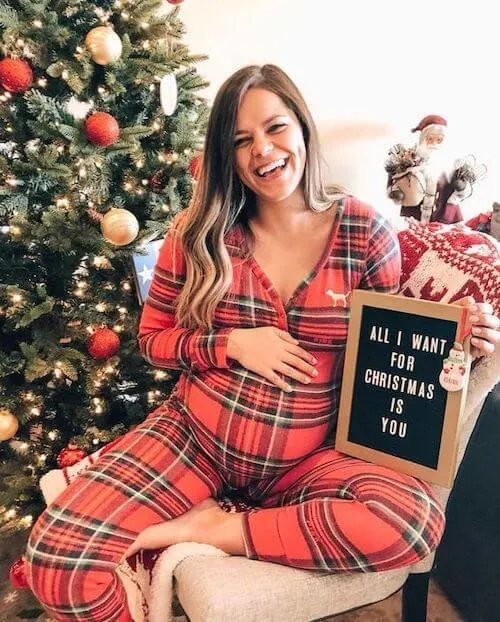 A Gorgeous Black And White Photo
Want to try a unique idea? Taking a black and white photo is one of the easiest ways to have stunning maternity photos.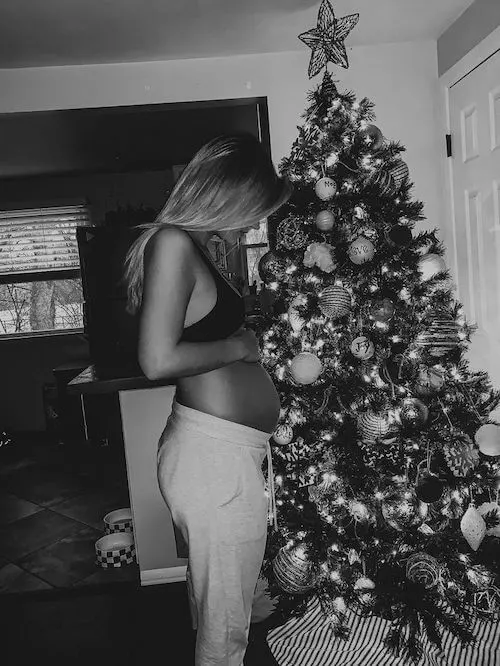 Romantic Kisses
A romantic kiss in front of the Christmas tree is a good idea.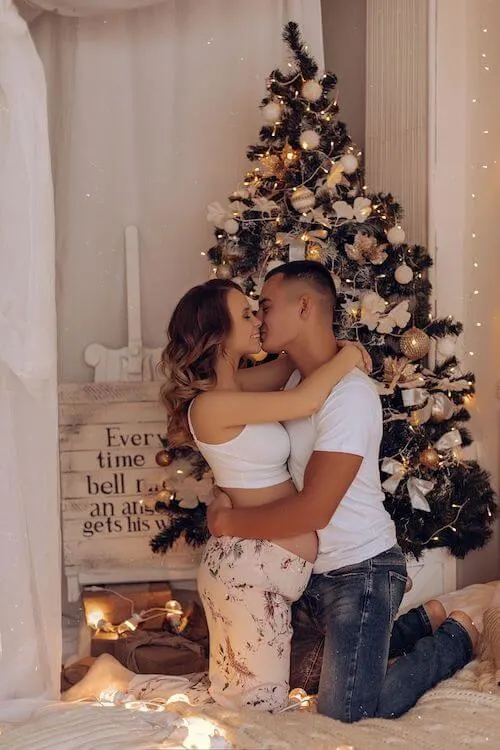 via Pinterest
Announce Together
A cuter way than the usual announcement is to let your man kiss you like in this photo.
A Great Pose In Front of Your Christmas Tree
This pose is such a cute idea! If you have a pet, it is really recommended that you try this idea!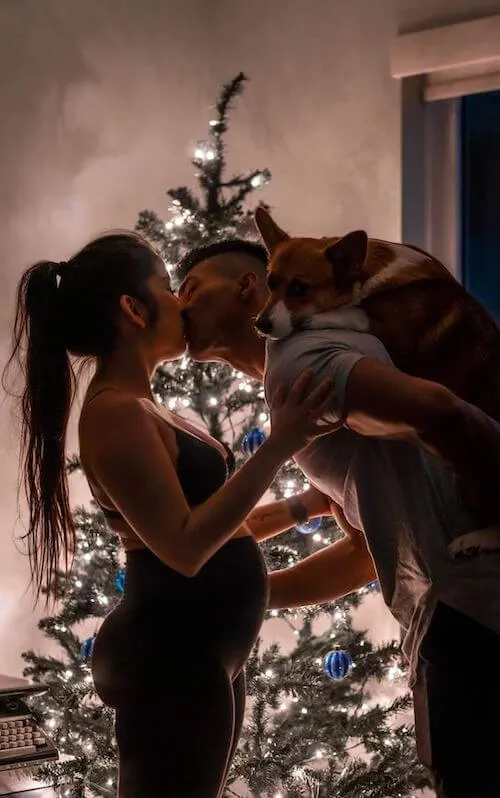 via Pinterest
Raise The Shooting Angle
You can try to shoot down from a higher angle, so that the Christmas decorations can occupy more of the picture, highlighting the wonderful holiday vibe.
via Pinterest
Use A Letter Board
Get a similar letter board from Amazon.
A Chic Maternity Skirt Outfit
Want a special outfit for your Christmas maternity photography session? Try a skirt outfit.
Kiss The Baby Bump
Having your man get down on his knees and kiss your pregnant belly is always a great option.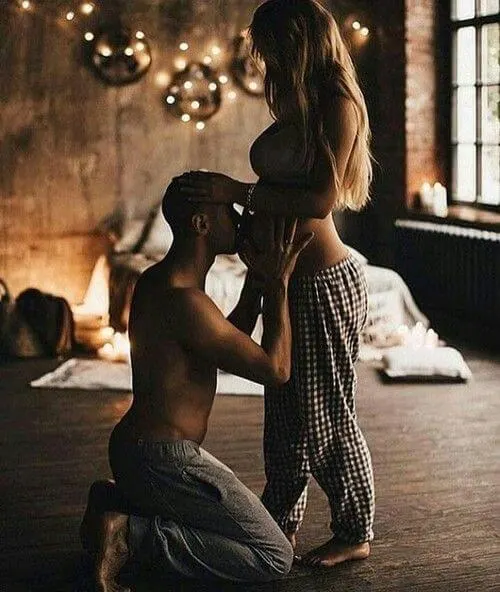 via Tumblr
Show The New Baby Clothes
I know you can't wait for the new baby to arrive.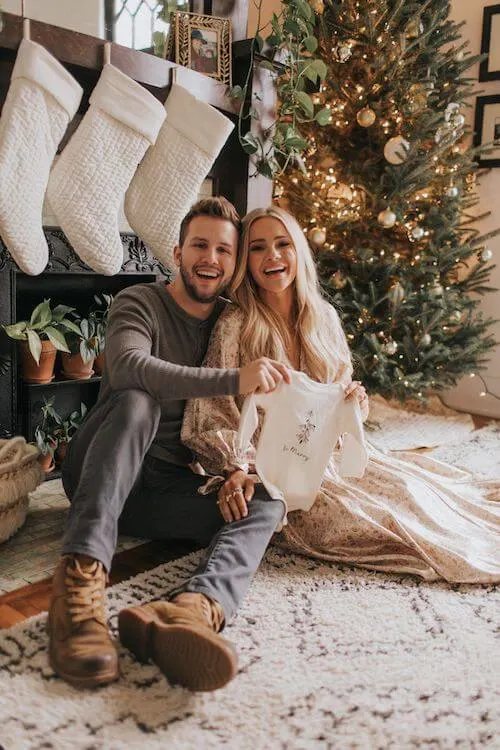 Couple Matching Outfits
Wearing matching couple outfits can easily get a very good color scheme for Christmas maternity photos.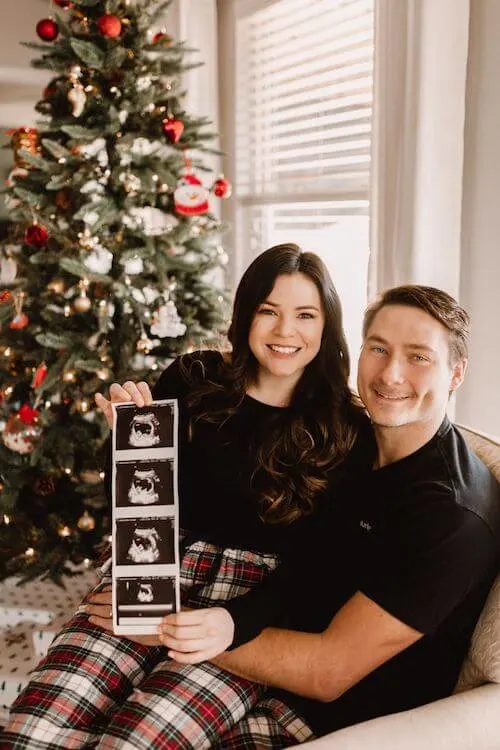 An Adorable Way To Show The Baby Bump
A baby is the best Christmas gift ever.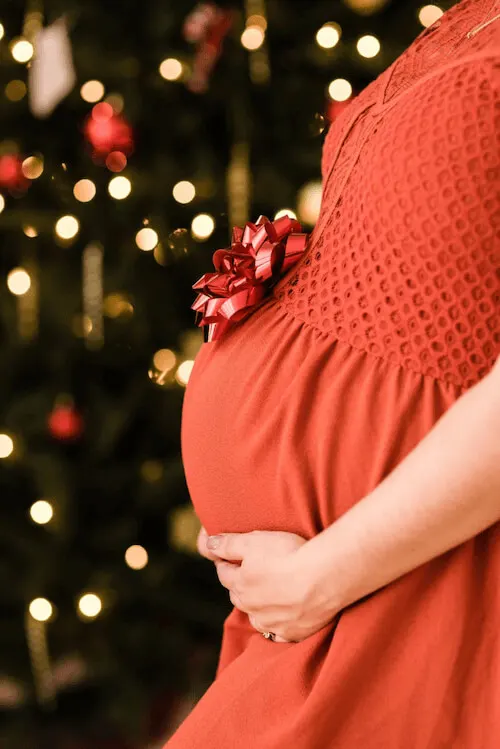 Focus On The Baby Bump
Holding a Christmas wreath together avoids the monotony of color in the photo and still looks very elegant.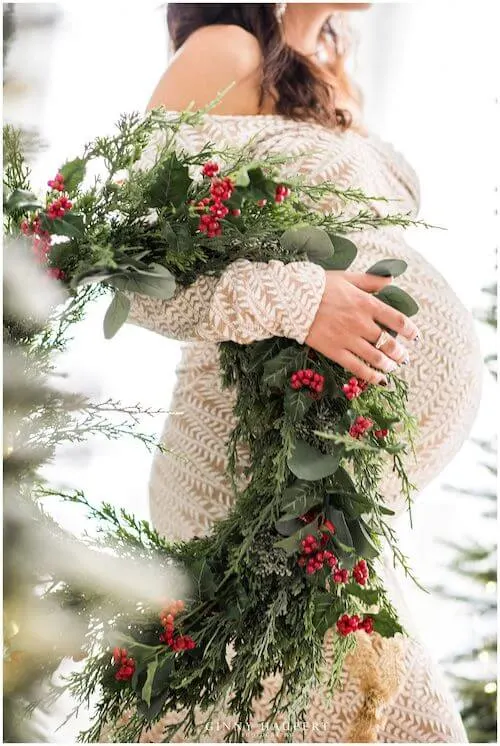 Shoot From Farther Away
You can even try shooting from a slight distance to form a unique composition.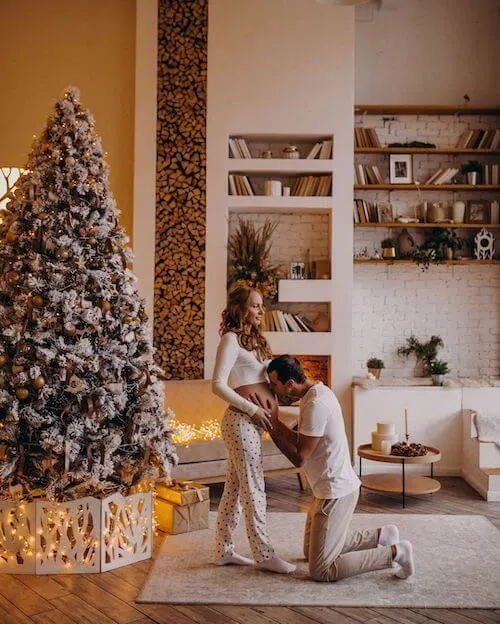 via Pinterest
Discuss The Future Together
Create a romantic and charming corner with your holiday decorative lights.
via Pinterest
In Front of the Fireplace
Snuggle up in front of the fireplace and enjoy the festive good times.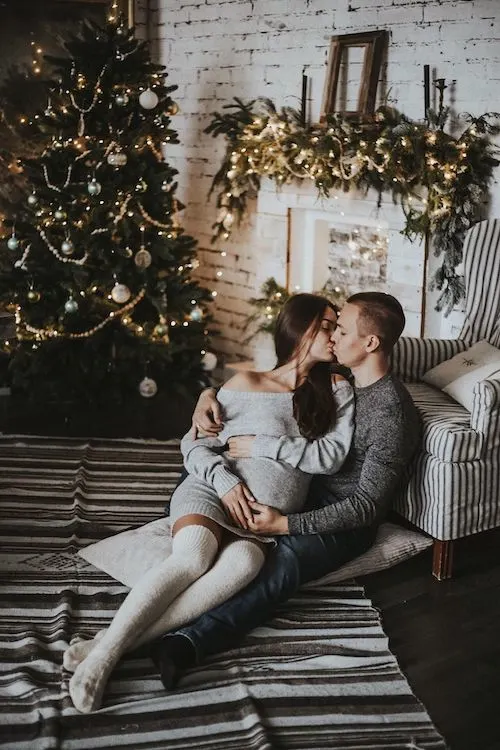 via Pinterest
How Do You Take Pictures of A Christmas Tree When Pregnant?
One of the essential props for taking Christmas maternity photos is the Christmas tree. So, how to take cute and creative Christmas tree pregnancy photos?
First, you need to choose a cute outfit for the shoot. You can wear clothes with Christmas holiday elements to echo your beautiful Christmas tree. If your clothes are rather plain, you can add a red hat to highlight the festive atmosphere. Additionally, a stunning sequin maxi dress is also a perfect option.
If you prefer a white Christmas style, it is also a creative and very chic idea for you and your significant other to wear all-white outfits together. Remember to use gold or silver decorations to enhance the festive and dreamy feel of the setting, and you can turn on a little light to make everything more glamorous.
Of course, a must-try this year is to shoot portrait silhouettes. You'll want to stand in the middle of the Christmas tree so that the outline of your pregnant belly stands out clearly. Remember not to stand rigidly, your arms can be comfortable and confident to do some movements to make your curves look more sexy and elegant.
Add A Cute Hat
Want to make your maternity photo outfit look different and very fashionable right away? Add your favorite hat.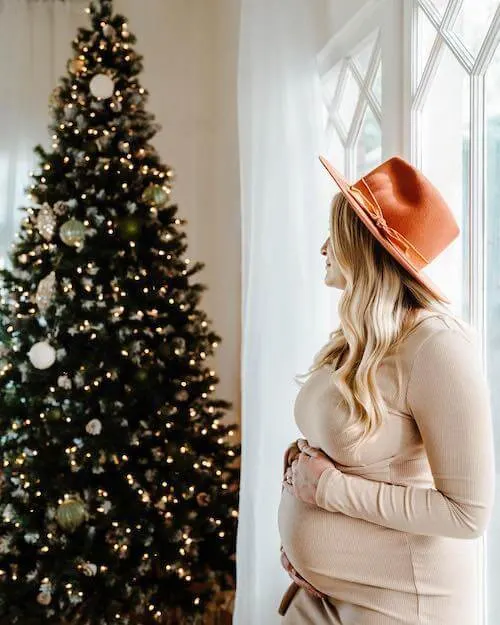 via Pinterest
Wear A Santa Hat
It is a fun idea! Wearing a Santa Hat makes the photo instantly look a little cozier with the Christmas vibe.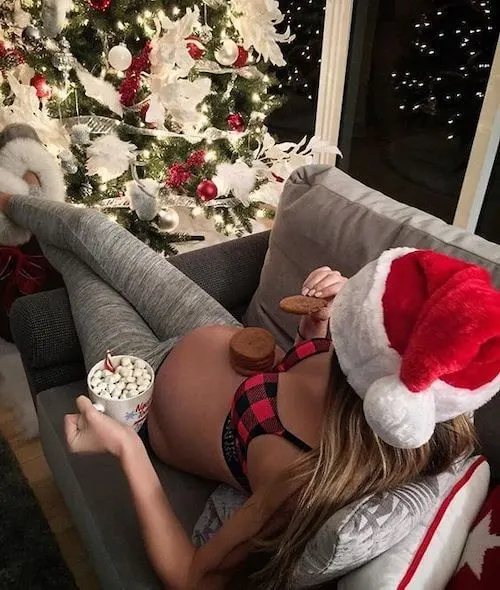 via Pinterest
Cute Christmas Vibe Outfit
Put on a Christmas hat, put on pants with Christmas elements, and then put on a short red top, you immediately have the cutest Christmas maternity photo outfit.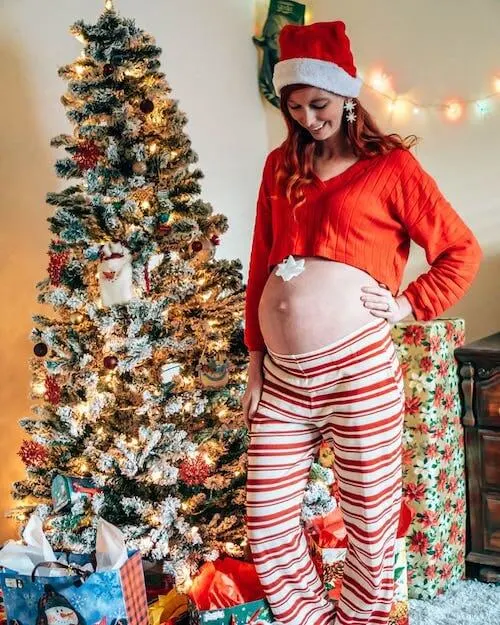 via Pinterest
A Stunning Maternity Dress
You can get this dress here.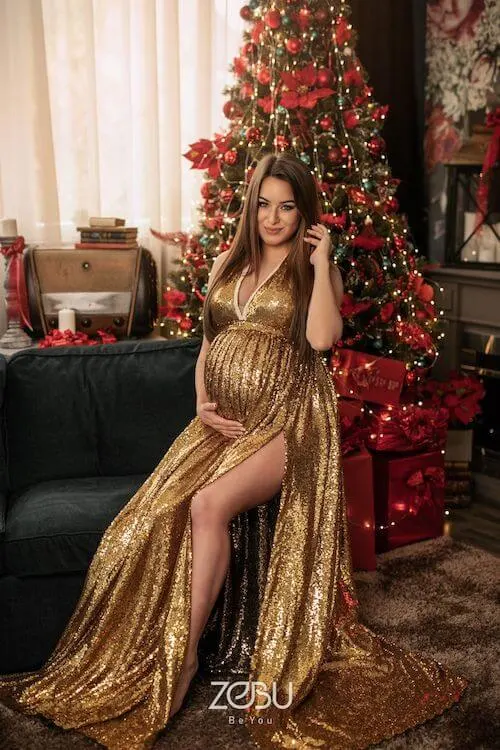 Chic All White Outfits With A White Christmas Tree
The all-white outfits are also great.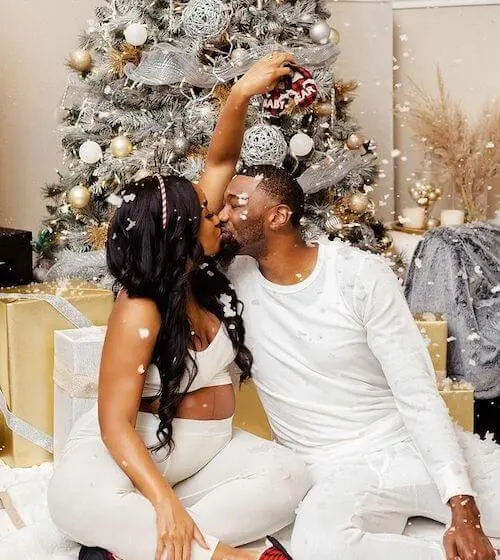 A Perfect Silhouette
Raise your arms so you can have a better silhouette line of your body.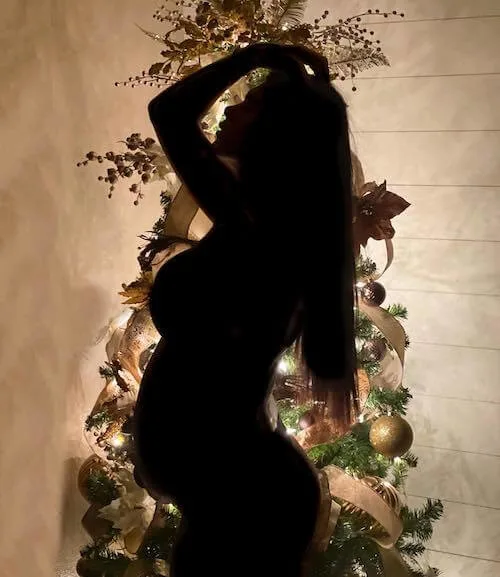 via Pinterest
A Couple Silhouette
Leave a dreamy silhouette in front of the Christmas tree with the man you love.
Best Christmas Maternity Outdoor Photos
If you choose an outdoor shoot, first be sure to check the weather conditions and avoid shooting in heavy snow and very cold weather.
Also, you need to communicate with your photographer well in advance about the location of the shoot. I don't recommend that you go to a very far away location because then you might be very tired.
You also need to bring warm enough clothes, not just the clothes you're wearing for the shoot. Warm thick jackets, long coats, thick shawls, hats, and gloves, are all recommended so that you can not only keep warm but also have different outfits to choose from.
And you also need to prepare non-slip shoes, not wear shoes that are uncomfortable and are not suitable for walking in the winter snow.
Finally, you will also need to bring hot drinks and snacks. Shooting in cold weather will consume a lot of your energy, and you need to replenish it at all times. Once you feel more tired, be sure to stop shooting. Your safety is the most important.
A Stunning Red Maxi Dress
If you're taking Christmas pregnancy photo shoot outside in the snow, there's nothing more glamorous than a red maxi dress.
With a garland of flowers, you look like a fairy.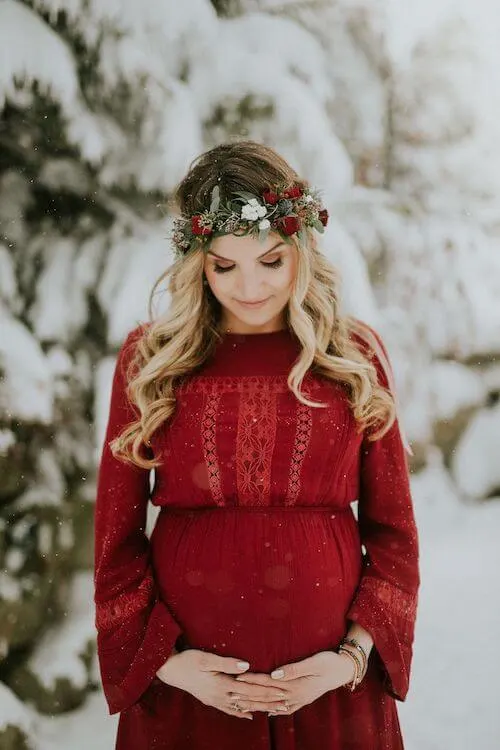 Add A Lovely Shawl
It's very cold to take a winter maternity photoshoot outdoors, so you can bring a thick shawl to keep you warm and make you look more fashionable.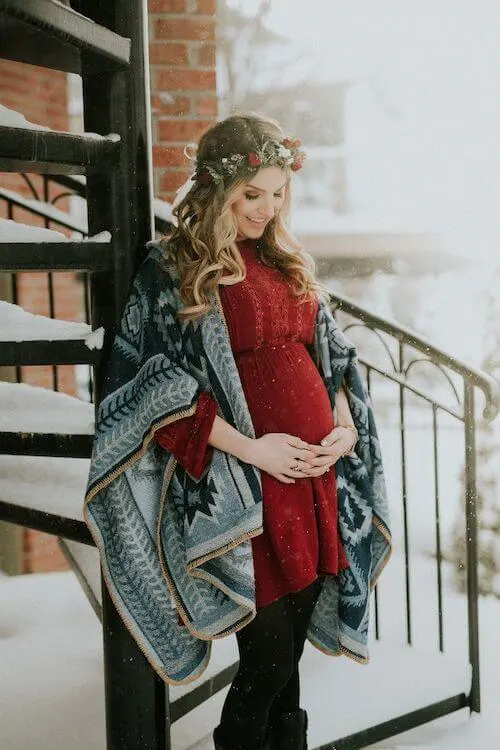 With The Older Siblings In The Golden Hour
The cream color is perfect for a winter maternity shoot in the holidays.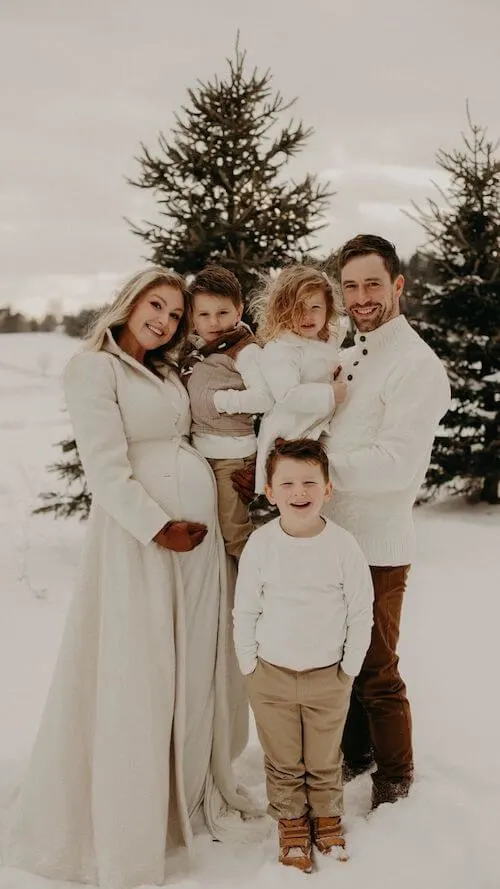 via Pinterest
Show Your Natural Beauty In The Natural Light
You can also relax and enjoy your pregnancy in your casual Christmas outfit.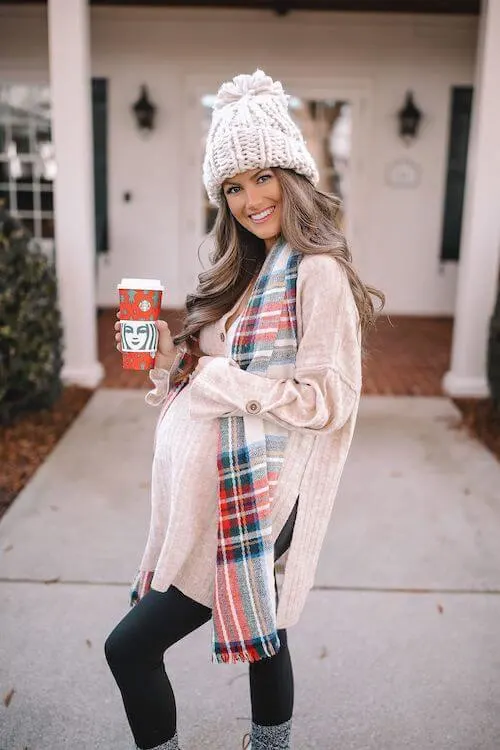 A Big Brother
Letting your first child loudly announce the arrival of your new baby is an excellent way.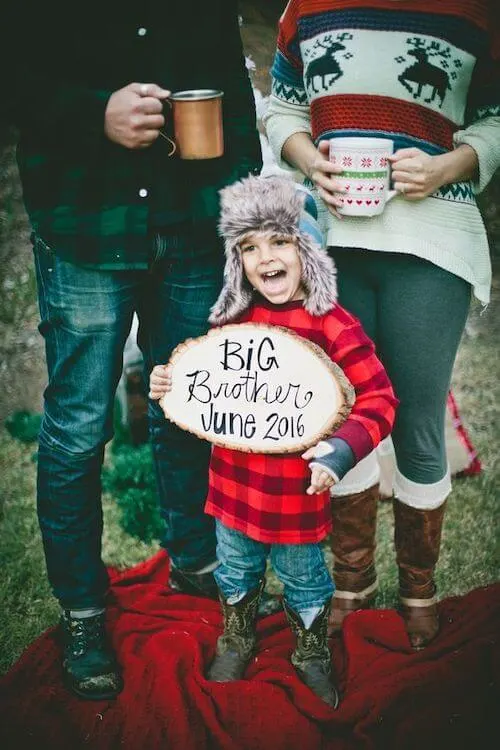 Visit A Local Park or Playground In the Holiday Season
Outdoor shots for Christmas pregnancy photos are not just confined to an open field. A local park or playground is a perfect location. Visit them and enjoy date time together.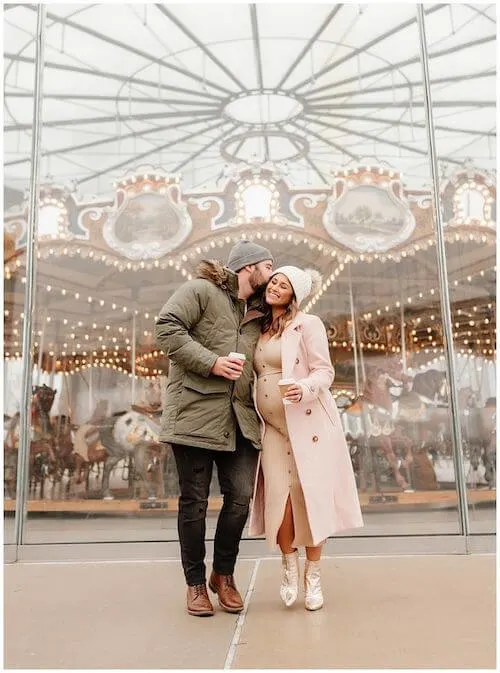 In Front of the Door
Even at your own door, you can have the very best Christmas maternity photos!
Remember to light up your Christmas decorations!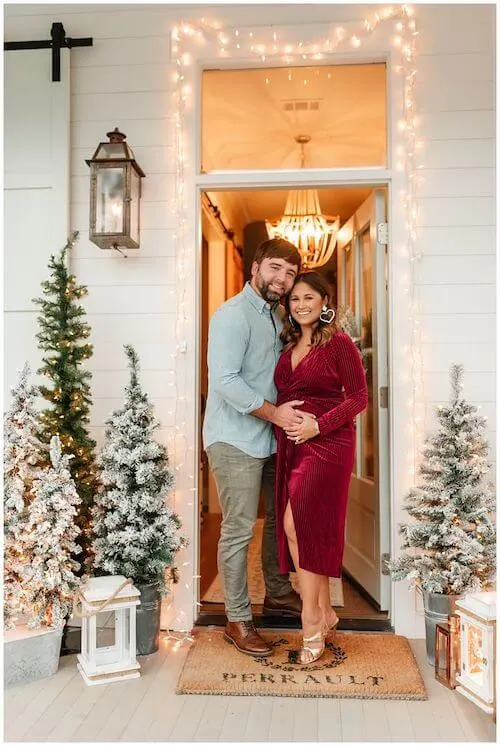 Christmas Time Smile
Feel free to wander around, spot your favorite Christmas decorations, and take photos.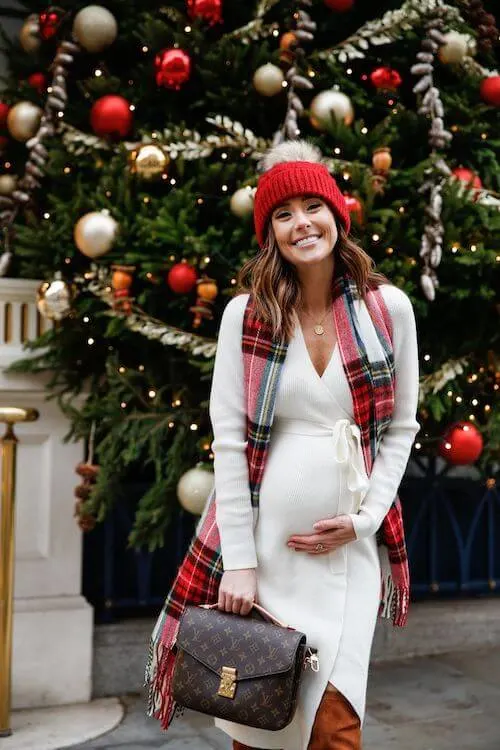 Beautiful Snow Backdrop For Maternity Portraits
Have a cozy photo with your man when the snow is flying, taking the advantage of the stunning landscape.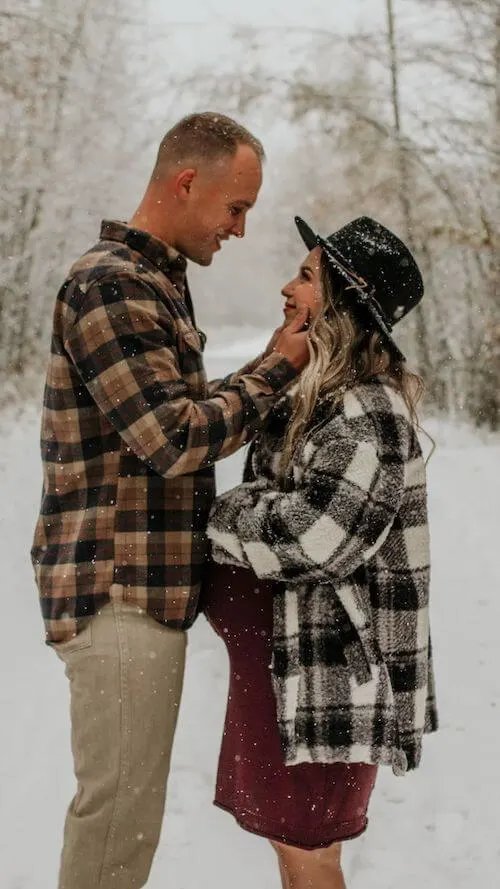 What To Wear To Christmas Maternity Session: Best Christmas Maternity Photoshoot Outfits
The most important thing about taking pregnancy photos is choosing the right photoshoot outfits.
One Pro Tip: even if you are taking pregnancy photos of the whole family members together, you should start by choosing the mother's outfit.
Because after all, women will have a wider range of clothing styles and color choices.
Once you have chosen the most suitable and favorite outfit for the mother, then choose the outfits of the other family members according to this outfit as well as the color and style of the shooting location. This will make the process much easier.
So, what to wear for the Christmas maternity photoshoot sessions for women?
Ahead check our favorite Christmas maternity outfits for women to shop directly from our favorite retailers.
White, Cream, or Beige Sweater Dresses
White, beige, or cream sweater dresses are perfect for winter holiday photo shoots and look warm and sweet.
I suggest you choose thinner sweater dresses, they help you show off the shape of your pregnant belly better than thicker sweater dresses.
You can choose a long sweater dress. If your sweater dress is shorter, you can add a pair of stockings in a similar color.
Shop The Outfits

Red Dresses
Various red shades of dresses are also perfect for Christmas maternity photo shoots.
Whether it's a red knit dress or a red long-sleeved lace dress or burgundy velvet ones, they look great indoors in the holiday lights or outside in the snow.
Shop The Outfits

Cute Christmas Pajamas
What better way to showcase the blessings and joy of the holidays than with a cute Christmas element pattern?
You can wear them in sets or just pants and pair them with a simple top, and you'll look great.
Shop The Outfits

Christmas Vibe Lingeries
Show off your sexiness and elegance in your Christmas pregnancy photos. A great set of Christmas-style lingerie is your best choice.
Put on a knitted cardigan or oversized thin top and you can make your Christmas pregnancy photos quite charming.
Shop The Outfits

This post was all about Christmas maternity photoshoot ideas.
About The Author
Tracy is an experienced personal stylist, shopping expert, and fashion & lifestyle blogger. She has been featured on Time Magazine, Bustle, Best Life, Glam, The Zoe Report, Mic, and GOBankingRates, for her insights on fashion, beauty, home decor, and lifestyle. Read More
Related Posts: