Want to know how to style a white button down shirt for women? Check this post for the 50+ trendiest ways to level up your look this year!
In the memory of every girl, there is more than one woman who wears a white button down shirt beautifully. They have influenced our impression of white shirts: is it simple and classic, or elegant.
I was particularly impressed by Gwyneth Paltrow, who loved to wear a white button down shirt in "A Perfect Murder." It's not just how stunning her look was, but the details of the dressing up of "Emily" in the film, which was very touching.
For example, she wore sexy black lace in a white shirt, and lace-rim stockings were secretly hidden in her skirt, and Emily liked to wear a white button down shirt with pearl necklaces and diamond earrings…all looks of elite women.
Carolyn Bessette-Kennedy, another my favorite beauty in a white button down shirt.
She was a minimalist style icon in the 90s.
Her most famous white shirt look was the one she attended at the Whitney Museum dinner. The Yohji Yamamoto white shirt was paired with a black skirt of the same brand. It was simple and elegant, which matched her temperament.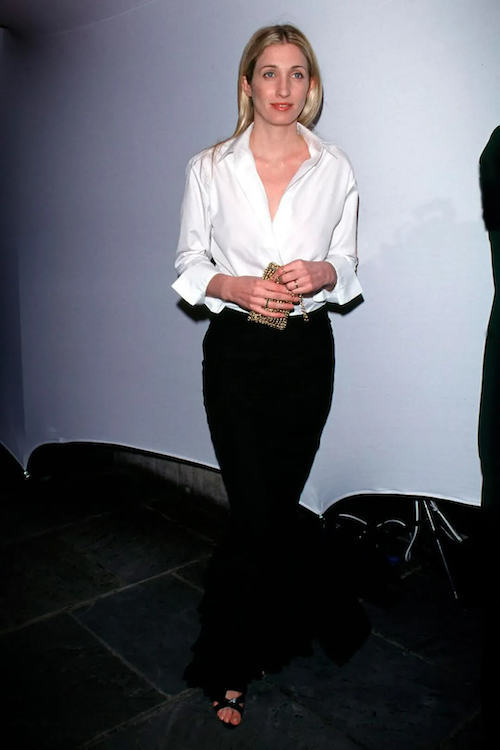 She also likes to wear white shirts in daily wear, but she chooses a large and comfortable silhouette, paired with jeans and flip-flops, so that she can enjoy life casually and easily.
But whether it is attending a dinner party or privately relaxing, she will minimize jewelry. The status and taste are there, naturally.
Women in the workplace also like to wear a white button down shirt.
Like the columnist Andy in "How To Lose A Guy In 10 Days", her work outfit was a white button down shirt with moderate tailoring and a slim skirt that can show curves. Professional, sexy, and feminine.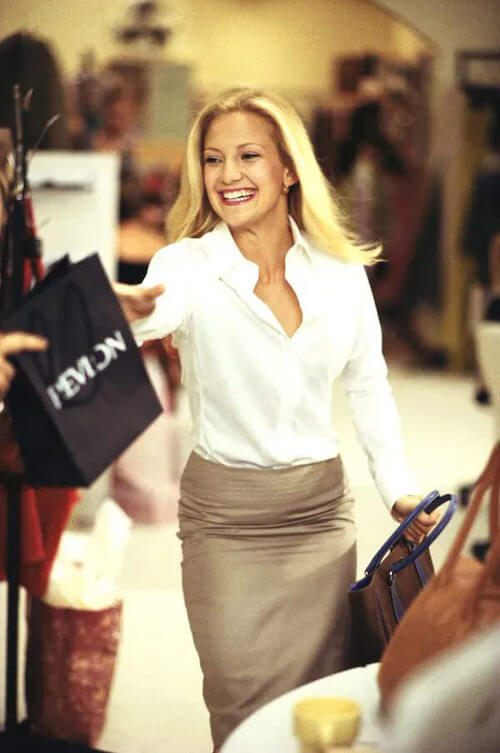 There are more ways to style a white button down shirt for women as a work outfit now.
For example, Rosie Huntington-Whiteley likes to wear a white button-down shirt with slim bottoms, emphasizing fashion and style rather than sexy curves.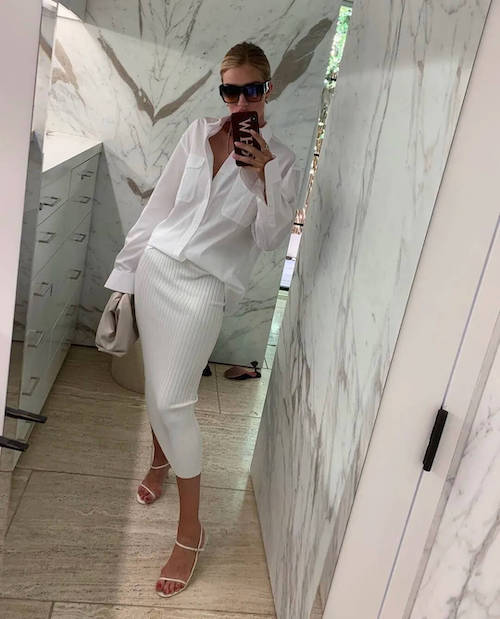 The combo of shirt + suit pants has also changed.
The formal way of wearing white shirts into trousers is a bit old-fashioned from the perspective of the trend; you might as well choose a looser, lighter style, combined with a tank top and a fashionable belt.
This outfit has a better proportion and more details, looks elegant and particularly relaxed, which is what modern women want.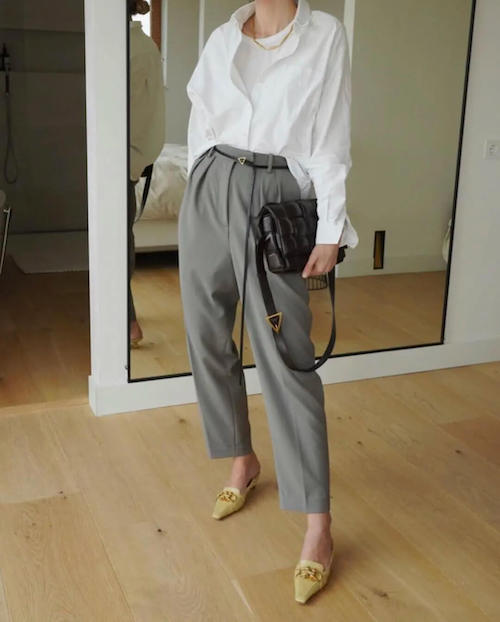 So today, we want to talk about different trendy ways to style a white button down shirt for women. Scroll down to check the ideas and styling tips, and don't forget to pin the images you like.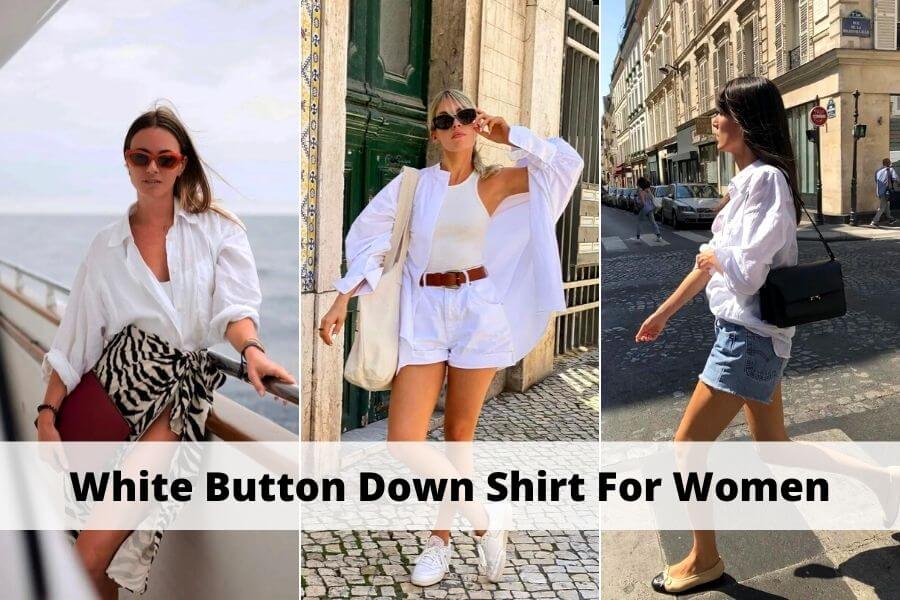 This post may contain affiliate links, which means I'll receive a commission if you purchase through my link, at no extra cost to you. Please read the full disclosure here.
This post is all about white button down shirt for women.
How To Style A White Button Down Shirt For Women
White Button Down Shirt + Khaki Pants
When I mentioned white shirts and khaki pants recently, I would think Kendall Jenner. We have talked about her fabulous oversized button shirt outfits many times.
VOGUE praised the outfit.

Suddenly, this style became popular! Rosie Huntington-Whiteley shared her outfits on IG, wearing a white button down shirt + khaki wide-leg pants, and one more Birkin.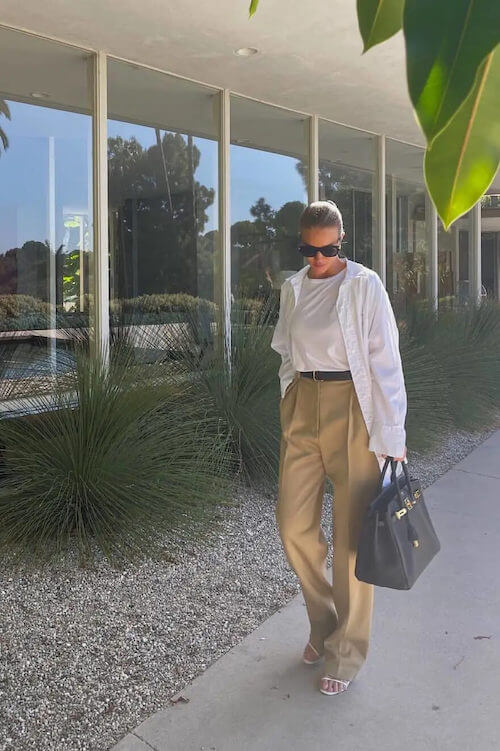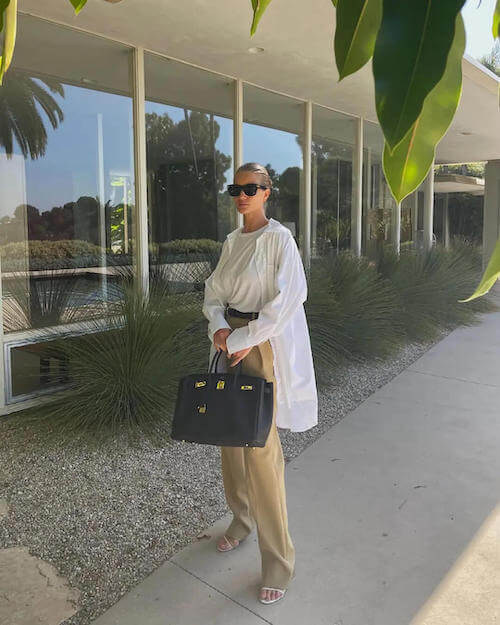 This combo is simple and fashionable, professional but not as serious as the traditional work outfits and soon became more and more popular among bloggers.
From supermodel Elsa Hosk to Beatrice Gutu, Sophie Andrew, and other famous influencers, they are all copy this idea!
The key is to add a white tank top and a dark color belt to lift the waistline.
Don't ignore this belt. It can clearly show the waistline and emphasize the difference between white and khaki, which is more fashionable.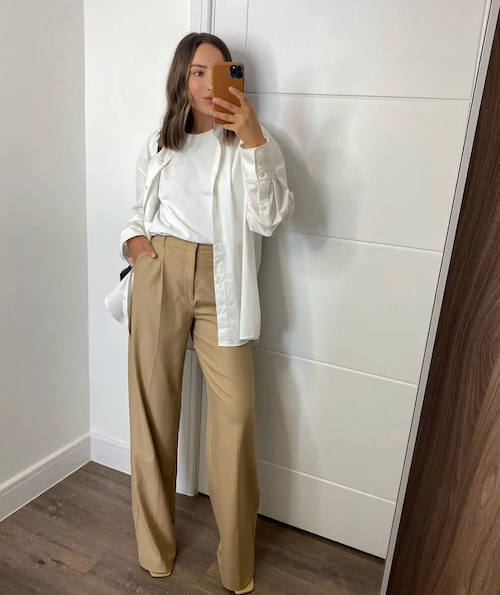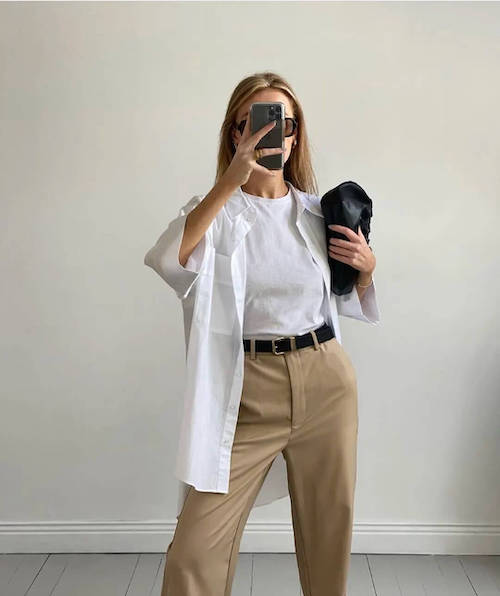 It is also stylish to wear a white button down shirt and khaki pants.
For example, learn from Anais Eleni to choose a simple and casual style, loose white silhouette shirt, and a pair of khaki linen wide-leg pants, which is very comfortable and cozy.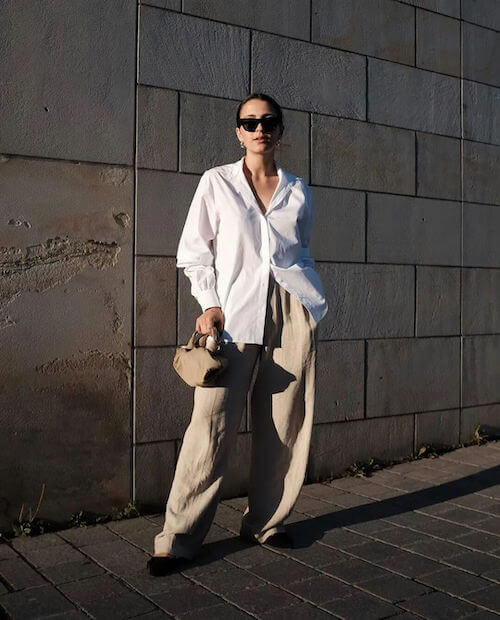 Want to show your figure more? Please put the hem of the shirt into your pants and move up the waistline so that the proportions will naturally become better.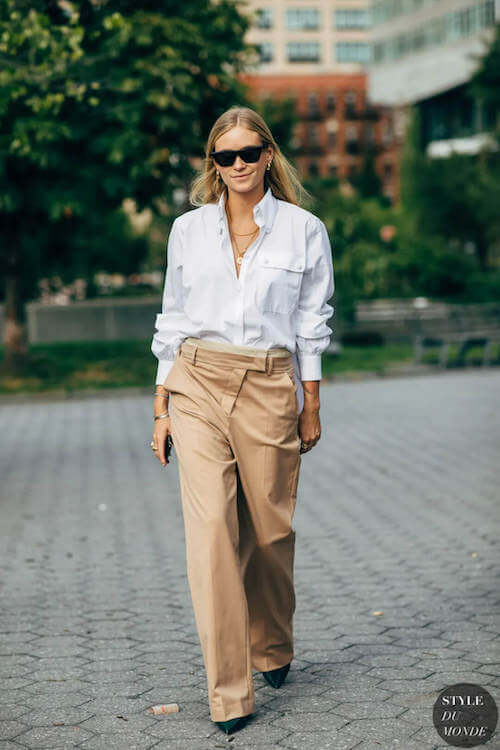 In addition, you can also use pointed shoes to extend the leg length further.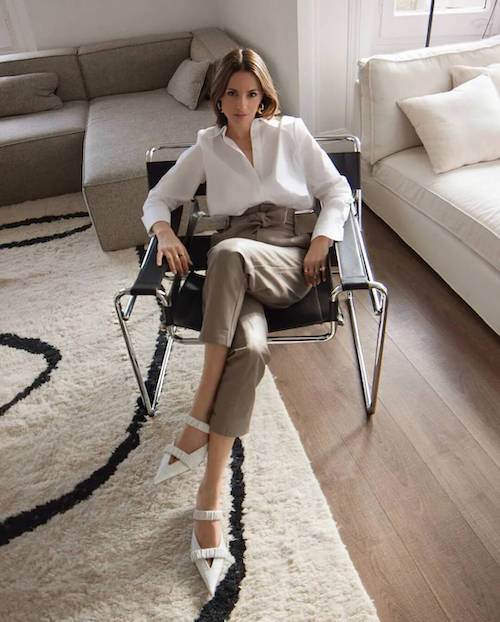 White Button Down Shirt + Jeans
Emmanuelle Alt, the former French editor-in-chief of "VOGUE," loves this formula.
Emmanuelle's standard summer wardrobe includes a white button down shirt, a pair of cropped jeans, pointed-toe heels, and a Cartier Tank watch. Neat, free, and chic.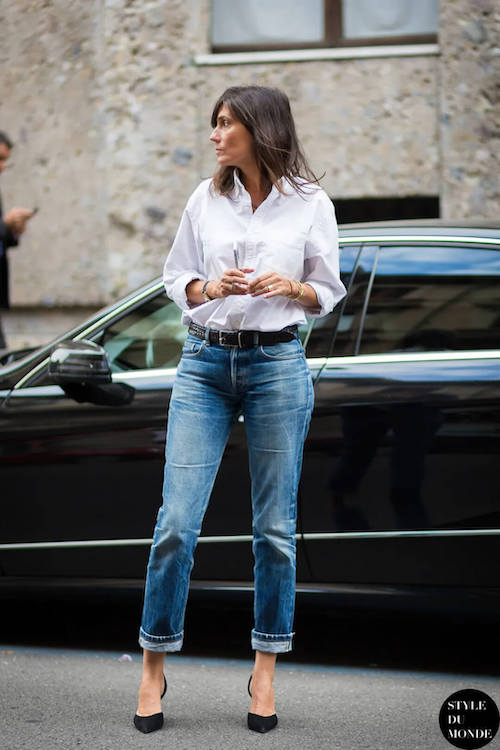 Those editors in Europe are almost all in this outfit.
Another example is Sarah Harris, the deputy editor-in-chief of the British version of "VOGUE," wearing a classic white button-down shirt and jeans.
But she prefers shirts with a sense of design, flat sandals, and a Rolex watch.
If you don't want to be so serious, a white button down shirt with straight jeans looks more relaxed and casual.
Leia Sfez and Anouk Yve both love to wear it like this. They even chose the same pair of Chanel ballet flats.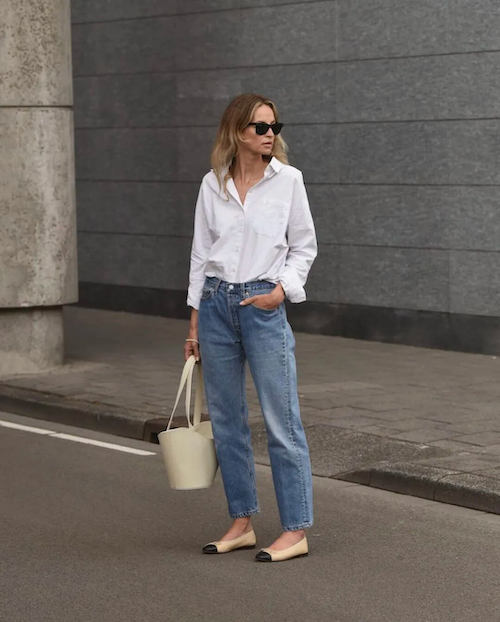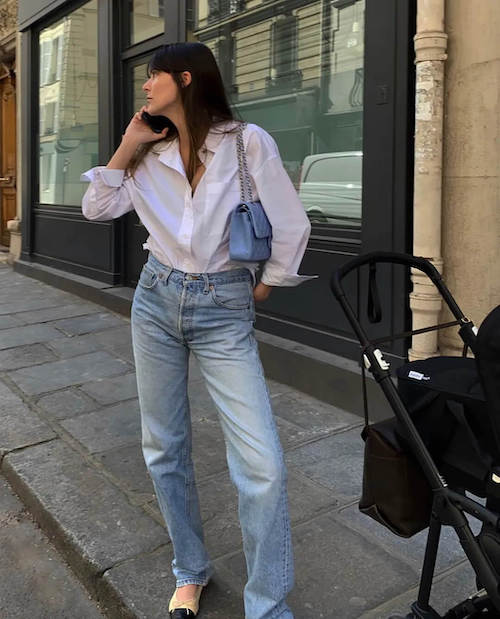 The style is always popular among bloggers. It is visually casual, but it also has a sense of fashion and is great for work, shopping, and dating!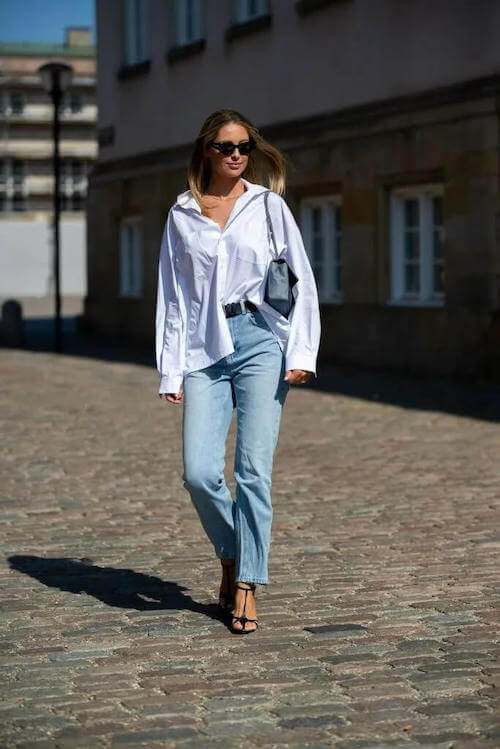 If you are tired of wearing white shirts and blue jeans, please immediately change into white jeans with a pair of white or nude strappy sandals; the whole person is refreshing and full of a summer vibe.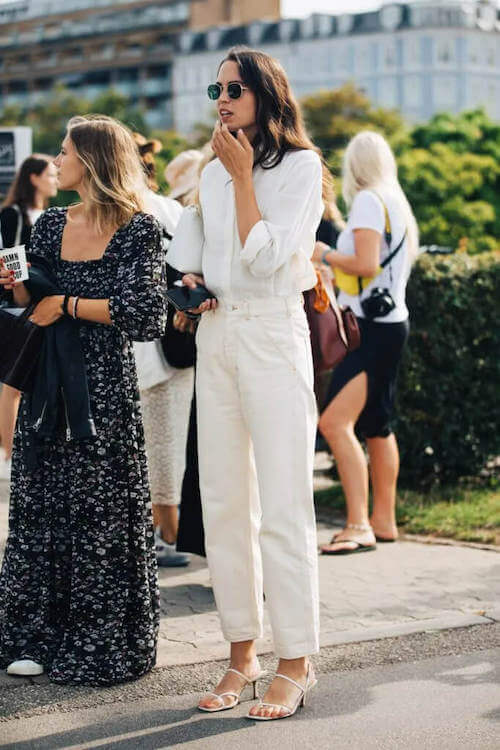 Remember to put out the hems of the shirt, roll up the sleeves, and wear the flip flops… Fashion girls' summer, it's better to be casual!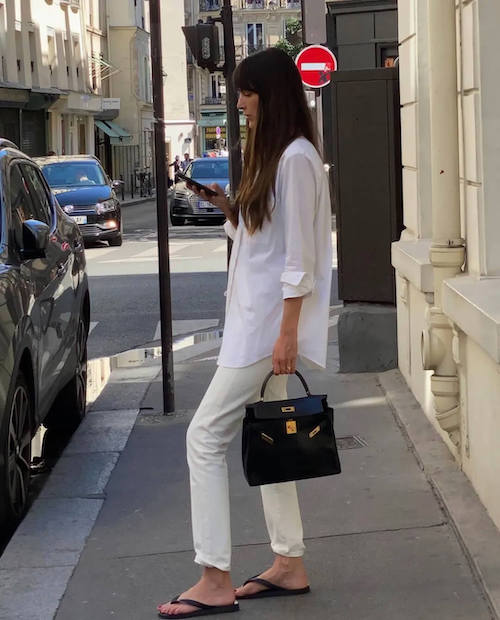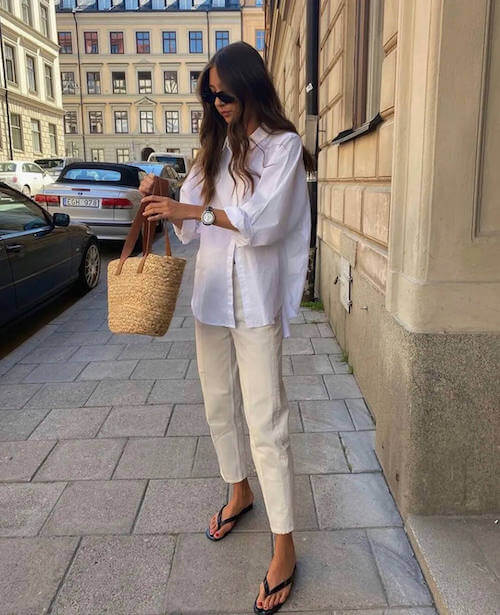 If you are worried that all-white is too dull, you can add a little "color" to the details of the accessories.
The most common black-and-white outfits can't be wrong. Belts, sandals, and bags can all be the finishing touches for white shirts.
White Button Down Shirt + Shorts
The weather is so hot that you can't wear long pants. Cool shorts have become a favorite of girls.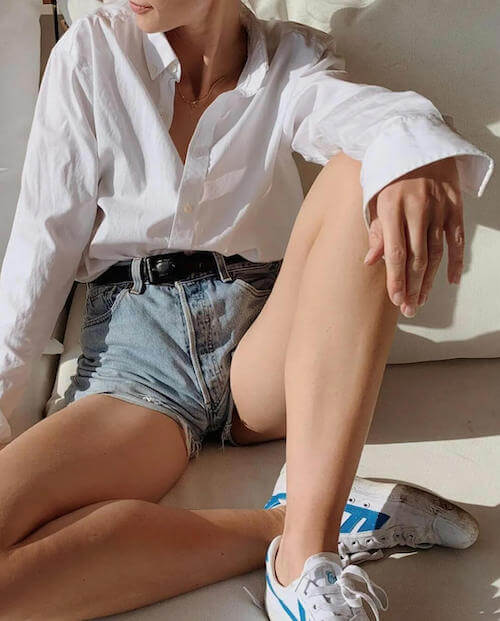 Denim shorts are the first choice, especially blue ones, mid-high-waisted, low-waisted, short hot pants, or loose-fitting styles. I believe that every girl has a lot of them in her wardrobe.
Like the free and easy frayed jean shorts and the high-waist Bermuda style, the style is different.
The former is suitable for wearing a light cotton and linen shirt, which is free and casual; the latter is ideal for a silhouette shirt. Bermuda jeans are also fashionable and exquisite.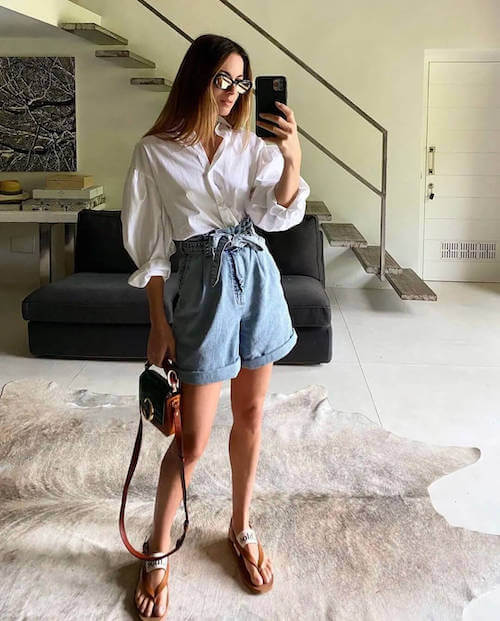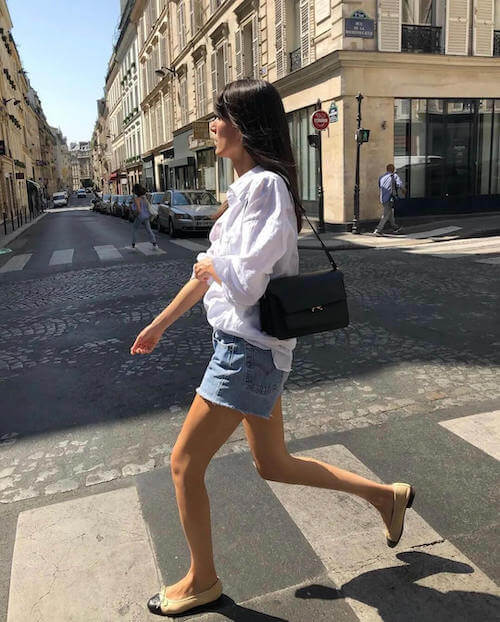 Have you noticed that in the past two years, long shorts are also trendy?
My favorite work outfits blogger, Anouk Yve, chose a pair of dark gray denim Bermuda shorts, paired with a white button down shirt and a large tote bag. It is simple, neat and fashionable, and can be worn to work.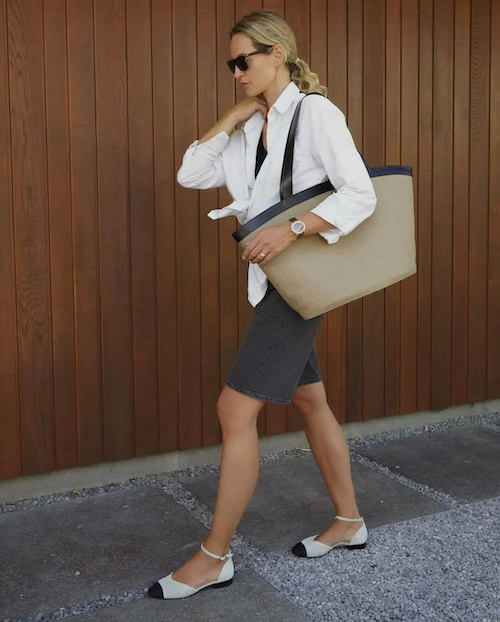 In addition, biker shorts have also returned to the trend this summer, and they are suitable for matching with a white button-down shirt with a sense of design: models and influencers like Elsa Hosk all like this idea.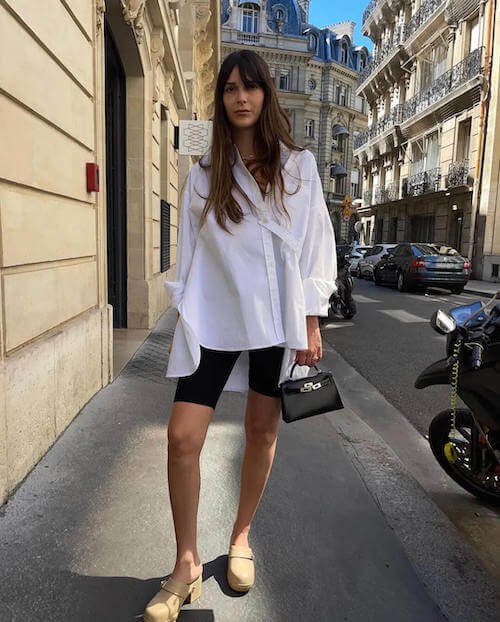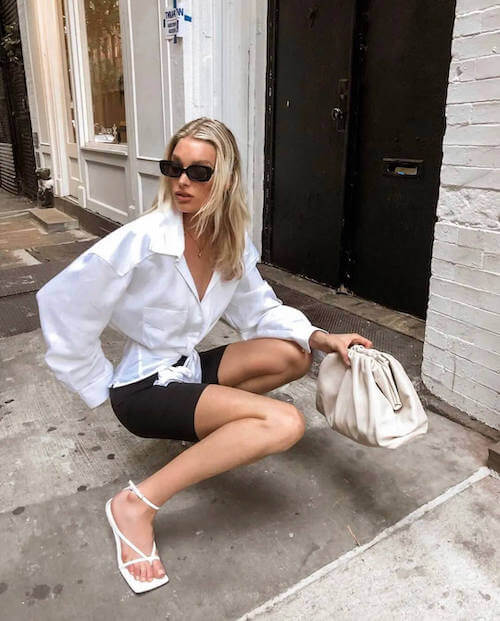 But among so many summer shorts, I love the classic khaki.
Choose a white button-down shirt in your closet. The khaki shorts can perfectly pair with them, whether it is an oversized silhouette or a trendy sleeveless shoulder pad top.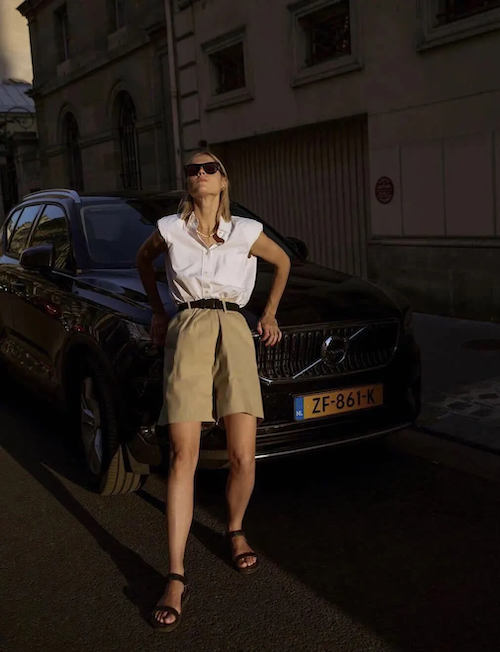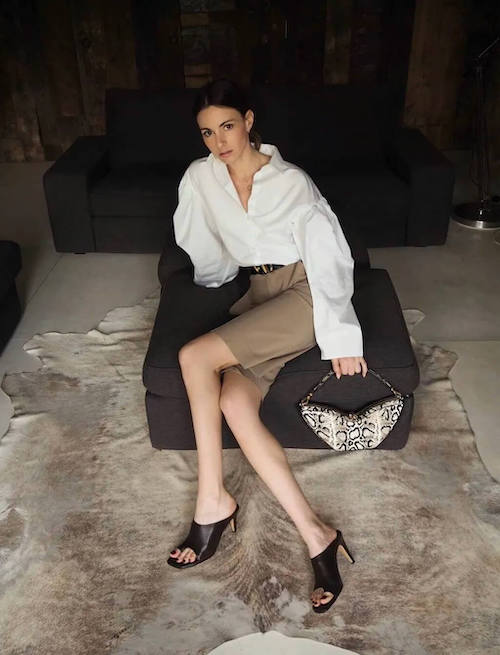 In addition to these daily outfits, white shirts + shorts are indispensable in the vacation outfits of fashion bloggers.
Is this outfit of blogger Georgina Lennon familiar? I think it is the shorts version of the famous Kendall Jenner outfit, and it looks cute!
Viky Rader's outfit is fantastic for a vacation! It is a collection of trendy elements such as a Logo top, short-sleeved button-down shirt, bucket hat, etc. It looks very comfortable and stylish.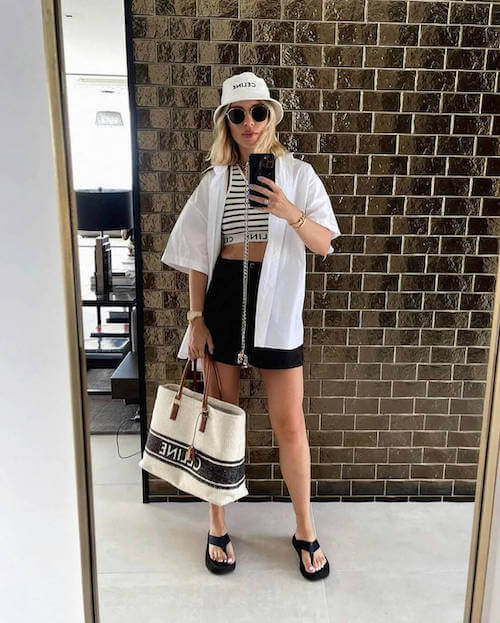 So please bring one or two white button-down shirts in your bags every time you go to the beach or vacation, which can be used outside of bikini tops and buttons for your beach outfits. They are so stylish and practical.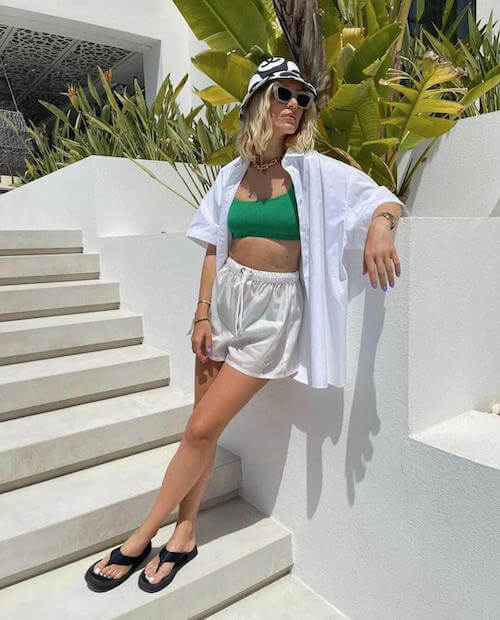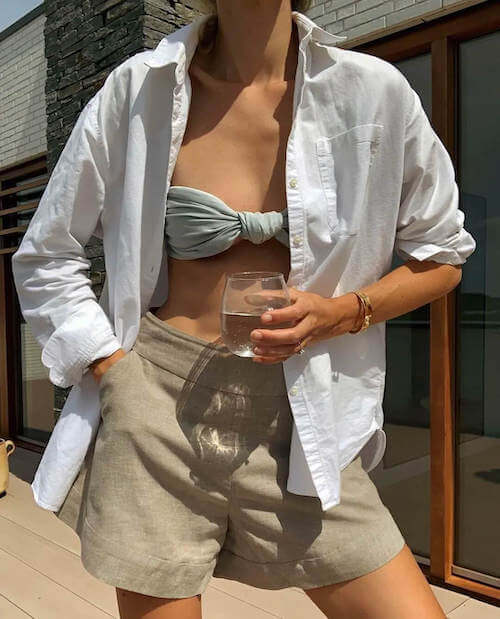 White Button Down Shirt + Skirt
This kind of outfit is also beautiful and fairy.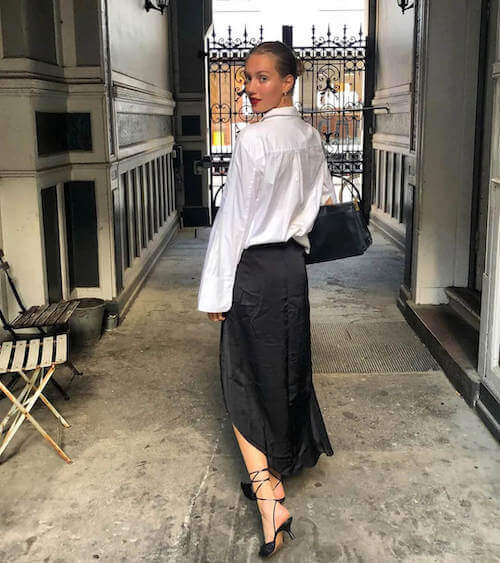 The leather skirt is so popular now. If you don't know how to wear this item, choose a white button down shirt. The shirt balances the while and sexy style of the leather shirt, smart and good taste, and is suitable for a work outfit or a date outfit.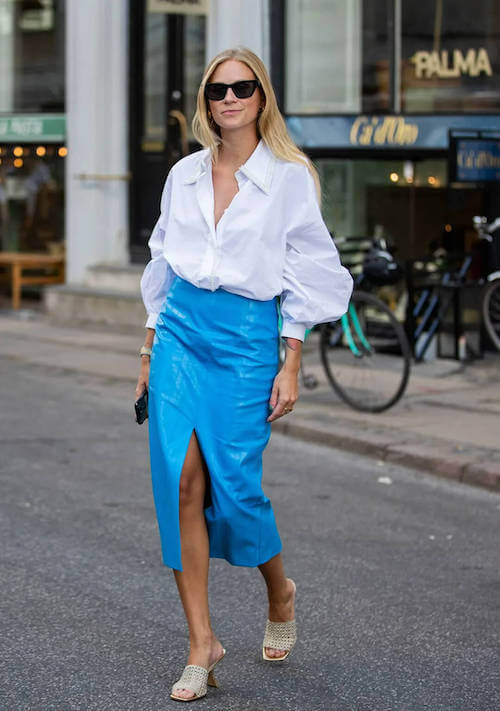 Change the above skirt into a printed wrap skirt, and the whole look becomes a vacation style, and it looks so romantic.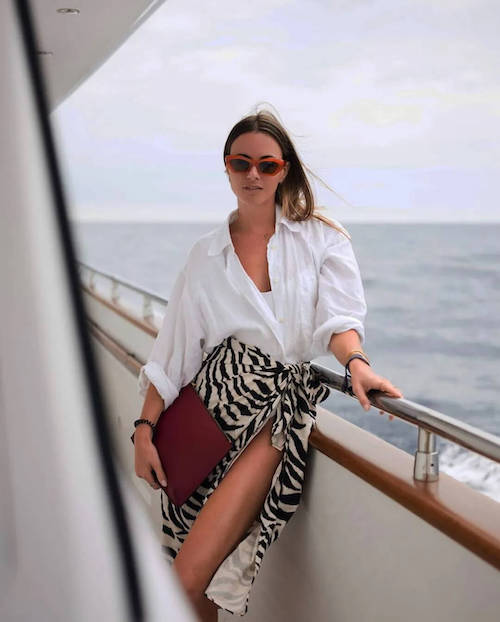 The bright-colored skirt that is indispensable in the summer wardrobe, of course, can also be paired with a white button down shirt, which gives it a bright and casual feel.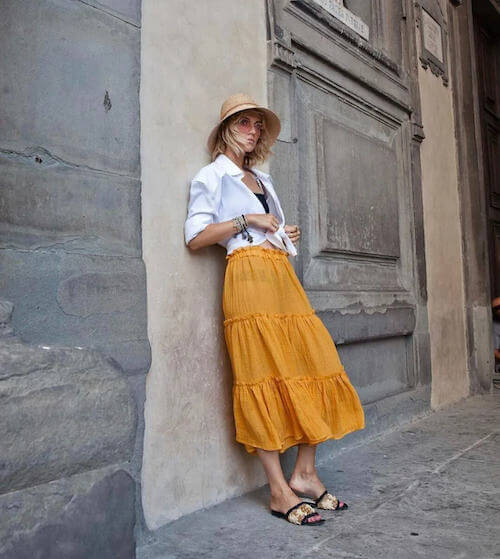 So, how do you usually wear a white button down shirt?
This post was all about white button down shirt for women.
Related Post: