Looking for classy white jeans outfits for ladies? Check this post for expert tips on how to style white jeans, and the best white jeans outfit ideas to wear all year long. From casual white jeans outfit ideas for spring summer to chic style tips for white jeans for fall winter, we've got you covered.
White jeans have become a wardrobe staple for every fashionable woman.
They are versatile, chic, and endlessly stylish.
Whether you're heading out to brunch with the girls or need something to wear to your best friend's wedding, there's a classy white jean outfit for every occasion.
This article will help you explore the most fashionable ensembles suitable for any event.
This post may contain affiliate links, which means I'll receive a commission if you purchase through my link, at no extra cost to you. Please read the full disclosure here.
This post is all about classy white jeans outfits for ladies.
Are white jeans in fashion?
White jeans have been a staple in the fashion industry for years.
They are timeless and versatile, creating an effortless look that is suitable for any season or occasion.
It has become increasingly popular over the years and it doesn't seem to be slowing down anytime soon.
In 2023, white jeans will still be a go-to item in any wardrobe.
The classic look of white denim is something that never goes out of style.
As trends come and go, you can always count on white jeans to stand the test of time.
Whether you pair them with a blouse and sandals or a sweater and boots, they will add instant chicness to any outfit without fail.
If you're looking for timeless pieces that transition effortlessly from season to season, then investing in white denim should be at the top of your list this year!
What to Wear with White Jeans?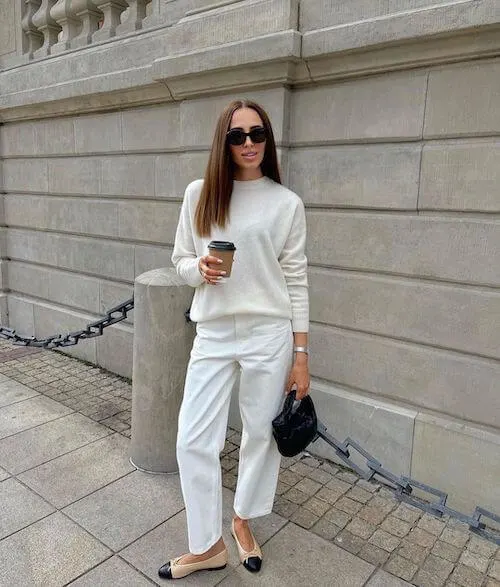 @irinstylin
Whether you're looking for a casual everyday outfit, or something more dressy and feminine, white jeans can provide the perfect base for any ensemble.
But what should you wear with them? Here are some tips to help you style your white jeans like a fashionista.
Which color top can go with white jeans?
Bright, primary colors such as red, blue or yellow are excellent picks when it comes to choosing what to wear with white jeans.
These eye-catching shades instantly stand out while still allowing other pieces of your outfit to shine.
To complete the look, you can add subtle touches like silver jewelry or nude pumps.
For those looking for something more muted, consider opting for pastel hues in shades like blush pink or lilac gray, or chic neutral colors.
This is an ethereal pairing that's sure to turn heads without being too loud and flashy.
What shoes to wear with white jeans?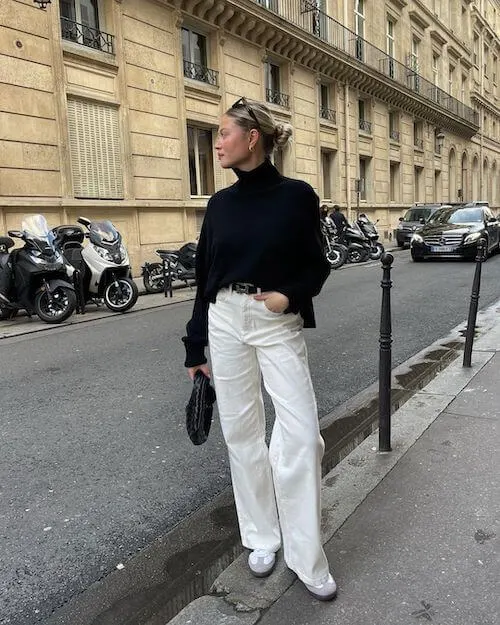 @marine_diet
When it comes to finding the perfect shoe pairing for white jeans, the options are endless.
From sneakers and sandals to boots and heels – there's something for everyone.
For an effortless look, opt for neutral-colored sneakers like classic Converse or slip-ons.
For a dressy look, try classic black pumps or strappy high heels.
If you're looking for something more on trend, ballet flats, mules and block heeled sandals can add flair to any outfit.
Boots also make a great pairing with white jeans – from ankle boots, cowboy boots to over-the-knee styles, there are many ways to make your outfit stand out!
How to Dress Up White Jeans?
Dressing up white jeans can be a tricky affair.
With the wrong choice of top and accessories, it can look too casual.
On the other hand, with the right selection of items, you can create an outfit that's perfect for a night out or special event.
Here are some tips to help you dress up white jeans for women.
First and foremost, opt for a pair of well-fitting white jeans that complements your body shape.
A baggy fit will give you a slouchy feel while going for tight-fitting pants or nice wide-leg jeans will make your legs appear long and slender.
Secondly, reach out for tops in gorgeous jewel tones such as deep ruby red or sapphire blue which will contrast nicely against the shade of white jeans.
Lastly, add accessories such as dainty necklaces or delicate bracelets to finish off your stylish look.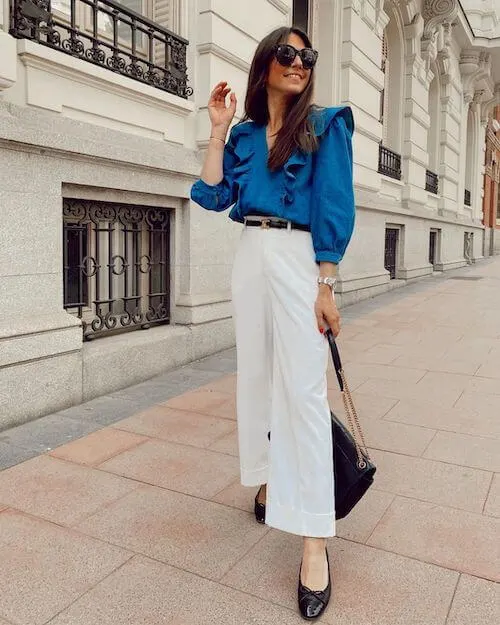 @beatriz84
How to Dress Down White Jeans?
If you're looking to dress down your white jeans, there are several easy tips to keep in mind.
First, start with finding the right fit of white jeans that will work with different casual looks.
Wide-leg, straight leg and boyfriend fits are all great options when it comes to dressing down white jeans.
Then, wearing fashionable sneakers or sandals will help complete the look by making it even more relaxed and comfortable than traditional dress shoes would provide.
Finally, choose some lightweight layering pieces like tank tops or t-shirts paired with button downs or loose sweaters that will go perfectly with your white denim bottoms.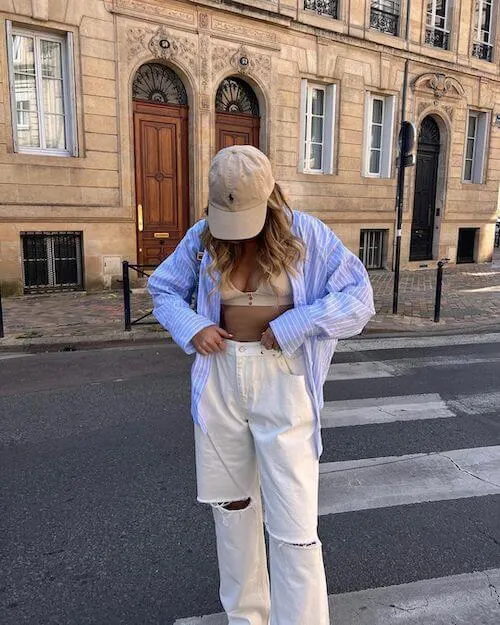 @chlosertoyou
Classy White Jeans Outfits for Ladies
White Jeans Outfit Ideas for Winter
When it comes to dressing for the winter months, white jeans may seem like an impossible item to wear.
However, white jeans can look chic and stylish during the colder months when worn right.
For women who want to don white jeans during winter, here are some tips on how best to pull off this trend.
The key to making this look work is all about balance.
To avoid a washed-out appearance, pair your white denim with richly hued pieces such as chunky knits in jewel tones or deep shades of red and purple.
This will help you achieve an outfit that looks both put together and cozy for the winter season.
Also try layering your look with different textures; think chunky scarves paired with leather boots or a wool coat draped over a velvet blouse for added warmth and dimension.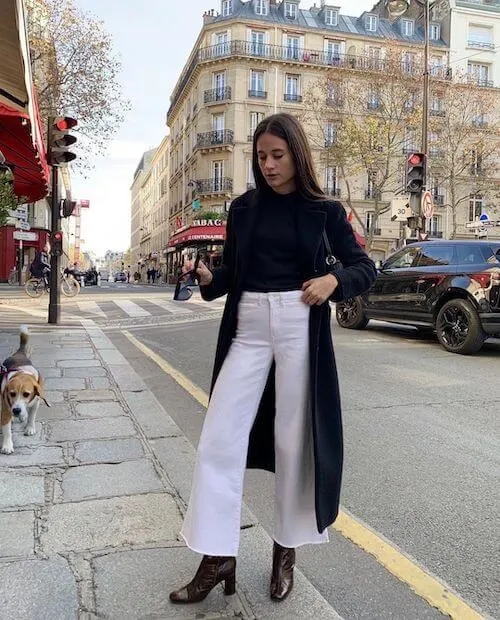 @leasy_inparis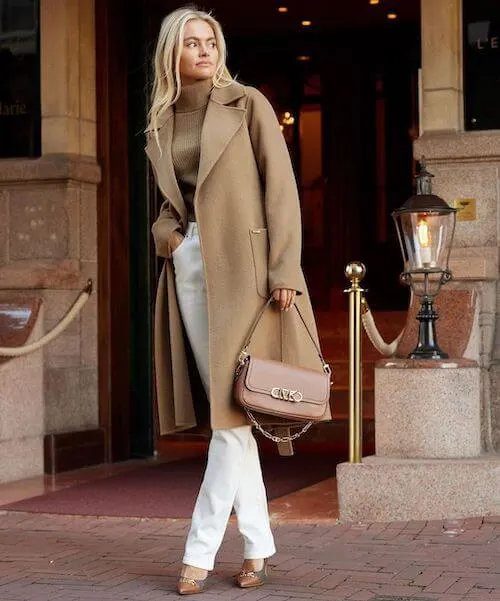 @clairerose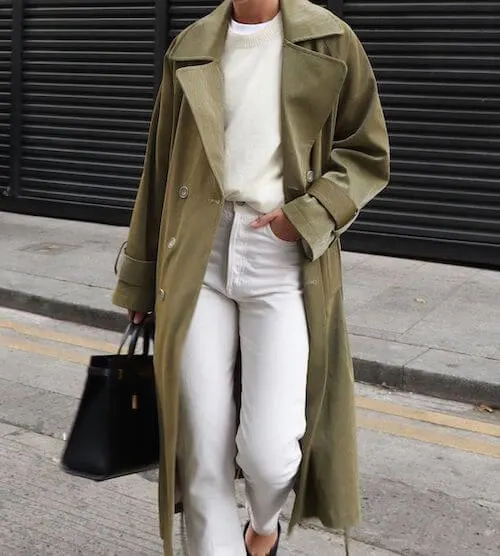 @chloemaymcginley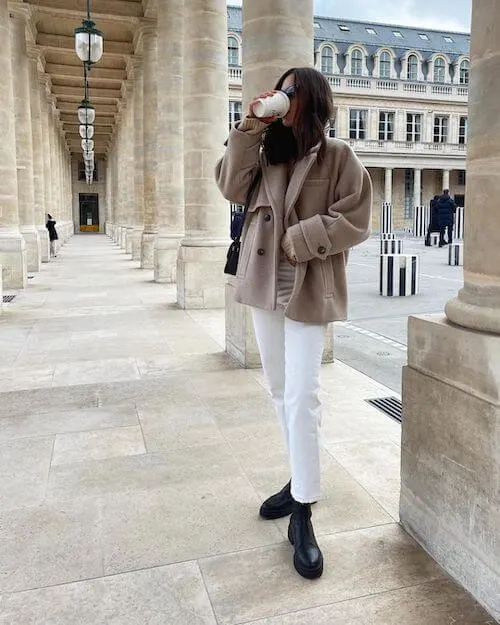 @lglora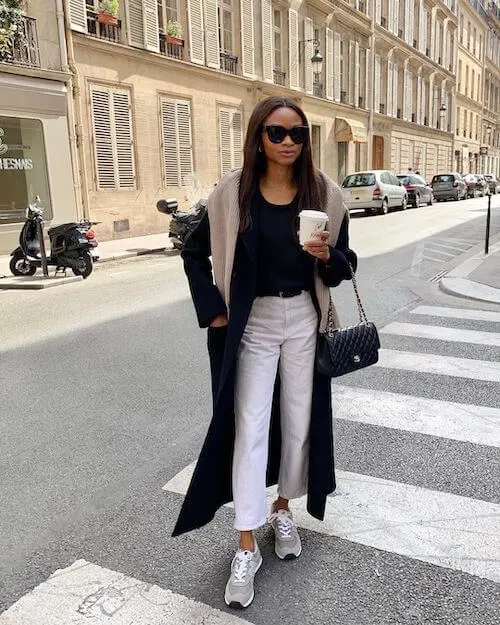 @symphonyofsilk
White Jeans Outfit Ideas for Spring and Summer
White jeans look especially chic during the warmer months of spring and summer.
With so many options available – from mom jeans to skinny styles and everything in between – it can be tricky to know how to wear them.
To pull off the look with ease, start by finding a pair that fits perfectly.
If you go for a more relaxed fit, team them with an eye-catching cropped top or blouse.
For those who prefer something more tailored, try tucking in a simple T-shirt or camisole and adding some statement jewelry for extra glamour.
To complete your outfit, choose an on-trend sandal or wedge heel for daywear, then swap these out for strappy heels when it comes to evening events.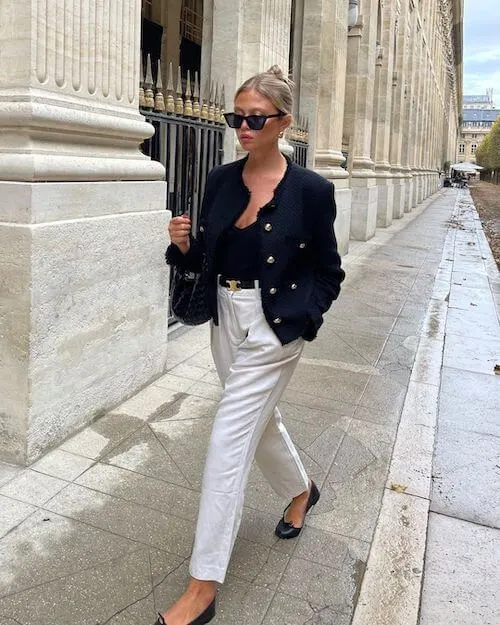 @marine_diet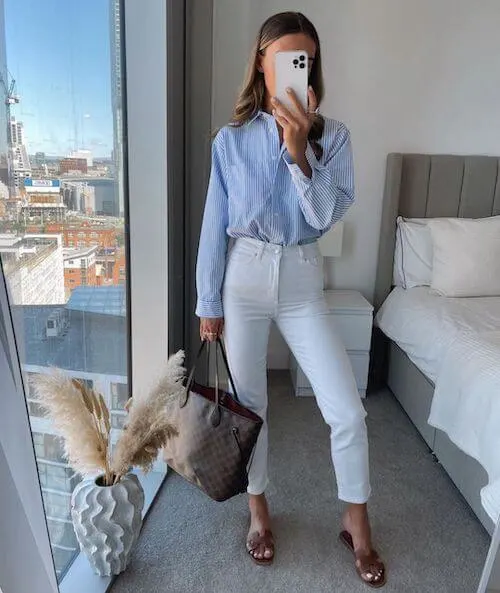 @whatemwore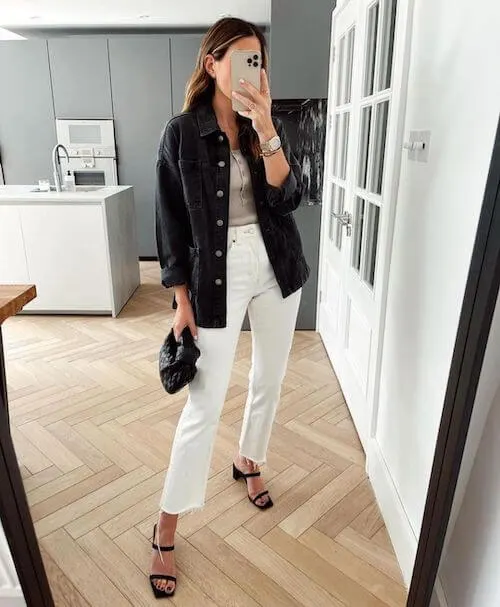 @wearetwinset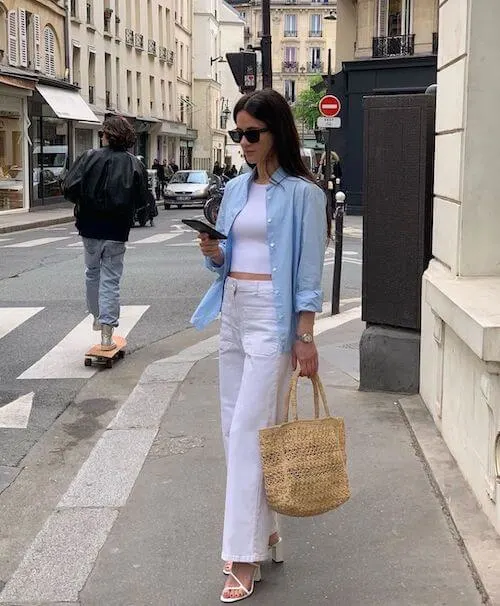 @leasy_inparis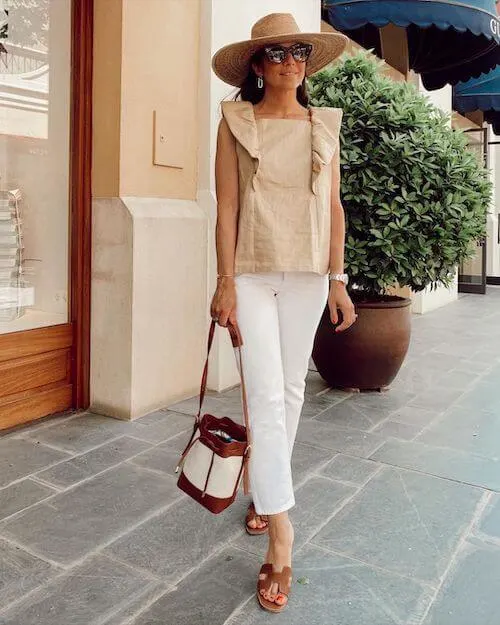 @beatriz84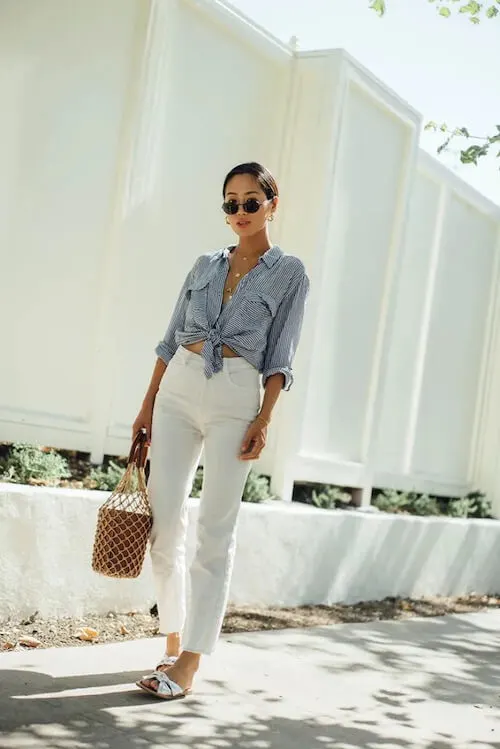 @aimeesong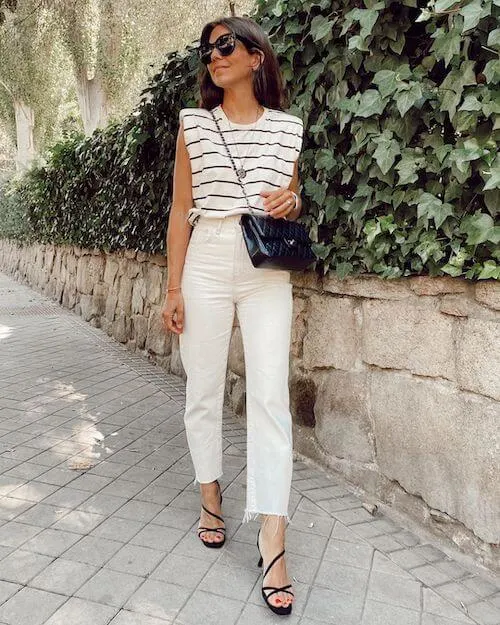 @beatriz84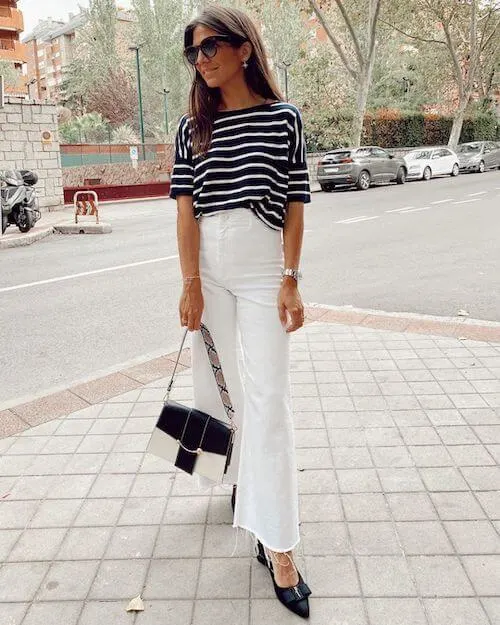 @beatriz84
@symphonyofsilk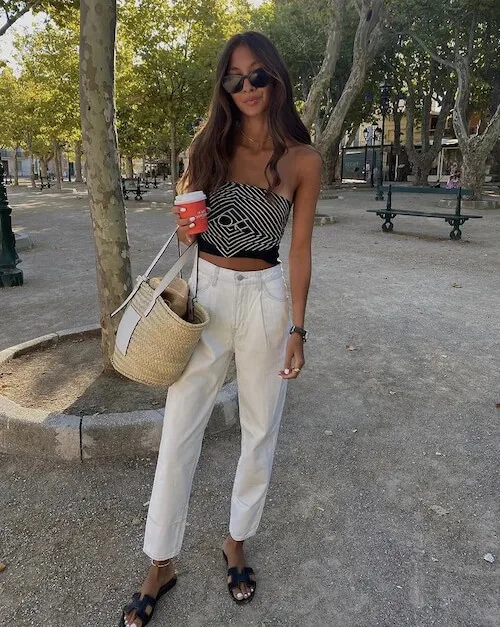 @fakerstrom
White Jeans Outfit Ideas for Fall
Fall is the perfect season to rock a pair of white jeans.
As temperatures start to cool down, explore new ways to incorporate these classic bottoms into your wardrobe.
White jeans are a timeless staple that can be styled in countless fashionable looks for fall.
This season, think outside of the traditional denim styles and experiment with different textures and shades of white.
To create a polished look, style your jeans with autumnal-inspired blouses, sweaters and jackets in coordinating colors such as burnt orange and mustard yellow.
For colder days, layer your ensemble with an oversized coat or warm scarf for an added element of warmth without compromising style.
Also consider pairing them with boots instead of sneakers for extra fashion points!
Finish off the look with some statement jewelry or bold accessories that will really make you stand out from the crowd.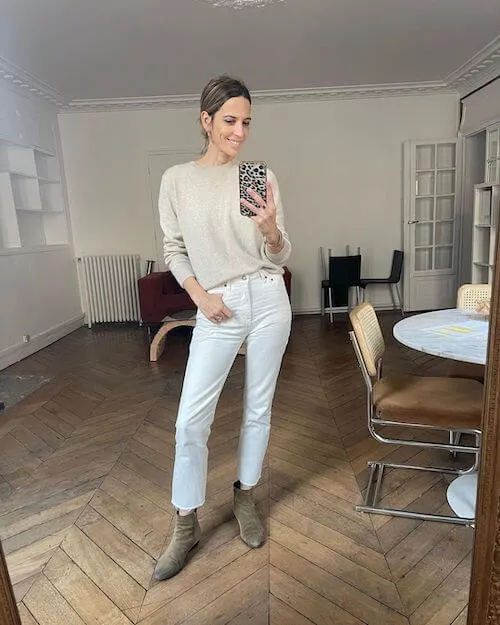 @anne_dressingideal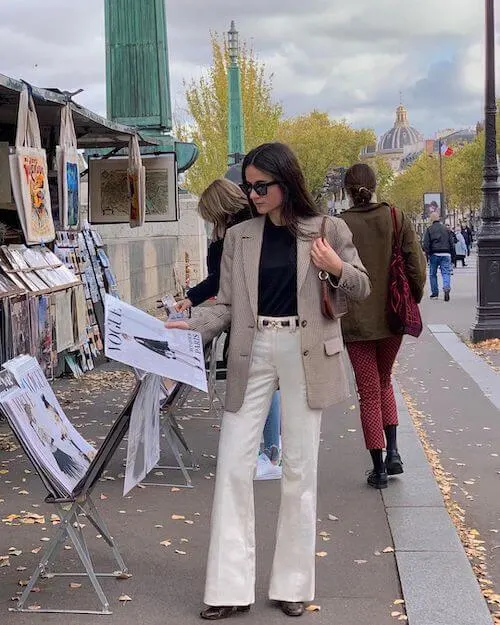 @leasy_inparis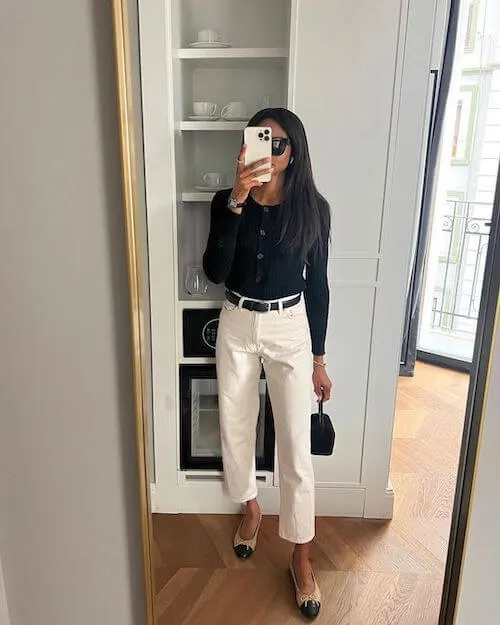 @symphonyofsilk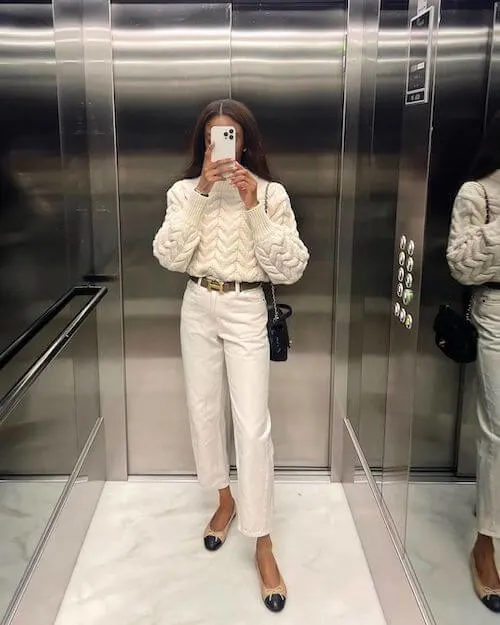 @symphonyofsilk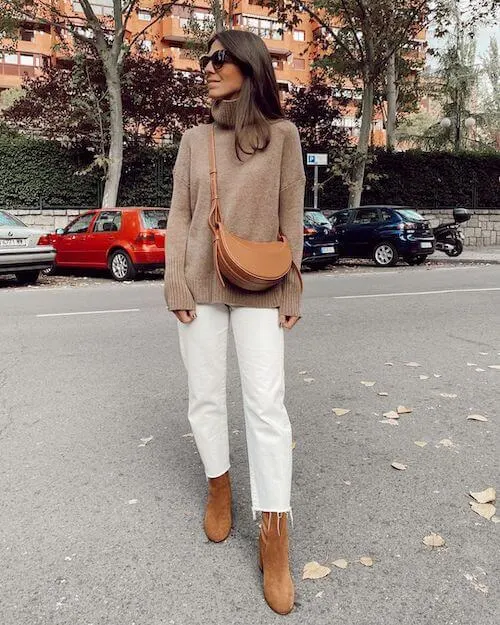 @beatriz84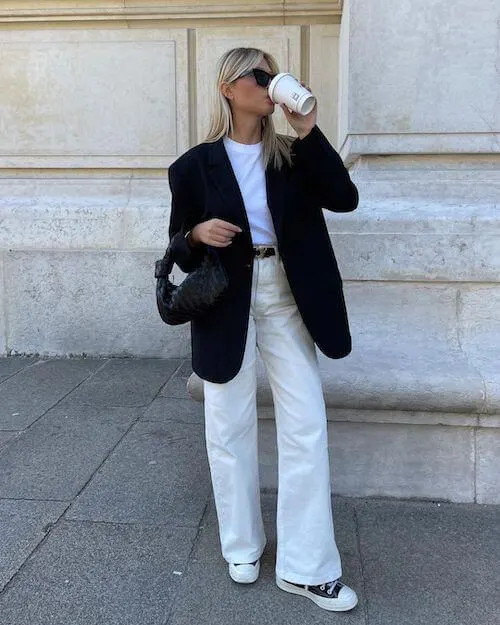 @marine_diet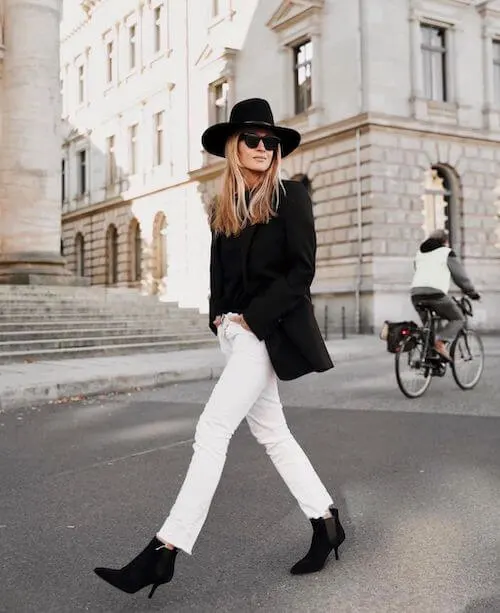 @mija_mija
What to wear with white jeans on a night out?
When you're heading out for a night on the town, there are plenty of stylish ways to wear white jeans.
To start, consider what type of look you're going for.
If you want to keep things casual, opt for a classic black top and statement shoes like sandals or booties.
For something more dressy, try combining white jeans with an off-the-shoulder or cold shoulder top and heels or wedges.
Accessorizing is also key here – think about adding a belt, jewelry and/or statement bag to finish off the ensemble.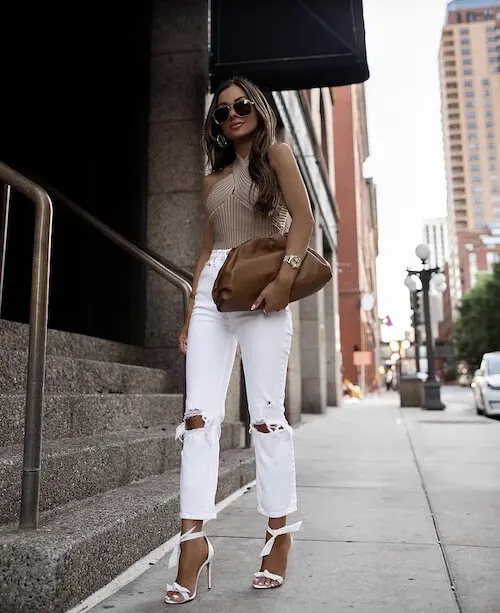 @miamiamine
What to wear with white jeans for work?
While white jeans are often associated with casual summer looks, there are plenty of ways to dress up your white jeans when you're headed into the office.
Whether you're looking for something sleek and sophisticated, or a more relaxed take on office wear, here are some tips on what to wear with white jeans for work.
Start by pairing your white jeans with timeless tailored pieces like blazers, crisp button-down shirts, and tailored tees.
Add in some neutral colors like black or navy blue – these shades will serve as a nice contrast to the brightness of the white denim.
To finish off your look, incorporate some stylish accessories such as bold jewelry pieces or statement shoes that will add an extra level of sophistication to your ensemble.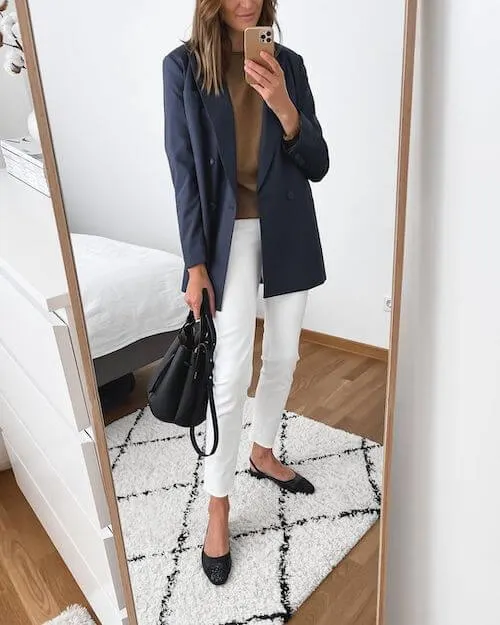 @ewelinakanty
More Best White Jeans Outfits To Try & Styling Ideas
Want more inspiration? Scroll on to check more cute and chic outfits with white jeans for ladies to copy.
White Top + White Jeans + Flat Sandals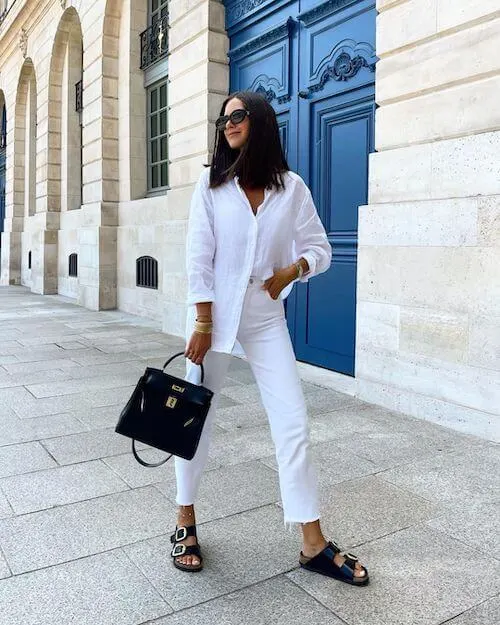 @lglora
White Denim Jeans + Black Lace Cami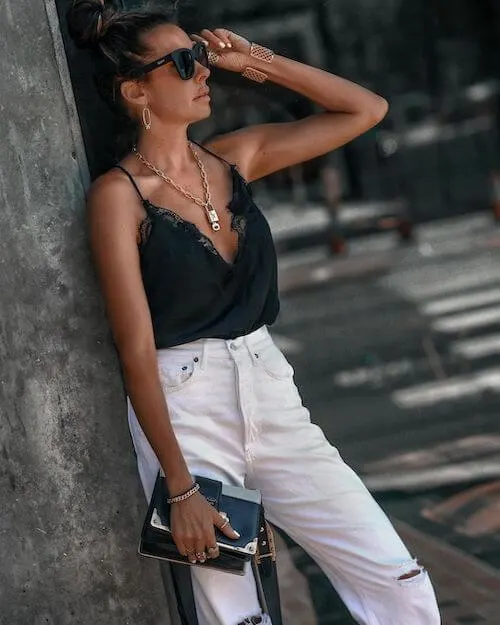 @fashionedchicstyling
White Jeans + Simple Black Top + Black Belt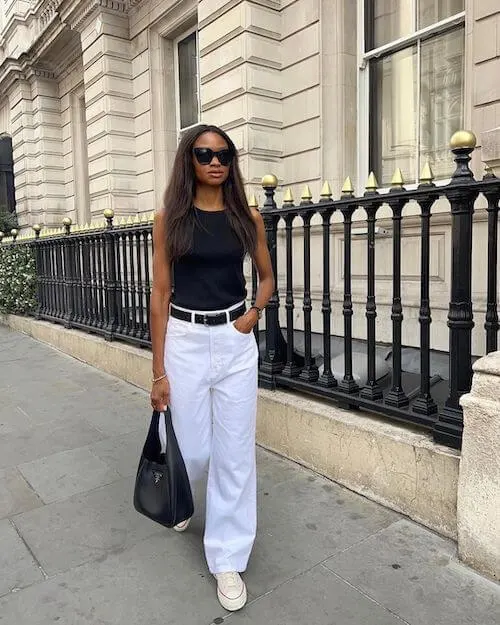 @symphonyofsilk
Blazer + White Skinny Jeans + Sneakers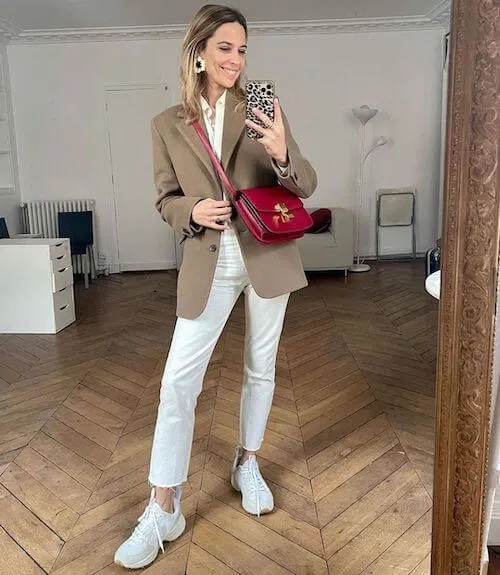 @anne_dressingideal
Monochromatic Look With White Baggy Jeans
@smythsisters
White Jeans Fall Color Booties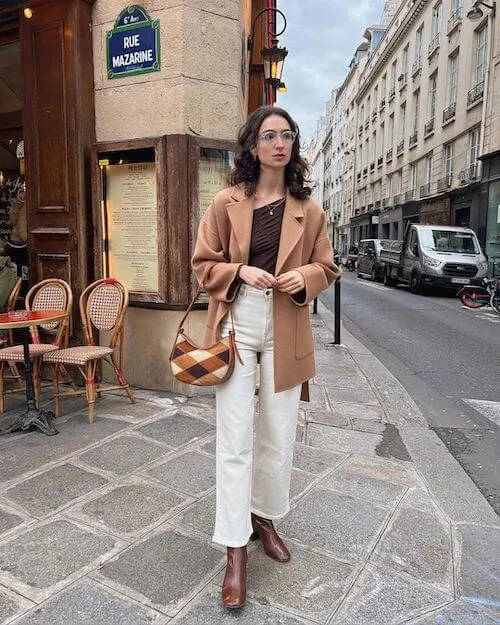 @pia_mbd
Black Tee + Bright White Jeans + Strappy Sandals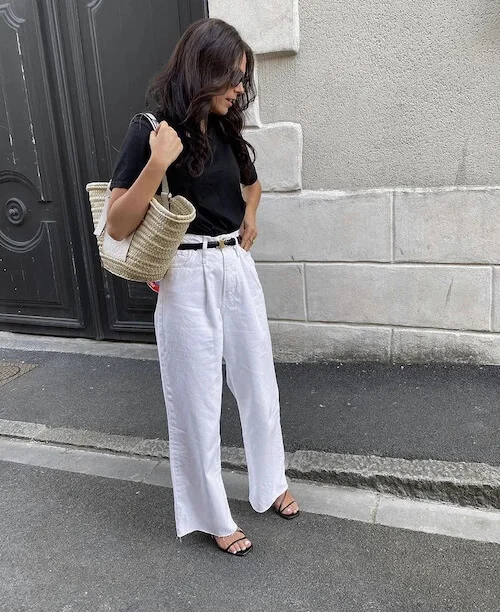 @pauline_dt
Denim Jacket + White High-Rise Jeans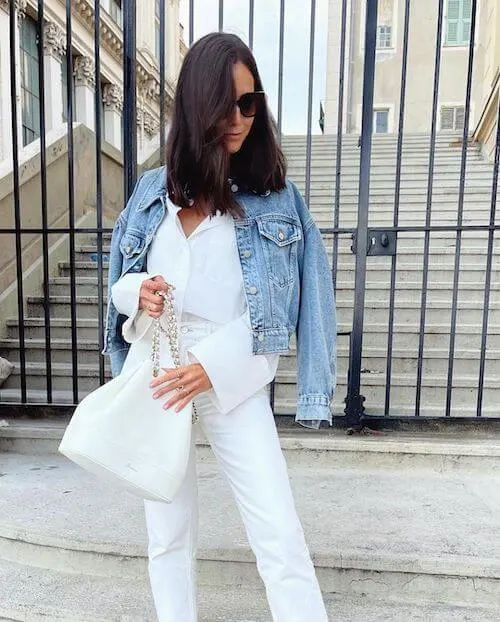 @lglora
White Wide Leg Jeans + Chambray Shirt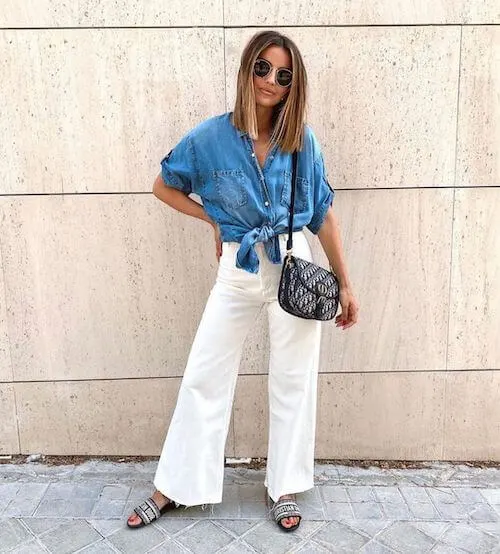 @alexandrapereira
All-White Outfit With A Pop Of Color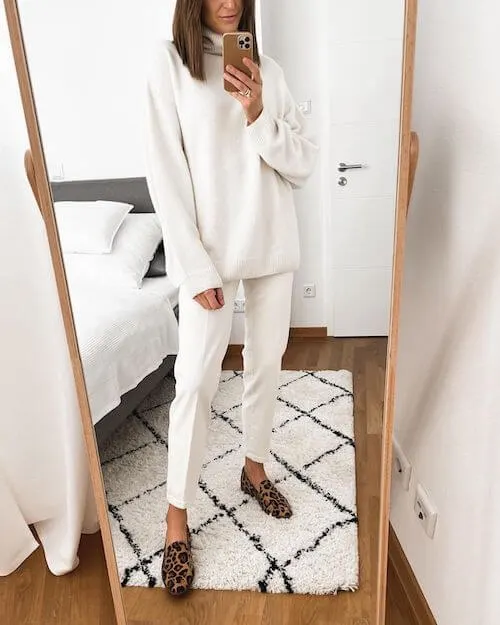 @ewelinakanty
Classic Striped Top + White Jeans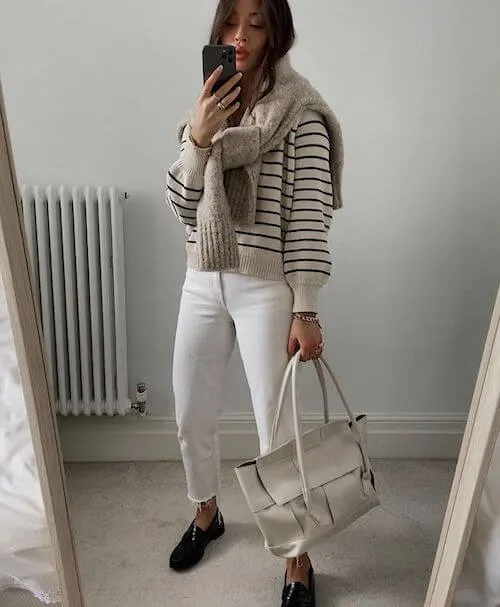 @vanessaroseblair
Bright Color Top + White Jeans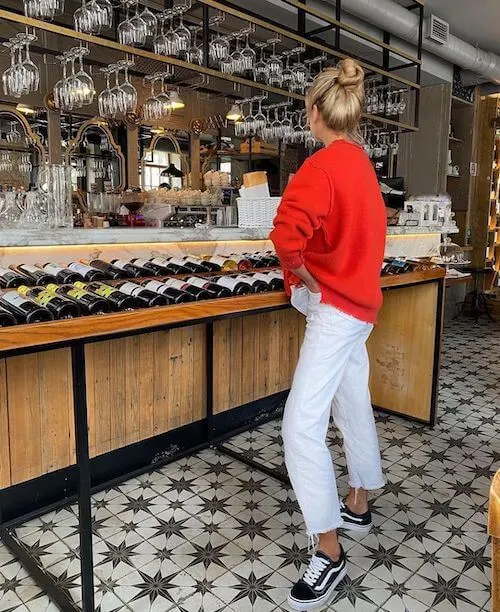 @elen_sheva
Black Corset Top + White Wide-Leg Jeans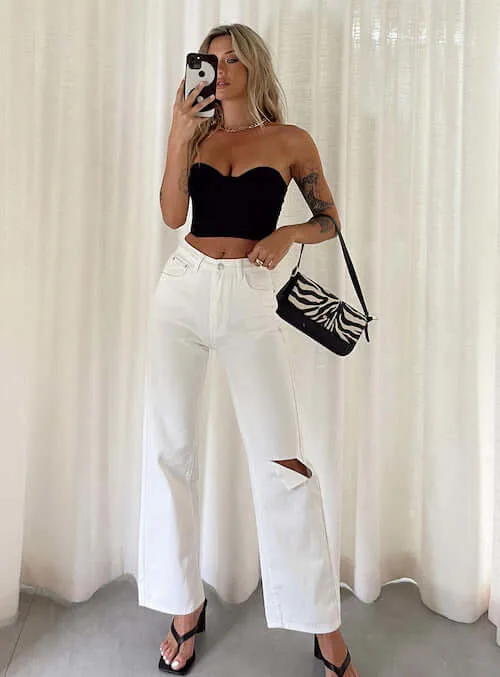 Laid-Back Outfit For Warmer Weather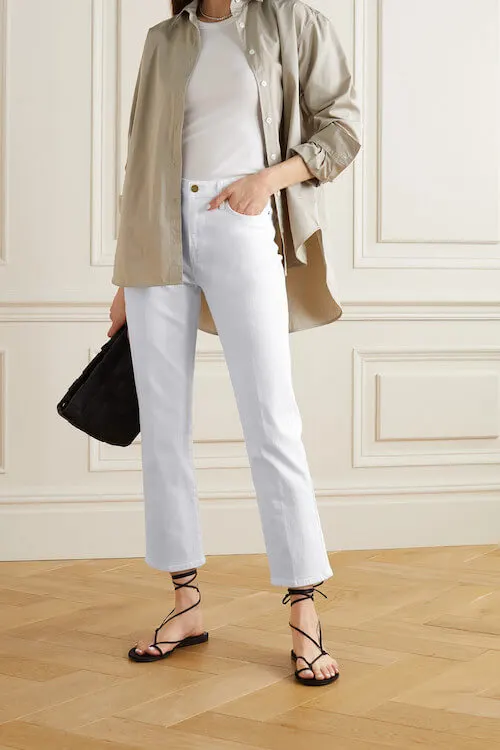 Simple Top + White Jeans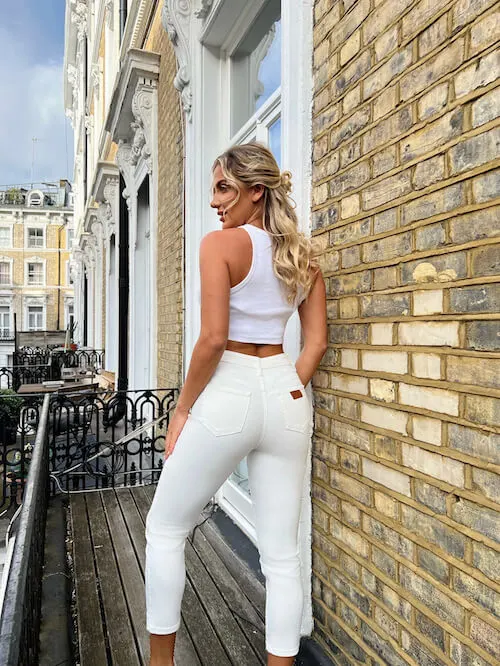 Oversized Top + White Flare Jeans + Brown Handbag
Crop Top + White Cropped Jeans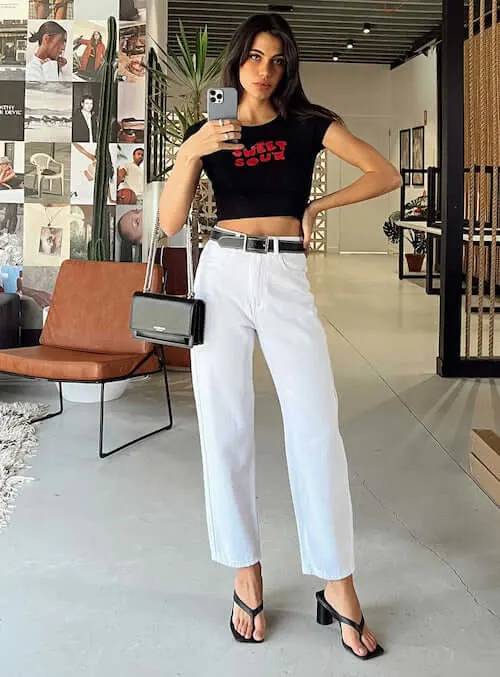 Cardigan + Knit Corset Top + White Straight-Leg Jeans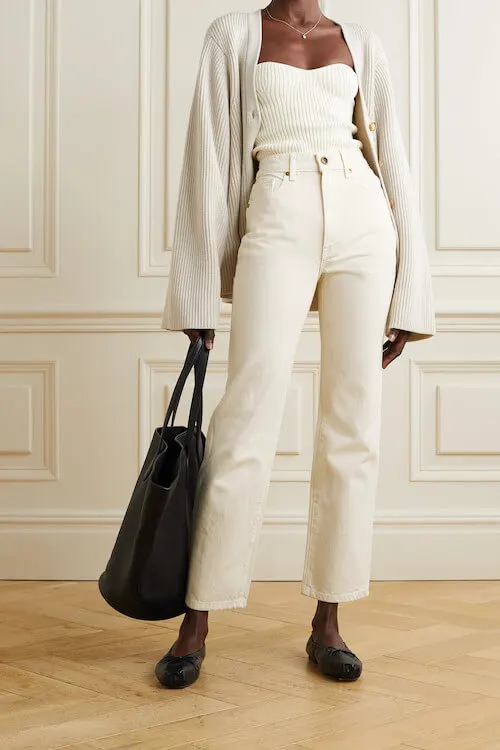 Black Tank Top + White Jeans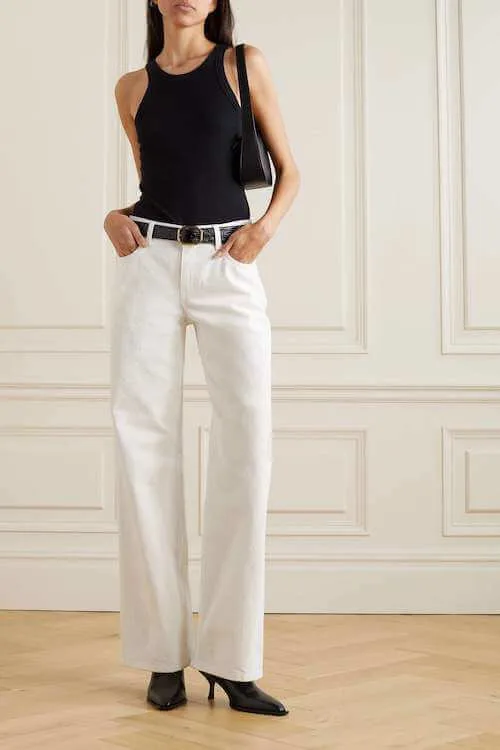 How To Style White Jeans For Memorial Day
If you're looking for an easy, stylish look this holiday weekend, why not incorporate white jeans into your ensemble? White jeans provide a crisp and chic foundation for any Memorial Day look.
The great thing about white denim is that they can be dressed up or down depending on what you pair them with. For a more glamorous look, try tucking in a silk blouse and pairing it with high-heeled sandals and statement earrings. Or if you're attending more casual gatherings, go for a crop top paired with espadrilles or sneaker wedges. Don't forget to accessorize – consider incorporating floral printed scarves or pastel-hued bags to give your outfit an extra splash of color!
How To Style White Jeans For Labor Day
Start with a classic t-shirt or tank top in a bright hue like coral or light yellow. Layer it over a pair of high-waisted white jeans and add some accessories like hoop earrings, layered necklaces, and sunglasses. Finish off the look with a pair of strappy sandals or sneakers depending on your plans. For cooler days, layer on an oversized denim jacket or lightweight wrap cardigan – both look great with white jeans!
This post was all about classy white jeans outfits for ladies.
About The Author
Tracy is an experienced personal stylist, shopping expert, and fashion & lifestyle blogger. She has been featured on Time Magazine, Bustle, Best Life, Glam, The Zoe Report, Mic, and GOBankingRates, for her insights on fashion, beauty, home decor, and lifestyle. Read More
Related Posts: