Elevate your style with Birkenstock clogs outfits – the perfect combination of style and comfort for any season. From casual to chic, Birkenstock Boston clogs are the must-have footwear choice for fashion-forward individuals.
When it comes to comfortable and stylish footwear, Birkenstock clogs are a popular choice.
With their unique design and high-quality materials, these clogs offer both fashion and functionality.
If you're wondering how to style Birkenstock clogs, we've got you covered!
In this article, we'll explore different outfit ideas and ways to wear Birkenstock clogs to create chic and trendy looks.
This post is all about Birkenstock clog outfits.
What To Wear With Birkenstocks
Birkenstock Clogs With Oversized Blazer And Jeans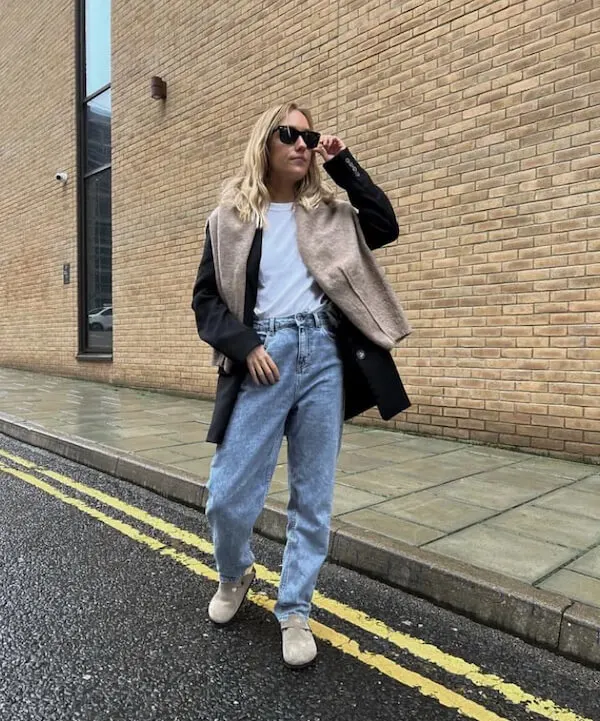 @elzbethskye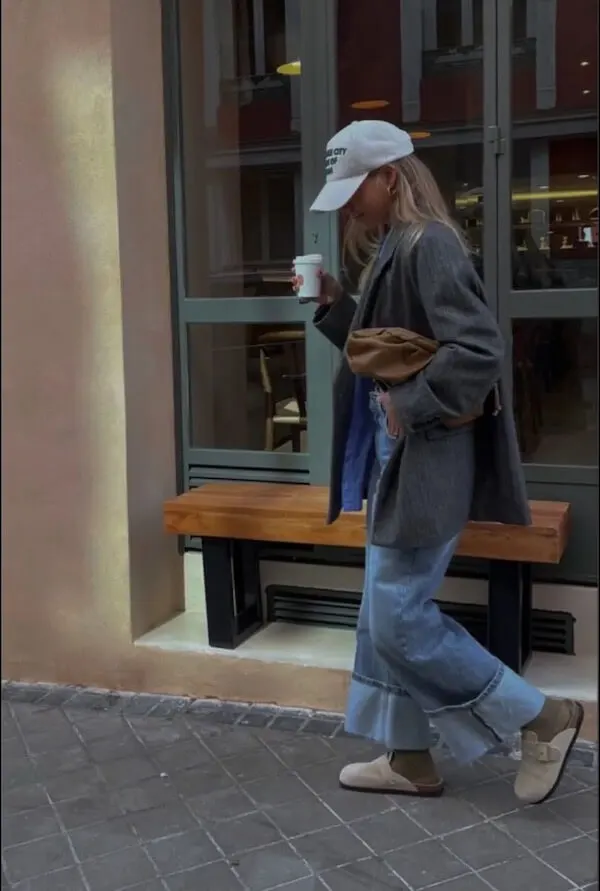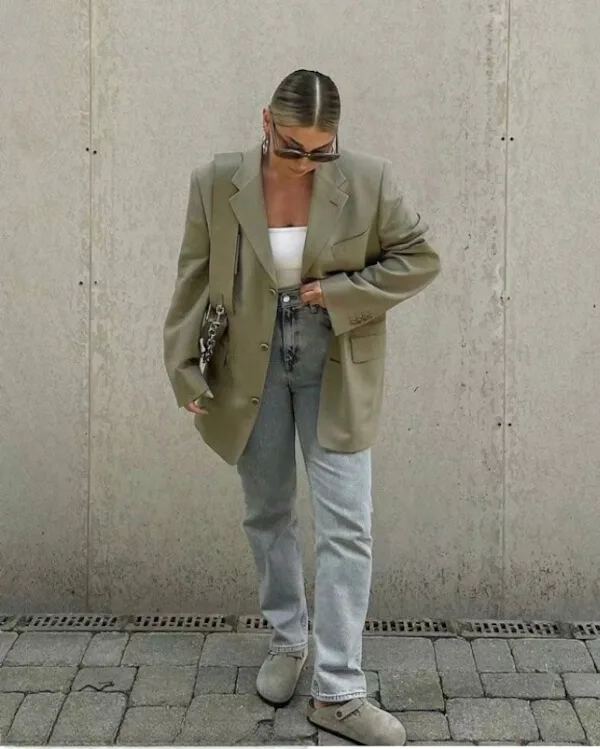 Pairing Birkenstock clogs with an oversized blazer and jeans creates a cool and effortlessly stylish look.
The combination of the relaxed silhouette of the blazer, the comfort of the clogs, and the casualness of jeans is both chic and practical.
The oversized blazer adds a touch of sophistication to the outfit, making it suitable for various occasions.
One interesting way to style this combo is by choosing a monochrome color palette.
Opt for a black or neutral-toned blazer paired with dark wash jeans for a sleek and polished look.
Adding Birkenstock clogs in a complementary shade or even opting for metallic ones can add an unexpected twist to your outfit.
Another option to consider when styling this ensemble is to play around with different denim styles and washes.
Whether it be classic straight-leg jeans or trendy wide-legged ones, you can achieve various looks while still maintaining that relaxed vibe.
Experimenting with distressed or vintage-style denim can add some extra character and give your outfit an edgier feel as well.
Cardigan, Jeans, And Birkenstock Clogs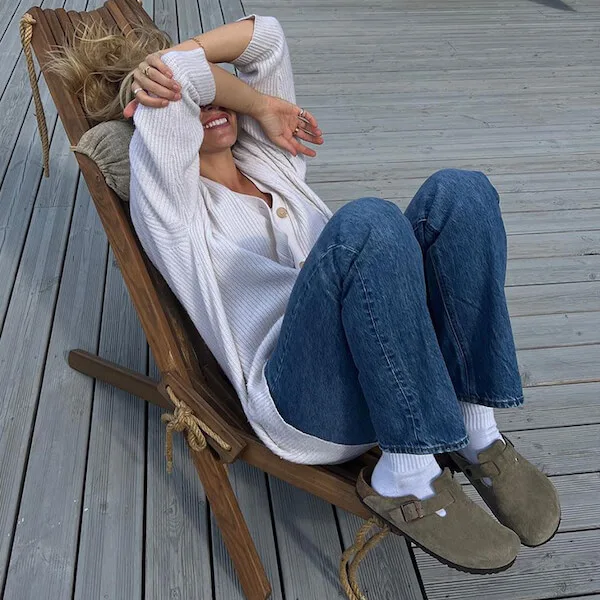 @ashbegash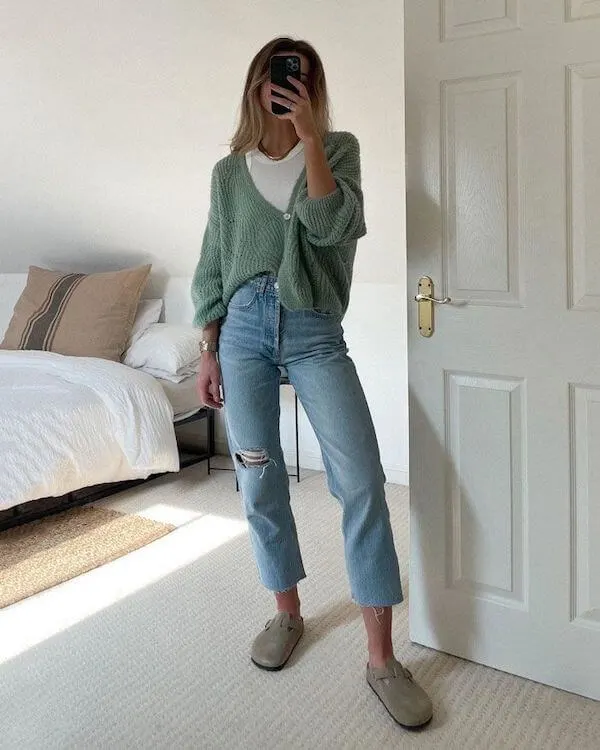 Cardigans, jeans, and Birkenstock clogs are a classic combination that exudes effortless style.
The cardigan adds a touch of cozy comfort to any outfit, while the jeans offer versatility and durability.
Pair them with Birkenstock clogs, and you have a winning formula for both comfort and fashion-forwardness.
What makes this trio so captivating is their ability to be dressed up or down.
Throw on a chunky knit cardigan over a simple white tee, and pair it with high-waisted jeans and classic black Birkenstock clogs for an effortlessly chic look.
Or opt for a cropped cardigan with distressed boyfriend jeans and metallic silver clogs for an edgier vibe.
Button Down Shirt, White Trousers, And Birkenstock Clogs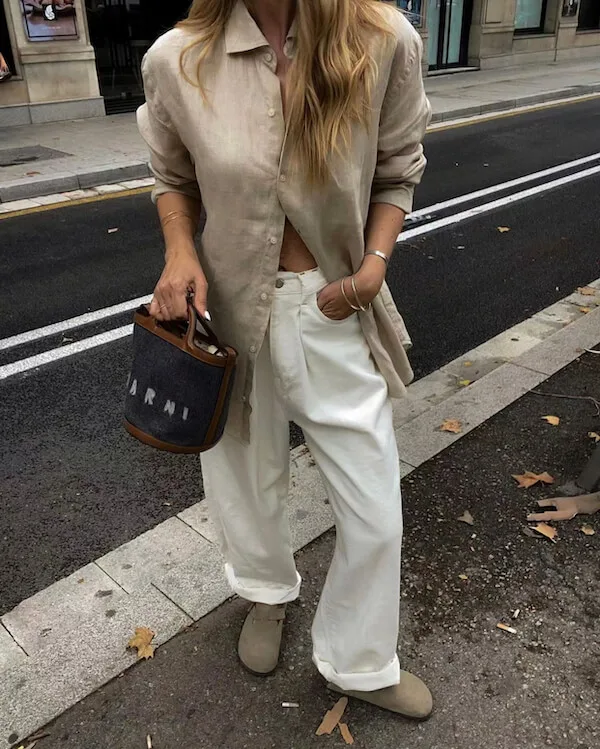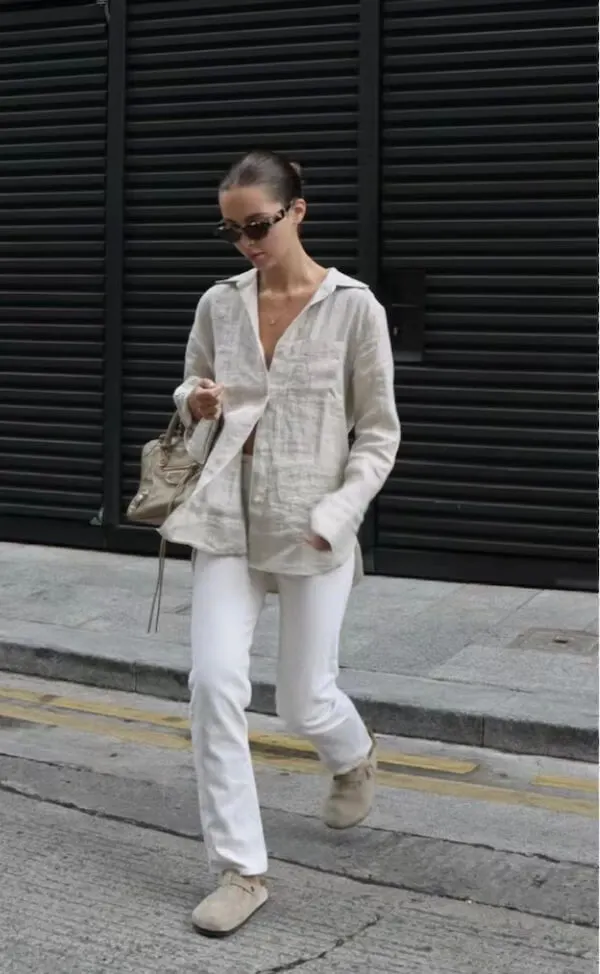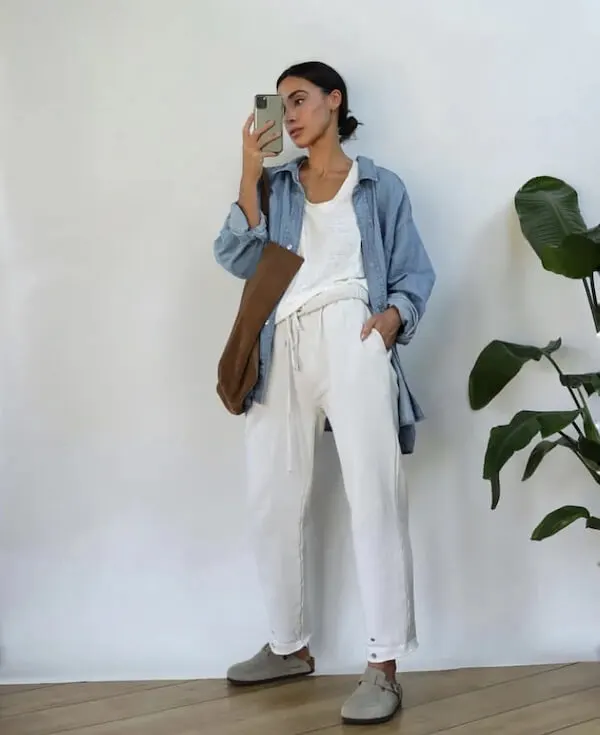 @emswells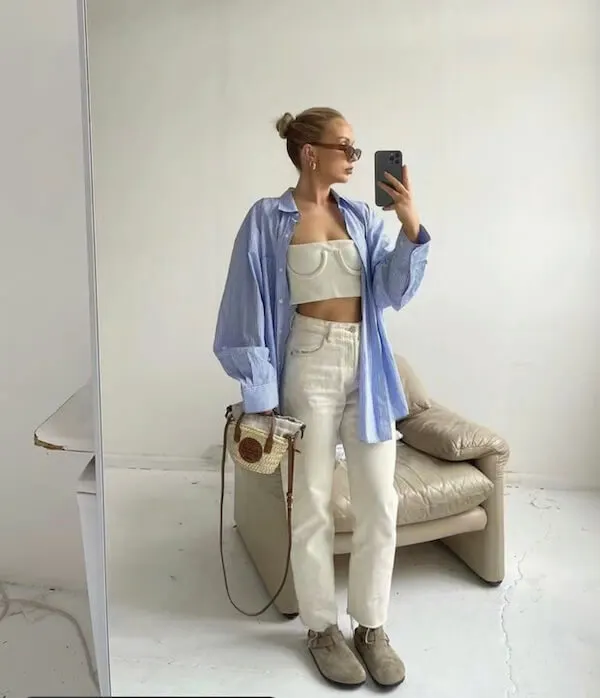 The button-down shirt, white trousers, and Birkenstock clogs combination is one that effortlessly exudes timeless style and laid-back sophistication.
While this ensemble may seem simple at first, it is the mastery of the details that truly sets it apart.
The crispness of the white trousers provides a clean canvas for the subtle nuances of the button-down shirt to shine through.
Whether it's a classic oxford with a perfectly tailored fit or a casual linen variant, the choice of fabric and pattern can transform this outfit from office-appropriate to weekend-ready.
Pairing this outfit with Birkenstock clogs adds an unexpected element that elevates its overall aesthetic.
The iconic clogs are known for their comfort and orthopedic qualities, but they also bring a touch of retro-cool to any look.
Opt for timeless shades like black or brown leather for a sophisticated twist or go bold with metallics or vibrant colors for a playful edge.
Wear Birkenstock Clogs With Leggings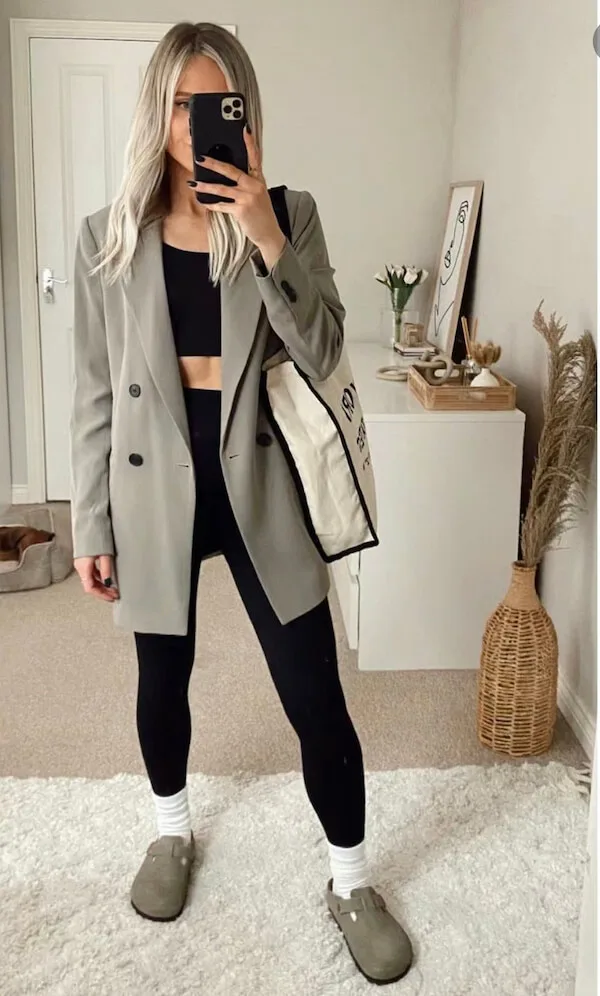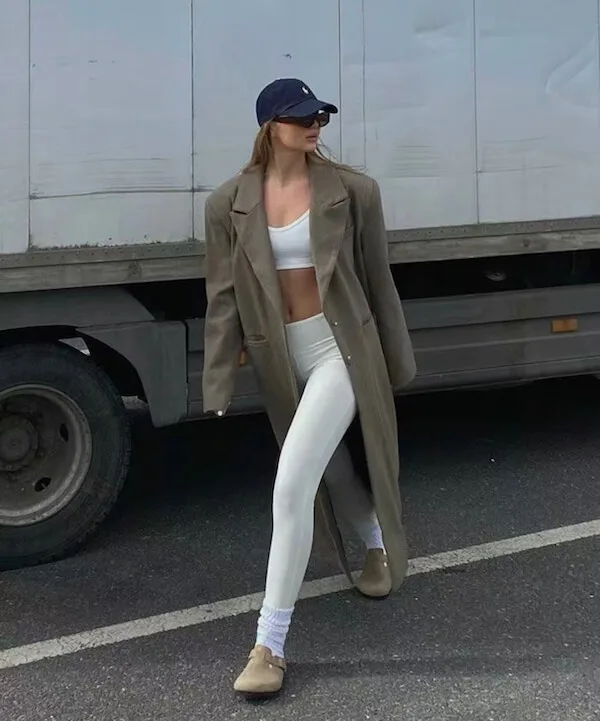 The combination of Birkenstock clogs and leggings may seem like an unlikely pairing at first, but trust me when I say it's a match made in fashion heaven.
Not only does it offer a comfortable and functional footwear option, but it also adds an unexpected twist to your typical leggings ensemble.
One way to rock this look is by opting for a pair of black leggings paired with classic beige Birkenstock clogs.
The neutral tones create a versatile base that can be easily styled for any occasion.
Add a cozy oversized sweater and some statement accessories for a casual yet chic outfit perfect for running errands or meeting friends for brunch.
If you're feeling bold, experiment with different prints and patterns on both your leggings and clogs.
Top off the look with a solid-colored blouse or graphic tee to keep the focus on the vibrant patterns.
Wear Birkenstock Boston Clogs With Skirt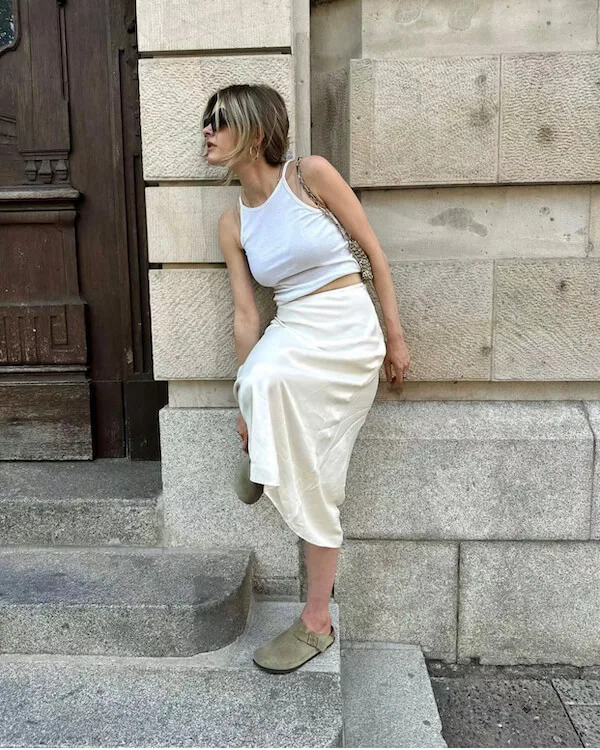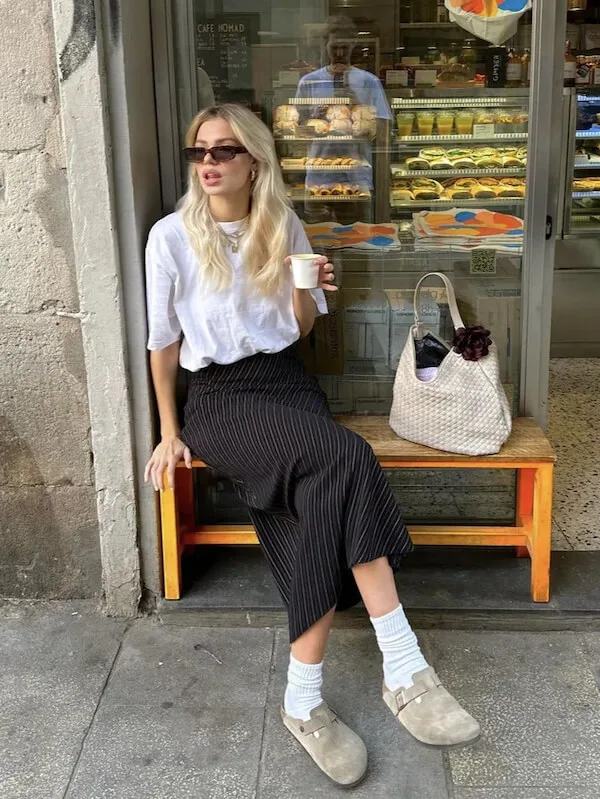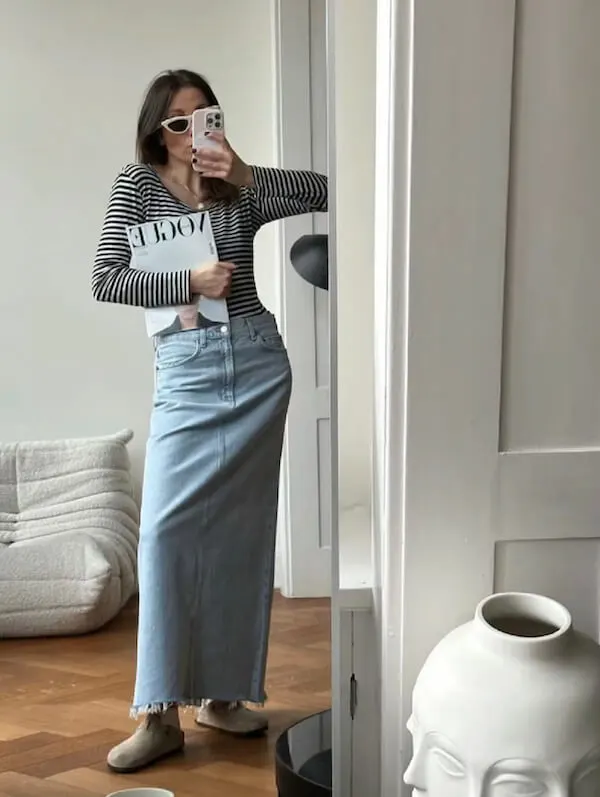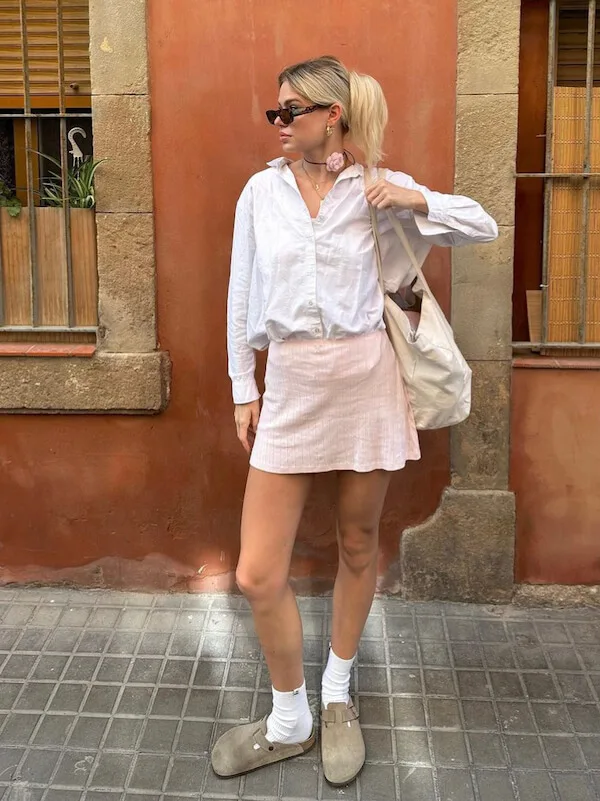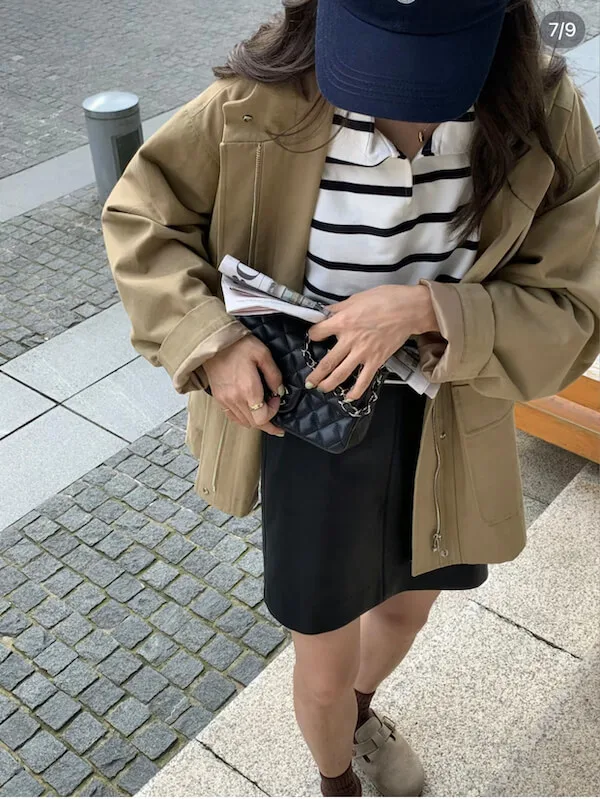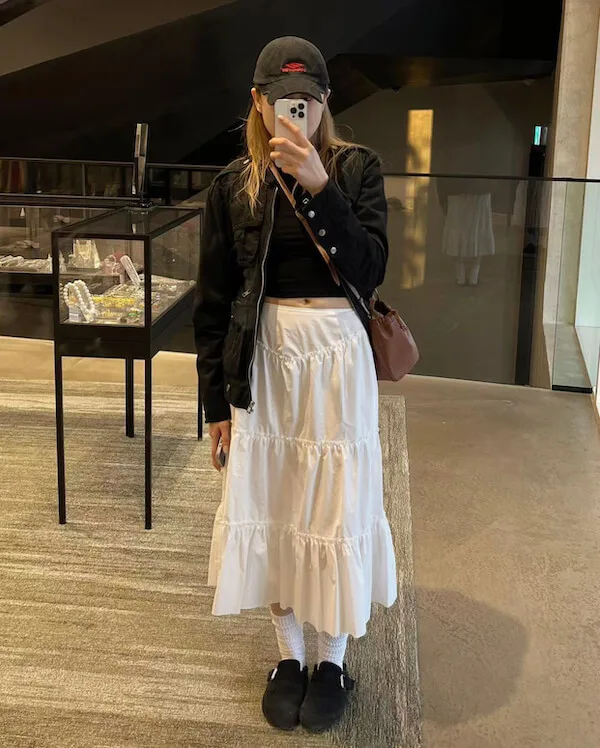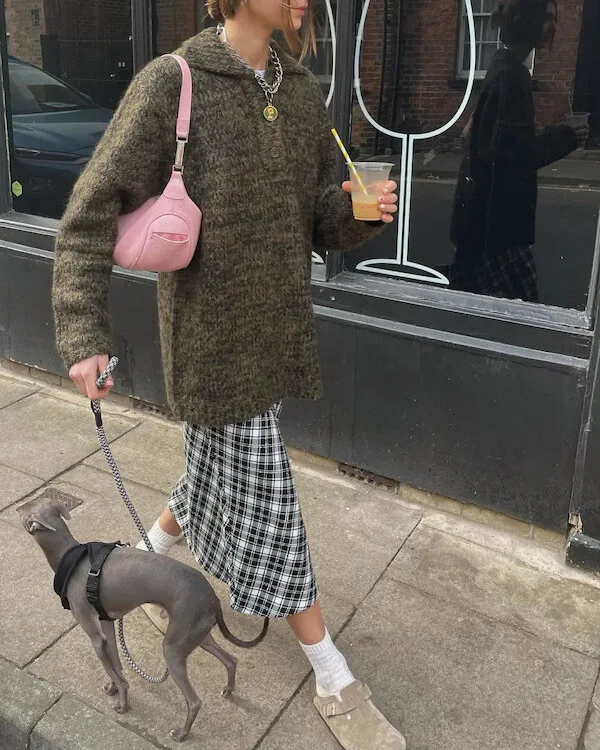 Pairing Birkenstock Boston clogs with a skirt may seem unconventional at first, but it's a stylish combination that can elevate your overall look.
These versatile shoes add an element of comfort to any outfit, and when paired with a skirt, they create a unique balance between casual and chic.
Opt for a midi-length skirt in a flowy fabric like silk or chiffon, or a flirty mini skirt to add femininity to the ruggedness of the clogs.
The contrast between the structured clogs and the softness of the skirt creates an effortlessly cool vibe.
With their neutral tones, Birkenstock Boston clogs can be easily paired with skirts in various colors, allowing you to create countless outfit combinations.
Tshirt, White Pants or White Jeans, And Birkenstock Clogs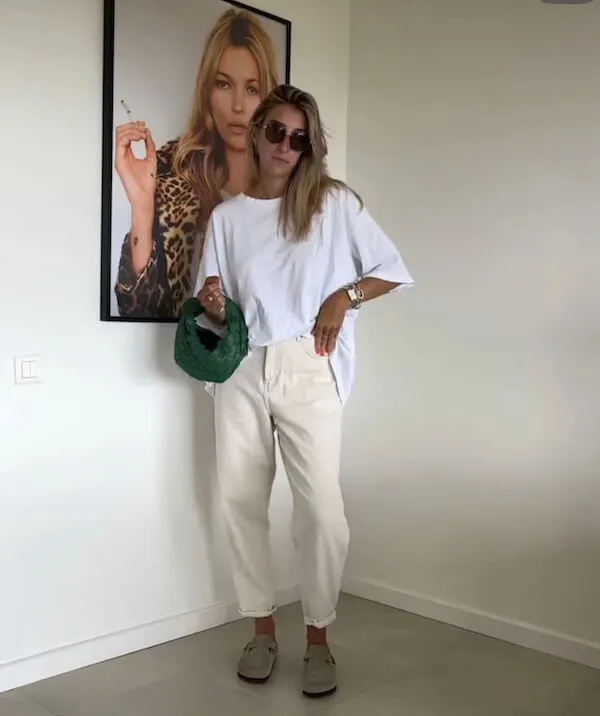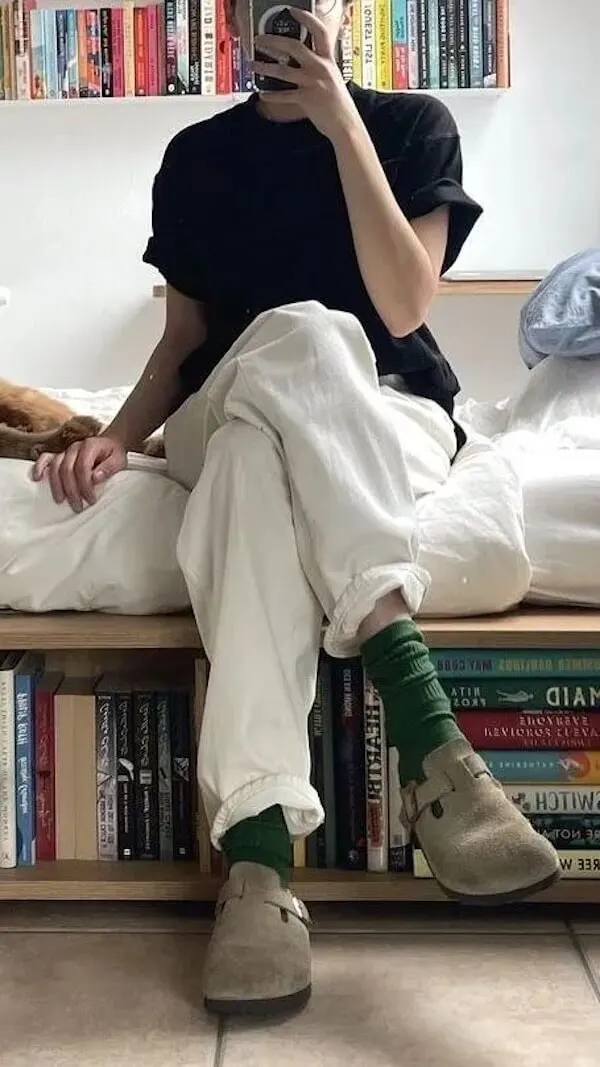 The combination of a T-shirt, white pants or white jeans, and Birkenstock clogs is a timeless and effortlessly chic outfit that exudes comfort and style.
The simplicity of a classic T-shirt paired with the crispness of white bottoms creates a clean canvas for you to work with.
And when you add the distinctive look and comfort of Birkenstock clogs into the mix, you have an ensemble that is both trendy and comfortable.
Style Birkenstocks With Dress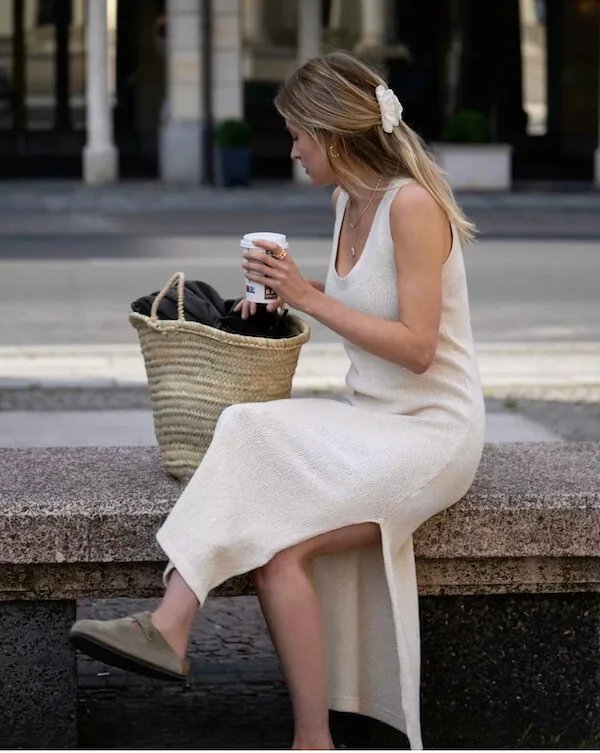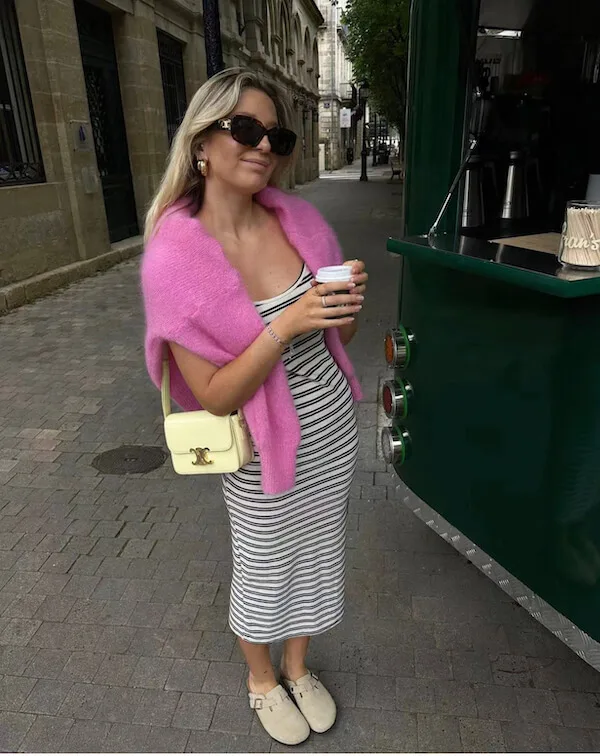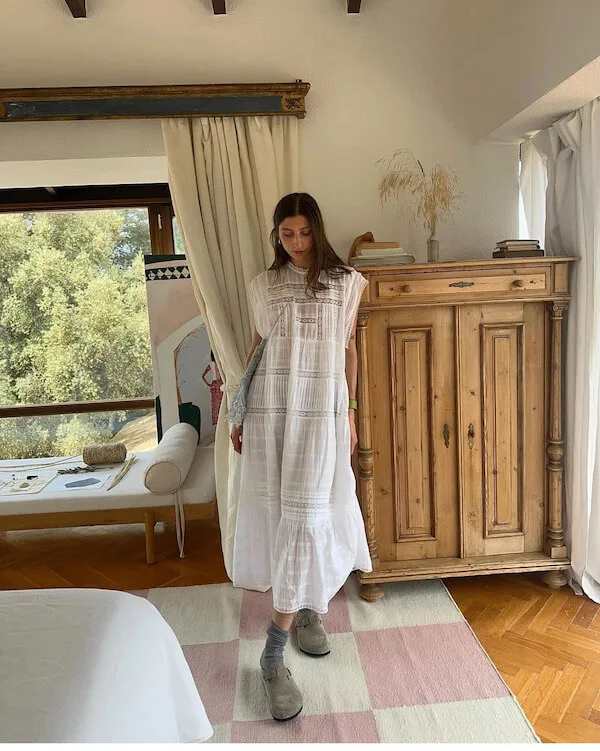 Birkenstock clogs have long been revered for their comfort and durability, but they are often seen as a casual footwear option.
However, pairing Birkenstock clogs with a dress can elevate your outfit to new heights.
The combination of the relaxed, bohemian vibe of the clogs with the femininity of a dress creates an interesting juxtaposition that is both stylish and unexpected.
One of the greatest advantages of wearing Birkenstock clogs with a dress is how effortlessly it transitions from day to night.
For daytime outings, pair your clogs with a casual denim overall dress or a shirt dress for an easy-going look.
As dusk falls and you're heading out for dinner or drinks, swap out your day dress for something more elegant such as a wrap dress or a sleek slip-on style – allowing you to stay comfortable without sacrificing style throughout the entire day.
Style Your Birkenstock Clogs With Shorts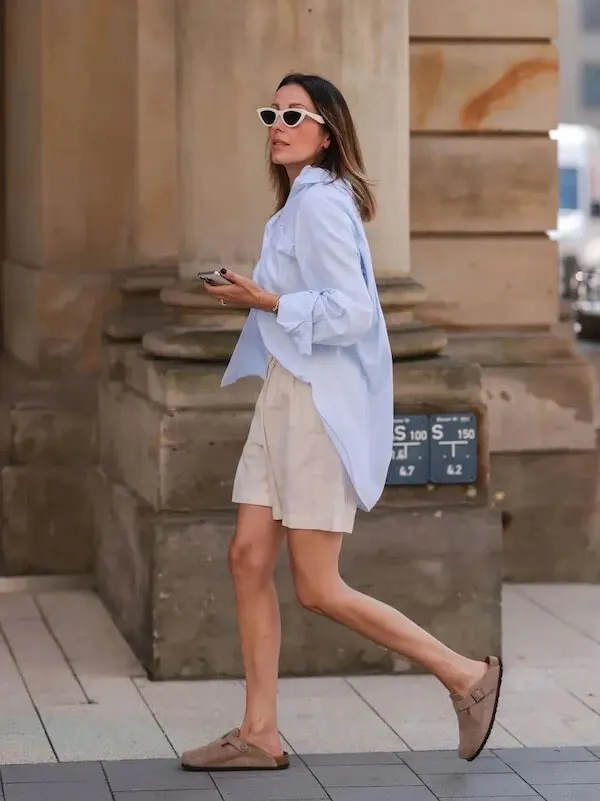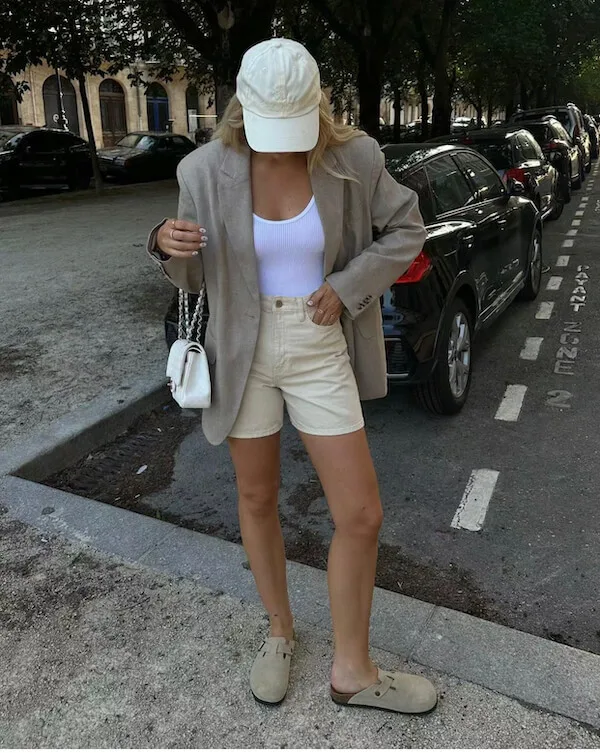 Birkenstock clogs are not just a shoe trend, they are a lifestyle.
And when it comes to pairing them with shorts, the possibilities are endless.
Whether you're running errands or going for a casual lunch with friends, Birkenstock clogs can effortlessly elevate your outfit.
One of the best things about wearing Birkenstock clogs with shorts is the comfort and ease they provide.
The sturdy sole and contoured footbed offer excellent support, making them perfect for long walks or days spent on your feet.
Plus, their classic design adds a touch of elegance to any casual outfit.
If you want to add an extra dimension to your Birkenstock clog and shorts ensemble, try experimenting with different styles and patterns.
Pairing denim shorts with basic gray clogs creates an effortlessly chic look that exudes confidence and style.
Alternatively, opt for brightly colored or patterned shorts paired with neutral-toned clogs for a fun and playful summer vibe.
Suede Birkenstocks Clogs With Blazer Suit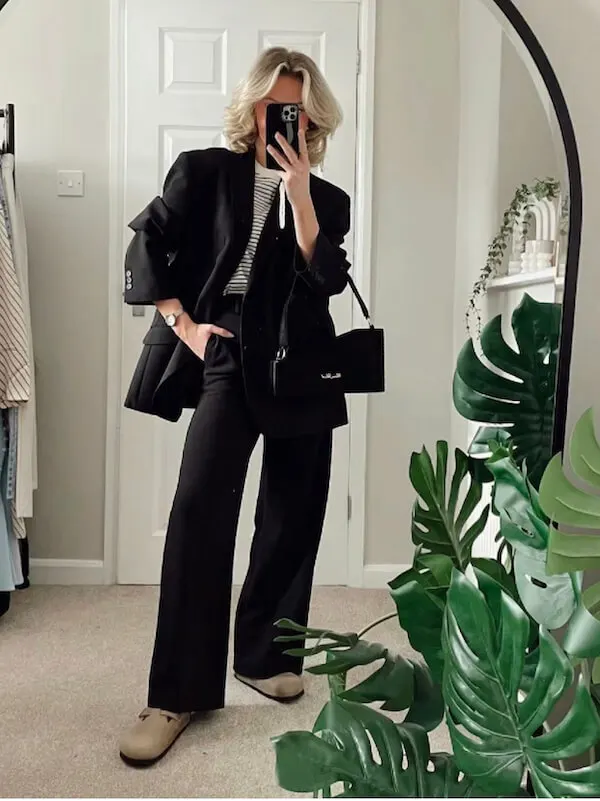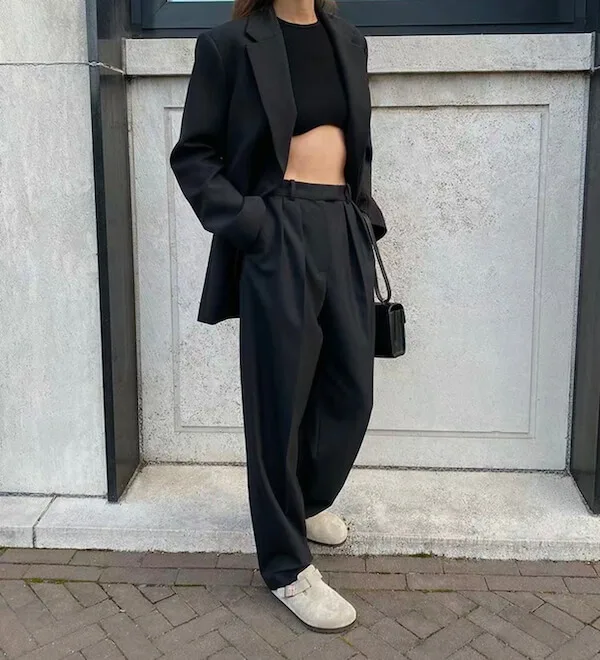 One unexpected pairing that has been making waves in the fashion world is Birkenstock clogs with a blazer suit.
While these two items may seem like an unlikely duo, they actually complement each other perfectly, combining comfort and style in a unique way.
The key to pulling off this look is all about balance.
Opt for a blazer suit in a classic color such as navy or black, and then pair it with Birkenstock clogs in a contrasting shade or pattern.
The juxtaposition of the structured blazer with the relaxed silhouette of the clogs creates an interesting dynamic that adds instant coolness to your overall ensemble.
Adding Birkenstock clogs to your blazer suit not only elevates your outfit but also adds an effortless touch of individuality.
It's about embracing contradictions and defying traditional fashion norms.
So next time you're looking for a fresh way to style your blazer suit, don't be afraid to step outside your comfort zone by sliding into some stylish Birkenstock clogs – it just might become your new favorite combination!
Overalls or Jumpsuit With Birkenstock Clogs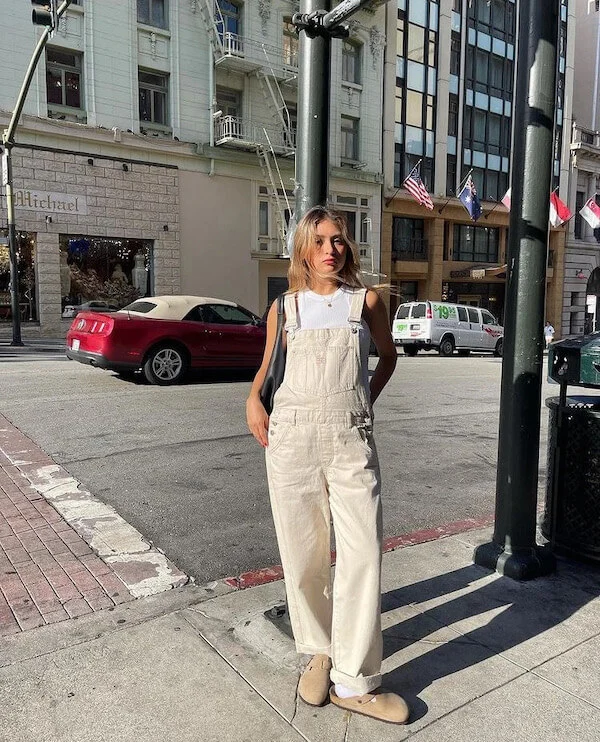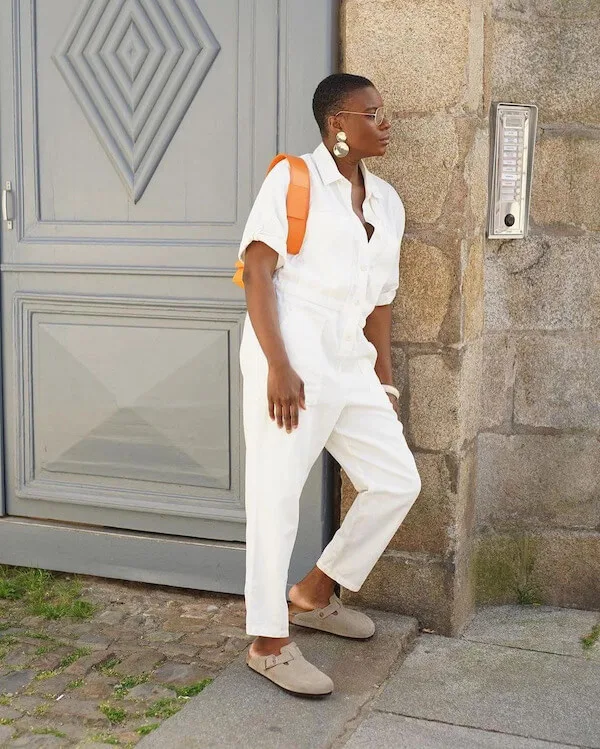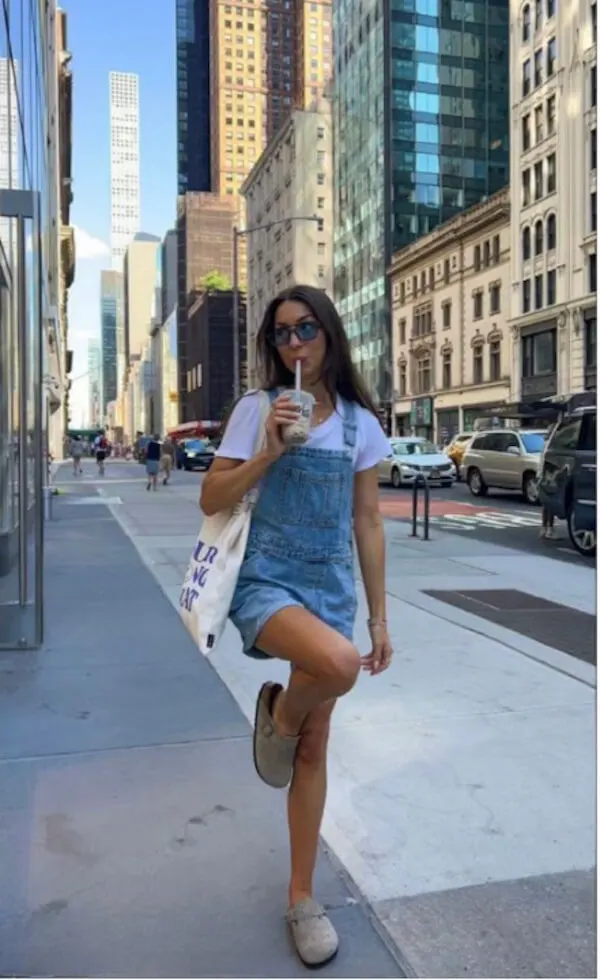 When it comes to effortless style and comfort, pairing overalls or jumpsuits with Birkenstock Bostons is an unbeatable combination.
The relaxed silhouette of overalls or jumpsuits perfectly complements the casual and laid-back vibe of Birkenstock clogs.
Whether you opt for classic denim overalls or a chic linen jumpsuit, this ensemble exudes a cool and effortless charm.
One of the best things about styling overalls or jumpsuits with Birkenstock clogs is the versatility it offers.
You can dress up or down this look depending on the occasion.
For a casual day out, pair your favorite denim overalls with a simple white tee and slip into your comfortable Birkenstock clogs for an effortlessly stylish look
On the other hand, if you want to elevate this outfit for a night out, choose a sleek jumpsuit in a bold color, add statement accessories, and slide into your trusty pair of Birkenstock clogs – you'll be ready to turn heads wherever you go.
Sweater, Jeans or Wide Leg Pants, And Birkenstock Boston Clogs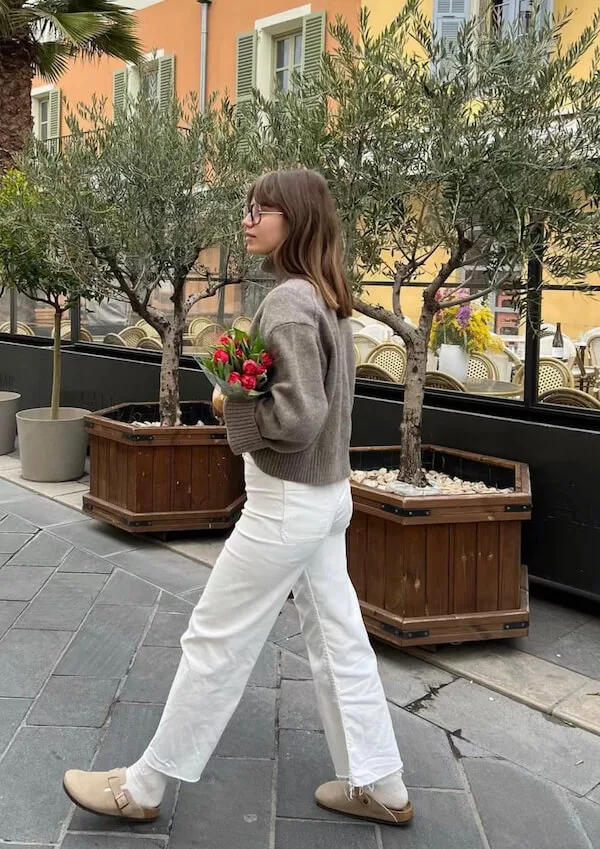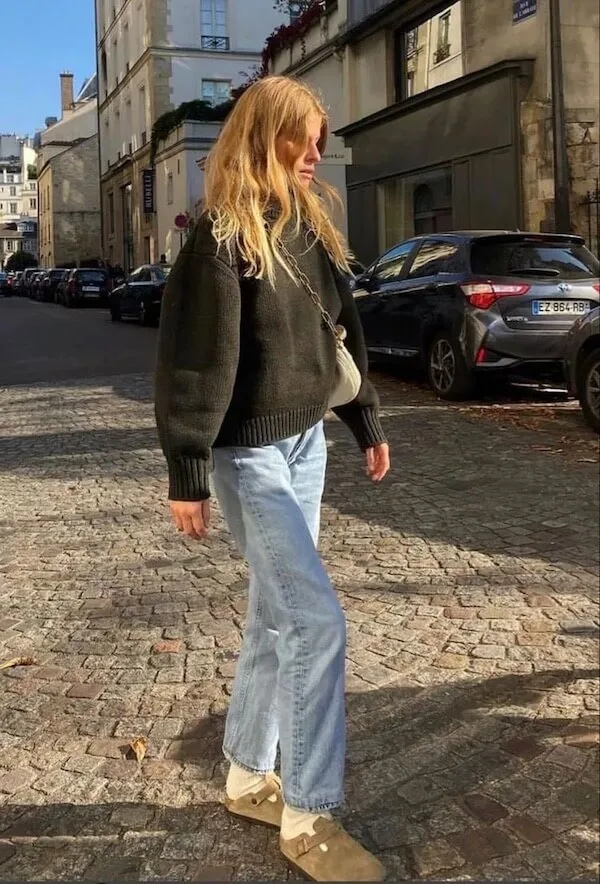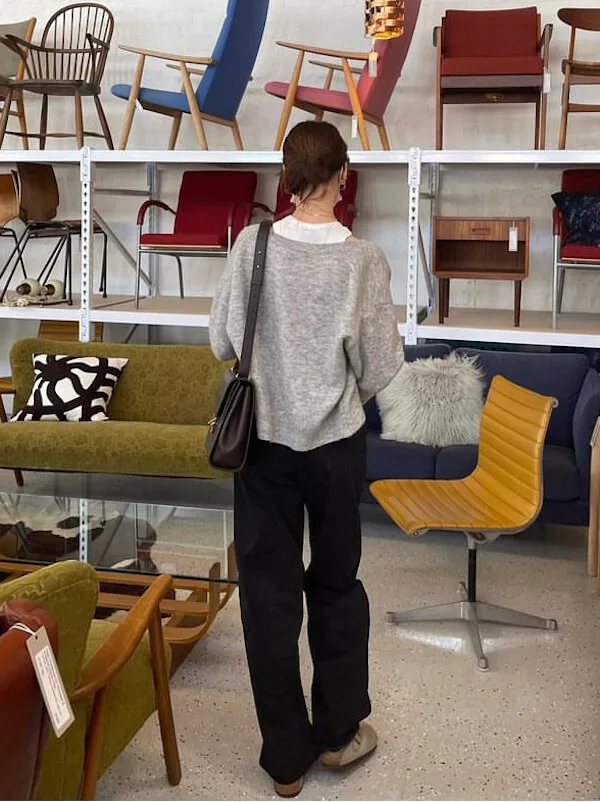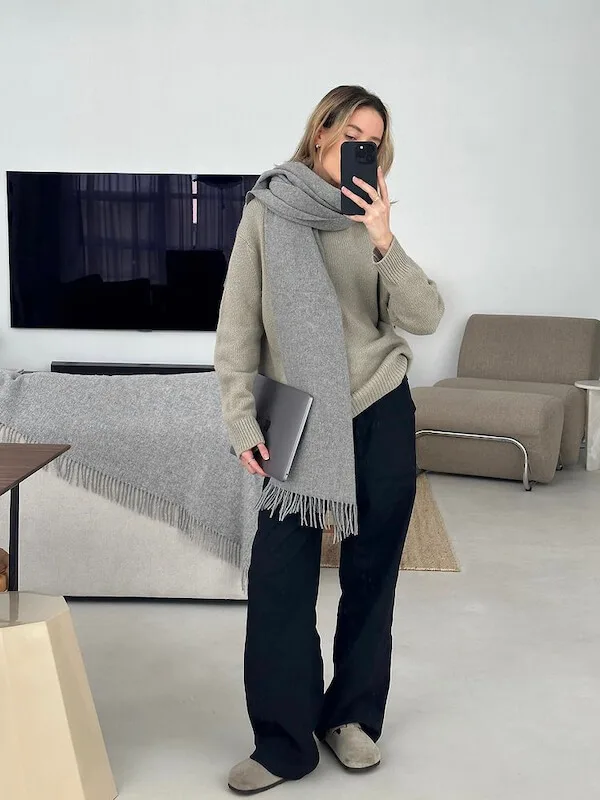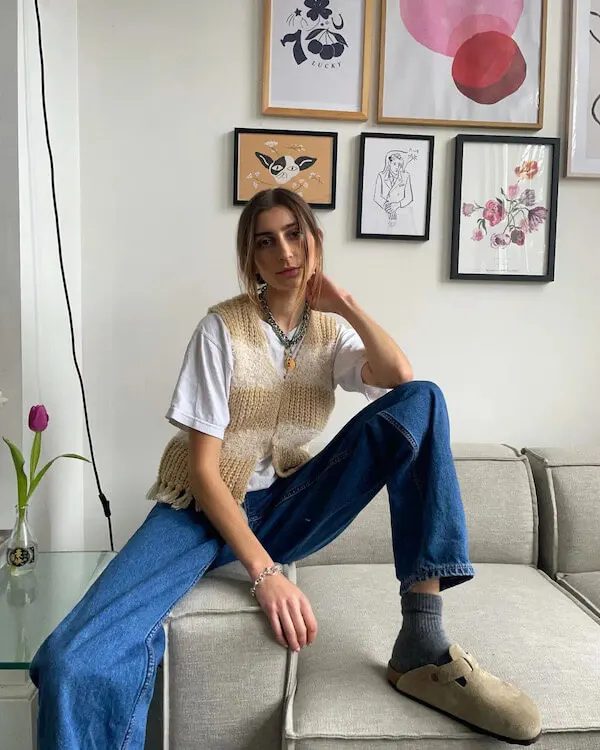 When it comes to creating effortlessly chic and comfortable outfits, the combination of a cozy sweater, jeans or wide-leg pants, and Birkenstock Boston clogs is a winning formula.
The versatility of this ensemble makes it perfect for both casual weekends and more polished occasions.
Pairing a chunky knit sweater with fitted jeans and classic Birkenstock Boston clogs creates a laid-back yet fashion-forward look that exudes confidence.
The relaxed fit of the jeans or wide-leg pants adds balance to the oversized silhouette of the sweater, while the clogs give a cool and unexpected twist to an otherwise simple outfit.
How do I style Birkenstock clogs for spring and summer?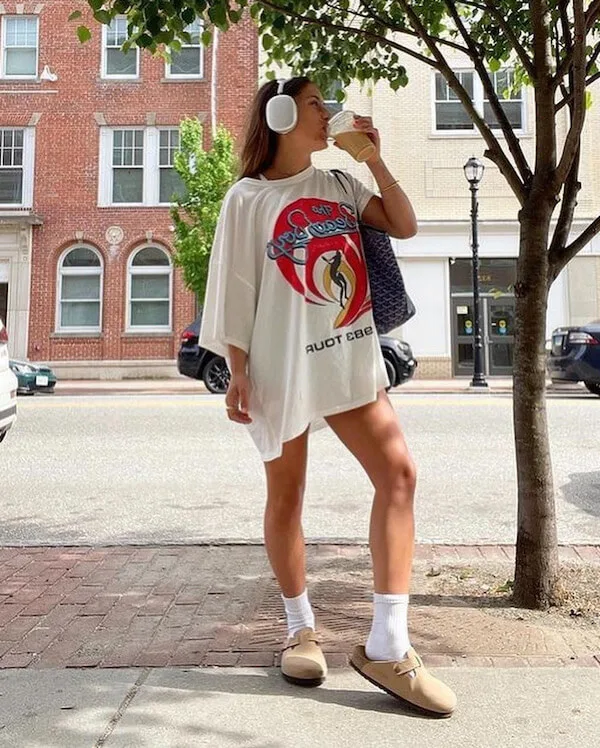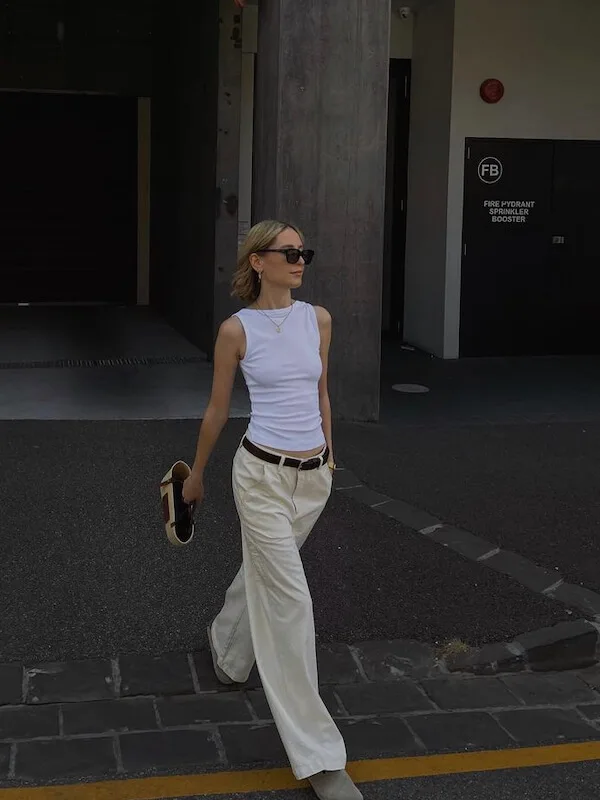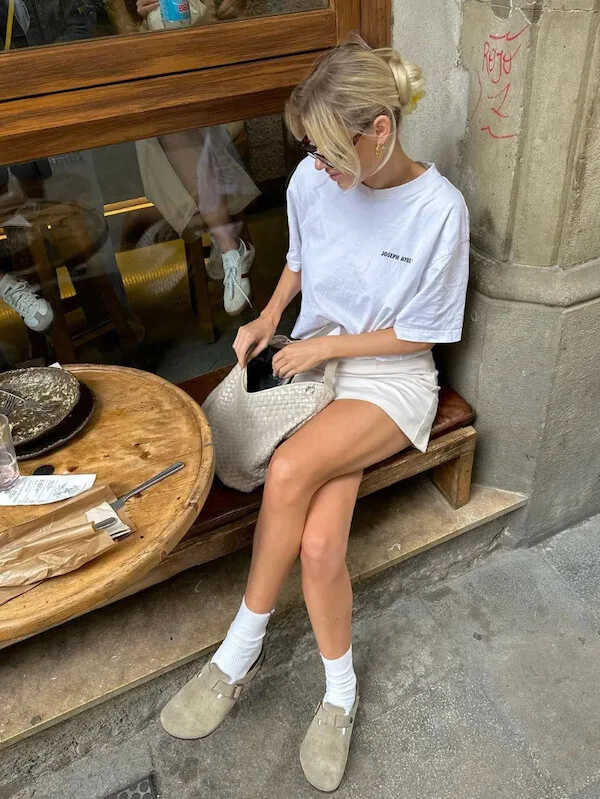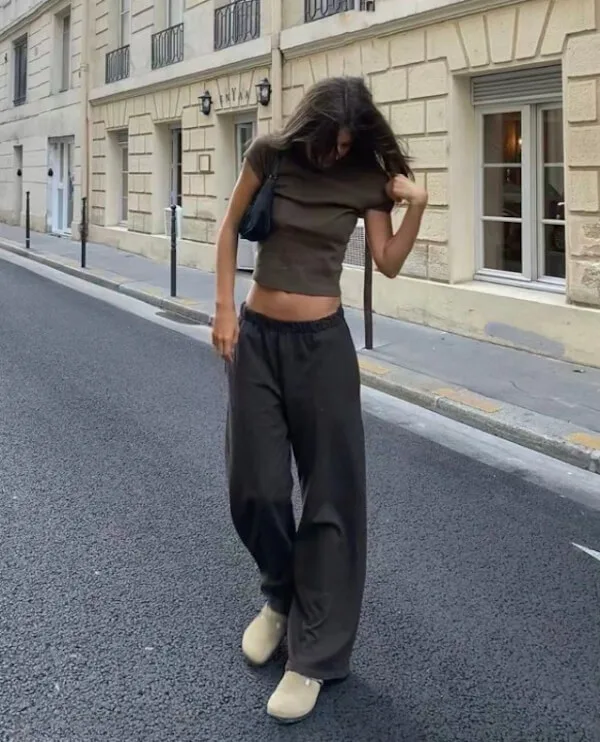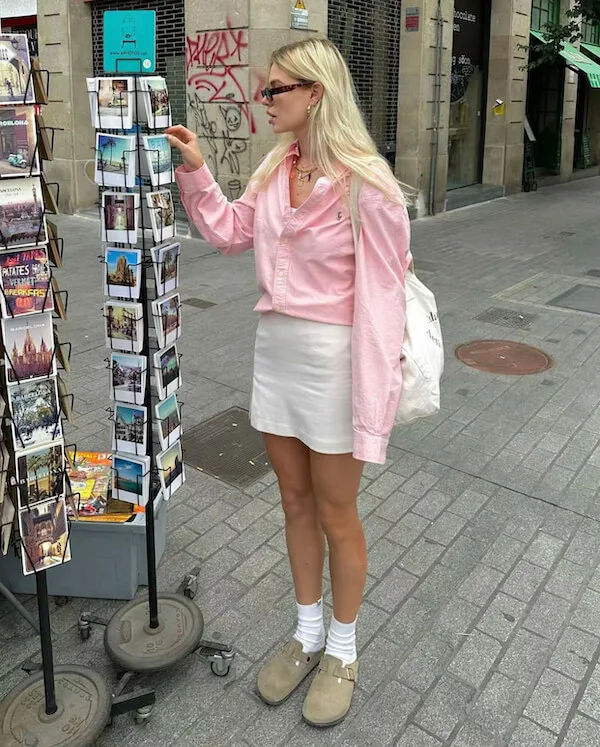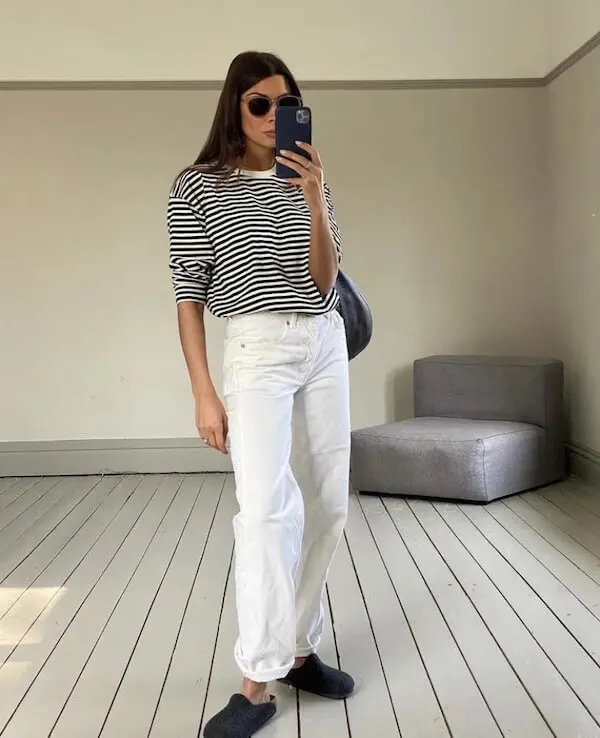 @smythsisters
Birkenstock clogs are not just cozy and comfortable, but also versatile enough to be styled for any season.
When it comes to spring and summer, these iconic shoes can be the perfect addition to your wardrobe, adding a dose of effortless chic to your outfits.
For a casual yet trendy look, pair your Birkenstock clogs with high-waisted denim shorts and a flowy blouse.
This combination strikes the balance between comfort and style, making it ideal for warm days spent exploring the city or relaxing in the park.
Add some accessories like a straw hat and oversized sunglasses for an extra touch of summertime charm.
If you're looking to dress up your Birkenstock clogs for a more polished vibe, opt for a lightweight linen dress or a midi skirt paired with a tucked-in blouse.
This ensemble will give you an effortlessly elegant street style while keeping you cool in the heat.
Choose neutral-colored clogs that complement the colors of your outfit, or go bold with vibrant hues that add an unexpected pop to your overall look.
Ways to wear the Birkenstock clogs for fall and winter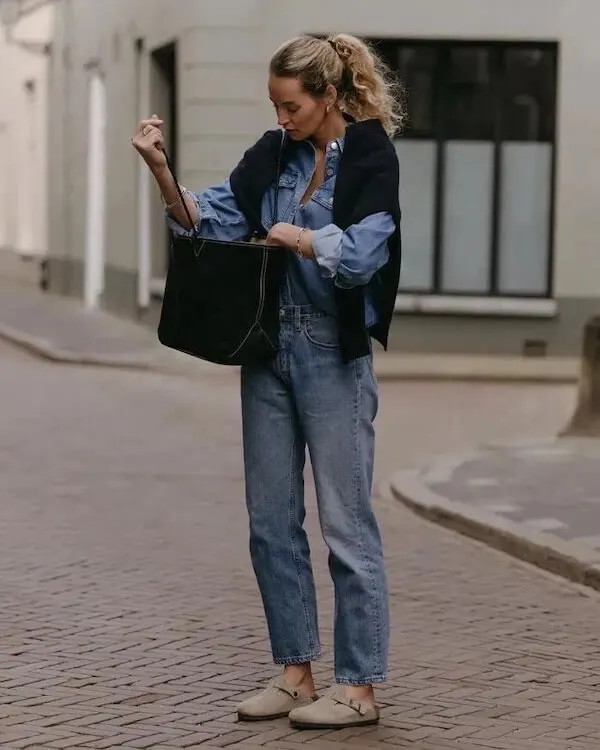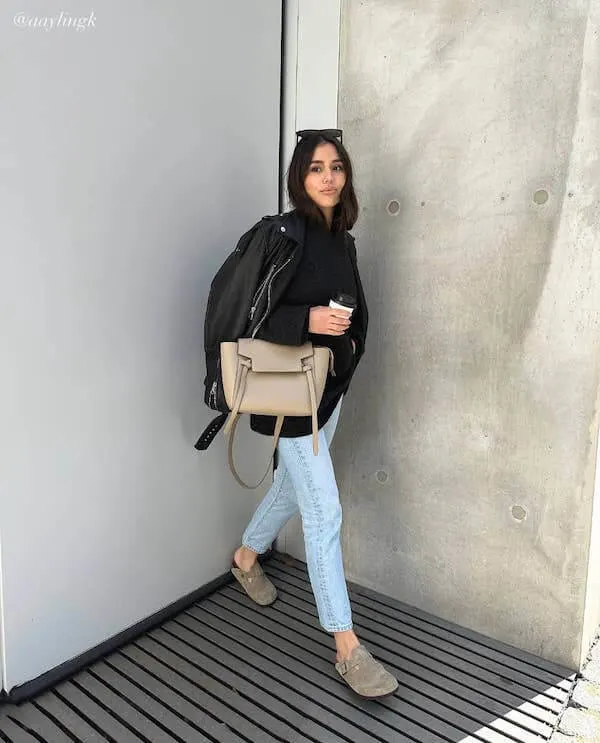 @AAYLINGK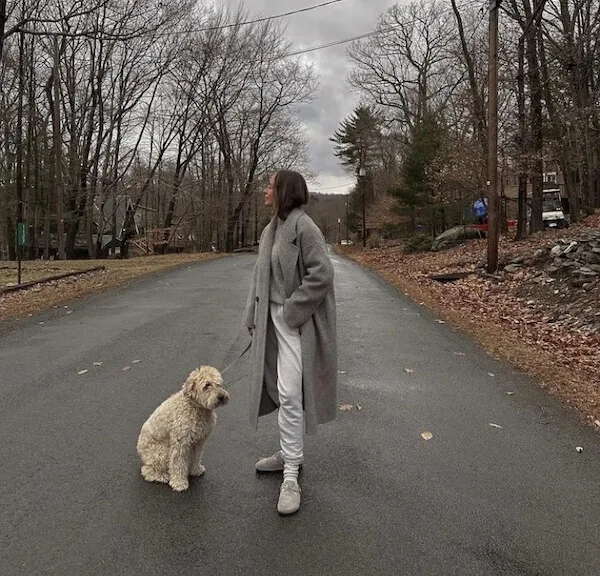 @brooklynblonde
The Birkenstock clogs are not just for summer.
With their comfortable soles and cozy designs, these shoes can be the perfect addition to your fall and winter wardrobe.
Pair these clogs this fall with thick socks and a chunky knit sweater for a cozy yet stylish look.
The contrast between the rugged clogs and the soft, textured sweater creates an interesting balance that is sure to turn heads.
Another way to wear the Birkenstock clogs in colder weather is by layering them with tights or leggings.
This creates a sleek silhouette while keeping your feet warm and comfortable.
Add a long coat or trench over your outfit for extra warmth and style.
This combination of classic outerwear with trendy clogs adds a contemporary twist to your winter ensemble.
When it comes to styling the Birkenstock clogs for fall and winter, don't be afraid to experiment with different textures and layers.
Play around with oversized scarves, wool skirts, or even leather jackets to create unique looks that suit your personal style.
The versatility of these shoes allows you to mix and match them with various pieces in your wardrobe, making them a must-have for any fashion-forward individual this season.
More Effortlessly Chic Birkenstock Outfits To Wear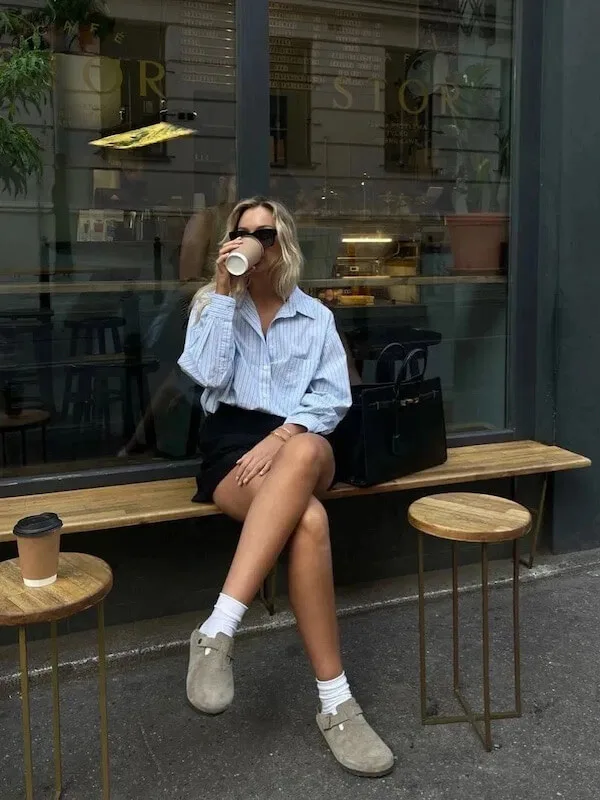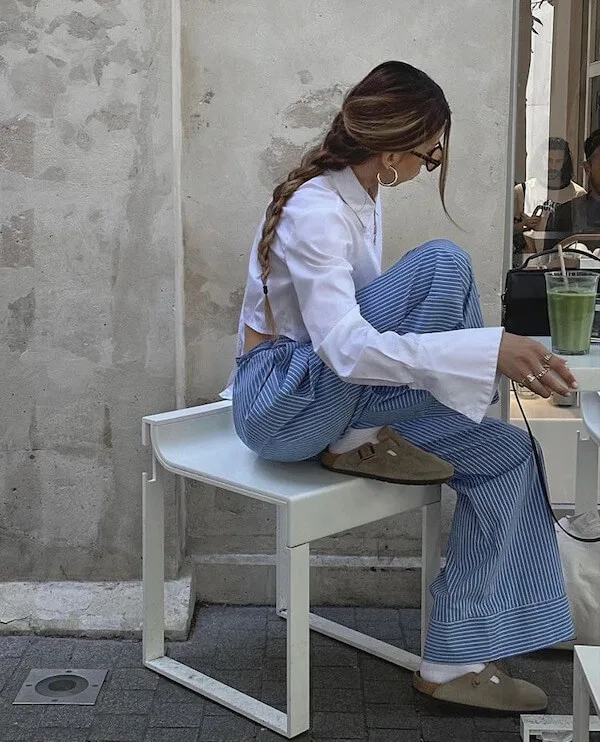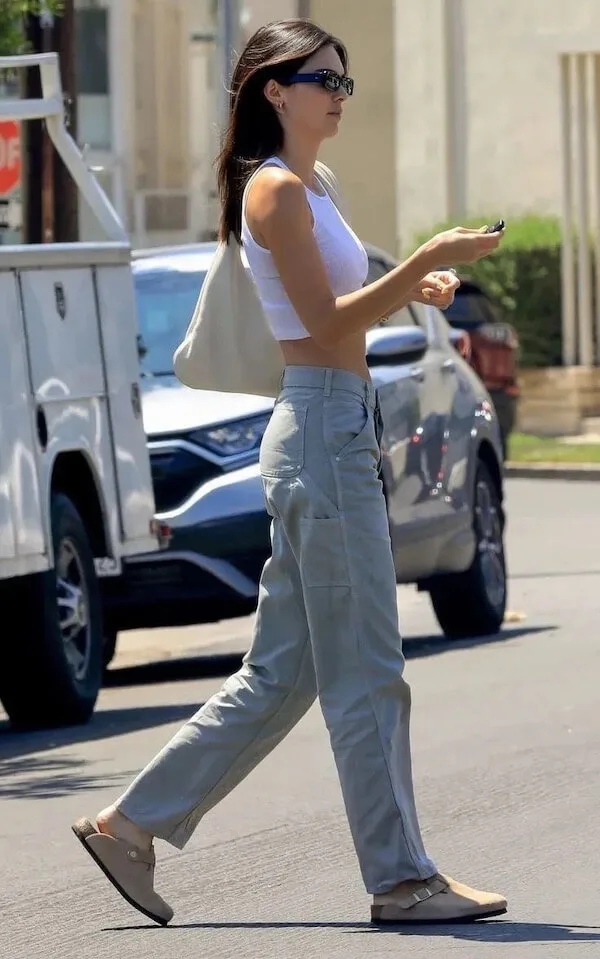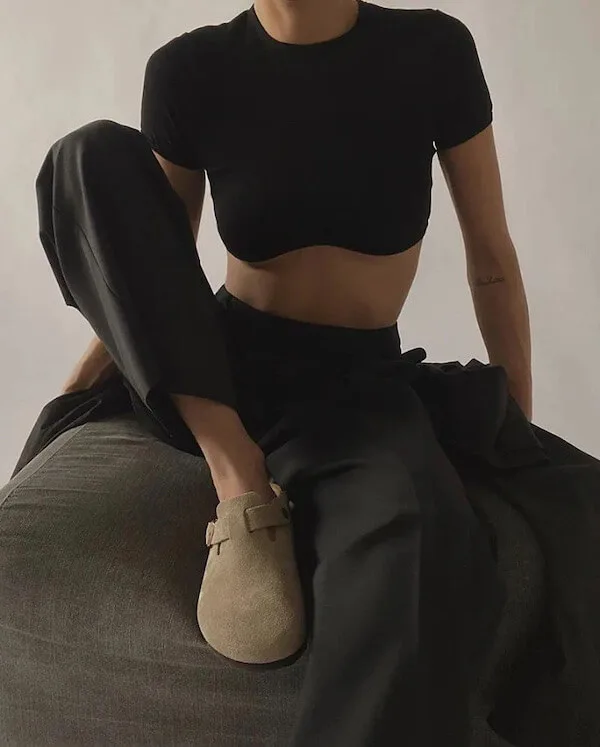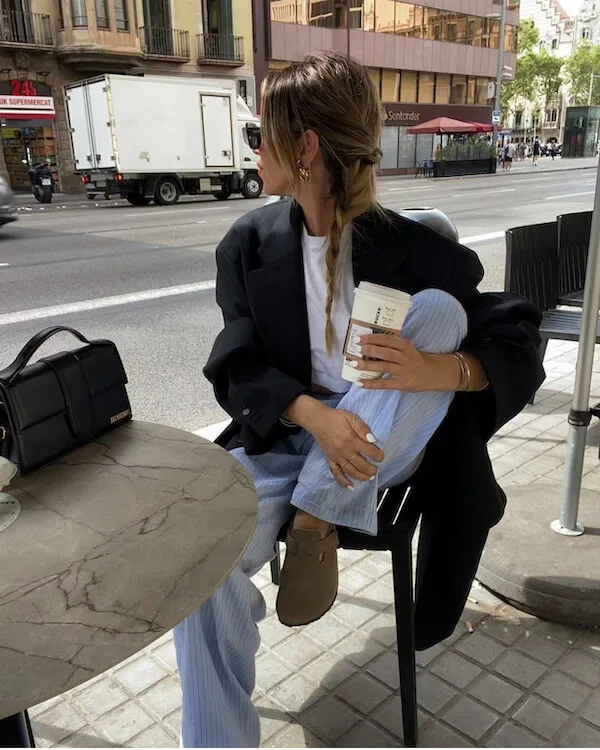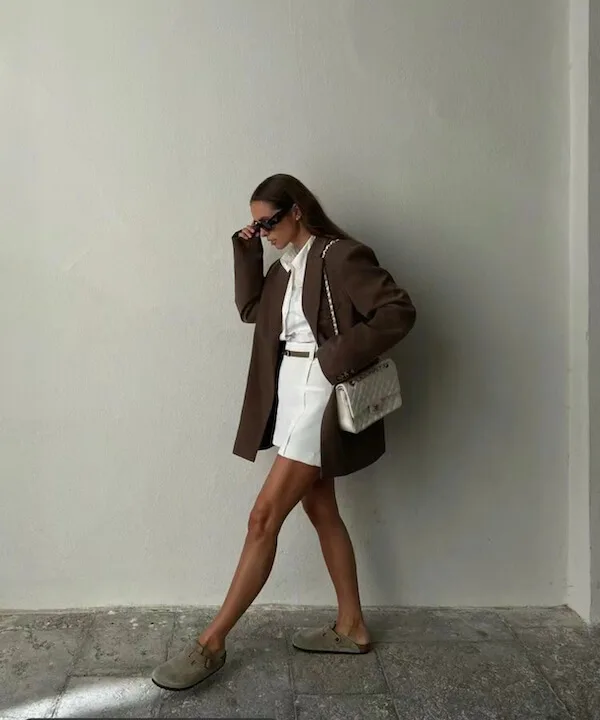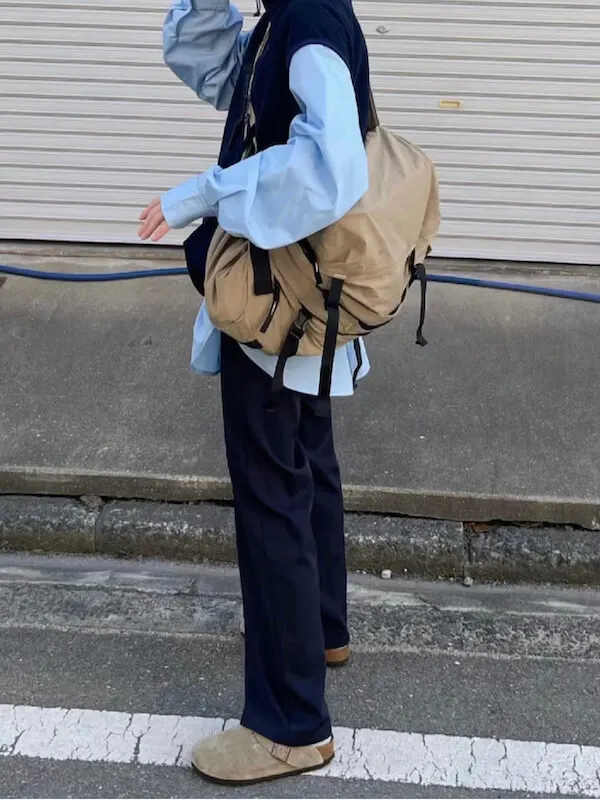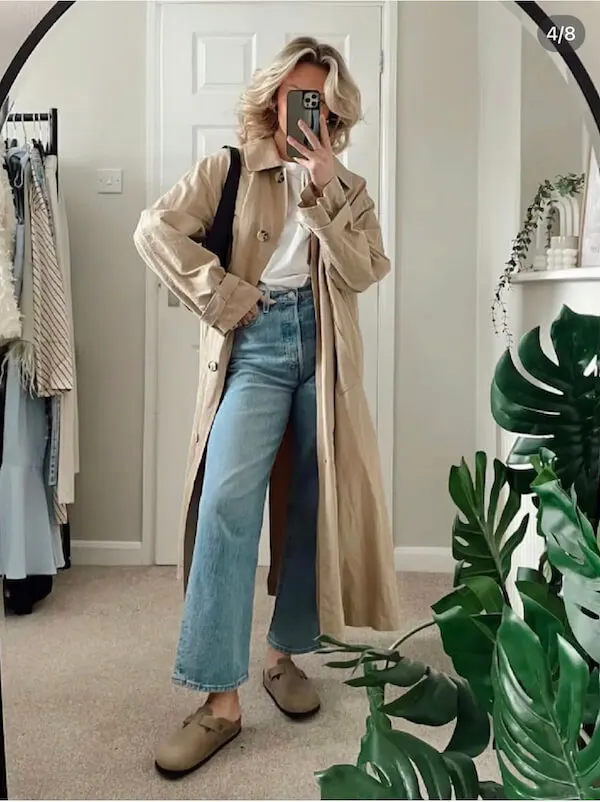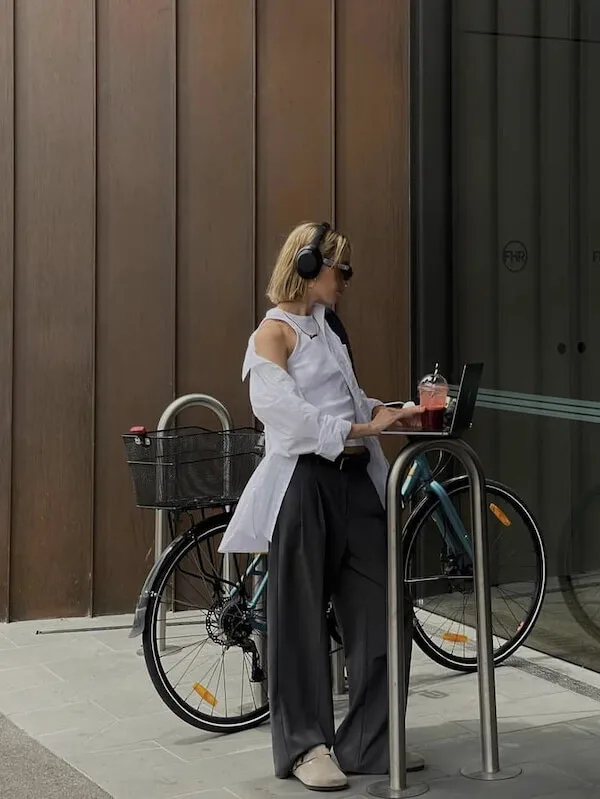 FAQs
Q: What style Birkenstock is most popular?
When it comes to Birkenstock styles, there is one particular design that stands out as the most popular – the classic Arizona.
With its timeless double strap and adjustable buckle closure, the Arizona has become a go-to choice for many Birkenstock enthusiasts.
Its versatility allows it to be paired with a wide range of outfits, from casual jeans and shorts to bohemian dresses and flowy skirts.
While the Birkenstock Arizona's popularity is undeniable, it's important not to overlook other beloved Birkenstock styles.
The Gizeh, with its elegant thong silhouette and sleek design, is also highly sought after.
Offering a more feminine look than the Arizona, the Gizeh can effortlessly elevate any outfit while still providing the same comfort that Birkenstocks are renowned for.
In recent years, another style that has gained traction in fashion circles is the Boston clog.
This closed-toe option offers a unique twist on traditional Birkenstocks by combining comfort with a slightly dressier appearance.
The Boston clog can add an unexpected touch of sophistication to any outfit, making it a popular choice among those who want their footwear to make a statement.
Overall, while the classic Arizona remains at the forefront of popularity when it comes to Birkenstock styles, there are plenty of other options worth exploring.
Whether you prefer the simplicity of the Gizeh or seek something more refined like the Boston clog, there's no shortage of choices when it comes to finding your perfect pair of Birks.
Q: How can I create a chic outfit with Birkenstock clogs?
You can create a chic outfit with Birkenstock clogs by pairing them with stylish clothing pieces like a sweatshirt, street-style jeans, or a casual dress. Add some accessories to complete the look.
Q: Can I wear Birkenstock clogs in the summer?
Yes, Birkenstock clogs can be worn in the summer.
They are comfortable and versatile, making them perfect for creating stylish and breathable summer outfits.
Q: Can I wear Birkenstock clogs with socks?
Yes, you can wear Birkenstock clogs without socks or with socks.
Wearing Birkenstocks clogs with socks is a popular trend, especially with the resurgence of 90s fashion.
You can pair them with white socks or opt for colorful or patterned socks to add a fun touch to your outfit.
Q: Are Birkenstock clogs a fashion staple?
Yes, Birkenstock clogs have become a fashion staple. They are known for their comfort and style, and many fashion enthusiasts consider them a must-have footwear option.
Q: Can I wear Birkenstock clogs in the fall?
A: Absolutely! Birkenstock clogs can be worn in the fall.
Pair them with cozy sweaters, denim jackets, leggings, or other fall essentials to create a comfy and stylish look.
Q: How to style Birkenstock sandals?
Birkenstock sandals are a staple in many fashionista's wardrobes, and for good reason.
Not only are they comfortable and durable, but they also add an effortlessly chic touch to any outfit.
If you're wondering how to style your Birkenstock sandals, look no further!
One way to elevate your Birkenstocks is by pairing them with a flowy maxi dress.
This creates the perfect balance of casual comfort and bohemian elegance.
Opt for a floral or patterned maxi dress in soft colors like blush pink or sky blue, and pair it with classic brown or black Birkenstocks for a stylish contrast.
Another trendy way to style your Birkenstocks is by pairing them with distressed denim jeans or shorts.
This creates an edgy yet laid-back vibe that is perfect for summer days or casual outings.
Choose jeans with frayed hems, ripped details, or even wide-leg cuts for added interest.
Complete the look with a simple white t-shirt and some statement accessories like layered necklaces or oversized sunglasses.
This post was all about Birkenstock clog outfits.
About The Author
Tracy is an experienced personal stylist, shopping expert, and fashion & lifestyle blogger. She has been featured on Time Magazine, Bustle, Best Life, Glam, The Zoe Report, Mic, and GOBankingRates, for her insights on fashion, beauty, home decor, and lifestyle. Read More
Related Posts: