Looking for fancy brunch outfits? Check this post for the best style tips on what to wear to brunch, and chic & cute brunch outfit ideas to copy directly. From spring brunch outfits to winter brunch styles, from cute outfits for casual Sunday brunch with friends to brunch date outfit ideas, we've got you covered!
When it comes to brunch, nothing else quite compares to the joy of getting dressed up and meeting with friends for an indulgent morning meal.
Whether you prefer to dress up or keep it casual, we've covered the perfect outfits for different kinds of brunches.
From vibrant, eye-catching patterns to chic, timeless silhouettes, you can create the perfect look for your next brunch outing.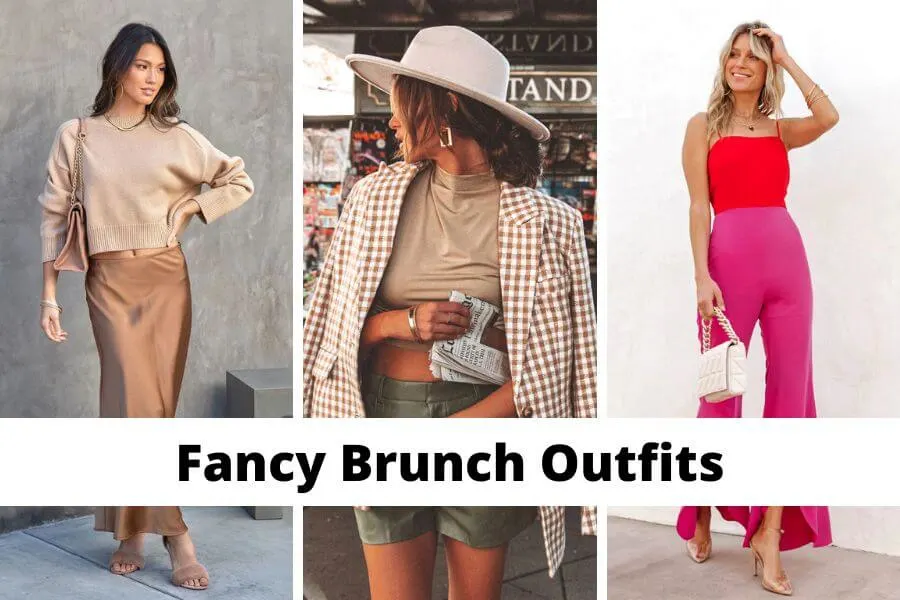 This post may contain affiliate links, which means I'll receive a commission if you purchase through my link, at no extra cost to you. Please read the full disclosure here.
This post is all about fancy brunch outfits.
What is a Brunch Outfit?
Brunch is a popular weekend activity for many, providing an opportunity to catch up with friends and family over a delicious meal.
But what is the appropriate attire? What constitutes the perfect brunch outfit?
The key to brunching in style is having the right balance between stylish and comfortable.
Comfort should always be top priority when selecting a brunch outfit, as it can often be an extended outing.
Choose items that work together, such as a pair of fitted jeans or trousers paired with a fashionable t-shirt or blouse.
Opt for flat shoes such as loafers or trainers; they'll keep your feet comfortable while maintaining that chic look.
Light jackets are also great additions to any look, helping you transition from cooler morning temperatures into warmer afternoons.
Brunch Outfit Key Items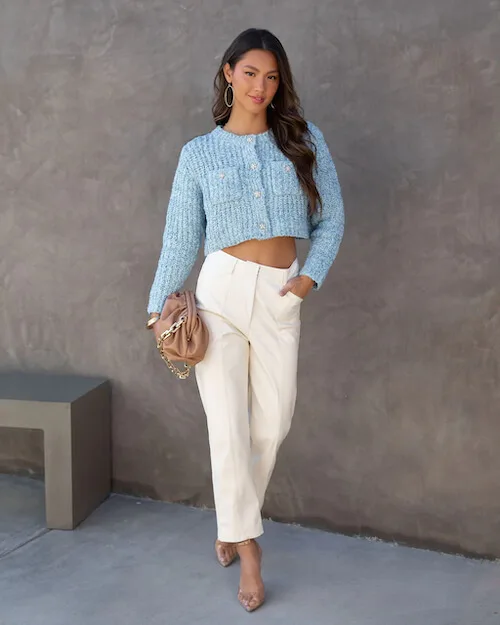 When choosing an outfit for brunch, comfort should always be your priority.
Look for pieces that are easy to move around in like a comfortable pair of jeans or slacks paired with a stylish blouse or top.
Add some fun accessories such as statement earrings or layered necklaces to make your look stand out.
Opting for shoes like loafers, ballet flats, mules, sandals, and minimalist sneakers that will add an extra touch of style while still providing all-day comfort.
To complete the look you can add a structured bag and light jacket if needed.
What to Wear to a Brunch Tips
Do people dress up for brunch?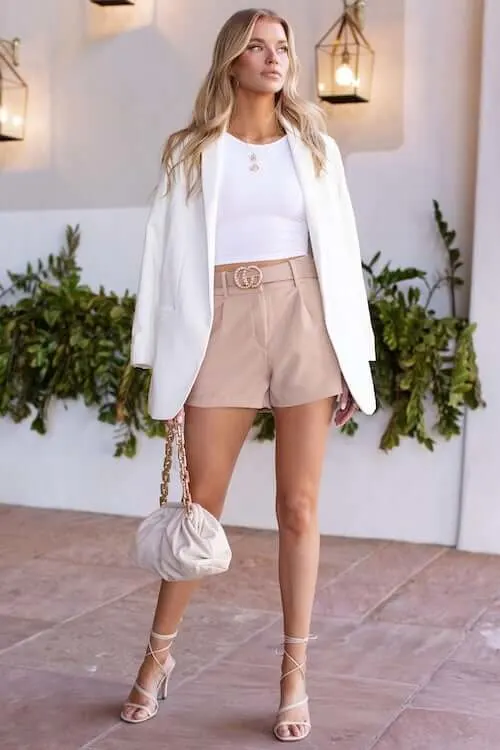 Do people dress up for brunch? For many, the answer is a resounding yes!
Dressing up for breakfast or lunch is becoming more common as people are looking to make the most of their leisure time by dining out in style.
Whether you prefer to dress casually or opt for something a bit more formal, there's no wrong way to approach brunch attire.
Many opt for classic staples like jeans and a nice top, while others choose something with more pizzazz such as statement dresses or jumpsuits.
With so many stylish options available, the possibilities seem endless!
Plus, it gives you a great excuse to show off your favorite looks that may not typically be suitable for work or school environments.
Is brunch semi-formal?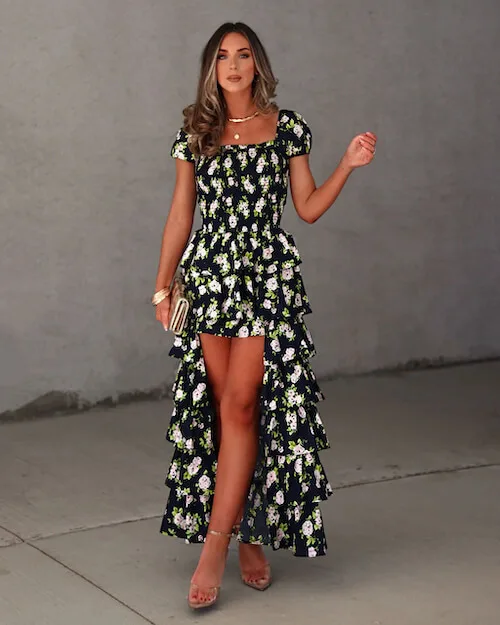 Brunch is an increasingly popular mealtime, but what should you wear to it?
Is brunch a semi-formal occasion or can you get away with something more casual?
To decide what to wear, it's important to consider the venue and the dress code.
For example, if the restaurant has a formal dress code then wearing something semi-formal may be best.
If you're attending a friend's house for brunch, then jeans and a nice shirt will suffice.
However, if there is no specific dress code in place, then opt for something stylish yet comfortable such as linen trousers and a blazer or dressy top.
Semi-formal attire can also be appropriate for events such as bridal or baby showers.
Consider the location and atmosphere of the event when deciding what to wear.
How to Style Brunch Outfits To Look Chic
For women seeking fashion inspiration for their next brunch, here are some tips on how to style the perfect brunch outfit.
Start by picking out a statement piece as the focal point of your look. This can be anything from a bright colored sundress to a fun jumpsuit with bold patterns or texture.
Accessorizing with jewelry or eye-catching shoes can add an extra special touch and make your outfit stand out amongst the crowd.
When it comes to color choices, pastels are always great options for brunch as they're light and airy.
However, don't be afraid to mix in some darker colors like navy blue or black too!
Fashion Tips to Avoid With Brunch Outfits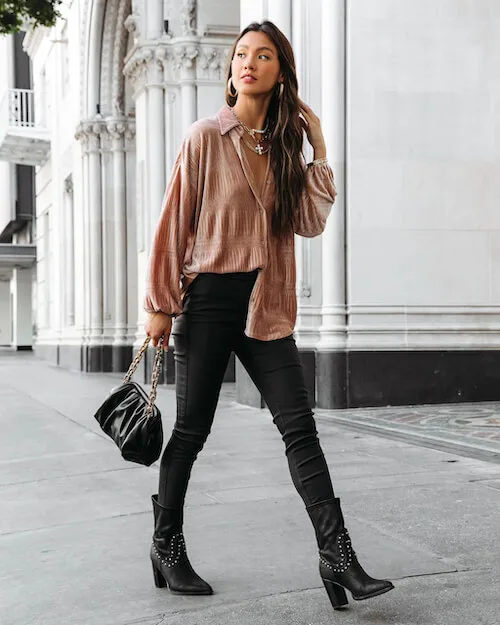 When it comes to brunch outfits for women, there are some fashion tips that should be avoided.
Firstly, you should avoid dressing too casually for brunch, as sweatpants and an oversized t-shirt may be too informal for the occasion.
Instead, opt for something like a dress, a pair of nice pants or a cute skirt with a nice blouse – this way you look put together without being overdressed.
The second tip to avoid is wearing overly trendy items.
Sure, there will always be new trends emerging in fashion but when it comes to brunch attire it's best to stick with classic pieces that won't go out of style anytime soon.
This will ensure your outfit looks timeless and elegant no matter how many years have gone by since you first wore it.
Fancy Brunch Outfits
Brunch is the ultimate weekend indulgence.
Whether you're meeting up with friends or family, the perfect brunch look should be equal parts laid-back and stylish.
Scroll on and get inspiration for your next brunch outfit by considering this season's hottest trends!
What to Wear to Sunday Brunch
Sunday brunch is the perfect combination of sweet and savory, making it a favorite pastime for many.
It's also a great opportunity to dress up your laid-back weekend style for a mid-morning meal.
Whether you're meeting friends at an outdoor cafe or hosting a cozy gathering at home, here are tips on what to wear to Sunday brunch.
Start with statement pieces like a colorful pair of printed shorts or flowy midi skirt that will have you feeling confident and chic.
Add layers like a lightweight cardigan or denim jacket to show off your style while keeping you warm in case the temperature drops.
Finish off the look with neutral accessories like tortoise shell sunglasses, classic hoops earrings, ballet flats, and small crossbody bags that complete the outfit without taking away from its effortless charm.
Silky Blouse + Black Skinny Jeans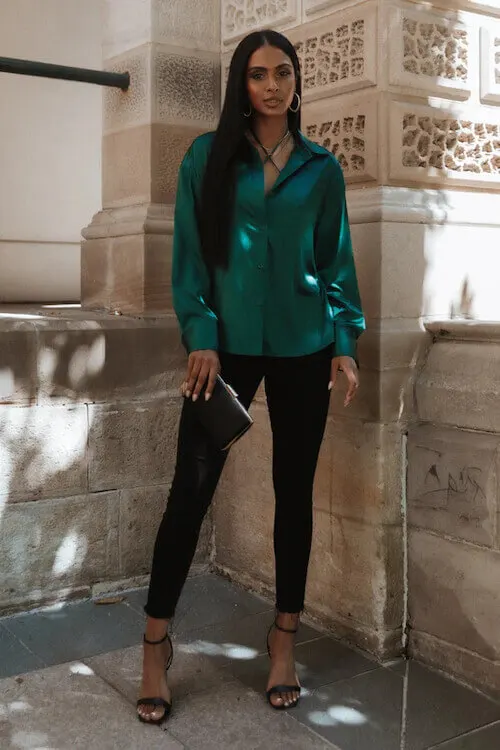 Tube Jumpsuit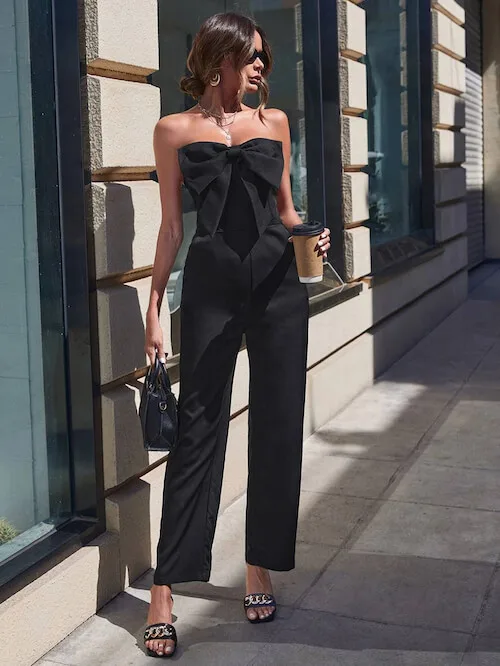 Fun Printed Shirt Dress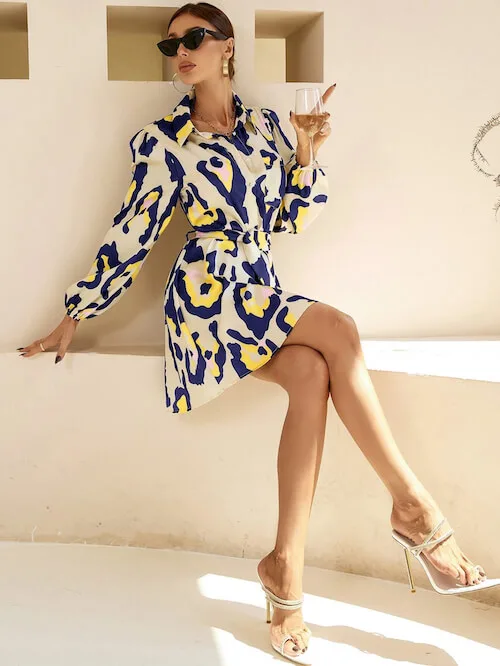 Floral Mini Dress + Knee High Boots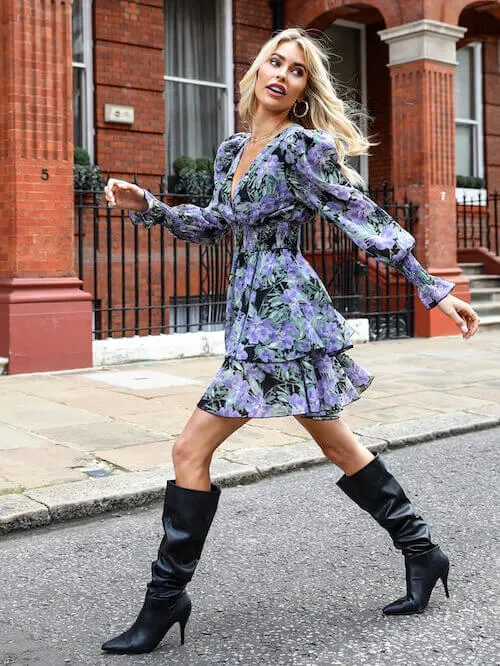 Elegant Yellow Dress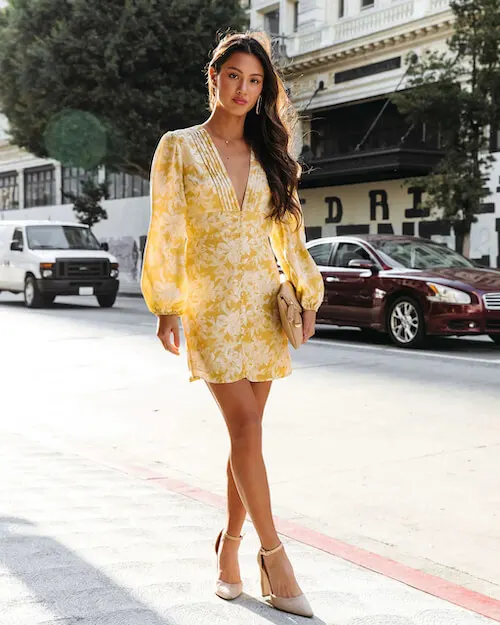 White Leather Jacket + Light Wash Jeans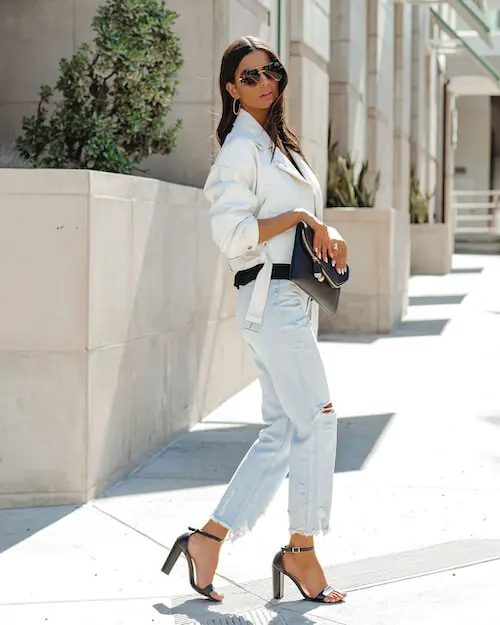 Pink Long Sleeve Top + Pink Wide Leg Pants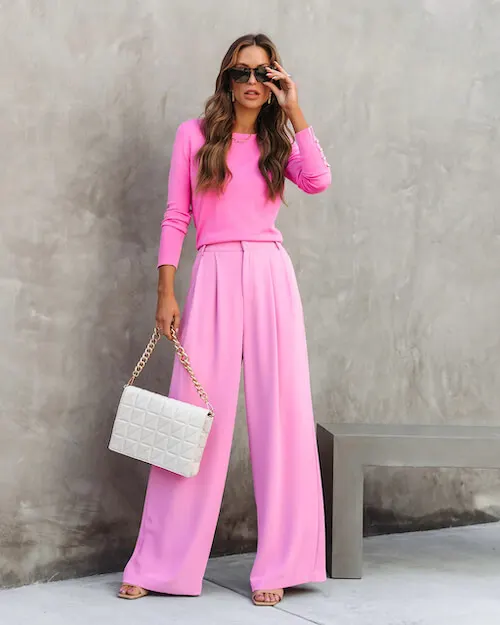 Best Winter Brunch Outfits
It's a dilemma that we all face – what to wear to a winter brunch?
As the temperature drops and the days get shorter, it can be tricky to find an outfit that is both stylish and weather appropriate.
But don't fret, ladies!
There are plenty of ways to look fabulous and remain warm at your next winter brunch.
Choosing pieces in luxurious fabrics like wool or cashmere will give you that extra layer of warmth without skimping on style.
A turtleneck sweater with a midi skirt or dressy trousers is perfect for a cozy but classy look.
Adding accessories like statement earrings, velvet heels, and a chic coat can take your ensemble up another notch.
Be sure not to forget the finishing touches – gloves and scarves in subtle hues are timeless additions that will keep you looking elegant while keeping out the chill.
Black Leather Jacket + Animal Print Wrap Skirt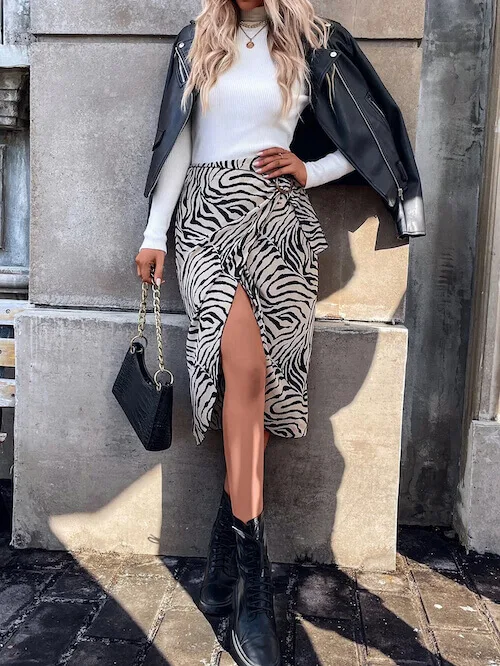 Black Sweater + Mini Skirt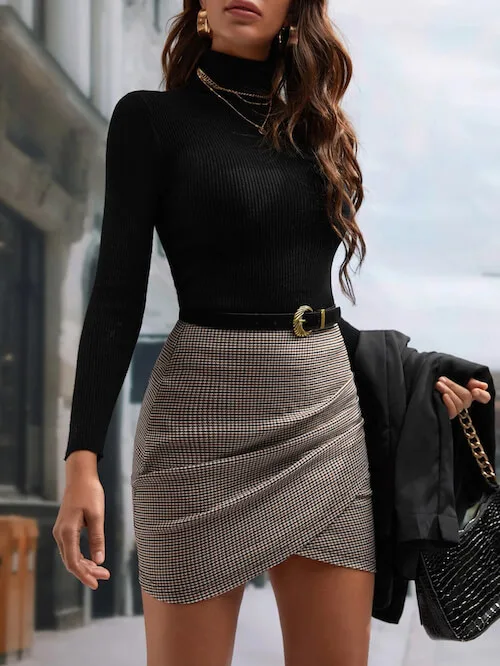 Cute Sweater Dress + White Boots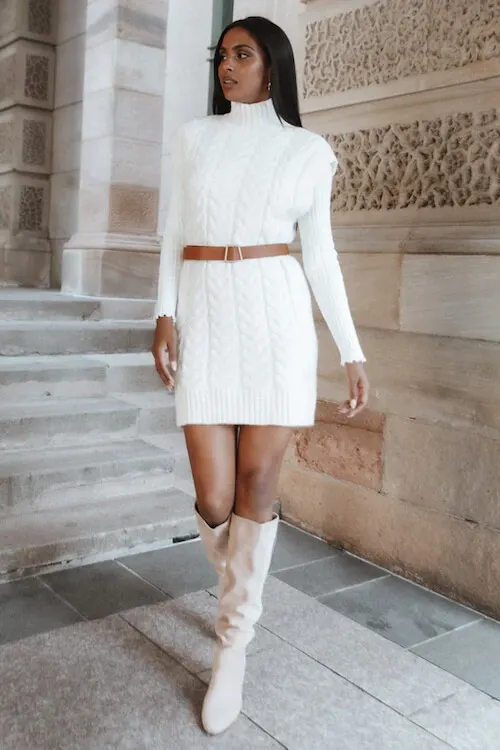 Warm And Stylish Faux Fur Coat Outfit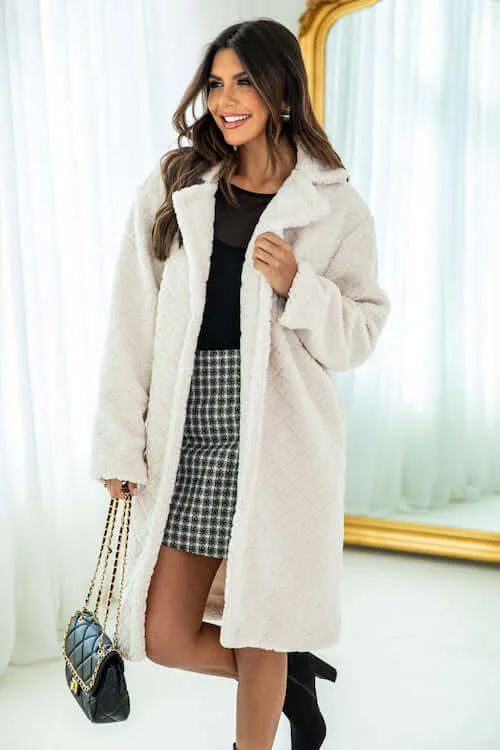 Leather Blazer + Black Dress + Black Tights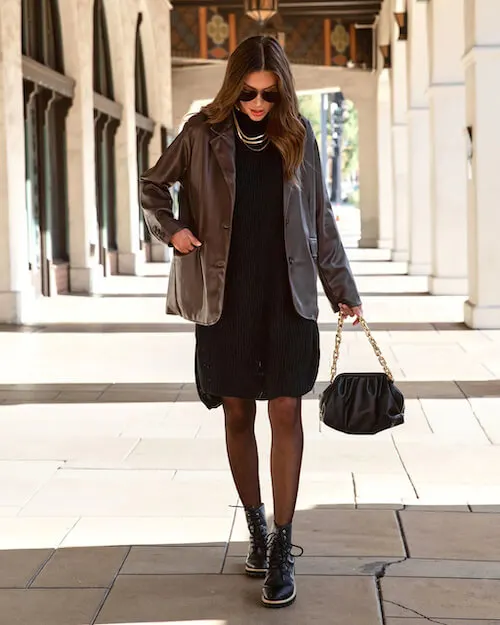 Fall Brunch Outfits
Fall is one of the most beautiful times of the year and a great opportunity to enjoy an outdoor brunch with friends.
Whether you're hosting or attending a fall brunch, here is what women should wear in order to look stylish and feel comfortable.
A casual dress is always an easy go-to for any event, but for a fall brunch, try something more colorful and festive.
Reach for an autumn-inspired print like florals or plaid which can be paired with some cute ankle boots or booties.
For cooler days, layer on a light jacket such as a denim jacket or cardigan over your dress.
Accessorize with statement earrings and complete your outfit with a chic clutch bag.
Flowy Maxi Dress + Tan Ankle Boots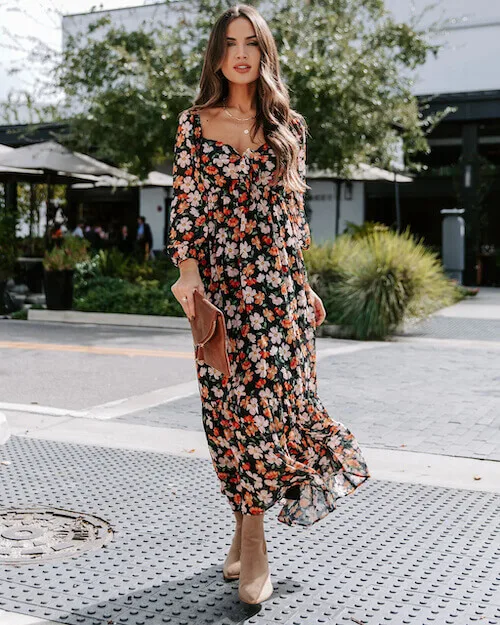 Crop Cardigan + Leather Pants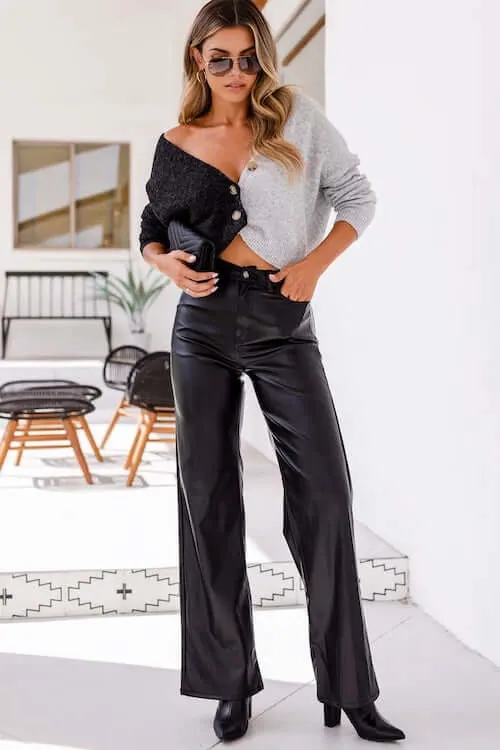 Turtleneck Sweater Dress + Belt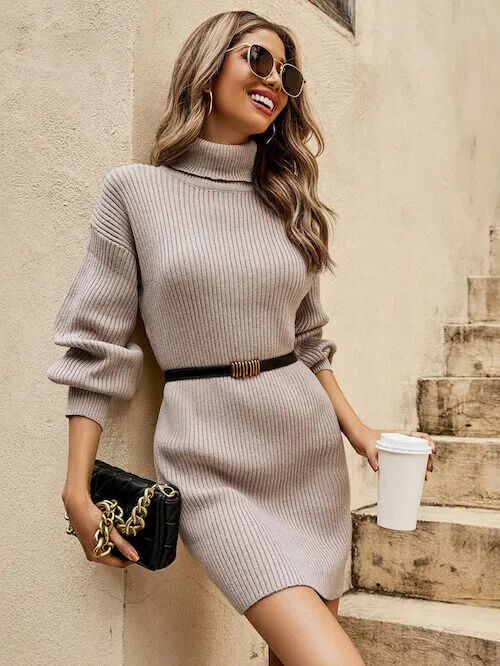 Chic Belted Shirt Dress + Black High Boots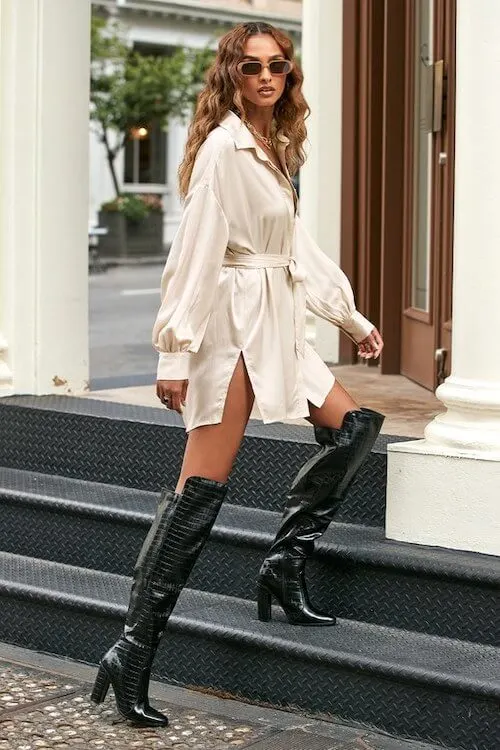 Simple Sweater + Pleated Midi Skirt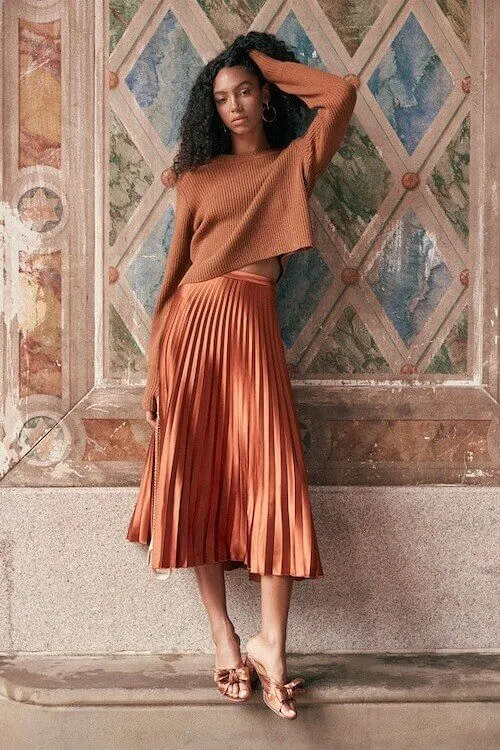 Gingham Blazer + Leather Shorts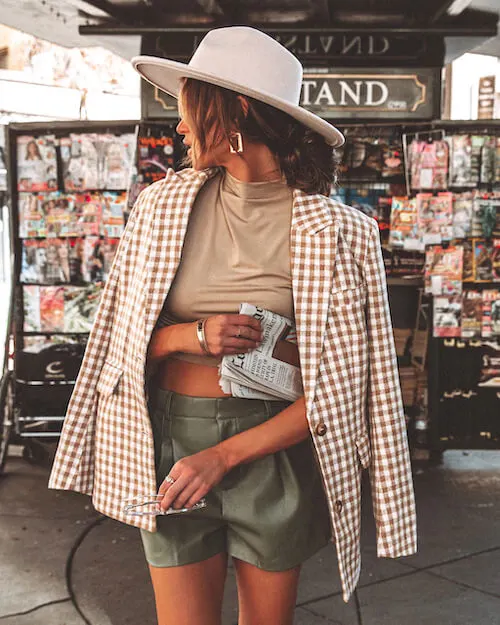 Spring Brunch
Spring brunches usually have an informal dress code; think of them as daytime events that require semi-formal attire.
A nice blouse paired with tailored trousers or jeans can work if the event is casual enough.
If it's slightly more formal, try pairing an elegant midi skirt or nice pants with a cute top or blazer for a timeless and stylish look.
Statement jewelry and accessories are also great for sprucing up any outfit – choose pieces in soft colors like pastels or floral prints that will complement the season perfectly.
Crop Top + Satin Wide-Leg Pants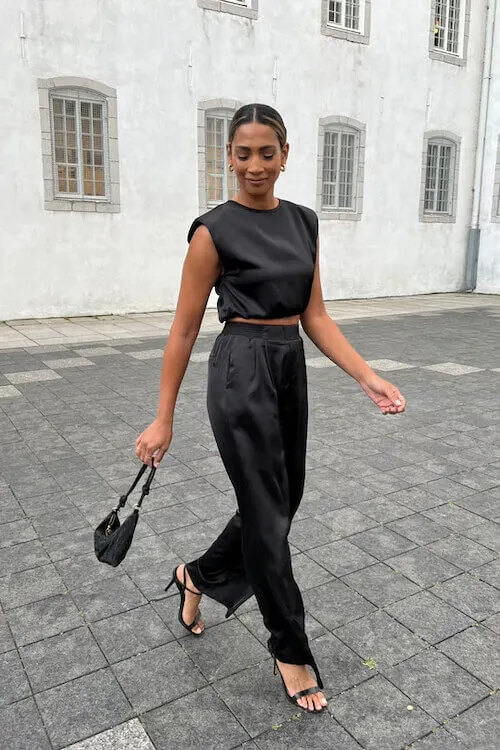 Red And Pink Jumpsuit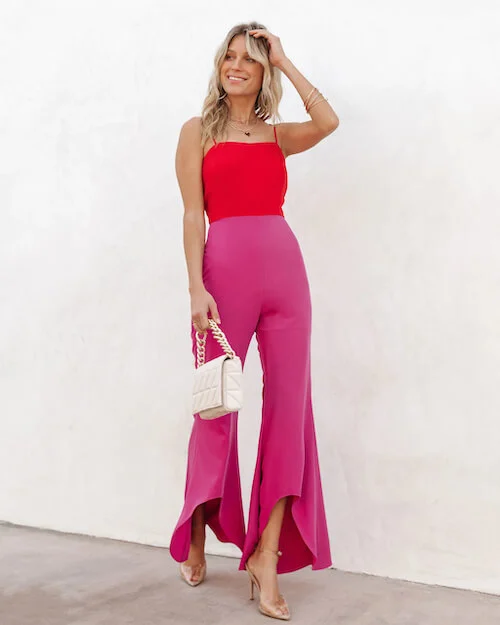 One-Shoulder Cropped Top + White Jeans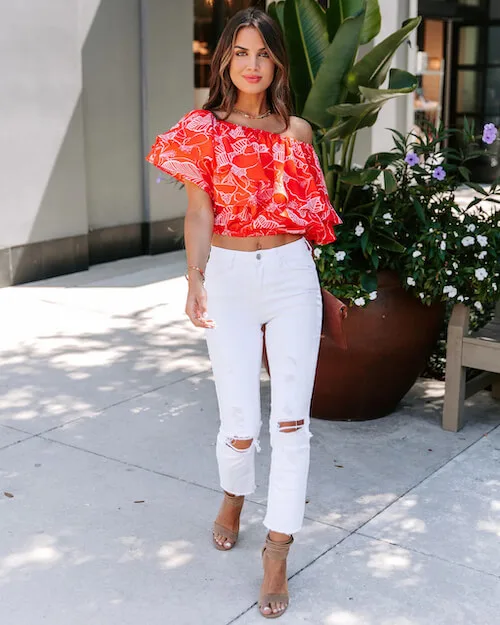 Cropped Blazer + Bootcut Jeans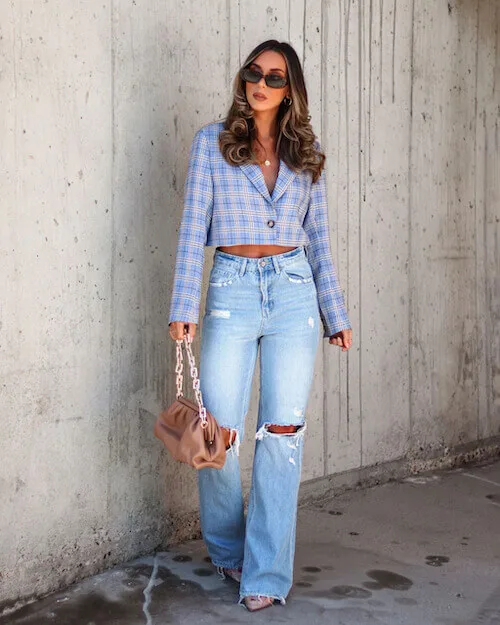 Beige Blazer + Black Crop Tee + Black Pants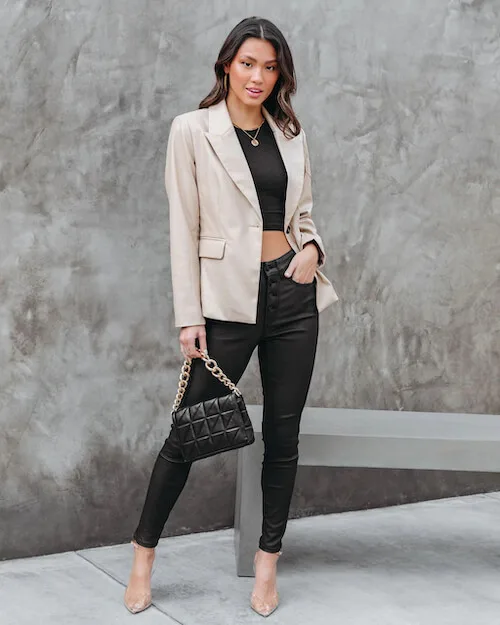 Denim Jacket + White Jeans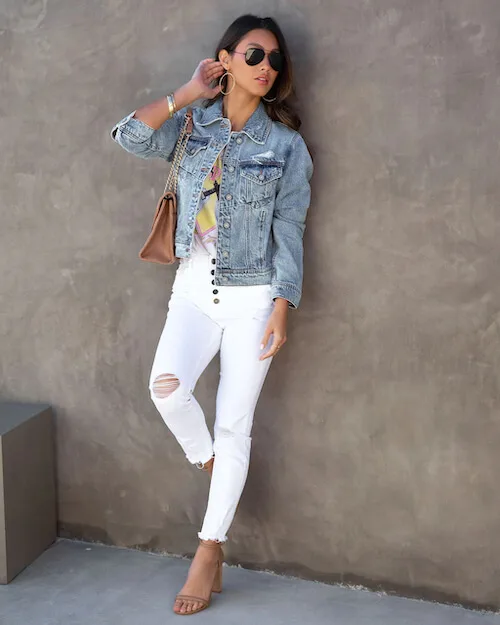 Simple Yet Stylish Brunch Outfit For Spring
Cute Knit Top + Mini Skirt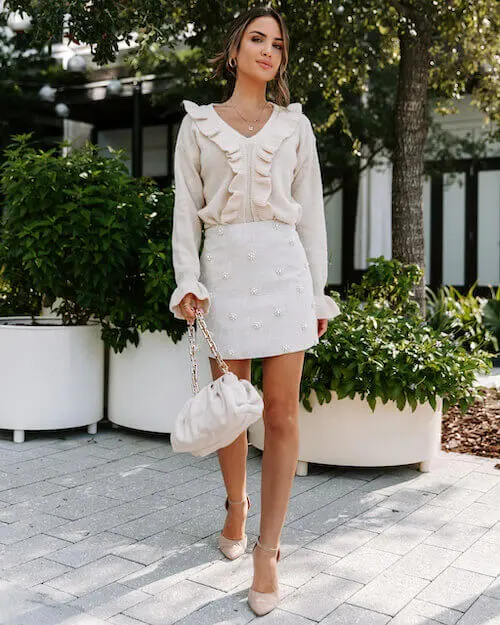 Bright Color Blazer + Tailored Pants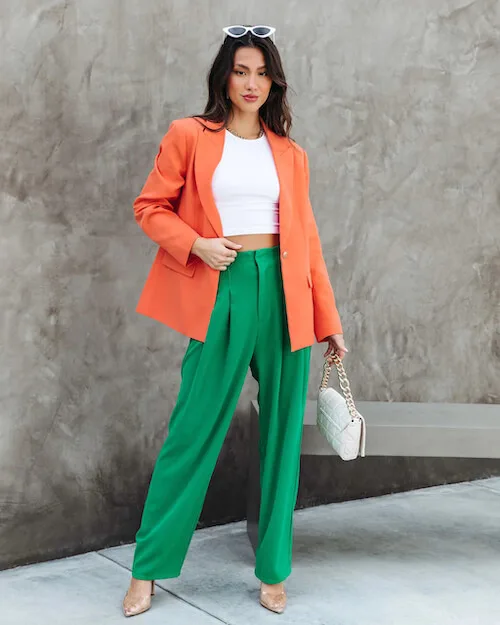 Pink Gingham Top + High-Waisted Pants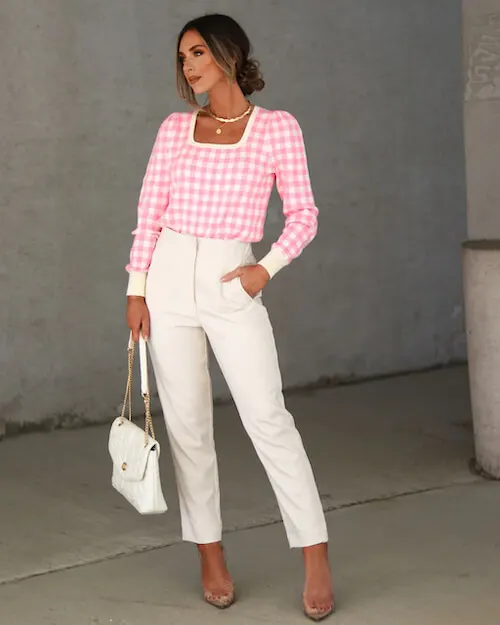 Printed Blazer + Jeans + Orange Sandals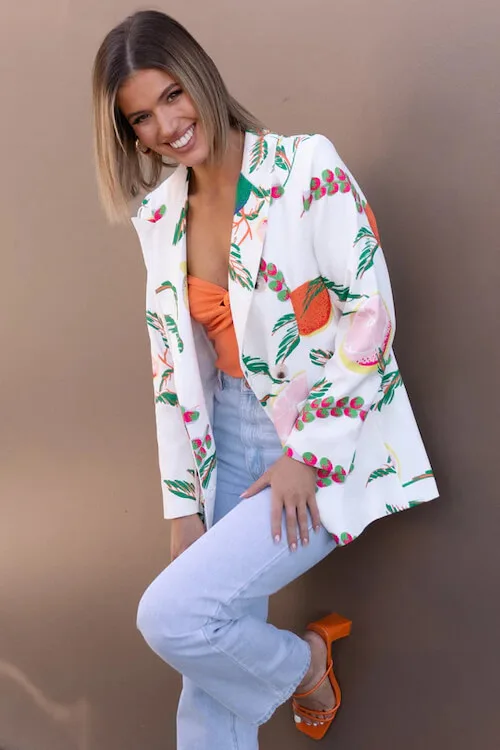 Romantic Maxi Dress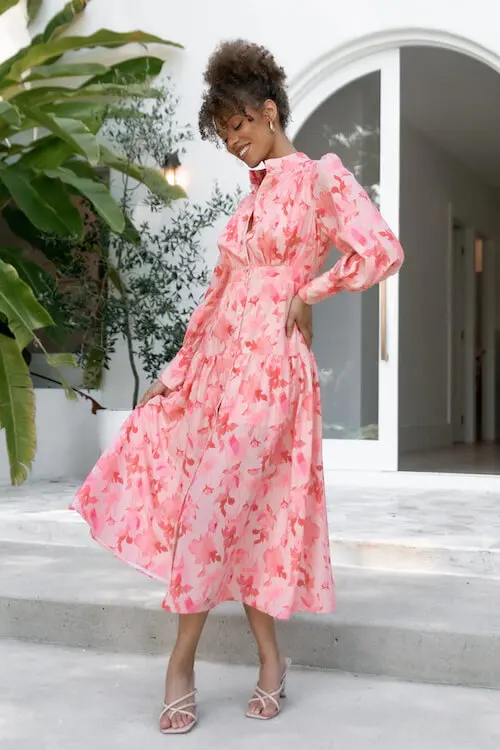 Pink Light Jacket + Denim Shorts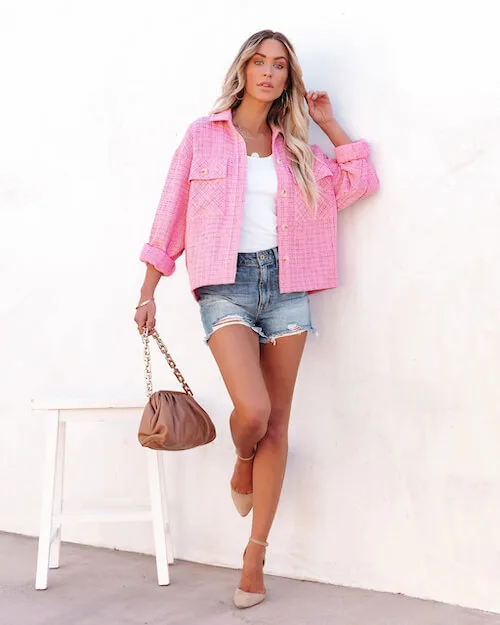 Summer Brunch
Summer brunch is the perfect occasion to show off your stylish, yet comfortable wardrobe.
From lightweight sundresses and casual jumpsuits to breezy skirts, here are a few tips on what to wear for a summer brunch for women.
A pretty sundress is always an ideal choice for a lighthearted brunch gathering.
Choose one with a pattern or color that you love and add strappy sandals or wedges to complete the look.
For something more dressy, try pairing an airy skirt with a linen top or tank blouse.
If you're looking for something even more put together but still comfortable as well as chic, try wearing an off-the-shoulder jumpsuit in any solid hue or printed pattern paired with some metallic block heels or espadrille sandals.
Pink Shorts Outfit For A Morning Brunch
Satin Strap Bodysuit + Jeans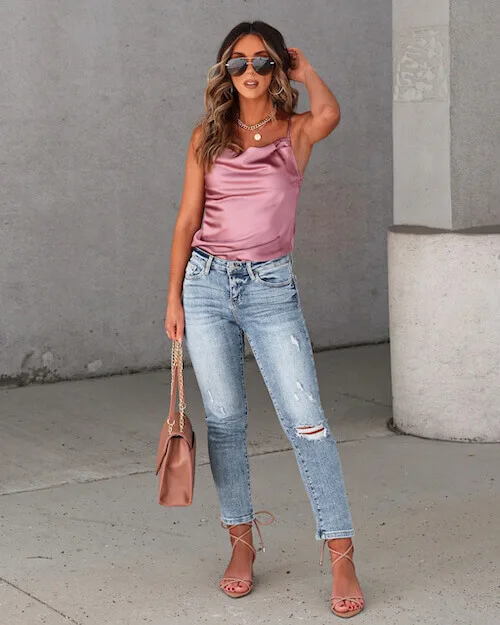 White Simple Top + Wrap Midi Skirt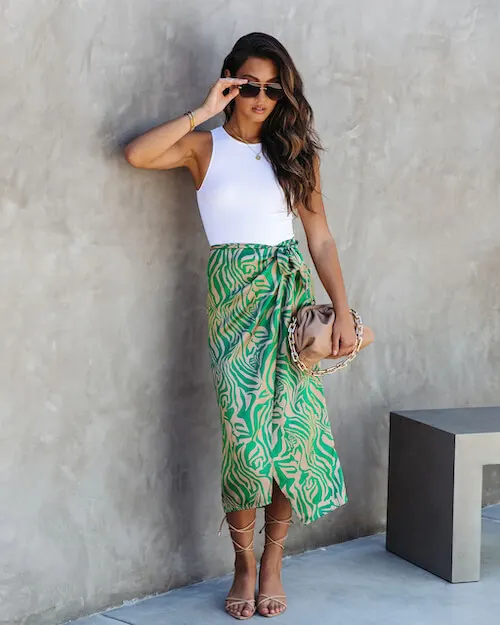 Floral Mini Dress + White Booties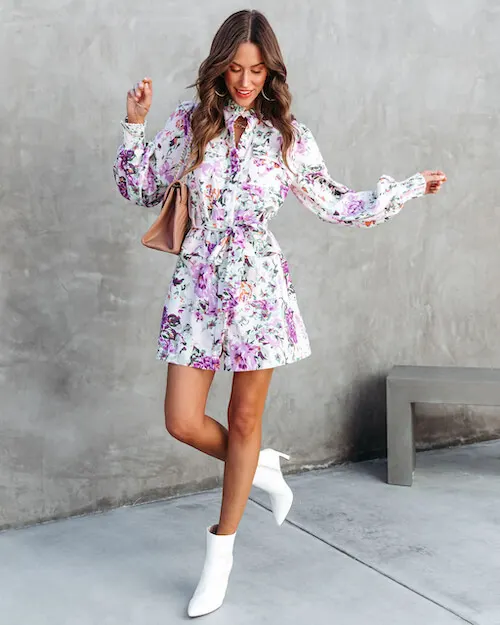 White Belted Shirt Mini Dress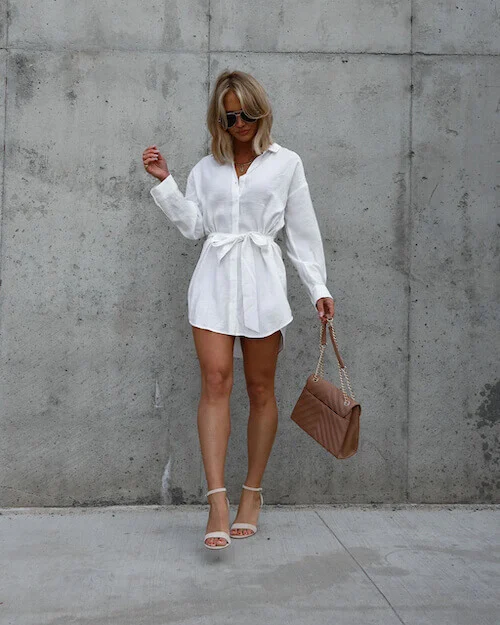 Oversized White Button-Down + Skinny Jeans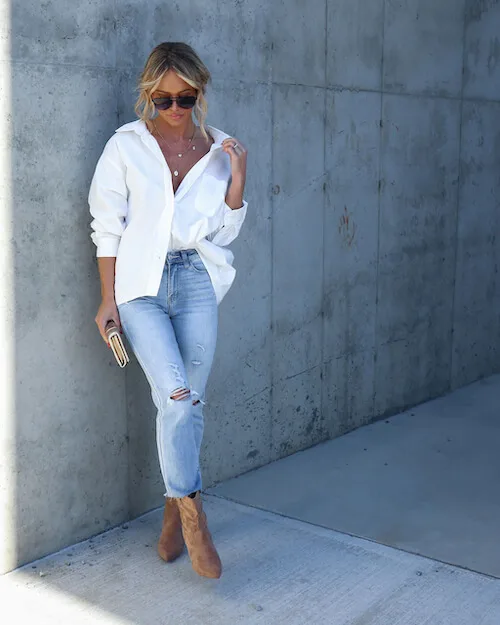 Crochet Lace Mini Dress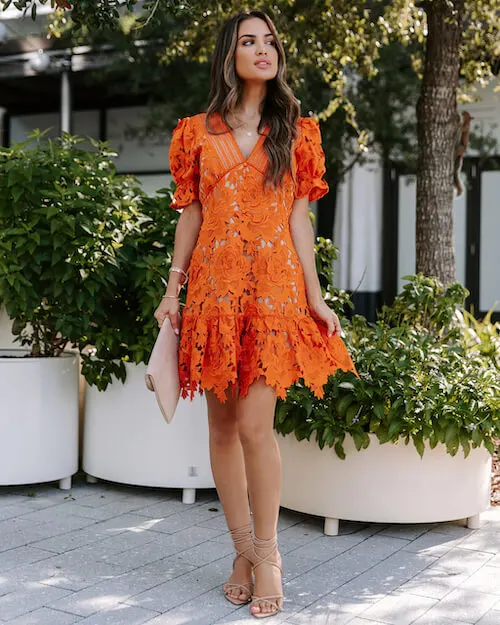 Pink And Orange Brunch Outfit Ideas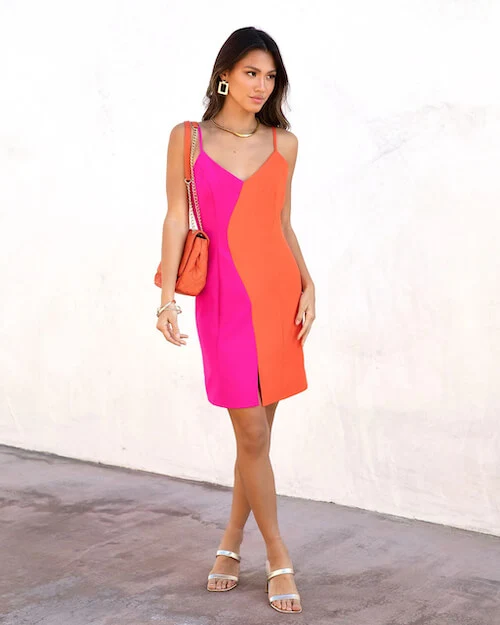 Summer Casual Brunch Attire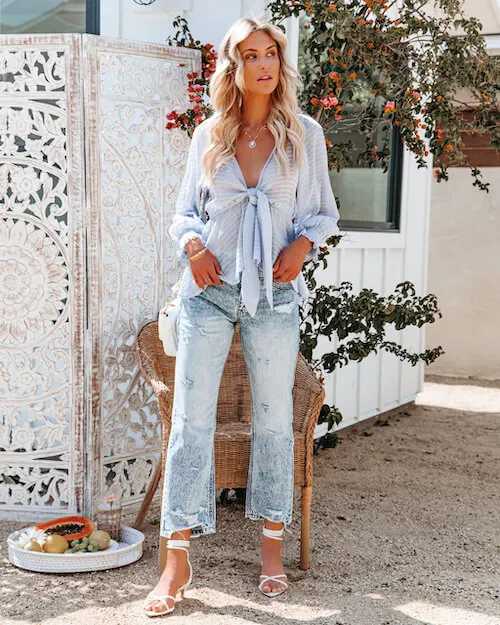 Birthday Brunch Outfit
Attending a birthday brunch can be a fun way to celebrate with friends and family.
Whether the event is casual or dressy, there are a few timeless pieces that will ensure you look stylish and put-together for the occasion.
When selecting an outfit for a birthday brunch, consider your location and theme of the event.
If it's in a more casual setting like a barbeque or outdoor picnic, opt for something relaxed but still polished—think cropped trousers paired with sandals and an airy blouse with ruffles or eyelet details.
If you're attending something more formal such as an upscale restaurant gathering, go for a chic dress in classic colors like black or blue accessorized by statement jewelry.
Short Jacket + Mini Skirt + Cowboy Boots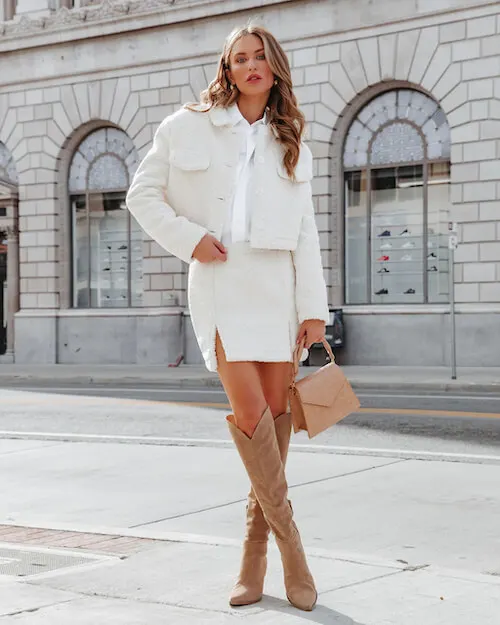 Cute Blouse + Cropped Wide Leg Pants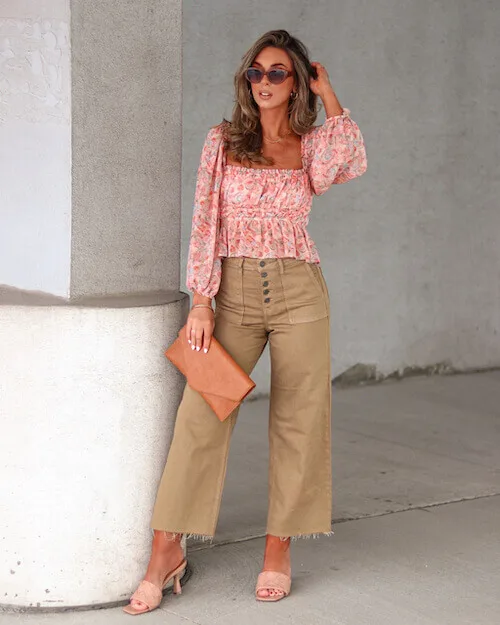 Cute Brunch Dresses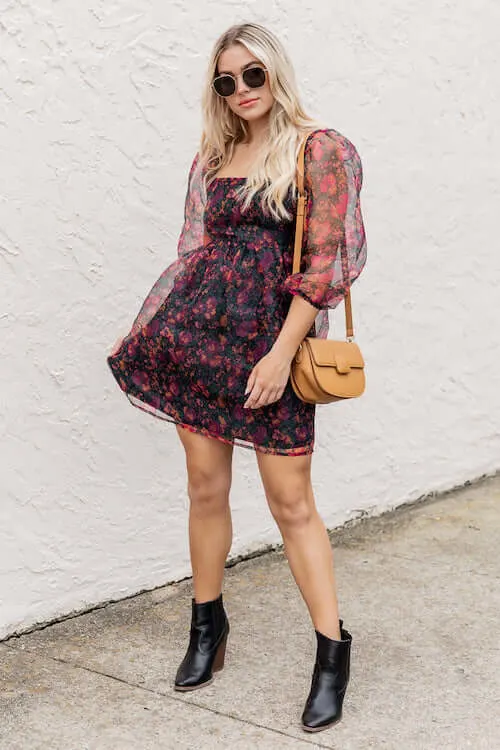 Chic Brunch Party Outfit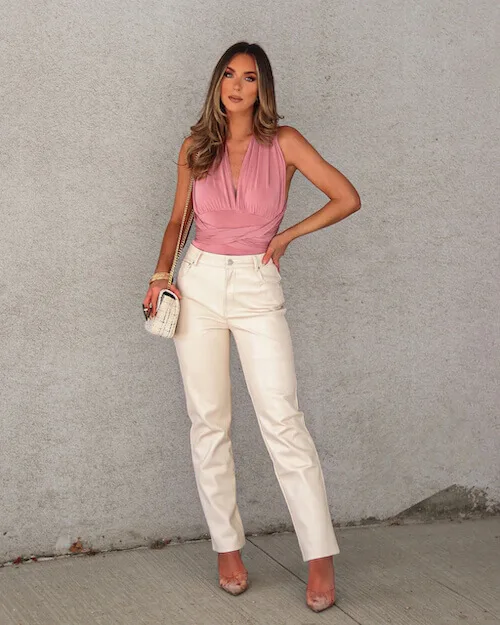 Hot Pink Satin Blazer + White Blouse + Black Mini Skirt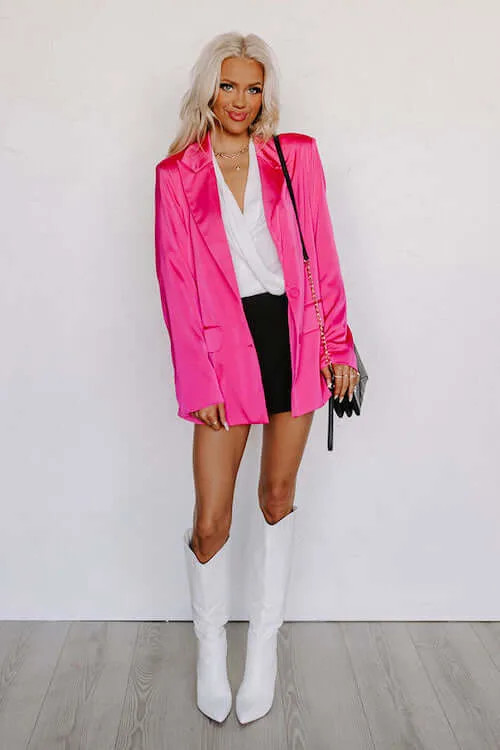 What do you wear to an elegant brunch?
An elegant brunch is the perfect way to celebrate any special occasion.
Whether it's a birthday, baby shower or simply a gathering of friends and family, an elegant brunch requires stylish attire that will make you look and feel your best.
The key to finding the right outfit lies in choosing items that are classic and timeless while also reflecting your personal style.
A dress or skirt with a top paired with heels or stylish flats is always a great option for an elegant brunch.
Choose something that highlights your figure while keeping it tasteful – think high-quality materials like silk, lace or linen in beautiful tones such as beige, pink, blue, or light gray.
Bright Colored Print Shirt Dress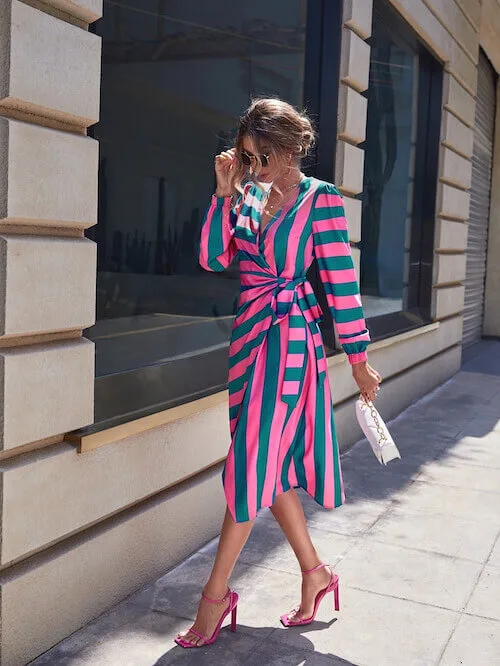 Sleeveless Top + Beige Pants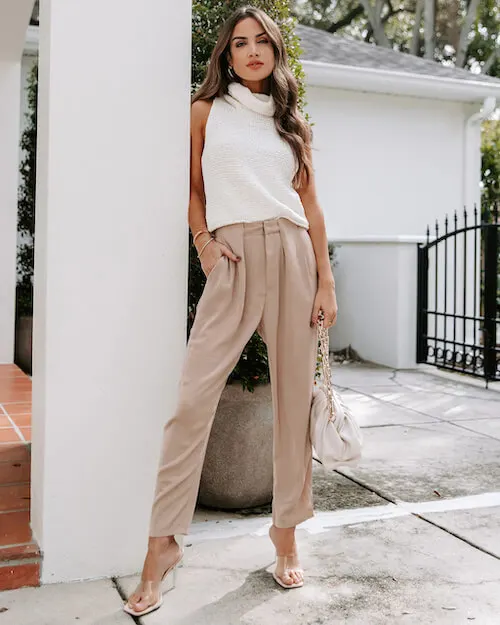 Pink Shirt Dress + Pink Sandals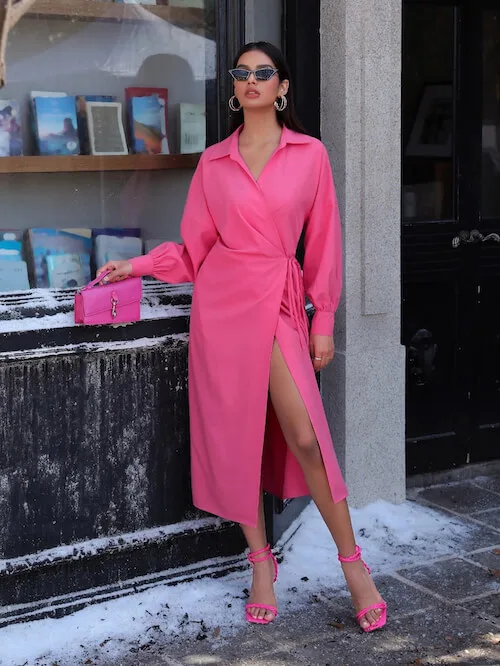 Floral Off-The-Shoulder Top + White Dressy Pants
What do you wear to a semi formal brunch?
Semi-formal brunch can present a challenge when it comes to deciding what to wear.
Whether you're attending a work event or going out with family and friends, nailing the perfect outfit is essential.
Below are my favorite tips for choosing an appropriate semi-formal look for your next brunch.
A nice dress or skirt paired with a blouse and stylish flats is always an elegant choice.
When selecting colors, choose something neutral such as beige, navy blue or black.
To keep things casual yet polished try accessorizing with muted jewelry pieces like pearls, stud earrings and delicate bracelets.
To finish off the look add on some chic sunglasses to give it that extra special something.
Navy Dress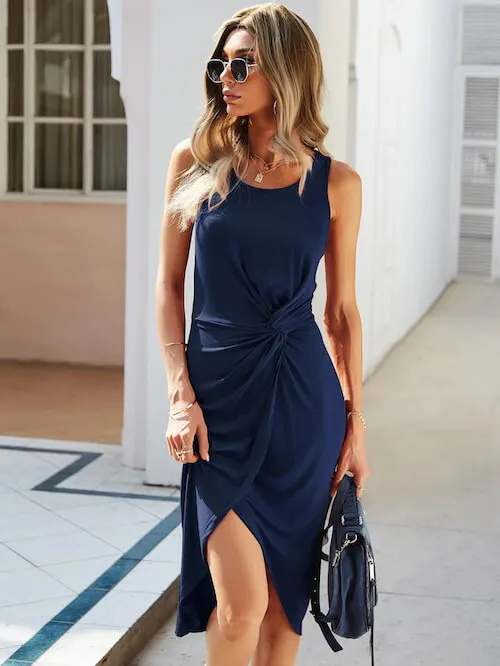 Oversized Sweater + Slip Skirt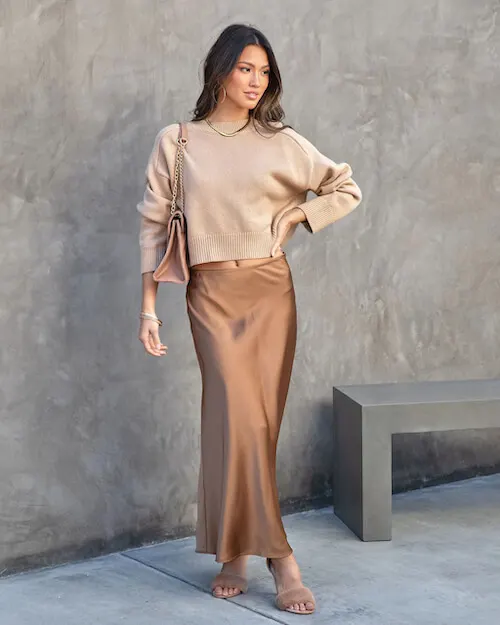 Floral Dress + White Blazer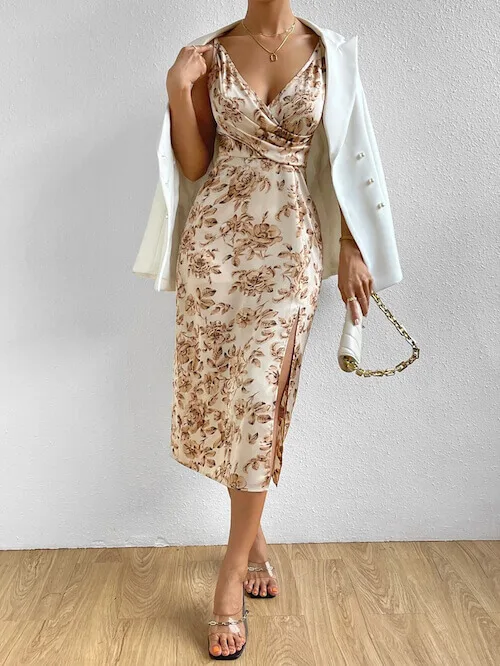 What To Wear To A Brunch Date?
When deciding what to wear for your next brunch date, it's important to think of the occasion: casual, yet sophisticated.
A cute dress is a great idea.
You can also try a blouse with pleats or light ruffles that give off an airy, romantic vibe while still being tasteful.
Pair it with high-waisted jeans and natural-colored sandals for an effortless look that is as chic as it is comfy.
Finish off the ensemble with delicate jewelry like small earrings and necklaces for an elegant touch that won't compete with the statement top!
Ruffled Top + Black Leather Pants
Cropped Top + Midi Pencil Skirt
Cami Top + High Waisted Pants
Polka Dot Dress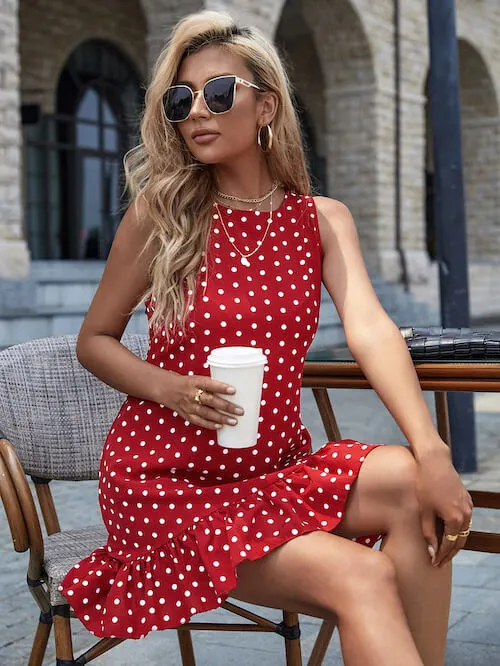 Baddie Dress
Cold Shoulder Top + Midi Skirt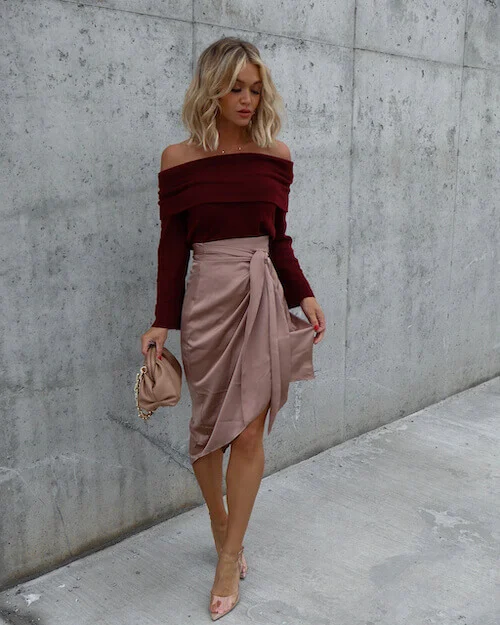 This post was all about fancy brunch outfits.
About The Author
Tracy is an experienced personal stylist, shopping expert, and fashion & lifestyle blogger. She has been featured on Time Magazine, Bustle, Best Life, Glam, The Zoe Report, Mic, and GOBankingRates, for her insights on fashion, beauty, home decor, and lifestyle. Read More
Related Posts: