Indulge in the scholarly, dark academia outfits for females! Join the influential dark academia fashion and dark academia aesthetic movement with our fashion guide, outfit ideas, and brands to explore now!
Are you feeling drawn to the dark side lately and want to embrace the Dark Academia Aesthetic?
Dark Academia is a subculture that values knowledge, classical literature, and a gothic-inspired style.
The striking dark motifs in the fashion give this subculture its unique identity.
If you're looking to understand more about Dark Academia and how to achieve the look, read on for must-have items, layering techniques, color palettes, and outfit ideas that will inspire your wardrobe.
This post may contain affiliate links, which means I'll receive a commission if you purchase through my link, at no extra cost to you. Please read the full disclosure here.
This post is all about dark academia outfits female.
What is Dark Academia?
Defining Dark Academia Aesthetic Fashion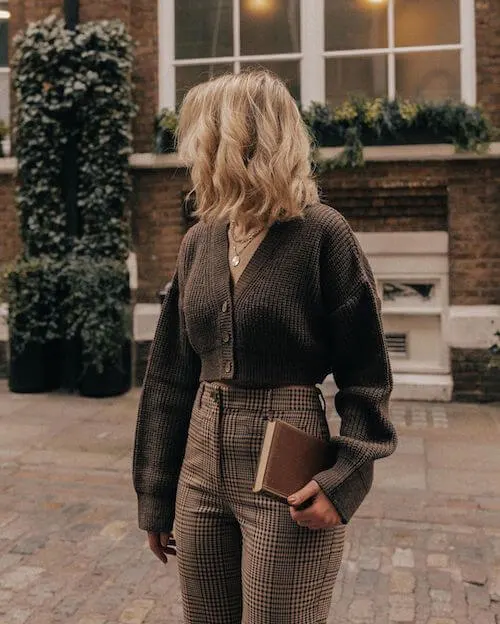 Dark Academia is a subculture that first emerged on social media platforms like Tumblr and TikTok in the late 2010s.
It is a derivative of the larger "Academia" subculture that values knowledge, literary classics, and education in general.
The "dark" in Dark Academia signifies the darkness and melancholy associated with gothic and Victorian literature.
Origins of Dark Academia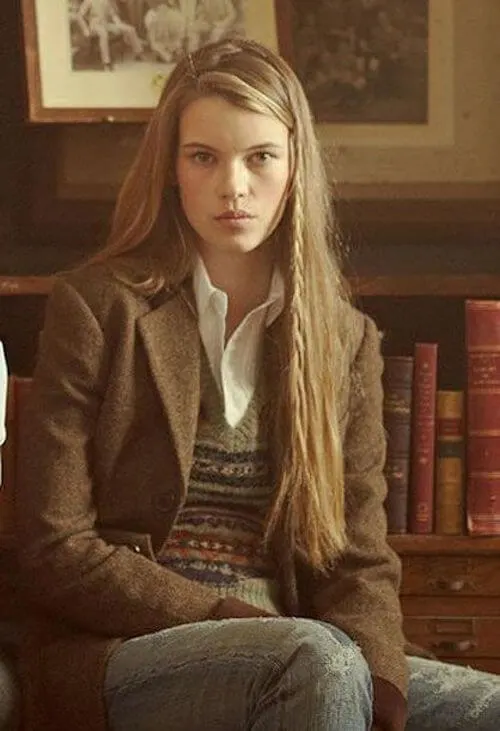 The roots of Dark Academia can be traced back to the traditional British college fashion that mirrors the looks of classic literature.
Despite being common in elite universities, this fashion trend became accessible to the masses through social media.
Characteristics of Dark Academia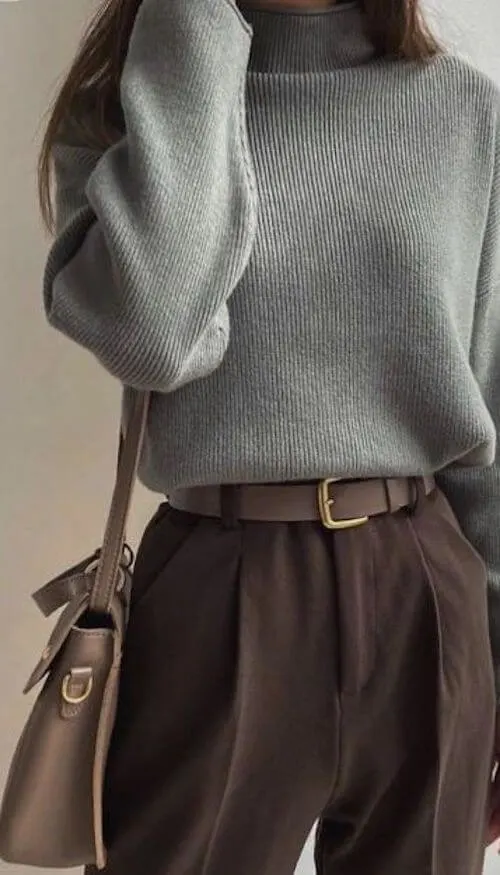 Dark Academia fashion is characterized by a combination of vintage, edgy, and gothic-inspired pieces.
The outfits typically involve tweed blazers, plaid skirts, turtlenecks, pleated skirts, cardigans, waistcoats, and button-down shirts.
The outfits are generally layered, with oversized sweaters or coats on top of high-waisted skirts or trousers.
The Dark Academia color palette usually includes muted and neutral shades of gray, black, brown, and navy for a chic and gothic feel.
How to style Dark Academia Outfits?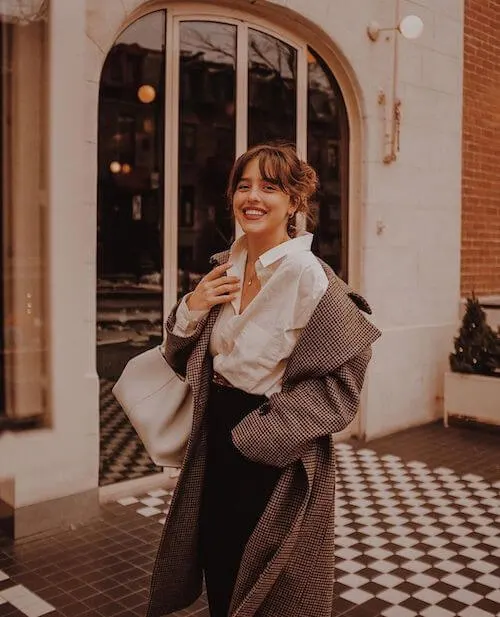 Must-Have Items in Dark Academia Fashion
The key to achieving a Dark Academia aesthetic is having certain must-have items in your wardrobe.
These items include pleated skirts, turtlenecks, blazers, sweater vests, plaid skirts, and vests.
Loafers, lace-up boots, and oxfords are shoes that match Dark Academia outfits.
Trench coats and corduroy pants make for perfect layering pieces in the winter. Accessorize with a classic leather backpack or purse.
Trench Coat or Wool Coat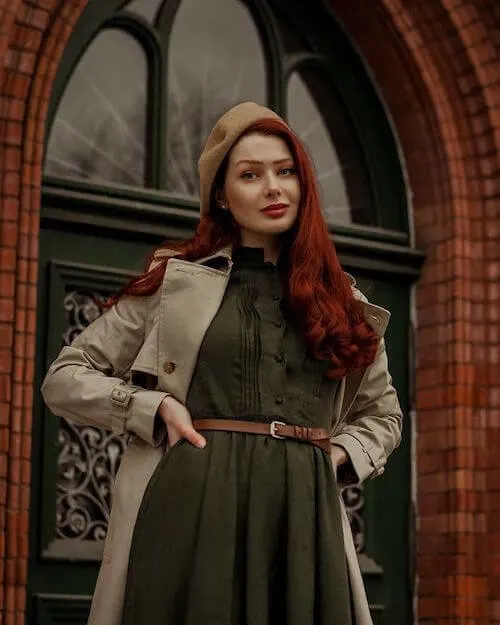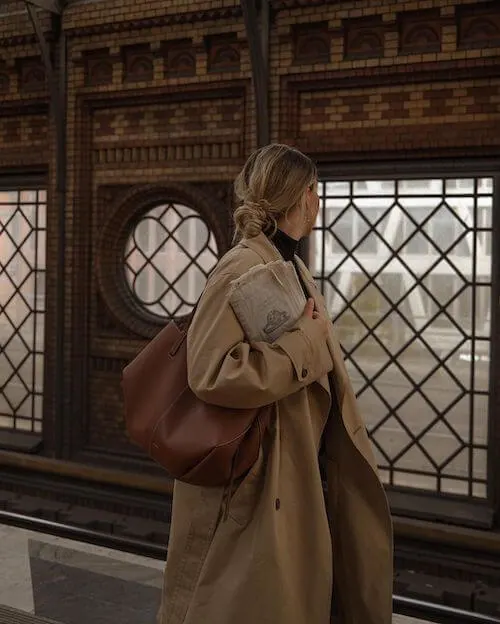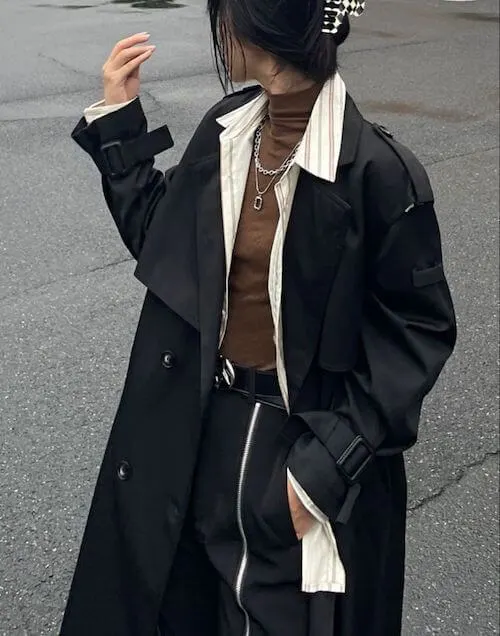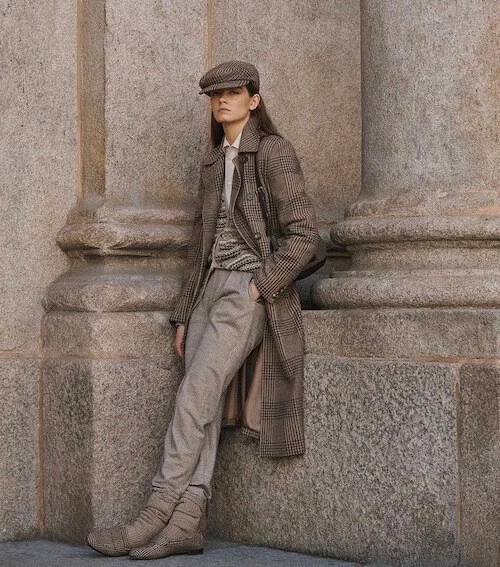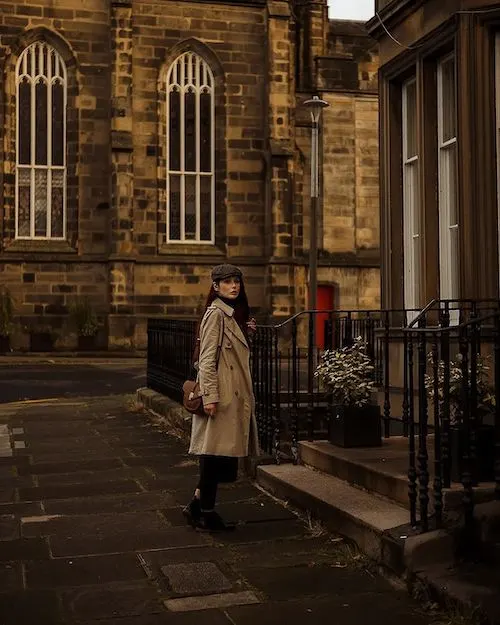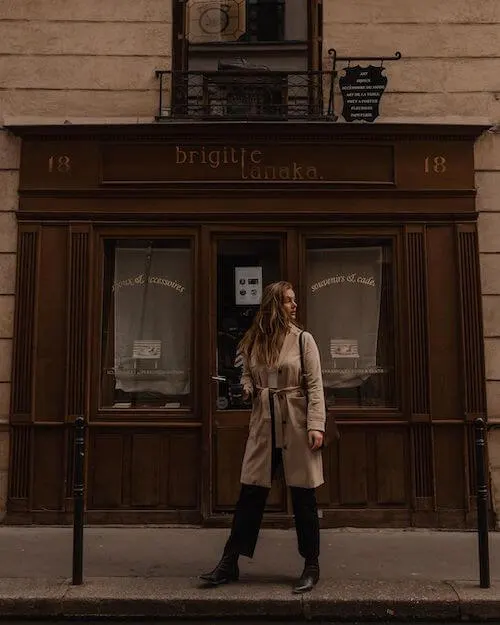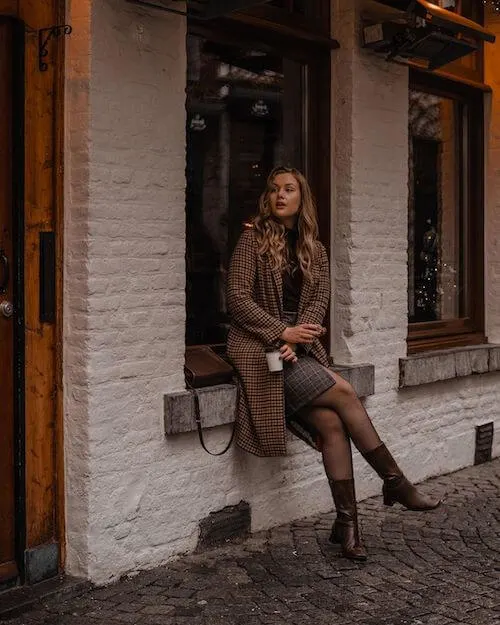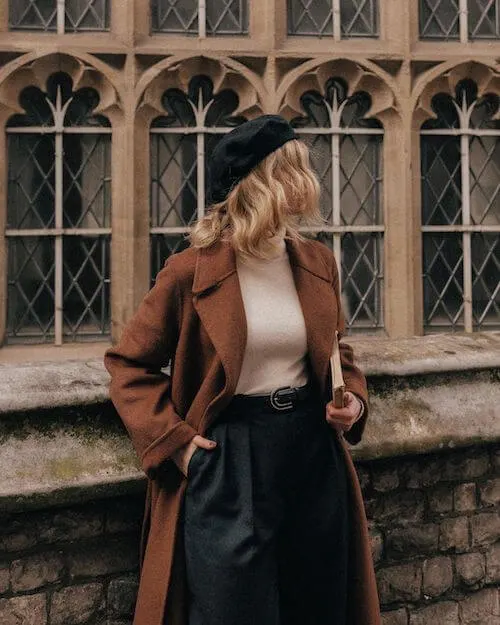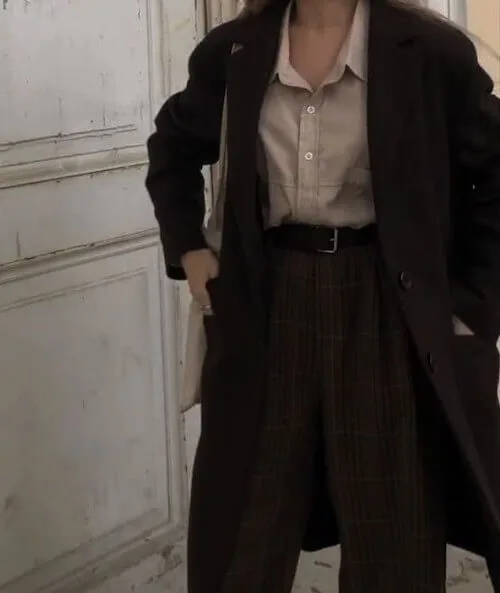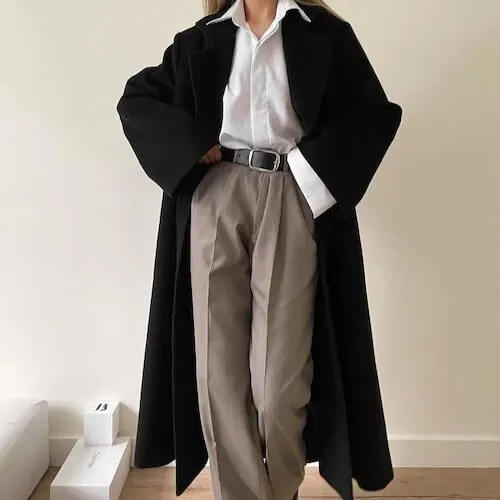 When it comes to achieving the perfect dark academia outfit, choosing between a trench coat or wool coat can be a tough decision.
Both are classic and versatile pieces that add sophistication and elegance to any look.
A trench coat is typically made of lightweight materials with a water-resistant finish, making it the perfect choice for rainy days.
Its belted waist creates a flattering silhouette, while its classic design makes it easy to pair with anything from jeans to skirts.
A wool coat, on the other hand, is heavier and warmer than a trench coat and is ideal for colder weather.
It has a timeless appeal that never goes out of style and can instantly elevate any outfit.
Ultimately, whether you opt for a trench or wool coat depends on your personal style preferences and the climate in which you live.
If you want something lightweight but still chic, go for the trench coat.
For those living in colder regions looking for added warmth and comfort without sacrificing style points – then there's nothing like a cozy woolen jacket!
Corduroy Pants & Plaid Trousers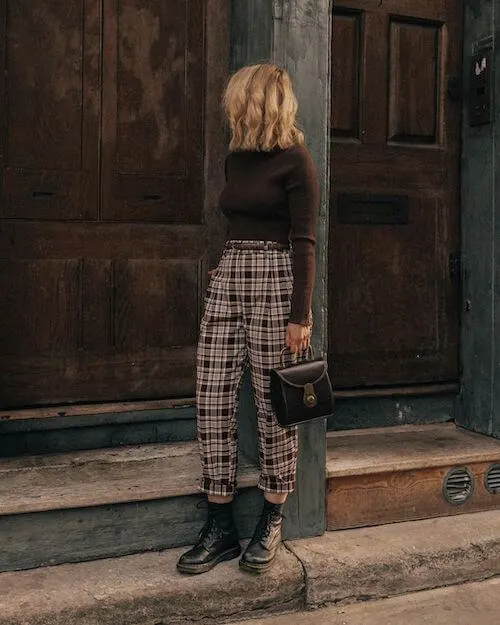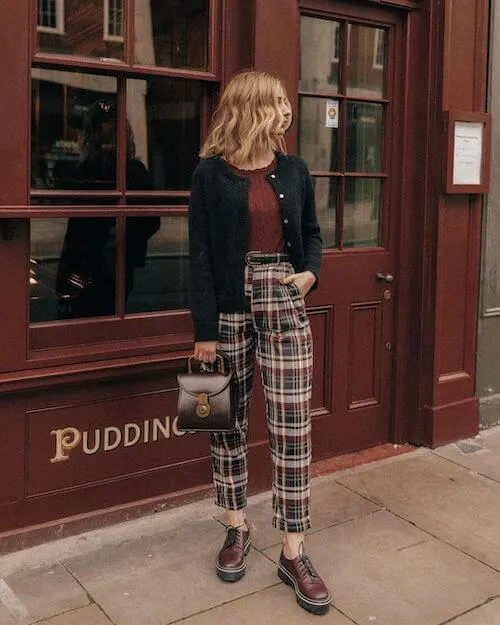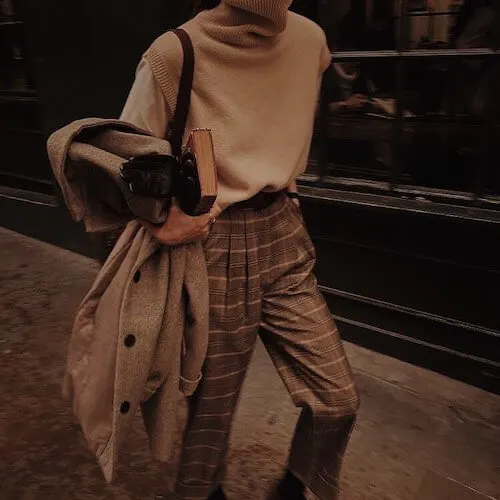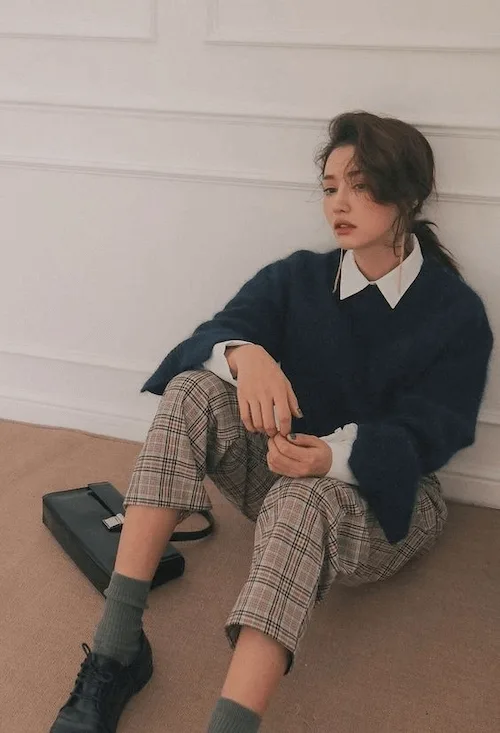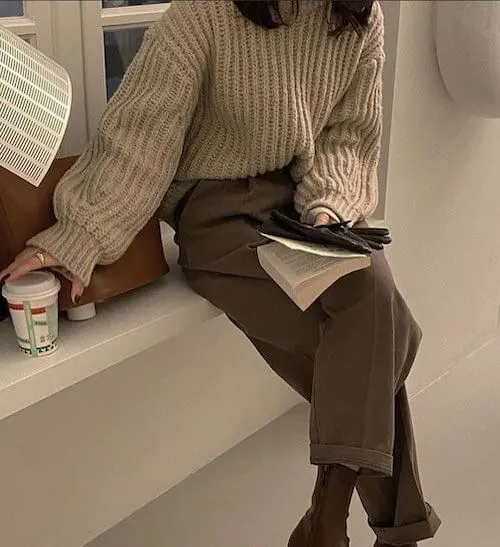 Corduroy pants and plaid trousers are two classic pieces that perfectly embody the dark academia aesthetic.
Corduroy pants, with their ribbed texture, add an extra layer of depth and texture to any outfit.
They come in various colors such as brown, olive green, navy blue, and black making them versatile for any occasion.
Pairing them with a white blouse or a cable knit sweater can create a sophisticated yet cozy look.
On the other hand, plaid trousers bring a touch of sophistication to any outfit.
Their timeless pattern adds an element of structure and formality to an ensemble.
Plaid trousers are available in multiple styles such as straight leg, wide-leg or tapered fit which makes it suitable for all body types.
Pairing them with a tucked-in blouse or sweater can create an effortless chic look.
Both corduroy pants and plaid trousers have been around for ages but they remain stylish year after year due to their versatility and timeless appeal.
Investing in these pieces is definitely worth it if you want to embrace the dark academia aesthetic without compromising comfort or style.
Loafers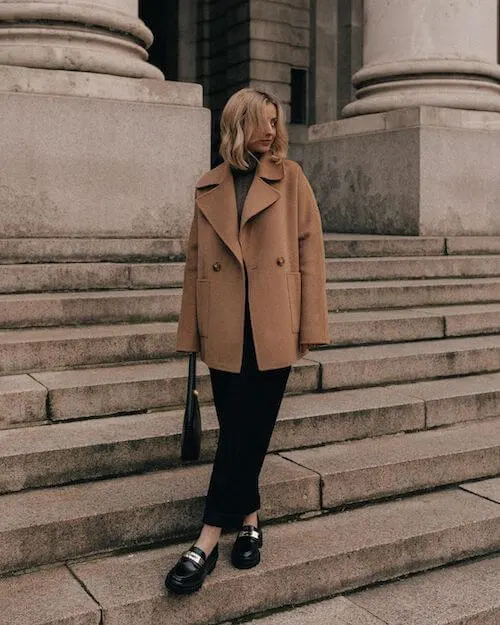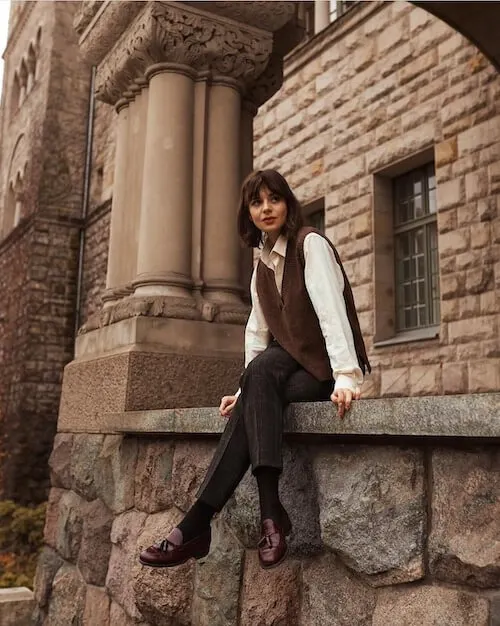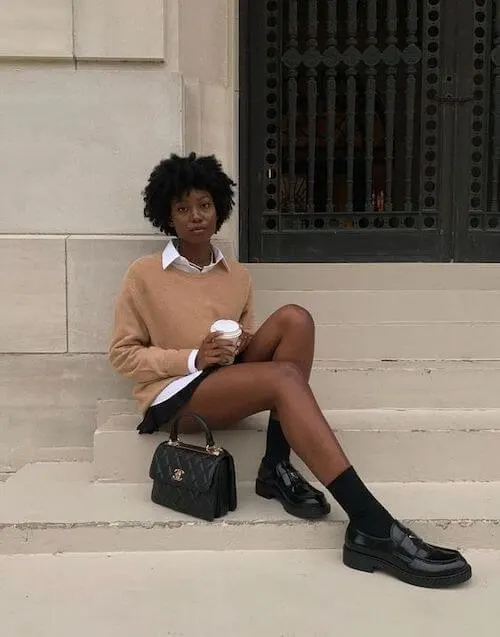 Loafers are a staple shoe in the world of dark academia fashion.
They offer a classic and sophisticated look that pairs perfectly with the aesthetic's vintage-inspired wardrobe.
Loafers come in various styles, ranging from penny to tassel loafers, adding versatility to any outfit.
These shoes can be dressed up or down and worn for both casual and formal occasions.
One popular way to style loafers is with high-waisted pants or skirts and a crisp blouse tucked in.
This creates an effortless yet put-together look that embodies the essence of dark academia fashion.
Loafers also pair well with oversized blazers, adding structure and dimension to an outfit while keeping it polished.
When selecting loafers for your dark academia wardrobe, consider investing in a quality leather pair that will last you years to come.
Opt for neutral colors like black or brown as they are versatile and can be paired with almost anything.
With their timeless elegance, loafers are sure to elevate any outfit into one that exudes sophistication and class.
Pleated Skirt & Plaid Skirt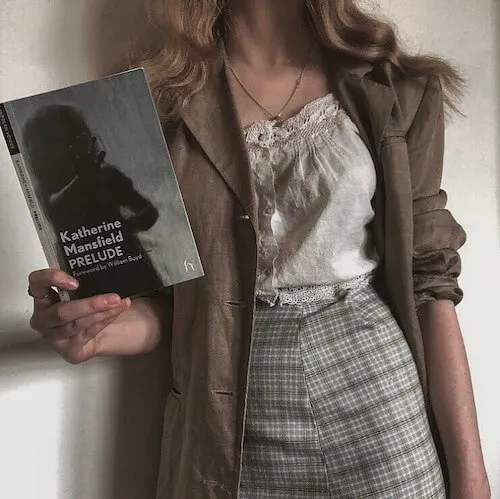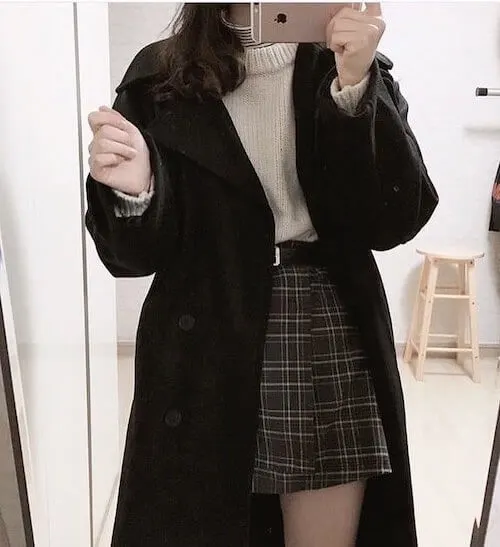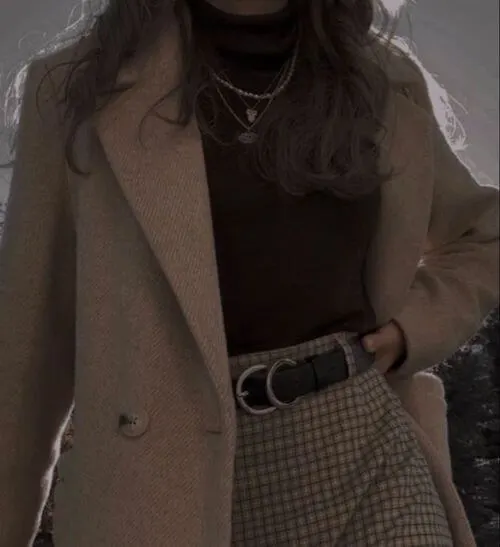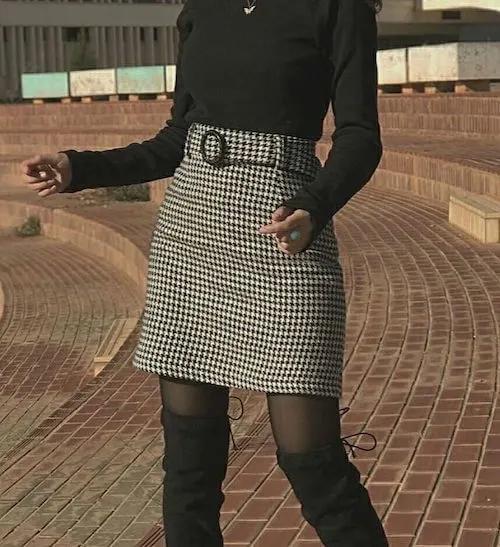 Pleated skirts and plaid skirts are two classic pieces of clothing that perfectly capture the essence of the dark academia aesthetic.
Pleated skirts, with their delicate folds and graceful movement, evoke a sense of elegance and refinement that is reminiscent of old-world fashion.
They come in a variety of lengths, from mini to ankle-length, providing a range of options for different occasions.
On the other hand, plaid skirts are another popular choice for those looking to embrace the dark academia style.
These timeless pieces feature a criss-cross pattern that can be found in various colors and styles.
Some popular options include tartan plaids or houndstooth patterns in shades of brown or gray. Paired with knee-high socks or ankle boots, plaid skirts offer an effortless yet chic look that is perfect for any season.
Whether you prefer pleated skirts or plaid skirts, these two pieces are versatile enough to be dressed up or down depending on your mood or occasion.
They can be paired with blouses or sweaters for a cozy feel in colder weather or worn with t-shirts and sneakers for a more casual look during warmer months.
Whatever your preference may be, these skirt styles are sure to add some sophistication to any outfit inspired by the dark academia aesthetic.
Turtleneck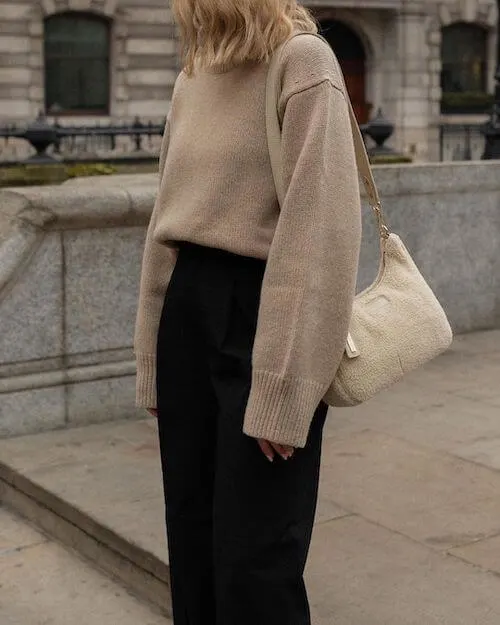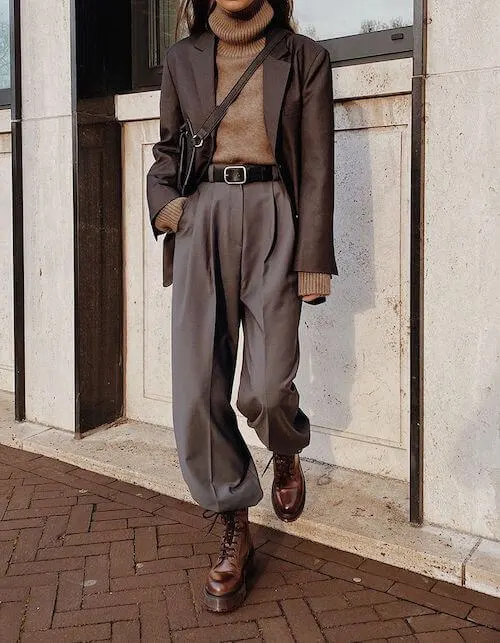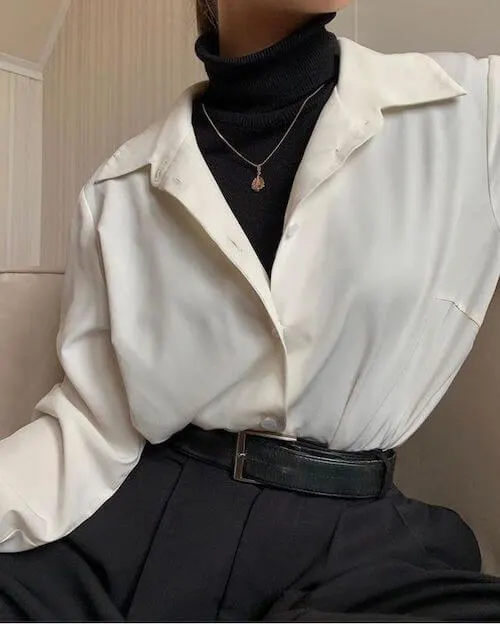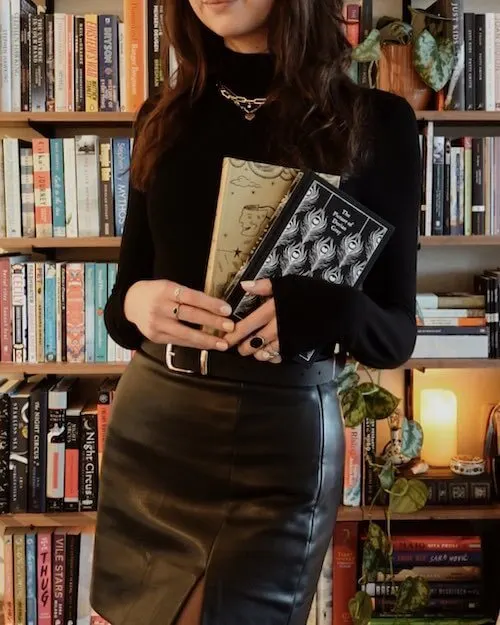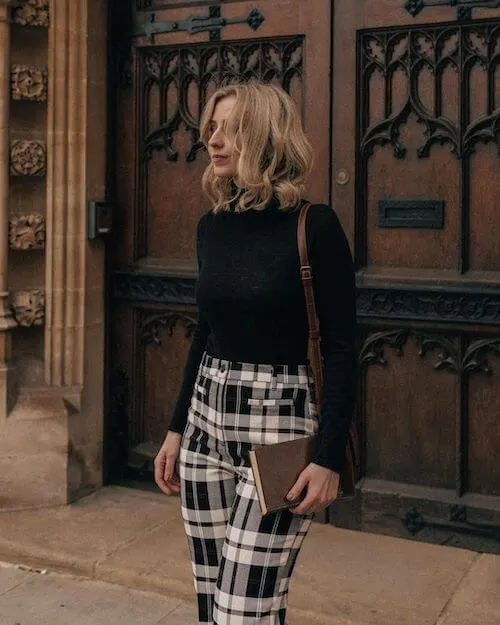 Turtlenecks have always been a staple in the dark academia fashion scene.
They are versatile and can be dressed up or down depending on the occasion.
A black turtleneck paired with high-waisted trousers and loafers is a classic look that embodies the essence of dark academia.
For a more casual look, a cropped turtleneck paired with mom jeans and boots is perfect for running errands or grabbing coffee with friends.
Turtlenecks also come in various colors, making it easy to incorporate them into any outfit.
A cream-colored turtleneck can add a touch of sophistication to a plaid skirt, while a burgundy turtleneck can make an all-black outfit pop.
Whether you prefer chunky knit turtlenecks or sleek fitted ones, there's no denying that they are an essential piece for any dark academia wardrobe.
They exude elegance and refinement while also providing warmth during the colder months.
So don't be afraid to embrace your inner bookworm and rock a turtleneck this season!
Oversized Cardigan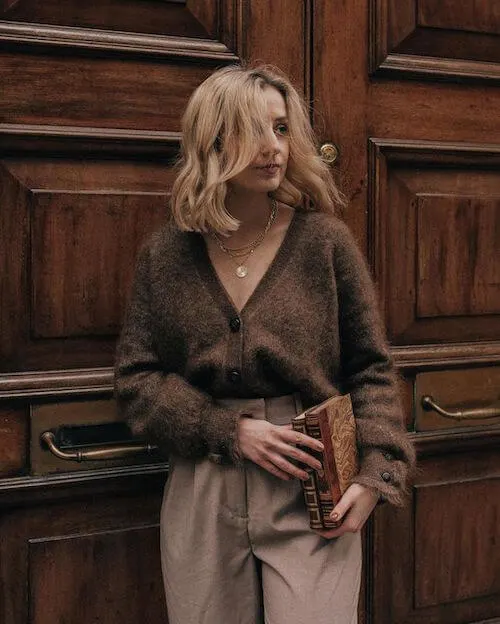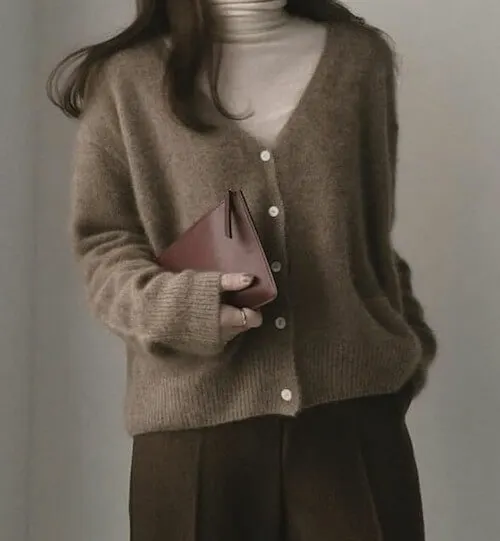 An oversized cardigan is a staple in any Dark Academia outfit.
It adds a layer of coziness and comfort while also maintaining an air of sophistication.
Whether it's a chunky knit or a more lightweight material, an oversized cardigan can be paired with anything from trousers to skirts to dresses.
Not only does it serve as a functional piece for cooler weather, but it also provides the perfect opportunity to play with layering and texture.
Mixing different fabrics and patterns can elevate the overall look of the outfit and add depth to your ensemble.
Plus, an oversized cardigan can easily transition from day to night by swapping out accessories or footwear.
Overall, incorporating an oversized cardigan into your Dark Academia wardrobe is a must-have for both fashion and function purposes.
Its versatility allows for endless styling options while still staying true to the aesthetic's signature cozy yet intellectual vibe.
White or Beige Blouse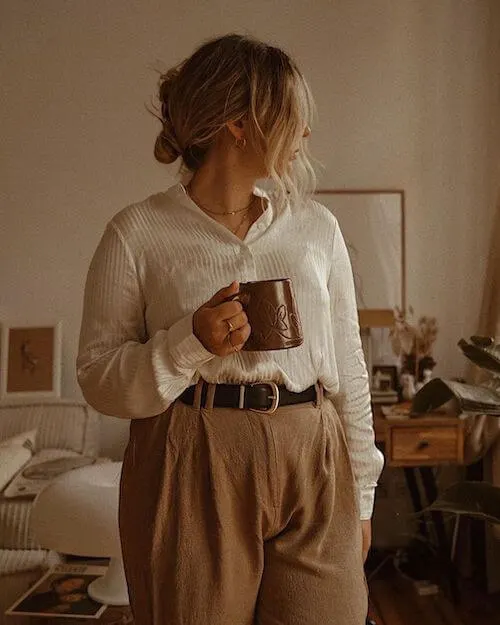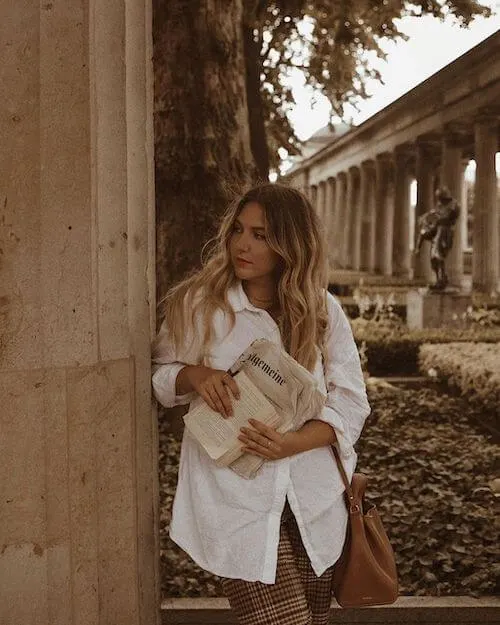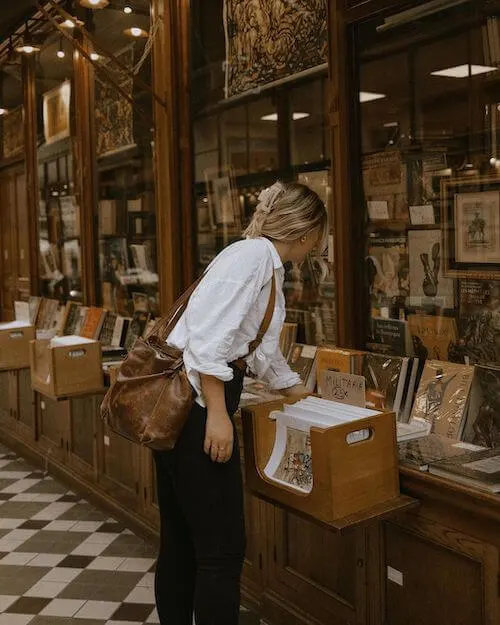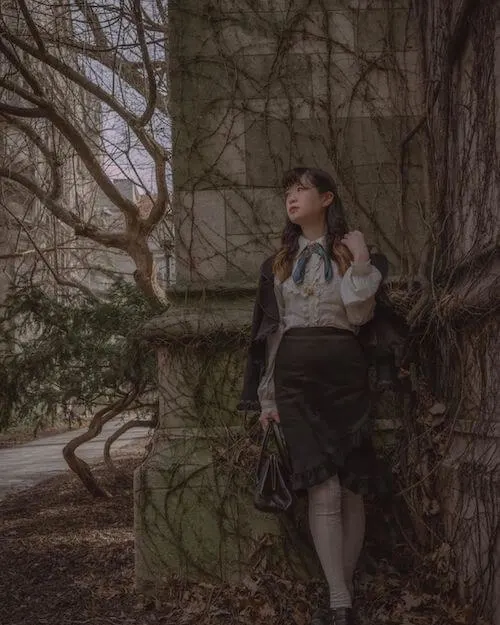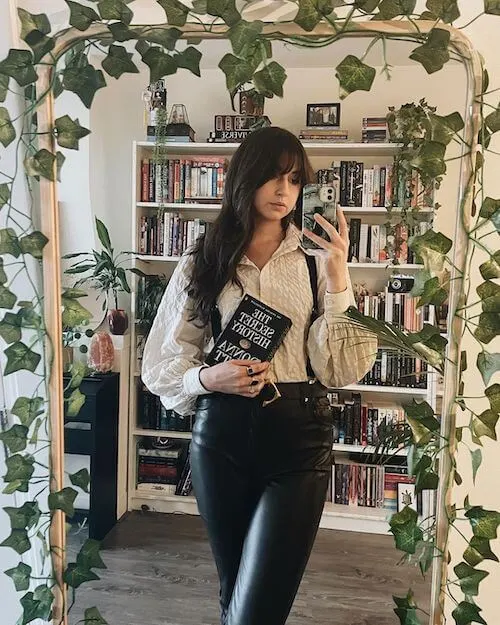 A white or beige blouse is a perfect staple piece for any dark academia outfit.
It has a timeless and classic look that can be dressed up or down depending on the occasion.
A crisp white blouse paired with a high-waisted skirt and knee-high boots creates an elegant and sophisticated look, while a beige blouse with wide-leg pants gives off a more relaxed yet chic vibe.
When choosing a white or beige blouse for your dark academia outfit, consider the material and design details.
A cotton or linen blend adds texture to your ensemble, while ruffles or lace inserts add a touch of femininity to balance out the masculine aspects of dark academia fashion.
Also, think about the fit – should it be oversized for a vintage look or tailored for a modern twist?
Overall, investing in a quality white or beige blouse is essential in creating multiple outfits within the dark academia aesthetic.
With its versatility and timelessness, this piece will surely become one of your wardrobe essentials for years to come.
Blazer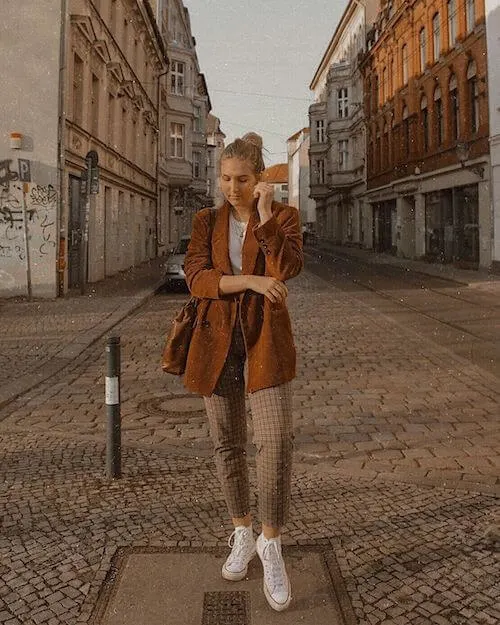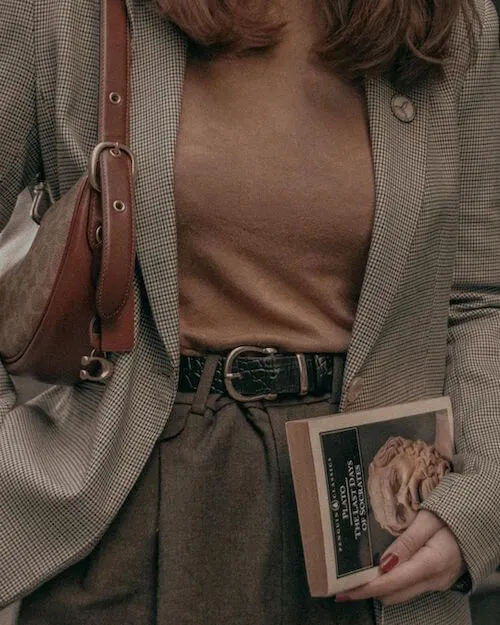 Blazers are a staple piece in any Dark Academia outfit.
They add sophistication and structure to an otherwise casual look.
Blazers come in various styles, from oversized to fitted, and can be paired with different bottoms such as trousers or skirts.
One popular way of styling blazers is by layering them over a turtleneck sweater or button-down shirt.
This adds depth and texture to the outfit while keeping it classy. Another trend is pairing a plaid blazer with high-waisted pants for a classic look that never goes out of style.
Investing in a good quality blazer can elevate your wardrobe instantly.
It's versatile enough to be dressed up for job interviews or dressed down for weekend outings with friends.
Blazers are timeless pieces that every Dark Academia enthusiast should have in their closet.
Sweater Vest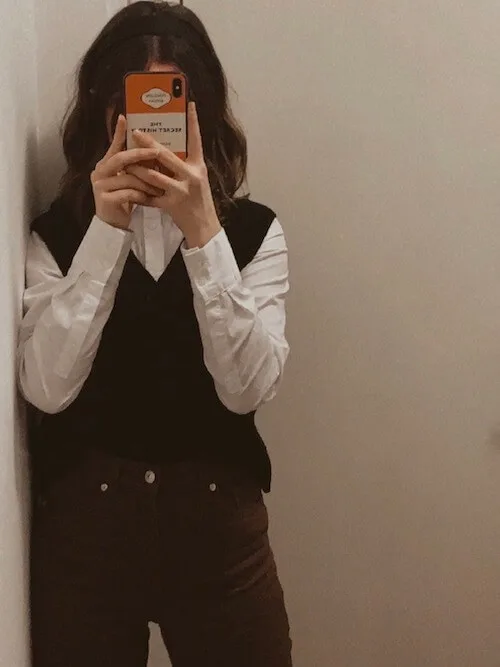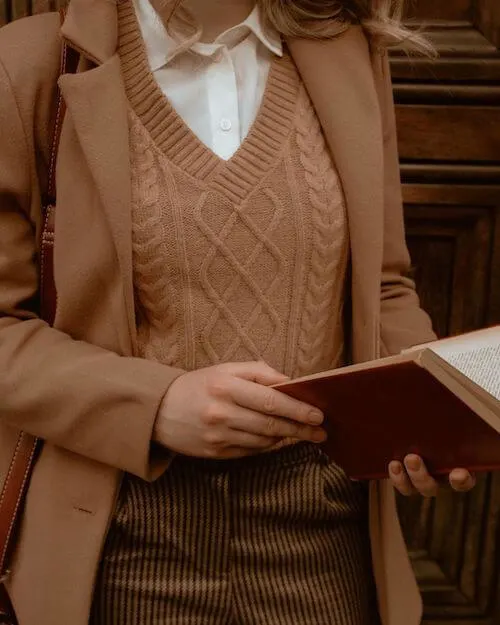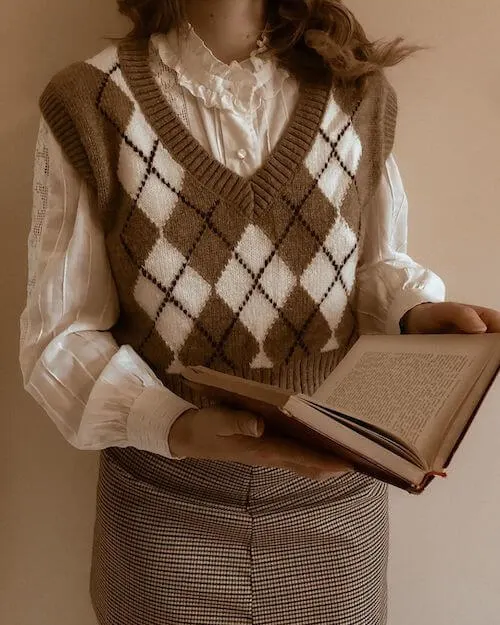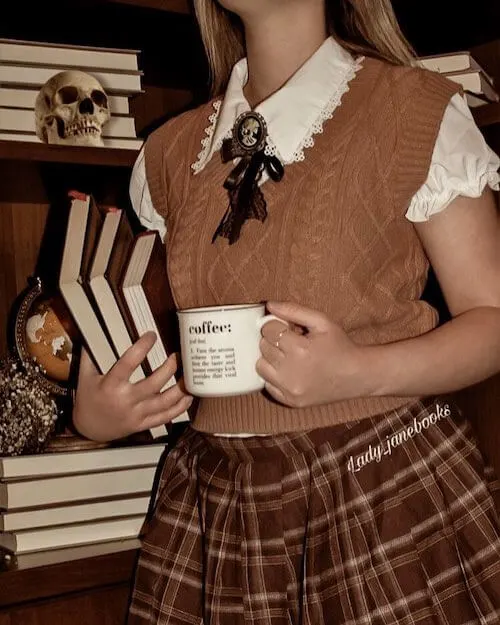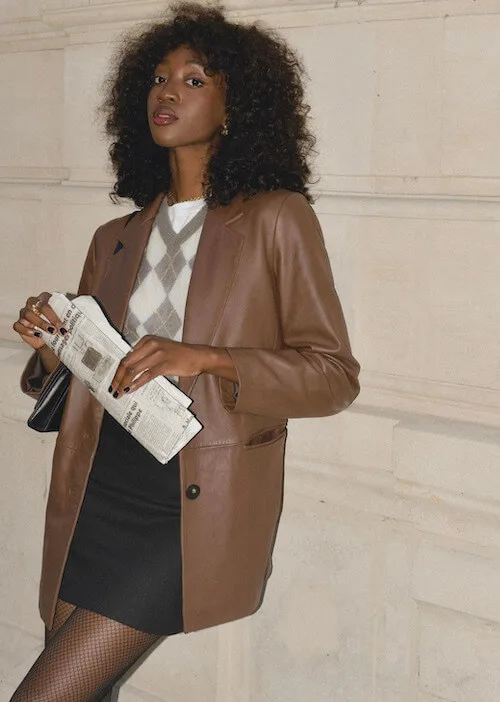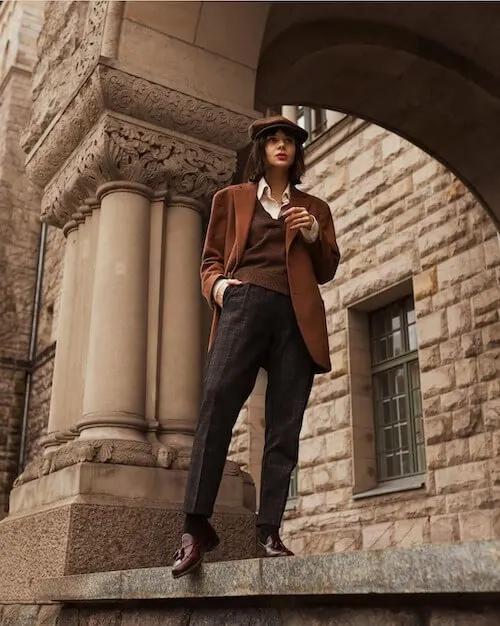 Sweater vests are a quintessential piece of clothing in the dark academia aesthetic.
They exude an air of old-world charm and sophistication that perfectly complements the intellectual and scholarly vibe of this trend.
Sweater vests can be styled with a variety of clothing items, including button-up shirts, blouses, turtlenecks, skirts, and trousers.
For a classic look, opt for a neutral-colored sweater vest like black or beige and pair it with a white shirt underneath.
Add some black high-waisted trousers and loafers to complete the outfit.
For a more feminine touch, layer a cream-colored sweater vest over a floral blouse and wear it with an A-line skirt in earthy hues like brown or olive green.
In conclusion, sweater vests are versatile pieces that can elevate any outfit into one that embodies the dark academia aesthetic.
Whether you prefer monochromatic outfits or want to add some color to your ensemble, there's always room for experimentation when it comes to styling sweater vests.
So why not give this timeless piece of clothing a try?
Simple Leather Bag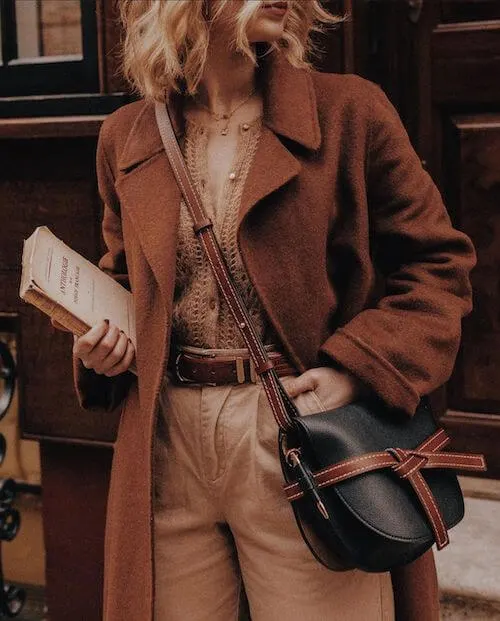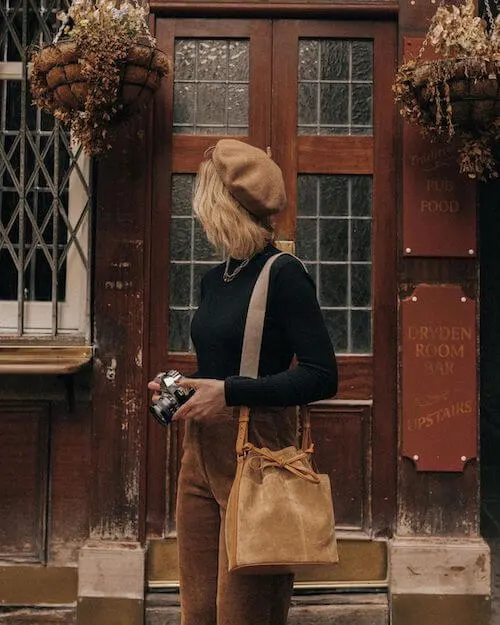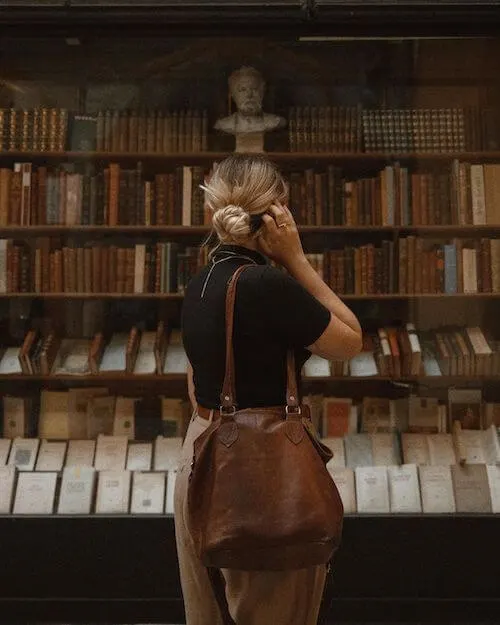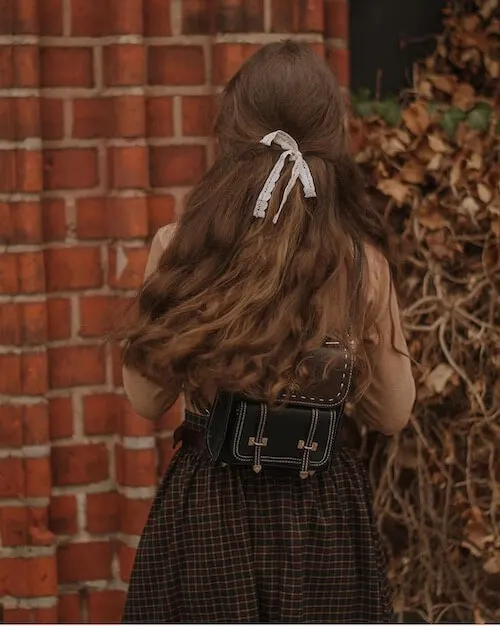 Simple leather bags are the perfect accessory to complete any dark academia outfit.
These timeless bags have been around for centuries and continue to be a staple in fashion today.
They come in various shapes, sizes, and colors, making it easy to find one that fits your personal style.
Whether you prefer a sleek crossbody or a spacious tote, there is a classic simple leather bag out there for everyone.
One of the best things about simple leather bags is their durability.
With proper care and maintenance, they can last for years and even become heirloom pieces that can be passed down through generations.
They also age beautifully with time, developing a unique patina that adds character to the bag.
Many designers offer classic and simple leather bags that are made from high-quality materials and craftsmanship, ensuring that they will not only last but also look stylish for years to come.
Overall, investing in a classic simple leather bag is definitely worth it if you're looking for an accessory that will stand the test of time.
It's versatile enough to wear with any outfit while still adding sophistication and elegance to your look.
So go ahead and add one (or two) to your wardrobe – trust us; you won't regret it!
Layering Techniques for Dark Academia Outfits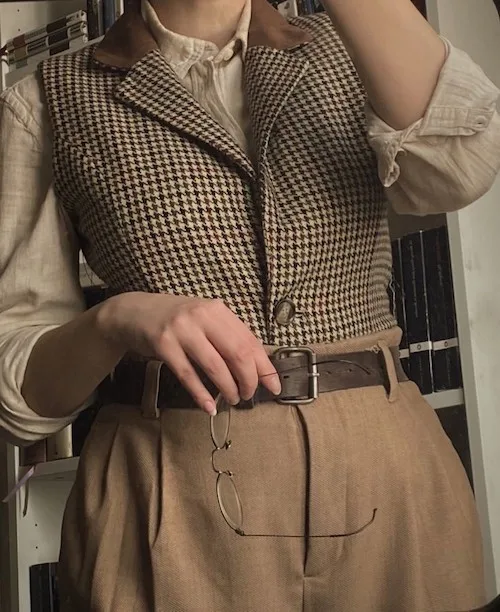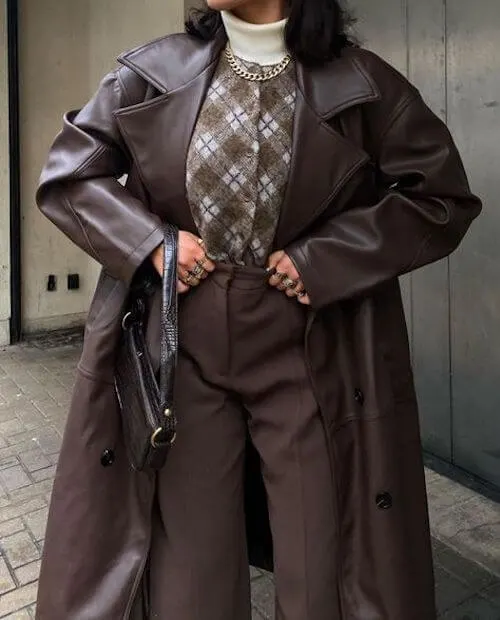 Layering is an essential part of Dark Academia fashion.
The layering technique adds depth and complexity to your outfit.
For example, a dark blazer with a light blouse underneath and an oversized sweater on top makes a perfect outfit for winter.
The sweater overcoat will give added warmth while also making the outfit look chic.
Choosing the Right Colors for Dark Academia Outfits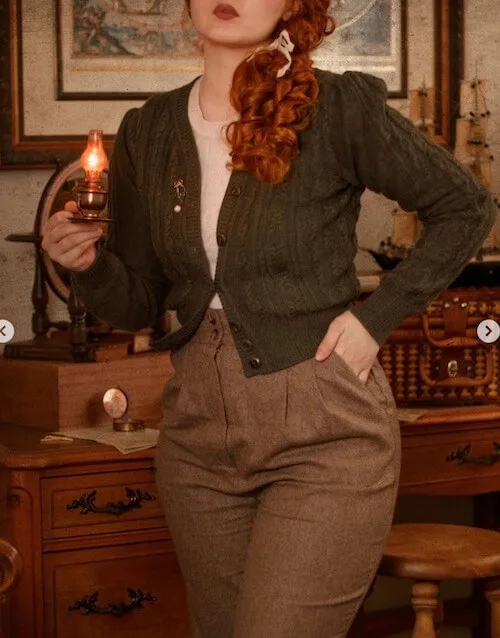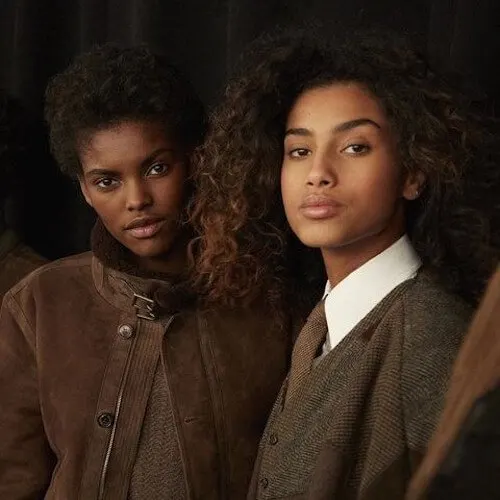 While the Dark Academia aesthetic is generally darker, there are still ways to incorporate hues into an outfit.
It's important to choose neutral colors that complement your skin tone and hair color while still maintaining the gothic and vintage motif.
Muted navy, gray, dark green, brown, and black look fashionable and complete the Dark Academia style.
What are the Best Dark Academia Outfit Ideas?
Plaid Skirt and Sweater Vest Combination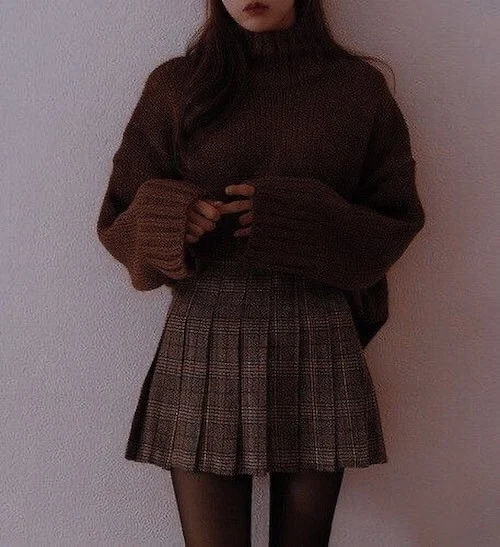 Mix and match a plaid skirt with a sweater vest for a classic Dark Academia aesthetic.
This subtle nod to traditional British universities adds character to your look.
Suede or leather loafers are perfect shoe options for this outfit.
Blazer and Trouser Set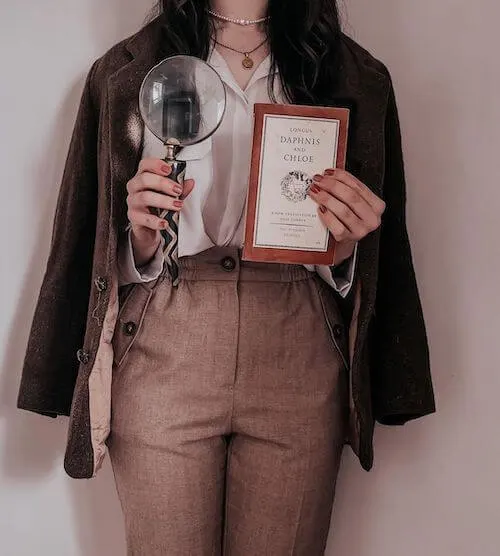 A blazer with matching trousers gives a professional and chic twist to the Dark Academia style.
Choose a tweed blazer and high-waisted trousers, then add a light blouse underneath.
This combination of fabrics and colors gives your outfit an elegant and refined appearance.
Pair with oxford shoes or suede boots.
Tweed Blazer and Skirt Combo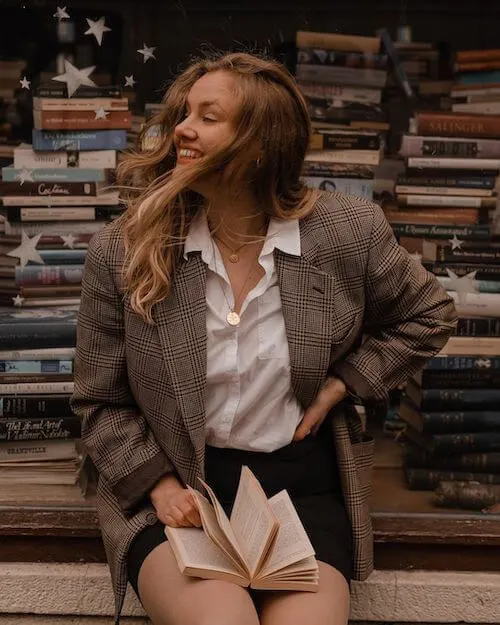 Tweed blazers are iconic in Dark Academia fashion.
They add texture and depth to an outfit while still maintaining an academic flair.
Combine a tweed blazer with a skirt, white button-down shirt, and a dark v-neck sweater for the perfect winter outfit.
Finish with ankle boots or lace-up booties.
Cute Summer Dark Academia Outfits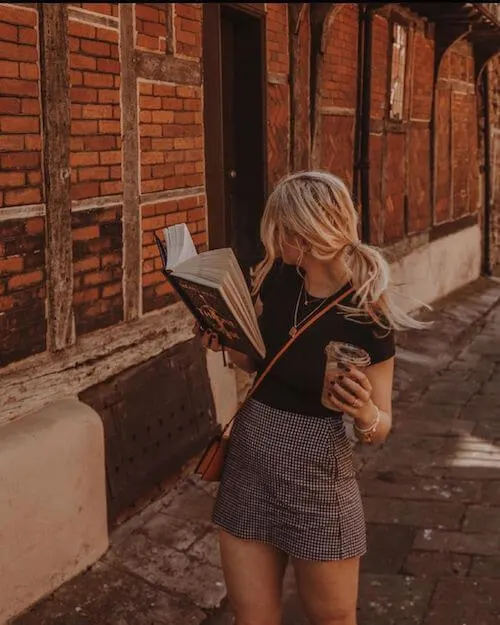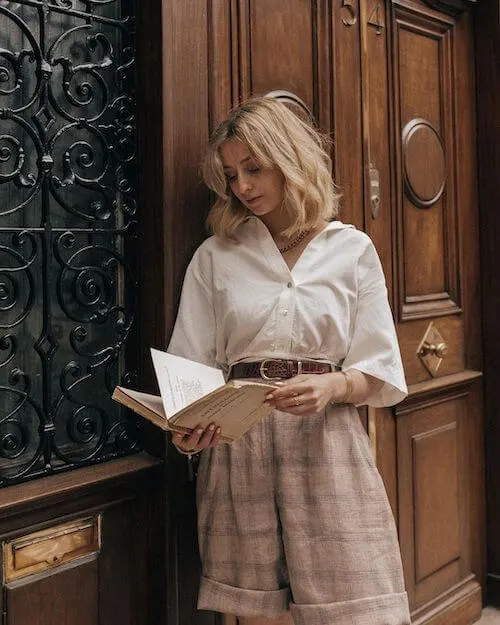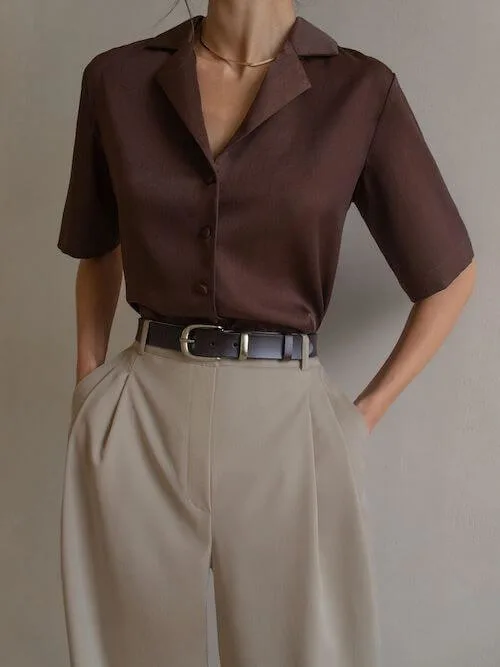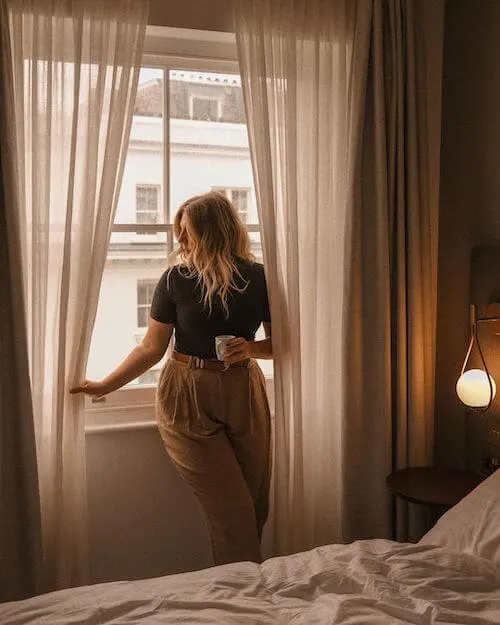 Summer may not be the first season that comes to mind when thinking of dark academia outfits, but it's definitely possible to incorporate the aesthetic into your warm-weather wardrobe.
For a cute summer look, try pairing a flowy white sundress with black oxfords and knee-high socks.
A simple black tee and a brown mini skirt are also an excellent combo.
Another option is to go for a cropped cardigan in a muted color like olive or burgundy, or a simple white blouse, paired with high-waisted shorts and loafers.
Accessorize with gold jewelry and round-framed glasses for an intellectual vibe.
Don't forget to add some texture to your outfit with details like lace trim or crochet accents on your clothing pieces.
With these cute summer dark academia outfits, you'll feel stylish and comfortable all season long.
For a more casual look, pair high-waisted mom jeans or brown trousers with a tucked-in plain top and chunky loafers.
Add a touch of darkness by incorporating accessories like vintage-looking necklaces or earrings featuring antique coins or symbols.
More Dark Academia Aesthetic Looks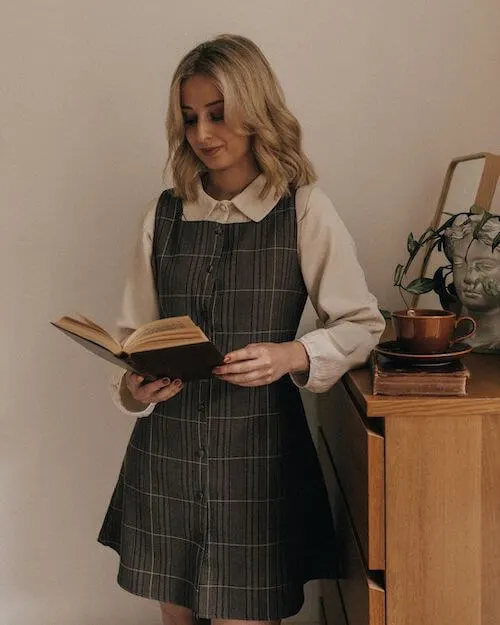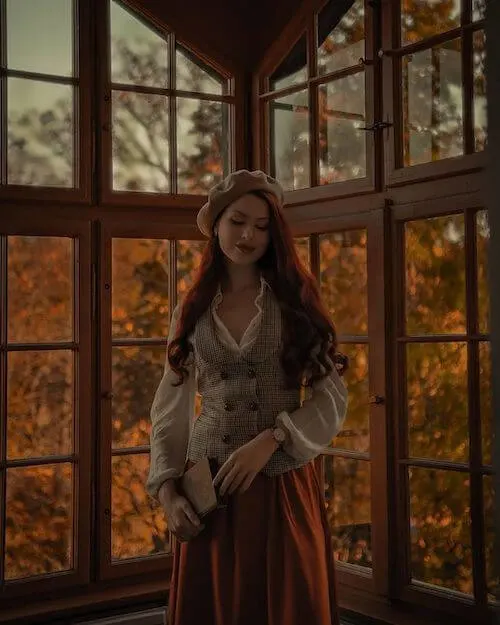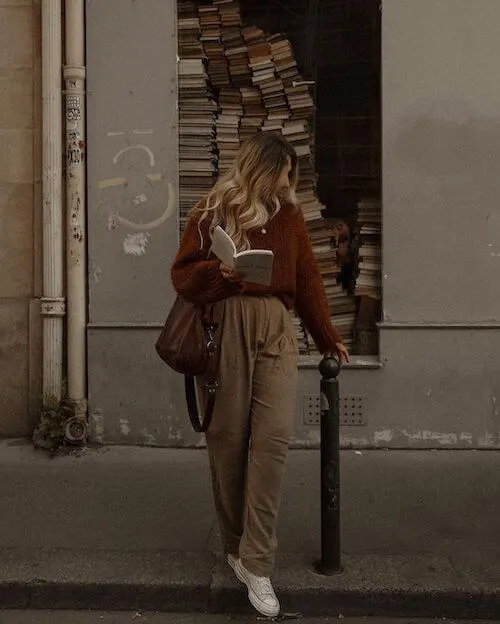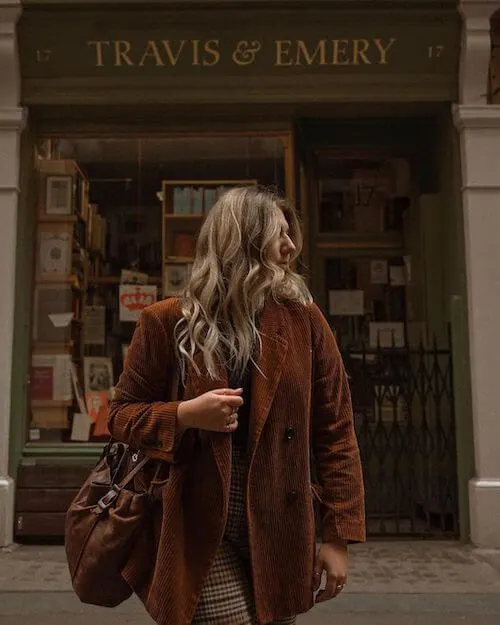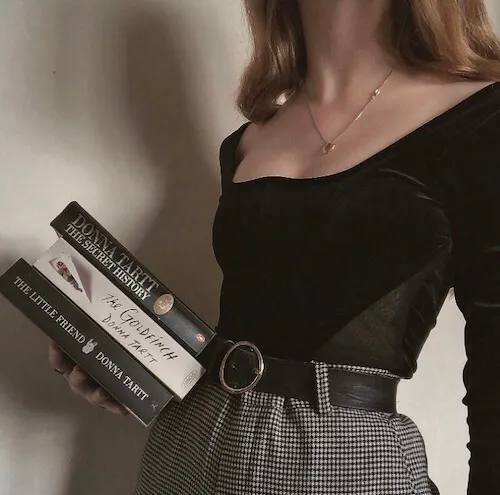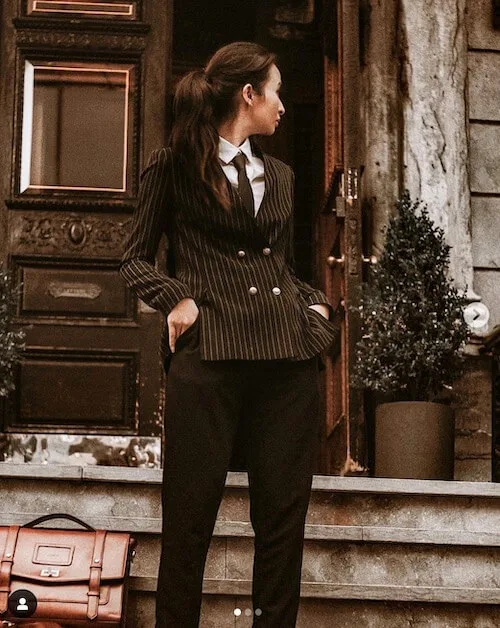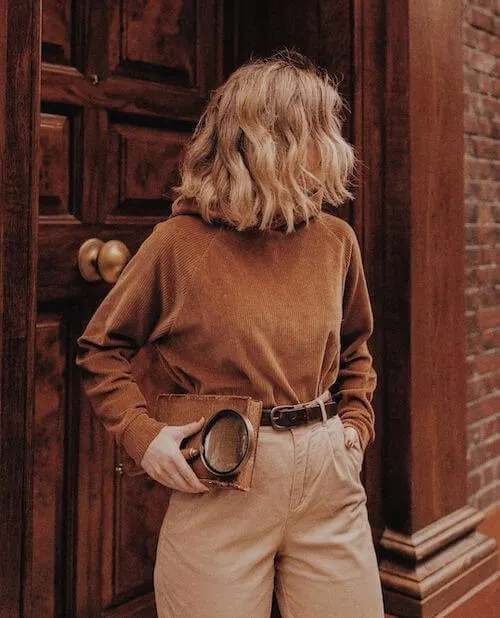 Where to Look for Affordable Dark Academia Clothes?
Affordable Fashion Brands for Dark Academia Outfits
There are several affordable fashion brands and stores that carry Dark Academia staples.
Some of these clothing brands and stores include &Other Stories, H&M, Amazon, and SHEIN.
These retail stores offer vintage-inspired blazers, cardigans, turtlenecks, and classic frill tops all ideal for a Dark Academia wardrobe.
Thrift Stores and Secondhand Clothing for Dark Academia
Shopping at thrift stores and secondhand clothing shops can help you snag unique and affordable pieces for your Dark Academia wardrobe.
These stores have a vast collection of tweed blazers, plaid skirts, pleated skirts, and vintage sweaters that fit into the Dark Academia aesthetic while not breaking the bank.
How to Achieve Dark Academia Style without Breaking the Bank?
Creating a Capsule Wardrobe for Dark Academia
A capsule wardrobe is a collection of high-quality, timeless, and versatile pieces that can be mixed and matched to create several outfits.
Maintaining a Dark Academia wardrobe can be pricey, but a capsule wardrobe of pieces like blazers, plaid skirts, and turtlenecks can save you money in the long run.
Repurposing School Uniform Pieces into Dark Academia Outfits
School uniform pieces like blouses, skirts, and sweaters can easily be repurposed into Dark Academia outfits.
Plaid skirts and white button-down shirts can be paired with turtlenecks and add a Dark Academia vibe to your everyday wardrobe.
DIY Ideas for Dark Academia Clothes
DIYs can be a low-cost and creative way to add Dark Academia pieces to your wardrobe.
Make your own cardigan or vest from scratch or repurpose a thrift store find by adding studs or lace details. Additionally, add a subtle touch to your outfit by wearing tights or knee-high socks with your Dark Academia outfit.
Embracing the Dark Academia Aesthetic doesn't have to break the bank. With a little creativity and some inspiration, you can achieve a stylish, gothic, and academic look.
This post was all about dark academia outfits female.
About The Author
Tracy is an experienced personal stylist, shopping expert, and fashion & lifestyle blogger. She has been featured on Time Magazine, Bustle, Best Life, Glam, The Zoe Report, Mic, and GOBankingRates, for her insights on fashion, beauty, home decor, and lifestyle. Read More
Related Posts: