Want to know how to style sweater vests for a woman? Check this post for 40+ ways to wear a sweater vest and our favorite sweater vests to shop for.
Sweater vests are still trendy this year. Whether you like minimalist style, casual-chic style, academia style, or even Y2K, you can find a sweater vest that suits your style and let it add color to your outfit.
This year's sweater vest styles are also more diverse. In addition to solid color sweater vests and diamond check sweater vests, more chunky knit, cable knit, and braided knit sweater vests make people look warm and cute. At the same time, the popularity of cropped sweater vests and oversized sweater vests has given us more possibilities for matching.
Today, we are going to talk about how to style the most popular sweater vests, what to wear under a sweater vest for female, and what to wear with a sweater vest. At the same time, we also share our favorite sweater vests with you this year, and you can click to buy them.
This post may contain affiliate links, which means I'll receive a commission if you purchase through my link, at no extra cost to you. Please read the full disclosure here.
This post is all about sweater vests for a woman.
How To Style Sweater Vests For A Woman
Black Sweater Vests
The black sweater vest looks so versatile this year.
The first is this year's hot academia style, white socks, and the popularity of platform shoes, making the black sweater vest easily one of the most fashionable items.
One simple but fashionable styling method is to pair it with this year's trendy white oversized button-down shirt.
Then you can put on black platform shoes and other black accessories to successfully create this stylish look.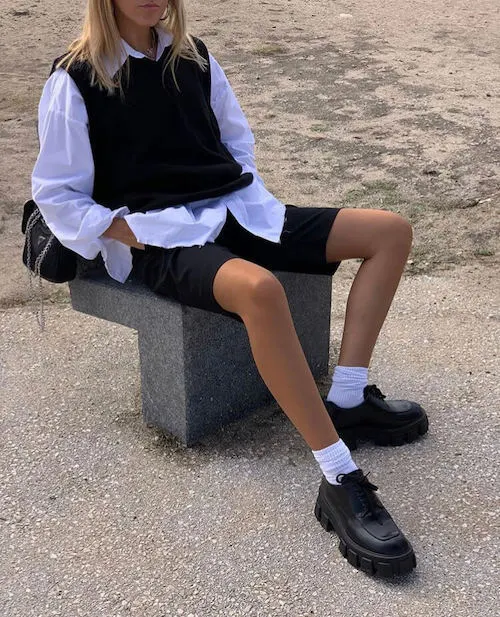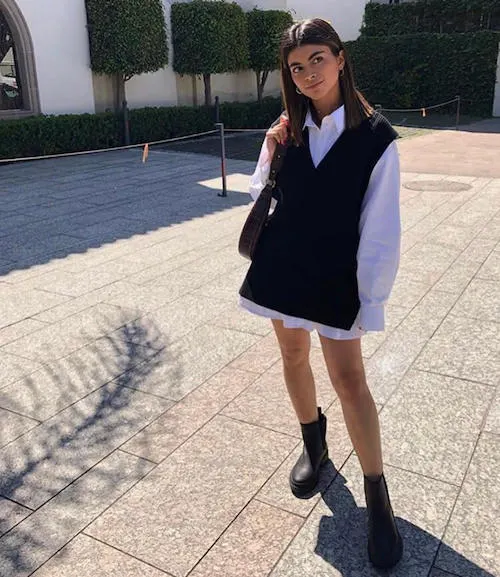 A black sweater vest with black wide-leg pants is so fashionable.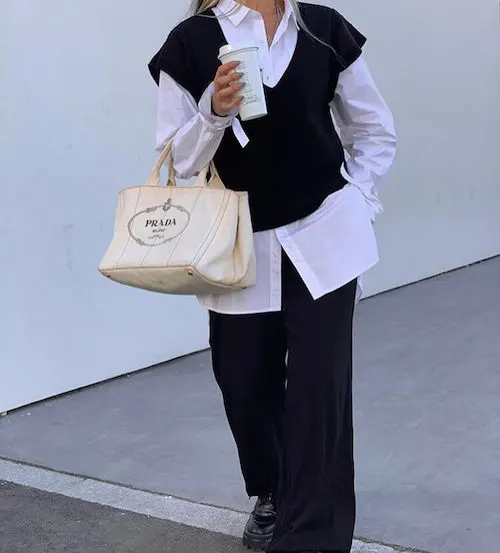 If you want a slight change, match your jeans. Changing the white shirt to a white Tee is also a very useful method.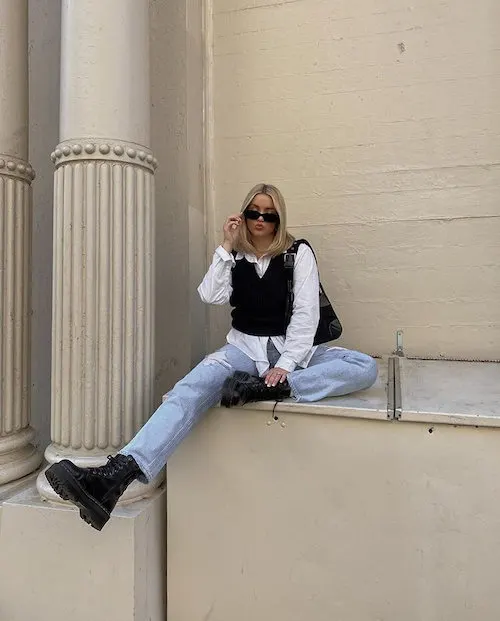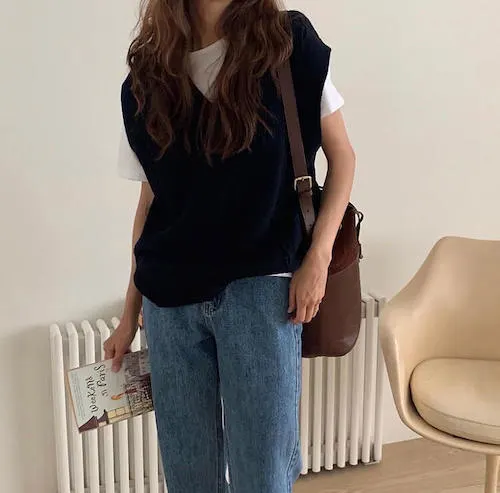 Of course, how can such a fashionable item not try more edgy outfits?
For example, with flared pants.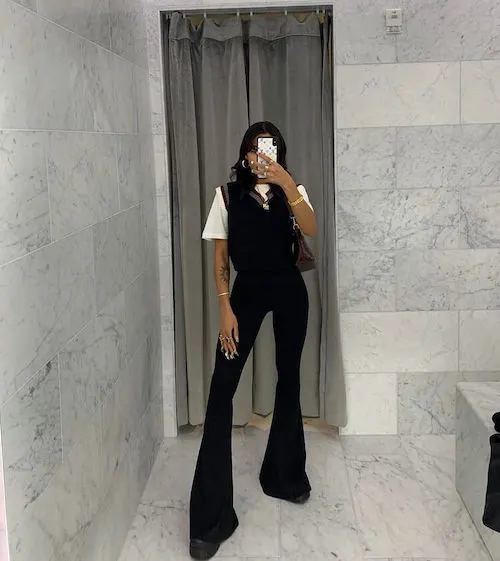 Or wear a black sweater vest outside the oversized winter sweater. This layering style is very practical.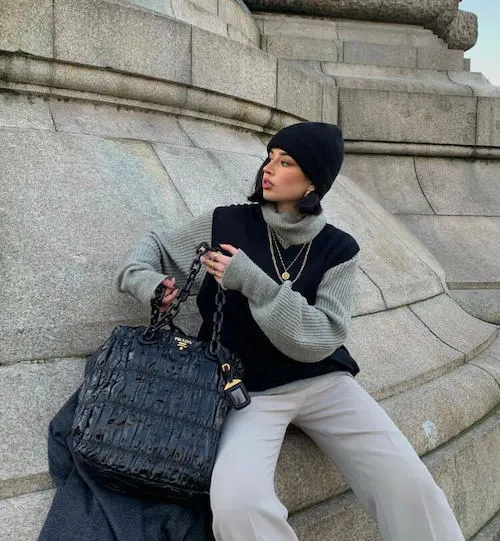 Of course, the oversized black sweater vest, black boots, and oversized white button-down combo can modify the figure and create fashionable highlights.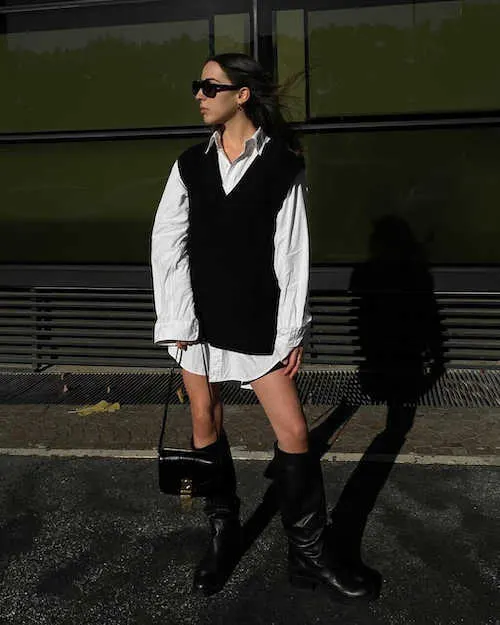 Beige Sweater Vests
Beige sweater vests are becoming more and more popular this year. They have become fashionable women's wardrobe staples, whether thin or beige sweater vests with various knit patterns.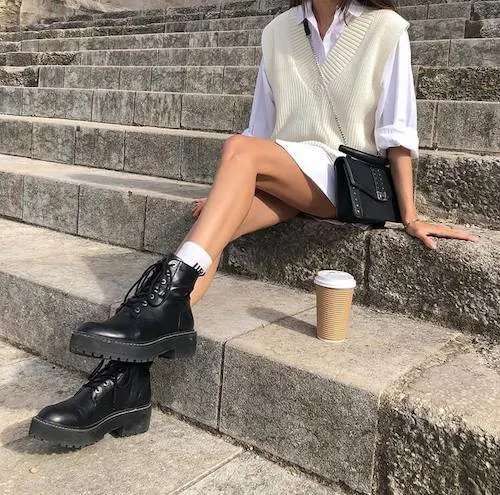 The beige sweater vest with black and white items adds more gentleness.
If you think the black and white collocation introduced earlier is too high-profile, you might as well try the beige sweater vest, which is very cute and charming.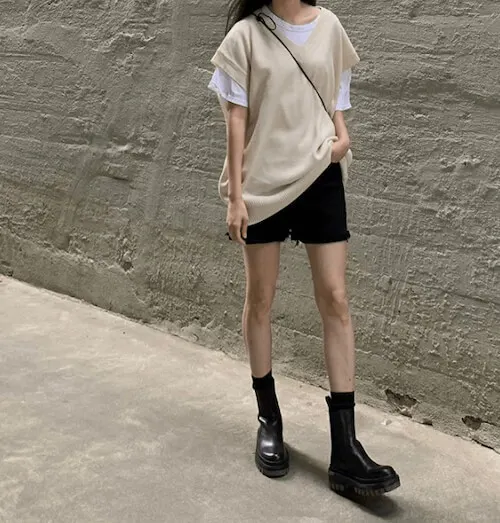 Of course, how can you miss these chunky knit beige sweater vests this year? The retro atmosphere is full of personality, and it does not violate any of your other fashionable items.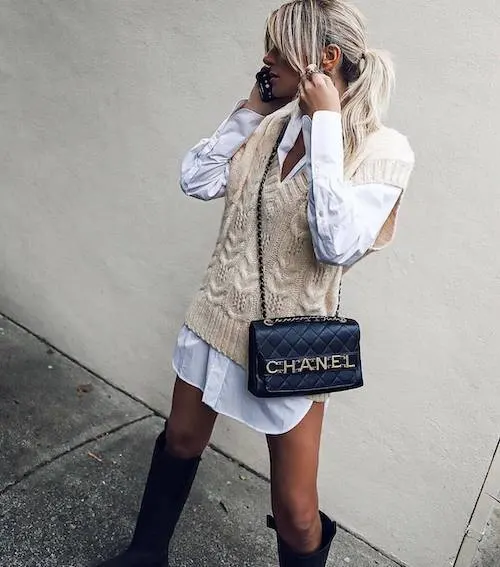 Match your beige sweater vest with more white accessories. This seemingly layered sense is so charming.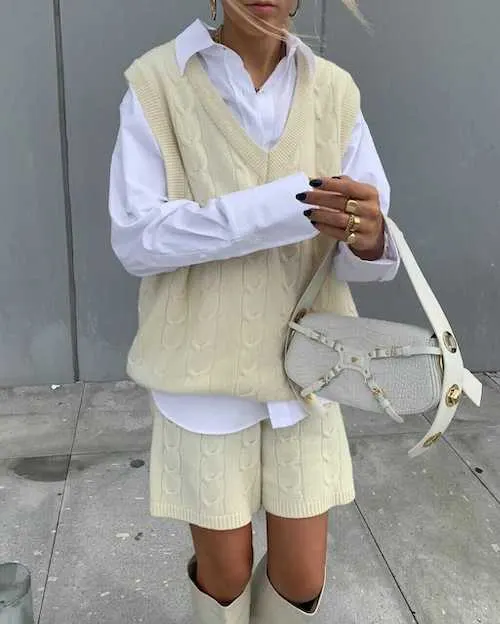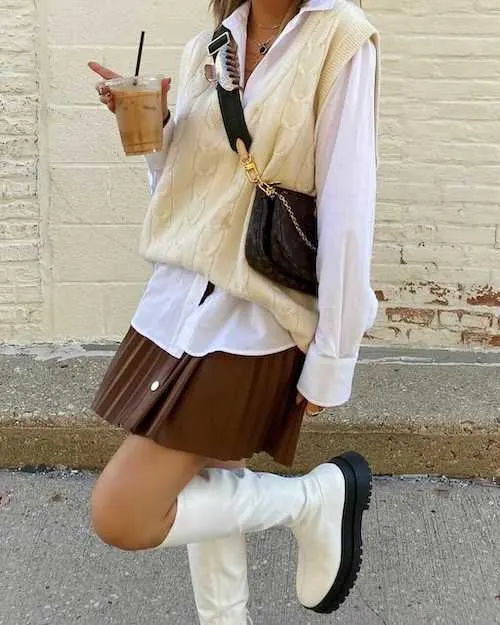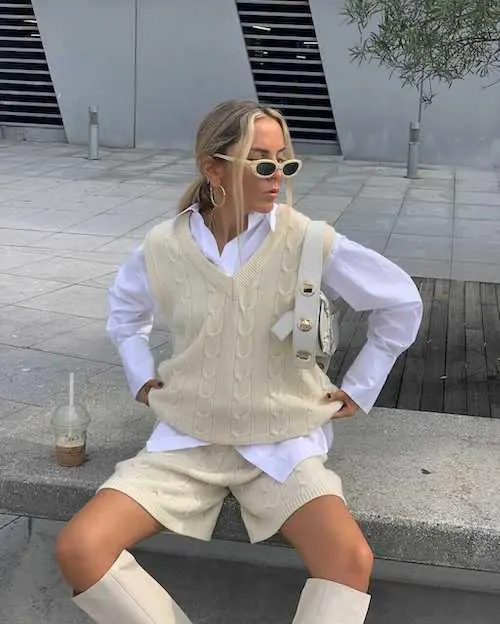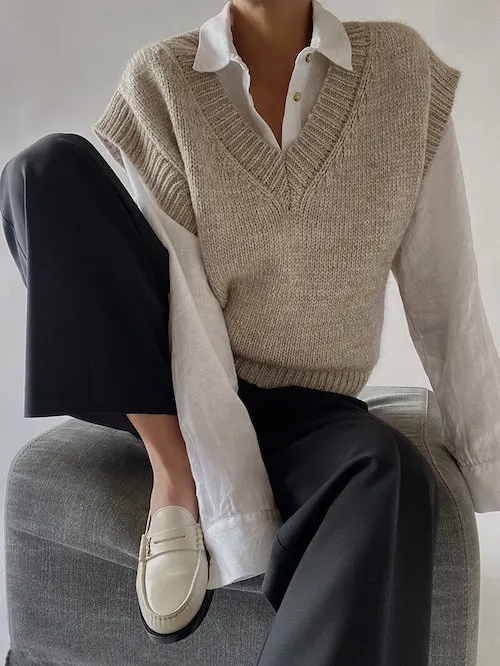 Of course, blue is also a good partner for beige. The combo of these two colors will make your outfit brighter and look happy.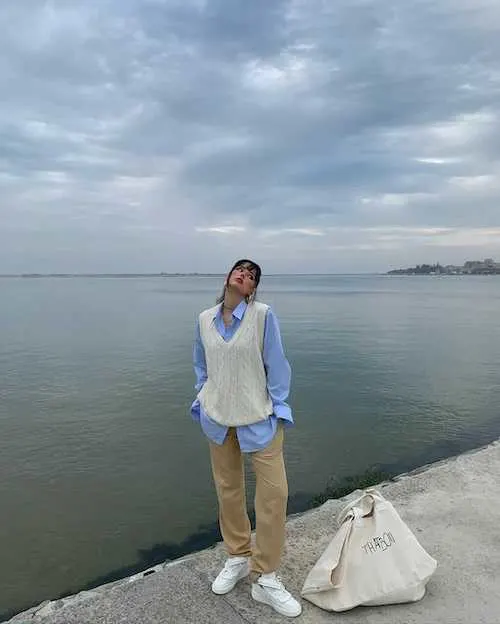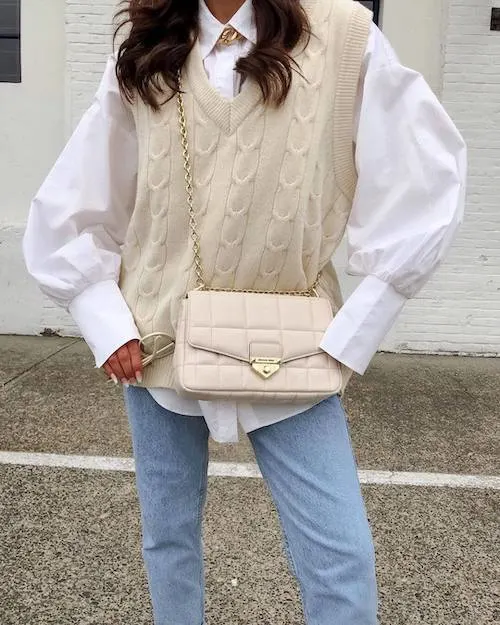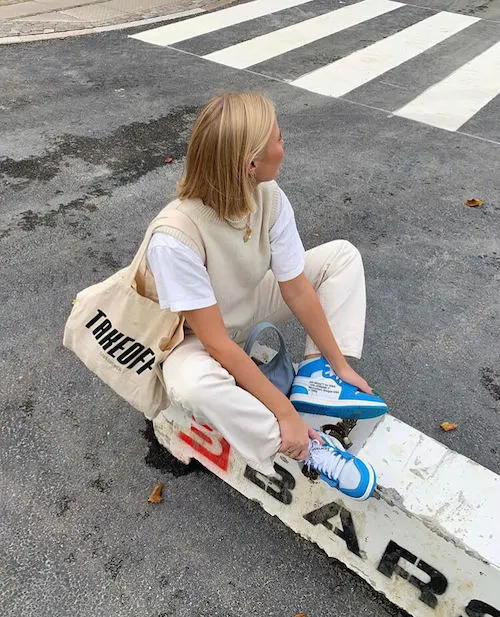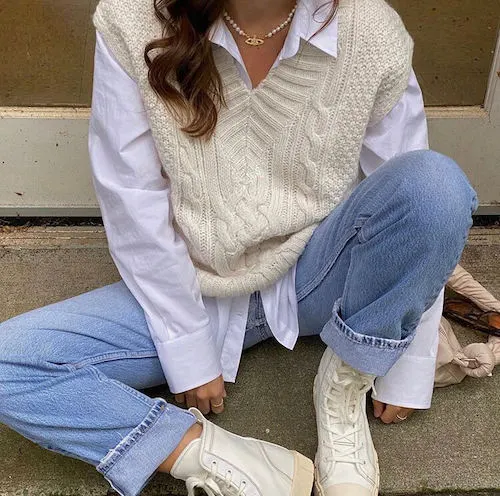 The beige sweater vest can be worn in many seasons, and it can be worn almost all year round.
When the weather is colder, you only need to add some items to the outfit to transition to fall and winter safely.
For example, put on a cute hat or a baseball cap.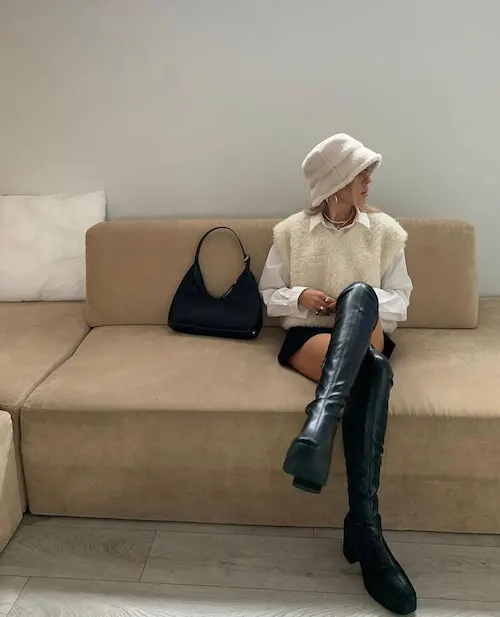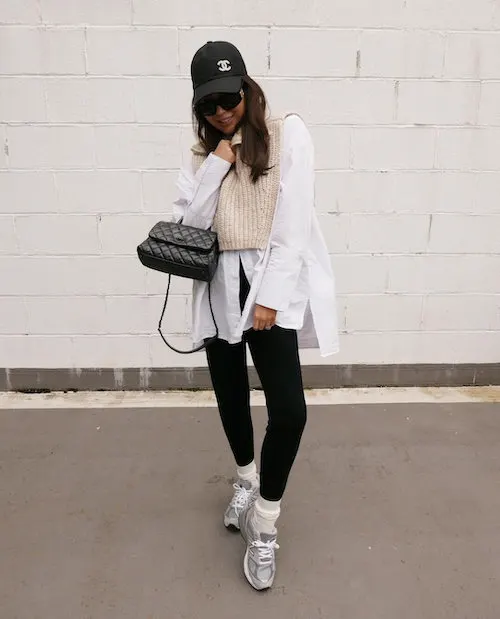 Or pair it with warm boots.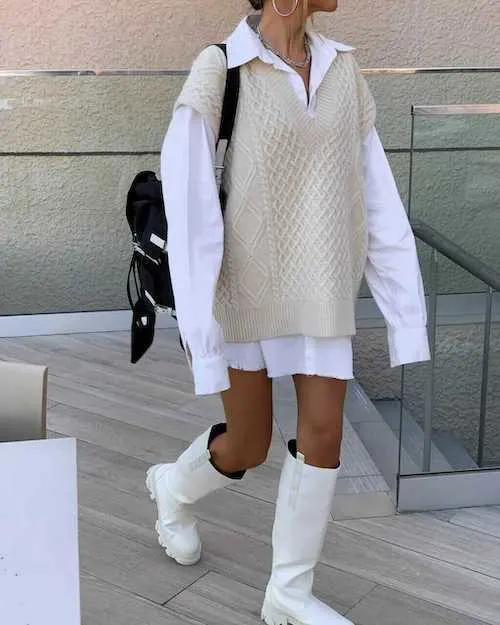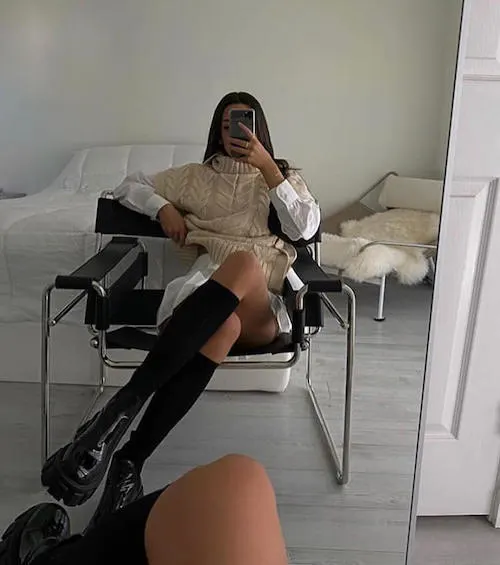 Or add a trench coat or other jacket. Beige sweater vests can add more details.
Cropped Sweater Vests
The trend of Cropped style also spread to the design of sweater vests.
Look, is it cuter to replace the sweater vests in these combinations above with cropped ones?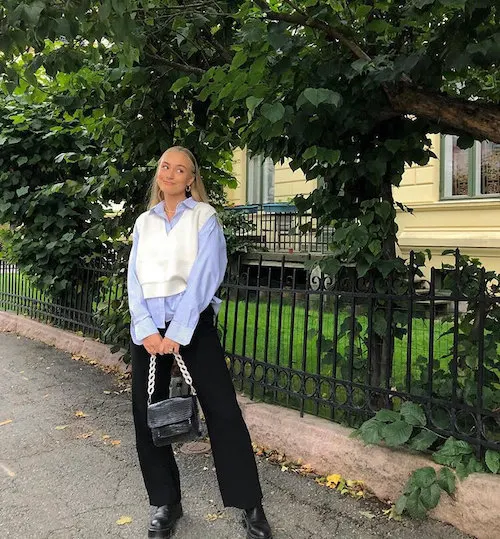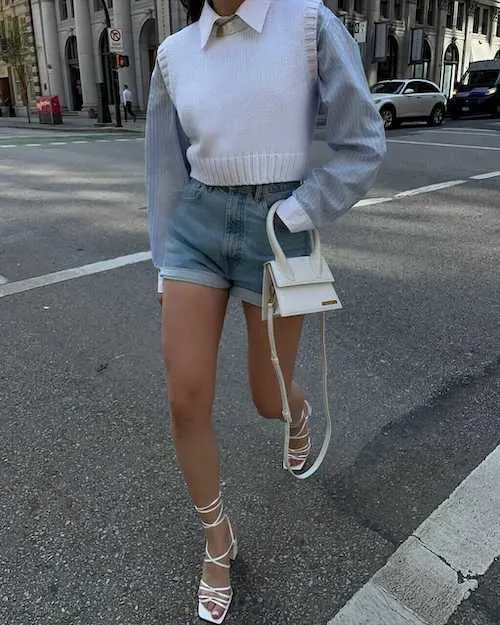 For short sweater vests, I suggest you try more colors and patterns to make your outfits more colorful.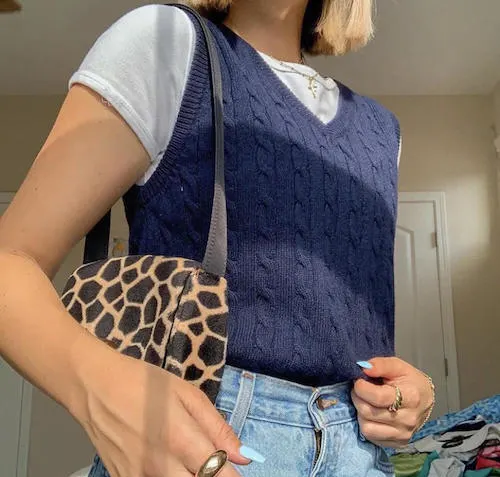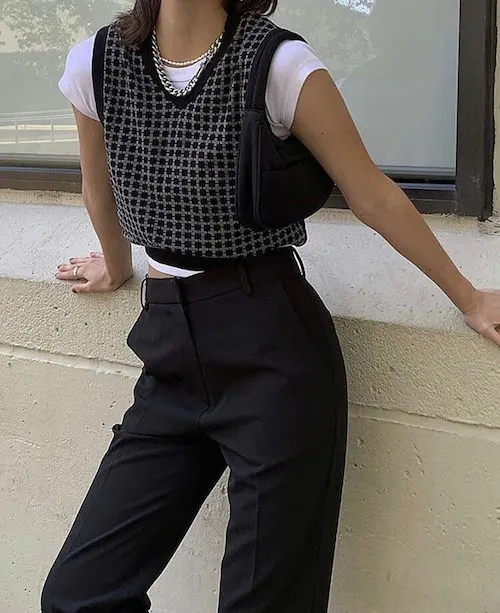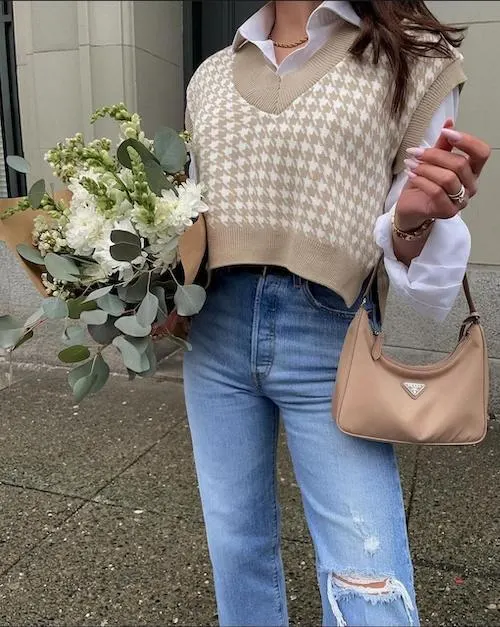 This kind of cropped sweater vest has a stylish way to wear recently, wearing tennis skirts.
You can choose white and black tennis skirts that are not easy to make mistakes, or you can choose tennis skirts of the same color as sweater vests.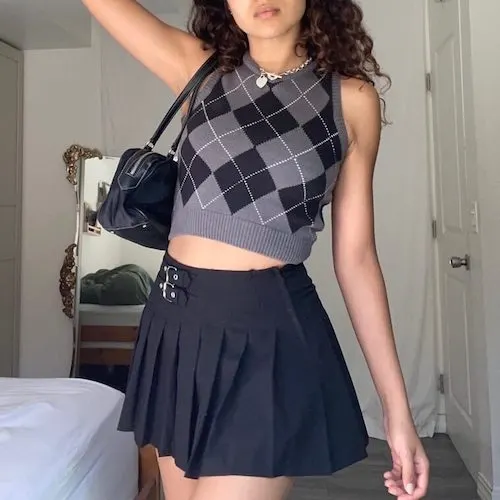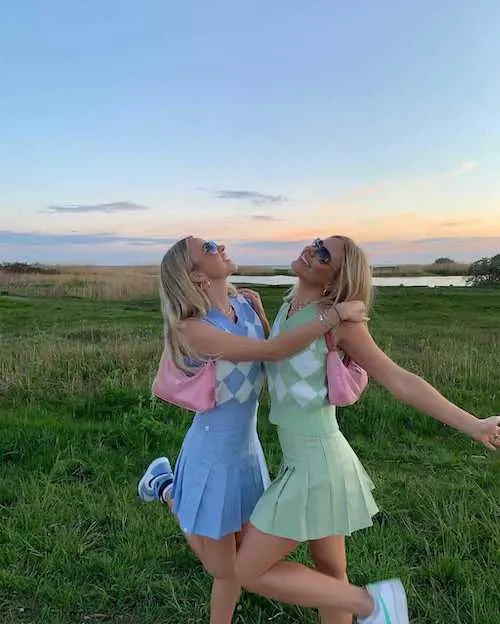 Oversized Sweater Vests
When the weather is cold, oversized sweater vests are more practical.
Oversized sweater vests are more popular in light colors, such as white, beige, light gray, or dog-tooth patterns. They look cozy and beautiful.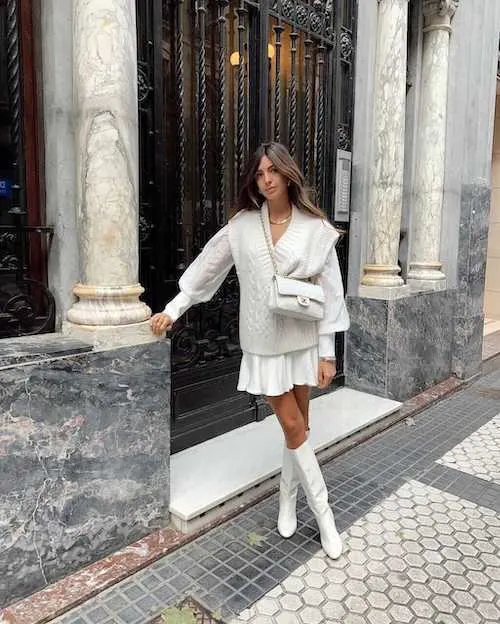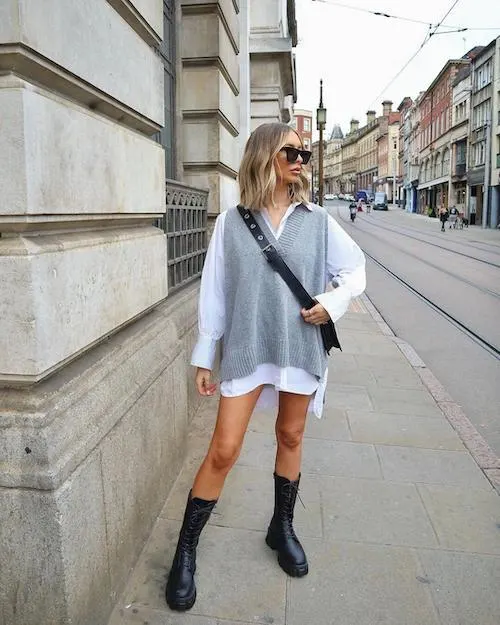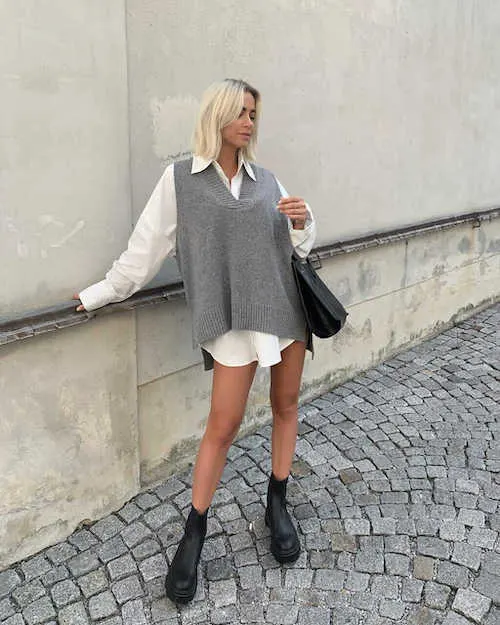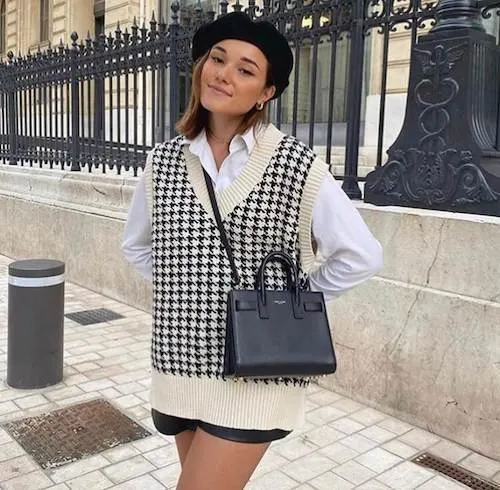 A dark oversized sweater vest is not easy to style because the area is too large and may be more boring.
The better way is to wear it alone to increase skin exposure and put the hem into the pants to lighter the overall outfit.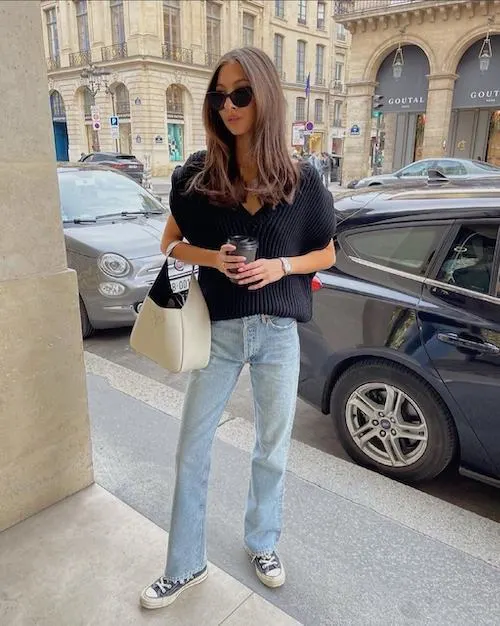 Of course, light-colored oversized sweater vests are more recommended.
Put on a simple white shirt or white Tee inside the vest, and then wear a pair of trousers or jeans. It is effortlessly chic.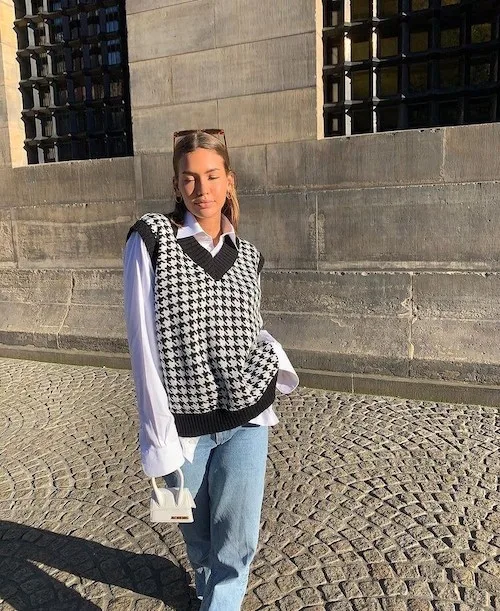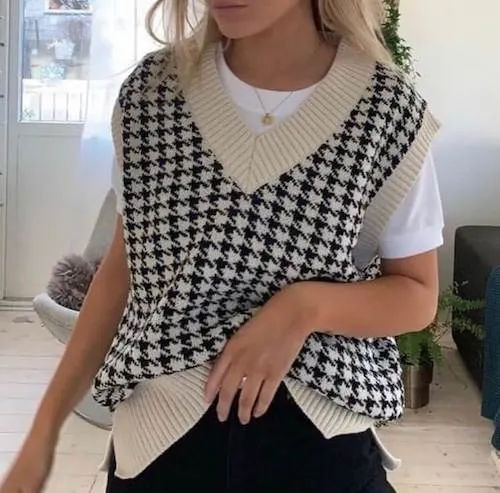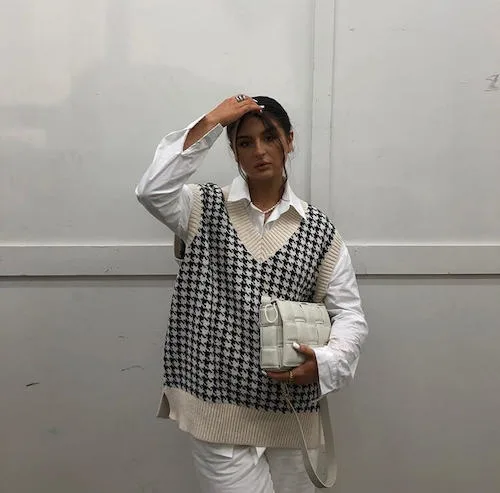 Want to be more fashionable? Let the oversized sweater vest and your oversized shirt become a dress, with boots to complete the look.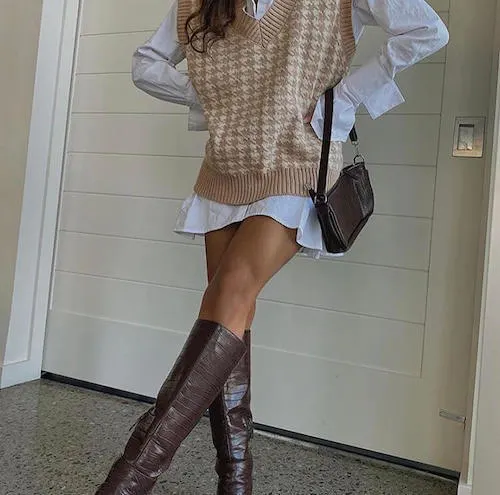 Or put on a pair of leggings to make the upper body looser and the lower body slimmer, highlighting your good figure and keeping you warmer.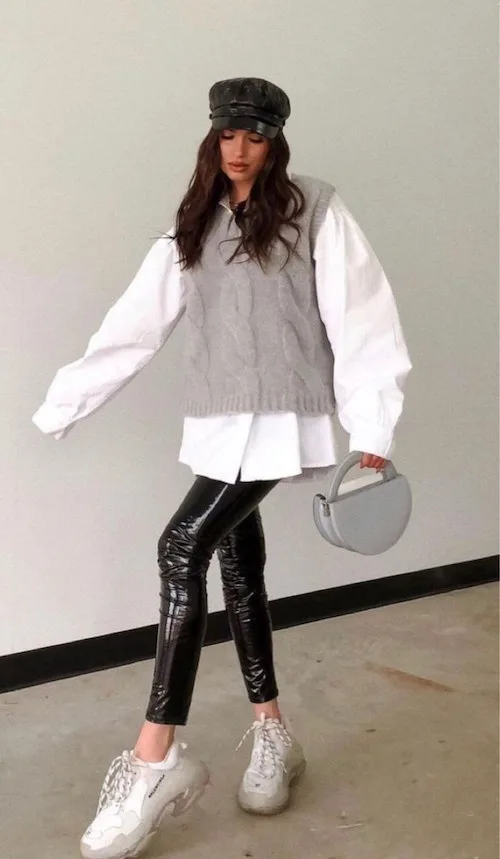 How To Wear Sweater Vests With A Jacket
Don't forget that the sweater vest is an essential item for your winter layering style.
Do you know how practical a sweater vest is? The simple combo of jacket+jeans has become cuter because of the sweater vest. Of course, it must be warmer.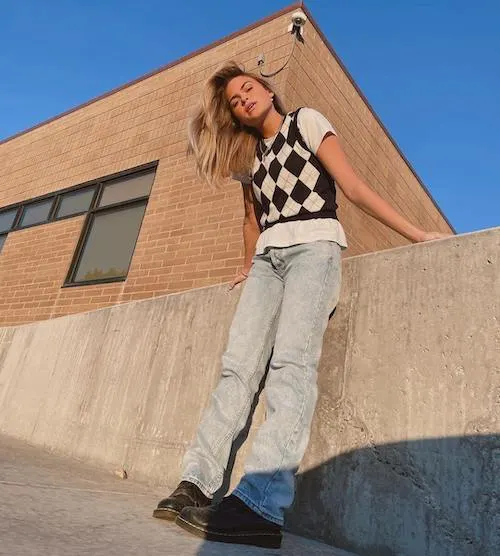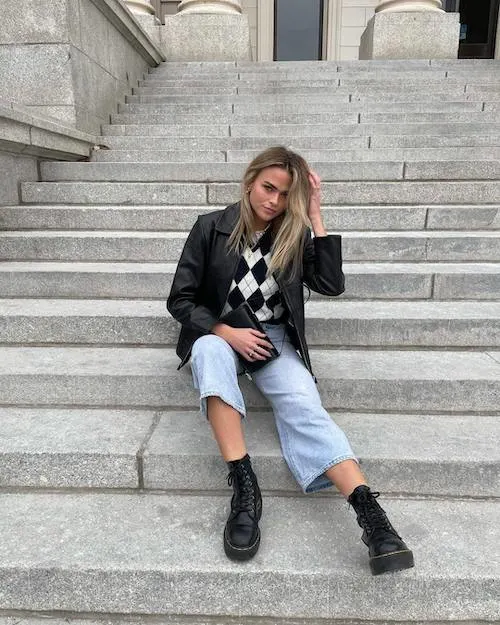 Or try it with the trendy oversized blazer this year? This outfit has a very fashionable loose silhouette. When it gets colder, put on a pair of leggings or skinny jeans.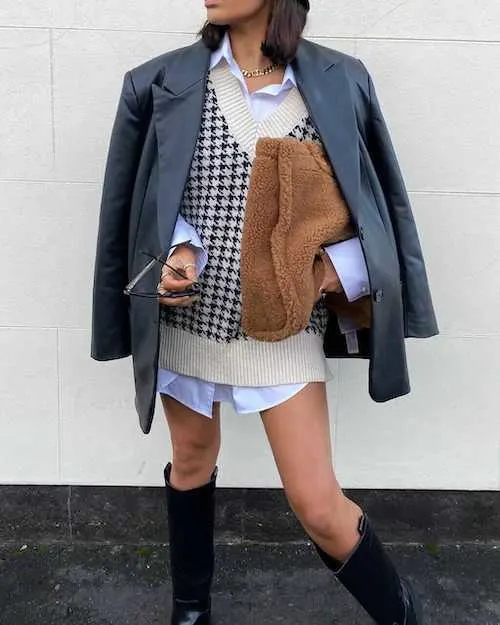 Click To Shop Our Favorite Sweater Vests This Year:
Swipe left and right to see more

This post was all about sweater vests for a woman.
About The Author
Tracy is an experienced personal stylist, shopping expert, and fashion & lifestyle blogger. She has been featured on Time Magazine, Bustle, Best Life, Glam, The Zoe Report, Mic, and GOBankingRates, for her insights on fashion, beauty, home decor, and lifestyle. Read More
Related Posts: