Want to know the best first date questions to ask your date? Check out the post below today.
Find the right first date questions to ask your date is difficult. Everyone hopes to get to know each other on the first date, and at the same time, let the other person know themselves, and start a beautiful relationship ever since. Let's take a look at the best 10 first date questions given by experts!
This post may contain affiliate links, which means I'll receive a commission if you purchase through my link, at no extra cost to you. Please read the full disclosure here.
This post is all about the best first date questions to ask your date.
Best First Date Questions Getting To Know Him
Related Posts:
√ 24 Best First Date Tips To Make Your Date Successful
√ 75 Date Ideas For New Couples That Are Creative And Romantic
Deep First Date Questions To Ask Your Date
1. Anything except his past love story
No one should actually ask about their past love history when they are on a first date. It would be best if you did not even mention it until he actively shares his past. Sharing the past is very private and requires each other's comfort zone. Asking about love history directly, the first date is definitely not a good start.
2. Ask about his brothers and sisters
Regardless of love history, ask him if he has any brothers or sisters, how old they are, and his relationship with them? This is a more comfortable and simple start, and at the same time, you can still know what he is like.
3. Where has he been to travel
Travel is always a good topic. From the special experience in the past to the place he would like to go to in the future, you can learn about his preferences and interests.
For example, if you are a girl who loves shopping, and the other person says that he hates Hong Kong as a large shopping mall; or you love adventure and beautiful sunshine on the island, but he likes to eat and drink in the big city, you can easily tell it would be difficult for the future.
4. What would he like to eat/drink?
If the first date is in a restaurant or a bar, don't just focus on what you want, and easily ask the other person's preferences to show your caring side.
During the conversation, you can also pay attention to the other party's favorite foods and drinks.
For example, if he likes to eat seafood, you can quickly search for delicious seafood restaurants that you know. If the first date is good, you can take the initiative to say that you know there are good restaurants around ad get prepared for the next possible date!
5. Ask about his career
It's always good to know what the other person is doing. What is he doing? Plans? You don't have to go deep into his daily work style or exactly one year, three years, and five years of goals. It's just easy to understand what he is doing.
Genius Questions To Ask On A First Date
6. Talk about his friends
Many girls will be defensive towards a man's friends and avoid talking about his friends. But it's actually a pity.
Ask him if he has any good friends? What do they do with friends? You will know how he gets along with friends, and you will know more about whether the guy you date for the first time is a good person! It is definitely better to value his friends than to ignore them.
7. Hobbies and entertainment he likes
Ask questions like: Do you like dancing? Do you like sports? Love watching movies or like any music?
From the hobbies and entertainment that the other person usually likes, you can immediately know whether you two are in common! More importantly, if you two have similar interests, Can open another more in-depth topic for you.
8. What is his plan this weekend?
This is really a great topic. You can not only know his real state when he doesn't have to go to work and have a lot of free time, but you can also understand how he arranges his life, and you can also reveal a little suggestively. " Maybe during the weekend, what can we do together?"
More First Date Tips To Make Your Date Successful
9. Don't forget your body language
Body language is definitely very important. When you are talking, the look in your eyes can let him know that you value what he is saying. If you really have a good impression of the person in front of you, sometimes inadvertently, some slightly physical contact will cause sparks between you two.
10. Let the conversation flow naturally
Although it is beautiful for two people to share silence sometimes, it is not suitable for the first date. Don't just sit there and wait for the other person to talk. Let the conversation flow between each other naturally, talk, ask, listen, and answer, so that the conversation is full of rhythm and change. The first date will naturally be the best start for the two of you!
Meanwhile, always remember that the first date doesn't need to be too long. If it is too long, you will have nothing to say. For some topics that you two are really interested in, you can wait until the next time to continue talking. This will make the guy look forward to the second date even more.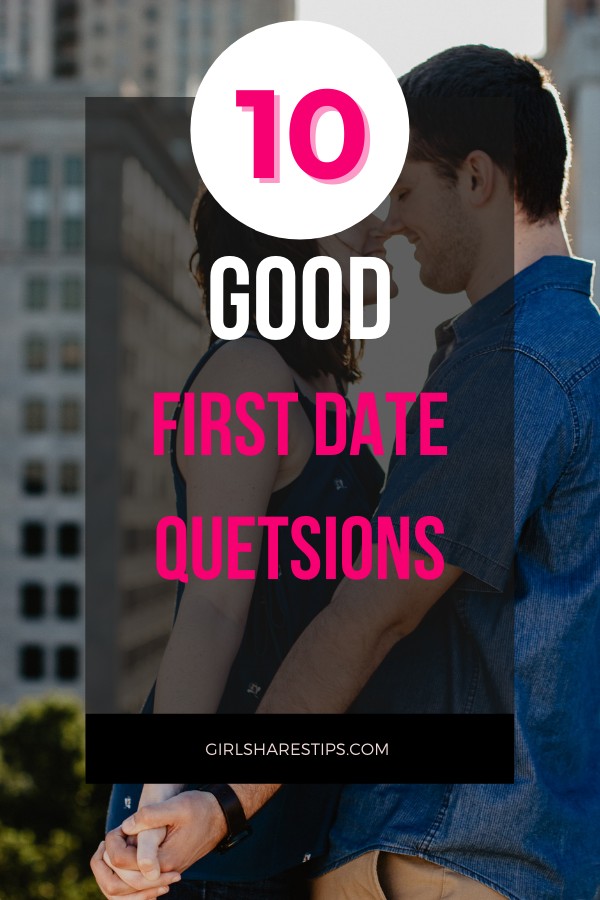 This post was about first date questions to ask your date.
Other Posts You May Like:
√ 24 Best First Date Tips To Make Your Date Successful
√ 75 Date Ideas For New Couples That Are Creative And Romantic