Looking for long distance relationship tips to maintain your relationship? We are listing the best tips that really worked and would help you out.
Many people think that long distance relationships will almost end. Family members do not support it, and even friends advise you not to devote yourself to it.
Indeed, maintaining a long-distance relationship is not easy. The long distance makes many things difficult to achieve. Everything becomes complicated, and occasionally you will feel unfortunate, lonely, and helpless.
Although long-distance relationships are challenging, they can also bring many surprises. If it is impossible to avoid a long-distance relationship, try out the long distance relationship tips listed in this post.
This post is about the best long distance relationship tips to help your relationship stay alive.
Best Long Distance Relationship Tips
Related Post:
√ 20 Best Pieces Of Long Distance Relationship Advice That Make Your Relationship Work
√ How To Be A Good Girlfriend: 20 Proven Tips From Happy Couples
√ 50 Cute And Funny Short Love Quotes For Him To Say I Love You
1. Believe in your love
Many long-distance friends are worried about whether their love will become less if they do not meet for a long time. And because you can't understand the situation of your partner, you will have some suspicion. At this time, trust in love becomes very important.
"A lot of emotional breakdowns start with suspicion. Suspicion and mistrust between each other will cause the relationship to die."
2. Avoid excessive communication
Excessive clingy and possessiveness are not wise.
To maintain a relationship, you don't need to talk for twelve hours a day.
Many couples believe that they need to communicate more to make up for their spatial distance. But in fact, it's not.
On the contrary, such an approach will weaken the love and your feelings for each other. Before long, you will feel tired.
What you have to do is showing up at the right moment so that your partner feels sweet.
3. Both of you must have your own lives
Learn time management, fill up your free time, and don't let loneliness take advantage of it.
Make your life more colorful.
At the same time, you must also know how to share each other's lives, share every bit of your life, and share your happiness, troubles, and life.
This will allow you to understand each other's life and eliminate the other's suspicion and strengthen the relationship between you two.
4. Get familiar with each other's daily routine
Knowing when your partner is busy and when your partner is free is very useful because, in this way, you can send text messages and call your partner at the right time.
You also don't want to disturb each other during classes or meetings.
Know what is happening or about to occur in each other's lives like mid-term college entrance exams, necessary business trips, meetings, interviews, etc. This is especially important for long-distance couples.
5. Daily and creative communication
Say "good morning" and "good night" to each other every day.
Also, try to share a little bit of life with your partner, even though some things seem familiar.
To enhance the relationship, you can share photos, voice, and short videos from time to time. In this way, the other person will feel loved.
6. Use intimate conversations
There is no doubt that the sexual tension between lovers is one of the most critical points.
Lust is like glue, which binds the two sides tightly, making it difficult to separate. Sex is not only a physical need but also an emotional need.
Lovers send some sexually provocative text messages to each other to keep the spark of love.
And express love at all times, say more things like "I love you" and "I miss you."
Show your attitude towards feelings so that the other person can appreciate your dedication and effort to feelings.
Love is to be said, so don't be embarrassed.
Best Long Distance Relationship Tips To Make It Work
7. Do similar things
Recommend books, TV shows, movies, or songs to each other.
When two people read the same book, watch the same show, and listen to the same song, there will be more common topics between them.
In this way, even if they are far away from each other, they can create memories that belong to them together.
8. Know how to quarrel
Couples have probably quarreled. It would help if you did not arouse negative emotions when you are not face-to-face.
If quarrels are unavoidable, then argue on a matter-of-fact basis, strive to express what you want to say, and strive to solve one problem at a time.
Always remember that there is no point in merely arguing. If you can go from quarreling to communication, and then to knowing more about each other, then such quarrels are meaningful.
9. Create romantic surprises
Pay more attention to what your partner likes, and give each other some gifts on the anniversary. I believe he or she will be delighted to receive it.
Of course, suddenly appearing in front of your partner for a long-distance relationship is a delightful surprise.
10. Create opportunities to meet
Frequent meetings with each other are very important to a successful long-distance relationship.
Without telling your partner, you can suddenly go to his city, gave him a surprise, and arranged a romantic date. I believe that at that moment, your partner must be full of happiness.
If conditions do not allow frequent meetings, then have a plan for meetings, such as how often to meet and when to meet.
To meet your partner, you should cancel all arrangements. If you have to cancel the meeting in an emergency, be sure to explain it clearly to your partner.
Must-Know Long Distance Relationship Tips
11. Take every meeting seriously
Dress yourself up. Girls can change to a different dressing style, hairstyle, etc., to make him feel different.
If you can go to the station or airport to pick up your partner, try to pick up your partner. Do not be late. When your partner sees you when he gets off the car or the plane, it is a happy thing. He will be very moved.
Learn to do dating and travel planning so that your partner can worry less. This way, he will think you are very considerate.
12. Praise each other often
Say how good your partner is in your heart and let him know.
There is no need to hide your love for him, even if he looks handsome from a certain angle in his photo, please tell him immediately so that he will be delighted.
The thoughtfulness and compliment in the details will make both of you feel that their partner is very considerate and that the partner is the person who understands them best.
No one is willing to leave someone who understands themselves.
13. Try to talk about their work and study
Don't just talk about life and hobbies. Maybe your life focuses on work and study. Then speak to the other person about work and study. Work and study are also part of your respective lives.
Don't be afraid that your boyfriend or girlfriend's work is not understood. Try to explain it to each other. Never say, "Why don't you even understand this."
Don't be afraid that what you say will be considered too naive by your partner. Believe that he would not think you are not worthy of him in recognition when he was willing to fall in love with you.
A long-distance relationship does not mean that you have to do more to cover up, boldly show your true self, and boldly understand your true partner.
14. Leave items with your mark with your partner
For example, buy pajamas, bath towels, skincare products, etc., for your partner so that they can think of you when they use them.
Print out the photos you took on your dates, put them in a frame on the bedside of your partner, etc. These are useful small objects that can help him remind you.
There are also cute couple outfits and couple jewelry, which you can wear together at an appointed time.
Of course, you can buy the necessary things for your partner. Observe what he needs during the conversation, and buy it for him next time as a gift.
15. Never use the other person to make your partner jealous
Making use of the other person is stupid. It often fails to receive the results you expect, which will make you more suspicious, not communicate and express correctly, and make the distance between you two farther and farther.
Consider each other's perspectives and respect each other. Once it is related to the other guy, make it as clear as possible and explain it clearly. Although you are innocent and loyal, your partner cannot be at ease and trust you if you do not explain.
16. Have The Same Goals In Mind
Those who are willing to endure the hardship of long-distance relationships must want to cultivate a positive result.
"In the end, what kind of result do we want to have?" "How long do we have to separate this time?" "What will happen in the future?" Questions like these are all things that couples need to consider.
Because, in reality, no couple will have a long-distance relationship forever. In the end, you all need to settle down.
Therefore, you two have to make a plan together.
Establish a timeline, mark when you two are separated, and draw up the final goal when you two are together.
You two must develop on the same level and have the same goals.
Therefore, you must strive in the same direction, a future with each other, even if you do not live in the same time zone and the same place.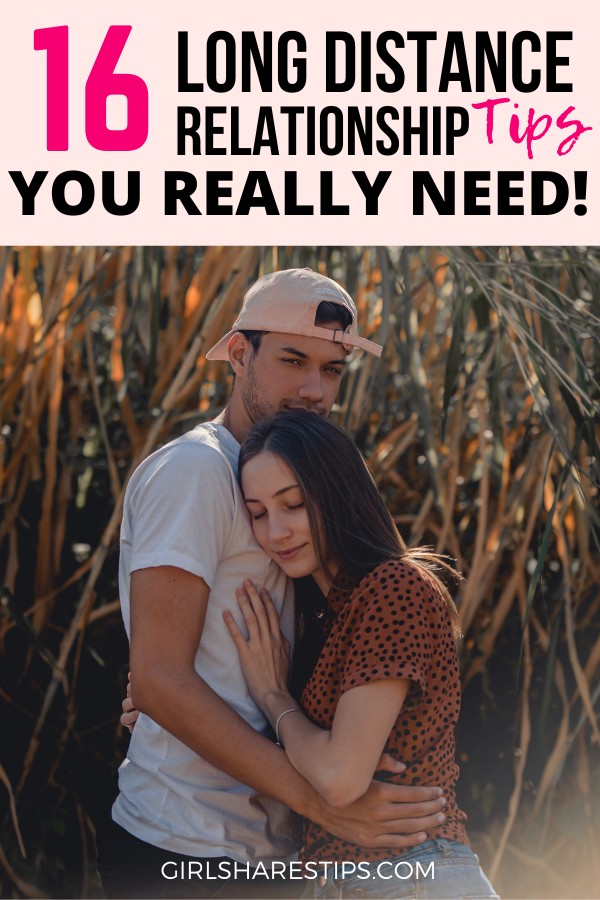 There will be many other things that will happen in the middle of a long-distance relationship. These long distance relationship tips above will help minimize the risk.
Long-distance relationships are not as complicated as everyone thinks. There is no need to reject them.
"If you really love each other, stick to it, and treat it with a serious attitude."
The journey is not easy; there are joys and sorrows and even separation and integration. However, tacit understanding and dependence are indispensable, so we must work well and love well.
This post may contain affiliate links, which means I'll receive a commission if you purchase through my link, at no extra cost to you. Please read the full disclosure here.
This post is all about the best long distance relationship tips on making a long-distance relationship work.
Other Posts You May Like:
√ 20 Best Pieces Of Long Distance Relationship Advice That Make Your Relationship Work
√ How To Be A Good Girlfriend: 20 Proven Tips From Happy Couples
√ 50 Cute And Funny Short Love Quotes For Him To Say I Love You