Looking for date night ideas at home? Here is a list of 30 best date night ideas at home that are romantic, cheap, and soooo easy to follow!
We know exactly how hard it is to make a date night at home cute and romantic. We prepared this list of date night ideas at home to save your time and help you out!
You will find date night ideas at home from this post to inspire the sparks between you and your partner.
After reading this post, you will know many great date night ideas at home to prepare your next date night!
This post may contain affiliate links, which means I'll receive a commission if you purchase through my link, at no extra cost to you. Please read the full disclosure here.
This post is all about the best date night ideas at home.
Best Date Night Ideas At Home
1. Listen to an online show
Find a video of an online show that interests both of you. Set up a big screen, turn on the speakers, and enjoy the online show's unique happiness.
2. DIY couple's massage date night
Turn on the calm music, dim the lights, light a scented candle, and take turns doing massages, facials, foot massages, etc. This date night will become romantic and sexy.
3. Learn a skill from your partner
Everyone has strengths. It is better to let yourself enter his world while you are at home, know what he likes, and challenge your potential.
Maybe your common interests will increase.
4. Make a memory album
Now most people's photos are saved on computers and mobile phones. When reviewing previous photos, it is better to DIY photo albums together!
Choose photos, choose photo paper, choose photo albums. The DIY process can also recall past moments, and the feelings are stronger.
5. Do fitness exercises together
In addition to eating, playing, and sleeping, you can also exercise at home on a date! The various sports and fitness teaching videos on the Internet provide you with good ideas for home exercise.
Make room in the living room and exercise together with your partner.
6. Take photos of you two on your date night
Use various filters and special effects to take funny photos. You can also use a selfie tripod to record the moments of home dating.
7. Decorate the rooms together
If you are living together or married, clean up and decorate the room together:
Put on a new bed.

Change the wallpaper in your home.

Fix a loose faucet.

Change the furnishings of the room…
The brand new space will make people fresh and exciting.
8. Talk about the childhood
How long have you not had a good chat? Do you understand his past?
You can snuggle on the sofa, flip through your childhood photo album, and tell the past of each childhood: for example, his birthday party when he was young, your nickname in elementary school, the most painful experience in middle school, and getting along with your family, etc.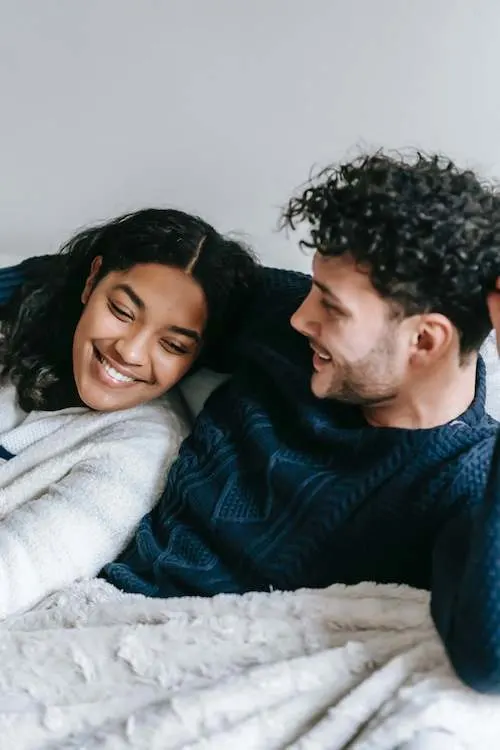 Romantic Date Night Ideas At Home
9. Help each other skincare on the date night
Most boys ignore skincare and don't understand why girls need so many skincare products. Helping him skincare can help him understand himself better.
You can also help him to shave and shave his eyebrows. I believe you two will have a lot of interesting moments in the skincare process. No jokes!
10. Dye your partner's hair
Nowadays, hair coloring at home is popular on the Internet. When it is not convenient for a girl to do it alone, her boyfriend or husband should stand up. It only takes 2-3 hours to make your partner look new.
11. Cut each other's hair
Try to cut his hair at home. There are many teaching videos on the Internet. You can buy a set of hair cutting tools on Amazon and help him become more refreshing and handsome.
12. Write your bucket list together
Haven't you talked to him about the future, dreams, and goals? Once you write down your life bucket list together, whether it's skydiving, traveling around the world, saving 1 million… everything is fine.
After writing it down, you can better understand what the people in front of you think and then plan to work together to achieve them.
13. Pair – yoga Date Night
Finding tutorials on double yoga online, choosing a few entry-level ones, looking at each other in weird and painful postures is quite interesting.
14. Give each other a personality test
There are thousands of personality tests on the Internet. Although tests cannot define everything about a person, it would be fun to take the time to do an in-depth test.
15. Date Night Games
If you have a home game console at home, find a time to sit together and play games. Sometimes it's more fun than playing alone.
16. Help your partner with makeup
Ask your boyfriend or husband to put on makeup for you once, and record the whole process of makeup. It will be your happy memory in the future.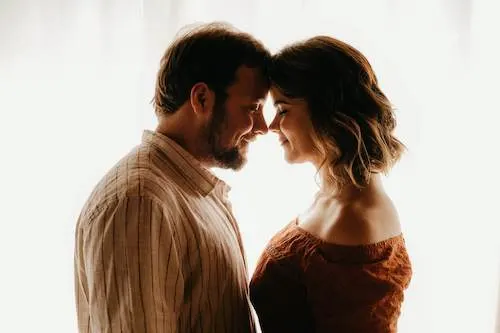 Creative Date Night Ideas At Home
17. Finish the coloring book together
Don't think that coloring is a naive thing. Coloring books have been proven to help adults relax and improve concentration, problem-solving, and organizational skills.
18. Date Night Questions
In an intimate relationship, exploring each other's ideas is very important. Taking the time to ask deep and meaningful questions can help you and your partner establish good communication.
We transition from superficial understanding to appreciation through these questions, admiration, like, and finally, deeply addicted.
19. Plan to exchange gifts
Determine the amount of budget each person will spend. Then everyone will come up with the smartest gift idea and arrange a time to exchange gifts to see whose gifts will surprise your partner!
20. Play Truth or Dare on the date night
Do you feel that you are back in your school days? Although it is a bit outdated, it is a good game. It is recommended to pair beer for better results.
21. Try on each other's clothes
Wear each other's clothes and take selfies, and the photos must be kept well!
22. Write a letter to your partner
Write a handwritten letter to your partner, preferably with a pen. We are used to communicating on social software. Occasionally, the time to lift the pen and write becomes precious.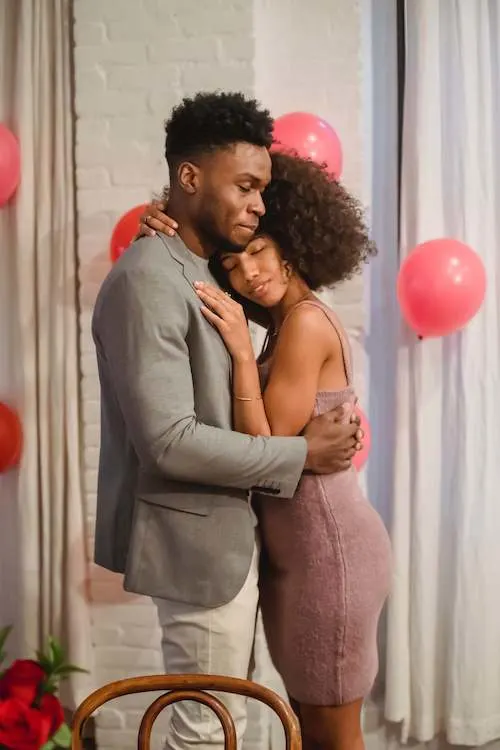 Cheap Date Night Ideas At Home
23. A baking together Date Night
Let your partner participate and make an exquisite dessert if you have an oven and raw materials at home. Don't worry about what it will be like. The process is the most important.
24. Do something that your partner likes but you were not interested in
For example, he is a game fan, so it is better to experience the games he usually plays together. If you are a master photographer and ask him to learn photography skills.
This is an excellent way to cultivate interest and a perfect opportunity to promote relationships.
25. Put together a model
You can try his favorite hand-built building blocks or your favorite mini-house. You two need enough patience to build these, and working together can increase the understanding between you.
26. Wash the quilt together
Leave the washing machine, and return to the time of traditional hand-washing bedsheets and quilt covers. Talking together while washing the quilt and wring it out one by one.
27. Overcome picky eaters together
Feed the other person what they don't like but are nutritious. Of course, you can't eat anything and don't fight.
Cute Date Night Ideas At Home
28. Make love coupons together
Make some love coupons based on your daily life, such as dishwashing coupons and massage coupons…not only can it be used now, but it can also add some small taste to future life.
29. Indoor picnic for your date night
Even in inclement weather, you can try a picnic at home.
Spread a blanket on the floor, prepare two favorite foods, open the windows. If you have cute pets, it is best to play with them.
30. Plan your wedding
If you plan a wedding, pair it with a candlelight dinner during a home date and enjoy the wedding scene together. This will make the process of preparing for the marriage cute and happy.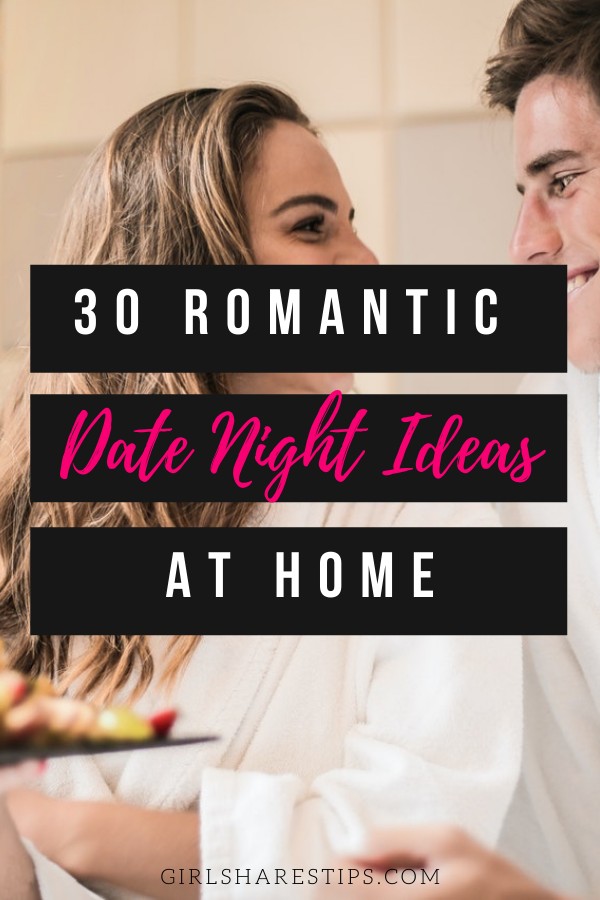 This post was all about the best date night ideas at home.
About The Author
Tracy is an experienced personal stylist, shopping expert, and fashion & lifestyle blogger. She has been featured on Time Magazine, Bustle, Best Life, Glam, The Zoe Report, Mic, and GOBankingRates, for her insights on fashion, beauty, home decor, and lifestyle. Read More
Related Posts: