Are you looking for the best maternity photos in jeans to copy? Check this post for the best tips and maternity photoshoot ideas in jeans to copy for your coming maternity photo session.
Are you a mom-to-be searching for maternity photoshoot inspiration?
Do you want to capture your pregnancy journey in a modern and casual way?
Look no further than this article showcasing the 50+ best maternity photos in jeans.
Jeans are a timeless staple in any wardrobe, and they can be incorporated into your maternity photoshoot for a comfortable yet stylish look.
From classic blue denim to trendy white or black jeans, there are endless options for creating the perfect outfit.
In this post, we'll provide tips on what to wear and how to style your jeans for a memorable maternity photoshoot.
Plus, we'll showcase some of the most stunning examples from around the world to inspire your own shoot.
This post may contain affiliate links, which means I'll receive a commission if you purchase through my link, at no extra cost to you. Please read the full disclosure here.
This post is all about maternity photos in jeans.
When Is The Best Time To Take Maternity Photos?
One of the most common questions that expectant mothers have is when the best time to take maternity photos is.
The answer to this question can vary depending on several factors, including personal preference and how far along you are in your pregnancy.
Some women prefer to wait until they are closer to their due date and have a larger belly, while others prefer to capture the early stages of their pregnancy.
Generally speaking, the ideal time for a maternity photoshoot is between 28-36 weeks pregnant.
At this point in your pregnancy, your bump will be prominent enough to make for beautiful photos but not so large that it becomes uncomfortable or difficult to move around.
Additionally, taking photos during this timeframe allows for plenty of time should any unexpected complications arise later on.
Ultimately, when you decide to schedule your maternity photo session will depend on what feels right for you and your pregnancy journey.
If you're unsure about timing or have specific preferences for how you want your photoshoot to go, don't hesitate to discuss these with your photographer beforehand so that they can help guide you in making the best decision possible.
What Are The Best Jeans To Wear To Your Maternity Session?
Maternity jeans are good for daily wear and a baby shower, but they may not look well for maternity photos.
So, instead of maternity jeans, I suggest you wear your pre-maternity jeans and keep them unbuttons to show your belly.
They will help you get a more flattering look.
Best Indoor Maternity Shoot Ideas In Jeans
When it comes to maternity photo shoots, jeans are a classic choice that can give off a modern and casual vibe.
One great idea for an indoor shoot is to use natural light and neutral backgrounds to create a minimalist setting that highlights the beauty of the pregnant belly.
You can also experiment with different poses, such as sitting cross-legged on the floor or leaning against a wall, while wearing your favorite pair of jeans.
Another fun idea is to incorporate props into your shoot.
For example, you could hold up a sonogram picture or drape a baby blanket over your shoulder for added sweetness.
And don't be afraid to mix and match denim styles! A chambray shirt paired with dark-wash skinny jeans can create an effortlessly chic look.
Beautiful Flower Decoration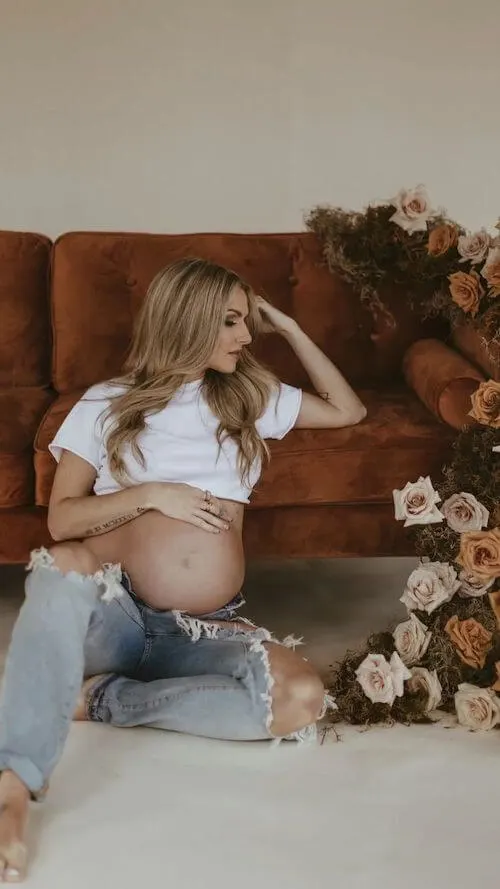 via Pinterest
One way to elevate your maternity photoshoot is by incorporating beautiful flower decorations.
Not only do they add a pop of color and texture, but they also symbolize growth and new beginnings – perfect for celebrating the impending arrival of your little one.
Consider adding flowers as a backdrop for your photos or holding a bouquet.
You can also incorporate floral elements in your outfit, such as wearing a flower crown or accessorizing with floral jewelry.
If you're feeling bold, consider doing a milk bath maternity shoot with floating flowers.
Ready To Pop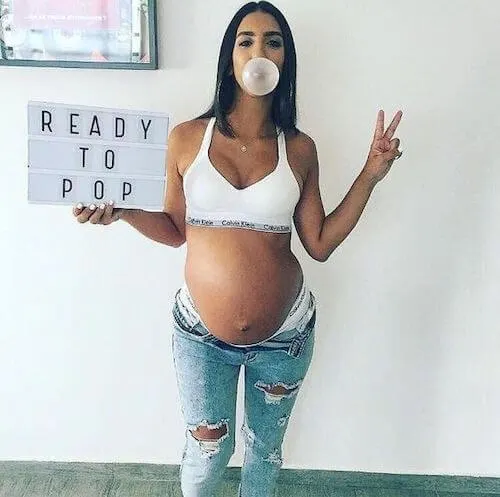 One of the best ways to add a fun element to your maternity photoshoot is by incorporating a "Ready To Pop" sign board.
This sign board can be customized with your due date or any other message that you would like to share with the world.
It's a great way to announce your pregnancy in a unique way and capture memories that will last forever.
To create this sign board, you can use materials such as cardboard, paint, markers, stickers or even glitter depending on your preference.
Once you have created the perfect signboard, hold it up during your photoshoot for an adorable and playful touch.
It's important to remember that maternity photoshoots should reflect who you are as an individual and couple – adding personalized elements like the "Ready To Pop" signboard can help showcase your personalities in an endearing way.
Laugh On The Bed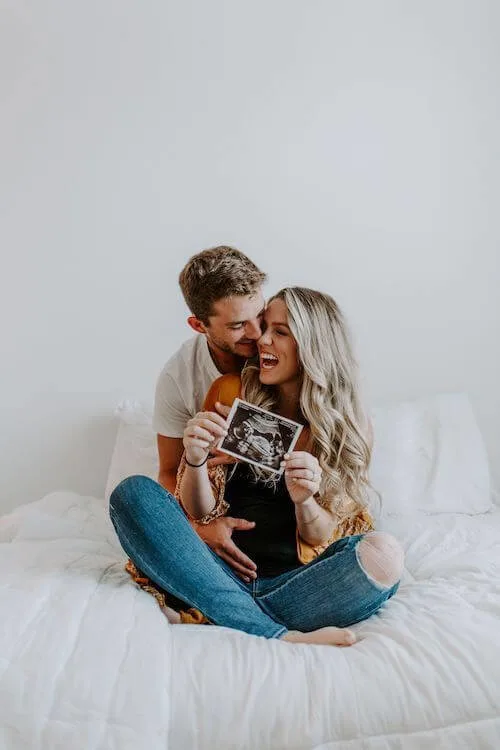 via Pinterest
One of the most popular poses for maternity photoshoots is laughing on the bed. This pose captures the joy and excitement of expecting a new baby while also being comfortable and laid-back.
To achieve this look, wear your favorite pair of jeans and a comfortable top that shows off your growing belly.
Then, hop onto the bed with your partner or alone and start giggling away.
The laughter on the bed pose can be captured in many different ways – from close-up shots of your face to wider angles that showcase the entire room.
Add some fun props like pillows or stuffed animals to make it even more playful.
Don't forget to have fun with it! Laughing is contagious, so if you're enjoying yourself, chances are everyone else will too.
And remember: these photos will be treasured memories for years to come, so let loose and have a good time!
Check The Beautiful Bump In The Bedroom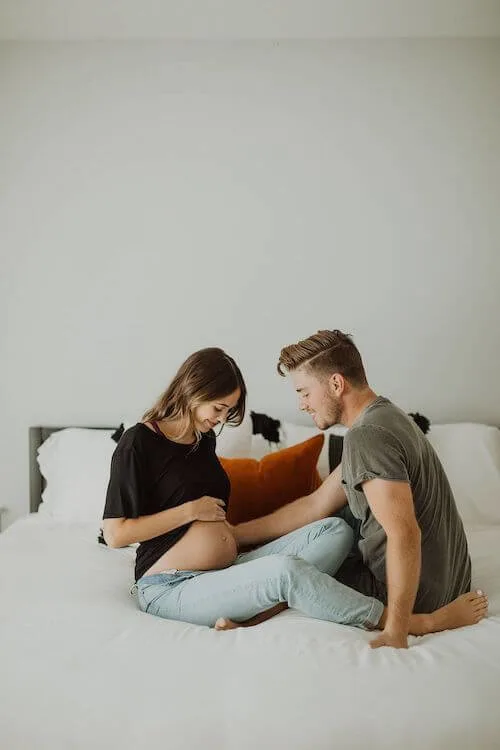 Stand By A Chair And Show Beautiful Baby Bump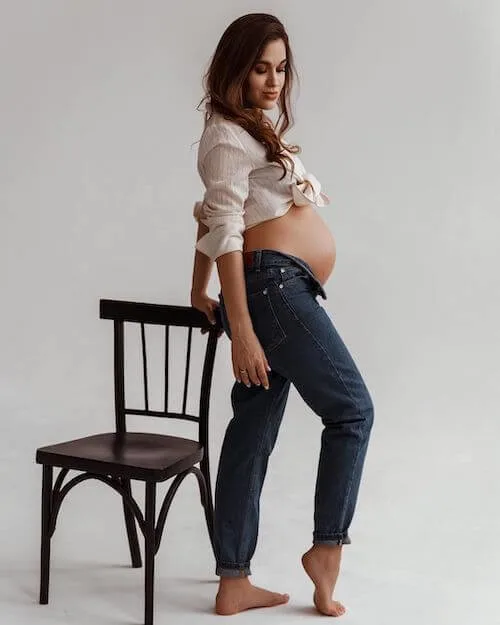 via Pinterest
One of the best ways to showcase your baby bump in a modern casual look is by standing by a chair.
This pose can be done indoors or outdoors, and all you need is a chair that complements your jeans.
You can wear any type of jeans you feel comfortable in, including skinny, boyfriend, or even distressed jeans.
To create this pose, you can stand facing the chair with one hand on the backrest and the other hand resting on the backrest or gently on your belly.
Make sure your posture is upright but relaxed to emphasize your baby bump's natural curve.
This pose shows off both your belly and your stylish maternity outfit.
Color Palette of Denim Blue, Brown, And White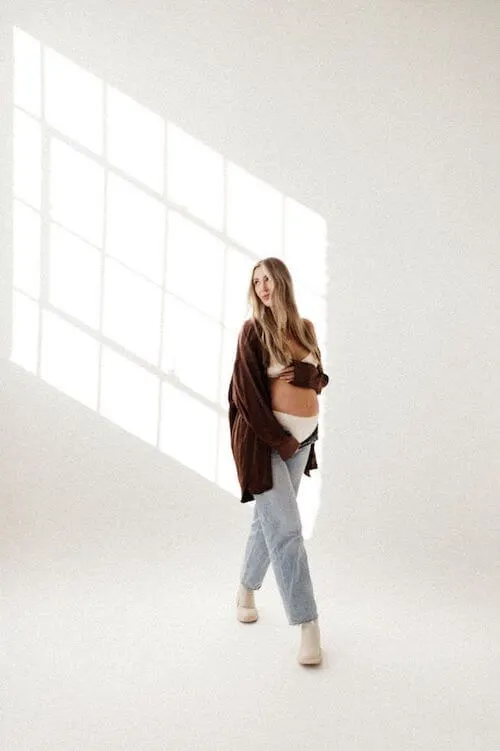 One of the best color palettes to consider for a modern casual look is the combination of denim blue, brown, and white.
Denim blue represents a classic and timeless style that adds a touch of simplicity and elegance to any outfit.
Brown, on the other hand, provides warmth and richness, creating an earthy yet sophisticated vibe.
White is the perfect accent color to complete this palette as it adds brightness and contrast, making your photos pop.
Whether you choose to wear jeans with a white top or accessorize with a white scarf or hat, this color trio will make your maternity photoshoot look effortlessly chic.
Real Flowers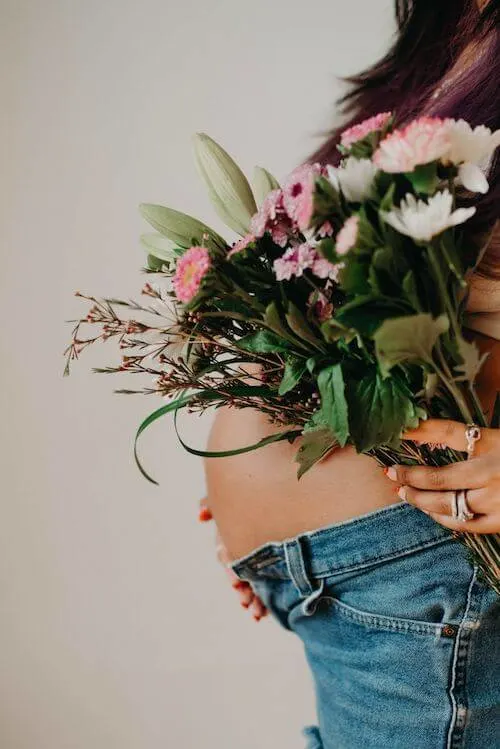 Pastel Colors of The Backgrounds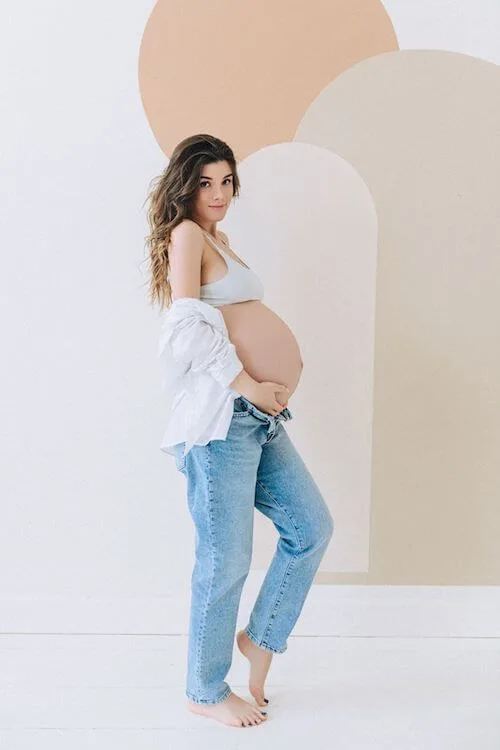 via Pinterest
Simple Outfit With A Straw Hat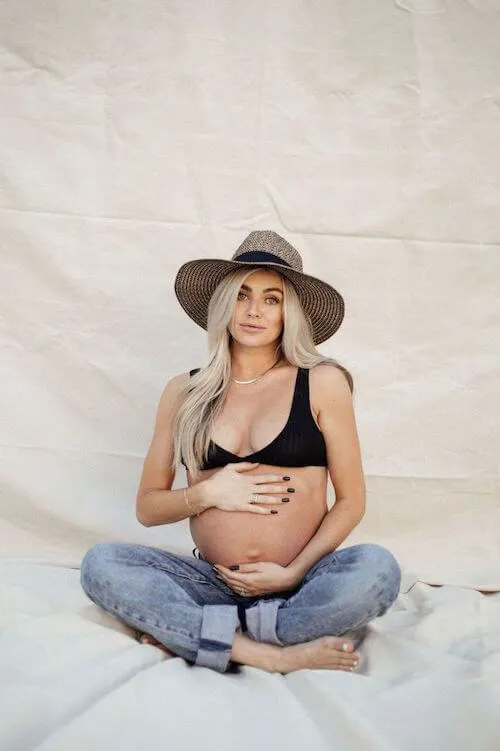 One way to elevate a simple outfit for a maternity photoshoot is by adding a straw hat into the mix.
Not only does it add an element of bohemian chic, but it also provides practical sun protection during outdoor shoots.
Pairing the hat with a basic top or bra and jeans creates an effortless yet stylish look that allows the focus to be on the baby bump.
Sit On A Stair Chair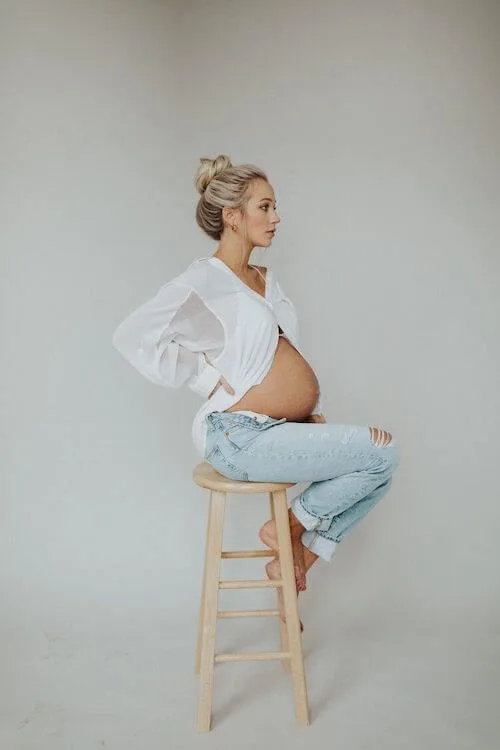 One of the best ways to capture your pregnancy in a beautiful and comfortable way is by sitting on a stair chair for your maternity photos.
This unique prop can add depth and dimension to your photos while also providing a comfortable spot for you to rest during the shoot.
There are many different types of stair chairs available, from antique wooden designs to modern metal styles, so you can choose one that fits your personal style.
Look Straight To The Camera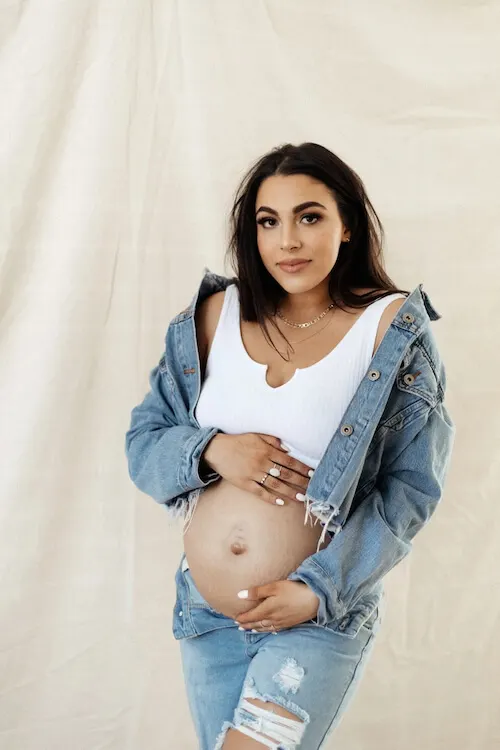 When it comes to taking maternity photos, one important aspect is the way you look at the camera.
Looking straight into the lens can create a powerful and engaging image that captures your beauty and confidence during this special time in your life.
It also allows viewers to connect with you on a more personal level and feel like they are part of your journey.
An Announcement Flat Lay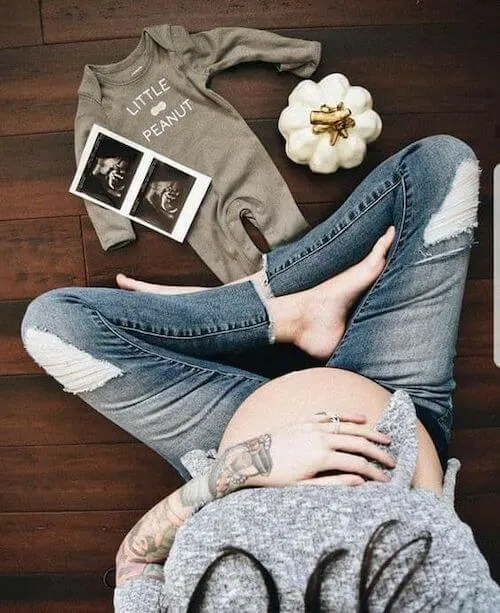 One way to make your pregnancy announcement stand out is by using a flat lay.
A flat lay refers to an arrangement of items laid out on a flat surface and photographed from above.
For an announcement flat lay, you could include baby clothes or shoes, ultrasound photos, and any props that represent your family or personal style.
Dark Colors Fitted Top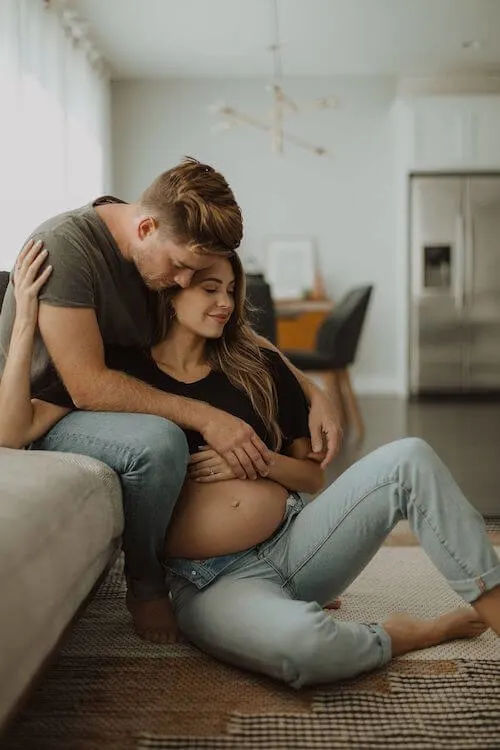 Best Outdoors Session Maternity Photoshoot Ideas In Jeans
For an outdoor session, there are many maternity photoshoot ideas in jeans that can create stunning images.
One option is to find a scenic location with natural elements such as trees or rocks, and pose the expecting mother in a comfortable pair of maternity jeans paired with a simple top or blouse.
The focus should be on the beauty of nature and the joy of pregnancy.
Another idea for an outdoor session is to incorporate props such as blankets, baby shoes, or ultrasound pictures into the photoshoot.
These small details can add a personal touch while keeping the overall look casual and relaxed.
A pair of distressed denim overalls paired with a solid-colored shirt can also provide a rustic yet modern vibe that works well for outdoor settings.
Sweet Couple In The Field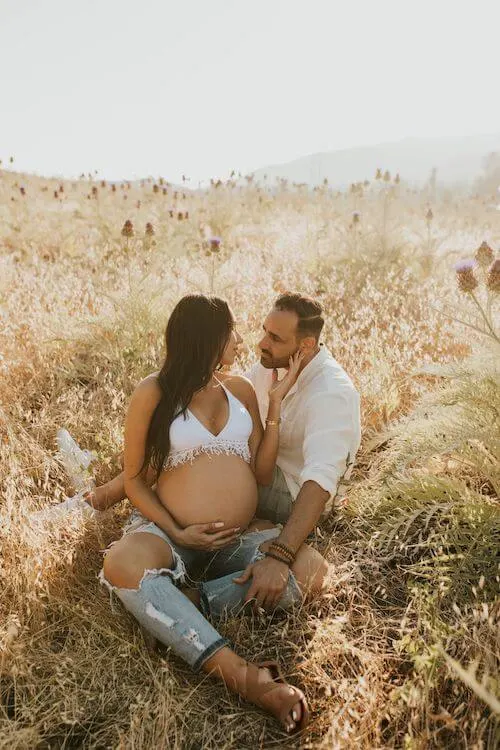 A sweet couple in the field can make for a stunning maternity photoshoot.
This natural setting is perfect for capturing the love and excitement that comes with expecting a child.
The couple can embrace each other, holding hands or wrapping their arms around one another as they stand surrounded by tall grass and wildflowers.
The soft lighting of the golden hour creates a romantic atmosphere that adds to the magic of the moment.
Small Flowers And The Pregnant Body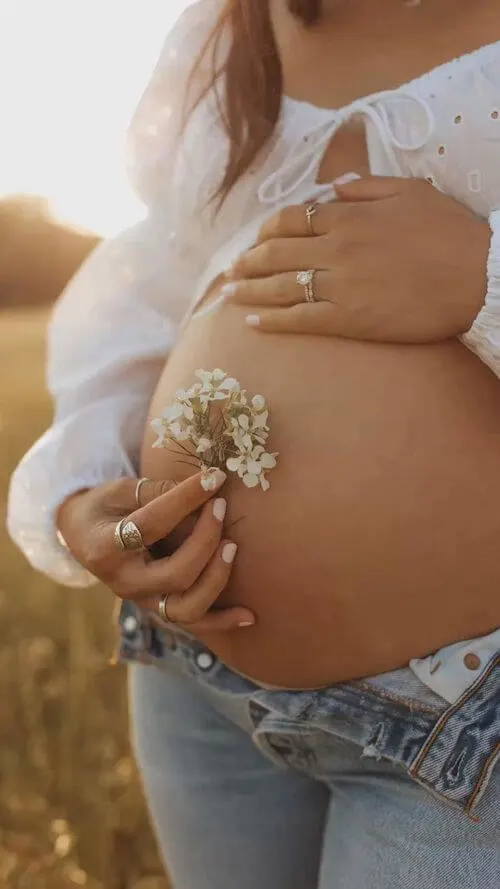 When it comes to maternity photoshoots, small flowers can be a great addition to the pregnant body.
They add a delicate and feminine touch to the photos, while also highlighting the natural beauty of pregnancy.
Small flower crowns or bouquets can be used as props in the shoot, or they can be incorporated into the mother's outfit.
However, it's important to choose small flowers that won't overpower the body or distract from the main focus of the photos: the pregnant belly.
Baby's breath, daisies, and small roses are popular choices for this reason.
It's also important to consider any allergies or sensitivities that mom may have when selecting flowers.
Baseball Caps, Chunky Necklaces, And Denim Overalls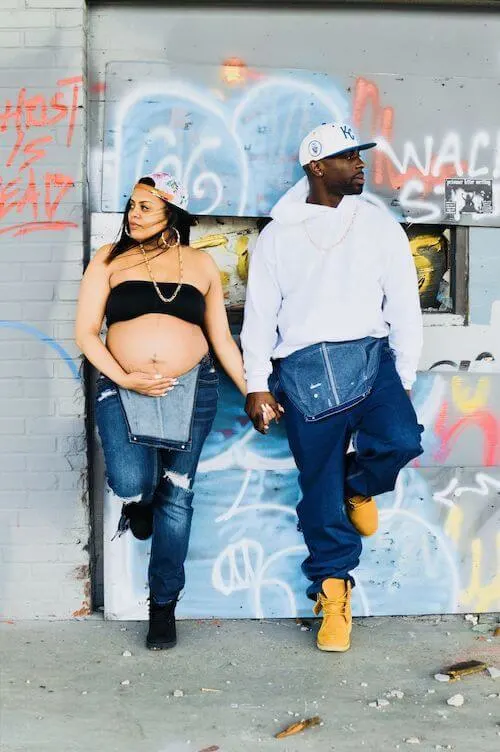 via Pinterest
Baseball caps, chunky necklaces, and denim overalls are three accessories that can help make your maternity photoshoot look modern and casual.
Chunky necklaces can add a pop of color and texture to your overall look.
They work particularly well with plain-colored tops or dresses, drawing attention to your face and neckline.
When choosing a necklace for your photoshoot, consider the length of the chain and the size of its pendant to ensure it complements your bump without looking too overwhelming.
Denim overalls have made a comeback in recent years, offering comfort and style in one package.
Pairing them with a basic top or shirt underneath allows you to showcase both your casual side and baby bump at once.
Natural Beautiful Curves And Natural Shadows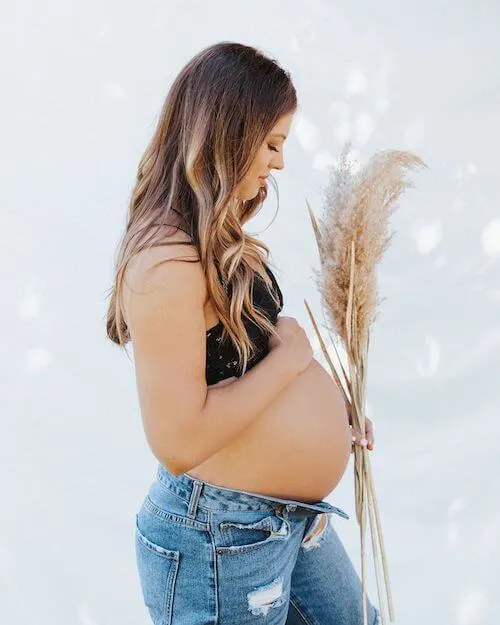 A Bicycle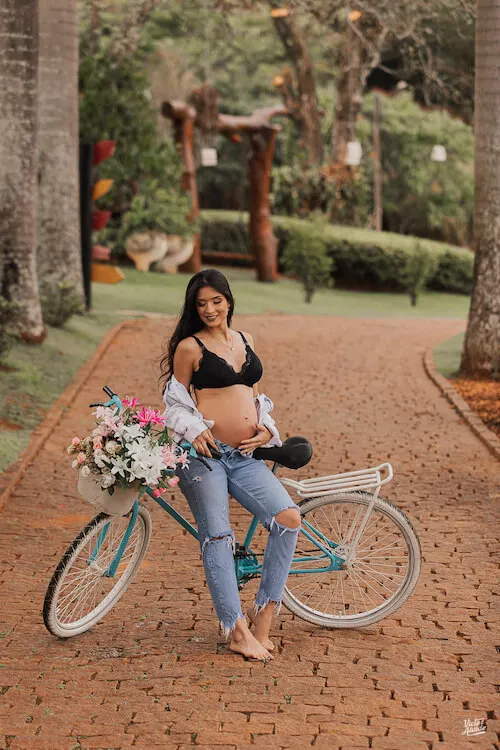 A bicycle can be a unique prop to incorporate into your maternity photoshoot.
Consider wearing jeans and standing by a bike for a modern casual look that highlights your pregnancy.
A bicycle adds an element of movement and fun, making for dynamic and playful photos.
Outdoor Happy Announcement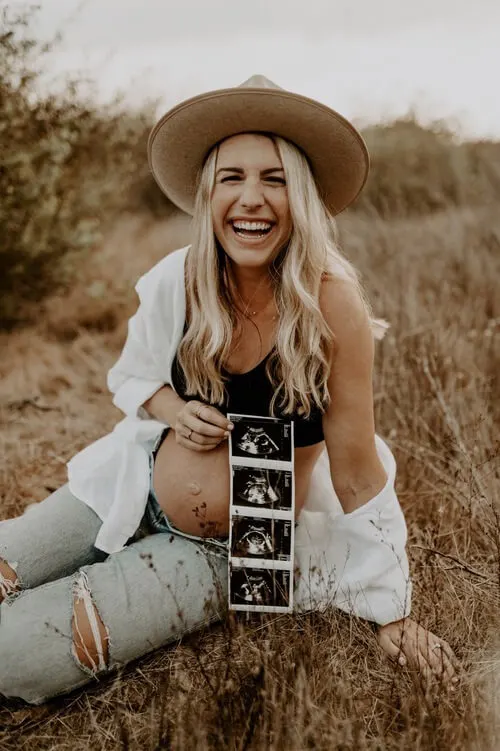 In The Golden Hour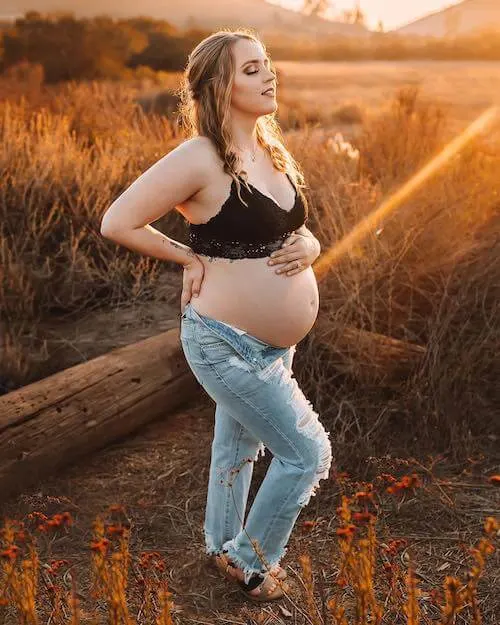 In the golden hour, the light is soft and warm, casting a beautiful glow on everything it touches.
This makes it the perfect time for a maternity photoshoot in jeans.
The warm tones of denim paired with the golden hour light create a stunning and modern casual look that is both timeless and stylish.
Best Couple Maternity Photography Ideas In Jeans
Maternity photoshoots are an excellent way to capture the special moment of a woman's pregnancy.
If you and your partner love jeans, then incorporating denim into your maternity photoshoot is a must.
Jeans are versatile and can match any mood or setting, making them perfect for capturing various poses.
One trendy idea for maternity photoshoots in jeans is by creating a casual look.
You can both wear denim jackets, white T-shirts, and jeans with sneakers or boots. This will give your photos a laid-back feel while still showing off your baby bump beautifully.
Another great idea is to incorporate scenery into your maternity shoot by finding locations that match the color of your jeans.
For instance, if you both wear dark denim, find a rustic background like an old barn or wooden fence to complement the look.
Alternatively, light-colored denims go well with neutral backgrounds like fields or beaches to create a bright and airy atmosphere for the photoshoot.
Fresh Solid Colors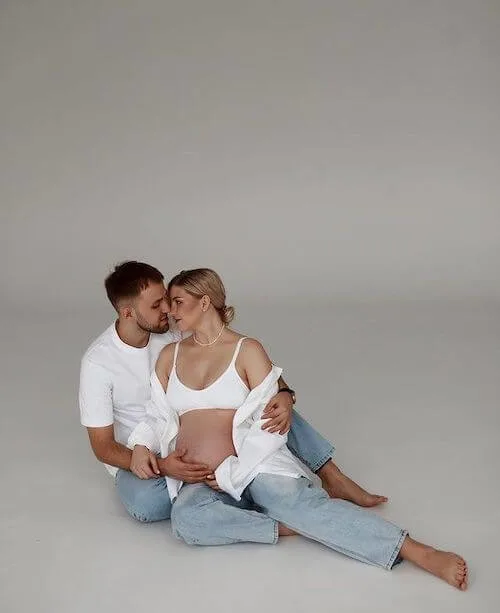 via Pinterest
Fresh solid colors are a great option for expecting mothers looking to capture their pregnancy in a casual and modern way.
Solid colors like white, black, navy blue, and olive green provide a timeless appeal while allowing the focus to remain on the mother-to-be.
When selecting solid colored outfits for your maternity photoshoot, consider choosing clothing with interesting details such as ruching or lace accents.
These small touches can add depth and texture to your photos without detracting from the simplicity of the solid color.
Another tip is to play with different shades of the same color.
For example, pairing a light gray shirt with dark gray pants can create a subtle yet striking effect in your photographs.
Remember that simplicity is key when it comes to capturing timeless maternity photos in jeans, so opt for fresh solid colors that flatter your figure and make you feel comfortable and confident during your shoot.
Choose Complementary Colors To Navy Blue For The Man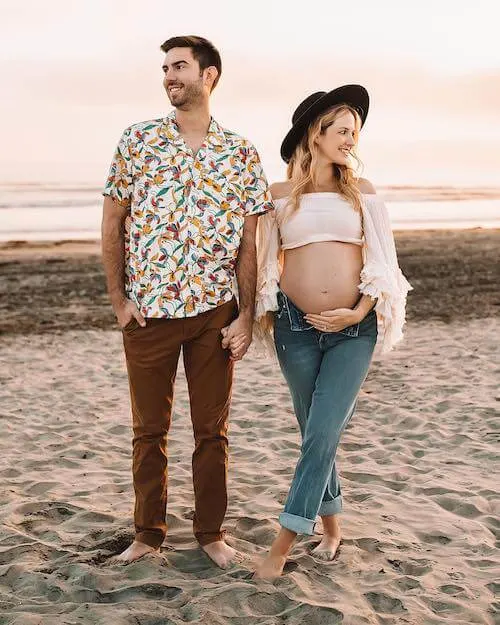 When it comes to choosing complementary colors to navy blue for men's outfits, there are several options that can create a cohesive and stylish look.
One option is to pair navy blue with lighter shades such as light gray or beige.
These colors not only complement each other but also add a touch of elegance and sophistication.
Another great complementary color option for navy blue is brown, burgundy or deep red.
This combination creates a striking contrast that can make the outfit stand out while still maintaining an air of professionalism.
Additionally, pairing navy with shades of green such as olive or forest green can create a classic and timeless look that works well in both casual and formal settings.
Sweet Kisses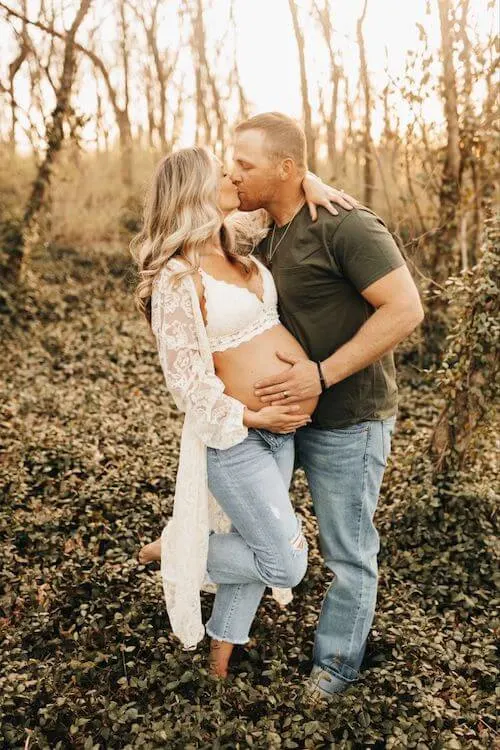 via Pinterest
Sweet kisses are an essential part of any maternity photoshoot.
They capture the intimacy and love between the expecting parents, making for a beautiful keepsake.
A sweet kiss can be captured in various poses, such as standing or sitting, with the mother's belly prominently displayed.
One popular pose is where the expecting mother stands facing her partner and leans back into him while he cradles her belly and plants a gentle kiss on her neck.
Another adorable pose is where both partners sit together with legs crossed, sharing a tender moment with a sweet kiss on the lips.
These poses create natural and candid moments that exhibit true affection.
Neutral Colors Beach Maternity Photo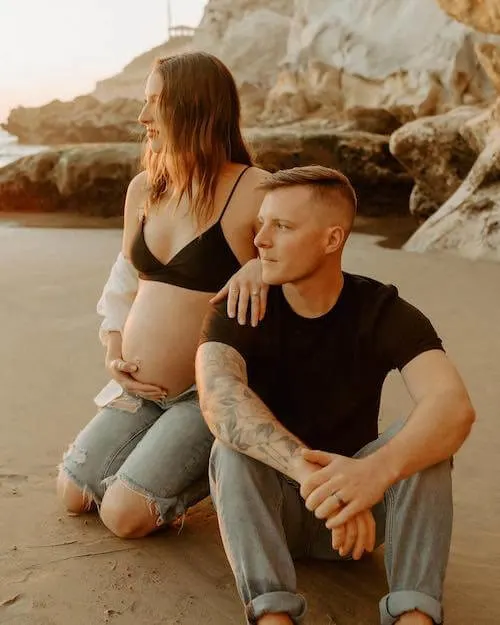 If you're looking for a more natural and relaxed look for your maternity photoshoot, consider using neutral colors and incorporating the beach as your backdrop.
A soft beige or cream-colored maxi dress paired with minimalistic jewelry can give off a tranquil vibe, perfect for capturing the beauty of your pregnancy.
The beach is also an ideal location for a maternity shoot because it provides ample lighting and stunning scenery.
The sand, water, and sky create a serene atmosphere that complements neutral tones perfectly.
You can choose to have candid shots where you are walking along the shore or sitting on the sand while embracing your baby bump.
Furthermore, if you want to add some dimension to your photoshoot, consider bringing along props such as seashells or starfish that will enhance the overall aesthetic of the shoot.
Neutral colors on a beach setting never go out of style; they exude simplicity yet elegance in their own way.
Touch The Adorable Baby Bump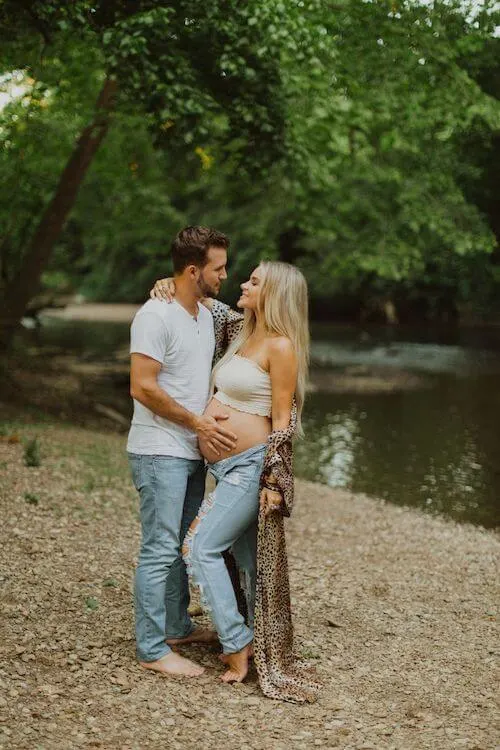 Bright Color Top For The New Dad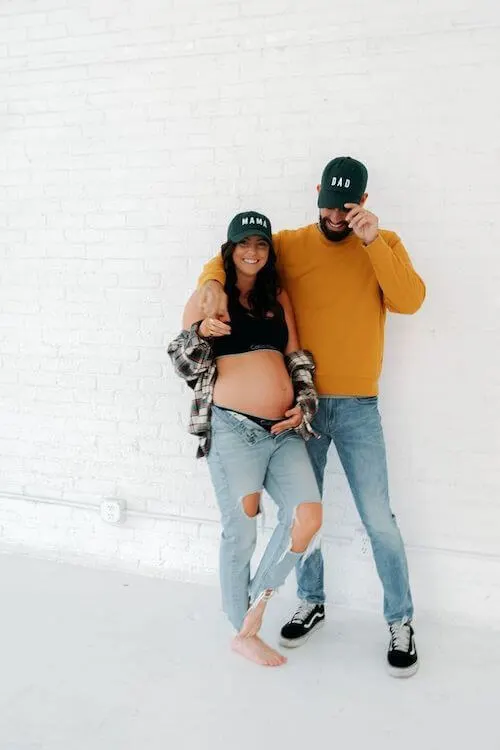 via Pinterest
When it comes to taking maternity photos, most of the attention is usually on the mom-to-be.
However, dads can also play a role in these special moments by choosing their outfits carefully.
A bright color top is an excellent option for new dads who want to add some personality and fun to their photos.
A Natural Look In The Living Room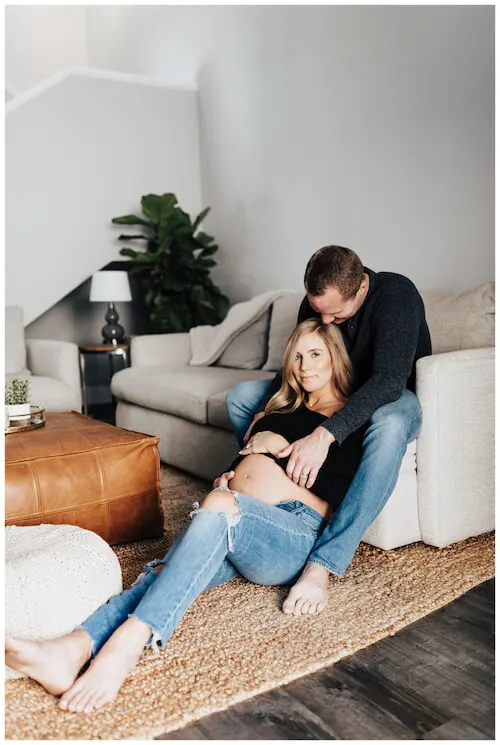 Lying In Bed
Kiss At The Front Door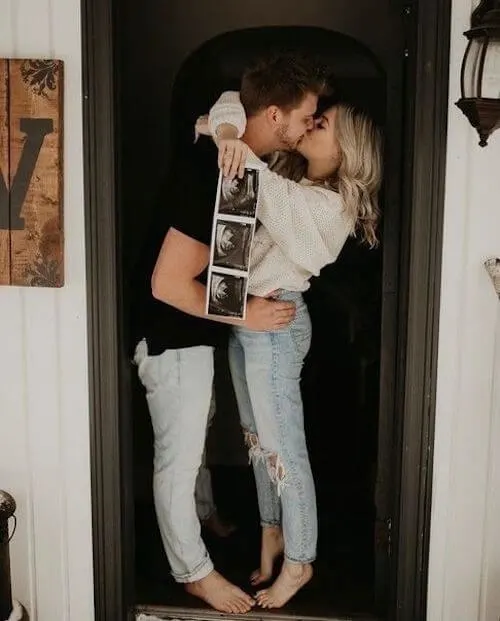 How To Shoot Maternity Pictures In Jeans With Kids?
Maternity photoshoots are a great way to capture the beauty of your pregnancy and make lasting memories.
However, when you have kids in the picture, things can get a bit more complicated.
Shooting maternity pictures in jeans with kids requires some planning and preparation.
Firstly, choose comfortable and stretchy jeans that will fit well over your baby bump.
You don't want to be tugging at your clothes during the shoot or feeling uncomfortable.
Secondly, involve your children in the photoshoot by giving them props or letting them pose with you.
This will make for more natural and authentic family photos.
Lastly, choose a location that is kid-friendly and allows for movement and playfulness.
A park or beach setting can work well for this type of shoot.
Sit With Your First Child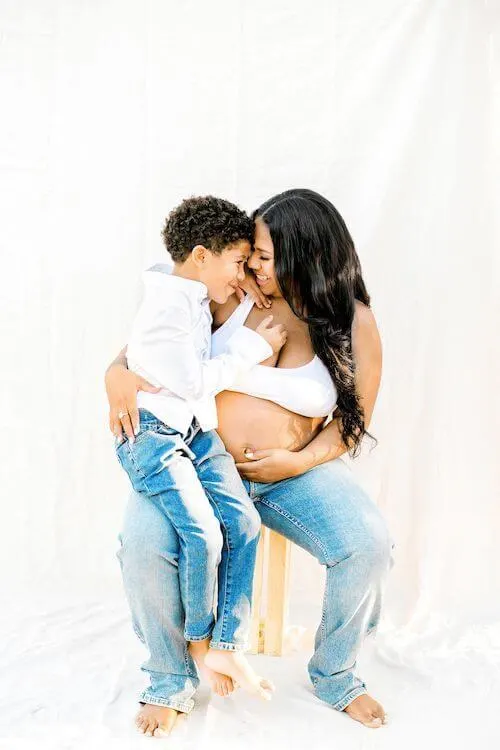 via Pinterest
Matching Family Outfits
via Pinterest
One popular trend in family photography is to coordinate your outfits, or even match them entirely.
Matching family outfits can create a cohesive and polished look in your photos, making them perfect for framing or sharing on social media.
The key to nailing this trend is to find a balance between matching without being too "matchy-matchy."
To achieve this balance, try choosing a color scheme and having each family member wear something that incorporates those colors.
Alternatively, you could have everyone wear the same style of clothing (such as jeans and white t-shirts), but mix up the accessories or patterns for some variety.
Whatever approach you choose, make sure that everyone feels comfortable and confident in their outfit choices – after all, happy faces make for beautiful photos!
Let Your Kid Touch Your Bare Belly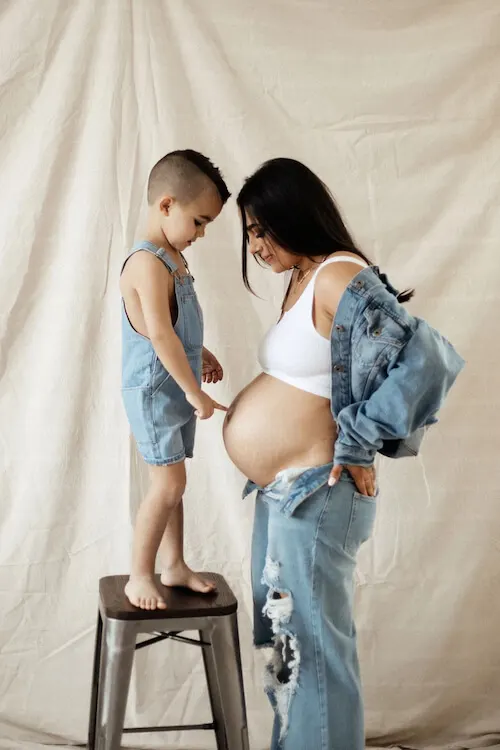 Letting your kid touch your bare belly during a maternity photoshoot can be a sweet and intimate moment captured on camera.
It allows your child to feel closer to their future sibling and also gives them a better understanding of what's happening inside mommy's tummy.
Additionally, it can help ease any fears or anxieties that your child may have about the upcoming arrival of their new brother or sister.
By allowing them to participate in the photoshoot, they feel included and involved in the process.
Enjoy The Exciting Time Together At The Beach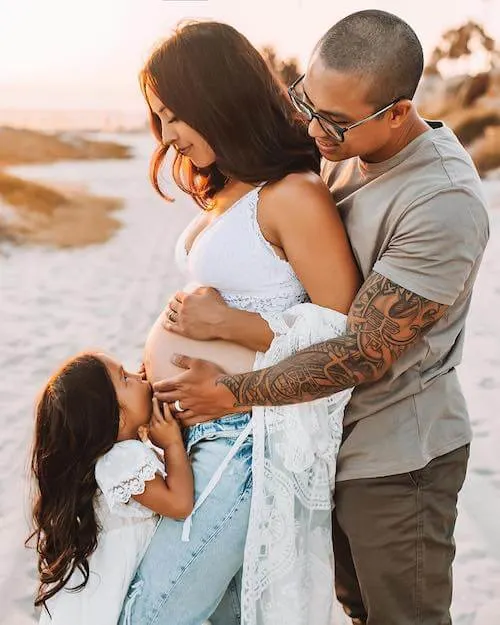 What To Wear With Jeans To Your Maternity Portraits?
When it comes to maternity portraits, jeans are a great option for a modern and casual look.
But what should you wear with them? The key is to keep it simple and comfortable.
A basic white or black top is always a good choice, as it will allow the focus to be on your growing belly.
You could also opt for a classic chambray shirt, which pairs perfectly with denim and adds some texture to your outfit.
In terms of footwear, flats or sneakers are ideal for comfort and practicality.
Avoid high heels or anything too fancy that may not be suitable for outdoor locations or poses that require movement.
As for accessories, keep them minimalistic so they don't distract from the main focus of the photos – you and your baby bump! Consider wearing simple stud earrings or a delicate necklace.
Long Sleeves Plaid Shacket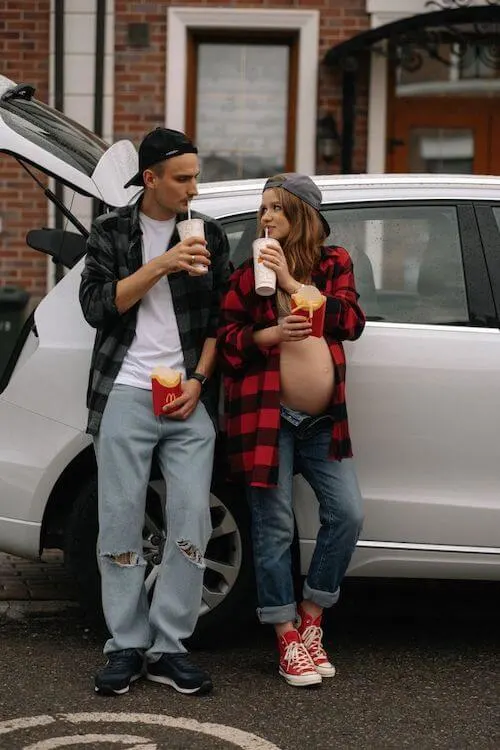 via Pinterest
One great option for a modern casual maternity look is pairing jeans with a long sleeves plaid shacket.
The shacket trend has been gaining popularity in recent years, and it's easy to see why – it offers the perfect balance between a shirt and a jacket, making it ideal for transitional weather.
A plaid print adds some visual interest to the outfit without being too overwhelming.
Stretchy Fabric Top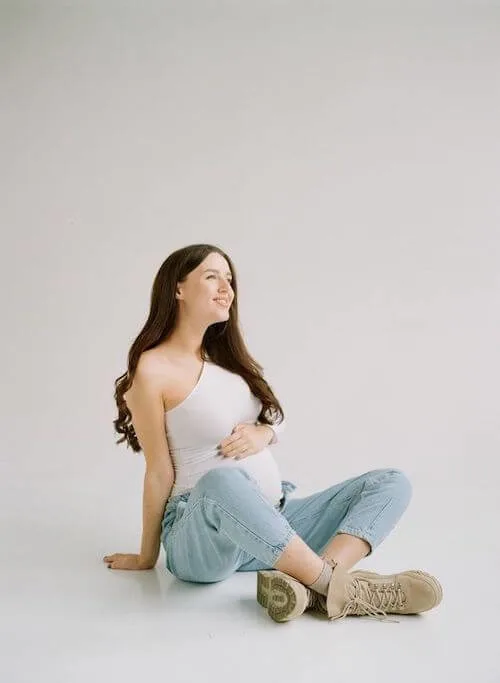 via Pinterest
A stretchy fabric top paired with jeans is the perfect combination for a comfortable and stylish maternity photoshoot.
The stretchy fabric will provide enough room for your growing belly while also accentuating your curves in all the right places.
Opt for tops that have ruching or draping details to add some texture and interest to your overall look.
Accessorize with simple jewelry such as hoop earrings or layered necklaces to complete your modern casual look.
And don't forget about shoes – ankle boots or sneakers are both comfortable options that will keep you looking chic throughout the photoshoot.
Crop Cardigan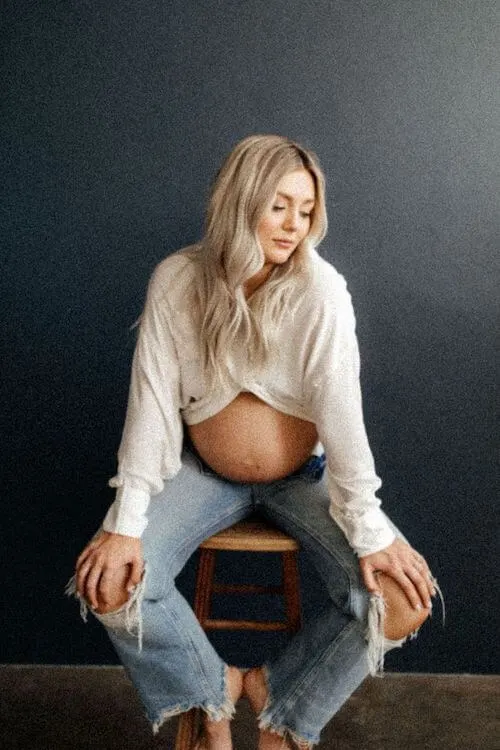 A cropped cardigan with jeans is a stylish and comfortable option for maternity photos.
Not only does the cropped length of the cardigan accentuate your bump, but it also provides a flattering silhouette when paired with jeans.
Opt for a neutral or soft-toned cardigan to keep the focus on your baby bump.
White Button Down Shirt + Black Bra Top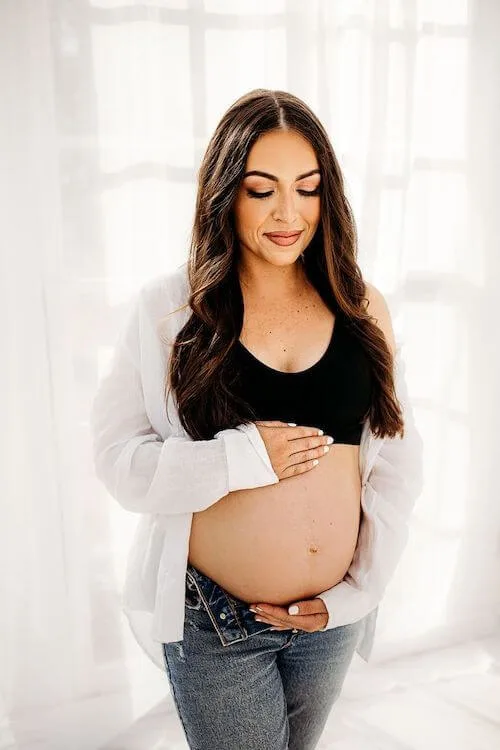 via Pinterest
A classic white button-down shirt paired with a black bra top and jeans is a timeless look that can work for any occasion.
This outfit is perfect for a maternity photoshoot, as it is both stylish and comfortable.
The white shirt adds some sophistication to the outfit while the black bra top gives it an edgy touch.
Real Flower Top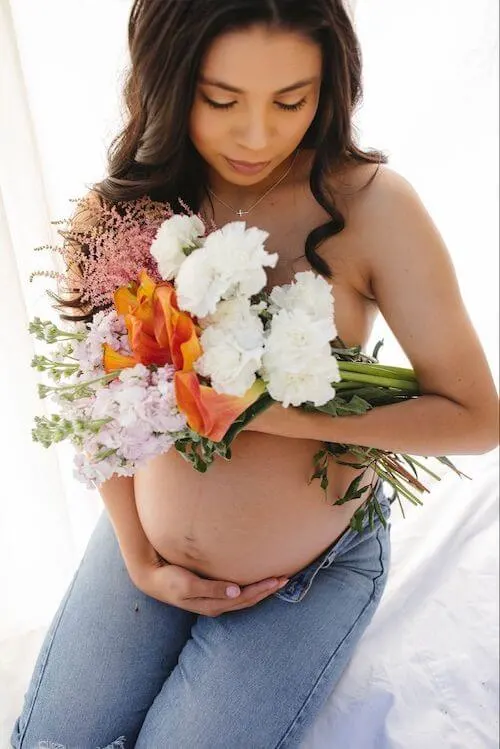 via Pinterest
One great way to add a touch of femininity to your maternity photos in jeans is to wear a real flower top.
A top made entirely of fresh flowers, such as roses or daisies, can create a unique and stunning look that will make your photos stand out.
You can choose from a variety of colors, mix different types of flowers, and even incorporate some greenery for added texture.
Chunky Knit Sweater Cardigan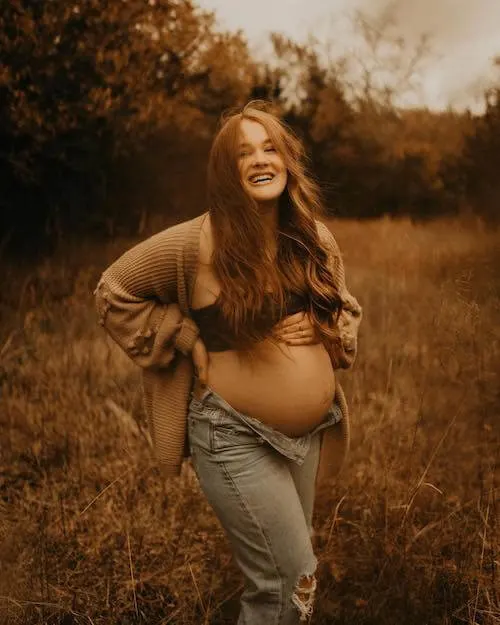 A chunky knit sweater cardigan can add an extra layer of warmth and style to a casual maternity photoshoot in jeans.
The textured knit pattern and oversized silhouette make for a cozy yet trendy look that is perfect for the colder months.
Pairing it with jeans adds a touch of casualness while still maintaining a put-together appearance.
Long Sleeves Top + Calvin Klein Bralette With Big Logos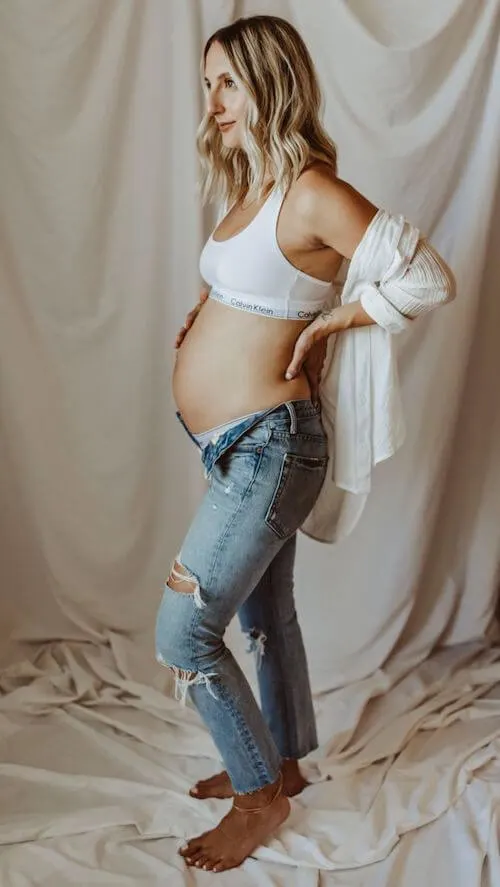 via Pinterest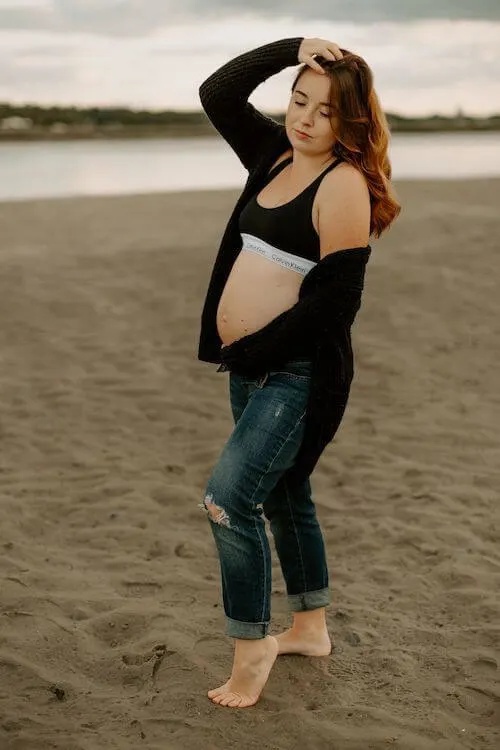 One of the best ways to achieve a modern and casual maternity look is by pairing a long sleeves top with a Calvin Klein bralette that has big logos with jeans.
This combination not only gives you comfort but also creates an effortlessly chic look that will make you stand out in any maternity photoshoot.
The long sleeves top provides ample coverage while still letting you show off your baby bump.
The Calvin Klein bralette adds a touch of sexiness to the outfit, making it perfect for those who want to embrace their femininity during their pregnancy.
Pairing this with jeans adds an element of relaxation without sacrificing style.
Cozy Light Gray Tops
One of the best ways to achieve a comfortable and modern maternity look is by pairing cozy light gray tops with jeans.
This combination provides a laid-back look that still looks chic and stylish.
The light gray color adds a softness to your overall outfit while jeans provide structure and texture.
When it comes to selecting the right type of top, opt for those made from soft fabrics like cotton or knitwear.
These materials are gentle on the skin and do not cause any discomfort during pregnancy.
Additionally, they are stretchable enough to allow your baby bump to grow without constriction.
Black Bandeau Bra + Hat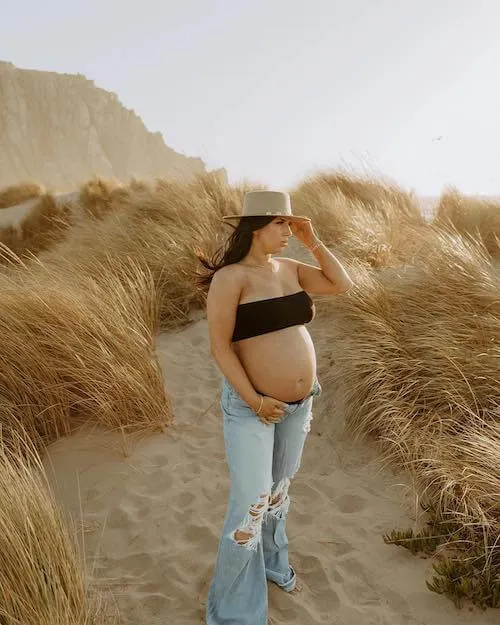 A black bandeau bra and hat is a perfect addition to any maternity photoshoot in jeans.
The simplicity of the bandeau bra allows for attention to be drawn toward your growing belly, while the hat adds a touch of personality and style.
This combination works well with any color or style of denim, making it a versatile option for any shoot.
Denim Jacket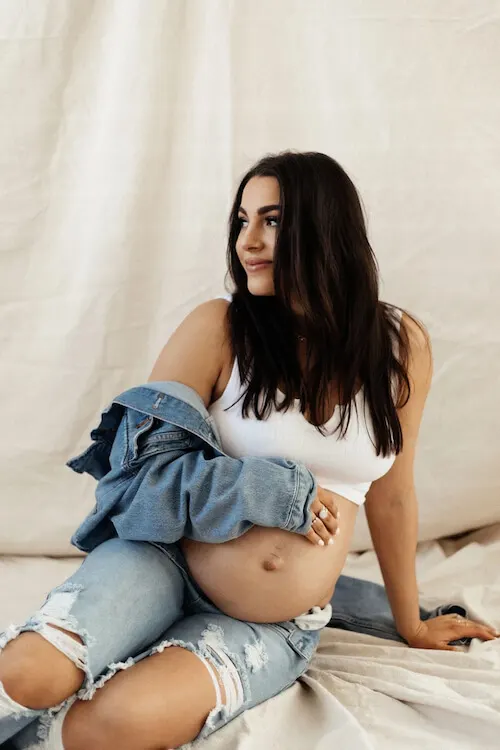 When it comes to maternity photos in jeans, pairing a denim jacket with jeans can add an extra layer to your outfit and make you look more put together.
You can choose to wear a light-wash or dark-wash denim jacket depending on the style you want to achieve.
A light-wash denim jacket paired with white jeans can create a fresh and crisp look, while a dark-wash denim jacket paired with black jeans can create an edgier vibe.
Cute Crop Top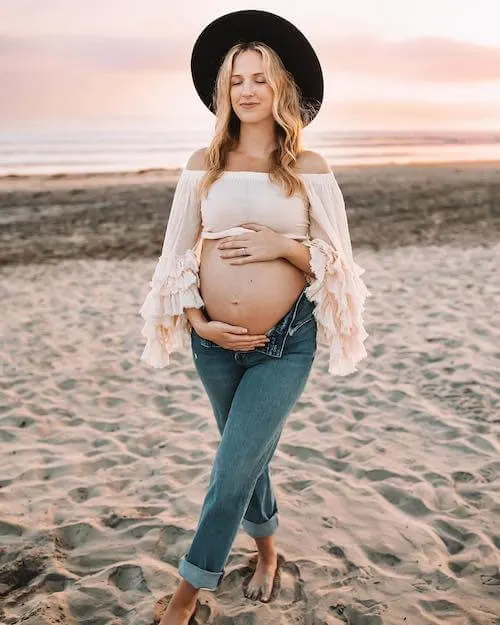 One of the best ways to rock a modern casual look for your maternity photo shoot is with a cute crop top and jeans.
This combo is perfect for showing off your growing belly while still maintaining a chic and stylish appearance.
When choosing a crop top, it's important to select one that fits comfortably and provides enough coverage.
Lace Bra + Long Lace Cardigan or Loose Fabrics Embroidered Top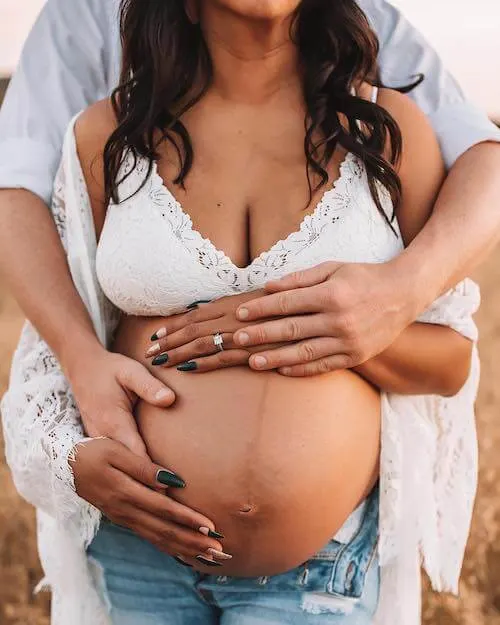 One great look for a maternity photoshoot is pairing a lace bra with jeans and a long lace cardigan.
This combination offers both comfort and style, while also showcasing the beauty of your growing bump.
The delicate lace adds a touch of femininity to the outfit, creating a timeless and elegant look.
Another option for a modern casual look is wearing loose fabrics embroidered top with jeans.
This combination is perfect for those who want to add some color and texture to their outfit.
The embroidery on the top creates an eye-catching detail that draws attention to your belly, making it an ideal choice for maternity photoshoots.
Black Leather Jacket + Baseball Cap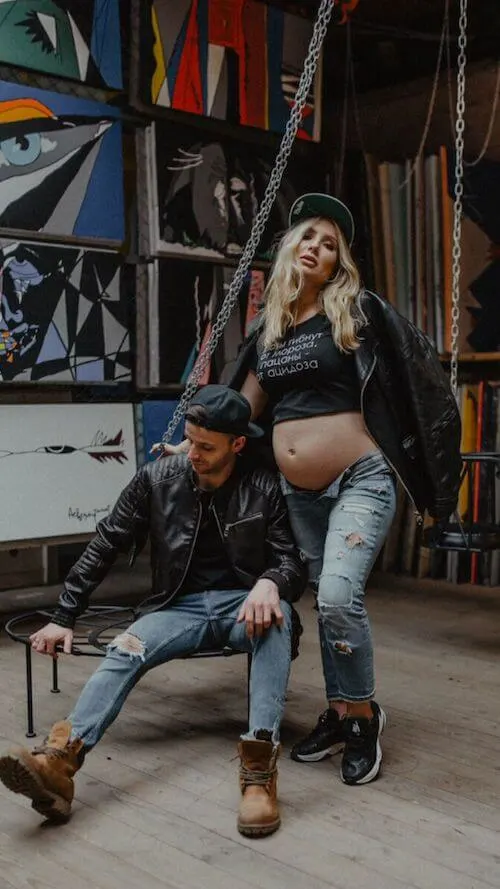 via Pinterest
One of the best looks for a modern and casual maternity photoshoot is pairing a black leather jacket with jeans and a baseball cap.
This combination creates an edgy and stylish look that will make you stand out in your photos.
The black leather jacket adds a touch of sophistication to the outfit while also being practical for cooler weather.
What Other Denim Outfit Options To Wear For Your Maternity Photos?
Denim blue is so perfect for a maternity photo that if you want more denim outfit ideas, don't hesitate to try denim overalls, jean jackets, or denim shirts to embrace the perfect balance of elegance and fashion sense brought by these denim pieces.
Denim Overalls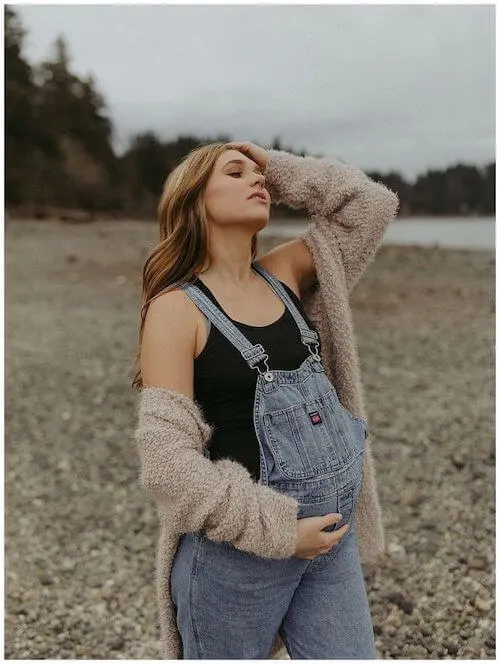 via Pinterest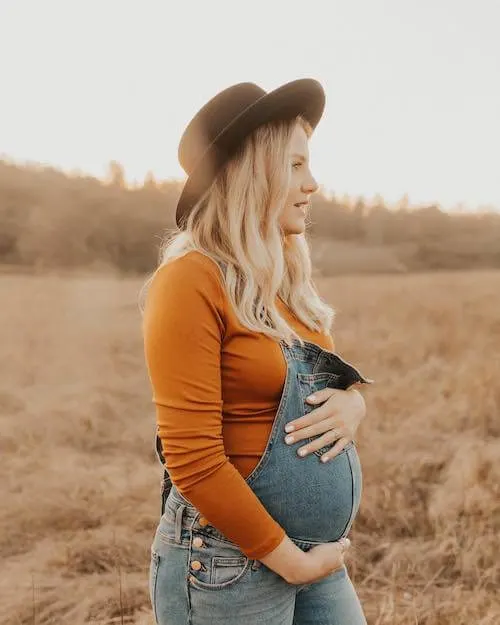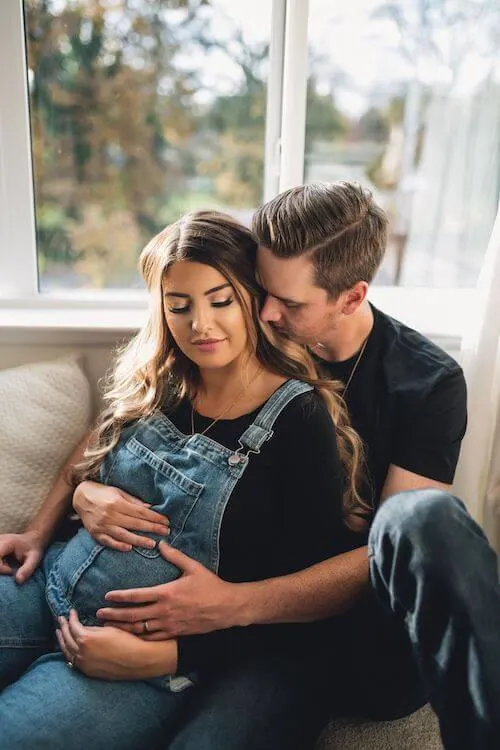 Jean Jacket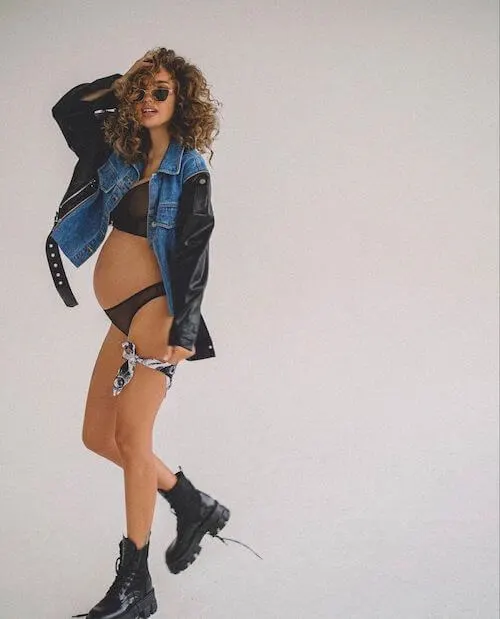 via Pinterest
Denim Shirt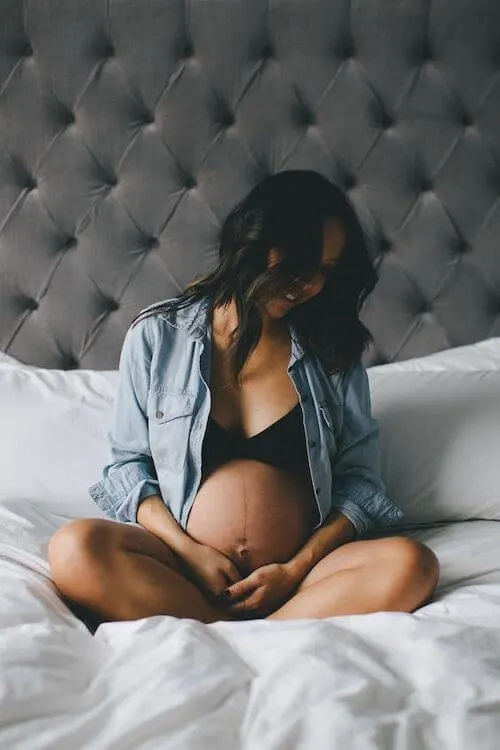 via Pinterest
This post was all about maternity photos in jeans.
About The Author
Tracy is an experienced personal stylist, shopping expert, and fashion & lifestyle blogger. She has been featured on Time Magazine, Bustle, Best Life, Glam, The Zoe Report, Mic, and GOBankingRates, for her insights on fashion, beauty, home decor, and lifestyle. Read More
Related Posts: