Are you looking for the best maternity photos in jeans to copy? Check this post for the best tips and maternity photoshoot ideas in jeans to copy for your coming maternity photo session.
While a dress is the most popular choice for a maternity photoshoot, more and more pregnant women are chasing a modern and more casual look, and a pair of jeans has become a great alternative to maxi dresses, maternity dresses, or long flowy dresses, which are the most common clothing pieces in a maternity wardrobe.
If you are looking for different looks for your coming maternity photo shoot and would like to embrace jeans instead of common maternity clothes, you've come to the right place.
In today's article, I am sharing with you the best photography tips and the best maternity photoshoot ideas in jeans for both indoor and outdoor sessions, and I also include our favorite outfit ideas to pair with your jeans to get the perfect looks.
So scroll down to check these pregnant photoshoot tips, poses, and outfit ideas in jeans, and don't hesitate to pin them to your Pinterest board, and share them on social media sites.
This post may contain affiliate links, which means I'll receive a commission if you purchase through my link, at no extra cost to you. Please read the full disclosure here.
This post is all about maternity photos in jeans.
When Is The Best Time To Take Maternity Photos?
Normally, the best time to take maternity photos is around 28 to 36 weeks of pregnancy.
If the shot is taken too early, then your pregnant belly will not be visible enough to be easily seen in the photo.
If the photo shoot is too late, it will be easier for the pregnant woman to get tired and may not be able to take many photos.
Of course, when considering when to have a pregnancy photo session, you also have to consider the physical condition of the pregnant woman herself.
But the good news is that jeans are suitable for all seasons of the year, so they are one of your best maternity photoshoot outfit choices no matter what time of the year you are having your pregnancy photoshoot.
What Are The Best Jeans To Wear To Your Maternity Session?
Maternity jeans are good for daily wear and a baby shower, but they may not look well for maternity photos.
So, instead of the maternity jeans, I suggest you wear your pre-maternity jeans and keep them unbuttons to show your belly. They will help you get a more flattering look.
Best Indoor Maternity Shoot Ideas In Jeans
Denim blue is a very versatile color. When it is with different colors of background and props together can show different effects.
Therefore, even indoors, you can play with the beautiful denim blue with your favorite warm colors or neutral colors to make your photos look very stylish.
And, whether or not you are in a professional studio with a professional maternity photographer, you can find a clean white wall or gray wall and put on a simple top and your favorite jeans, and stand in front of that wall to take photos.
Remember to use as much soft natural light as possible to make your skin and makeup look more natural and gentle.
This way, you only need a simple pose to achieve the same artistic and fashionable effect as a supermodel photo.
Beautiful Flower Decoration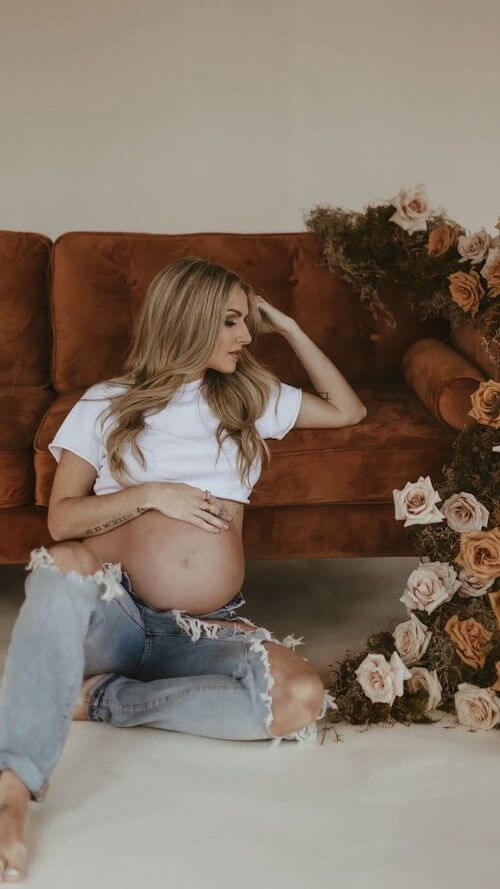 via Pinterest
Ready To Pop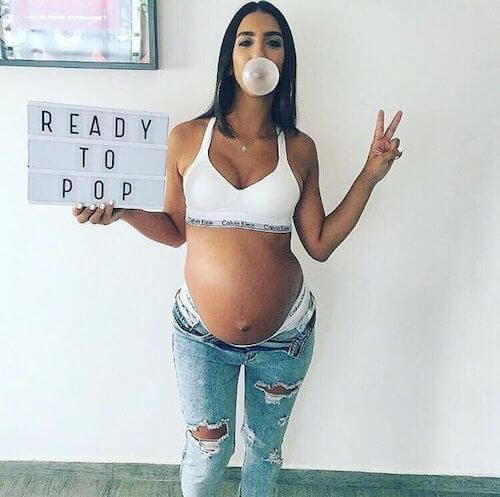 Laugh On The Bed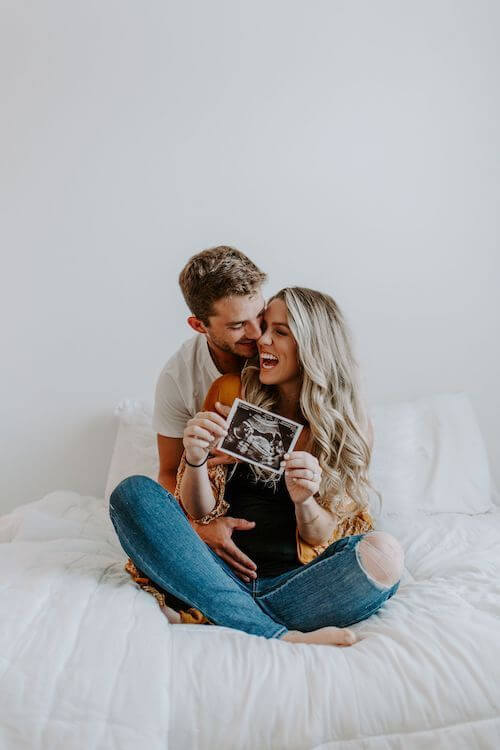 via Pinterest
Check The Beautiful Bump In The Bedroom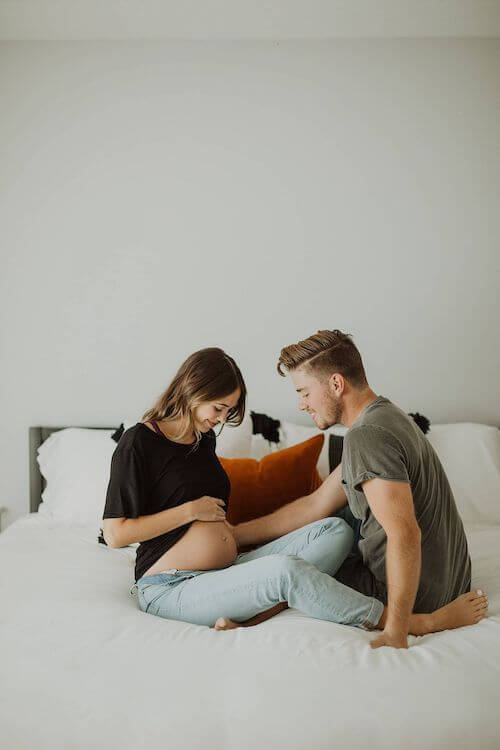 Stand By A Chair And Show Beautiful Baby Bump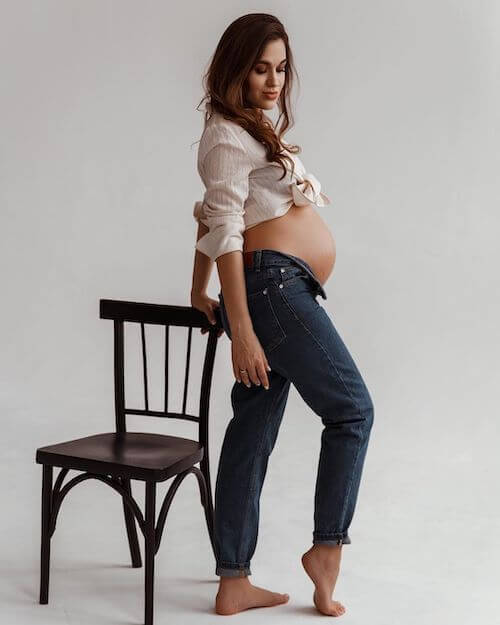 via Pinterest
Color Palette of Denim Blue, Brown, And White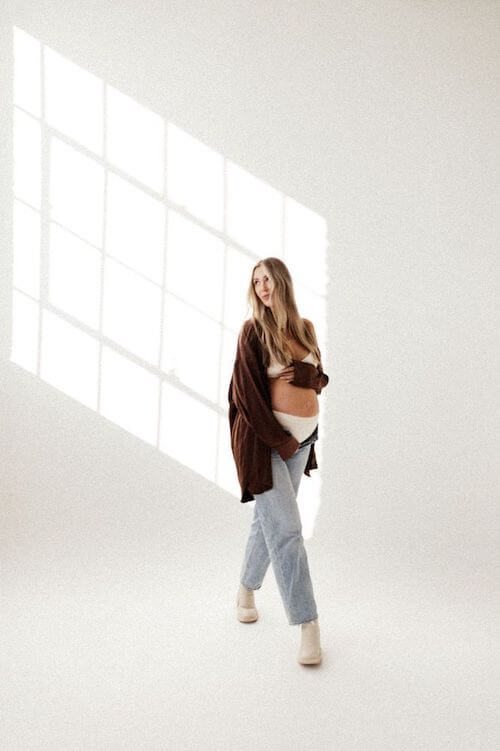 Real Flowers
Pastel Colors of The Backgrounds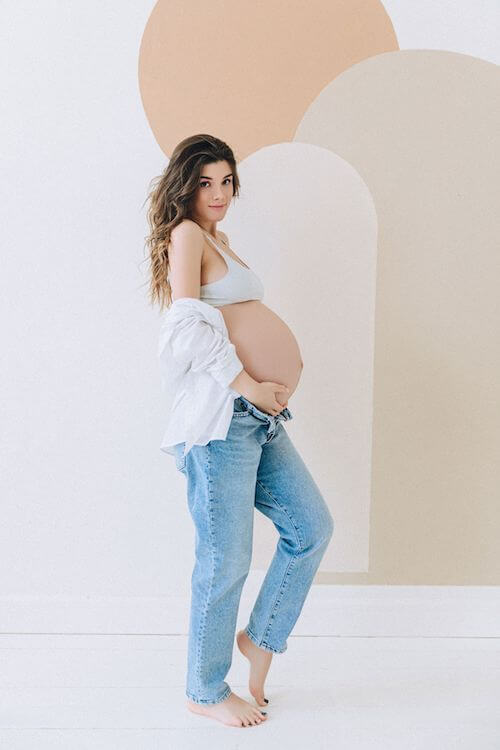 via Pinterest
Simple Outfit With A Straw Hat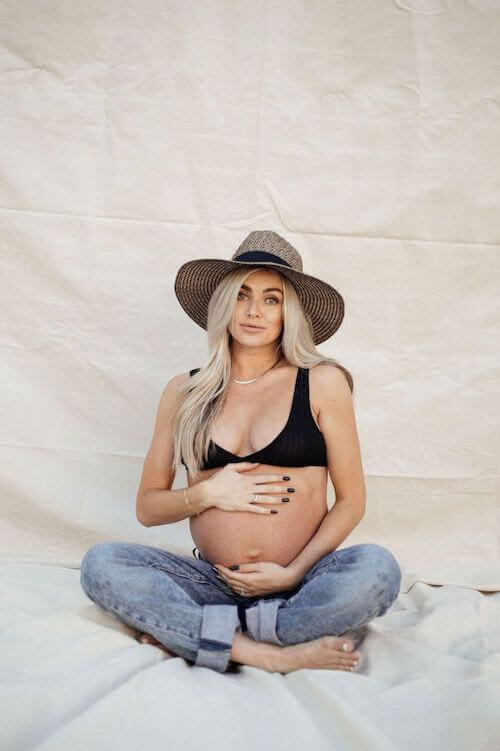 Sit On A Stair Chair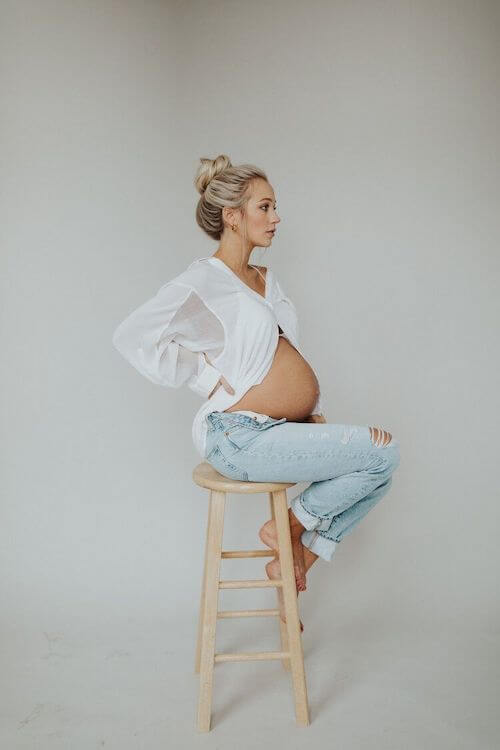 Look Straight To The Camera
An Announcement Flat Lay
Dark Colors Fitted Top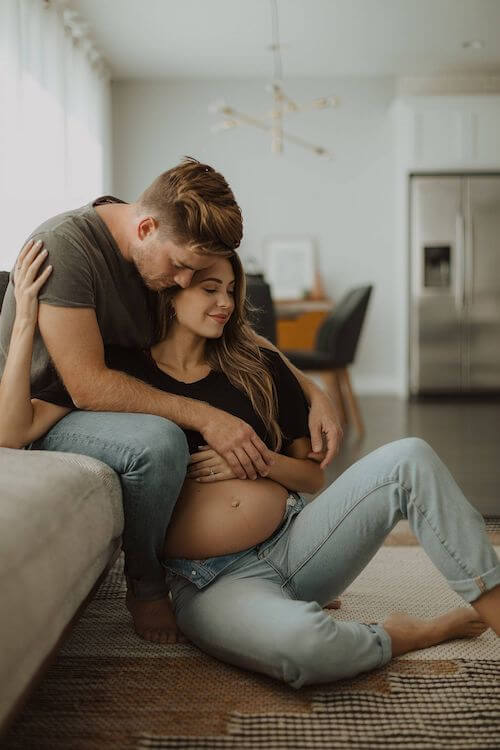 Best Outdoors Session Maternity Photoshoot Ideas In Jeans
Jeans naturally come with a relaxed and free style, so they are especially suitable for outdoor maternity photo shoots.
Put on your favorite pair of jeans for a cute casual outfit and head out into nature to record your pregnancy journey.
You can put on a light top and let the breeze blow over your beautiful bump belly.
The best props for taking pictures in nature come from nature. Leaves, flowers, and the surrounding lakes and trees all make your beautiful figure enveloped in the most fantastic and moving scenes, helping you to make the most precious memories.
Of course, you can also go to your favorite street to take unique maternity photos. Be a cool mom who dresses up in fashion.
You can also add a little bright color to your photos, such as a pair of stylish bright color sneakers.
If you can't find such pieces at the moment in your closet, have the new dad wear them.
Sweet Couple In The Field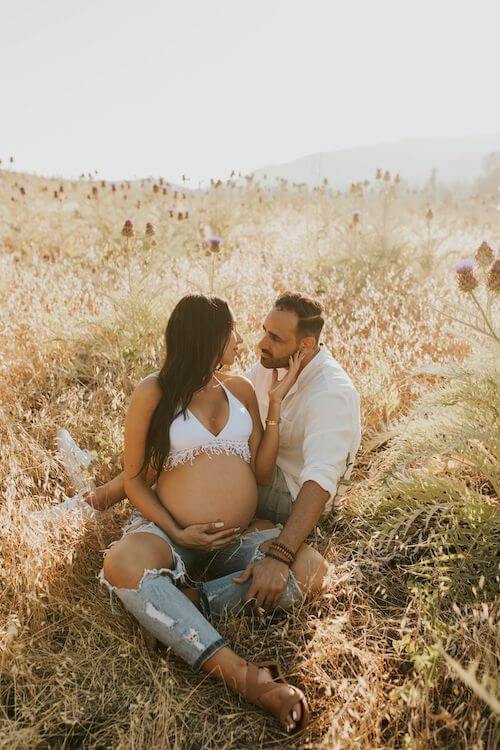 Small Flowers And The Pregnant Body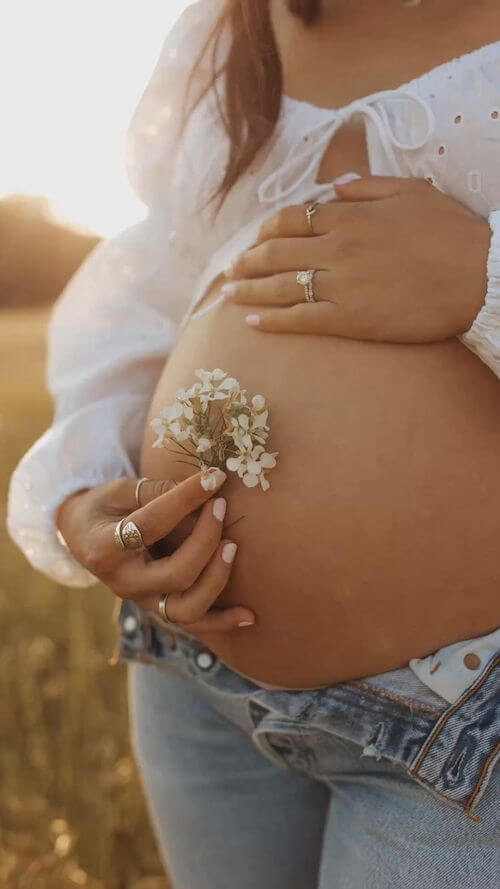 Baseball Caps, Chunky Necklaces, And Denim Overalls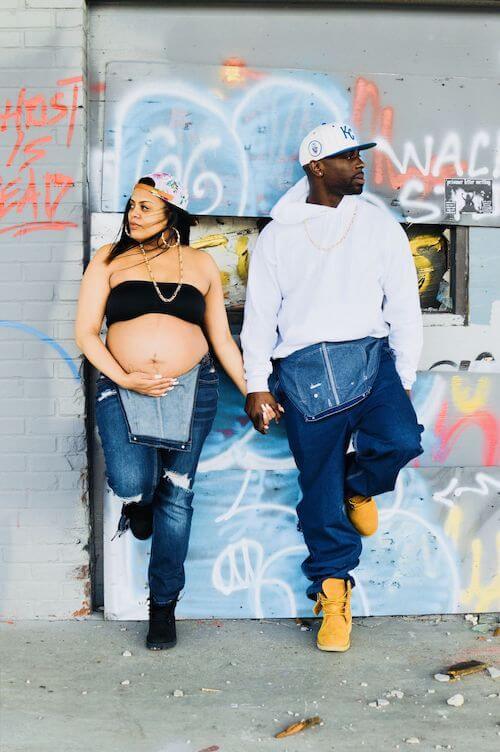 via Pinterest
Natural Beautiful Curves And Natural Shadows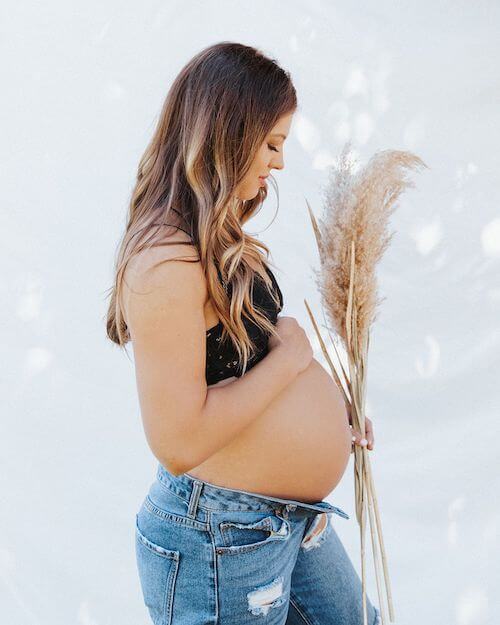 A Bicycle
Outdoor Happy Announcement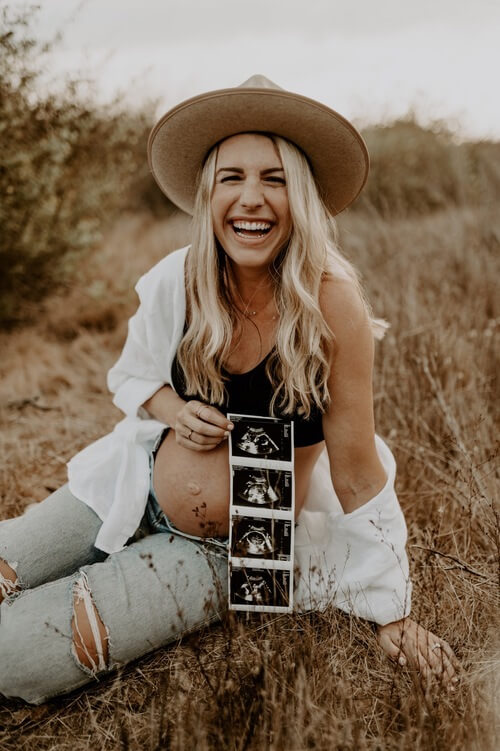 In The Golden Hour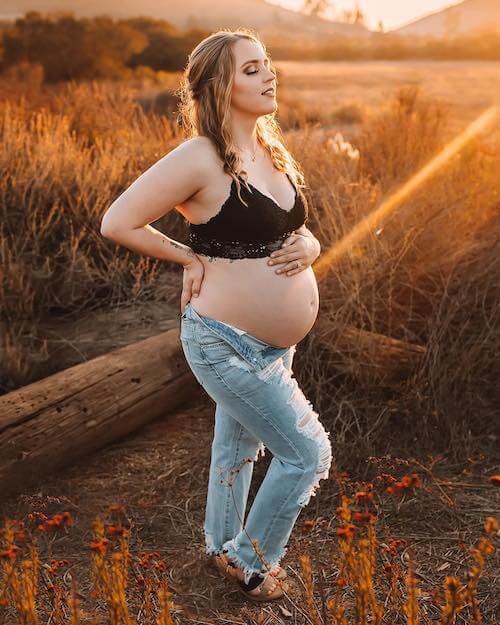 Best Couple Maternity Photography Ideas In Jeans
If you and your man are taking pictures together, you can both wear jeans and then choose tops of the same color, such as white or black tops.
You can also choose different colors for your partner's outfits. An orange top is a great option. Orange is denim blue's complementary color and can make the picture looks very attractive.
Of course, you can boldly let your man's whole outfit have more blue shades' complementary colors, such as brown, red, khaki, and orange.
For example, you can choose a pair of khaki pants for him and you two will look very chic together.
Fresh Solid Colors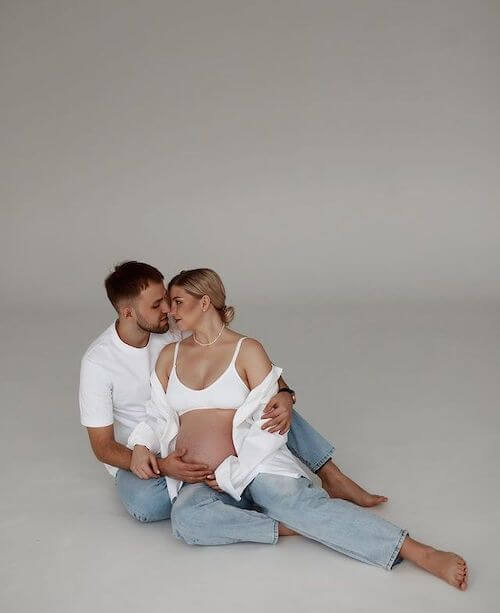 via Pinterest
Choose Complementary Colors To Navy Blue For The Man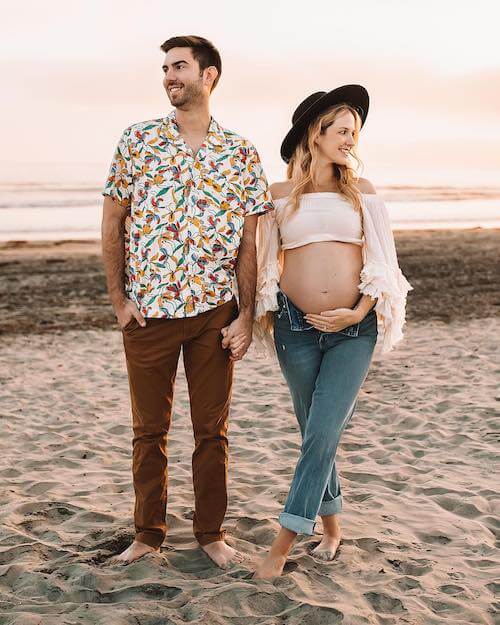 Sweet Kisses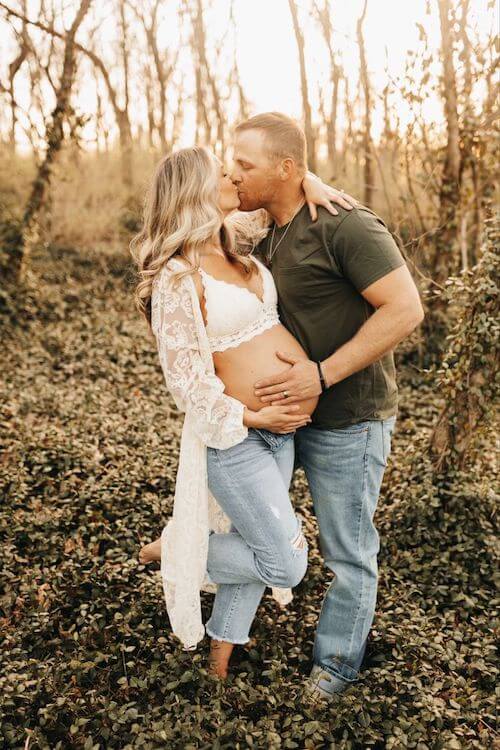 via Pinterest
Neutral Colors Beach Maternity Photo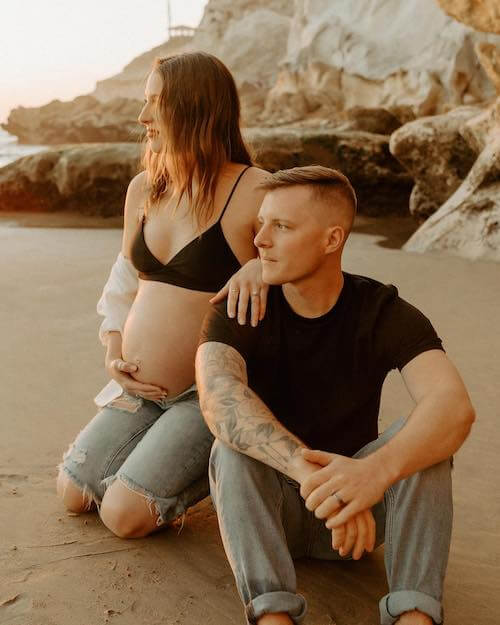 Touch The Adorable Baby Bump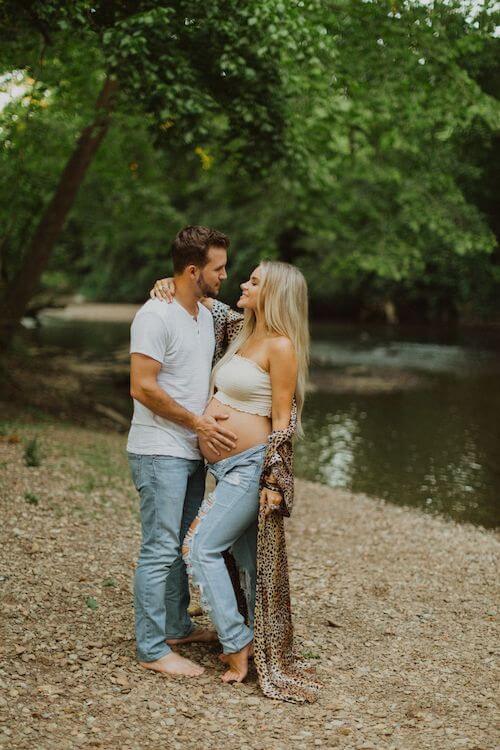 Bright Color Top For The New Dad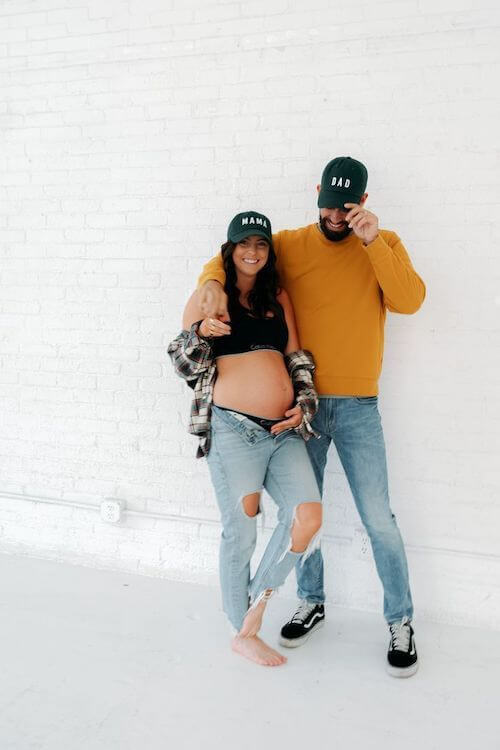 via Pinterest
A Natural Look In The Living Room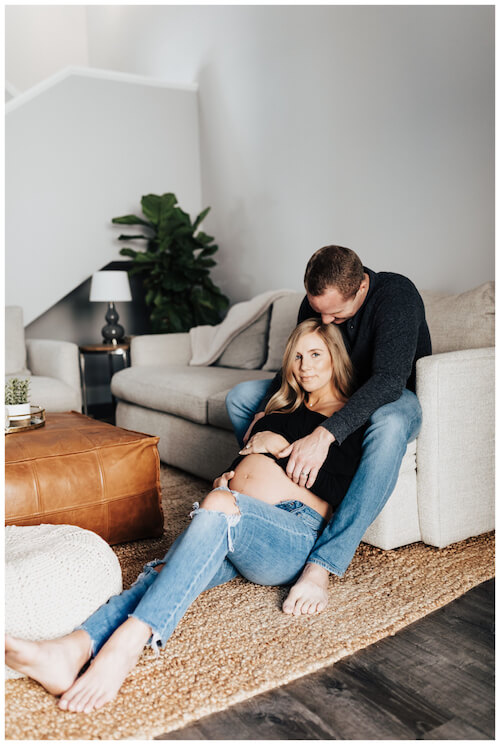 Lying In Bed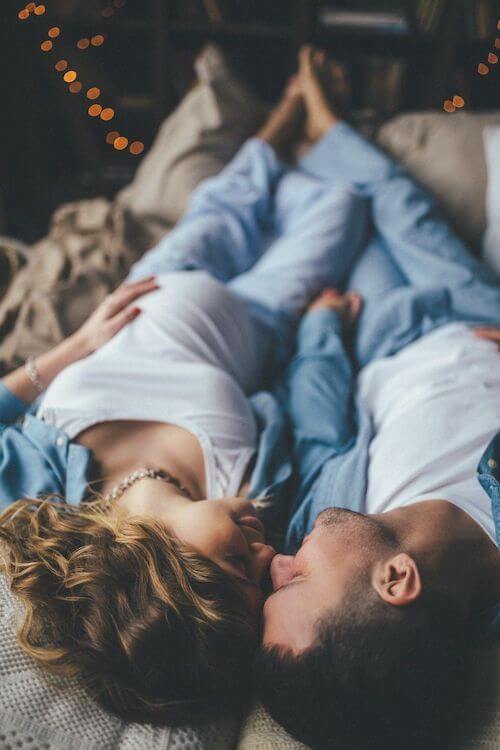 Kiss At The Front Door
How To Shoot Maternity Pictures In Jeans With Kids?
Share the joy of pregnancy with your other children. Let your children's innocent and cute movements be captured in your photos as well.
If you have kids to take pictures together, remember to choose a professional photographer who has experience in photographing children so that they know better how to communicate with them, which can make your shooting process so much easier.
At the same time, especially in outdoor shooting, I suggest you prepare your children's favorite snacks in advance so that they can keep enough energy for a longer time, happy to participate in the shooting process.
Sit With Your First Child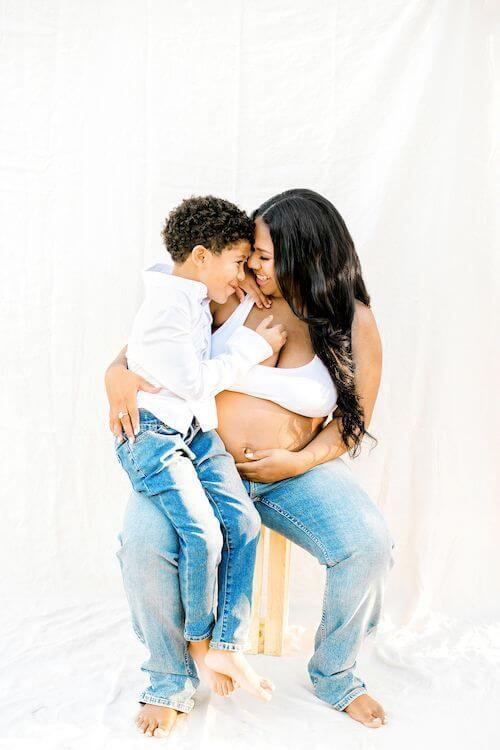 via Pinterest
Matching Family Outfits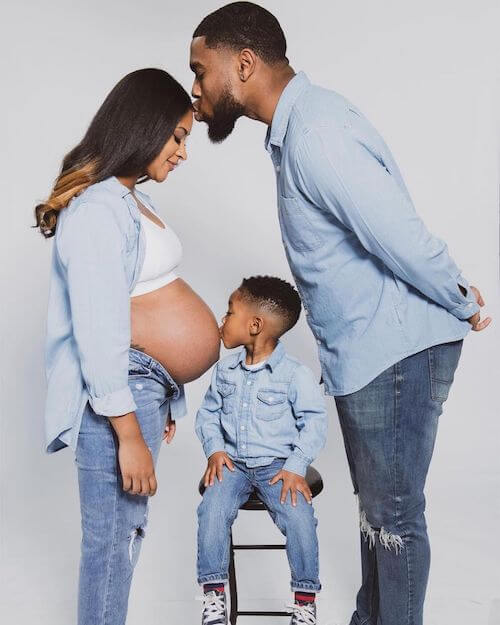 via Pinterest
Let Your Kid Touch Your Bare Belly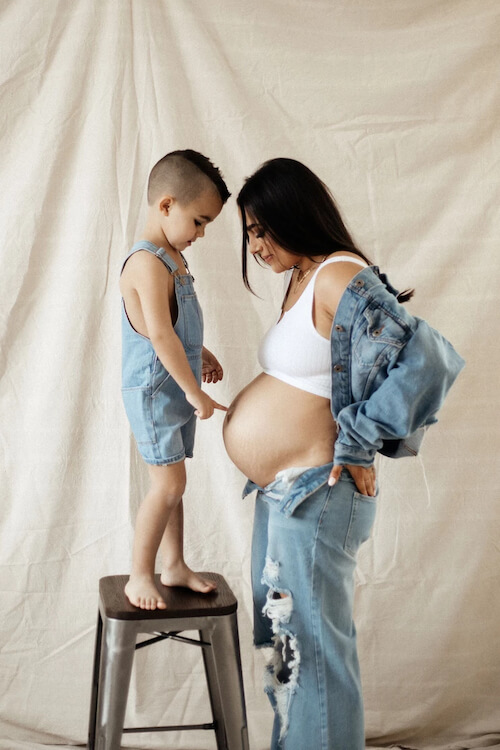 Enjoy The Exciting Time Together At The Beach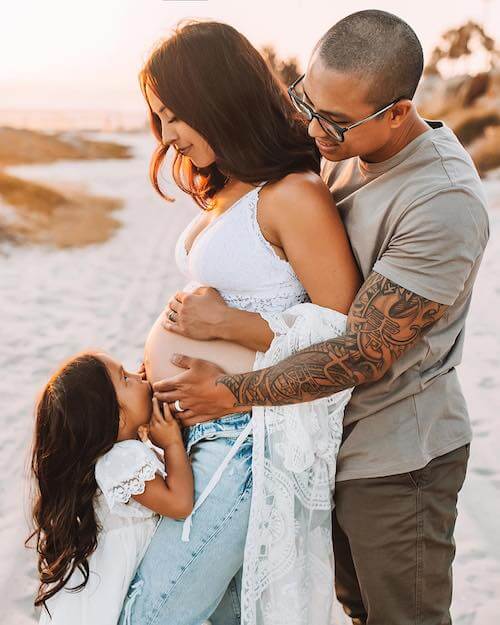 What To Wear With Jeans To Your Maternity Portraits?
Want more outfit inspiration? Below we are sharing our favorite outfit ideas to wear with jeans for your maternity photo session.
When choosing clothes, first you need to take into account the weather when shooting, if the weather is cold, you need to add a thick top or jacket. Never wear clothes that are too thin because you are seeking to look fashionable and unique.
When taking pictures, I recommend preparing about three outfits so that you can have more opportunities to style the best looks.
Next, you need to choose clothes that can perfectly show off your pregnant belly curves. For example, if you do not want to show your belly, then you need to choose clothes that are stretchy and comfortable enough to fully show the best shape of your baby bump.
If you are willing to show your bump, then crop tops are great choices. If the weather is cold, add a jacket.
At the same time, you also need to take into account the color of the background for the photo shoot. Usually, a solid white or black top is the easiest and never-out-of-style choice.
And when you want to pursue a cozier feeling, choose tan or beige tops or jackets. They can make your pictures feel warmer.
A monochromatic but feminine top with lace and other embellishments is also a great idea to bring more interesting visual details to your photos.
Finally, don't forget to add trendy accessories like a hat, to bring your style to the next level immediately.
Long Sleeves Plaid Shacket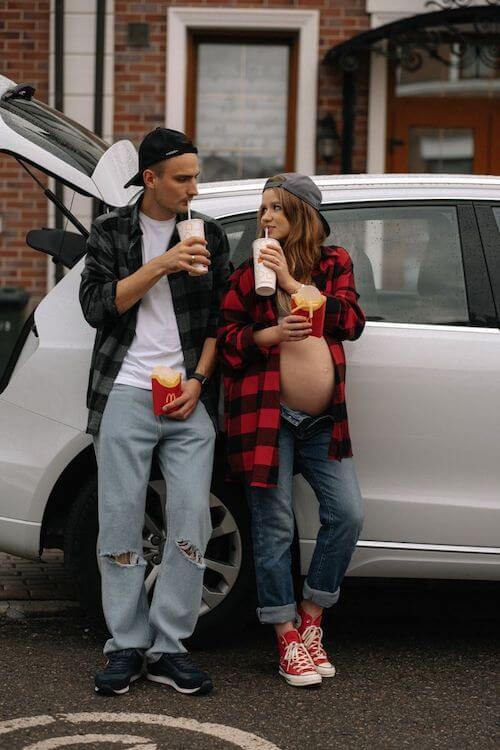 via Pinterest
Stretchy Fabric Top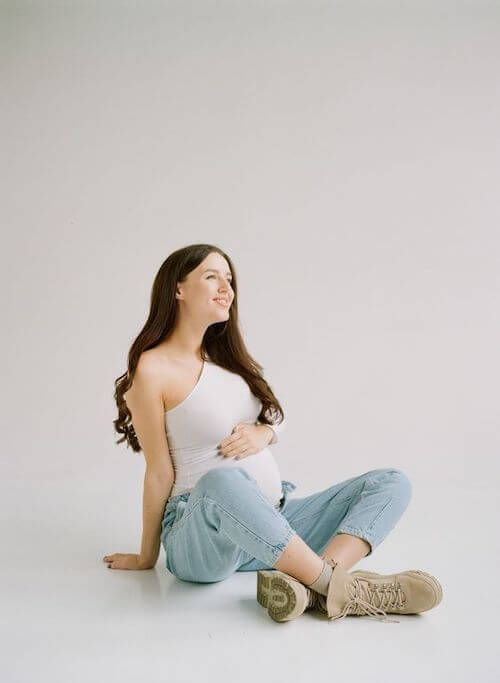 via Pinterest
Crop Cardigan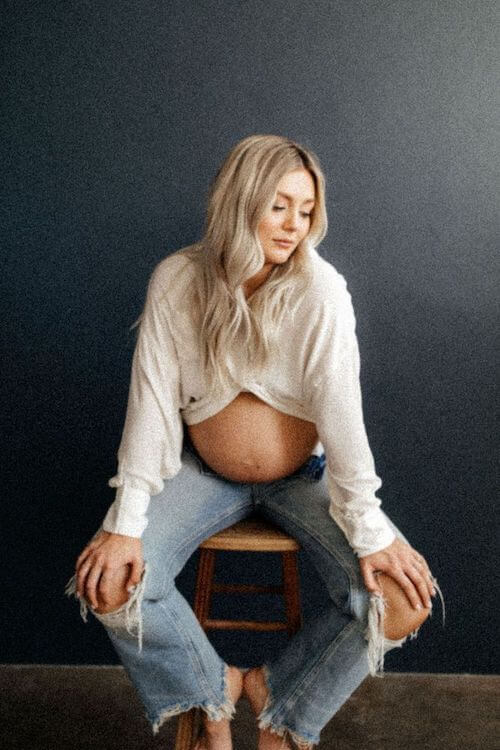 White Button Down Shirt + Black Bra Top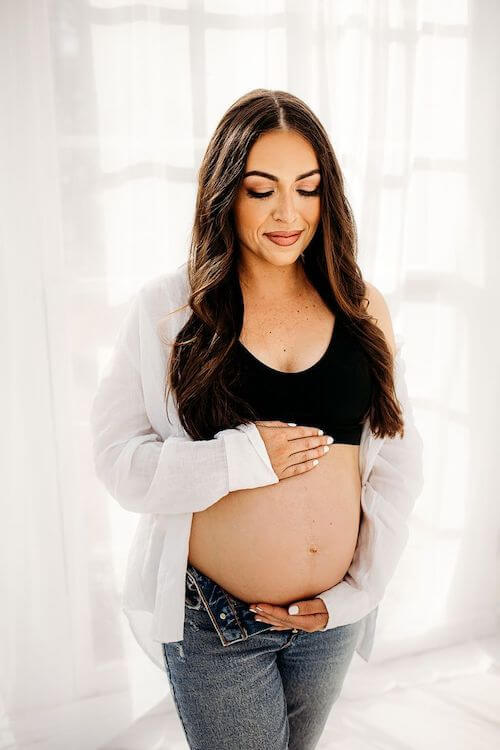 via Pinterest
Real Flower Top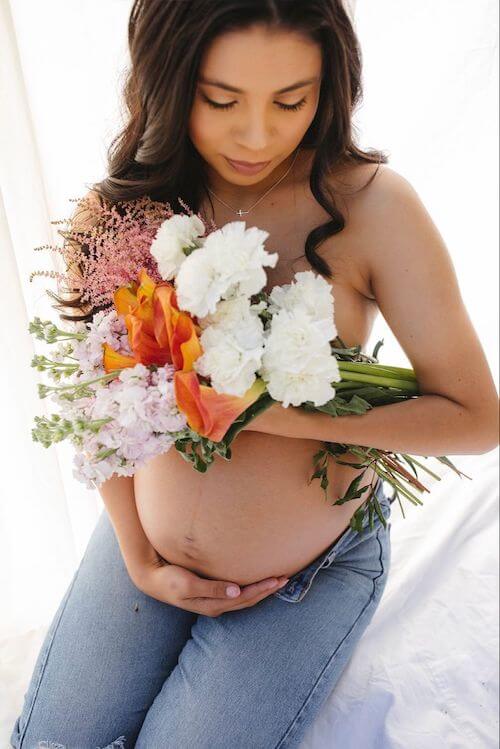 via Pinterest
Chunky Knit Sweater Cardigan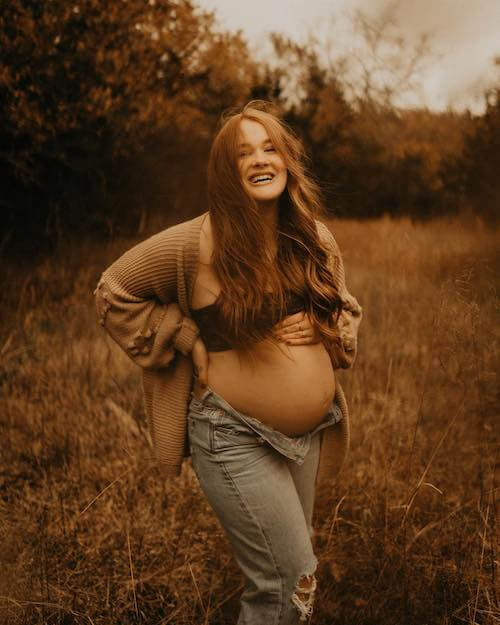 Long Sleeves Top + Calvin Klein Bralette With Big Logos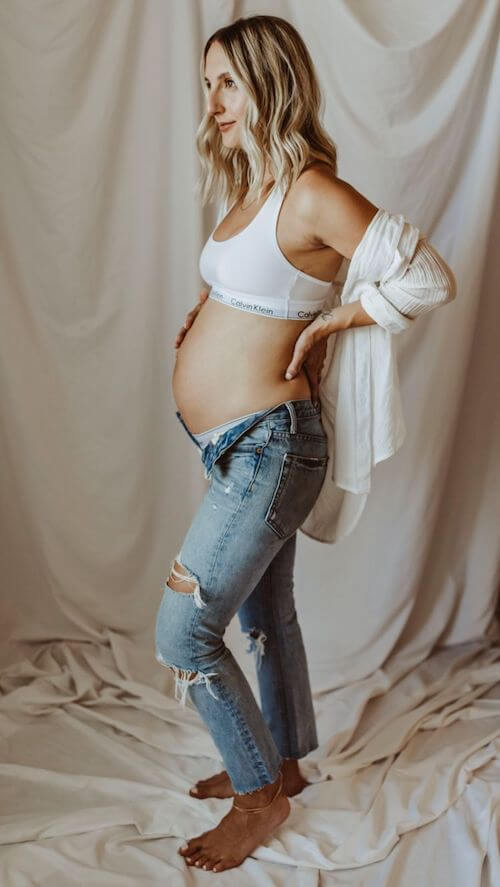 via Pinterest
Cozy Light Gray Tops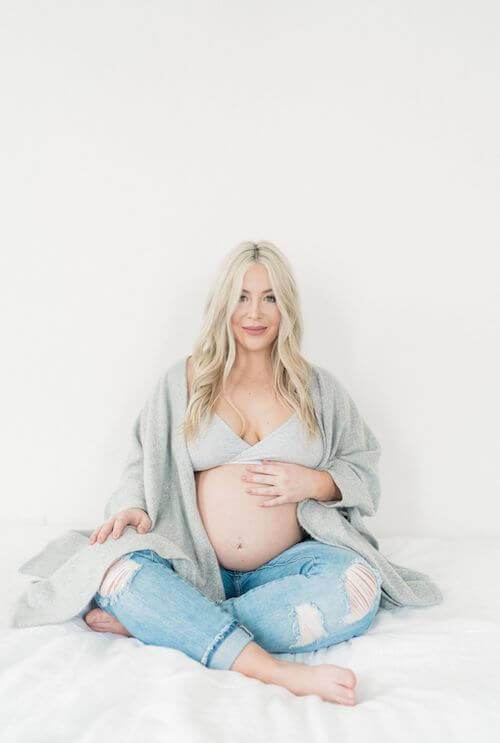 Black Bandeau Bra + Hat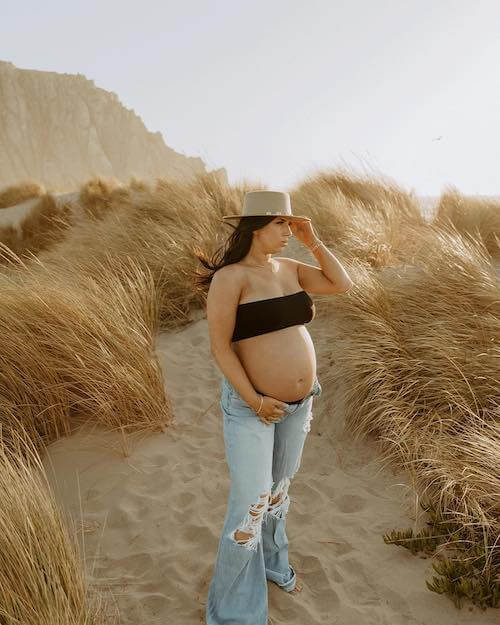 Denim Jacket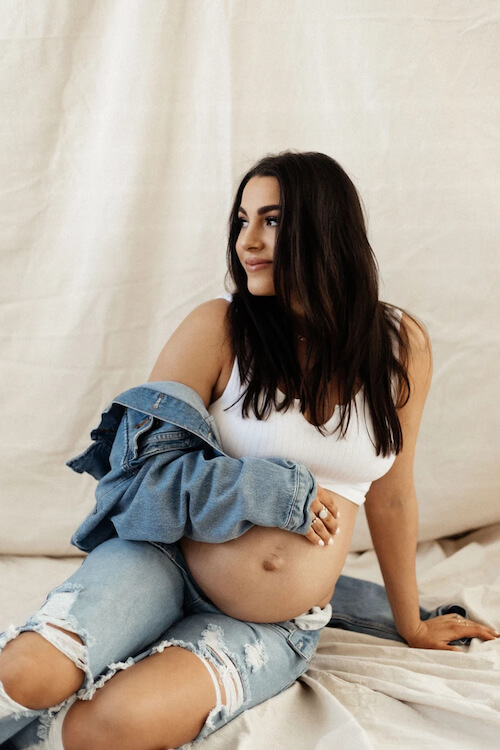 Cute Crop Top
Lace Bra + Long Lace Cardigan or Loose Fabrics Embroidered Top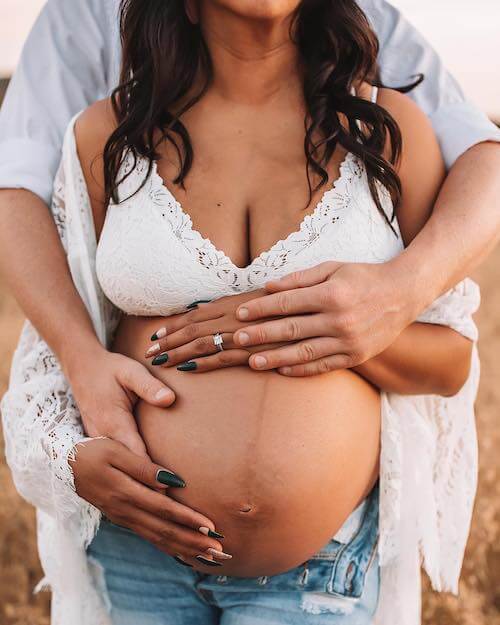 Black Leather Jacket + Baseball Cap
via Pinterest
What Other Denim Outfit Options To Wear For Your Maternity Photos?
Denim blue is so perfect for a maternity photo that if you want more denim outfit ideas, don't hesitate to try denim overalls, jean jackets, or denim shirts to embrace the perfect balance of elegance and fashion sense brought by these denim pieces.
Denim Overalls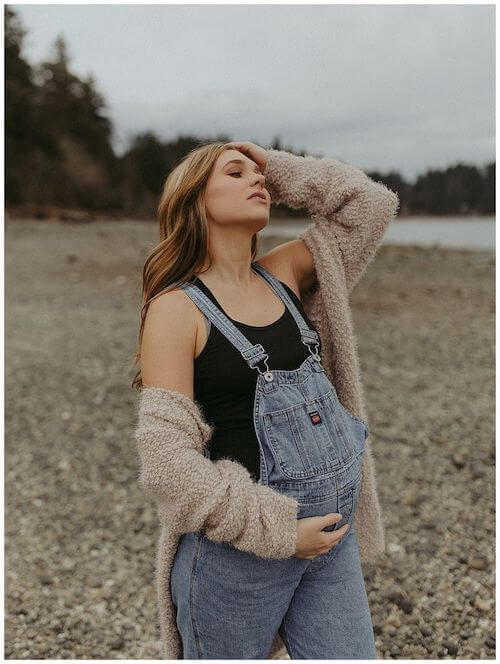 via Pinterest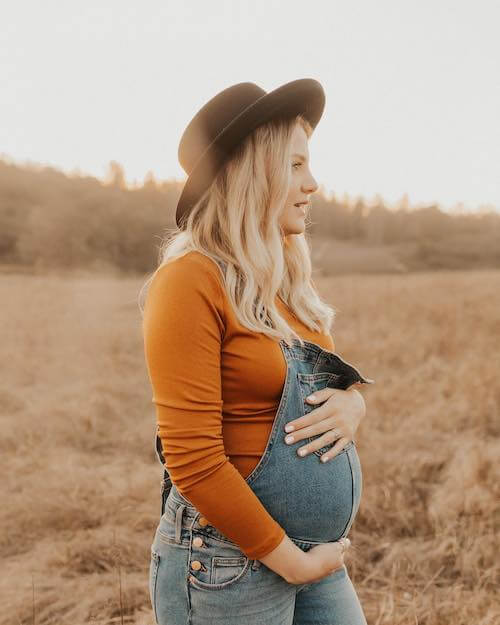 Jean Jacket
via Pinterest
Denim Shirt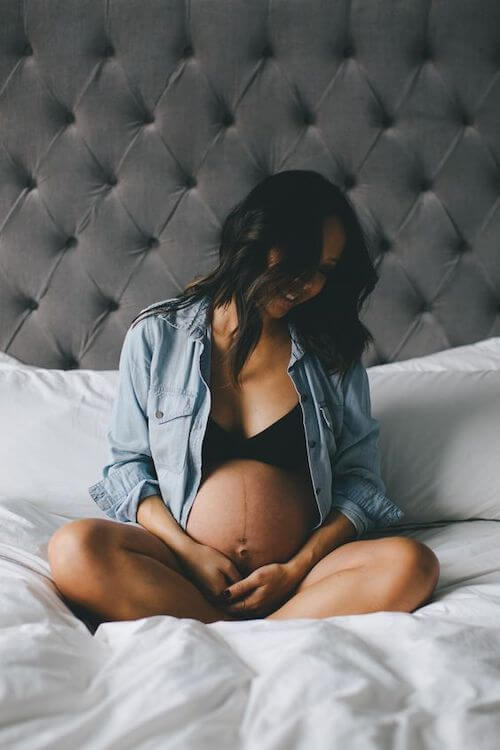 via Pinterest
This post was all about maternity photos in jeans.
Related Posts: