Looking for the best maternity photoshoot with siblings ideas? Check this post for expert tips on how to get the perfect maternity photoshoot with kids and the best photoshoot ideas of different styles to copy directly.
Whether you want to announce your pregnancy or add a better pregnancy to your family album, taking a beautiful pregnancy photo is a great idea.
If you have older children, having your maternity session with them is a good idea. This is the best way to communicate with the big siblings about the arrival of a new baby.
If you are looking for the best maternity photoshoot with siblings ideas for your coming maternity photo session, you've come to the right place.
In today's article, I am sharing with you the best maternity photography tips for professional photos, and the best maternity shoot ideas with your other kids, including preparation tips, poses, locations, and outfits.
At the end of the article, I am also sharing cute maternity photoshoot outfits from our favorite online fashion stores for you to shop for directly.
So scroll down to check these maternity pictures tips and the best maternity photoshoot ideas with siblings, and don't hesitate to pin what you like to your Pinterest board, and share the on social media sites.
This post may contain affiliate links, which means I'll receive a commission if you purchase through my link, at no extra cost to you. Please read the full disclosure here.
This post is all about maternity photoshoot with siblings.
When Is The Best Time To Have Maternity Photos?
Pregnant mothers are happier to take maternity photos, but it is not recommended to take maternity photos too early, because the belly is not obvious, and the effect of shooting is not very good.
Under normal circumstances, it is a good idea to take maternity portraits between the 28th and 36th weeks of pregnancy, because at this time the belly is very full and round, the results are better, and it is the most convenient time.
If you don't shoot until nine months into your pregnancy, the mom's belly is too big and it can be very tiring for pregnant women, and it is very inconvenient for you to move.
Therefore, it is recommended that pregnant women take the pregnancy photo shoot in the seventh or eighth month of pregnancy, which is a perfect time for both styling and physical strength.
Best Tips For Perfect Maternity Photos With Older Kids
1. Walk hand in hand
Typically, these photos are great for families who want more natural looking photos. Sometimes the least contrived maternity shots are the most impactful.
Instead of asking all family members to look at the camera, or act a certain way, walk naturally in a place with plenty of good lighting and natural beauty.
Ideally, you are walking, not just posing. This is a better way to make the image feel more real. Make parents behave normally. Focus on the kids instead of you, and the result will be a true family photo.
2. Capture playful moments
For years, families have been accustomed to taking precise, height-fixed photos of your family portraits. you need everyone to sit a certain way, look at the camera, and wear your best clothes.
However, the unexpected moments are the most memorable images. You can't create moments of true love and joy specifically for photos, but you can encourage your team to slapstick and have some fun.
Before the "real" photo shoot begins, tell the family to play, relax, and snap some photos as they play. This will give you some unique shots.
3. Lean on each other
We all need the help of our family sometimes. Why not make this the subject of your fun family portrait ideas? Put your back on the father and let him put his arms around you. Then let the child lean on you to form a wonderful touching effect.
Or chat and act naturally while leaning like this, and you'll end up with some sweet photos.
If there are too many people in a group shoot to get close together, get against a wall or tree. If you are nervous about taking pictures, this will help take some of your nervousness away.
4. Sit down for family photos
When you're taking fun family portraits, sitting family photos are sometimes easier to manage than standing ones.
When people sit, they are more likely to relax and allow your bodies to move normally.
This quickly removes any tension or anxiety from your photos. After all, you want your family to be as comfortable as possible in front of the camera.
To feel more confident in the maternity photo shoot, the photographer can sit down, or kneel with you and put you on the same level.
Try different poses creatively for your maternity shots. For example, for a really interesting effect, try making your family members a train with your bodies. Start with the tallest person in the back (usually dad), then mom, older siblings, and youngest siblings in front.
5. Show small details
Sometimes a photo doesn't have to be a human face to make sense. Pictures of small details can create some beautiful photography. For example, how about cropping a picture to just focus on each person's feet? Or take a photo of all family members holding hands.
A particularly popular option is the photo of the pregnant mom and father holding the baby's feet. This size contrast is sure to instantly spark feelings of love and adoration in any set of parents.
6. Try new perspectives
Finally, if you want to get creative with your photos, then you may need to shake up your perspective. Therefore, many artists focus on frontal shots.
However, if you're willing to think outside the box, you can really make a name for yourself in your photography career.
For example, if a mother and father want to take a picture of them holding your baby in the air, try using a drone camera to get a bird's-eye view from above. It's a fun way and creative idea to get cute photos.
You can also try crouching down and pointing the camera upwards to capture the perspective of the kids looking up at the parent. There are many different ways to give your photography a new angle.
7. Find The Perfect Locations
It is very important to discuss the pregnancy photoshoot location with your photographer in advance. In particular, if you need to photograph locations with seasonal characteristics, you need to pay extra attention to whether the shooting scene has passed the optimal shooting time.
In addition to outdoor venues, your home is also a very good shooting location. Especially when the natural light is good, the photos taken at home are very warm and moving.
8. Involve the old kids
Discuss with your husband and children the details of the photo, such as what to wear, what to shoot the scene, what props to use, what pose to use, etc.
Prepare some small toys and snacks when shooting, so that your child can always maintain interest in taking pictures.
When choosing a maternity photographer, try to choose a professional photographer who has plenty of experience shooting children. Such photographers are more experienced in how to communicate with children and can help you ensure a smooth shooting process.
9. Add cute props
Adding some cute, creative props can make your photos look more interesting.
Popular props such as message boards, baby shoes, etc. are all great choices.
In spring and summer, beautiful flowers are your best friends for your maternity photography sessions. In fall and winter, don't forget to pick beautiful foliage to add visual interest to your photos.
10. Prepare well before shooting
The night before the shooting, you should rest early to ensure adequate sleep time.
Prepare everything you need for the shoot ahead of time. Especially for outdoor shooting, it is very important to prepare in advance.
For example, remember to bring thick clothes and, if necessary, a thick blanket or shawl in winter. In addition to the daily needs of ordinary pregnant women, you can also bring home medicine boxes to avoid sprains and so on during shooting.
In addition, check the itinerary to avoid panic.
Lastly, be sure to prepare food so that you can replenish your energy whenever you take breaks in the middle of a shoot.
Best Maternity Photoshoot With Siblings Ideas To Copy
Ahead, check our favorite easy-to-copy maternity photo ideas with sibling ideas:
A Creative Announcement Message Board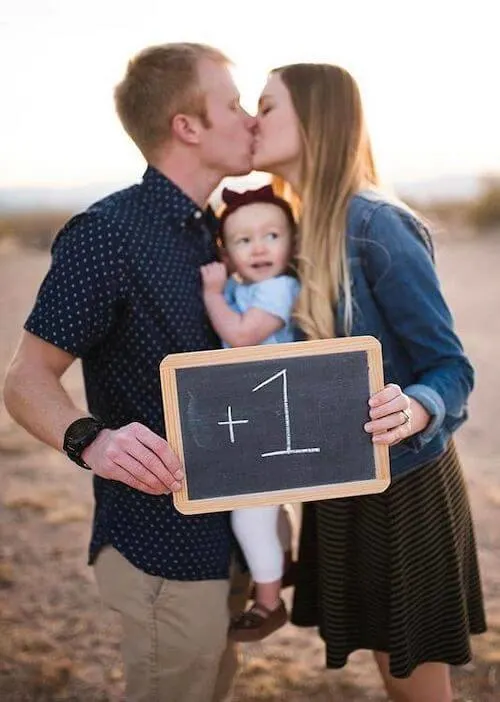 Baby Shoes, Message Board, And Older Kids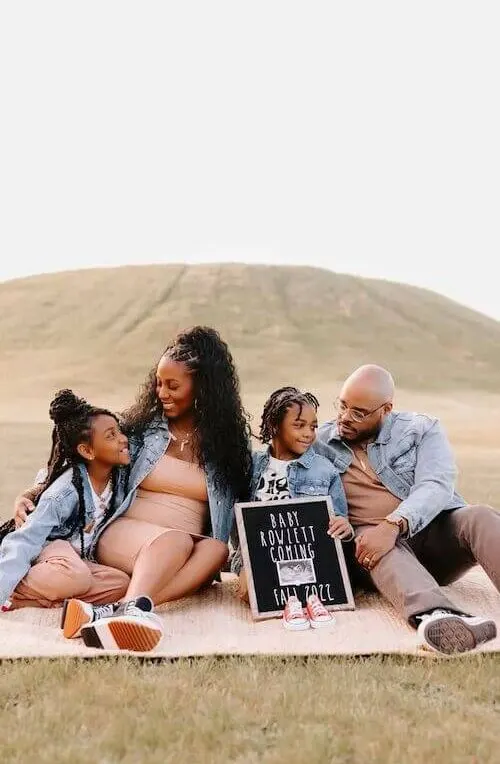 via Pinterest
Funny Announcement of The New Sibling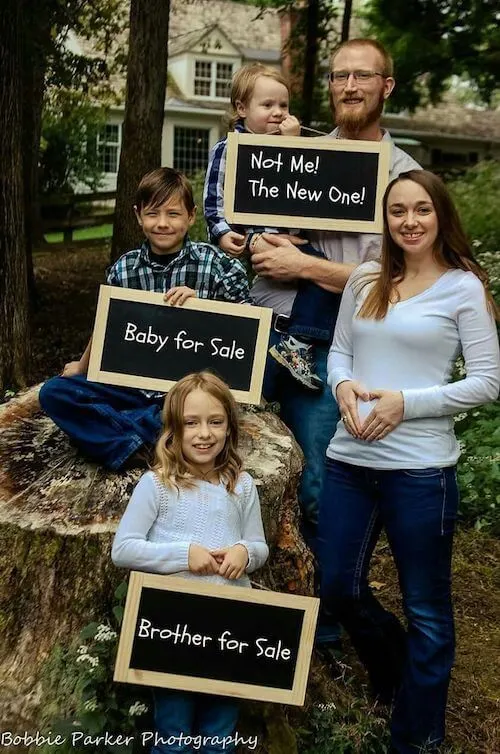 via Pinterest
Lovely Family Members In The Woods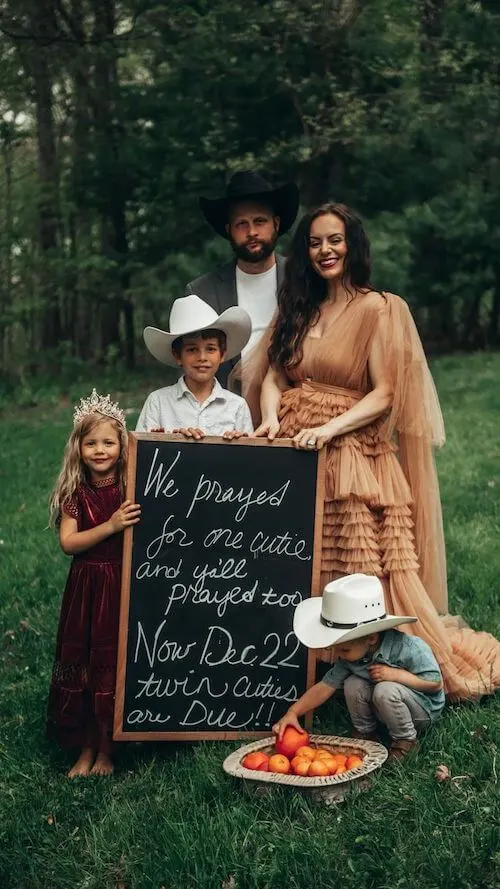 via Pinterest
All White Family Outfits And The Due Date Sign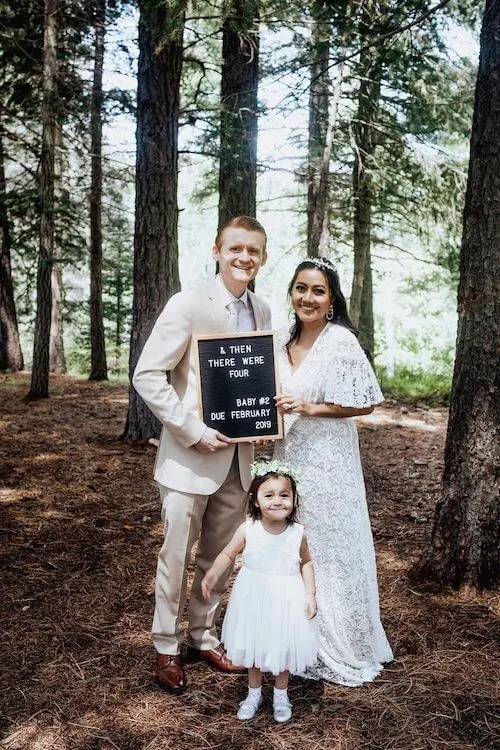 Warm Special Moment: Sleeping Baby and Pregnant Belly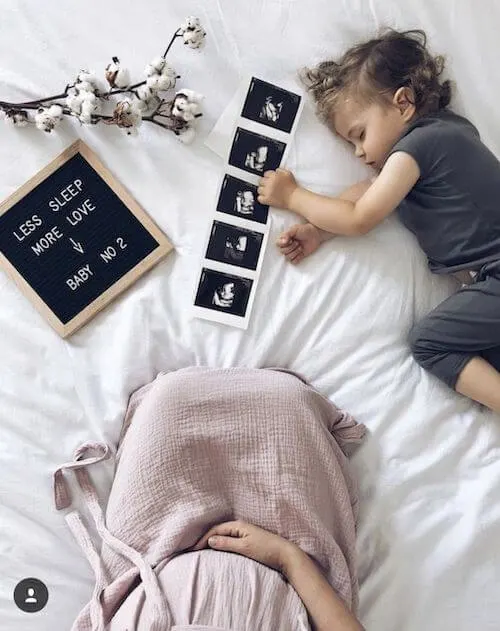 Cute Little Chef With The New Role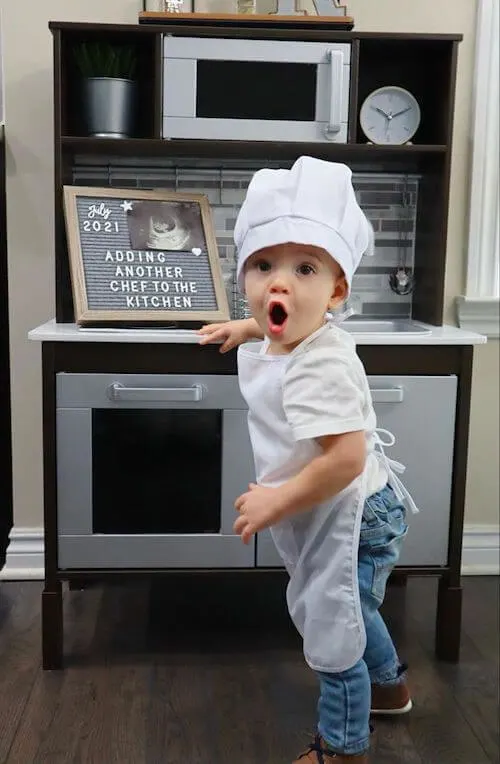 via Pinterest
Recipe For A New Baby Sister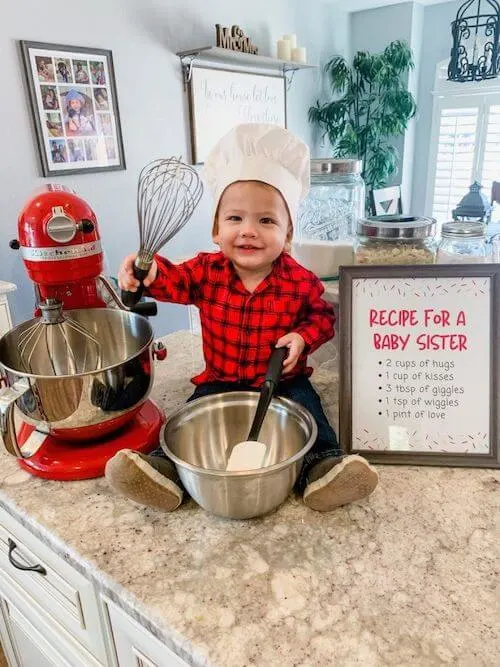 Can You Hear The Coming Baby?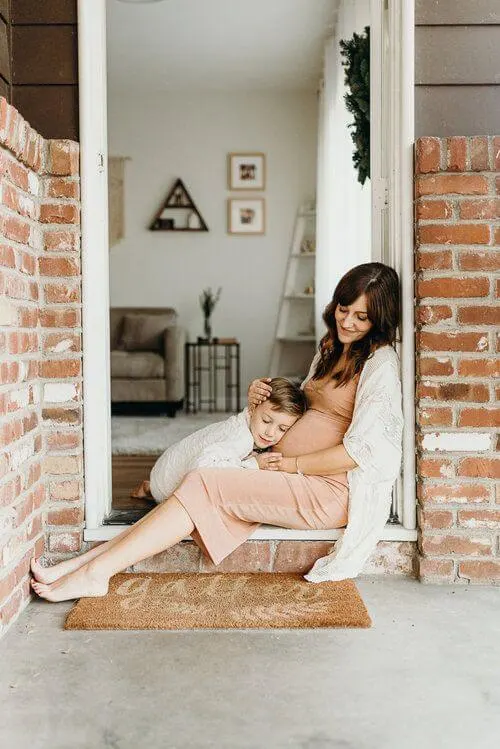 via Pinterest
A Simple Shot of The Special Time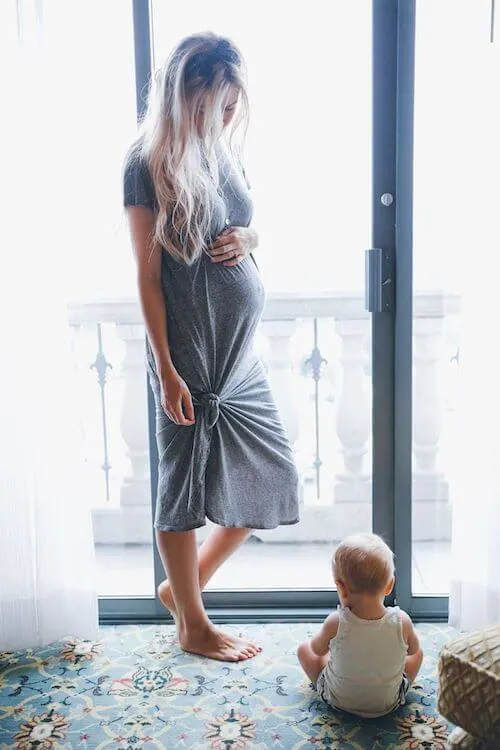 Check The Words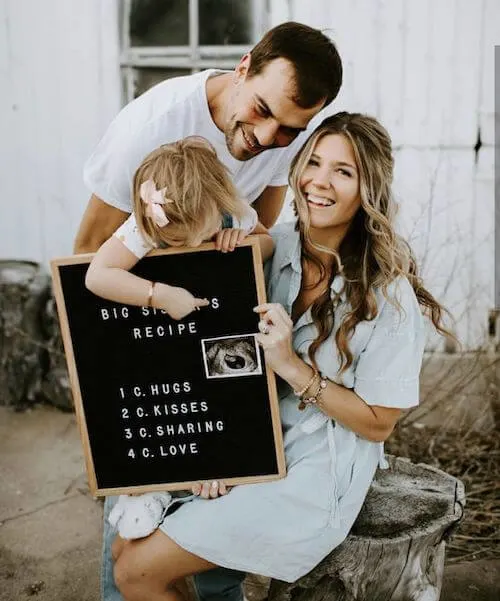 via Pinterest
Show The Ultrasound Photos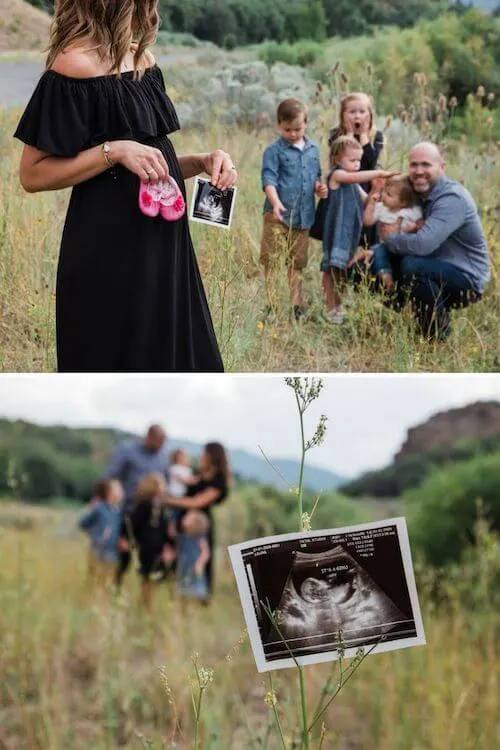 via Pinterest
Cute Denim Overalls In The Natural Light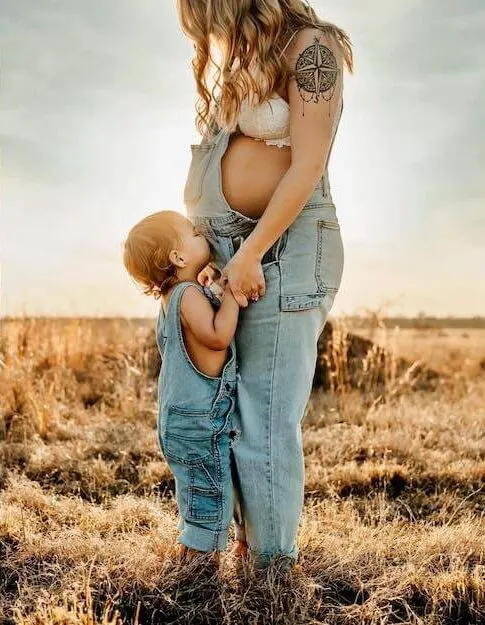 via Pinterest
Blue And Orange Color Scheme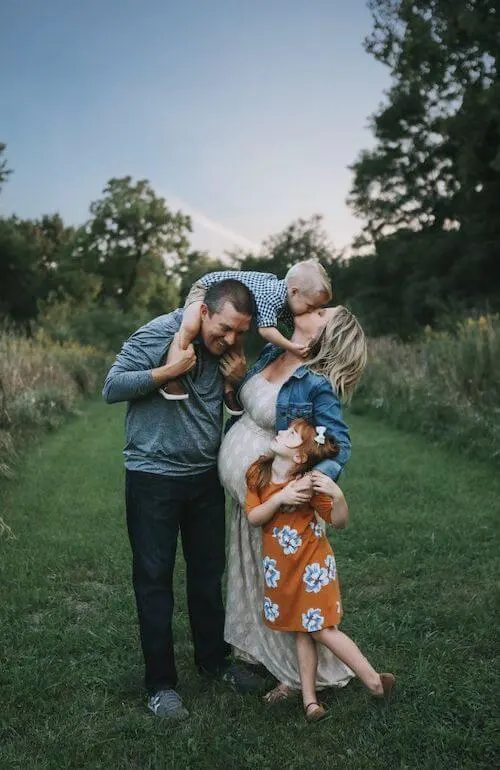 Pregnant Photo In The Disney Land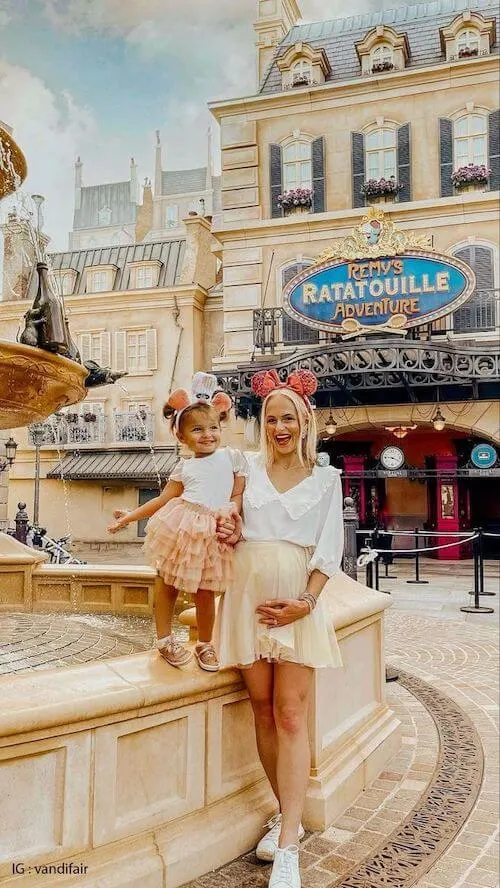 via tumblr
Touch The Mom's Belly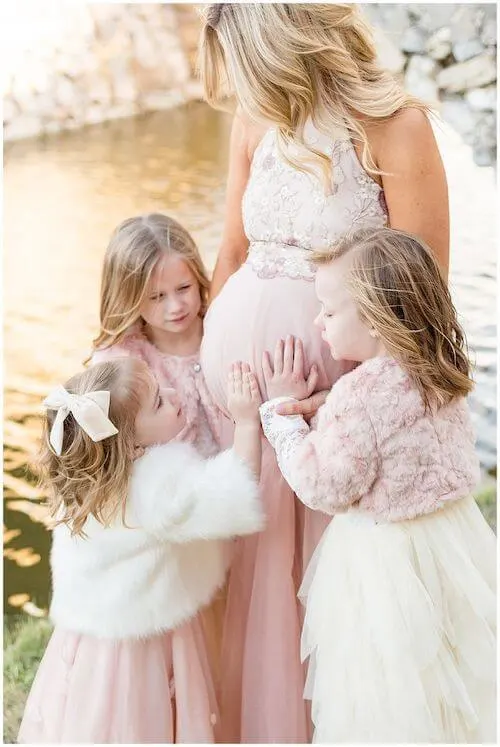 via tumblr
Golden Hour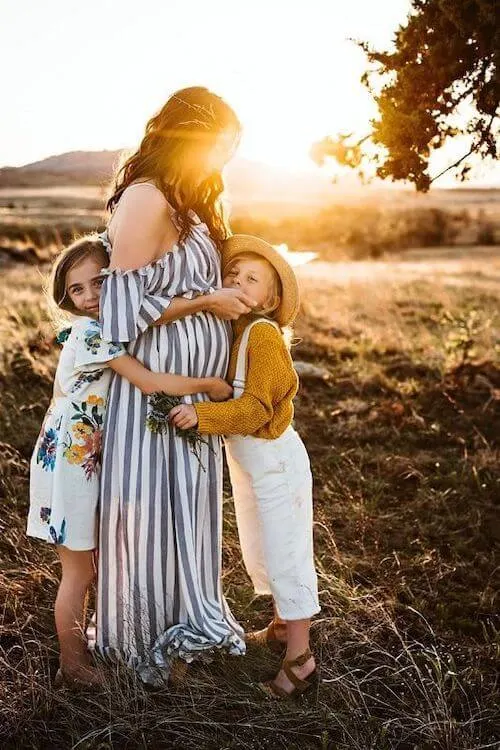 via Pinterest
Gentle Portraits At The Beach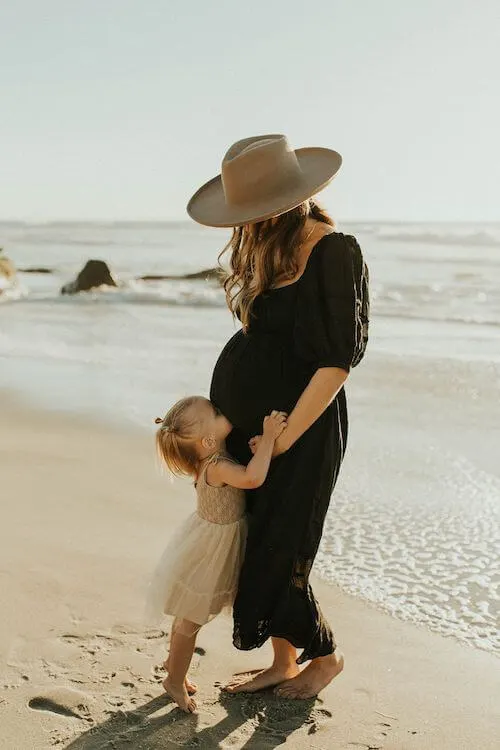 Play With The First Baby At The Beach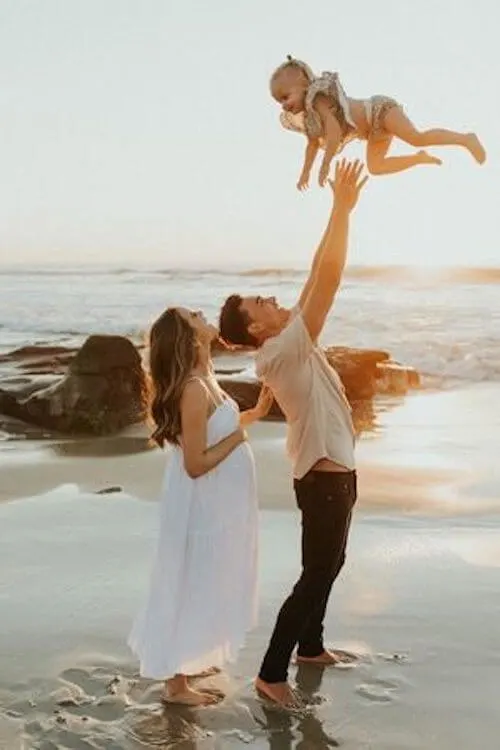 Sit On The Beach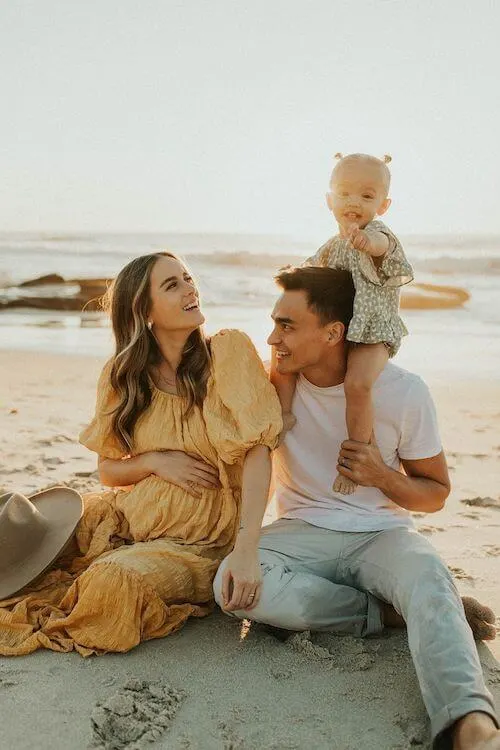 A Simple White Dress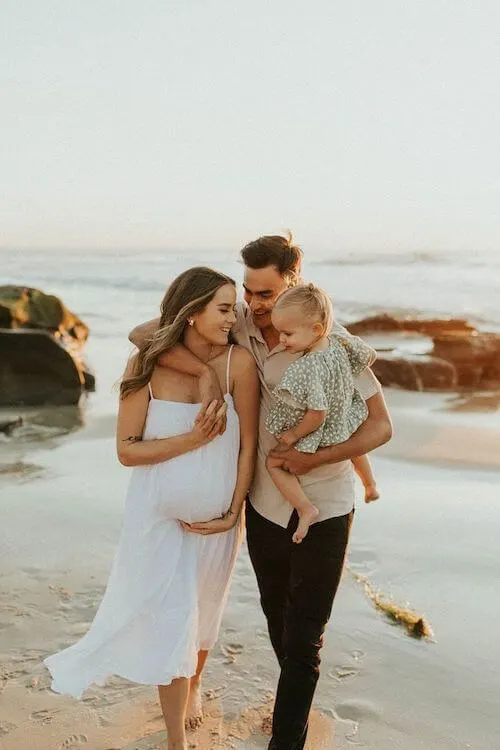 Kiss Your Boy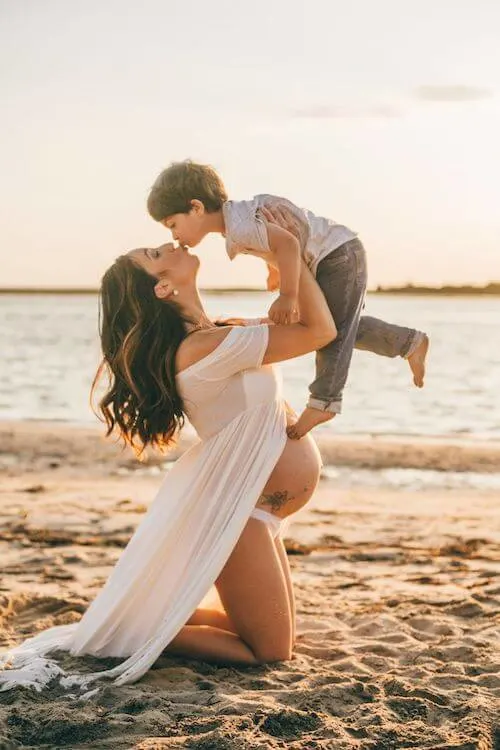 via Pinterest
Little Guy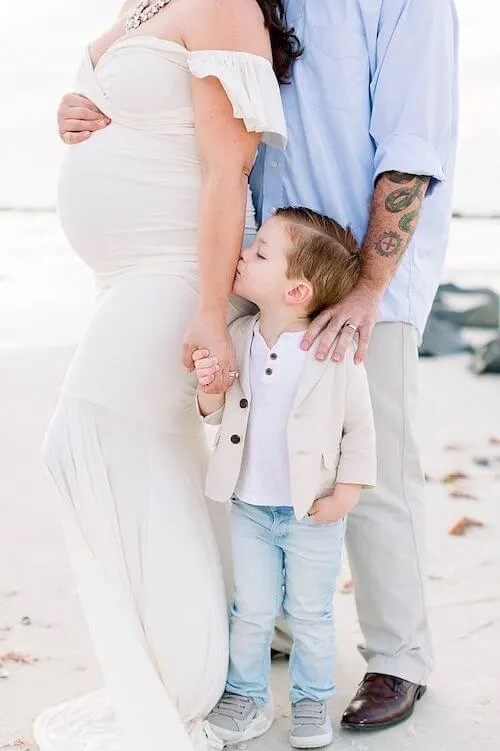 via Pinterest
Different Shades of Red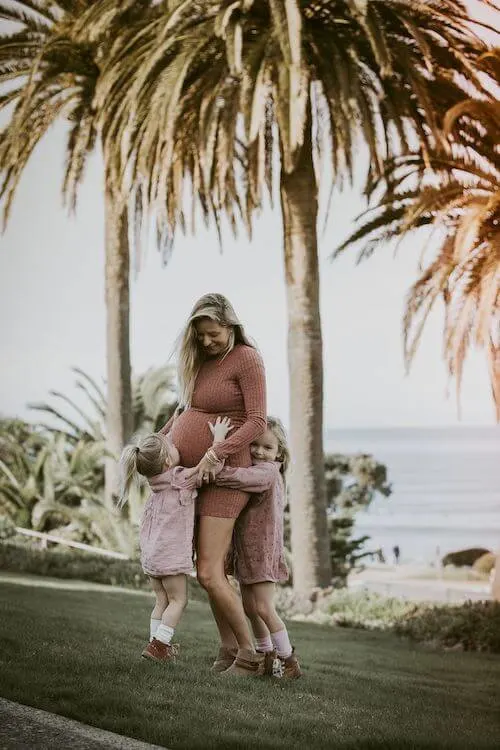 via Pinterest
Beautiful Fall Colors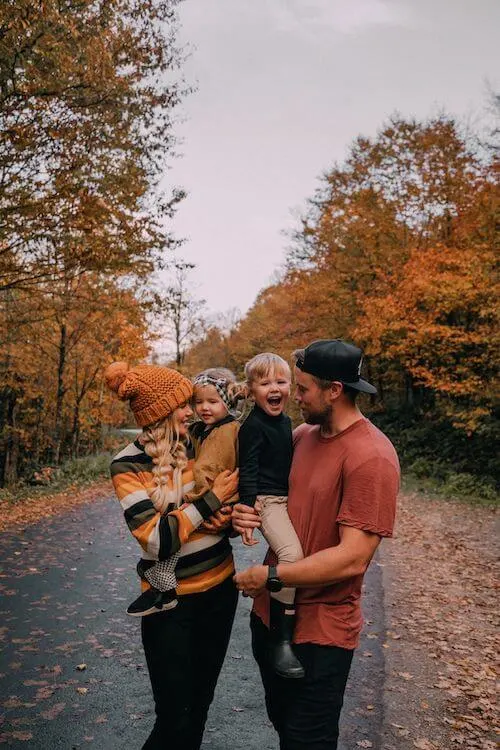 Hug In Front of The Mirror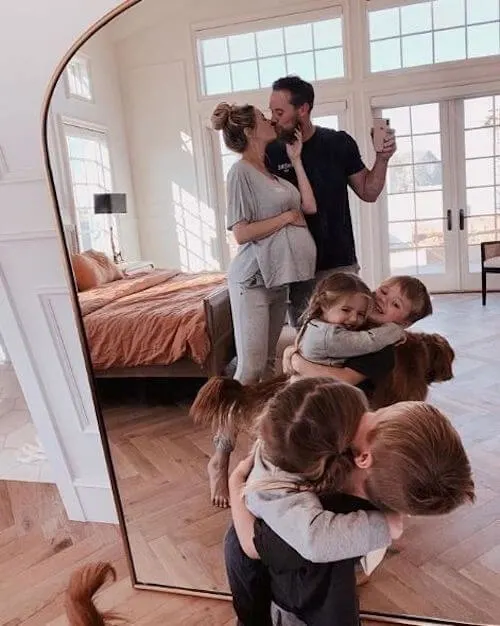 Share The Exciting Time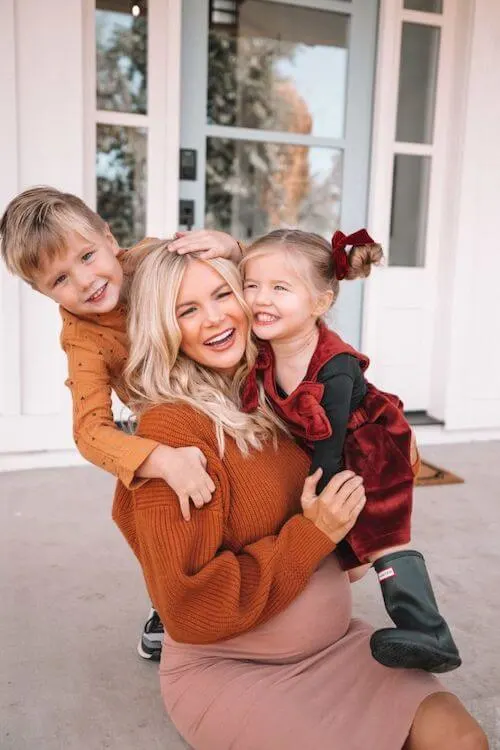 via Pinterest
Cozy Sweaters
via Pinterest
Jump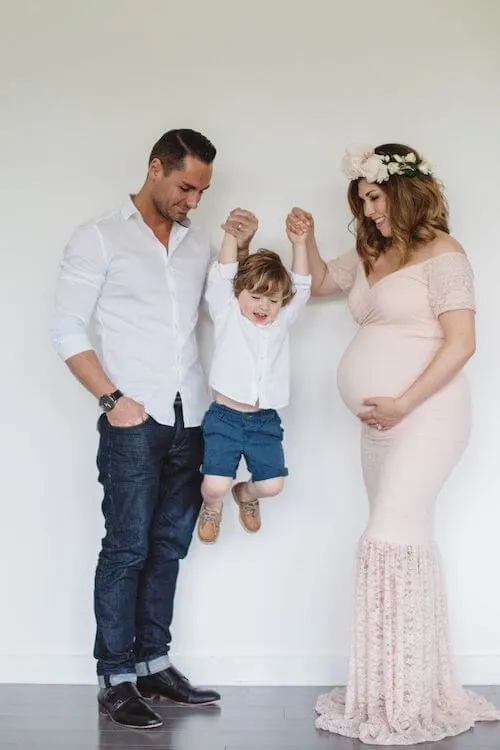 via Pinterest
The Whole Family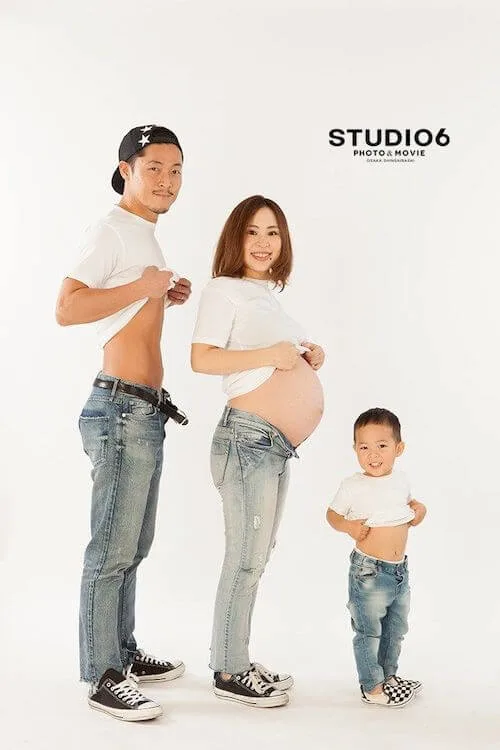 Laugh With The First Child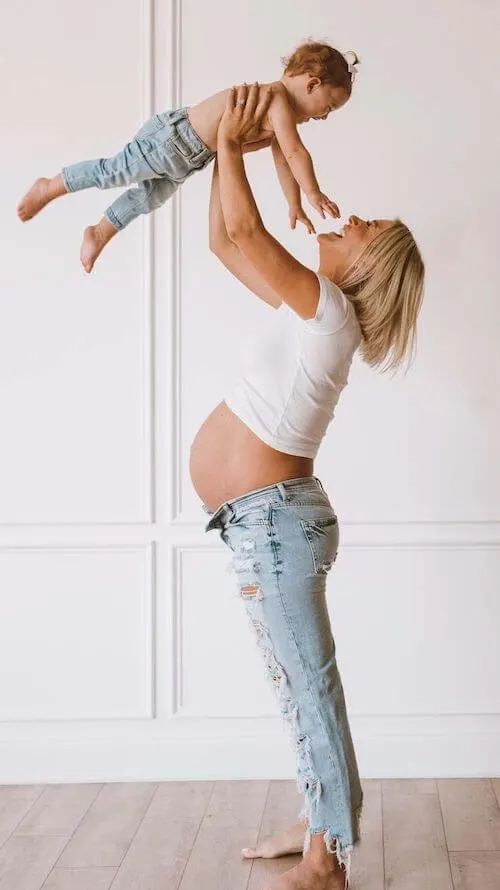 via Pinterest
Cute Tulle Dresses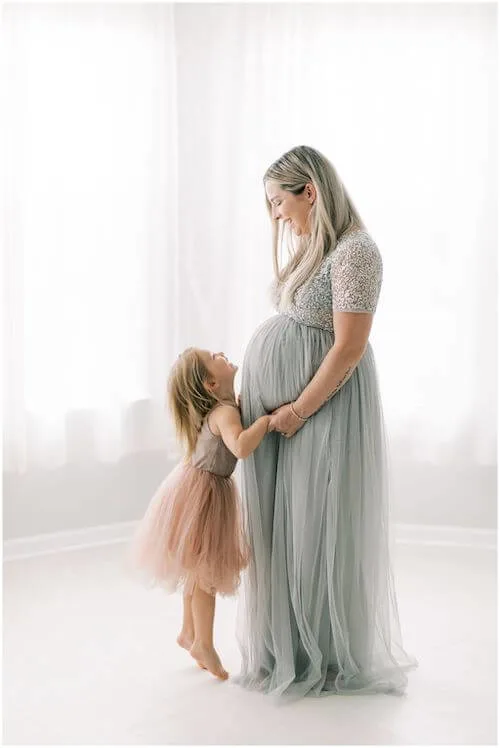 Bedroom Is A Perfect Location For Sweet Maternity Photos
via Pinterest
A Large Window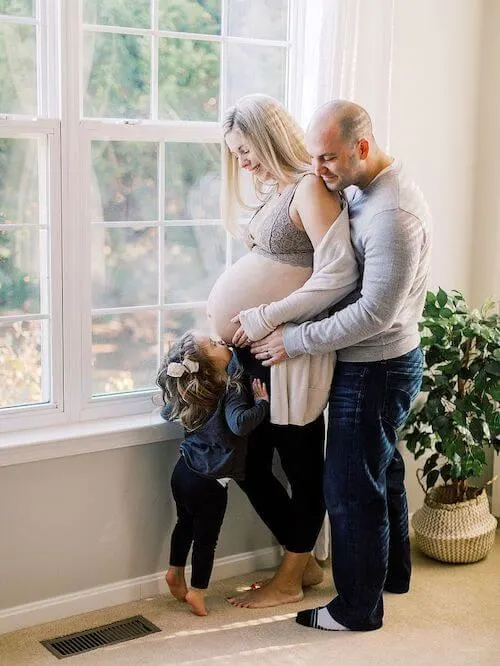 Before & After With Two Siblings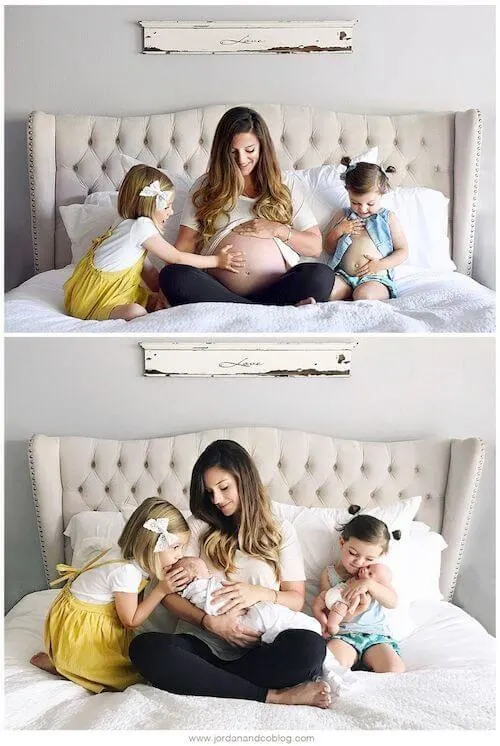 via Pinterest
Cute Great Pose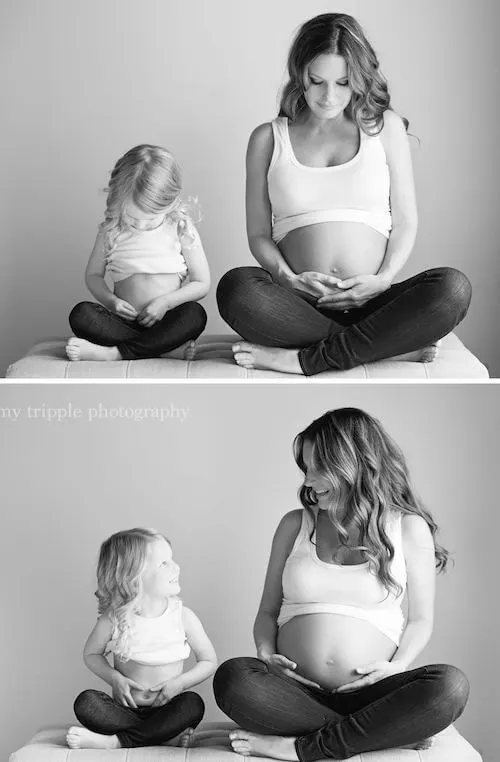 Kiss The Adorable Baby Bump In Front of The Camera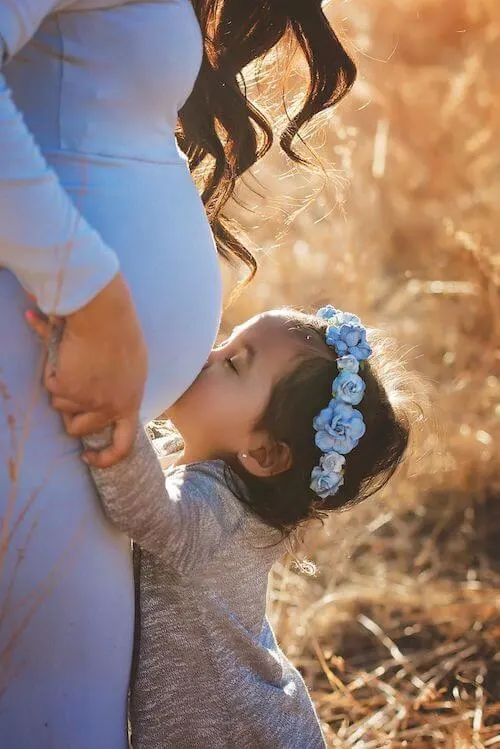 Spend Special Time At The Beach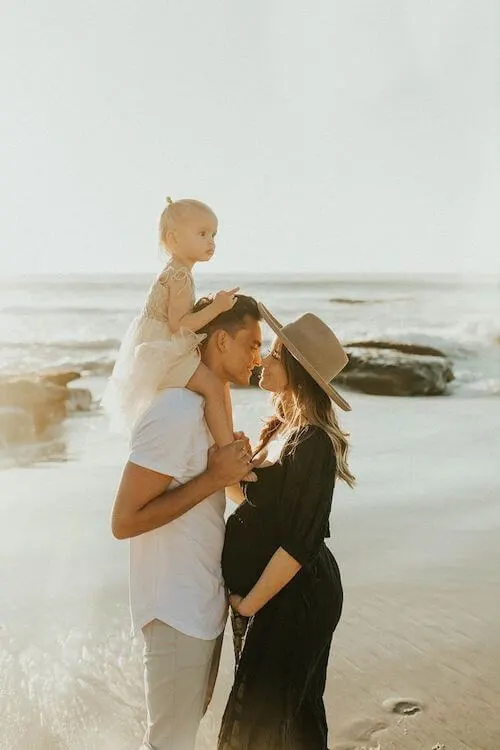 Cute Big Sister Sign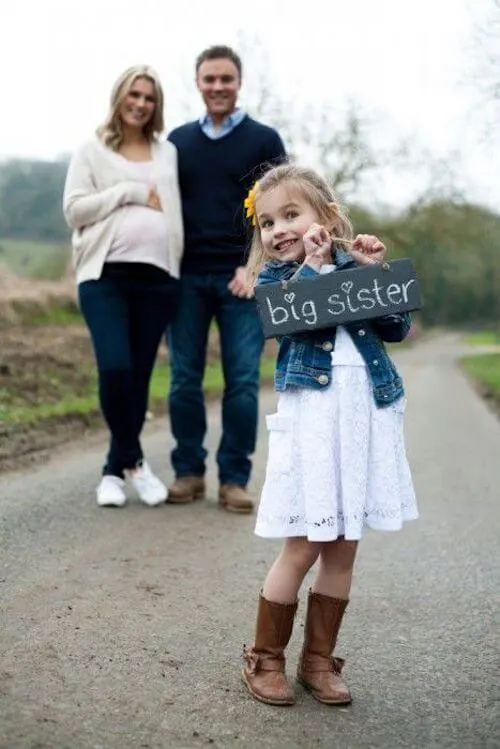 Add Some Dramatic Effect With The Big Brother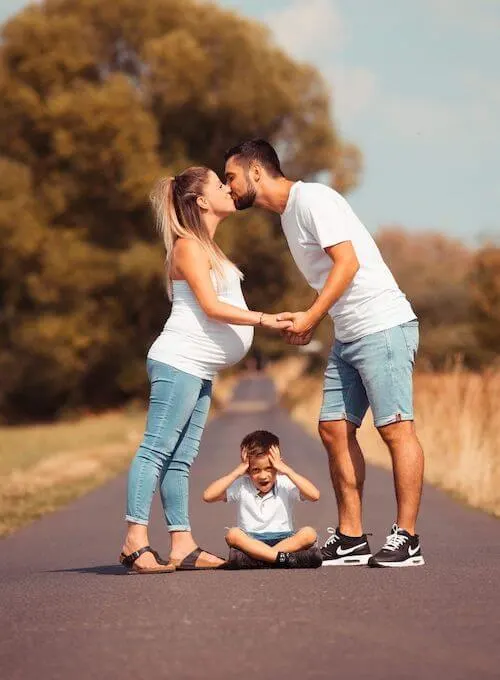 via Pinterest
Silhouette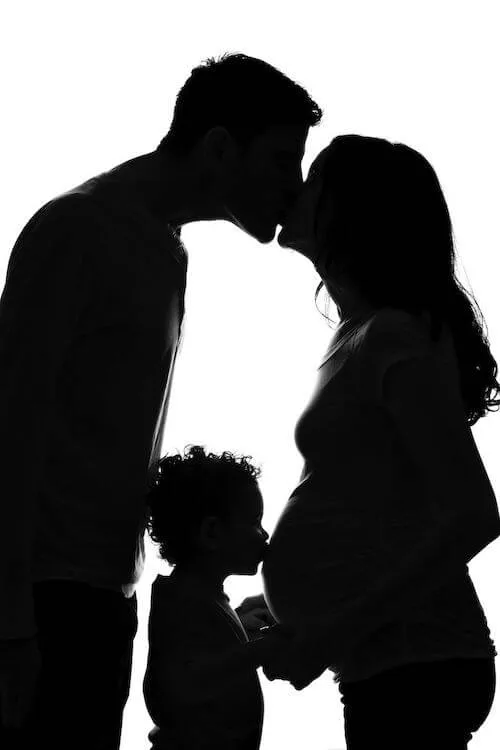 Let The Baby Brother Show The Ultrasound Photo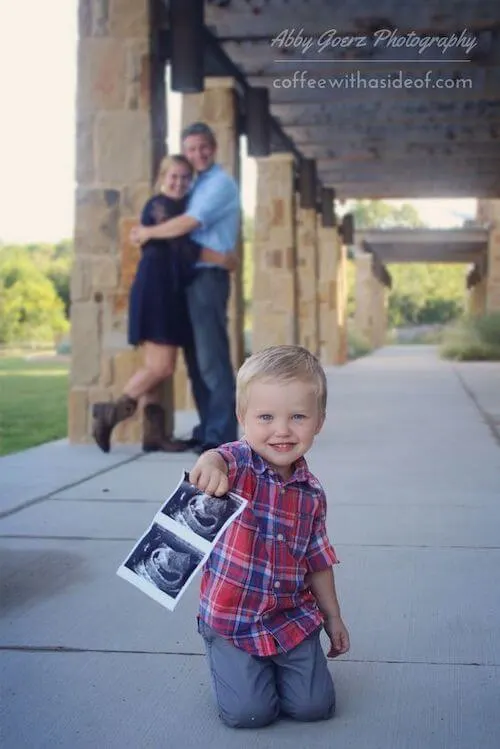 via Pinterest
Little Doctor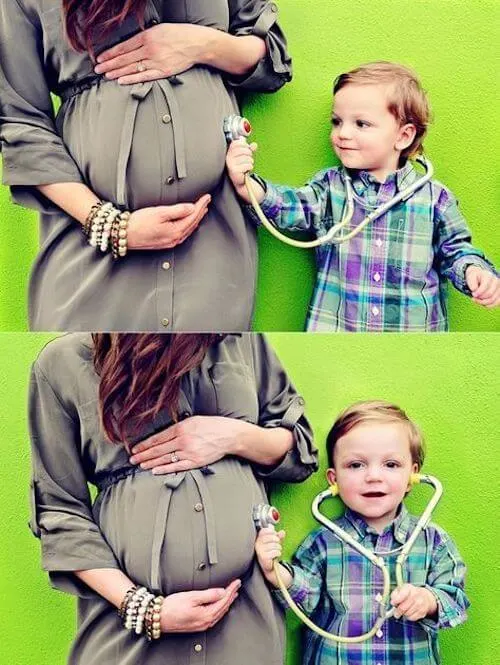 Pregnant Woman Wearing A Stunning White Lace Dress
Simple Pose In Blush Outfits
A Pop of Color
What To Wear To Your Maternity Photos?
Choosing the right outfit for the shoot is the key to getting a great maternity photo. Here are a few suggestions:
First, consider the season and temperature at the time of the shooting. Especially for outdoor shooting, don't ignore the safety of the environment because of the pursuit of looking good.
Never wear clothes that make you feel too cold or too hot or clothes that are too tight. This will not only affect the shooting effect but also be detrimental to your safety.
Second, choose the expectant mothers' outfits first. Women's clothing has more options than men's or children's outfits. Therefore, choosing your own outfit first can make the process of choosing your photo outfit easier.
For the other family members' photoshoot outfits, you just need to choose outfits that match the style and color of your outfit. And, it's guaranteed to at least make you happy when you see the final photo yourself!
Finally, prepare a few more sets of clothing, which can facilitate your clothing matching and on-the-spot play.
Talk to your photographer and hear their opinions on clothing choices. This will make the process of taking photos on site much smoother.
Ahead, check our favorite photoshoot outfits for your maternity pics to copy directly.
Cute Family Denim Jackets
This is a very cute outfit option and a fun idea for all seasons and almost any scene.
You can match this denim jacket with a white flowy dress like in this photo. You can also wear it with white or beige trousers. A floral print skirt is also a very cute option.
via Pinterest
Shop Similar Outfits
All White Outfits
All-white family outfits look classy. If your man doesn't have white jeans, it's fine to wear light blue jeans.
On cold fall and winter days, you can change into a white sweater and long dress or skirt, or add a white thick cardigan, or thick coat, and wear white or light brown boots to bring a cozy vibe to your photos.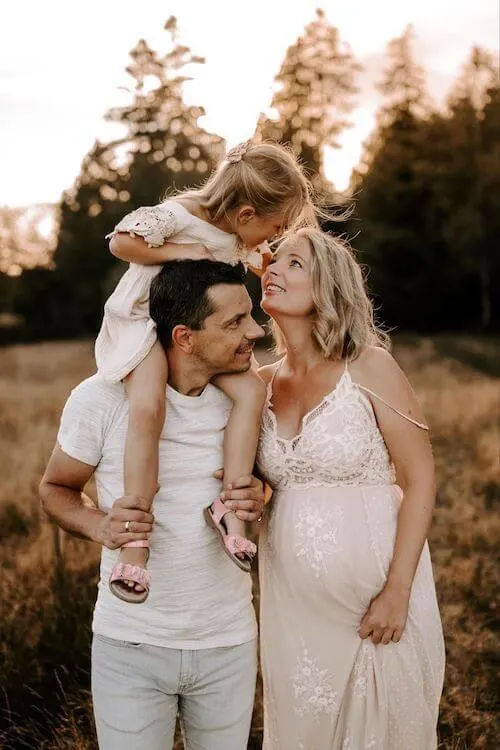 via Pinterest
Shop Similar Outfits
White Shirts And Jeans
Modern maternity photos are quite popular right now, and the combo of a white shirt and a pair of jeans is one of the most popular ideas.
You don't have to buy maternity-specific jeans and white shirts. Wear your regular jeans and unbutton them to show your belly.
And you just need to wear a common white button-up shirt and unbutton a few buttons to create a sexy and cute look.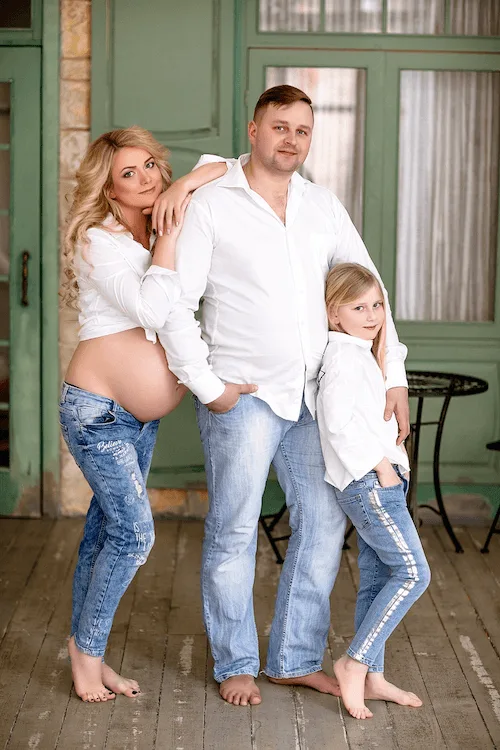 via Pinterest
Shop Similar Outfits
Flowy Maxi Dress
Long, flowing dresses are one of the most popular outfits for maternity photos.
You need to choose your favorite color according to your shooting scene and your preferences. Orange, yellow, red, pink, white, blue, and green are all great choices.
White is a very suitable color for all seasons. Then in fall and winter, you can choose warm tones of orange, yellow, and red. In spring and summer, it is very good to choose blue, yellow and green.
In addition, the fabric of the dress needs to be relatively thin, and the dress should not be too loose, which can help show the beautiful lines of your pregnant belly.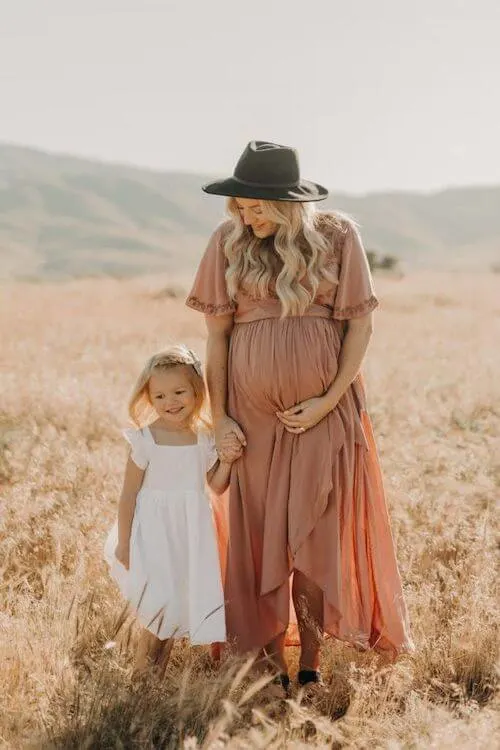 Shop Similar Outfits
Cute Holiday Vibe Pajamas
If you're taking photos indoors, wearing cute pajamas is a great way for taking holiday maternity photoshoots. You can choose matching family pajamas, which are easy and very photogenic.
In the holiday season, you can also choose holiday vibe pajamas to add more bright and happy colors to your photos and share more joy with your family and friends.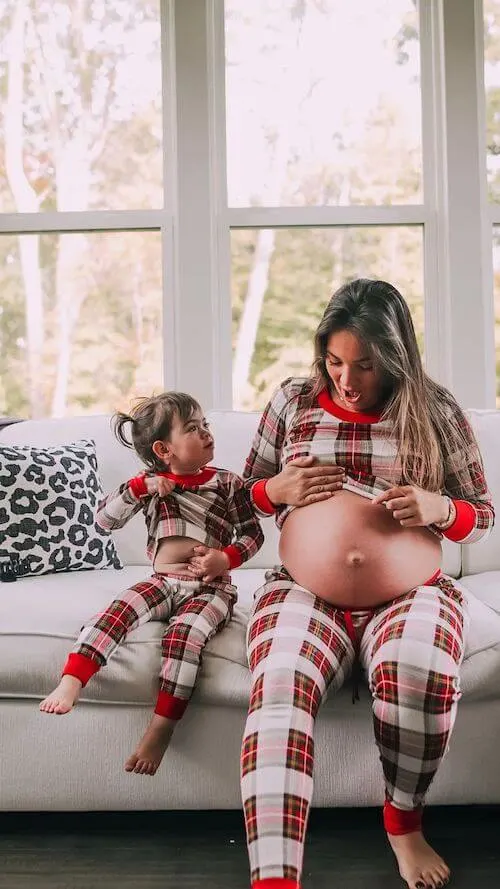 via Pinterest
Shop Similar Outfits
This post was all about maternity photoshoot with siblings.
About The Author
Tracy is an experienced personal stylist, shopping expert, and fashion & lifestyle blogger. She has been featured on Time Magazine, Bustle, Best Life, Glam, The Zoe Report, Mic, and GOBankingRates, for her insights on fashion, beauty, home decor, and lifestyle. Read More
Related Posts: