Looking for winter pregnancy photoshoot ideas? Check this post for 50+ creative photoshoot ideas and the best tips for cute stunning maternity photos in winter!
Pregnancy is such a wonderful moment in every woman's life.
Are maternity photo shoots worth it? Yes! Because pregnancy takes a long time, there will be a lot of expectations during the process. Every pregnant woman wants to capture this special moment and record the important things in this exciting journey. This is why pregnancy photography has become so popular now. It not only captures the beautiful and round abdomen of a woman, but also the love and emotion that accompanied her in the last months of pregnancy.
Photographing itself has no adverse effect on the fetus. Just don't make pregnant women too tired, or play with some pressure on the abdomen or difficult dangerous actions. On the contrary, taking pictures can increase people's joy of life and enhance the pregnancy experience of expectant parents.
Taking pregnancy photos in winter may be more difficult and more precautions than taking photos in other seasons. But the unique romantic and cozy feelings in the pregnancy photos in this time of year are still very attractive.
So, how to take the best pregnancy photos in winter?
In this post, we are sharing the best tips for taking winter pregnancy photos, how to find the perfect place at this time of the year, and the best winter pregnancy photo ideas and great examples to copy directly.
This post may contain affiliate links, which means I'll receive a commission if you purchase through my link, at no extra cost to you. Please read the full disclosure here.
This post is all about winter pregnancy photoshoot ideas.
Best Winter Maternity Photoshoot Tips
1. When should you do a pregnancy photoshoot?
Pregnant women's photos are different from ordinary life photos. They change in each period, and their physical strength and belly size are also different in each period. Therefore, it is very important to choose the right time to take pictures of pregnant women.
Usually, the best time to take pictures of pregnant women is between 28 and 32 weeks of pregnancy. At this time, the belly has a certain size, and mothers-to-be are relatively relaxed at this time and have more physical energy.
Moreover, the maternal love expressed by pregnant women during this time period is more obvious, and the whole person will be filled with the brilliance of maternal love, so the effect of shooting will be very good.
Although taking your pregnancy pictures in the third trimester is the best idea, no more than 36 weeks at the latest. Because this time is about to give birth, the risk of taking pictures will be higher.
2. Choose the right maternity photographer
Be sure to choose a more professional pregnancy photography agency to shoot, so that the professionalism will be stronger, and the photographer will have more experience in communicating with pregnant women. Do your research, look at potential photographers' previous work and hire someone with experience.
And the professional photographer may also have a lot of special maternity clothing to choose from, the clothing is also clean, and the clothing will be disinfected regularly.
Or you can take pregnancy pictures at home by yourself or your family members. This is an easy way to save you a lot of money and you can be more relaxed to choose the right time to take the pictures.
3. Communicate with the photographer in advance
After choosing the photographer you like, you need to further communicate with the photographer and communicate the style, location, props, etc. you want for the maternity photo session. This way your photographer can prepare in advance.
Once in contact with a photographer, show them all ideas you have in mind, so they can know all your expectations and you can better confirm that they are able to meet your requests.
4. Schedule your winter maternity shoot as early as possible
Your favorite photographer may have many maternity clients at the same time, so you need to make an appointment with them in advance to avoid conflict with the pregnant woman's own best time and miss the best time for shooting.
5. Choose the right outfits
Due to the special reasons of the pregnant woman's body shape, it is recommended to wear an adjustable high-waist skirt or pants to avoid squeezing the baby in the pregnancy photo shoot.
Clothes can greatly increase the confidence of the subject. However, there is no clothing suitable for all women. Some women prefer tight dresses, while others prefer loose pants and shirts.
These differences will be more prominent in the process of shooting pregnant women with female bodies. If the person being photographed finds her clothes uncomfortable or unattractive, then she may not like her body.
Therefore, you should wear clothes that you feel the best, even if that means wearing sweatpants and loose-fitting shirts. The feelings of pregnant women are more important. You can listen to the opinions of the photographer, but it doesn't mean you have to give up your own ideas.
Some photographers prefer tight-fitting maternity clothes because they can show the curves of the body more clearly, but in fact, any clothes can take great photos. The best way is to make yourself comfortable.
It is not recommended for expectant mothers to choose too fancy clothes for taking pictures, because everyone hopes that these photos will still be beautiful after 10 or 20 years, and clothes with personality are often easily eliminated by time. Wear dark, red, green or neutral clothes. It is less prone to becoming obsolete.
If you want to expose your abdomen and take photos, you'd better wear a mini tank top or sports underwear on your upper body, or simply find a big daddy's shirt, only tie the top two buttons, and the rest is naturally placed behind you; the lower body is fine to wear pre-pregnancy trousers, it will look neater, and at the same time will not kill the original curve of the buttocks.
Choose a good bra, so that the breast shape will be very beautiful.
Pregnant women are generally fatter, especially the arms and thighs, so you can consciously cover them when choosing clothes to highlight the parts you are more satisfied with.
In addition, clothing for the maternity photo shoot must be clean, and it is recommended not to use accessories and clothing that contain more peculiar smells.
When wearing clothes that expose your belly, you should wear low-rise underwear for the convenience of taking pictures.
6. Pay attention to hairstyle to get the perfect look
If you are shooting maternity pictures outdoors, the cold winter wind may mess up your well-groomed hairstyle.
To make the perfect shot, one great idea is to use hairspray to better fix your hairstyle. Hair accessories, hats, etc. can also help make your hairstyle look more refined.
7. Bring some cushions or blankets
The outdoor ground may be too cold or a bit dirty. Whether you are sitting to take the pictures or want to take a break, cushions, and blankets can make you more comfortable.
8. Pay attention to rest and nutrition.
In view of the physical condition of the mother-to-be, you must take a good rest the day before taking pictures.
In the process of taking pictures, if you feel that your physical strength is overwhelming, you can ask the staff to wait a while before taking pictures.
Generally, the time for taking pictures is not too short, and the same is true for taking pictures of pregnant women. At this time, expectant mothers can prepare some favorite snacks, such as milk, fruits, etc., to add energy during the intermission.
Don't drink too much water the night before the shot, so as to avoid swollen eye bags and affect the shooting effect.
It is best to have family members to accompany you during the shooting to help you relax the mood.
9. Select the right locations
Where is the best place to take pictures of pregnant women? There are lots of options. Three different locations seem to be the most popular: home, a photo studio, and outdoors. Keep an eye on some fields, parks or orchards, and add some magical sun as the gorgeous backlight.
In addition to outdoor locations and taking the advantage of the stunning landscape, don't forget that you can also take good professional photos at home.
Finding the right scene at home is actually very simple.
The bedroom, the study room, the balcony, the bathroom, the kitchen, all the small corners of your life, are not all your unforgettable memories during pregnancy? They are also the best places!
Twenty years later, maybe you have moved and then look at the traces of life left behind. This is an experience that the studio shooting can't give you.
It is also recommended to preset a small plot and capture it in life interaction to have more details and realism.
In addition, when shooting, safety is the first priority.
For example, if you are shooting in the bathroom, you must prevent slips and falls.
Secondly, you can prepare suitable lighting in advance, and good lighting cannot be defeated in the photo editing stage.
10. Use golden hours
Taking pictures in the golden hours is a good idea to have beautiful photos. The beautiful light and atmosphere during the golden hours are not only suitable for photography. They can also enhance mood and help you to relax and enjoy the photo.
In such a lovely environment, both pregnant women and photographers are more likely to feel at ease and believe that you can get gorgeous images.
However, don't stick to these periods. Pregnant women must choose a time period when they have a good mood and energy level. After all, having a good-feeling subject is more valuable than having golden light.
The photographer can adjust the lighting at any time; adjusting the mood or energy level of the subject is more difficult.
11. Prepare props in advance
Using props is a great way to relax the person being photographed. These props can be a good conversation starter.
Unlike other types of photoshoots, the props in maternity photos are best provided by women/couples. They should be personalized and connect with the upcoming child.
Some popular prop ideas include baby shoes, books, jumpsuits, plush toys, ultrasound pictures or things that spell baby names, such as printed letters.
It is recommended to communicate with the photographer in advance for prop issues. Because some props may not suit the photography style of some photographers, you can exchange opinions with the photographer or choose other photographers that are more suitable.
12. Pay attention to the background of the pregnancy pictures
The most important thing is a clean background or white background for the maternity portraits.
When choosing a shooting location, be sure to think about what is behind you, and avoid standing in front of a messy bedroom or a messy dining table.
The better way is to stand on the side with good lighting and clean walls. In this clean background, the protagonist of the picture can be better reflected, it is you.
If you choose to shoot outdoors, the background can be flowers, trees, rivers, and creeks, but don't be too complicated to avoid stealing your limelight.
At the same time, pay attention to avoid the interference of messy backgrounds such as telephone poles and flag poles.
13. Involve family members
Pregnancy and childbirth are events that affect the entire family. Therefore, it makes sense to include other people in maternity photography. Like other children in the family, a partner is the most obvious choice, and a pet can also be fun.
Let dad get involved. Let him touch your belly and try to capture this sweet moment. Adding the father to the photos makes the relationship more intimate and will make these photos look vivid, happy, and real.
If the couple has other children, try to include them in the photo. Most brothers and sisters are very excited about the new baby who is about to join the family, so please include this emotion and love in the session as much as possible. These big brother announcement family photos would be super stunning.
If your best friend or sister is also pregnant, you can combine the two pregnant women's photos into one to obtain a personal photo and a paired photo. As long as the person being photographed likes their company and allows them to be seen everywhere so that more people can participate, the photos taken can be interesting and memorable.
14. Try more creativity
Under the condition of ensuring safety, you can try more postures and choose creative ones!
Or, you can choose different angles of the same pose together with your photographer to achieve the best results.
Use the shooting angle skillfully to make the face look thin. Pregnant moms can communicate with the photographer more and choose some high-angle perspectives to look a little thinner on the face.
In addition, if it is a photo showing your belly, you can also suggest drawing some cute patterns on your belly, such as favorite words, cartoon patterns, or simply let the child's father print palms on it.
Drawing patterns on the belly occasionally has no effect on the baby. Cosmetics themselves cannot penetrate multiple layers of skin to reach the bottom of the skin; so far I have not heard a case of a pregnant woman having a bad effect on her baby because of painting on her belly.
But it should be noted that pregnant women are different from ordinary people, and should try to choose a formal professional photography agency when shooting.
Pregnant women shooting belongs to a new industry. Many photography agencies have no or very little experience and cannot serve pregnant women well. Therefore, it is necessary to choose a good shooting agency in the early stage.
15. Don't forget the holiday elements
We have beautiful Christmas and New Year celebrations in winter, so don't forget to add these holiday elements to your winter photoshoot to make the whole photo warm and sweet.
Lovely holiday elements can also enrich the content of the photo, making your figure and face look more charming.
16. Keep warm
In order to shoot fashion and big belly, expectant mothers may need to wear revealing clothes. If this is the case, mothers-to-be must pay attention to keep warm, and do not catch a cold because of taking pictures. This is not worth the gain.
Bring more warm long sleeves clothes, scarves, hats, gloves, etc. when you go out. You can put on warm clothes when you are resting or changing venues.
Also, wear non-slip shoes. If there is rain and snow in winter, although the shooting is very beautiful and romantic, the roads are often slippery. Pregnant women need to prepare non-slip shoes to avoid falling.
17. Don't make yourself too tired
Taking photos is really a physical task, and you need to pose in various poses, which can be very tiring.
But in any case, expectant mothers must do what they can, don't shoot for a long time, and don't let yourself be too tired.
18. Keep relaxed
The mother-to-be taking pictures must take a happy and enjoyable attitude to shoot, which will bring unexpectedly good results to the shooting.
Best Winter Pregnancy Photoshoot Ideas
Relaxed In Front Of The Camera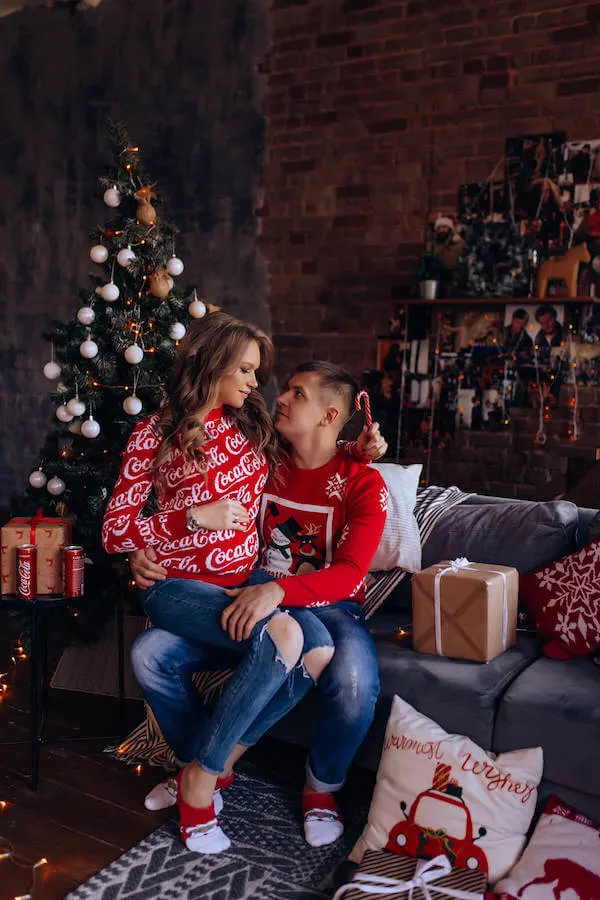 Kiss In Front Of The Christmas Tree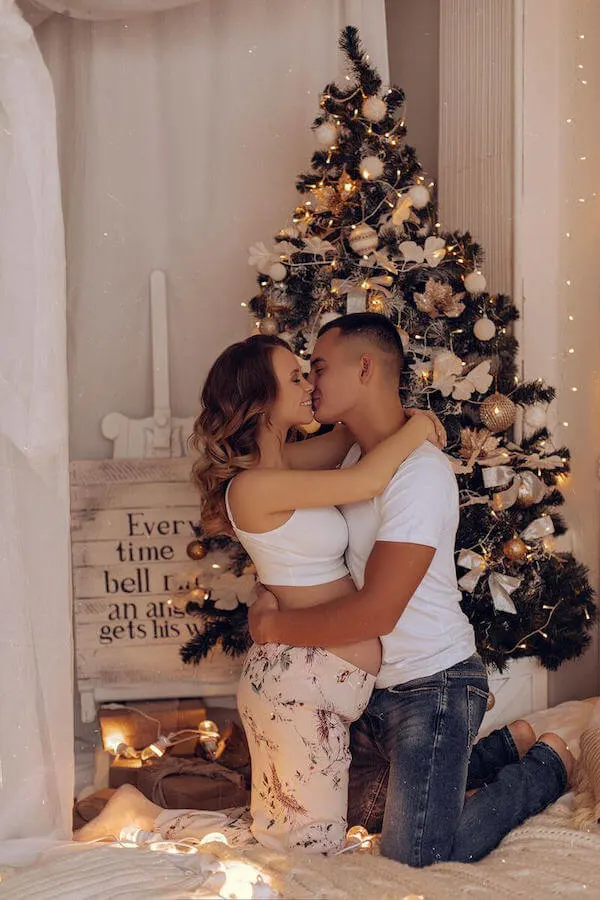 Hold Hands Together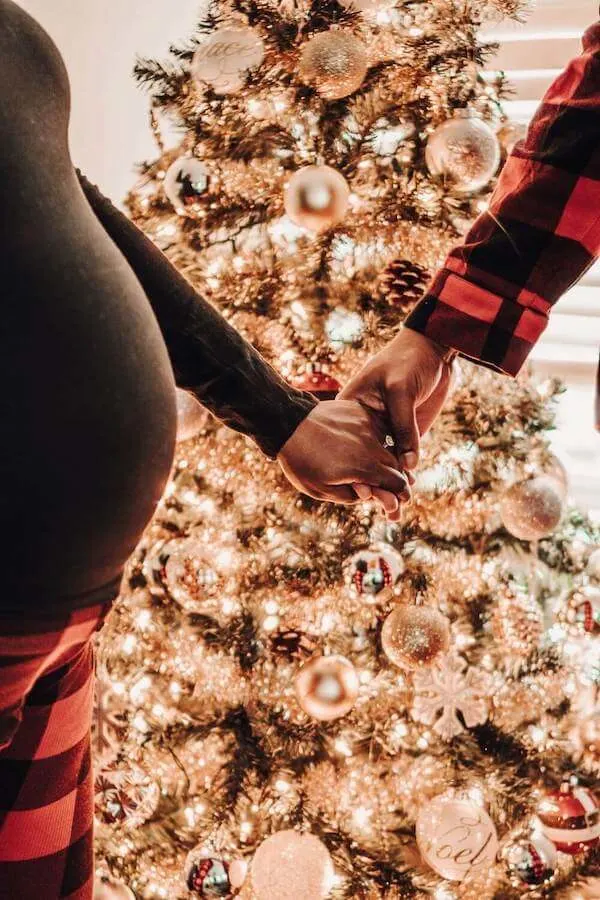 Beautiful Solid Colors
Hug Your Baby Bump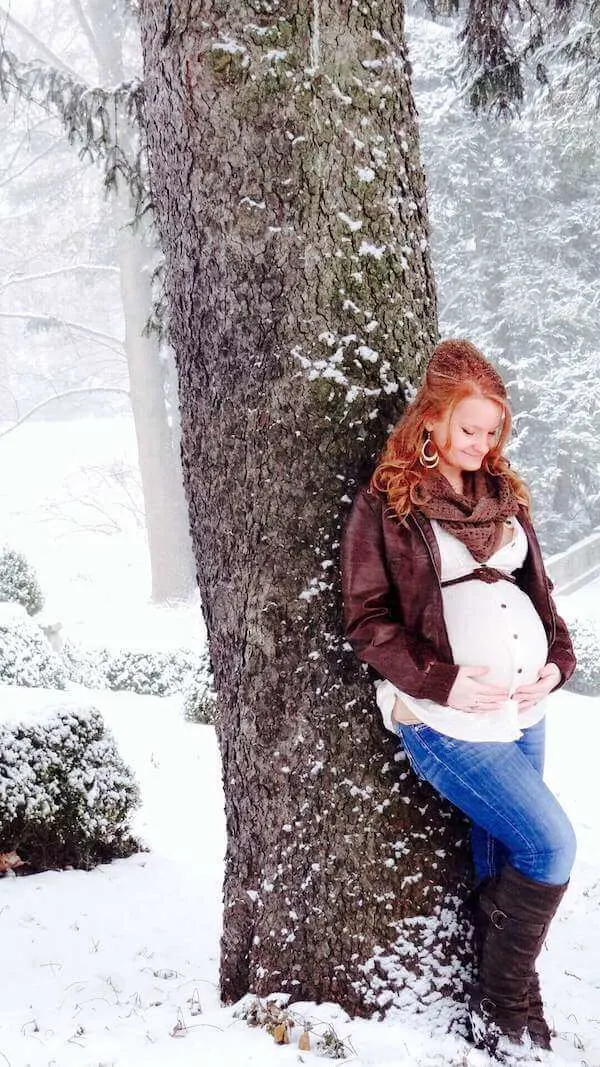 Cozy And Romantic Outdoor Session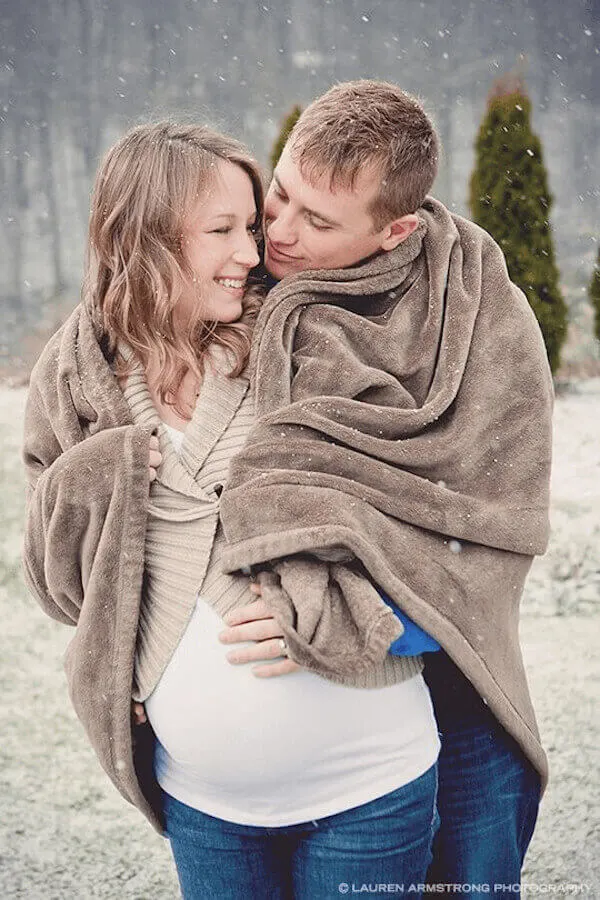 Neutral Colors With A Pair Of Baby Shoes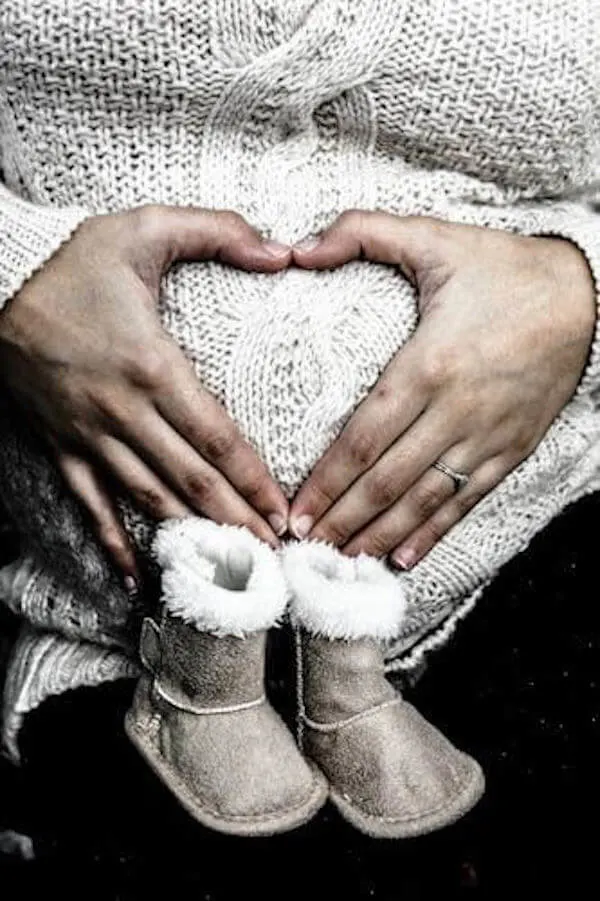 Magical Memories In The City Parks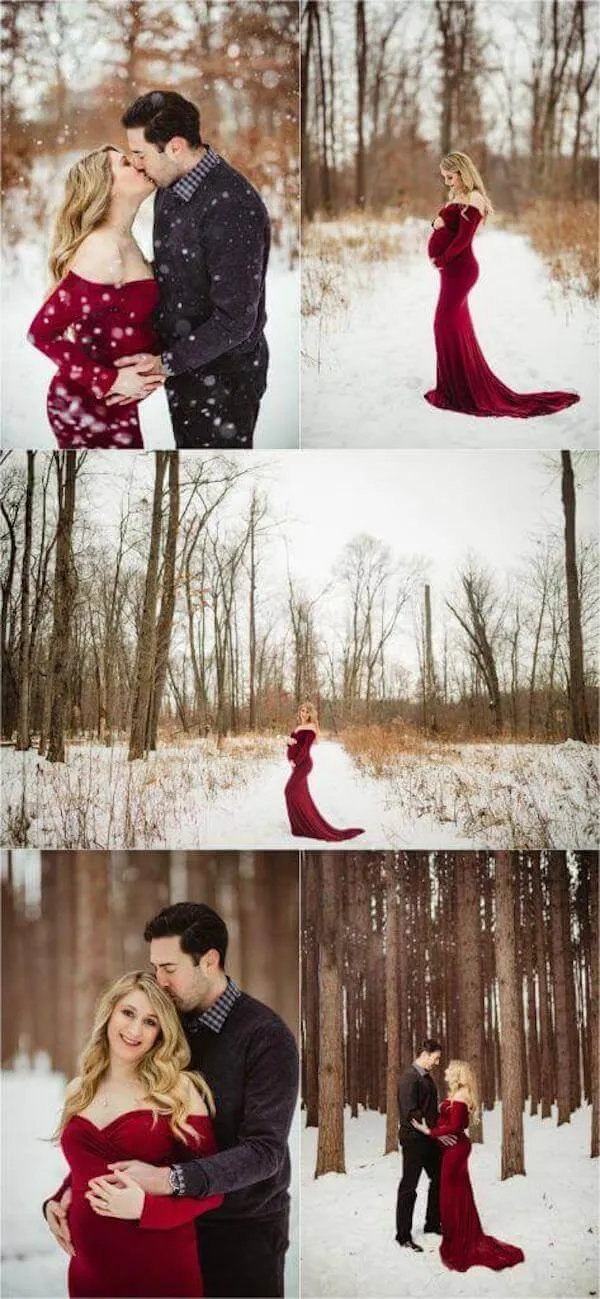 An Amazing Gown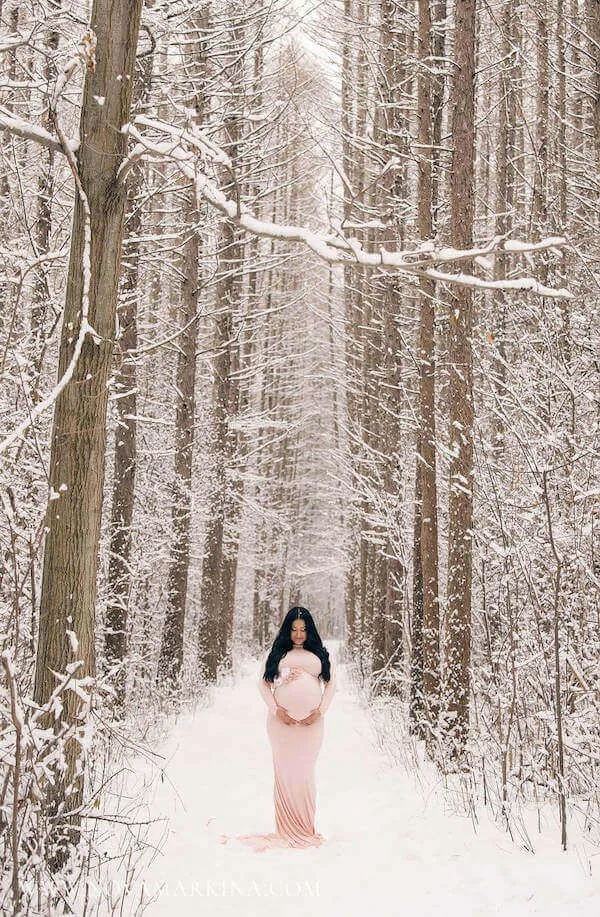 Simple Color Scheme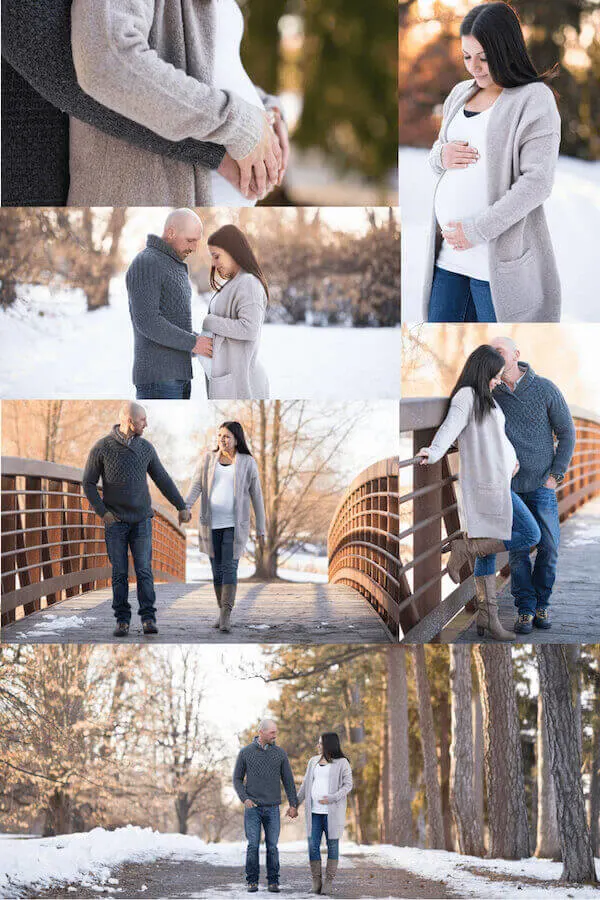 Show The Natural Beauty
Beautiful Dark Color Scheme
A Pop Of Color
Expectant Mothers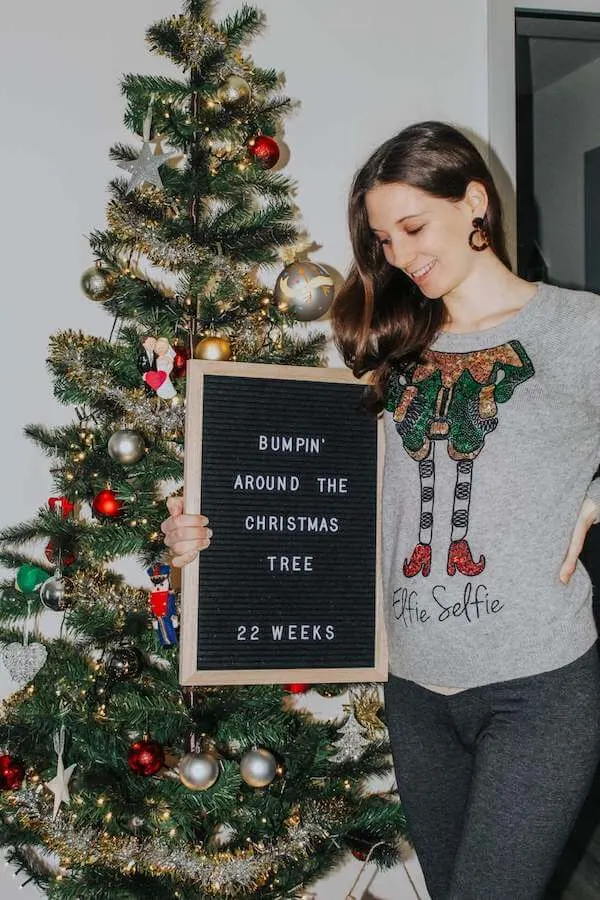 Show The Due Date!
Hug The Pregnant Body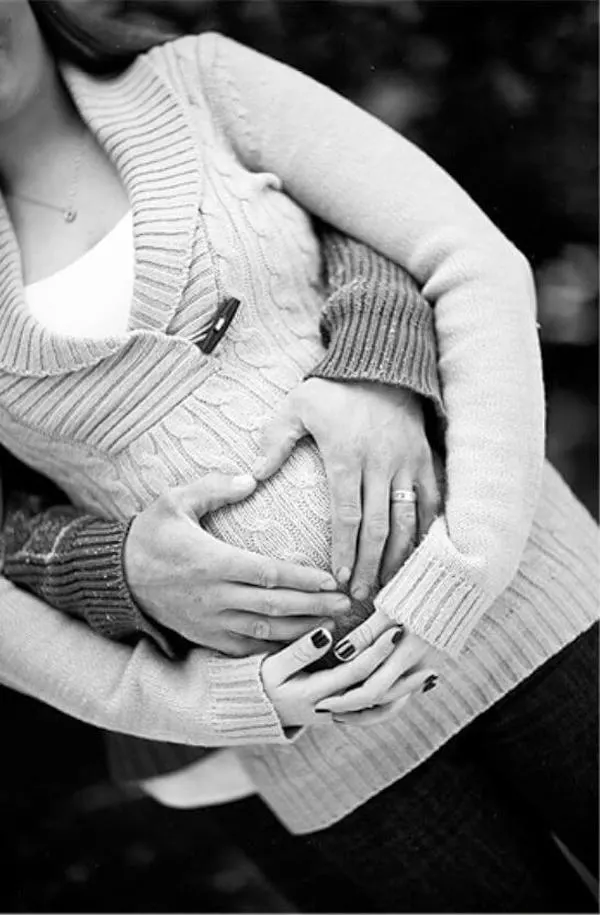 A Cute Photo Of The Whole Family
An Expectant Mom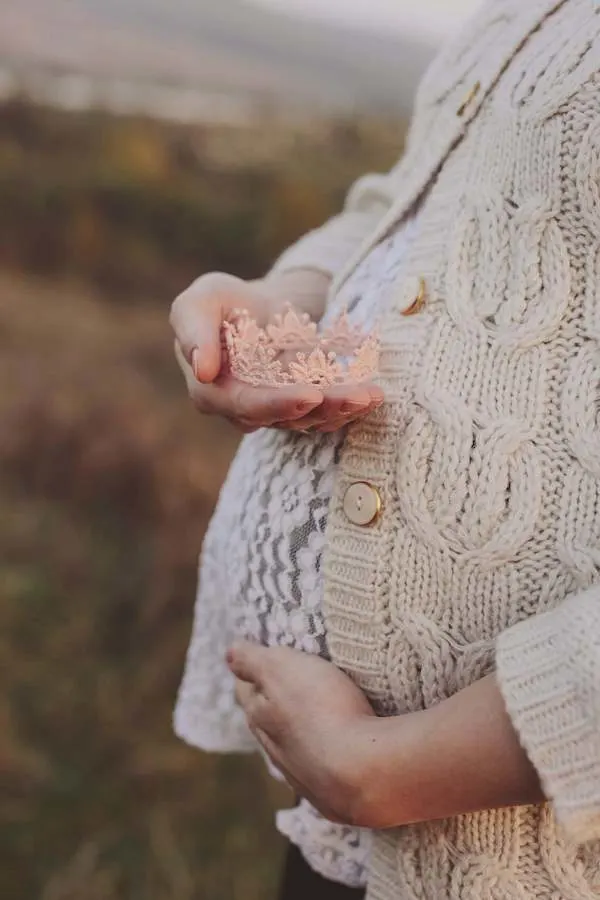 Show The Beautiful Belly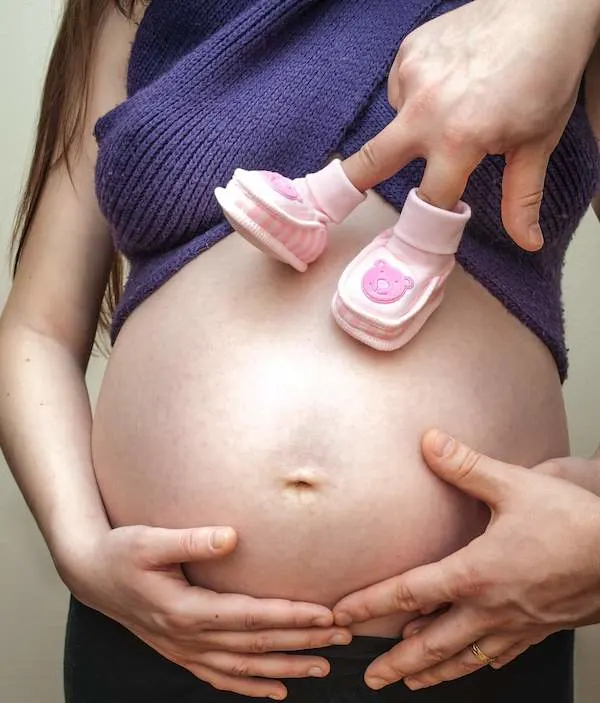 A Casual And Happy Maternity Pose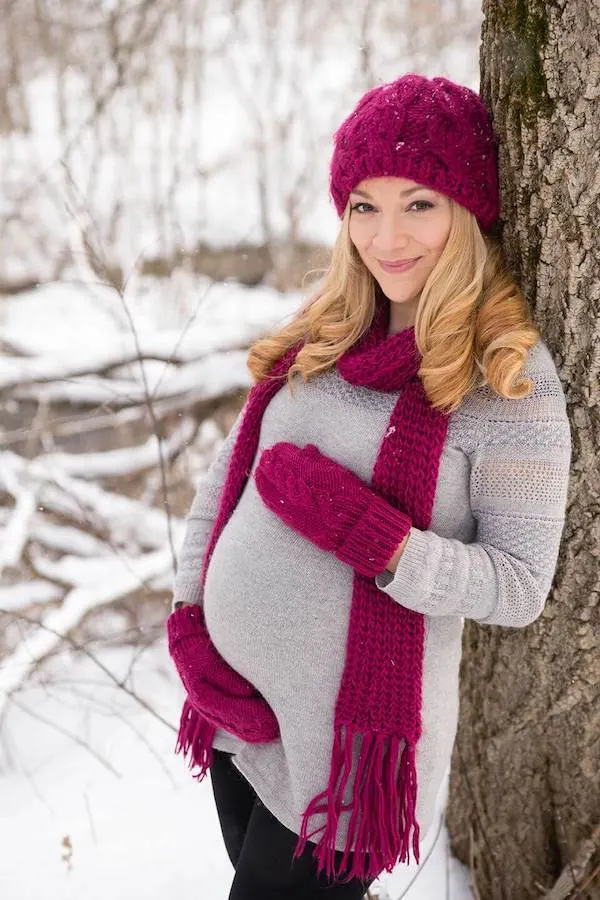 Try Different Poses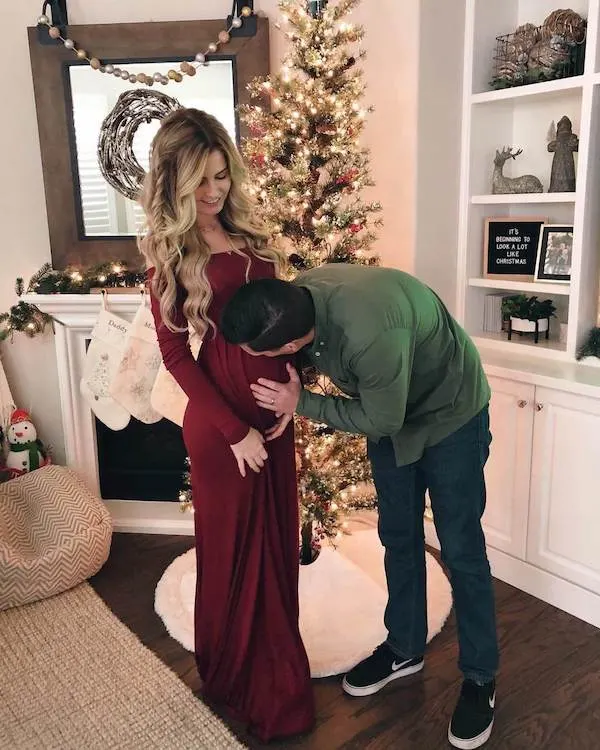 A Beautiful Green Dress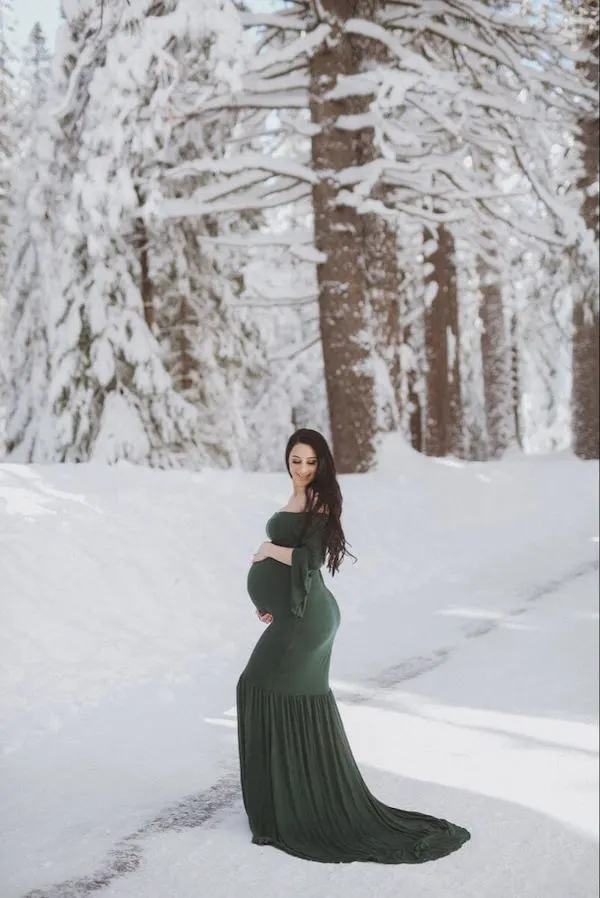 Cute Pregnancy Announcement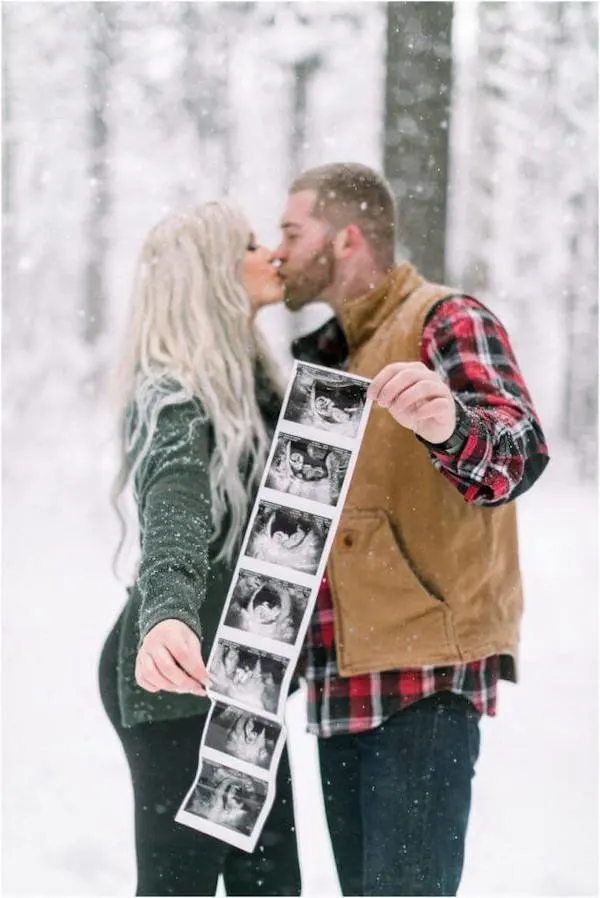 Kiss The Beautiful Bump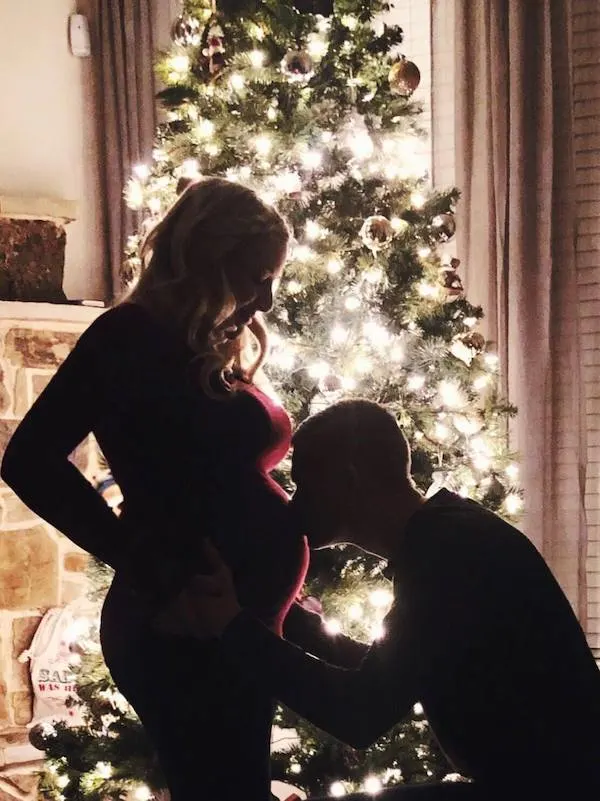 Cozy Maternity Dresses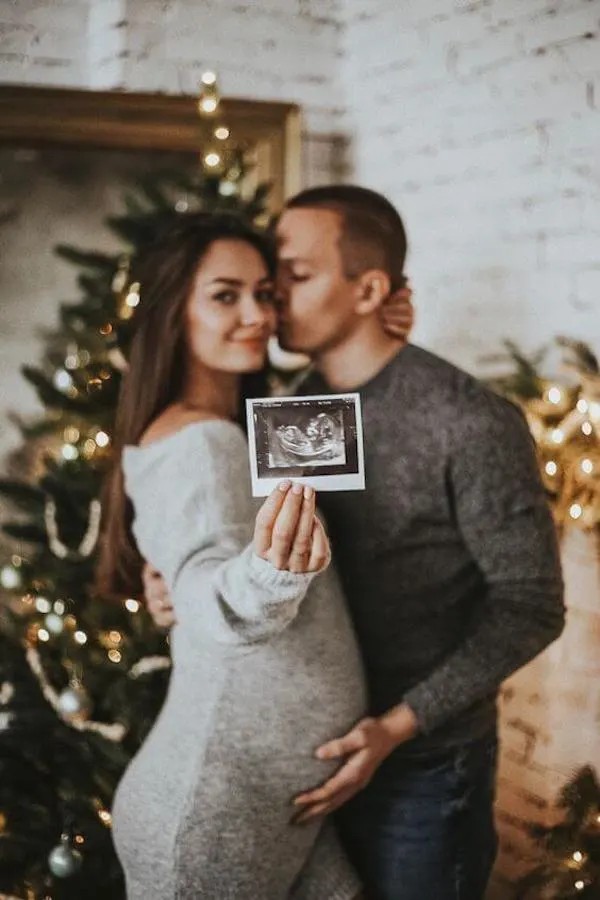 Romantic Simple Pose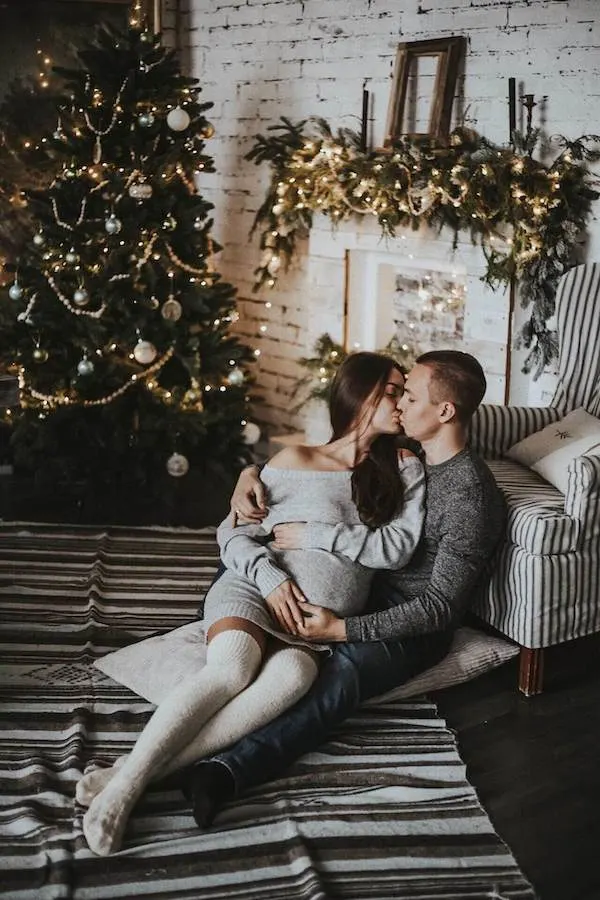 Cute Maternity Photos
First Trimester Photoshoot Idea
Winter Maternity Session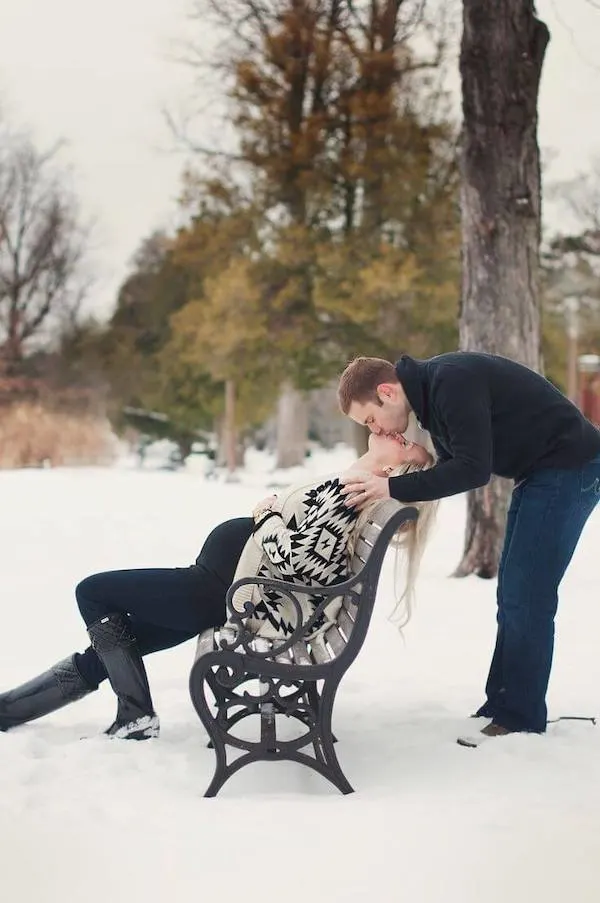 Record The Special Moment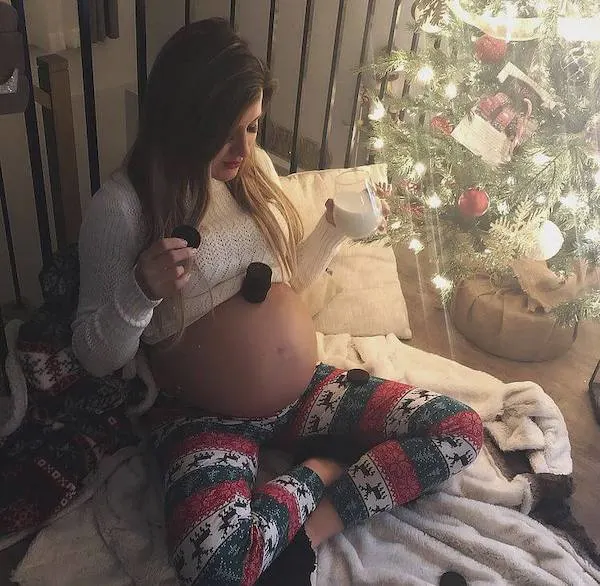 Share The Good News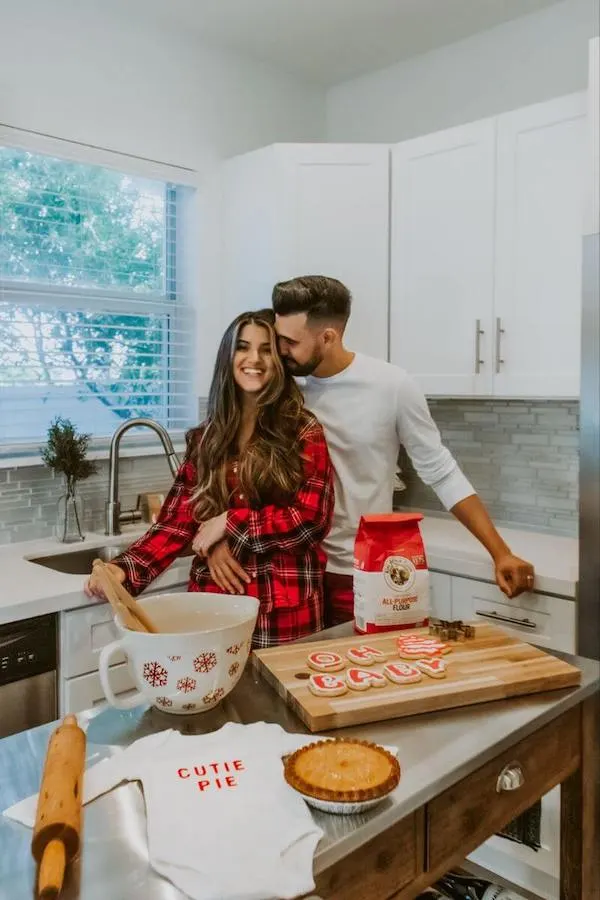 Creative Ideas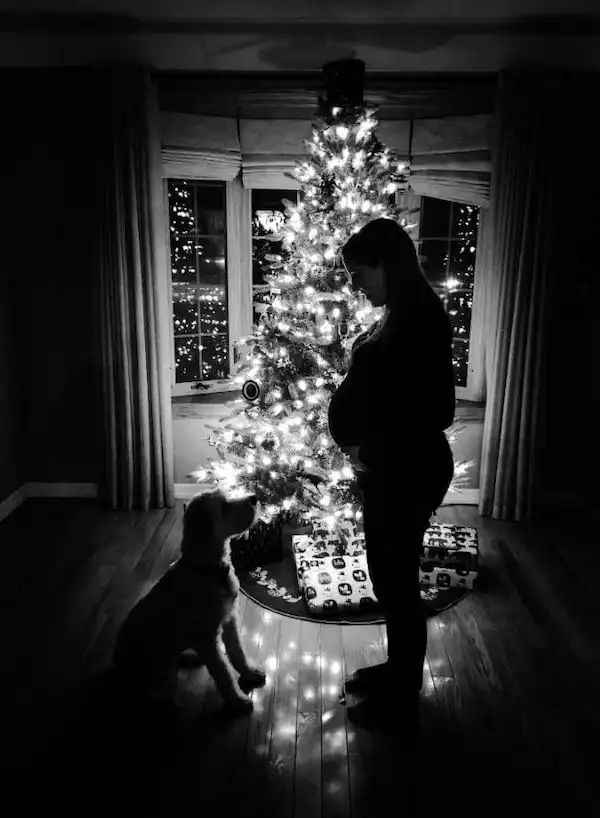 Winter Wonderland
With Your First Baby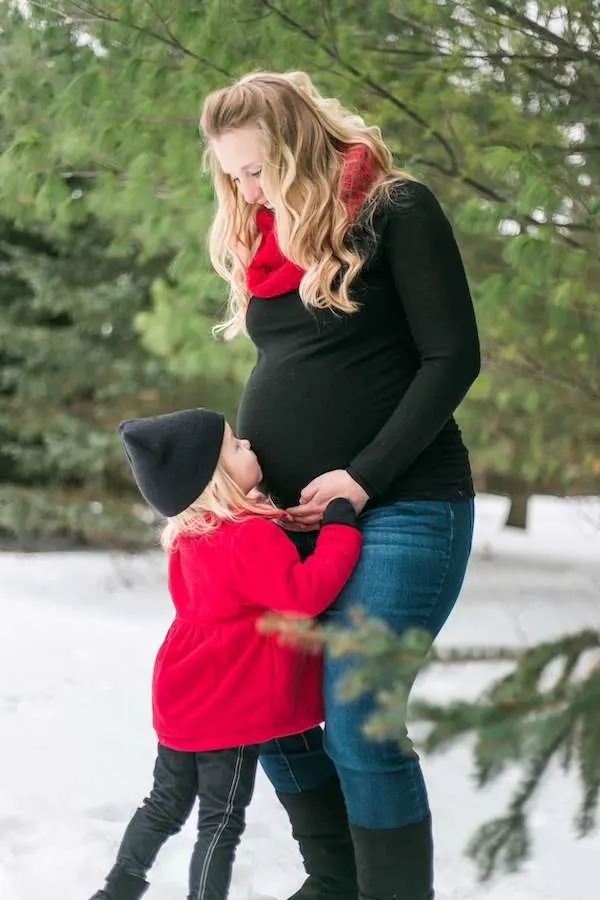 With Your Dog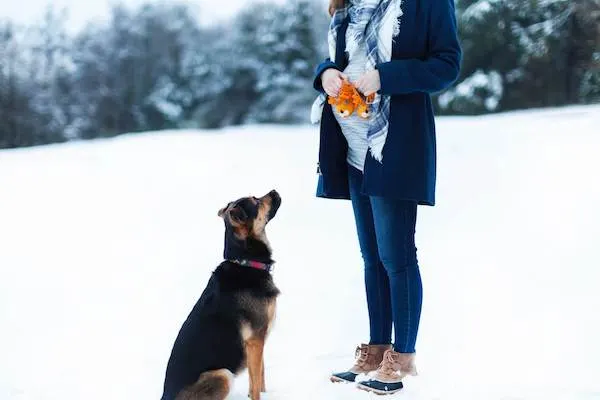 The Golden Hour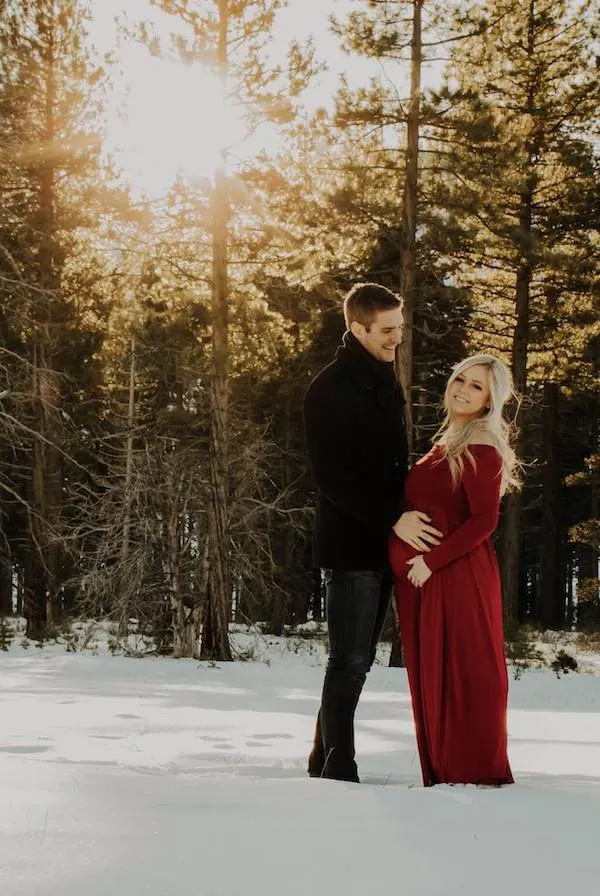 Stunning Maxi Dress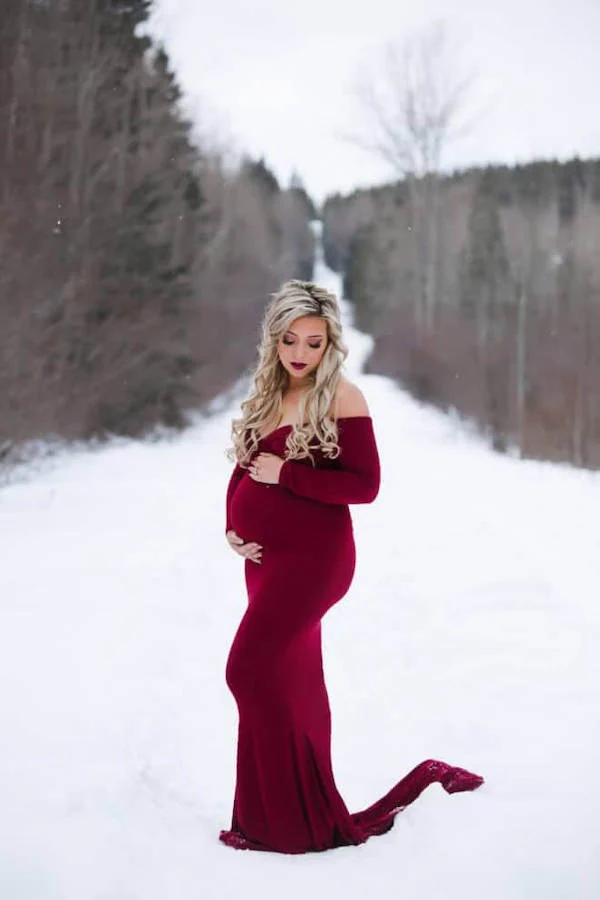 Same Color Scheme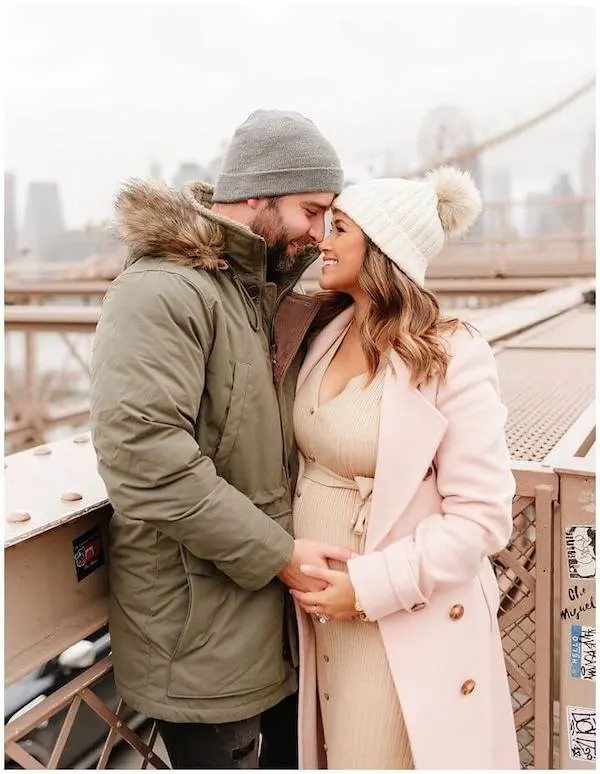 Cozy At Home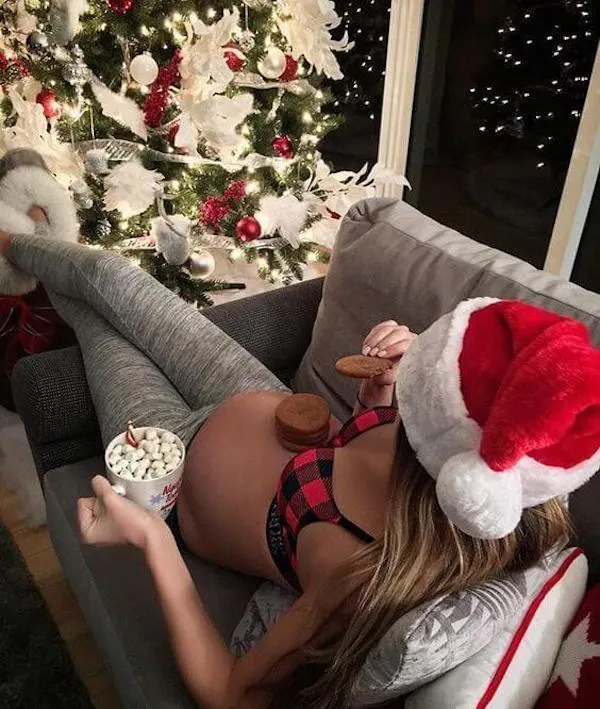 In The Local Park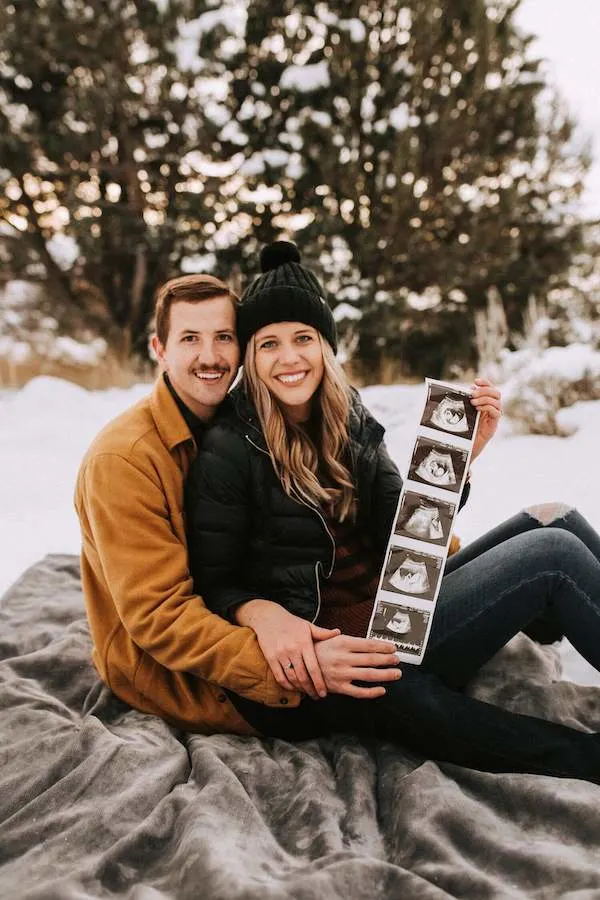 Beautiful Red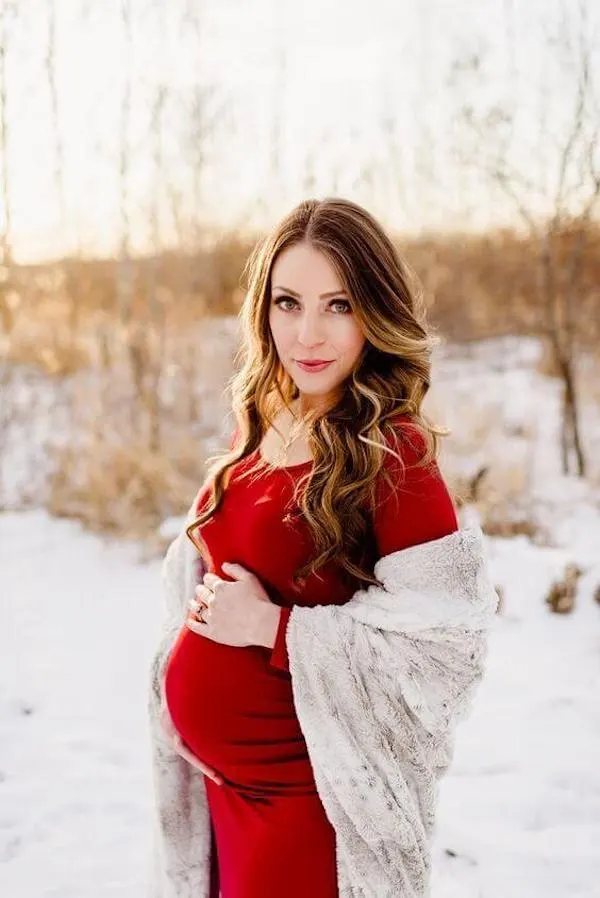 Simple And Creative Ideas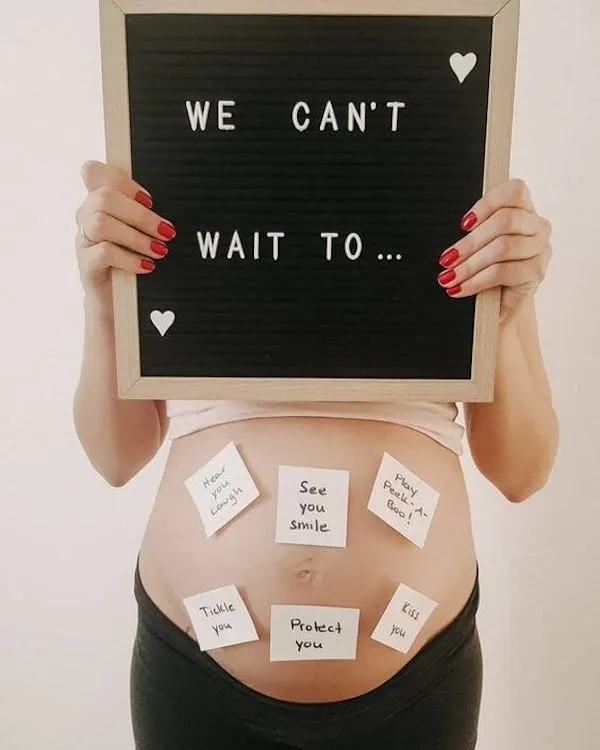 Elegant Maternity Photo Ideas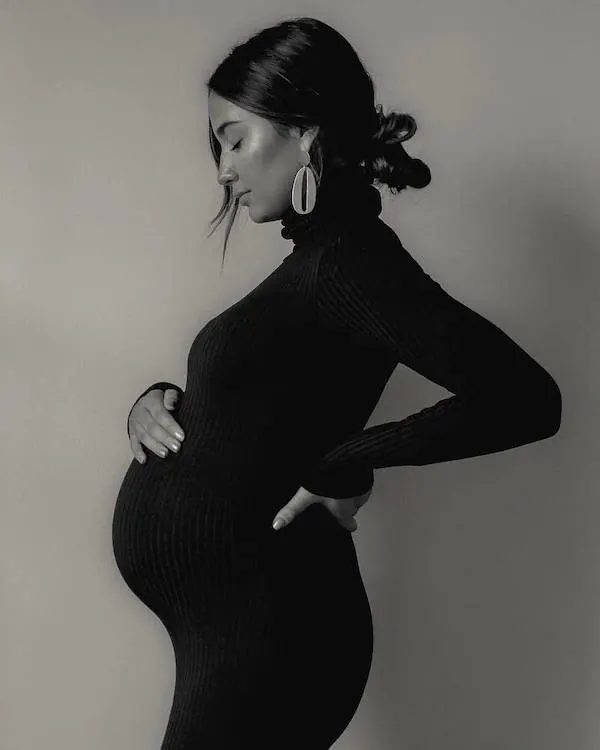 Simple Winter Maternity Photoshoot Ideas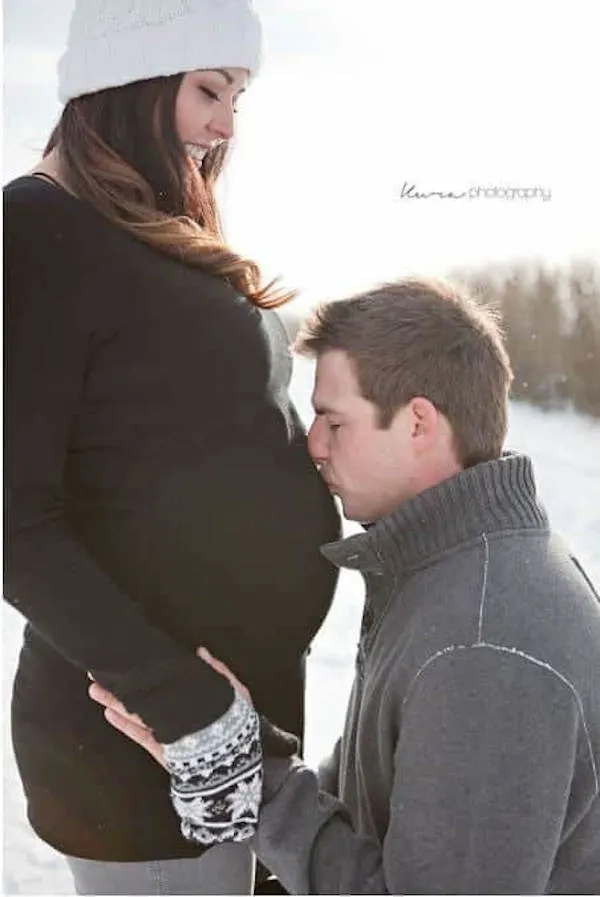 This Special Time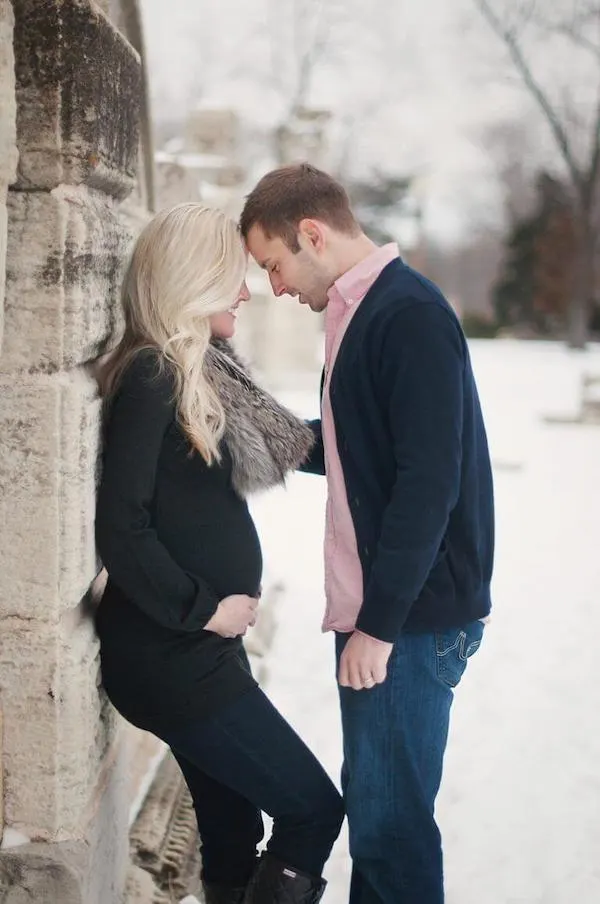 Magical Moment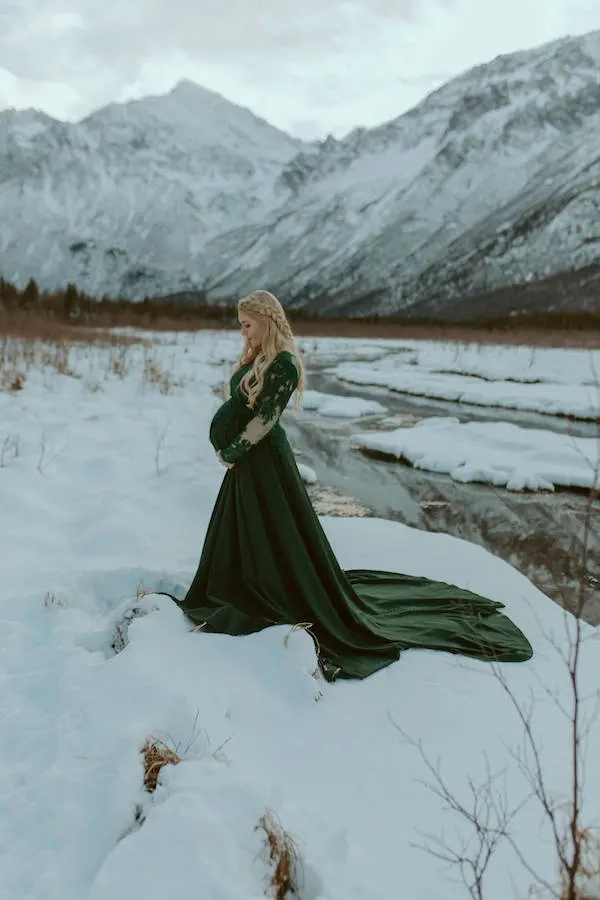 Garland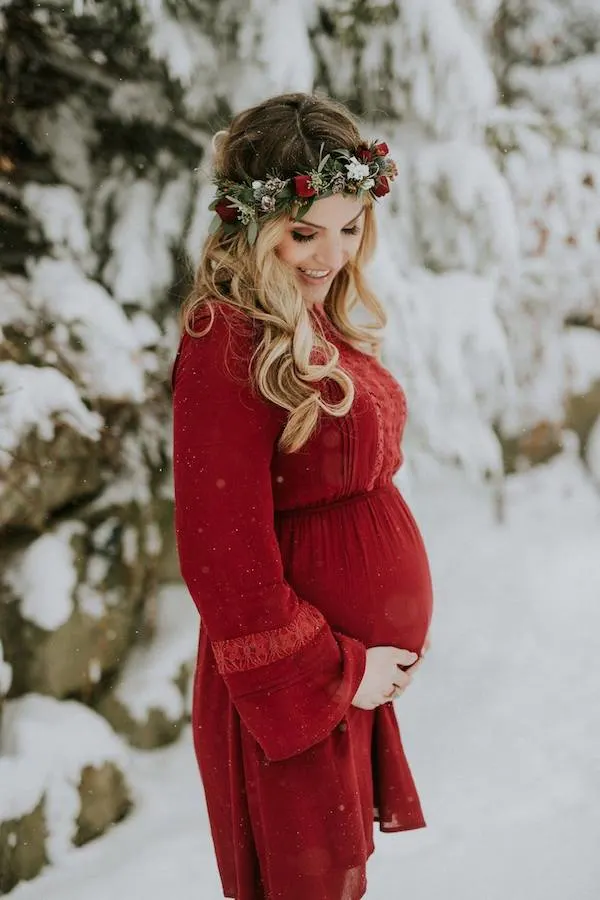 Snowy Winter Maternity Photos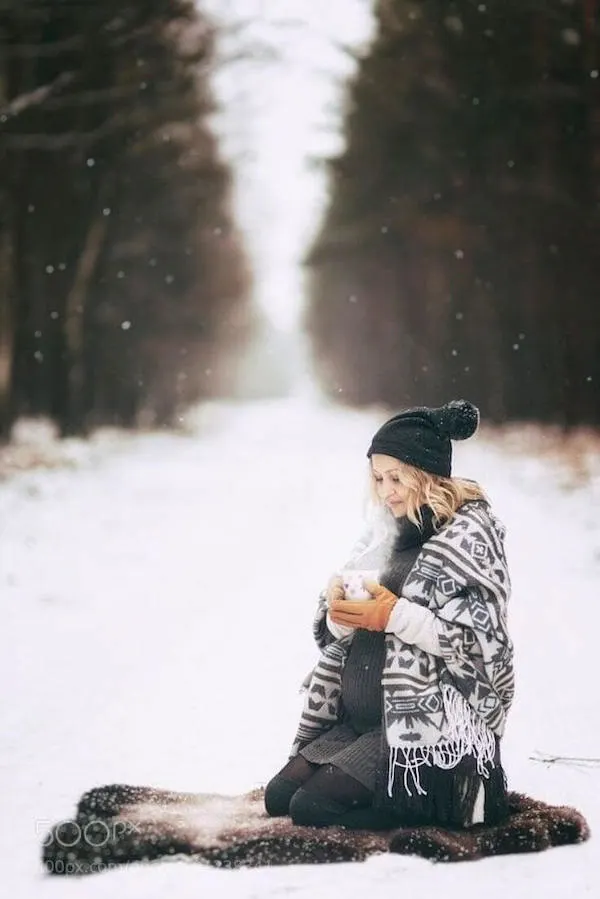 Sexy Winter Maternity Photos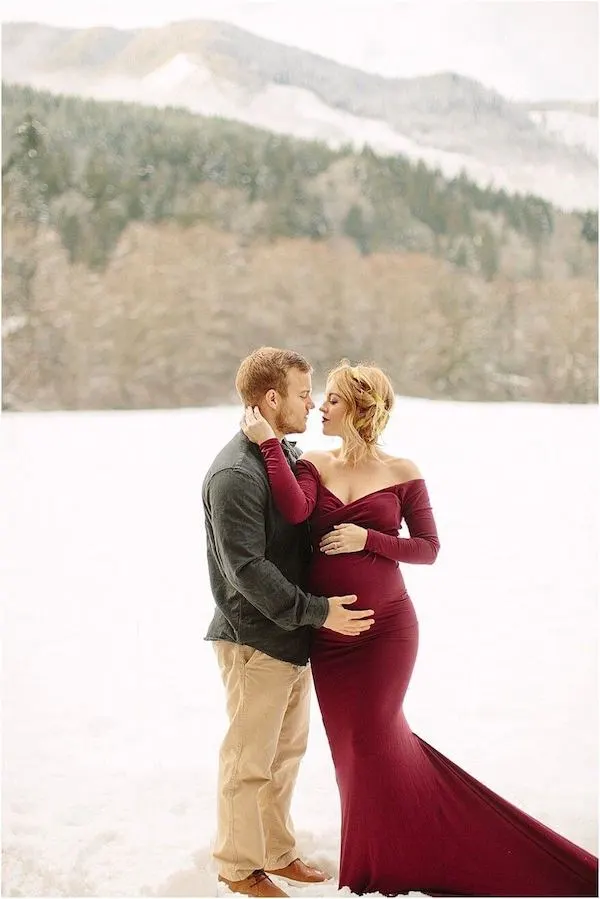 Complimentary Colors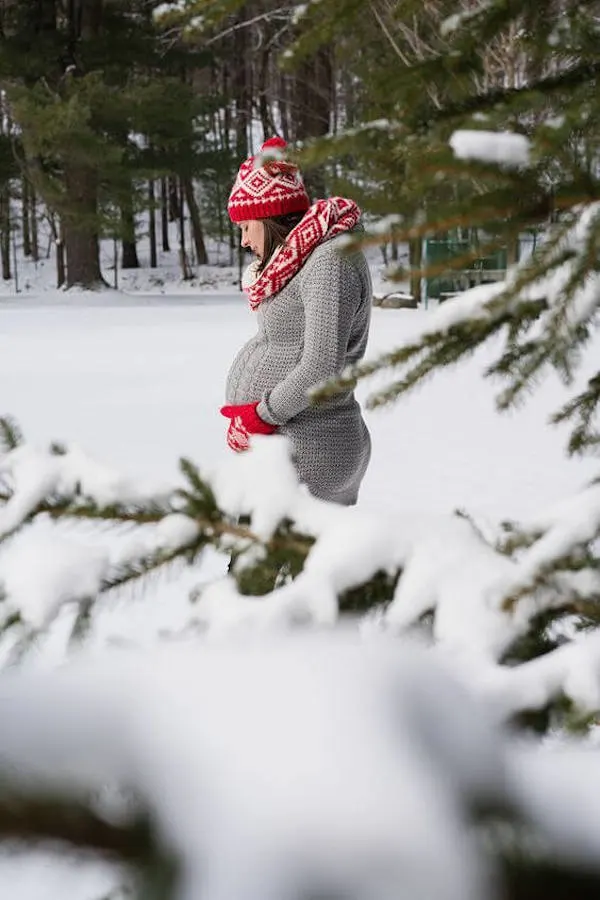 Casual Moments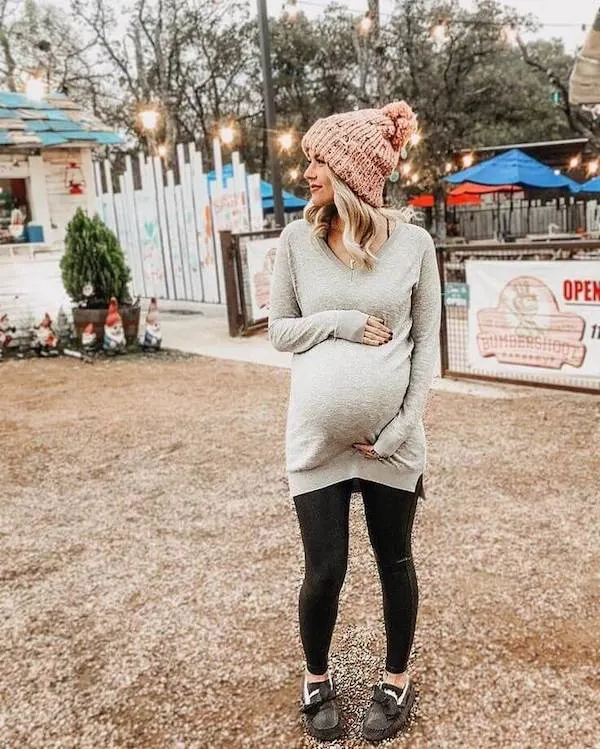 A Perfect Time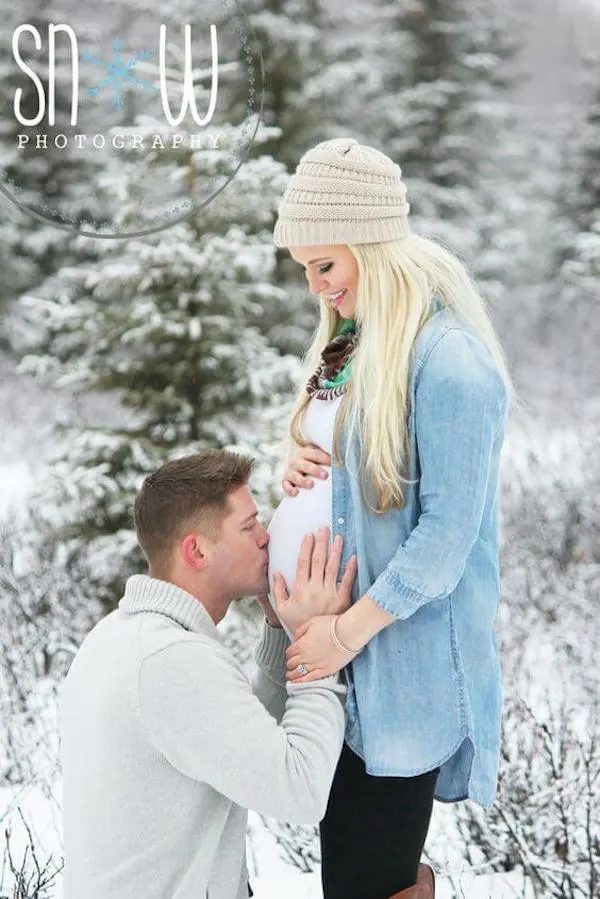 Funny Poses
Cute Family Maternity Photoshoot Ideas

This post was all about winter pregnancy photoshoot ideas.
About The Author
Tracy is an experienced personal stylist, shopping expert, and fashion & lifestyle blogger. She has been featured on Time Magazine, Bustle, Best Life, Glam, The Zoe Report, Mic, and GOBankingRates, for her insights on fashion, beauty, home decor, and lifestyle. Read More
Related Posts: