Looking for cute October photoshoot ideas? Check this post for the 70+ insanely cute and creative fall photoshoot ideas for your next shot in this beautiful month!
October is definitely a best time to take pictures to share with family members, friends, and share on your Instagram account. In the days full of yellow ginkgo trees or full of fallen leaves, everywhere is the best photo scene.
So in today's article, I am sharing the 70+ different types of photography ideas for October, we also cover different types of photos with friends and couple photoshoot ideas for your next photoshoot.
So scroll down to check these fall photo shoot ideas and cute pictures, and don't hesitate to share them on social media sites.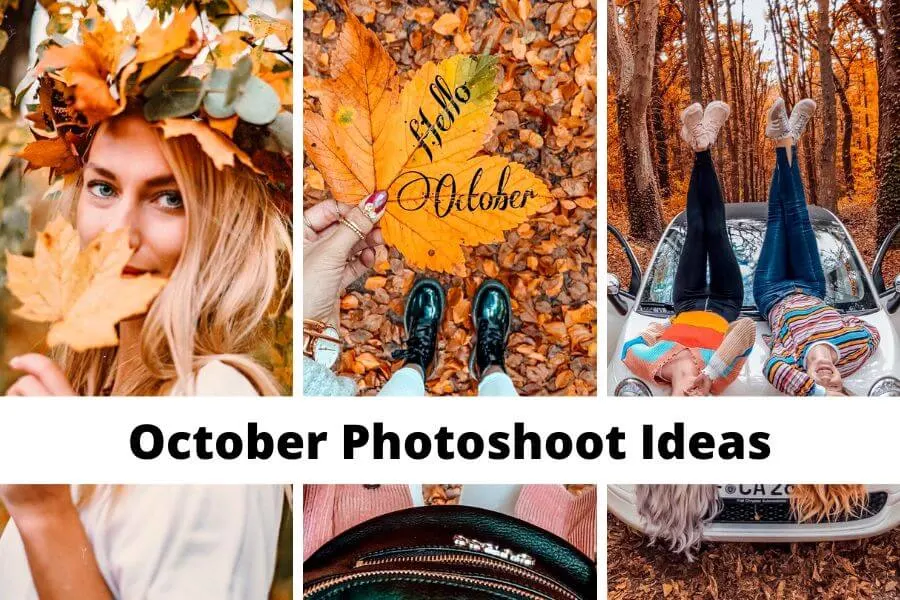 This post may contain affiliate links, which means I'll receive a commission if you purchase through my link, at no extra cost to you. Please read the full disclosure here.
This post is all about October photoshoot ideas.
Best Tips To Get Perfect October Photos
Check the environmental conditions in advance, such as the color of the leaves.
Each year the leaves may not change color at the same time. If you do not know much about the shooting environment in this year's conditions, more need to know more information in advance, so that you can better arrange the time to take pictures and shoot your most ideal results.
Do a little makeup.
Natural and warm feeling makeup is most suitable for fall.
Pay attention to the hairstyle.
Choose cute accessories to make your hair cuter. You can also put on a hat, so you don't have to be afraid to shoot from any angle.
Be creative with your props.
Preparing them in advance in an important thing, and observe more when you are there. You can also observe more at the time, temporary pick up the gift of nature as props.
Shoot from different angles.
You will have unexpected surprises.
Eat something beforehand or bring a snack to keep your energy up.
You may need to spend there for a long day.
Bring a thick jacket or two to keep warm.
Jackets can also be used as props, adding more layers to the picture.
Pay attention to your posture, sometimes you don't look good in pictures because your posture is not good.
Remember to hold your chest up and head up; straighten your limbs. Fall and winter clothes are thicker and often make people often make people do not pay attention to the posture, so be careful!
Use exposure on your camera or mobile app carefully.
When photographing maple leaves and ginkgoes in the fall, it is important to pay attention to exposure.
Since the light in the woods is usually not the same, and the large red and green colors often make the camera meter inaccurate, you should pay attention to the exposure increase and decrease.
Capture the foreground when using the wide-angle lens.
For natural scenery, we usually choose to use a wide-angle lens to shoot, and the space under the wide-angle lens will be pulled away, so the foreground is more important.
At this time, we can choose to use people, or rocks, water, or even the ground as the foreground of the fallen leaves. The foreground can extend the sense of extension of the picture, making the picture more depth.
If it is a professional photographer to take pictures:
Remember to learn more about the photographer's style in advance, and communicate more with your photographer about your outfits, makeup, props, etc., so that you can get the best end result.
So scroll down to check the fall photography ideas we curated to try this October!
Best October Photoshoot Ideas
Holding Fall Foliage
This is one of the simplest ideas to get a beautiful photo, yet it's perfect for everyday photos in the fall.
I love the feeling of recording of life as if at random, casual but poetic. The different shades of leaves stacked together make a simple life instantly different.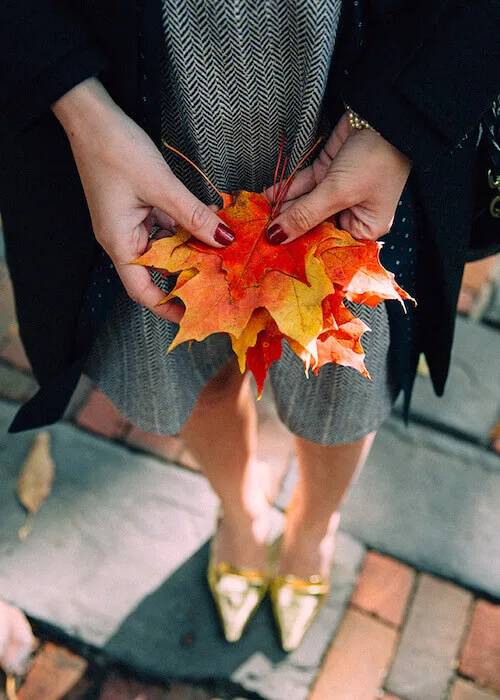 Hot Drinks With Your Friends
When taking such photos, remember to apply a beautiful fall nail polish for this perfect photo op.
Apple Picking In The Apple Orchard
How can you not go apple picking in the fall and enjoy the apple cider? It's such a perfect place! October is a great time of year to put on corduroy overalls and cute boots and go enjoy the sweet apple orchard.
Some girls become nervous and unsure of themselves when they look at the camera, not knowing where to look. This time, an easier way is not to look at the camera. For example, like the following idea, pretend to look elsewhere casually.
This time also needs to pay attention to the body to relax to create the feeling of a candid shot. But try straighten the part of the body facing the camera, otherwise it looks like the whole person is tired.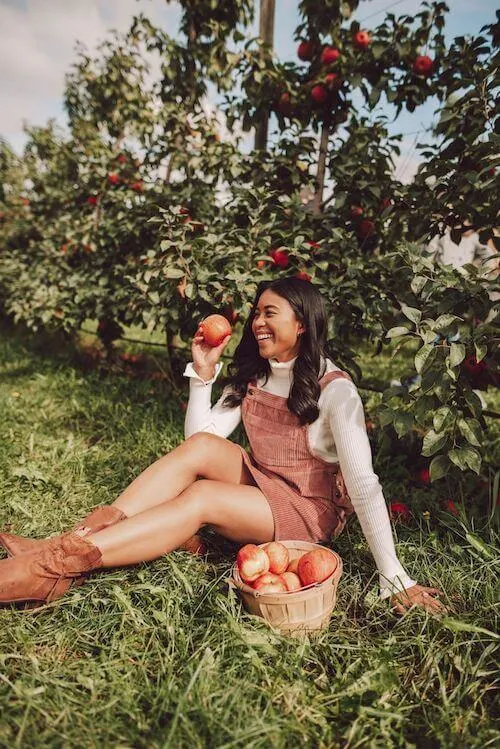 Throw Leaves
Record the charming smiles and moving colors of autumn in slow motion. The more relaxed and natural the expression, the better, not too deliberate.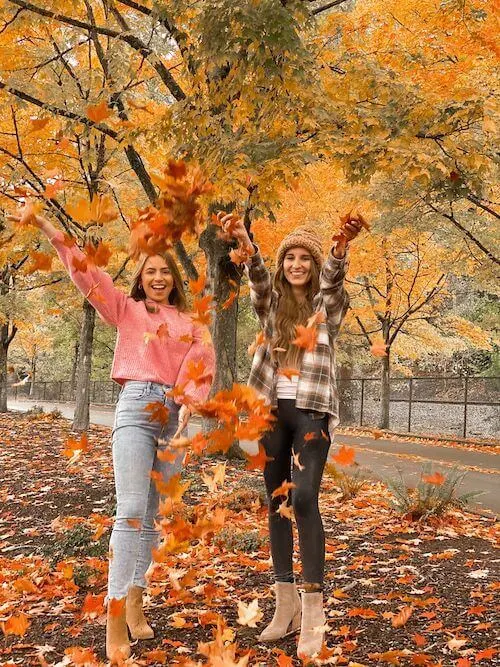 Happy Smile With The BFF
This is a perfect autumn photoshoot idea but so easy-to-copy!
Remember that you can wear the same style but not the exact same color to make it more interesting.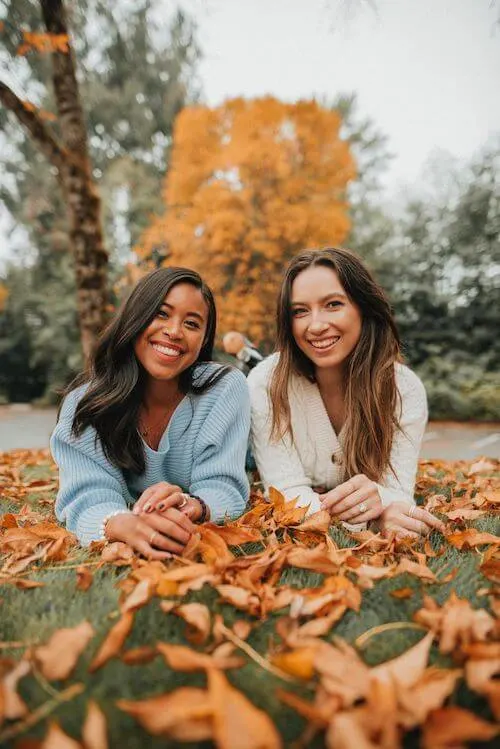 Cute Boots And Pumpkin
A different way of photographing pumpkins and your boots, which looks especially chic.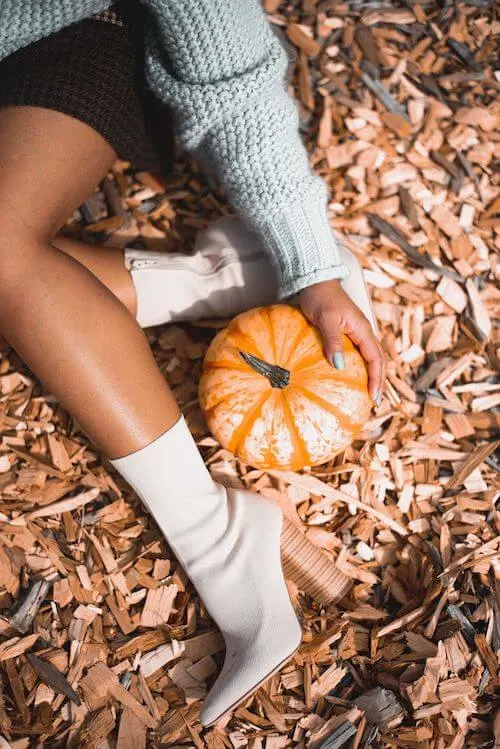 Drink And Pumpkins
The ingenuity of this photo is to put pumpkins of different sizes to add a visual interest and bright colors to the picture.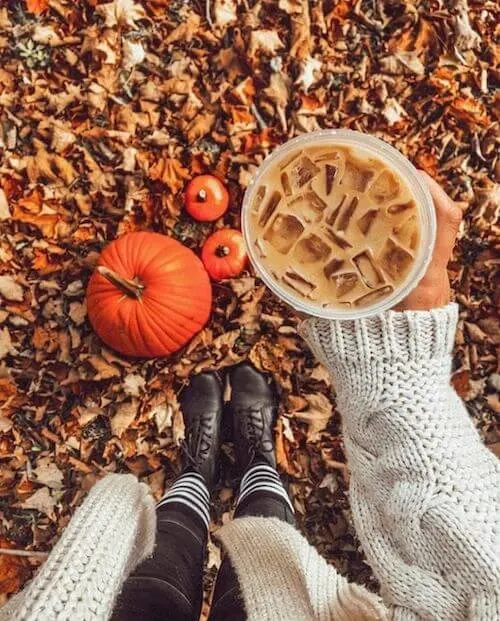 Cowboy Boots Outfit With In Pumpkin Patches
Visit your favorite local pumpkin patch and capture the cute moments. Straighten your legs and is a great way make them look slimmer!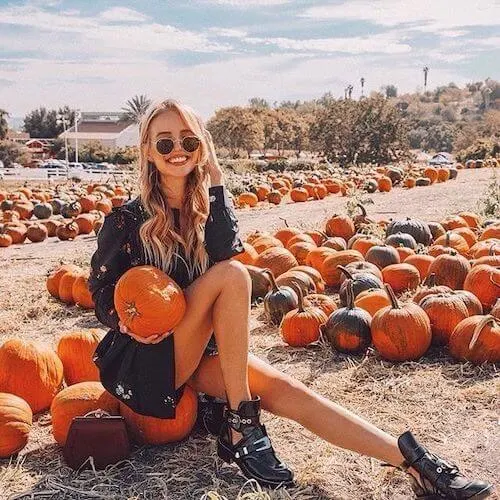 Harry Potter Mood
This is always in my fall photoshoot bucket list!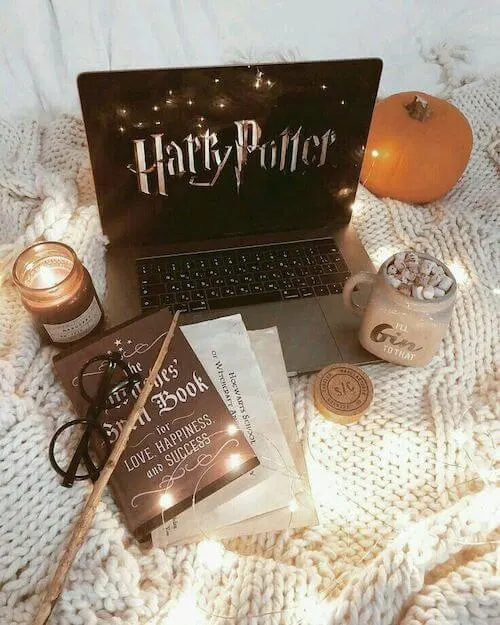 A Fall Wreath
Make a garland unique to autumn. Wear it and you will become an autumn fairy. A cute white dress is the best outfit for this idea.
Cover One Eye
There are times when it is very cute to not have to look directly at the camera. Remember to use your beautiful smile.
Also, if the clothes are rather plain, always remember to put on a little makeup, especially remember to paint red lips, which will make you look more radiant.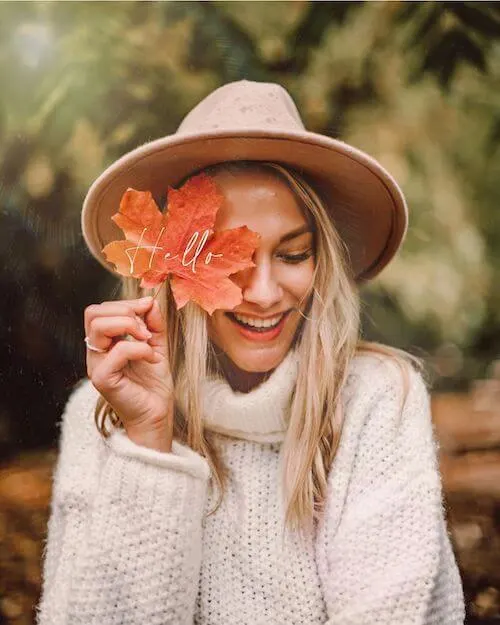 Decorate A Umbrella With Fall Leaves
I always love trying this idea in fall. The transparent umbrellas are decorated with beautiful leaves, especially like a gift from a fairy tale elf.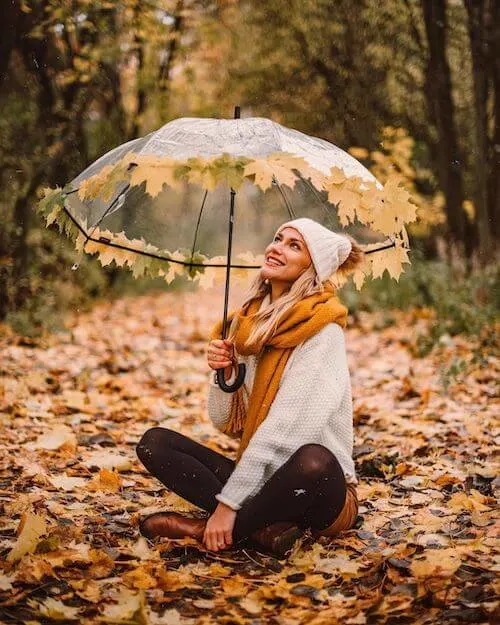 Flying Leaves
This photo idea is very romantic. In addition, I recommend wearing simple color clothing, so as not to make the picture too messy.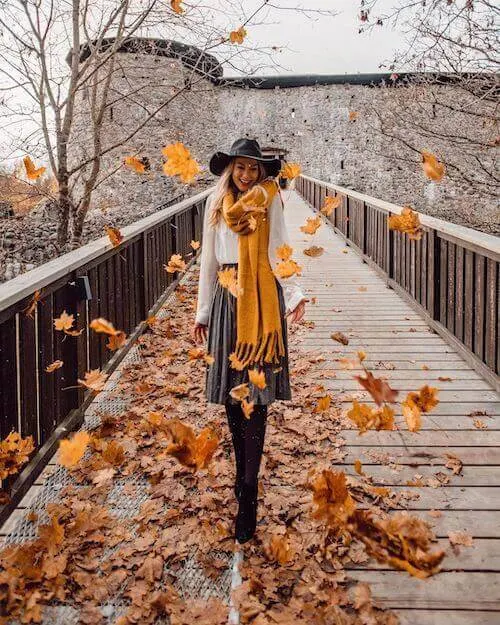 Playing Pumpkins With Friends
What a cute idea for fall photos.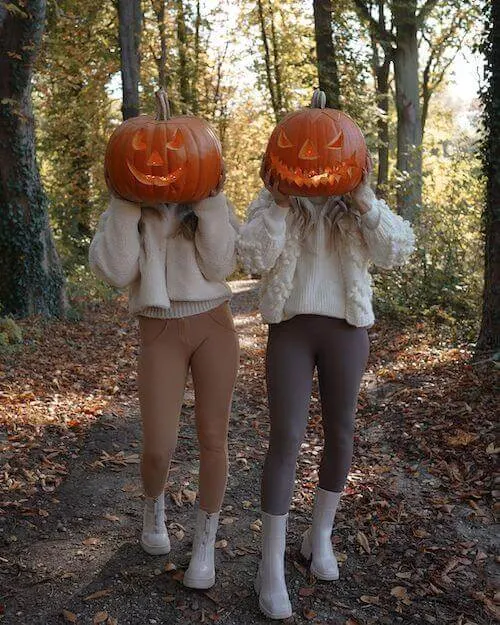 Sit On The Floor And Hold A Fall Leaf
If you really do not know how to look to the camera, closing your eyes is also a good idea.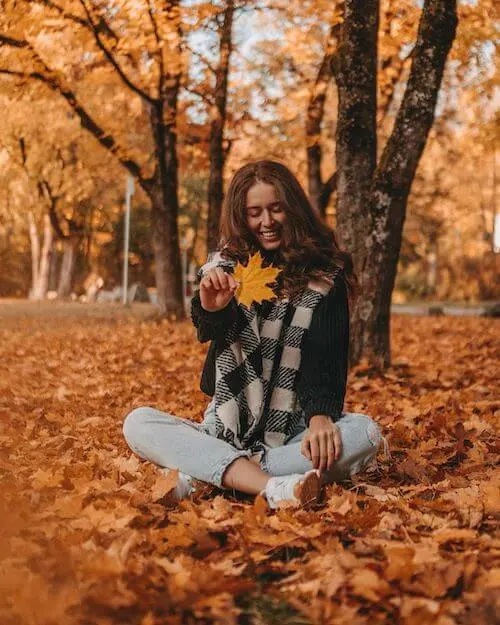 A Perfect Fall Portrait With A Perfect Backdrop
Choose an outfit with a similar color to the background to make the portrait look elegant and attractive.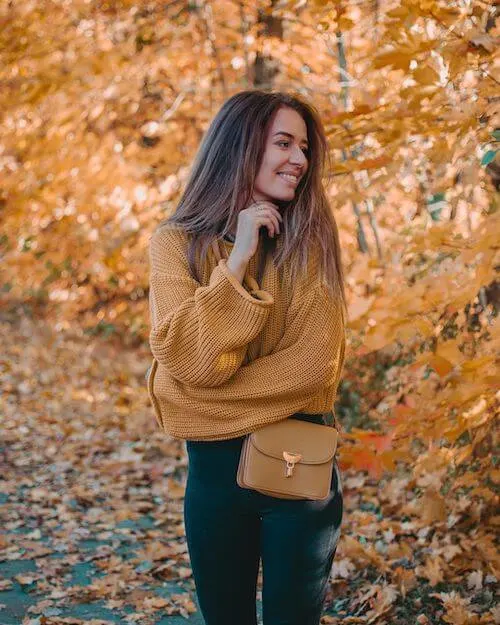 A Lovely Green Fall Photoshoot Dress
Didn't expect that, did you? Green is also a great option for great photos for fall.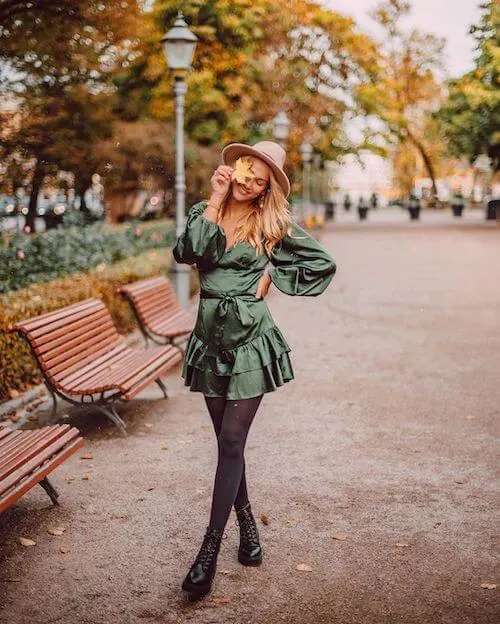 A Cozy Reading Corner With Hot Chocolate Or Pumpkin Spice Latte
This is the best time of year to have a cozy reading.
You can pick up your favorite fallen leaves, or go to craft store to buy fallen leaves decorations, to set up a lovely autumn-vibe corner.
A Pumpkin Heart
Tired of the plain pumpkin pile background? Try arranging the pumpkins in the shape of a heart for cute fall pictures.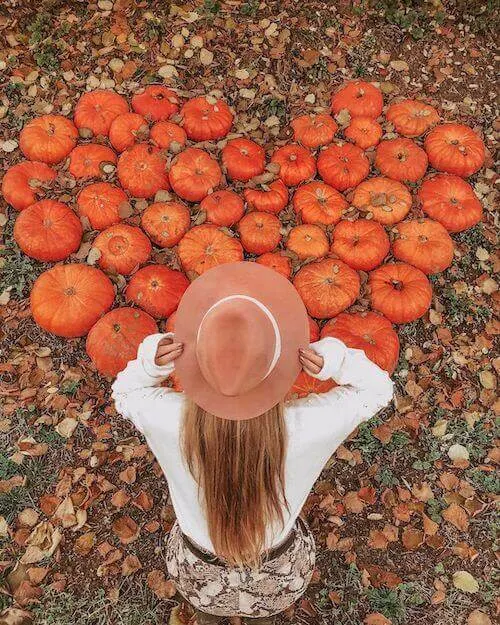 Try Different Angles
Try more different angles and find your most beautiful shot.
This pose below will make your legs look long and slender. Remember to straighten your back!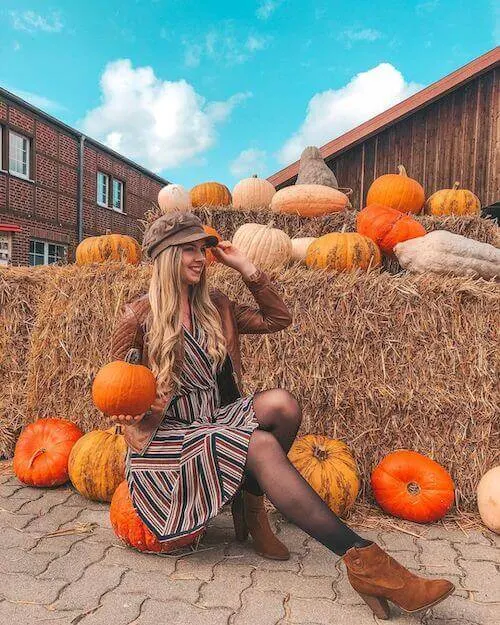 Hold A Mini Pumpkin In The Fall Colors
Carefully hold the lovely pumpkin and collect the blessings of autumn.
The black and white plaid jacket makes a wonderful contrast with the colors of autumn.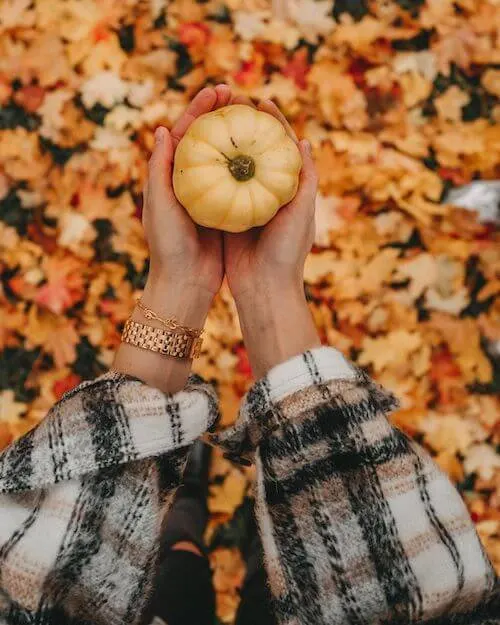 A Cute Candid Shot In The Golden Hours
Dance with ease at sunset. Record your beautiful moments in the natural lighting to get amazing photos.
This photo pose works very well when your makeup and hair are too plain, and it adds a sense of richness to the picture.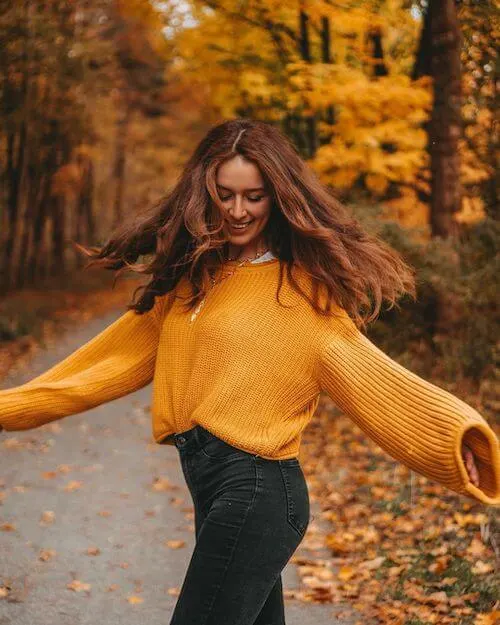 Pink Outfit With Flying Leaves
Open your mind and think about what colors you have in your closet for fall photo shoots? This year, try a light pink? It looks bright and lovely.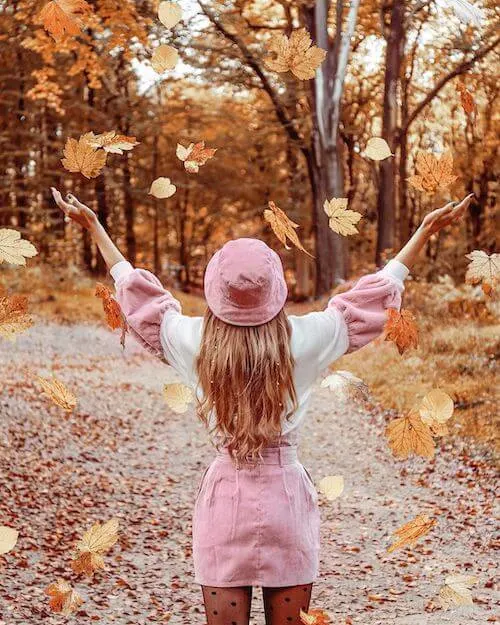 Fall Accessories And Fallen Leaves
A simple outfit and cute cold weather accessories are pretty. I love this cute idea of inserting fallen leaves into the hair!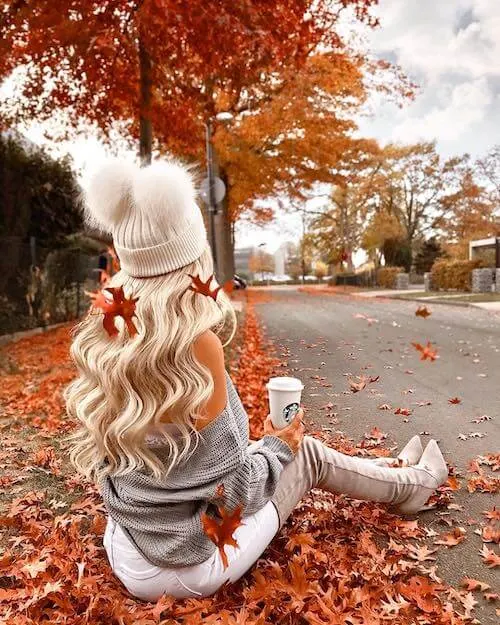 Hat And A Cute Leaf With Great Backdrops
When you don't know what photo pose to use, you may want to hold your hat.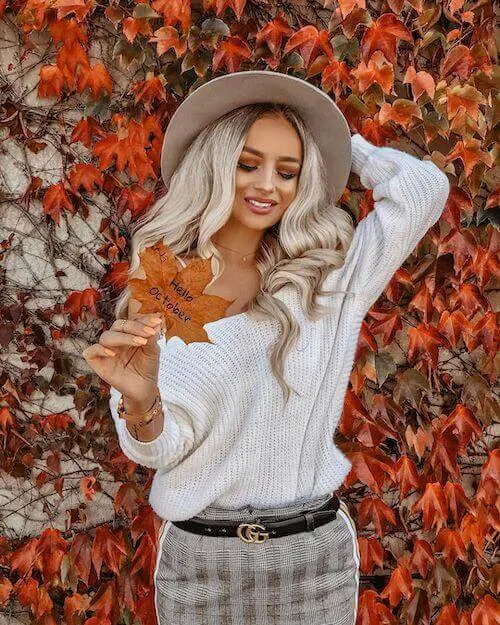 Lie On The Leaves
Lying among the fallen leaves is a great idea for fall photos, and this time, you can also try playing with the leaves like the following.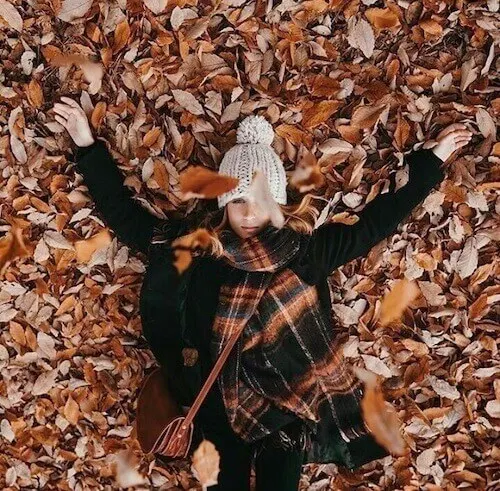 Go Through A Corn Maze
A corn maze is a great place to level up your fall photo opportunities. Add this idea to your fall photoshoot bucket list!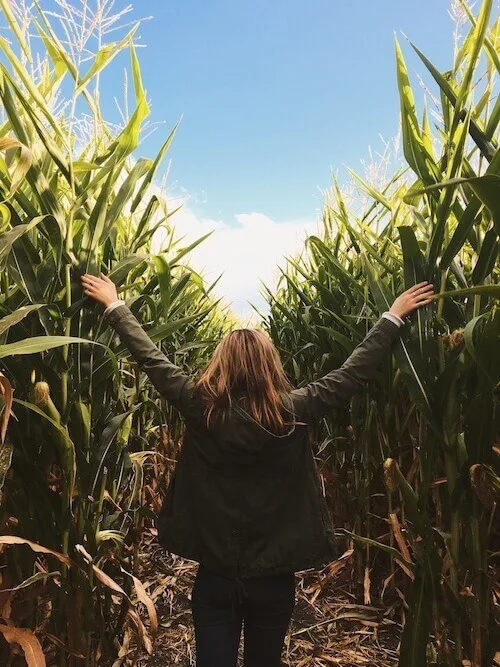 Ride A Bike
I love to get on my bike and ride to my favorite national park in the cool autumn breeze.
No matter how you shoot it, the bikes look great.
The Leaf Photo Frame
How about making a leaf photo frame this fall?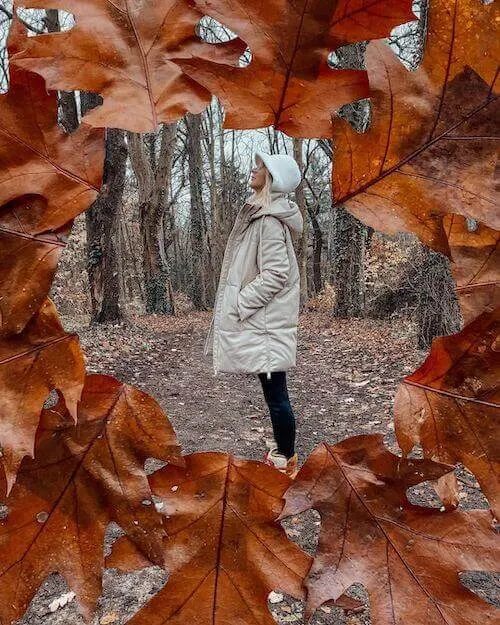 Lie In the Pile Of Leaves With Your Friend
This is an ideal time to take pictures with your best friend lying in the fallen leaves. Pay attention to the matching colors of your outfits.
Choose the same color scheme will make the photos look more balanced.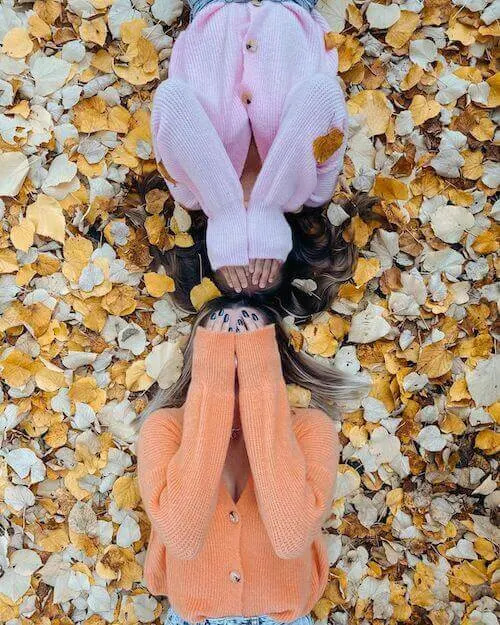 Hello October!
A little detail makes all the difference in your photos.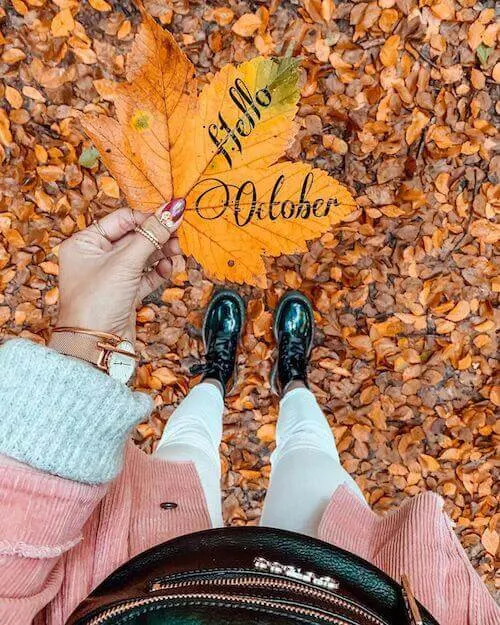 Lovely Drink With Leaves
If you think it is boring to take pictures of drinks alone without creativity, add some leaves as a background.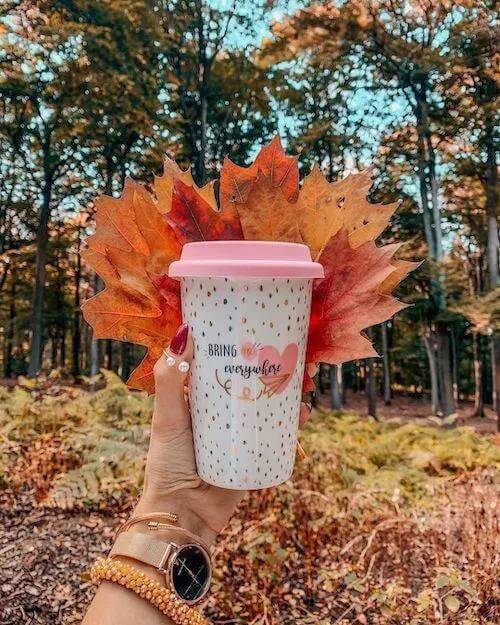 Different Shades Of Autumn Colors
Gosh, this palette is really great!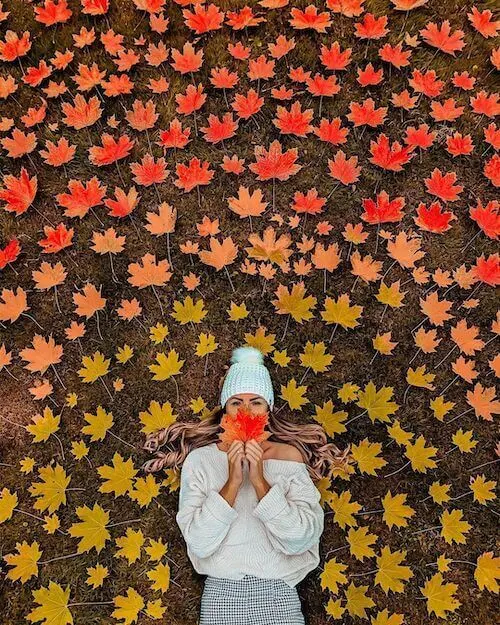 A Leaves Umbrella
If you don't have one of those clear umbrellas we mentioned earlier, let the colors of fall cover your entire umbrella!
Reminder, if you need to shoot the back, remember to prepare your hair carefully.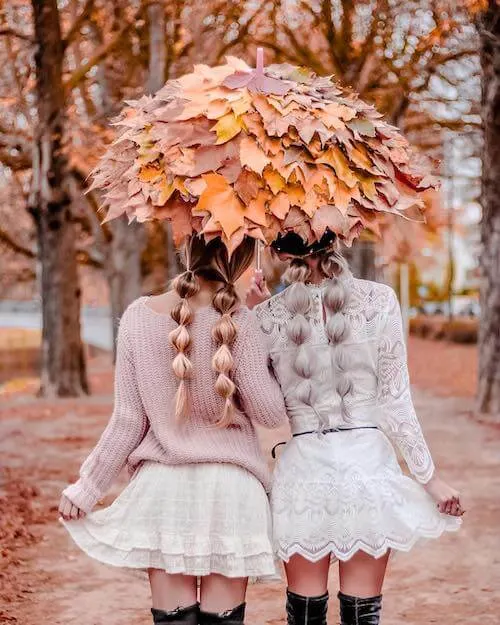 Lie On The Car With Your Best Friend
I'm definitely going to try this idea this year!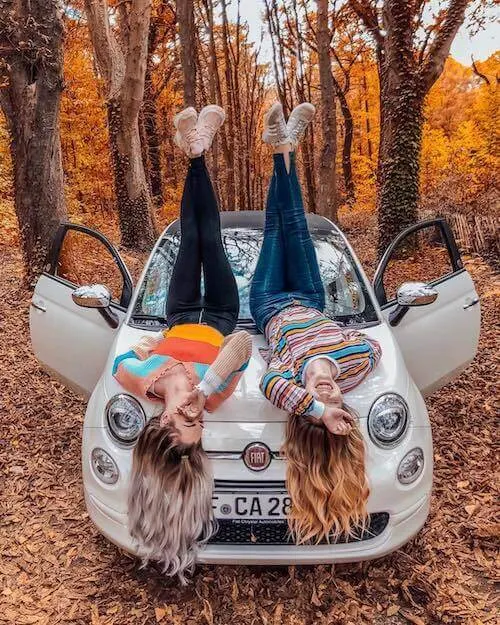 A Cute Leaf Garland
According to the color shades of the leaves, string them into a lovely garland, and it becomes one of the best props for your fall photos.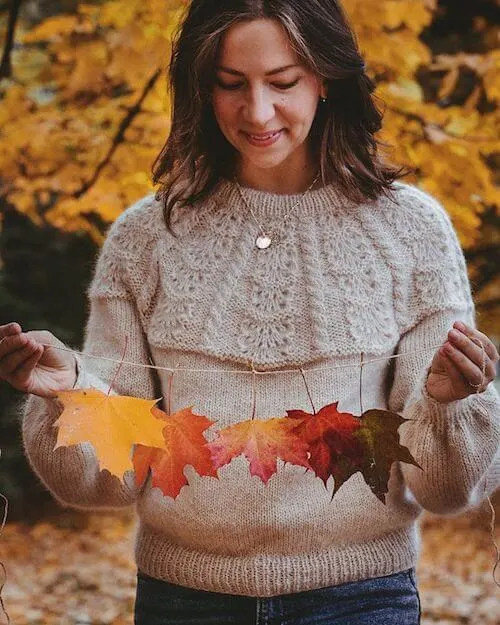 Point To The Sky
Sometimes I also feel a little silly holding a pumpkin in my hands all the time for a photo. So this idea of pointing one finger to the sky is so great!
This photo pose has a sense of extension, so that you look high and thin on the photo.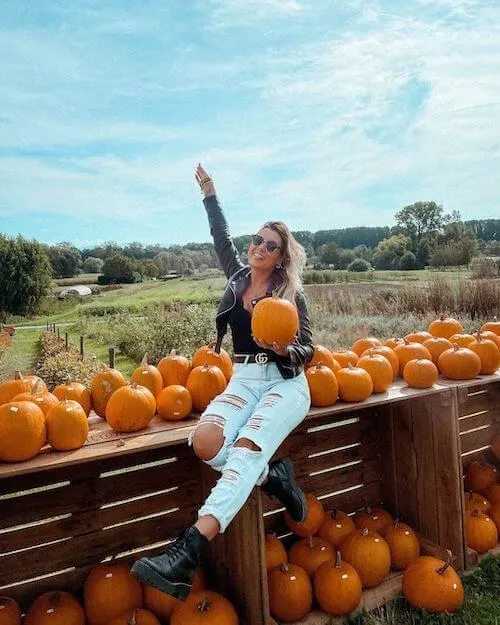 A Overhead Shot
Remember to try more different angles! Leaves are great props!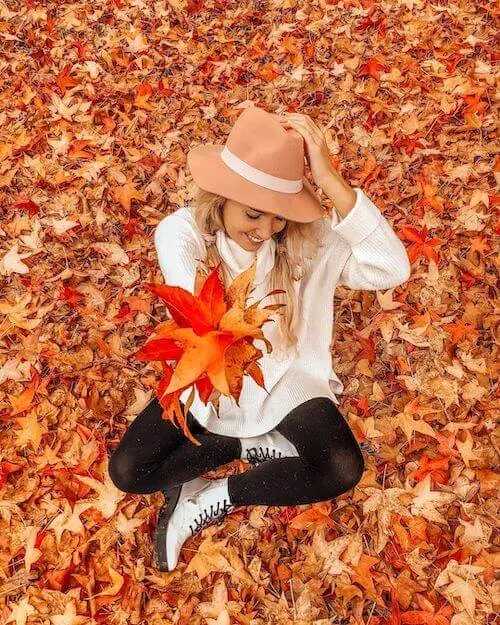 Sit In The Heart
Laying out a heart on the ground makes for the best background.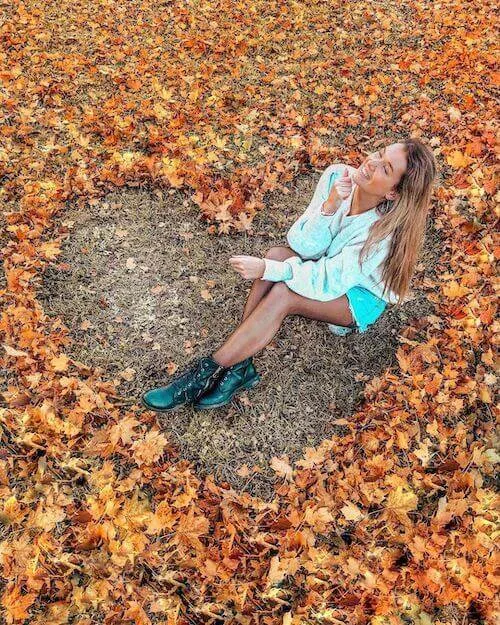 Decorate Your Braids With Leaves
This idea is so cute and smart! The light colors of the outfit have a perfect contrast with the beautiful fall leaves.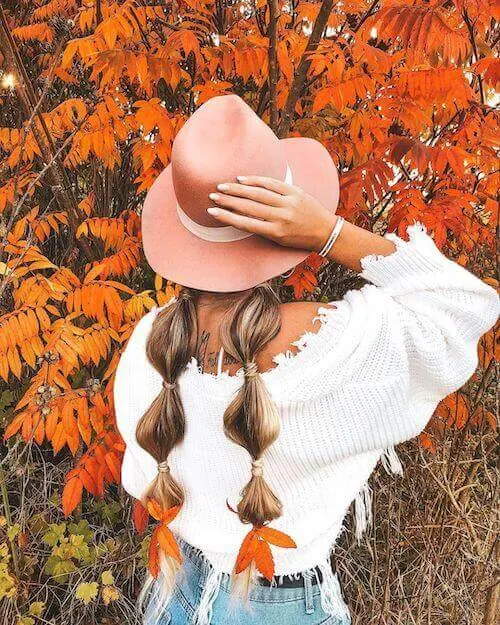 The Red Umbrella
I definitely recommend this idea to you, especially, if you feel your man dresses too plain and too unsuitable for fall photos (my boyfriend is like this), use a red umbrella or other brightly colored props to make the picture rich in details.
A Cute Heart
Remember to surround yourself with props such as pumpkins.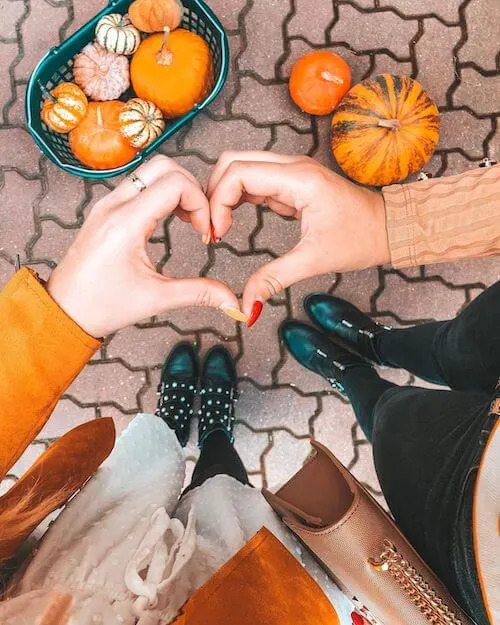 A Slow Motion Idea
This is a romantic photoshoot idea that enrich the photo colors immediately!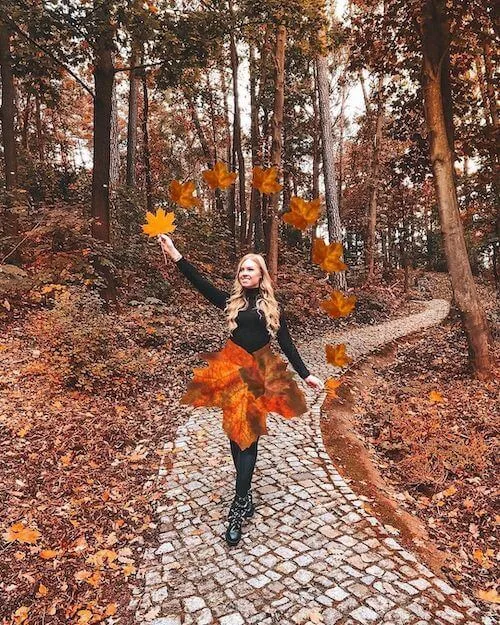 Take A Back Shot
This pose will help you extend your back and neck and make you look more elegant.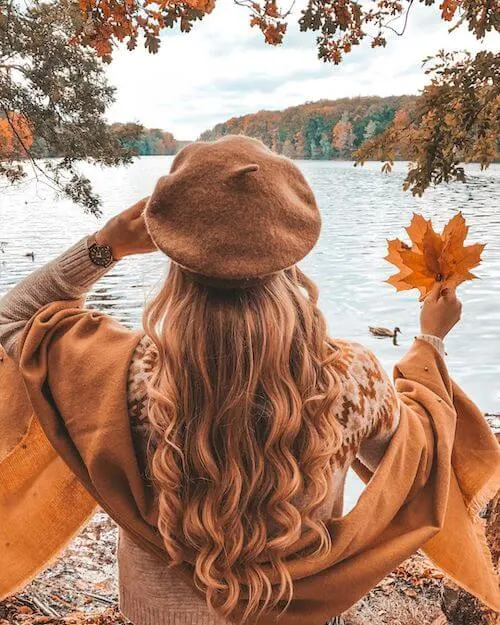 A Cozy Read
I like this layout, warm and sweet. It looks great in any shot. Show a little of your clothes to make the picture more lovely.
A Fall Basket Of Fall Color Palette
A perfect time to gather up nature's gifts.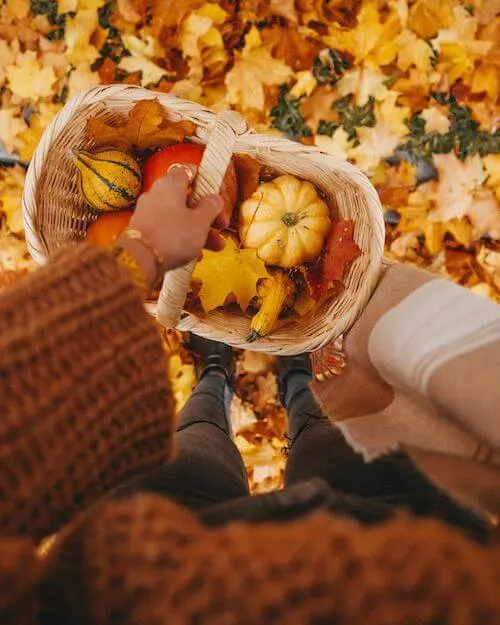 Use A Mirror
Use a mirror to make the most common and easy photo poses especially professional.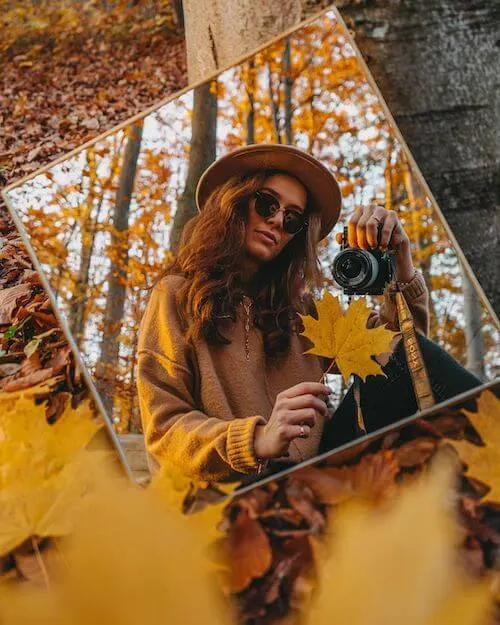 Put A Pumpkin On Top Of Your Head
No need to stand straight all the time, a little sideways head, will be more natural.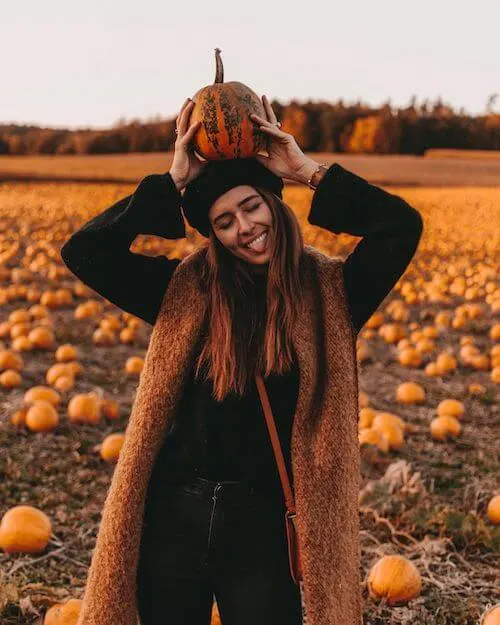 Stand Inside Of The Heart
In short, with this lovely peach heart, any pose will be great.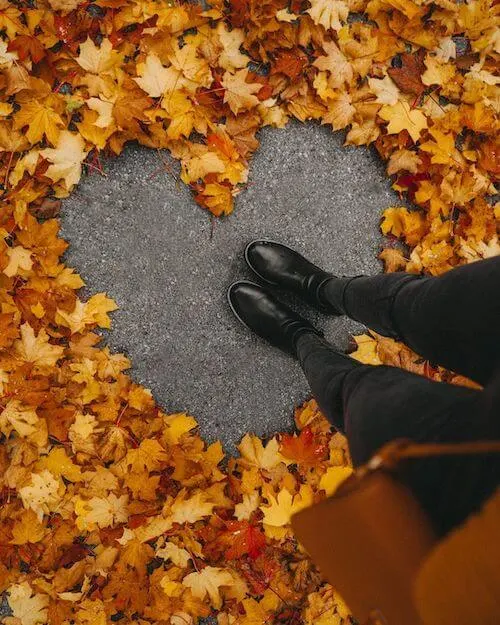 A Cute Leaf Skirt
Let's have a ballet.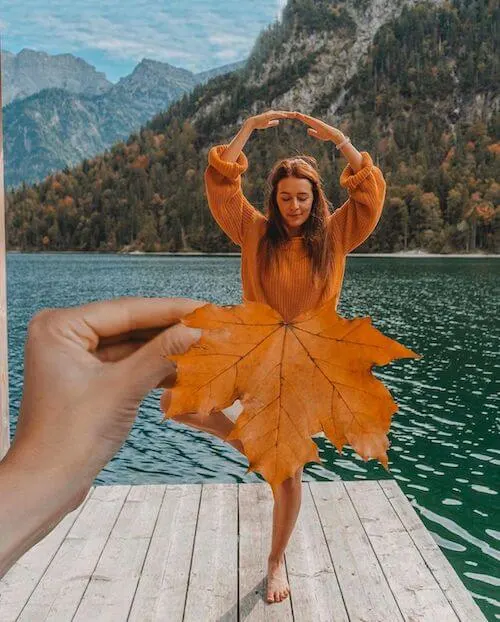 A Romantic Leaf Photo Frame
Focus on the person and defocus the foreground. This looks very romantic.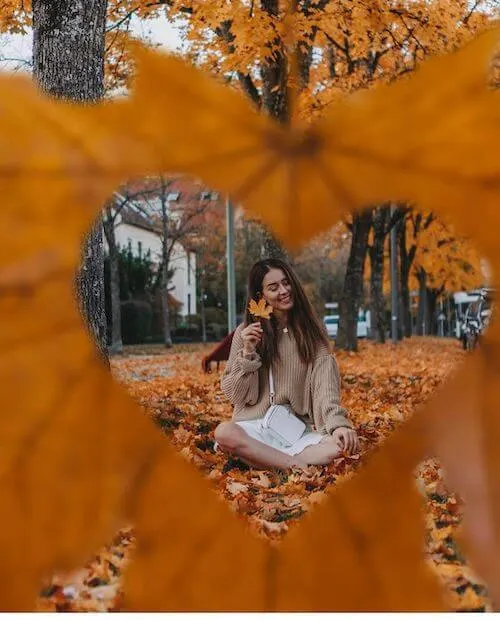 The Beautiful Fall Wings
Put leaf wings on yourself and your friends. Autumn is the most fairy-tale season ever.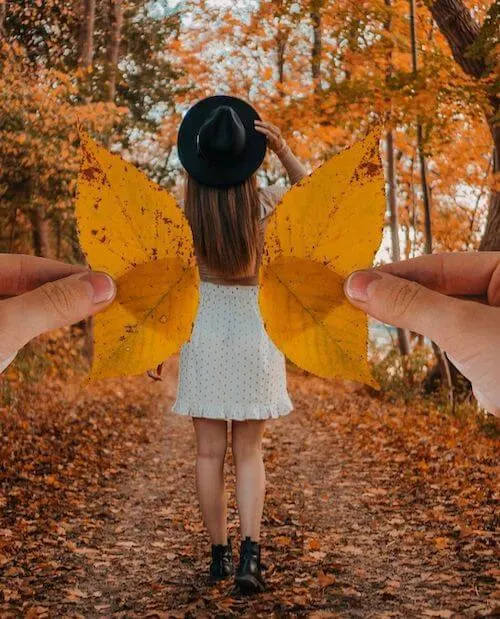 Decorate Your Fall Wall
Record your every moment in the sweet time of the year.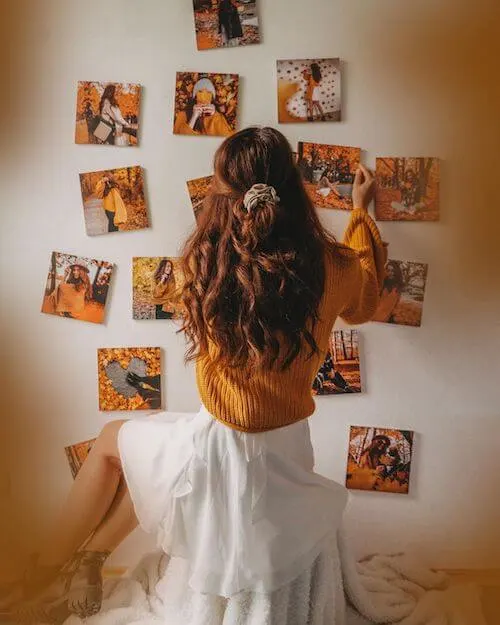 Full Of Fall Vibes
Indulge yourself in nature.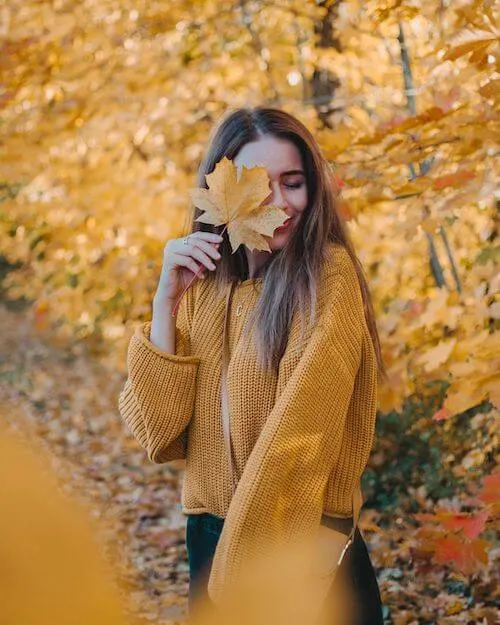 Sit On The Railroad Tracks
I especially like to take pictures on the railroad, because it always feels as if the railroad has taken us to far, far away places, making the mood particularly pleasant.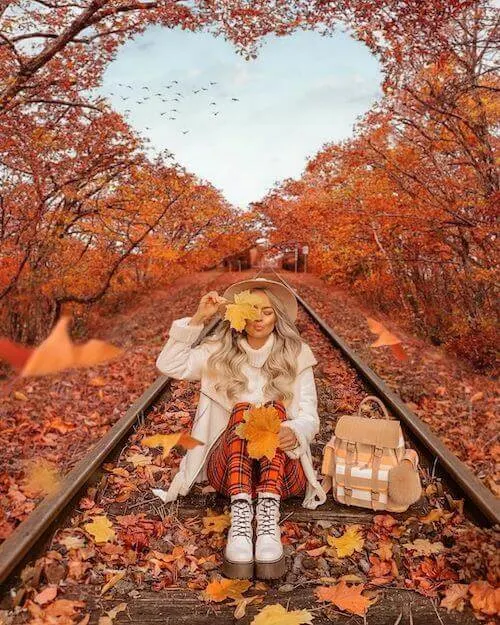 A Unique leaves Heart In The Nearby Park
This heart-shaped pattern is a bit special.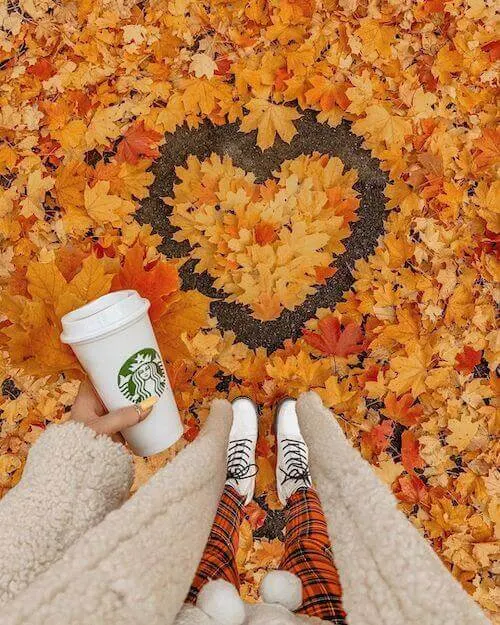 Hold A Fall Umbrella
The versatile umbrella again! This time try to take pictures from behind. Remember to prepare a cute haircut or a cute backpack.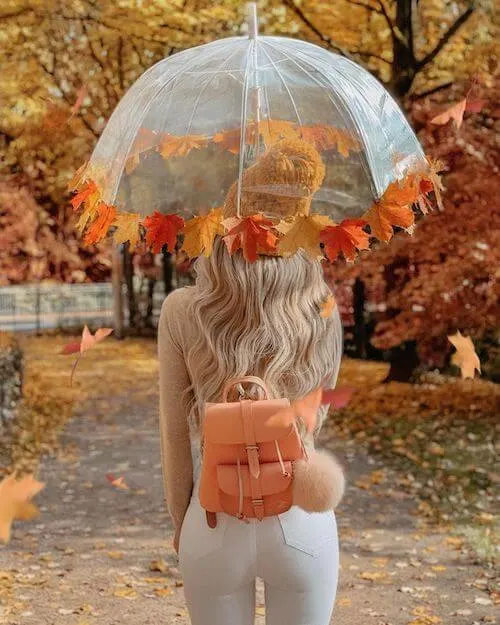 Red Hat And Red Skirt
This idea is so cute! Look for fallen leaves that are the same color as that your accessories.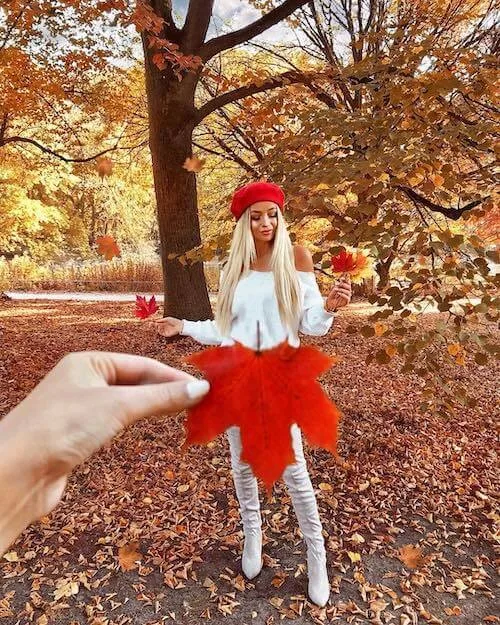 A Pumpkin Dream
You are unnecessarily standing in the middle all the time.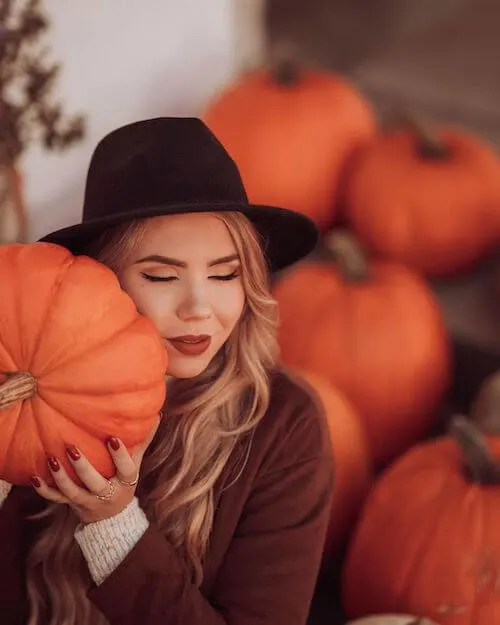 Cute Bicycle Outfit And Vibrant Leaves
Bring a jacket with you for the cooler temperatures. Putting the jacket in fall colors around your waist makes the top and bottom of the picture distribute fall colors and makes the picture look even better!
The white top brighten up the whole photo successfully.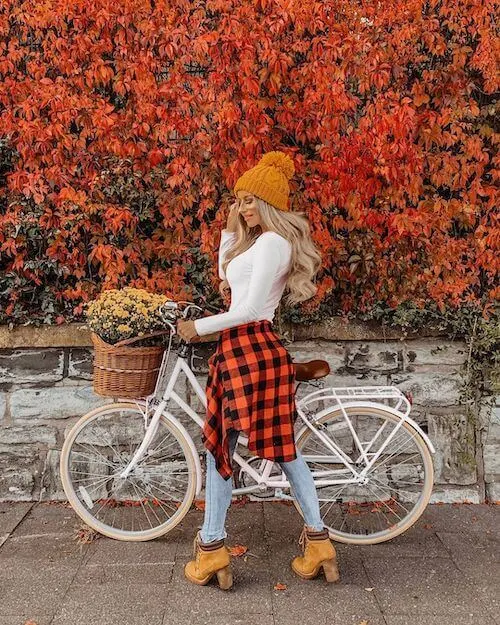 Decorate Your Room
Arrange the elements of autumn into your room. It's also a good option to take pictures at home.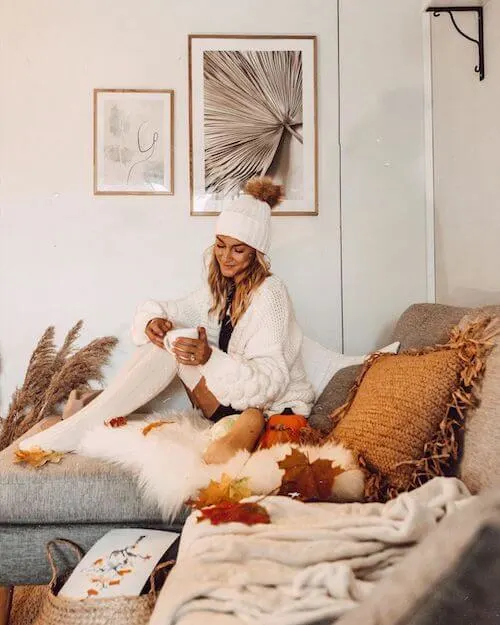 Wear A Plaid Shawl
If you are familiar with the location, then you can prepare clothes in advance that match the color of the location.
If you are not sure what the shooting location will be like this year, then I suggest you prepare more clothes in different colors and patterns, but then you can combine them as needed to make the most suitable clothing for the shoot.
In particular, if it is a sunset shoot, bring more jackets, shawls, etc. can keep warm, so you keep sufficient energy.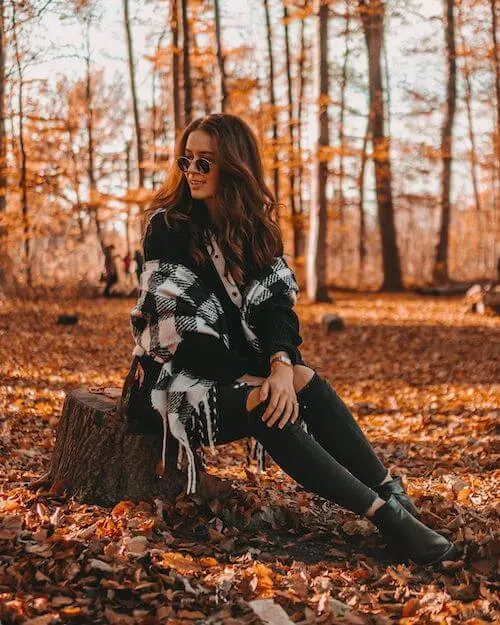 The Fall Lake And Changing Leaves
The colors of hats and dresses blend perfectly into the beautiful setting.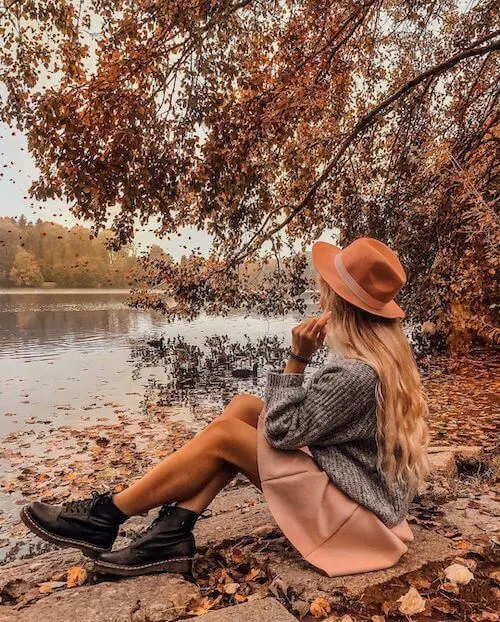 Cute Fall Couple Photoshoot Ideas
Shoot fall with your significant other and have so much fun!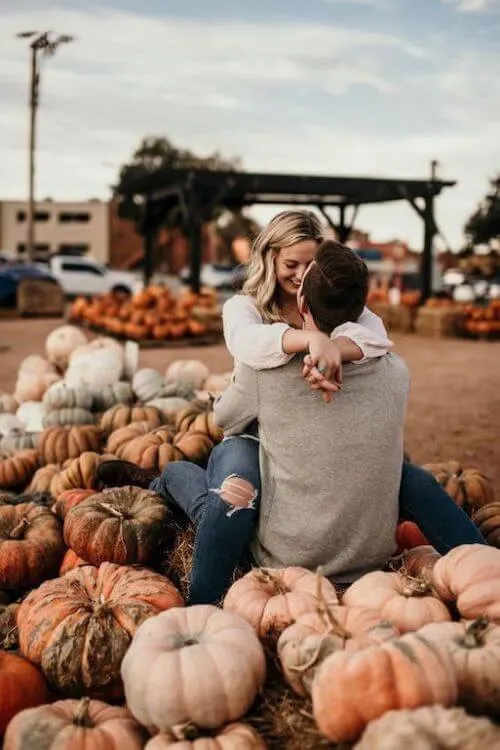 Show Of The Boots
I know you're probably shopping for new fall clothes. Take a picture of your new favorites!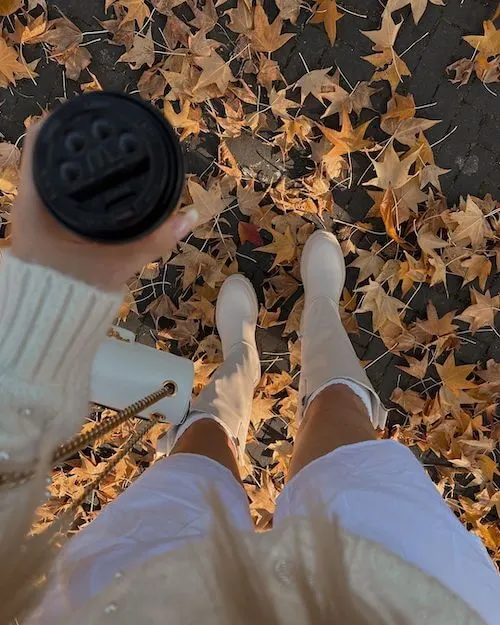 Pumpkins And Friends
Enjoy the charm of autumn with your best friends. Some small accessories make you look more lovely.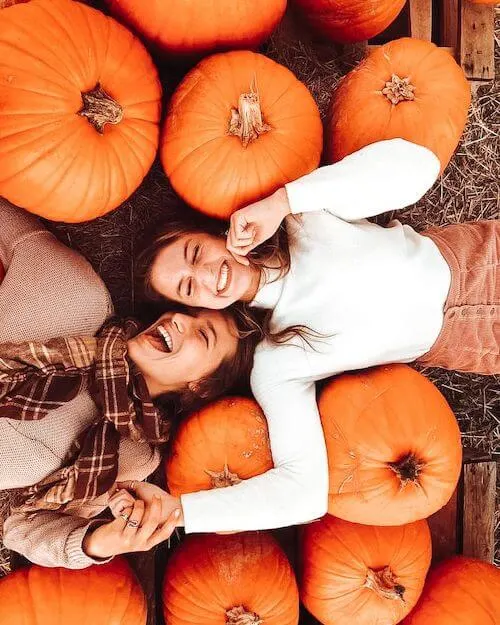 The Fall Angel And Colorful Leaves
Taking pictures in fall is a great opportunity to be more creative. Isn't this a great idea? All of a sudden your outfit becomes more beautiful!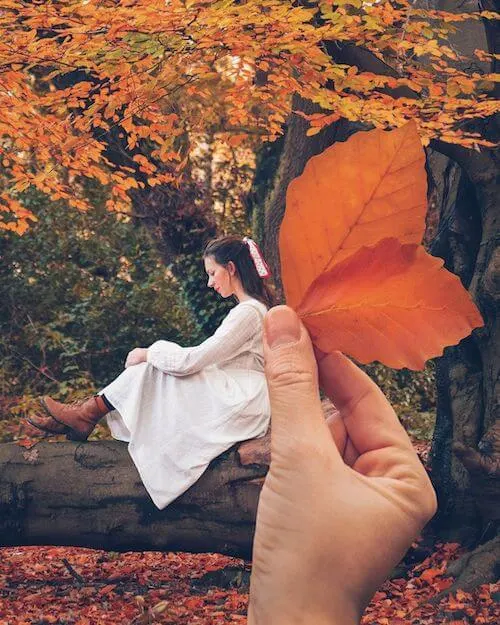 Sit And Hold A Pumpkin
Obviously the scene is carefully staged but it looks very easy and effortless.
The secret is to set it up a little more casually, for example, by placing the leaves on your keyboard.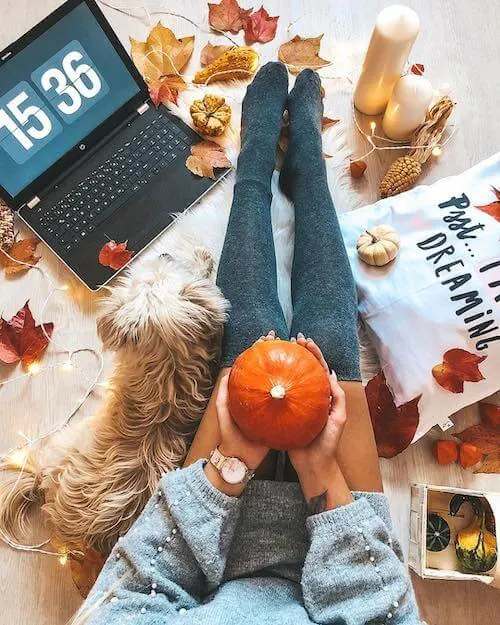 The Mini Pumpkins
This idea is super lovely. And I think she looks great in her casual overalls!
Pumpkins Are The Best Props!
Make the pumpkin take up more of the frame so you can get a really great picture with just a few simple poses!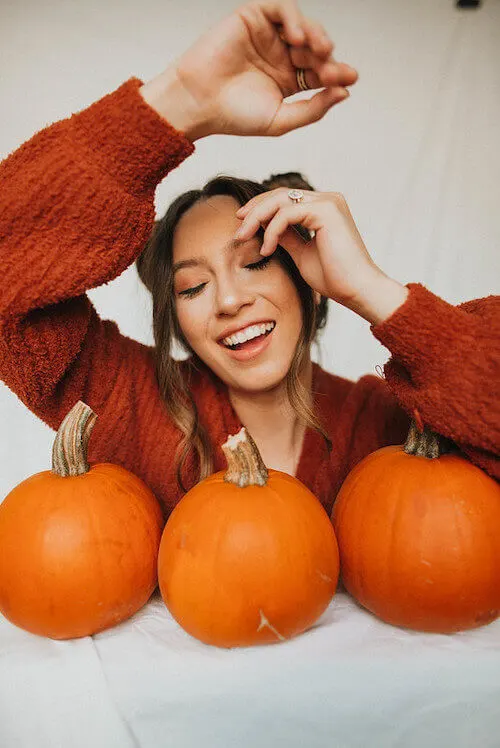 This post was all about October photoshoot ideas.
About The Author
Tracy is an experienced personal stylist, shopping expert, and fashion & lifestyle blogger. She has been featured on Time Magazine, Bustle, Best Life, Glam, The Zoe Report, Mic, and GOBankingRates, for her insights on fashion, beauty, home decor, and lifestyle. Read More
Related Posts: