Looking for creative fall photography ideas? Check this post for our favorite 60+ fall photoshoot ideas and expert tips to get your next great shot!
Fall is a great time for taking amazing photos!
Once autumn arrives, and all kinds of photography enthusiasts and Instagrammers go out to shoot the fall photos. The fall weather is not only comfortable, but the scenery is also amazing for photo backdrops.
If you are looking for creative ideas to take your photos this fall, you've come to the right place.
Today I am sharing how to take beautiful photos in autumn, and the 50+ different types of photos for fall to help you find your great way to take photos next time.
Scroll down to check these fall pictures and tips, and don't hesitate to pin your favorite ideas to your Pinterest boards or share them on social media sites.
This post may contain affiliate links, which means I'll receive a commission if you purchase through my link, at no extra cost to you. Please read the full disclosure here.
This post is all about creative fall photography ideas.
My Favorite Tips For Fall Photos
Pay attention to the composition
The best position for the subject is in the middle of the photo.
This time, you can even simply use a side pose, and the fallen leaves all over the ground also show the arrival of autumn.
In order to capture more scenery, you can let the photographer squat a little lower and use the high angle shot to capture the details of the scene, which is really beautiful.
Fallen leaves are the best props
The fallen leaves on the ground, of course, can not be ignored, fallen leaves are a symbol of autumn, it was born in spring, and died in autumn, very representative of the season.
So you can squat on the ground to pick up a ginkgo leaf, you can hold it in your hands to block the face, and interact with the surrounding environment, or look up at the camera, which can also show the pure and beautiful feeling, not at all pretentious.
Leaves that have not yet fallen can also be used as props in addition to the gorgeous backgrounds
The fallen leaves on the ground can be used as props, and the leaves that have not fallen can also be used as props to cover the face.
Touching the leaves and flowers with your hands is a pose that many girls have used, which is both simple and beautiful. You can just stand in front of the camera looking sideways.
To make you stand out more in the woods, you can have the photographer use a large aperture for the bokeh effect, which will make the picture more beautiful.
Back shot pictures are also cute
Try different angles. If you do not like to keep taking pictures looking directly at the camera, you can also try back shots.
Standing back to the camera, stepping on the ground full of fallen leaves above, naturally walking forward, is really very beautiful and moody.
Choose warm, light-colored clothes
For fall photoshoots, in order to show the intimacy with nature, I do not recommend wearing cold colors, such as navy blue, or black. Warm tones and lighter neutrals will make for a better photo.
If you take pictures with your boyfriend, and he only has black or dark blue clothes, you can help him prepare some accessories to brighten up.
For example, a beige scarf, a light brown hat, etc., which will make the picture look sweeter.
Bring some thicker clothes
If you are shooting in late fall, it is usually colder at the location. Therefore, it is necessary to prepare thicker clothes.
A lovely thick jacket will not only keep you warm and keep your strength during a long shooting session, but also allow you to flexibly match different outfits and bring visual fun to your photos.
Bring snacks
Every time I go out to take pictures, I bring some snacks to keep my energy up.
We sometimes don't know how long we will be excited to shoot. When you see such beautiful scenery, and want to continue to take pictures, but are hungry and thirsty, then it is too bad!
How To Get Great Fall Photos Like An Influencer
It seems that many girls will feel shy in the face of the camera, so that the photos taken will not look good.
Here are a few tips that I really like.
1. Look at the camera with emotions
Do not be nervous about the camera. Treat the camera as a close person, and look at the person.
2. Imagine that you are looking in the mirror
If you really do not know how to look at the camera, simply do not look at the camera, so it will be a more casual and natural photo.
You usually find yourself looking good when you look in the mirror, right? Then look at the camera as if you were looking in the mirror, and make whatever expression looks good.
3. Relax your body
Taking pictures must be relaxed, and be sure to stretch the body and limbs. Do not hunch over your chest. You look super good when you are confident!
When you feel comfortable with your body, you will know what poses to use.
4. More photos and more tries
Take more photos, you will know what expressions look best and what poses look best.
What are other tips to get the best fall photos? Check the below ideas!
Creative Fall Photography Ideas
Include Your Polaroid In
This idea is very simple and easily adds interesting storytelling to the photo. The pink Polaroid is really cute.
And I love the idea of putting a leaf and a Polaroid together, adding an interesting layering.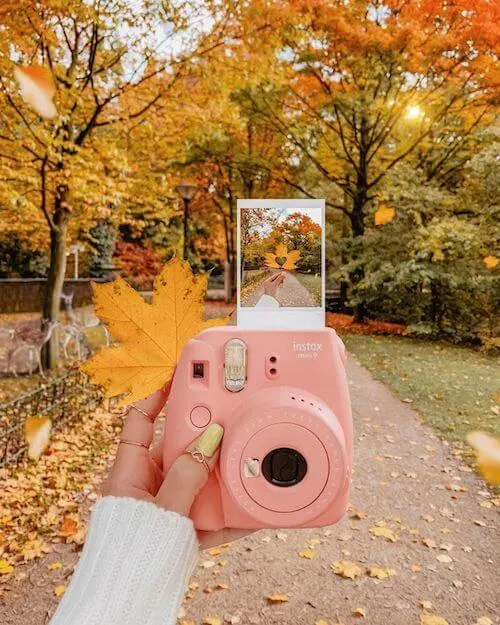 Gather Colorful Leaves
This is a photo that gives a sense of nostalgia and is very warm. Remember to choose leaves of different color shades, it will make the photo more colorful.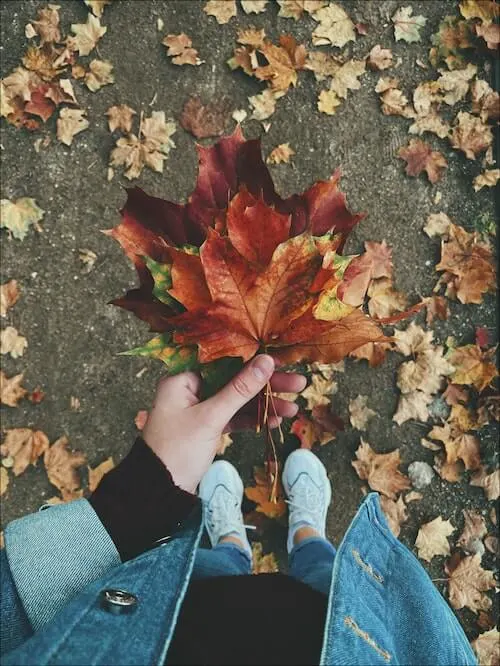 A Pair Of Angel Wings
The idea of using the leaves as wings is very popular and is a great fun way to take cute photos. And I like her pose a lot.
Put The Small Pumpkins On Your Head
This pose is really simple and cute! I must try it this year! You can wear fall color outfits when you go to the pumpkin patch or farmers market, or a simple cozy black outfit like the one below.
But if the weather and light are not good, it is still recommended to wear warm colors to add more warm fall vibes.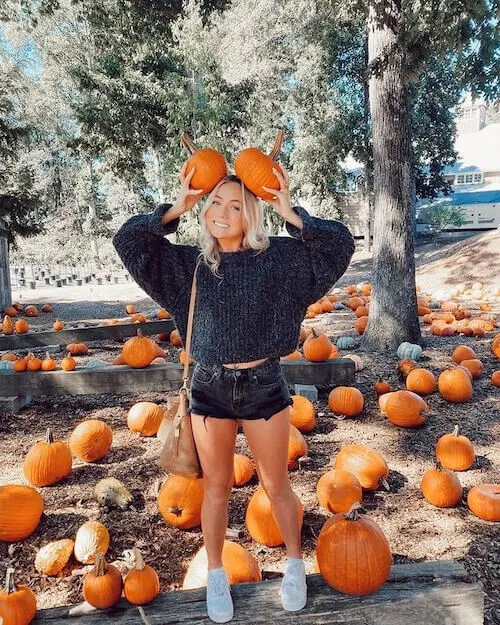 Candid Photos
Feel free to enjoy fall! Let your friends help you record your happiest looks in the fall!
Peaceful Fall Reading With Fall Foliage
Enjoy the great opportunities of private reading quietly in autumn. Use the fallen leaves as bookmarks. Or you can even write a letter.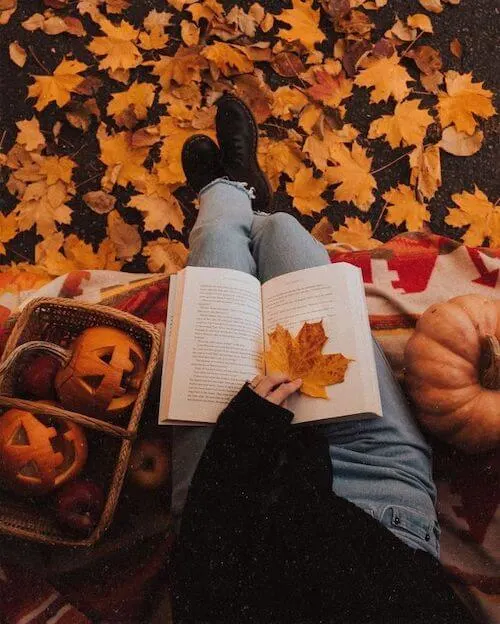 A Fashion Magazine Style
This is a cute autumn photography tip. By letting the face take up most of the picture and using shallow depth of field wisely, you can achieve the effect of a fashion magazine poster.
Use a wide aperture and longer focal length, plus choose a more distant background, put the focal point on the subject and then press the shutter, then your background will become blurred, and it can be more effective in expressing the main subject you want to shoot!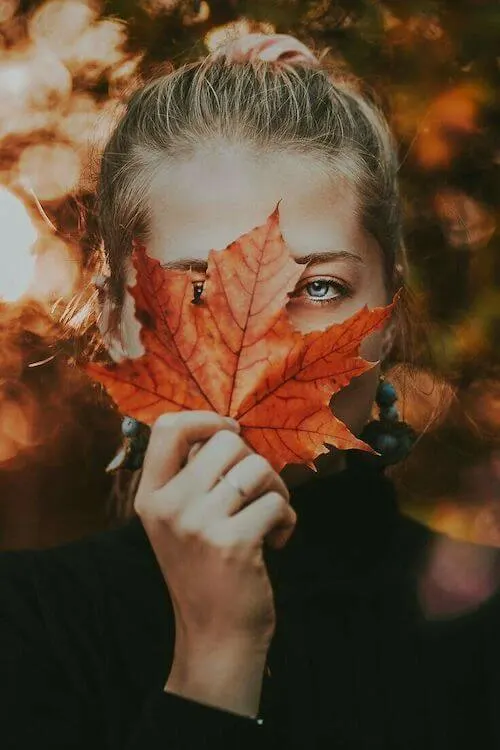 Creatively Use The Leaf
Roll up the leaves and have a sharp focus on the people in the distance. This photo brings a very creative sense of traveling through time and space.
Whether you are taking photos by yourself or you are hiring a professional photographer, it is a great idea worth trying.
A Leaf Skirt
Using the leaves as a skirt is also a good idea!
What I like about this photo is that she's wearing stockings and looks more like she's doing ballet.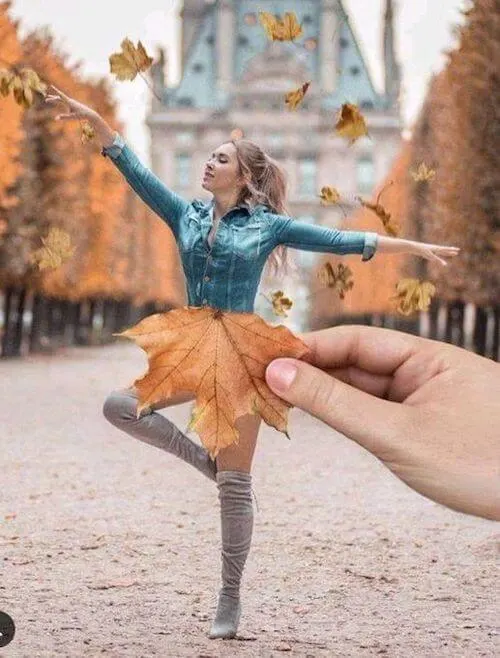 Cute Stockings
Speaking of stockings, when it's not quite cold in the fall, buy a few cute stockings to put on and photograph them.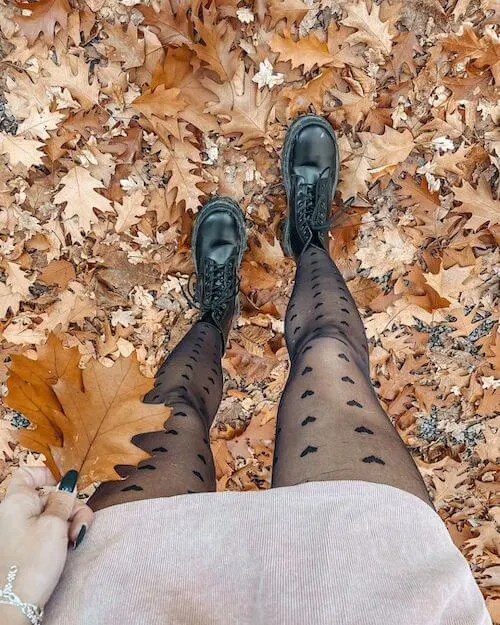 Bike And Flowers
Taking photos of the bikes is one of the best fall photo ideas.
Dress up your beloved bicycle and have a good ride in the local park. It is also very cute and practical fall shooting props.
Throw The Leaves
Dance with the leaves. Use high-speed continuous shooting.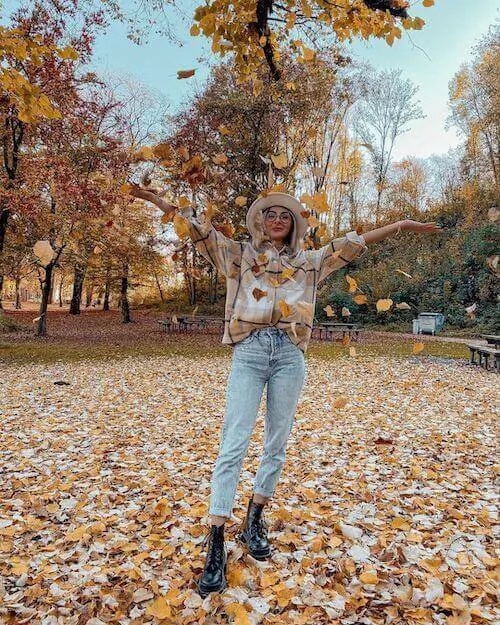 A Kick
This idea is so cute! If the bottom of your shoes are dirty, you can stick fallen leaves to the bottom of your shoes.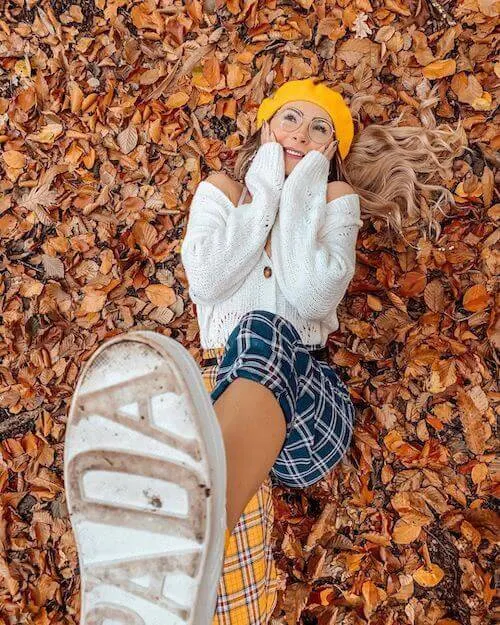 Save The Date
A cute announcement idea!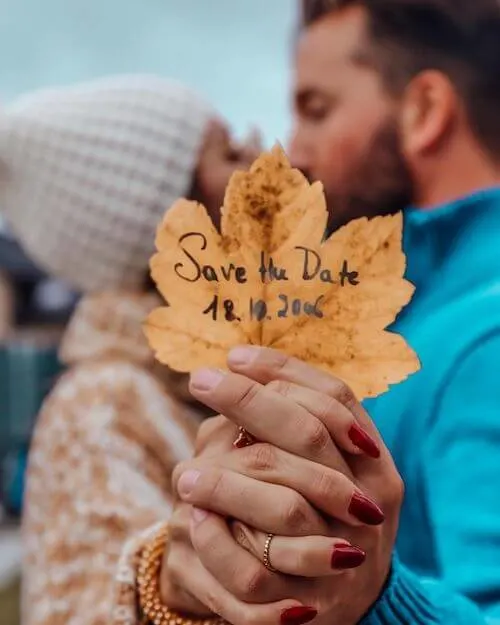 A Red Leaf Wing
Usually the leaves wings are used in the back photo, so the side photo is also very cute!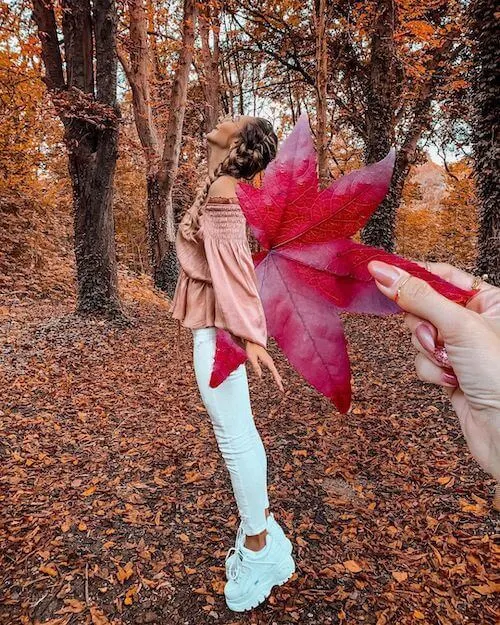 Carry Your Leaf Skirt Hem
The cute thing about this idea is that she seems to be carrying the hem of her skirt.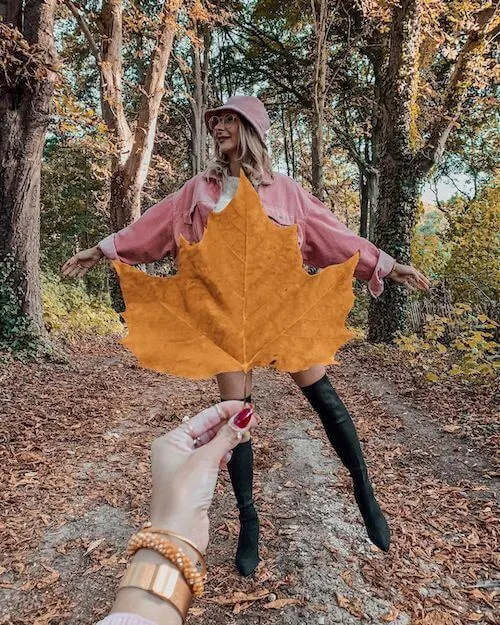 Be Creative To Get Your Own Wings
Several leaves put together also looks very good.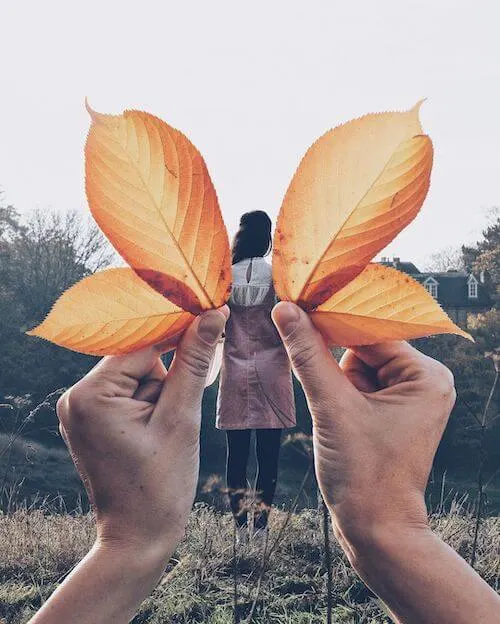 A Cute Heart
Cut out a heart shape in the middle of the leaf, and then shoot various things you like through this heart shape.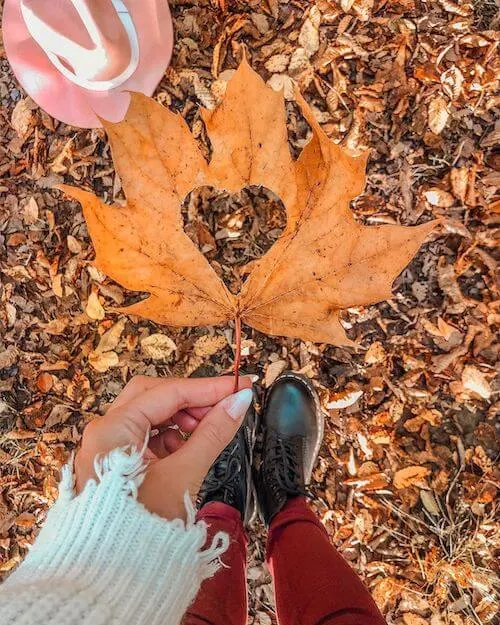 Fall Dance
Fall is the best time of year to enjoy romantic dances in the nature. Dance in the autumn with your significant other.
Stick The Leaves To Your Shoes
This is the idea we mentioned before of putting fallen leaves on your shoes, isn't it both simple and cute?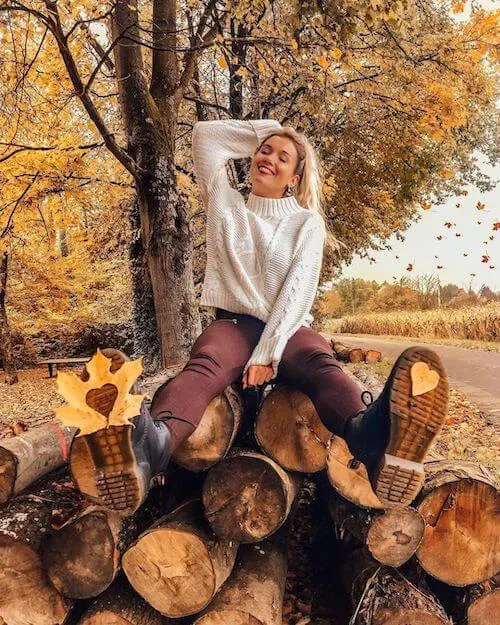 An Umbrella Skirt
By gluing the fallen leaves on the umbrella, you will get a unique and beautiful skirt in fall.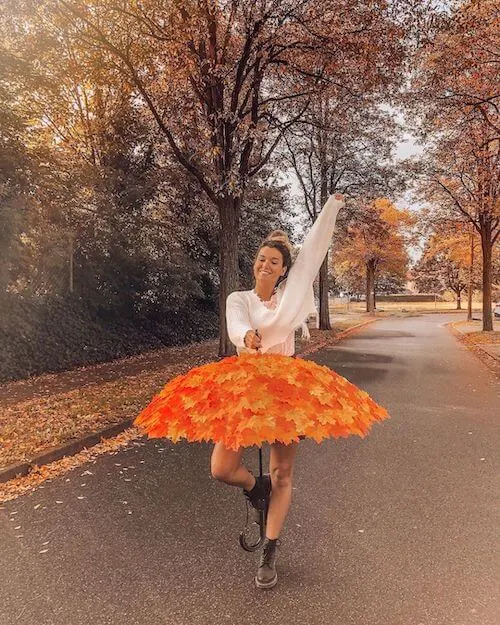 A Heart Created By The Fallen Leaves
Make a heart shape on the ground covered with fallen leaves.
But remember to take pictures quickly, because the wind is usually very strong in fall and will destroy the shape you have carefully arranged.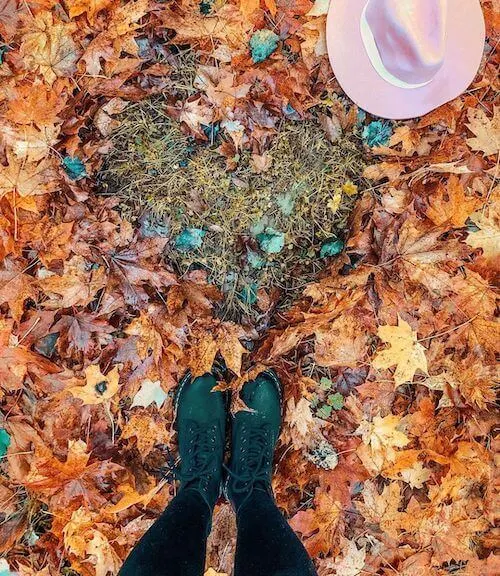 A Cute Bun
When you don't know what position to do, touch your bun.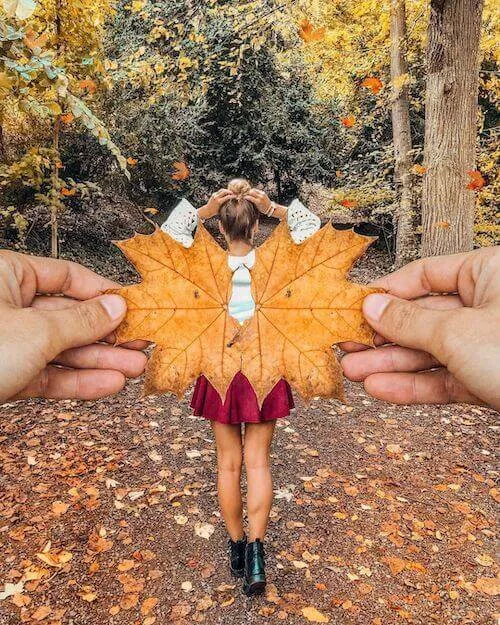 Leaves Fringes For The Umbrella
A cute umbrella is a popular subject for fall photos.
If you have a beautiful umbrella color, then show it boldly and then make it even more lovely with fallen leaves.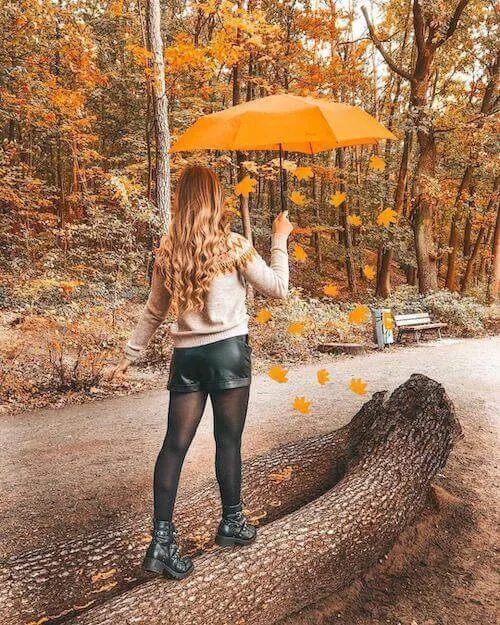 Cozy Read At Home In The Autumn Months
Reading at home is also a great photo idea. Remember to use fall decors to set up a lovely corner.
Choosing decorations in the same color is the easiest way, and it looks chic and professional.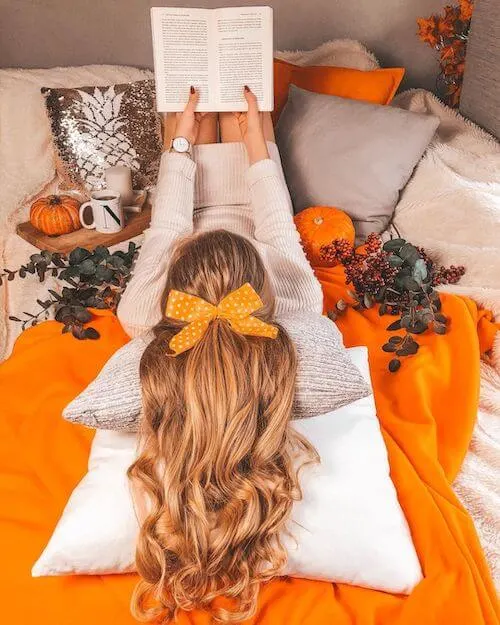 Dance In The Heart
Record your autumn figure through the heart-shaped view.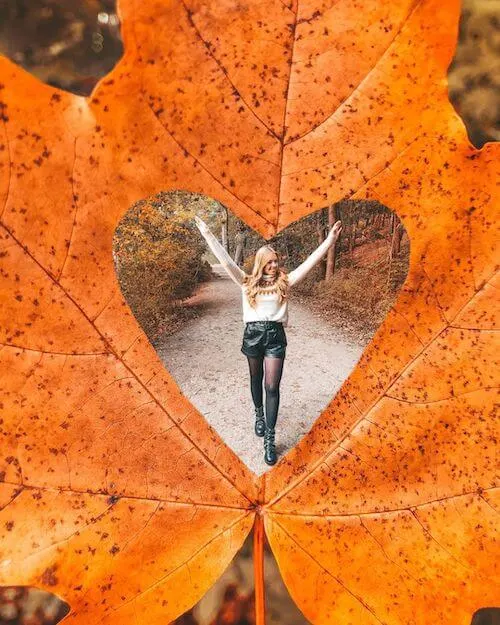 Fall Bucket List
Write down your fall bucket list, then document and share your perfect time with photos.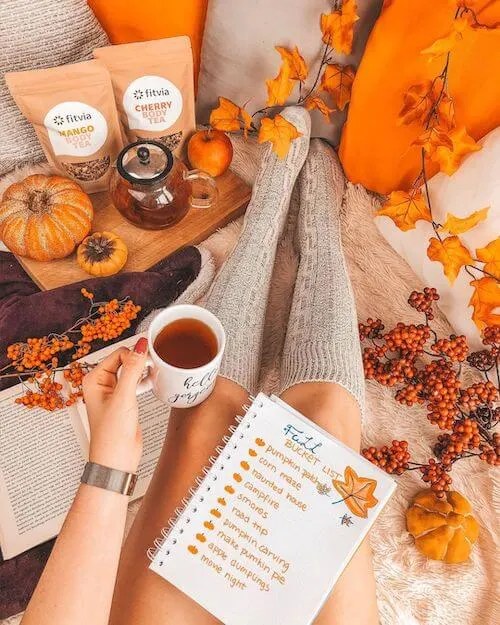 Cute Fall Photo Pose At Home
This idea shows how much fun and relaxation you can have at home, so why not give it a try?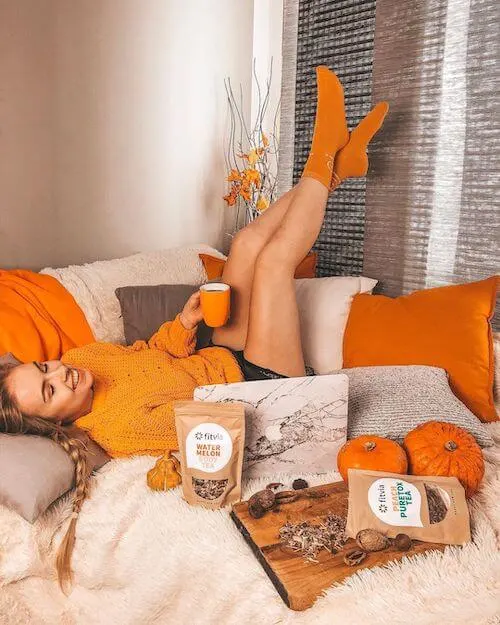 Scarf And Pumpkin Patches
If you don't have an outfit suitable for a pumpkin patch, choose a simple white sweater and use your hair accessories to echo the pumpkin colors, and bring your style to the next level!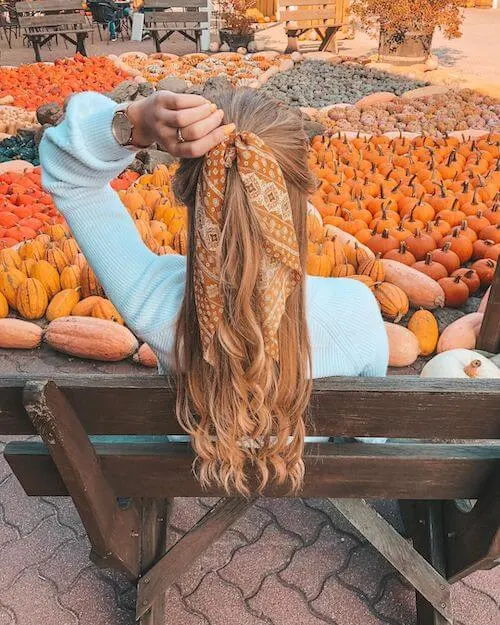 Lie Down In The Vibrant Leaves And Cover Your Face
This idea is really so easy and practical, especially suitable for when there's no makeup on!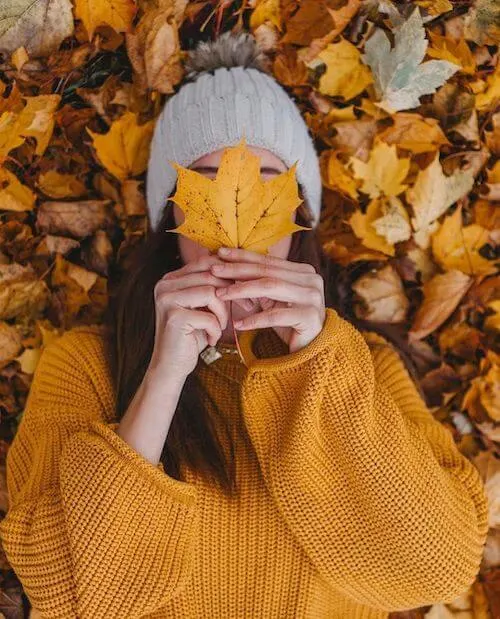 Mixed Autumn Colors Of Cozy Fall Outfit And Leaves
If you are wearing a mix of colors, you can hold a fallen leaf to better help your outfit blend in with the fall colors.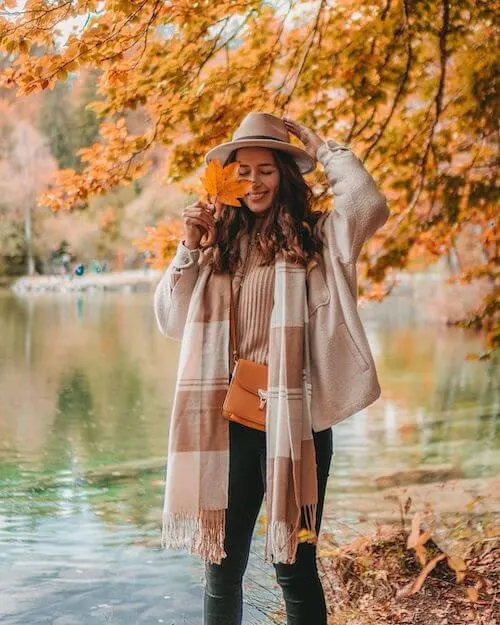 Same Color Schemes In The Golden Hour
The golden hour is the best time to take romantic and gentle photos
Of course, it is best to wear the color that is closest to the color of your surroundings. So, it is necessary to know the condition of the shooting place earlier.
Also, if possible, I recommend that you bring different types of clothing.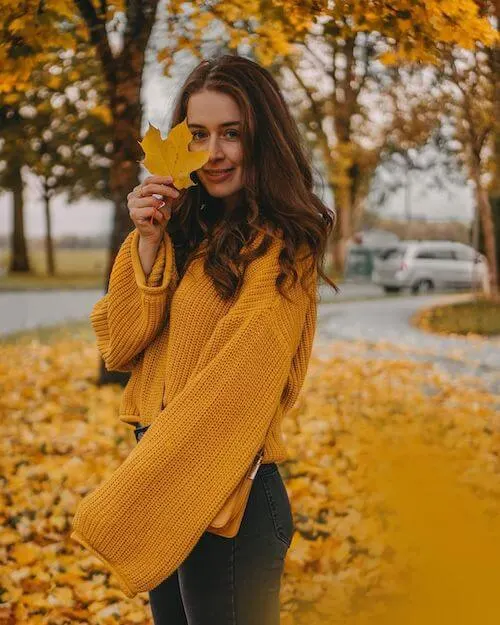 A Fall Makeup Photo Shoot
Leaves can also be attached to your face! Complete a unique fall makeup look!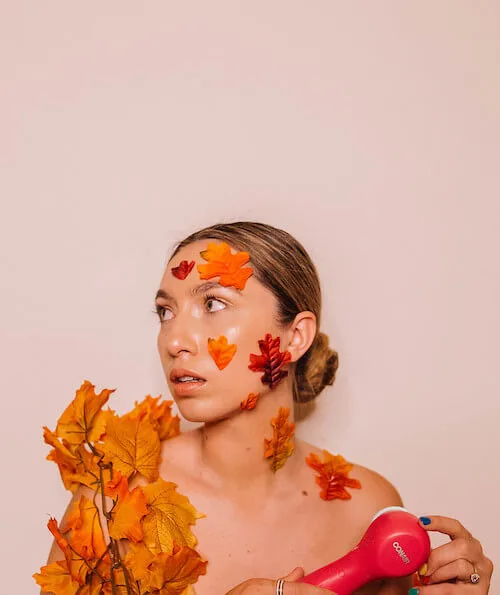 Throw The Long Scarf
If you have a long scarf, this is an idea you should definitely try. Use a wide-angle lens to take the photo giving others a sense of being there.
And you will find that the photo will meet (or even exaggerate) the law of physics that "what is far away is small and what is near is large", which make the photo more vivid.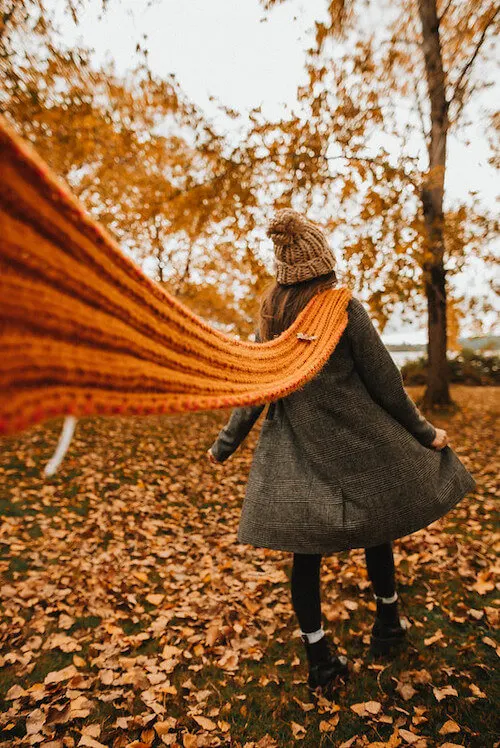 Full Of Fall Gifts
Take an overhead shot of your bike and record your joy.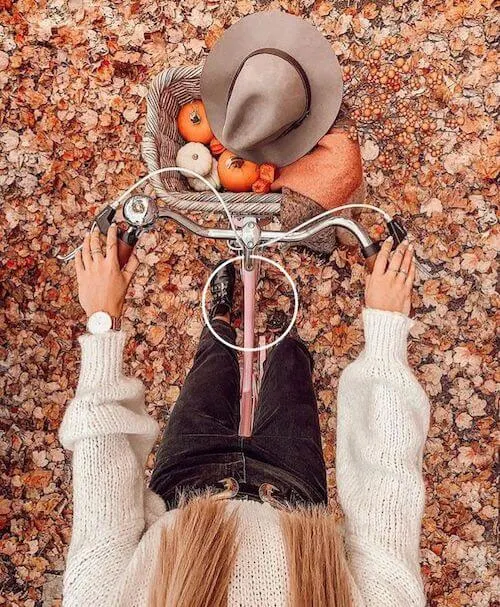 Plaid Pants
What to wear in the fall to take pictures? Besides skirts or dresses, a pair of beautiful plaid pants are a very good idea!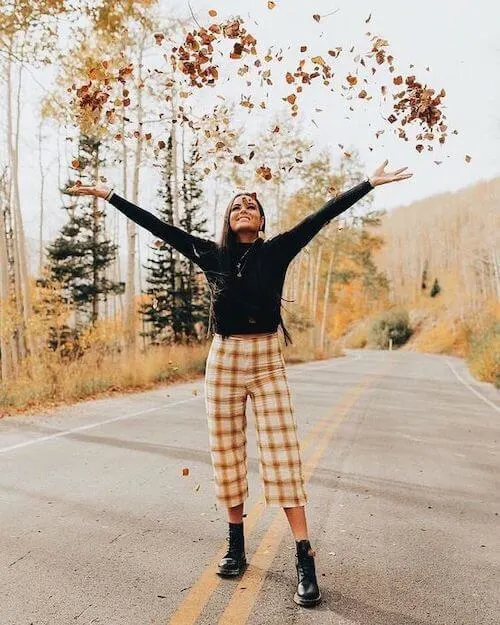 Fall Bike
A Fall bicycles is really great photo prop for fall!
Put all the other props you can think of in fall colors into the basket of the bike.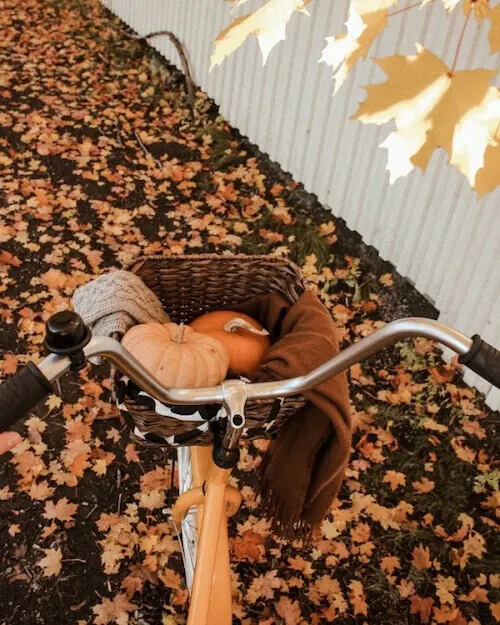 Sweat Heart
Let's make a sweet heart together.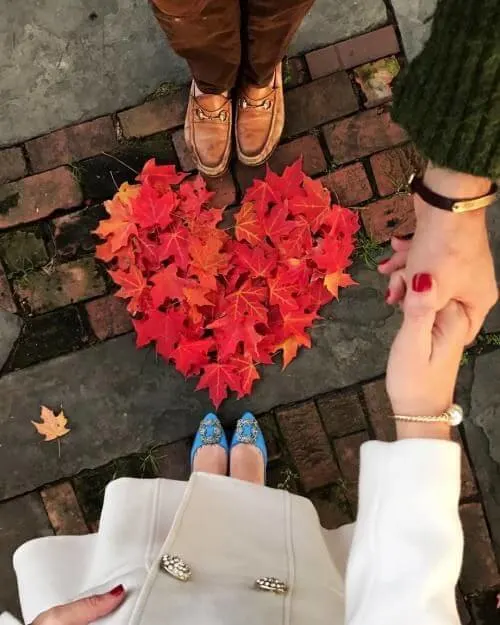 Apple Picking
You have to go to an apple orchard in the fall to enjoy apple cider, pick apples, and take such lovely photos!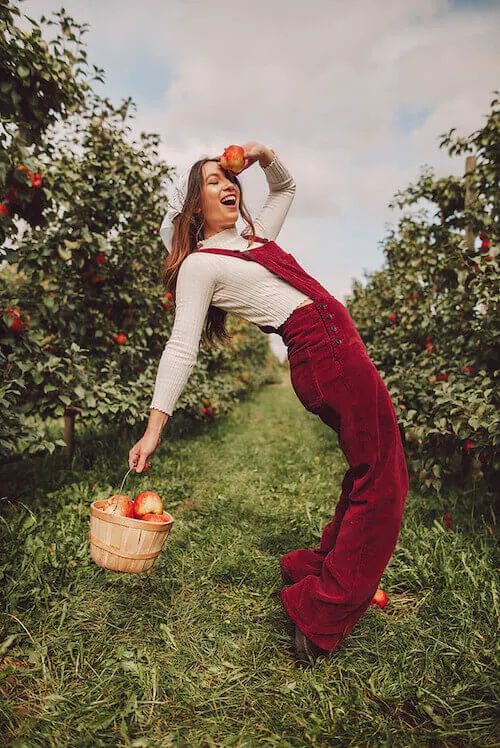 Sit In The Middle Of Pumpkins With Bright Light Source
The Pumpkin Patch is a perfect place for great fall photos.
Wearing a pair of black boots like this to the pumpkin patch is a great idea to show off your long, slender legs.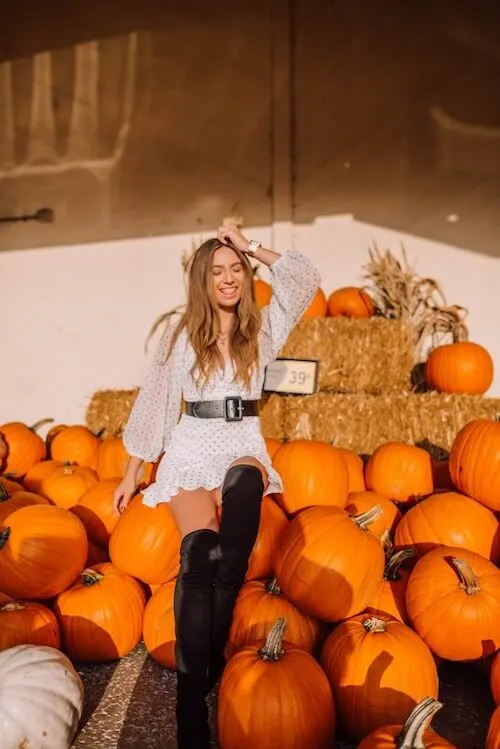 Say Hello To The Fall Season
With the same photo pose, an extra thought on the props will make the whole photo different.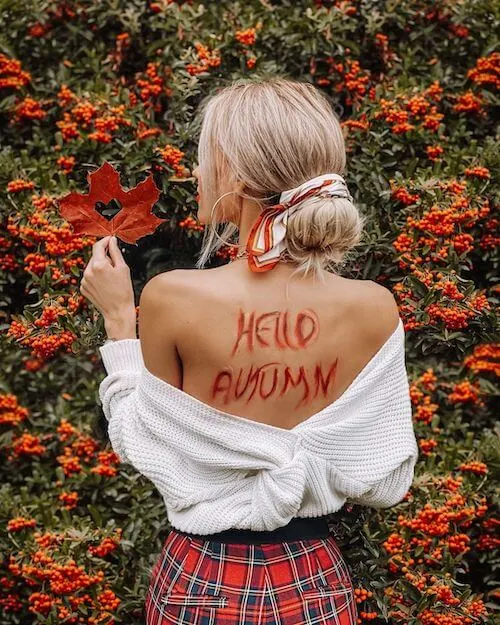 Lie Down With The Wings In The Autumn Season
The fallen leaves can be arranged into the shape of a heart, but also can be arranged into the shape of butterfly wings. Use your creativity.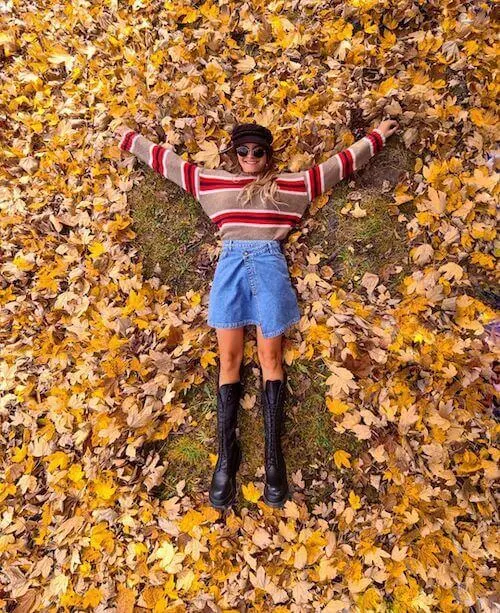 Cute Pumpkin Accessories
One of the easiest ways to make a photo stand out is to wear unique accessories.
So check what accessories you have at home for fall, and hurry up and bring them with you to take photos!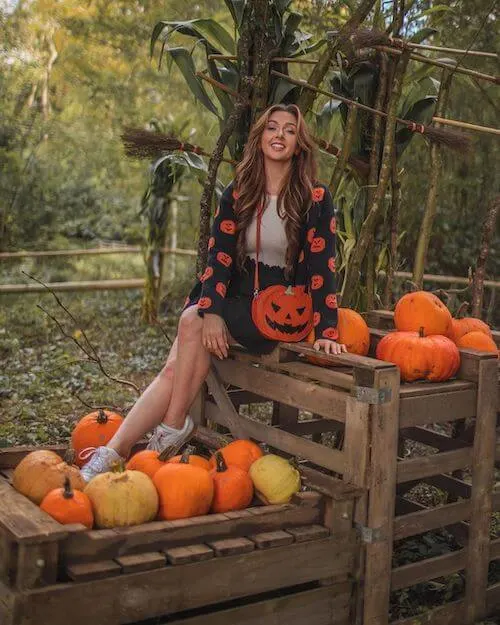 A Fall Picnic Fit Of Fall Colors
Add this idea to your fall bucket list. It's a great opportunity to show off all your cute picnic accessories.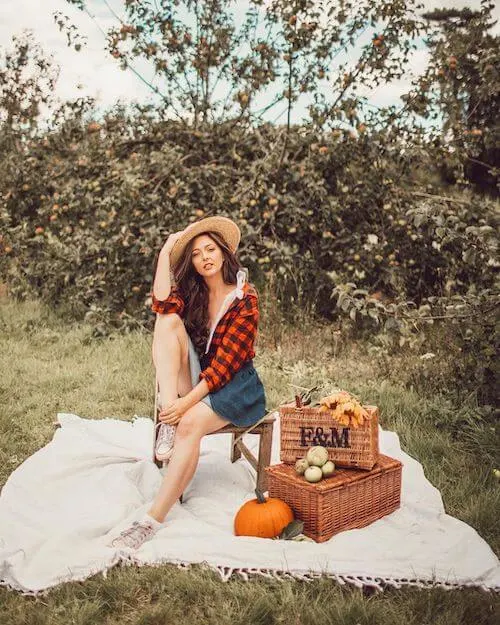 Pumpkin Heads
This is one of the most creative ways to take fun fall photos.
While these pumpkin heads may be heavy, they're definitely worth trying!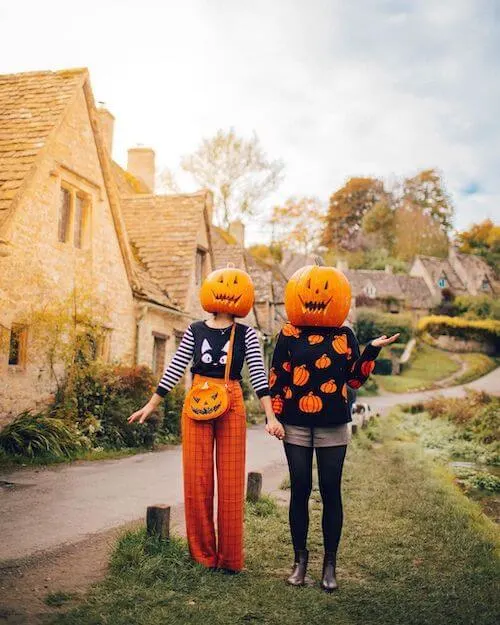 The Witch
Bring your Halloween costumes to the pumpkin patch.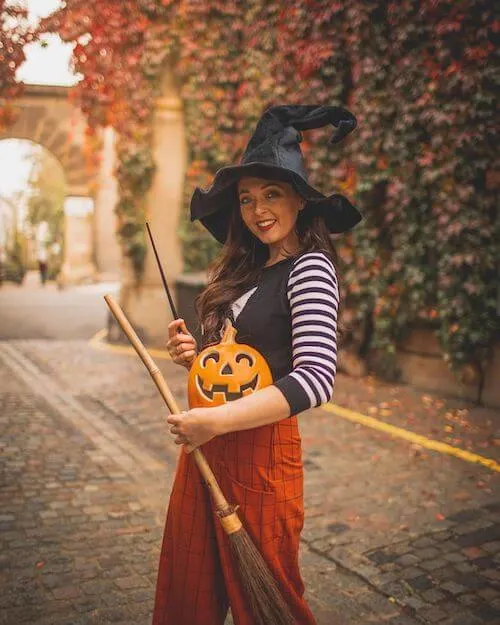 Gingham Dress With Pumpkins
The lovely gingham prints are also perfect for fall fun portraits. Also you can wear cute socks like this photo below to add a little fun to your outfit.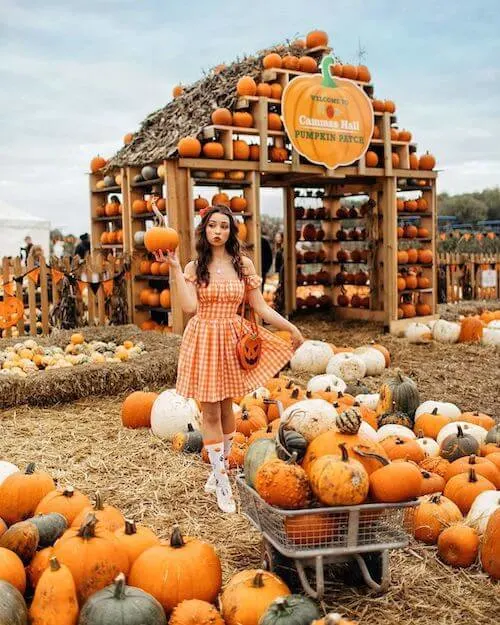 A Lovely Fall Drive
This is a warm and fuzzy photo.
Red Leaves Backdrop For The Portrait Photography
Find a leaf backdrop of a distinctive color and stand behind it for a photo, and you win!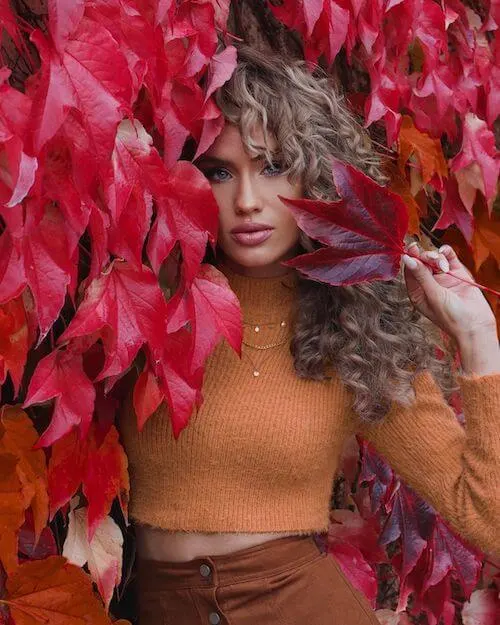 Fall Hair
Everyone is lying down to take pictures, so how can you stand out? Try making your fall leaf hairstyle!
Enjoy The Natural Light With Long Cardigan
Forget about the studio lights and enjoy the beautiful natural light this fall season.
The long beautiful cardigan is my very favorite outfit for fall photo shoots. It goes perfectly with the fall scenery and keeps you warm enough to handle the cooler evenings.
Also, taking the cardigan off and tying it around your waist or holding it in your hand is another great outfit idea.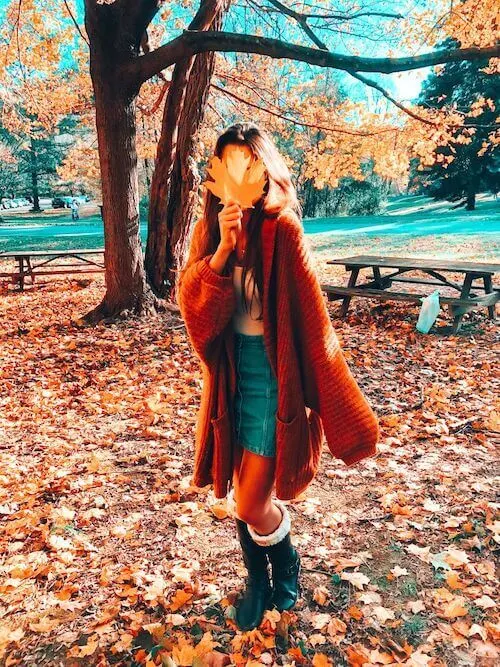 Pumpkins And Pumpkins
Simple and easy to learn, yet beautiful.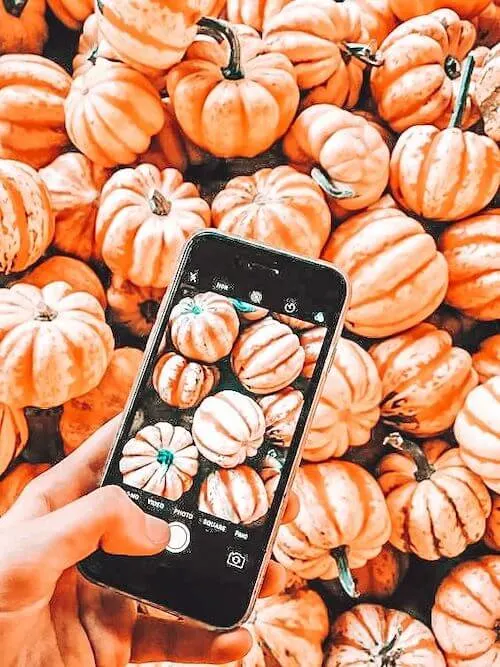 Decorate Your Umbrella
It's a really cute umbrella.
And I really like her beanie hat! Don't forget to take pictures in the fall and take care of your hair in advance. If you don't know what kind of hairstyle is appropriate, add a hat or other cute hair accessories!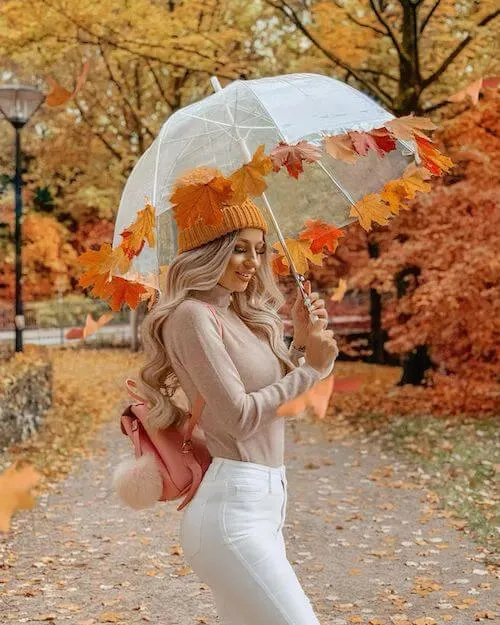 Decorate Your Drink
Just by simply adding a leaf, the whole photo looks different.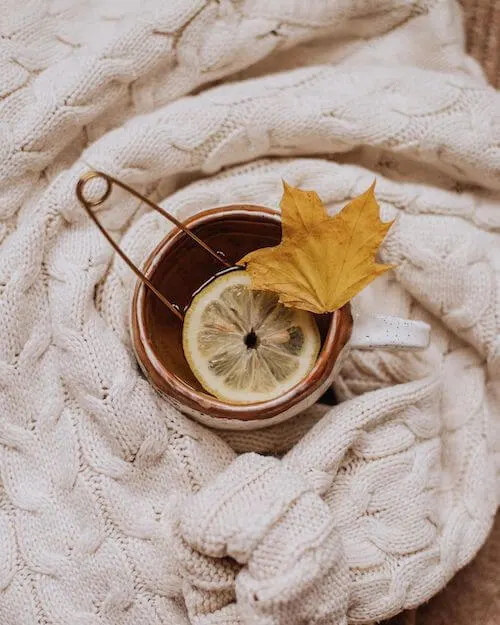 Decorate Your Wall
Lack of cute fall decorations at home for photos then what to do? Leaves are great!
Stick Leaves To The Window
You can also put the leaves on the windows.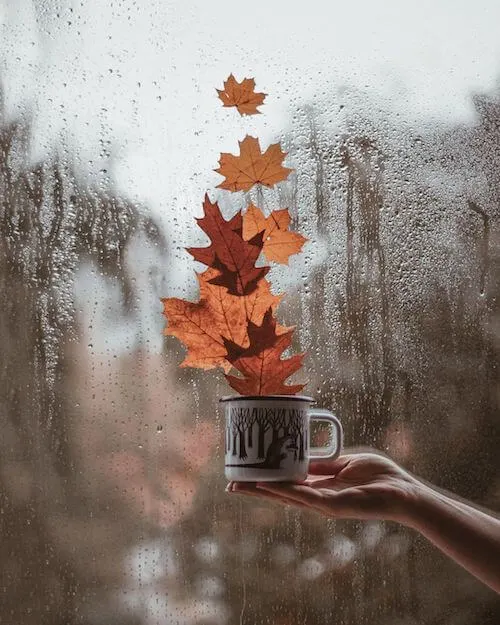 A Fall Letter
Simple and creative, isn't it? And very poetic.
The Quote
Try it out and spell out your favorite quote with leaves.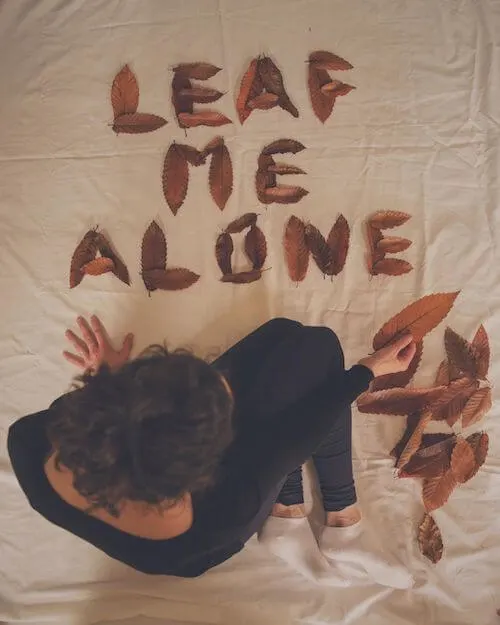 Cute Fall Family Photos Or Friends Photos
Don't forget to take fall family photos with your entire family members and friend photos.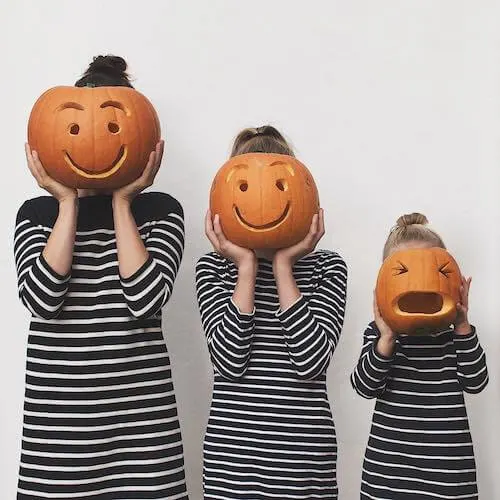 A Mug Shot
Adding a leaf is once again a great idea.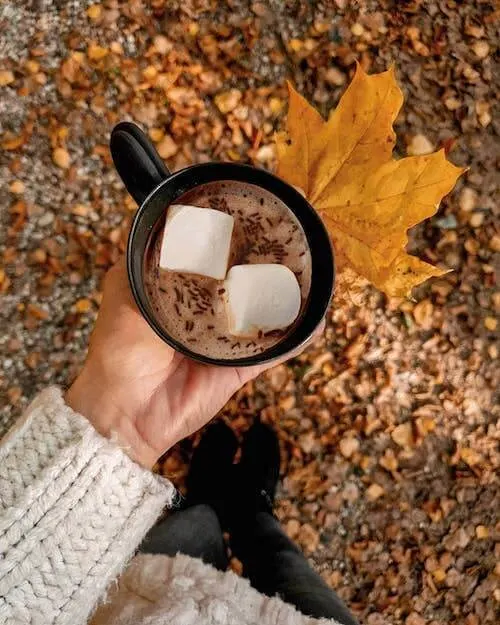 The Corn Maze With Excellent Earth Tones
This must be on the bucket list for fall photos.
How about trying to shoot a close up this year? If you don't know how to look into the camera, just look up at the sky.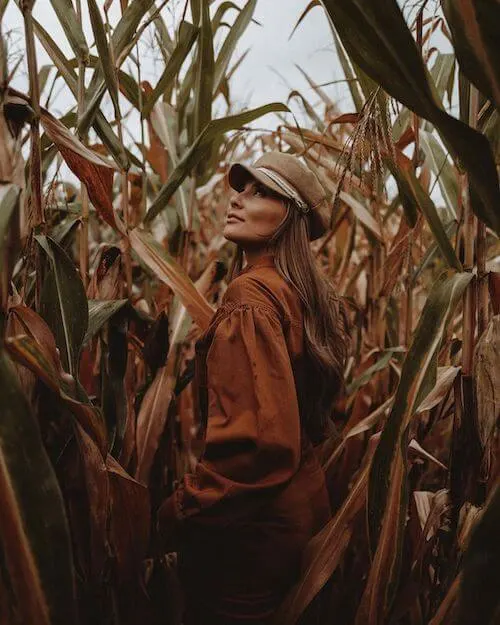 What Other Creative Fall Photoshoot Ideas To Try This Year?
How about being a landscape photographer? While most people are photographing pumpkin patches and apple orchards, you may want to look for something special for your autumn portraits .
For example, shoot rainy days, fairy lights in the backyard, railroad tracks, a row of trees, the harvest moon, etc.
So, what creative photography ideas you want to try for your next photoshoot?
This post was all about creative fall photography ideas.
About The Author
Tracy is an experienced personal stylist, shopping expert, and fashion & lifestyle blogger. She has been featured on Time Magazine, Bustle, Best Life, Glam, The Zoe Report, Mic, and GOBankingRates, for her insights on fashion, beauty, home decor, and lifestyle. Read More
More Fall Photoshoot Ideas: