Looking for the best family fall photoshoot ideas? Check this post for expert tips on fall family photo color schemes, creative fall family photo ideas, and what to wear to your fall family session. Taking
Fall is a great time to take photographs for your family, and the colorful foliage on the trees and ground will make a stunning backdrop.
If you don't know how to shoot better at this popular time of year or worry about taking the same old photos, you've come to the right place.
In today's post, I am sharing with you the best tips to take perfect family photos, the perfect color schemes for fall family pictures, and the cutest ideas to take fall family photographs.
At the end of the post, I am also sharing how to choose the perfect outfits for your fall family session, and the best fall family outfits to copy and shop directly for your next amazing photos.
The following family photograph ideas and their examples are sure to help you create striking fall family photos and convey unique fall styles.
So scroll down to check these ideas, and don't hesitate to pin them to your Pinterest board and share them on social media sites.
This post may contain affiliate links, which means I'll receive a commission if you purchase through my link, at no extra cost to you. Please read the full disclosure here.
This post is all about family fall photoshoot ideas.
When Should You Take Family Pictures In The Fall?
One of the most important family photography tips is to shoot during the "golden hour," which is the hour before sunrise and the hour before sunset. It is the best time to take fall family photos.
In the fall, dusk and dawn lights are warm, soft, and free of overly bright highlights, direct sunlight, and dark shadows, giving these hours a golden hue.
If you can shoot at this time of day, you will take amazing pictures that will be recognized by viewers without extensive post-editing.
How To Choose Fall Family Photoshoot Color Palette: What Colors Are Good For Fall Family Photos
Choose fall colors.
In the fall, brown, tan, rusty orange, burgundy, marigold, and cream are the best colors.
If the scene you choose to shoot does not have these fall colors, please add them to your outfits.
You can add a small amount of denim blue or green, or cute patterns like dots, gingham, plaids, or floral prints to liven up the picture.
Consider the environment where these family photos will be displayed.
Since you will be hanging these family photos in your home, you want to make sure that the colors of your clothes match the colors of the interior of your home.
Take a walk around your home and think about where you will place these family photos.
If they are displayed in the living room in the future, look at the colors there in the living room, do they have bright accents or more neutral tones?
Are you using them on holiday cards?
Avoid wearing all white or all black for everyone.
One reason to avoid white is that it is easy to overexpose certain parts, causing their details to be lost, so that photos of portrait clothes no longer have any detail and are completely white, as if the highlights were shining on them.
The same is true for all-black. Black clothes can easily lose details.
Especially in post-processing, the fluffy texture and detail of these black clothes will be completely invisible.
Below, I am sharing our favorite fall family pictures color schemes.
Best Fall Family Pictures Color Scheme Ideas
White + Denim + Light Gray + Black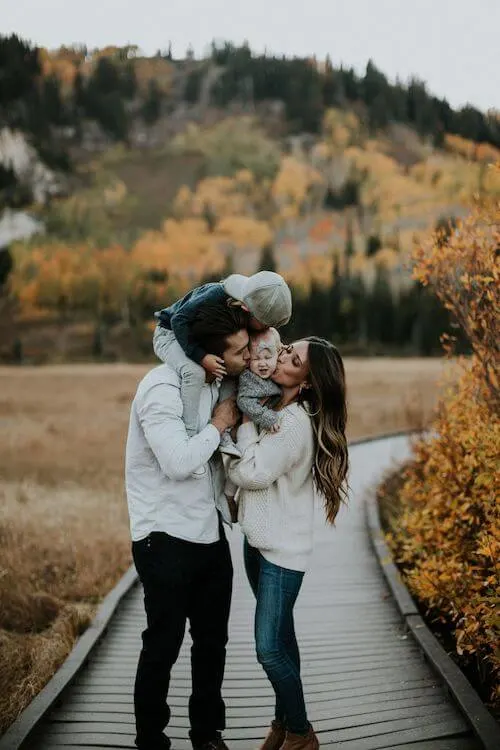 Burnt Orange + Cream + Khaki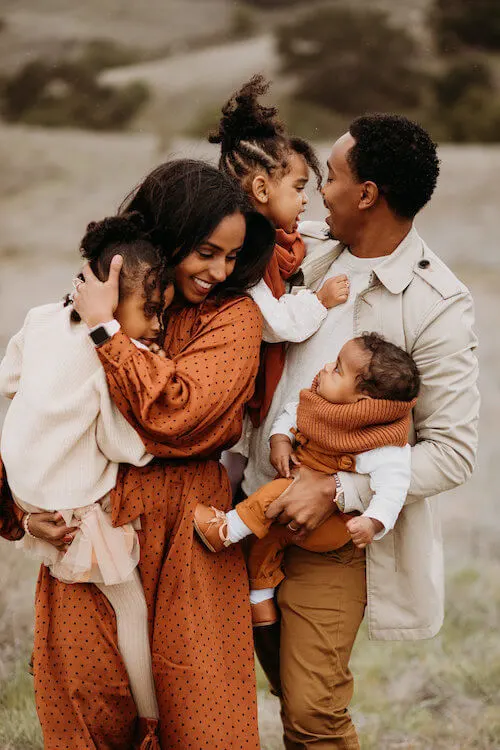 Beige + Gray + Light Denim + Tan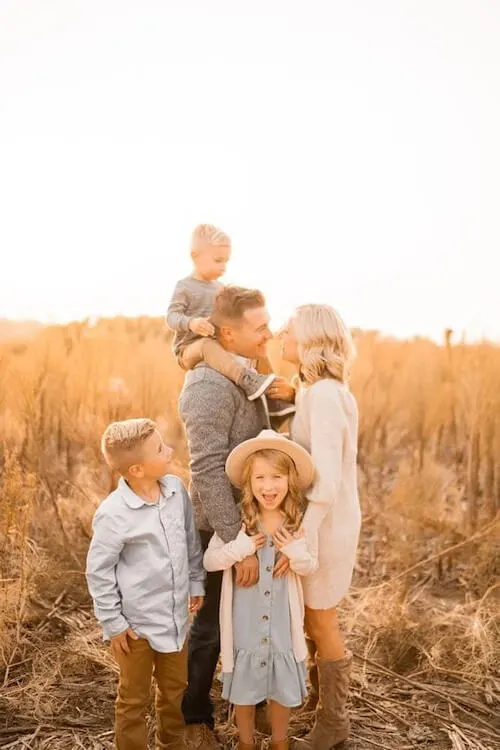 Floral + Denim Blue + Burnt Orange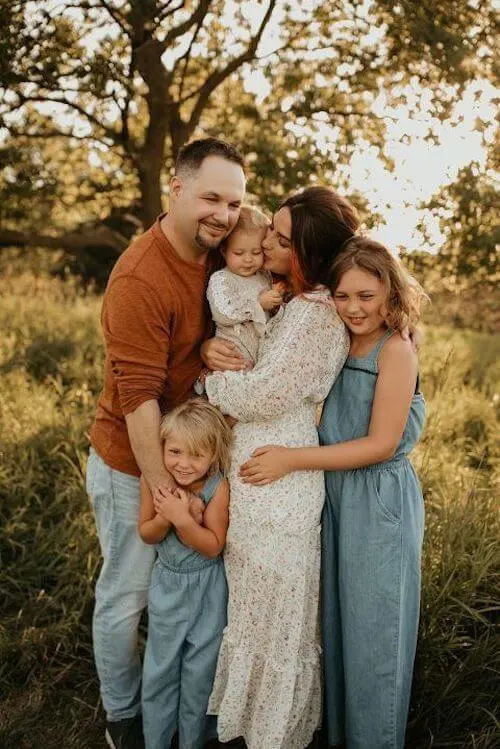 Black + Light Gray + Denim Blue + Brown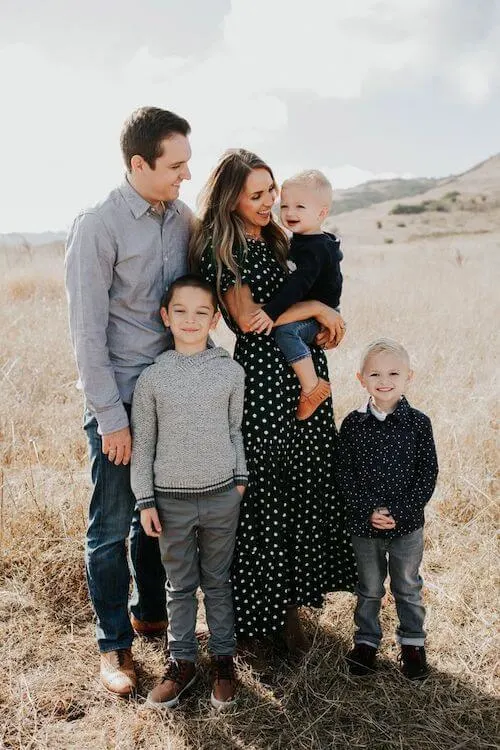 Red + Dark Denim + Black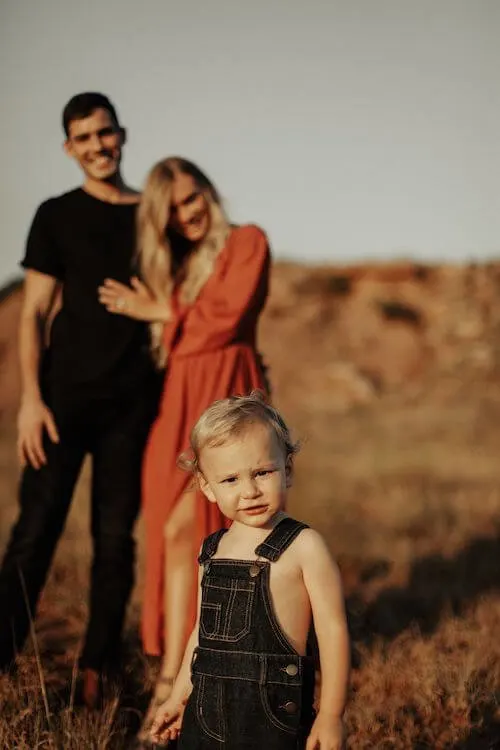 via Pinterest
Light Gray + White + Navy Blue + Burnt Orange
via Pinterest
Denim + White + Black + Burnt Orange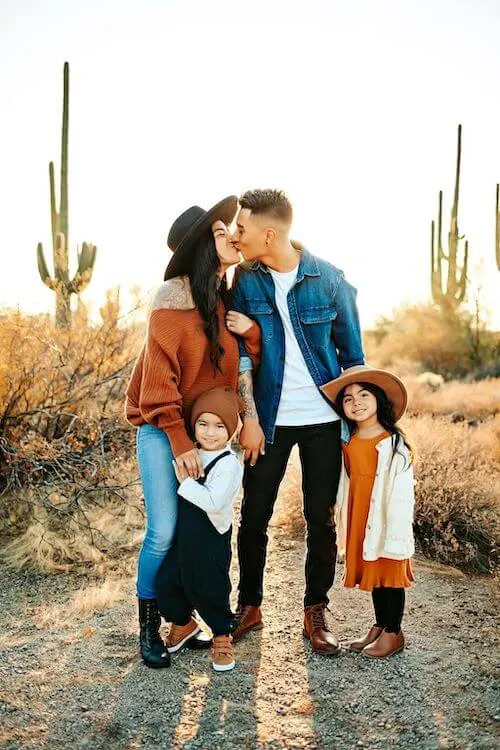 Jewel Tones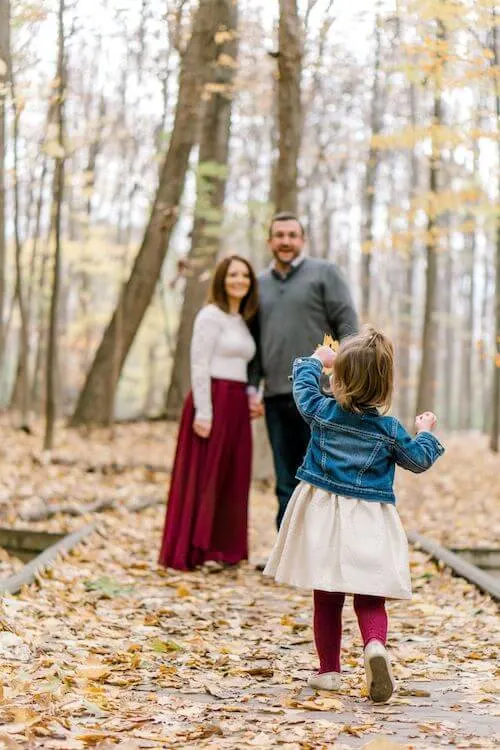 via Pinterest
Black + White + Tan + Beige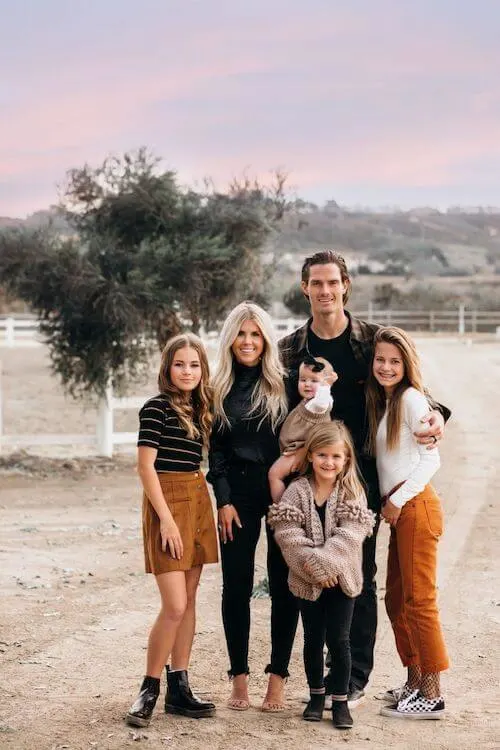 White + Tan + Brown + Green + Floral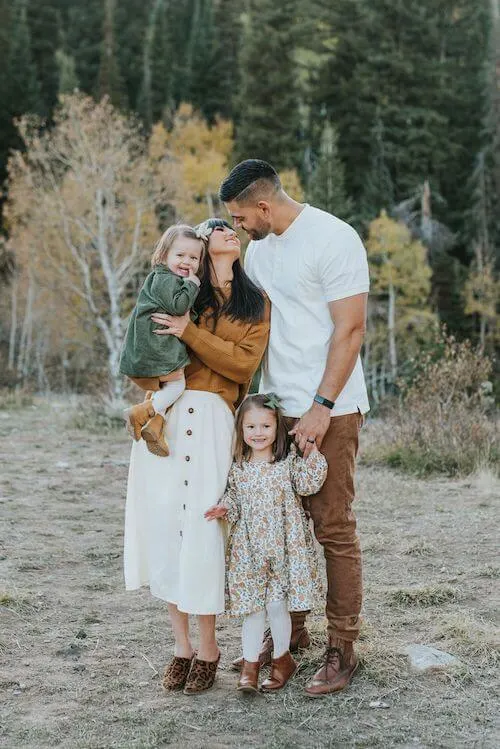 Shades of Tan + Yellow + White
Bright Yellow + Beige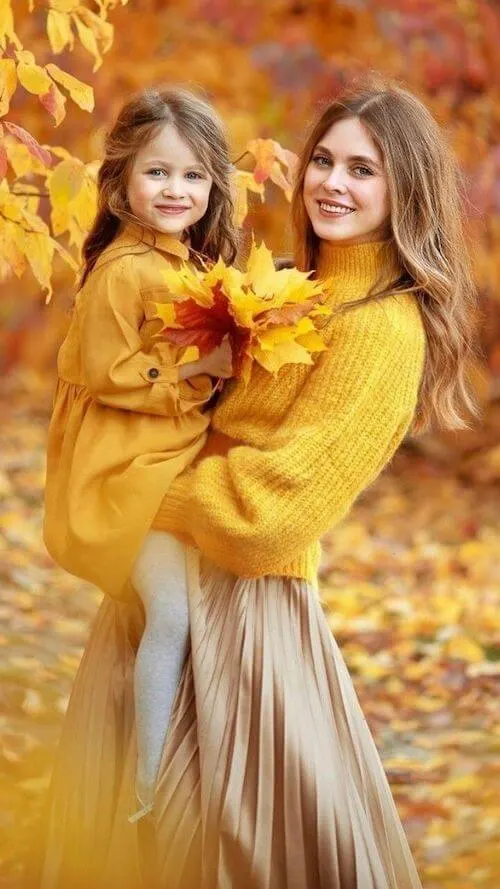 via Pinterest
Burnt Orange + Tan + Plaid + Stripes + Black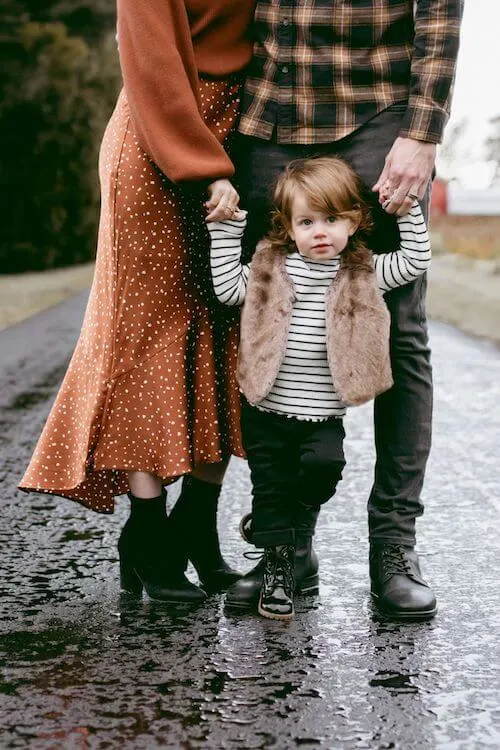 via Pinterest
Bright Colors + Plaids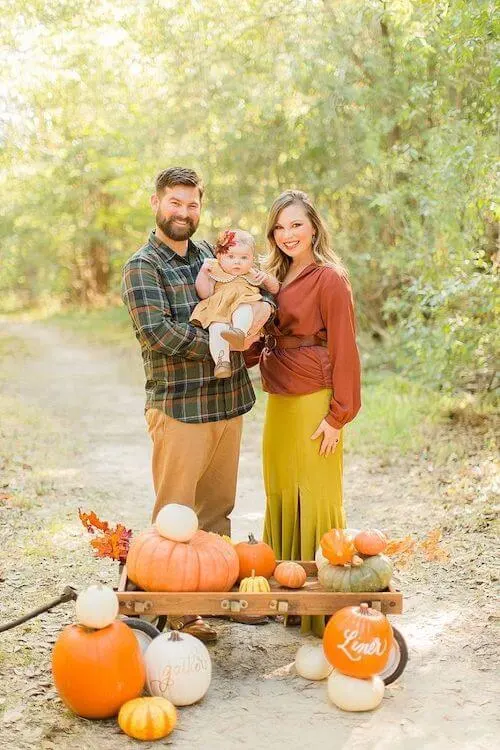 via Pinterest
Burnt Orange + Green + Yellow + Plaid + White
Denim + Tan + Animal Print + Plaid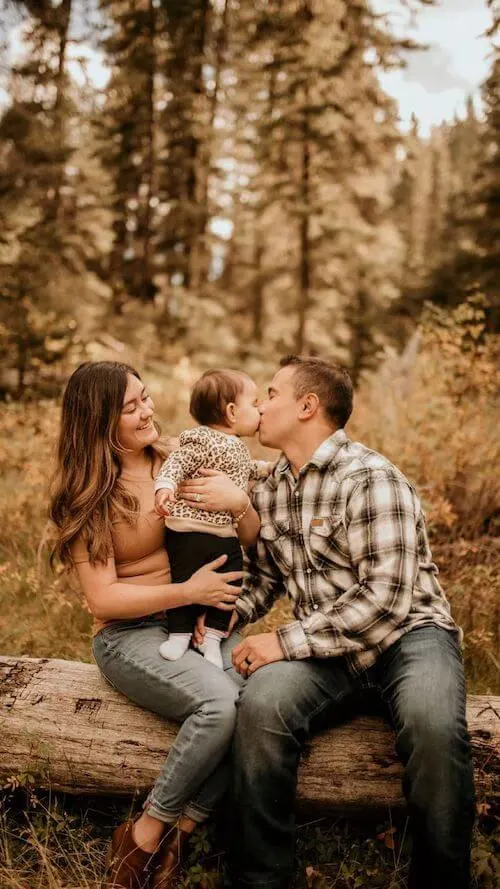 Perfect Earth Tones With Lovely Small Details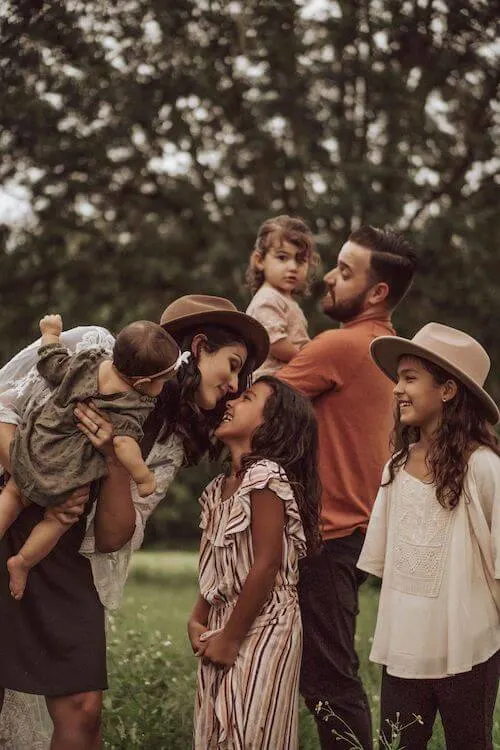 Burgundy Hue + Tan + Green + Floral
Burnt Orange + Tan + Yellow + Floral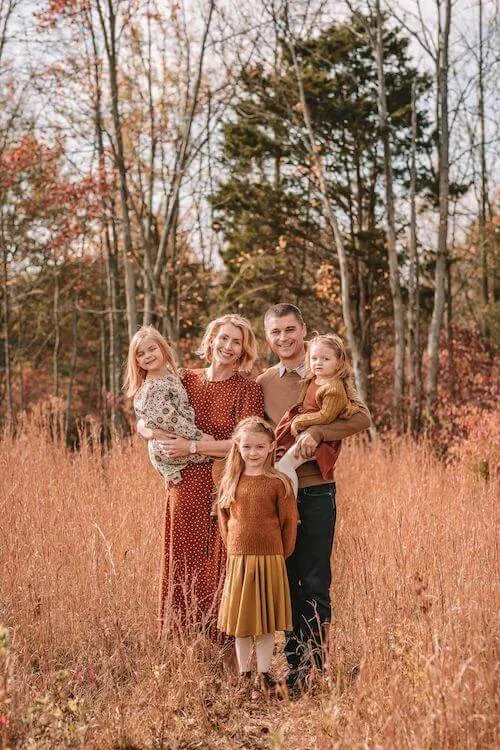 Brown + White + Navy Blue + Floral + Gingham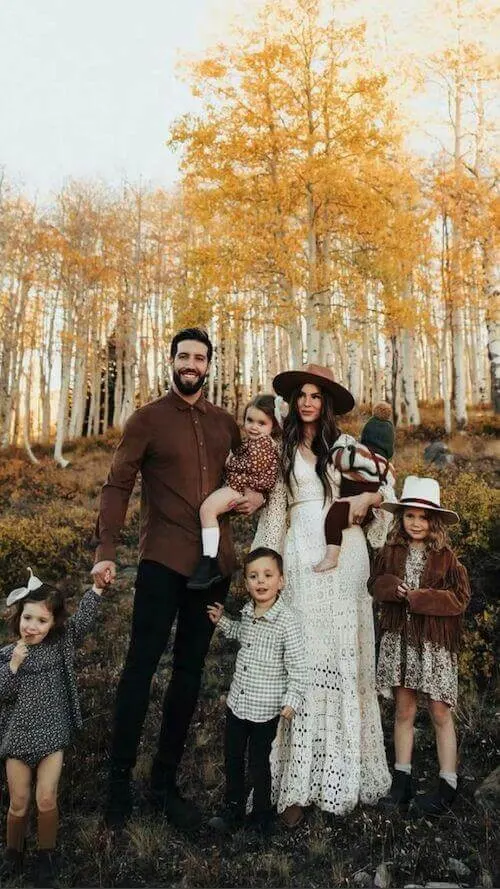 Red + Yellow + Color Stripes + Black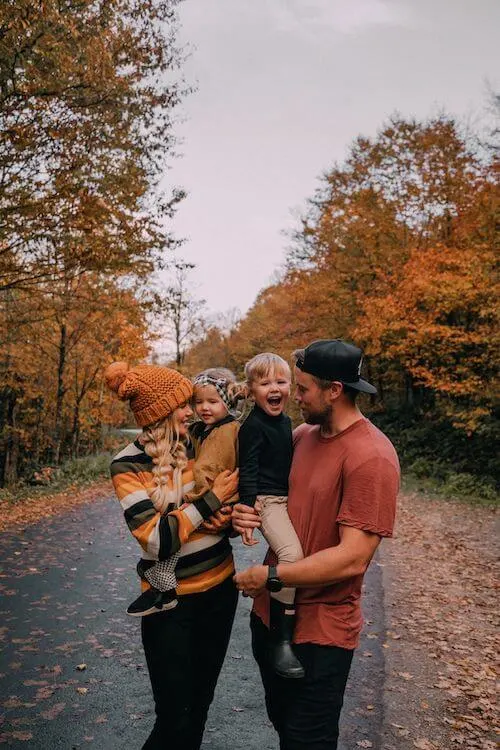 Black + White + Gingham + Tan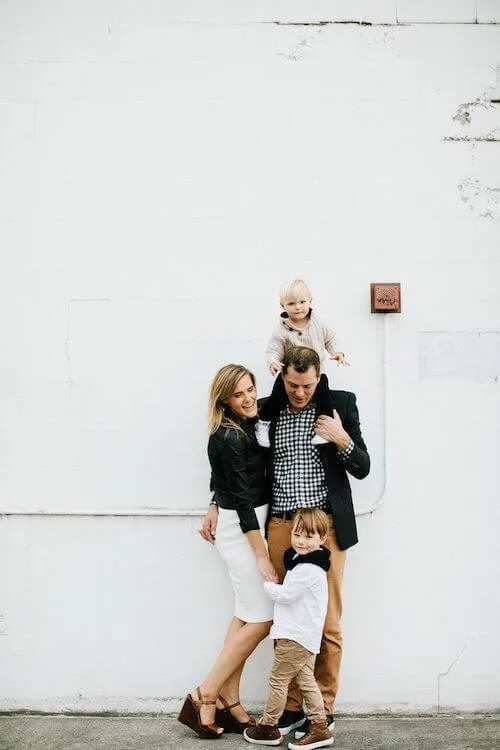 All Black + Burgundy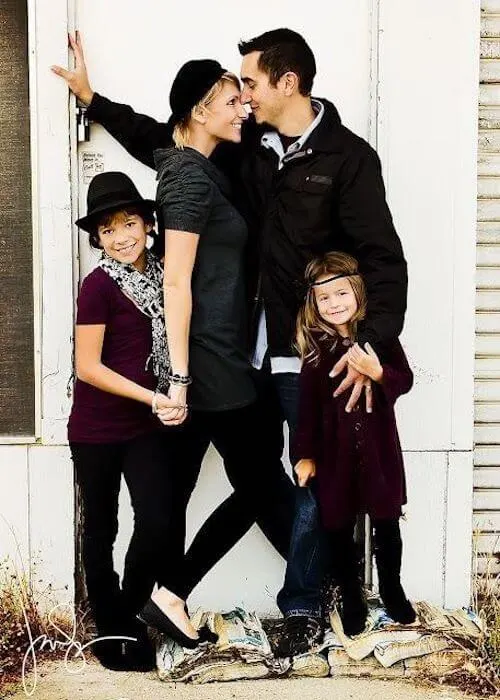 Light Blue + Tan + Black + Denim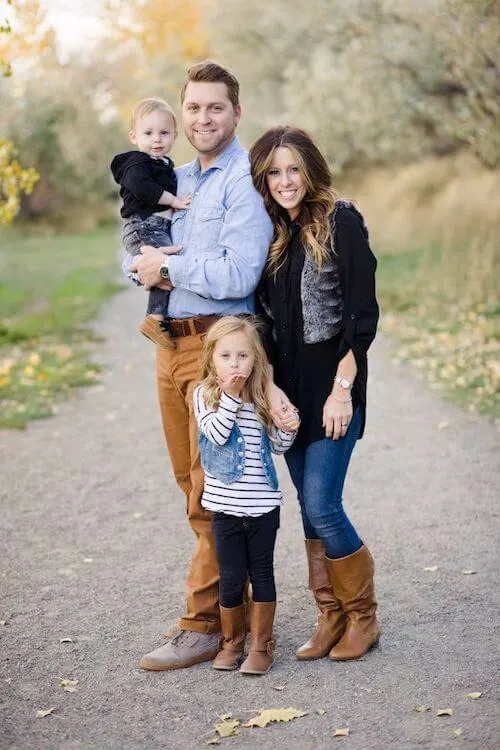 How To Take Good Fall Family Photos In The Fall: Creative Ideas for Outdoor Family Photos
What are some of your favorite things about fall?
Maybe it's the foggy mornings, or the evenings when it's still a bit warm, or the vibrant colors and changing trees, or maybe even the texture of the leaves falling and gathering on the ground during the "golden hour".
The most memorable or characteristic elements of the fall season are the best subjects for your photographs.
Such subjects usually include trees changing color, falling leaves, scenes after rain, and waterfalls and streams.
In the fall, of course, you should take an outdoor family photo tour.
Below I am sharing with you our favorite outdoor fall family photoshoot ideas of locations, photo poses, and props.
Gorgeous Backgrounds of A Lot of Trees And Little Kids
This is a perfect family photo in the fall days!
Have a romantic date in the beautiful woods. Let your child run around to make you feel sweet.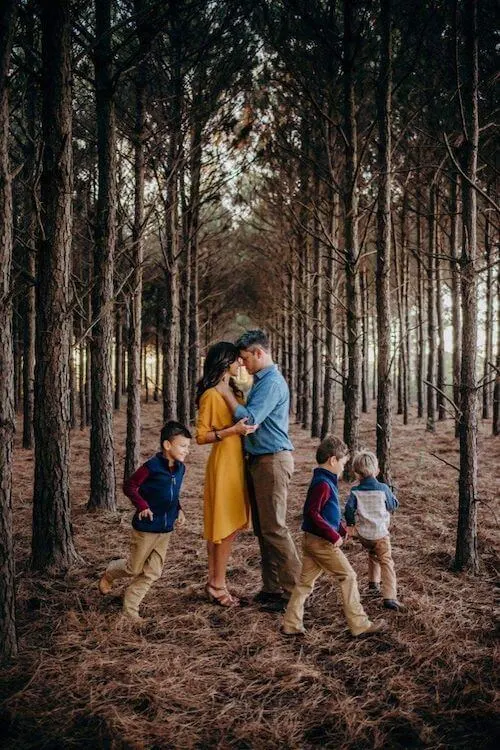 Perfect Backdrop In Pumpkin Patches
A pumpkin patch in the fall is naturally a pretty great place to shoot.
Check closely at your pumpkin patch and see if there is a unique and colorful backdrop. It is a great way to easily make your photos stand out.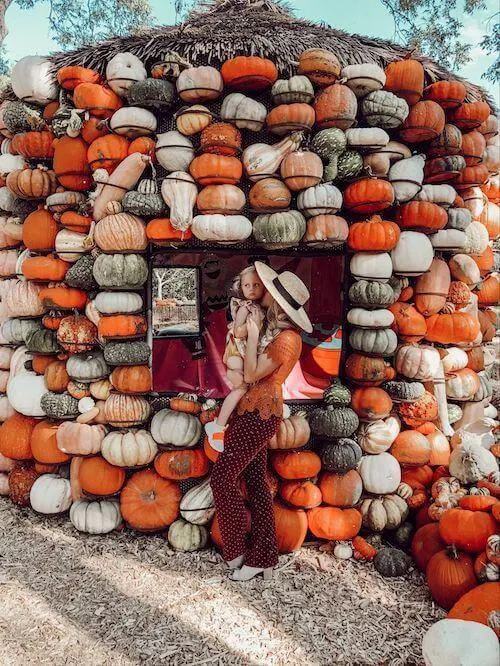 via Pinterest
The Corn Field
Go on an amazing adventure in the cornfield in the fall! It is a good place to take cute fall pictures for your family members.
The color of the corn maze usually becomes lighter, so darker colored clothing will be more suitable.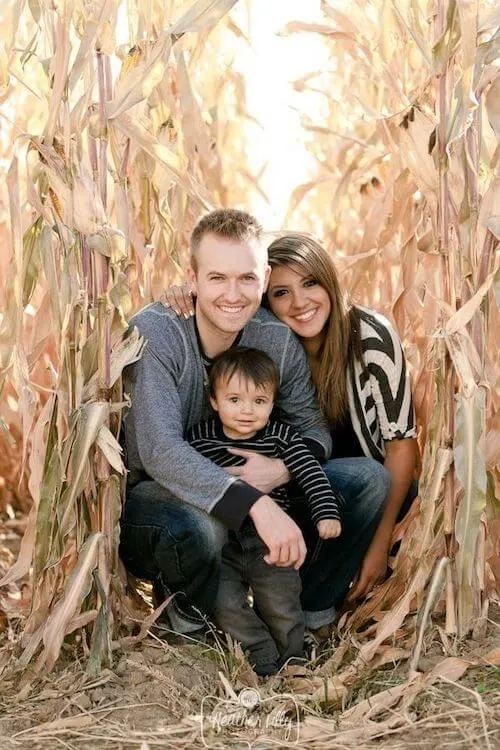 Picking Apple In The Apple Orchard
Is apple picking on your fall bucket list?
Don't forget to take a set of photos of your family members in the apple orchard.
This is a perfect place to take cute family photos. Let the parents and the children interact intimately in the apple orchard for your family portrait session.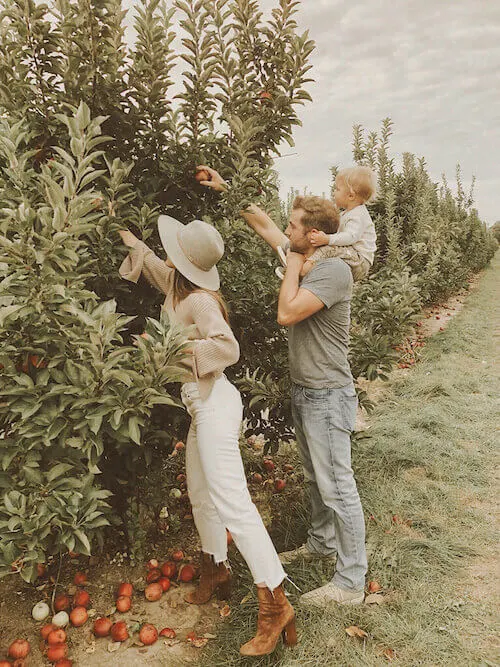 Cute Little Girl With Apples
Apples are fun props!
The nature of innocent and cute children and the beautiful apple orchard in fall are so compatible.
Let the professional photographer take a set of lovely photos of your little kids.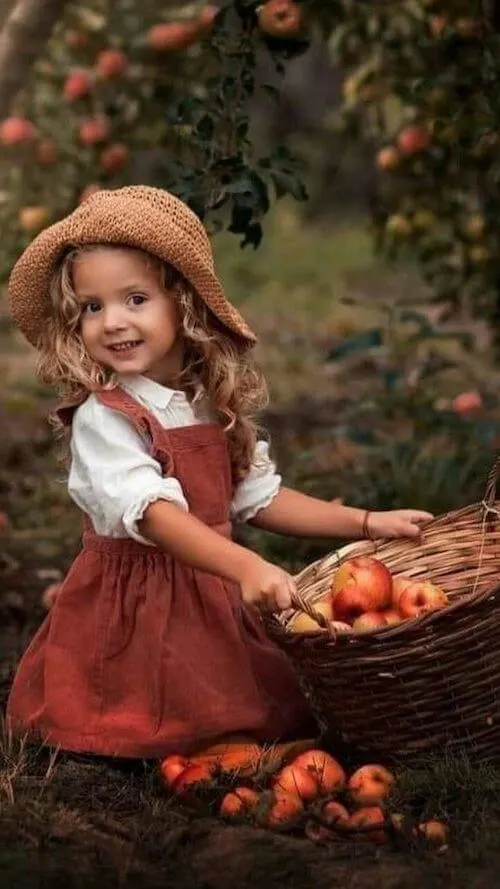 via Pinterest
Cute Little Girl In The Local Park
Take your kids on a fairy-tale trip to the outdoors in the fall.
When taking pictures of your children, you don't have to use too many deliberate props. Natural foliage is the best prop.
Letting your children grab leaves at will is an easy way to help capture their cute smiles.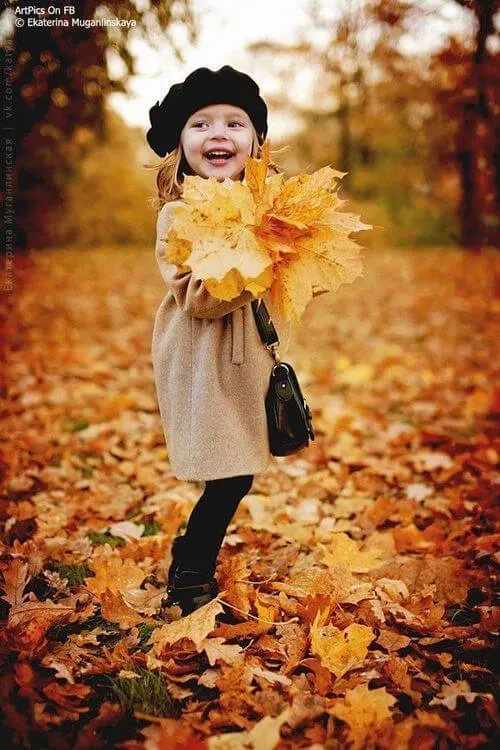 Dad And Son
Having your man interact with your kids must be so much fun.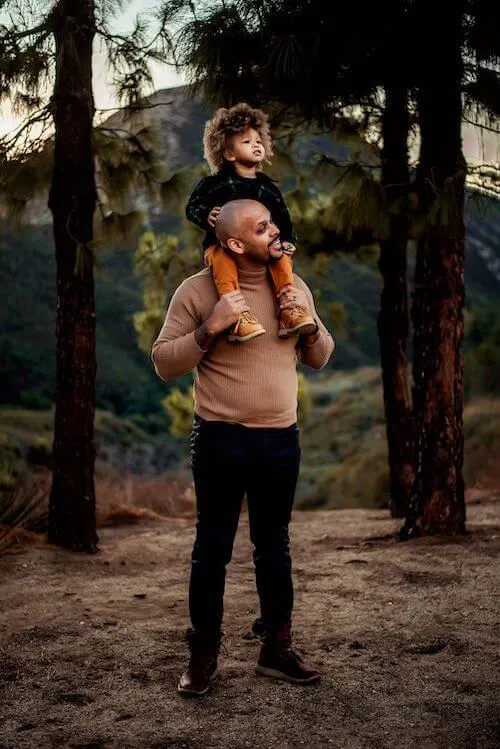 Candid Moments
Find a good photographer, get well familiar with it, and communicate with your photographer before the shoot.
Trust your photographer so that you and your family can stay at your best and relax during the shoot.
Running and jumping up and down, playing games, and especially allowing younger children to interact in a fun way will let your photographer take the best candid shots.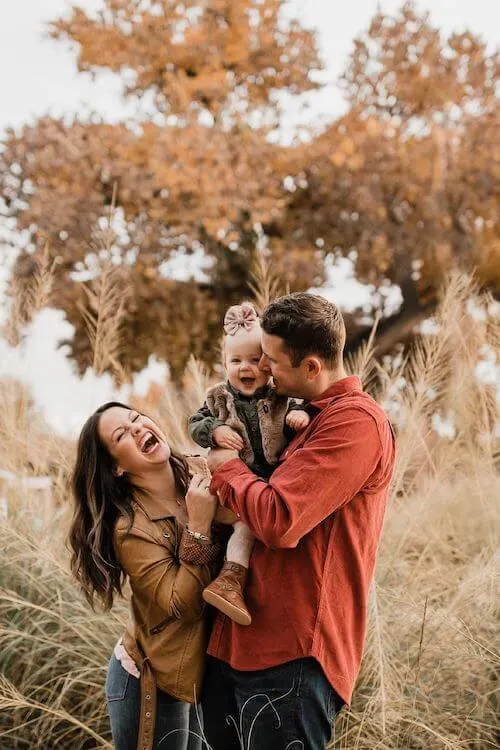 Children Lying Down In Fall Leaves
Let the children lie on the thick fallen leaves, as if in a fairy tale world. This memorable moment is so sweet and beautiful.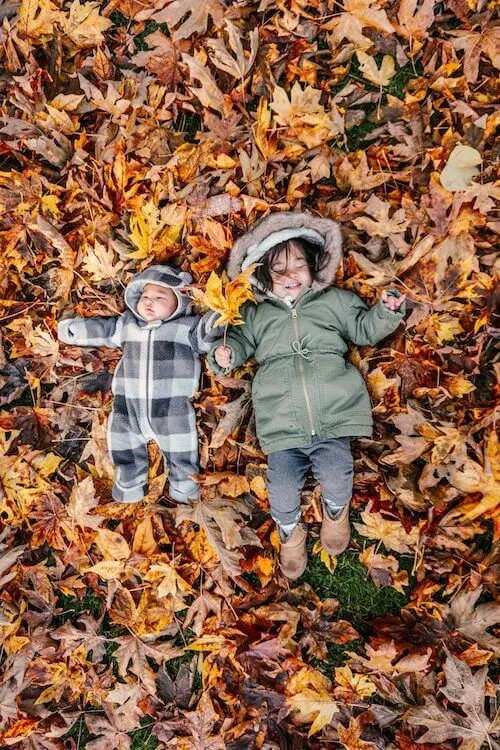 A Cute Pregnancy Announcement
Want to make a pregnancy announcement? Try this idea.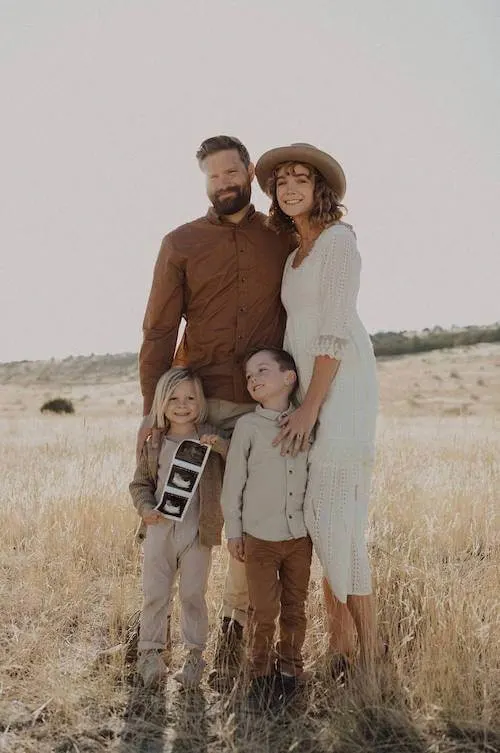 Closer Lens Can Make A Huge Difference
Fall clothes usually have more delicate textures, decorations, and details.
Let the photographer pull the lens closer and gently record these details to make your faces look gentle.
Throw Fallen Leaves With Young Children
At this time, the more vivid the expression, the cuter it is.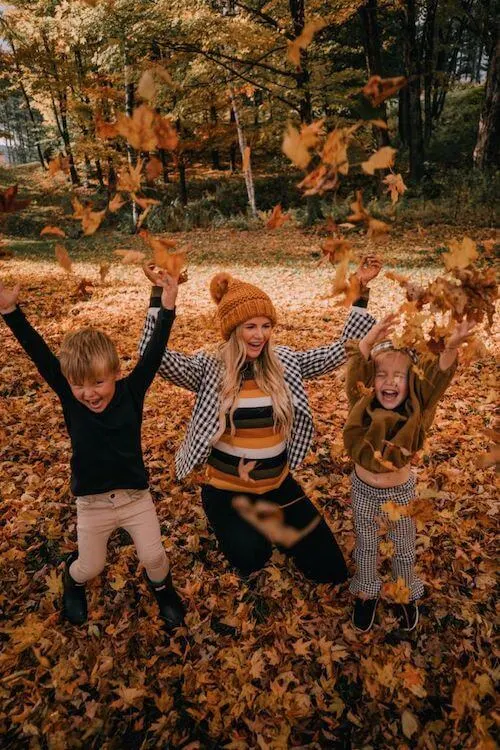 Look Up
Let your child look up at the sky and record the time when the wonderful sunlight shines on their hair and face.
If the weather is colder, you can bring a beautiful blanket to lay on the ground.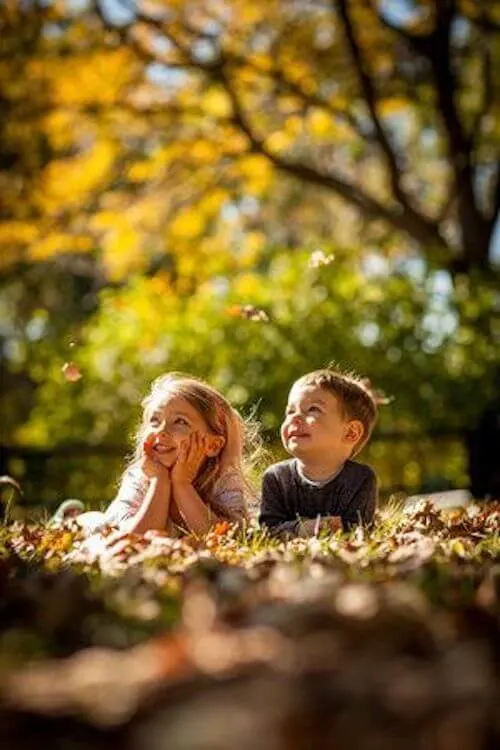 The Entire Family Hide Behind A Tree
Outdoor family photos in the fall can be warm and romantic, or very fun. Take this one below, for example.
Colorful Leaves Are Perfect Photo Props
Autumn's colorful fallen leaves are indeed great props.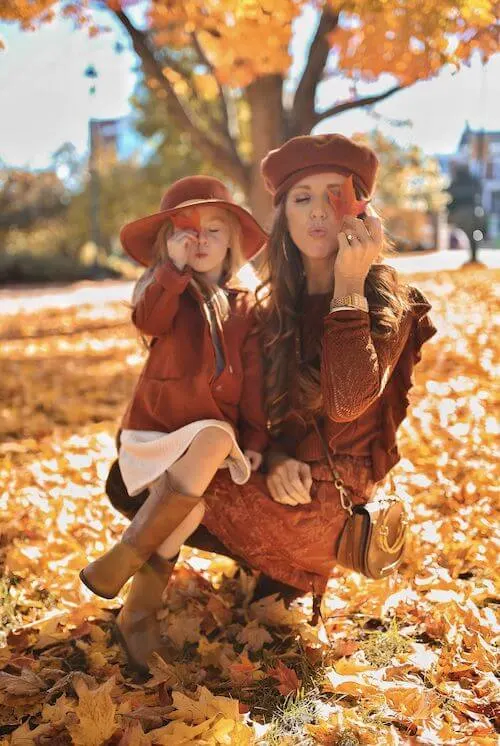 Cute Mommy And Me Pose
Try squatting down and taking a set of photos with your Little Me.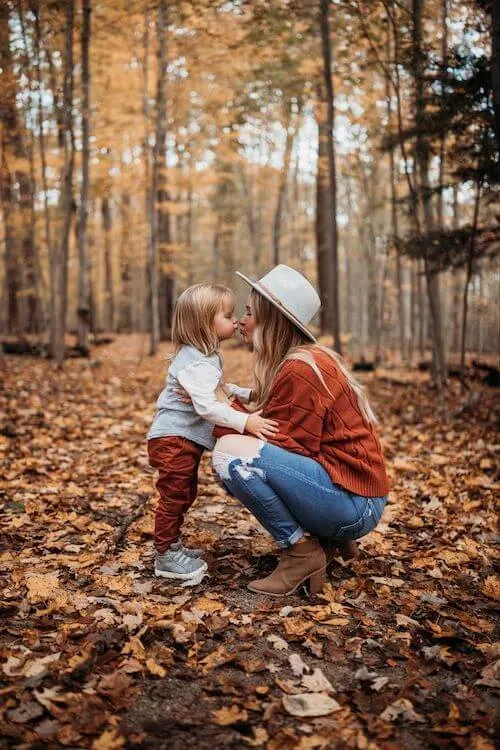 Mommy And Son
It is a good idea to match your child's outfits appropriately in the details of your outfit.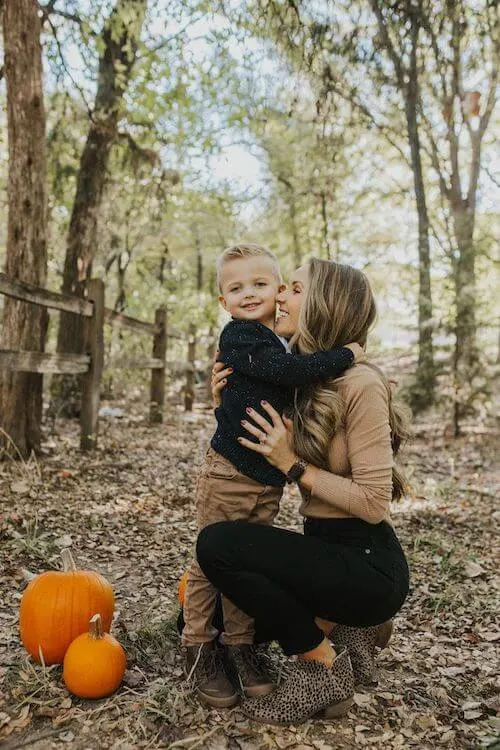 Cover Dad's Eyes
I love this pose. It makes even the serious dad look cuter. And the mother's eyes on the father and son are too sweet.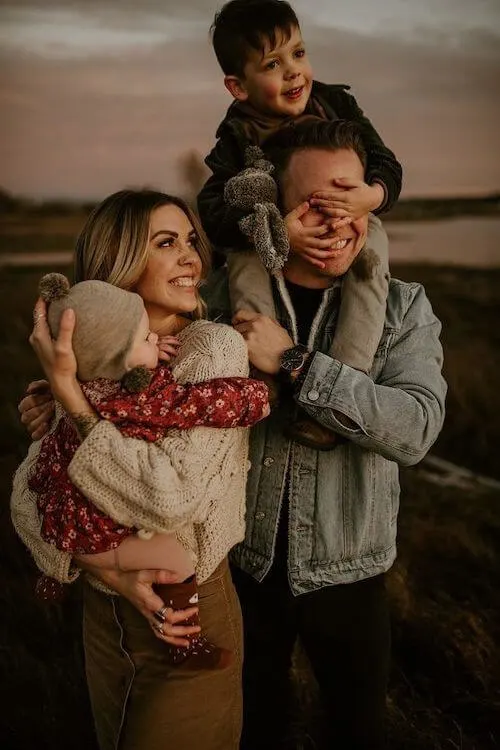 Look At Each Other
Speaking of eyes, this is also a great idea.
Beautiful Background
More brainstorming to find the best location before shooting means that a big part of the success has been achieved.
That's why it's important to make an appointment with your photographer well in advance.
You also need to pay close attention to the information about the shooting location in order to capture the most wonderful colors.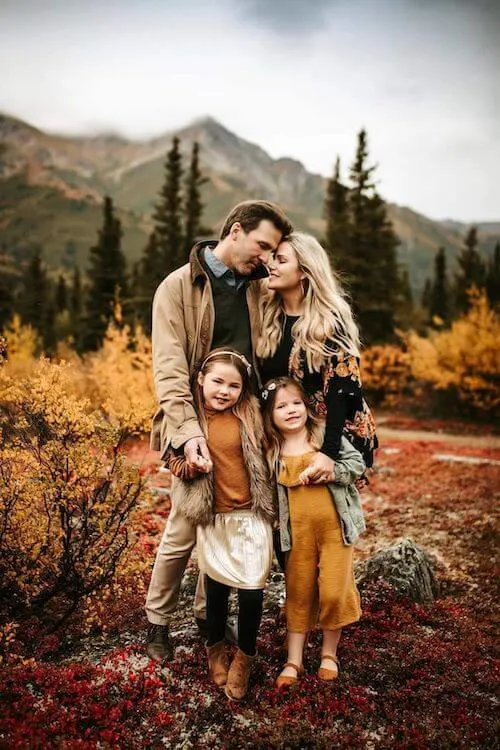 Hug From Behind
The smiles of the parents are the best childhood memories.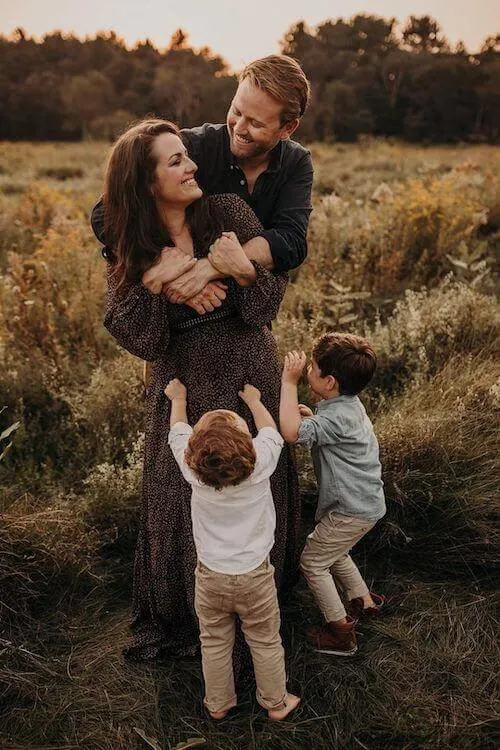 via Pinterest
The Natural Lighting In Golden Hour
Observe the wonderful changes in the sun's rays during the golden hour of fall and immerse your entire family in a lovely soft glow.
Hands Together
This idea is very simple and easy to copy, but very moving.
Please use the fallen leaves on the ground as a background.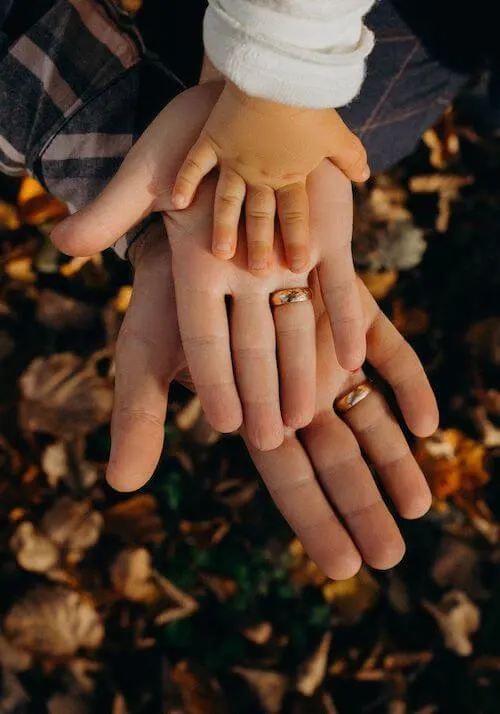 Dancing In The Field
Stretch out in the fall fields with your beloved children.
After sending off the heat of summer, the pleasant cool breeze of fall makes you feel happy and comfortable.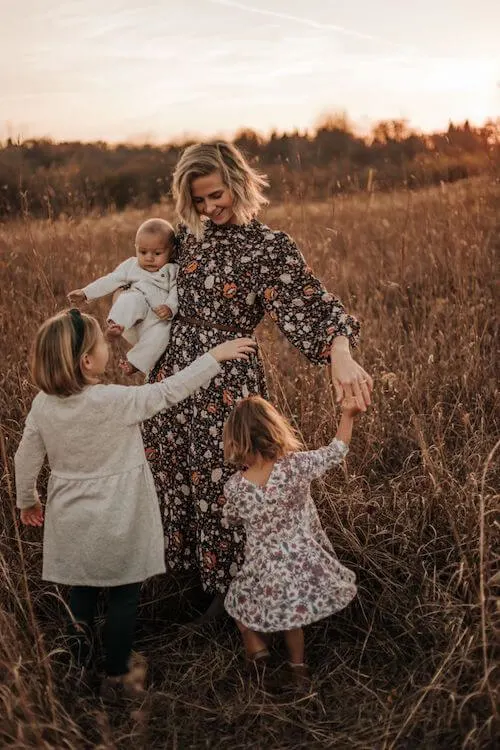 Holding Hands And Walking
Holding a toddler together through the pretty fall paths, recording the child's beautiful smile.
Two Small Groups
Want to get creative with your fall photo shoots composition? Try dividing the family into two groups and separating them with a distant and a close-up view.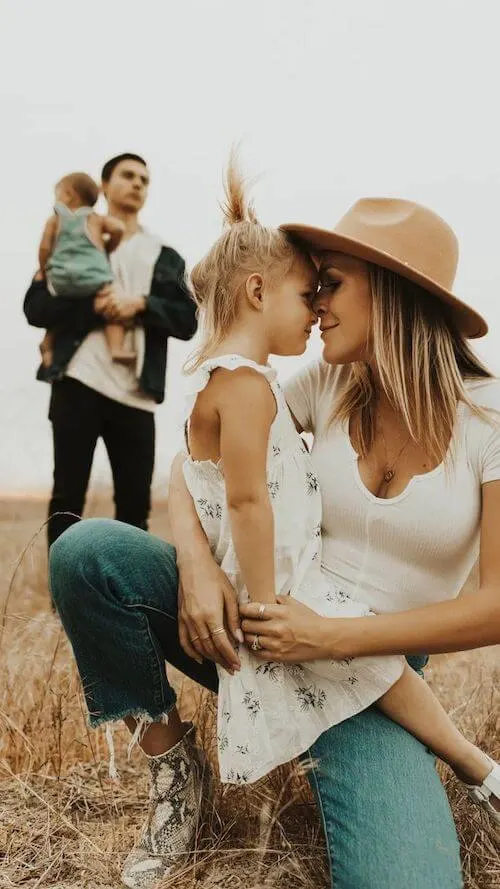 Jump
Let your kids show off their own creative and energetic moves.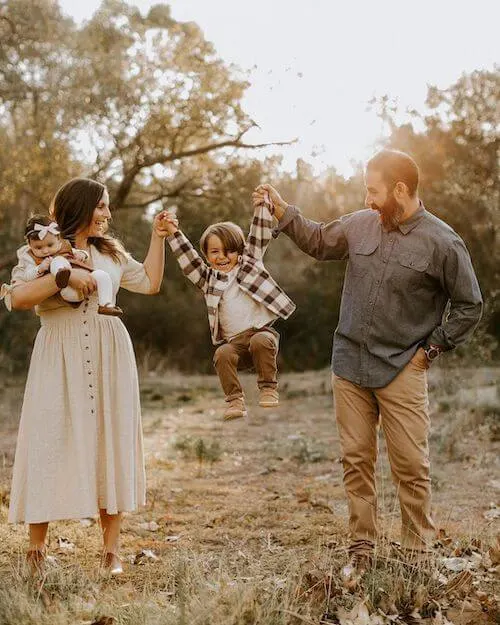 Fall Colors In Front of The Home
There are times when you don't even have to travel far to have the stunning fall colors near your home.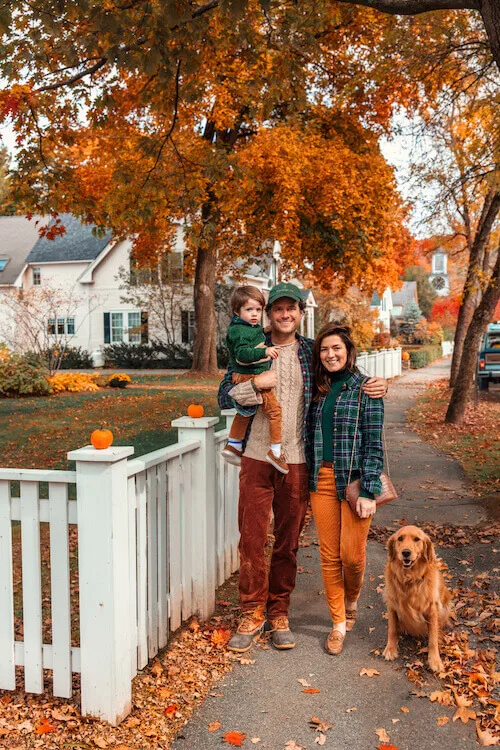 Lots of Love To The Little Baby
Looking at the same family member constitutes a family photo that makes people deeply happy.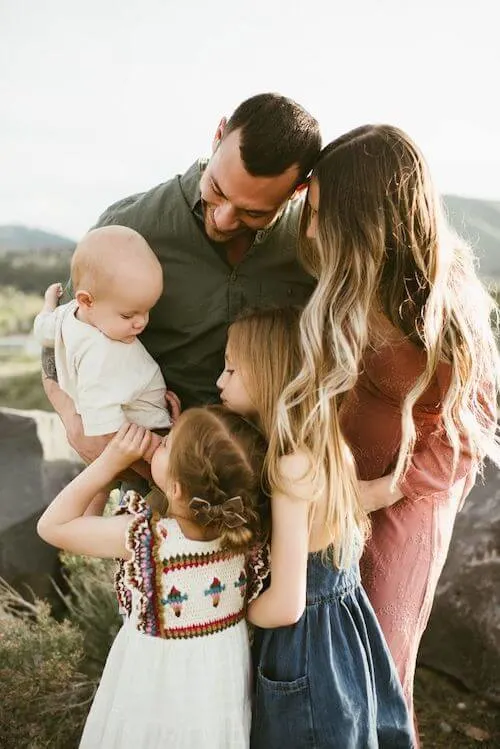 Cute Fall Family Photo Ideas In City
The good news is, not only in the rolling hills and fall countryside but also in the city streets you can take great fall family photos.
Are there any corners in the city, on your travels, that you particularly like?
Take this perfect opportunity to capture the wonderful color changes of fall there with your family.
When taking photos in the city, you can choose edgy clothes in addition to romantic fall clothes, so that your family photos look especially fashionable and creative.
Cross The Street Happily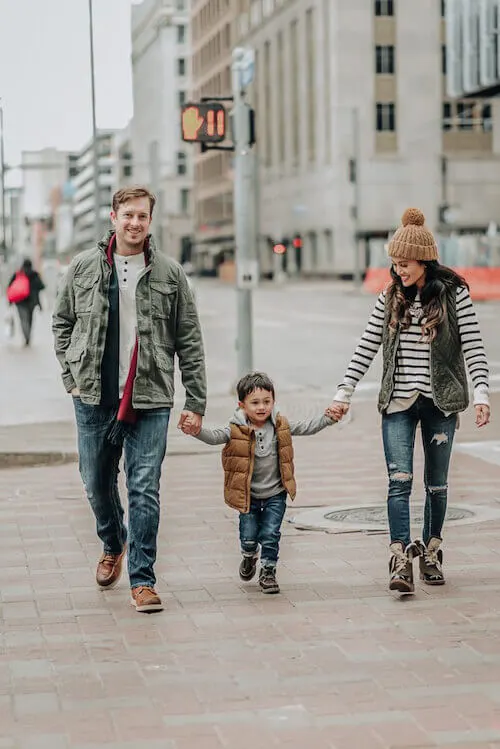 via Pinterest
Enjoy The Ice Cream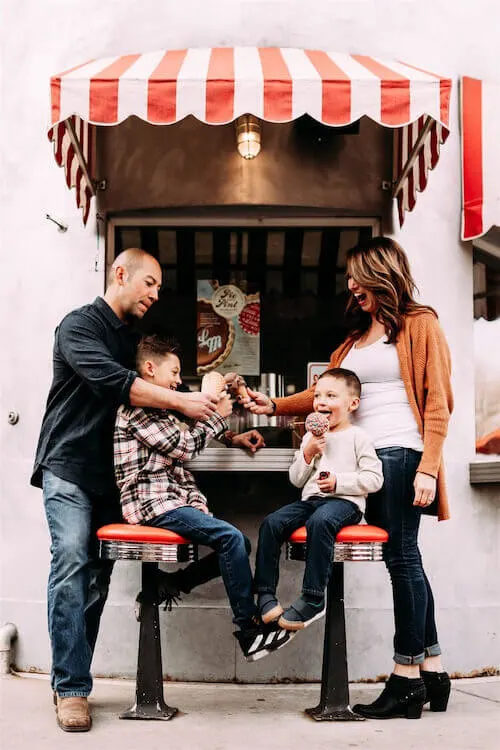 via Pinterest
Sit On The Stairs
Look Here!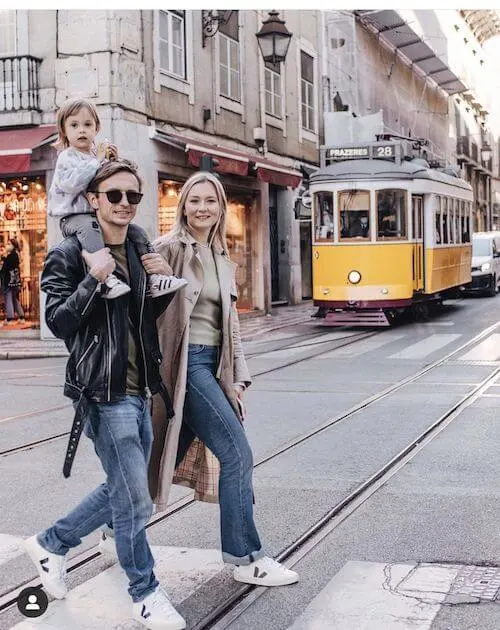 via Pinterest
A Unique Take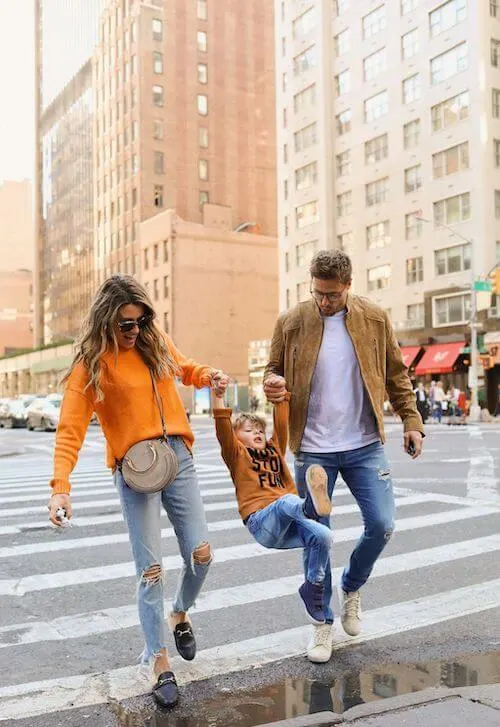 Brick Wall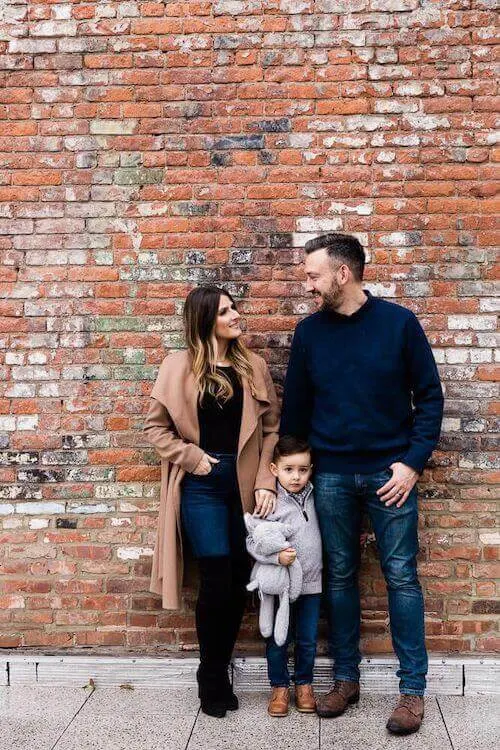 via Pinterest
Pretty Blue And Purple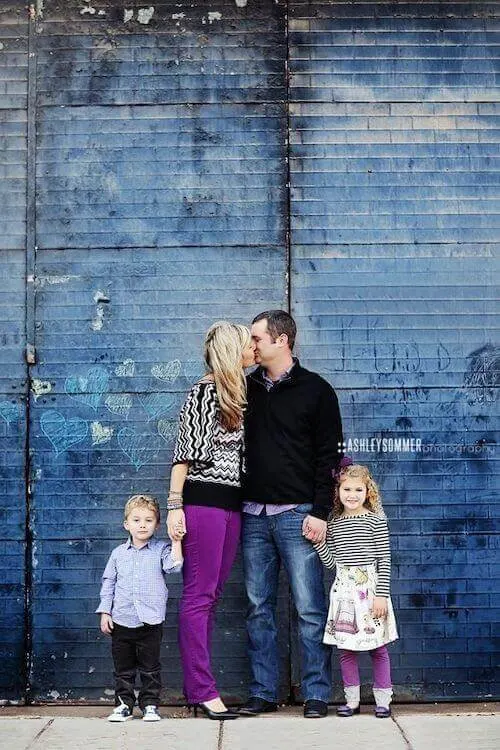 The Whole Family In Activewear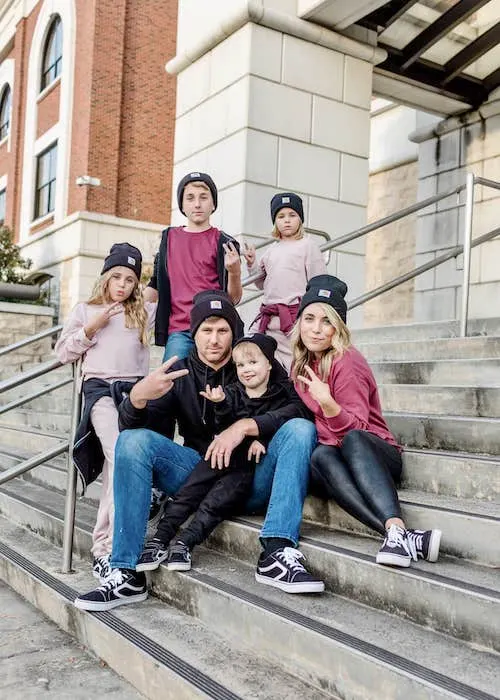 Beautiful Coats In Autumn Colors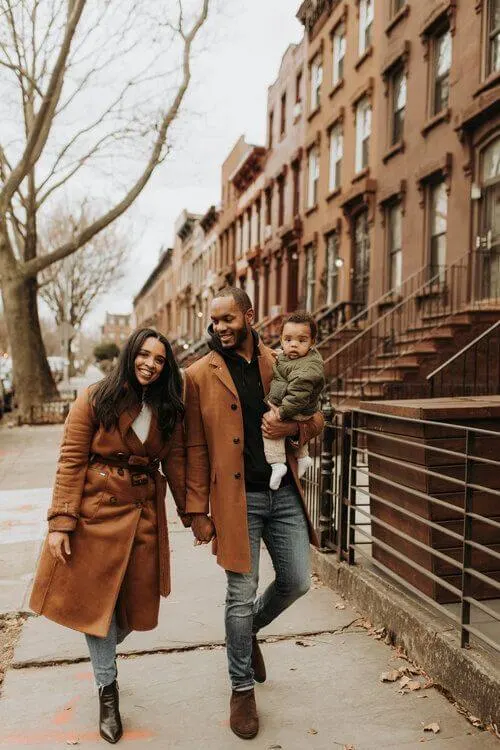 Sweater And Denim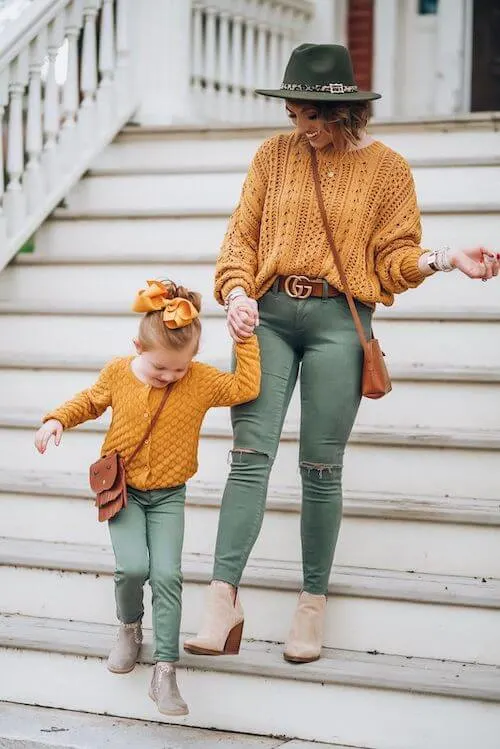 Indoor Fall Family Photos
Taking fall family photos indoors can be a unique and creative way to capture the season's beauty.
Start by choosing a theme that reflects the essence of autumn, such as cozy sweaters, warm mugs of hot cocoa, or vibrant fall foliage.
To create an intimate atmosphere, try using soft lighting and warm colors in your backdrop or props.
You can experiment with different angles to capture interesting perspectives, like shooting from above while everyone gathers around a pumpkin-spiced treat.
One advantage of indoor shoots is the ability to control the environment, allowing you to add personal touches that embody the spirit of your family.
Decorate the room with framed prints showcasing previous fall adventures or hang string lights for an extra touch of warmth.
Incorporating seasonal elements into your outfits is another way to enhance the autumn ambiance: think plaid scarves, cozy sweaters in earthy tones, or even matching flannel shirts for added visual cohesion.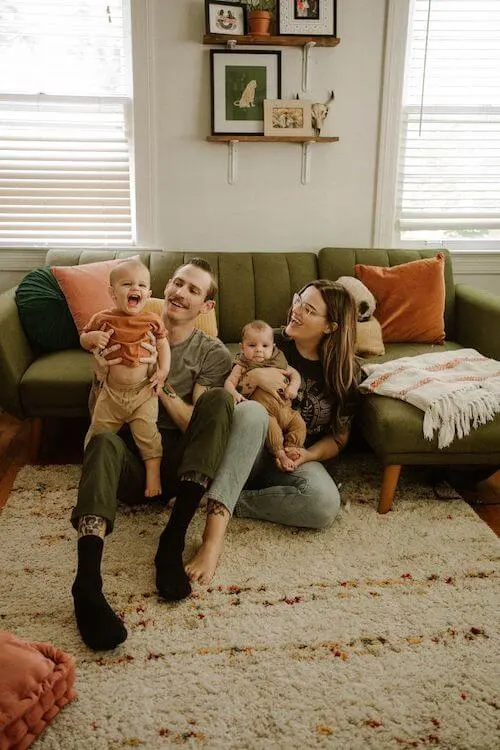 @therosereflective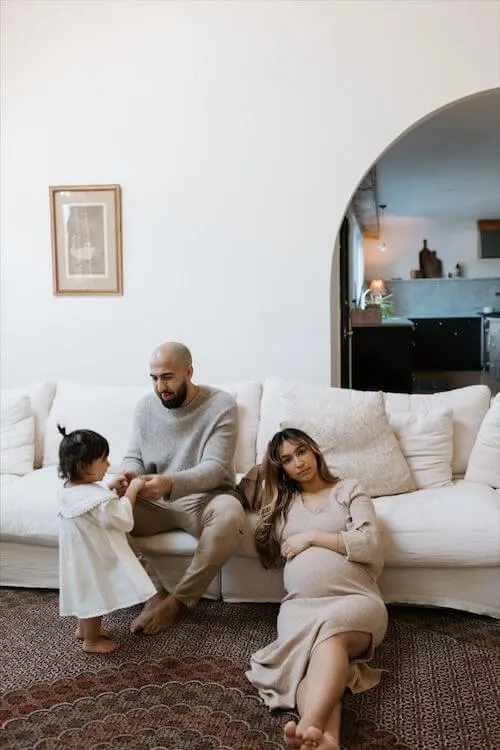 @tdevynn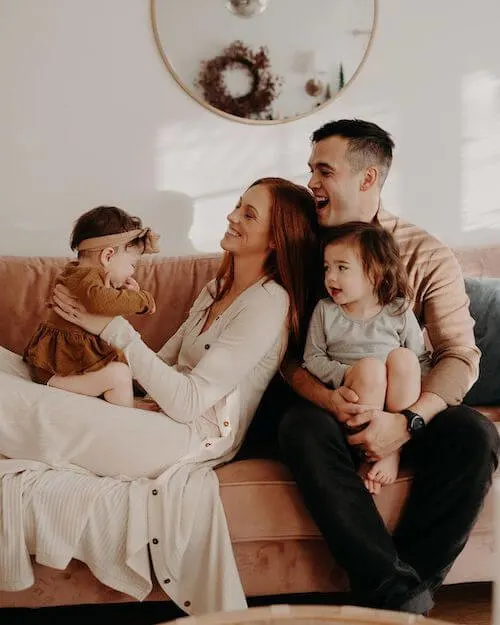 @katelynrowanphotography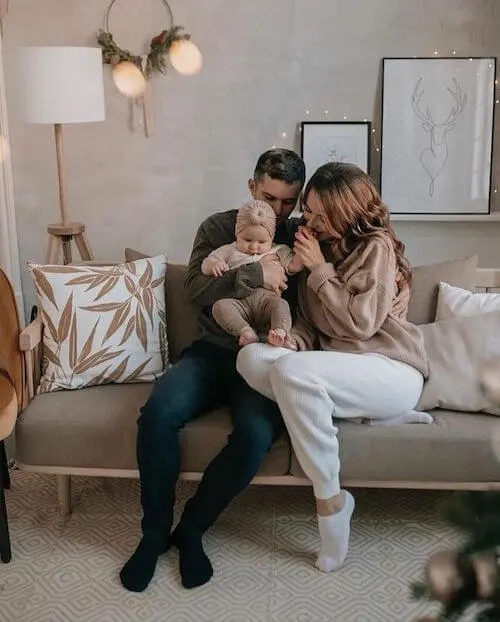 @anyusha_scrap
What To Wear To A Fall Family Photo Session
First, you need to determine the general style you want for your fall family portraits as well as the setting to determine your dress style.
For example, do you want to be more formal, or more casual?
Do you want to show an edgy-cool style, or do you want to be warm and romantic?
All of these will enable you to decide relatively quickly on the family picture outfits you can choose.
Next, the fall weather is colder, so you need to choose cozier clothing, including long-sleeved tops, long-sleeved shirts, pants, jeans, and even sweaters, denim jackets, leather jackets, and coats.
Choose pieces of fall colors like brown, tan, red, orange, and cream to add more fall vibes.
Pay special attention to your children's clothing choices to make sure they don't get cold during the shoot.
Also, if you are shooting in early fall when the weather is not yet so cold, you can wear short sleeves, but you can bring the fall styles to the next level by adding hats, boots, scarves, etc.
Finally, choose clothing pieces that fit well.
There's nothing worse than non-fitting clothing that makes a photo look bad.
Keep scrolling to check our favorite fall outfits for family photos.
We also curated family outfits from our favorite retailers for you to shop directly.
Best Fall Season Family Photo Outfits
Fall Color Overalls
Overalls are perfect for lovely fall-filled shooting scenes such as apple orchards, cornfields and pumpkin patches. They allow you to move around freely.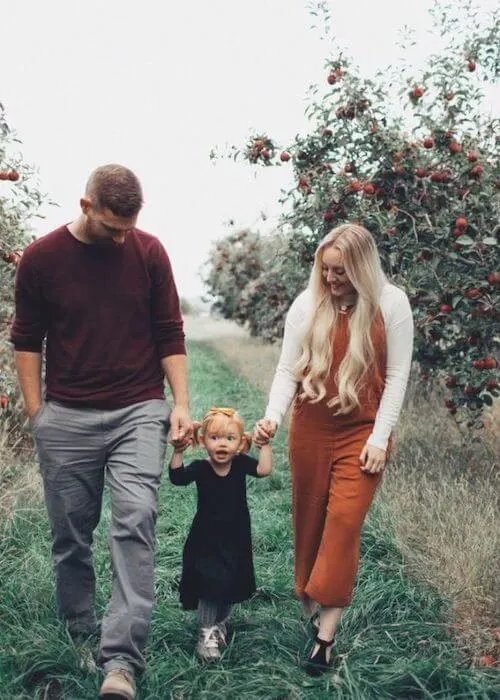 via Pinterest
Shop The Look

Cozy Sweater Dress
A warm sweater dress adds to the warm feel of the picture. Wear a pair of chic and simple boots to match your beloved dress.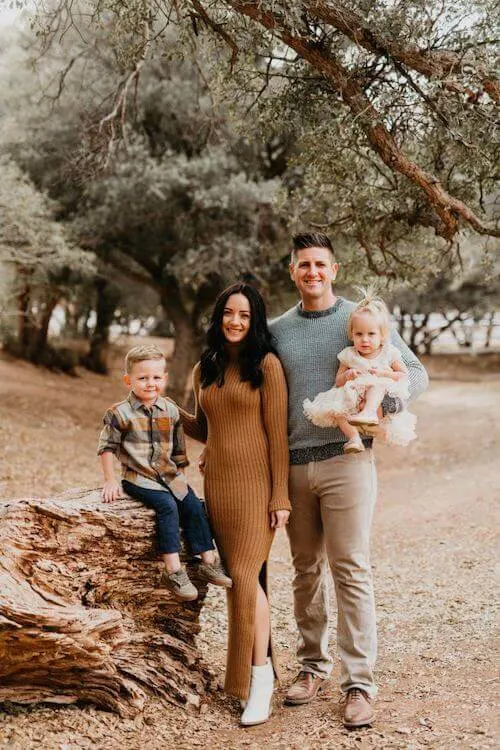 Shop The Look

Burnt Orange Dress
Burnt orange is one of the representative colors of fall. Especially if your background is not too warm, this color can make the portrait more prominent and more subtle.
Choose a soft fabric. Glossy silk, gorgeous velvet, and soft cotton are all great choices.
If you like, you can also choose dresses with burnt orange as the base color and with polka dot print and other pretty patterns.
Shop The Look

Fall Floral Dress
The rich print dresses add a sense of romance to the picture.
You can also wear matching prints with your children to add visual interest.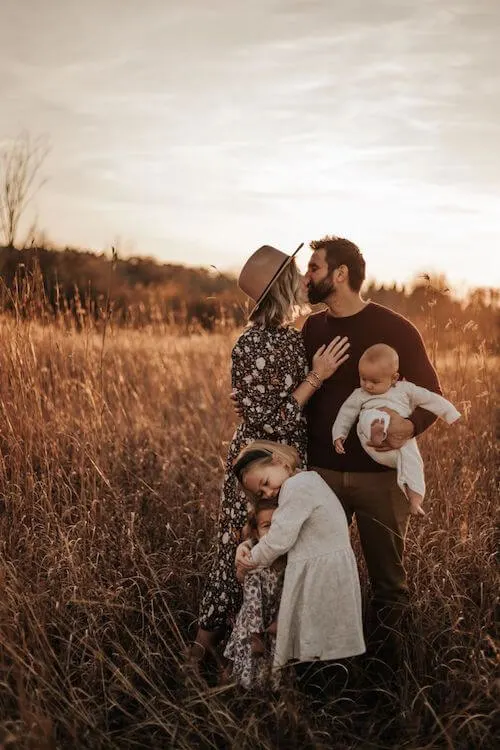 Shop The Look

Play With Gingham
The lively and vivid gingham pattern looks unique and is not difficult to copy.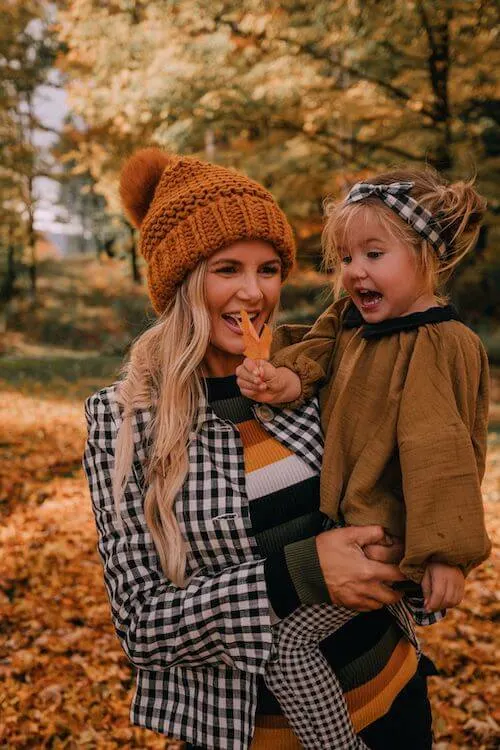 Shop The Look

Beret + Wide Leg Pants
Try a little funky vintage style. Start with a beret.
Shop The Look

Dreamy White Dress
Of course, you can still wear a white dress in your fall family photos.
Compared to the simple white dresses that are common for spring and summer photos, we suggest you choose white dresses with more details for your fall family photos.
These delicate details, such as ruffles, lace, etc., are more suitable for the fall photos' vibes.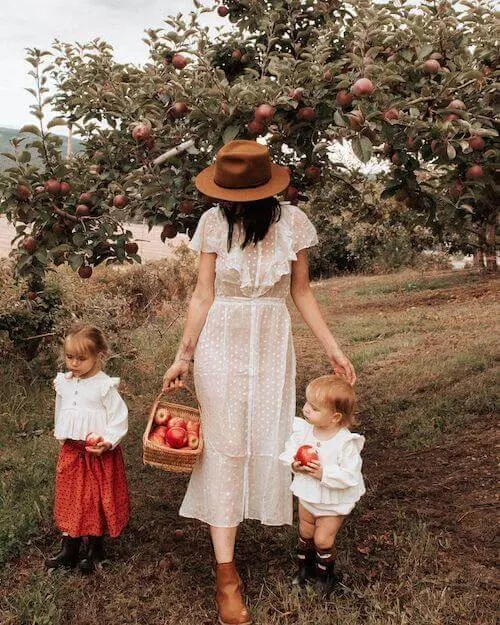 Shop The Look

Sweater And Boots
Cute sweaters and boots can let you show off your perfect figure.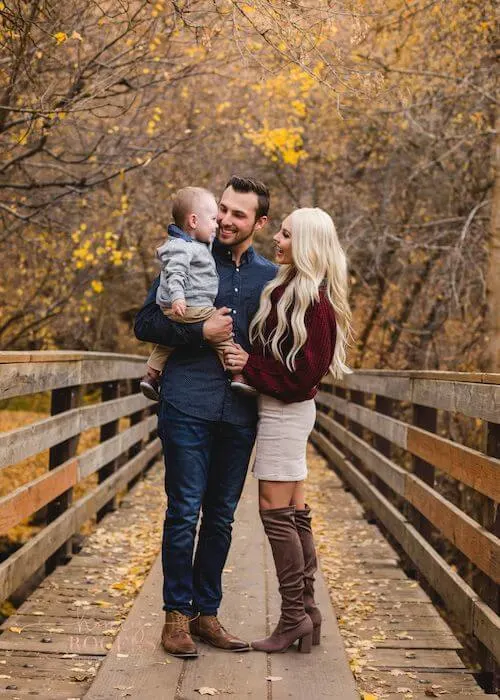 Shop The Look

Plaids Are Never Be Wrong
Plaid is perfect for fall. This time, how about trying a chic plaid blazer?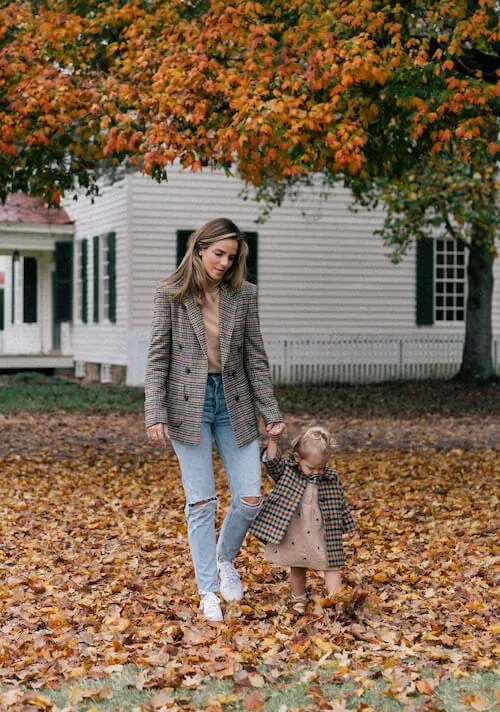 Shop The Look

Layering Fringe Suede
One of the quickest ways to add a country style for fall photos is to add a fringe suede jacket.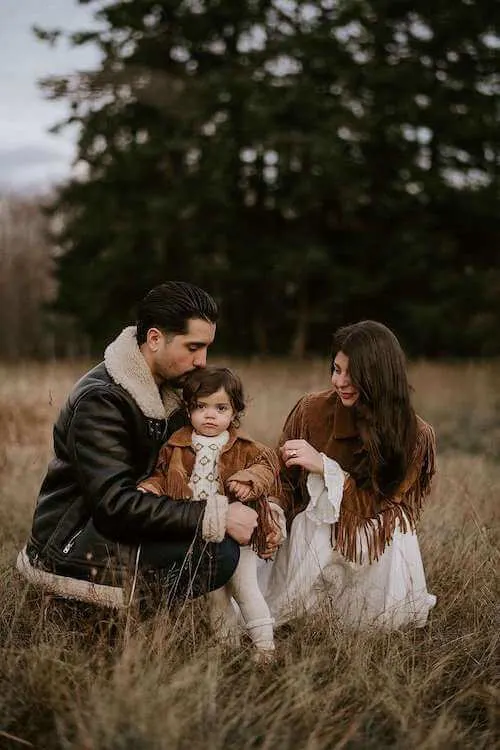 Shop The Look

Chic Rib Jeans
If you like jeans, you will look more relaxed and at ease when you choose ribbed jeans for your family photo shoot in the fall.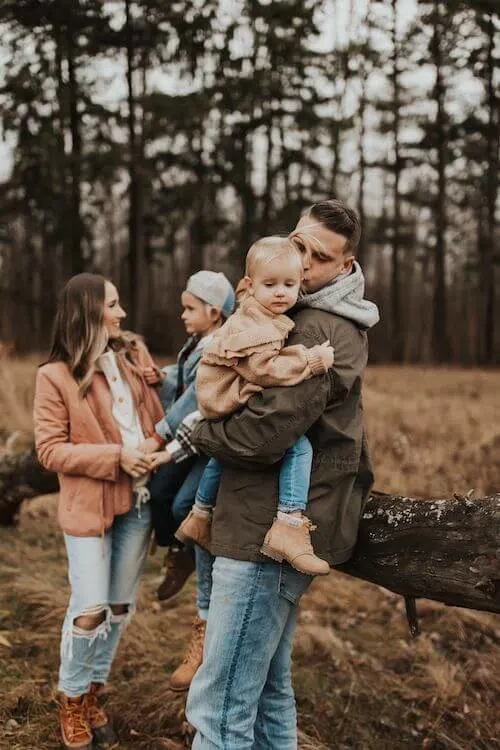 Shop The Look

Cute Fall Color Boots & Hats
Finally, complete your look with a cute fall hat and a pair of boots in fall colors. Here are some of our favorite options:

↓ Save This Post To Pinterest ↓
This post was all about family fall photoshoot ideas.
About The Author
Tracy is an experienced personal stylist, shopping expert, and fashion & lifestyle blogger. She has been featured on Time Magazine, Bustle, Best Life, Glam, The Zoe Report, Mic, and GOBankingRates, for her insights on fashion, beauty, home decor, and lifestyle. Read More
Related Posts