Looking for the best fall nail ideas for the coming season? Check this post for 60+ stunning nail ideas we can't wait to copy this year.
As soon as midsummer is over, fall is approaching. In addition to preparing your autumn wardrobe, are you like me, wondering which fall nail designs to apply to match the fall atmosphere?
Holidays, fallen leaves, pumpkins, warm fires. This is a beautiful fall. Orange, dark green, wine red, silver gray, gold, this is gorgeous fall.
Whether you want to paint these autumn representative affairs in detail, or you like abstract art and simple expression, you can find your favorite fall nail designs in this post.
So scroll down to check how to paint these fantastic fall elements on our nails.
This post may contain affiliate links, which means I'll receive a commission if you purchase through my link, at no extra cost to you. Please read the full disclosure here.
This post is all about fall nail ideas.
Best Fall Nail Ideas To Try This Year
Purple And Orange Nails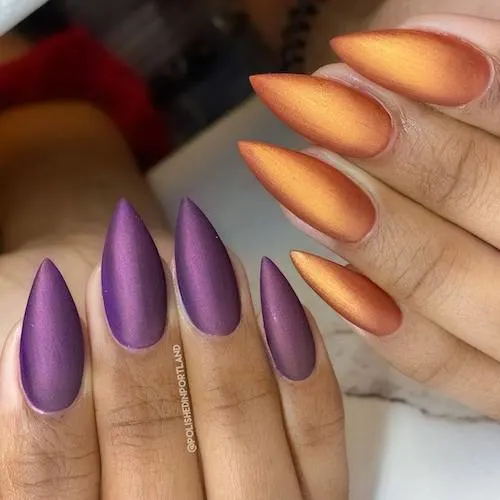 Fall Nail Ideas With Rhinestones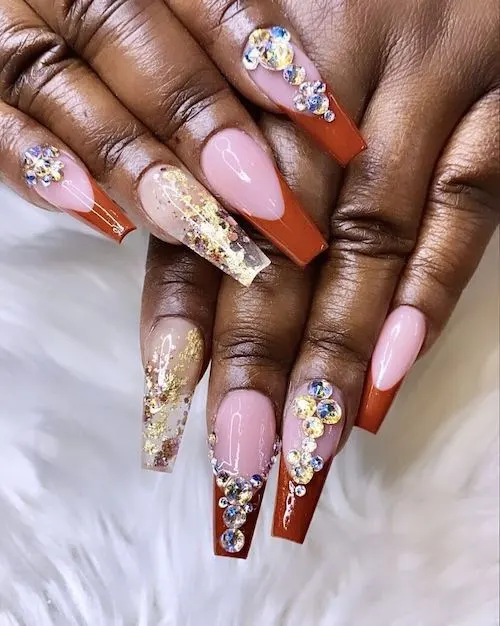 Fall Checkboard Nails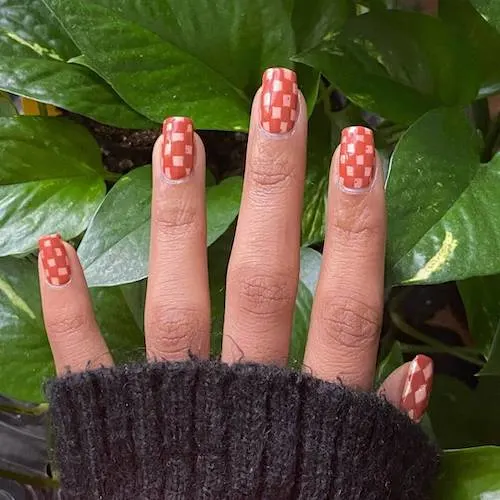 This is a simple and stylish design that looks very tasteful. This design is suitable for almost any occasion. It looks great with simple clothes.
Fall Gradient Nail Ideas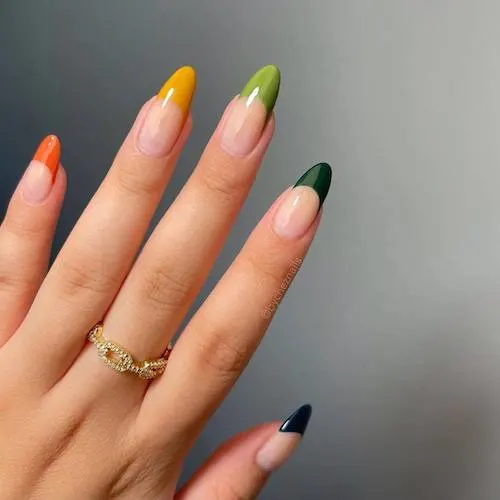 I love this design very much; it seems to express leaves from green to yellow. Life goes round and round, making people feel soft and warm in their hearts.
Juicy Floral Nails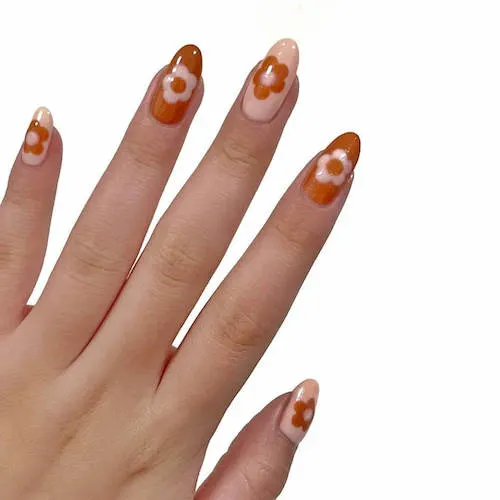 One of the simplest autumn nail polish designs is to paint the flowers we often paint in spring and summer in warm colors that you like. Then you can refer to the combination of dark and light colors in the above design, which does not look boring.
Autumn Abstract Art Nail Ideas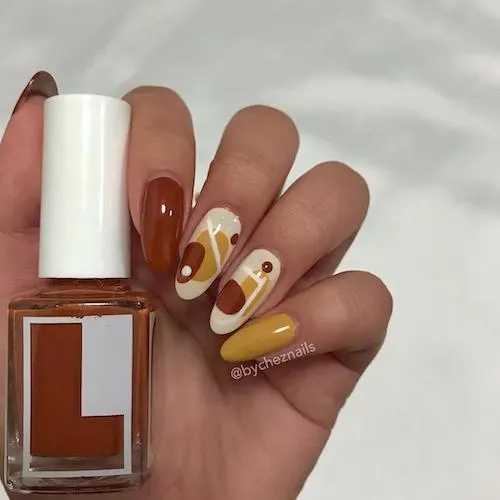 Abstract patterns will never go out of style. Do you have any works of art or even accessories that you like? Try to paint them on your nails.
Nude Elegant Leaves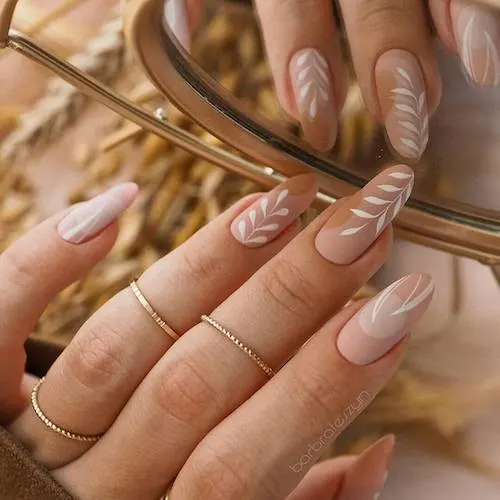 Fall Spider And Dots Nails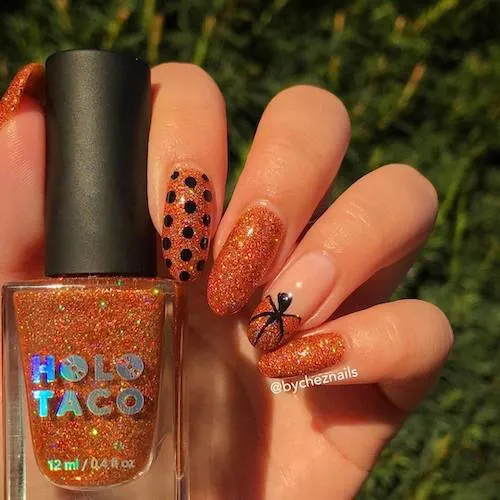 This spider design is too cute. It is even perfect for dating!
Colorful Fall Vibe Nails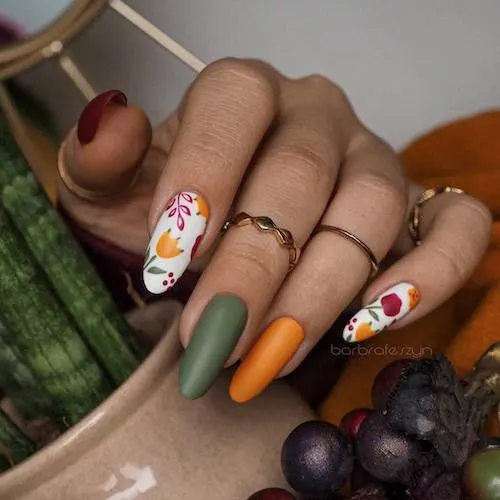 Glittering Orange And Yellow Fall Nail Ideas With Leaves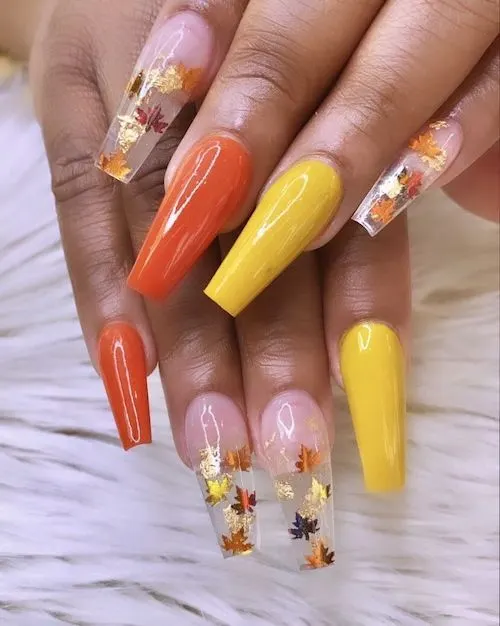 Simple Fall Abstract Art Nail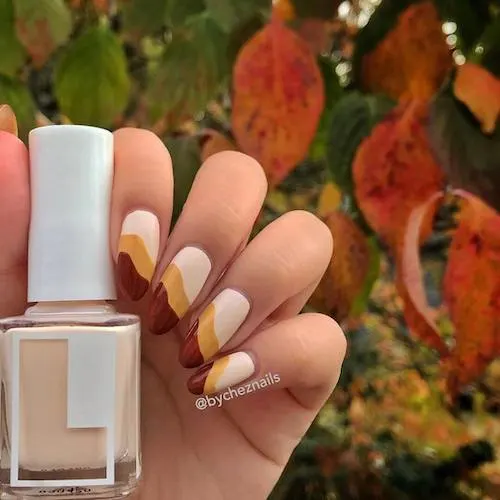 This is also an abstract pattern, which is not difficult to copy.
Fall Nail Ideas: Simple Asymmetric Abstract Art Nail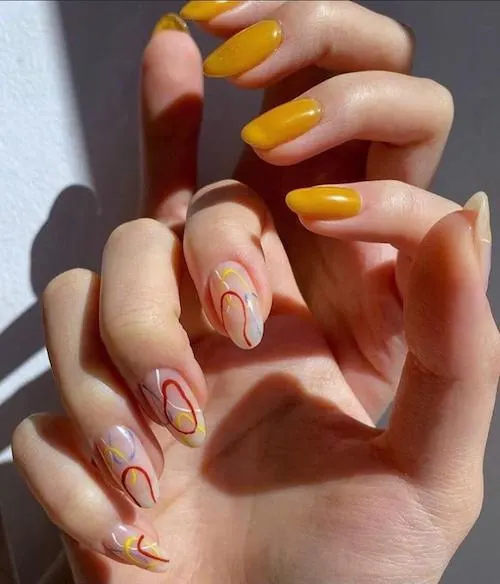 This asymmetrical abstract pattern design is exquisite and cute, and it looks like it makes people feel the cozy atmosphere in fall.
Stunning Plaids Nails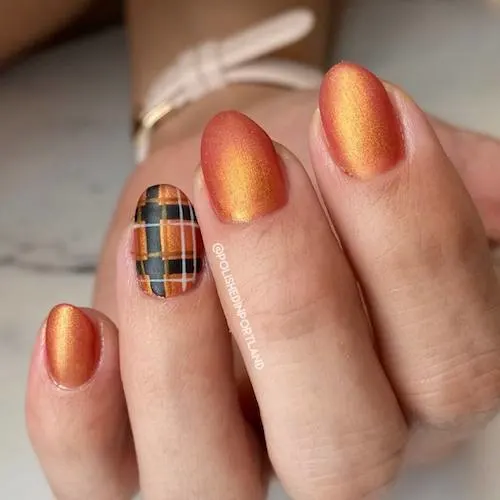 Beautiful Fall Gold Leaves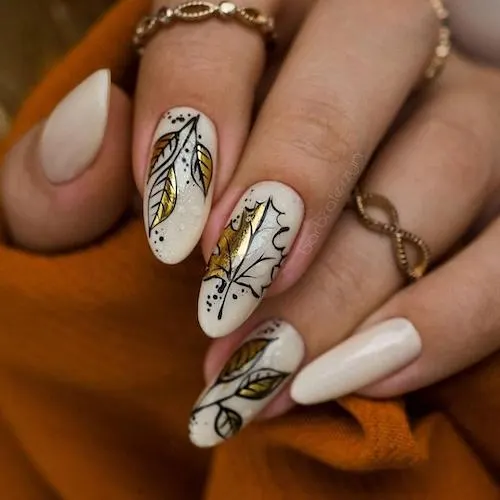 Retro Fall Floral And Leaves Nails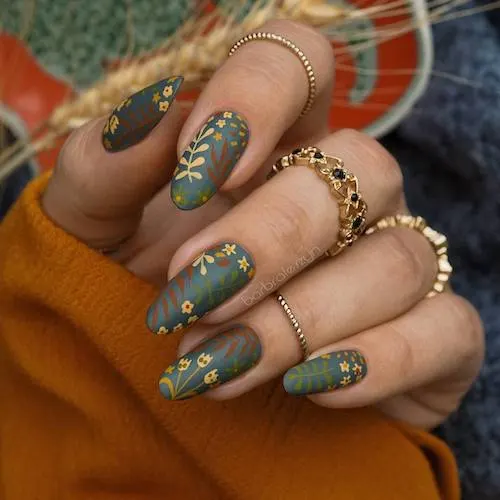 Fall Knit Nail Ideas
Knit nails are trendy in autumn. However, if only one nail polish color is used, the knit pattern on all nails will be a bit boring. So the above design is perfect, it doesn't look too dull.
Fall Boo Nail Ideas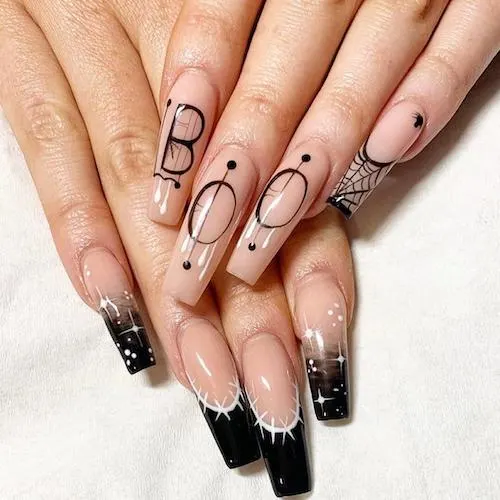 Don't be scary; this one is too beautiful.
Blue Maple Leaves Nails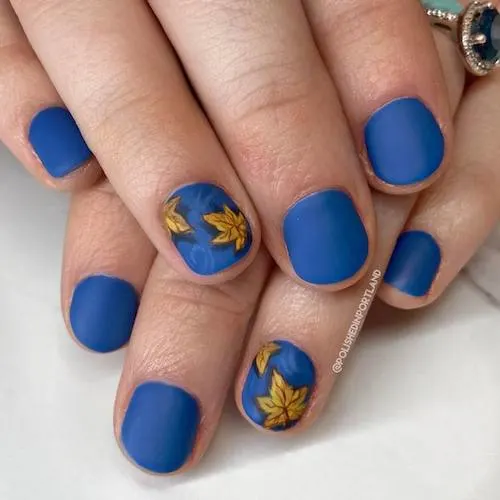 This design is very suitable for short nails. The beautiful combination of blue and yellow is gorgeous and full of love for autumn nature.
Amazing Abstract Art Inspired Nails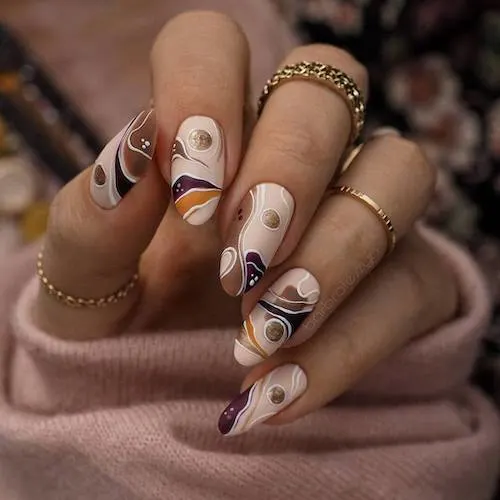 Pretty Fall Flower Nail Designs With Rhinestones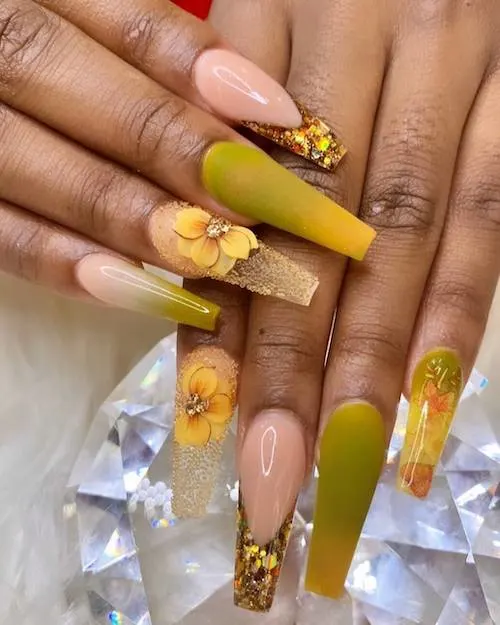 Fall Spider Nail Ideas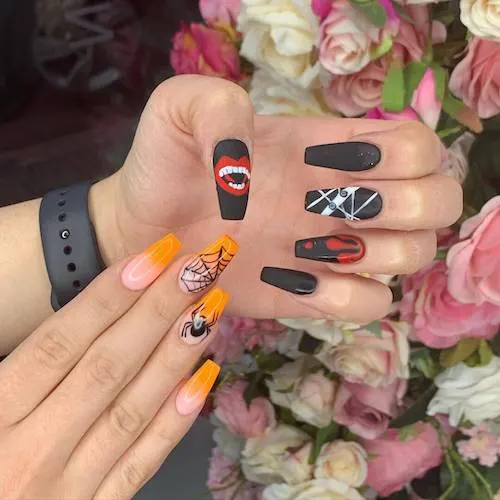 I admit I am obsessed with asymmetric design. How about you?
Fall Burberry Inspired Nail Ideas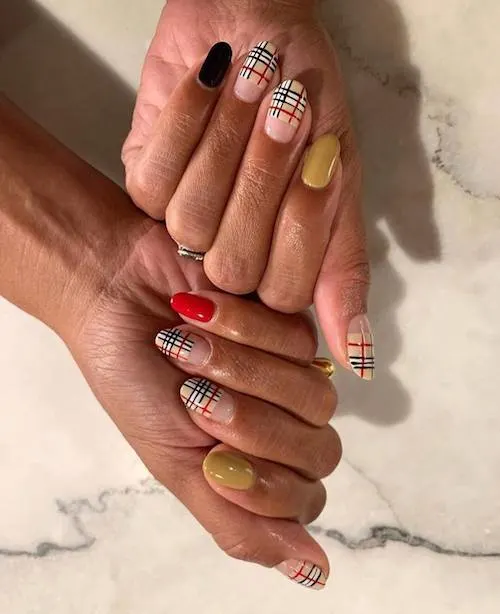 Autumn is the season to wear plaid and trench coats. Draw a Burberry-inspired nail design.
Fall LV Nail Ideas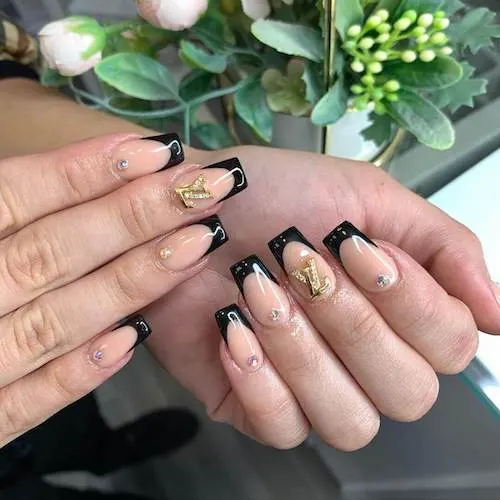 Don't you like designer brand nail ideas?
Exquisite Fall Flowers Nail Ideas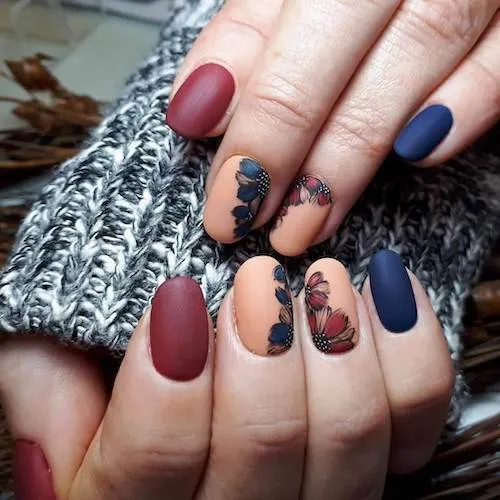 Fall Spider Web Nail Ideas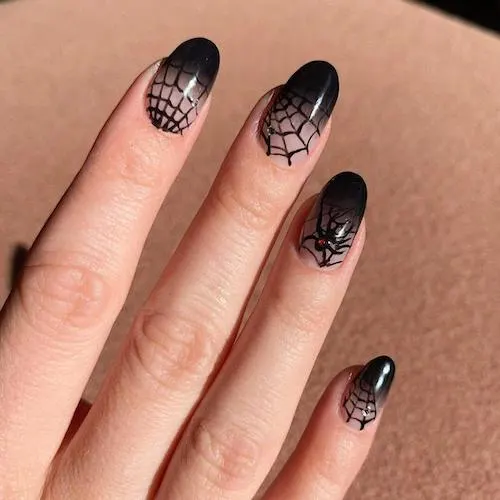 The spider webs are painted all in black, which looks very expensive.
Beautiful Fall Leaves Nail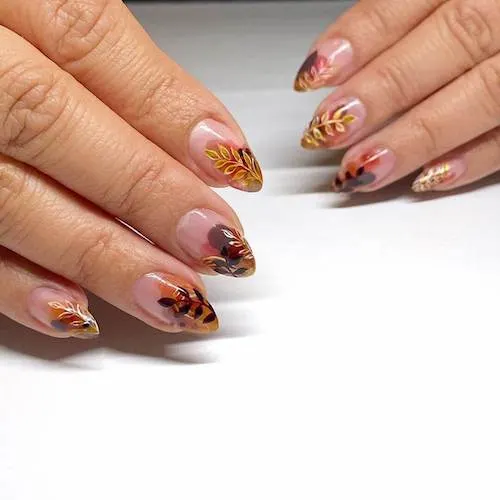 These leaves are soft and delicate as if feeling the autumn breeze.
Plaid Nails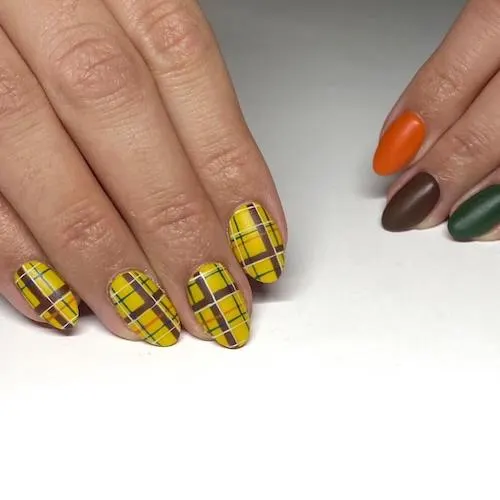 Plaid nails are one of the popular designs. Boldly use your favorite color to draw the plaids.
Juicy Orange And Gold Nails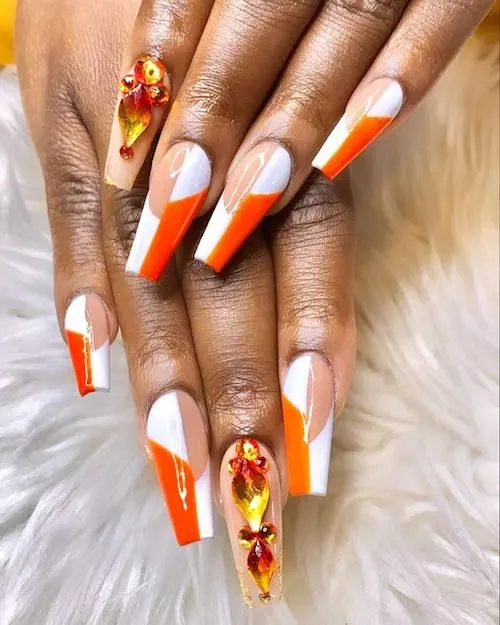 Matte Fall Nails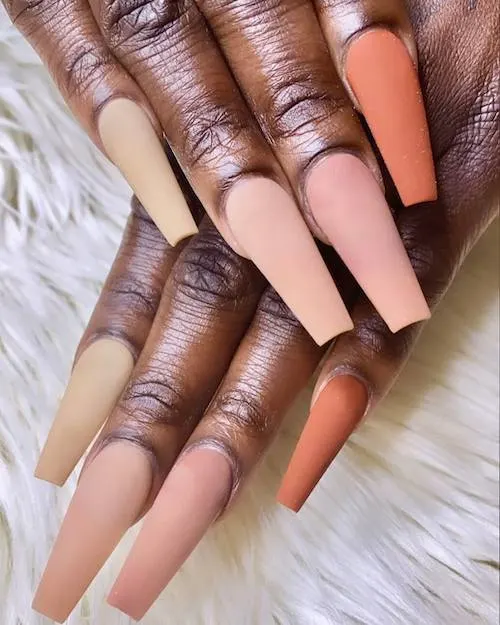 Cute Animal Nails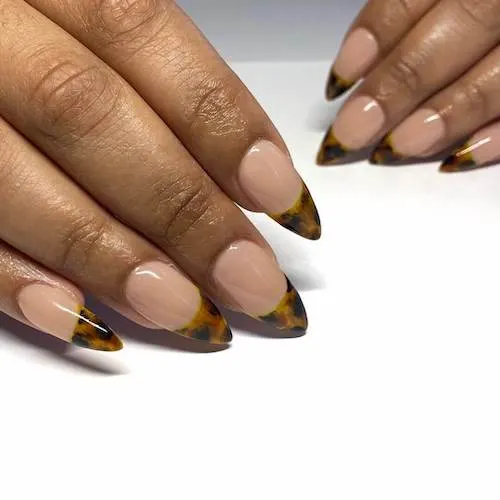 These look cute and warm!
Cute Art Inspired Fall Nail Ideas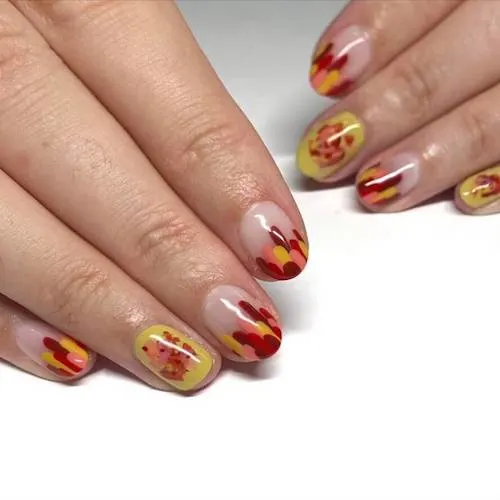 This design is not difficult to draw, but it looks very artistic. I suggest you can use different color combinations to draw this pattern. It seems that no matter what color is used to paint, it will look good.
Red Fall Nails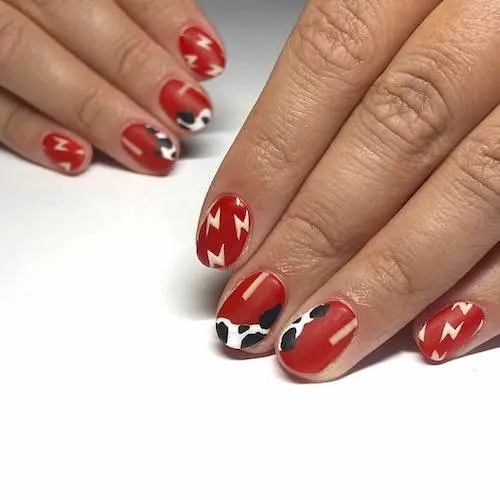 Warm red is also one of our favorite colors in autumn. Red is used as the background color, and the feeling of cozy is suddenly strengthened.
Classy Burberry Inspired Fall Nail Ideas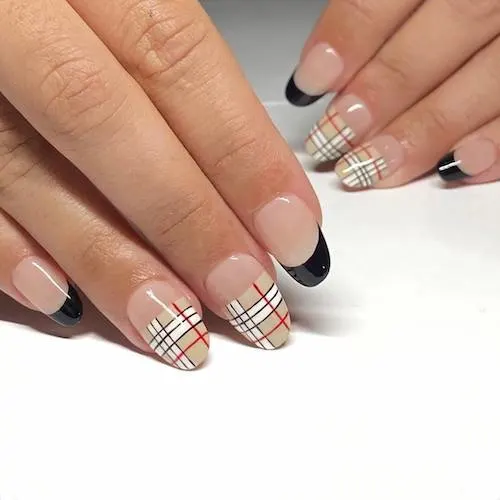 It's Burberry again. This nail idea is also very suitable for work.
Elegant Red Fall Nails With Rhinestones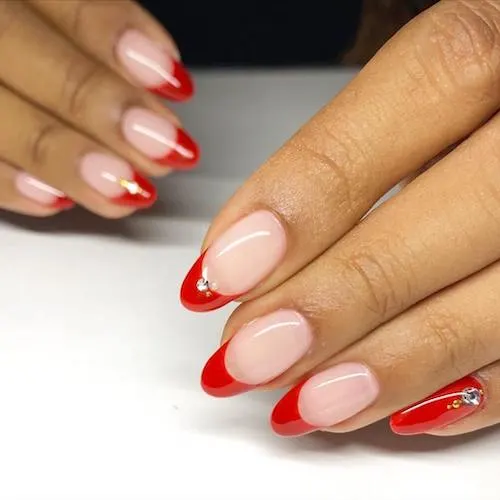 Rhinestone is still very popular recently, and this trend will continue into fall.
Minimalist Abstract Nails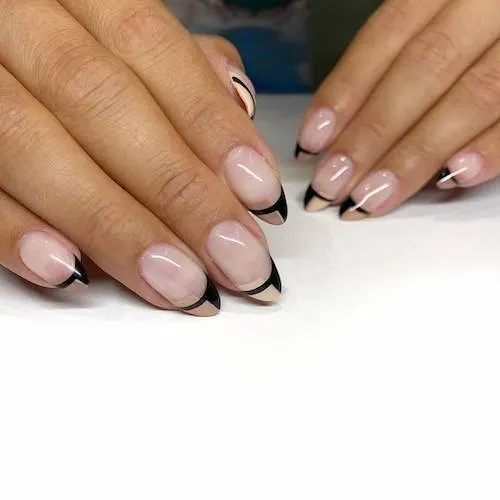 If you like minimalism, there are still many nail designs you can try in autumn. The above design is simple and creative and can be applied to any occasion.
Green Halloween Inspired Nails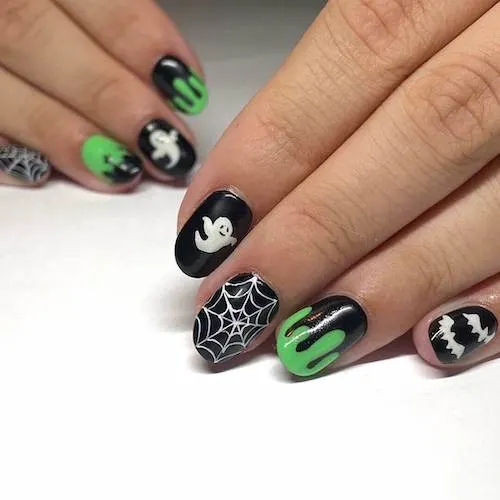 It's another cute Halloween nail design. It's so cute. I think it's great to change to neon colors for green areas.
Purple Glam Nails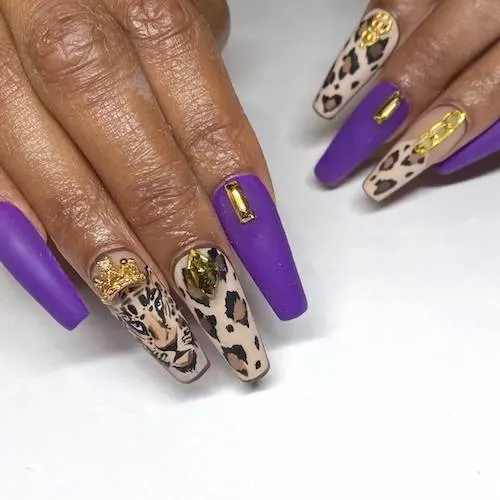 Try to make purple gorgeous and wild?
Cute Pumpkin Plaids Nails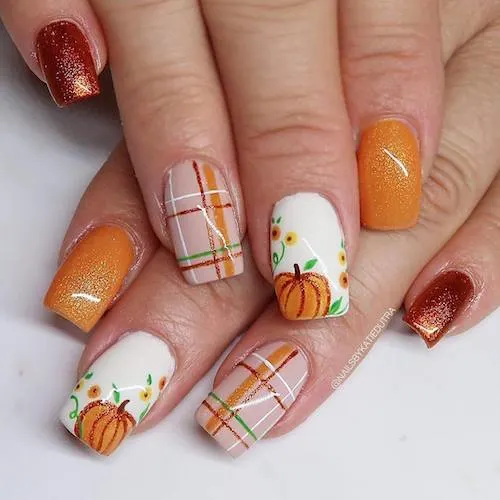 This is a childlike design; it looks pleasing. The burgundy part looks quieter; if you like more vivid red, it will look good when painted.
Purple Pumpkin Nails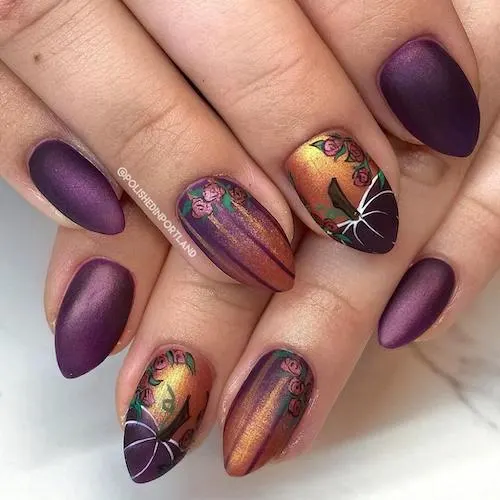 Purple is suitable for fall. This design is very creative and very classy.
Red Fall Floral Nails With Rhinestones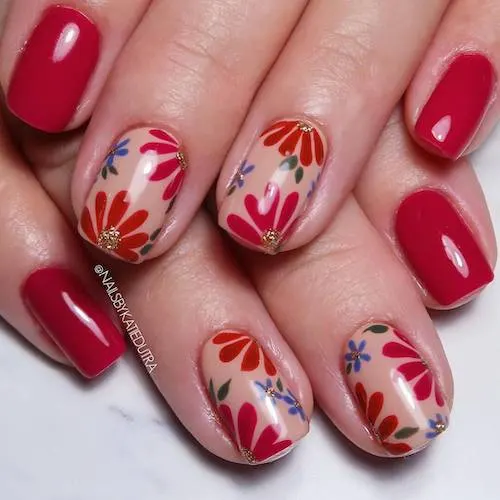 The red floral pattern with rhinestone is romantic and beautiful. This one is perfect for dating.
Orange Fall Arts Nails
Elegant Fall Plaids Nails
Beautiful Fall Flowers Nails
Coral Fall Floral Nails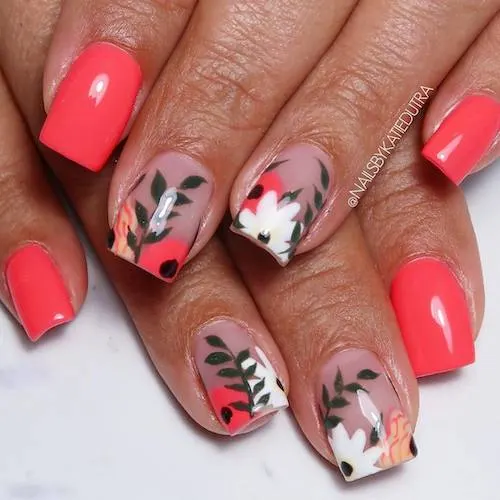 Stunning Fall Leaves Nails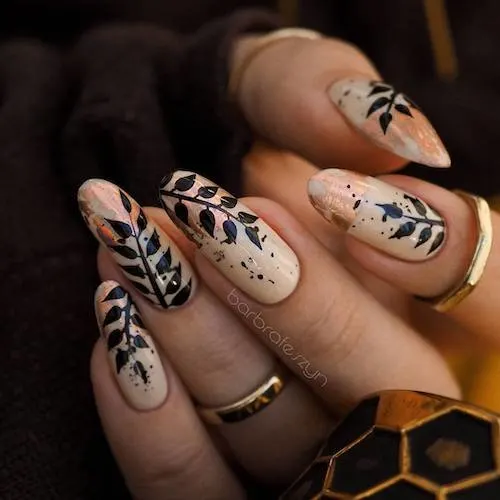 Floral And leaves Nails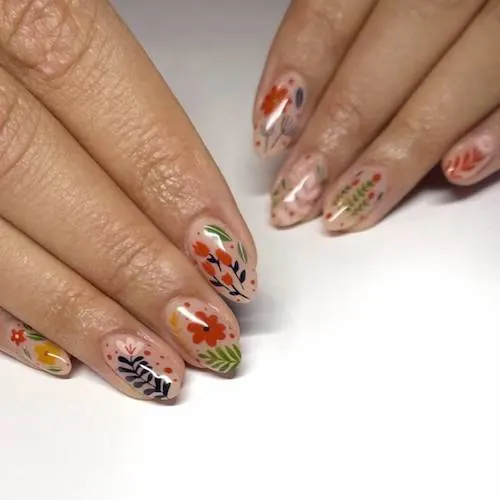 These exquisite designs! I can't wait to try them!
Dark Green Fall Nail Ideas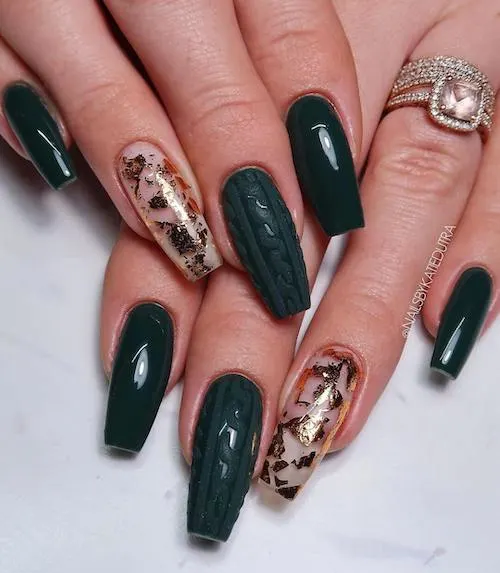 Glittering Pumpkin Nails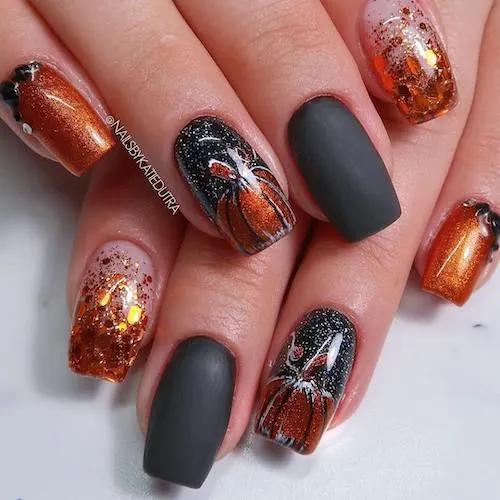 Elegant Fall Leaves Nails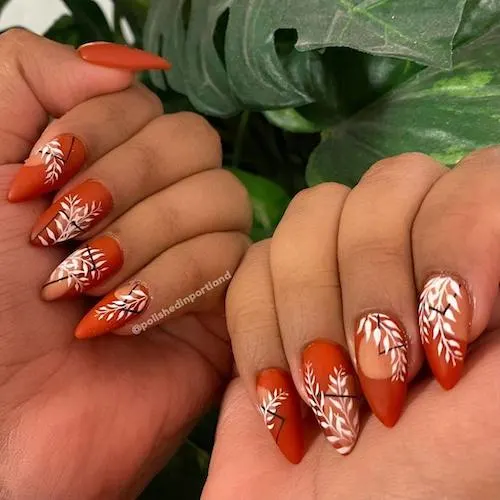 The easiest way to brighten up your autumn nail design is to add white details. Suddenly lit up this season.
Orange Halloween Nails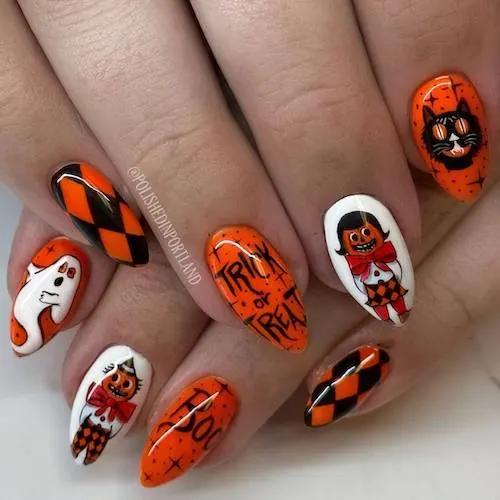 Why are Halloween nail designs so cute?
Sunflower Nails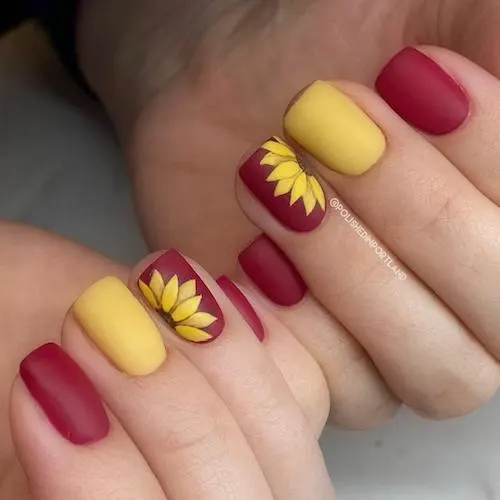 Early autumn is the season of sunflowers. It doesn't need to be too complicated; a simple design will look good. Sunflowers are suitable for nails.
Cute Flower Nails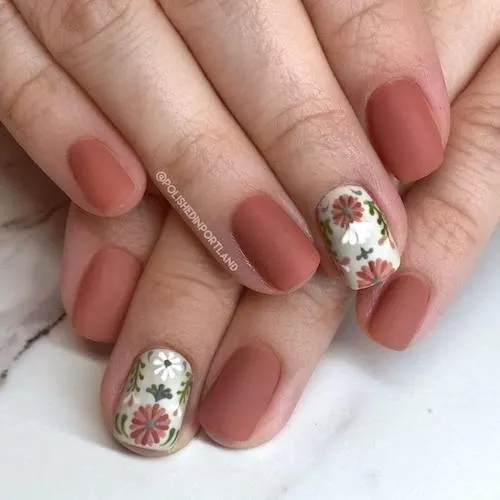 Pink And Silver Spider Nails
What nails do you apply for the fall parties? Give this design a try. Gorgeous and cute.
Creative Fall Plaids Dots Nails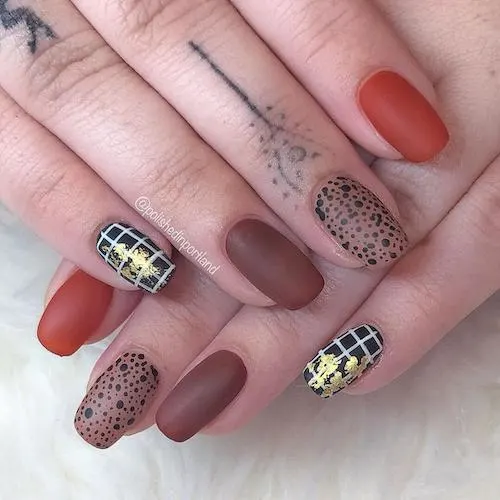 Amazing Fall Leaves Nails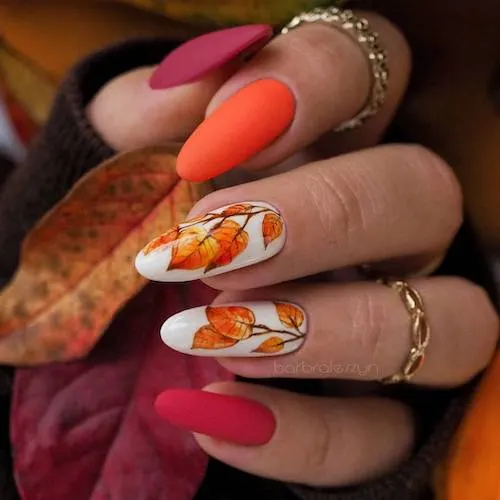 I can't wait to paint on my nails what I see and feel in the fall.
Purple And White Leaves Nails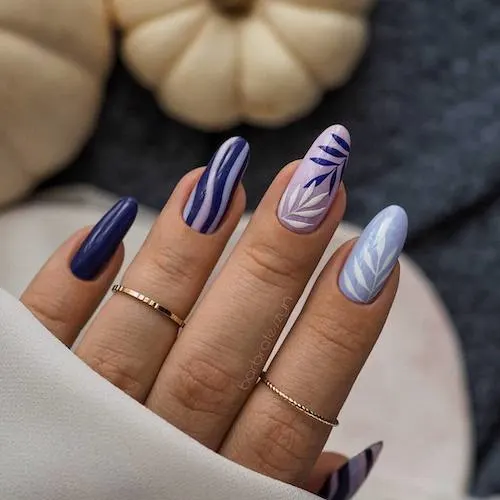 Flowing Art Nail Ideas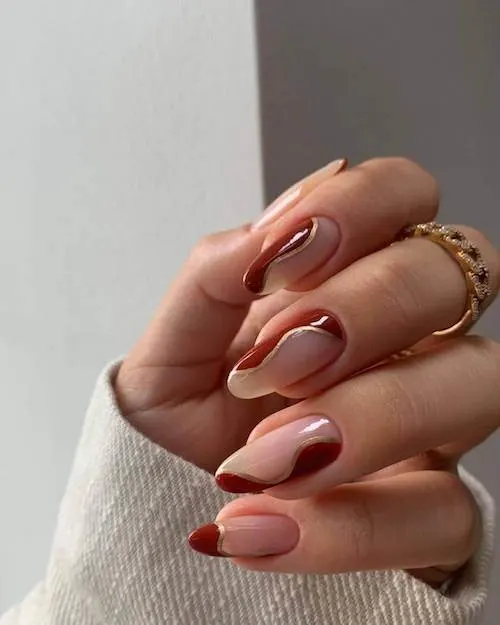 Multi-Color Knit Nails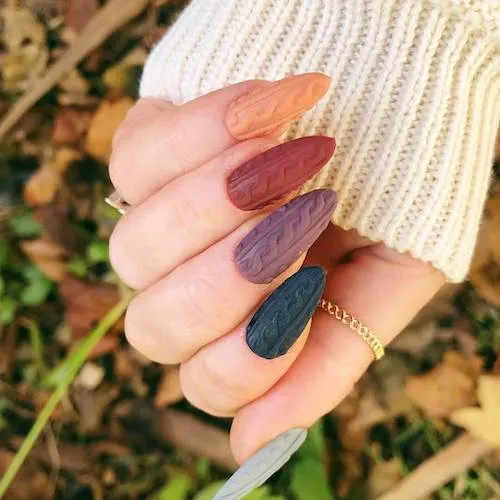 Use different colors and the classic design will also make people refreshing.
Insanely Beautiful Glittering Fall Nails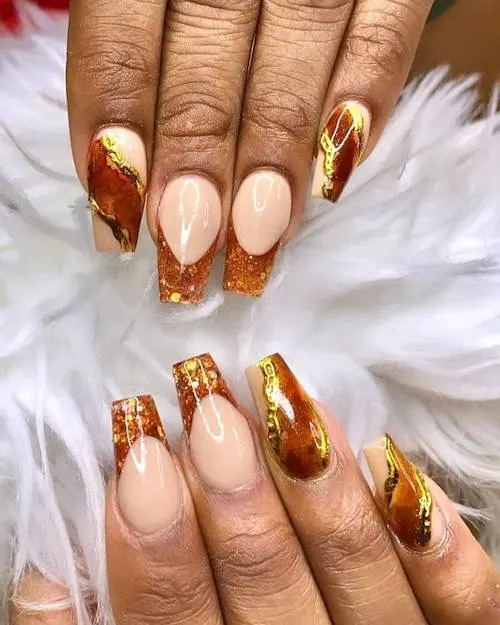 Elegant Yellow And Black Lace Nails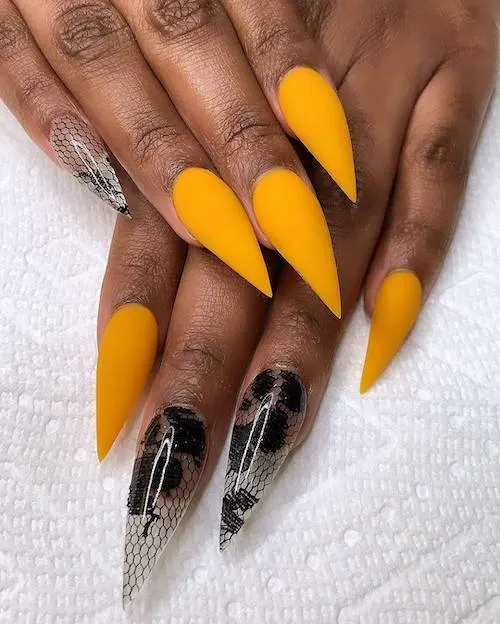 This nail design is charming!
Fall Nails With Pretty Leaves Designs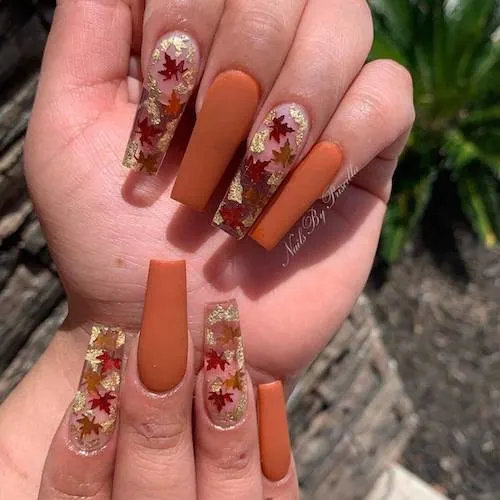 Elegant Spider Web Nails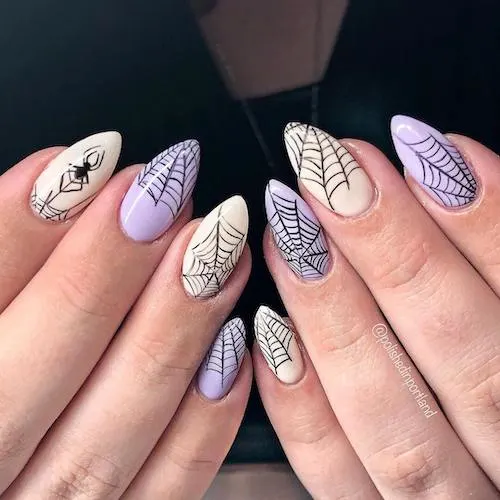 This design can draw the spider web so fresh and elegant!
Fall Leaves Nails With Rhinestones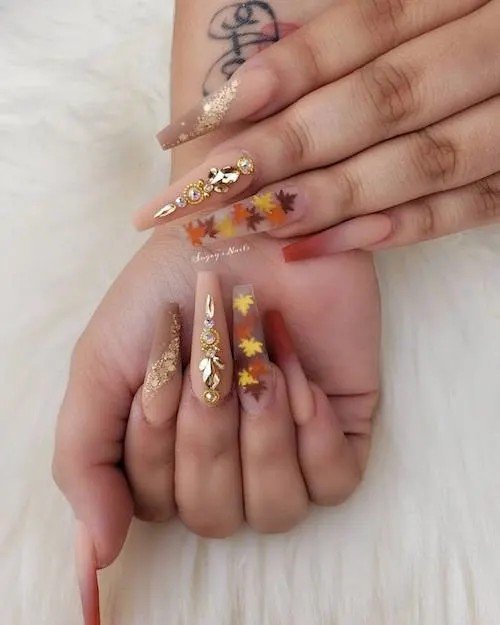 Nude Pumpkin Nails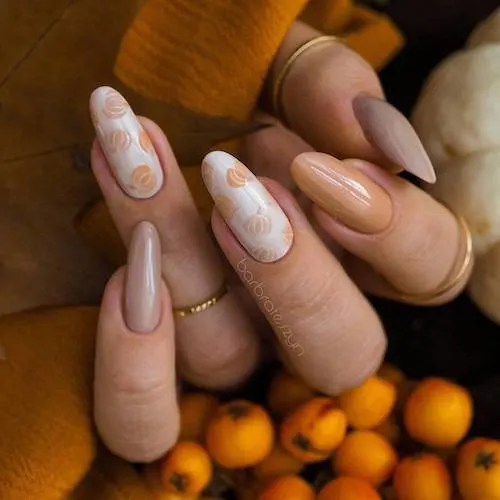 Gentle and warm, full of soothing charm.
Flowers And Leaves Nails
Simple Gorgeous Fall Nail Ideas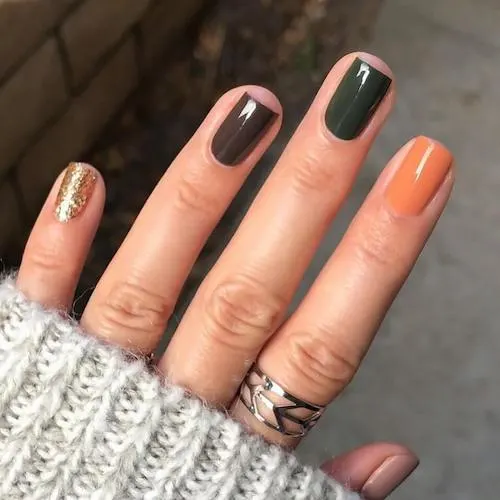 Fantastic Fall Red And Orange Leaves Nail Ideas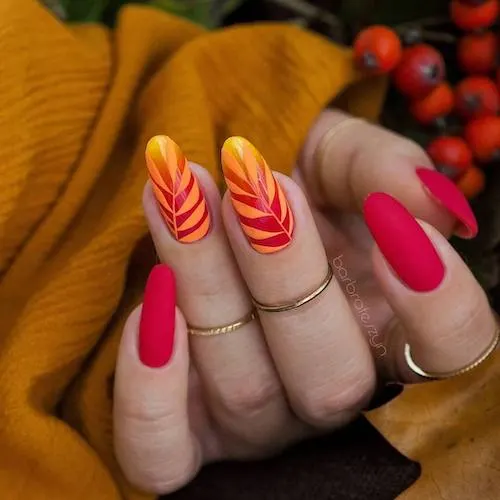 These leaves are pretty perfect. The leaves are also gorgeous when painted in white or black. Don't you try them?
This post was all about fall nail ideas.
About The Author
Tracy is an experienced personal stylist, shopping expert, and fashion & lifestyle blogger. She has been featured on Time Magazine, Bustle, Best Life, Glam, The Zoe Report, Mic, and GOBankingRates, for her insights on fashion, beauty, home decor, and lifestyle. Read More
Related Posts: