Looking for the best pink and red outfit ideas to wear this combo trend? Check this post for the best style tips on how to wear pink and red together and 60+ chic and cute outfits to copy directly.
Pink and red are two of the most popular colors for fashion.
Whether you're looking to make a bold statement or just want to show off your girly side, pairing pink and red together in an outfit can result in incredible stylish looks.
Whether you're going for a casual everyday outfit or something more formal, there are plenty of stylish ways to mix these colors together.
If you're looking for the best inspiration, then you've come to the right place.
In this article, we will explore the best outfit ideas with pink and red colors that will keep you looking both cute and chic.
This post is all about pink and red outfit ideas.
Can you wear red and pink together?
Yes, you can wear red and pink together!
The combination of these two colors is a great way to add vibrant colors and show off your own unique style.
Red and pink are both considered warm colors, so they pair perfectly to create an eye-catching look.
Whether you're looking for something casual or more formal, this bold pairing can be just the thing you need to make a statement.
When wearing red and pink together, it's important to think about balance.
Too much of one color can throw the whole look off.
If you're not sure how to mix them tastefully, try picking items in different shades of each hue in order to create contrast without being too overwhelming.
For example, if you choose light pink shorts with a bright red top, the contrast between the two will draw attention without being overbearing.
What pink looks good with red?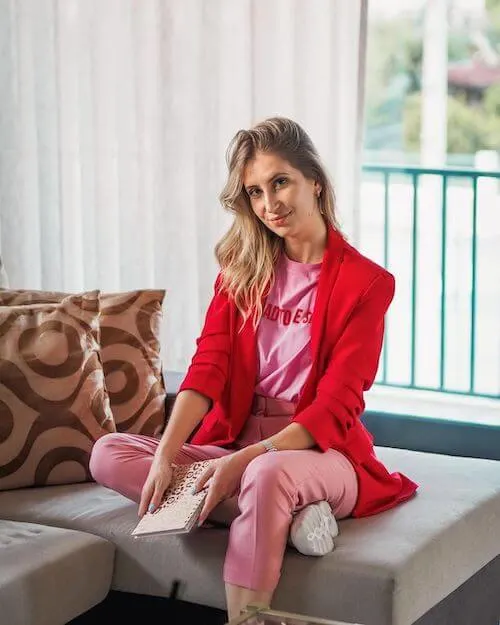 @dianalopesdesilva
When it comes to fashion and home décor, pink and red are two of the most popular colors.
But how do you decide which shade of pink will look best with a particular shade of red?
To make sure your outfit or room design looks its best, familiarize yourself with the basics of color combinations first.
First off, consider the type of aesthetic you wish to create.
If you're going for a bold, vibrant look then opt for bright shades like hot pink or fuchsia alongside cherry reds.
For more subtle options that won't overpower each other, try pairing light pinks with muted raspberries or blush pinks with burgundy shades.
You could also mix things up by combining different shades of pink such as blush and baby pink that work well together in a pastel palette.
Stylish Pink And Red Outfits For This trendy Color Combination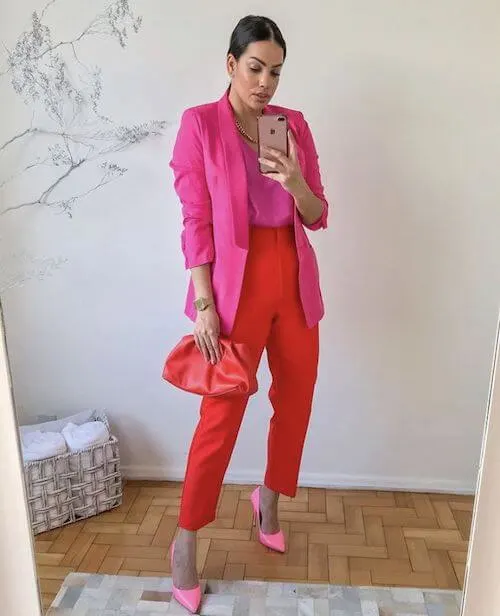 via Pinterest
Nothing screams "fashion" like pink and red!
This classic color combination has been a staple in the fashion industry for years, and it's no wonder why.
Pink and red are two colors that go together perfectly – they create a bold, vibrant look that is sure to turn heads.
Whether you're looking for an outfit for work, school or just because, there are plenty of stylish options to choose from.
From dresses to skirts, blazers to tops – you can find something that fits your style and makes you feel confident.
Add some accessories like scarves or jewelry for extra flair, then rock the look with ease!
From casual everyday looks to formal evening wear – this bright color combo is always in style. Scroll on to check our favorite outfit ideas.
How do you pair pink and red?
Pairing pink and red together can be a tricky endeavor; however, when done right, it can make for a stunning look.
Start by opting for shades that are complementary yet distinct. For example, use an intense fuchsia with a bold poppy hue or combine classic bubblegum pink with an oxblood shade.
You can also consider using cool-toned pinks like magenta or blush paired with bright reds such as cherry or vermillion.
When selecting fabric prints, pick ones that have both colors in them but are still distinct from one another.
Pink Blouse + Red Pants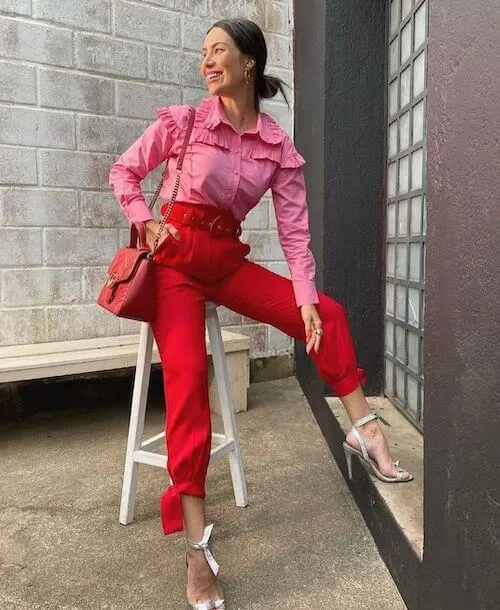 @fridaboutique.official
Pink Sweater + Red Maxi Dress + Burgundy Boots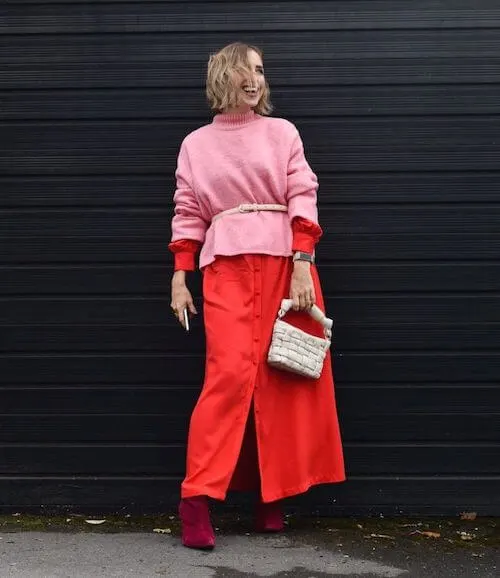 @thesearchforsassiness
Red Blazer + Blush Pink Pants + Red Heels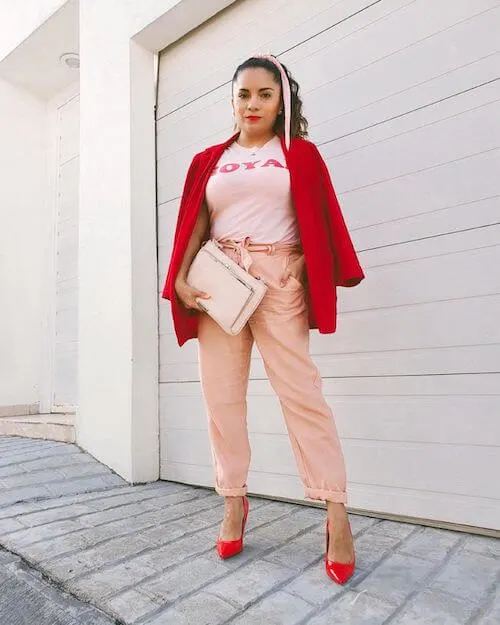 @jessiveru
Red Cropped Puffer Jacket + Hot Pink Skirt + Pink Shoes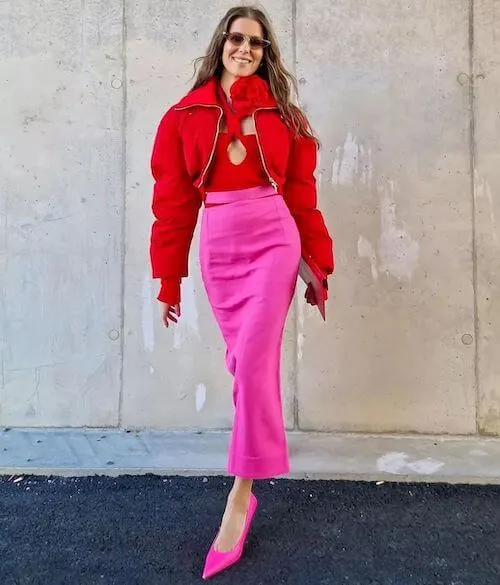 @ninasandbech
Beige Maxi Dress + Pink And Red Accessories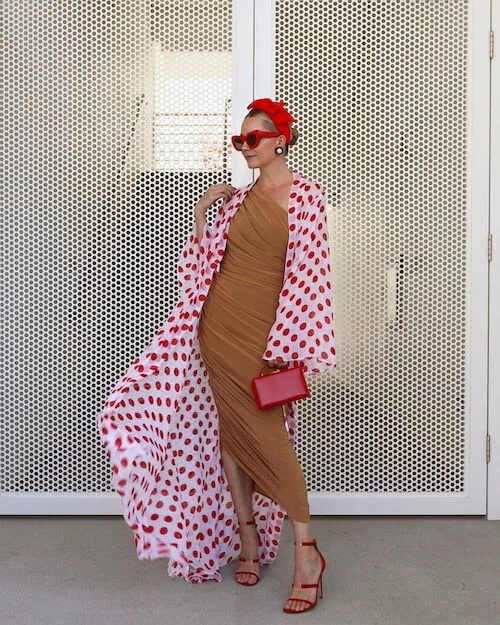 @blaireadiebee
Pink or Red Cute Top + Red Tulle Skirt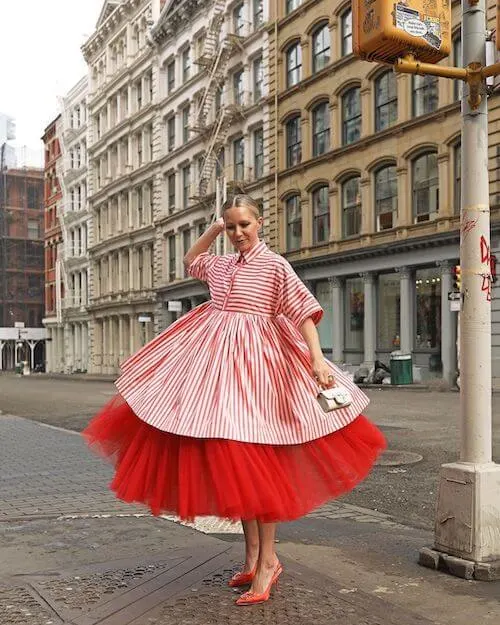 @blaireadiebee
Red Top + Denim Jeans + Pink Cardigan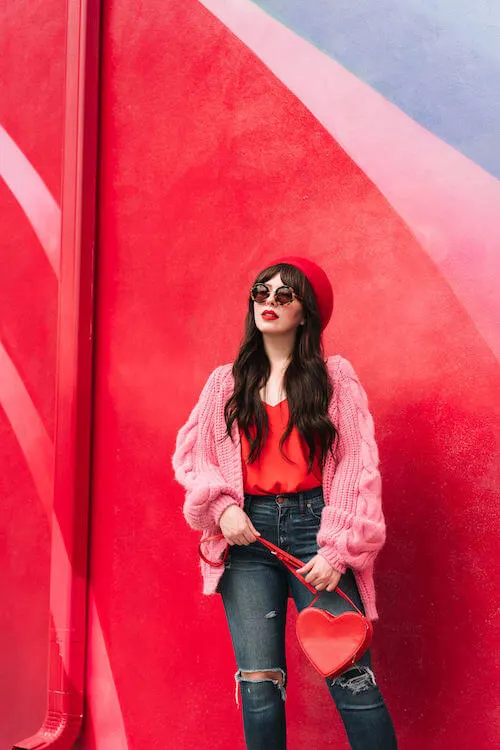 @keikolynn
Red Sweater + Pink High Waisted Pants + White Shoes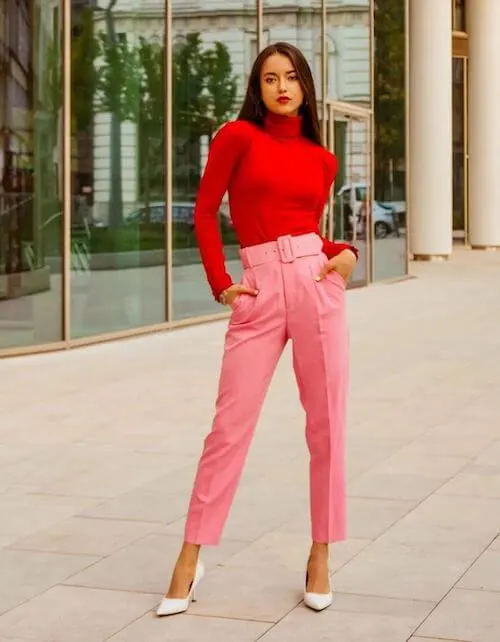 @l.aura.racz
Pink And Red Color Blocking Mini Dress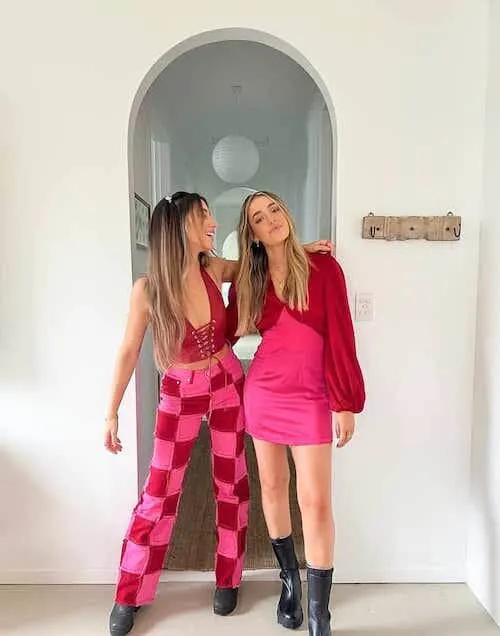 @JESSMARIEDEL
Blush Pink Dress + Red Coat + Red Shoes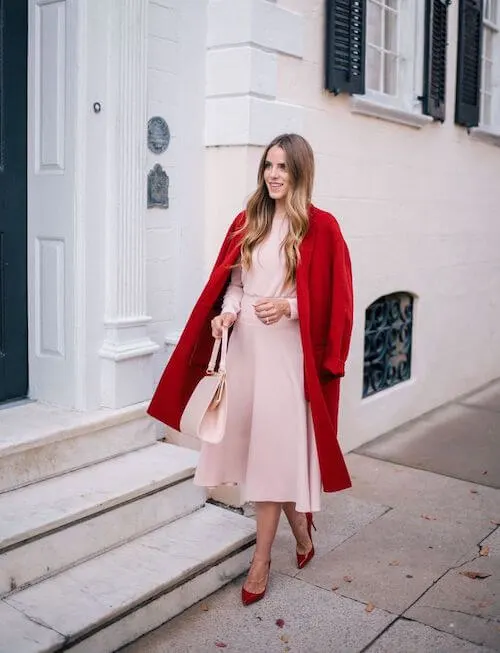 @juliaberolzheimer
Little Red Dress + Pink Blazer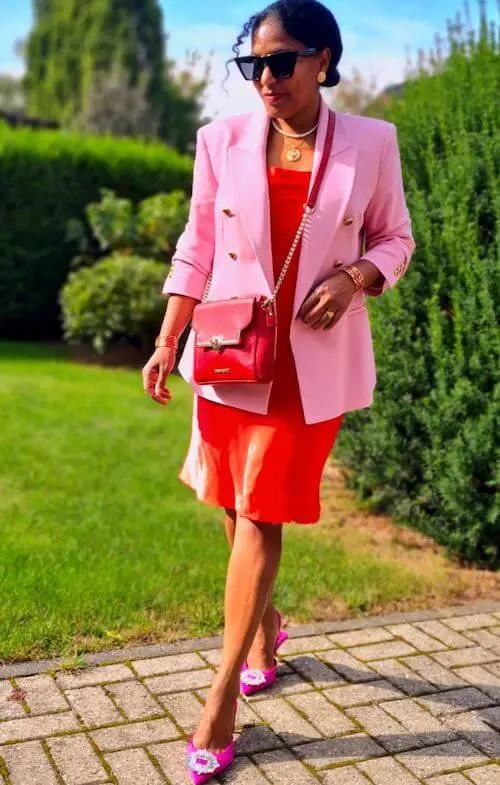 @olaystyles
Red Clothes + A Pop of Pink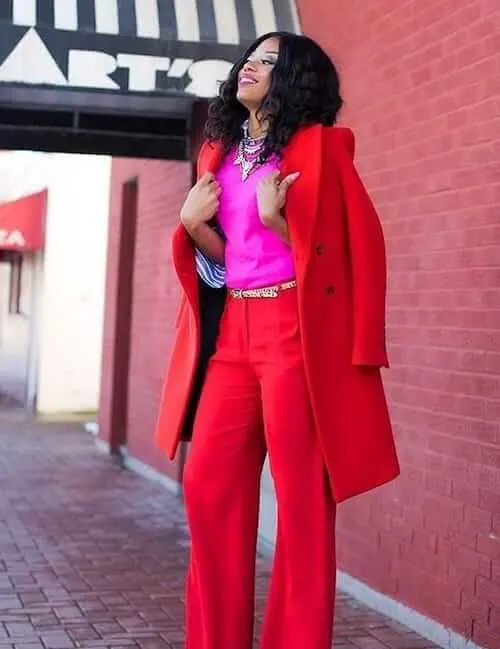 via Tumblr
Dark Pink Sweater + Light Pink Faux Fur Coat + Red Skirt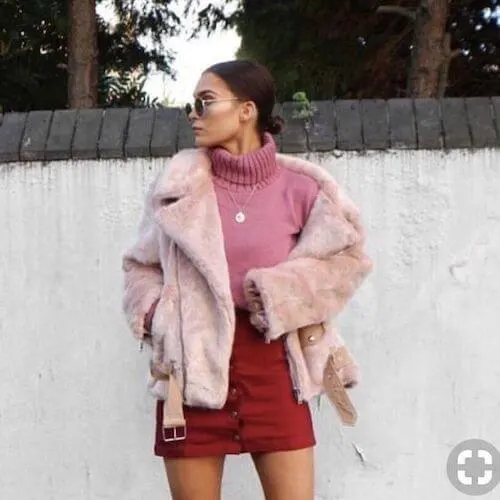 via Tumblr
Chic Hot Pink And Red Outfits
If you're looking to add stylish color details to your wardrobe, you can't go wrong with the classic combination of hot pink and red.
This vibrant duo is sure to make any outfit stand out in a crowd.
Whether you're getting dressed for a casual day out or an evening soiree, these bright hues are guaranteed to make an impression.
For a subtle but chic look, try pairing a red blouse with skinny jeans and hot pink heels.
Add statement earrings in either color for extra impact, or keep it simple by accessorizing with neutral black or white accessories.
If you want something more daring, opt for an attention-grabbing combination like hot pink pants paired with a red crop top and high heeled sandals – perfect for making a memorable entrance at your next event!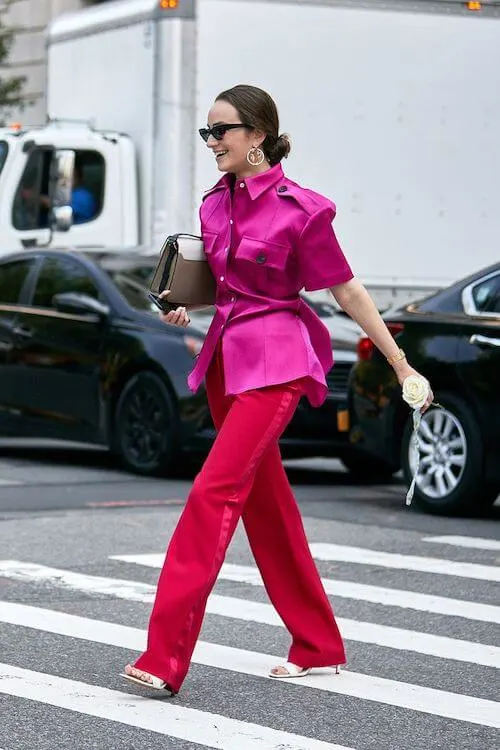 @THESTYLESTALKERCOM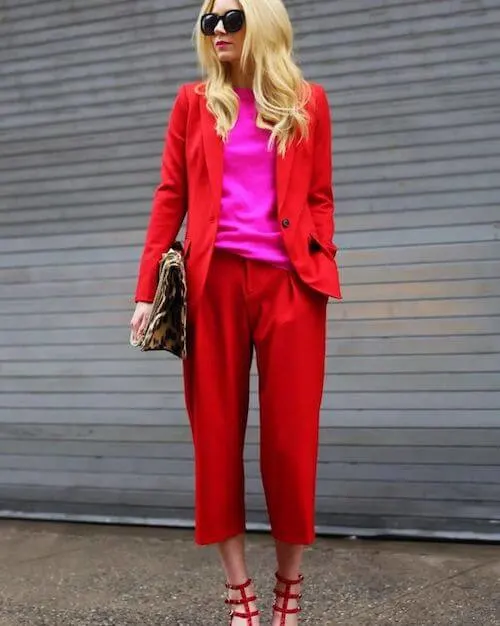 via Pinterest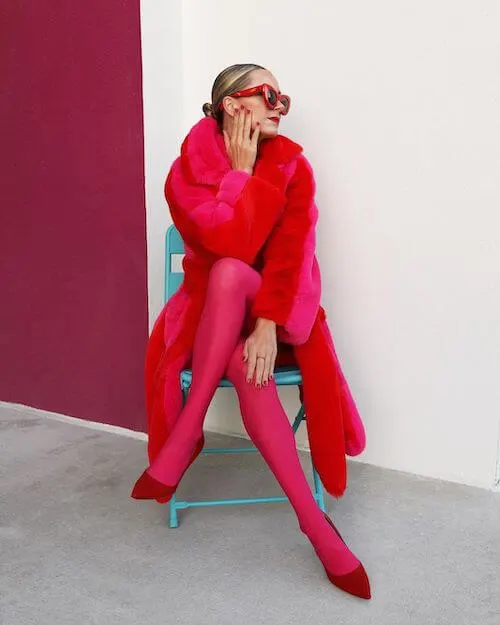 @blaireadiebee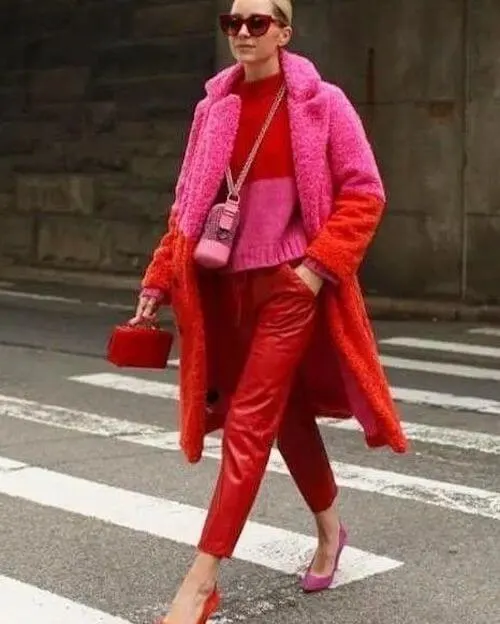 @blaireadiebee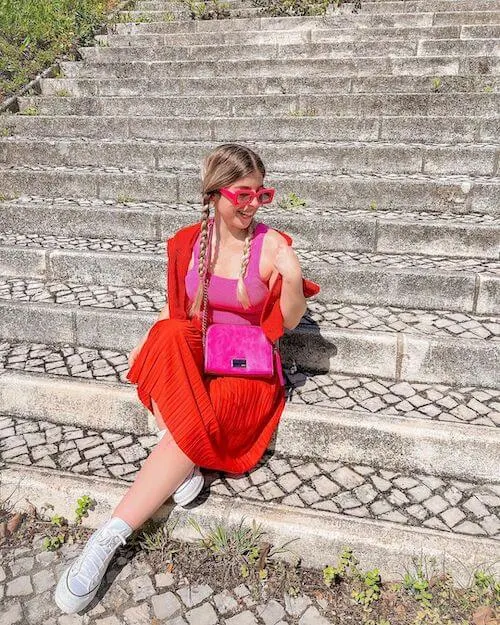 @theoutfitbycc
What color goes with hot pink and red?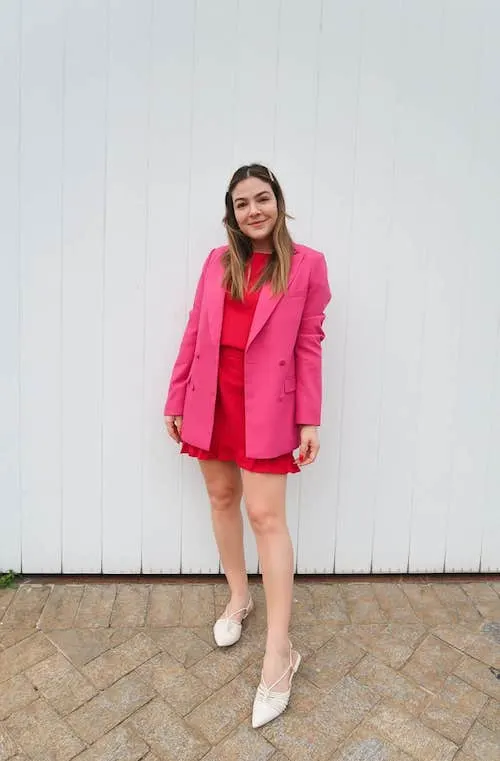 @KAMMYALMEIDA
When it comes to finding the perfect match for hot pink and red, there are plenty of great options available.
Cooler tones like navy blue or gray can provide a nice contrast against these brighter hues while still allowing them to stand out.
Alternatively, softer shades such as peach or cream can add subtle texture without overpowering either color individually.
Neutral colors like black or white also work well if you want to ensure the attention stays on your statement pieces.
Pink and Red Color Combo For Spring Summer
Welcome the arrival of spring and summer with a splurge of color- the pink and red combo!
This combination is a great way to show off your vibrant personality and express yourself through fashion.
Whether you're getting ready for an outing or looking forward to going to work, this color duo can add instant drama and life to any outfit.
A monochromatic outfit in shades or neon pink or red will make your look stand out from the crowd.
You can also combine two different hues of either pink or red together such as pastel pink and bright cherry red.
To make it more interesting, try adding accessories in one shade like classic hoop earrings in rose gold that adds a subtle hint of glamour.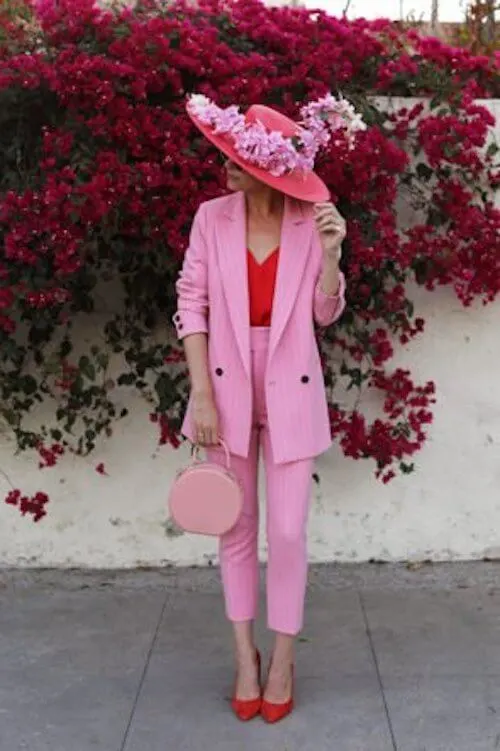 @blaireadiebee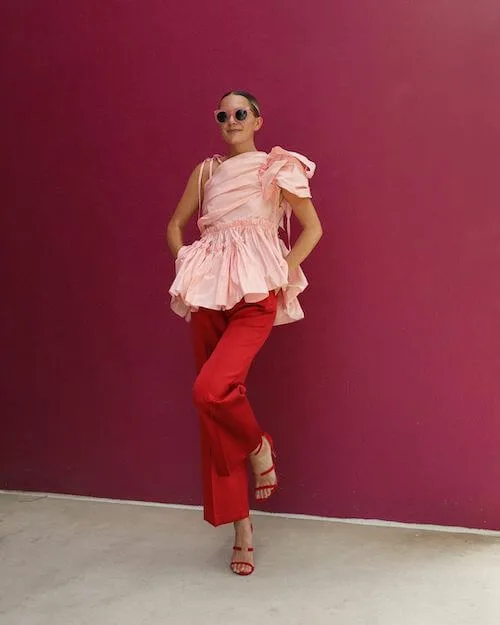 @blaireadiebee
@franciscalcarreira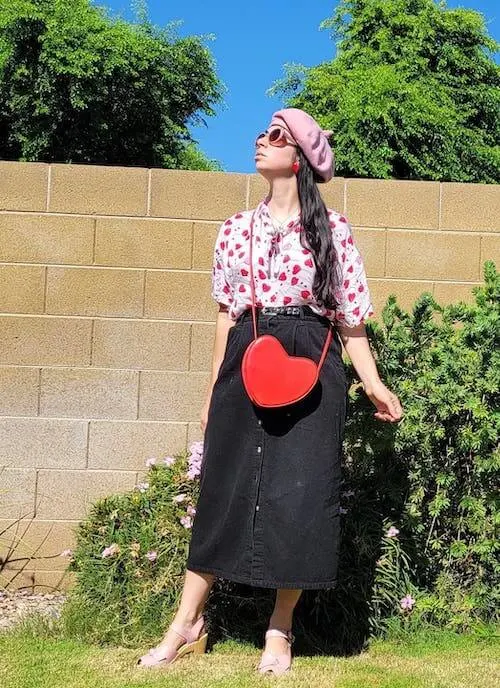 @saguaro_style
How To Wear Red And Pink Color Together In Fall Winter
As the cooler months of fall and winter approach, there's no better time to rock these two hues together for an on-trend winter look.
With just a few key pieces in your wardrobe, you can create an eye-catching outfit that will make all heads turn.
Start with a coat in either color – or both if you're feeling bold – then add your favorite boots, hat and scarf for added warmth.
Accessorize further with bags and jewelry in the same shades to complete the look.
Whether you choose to go subtle or full-on monochrome this season, there's no doubt that red and pink will be sure to make a statement!
So don't be afraid to mix it up; get creative with color combinations this winter!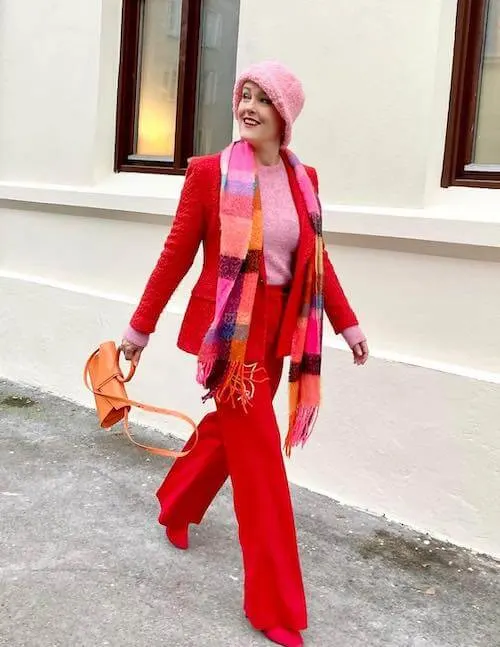 @hildstil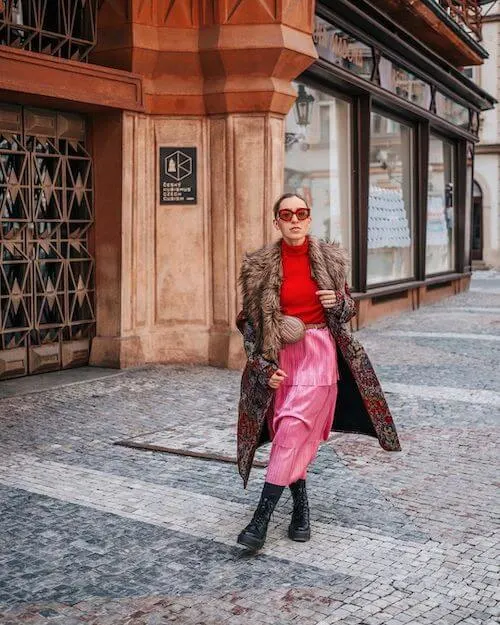 @styleofbecca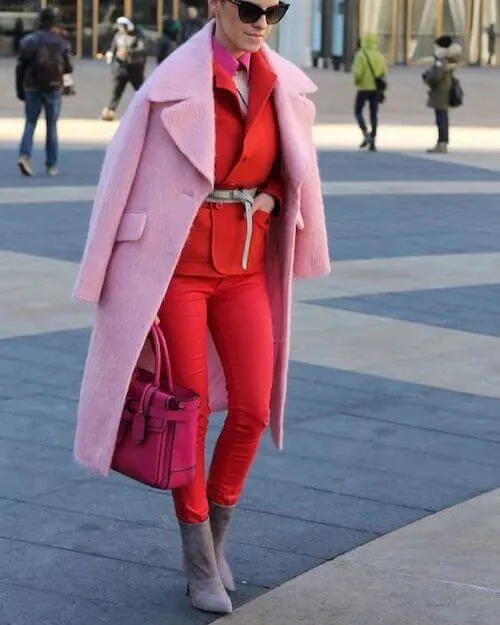 via Pinterest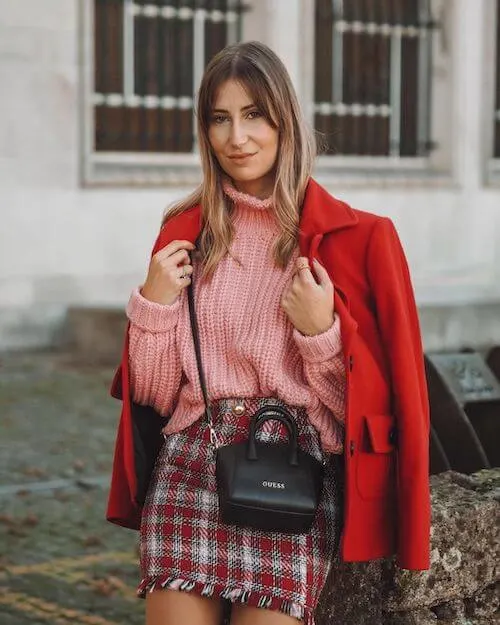 @dianalopesdesilva
How To Wear Pink And Red Combo For Work
The warm colors pink and red can be found in every fashionista's wardrobe, but they can be hard to wear together.
But if you know how to put it together, this combination can make a stylish statement in the office.
To begin with, start off with basics like a coat or blazer in one of the colors and pair it with trousers or skirt that match the other color.
Then accessorize your look with a hat, scarf and boots in either color – the brighter the better!
Mixing the two colors will instantly create an eye-catching look that will help you stand out at work.
It's important not to go overboard when combining pink and red for work.
Keep accessories such as jewelry minimal so that you don't overwhelm your outfit. Remember – less is more!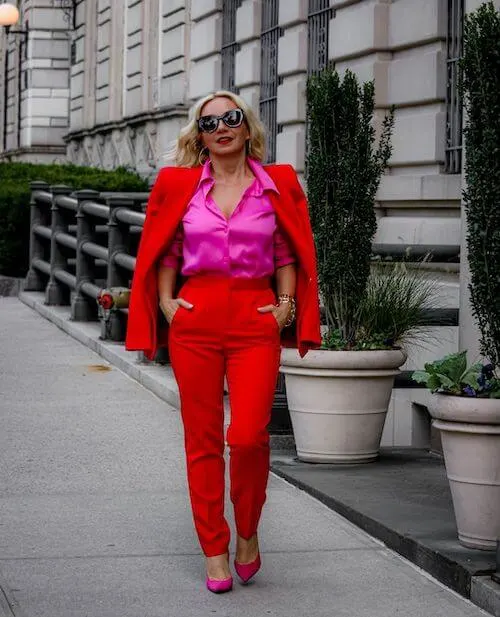 @elainacozy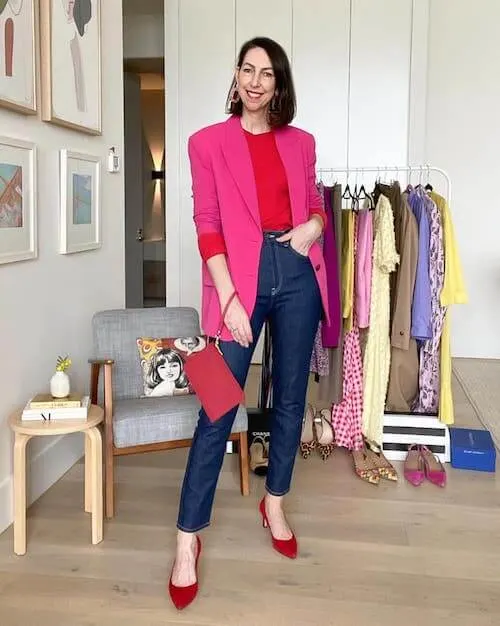 @STYLEDBYSALLY
Pink And Red Vacation Looks
This summer, why settle for a single color when you can look chic in two?
Pink and red vacation looks are the perfect combination of fun, flirty and modern.
With the right pairings, these two colors can be worn for any occasion.
Whether you're looking for something casual and understated or bold and eye-catching, this is your guide to creating the perfect pink and red styles that will have heads turning wherever you go.
Start with a classic pairing of a light pink top with a red skirt or shorts.
A floaty chiffon blouse with ruffled details is great for daytime activities while an off-the-shoulder top gives your outfit more of an evening feel.
Accessorize with rose gold jewelry to add sparkle to your ensemble.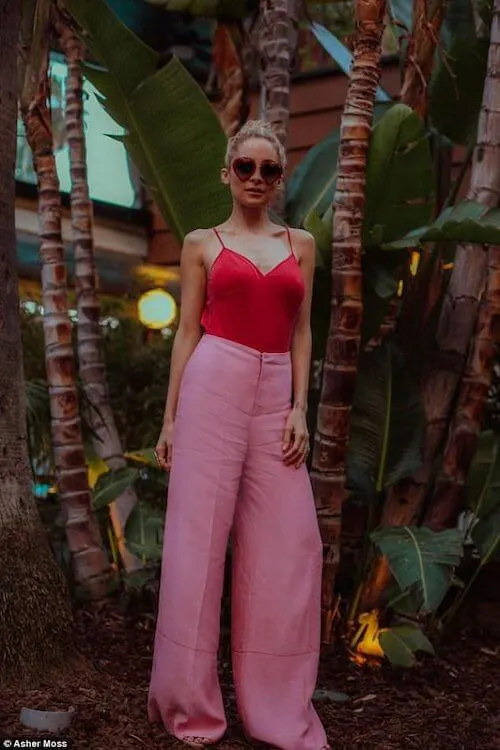 via Pinterest
Pink And Red Outfit Ideas For Date Night Or Valentine's Day
When it comes to planning the perfect outfit for a romantic date night with that special someone, there is nothing quite like embracing the shades of pink and red.
Whether you're celebrating Valentines Day or just wanting to add a little extra sparkle to your look, this color combination is sure to make a statement.
Choose from an array of different tops and skirts in these shades or mix and match for something truly unique.
Start off with a bright pink top for an eye-catching focal point, then balance it out with some texture by adding a red skirt.
Finish off your look with some accessories, such as bold jewelry or a cute pair of shoes in one of these colors.
With this look, you will be all set for an unforgettable night out!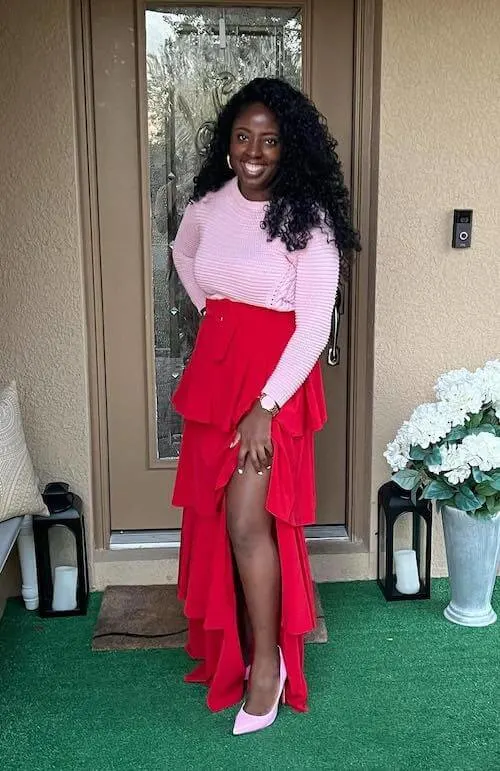 @stylisticallychic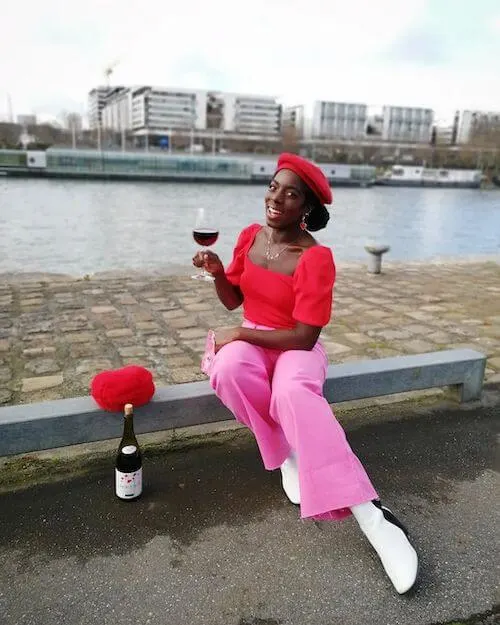 @deniselandveldstylecoach
@laviedupapillon
@roseykatestyle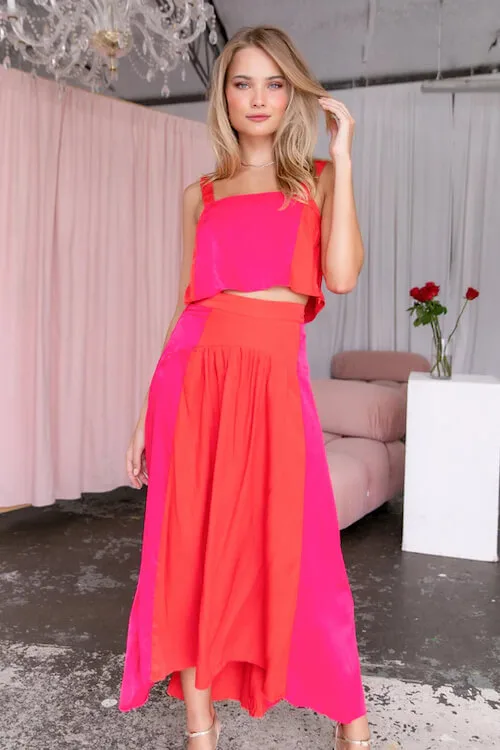 How To Wear Pink And Red To Party
There's no denying that pink and red are the perfect colors for any party.
Whether you want to make a statement or just add a pop of color, these two shades can help you stand out from the crowd.
This season, incorporate pink and red into your party look with a bold coat, chic boots, and statement earrings.
Start off by choosing an eye-catching coat in either hue.
A striking shade of raspberry red adds vibrancy to any look while pale pink creates a girly yet sophisticated vibe.
Pick one color or opt for both – there are plenty of coats out there to choose from!
For an extra dose of fun, accessorize with bright boots in either hue such as fuchsia ankle booties or cherry-red over-the-knee styles.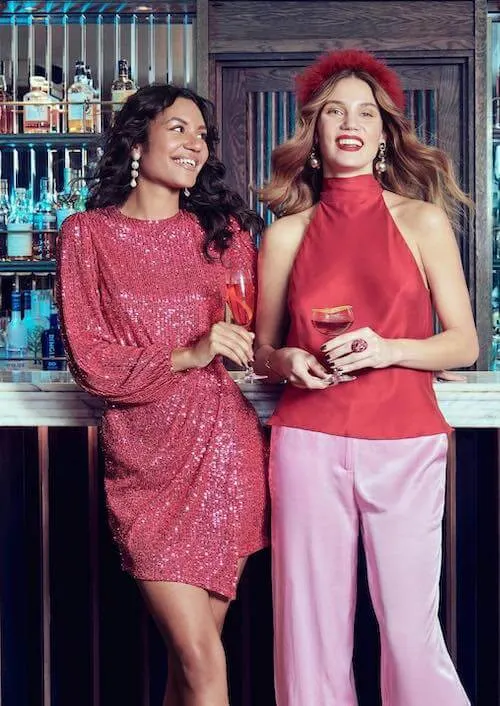 @a.hare96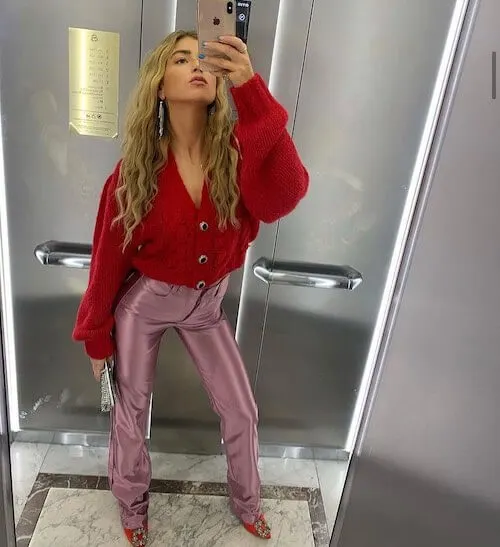 @emilisindlev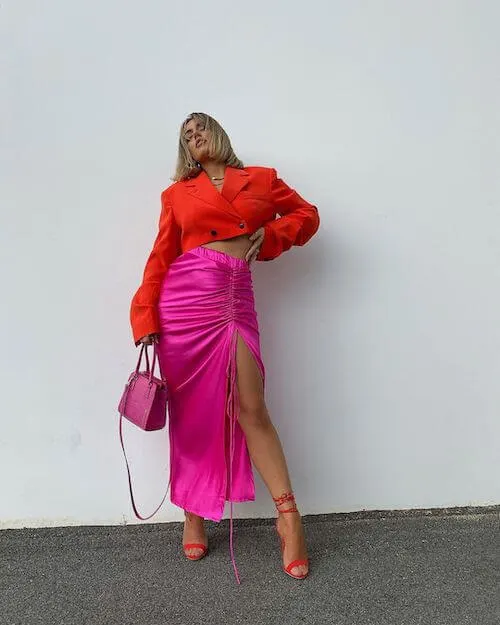 @melissamradis
How To Wear Pink And Red To Wedding: Dresses And More
When picking out dresses for guests, look for pieces that feature both colors in complementary tones and styles.
For example, a light pink dress with bright red accents or piping will look chic and sophisticated.
Alternatively, if you prefer wearing separates, choose a solid color top in one shade such as scarlet red, then pair it with a skirt or pants in the other hue like fuchsia pink.
If possible, bring along some accessories such as shoes and jewelry that match both shades to complete your look.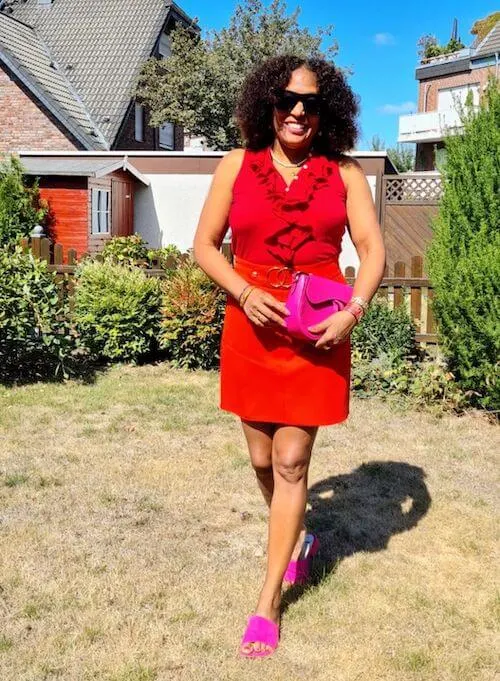 @olaystyles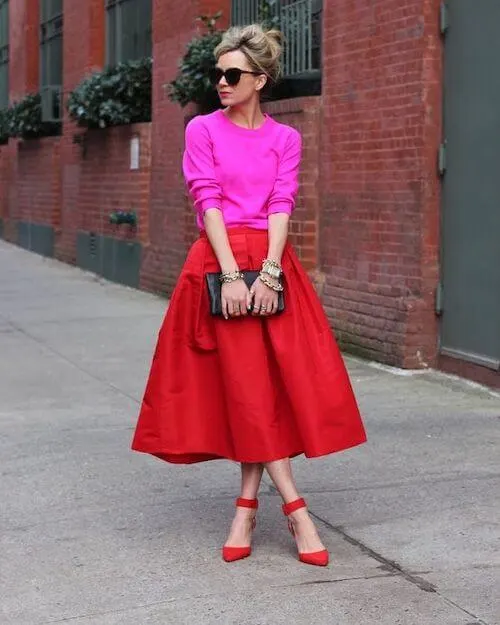 @blaireadiebee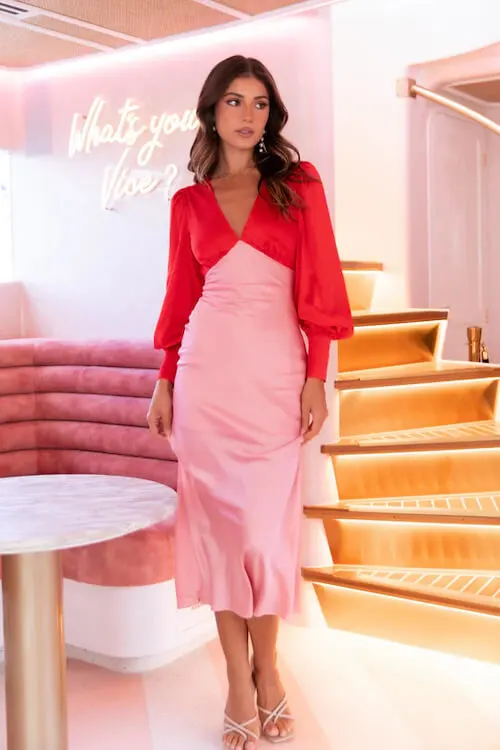 Pink, Red And Blue Outfits
Pink, red and blue are some of the most popular colors for outfits.
Whether you're looking for something sweet and romantic or bold and vibrant, these three hues have a lot to offer.
Pink is often associated with femininity, love, and romance; red is a confident choice that commands attention; while blue can be calming yet also adventurous.
For those who want to add an extra touch of fun to their look, denim blue offers the perfect balance between chic and casual.
Denim blue is one of the most versatile shades when it comes to fashion — it can easily take on different moods depending on how you style it.
Pairing denim blue with pink or red pieces creates an edgy contrast that's sure to turn heads on any occasion.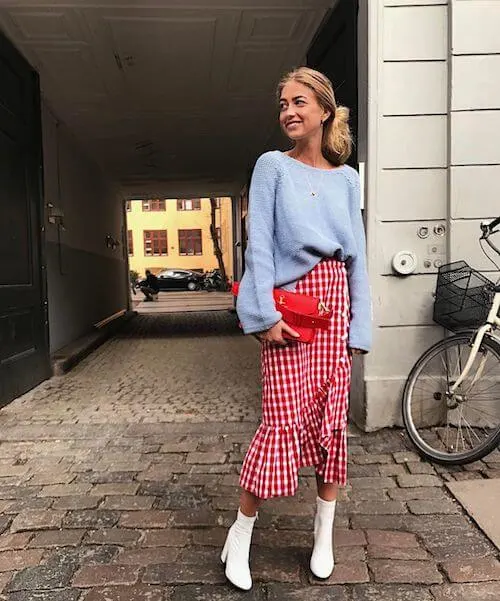 via Pinterest
How To Wear Black With Pink And Red
Pink, red and black outfits are the perfect way to make a bold fashion statement.
Whether you're heading to a special event or just out for a night on the town, this color combination will have you turning heads wherever you go.
To create an unforgettable look, pair a black top with a bright pink skirt and add red accessories such as jewelry or shoes.
This vibrant blend of colors will easily draw attention and ensure that all eyes are on you throughout the evening.
For a chic daytime look, choose to wear your favorite black high-waisted skirt with a pink blouse or tank top.
Add some trendy red flats and accessorize with silver bangles or necklaces in order to complete the ensemble.
Or try adding some edge to your outfit with an edgy black leather jacket over your pink shirt.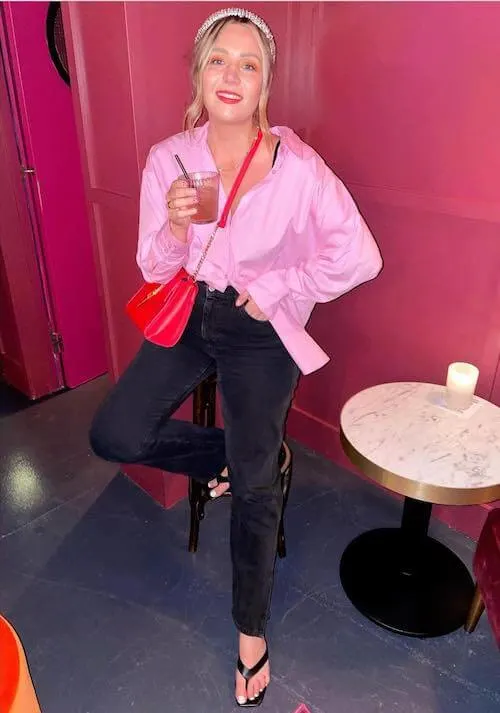 @jodielouisemb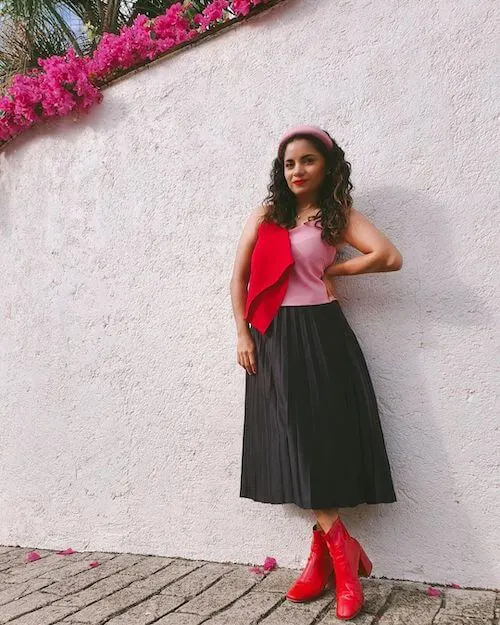 @jessiveru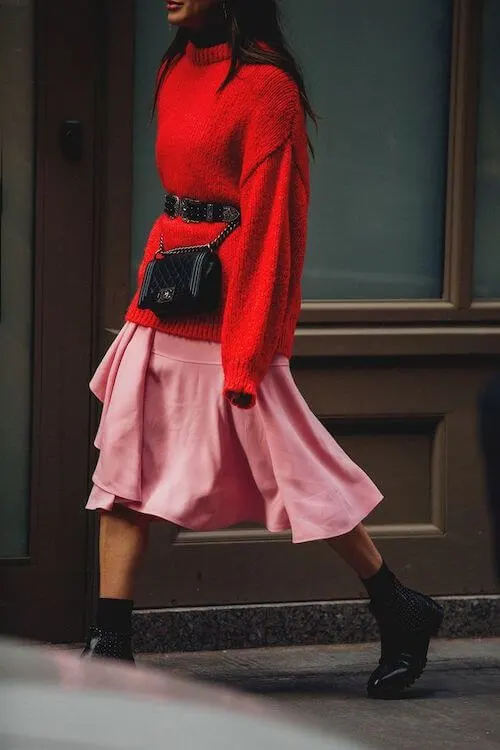 via Pinterest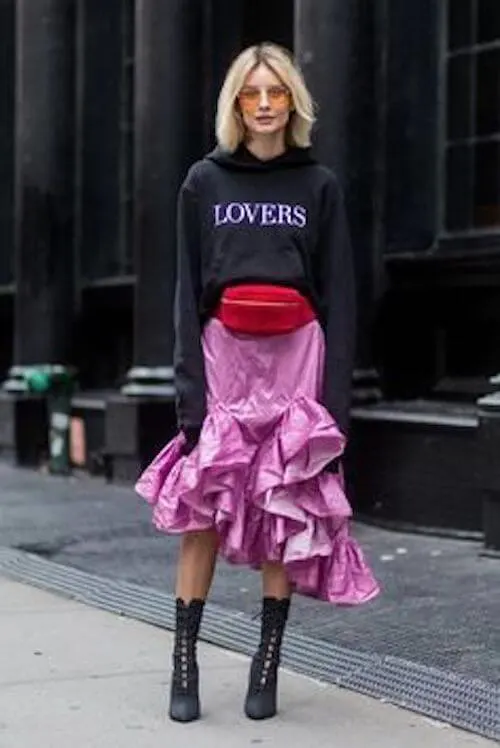 via Pinterest
Pink, Red And White Outfits
Pink, red and white outfits are a great way to stand out this season.
Whether you're headed to the office or going out for a night on the town, these colors can create an eye-catching ensemble that will turn heads.
To complete your look, start with a classic white shirt and add a bright color pop with either pink or red pants, skirts or dresses.
Then consider adding accessories such as jewelry, handbags and scarves in shades of deep pinks and passionate reds.
For an extra special flair, opt for some stylish white boots to really make your outfit shine.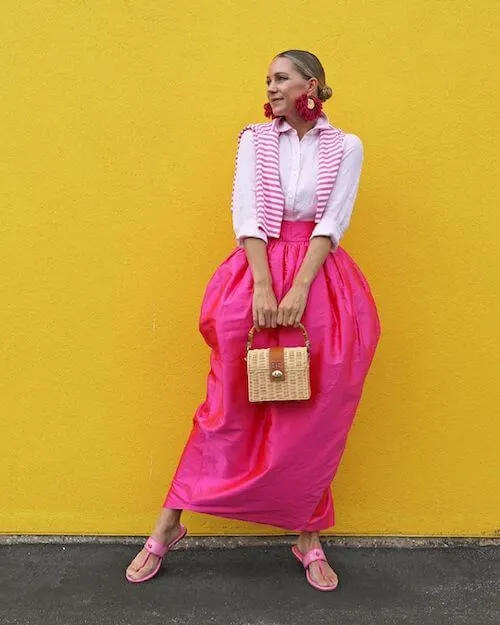 @blaireadiebee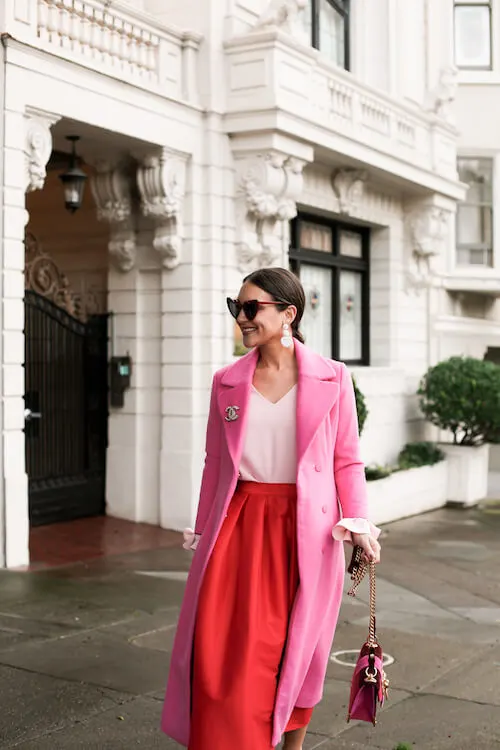 @kathleen_barnes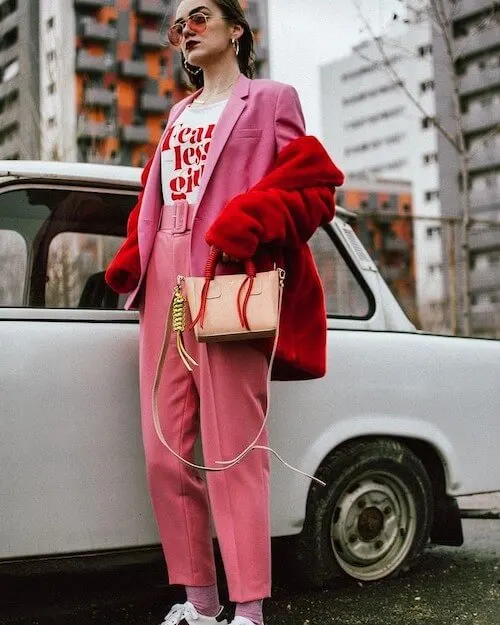 via Tumblr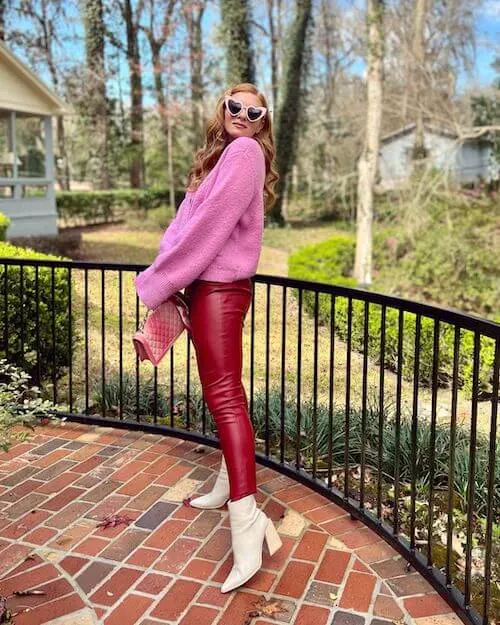 @justferriss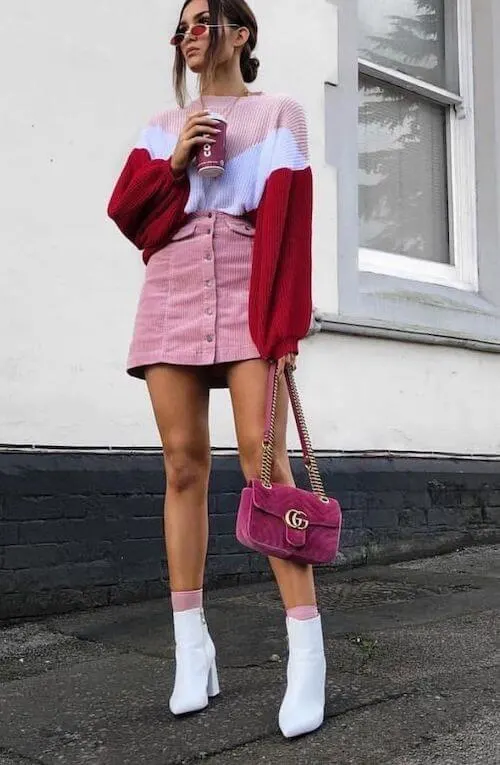 via Pinterest
Classy Red And Pink Outfit Ideas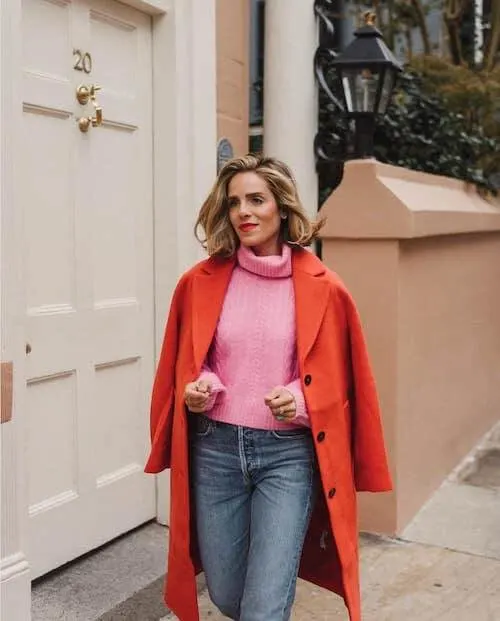 @juliaberolzheimer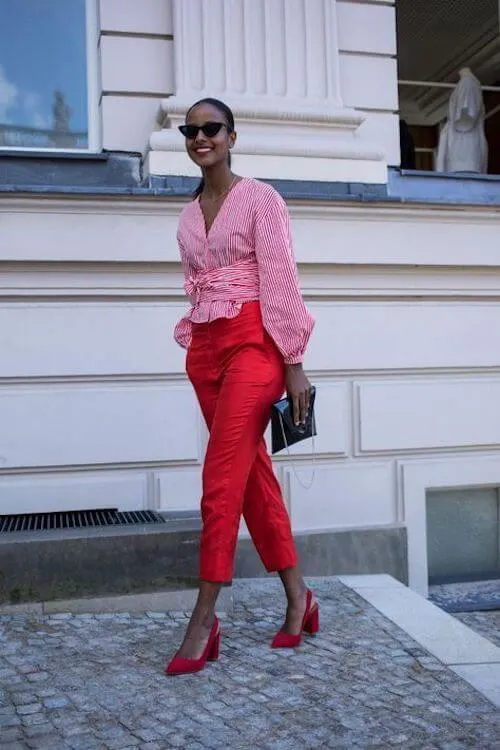 via Pinterest
via Pinterest
90s Vibe And Retro Casual Look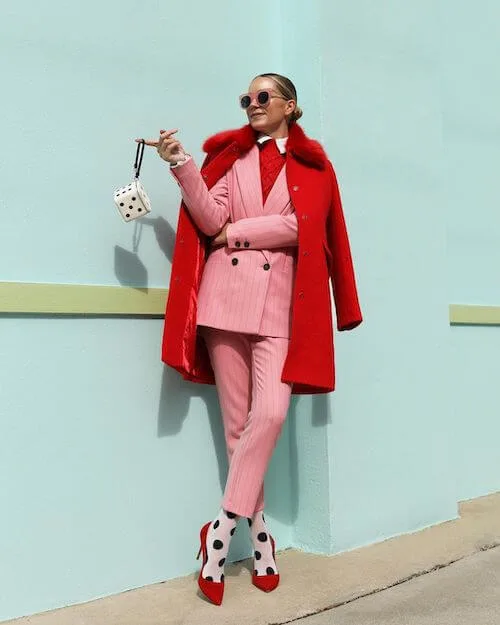 @blaireadiebee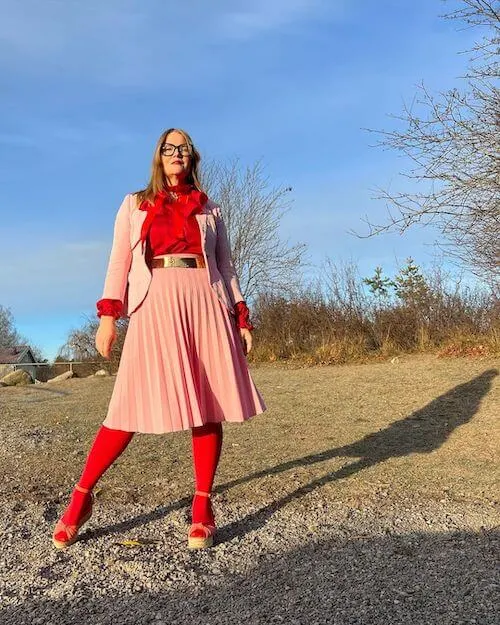 @karins.vintagestyle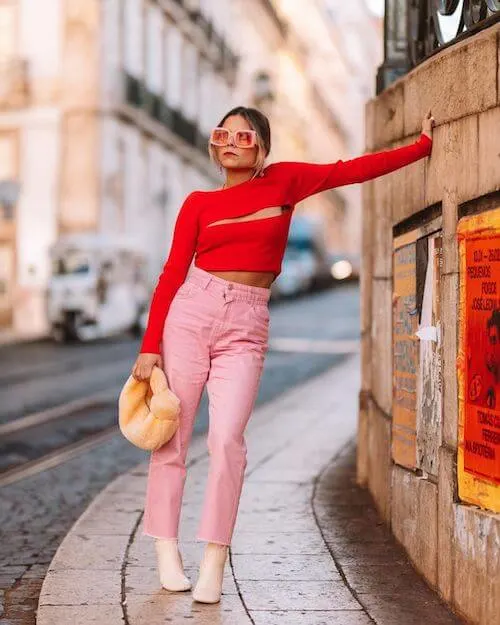 @mariana_instyle
Cute Street Style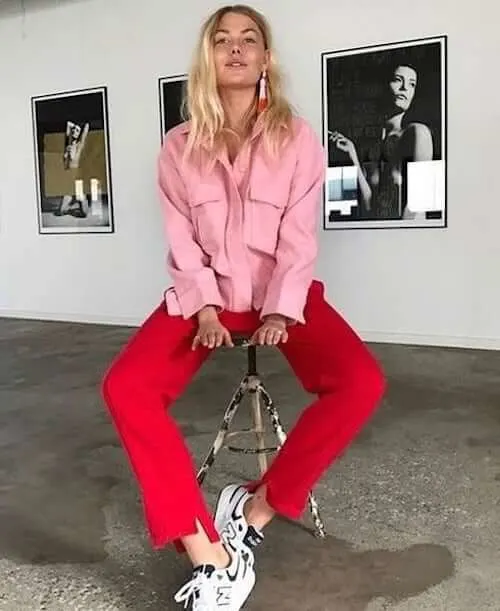 via Pinterest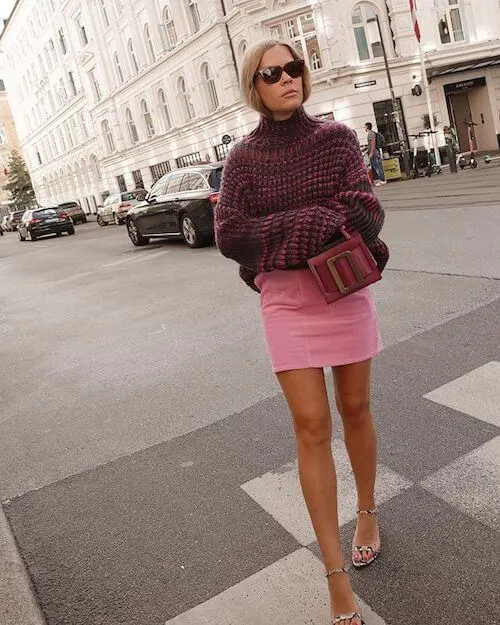 via Tumblr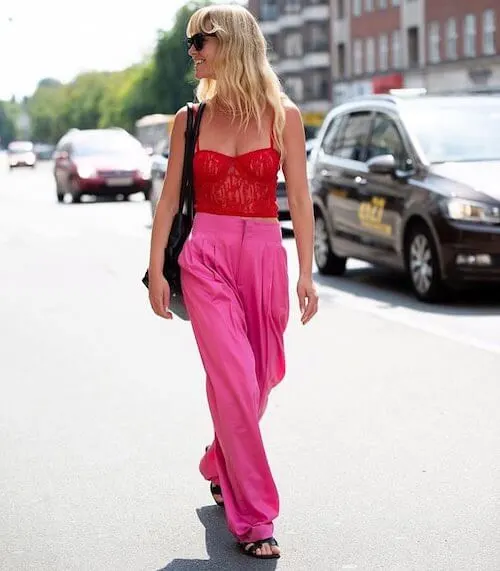 @_jeanettemadsen_
More Cute Red And Pink Outfits To Shop For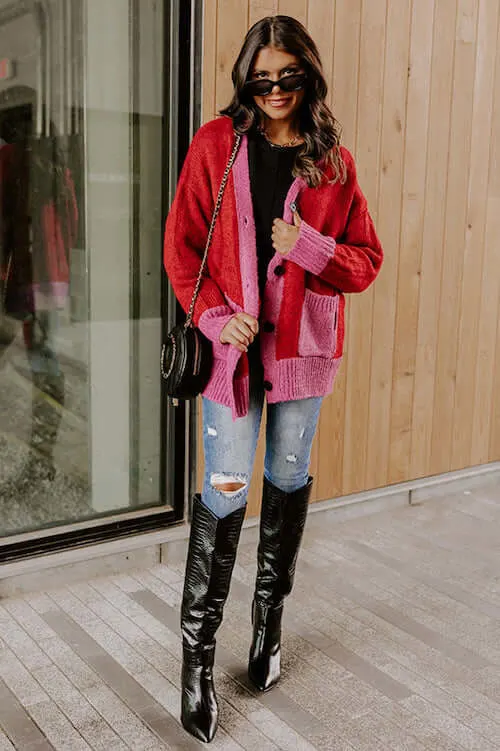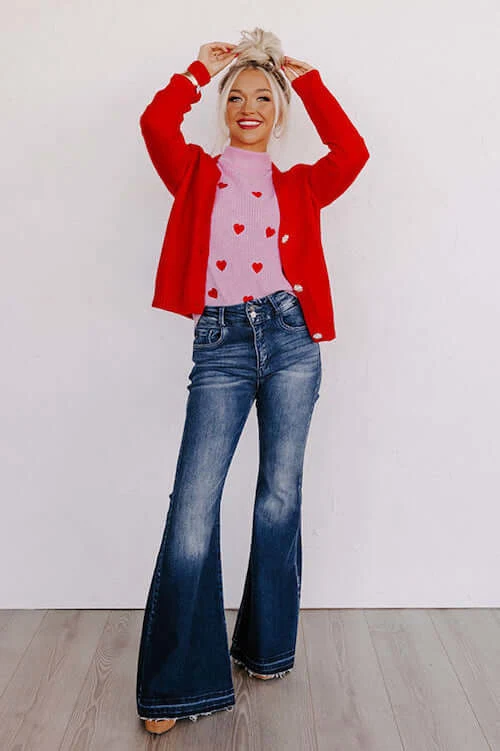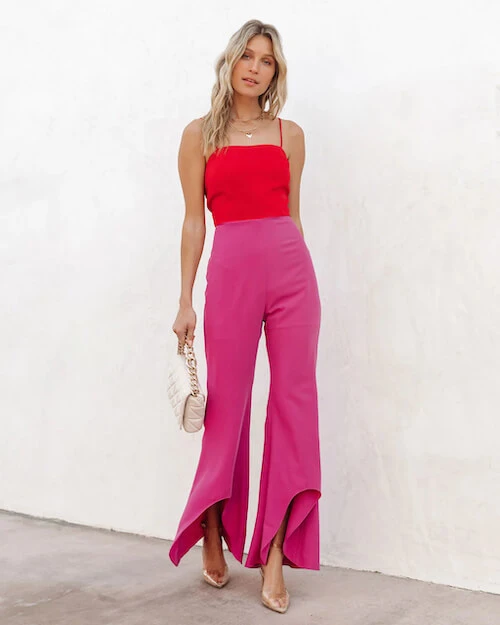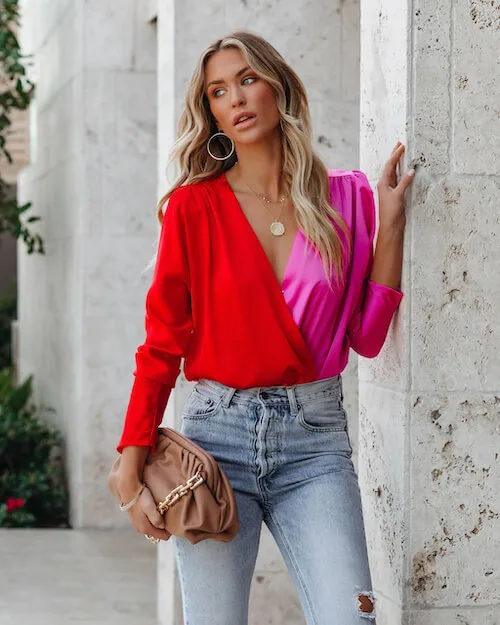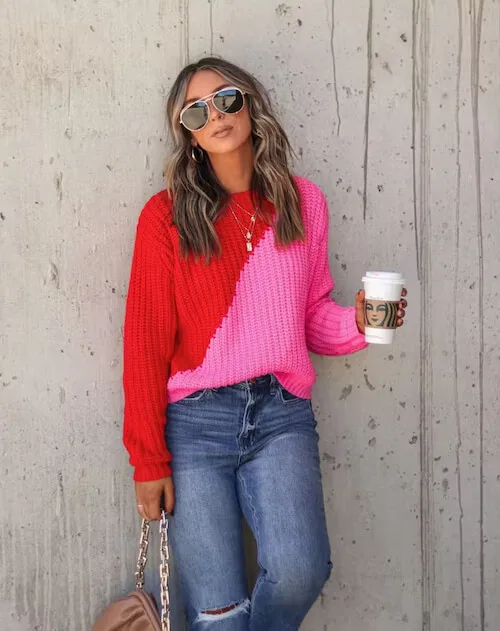 What Other Pieces To Wear With Pink Clothes?
For those who want to keep their look classic and feminine, try pairing your pink clothing with neutral tones for a timelessly elegant look.
A white blouse with pale pink trousers and nude accessories can be effortlessly styled for work or leisure events.
Alternatively, why not opt for an all-pink ensemble?
Try wearing different shades of blush pinks together to achieve this pretty monochrome effect, adding subtle details such as gold jewelry and metallic shoes for added sophistication.
How To Wear Red Clothes?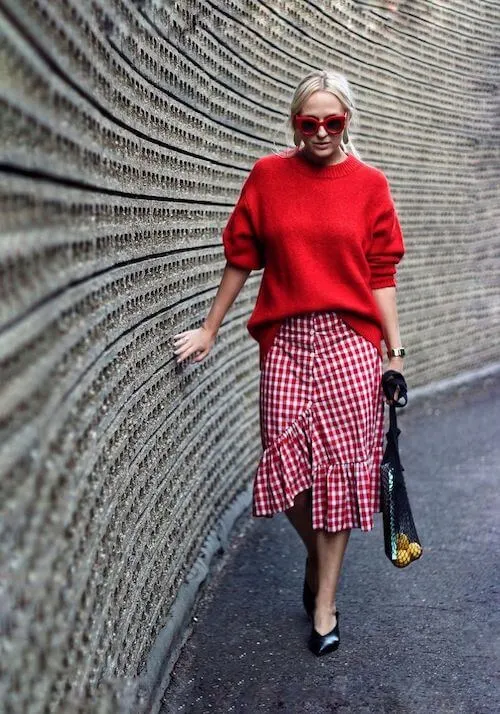 via Pinterest
Looking to make a statement with your outfit?
Red can be the perfect bold color for making an impact and adding a pop of color to any wardrobe.
Whether you're looking for something bold or just want to incorporate some red into your daily look, there are plenty of ways to wear red clothes for women.
A great way to start is by wearing simple items such as a solid-colored t-shirt or tank top.
You can pair these items with jeans and sneakers or dress them up with a skirt and leather boots.
If you're feeling daring, add accessories such as scarves, jewelry, hats, or sunglasses in other colors that complement the red clothing item.
For more formal occasions, try wearing a cocktail dress in shades of red like burgundy or maroon paired with pointed heels and statement earrings.
This post was all about pink and red outfit ideas.
Related Posts: